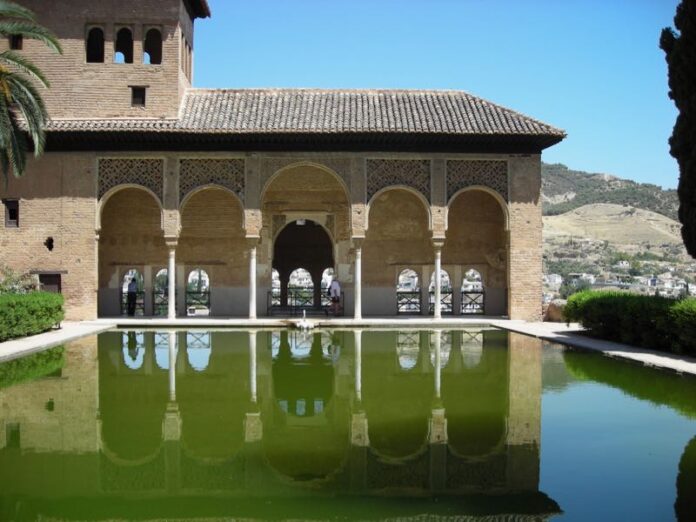 The ten best places to visit in Spain can include impressive museums like the Prado Museum and amazing grand palaces like the Alhambra.
Then there are fun festivals in Spain, like the Running of the Bulls in Pamplona.
You see, there are plenty of awesome things to do in Spain.
It is hard to narrow down because Spain has many exciting cities, top beach towns, and interesting places and things to see.
As they say, you have to start somewhere — so you might as well start with these best places to visit in Spain.
Best Places to Visit in Spain
One of the biggest and most unexpected highlights of my three-week trip around Spain was the chance to see the most beautiful palace in Spain.
Yes, I'm talking about the Alhambra, a beautiful Moorish palace that exceeded my expectations. Wow!
Going for a wander on a long street named La Rambla in Barcelona is also an incredibly memorable experience.
Visiting La Rambla is easily one of the top things to do in Spain, especially if it is your first time in the country.
While you're walking around, make sure you keep an eye out for any sights associated with Greek mythology in Spain. They are everywhere.
Often, they pop into view when you least expect it. So that you know, there are probably more statues of Hermes (Mercury) in Spain than anywhere else in the world.
If you have time, you should also visit at least one Spanish island, something I didn't get to do, which was probably my biggest regret after visiting Spain.
Looking back, I wish I had visited at least one island in the Balearic sea, such as Ibiza, Menorca, or Mallorca (also called Majorca).
I spent three weeks in Spain, which means I could have easily gone to a Spanish island for at least a few days.
Visiting the seaside town of San Sebastian would also have been a fantastic experience.
The best places to visit in Spain can also depend on other people with you if you have any. Here are several Spain destination tips:
Young singles should stay for a few days in Granada.
Valencia is a very romantic city for couples.
Families should visit Barcelona.
How long should you spend in Spain?
During my three-week trip around Spain (planned initially as four weeks), I wanted to go sightseeing in Spain on a whim, without much of a plan.
I wanted to research Spanish sights and destinations on the go from one town to the next to see where it would take me.
With a minimal Spain itinerary, I discovered a few places of interest when it was too late.
Even though I missed out on visiting some desirable places in Spain, I still visited many great locations.
I only missed two places on this list showing the best places to visit in Spain.
However, I still decided to include them in the ten best places to visit in Spain because they look extraordinary.
So, how long should you stay in Spain? I'd say anywhere from a week to a month. Three weeks was tremendous, but an extra week would have been icing on the cake.
Now, let's look at the best places to visit in Spain, starting with an incredible Spanish festival.
1. Pamplona – Running of the Bulls
My top recommendation when planning a trip to Spain is to attend the Running of the Bulls Festival, held in Pamplona, which I found to be a very charming city.
The festival begins on July 6th and concludes on July 14th. It always falls on these dates, no matter what the days are.
Running of the Bulls sunk into my consciousness after seeing it televised on TV over many years.
It had a strange kind of appeal to it. Of course, running with the bulls looked foolhardy, but you also had to admire the participants' courage.
So I ended up going myself and arrived in Pamplona around midday after a long bus trip from Madrid, with no idea what to expect.
I planned to run with the bulls but knew nothing about it.
I thought I'd stay the night in Pamplona and leave the following day, so I only came with a day bag.
Somehow, I thought it would be possible to find a cheap place to stay, but I soon gave up on the idea after seeing how many people were in town.
I never expected to see so many people at the Running of the Bulls in Pamplona.
The whole town's population seemed to be involved, plus an enormous number of visitors who wanted to celebrate the Running of the Bulls Festival with them.
In my mind, I thought the event was all about running with the bulls, but Pamplona's major festival is so much more than that.
Most people in the city wear white and red clothing at the festival.
Running with the Bulls
Numerous shops sell a variety of clothing for the festival. They seem to offer a similar style which is unique. However, it was pretty expensive to buy all the gear from memory.
But if you wear your own white clothing, you can save. You then only need to buy something in that specific bright red color.
Pamplona has carnival rides in place, food stalls, and sideshows, so it is a family-friendly festival. I had some seafood paella to eat which tasted great.
The festival is also a party carnival, so it goes well into the night.
When the time came in the afternoon for the Running of the Bulls, I found myself squashed together with a pile of other people standing in one of the streets.
How anyone could run with the bulls had me perplexed. There were too many people around where I stood. I was more afraid of getting trampled by people than bulls.
Before I knew it, I could hear bells jingling in the distance. A bell noise could be heard getting closer and closer until I could see the bulls approaching in the middle of the street.
A parting of the sea occurred, and the bulls passed us by in a blur. It was all over in what seemed like no more than 10 seconds.
In the photo above, most people look toward the bulls as they pass us.
I started thinking that maybe they were the first batch of bulls in the Running of the Bulls, possibly used as a warning for more ferocious bulls heading our way.
But no, the scary bull run was all over. At least I had survived the Running of the Bulls unscathed. I suppose I have to thank the Greek Gods for that.
Worst experience in Pamplona
The worst thing that happened at the Running of the Bulls was experiencing a dramatic drop in temperature at night.
My clothing didn't keep me warm. It was hot during the day, but when the sun faded, it turned out to be very chilly and kept getting colder and colder throughout the night. I started shivering a bit as the night progressed.
I wanted to escape the cold breeze and felt very sleepy after midnight.
Going to sleep would have been great, but I didn't have any accommodation.
Pamplona Accommodation – Sleeping in a Bus
After a while, I became desperate.
That's when I decided to catch a public bus, so I could sleep inside as the bus drove around.
I didn't care where it went. Even if it left the city entirely, I didn't care. I planned on dealing with it in the morning.
Once I got on board the bus, I fell asleep pretty quickly while sitting near the back of the bus, which had many people inside.
I only woke up after hearing loud shouting. When I opened my eyes, I could see and hear the bus driver screaming at me in loud Spanish, which startled me.
Thankfully, the guy quickly calmed down after I awoke.
Once he realized I didn't speak Spanish, with half a laugh, he told me in rough English that the next and final stop would be the bus station.
So I had to get off. I was the only passenger left on the bus at that time.
The time was probably around five in the morning, so I got at least a couple of hours of good sleep.
It worked out pretty well. I still had to wait until daylight arrived, but I felt okay because I had a refreshing sleep.
Tips for Running with the Bulls
The best advice I can give anyone planning to go to the Running of the Bulls Festival is to stay for a minimum of two nights in Pamplona. Maybe even three nights.
Make sure you pre-arrange your accommodation before you go, and don't risk leaving it too late. Otherwise, you may not find a place to stay.
Also, get a map of the entire street circuit, which shows the entire route where bulls run through the streets. Then, talk to the locals and pick a good location to stand, one that isn't so crowded.
If you can, pre-arrange a seat inside the stadium for the day's grand finale.
Also, wear some white/red clothing. You'll fit in much better. Don't forget.
The Running of the Bulls is a great festival, so if you plan things properly, you'll have a great time.
Here's a Running with the Bulls website that may help you plan it.
2. The Alhambra, Granada
There's a great saying associated with the Alhambra in Granada:
"If you die without seeing the Alhambra, you have not lived."
While this may be an overstatement by today's standards, you will fully understand how someone thought up this saying because the place is truly magic!
I can imagine a harem of beautiful women enjoying the refined splendor of this oasis in ancient times.
The beautiful Alhambra palace and all it entails is remembered as the last Muslim stronghold in Spain.
The Alhambra is very special. Whatever you decide to do in Spain, if you're planning a trip to Spain and it is your first time, you must see the Alhambra in Granada.
Granada is a University town, and it is very lively. Here's a great view of Granada city from somewhere in the Alhambra.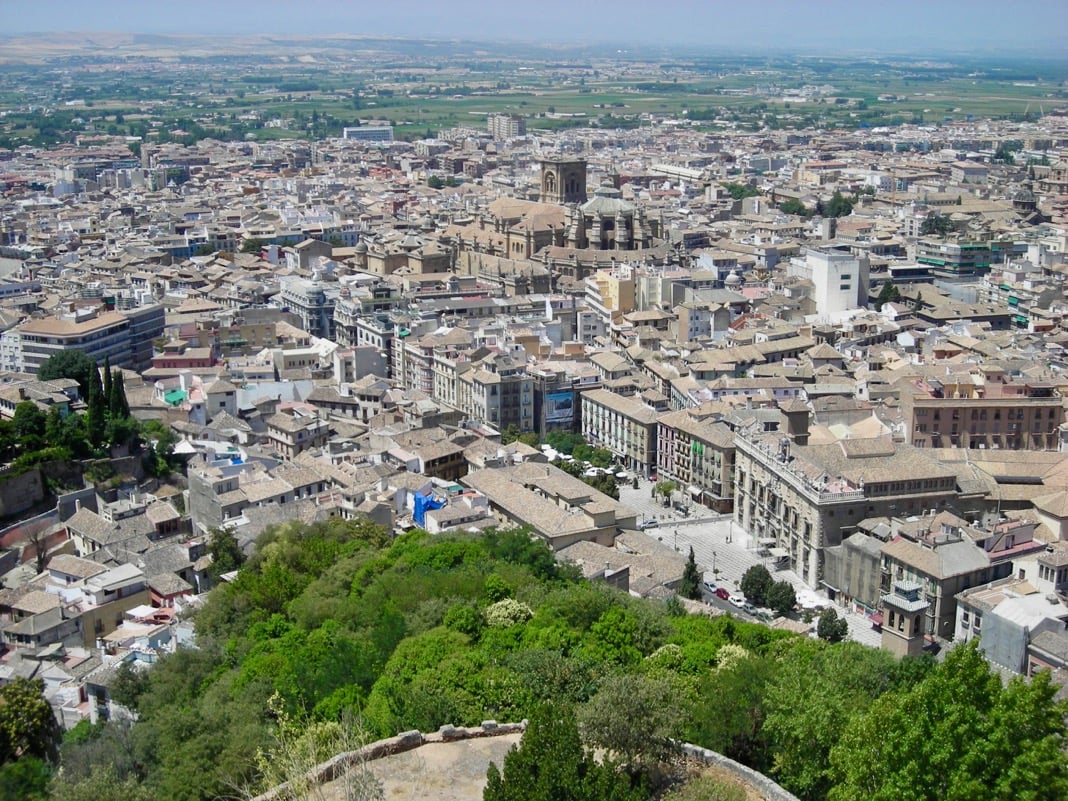 Here's another view of the Alhambra (seen on the left) from a different perspective.
You can also see a statue of Neptune (Poseidon) in Granada, so the Greek Gods have made their mark in this special city.
I highly recommend a trip to Granada. It's a vibrant town and a fabulous place to visit in Spain.
My recommendation is to spend at least two nights in Granada.
If you ever see a list that doesn't include the Alhambra when discussing the best places to visit in Spain, they've made a big mistake because the Alhambra is truly spectacular!
3. Mallorca (also called Majorca)
Mallorca is a beautiful island. You need to go there to check it out.
The Balearic island is known for top beach resorts, beautiful sheltered coves, limestone mountains, and Roman and Moorish remains.
Not sure why I didn't go myself.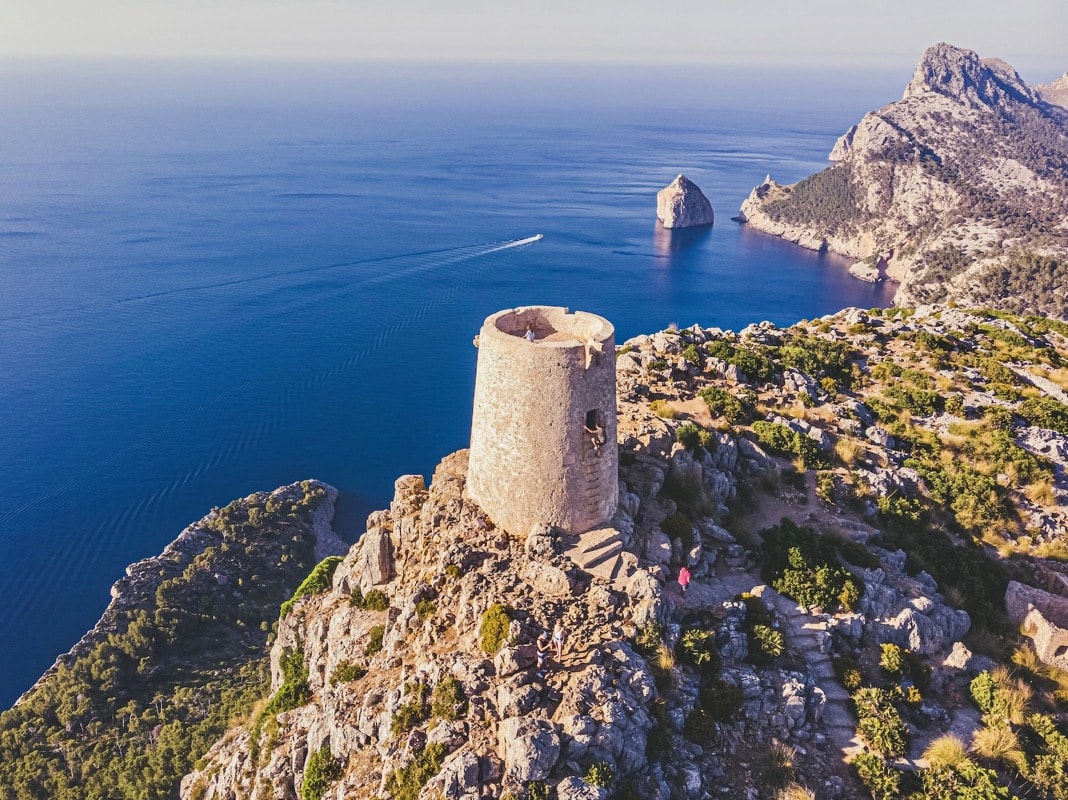 4. Toledo
Visiting Toledo makes you feel like you have traveled back into medieval times.
The mystical city served as the capital of past empires. You can understand why because it is a hilltop fortress town.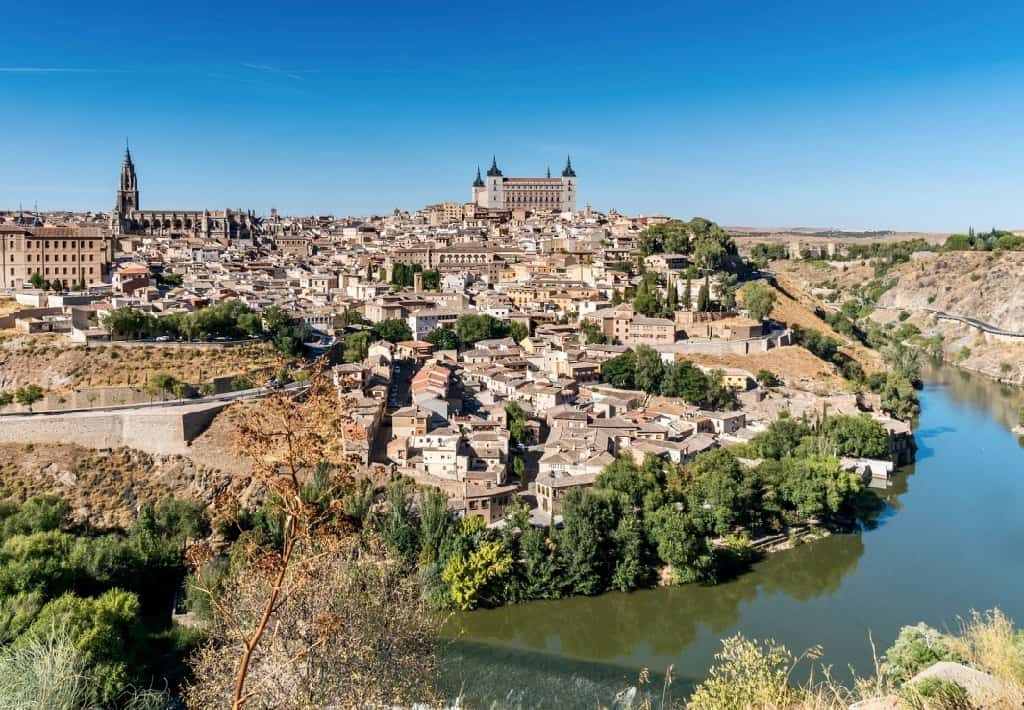 Entering Toledo is a very memorable experience when crossing over an old bridge.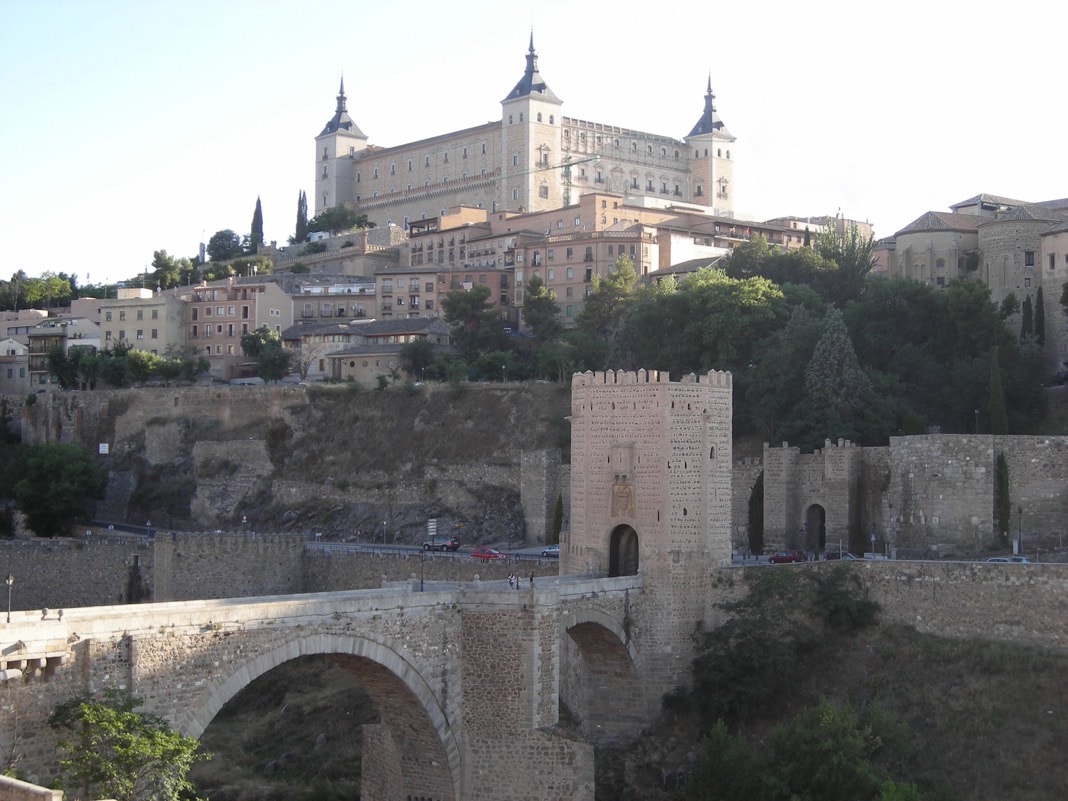 Once inside the city, I was amazed that some shops were selling impressive-looking swords and many other unusual items.
If you want to buy a medieval sword, and who doesn't, then Toledo is the place to go.
But seriously, you can just walk through the streets or sit somewhere scenic, and you'll love Toledo.
I think Toledo would have to be in the top five places to visit in Spain, especially if you're a history buff.
5. Barcelona
La Rambla – Barcelona
La Rambla is a long pedestrian strip where many tourists walk up and down constantly.
The lively street is excellent for people-watching. It is approximately 1.2 km long, so going back and forth keeps everyone super fit, especially if you do it a couple of times a day.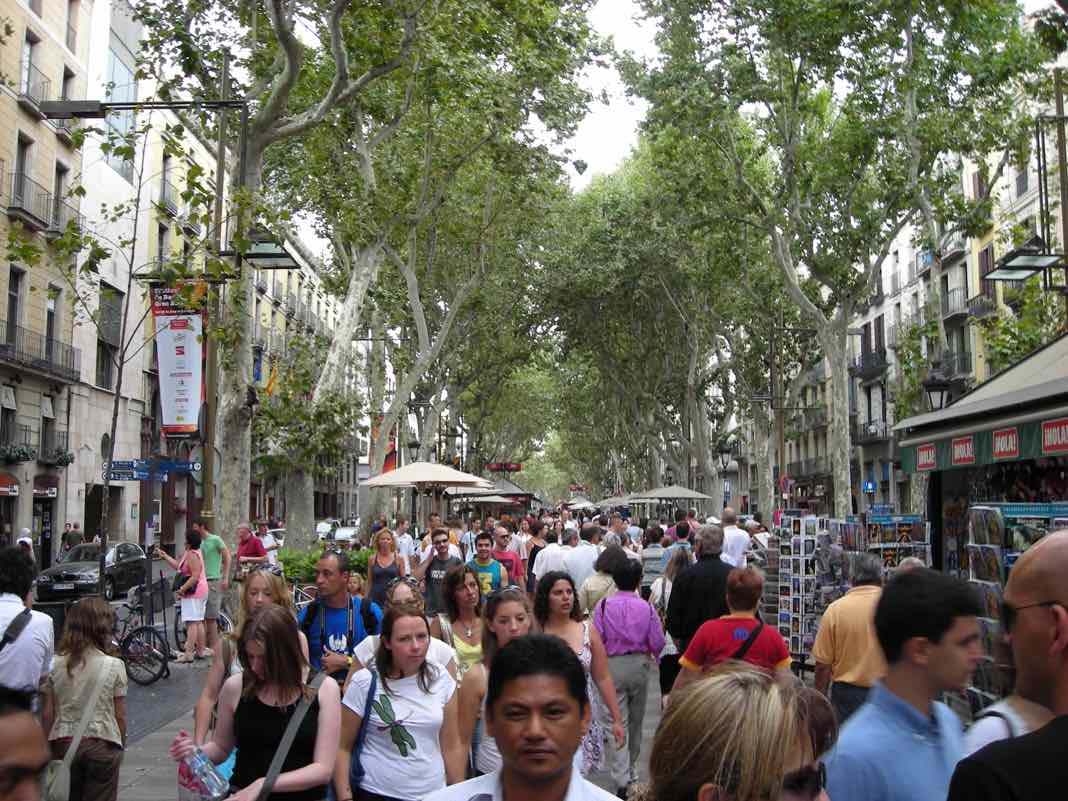 La Rambla has people everywhere.
La Rambla Human Statues
On each side of the street, you'll often see human living statues with a donation collection cup/hat next to them.
I love how trident is behind this guy. The three-pronged trident is a symbol of Poseidon, God of the sea.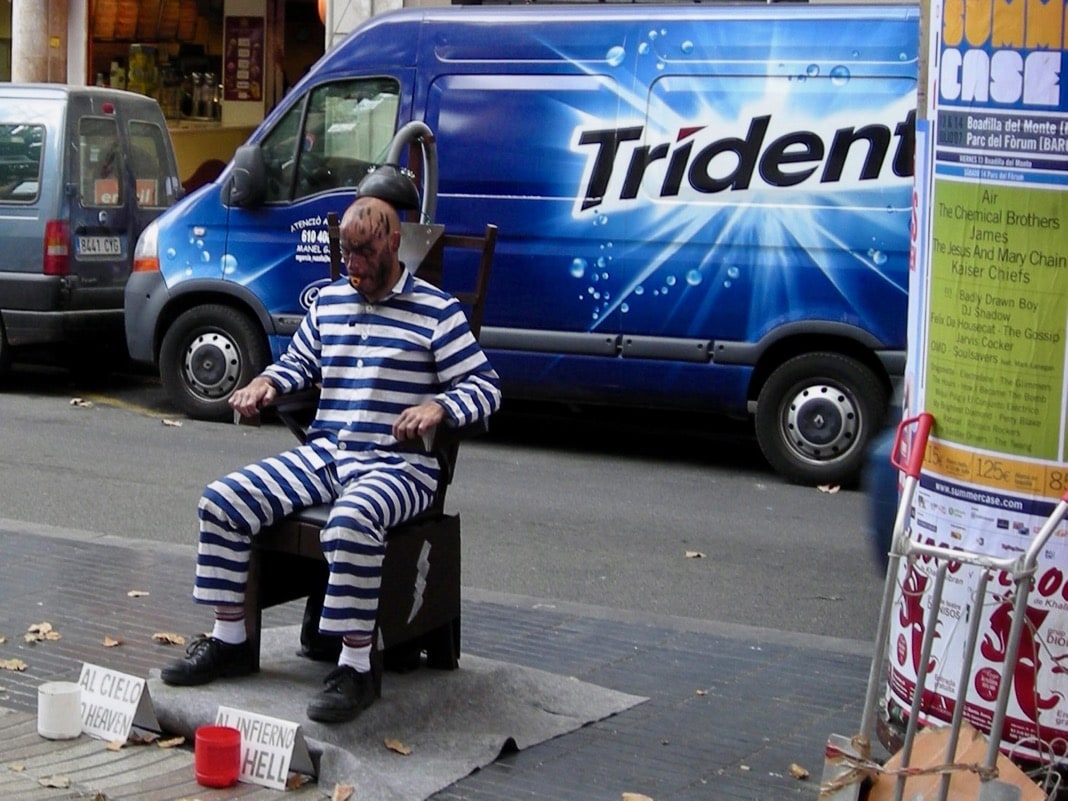 My take on this is that the Greek Gods determine whether you go to Heaven or Hell.
Here is a human statue having a toilet break. He is very smart when you think about it.
Some human statues stand up for a big part of the day, and as you can imagine, that would be pretty exhausting. If it were me, I'd at least bring a chair and something to read.
Some people are always in a mad rush on La Rambla. Check out this business guy whizzing past with his tie flying behind him through the air.
The unbelievable thing about this guy is that he is also a human statue. He isn't moving at all and is completely stationary.
Magic Fountain – Barcelona
Barcelona has a magic fountain that changes color and shape while music is being played.
Here is the road leading up to the Magic Fountain of Montjuïc.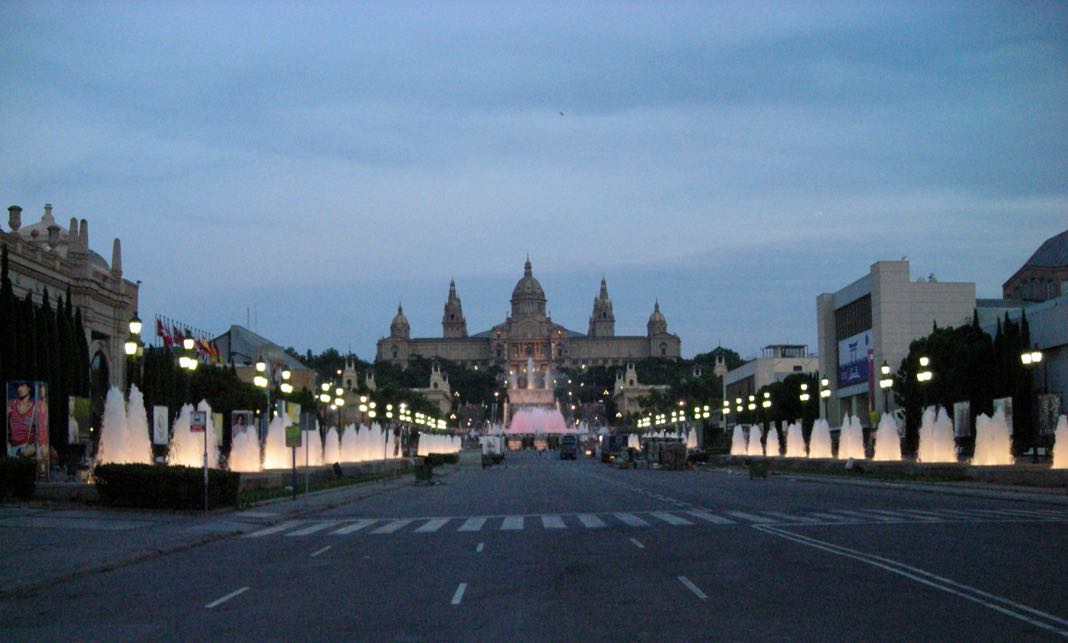 This very entertaining magical fountain attracts a large crowd of tourists, but not too many.
The magic fountain is a popular tourist attraction, but you can easily miss it if you don't know about it.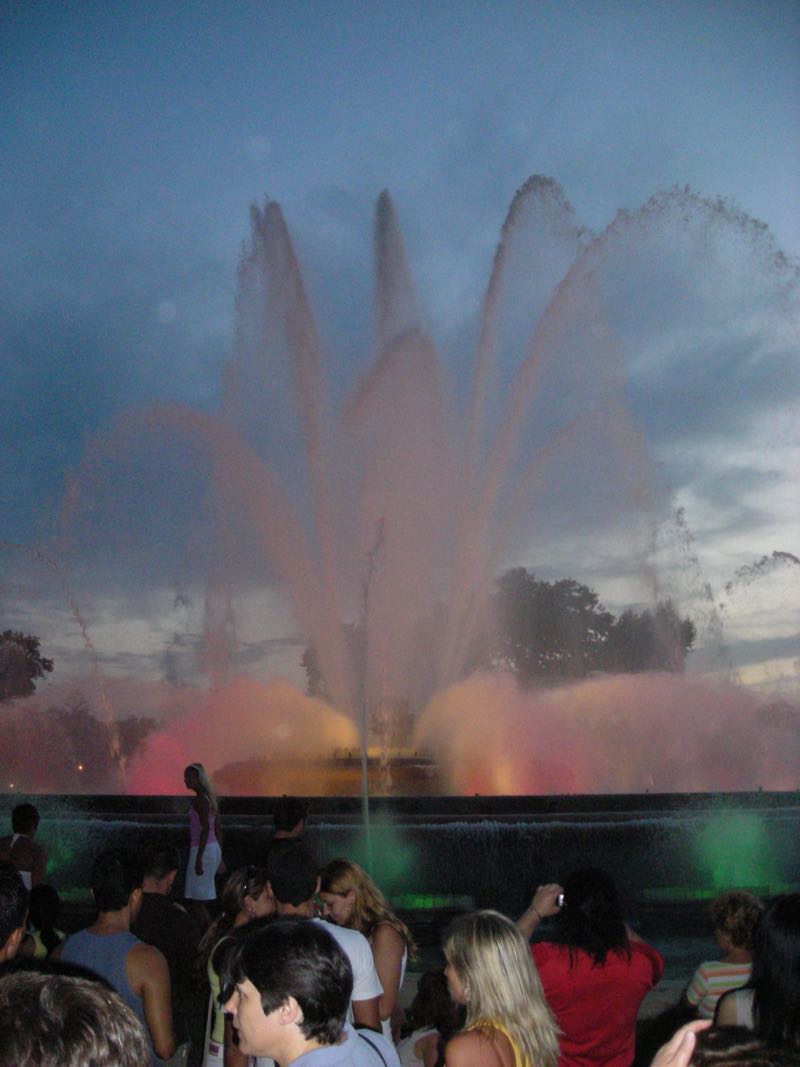 You will see the magic fountain change into various shapes and colors.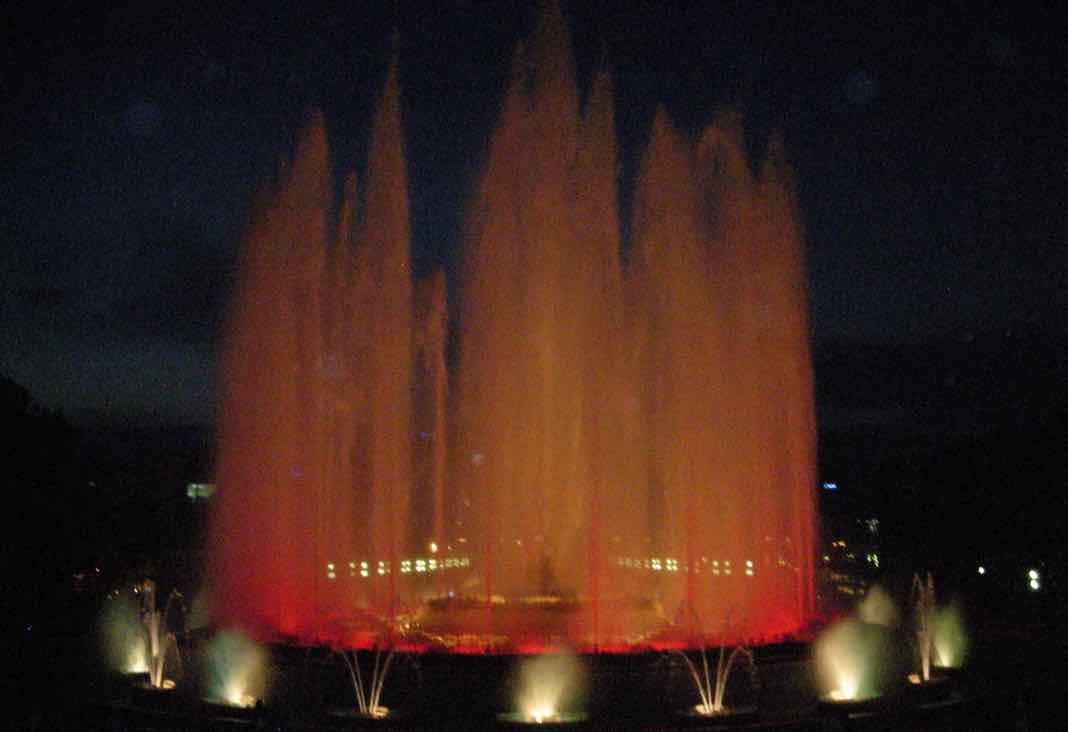 The video below will show you how the Magic Fountain in Barcelona operates. It will give you a better idea of how it looks and sounds.
You're not going to visit Barcelona just to see this fountain, but when you combine it with La Rambla, Barcelona becomes a magnet with excellent pulling power.
Barcelona is one of the best places to visit in Spain, no doubt about it. You won't regret going there.
6. Seville
Seville made me feel as if I had entered the cultural capital of Spain. If any place made me feel like Zorro, then this is the city that did.
There is something special about Seville that makes you feel like you are in Spain's heart.
Plaza de Espana, Sevilla, Spain
One of the most beautiful buildings in Seville to visit is the Plaza de Espana.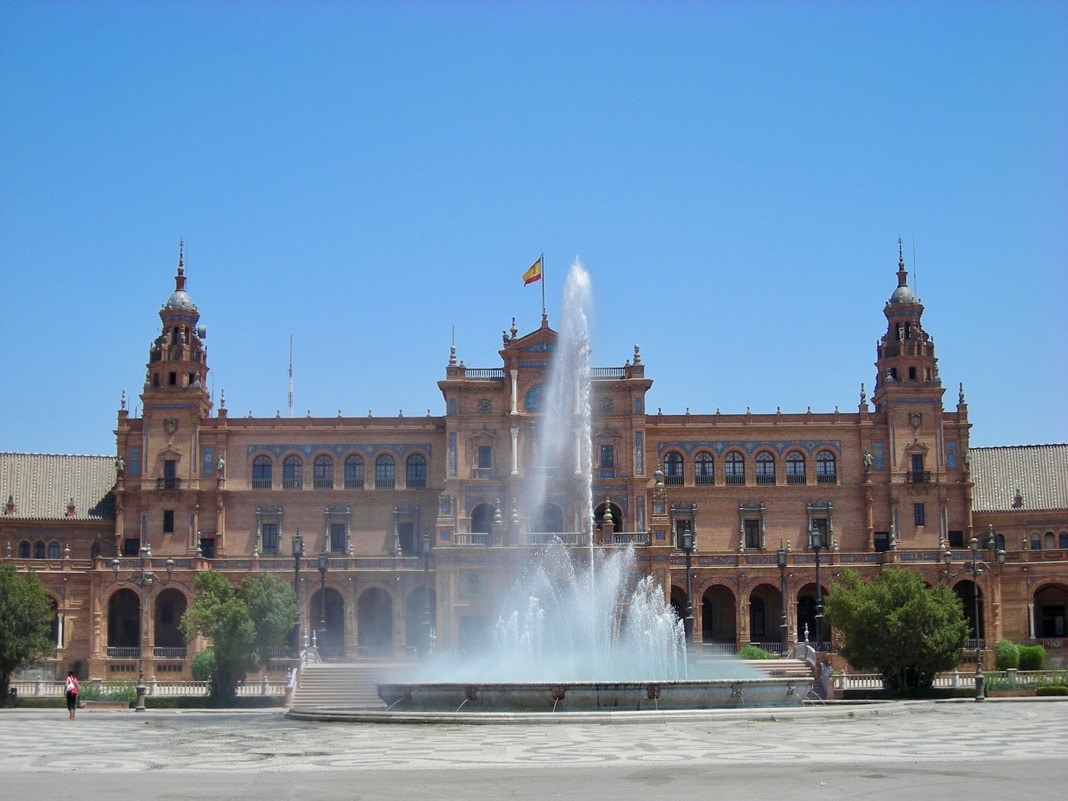 Tip: Also, be sure to visit the Royal Alcazar Palace.
Flamenco performance
Seville is also a great place to see Flamenco dancing, so that's another reason to visit Seville.
Here are two smoking hot dancers entertaining a small audience inside a cozy room performing in Seville. I much enjoyed listening to and watching this flamenco performance.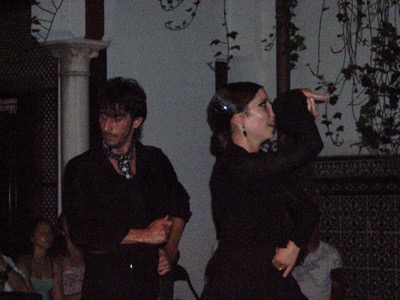 7. Madrid – the Capital of Spain
Museo Del Prado (The Prado Museum) – Madrid
When taking this photo in the Prado Museum, my camera flash went off, causing the whole room to light up in a ball of white light.
Flashes aren't allowed, and an angry guard quickly approached another person and demanded their camera, thinking they had done it, but it was me. 🙂
I quickly made a quick dash into another museum room. You can easily see the flashlight reflected on the painting.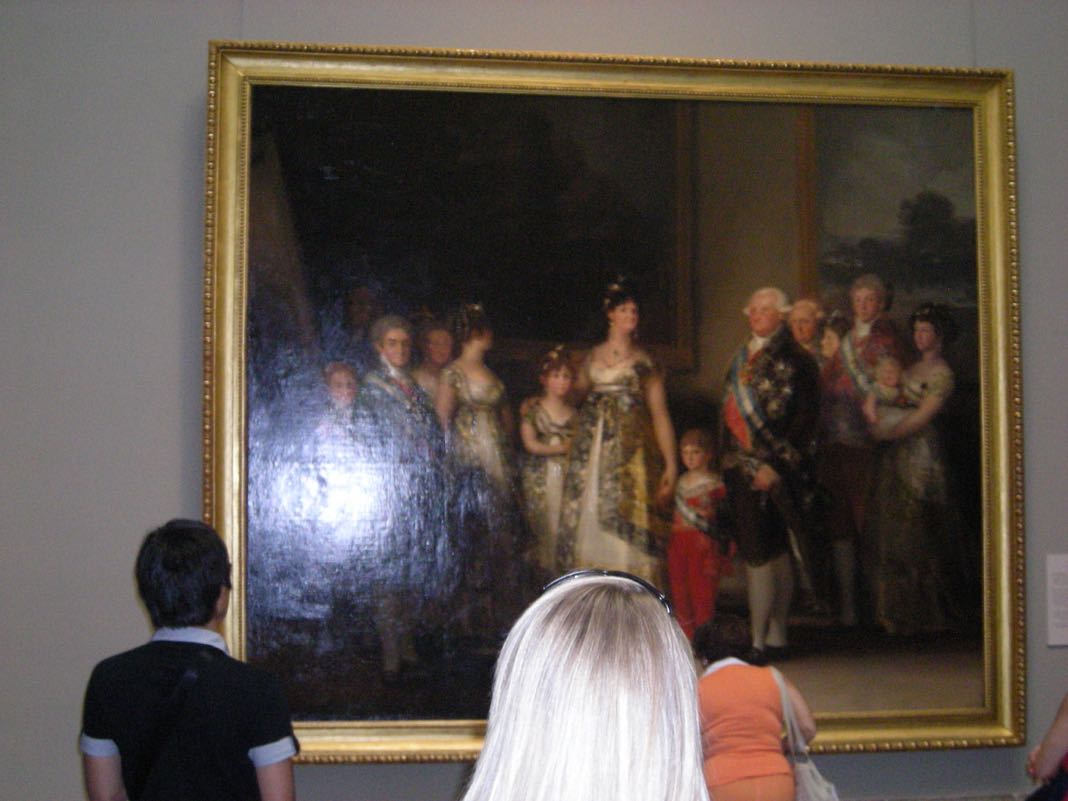 It was a mistake on my part. I didn't realize that my camera had an automatic flash.
Check out some of the Greek mythology paintings in the Prado Museum.
This painting in the Prado Museum depicts the myth of re-populating the earth after the Great Flood.
After consulting the Goddess Themis, the husband and wife threw stones over their shoulders to give birth to a new generation of humanity.
The stones thrown by Deucalion became men, while the stone thrown by Pyrrha gave life to women.
Lakes, Fountains, and Water Parks in Madrid
Estanque grande del Retiro is a beautiful rectangular lake in Madrid, where you can hire a row boat and enjoy the beautiful serenity. Being on land is also a very calming experience.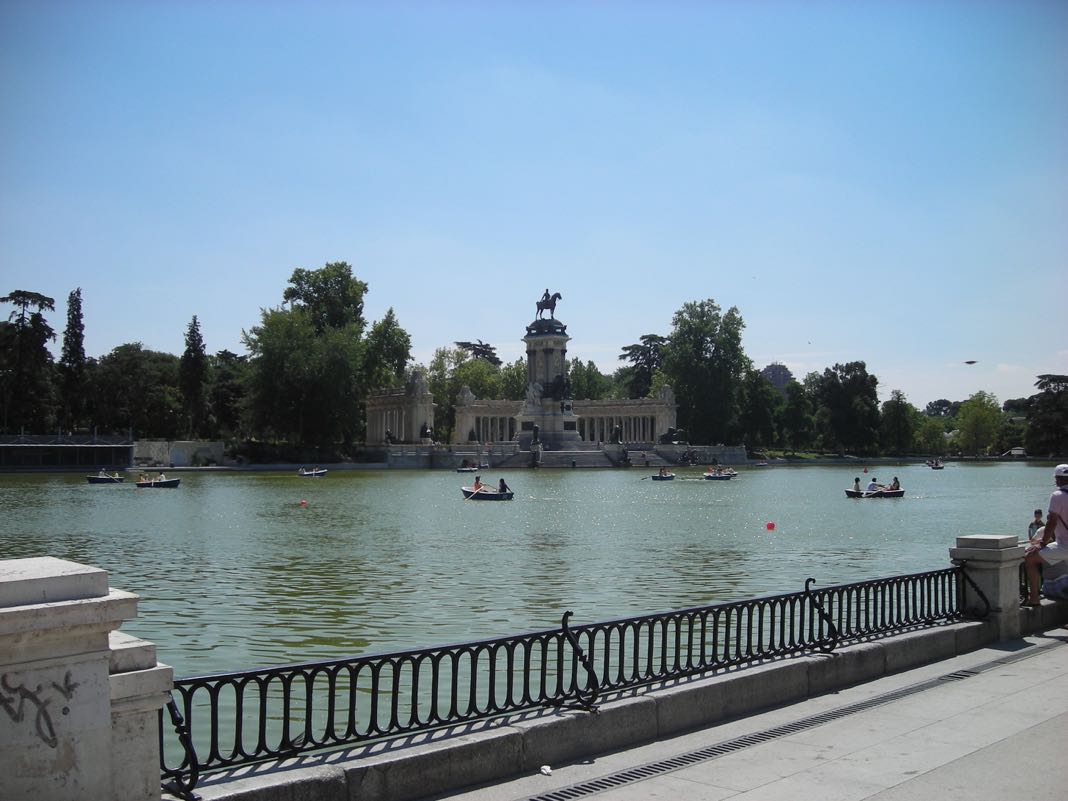 It is a beautiful spot in Madrid to go and relax.
Madrid can feel very hectic and mad due to lots of traffic, but when you come here, it feels like you have entered another peaceful world.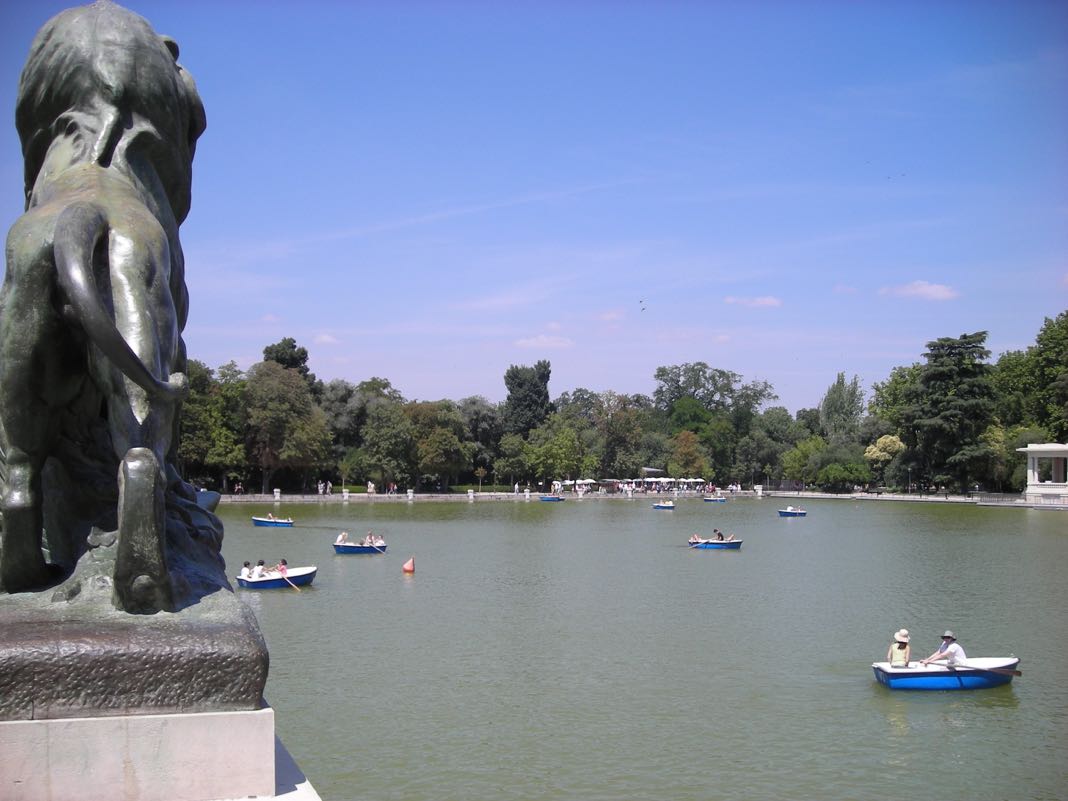 If you want to visit one of the best places in Spain, you have to see Estanque grande del Retiro.
Poseidon Fountain – Madrid
You can also see a Neptune (Poseidon) fountain in Madrid. It surprised me seeing Poseidon.
Royal Palace of Madrid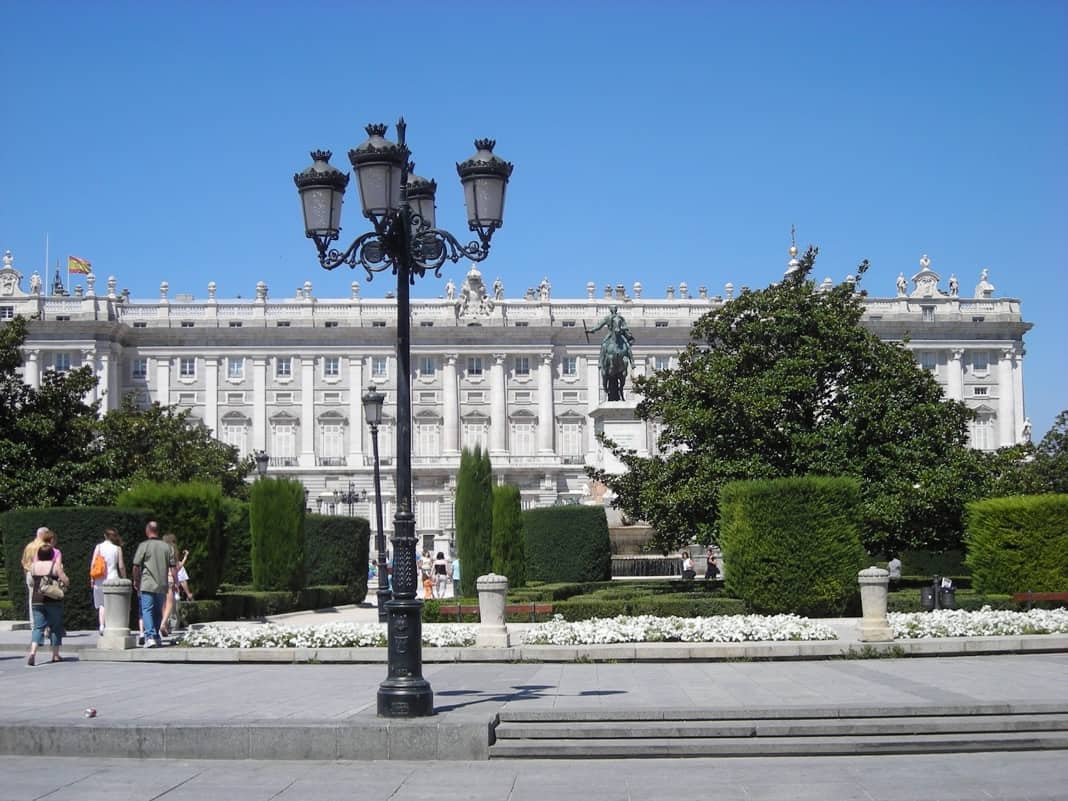 Water Park in Spain
During one hot day in Spain, I decided to visit a water park on the outskirts of Madrid.
Going to a water park is hard to beat when the weather is hot.
Plenty of Spaniards were enjoying themselves at the water park, but not so many tourists.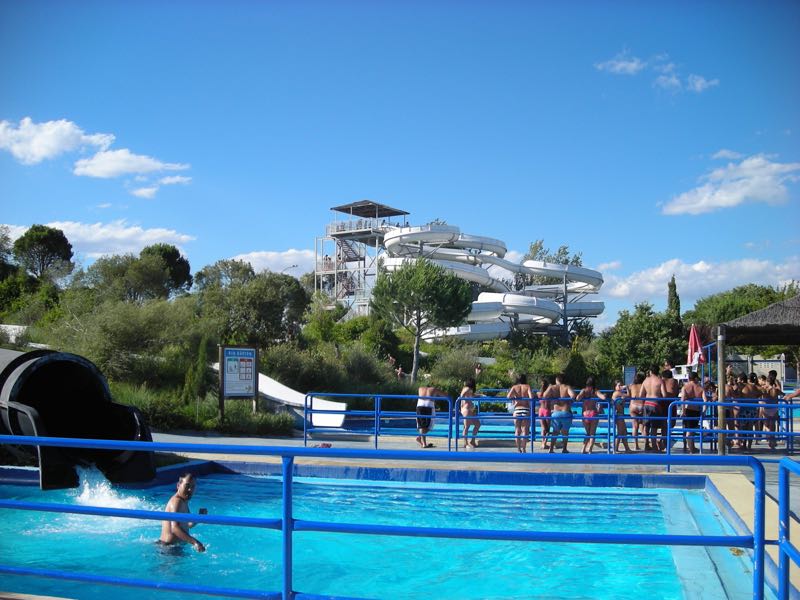 8. Best Place in Spain for Couples – Valencia
I found the coastal city of Valencia to be a very romantic city, so I highly recommend visiting Valencia if you're in a romantic relationship.
Valencia also has a futuristic precinct with a scientific interactive museum and aquarium.
One thing that sticks in my mind is buying what tasted like a soy-based milk drink right next to these futuristic buildings.
A couple of ladies focussed on selling the excellent cool drink, which they scooped into a cup from a large metal chilled cylinder.
It has to be one of the most refreshing drinks I have ever tasted, and it was delicious. After gulping down the first one on a boiling hot day, I bought a second cup.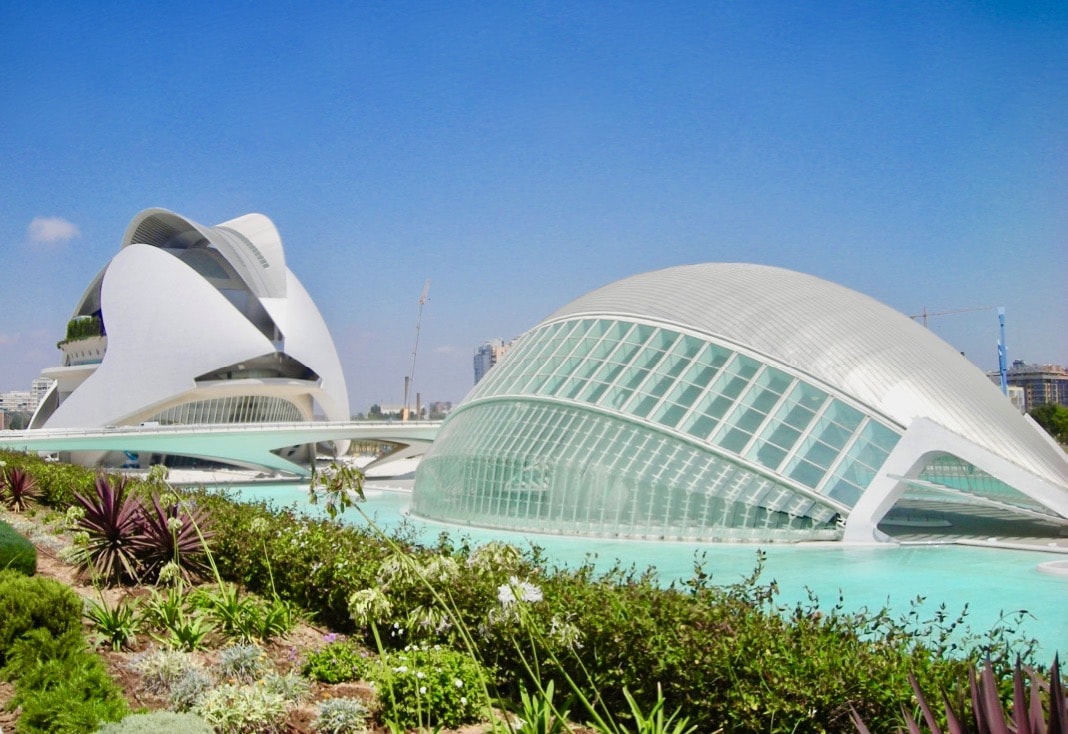 Neptune (Poseidon) is the central figure of the Turia Fountain at the Plaza de la Virgen in Valencia.
You can see him here lazing around in the main square, surrounded by eight naked women.
9. Bullfighting Stadium
Seeing a bullfight for the first time gave me an excellent appreciation for Spanish culture.
However, after going to a second bullfight in another stadium, I started to wish the bull would win for once.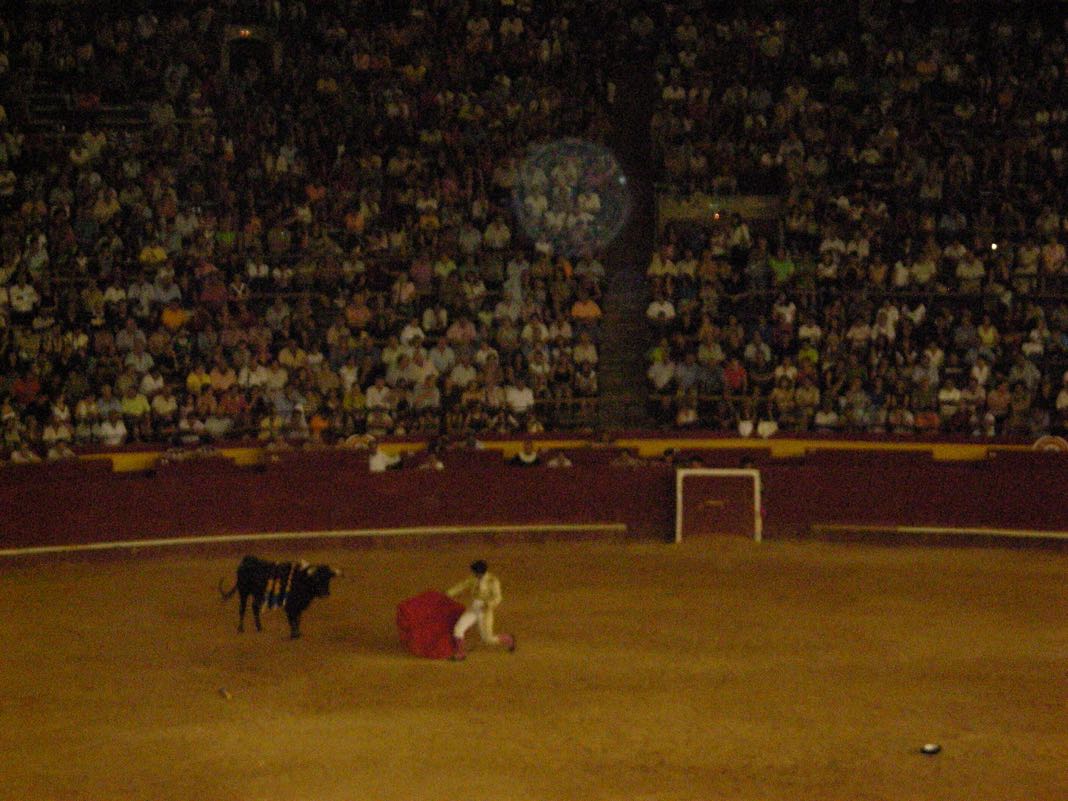 You will find quite a few bullfighting stadiums throughout Spain.
Madrid, Pamplona, and Seville all have stadiums, and they all seem to hold bullfighting events regularly during summer.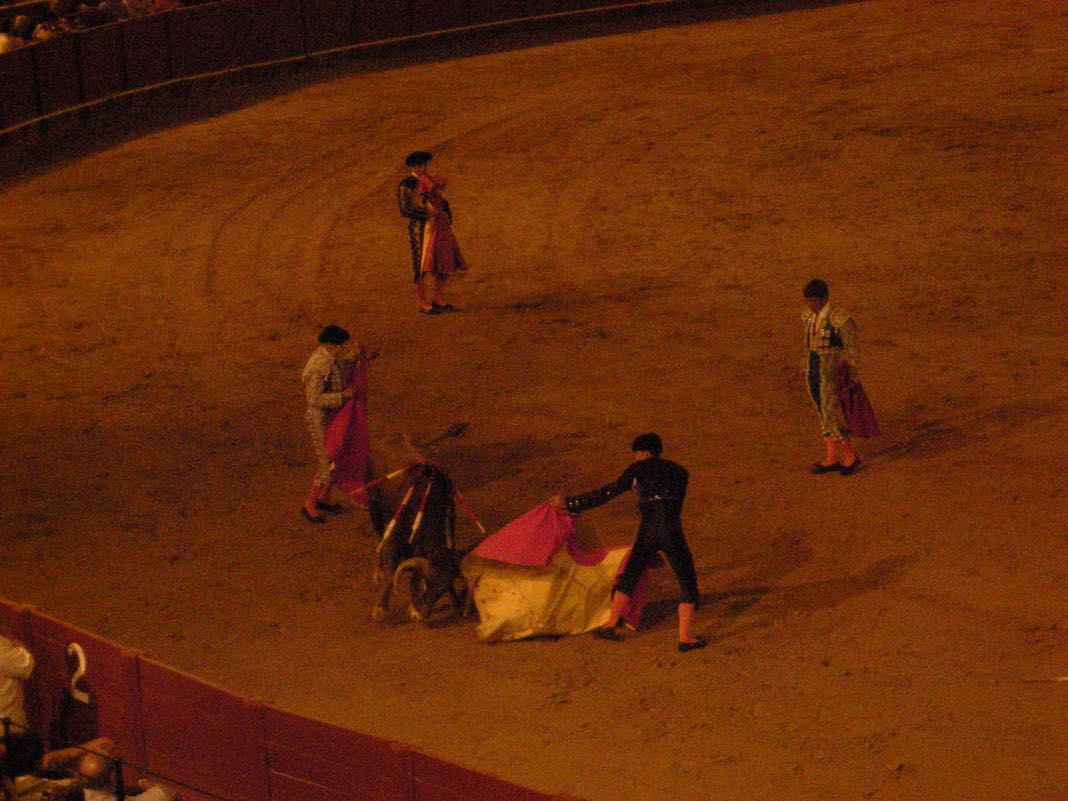 10. San Sebastian, Spain
Finally, we've made it to number ten. The resort town of San Sabastian is also included in the best places to visit in Spain, even though I have never been there.
I never went, but this photo makes me feel like I missed something special.
San Sabastian is quite close to Pamplona, only 85 km (53 miles) away, so maybe San Sebastian is the perfect place to visit after the Running of the Bulls.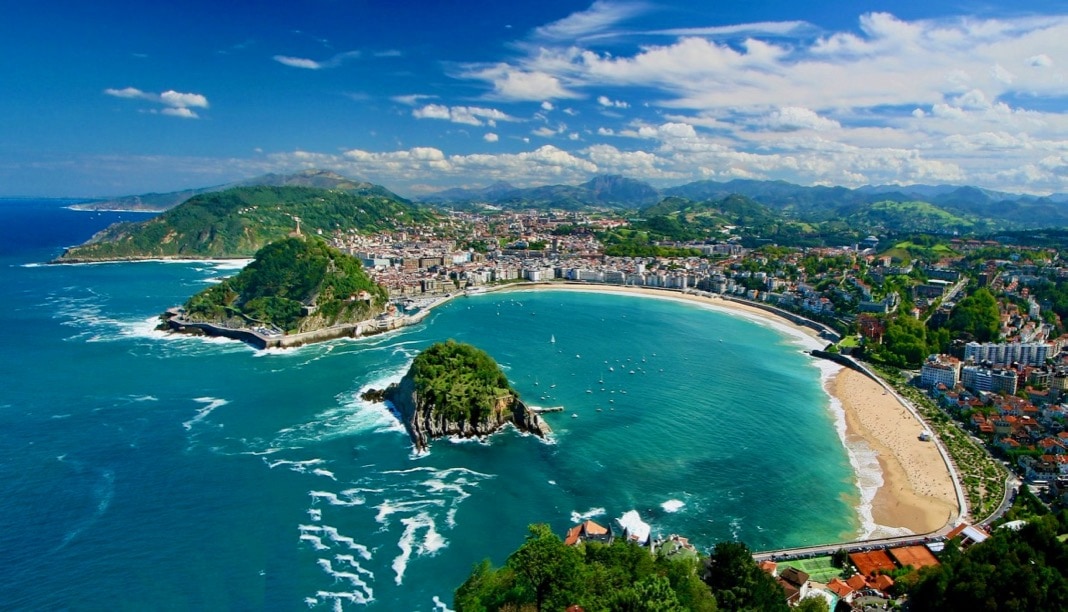 Day Trip from Spain (Side Trip)
Technically, Gibraltar is a British Overseas Territory, but it is a great place to visit on a day trip from Spain.
Rock of Gibraltar
In ancient times, the Rock of Gibraltar was called the Pillars of Hercules.
You'll never guess what I saw on top of the gigantic rock. I saw a half monkey, half man, getting into a vehicle.
No one would believe me, but here's the proof.
Finding monkeys on the Pillars of Hercules is something only the Greek Gods could have arranged. Maybe they'll make a monkey out of us one day. Who knows?
Seeing a half man/half monkey made me think that the Minotaur myth had an element of truth. After seeing this, a half man/half bull didn't seem so impossible anymore.
On reflection, maybe the Running of the Bulls secretly pays homage to the Minotaur myth.
I'll have to talk about this a bit further down.
Spain and then Portugal
I ended up departing from Spain after I missed a train. It happened when I paid for a train ticket somewhere at the bottom of Spain to get to San Sebastian.
I kicked myself for not going to San Sebastian after visiting Pamplona, but I still intended to go there at some point.
The lady at the ticket counter told me the train would be leaving in five minutes. She thought I'd be able to make it in time. But, guess what, I missed it.
I returned to the counter and somehow got into an argument with her, possibly about getting my money back, which she wouldn't do.
She then threatened to call the security guard if I didn't leave, who happened to be standing right behind me.
That's when I decided to leave Spain and go to Portugal. I'm so glad I missed that train.
I caught a bus into Portugal instead, a country I probably would have missed otherwise.
Portugal, like Spain is incredible. Spain had revealed some magic to me, and Portugal did the same thing.
Spain and the Minotaur Myth
To wrap things up, I want to discuss the Minotaur myth further.
The Spanish love bullfighting.
Sure, some may not like it, but they have stadiums dedicated to bullfighting, so you have to conclude that most of the population loves it.
For some reason, when I think of bullfighting, I think about the Greek myth of Theseus and the Minotaur.
In Greek mythology, Theseus entered a labyrinth hoping to slay the Minotaur.
That's not all. Afterward, Theseus had to escape from the labyrinth, which was considered impossible.
Theseus attached a thread to himself so he could find his way back to the entrance if he survived the onslaught of the Minotaur.
The myth of the Minoatuar sounds pretty farfetched, but there is an even crazier tradition in the modern world.
The famous Running of the Bulls in the town of Pamplona in northern Spain is just as weird, if not more bizarre.
No forced combatants are sacrificed at this bull event, just a town full of crazy volunteers willing to risk their lives or suffer a severe injury if they get gorged by a furious bull.
Running of the Bulls Myth
Imagine being a soothsayer and predicting this crazy modern myth to the people of ancient Greece.
An ancient soothsayer may have said something like this.
Fellow Greeks, in the future, I predict the existence of a small town in a faraway land where thousands and thousands of crazy people will gather.
They'll run with the bulls through a maze of labyrinth-like narrow streets.
They'll do it for fun to prove their bravery as part of a yearly bull cult festival.
Some unlucky participants will be seriously injured, and someone will be gored to death every so often, yet it will go on.
Most of you listening to this may not believe any word of this prophecy.
But neither will the people of the future believe in your monstrous Minotaur.
Half man, half bull, no one will believe that crazy story.
Then again, if anyone were to believe it, maybe it would be the Spaniards if The Greek Gods of Spain are taken into account.
Pin it … Share it