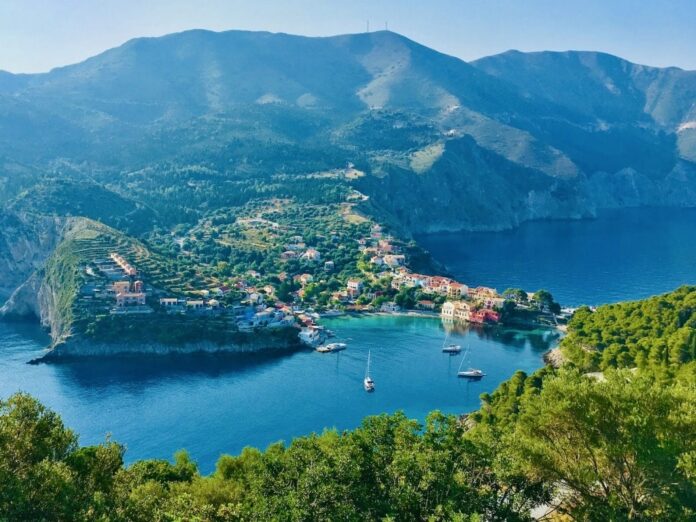 When I say 21 hidden gems in Greece, some sophisticated Greeks probably know about them, yet most foreign tourists wouldn't have a clue about many of the fabulous Greek destinations.
Plenty of hidden gems exist on Greece's mainland and all over the Greek Islands, and it wasn't easy to narrow everything down to this relatively short list.
Some of these places don't get much attention at all, while other truly remarkable destinations in Greece seem to be kept secret. Maybe that is the intention.
Santorini dominates as the biggest drawcard to Greece, as it always predominately appears in tourism ads.
However, experiencing some of Greece's hidden gems could even be better, especially if you've already been to Santorini.
The 21 hidden gems in Greece shown here will open your eyes to many of the wonders in Greece.
Greece is a spectacular country, and it gets even better once you're aware of all of these spectacular destinations.
Knowing about hidden gems in Greece will probably get you thinking about extending a planned Greek vacation, or you may want to return to Greece.
If you've never been to Greece before, knowing about some of these hidden gems in Greece may even spark a desire to visit Greece one day.
I can't blame you because Greece is awesome. Let's start with the feature image.
1. Assos village – Kefalonia Island
The picture at the very top shows you the village of Assos in Kefalonia. Many people refer to the beautiful multi-colored village as Kefalonia's hidden gem.
One of the best things to do in Kefalonia after lounging around in Assos is to hike up to Assos castle, which the Germans turned into a prison during the Second World War.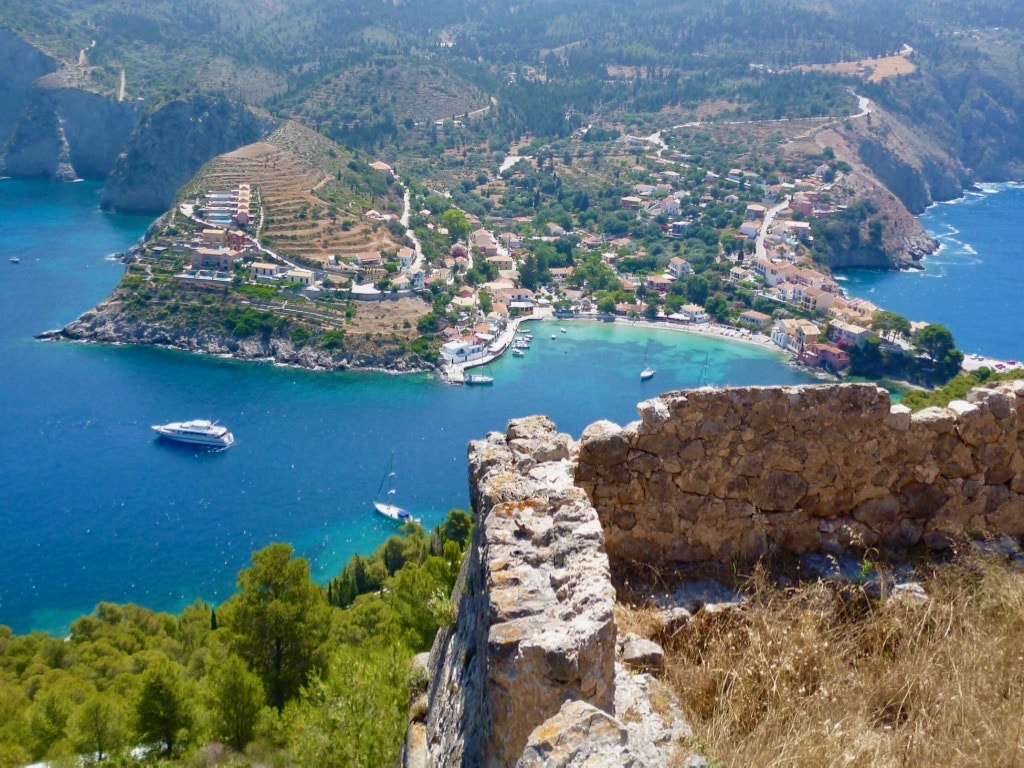 The hike will take you about one hour each way. You will get incredible views of Assos and the surrounding area from up top at Assos castle.
2. Lake Vouliagmeni – Athens Riviera (Apollo Coast) 
Lake Vouliagmeni is one of those hidden gems in Greece, located only 20 km south of Athens city center. You can find it in the classy Greek seaside suburb of Vouliagmeni.
Most foreign tourists wouldn't have a clue about this place. Who would expect to find a beautiful oasis like this so close to the concrete jungle of Athens?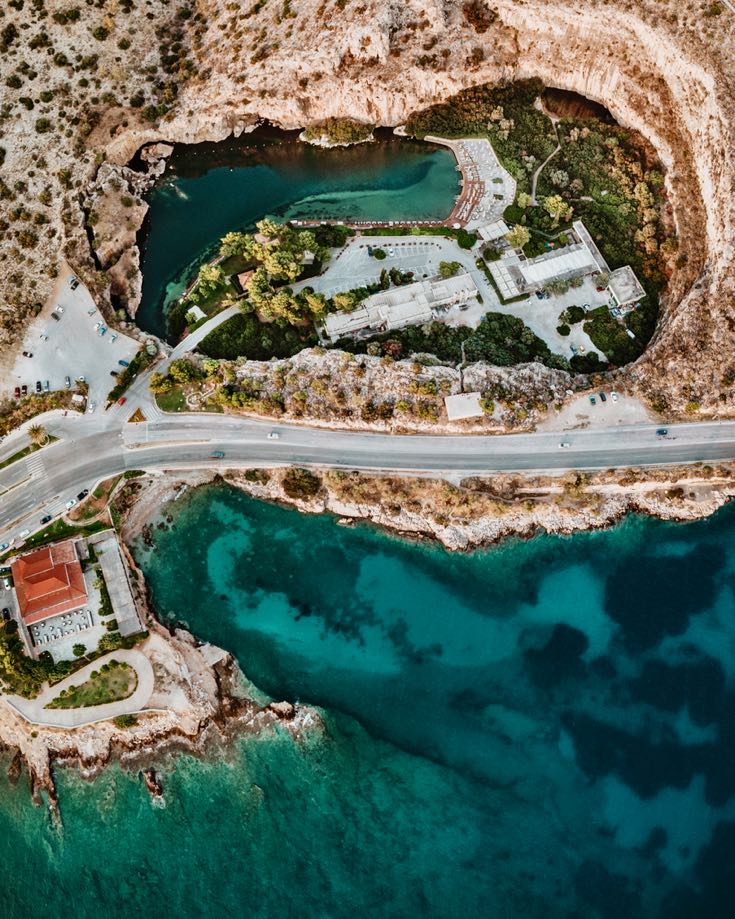 The upscale suburb of Glyfada is situated 17km southeast of Athens. It marks the beginning of the Apollo Coast (otherwise known as the Athenian Riviera).
A 50km stretch of beaches, resorts, and nightlife down to Cape Sounion, where the famous Temple of Poseidon is situated.
The coastal road of Poseidonos Ave, often called Paraliaki, leads from Glyfada to Voula, Kavouri. It leads to Vouliagmeni and Astir Beach, often touted as the finest beach in the Athens district.
Savvy travelers often choose to make Vouliagmeni their Athens base. Vouliagmeni is an anchor point of the famed "Athens Riviera." Yet, it is a world away from the hustle and bustle of Athens.
The beauty of staying somewhere like Vouliagmeni or somewhere else on the Apollo Coast is that you still have easy access to Athens central and all that goes with it.
Consider staying at the Divani Apollo Palace or the Astir Palace Hotel.
Vouliagmeni lake operates all year round as a spa. The refreshing water is fed by natural springs with a water temperature of about 24ºC, making it a pleasant swimming spot.
Visiting Lake Vouliagmeni would make for a great half-day trip from Athens at the very least.
3. Polilimnio Waterfalls – Messinia
Polilimnio Waterfalls are in the southern part of Messinia, to the north of Pilos. You can find it about 50 km (30 miles) from the city of Kalamata in the Peloponnese.
In Greek, polylimnio translates to 'many lakes.'
This hidden paradise contains 15 little freshwater pools, one of them being Kadoula Lake.
In Greek, kardoula means small heart. It is a great place to go for a dip.
Gorgeous waterfalls fill many of the stunning water pools along the Polilimnio gorge.
A carpark is located near Haravgi (Charavgi) village. The first two pools and falls are easily accessible by a footpath and bridge.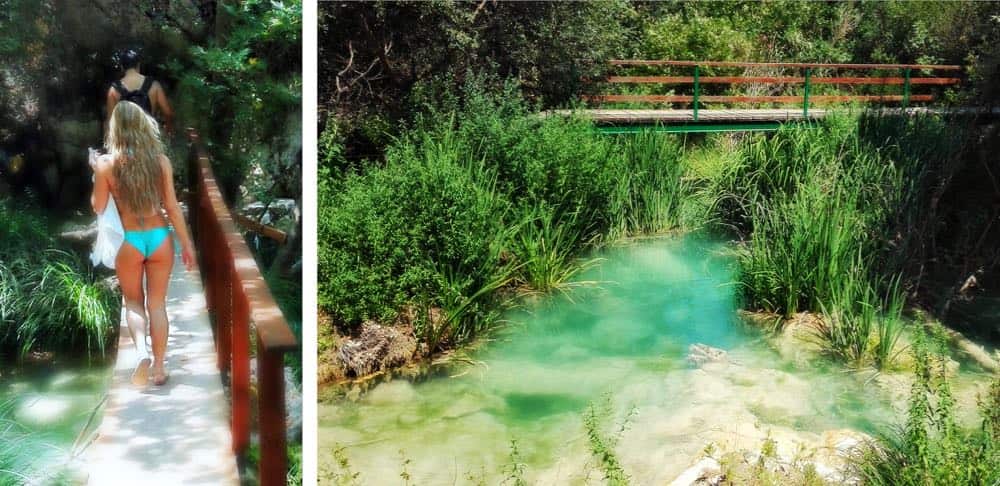 The highest and most picturesque waterfall is about 25 meters high and falls into Kadi Lake.
The challenging hike to reach the highest waterfall will take around 30 minutes. Keep an eye out for the little crabs along the way.
It's a great spot to go for a refreshing swim. The only problem is that the water will probably be freezing! However, you can climb a rope ladder and courageously dive in.
Consider going on a guided tour of the Polilimnio Waterfalls and Pools, also known as the Greek "blue lagoon."
Route Length: 3 km (total)
Walking Time: 1.5 hours (total)
In my opinion, this secret paradise has to be one of Greece's best-hidden gems.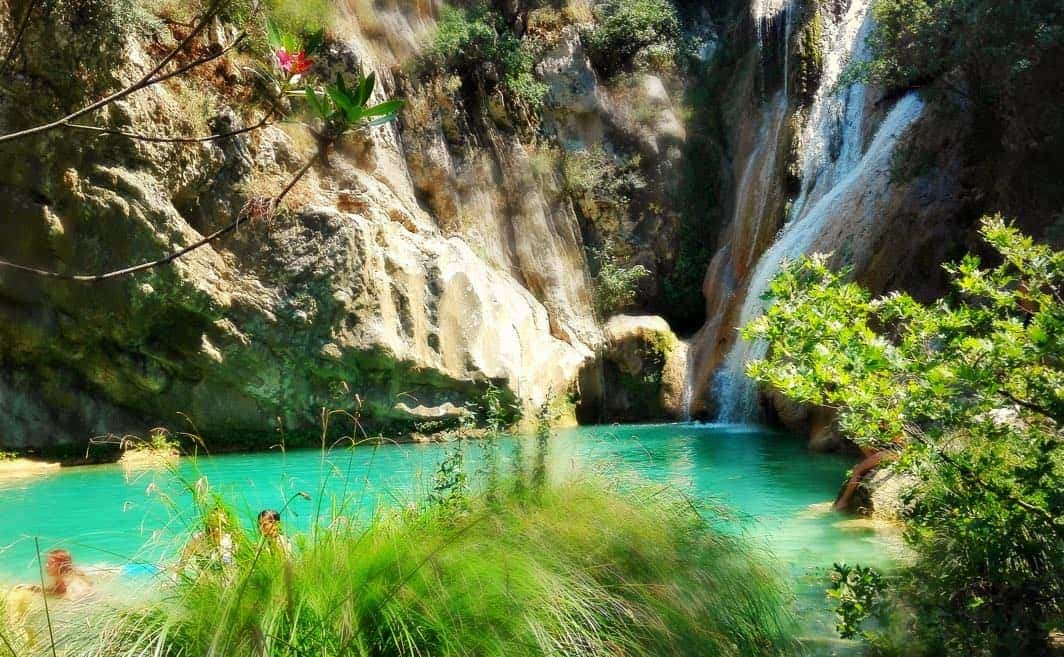 Internet myth has it that the flying horse Pegasus used to drink in these pools.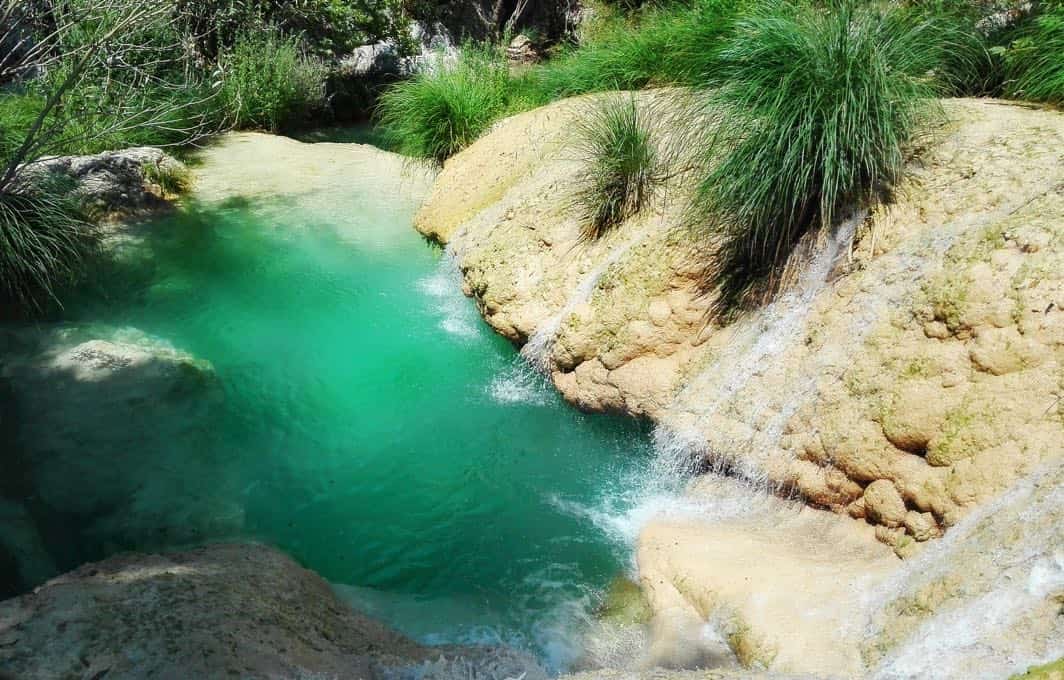 Tip: Wear some decent footwear and avoid flip-flops (thongs). It can get quite slippery on some of the rocks in the area. Also, avoid wet weather because it can be dangerous due to falling rocks.
4. Pelion
Stunning natural beauty awaits you in Pelion.
In Greek mythology, Mount Pelion was the homeland of Chiron the Centaur, the tutor of many ancient Greek heroes.
The Olympian Gods also spent their holidays in Pelion from Greek mythology rumors.
It looks good, really, really good. If the Greek Gods thought Pelion was a top spot to visit, the place is probably magic.
5. Pozar Baths (Pozar Hot Springs) – Loutraki
Interestingly, the Pozar baths are also known as the Nymph of the North.
You can find the Pozar thermal baths in Loutraki in the Pella prefecture at the base of Mount Voras (Kaimaktsalan).
The beautiful therapeutic area is 110 km from Thessaloniki, about a 2-hour drive from Greece's second-largest city.
Edessa, another top attraction, is only 40 km from the Pozar hot springs.
That means you should plan to see both Pozar Hot Springs and Edessa Waterfalls during the same trip. Edessa Waterfalls is a top tourist attraction in itself.
The word "pozar" means ember, burning coal.
Expect a pristine hidden gem of a paradise with soothing rivers, hot springs, natural/private pools, fancy hotels, restaurants, natural/artificial waterfalls, and green plane trees.
Trails connecting the thermal springs with Mount Voras (Kaimaktsalan) along the river allow access to 16 prehistoric caves hidden in the gorge.
The open pools along the bank of the hot river allow you to bathe in a beautiful natural environment.
You can go for a walk through the nearby Black Forest, classified as one of the most beautiful forests in Greece.
The high density of the trees in the forest block sunlight from reaching the ground, which is how the name came about.
Nymphs offered the divine gifts of health and wellbeing in these waters in ancient times.
The thermal water is a soothing 37⁰C making it an ideal year-round destination.
Who wouldn't want to experience this hidden gem in Greece?
6. Seychelles – Ikaria
The spectacular beach, Seychelles, is located 25 km west of Agios Kirikos on the south coast of Ikaria.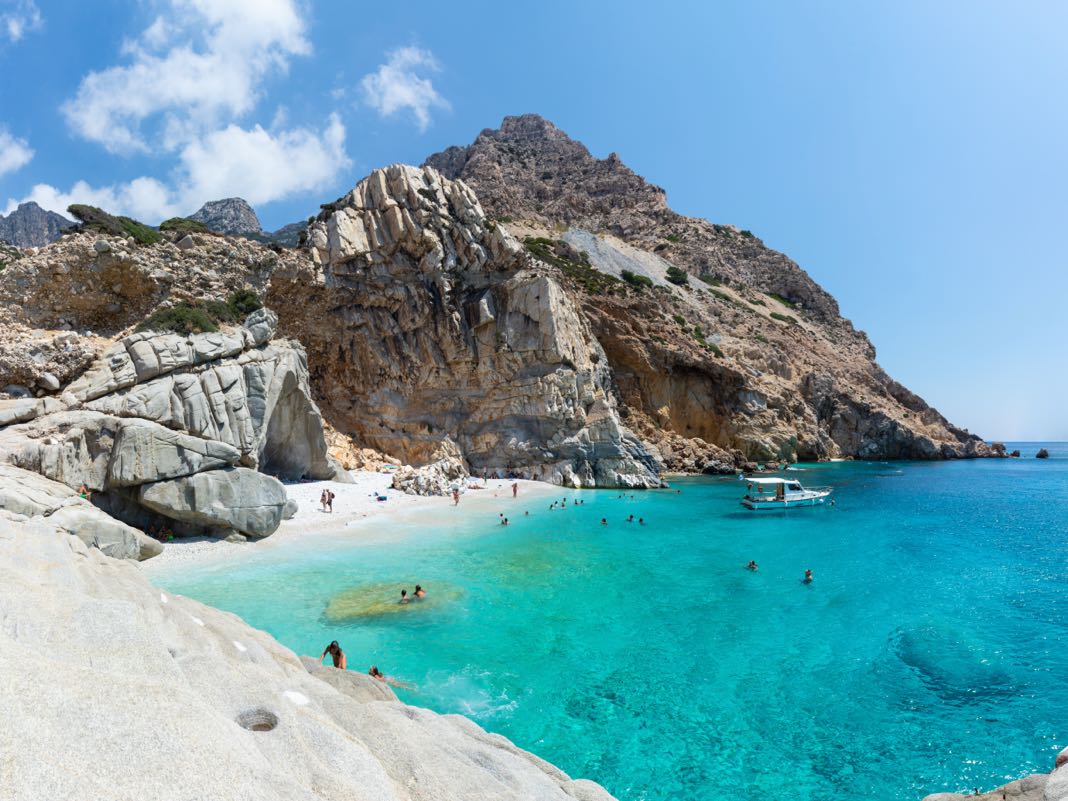 The beach is in the least developed area of the island, where the high rocky mountains drop off into the ocean. You can find it where the road ends in the isolated village of Manganitis.
Seychelles beach has to be one of Ikaria's most exotic beaches, especially considering that it has the same name as the Seychelles archipelago of 115 islands in the Indian Ocean.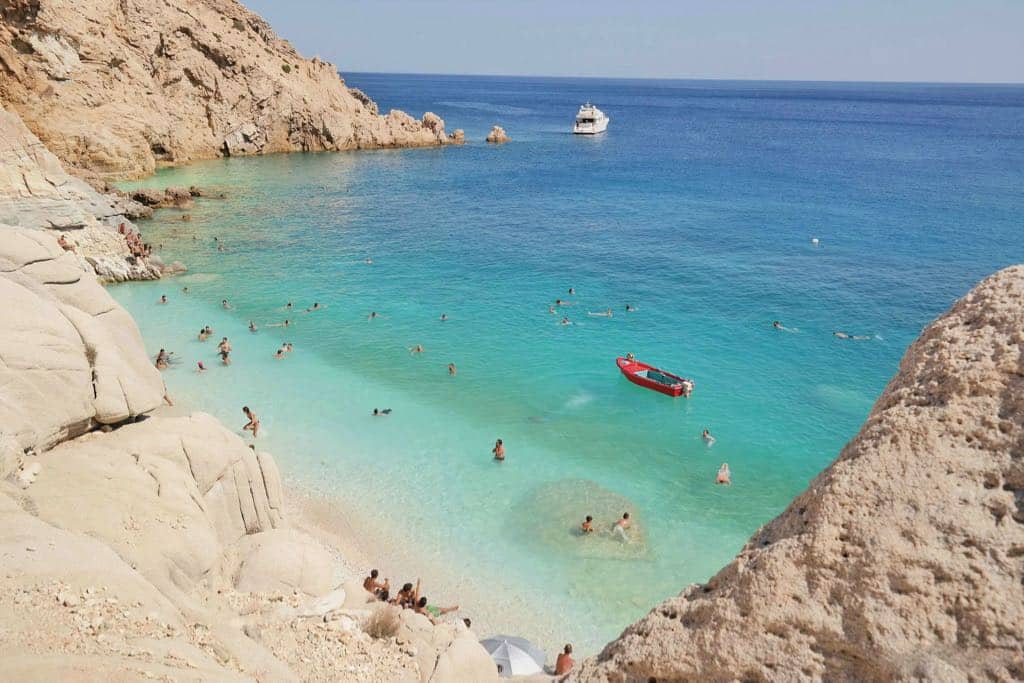 Could this beautiful beach be the secret reason the people of Ikaria live to a ripe old age?
Maybe it is the most extraordinary hidden gem in the Greek Islands. The only way to know for sure is to go there yourself.
7. Othoni – The Diapontian Islands
You can find these hidden gems known as the Diapontian islands, situated about 6km northwest of Corfu and about 8km away from the Italian coast.
The archipelago's three main islands are Othoni, Ereikoussa, and Mathraki.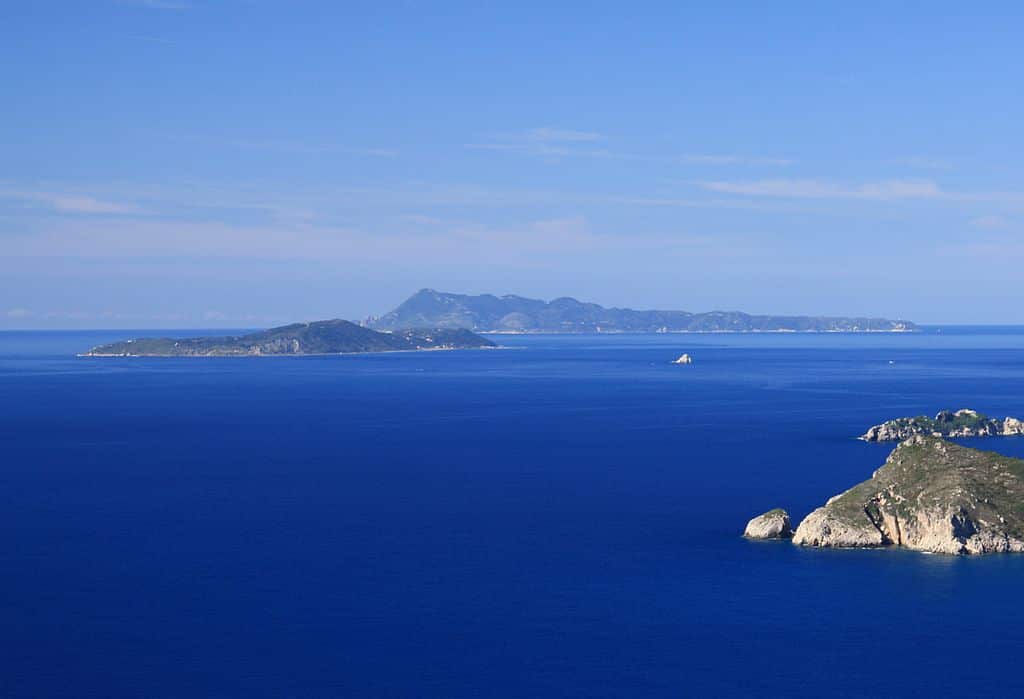 Othoni is one of several islands linked to the nymph Calypso. No one can know for sure if it is true, but legend has it that she lived in a large cave on the island of Othoni.
Odysseus spent seven years with Calypso. When he left the island on a raft on his voyage to try to make it back to his home on Ithaca, he supposedly washed up on Scheria, which is now known as the island of Corfu.
8. Kastellorizo
Hidden gems in Greece don't get much more hidden than Kastellorizo.

It lies about 2 kilometers off the south coast of Turkey and approximately 125 km east of Rhodes.
The island is the furthest island you can get to in that direction without leaving Greece.
Kastellorizo is the smallest of the Dodecanese islands. Foreign movie buffs, like myself, know this is the island where filming took place for the classic 1991 Oscar-winning movie Mediterraneo.
What a great movie. I highly recommend watching this Oscar-winning movie if you haven't seen it before.
Make sure you take a boat trip to the Blue Cave, a spectacular grotto.
9. Porto Heli – The Peloponnese
Porto Heli is a summer resort town situated on a bay of the Argolic Gulf, 40 km southeast of Nafplio. At one time, it was even the capital of Greece.
The island of Spetses is 6 km to the south of Porto Heli.
Ferry connections in Greece exist from Porto Heli to Spetses, a great place to go for a day trip. The ferry also goes to Hydra, Poros, Ermioni, and Piraeus.
Some of you probably think it laughable that I consider this place to be one of Greece's hidden gems, but I didn't know anything about this destination until my 30s.
Porto Heli looks like a top spot to visit when planning a visit to the island of Spetses.
Had I known about it, I would have already seen Porto Heli and Spetses.
You miss out on great places when you don't know about them.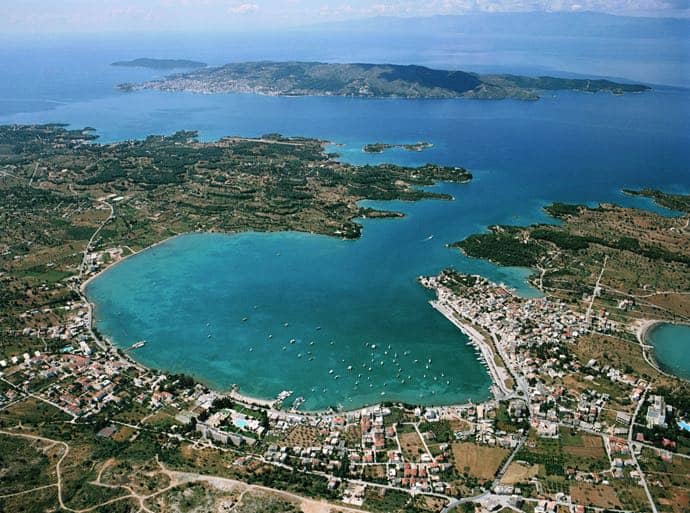 10. Kassandra – Halkidiki
Halkidiki is a three-fingered peninsula in northern Greece and a mecca for beach lovers.
It has over 500 km of pristine coastline and has to be one of the most visited destinations in Greece for those in the know.
The three peninsulas are Kassandra, Sithonia, and Mount Athos.
Even though it is lesser known than the more famous Greek Islands, it is a beautiful place to go for a beach holiday. In addition, the nightlife is supposed to be excellent.
Accommodation options are endless, and some of Greece's best hotels and resorts are at your fingertips in this region of Greece.
In Greek mythology, the birthplace of the Giants took place here. It is also where the Gigantomachy took place when the Giants tried to force the Olympian Gods out of Mount Olympus.
On a clear day, you can even see Mount Olympus across the vast Gulf of Salonica.
Kassandra is almost an island. The reason is that it is only separated from the mainland by a narrow strip of land.
11. Neda Waterfalls
The waterfalls get their name from Neda, a water goddess/nymph entrusted to take care of Zeus.
Go for a stroll around the banks of the river and lounge around. The riverside ends up in the natural river pool-like paradise. You may even see a few nymphs around the place.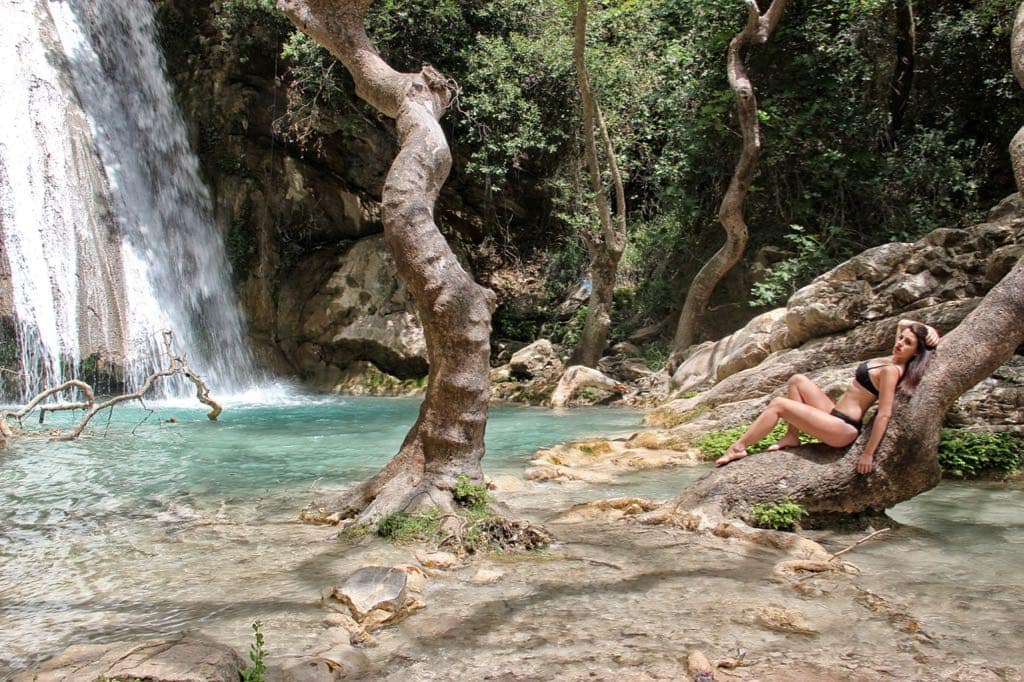 Interestingly, Neda is a female name in Greek, and only two rivers in Greece have female names. The other river is Arapitsa near Naoussa, in northern Greece.
12. Parga – Epirus
Parga is a Greek town with superb beaches and fantastic nightlife.
It is one of the most beautifully located Greek towns you could hope to visit. Krioneri beach, Lichnos beach, and Valtos beach await beach lovers. You won't be disappointed!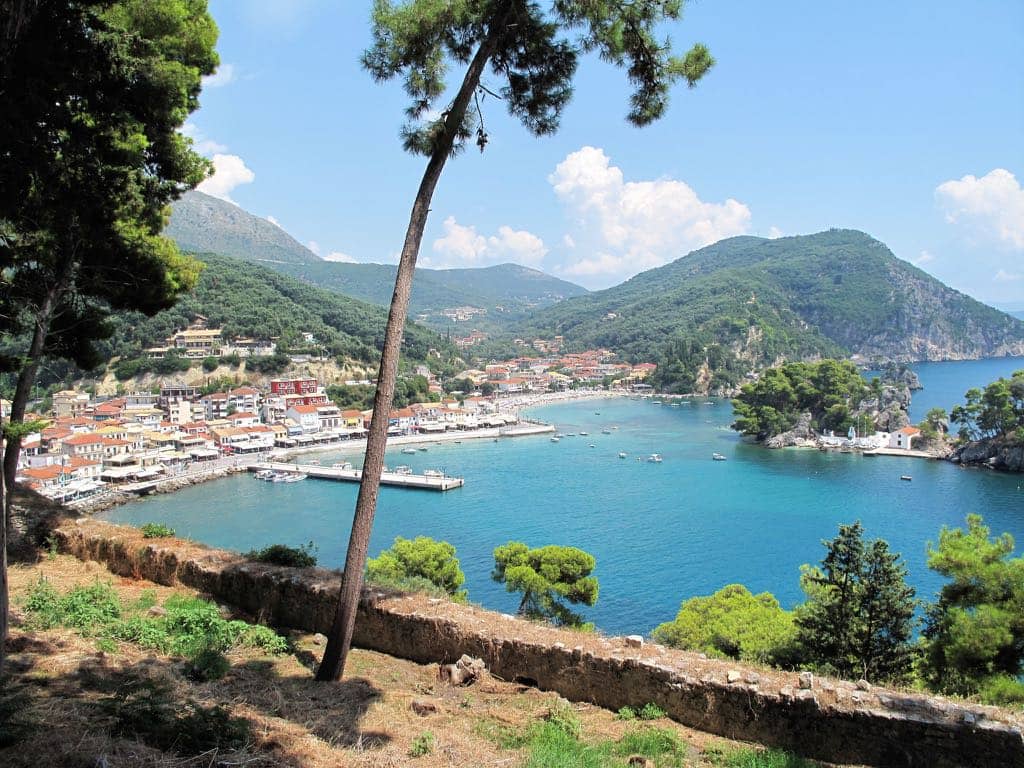 Visiting Parga is like visiting several of the Ionian islands all at once. It is said to have similar characteristics to Corfu and Kefalonia.
It looks great to me.
Syvota (Sivota)
North of Parga is Syvota, and it is only 27 km away.
Syvota is a resort town with numerous pristine beaches and several islets offshore.
From Syvota's coastline, you can find the small islands of Mavro Oros (meaning Black Mountain), Agios Nikolaos, Mourtemeno, and a few other smaller islets.
The most famous beach in Syvota is Bella Vraka beach. You can reach it by walking over a narrow strip of golden sand from the mainland.
13. Acheron River
The Acheron river is 20 km away from Parga. You will find it close to the village of Glyki. It is in the Epirus region in the northwestern part of Greece.
This river is one of the five rivers of the Greek Underworld.
The Acheron River seems like a worthy addition to the hidden gems of Greece.
The 52 km long river flows into the Ionian Sea in Ammoudia, near Parga. Tourists love walking through the shallow sections of the river.
14. Canal D'Amour – Corfu
In one of the busier areas of Corfu Island, there is a little hidden gem of a swimming spot.
Every unhitched lover should know about this place because local folklore suggests that any couple swimming through the channel will get married soon.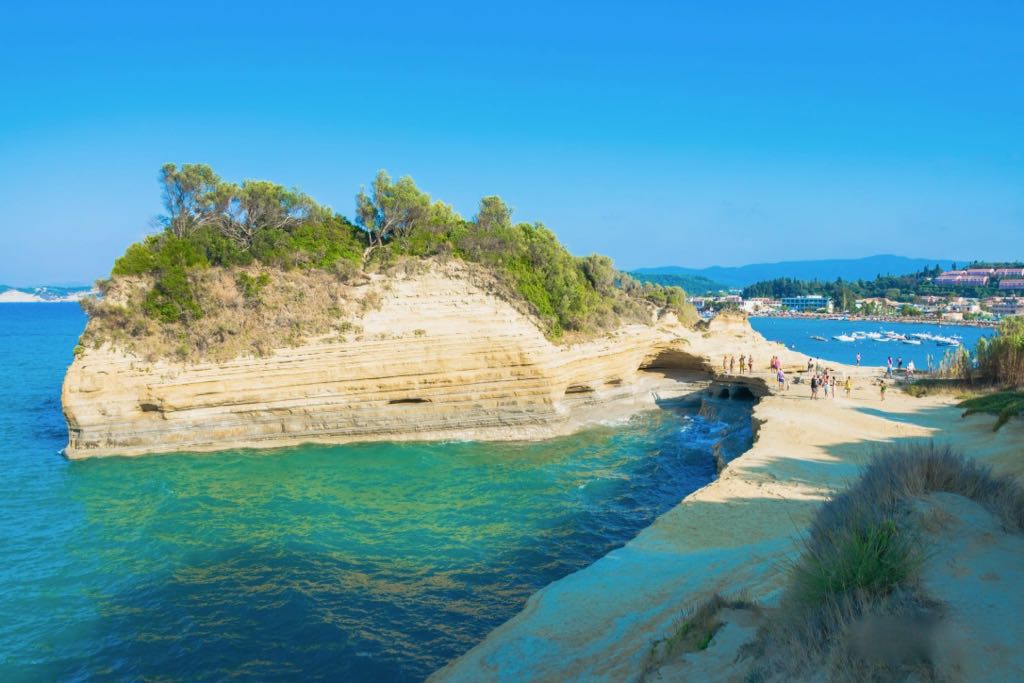 Canal d'Amour (love) is one of Corfu's most unique spots on the west side of town.
15. Lichadonisia – Greek Bahamas
Lichadonisia is one of Greece's most secret destinations.
The exotic paradise has been compared to the Bahamas, Seychelles, and even the Maldives.
It is generally uninhabited, so you'll find it quite different from the busier Greek Islands.
These seven small islands and islets are just off Evia (or Euboea), the second largest island in Greece. It is connected to the mainland by a long causeway.
Lichadonisia (Lichades) consists of Manolia, the largest island, plus six other smaller isles, including Strongyli, Mikri Strongyli, Steno, Vagia, Vorias, and Limani.
An excellent way to get there is to go on a scenic drive from Athens to Lichadonisia. Driving there will take about 2-3 hours since Lichadonisia is approximately 200 km from Athens.
Getting to Lichadonisia (Lichades) also requires a small boat ride from Kamena Vourla on the mainland or Kavos on the Euboia side.
Keep an eye out for any swimming seals. Here's one of the beaches to visit.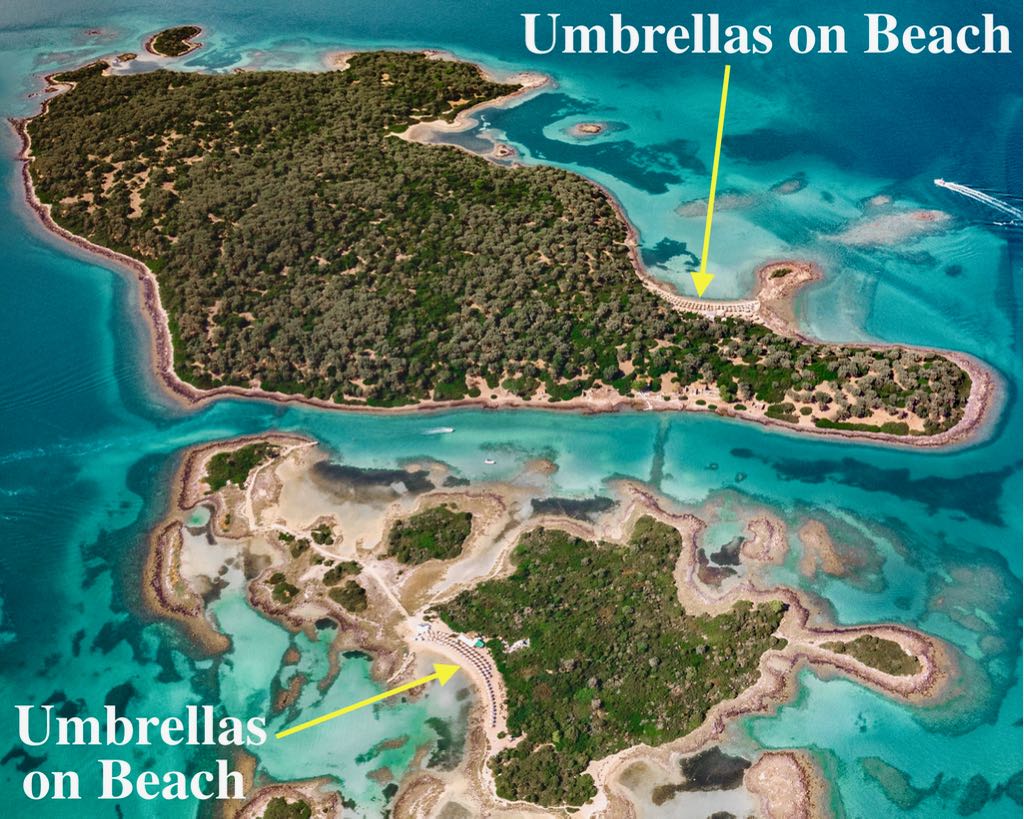 In Greek Mythology, these islands were the remains of the body of giant Lichas.
Lichas was an attendant of Hercules (Heracles), who brought his master a poisoned shirt. Long story.
The tragedy began to unfold after Hercules' wife became jealous of Iole, the beautiful daughter of Eurytus, who was king of the city of Oechalia.
Poison in the shirt penetrated Hercules, causing him great agony.
Before his demise on earth, Hercules, in his fury, seized Lichas and threw him into the sea, which is how Lichas became Lichadonisia (Lichades).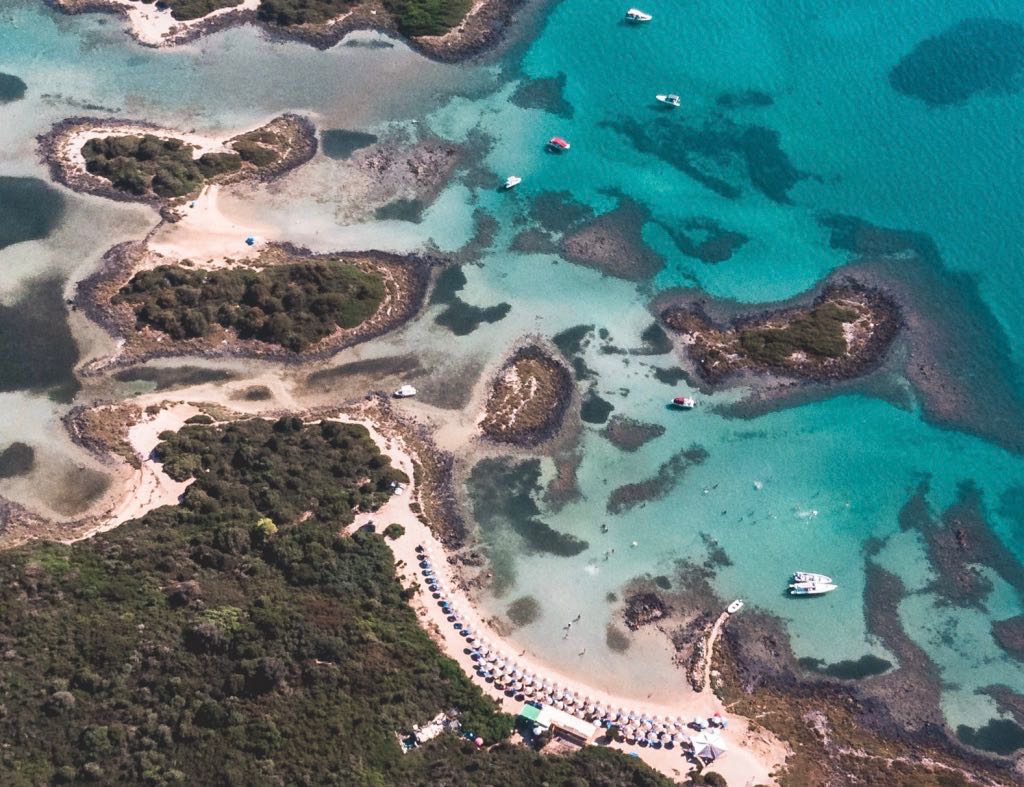 16. Gkiola – Thassos
Gkiola is a spectacular natural pool formed inside a rocky formation, near the village Astris, on the island of Thassos.
You can either go for a swim or sunbake on the large rocks surrounding the pool.
You can even dive in, but be careful since you never know how shallow it could be.
Getting to Gkiola is not that easy, making it a top hidden gem in Greece.

17. Melissani Cave and Lake – Kefalonia
Make sure you visit Melissani Cave in Kefalonia, aka The Cave of the Nymphs, given the opportunity. This magical cave will transport you into another world.
The unique cave structure is home to an underground lake whose waters reach about 40 meters in depth.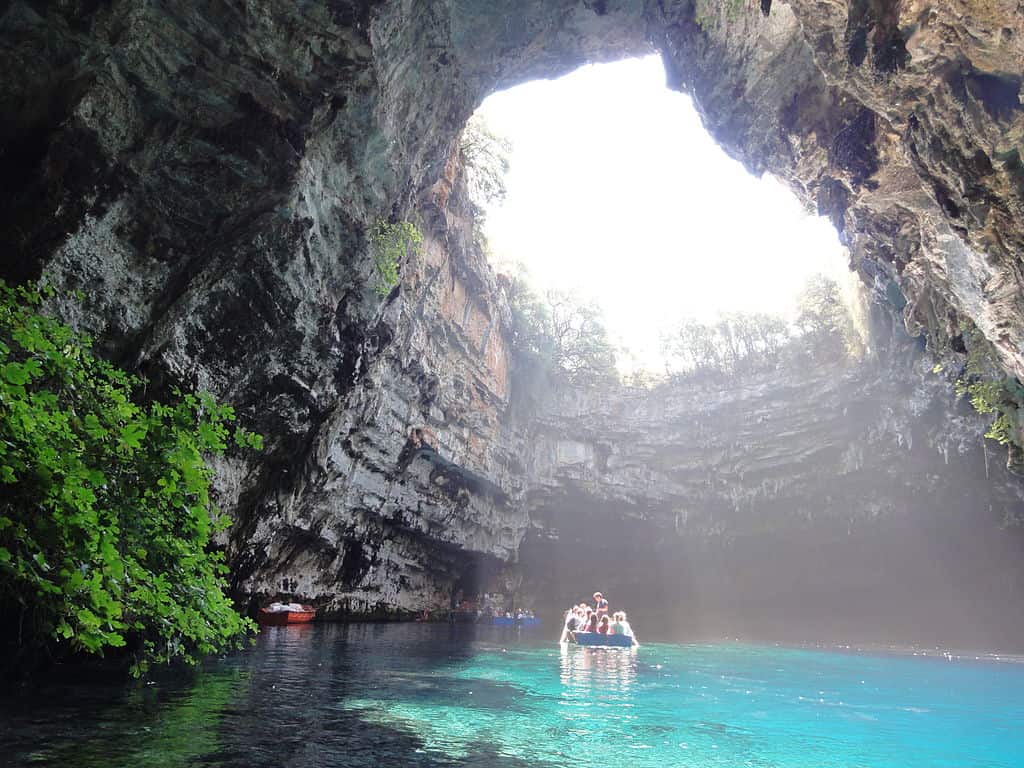 Some of you may think Melissani Cave couldn't be one of Greece's hidden gems since it is one of Kefalonia's top tourist attractions but look at how well hidden it is.
It has to be one of the best-hidden gems in Greece because you know you want to go there.
18. Koufonisi Island – Cyclades
Koufonisia is an island complex made up of two Greek Islands and delves between Naxos and Amorgos.
Pano Koufonissi is inhabited, so it has tourist facilities, while Kato Koufonissi is uninhabited and often visited for beach trips only.
Some of the best-hidden gem beaches in Greece are on Kofonisi Island.
19. Amoudi Bay – Oia, Santorini
Amoudi Bay is easy to miss when visiting Santorini. I missed it. What was I Thinking?
I can't believe I missed out on visiting Amoudi Bay. It has to be one of Greece's most incredible hidden gems, even more so because so many tourists visit Santorini.
I bet many tourists missed out on making their way down to Amoudi Bay mainly because of pure ignorance. Octopus anyone?
Many tourists dive off this small rocky isle just off Amoudi Bay. If you want to swim in Santorini, look no further. It looks sensational!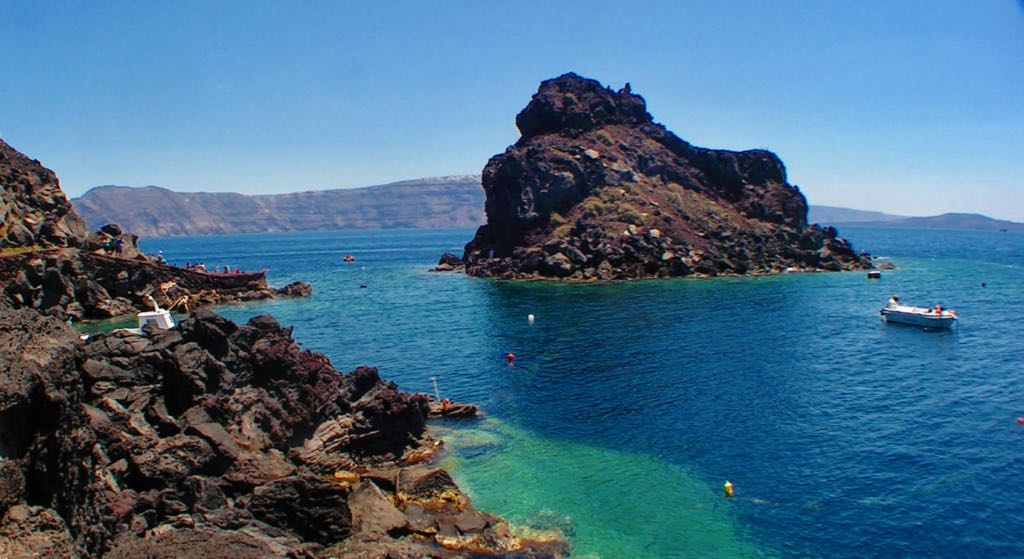 Here are some of the best things to do in Santorini if you want to know more.
20. Blue Caves – Paxos, Antipaxos
Cruising into the Blue Caves on a boat would be fun.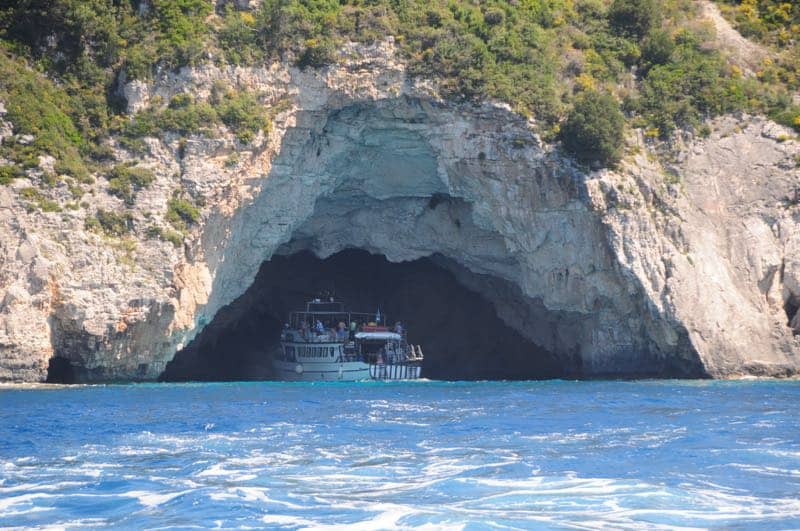 21. Aggitis Cave 
If you want to visit the hidden gem of Aggitis cave, you can find it 23 km northwest of the city of Drama.
It has to be one of those hidden gems in Greece that hardly any foreign tourist knows.
Aggitis Cave is a must-see attraction, in my opinion.
Greece's Secret Spots Revealed
There you have it, 21 Hidden Gems in Greece that look like incredible experiences.
I'm sure you would love to visit at least one of these places, who wouldn't?
Do you know of any hidden gems in Greece? Let me know in the comments.
Pin it … Share it