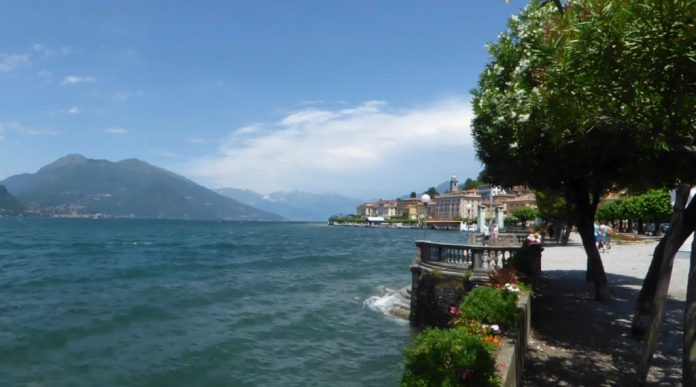 Lake Como is a dream trip for many beauty seekers. The big question is how long should you stay for? In my opinion a seven day stay in Lake Como would be an ideal trip for first-time visitors. I'm confident that the great itinerary I provide will have you thinking the same thing.
Many tourists will try and squeeze in a day trip from Milan for a first time to Lake Como.
It's a shame because Lake Como deserves much more time than that.
In this post I start with a seven day dream trip itinerary. After that I then recommend what you can do on a day trip, if that's all the time you have to play with.
I think by showing you all of the top attractions in Lake Como you will realise that this lake paradise requires a decent amount of time for you to relax, unwind and enjoy.
The beauty and vibe of Lake Como will no doubt stay with you forever.
Follow this Lake Como itinerary and I'm sure you will have a great trip.
Day 1 – Como and Cernobbio
My first suggestion is to stay at Como or Cernobbio for your the first night in Lake Como.
Como is the largest city in Lake Como and the administrative capital of the region, while Cernobbio is a comune (municipality) in the province of Como.
These two destinations on the south-western tip of Lake Como will provide an excellent starting point for a memorable trip around the shores of Italy's most famous lake.
The train from Milan takes about an hour to get to Como and slightly longer to get to Cernobbio, so hopefully you can arrive at your accomodation by 11 am in the morning at the latest.
Once you arrive at your hotel, drop off your luggage and go exploring.
Como
If you're staying in Como, then you will obviously want to spend a little bit of time exploring Como. Walk down to the lake's edge.
Tourists are often surprised to learn that there is actually a city named Como. With all the attention that Lake Como gets, it's no surprise.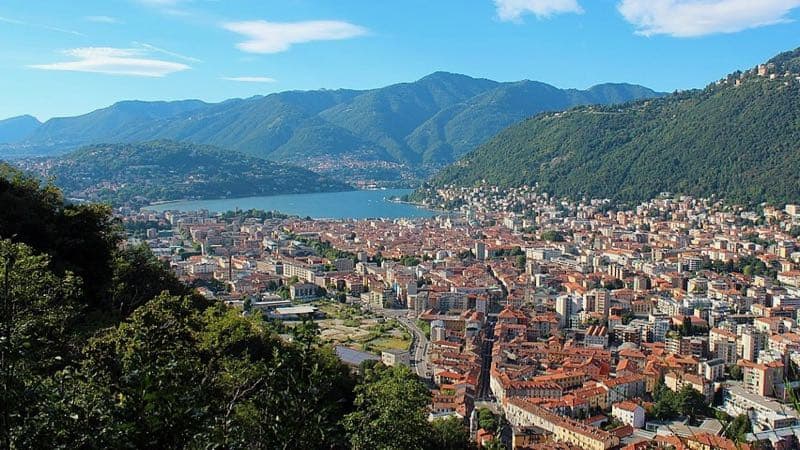 Did you know that Como is an excellent place to buy silk products, such as silk ties and scarves? It all started in 1400, when Ludovico Sforza, Duke of Milan, planted mulberry trees around the lake. The local greedy silkworms exploded in number and so did the number of factories producing fine silk.
Be sure to wander through Como's 'Silk Road' precinct where many famous boutiques are located.
The most important historical figure associated with Como is Alessandro Volta. He was born in Como in 1745 and famously went on to invent the battery. His surname is how the electrical "Volt" measurement received its name. The neoclassical Tempo Voltiano located on the Como promenade will remind you of his genius.
Brunate
Once you've had a quick stroll around Como catch the funicular (cablecar) to the top of Brunate, a small village on top of a mountain overlooking the lake.
The Como-Brunate funicular has connected the City of Como with Brunate since 1894.
The ride to Brunate takes about 7 minutes and takes you about 720 meters above sea level. The funicular departs from Como every 15/30 minutes, depending on the season.
Brunate is a tranquil village offering some spectacular views of the Lake Como and Como.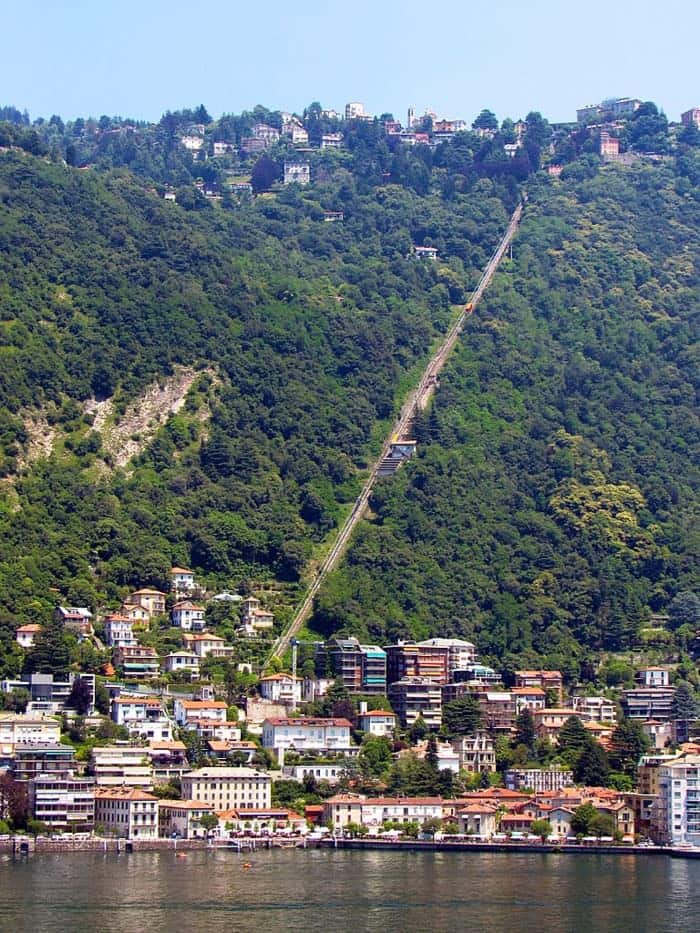 Here's what it once looked like. The funicular is modern nowadays.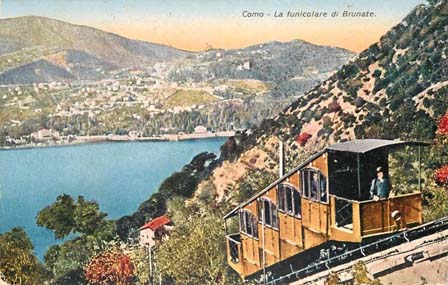 It is possible to walk to Brunate, however walking up the mountain would take about an hour, so save your much needed energy and take the funicular.
The cable car runs from Viale Geno, very close to the Como Nord Lago train station.
There are several palaces to admire in the village including the Villa Pirotta and the Villa Cantaluppi Giulini in Art Deco style.
Viewing platforms offer magnificent panorama of the lake and surrounds. Find a terrace with a conveniently placed café looking to the north, across a different panorama of lake and mountain views.
Once you've taken in some of the marvellous views, go for a walk towards the Volta Lighthouse (Faro Voltiano). It will take about 30 minutes to get there.
This 95-foot lighthouse was built to commemorate the 100thanniversary of Volta's death. Where would civilisation be without the battery?
The lighthouse alternately emits green, white, and red lights, as they're the colours on the Italian flag. The views at this spot are supposed to be magical. Think about it, the lighthouse was positioned there to honour Volta. Don't miss it.
Lake Como is a magnet for beautiful women. Lots of classy women in Lake Como.
Como – Walk along the Kilometre of Knowledge
Depending on where you are, Como or Cernobbio, go for a walk to the other town.
The walk around the lake edge from either Como to Cernobbio or vice versa can be done via the Kilometer of Knowledge.
The "Kilometer of Knowledge" is a walking path, a kilometre long, on the western shore of Lake Como that unites three particularly beautiful villas close to Como. These three villas include Villa Olmo, Villa del Grumello and Villa Sucota.
Make sure you walk through their beautiful garden parks on the way to the other town.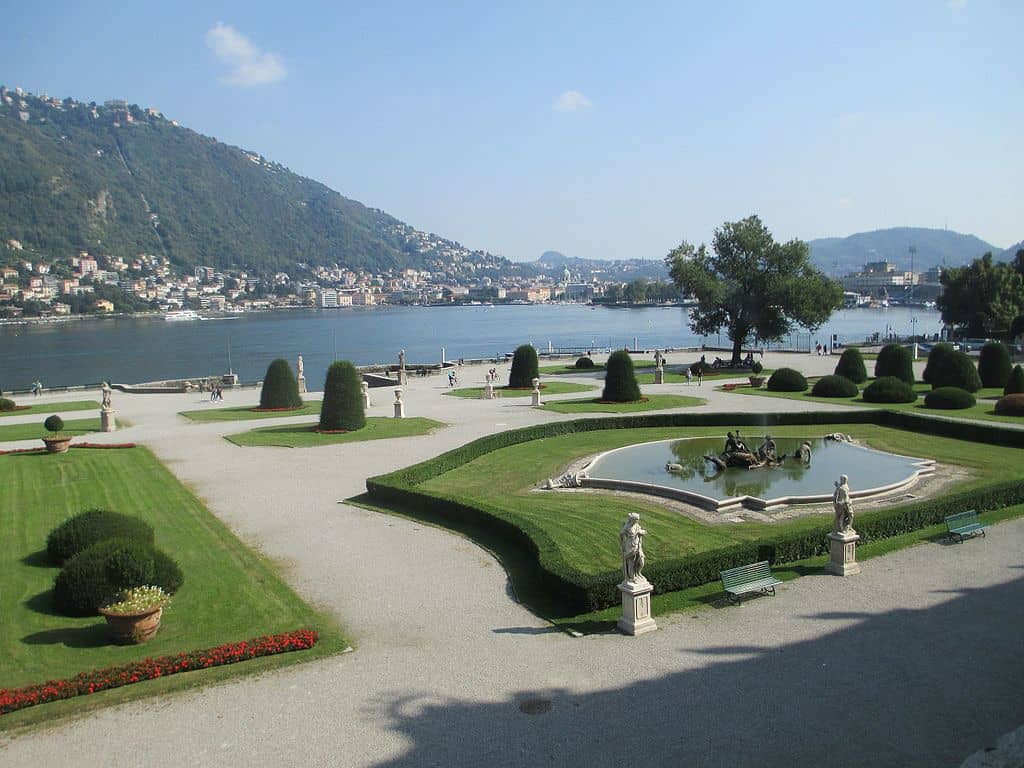 Villa d'Este – Cernobbio
The town of Cernobbio is on the southern end of the Gold Coast. Many famous minds, celebrities and their families have enjoyed a stay at Vill d'Este.
When you're in Cernobbio, you just have to visit Villa d'Este.
This famous villa was built between 1565-70 as the summer residence of Cardinal Tolomeo Gallio. It changed owners several times and in 1873 transformed into a luxury hotel.
This is possibly the lake's premier hotel. It is definitely the most famous hotel Lake Como and ranks right up there on the world scale.
Alfred Hitchcock made his first film, The Pleasure Garden, on the grounds of the Villa d'Este, in 1925.
The magnificent villa is surrounded by 25 acres of gardens. It even has an incredible pool that floats on the lake.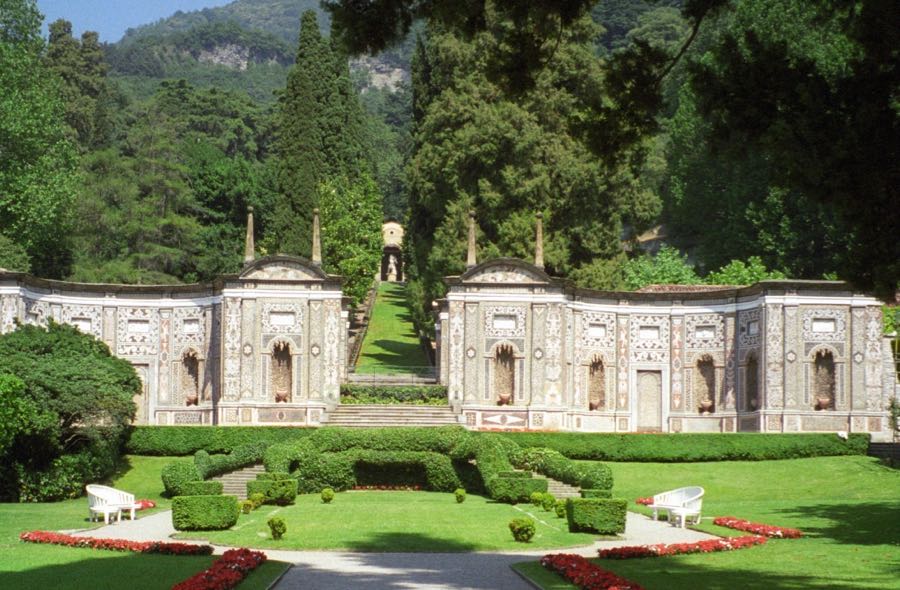 Look out for The 17th century Hercules and Lichas fountain and Temple of Telemachus. In the above photo Hercules can be just be made out in the background, through the green lawn corridor.
You probably need to be pretty rich to stay at Villa d'Este. At least you can visit the beautiful gardens for a very small fee.
So you've squeezed in heaps on your first day in Como and Cernobbio. Now what?
Day 2 – Bellagio
On your second day make your way to a hotel in Bellagio or another town near the centre of the lake. Make it to your hotel by 12 pm the latest.
A slow ferry ride may take a couple of hours from Como, so enjoy the ride. A hydrofoil is faster and takes about 45-60 minutes, though for your very first visit, I think it would be much more enjoyable to slowly cruise to your destination.
Seeing Bellagio for the first time while on the lake is the way to go in my opinion.
Sylvester Stallone and Richard Branson have homes in Lake Como and guess what? You will pass by George Clooney's villa in Laglio on the way. It's surprising how many people say that George's house is in Como or Bellagio on the Internet but that's wrong. It's in Laglio.
Clooney bought his 18th-century pale-cream green-shuttered Villa Oleandra from the Heinz family in 2002 for about $10 million, which seemed like an astronomical amount in those days but today the prices have sky-rocketed. I think it is fair to say that George Clooney pushed up the prices massively. Think $100 million plus today.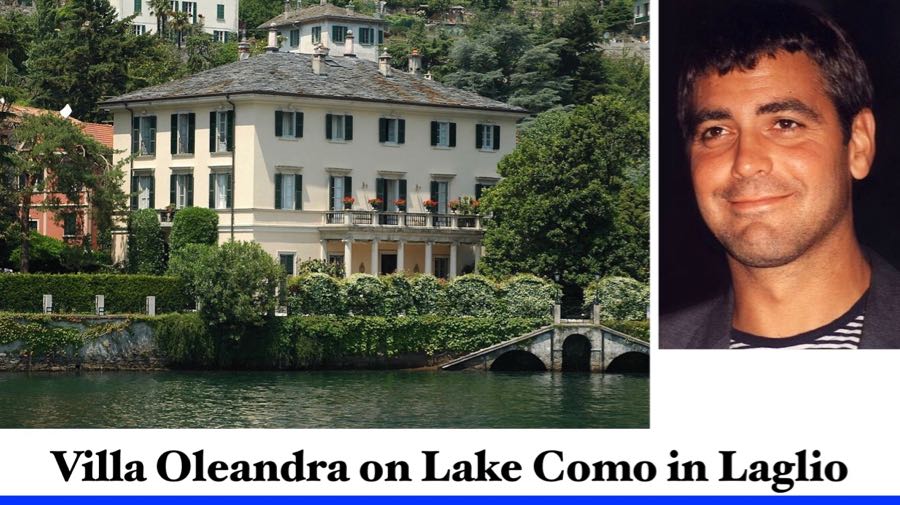 Clooney's villa is located on a part of the lake where the super-rich all want to buy.
This golden zone for the super rich is known as the "Gold Coast," or "Riva Romantica" of Como, a five-mile stretch on the western side between the towns of Cernobbio and Laglio.
One big reason why this stretch is so popular is because it gets the sun in the morning.
In 2004, George Clooney even purchased the neighbouring art nouveau Villa Margherita.
Can you imagine how many people have been on the lookout for George Clooney while cruising past his property on the ferry. What a story it would be, if you actually saw him outside his property or in one of the towns. The amount of finger pointing going has probably driven him crazy.
Bellagio
Bellagio is the pearl of the lake and many tourists consider this town to be the most beautiful.
Bellagio is the most famous and popular town in Lake Como. There is a Las Vegas hotel with the same name, so that just about proves it.
Bellagio is located where the three arms of Lake Como meet. Here's a great view of Bellagio from a mountain top overlooking the village. The tip of Bellagio can be seen sticking out in the middle.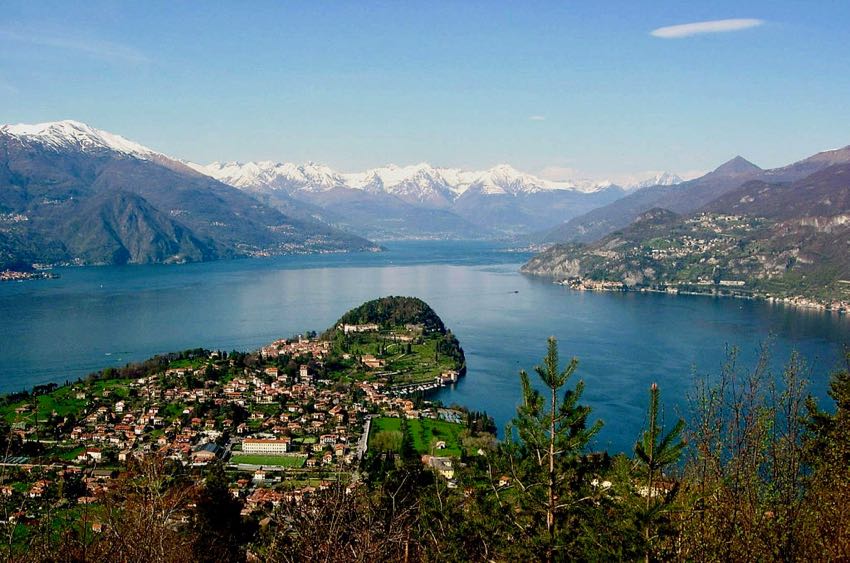 Salita Serbelloni is one of the most walked and photographed stairway passages in the heart of Bellagio. You will want to walk around here and take a similar photo. It is surprising how many bloggers have taken a photo of that lantern.
Fashionable boutiques, great restaurants and a variety of shops are all close by.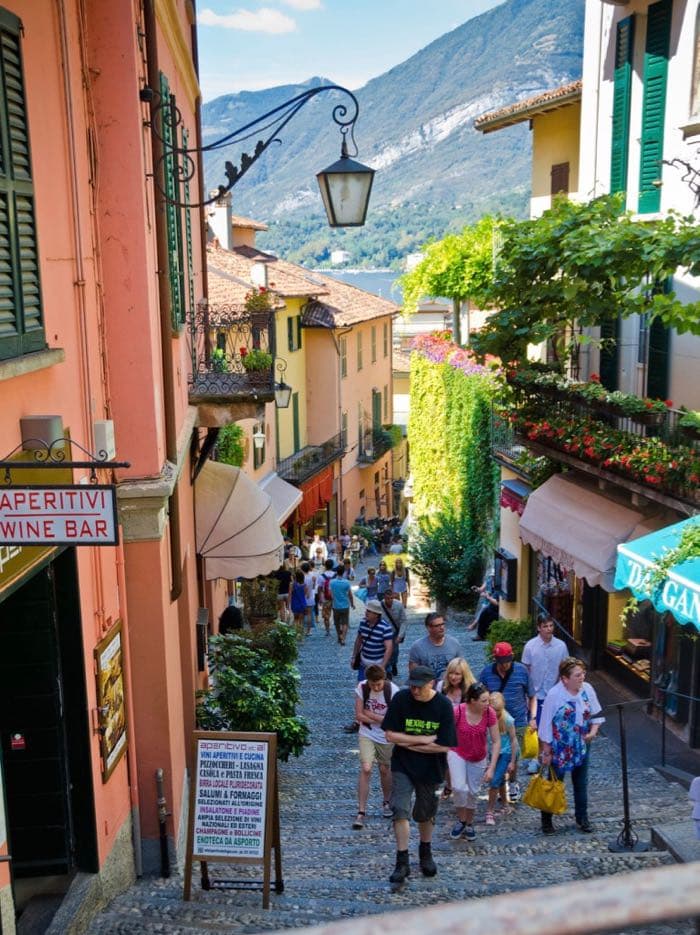 Bellagio can get very busy during peak tourist times. You could easily find yourself swamped by other tourists starting from about 11am.
Anyone from America may have envisioned the Bellagio hotel in Las Vegas, when I first mentioned Bellagio. Now you know how the Las Vegas hotel shown below attained its name.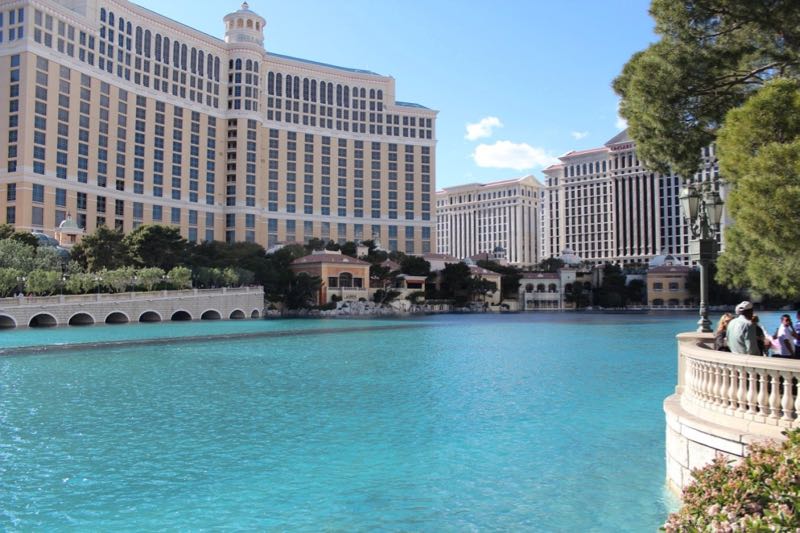 Top Tip: The town of Bellagio can get very crowded so if you're craving a little bit of tranquility, go for a walk to Pescallo, a small fishing village about a mile away from the center of town.
Villa Melzi – Bellagio
On the outskirts of Bellagio, Villa Melzi and its magnificent gardens should be on your radar.
The villa was built from 1808 to 1810 for Francesco Melzi d'Eril, a vice president of the short-lived Italian Republic when it was constituted under Napoleon's rule.
The neoclassical villa is still a private residence today. It is not open to the public except for the gardens which can be visited daily from late March until October.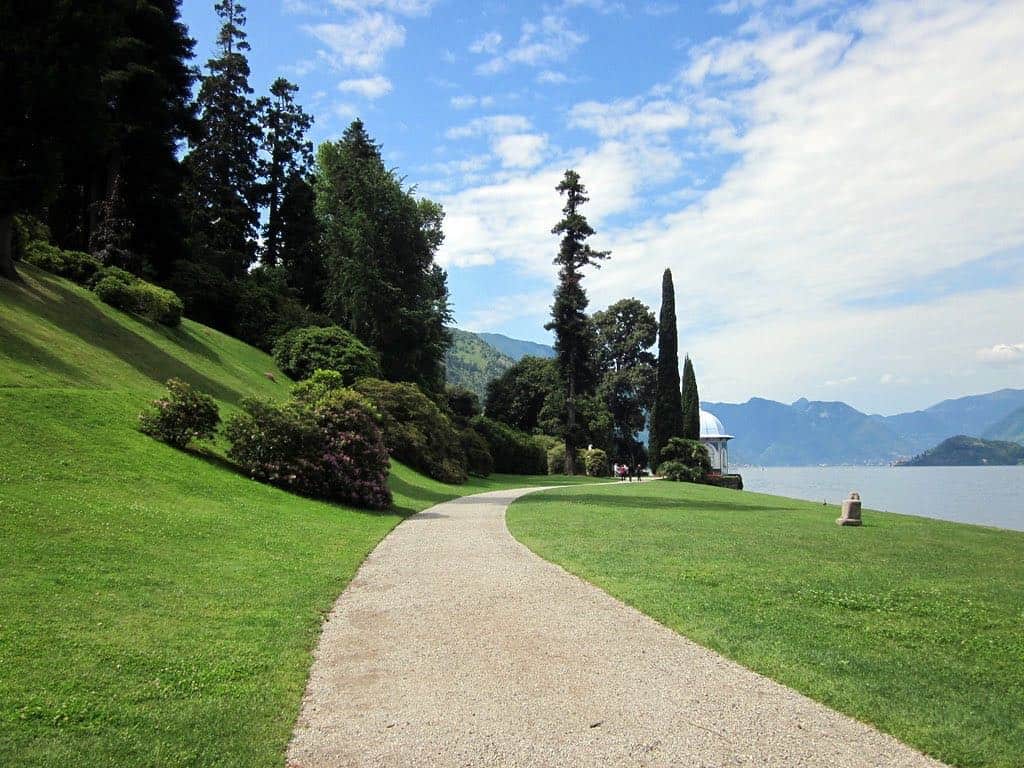 The garden stretches along the lakefront and is home to a range of plantings and sculptures, plus a water lily pond and an Orangery which houses a small museum.
https://youtu.be/7jOPrCyuH4g
Hotel Villa Serbelloni
Keep an eye out for the Grand Hotel Villa Serbelloni, an amazing 5 star hotel resort.
Villa Serbelloni hosts stunning panoramic views of Lake Como due to it's impressive location at the tip of the promontory in Bellagio.
The neoclassical villa was built as a private home in 1853. Two decades later it was turned into a luxury hotel.
It's current owner is the Rockefeller Foundation, who operate it as one of the poshest hotels on Lake Como.
The magnificent grounds and gardens are open to the public, but only on a guided 1.5 hour tour, which is generally available between 11am and 3:30pm from April through November.
When visiting Bellagio, try and squeeze in a visit to the spectacular Villa Serbelloni. If you can afford to stay at this grand hotel, or are an invited VIP, all the better.
A lunch at the luxury hotel, Villa Serbelloni is a must for a romantic trip.
Day 3 – Tremezzo and Lenno
Tremezzo
Tremezzo, has a bit more of an urban feel compared to other parts of Lake Como, due to the increase of cars along the edge of the lake.
I recommend focussing the majority of your attention visiting two splendid villas on your third day in Lake Como: Villa Carlotta in Tremezzo, and Villa Balbianello in Lenno.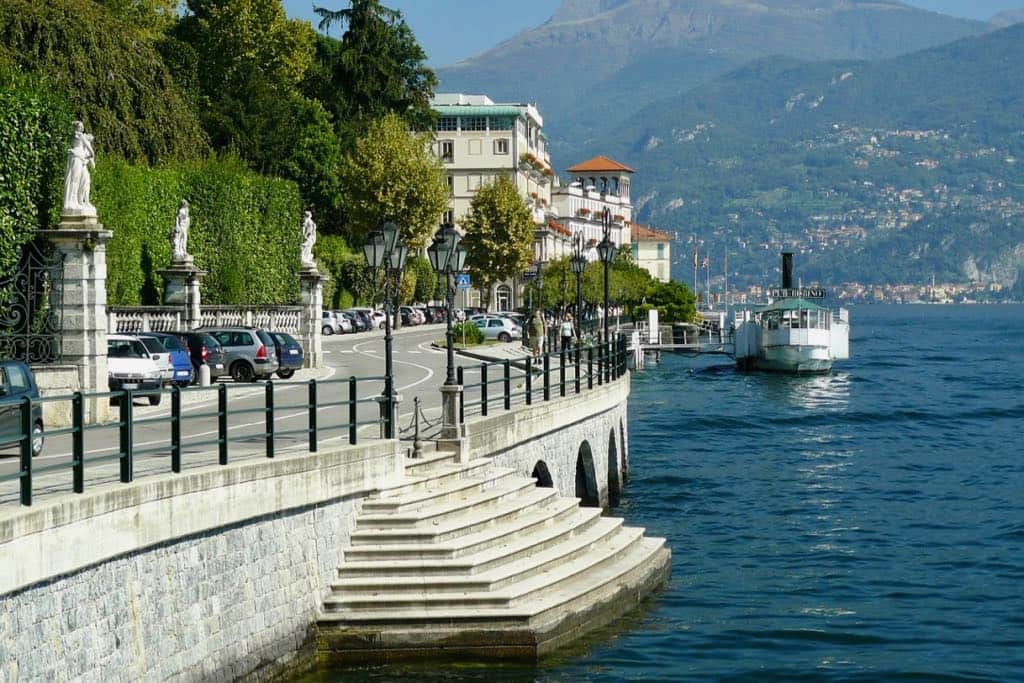 Grand Hotel Tremezzo
There are some great hotels in Tremezzo. That said, the Grand Hotel Tremezzo is situated in a prime waterfront position and provides some of the best views across the lake to Bellagio.
This fabulous hotel offers old-world luxury with some modern touches. The hotel has over 20,000 sq. m. of private grounds, three swimming pools including a heated infinity pool. It also has a floating pool that sits above the lake. You will notice it as your ferry approaches the jetty.
La Terrazza Restaurant at Grand Hotel Tremezzo is a top place to wine and dine.
Villa Carlotta – Tremezzo
Villa Carlotta is located right next to Grand Hotel Tremezzo.
You can visit Villa Carlotta in the morning and in the afternoon Villa Balbianello in Lenno, which is nearby.
Villa Carlotta is one of Lake Como's most visited villas. It is the main attraction in Tremezzo. Inside the villa you will be able to see some masterpieces by famous Italian sculptor Canova.
Villa Carlotta was built for the Milanese marquis Giorgio Clerici II in 1690.
In 1843, the villa was purchased by Princess Marianne of Nassau, the wife of Prince Albert of Prussia, who gave it as a wedding present for her daughter Carlotta. Hence the name Villa Carlotta.
This grand villa also serves as a gallery, hosting art exhibitions and musical events. It would be worthwhile finding out when they're on. It would be fabulous to attend a concert at Villa Carlotta.
Villa Carlotta's museum and gallery is home to numerous Greek and Roman mythological masterpieces:
Palamedes – who uncovered the false madness of Odysseus (Ulysses).
Eros and Psyche
The Muse Terpsichore – Muse of dance.
Mars and Venus
Encounter between Mercury (Hermes) and Venus, and The Battle of the Amazons scenes can be seen in a wide antechamber.
Keep an eye out for Hercules, Deianira, Zephyrus, Flora, and Apollo in the garden.
In the center of the Italian garden you will find a large 18th century basin with the statue of Arion of Metimna, mythological singer and musician, who was saved by a dolphin from the waves of the sea.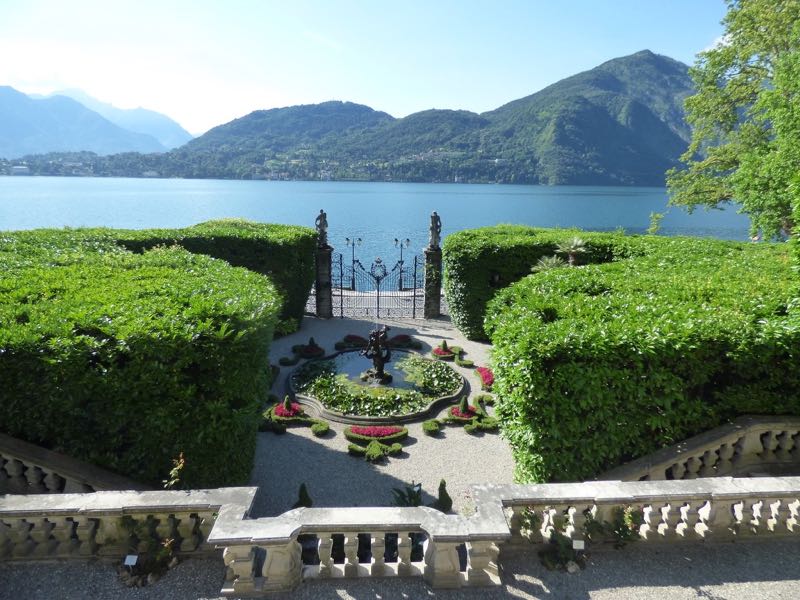 Villa Carlotta and its beautiful gardens set on 20 acres are open every day from mid-March to late October. You can easily reach the villa on foot from the ferry landing dock at Tremezzo.
The villa itself is gorgeous, with a beautiful facade and ornately decorated rooms, and the gardens are even better.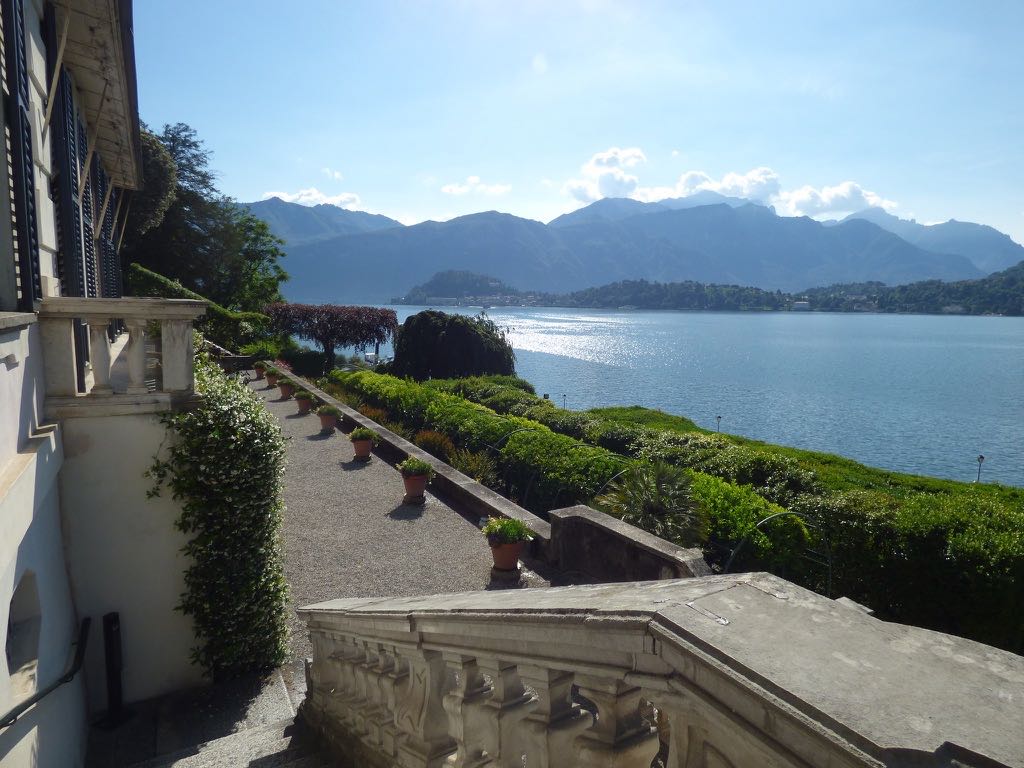 Here is a picture facing the Bellagio peninsula in Tremezzo.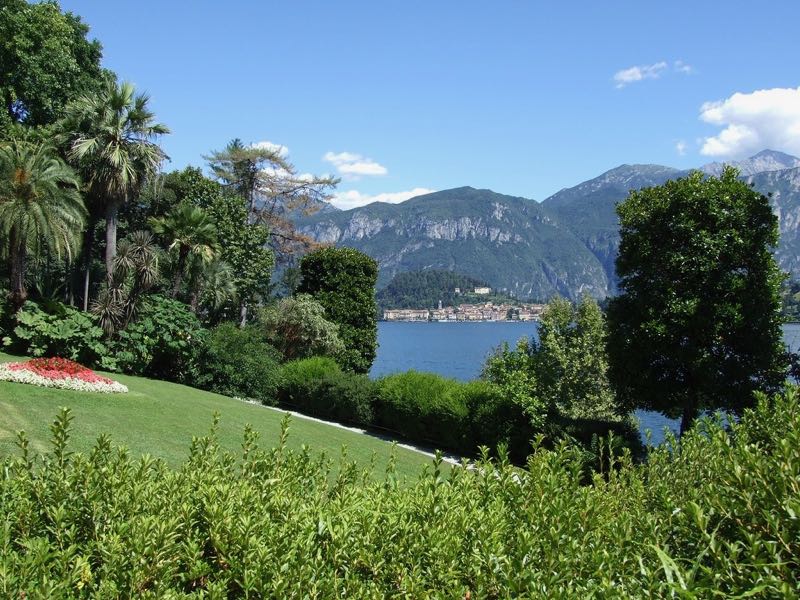 Walking the recommended route around the grounds takes about 75 minutes. For more info on Villa Carlotta.
Villa Carlotta has a great cafe where you can enjoy a drink.
Walking from Villa Carlotta to Villa Del Balbianello could take you about 75 minutes, possibly a bit longer if you pause to take some photographs.
If you want to save a bit of valuable time it may be better to take a ferry to Lenno (about 15 minutes), and then walk from the Lenno ferry terminal to Villa Del Balbianello (about 25 minutes).
Villa Balbianello – Lenno
Star Wars fans rejoice! Villa del Balbianello is where Padme Amidala and Anakin Skywalker's secret wedding took place in Star Wars: Episode II—Attack of the Clones. The exterior of the villa was done with CGI.
The story goes that George Lucas visited the Villa Balbianello while on vacation and liked it so much that he decided to use the spectacular location in the film.
Casino Royale was filmed in front of the villa in 2006.
It is the well-tended manicured gardens and the gorgeous views that tourists love the most when visiting Villa Balbianello.
Villa Balbianello was built as a place for quiet reflection back in 1787.
You can enter the villa, but only on guided hour-long tours. The tours can fill up very quickly during busy tourist seasons.
Don't be too disappointed if you miss out on the house tour though, as the beautiful gardens are the main drawcard.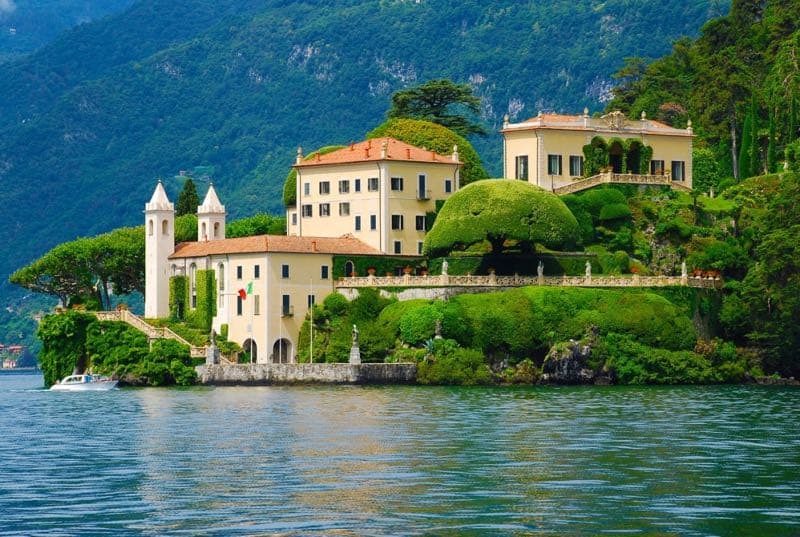 Villa Balbianello – Opening times
The villa is open mid-March to mid-November. It is closed on Mondays and Wednesdays though, so make sure you time a visit on a day when it is open.
How to get to Villa Balbianello
The promontory where the villa is situated can be reached via a beautiful trail that winds from the bay at Lenno through some amazing woodland. Walking this trail is a highlight.
Driving to the villa is another a great option especially in something like a Ferrari. Driving along Via Regina, the narrow lakeshore road, will take you through an ancient walled garden bursting with flowers and calycanthus plants. A row of regal cypress trees will then lead you to the stone doors of the magnificent villa.
Taking a taxi-boat from Lenno is another way to make it to Villa Balbianello.
Whichever way you arrive, consider yourself very lucky to have stood on such beautiful grounds.
Isola Comacina
This tiny island is the only island in Lake Como.
Isola Comacina is just around the corner from Villa Balbianello. Hopefully you will have enough time to visit this little gem of an island for a short time on the same day as well.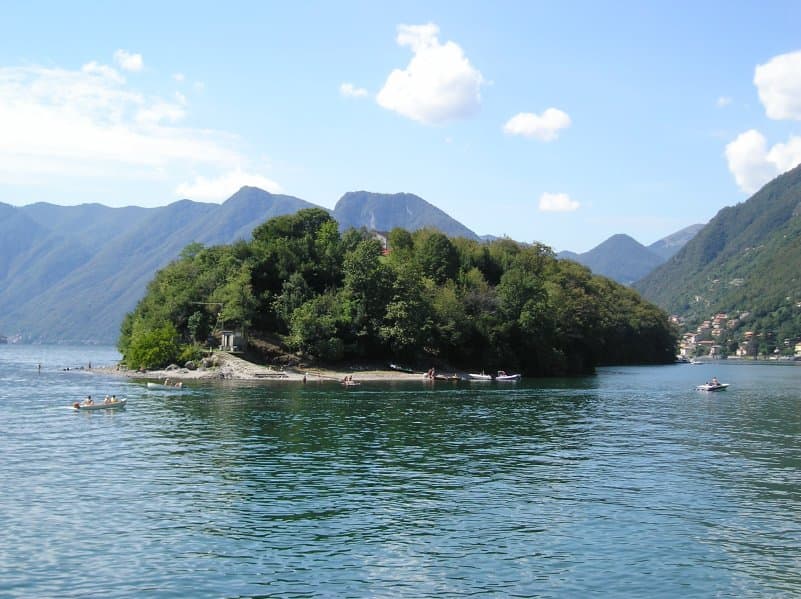 Enjoy a coffee or a gelato on the island. You can also have an amazing lunch at Locanda dell'Isola Comacina.
Day 4 – Varenna
Many tourists love Varenna even more so than Bellagio or any other town in Lake Como. That says a lot.
Varenna is often recommended as being an ideal home base in Lake Como. It is only 15 minutes away from Bellagio by ferry, so keep that in mind.
The thing to do in Varenna is to relax by the lakeside and visit the gardens of the two villas: Villa Monastero and Villa Cipressi.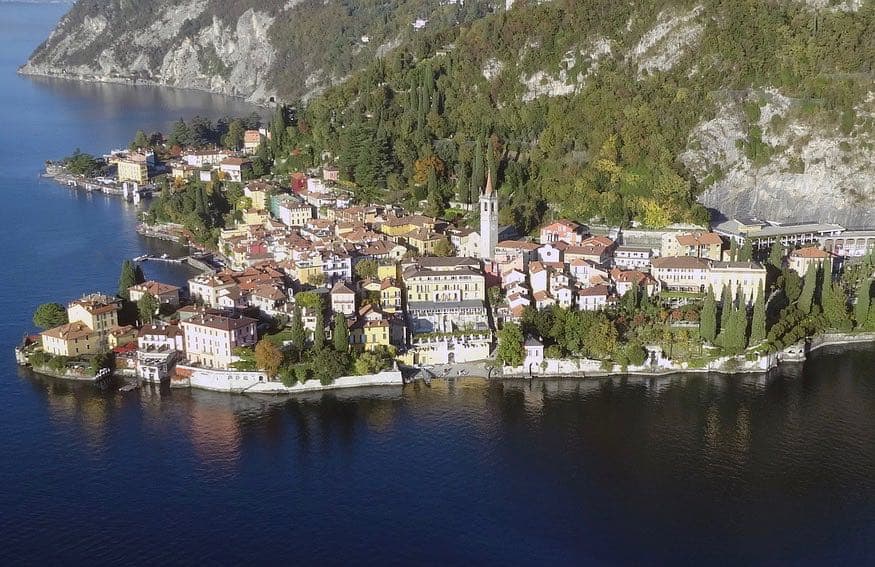 Find somewhere where you can enjoy a long lunch. There are plenty of wonderful cafes and restaurants around the place, so choosing where to eat could be the biggest challenge you face.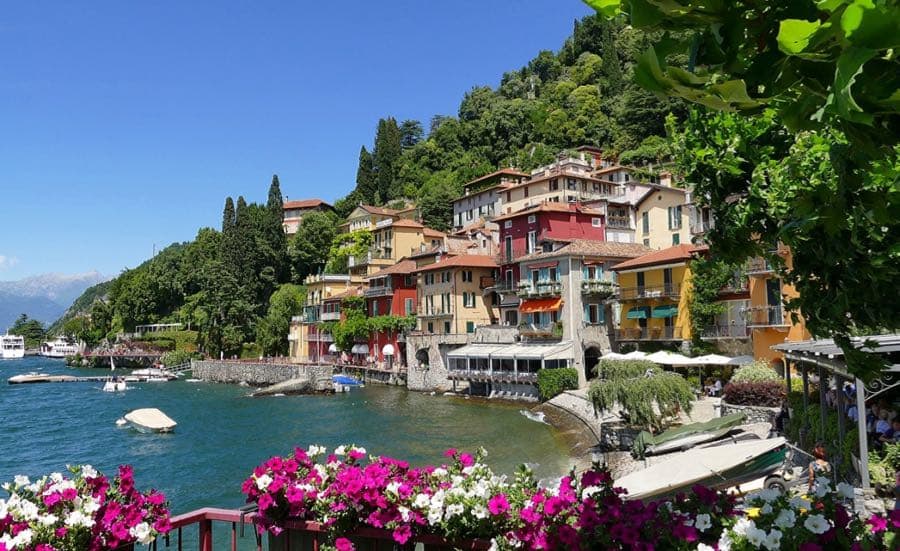 Castello de Vezio
After lunch trek up the steep, narrow lanes to the Castello de Vezio, a medieval castle surrounded by an olive grove. This 5th-century Roman fort turned medieval watchtower offers sweeping 360 degree views of the local surrounds. It will definitely be worth the climb.
If you're lucky, you might even catch a falconer (bird of prey) show while you're there. There are falconry displays on most days. The daily demonstrations send birds of prey soaring and diving through the air to great applause.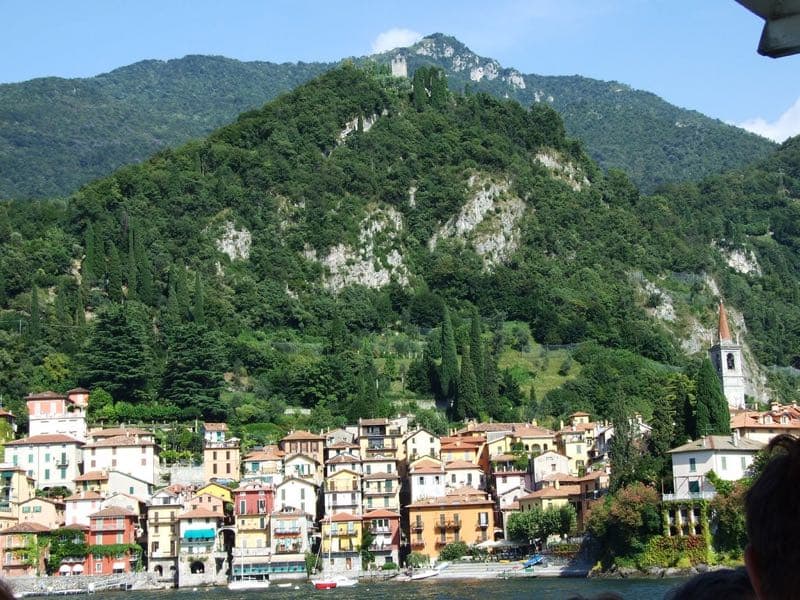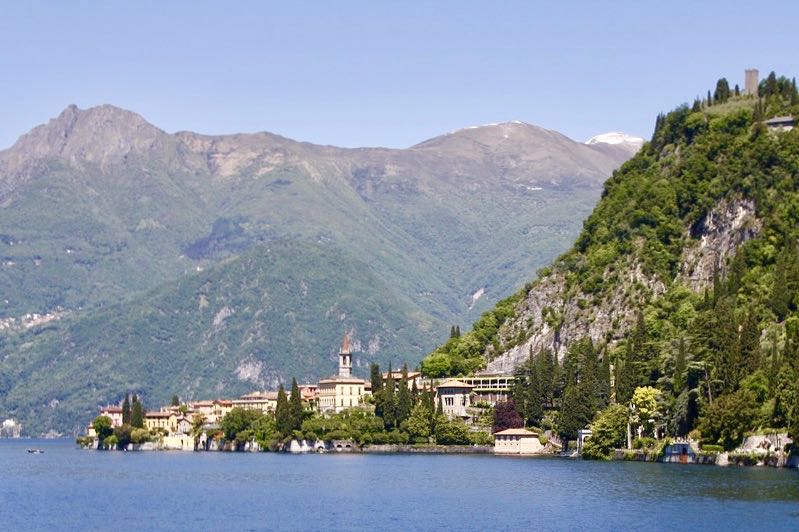 The not so easy hike up from the ferry station in Varenna to Castello de Vezio will take about 45-60 minutes.
Hiking on the Wayfarer's Path from Varenna to Bellagio (Optional)
It is called "il sentiero del viendante" in Italian. Castello di Vezio is the first stop of the hike, so you can easily continue from there to the town of Bellagio, the final stop.
Distance and time required: 8 km (5 miles) – about 2.5 hours
You can return by local train to Varenna in a few minutes.
Varenna walks you shouldn't miss
Varenna has a wonderful path called the Passeggiate Degli Innamorati, or "Lover's walk".
La Passerella is a romantic arch-covered walkway that enters the town.
You can even go and see the shortest river in Italy called the Flumelatte in Varenna.
Villa Monastero – Varenna
Varenna is smaller than Bellagio and more peaceful.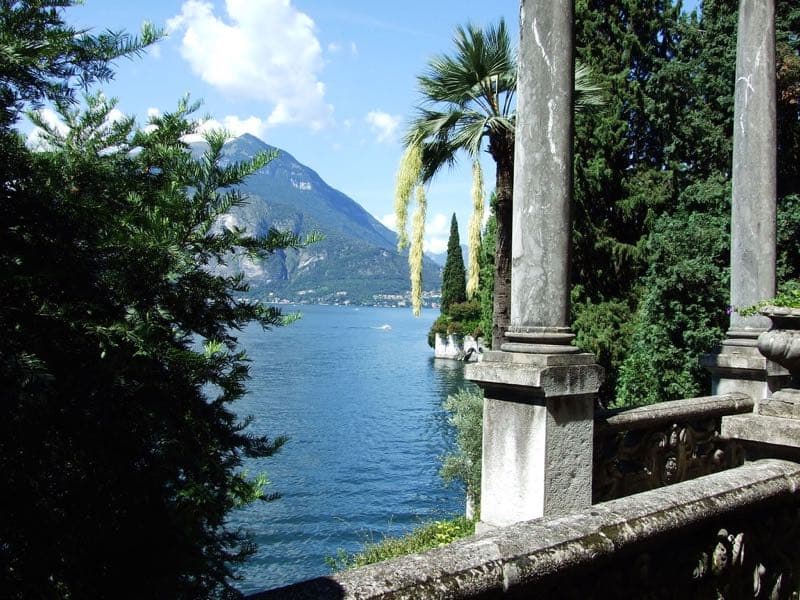 Day 5 – Lecco
Catch the ferry to Lecco, the town at the bottom end of the eastern part of the lake.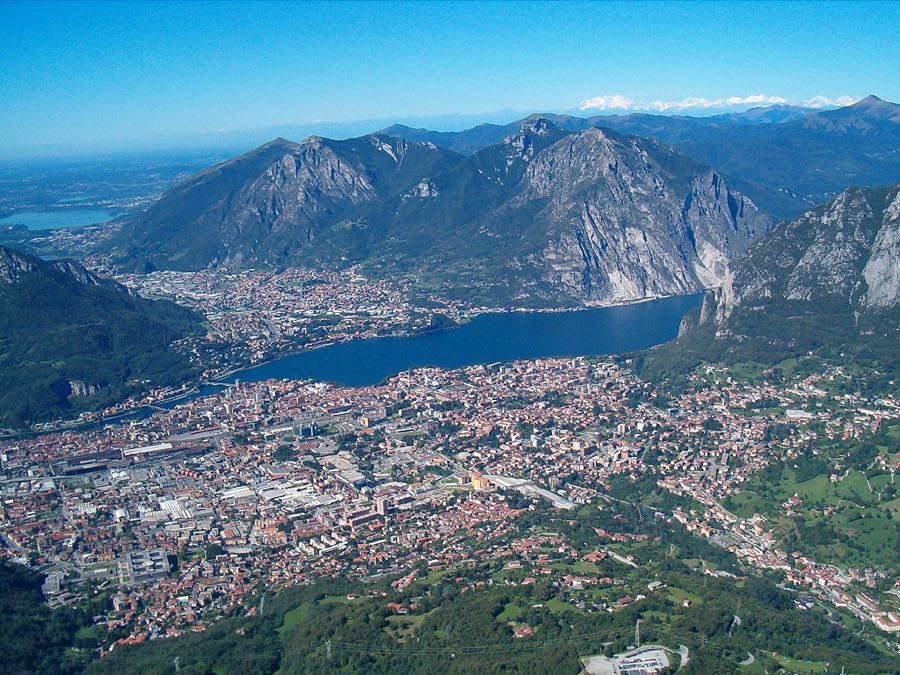 Day 6 – Spend the day at your favourite place in Lake Como
Spend more time at your favourite places in Lake Como. If you didn't have enough time to do something, then this could be the day to try and squeeze it in.
Day 7 – Menaggio
Menaggio is an opulent little town full of little restaurants.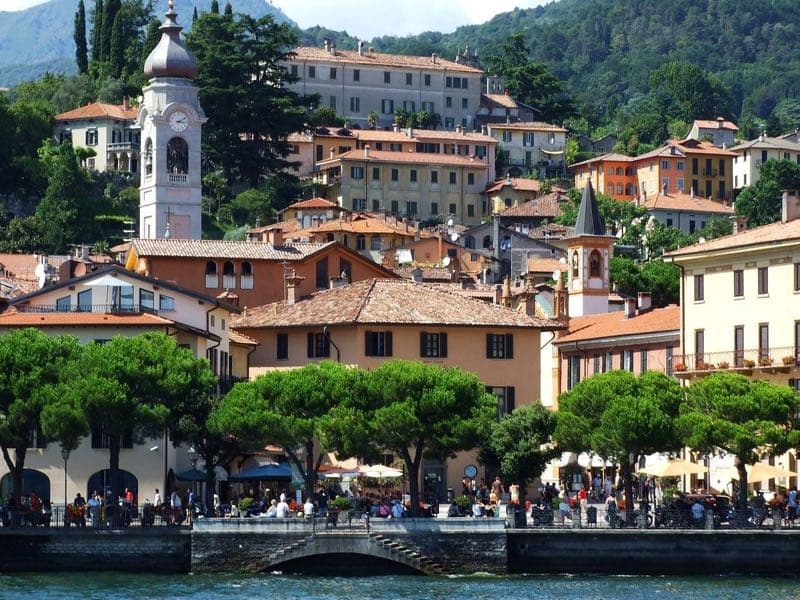 Go for a hike in the morning. Then for the rest of the day, eat, drink and relax.
See if you can reach this spot.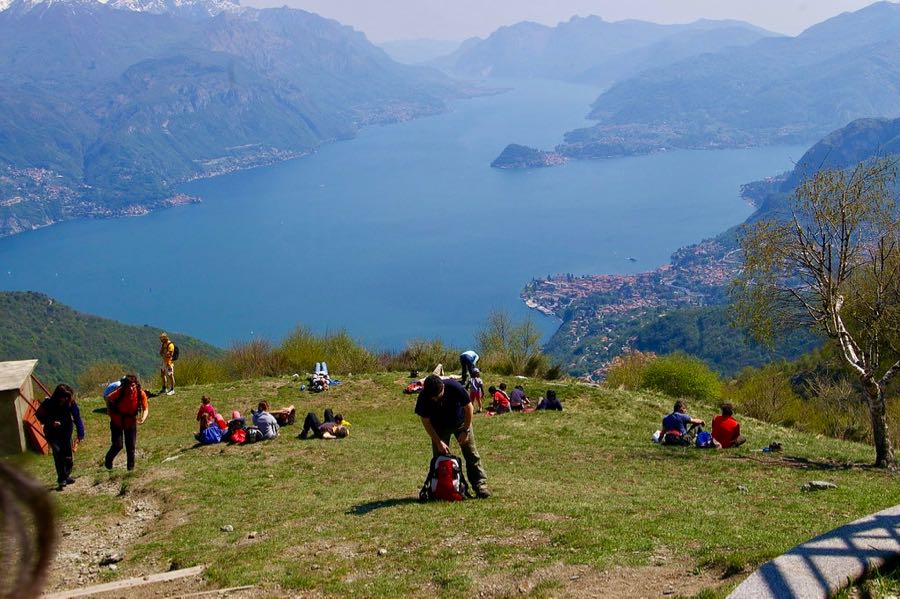 What about this one?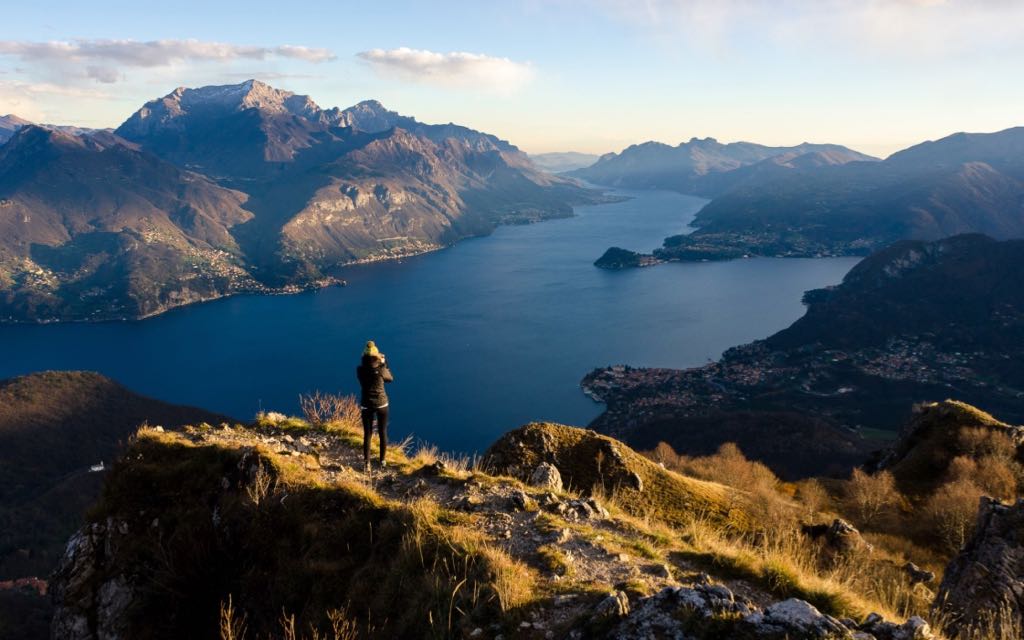 Make sure you give yourself enough time to get back down again before nightfall. You don't want to be hiking down the mountain when it's dark.
I recommend carrying a head torch in a small backpack when hiking. Remember to take plenty of water and a chocolate bar or two as well.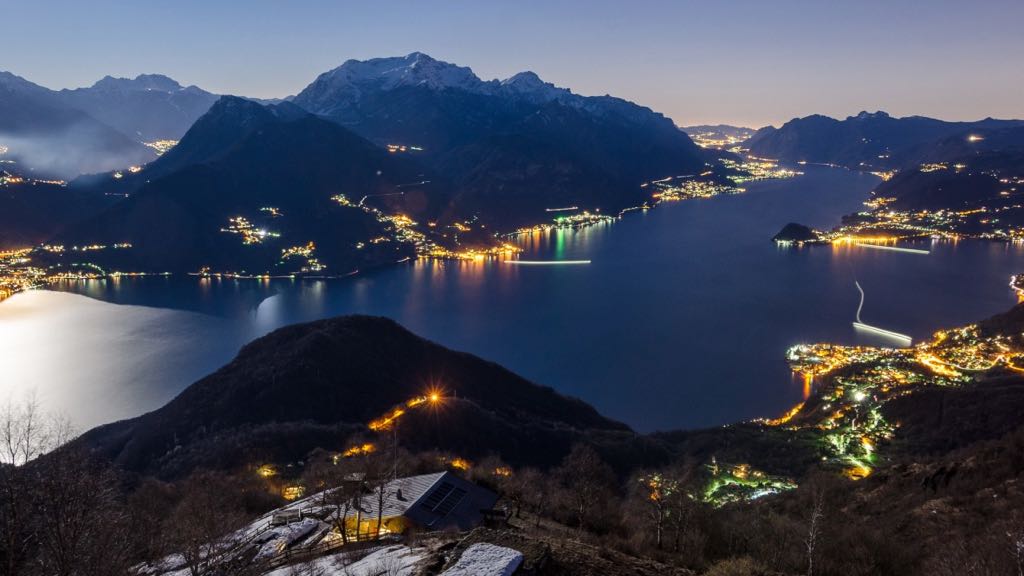 Lido di Menaggio, Menaggio
Anyone not wanting to do any strenuous activity can just chill out and laze around a large public swimming pool. There's a deck that runs out onto the lake water and also a sandy beach area. The views are sublime from the pool. This is Menaggio's best kept secret.
During the day this place is very popular with kids. After dark it transforms into one very hip outdoor bar. Sip on a bellini while you're there.
An easy 15 minute walk from the harbour will take you to Lido di Menaggio.
Lake Como – Best One Day Itinerary
As you can see my recommended Lake Como 7 day itinerary is jam packed with must do activities.
How are you supposed to squeeze all of these beautiful sights in only one day? You can only get a very quick glimpse of Lake Como in one day. Here's what I suggest to do if that is all the time you have.
7 Things to see and do in Lake Como on a day trip:
Catch the train into Como and arrive by 9am.
Catch the funicular (cablecar) to Brunate. (Spend 30 minutes up there)
Catch the slow ferry to Bellagio and enjoy the ride. (2 hours)
Bellagio (2 hours)
Villa Balbianello gardens (2 hours)
Varenna (2 hours)
Catch a train at Varenna and leave Lake Como.
Best Time to Visit Lake Como
The best time to visit Lake Como is from May to September. with the hottest months being July and August.
Spring (May) is when nature and gardens are in full bloom.
The hottest months are July and August.
Top Lake Como Accomodation
Palace Hotel & Centro Congressi (Como)
La Primula Hostel in Menaggio (cheaper accommodation and great value)
How to Get to Lake Como
Train
Catching the train from Milan is a great way to get to Lake Como.
Como, at the base of the western arm, has a major train station on the Milan to Switzerland line. On the eastern side of the lake, the Varenna-Esino station (Tirano-Lecco-Milan line) is a popular gateway for those staying in Varenna, or villages further north.
Trains from Milan:
the train to Como (40 minutes)
the train to Varenna (60 minutes)
Trains leave pretty much every hour.
Car or bus
Driving from Milan to Como, abut 50 km north of Milan, takes about an hour. An expensive taxi ride can also take you to Lake Como. I personally think it would be much easier to get around without having to worry about taking a car there.
If you do drive to Lake Como from Milan on a Saturday during summer, the roads can be jam packed. That also goes for Sundays in the opposite direction.
Bus from Como to Menaggio: 60 minutes
Bus from Como to Bellagio: 60 minutes
With all the transport options available, I would only suggest taking a car if you have one already as part of a greater Italian adventure.
Ferries – The best way to get around Lake Como
Take a slow ferry from the town of Como to Bellagio. It takes about 2 hours, making at least ten stops along the way, and offers excellent views of the lake.
When using public transport, make sure you're aware of the last ferry.
That also goes for bus and train times as well. This could save you from having to take an expensive taxi ride.
You have a number of ferry options available; the slow ferry, the fast ferry, or the hydrofoil.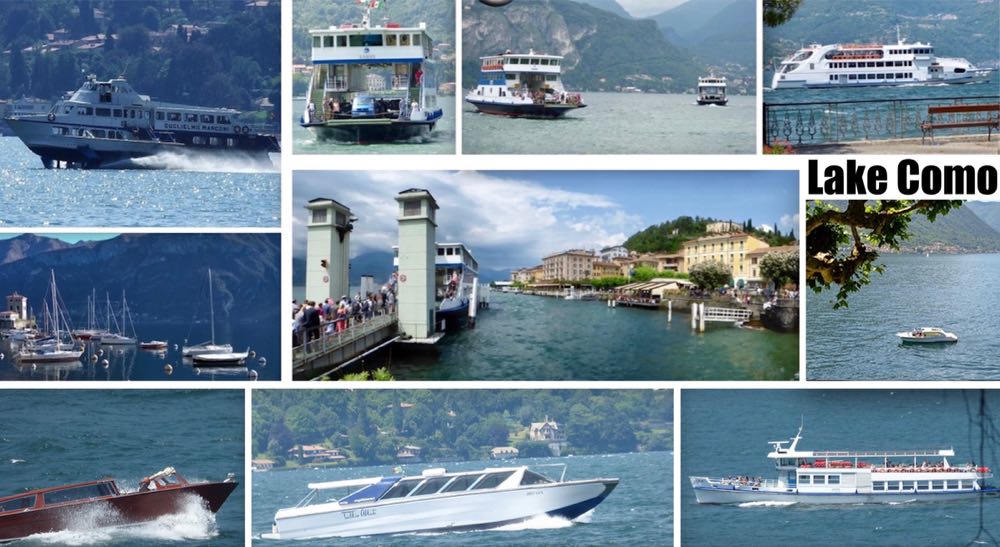 The hydrofoil can make the journey in about 45 minutes, but the cost increases for the faster journey.
A ferry day pass allows you to explore numerous villages around the lake.
Top Lake Como Tips
When going out for meals to other towns for meals, do so for lunch. Most water taxis stop running between 6:30 and 8 pm. Cabs are not cheap, so plan well.
Hiring a boat to explore and relax on the lake for half a day or so is a great idea. Maybe you can go to Villa Carlotta in your own boat.
Festivals in Lake Como
Sagra de San Giovanni – last weekend in June
If you're visiting Lake Como during the last weekend in June, then you're in luck.
Sagra de San Giovanni is the region's oldest festival. Como's vibrant culture and heritage comes alive at this time. The party atmosphere includes folk dancing, music, a boat procession and delicious food. The finale takes place at night when floating lamps are thrown onto the lake. It ends with a huge firework display.
Palio del Baradello – last week of August
In the last week of August the streets of Como are transformed into a battleground for the Palio del Baradello. This is a re-enactment of the combat between the ancient people of Como and the Medieval emperor Federico di Svevia il Barbarossa. Como holds a vibrant street party with banquets, parades, fireworks and boat races, with participants in medieval costume.
Now if you had to make a choice, would you go to Lake Como on a day trip or would your like to go there for 7 days? A trip to Lake Como could rival the Amalfi Coast or the Cinque Terre.
Pin it … Share it