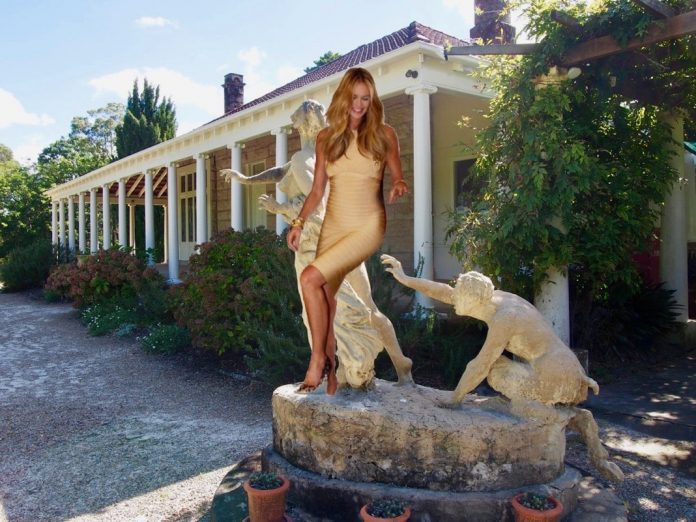 I had a long-held dream to visit the Norman Lindsay Gallery in the Blue Mountains ever since I first saw the classic movie Sirens.
Sirens (1994) was mostly filmed at the Norman Lindsay Gallery and Museum, the late Australian artist's former home.
This is where Elle Macpherson made her first movie appearance, so it's an extraordinary place.
Other great attractions at the Norman Lindsay Gallery I wanted to see included the Satyr pursuing a Nymph in the garden (above).
The unforgettable seahorse fountain and the beautiful female nude artwork on show in the form of paintings and sculptures.
Most tourists would probably think that the biggest attraction in the Blue Mountains is the Three Sisters, a famous rock formation with three peaks near Katoomba.
The best attraction in the Blue Mountains for me was definitely the Norman Lindsay Gallery and Museum, where the three Sirens once appeared.
I found it impossible to resist the siren call to visit the Norman Lindsay Gallery, especially since Elle McPherson is an Australian Goddess, siren, and a beautiful supermodel.
Sirens, the movie, makes a few references to Ulysses (Odysseus) from Greek mythology.
This ancient Greek hero had himself strapped to the mast of his ship to stop himself from jumping overboard to meet up with the alluring sirens.
In my case, though, there was no way in the world I would miss out on seeing the beauties at the Norman Lindsay Gallery during my day trip to the Blue Mountains.
I didn't meet a brunette bombshell like Elle, but I did end up talking to an attractive blonde lady who bought a print of Venus. I'll tell you about the meeting a bit later on because, in some way, it did seem kind of symbolic.
Norman Lindsay Gallery – The Seahorse Fountain
Looking at Norman Lindsay's former home from the street doesn't really give you any hint of what you'll see in the garden. It's only once you approach the house that the beauty of the garden begins to reveal itself.
The first thing to strike your curiosity is the satyr pursuing a nymph, as well as a spectacular seahorse fountain.
Personally, I think that this seahorse fountain is the most beautiful artwork you'll see in the Norman Lindsay Gallery and Museum, be that inside the house or outside in the garden.
I felt like getting myself a comfy chair and sitting next to it with a cool drink in hand.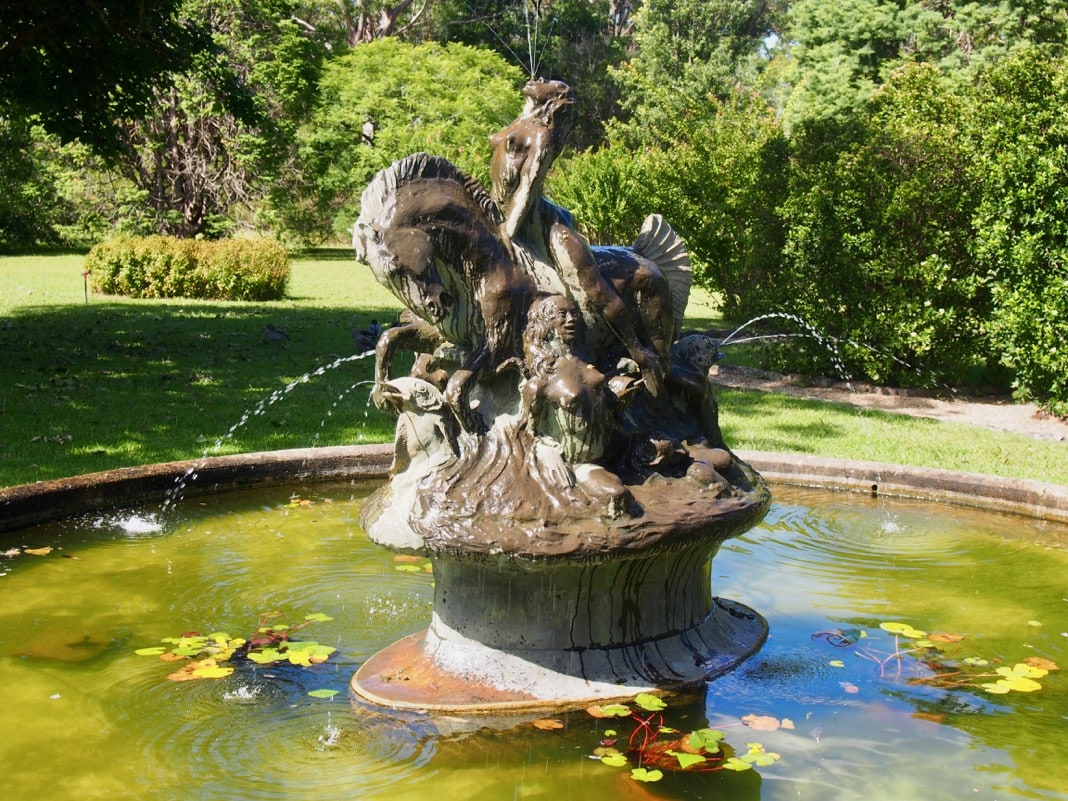 I have a photo a bit further down showing a group of cute ducks walking past this spectacular seahorse fountain.
It's right next to the main house, which has a verandah running along a couple of sides, supported by thin white Greek-style columns.
Norman Lindsay – The Artist and Writer
Norman Lindsay was a writer, painter, and illustrator who lived from 1879 to 1969.
He caused a bit of a stir during his lifetime, mainly for his nude artwork and some of his writings, which churchy people found repugnant.
J. F. Archibald employed him as an illustrator of cartoons at The Bulletin, and from there, the relationship continued until his final cartoon in 1956 for the Melbourne Olympic Games.
In 1930, his second novel Redheap, regarding small-town life and social restrictions in Victoria, was immediately banned in Australia.
For some unholy reason, Redheap remained on the prohibited list in Australia until 1958, even though it was readily available in other countries.
The Crucified Venus
The Crucified Venus would have to be Norman Lindsay's most notorious artwork, which was frowned upon by the Church and other wowsers as he called them.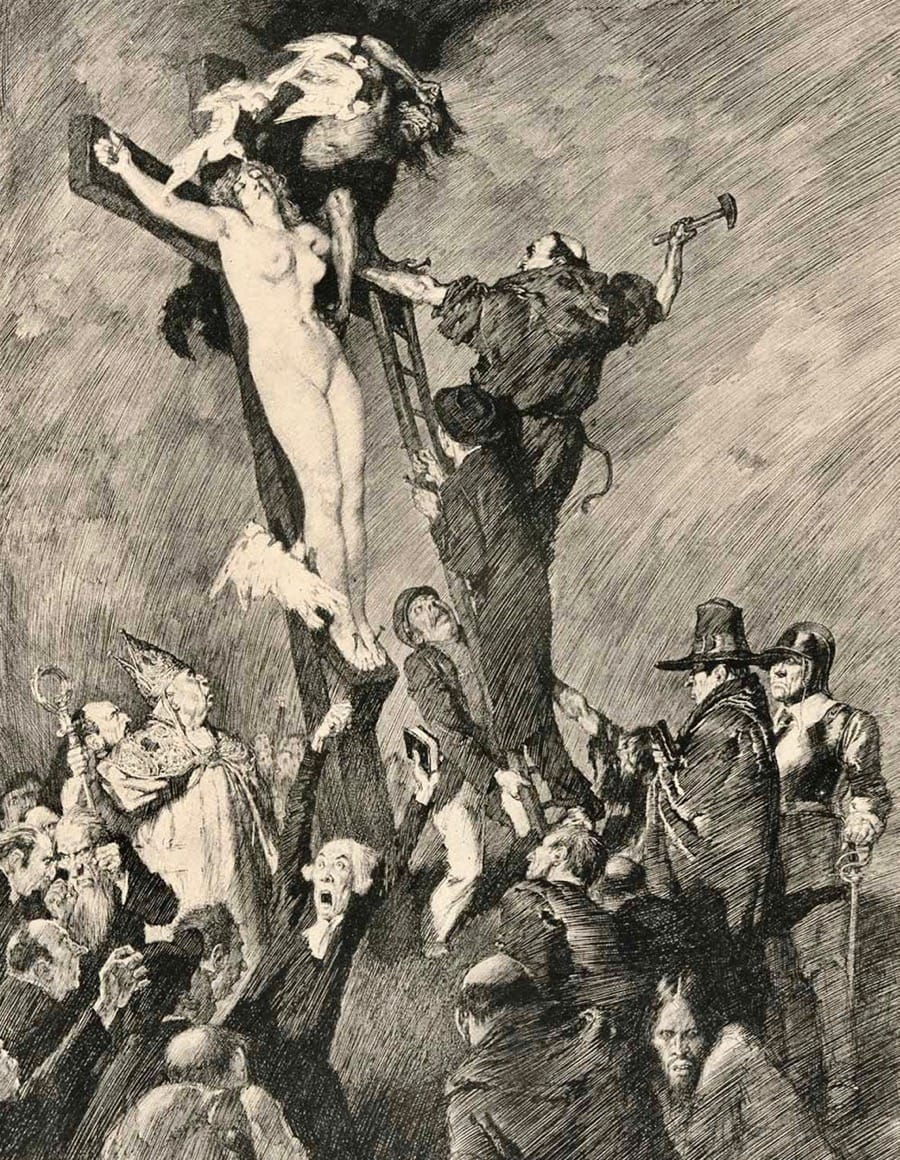 Wowsers is a slang term, which referred to people whose sense of morality drives them to deprive others of their sinful pleasures. I was only aware of the expression after watching a Norman Lindsay documentary where he used the word numerous times.
The film Sirens used the Crucified Venus as a central storyline theme. This illustration of a Crucified Venus actually stemmed from Norman Lindsay's belief that Christianity was a repressive force.
Wowsers hoped that Lindsay would voluntarily remove the drawing from a Society of Artists' exhibition in Melbourne, but that was never going to happen.
A Melbourne committee removed it, but it was reinstated after a week when the Society of Artists president threatened to remove other artworks from the exhibit unless the artwork reappeared.
The Magic Pudding and other works
Norman Lindsay is most fondly remembered for an Australian much-loved children's book called The Magic Pudding, originally published in 1918.
It's still a popular children's book to this day and hasn't been out of print since 1918.
Other books include A Homage to Sappho (1928), Mr. Gresham and Olympus (1932), and Pan in the Parlour (1933).
Nude artworks, which Norman Lindsay is well known for, really hit you for six when you walk through into a red room inside the house gallery, which is jam-packed with them.
During Norman Lindsay's time, even the slightest show of nudity was considered highly offensive to many people, so he was definitely a big Australian rebel.
Inside the Norman Lindsay Gallery and Museum 
The Norman Lindsay Gallery and Museum, now owned by the National Trust, showcases plenty of female nude paintings.
What surprised me most was that many of the artworks possessed an Amazonian and classical feel about them.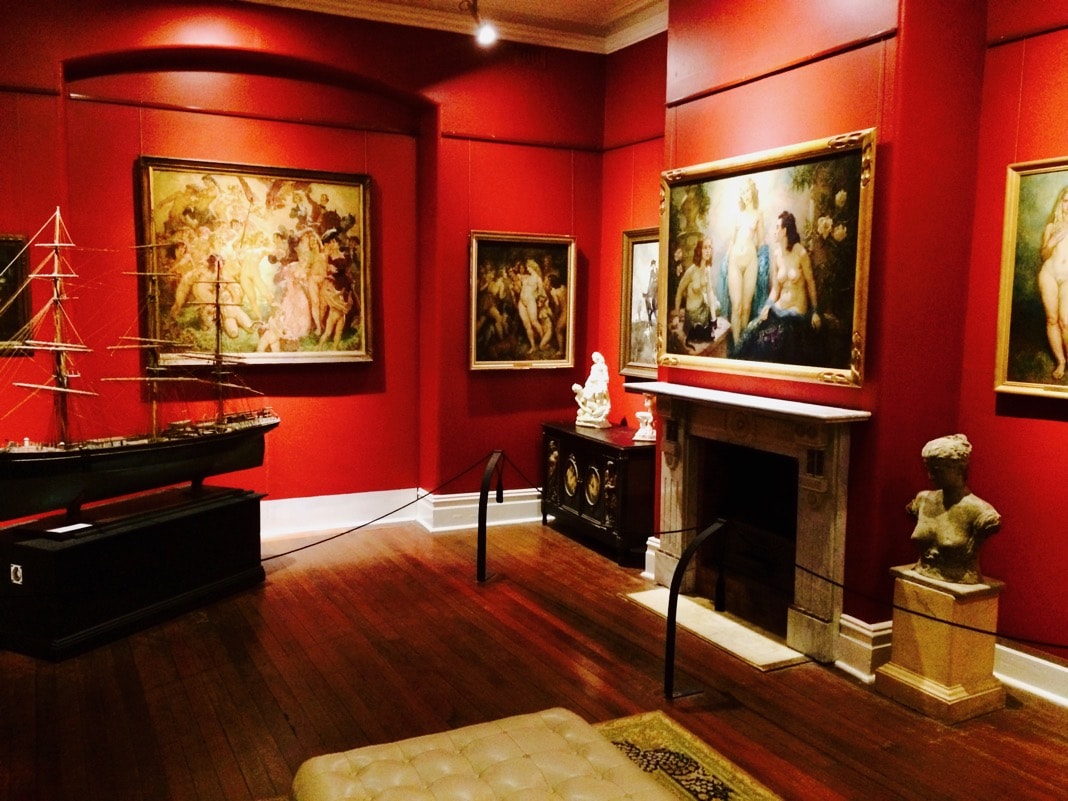 Apparently, he had female models come to his place so he could paint them. His wife Rose also modeled for him and obviously inspired quite a few of the paintings.
You can also see a high-quality model ship on display that possesses amazing detail and craftsmanship. A variety of smaller sculptures are also seen throughout the building.
If you're a fan of The Magic Pudding, you'll also get to see some cheeky characters inside and outside of the building.
When leaving the house, you'll exit through a nice-looking gift shop. You can buy lots of interesting stuff in the gift shop, including large prints of various artworks.
I bought a copy of a thin blue book on the Norman Lindsay Gallery, Springwood, by Helen Glad, a National Trust house series. I asked about Helen Glad and was told that she was Norman Lindsay's granddaughter. It's very well done.
Norman Lindsay Gallery – The Garden and Sculptures
In my opinion, walking around the large garden is the best experience at the Norman Lindsay Gallery. There are a few standout sculptures around the beautiful garden setting.
This female nude sculpture is situated next to the house's side and is supposedly modeled on his second wife, Rose.
Here's a nymph standing beside a satyr and a sphinx, which has strong Greek myth connotations.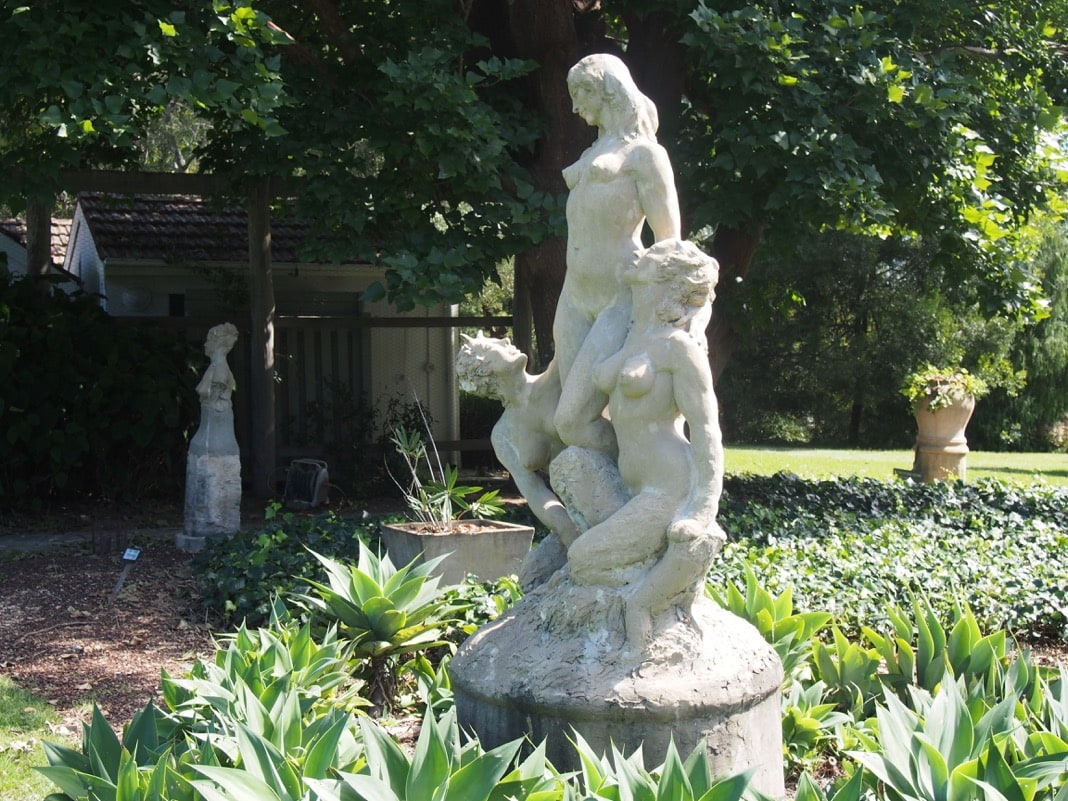 Another beautiful fountain that sadly wasn't operational when I visited can be seen below.
In the movie Sirens, it also wasn't shown flowing with water. I have seen it working like a fountain in other pictures.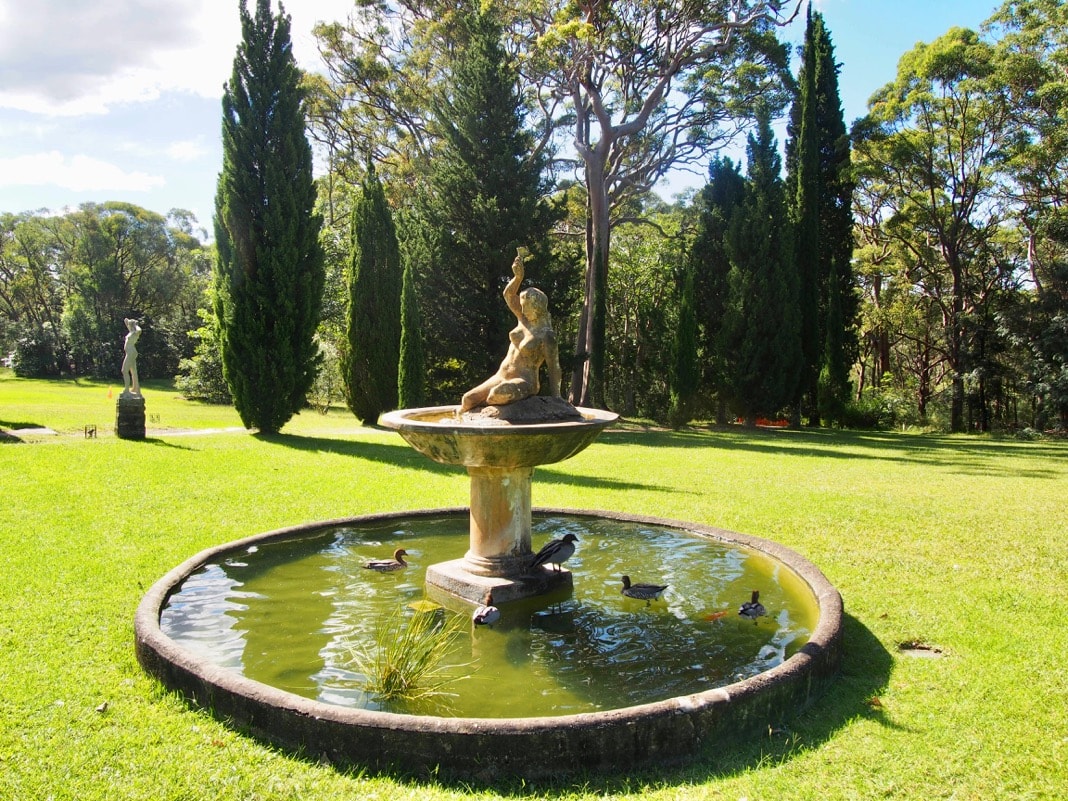 A few ducks can be seen enjoying this pond. This place is like a duck paradise.
The voluptuous nymph below is connected to a seat. A hedge surrounds her with a pathway down the center. The seat is roped off with chains because the ground staff obviously don't want visitors to sit on it.
The Sphinx leading to the Pool
Passing by a Sphinx leads down to a swimming pool, which Norman Lindsay built himself.
I wondered whether a vision from Sirens where the three beauties enjoyed themselves in a pool of water complete with water lilies would greet me as I explored the property.
One thing that disappointed me was learning that the movie's memorable water scenes had been filmed in Glenbrook, which can be found at another location in the Blue Mountains.
I didn't go down to the old pool mainly because it was cordoned off at the time. There was a sign warning of unstable cliffs, so I didn't bother to go for a walk into unknown territory, but I should have.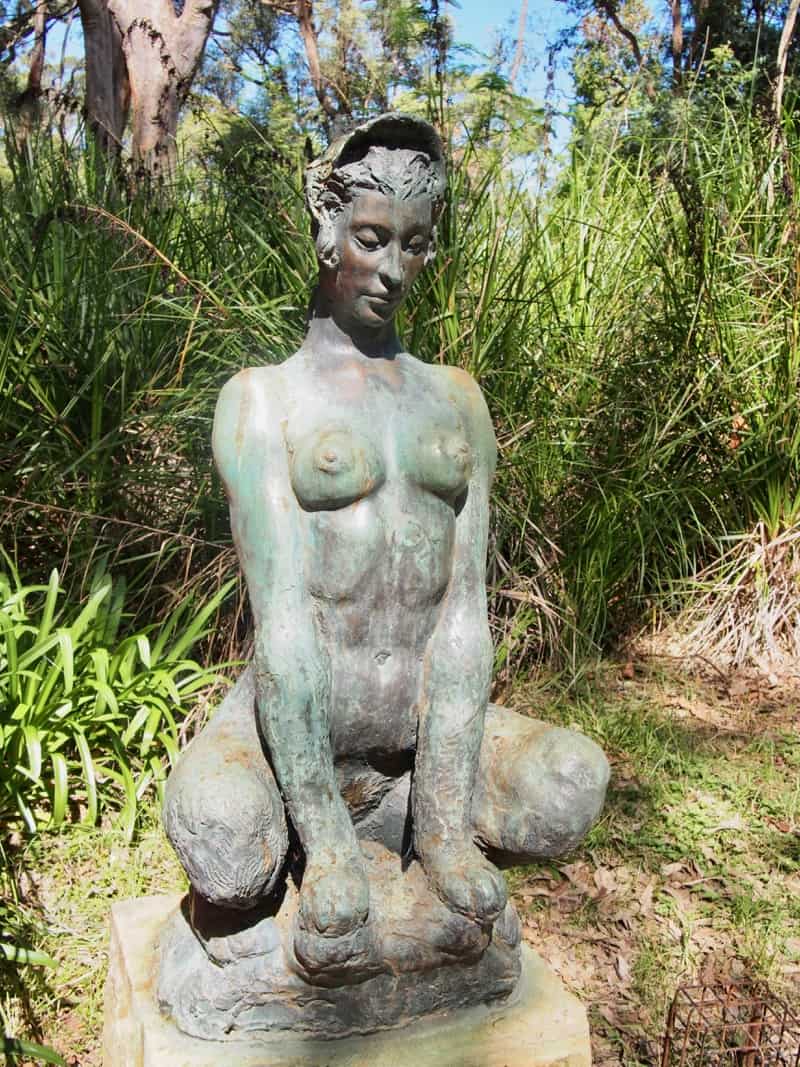 I wasn't aware of any pool on the property when I visited, but on reflection, this pool must have been the inspiration behind the water scenes in Sirens.
Norman Lindsay's pool must have been a magical swimming spot in its day, though it appears extremely rundown from what I've seen in recent pictures. The best thing about it seems to be a few interesting statues surrounding the pool.
There's even a sculpture of a Siren from Greek mythology at the edge of the pool, complete with wings! It seems as if I somehow did resist a Siren call.
Movies inspired by Norman Lindsay
My real desire was to see a heavenly scene, something like this, from the movie Sirens. That was never going to happen, but you can always dream big.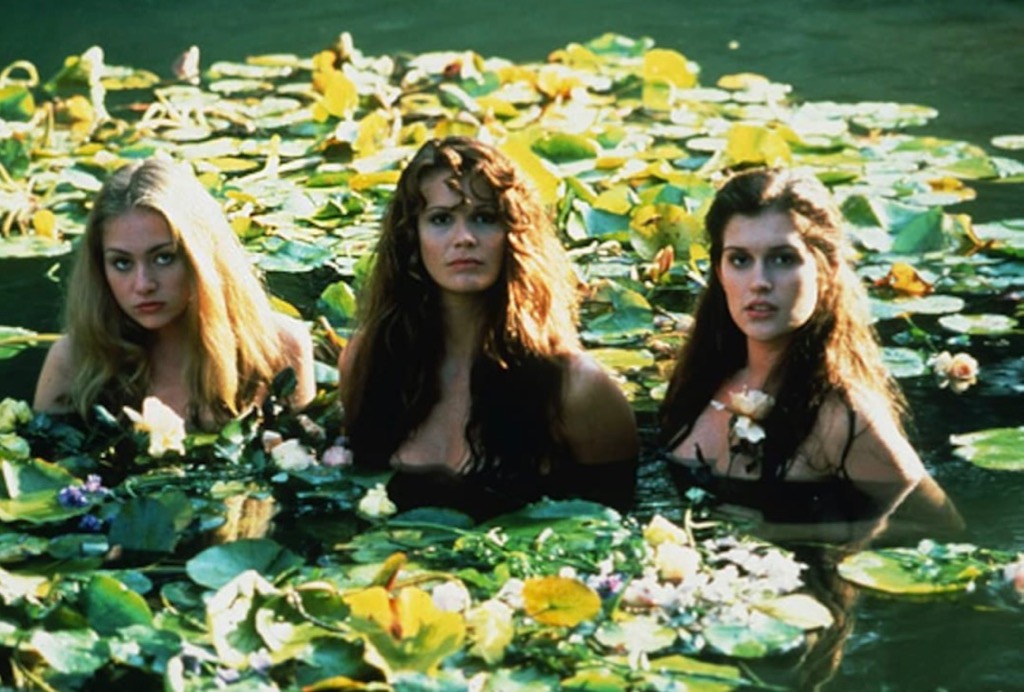 I never realized that Norman Lindsay also wrote a book called Age of Consent, which became a movie. Age of Consent starred Helen Mirren in 1969, the same year as Norman Lindsay's death.
The film is about a frustrated painter seeking inspiration on a remote island on the Great Barrier Reef. Things change for him after meeting with his long-awaited muse.
My favorite sculptures in the Garden
Again, I come back to these two artworks. It really is a fantastic sight to behold. If you're fortunate, you may even be there when the wisteria is in full bloom. I may have to visit again because I wasn't so lucky.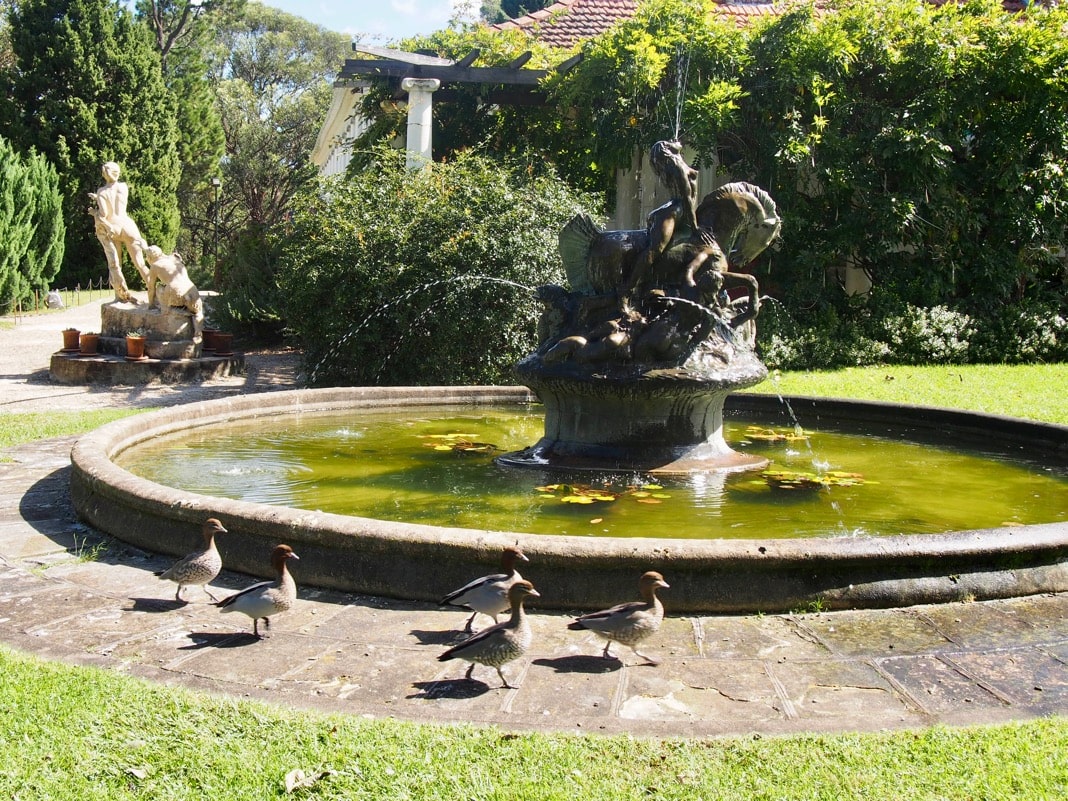 These are the cute ducks I mentioned before. If I could ever come back into this world as an animal, I think I'd choose to come back a duck. It seems like a pretty good life to me.
The nymph fleeing from a satyr would have to be the most memorable sculpture on show.
I like how the tree in the background also seems to be repelled in the same manner.
Meeting Alex at the Norman Lindsay Gallery
One interesting conversation I had at the Norman Lindsay Gallery occurred when I saw a blonde-haired lady nearby at the spot shown below.
We started talking, and she told me that she really liked The Magic Pudding as a child. She also told me that one of the female sculptures had a tail. This was the kind of thing Norman Lindsay did, among other things. The lady's name was Alex.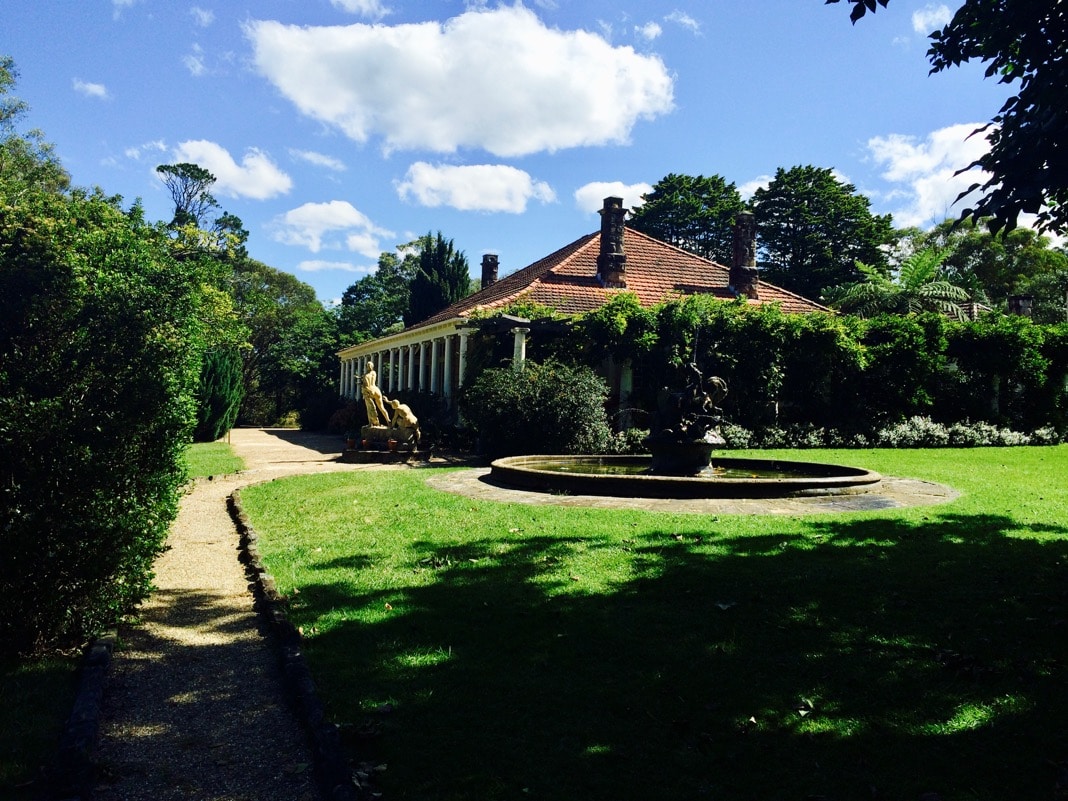 You can see Alex in the photo below, which I took before meeting up with her.
Alex is a girl's name of Greek origin, meaning "defending men" or "Protector of Mankind."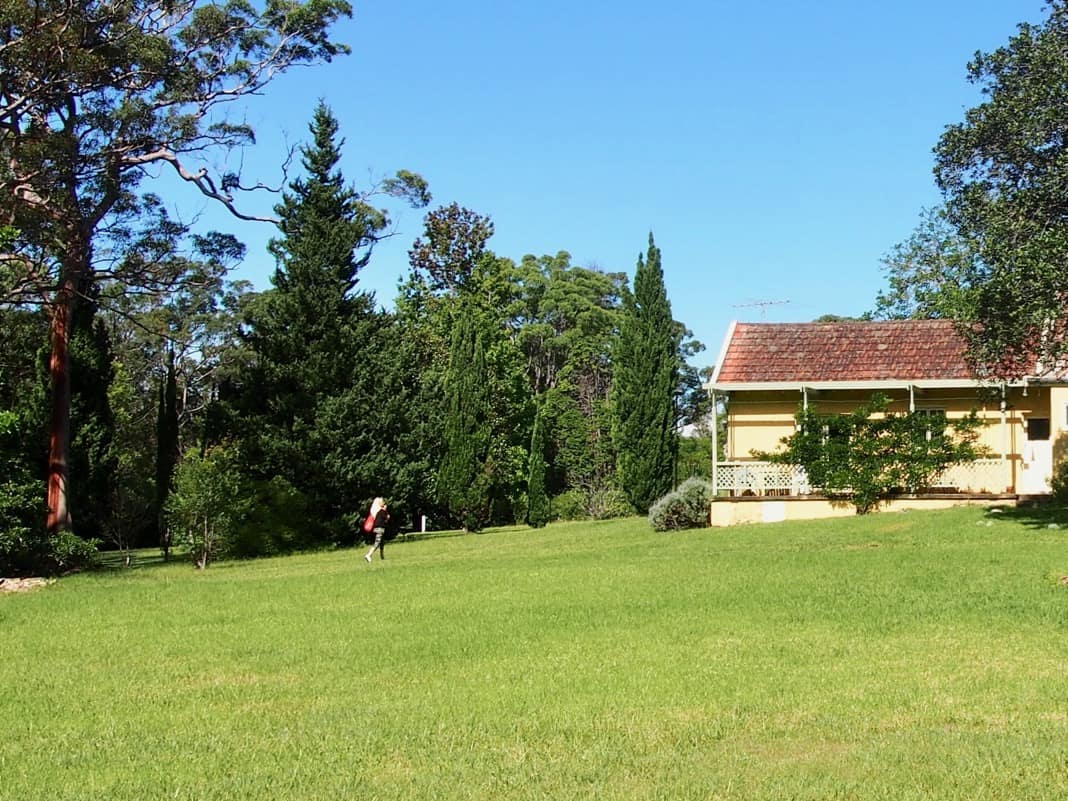 There were only a few people around the place on that particular day.
A slightly surreal thing occurred after our initial meeting. We met up again at the road's front entrance later on as I was walking in again and she was leaving.
I had just been on a tour of the painting studio and the etching studio. After the one-on-one tour, I went to the Norman Lindsay cafe for a quick look around since it was close by.
Because I didn't know how to get back to the house for a few more photos, I was wandering around almost lost. I quickly found my bearings and soon found myself at the Norman Lindsay Gallery's entranceway once again. This is where I first entered the property through the stone fence.
A Sign from Venus, the Goddess of love
Alex was there at the gate, leaving the place, and she was holding a large print in her hand. I asked her what it was, and she told me it was a print of Venus.
I have received a sign from Venus in Adelaide but I never anticipated I'd receive a sign from Venus in Sydney's Blue Mountains.
I should have asked Alex if I could have taken her photo holding Venus, but I felt a bit awkward about it. Wish I did, because it would have made a great photo for this post.
Ah well, it wasn't meant to be. At least I have a tiny pic of her.
How to get to the Norman Lindsay Gallery in Faulconbridge
Catching the train from Sydney's Central railway station to the Blue Mountains is a great way to go.
The train takes about 90 minutes to get to the Blue Mountains, stopping at several towns situated in the area. Places like Glenbrook, Springwood, Faulconbridge, Wentworth Falls, Leura, and Katoomba.
To get to the Norman Lindsay Gallery, I advise stopping at the Faulconbridge railway station.
Walking there
From there, you can walk to the Norman Lindsay Gallery and Museum. The walk from the train station is quite long, at about 6.5 km.
The walk did feel like it was mostly downhill once you exit the pathway running along the main highway, so it was easy enough. It was quite enjoyable getting there but getting back would be much harder if you don't have transportation.
Apparently, there's a bus you can catch, but the last one seemed to leave the Norman Lindsay Gallery quite early in the afternoon (around 2 pm). So be prepared for a long walk back, unless you can get yourself a taxi or Uber to take you back to a train station.
You can either head back to Faulconbrige or Springwood. The Norman Lindsay Gallery seems to be about halfway between the two.
I was fortunate. One of the ladies who had finished working at the Norman Lindsay Gallery saw me walking back up a quiet street and offered me a lift to a train station.
She told me that I didn't look like an ax murderer, so she offered me a lift, which I happily accepted.
It would have been very tiring walking all the way back to the train station, so if you do decide to walk from the Faulconbridge train station to the Norman Lindsay Gallery, I strongly suggest organizing how you'll get back before you go if possible.
This is especially so if you have more things to do in the Blue Mountains during a planned day trip if you have more places to visit.
A Quick Guide to the Norman Lindsay Gallery
All you need is a couple of hours at the Norman Lindsay Gallery to appreciate the wonders of this beautiful attraction.
If you want to escape Sydney for a day, I highly recommend a day trip to the Blue Mountains, where you can spend some serene time enjoying the Norman Lindsay Gallery and beautiful gardens.
It's a great day out. Please don't leave it too late in the day though, because the last entry can be at 3 pm, with a close time of 4 pm.
I paid $17 to enter the house, but you can spend your time in the garden for free. It's worth visiting for the beautiful garden alone.
Seeing the satyr pursuing a nymph will stay with you forever.
Official Website: Norman Lindsay Gallery and Museum
Pin it … Share it