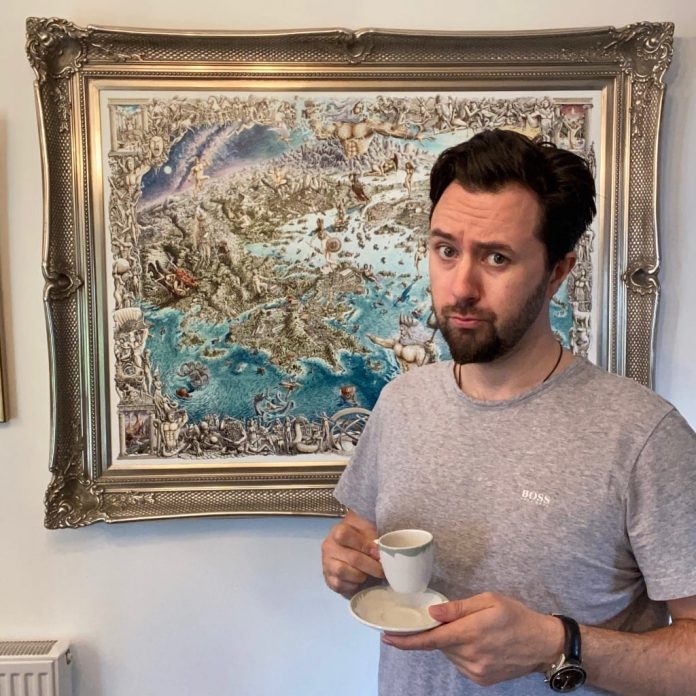 The masterpiece "A Greek Odyssey" by Jeff Murray first drew my attention to this amazing artist. I couldn't believe the amount of detail that went into its creation.
I could see Poseidon rising out of the blue Aegean Sea in an ancient Greece setting.
Hermes, the messenger god, was flying somewhere, and I could even see Apollo in the picture, including many other scenes from Greek mythology.
This made me want to learn more about Jeff Murray, especially after I had seen some of his other outstanding artworks.
So I contacted Jeff, and to my astonishment, he actually agreed to be interviewed.
This interview with Jeff Murray is relatively easy-going, though I do ask him a few tough questions on occasion (especially the final question), so let's see how Jeff Murray responds.
Should the Parthenon Marbles (Elgin Marbles) return to Greece?
Jeff, I'm going to start with a controversial question to get a few people riled up!
The Parthenon Marbles (Elgin Marbles) currently reside in the British Museum, even though Greece has repeatedly asked for the marbles to be returned to Greece over many years.
Can you please tell us your honest opinion, whether you believe the Parthenon Marbles should stay in England or return to Greece?
Whatever the case, can you provide a short, compelling argument why you believe this is the best thing to do?
Jeff Murray Interview Reply – I believe that they should be returned to their country of origin, along with many other artifacts from all over the world.
The British Museum houses many incredible objects from all over the world, but I feel that they don't belong there. I suppose this is down to Colonial conquests, but it doesn't somehow feel relevant anymore, so therefore, it doesn't belong to the British Museum.
Jeff Murray Art Gallery
Jeff, tell us a little bit about the Jeff Murray Art Gallery.
I'm aware that the Jeff Murray Art Gallery is situated relatively close to the historic city of Bath, named after the Roman-built baths. Is there a reason behind this? 
Jeff Murray Interview Reply – So I have a gallery and studio space from my home, near the historic city of Bath in Somerset.
I am based down this way as when I returned to the UK in 2014 after many years of travelling. I moved down here with my family, where they had since relocated.
During this time, I have successfully opened an artisan pop-up stall in the Bath, where I regularly sell my prints.
A Greek Odyssey by Jeff Murray
As soon as I saw "A Greek Odyssey," I was blown away by the amount of detail and effort that went into its creation.
Can you tell us how this drawing came about? For instance, when you first thought about the possibility of creating "A Greek Odyssey," and how the idea came to you?
I think I have read that it took you 10 months to complete. Can you confirm how long it took you to draw?
Jeff Murray Interview Reply – A Greek Odyssey was a piece I had in the back of my mind for many years, and in 2020 during the lockdown, I allowed myself the time to fully commit to creating it.
I had been researching and learning about ancient Greek history for some years and had this idea to draw the ancient Greek world. However, I had an idea during my research that changed the whole perspective of things. I simply thought to myself, "How cool would it be to have Poseidon rising out of the sea, or Zeus in the skies above looking down over Greece?".
I had been a fan of the Greek myths from a young age but couldn't call myself an expert. So the more I read into the Greek myths, the more I wanted to make this piece about mythology rather than actual history. So after some months of concepting and drafting out ideas, I came up with a way to make this piece possible. To tell as many stories within Greek mythology as possible whilst showing the world where they took place.
The actual drawing time was close to 1000 hours over 5-6 months, and 2 years researching in advance.
Jeff Murray – Family History
It would be interesting to know a few things about your family background and history. My first thoughts were that you must come from a long line of artists.
Do any of your family members, past or present, possess a creative side that may explain some of your superb talents as an artist? Or maybe you have a Lord in the family?
Jeff Murray Interview Reply – So both of my parents had artistic and creative natures about them. They encouraged me growing up that I should pursue it as they noticed it was something I enjoyed as a child. I'm not sure of anyone beyond my parents that had artistic talents in any way, but it doesn't mean they were the only ones.
Jeff Murray and Greek Mythology
Your masterpiece "A Greek Odyssey" clearly shows that you must have an extremely high level of interest in Greek mythology.
Can you take us back to some of your earliest memories regarding Greek mythology and how it developed from there?
Maybe you can tell us about some of the Greek myths that have inspired you the most.
Jeff Murray Interview Reply – As I mentioned before, I have had a fascination with Greek mythology for many years. During my research over the past few years, my knowledge of them has grown significantly.
From a child, the earliest myths and stories I knew of were Medusa and her famous snake-headed hair that if you looked into her eyes, you'd turn to stone. And that Zeus was the god of skies and thunder and ruled over all the other gods.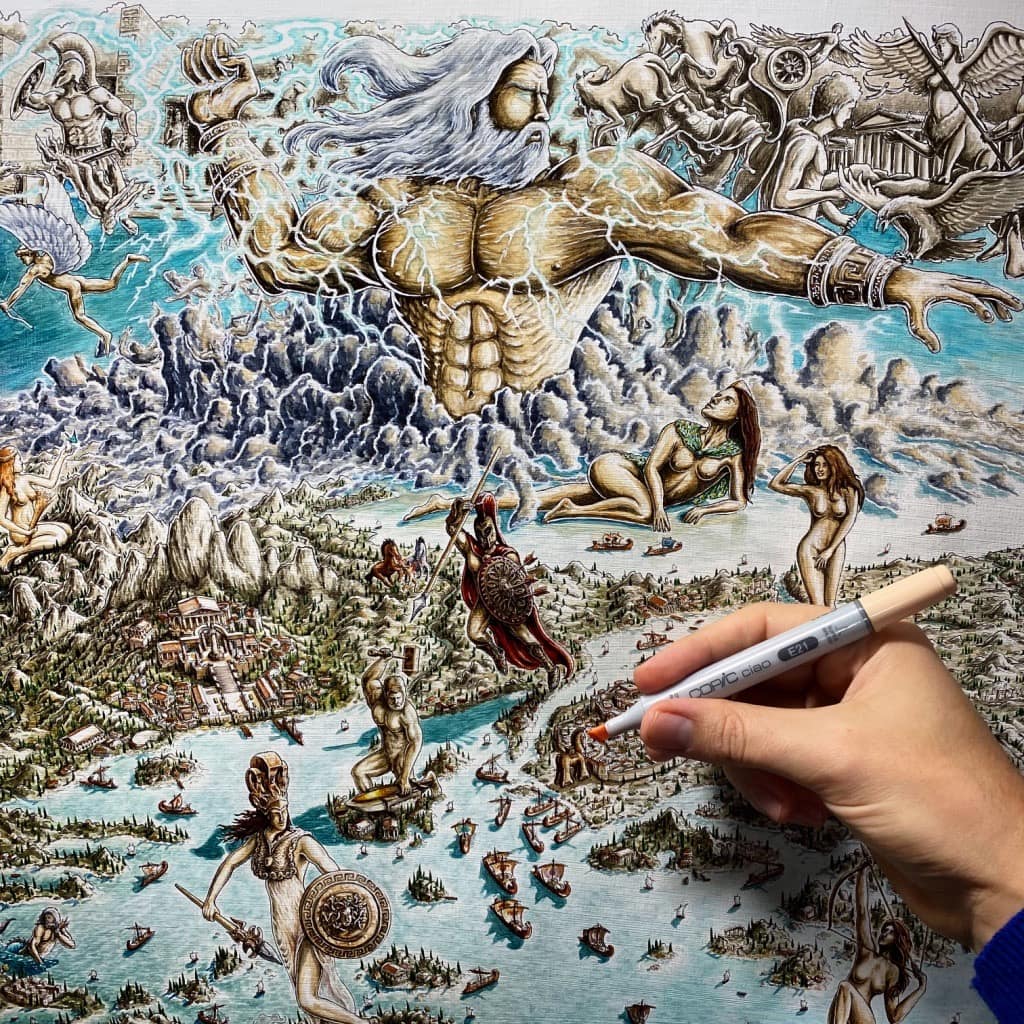 But in more recent years, I have come to enjoy many more myths about the gods and goddesses and heroes and monsters.
I love the story of Prometheus being chained to a rock after giving the humans fire. That's one of my favourites. But I also love many of the heroes' stories, such as Perseus, Bellerophon, and Odysseus.
Favourite movie – Greek Mythology or Ancient Greece
Can you tell our readers about your own personal favourite movie based on Greek mythology or one with themes from ancient Greece?
How many times do you think you may have seen the film?
If you're having serious trouble choosing only one movie, mention two or three of the best movies based on Greek mythology or ancient Greece.
Jeff Murray Interview Reply – My favourite Greek myth-related movie has to be Jason and the Argonauts. In relation to the previous question, it is one of my first fascinations within the world of Greek myths. I know it's a little dated now, and the special effects don't quite hold up (not to mention the acting), but the imagination to bring that story to life on the big screen captured my attention as a child.
I always loved the scene with Talos on the beach where he picks up the Argo and tosses it in the sea. I think I've probably watched this movie at least 20 times throughout my life, maybe more?
In terms of modern movies, none of them have really entertained me the way Jason and the Argonauts did. The remake of Clash of the Titans had some great special effects and was relatively entertaining, but the film's accuracy concerning the myths was way off. For example, Perseus didn't ride Pegasus (or one of many Pegasus as the film portrays), there weren't any giant scorpions that I'm aware of, and don't even get me started on the appearance of the Kraken!
I get a lot of people asking me when they look at my piece A Greek Odyssey, "Where's the Kraken?" because they've seen Clash of the Titans and assume it's a monster from Greek mythology.
Ascend the Acropolis
Jeff, have you ever visited Greece? I'm almost certain that you must have ascended the Acropolis in Athens to see the Parthenon.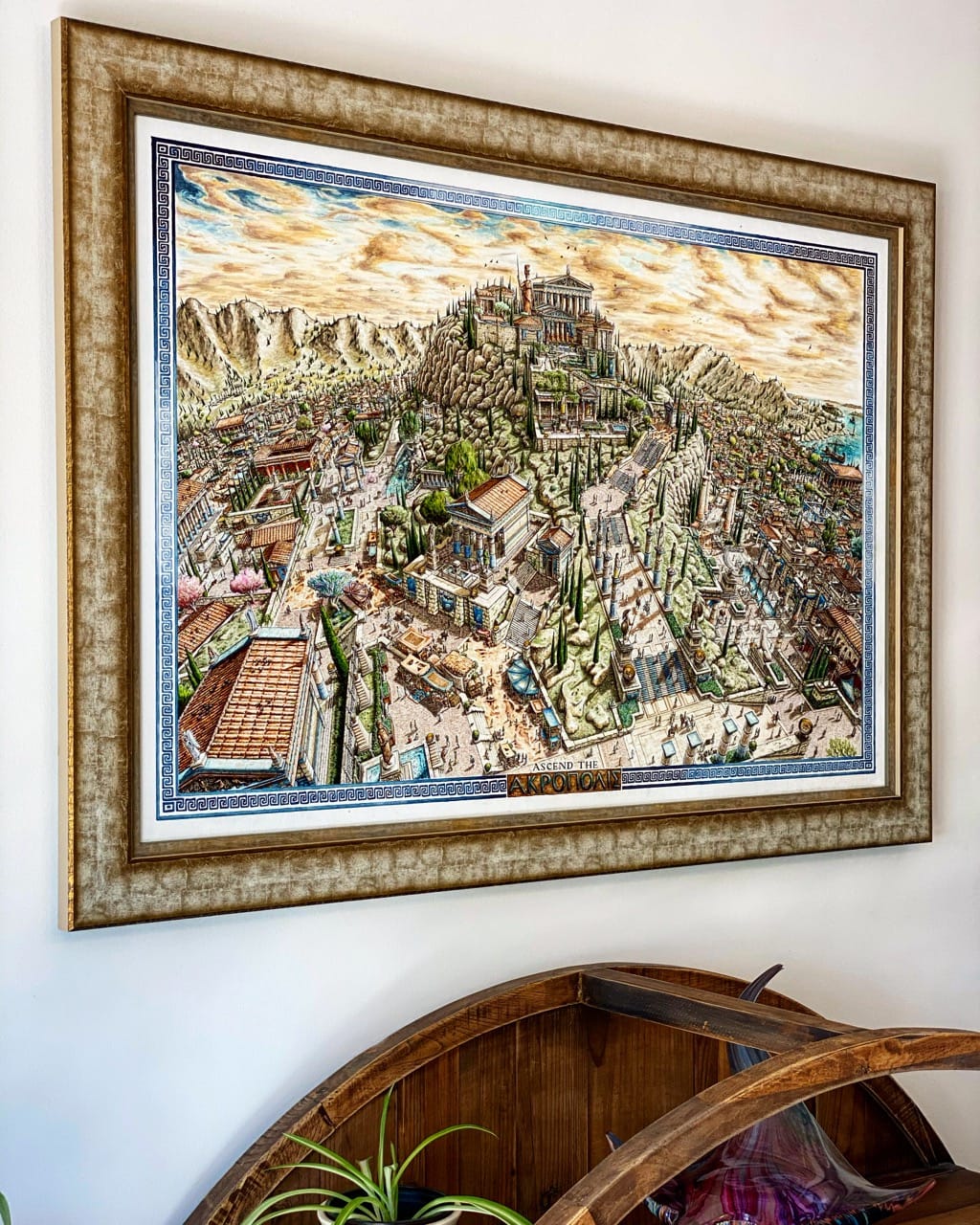 Can you tell us about any trips to Greece and the places you have visited? Do you have a favourite Greek Island?
If you haven't visited Greece at this stage, where would you like to go? Are there any places in Greece that you dream about visiting one day?
Jeff Murray Interview Reply – I have visited Greece, but only the islands of Skiathos and Skopelos. Unfortunately, I haven't yet visited Athens, but I plan to as soon as travel is safely possible again.
I want to visit most of Greece over time, exploring the richness and history of the mainland and the islands. Delphi is high on the list of places to visit, along with Knossos in Crete, and of course, the Acropolis in Athens.
Jeff Murray – Student days / Learning about Art
Jeff, let's go back in time. How did you learn about drawing and art in general?
Tell us about the journey and which learning institutions you attended, if any. Why did you want to go there?
Do you reflect on this period as a difficult time or a sweet time in your life?
Maybe you're willing to share a crazy story from your student years.
Jeff Murray Interview Reply – I have always enjoyed art and drawing since a very young age and put all of my efforts into it during school. I went on to college and university to study Graphic Design, where I liked to incorporate a lot of my hand-drawn skills into my projects. This was different from what I knew before as a lot of the Graphic work was digitally based, with which I learned many new computer design skills such as Photoshop, Flash, and Illustrator.
I graduated in 2007 out of Buckinghamshire University and immediately got a job as a web developer that summer. However, the job wasn't for me, and I knew that my hand drawing skills wouldn't come to much use when making websites, so I decided to leave and pursue other ventures such as exploring the world. Unfortunately, I don't have many crazy student-related stories. They all came after when I was on my travels.
Jeff, now that I know you have some crazy travel stories, it would be awesome to know about one of your crazy adventures. Are you willing to share one?
One of my craziest travel stories was about 10 years ago in Australia. My friend and I went on a road trip with this crazy guy called "Jeffro" who ran his car (4×4 Landcruiser) on cooking oil. We drove 11,000Km's from Sydney up to Darwin over 7 weeks, with a few additional detours, all from chip shop oil. So the fuel was free, but a messy job.
There were 4 of us in total, myself, my friend Liam, Stephan, this Italian backpacker, and Jeffro, the Aussie who showed us the outback. We camped out every night, ate off the fire, grew big dirty beards, and fought off dingos and snakes. It surely was one of the best experiences of my life!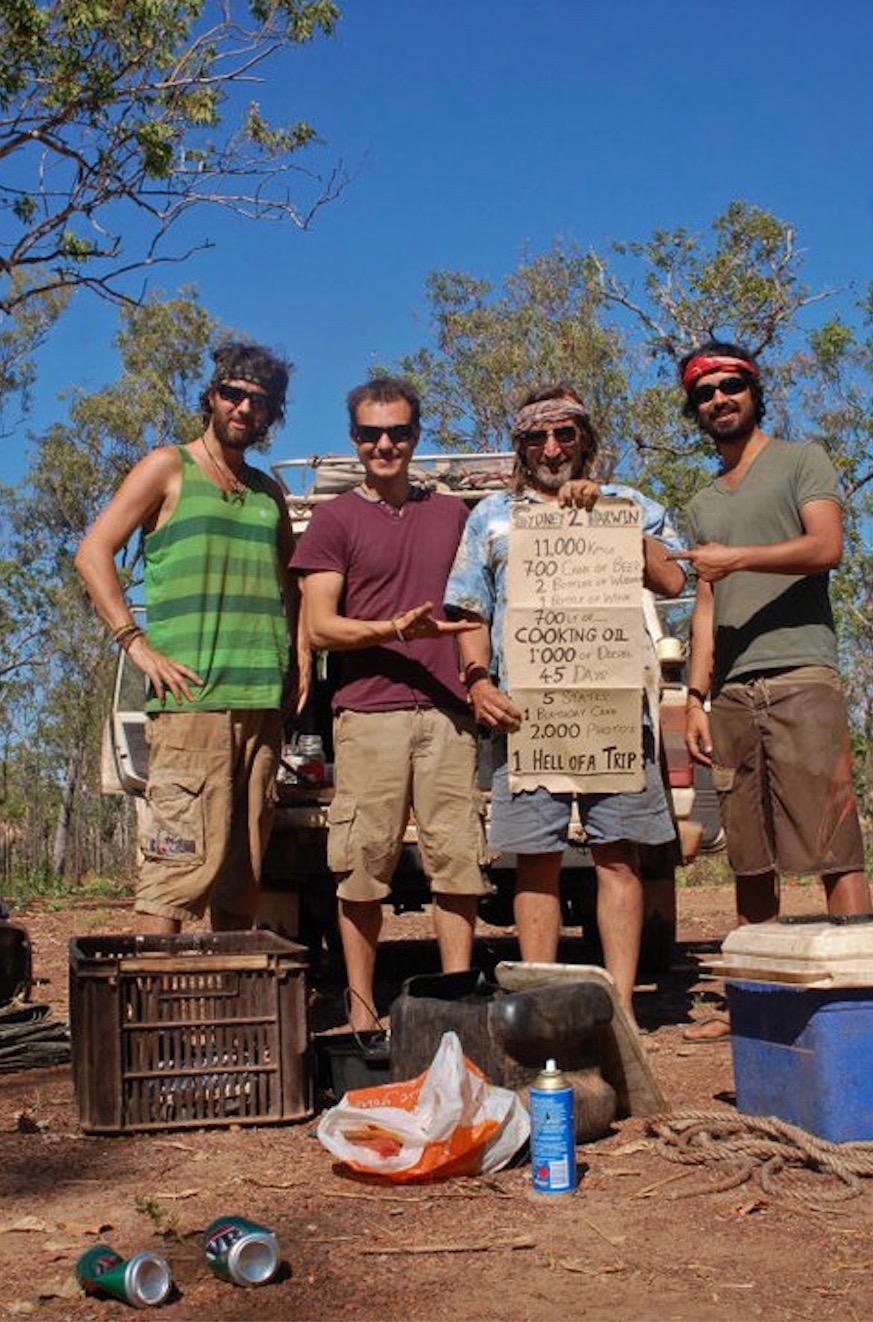 Jeff Murray Art Sales
Jeff, for the added interest of people who read this interview, I will record the prices shown on your website for "A Greek Odyssey."
These are the prices shown on your website to purchase A Greek Odyssey in June 2021.
A Greek Odyssey – 84 cm x 118.9 cm (A0 Canvas) – £1350
A Greek Odyssey – 59.4 cm x 84 cm (A1 Canvas) – £750
A Greek Odyssey – 84 cm x 118.9 cm (A0 Paper) – £210
A Greek Odyssey – 59.4 cm x 84 cm (A1 Paper) – £140
Let's see if the artwork goes up in value. I encourage this because now I own my own copy. It will be interesting to look back and see what the prices are in years to come.
Current Prices: A Greek Odyssey – Gods and Goddesses, Heroes and Monsters
One thing, though, it looks as if some of your original artworks are not for sale.
For instance, currently, your website says that the original of "A Greek Odyssey" is not for sale.
What if someone offered you a million pounds for it? There has to be a price you would sell it for.
Jeff Murray Interview Reply – Firstly, thank you for mentioning the sizes and prices of the prints that I offer. The A0 canvas is limited to 100 editions only, whereas all the other prints are open editions (unlimited).
The original is very special to me, as it's a piece that I properly journeyed with when creating it. However, I do have a price in mind that if one day someone were to make me an offer I can't refuse, I'd say yes to. Because let's face it, everything has a price!
Seven is another awesome artwork created by Jeff Murray.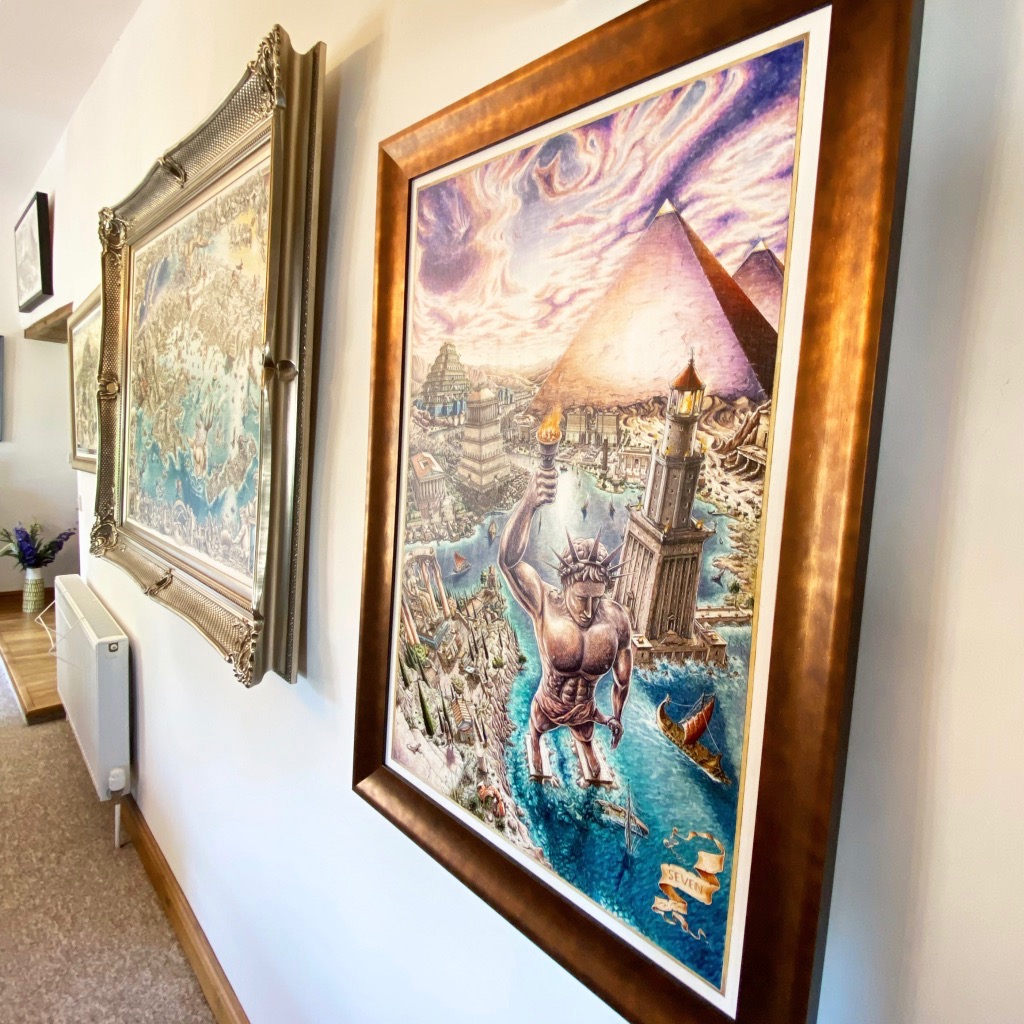 Seven is based on the Seven Wonders of the Ancient World, one of which was the Colossus of Rhodes.
Jeff Murray's Special Place
Jeff, where would you be happiest to take a vacation, year after year? What makes this place so special?
Jeff Murray Interview Reply – For me, anywhere where there's snow and mountains. I love the mountains, and apart from my drawing, my favourite hobby and activity is snowboarding. So if I can, I try to make a trip happen at least once a year to the mountains for some shredding.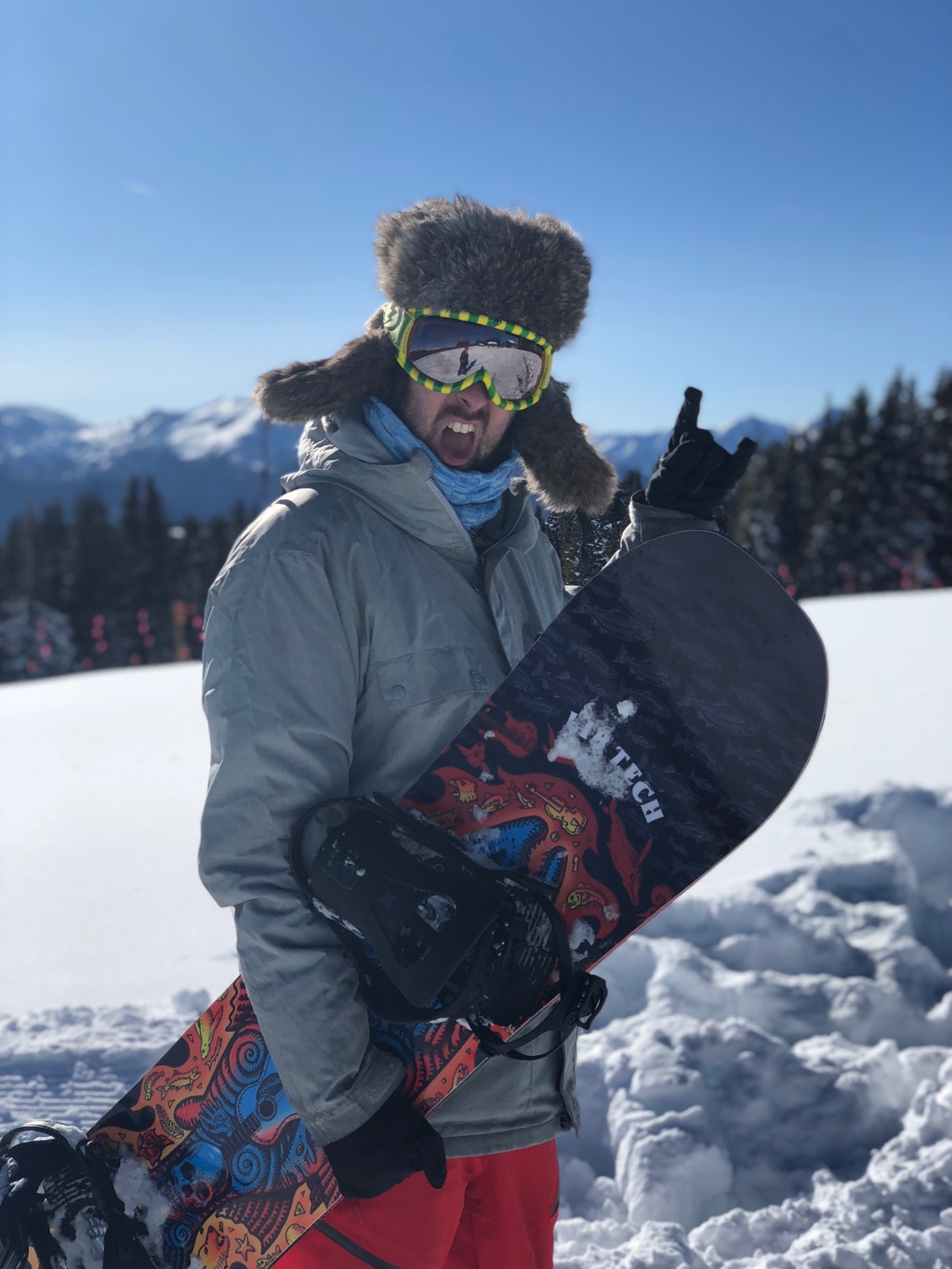 And the ultimate location to go is Alaska… one day!
Jeff Murray in Italy
Italy is a beautiful country filled with plenty of fine art galleries and museums.
Seeing the Uffizi Gallery artworks with Greek and Roman mythology themes would be a dream for many art lovers.
Do you have any memorable experiences in Italy?
Jeff Murray Interview Reply – Italy is one of my favourite European countries.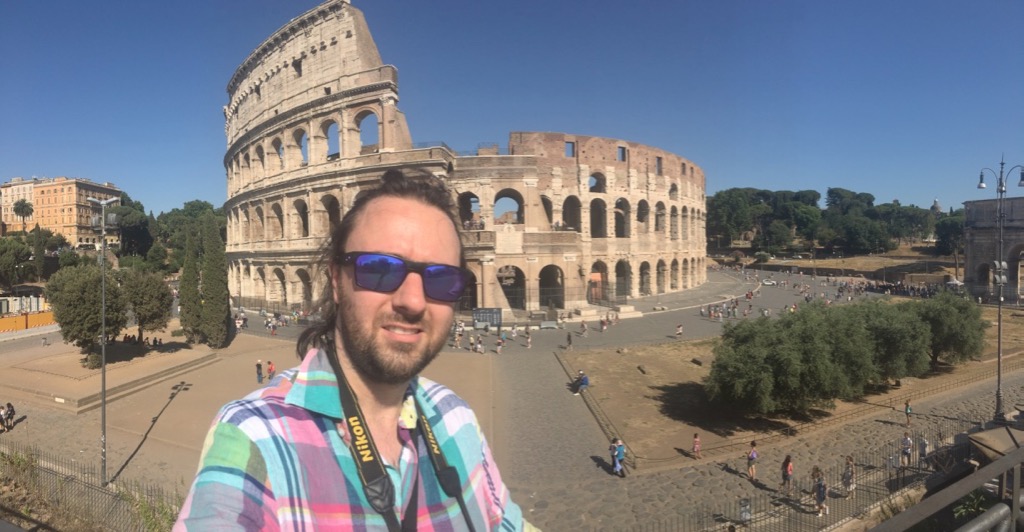 I have visited it many times over the years and love everything about it, the food, the art, the culture, the architecture, the weather. It's perfect!
My favourite city has to be Venice. There's just nowhere else like it on earth!
Things to do in England (UK) around Bath
For anyone visiting the Jeff Murray Art Gallery on a day trip by car, what other great attractions can people squeeze in that are nearby?
Visiting Bath would be one option, but what other places would you suggest around the area.
I have wanted to visit Bath for a long time now, so if I ever make it to England again, I'll definitely want to visit the historic town.
You'll probably hear from me wanting to do a tour of your art gallery as well.
Jeff Murray Interview Reply – I'm about 30 minutes south of Bath, and close by is the historic and famous UK festival town of Glastonbury! The city of Wells is also close by, and Stonehenge is about a 40-minute drive from me. The southwest has a lot to offer other than Bath, so I'm sure people visiting would be spoilt for choice!
And by all means, if anyone, including yourself, is in the southwest of England and wants to stop in for a visit to my gallery from home, feel free to get in touch to arrange a visit. I'll be happy to show you around and make you a nice cup of tea.
Have you heard about the Norman Lindsay Gallery?
One thing I'm inquisitive to know about is whether you have ever visited the Norman Lindsay Gallery & Museum in the Blue Mountains, which is located just outside of Sydney.
Norman Lindsay (1879-1969) possessed a strong interest in Greek mythology.
He is remembered as one of Australia's most iconic artists and somewhat controversial for his time.
His art included drawings, etchings, paintings, and sculptures. He even wrote a famous children's book called, The Magic Pudding.
He really enjoyed painting voluptuous naked women. If you've seen the movie "Sirens," well that film is based on his life. Sam Neill played the artist, and Elle Macpherson played one of the models in the movie.
I wonder, have you ever visited the Norman Lindsay Gallery in Faulconbridge, or has it ever been somewhere you have wanted to visit?
Jeff Murray Interview Reply – I haven't been to that gallery, unfortunately, but I did visit the Blue Mountains a few times when I lived in Australia back in 2010/11.
I have heard of the movie Sirens but am yet to see it, so I will add it to the list of things to watch, thank you. If I find myself back in the Blue Mountains at some point, I'll be sure to remember to visit the gallery.
Apollo or Jesus Christ?
Jeff, I'm going to give you an interesting hypothetical question.
At the end of your life, you see two Godly figures. In one direction, you see a vision of Jesus Christ standing inside a tunnel of white light. In the other direction, you see a vision of Apollo also standing inside a tunnel of white light. They both tell you who they are.
You are told that you can only walk through one tunnel. They also let you know that there is no turning back after you enter the tunnel. No one tells you where any of the two tunnels lead to.
You are also informed that you must enter one tunnel before the sand in an hourglass beside you falls completely to the bottom. Otherwise, you won't be permitted to enter any of the two tunnels.
Both of them remain silent to any of your questions. Which tunnel would you choose to enter? Feel free to explain the reasoning behind your choice, but there's no need. A name will suffice.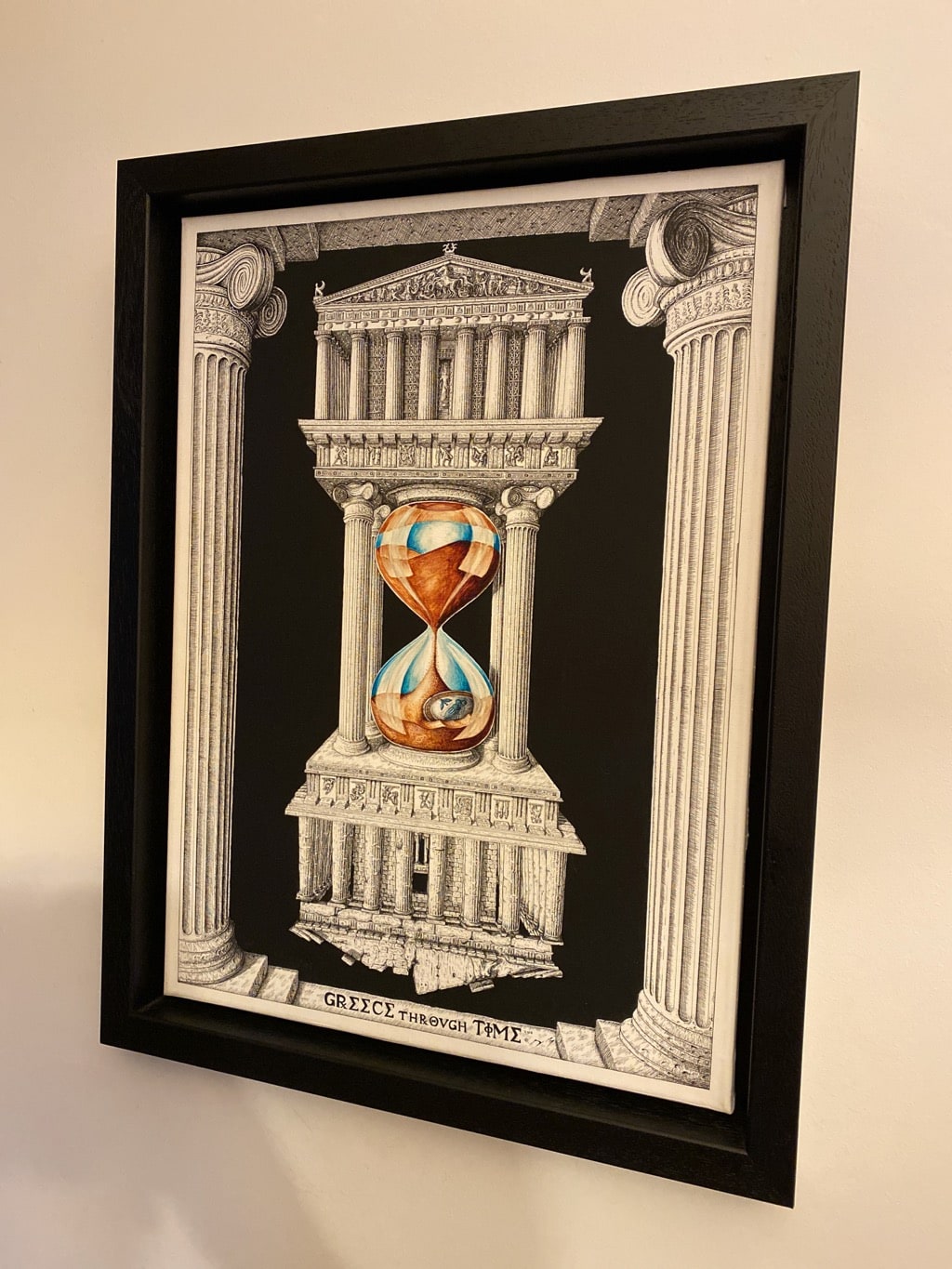 Jeff Murray Interview Reply – Hmmm, this is an interesting question indeed. I am not a religious man by any means, but I do have respect for religions and am very aware of Christianity growing up. I'm guessing that Jesus would imply you are going to heaven as it's the end of your life, maybe greeting you as you enter heaven.
Apollo, however, wouldn't mean that for me as he is not the god that would greet you when you died. The only god that could take you to the underworld other than death is Hermes, the messenger god. Apollo is the God of music and arts (and in some cases, sun and light). So this could maybe imply he has something else planned for me? So if I were to choose, I'd choose Apollo as I'm curious as to what he has in store for me?
Interview Conclusion
Thank you so much, Jeff, for allowing me to interview you and for appearing on Greek Gods Paradise.
You have the honour of being the very first person to be interviewed on this website. I was ghosted by someone else who I wanted to interview, so I really appreciate it.
From my own point of view, I think you are a top guy, so all the best with your artwork and future endeavors. If you didn't go with Apollo, I might have had other opinions, but you chose right. 🙂
Most of Jeff Murray's art isn't Greek myth related but let's hope there is more to come in the future. I wonder if he can draw the Minotaur's labyrinth?
If you are interested, you can follow Jeff Murray on Instagram or visit Jeff Murray's website to see all of his current and up-and-coming artworks.
Pin it … Share it