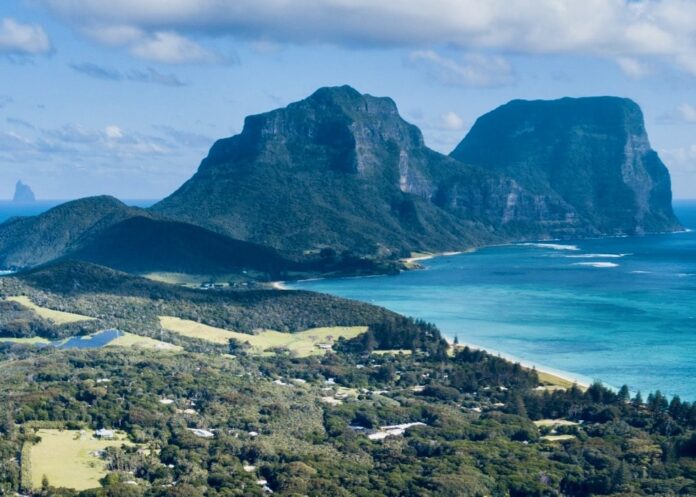 Once I became aware of all the amazing things to do on Lord Howe Island, I knew I had to visit Australia's UNESCO World Heritage-listed island paradise one day.
So when I wanted to go somewhere special for my 40th birthday, Lord Howe Island came to mind as the place to go.
I wanted to visit Lord Howe Island to climb Mount Gower, so I could sit on the summit on a beautiful day and admire the incredible island views.
I also wanted to hand-feed the fish at Ned's beach, relax at the fabulous beaches on Lord Howe Island, and scuba dive Balls Pyramid, a fantastic pyramid-shaped sea stack.
My hopes were high when planning a visit to Lord Howe Island, a small pristine island off the coast of mainland Australia with beautiful twin mountains and a great-looking coral lagoon.
Annoyingly, nothing went to plan and my trip to Lord Howe seemed to be more of a curse!
I say this because the Greek Gods sent terrible weather during my stay, which ended up ruining my entire trip.
The weather truly sucked, but I still managed to do a few good things on Lord Howe Island.
However, the vision of paradise I wanted to see on the island never revealed itself to me.
Oh, well, I suppose them's the breaks!
I'll show you some great pictures of Lord Howe Island looking like paradise from other photographers, as well as some great videos about Lord Howe Island, whereas my pictures are mostly gloomy.
The differences between a heaven and hell experience when going on an island holiday will be plain to see.
Lord Howe Island is sometimes called the Galapagos of Australia, or even the Bora Bora of Australia.
The island paradise (when the weather is good 🙂 ) is one of Australia's best-kept secrets.
Only 400 visitors are allowed on the island at any given time, which means plenty of space for everyone, so you can easily comprehend why it's a very exclusive destination.
That means Lord Howe Island only gets around 20,000 visitors annually, which is peanuts compared to other island paradises in the world — especially Hawaii.
They must love ecotourism on the island, and who can blame them?
Best Things to do on Lord Howe Island
My visit to Lord Howe Island was a massive letdown due to the crappy, crappy weather, meaning I couldn't do everything I wanted to do.
Even though I missed out, I still know about many of the amazing things to do on Lorde Howe Island.
Lord Howe Island is one of Australia's hidden gems, so knowing about the best things to do on Lord Howe Island may inspire you to visit the island.
The picture here was taken on the day of my departure. As you can see, the weather on Lord Howe Island turned out bad and this was taken a relatively good day. Paradise lost!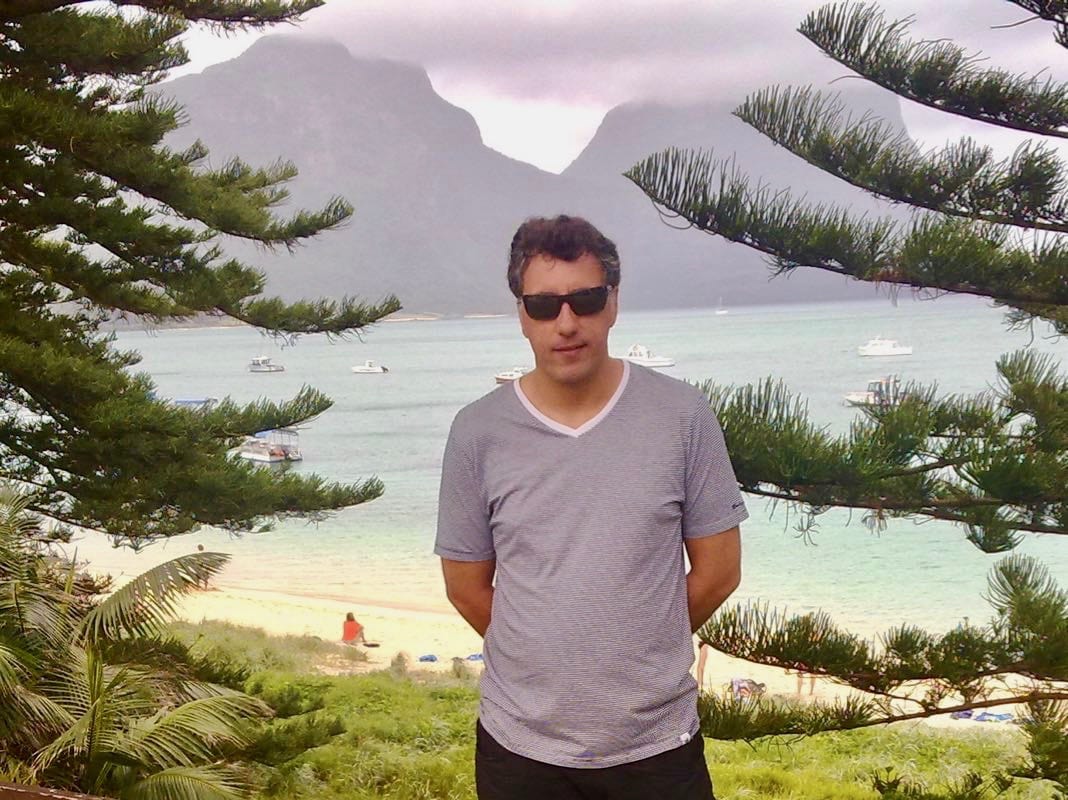 The saddest part for me had to be missing out on climbing Mount Gower, which was one of the main reasons why I decided to visit Lord Howe Island in the first place.
I can't even recall going for a swim! That's how much the weather sucked!
Okay, so I didn't do everything I wanted to do, but I somehow still managed to do a few amazing things on Lord Howe Island.
Water-based activities for me were limited, but many of the best things to do on Lord Howe Island involve the ocean.
Things like swimming, snorkeling, scuba diving, paddle boarding, kayaking, and fishing.
Even if you just confine yourself to these water-based activities, if the weather is good, you'll love the place. One thing everyone must do is:
Feed the Fish at Ned's Beach
This fantastic fish-feeding experience on Lord Howe Island blew my mind. I had seen it on TV and I couldn't wait to experience feeding the fish at Ned's Beach.
In fact, it is the very first touristy thing I did on Lord Howe Island. The lady who picked me up at Lord Howe Airport took me there prior to taking me to my accommodation.
Somehow, we started talking about Ned's Beach, and before I knew it, we were at the spot.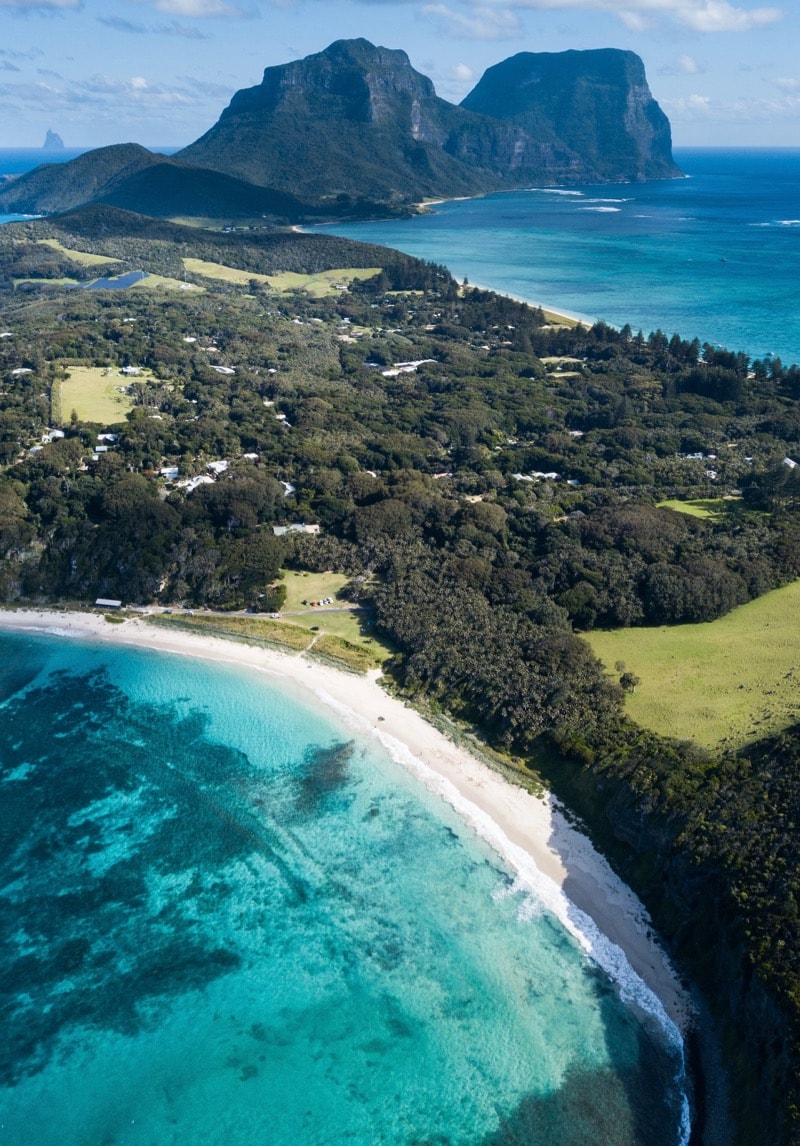 Ned's Beach is situated in a beautiful cove, as you can see in the bottom section of this picture.
Unfortunately, I never experienced anything like this level of perfection during my stay on Lord Howe Island. Big sigh…
When we arrived at Ned's Beach, we purchased fish pellets from a self-service vending machine inside a shed for one dollar.
Keep that in mind because you will require a $1 coin if you want some fish food.
Then we went into the ocean in less than knee-deep water. I was very skeptical at first because there were no fish in sight.
To my astonishment, it didn't take long because fish started appearing out of nowhere as soon as some pellets were thrown into the sea.
Then the feeding frenzy began. It was pretty amazing!
Ned's beach has a variety of fish, including mullet, silver drummer, trevally, wrasse, garfish, and parrot fish.
If you're lucky, you may even see large kingfish swimming around, over 1m in size.
I did see some bigger fish, but I don't think I saw a kingfish.
All the fish have the good fortune of being inside a protected marine reserve at Ned's beach, so the bad news is that if you love fishing, you won't be able to catch any of them.
If they allowed you to go fishing at Ned's beach, you'd probably clean the place out in no time.
The unbelievable thing is that you don't even need a fishing rod to catch the fish. You could probably pull them out of the water with your own hands if you wanted to. Well, that's what it feels like.
You even start thinking that the fish would be willing to beach themselves to get a bit of food.
Some of the fish were only in 5 cm of water. They even flopped around on top of my feet!
Ned's Beach was voted Australia's Cleanest Beach in 2005, so it is also a top spot to go snorkeling.
If you feel a nip at your leg, don't worry, it's probably just a hungry fish.
Keep an eye out for Galapagos whaler sharks as they can come into the shallows. You may even see a turtle at Ned's beach if you're lucky.
Feeding the fish at Ned's beach was a great start to my Lord Howe Island adventure.
Lord Howe Island Water Activities
Visiting Lord Howe Island is mostly about enjoying the beach and the surrounding ocean.
Every type of water sport is available, including kayaking, stand-up paddleboarding, kite surfing, and windsurfing.
You can even go surfing. Blinky Beach is supposed to be an excellent place to catch some waves.
Snorkelers and scuba divers can also have a great time on Lord Howe Island.
Fishing is another enjoyable thing to do on Lord Howe.
I never felt an urge to go for a swim during my stay at Lord Howe due to the weather being quite chilly and miserable.
But if the weather is on your side, the beach is where you'll want to spend a considerable amount of time. I wonder who this guy is?
Hiring a kayak or a stand-up paddleboard to enjoy some water activities would be fun.
On a calm day, the sea is flat like glass, so you could easily paddle over to the island in the distance, known as Blackburn island.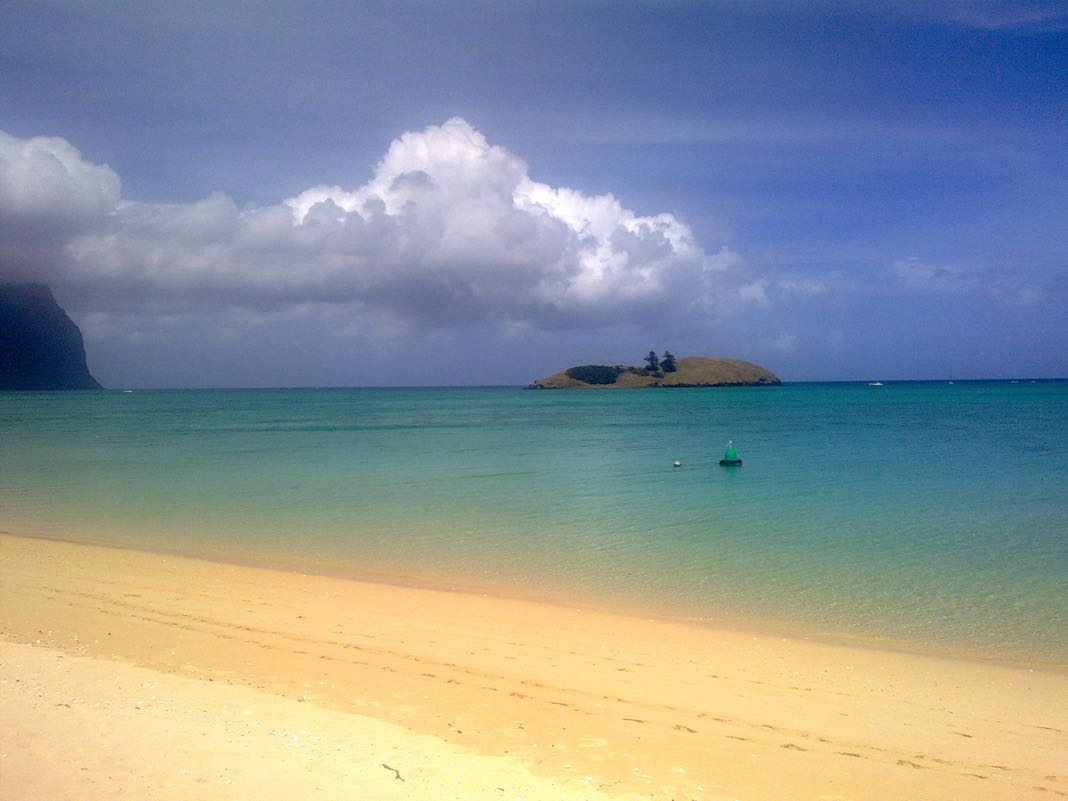 In the photo below, the weather doesn't look too bad. However, it still didn't make me want to go for a swim.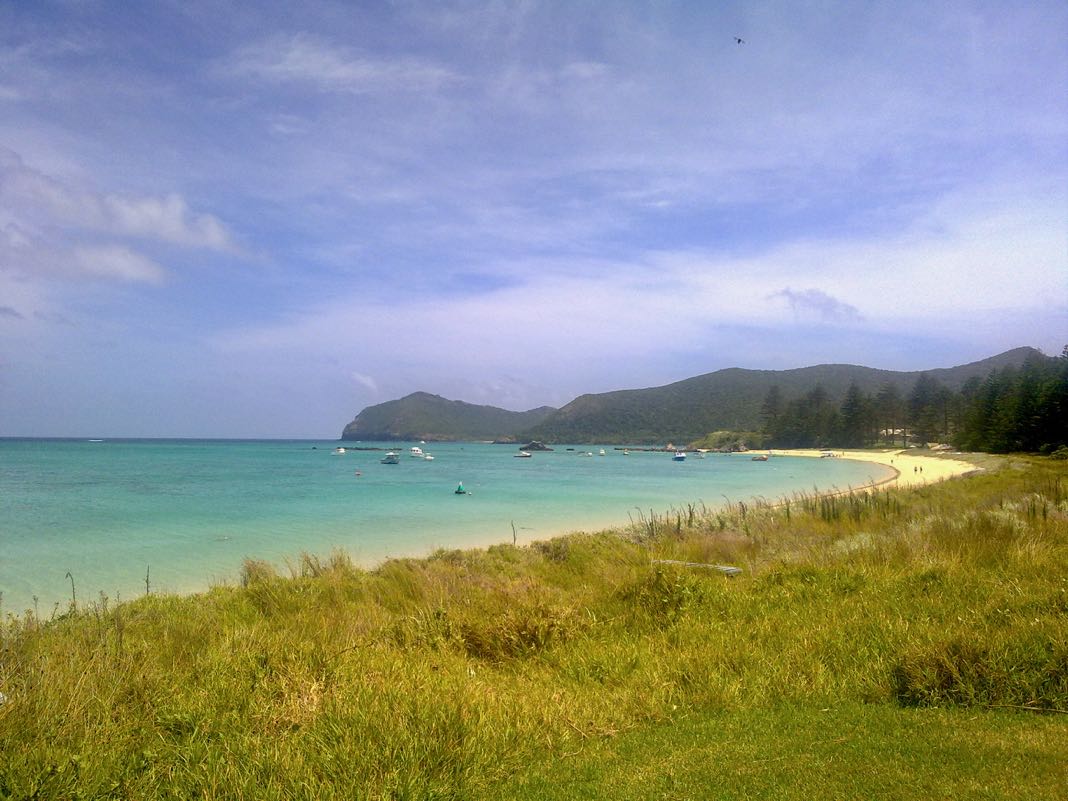 Best beaches – Lord Howe Island
There are about 15 beaches on Lord Howe Island, including one named Lovers Bay.
The beautiful thing about the beaches on Lord Howe Island is that there are no stingers.
Tropical beaches in Queensland are notorious for stingers, but not on Lord Howe.
The main beach on the island is known as Lagoon Beach. It is where most of the action takes place.
I'd say this beach would have to be the best beach on Lord Howe Island.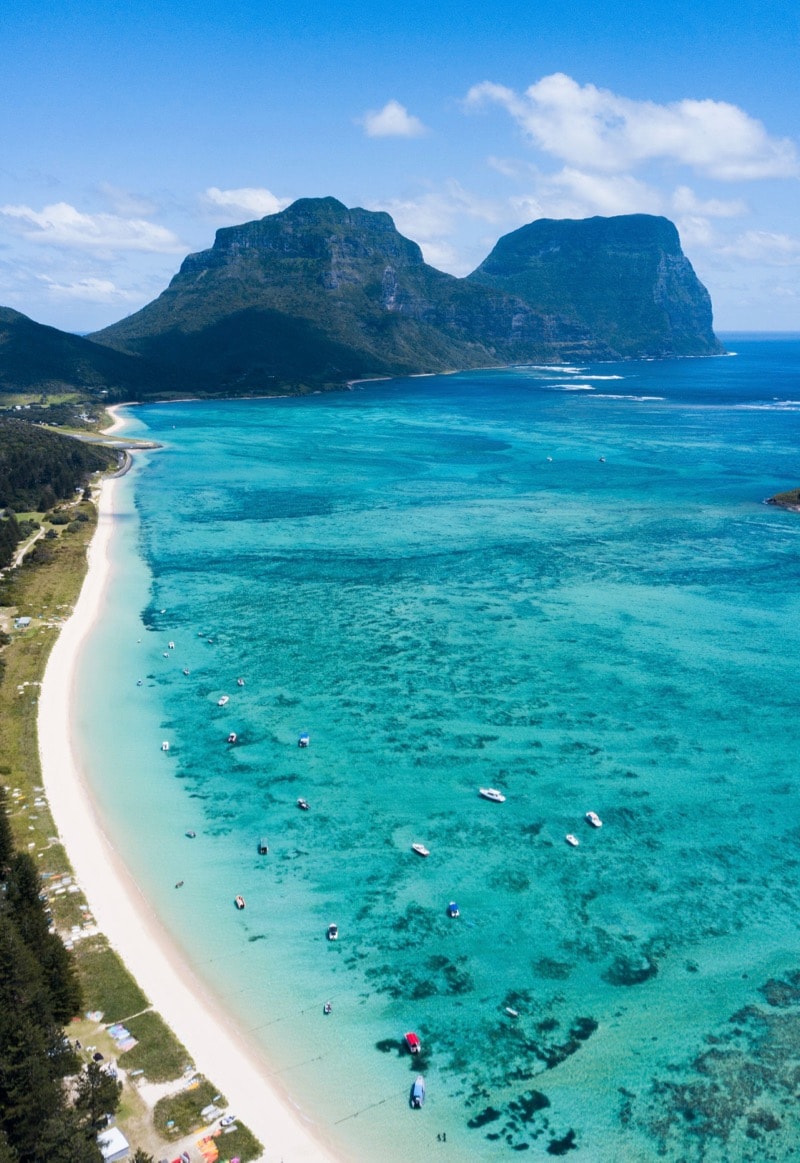 This is the dream!
Scuba Diving
I went scuba diving at Lord Howe, which was a pretty good experience.
One of the best things to do on Lord Howe Island is scuba diving Balls Pyramid if you can.
The problem is that it is in the open ocean, so weather conditions must be good before the dive operator will take you there.
Plus, it is supposed to be a technically tricky dive due to strong currents, so you need good diving experience to handle it.
We dived very close to the mainland in a sheltered cove of Lord Howe Island.
I didn't have enough weight attachments to my belt, so when my oxygen ran low, I couldn't stop myself from rising to the surface.
I tried grabbing onto a rock and ended up cutting myself. Quickly after that, I rose to the surface.
Once on the boat, the scuba diver operator bandaged my hand.
Afterward, when the boat returned to shore, all of the scuba divers had tea and coffee. Overall, it was a pretty good experience.
Amazingly, when I departed from Lord Howe, I saw the scuba dive operator at the airport.
I told him that he had it pretty good on the island. His reply was: you have to come back, or something like that.
Turtle Tours on Lord Howe
I never saw a turtle at Lord Howe, even though I went to the recommended beach.
I went walking around in the ocean just below my private parts. The sea was cold, and the water was choppy, so I didn't stay long.
In the distance, I could see a glass bottom boat anchored in the water, but I never saw any turtles around the place.
Going on a glass-bottom boat ride would have to be one of the best things to do on Lord Howe Island if you get to see a giant turtle.
Settlement beach is the place to go. Apparently, turtles are often in less than 1 foot of water. You can see them eating sea grass, so I'm not sure what I did wrong.
They aren't scared of people and are used to people walking close to them. Spotting them may also depend on the tides.
People who do see them, often report seeing the turtles in the late afternoon.
Climb Mount Gower on Lord Howe Island
One of the best things to do on Lord Howe Island has to be climbing Mount Gower.
On a great day, the views are fantastic!
But as you can see, the weather for me was terrible. Clouds were ever-present over both of the twin peaks during my entire stay.
Even if I did get to the top, the scenic views over the island wouldn't have been there.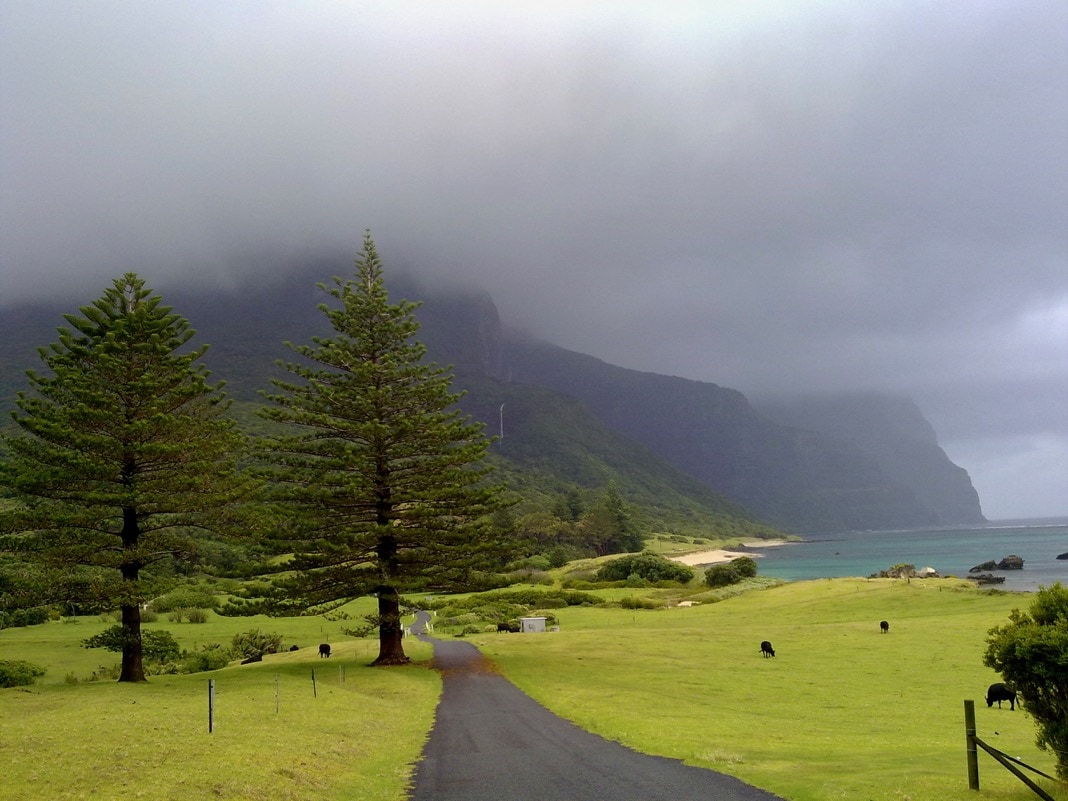 So pray to the weather Gods that you get some decent weather if you ever visit Lord Howe.
I didn't do that, which is probably why it turned out so shitty.
The Mount Gower climb can only be done with a licensed guide and it takes about eight hours.
If you go, Lord Howe's 14 km long signature hike will take you to the summit of Mt Gower, a mountain 875 meters above sea level.
It is worth the effort because you'll have stunning views of Mount Lidgbird and the entire island on a good day.
Climbing Mount Gower was genuinely one of the main reasons why I wanted to visit Lord Howe Island in the first place.
You have to go with a licensed guide when climbing Mount Gower, but I seriously thought about sneaking to the top on my own.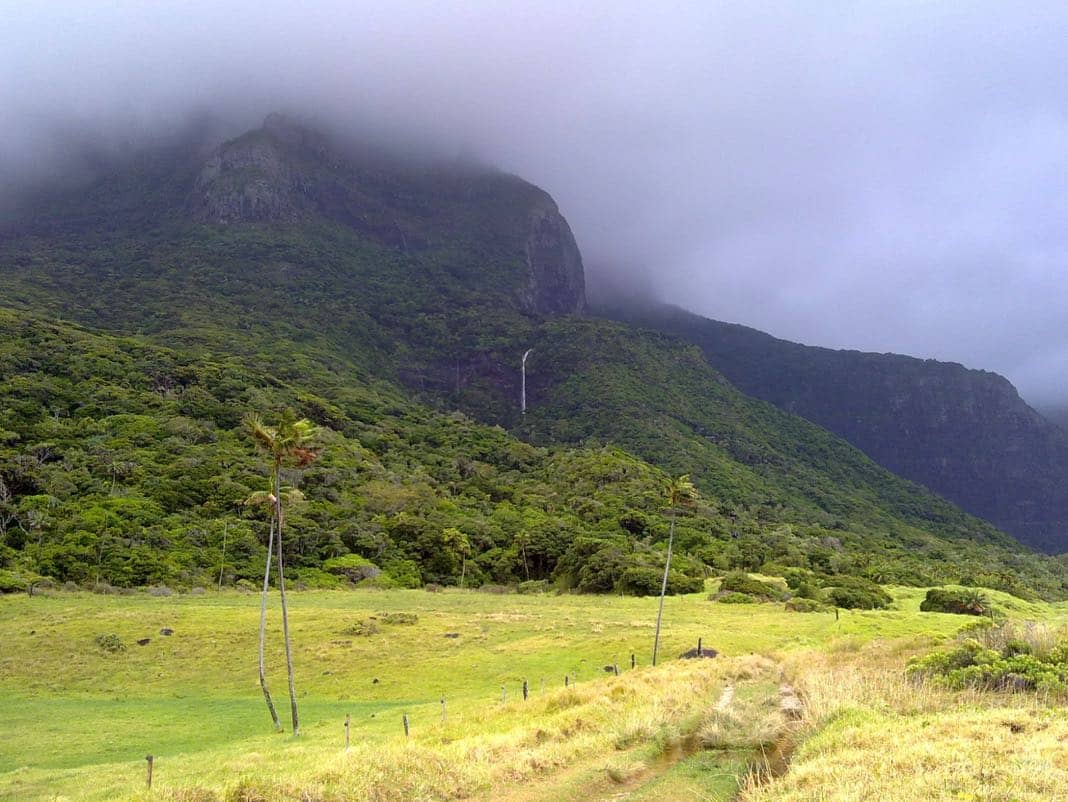 I resisted the urge only because it seemed pointless.
If I fell due to a slippery slope or something, I'd be in big trouble. There are sheer cliffs on the walk to the summit, and you do need to use ropes on occasion.
The views from the top of Mount Gower wouldn't have been any good during my trip, so I resigned to the fact that it wouldn't happen during my trip.
The weather forecast was terrible during my entire stay, so there was no hope.
Tip: If you want to climb Mount Gower, arrange to do it before you are on the island. Bookings may be limited and they don't go every day of the week, so you need to book.
In my case, staying for five nights on Lord Howe Island, I would have thought that the weather would have given me at least one day to do the Mount Gower climb, but no such luck.
Most of the time, dark clouds lurked about, and due to the wetness of the slopes making things slippery, it was never going to happen.
Here's a good video showing what the climb up Mount Gower involves. It looks awesome!
Hiking Tip: Die-hard walkers may even want to go on the six-day Seven Peaks Walk.
Capella Lodge
If there is one super dreamy place to stay on Lord Howe Island, be it in a hotel, a luxury lodge, or anywhere on Lord Howe Island, then Capella Lodge would be the place I'd pick. Capella Lodge is simply outstanding!
It has to be in the best spot on Lord Howe Island. I promise you'll be living the dream if you have sunny weather.
It is expensive, so mere mortals probably won't be able to stay at the exclusive Capella Lodge, which has a hefty price tag, but you can always walk past with a feeling of deep envy.
The place has the best views of Mount Gower. However, it is located 4km from the main village, so you will probably need a golf buggy to get around comfortably, and that's exactly what I saw the lucky few people doing.
Tip: You can also eat at the restaurant, even if you're not staying there. Put it down as a must-do.
Official Website: Capella Lodge
Balls Pyramid
One of the best things to do on Lord Howe Island, which technically isn't on the island, is to visit Balls Pyramid.
It is the tallest sea stack (ocean pinnacle) in the southern hemisphere. Spectacular cliffs rise from the ocean, making the place an incredible attraction.
Balls Pyramid is situated approximately 27 km southeast of Lord Howe Island.
Amazingly, Balls Pyramid is 1 km long and stands 521 meters above sea level.
People have climbed it in the past, and people fly over it.
The safer option is to go on a boat tour to enjoy Balls Pyramid.
Balls Pyramid is also famous for a super rare 12 cm long flightless stick insect that lives on it. As such, it has the highest level of conservation status.
Another top thing to do is scuba dive at Balls Pyramid if you're adventurous. The dive site has been included in the world's top 50 best dive sites.
Seeing a very rare Ballina Angelfish is also something to watch out for when diving Balls Pyramid. If you dive balls Pyramid, I seriously envy you.
Eat at great restaurants on Lord Howe Island
There are some great restaurants on Lord Howe Island. Two restaurants I can highly recommend are Pinetrees Lodge and Arajilla Retreat.
Pinetrees Lodge was very memorable and the lodge is fantastic. It's probably a great place to stay as well.
The chef at Pinetrees Lodge served up the best pork belly meal I have ever eaten.
I had a fish meal the night before, so I wanted to try something different.
At the time, I was a bit disappointed because the two choices for mains were something like kingfish or pork belly.
Incredibly delicious comes to my mind when thinking about the meal.
After I finished my meal, the waiter asked me how it was. I told him it was great and to compliment the chef. It was delicious!
Arajilla also served up a top-quality main meal and a delicious dessert.
One night I also went to the Anchorage restaurant, which offered simpler dining.
It was good, but I wouldn't say they're in the same league as Pinetrees Lodge or Arajilla Retreat. Both of those restaurants are extra level.
I also went to another restaurant which I can't remember the name of, but it may have been Pandanus.
You have to book ahead for all the restaurants, and they can fill up quickly, so don't leave it too late. I usually made my bookings the day before and had no issues.
Your accommodation provider will drop you off at the restaurant for dinner, and when you've finished, a staff member from the restaurant will offer you a ride back to your accommodation. It's a good thing because the island has hardly any lights.
I had a pizza at the golf club for my last dinner on Lord Howe.
I walked back to my accommodation after finishing my meal at Arajilla and also after eating the pizza at the Golf club. Still, I got a ride back to my accommodation from every other restaurant.
Tip: You can also make your own BBQ dinner at public barbecues along the beach. Buy a BBQ pack from one of the stores. It will probably be much cheaper than dining out all of the time.
Lord Howe Island Walks
Lord Howe Island is small enough to explore on foot, especially if you walk the island in sections. Do one side of Lord Howe Island on one day and the other half on another.
The island is just 11 km long and, on average, 2 km wide, so you can see most of it in only a few days.
Bird watching is hugely popular on the island. They have something like 130 bird species, so keep an eye out when you're walking around.
There are no snakes or sandflies, which is excellent to know.
One of the most accessible walks in Lord Howe is to walk to Lagoon beach from your accommodation. You will probably do it regularly.
Popular Lord Howe Island hikes
Old Gultch – 20 minute return walk
Intermediate Hill / Transit Hill – 45 minute walk
Little island – 45 minute walk
Malabar hills and Kim's lookout walk – 5 hour return hike
Mount Eilza – 0.6 km up a steep path (Note: Mt Eliza track may be closed from March to September due to the nesting of migratory birds.)
Goat House Cave – 4 hour return (6 km) hike
Goat House trek is probably a good option for a longer hike if you don't want to go on a Mount Gower guided walk.
The last part even involves using a rope to pull yourself up a steep stack, which can be challenging. I didn't quite get to Goat House Cave after deciding to cut my walk short.
Goat House Cave on Mt Lidgbird is about halfway up the 777-meter mountain.
Here's a picture looking north from the Goat House cave climb. As you can see, it offers some pretty good views.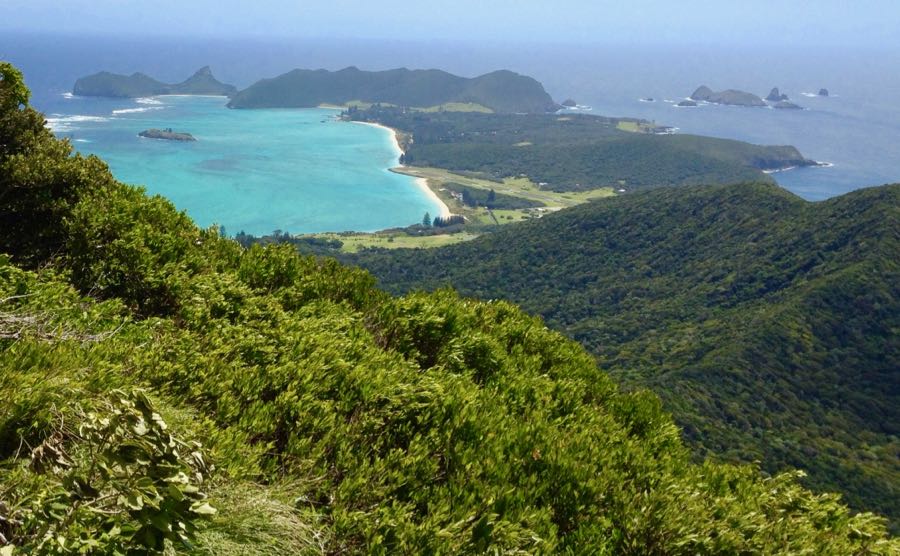 Walking Map – Lord Howe Island
Here is an excellent Lord Howe Island map (Exploring Lord Howe Island brochure), so you can get your bearings.
The walks on Lord Howe Island are signposted, so it isn't hard to find the walking trails on the island.
You can also get the map at the visitor's center. It's free, so you have to get one.
Ride a bike around Lord Howe Island
Riding a bike around Lord Howe Island seems to be a fun thing to do.
There are something like 15 beaches to explore, so going on a bike ride will make it so much easier to get around.
Most of the beaches can be accessed by bike. Cars shouldn't be driving over 25 kpm, which makes things very safe.
There will be some steeper hill sections in certain parts of the island. The fun part will be riding down the slopes. Keep an eye out for birds.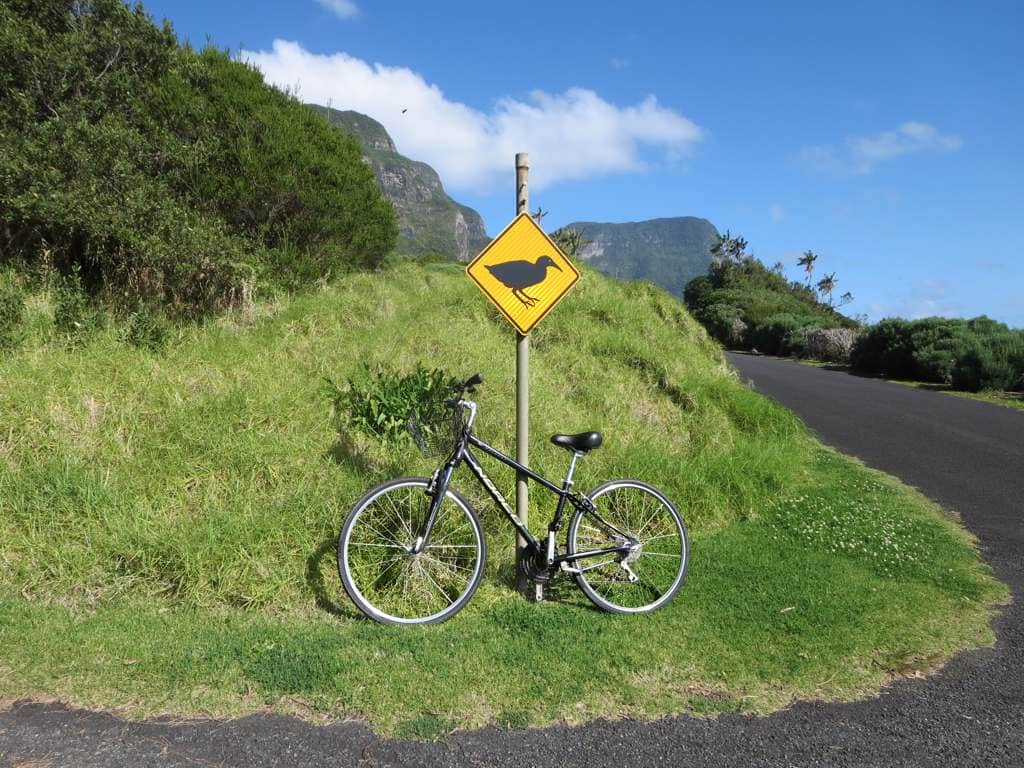 The great thing about riding a bike around Lord Howe Island is that it will allow you to cover much more ground. You can then stop and relax at places for longer.
Wherever you go, there will be plenty of magical sights on Lord Howe Island.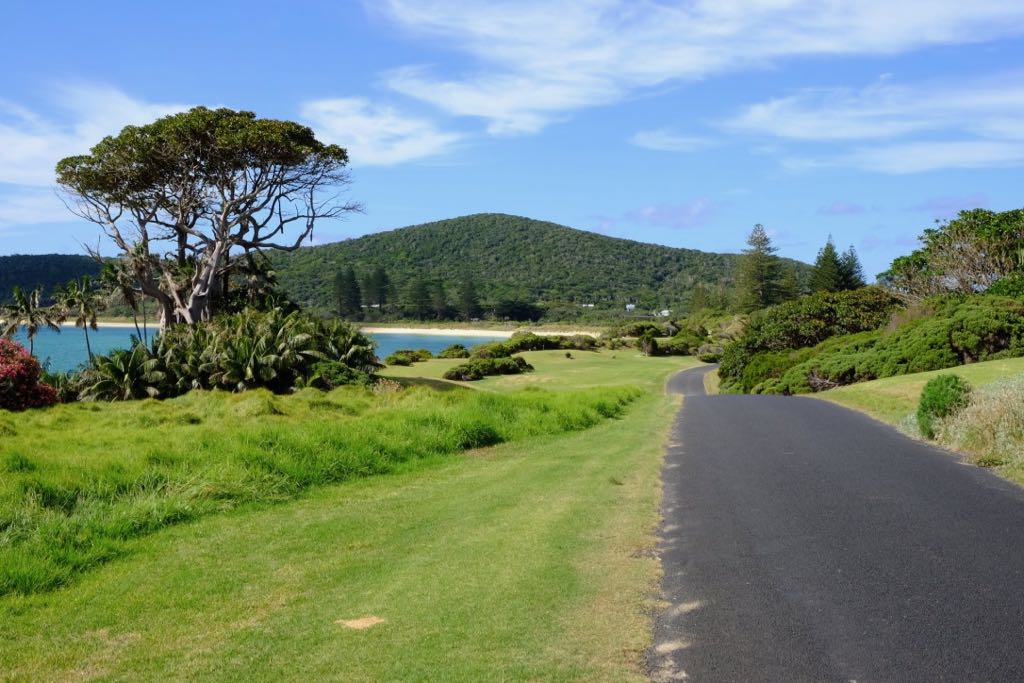 Here's a track filled with Kentia Palms on either side of Anderson Road.
The island is covered in natural forest, banyan trees, and beautiful kentia palms.
I found it surprising to learn that Kentia palms are the biggest export on the island.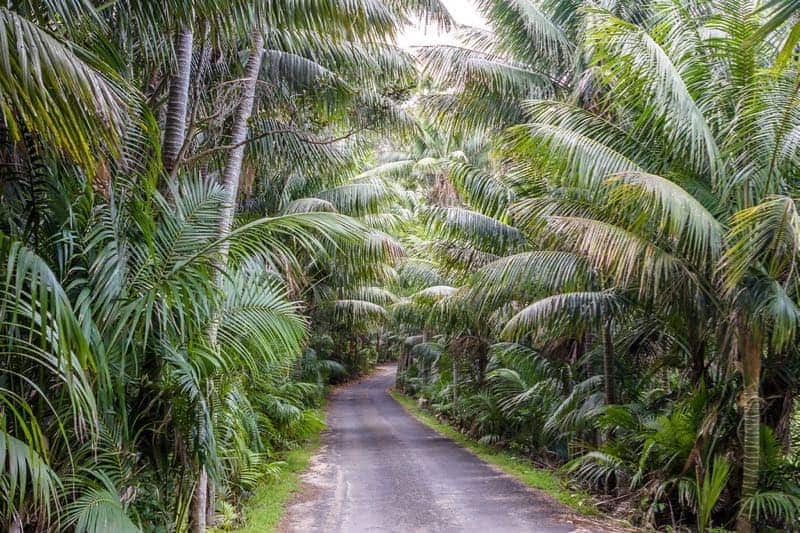 At some point, you will probably want to stop for a drink at the Anchorage.
This place in the village town center is probably where you can hire bikes if you want to.
I never went for a bike ride on the island because the roads and pathways were often wet.
My preference was to walk around everywhere. But, I have to say, on a sunny day, riding a bike on Lord Howe Island would be hard to beat. I still saw a few people riding bikes.
If you're staying at Capella Lodge, bike hire is complimentary. Lucky you.
Play golf on Lord Howe Island
One of the best things to do on Lord Howe Island for golf lovers is to play a game of golf.
You won't want to miss out on playing a round of golf on the nine-hole golf course with very scenic five par 3s and four par 4s.
Lord Howe Island golf course looks pretty good to me, and I did notice it when walking around the island.
I would have played golf, but the weather was extremely crappy during my stay. On my visit to Lord Howe, it looked nothing like these beautiful pictures.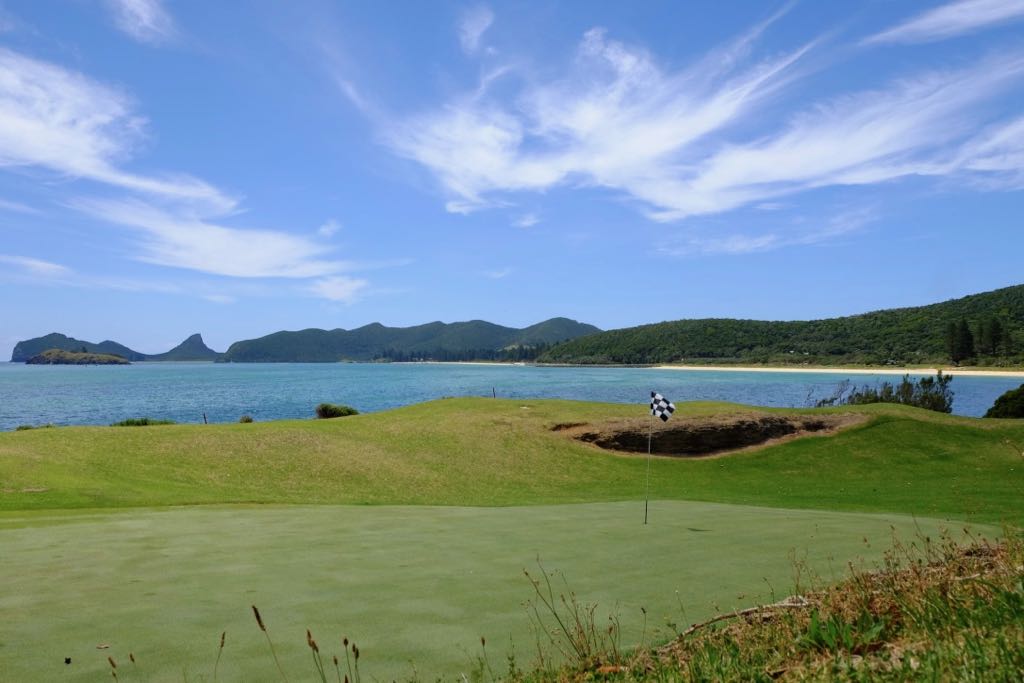 If you are staying on Lord Howe Island for four or five nights, make sure you order a pizza at the golf clubhouse at some point.
They served me a delicious pizza, even though I never booked to go there for dinner.
I didn't think you'd have to book to get a pizza, but since they need to ensure they have enough ingredients for the night, it is a requirement.
Luckily, the guy still made me one.
Inside the golf clubhouse, I had a drink while waiting for my pizza to be made.
Someone was selling raffle tickets while I was there, so I bought one. I can't remember the prize, but I think it may have been a food basket, including a chicken.
I told the person to give it to my accommodation provider if I won.
When my pizza was ready, I ate it outside. It was an excellent end to my dining experience at Lord Howe.
Kim's Lookout
There is a track from Ned's beach to Malabar Ridge and beyond to Kim's Lookout.
Kim's Lookout will give you some great views of Lord Howe Island all the way to Mount Gower and Mount Lidgbird on the other side.
It's another amazing thing to do on Lord Howe Island.
Lord Howe Island Hotels
You will have to arrange accommodation before you arrive on the island.
Get this, your accommodation provider will either pick you up or get someone to pick you up from the Lord Howe Island airport on arrival. It makes you feel extra special.
Most people on the island have several part-time jobs, from picking up people at the airport to driving them to restaurants and possibly even doing certain activities on the island, like snorkeling excursions for example.
There are a variety of accommodation providers on Lord Howe Island, including:
1. Admiralty Apartments
2. Arajilla Retreat
3. Beachcomber Lodge
4. Blue Peter Beach House
5. Blue Lagoon
6. Bowker Beach House
7. Capella Lodge
8. Earl's Anchorage
9. Ebbtide Apartments
10. Hideaway Apartments
11. Howeana Apartments
12. Lagoon Landing
13. Leanda-Lei Apartments
14. Lorhiti Apartments
15. Milky Way Apartments
16. Ocean View Apartments
17. Pinetrees Lodge
18. Somerset Apartments
19. The Broken Banyan Apartments
20. The Treehouse Bungalow
21. Waimarie Apartments
During my visit, I stayed at Hideaway Apartments after emailing the Lord Howe Island tourist office with my preferred dates and telling them I wanted to go scuba diving.
I would be happy to stay there again, but I'd most likely choose to go somewhere different if I ever did revisit Lord Howe Island. Just for a change.
Remember, your accommodation must be booked before arrival.
Lord Howe Island paradise (or hell in my case) only allows 400 visitors on the island at any one time, and there are only about 350 residents, so the place has a very relaxed vibe.
If you'd like to visit Lord Howe in peak season — between mid-December and the end of March — you may have to book six to twelve months in advance to get your preferred accommodation.
It is a popular place because the island is at capacity most of the year, except during wintertime.
Best time to visit Lord Howe Island
I went in February, and the weather was bad. It probably shouldn't have been as terrible as it was for that time of the year, but what can you do?
If you want to go swimming, your best bet is to go between September and April, the drier months.
So skip the colder and wetter months of May, June, July, and August.
The Winter months are from June to August. Wind can also spoil your time during September and October, so you still need a bit of luck on your side.
You'll probably be better off visiting Lord Howe between January and April for the best swimming conditions.
So, how did it go so wrong for me?
I visited Lord Howe Island for five nights in late February, thinking I could easily tick off all the amazing things to do on Lord Howe Island.
The problem, though, was the weather. It ruined all of my plans.
Light rain, drizzle, heavy downpours, stormy winds, and not seeing the sun for most of my time on Lord Howe meant that my holiday was mostly wrecked.
Put it this way, my time on Lord Howe Island would have been so much better if I had great sunny weather.
Tip: Do all you can to ensure great weather on the island. Even if it means booking a trip at very short notice and staying in less desirable accommodation. All of the accommodation on the island is pretty good anyway. If you want to stay at Capella Lodge, you may have to book well in advance, so you'll need to pray for good weather in that case.
Lord Howe Island Paradise
Watching this Lord Howe Island video may inspire you to visit this dreamy paradise.
Lord Howe Island looks unbelievable when the weather is fantastic.
How to get to Lord Howe Island
I should have realized that things weren't going to go smoothly at Sydney airport.
While waiting for the plane flight to Lord Howe, it got delayed by about an hour on multiple occasions, maybe two or three times.
At one point, I heard someone on the speaker requesting Lord Howe Island passengers to come to a particular area in the airport to take any essential items from their checked baggage, such as medicine.
I didn't bother going and took a big chance that my luggage would get there. Luckily it did.
Others weren't so lucky because I later discovered they had spent their whole time on Lord Howe Island without receiving their checked luggage.
They even had to buy clothes on the island. Jesus, I'm so glad that didn't happen to me.
Sydney to Lord Howe Island Flights
Lord Howe Island is located 700 km northeast of Sydney.
If you're going to be in Sydney, here are some recommendations regarding the best things to do in Sydney in one day.
Getting to Lord Howe Island will take about 2 hours from Sydney.
You can get a plane flight from Sydney to Lord Howe on most days, but tickets are always pretty expensive — over $1,000, I'd say.
I noticed that the smaller plane was full of passengers, so tickets do sell out.
Brisbane to Lord Howe Island Flights
Flying out from Brisbane is another option, and it also takes about 2 hours, but they don't operate as frequently as Sydney.
Other Flights
Limited flights from Port Macquarie may also be available at certain times of the year, and maybe even from Coffs Harbour. Both of these towns are in New South Wales.
Cancellations
The main thing to worry about would be experiencing a cancellation due to bad weather and strong winds.
It can make landing on the small airstrip very difficult for the pilot, so take out travel insurance in case you have any delays.
You may have to start or end your trip a day or two late, which could be costly.
My accommodation provider told me to take out travel insurance but I foolishly ignored it. So so close to things going totally wrong.
Getting to Lord Howe Island by boat is not an option unless you have your own, so most people have to rely on flights.
Flight Tips
No passport is needed for Australian residents. The weight limit for baggage is slightly less than usual, so make sure you're within the weight restrictions.
Further Information – Lord Howe Island
Here are a few more websites to help you plan your trip to Lord Howe Island.
Official website: Lord Howe Island
Website (tour operator): Lord Howe Island Tours
Pin it … Share it