George is the Greek travel blogger behind the website Letters to Barbara, who also reviews and contributes to the Greek lessons on this site, which makes speaking Greek very easy.
I got to know George by reading his travel blog regularly and writing plenty of comments on Letters to Barbara. To George's credit, he has written many great replies back, so I knew he was a great guy!
George bases himself in Athens and Berlin, and that intrigued me. Greek travel bloggers are rare, and someone who has lived in Greece and Germany is even rarer. So interviewing George of Letters to Barbara was always going to be a fascinating read.
He's a cool guy with a romantic heart who enjoys Polaroid photography, and he's even a novelist, so I'm sure you'll find this interview very interesting.
This in-depth interview will allow us to get to know George much better, so let's see what he has to say!
George Pavlopoulos: Letters to Barbara Interview
George, tell us about yourself and what your website "Letters to Barbara" is all about.
Nice to be featured on your blog, John. Thank you. It's always tough to talk about myself.
Well, I was born in Athens, but I've been living in Berlin for more than twelve years. Actually, during the last few years, I stay 6-7 months in Berlin and the rest in Athens.
I'm a novelist by profession and have written four books. And I also did travel writing long before I started blogging.
I started the "Letters to Barbara" because I wanted to narrate my travel stories to my girlfriend, Barbara. The idea was to write old-fashioned letters to her that could appear on a blog.
Soon, I started writing travel guides, and since I love photography, you can also see some photo reports and my Polaroid diaries, shot with various instant cameras.
George, I'm curious about your earliest and fondest memory of enjoying a holiday outside of Athens. Can you tell us about the trip, how old you were, and why you went there?
Well, I guess I'll have to go back to 1986. I was six years old and visited a rural area in Western Peloponnese with my parents -my brother was too young to join. We probably spent a week there, but it feels like a month. I think the 80s were a great time to be a kid in Greece.
The place's name is Zacharo, and my mother's family comes from the region. If my memory serves me well, it was during the Easter holidays.
Memory can be confusing and fragmented at this age: I can only recall bits and pieces. For example, I remember my dad driving a white Fiat Ritmo through a thick blanket of fog. I also recall the Easter Sunday smells from the traditional outdoor stoves -they looked scary to me.
We met friends and relatives, but I can't recall their faces. I just remember everybody being tall, probably because I was too young. But no faces or talks. Just figures.
I remember the smells but not the landscape that much. Funny, right? Everything seems like a pleasant, distant dream.
Letters to Barbara and the Greek Islands
From reading Letters to Barbara, it is clear you love visiting the Greek island of Anafi. What makes Anafi so magical compared to other less touristy Greek islands? Also, do you have a favorite beach or a special place in Anafi that you could easily visit over and over again?
I often question myself about Anafi, John. The best answer I can give is that Anafi has a fantastic vibe and a laid-back atmosphere.
I love Anafi's calmness, the food, and the locals. It doesn't have the best beaches in the Cyclades, but it still is the most special Greek island for me.
Regarding the beach, I could continuously swim at Agioi Anargyroi, a small sandy beach protected from northern winds by rocks. On its left side is a small church, and behind that church, you can see the Monolith called Kalamos.
Even if you're non-religious (like me), you'll have to climb Kalamos (the Monolith) and reach the small Monastery on the top.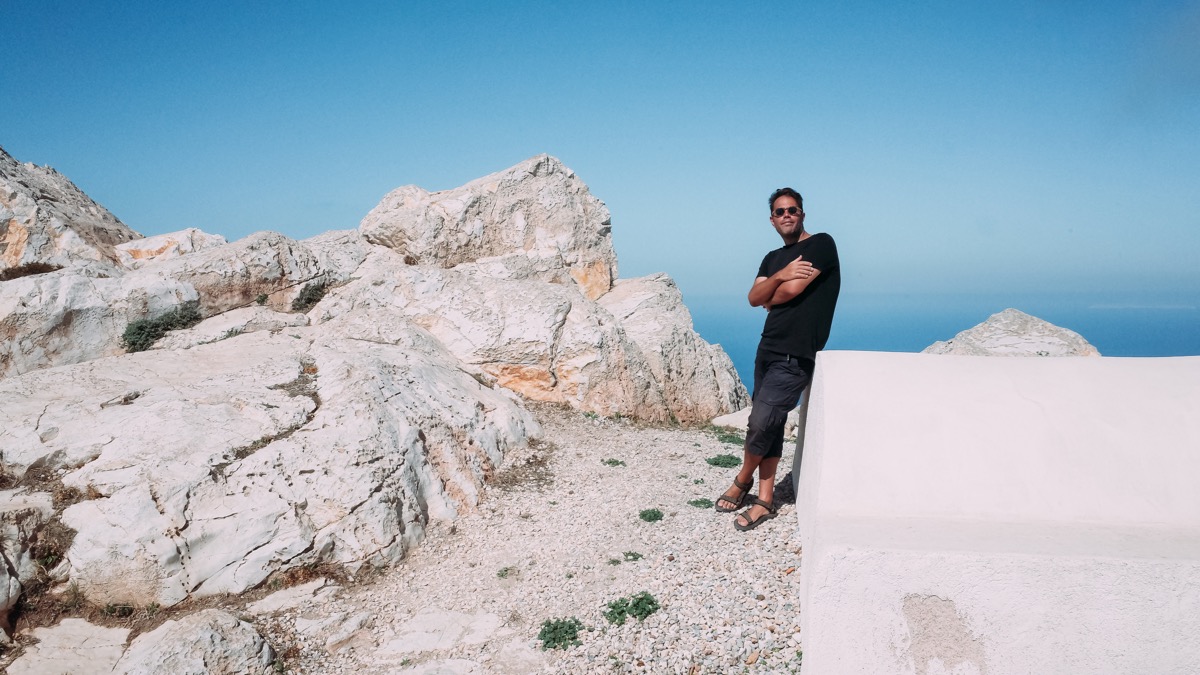 George, great picture! Where on the island of Anafi did you have it taken? I assume it's the same spot as the feature image. It looks like an ancient temple site. 
Thanks, John. I don't find the photo that great, but I guess you're jealous of my tan (laughs).
The picture was taken on the Monolith's top, where the Kalamiotissa Monastery is located. There are remains of an ancient settlement, but now the spot is occupied by the Monastery.
There's a column there, but there's controversy regarding its origin. I guess you should visit Anafi, reach the Monolith's top and do some research -it would make an excellent blog post. I promise not to write a competitive article about it (laughs).
Can you tell us about some of the most memorable Greek Islands (apart from Anafi) you have visited and the impressions they have made? Did any of them surprise you in any way?
I loved visiting Nisyros this year and plan to write a long travel guide soon. Nisyros has an active volcano, and you can walk in its crater.
I also loved the Small Cyclades, especially Donoussa and Schinoussa, where you can find the most beautiful beaches in the Aegean Sea.
On the other hand, I never enjoyed Santorini. I mean, the landscape is fantastic, but the island is sold to mass tourism. It's packed beyond words, everything is overpriced, and honestly, I don't see the point of traveling there.
The beaches on Greek Islands are fantastic. I'd like you to tell us about one of your past beach experiences that will make us want to experience the same thing or at least feel a bit envious. 
John, my dreams are pretty simple (laughs). I can definitely share with your readers what I daydream about all winter long.
I want to wake up in Anafi and buy two tomatoes and some cheese (probably graviera). Then, I'd love to visit one of the beaches with Barbara, preferably the northern ones, such as Livoskopos.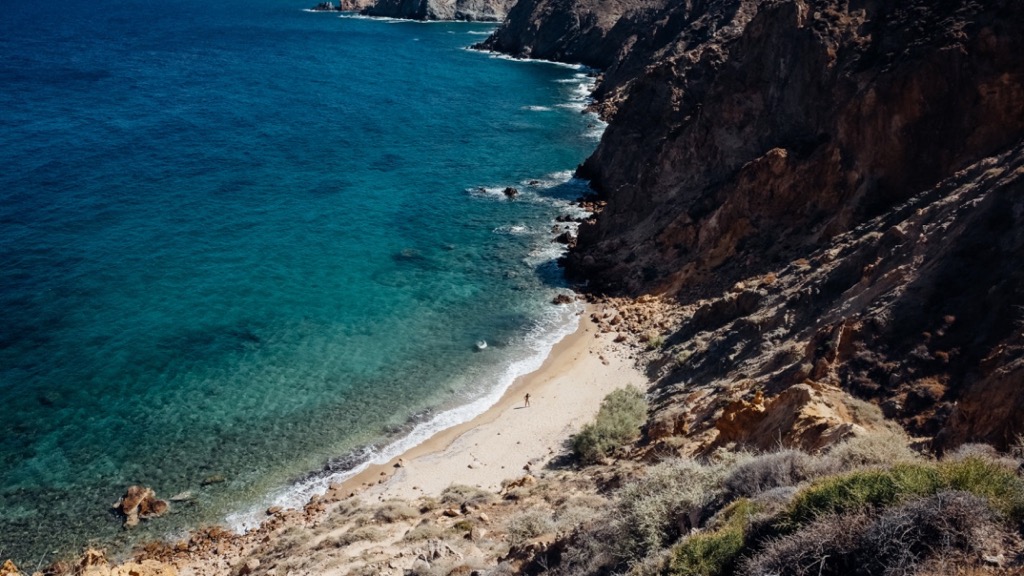 Whenever we visit it, it's deserted, and there we find a spot beneath the tamarisks and lie down. I'd wash the tomatoes in seawater and find a flat stone to let the cheese become soft in the sun.
After swimming from edge to edge a couple of times, I'd have lunch with Barbara using the hot, flat stone as a table. For me, that's paradise.
Here are some more things to do in Anafi your readers may want to know about. Watching my one-minute video in Anafi will give everyone a better feel of the island.
Letters to Barbara Interview: About Barbara
George, when and how did you meet Barbara, and can you tell us more about her?
I met Barbara back in 2017 at a bar in Berlin, and from day one, we had a great time. We still do. I'd love to travel more often with her, but unfortunately, her job (she's an art historian) keeps her most of the time in Germany.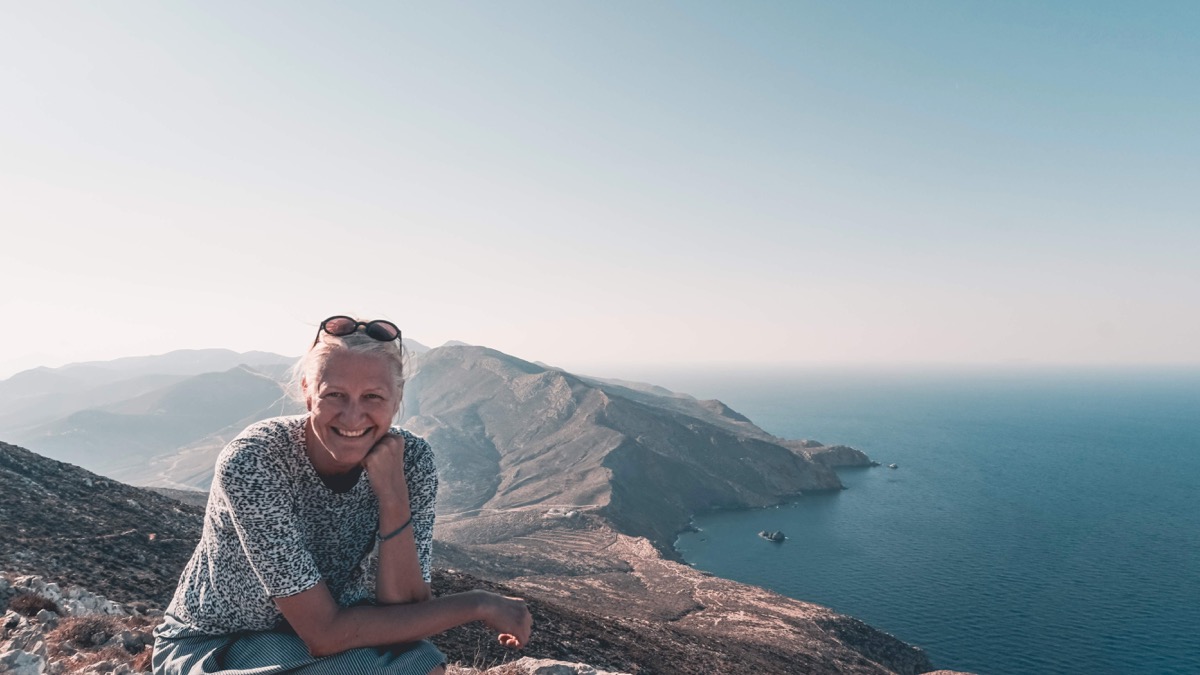 She's a very generous and supportive person -and since I'm replying to these questions from Anafi, she says, "Hi, John!"
Hi Barbara! That is unreal — an art historian. I'm impressed!
Best things to do in Athens
Being born and raised in Athens, I'm sure you know Athens extremely well. What are the ten best things to do in Athens in your opinion? Try and be as specific as possible.
That's tough, but I'll do my best to give some Athens travel tips. I'm always walking and cycling all over the city, so I guess most of the following 10 things will require a fair amount of walking or a bike. In no particular order, I'd pick:
1. A long walk starting from Gazi all the way to the Acropolis. It's a beautiful walk showing you the most historical parts of Athens.
2. Since Acropolis' presence in downtown Athens occupies the landscape, I'd definitely have a drink at Couleur Locale, one of the most beautiful rooftop bars in the city.
3. For movie lovers, a must-see stop in the summertime is the Cine Thiseion. That's a fantastic open-air cinema showing old movies in the original version. You'll have Parthenon glimpses while watching some classics.
4. I always enjoy a drive and a visit to Cape Sounion, Attica's southernmost spot. There's the iconic temple of Poseidon -and behind it, the Aegean Sea.
5. Athens is not a paradise for cycling; however, some basic infrastructure has started to appear. I always enjoy a 20-30 km ride through the northern suburbs of Athens, combining the lower parts of Penteli mountain (where Parthenon's marble comes from) all the way to the Olympic Stadium of Athens, the main venue for the 2004 Olympic Games.
6. For a day out of Athens, I'd pick one of the Saronic Gulf islands. They don't have the beauty of the Cyclades, but they are great options for a day trip -or a weekend getaway. I'd pick Hydra and then Aegina.
7. Everybody talks about the Acropolis museum, but Athens has more great museums. I always enjoy visiting the Frissiras Museum in Plaka, which is also one of the most picturesque areas of old Athens.
8. Walking between the two main squares of downtown Athens is also a must. The Omonoia and Syntagma area will show you Athens's human geography: you can see both the alternative area of Athens, Exarchia, and the posh Kolonaki.
9. If you're into clubbing, spending a night (or two) (or five) at the clubs of the Athens Riviera will give you an excellent overview of nightlife. I'd pick Island or Bolivar -but I'm not much into clubbing anymore.
10 . Spend a day at one of Attica's beaches. The Greek capital has several beaches, and some of them are fantastic. I'd pick the area of Mati or the beach at Schinias close to Marathonas.
Italy Travel Guide – Letters to Barbara
George, you love visiting Italy. Can you tell us about some of your best experiences in Italy?
I can't stop visiting Italy -and as you know, John, I can't stop having aperitivos (laughs).
No, seriously, Italy is one of the most beautiful countries in Europe, and I love its art and fantastic landscapes.
I believe that Tuscany and especially the Val d'orcia area are among the most beautiful places I've ever seen.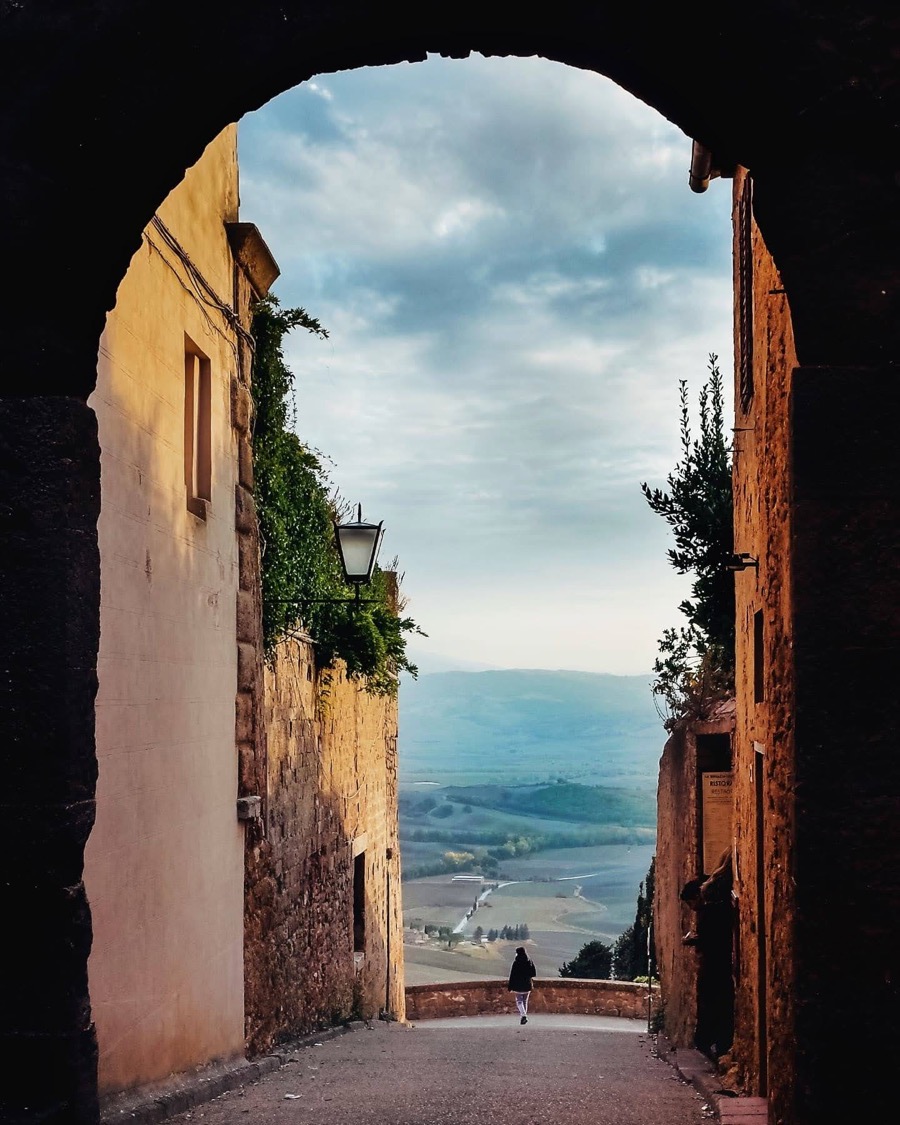 One thing tourists have to do in Tuscany is go wine tasting. Here's a very useful wine tour guide: The Best Wine Tour from Siena, Italy: Explore the Chianti Region which will assist in choosing a great wine tour when visiting Tuscany.
Wine lovers will be in heaven in Siena. The rolling hills are very beautiful.
I'd return in a heartbeat to Tuscany and Sicily, where you can find this loud, original atmosphere of southern Europe.
I believe Greece has become quieter, but Italy is still where everything seems to be happening on the streets.
Berlin – Letters to Barbara
Can you tell us why you went to Berlin and more specifically, about your experience of living in Berlin during the first month? It must have been pretty tough leaving Greece and going to a new country for the first time by yourself, even if you did go back to Athens every so often.
It was my curiosity that sent me to Berlin, I guess. Before moving to the city, I had already visited Berlin several times and was thrilled by its multicultural society and cultural life.
Of course, the German winter is harsh, but I learned to cope with it as time went by.
I moved to Berlin a few months before the financial crisis severely hit Greece, back in 2009-2010. I wanted to become a better writer, and I thought that Berlin was the ideal place to see new things, get to know people from all over the world, and focus on what mattered the most.
Even though I have run my blog for four years, I've been writing for more than 20 years. I've been a writer (in Greek) for my entire adult life.
The first month in Berlin was pure magic. The city was full of snow, I watched 25 movies at the Berlinale, and everything seemed exotic -even though I had to use public laundries to wash my clothes (laughs).
Of course, I soon hated dealing with daily stuff (laundry, supermarket, bureaucracy, etc.), but I thought everything was bearable during my first month in Berlin. You see, nothing mattered: I was young and ready to conquer Berlin. The latter, of course, never happened (laughs).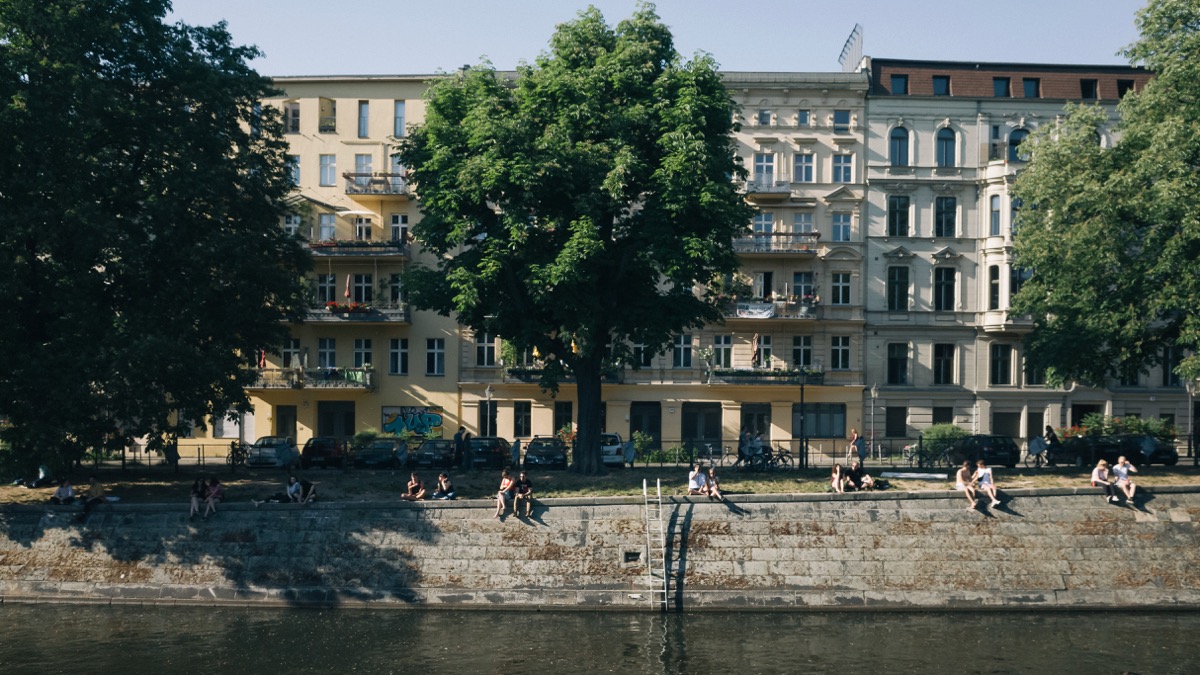 George and the Polaroid Photo Diaries
Your website, Letters to Barbara, has a series of posts dedicated to Polaroid photos and Polaroid cameras, including the legendary SX-70 land camera. How did your obsession with instant photography begin?
I started shooting polaroids almost a decade ago. Instant photography fascinates me because it encompasses the whole history of photography in one device: you load a film, take a photo, and the image is printed and processed within a camera.
It's like having a camera and a compact small film lab with you. Of course, the photos are nowhere near the proper analog camera quality; however, I don't complain.
I like their dreamy, washed-off touch, and I don't mind if the colors start looking bad after a couple of years. Aging photos are exactly like aging people: they might lose their charm and glow, but they are still there to tell a story.
You have taken plenty of Polaroid photos, so I'm going to make you think now. I'd like you to show us your favorite Polaroid picture without any people in it (so no pressure). Can you tell us why this picture is so special?
Sure. I love shooting polaroids of flowers. My home in Athens has a spot in the kitchen where the sun always shines in the afternoon. So whenever I have some film loaded in my SX-70, I try to find a plant and take a photo.
I love this photo because of the flower's beauty, and the colors look terrific.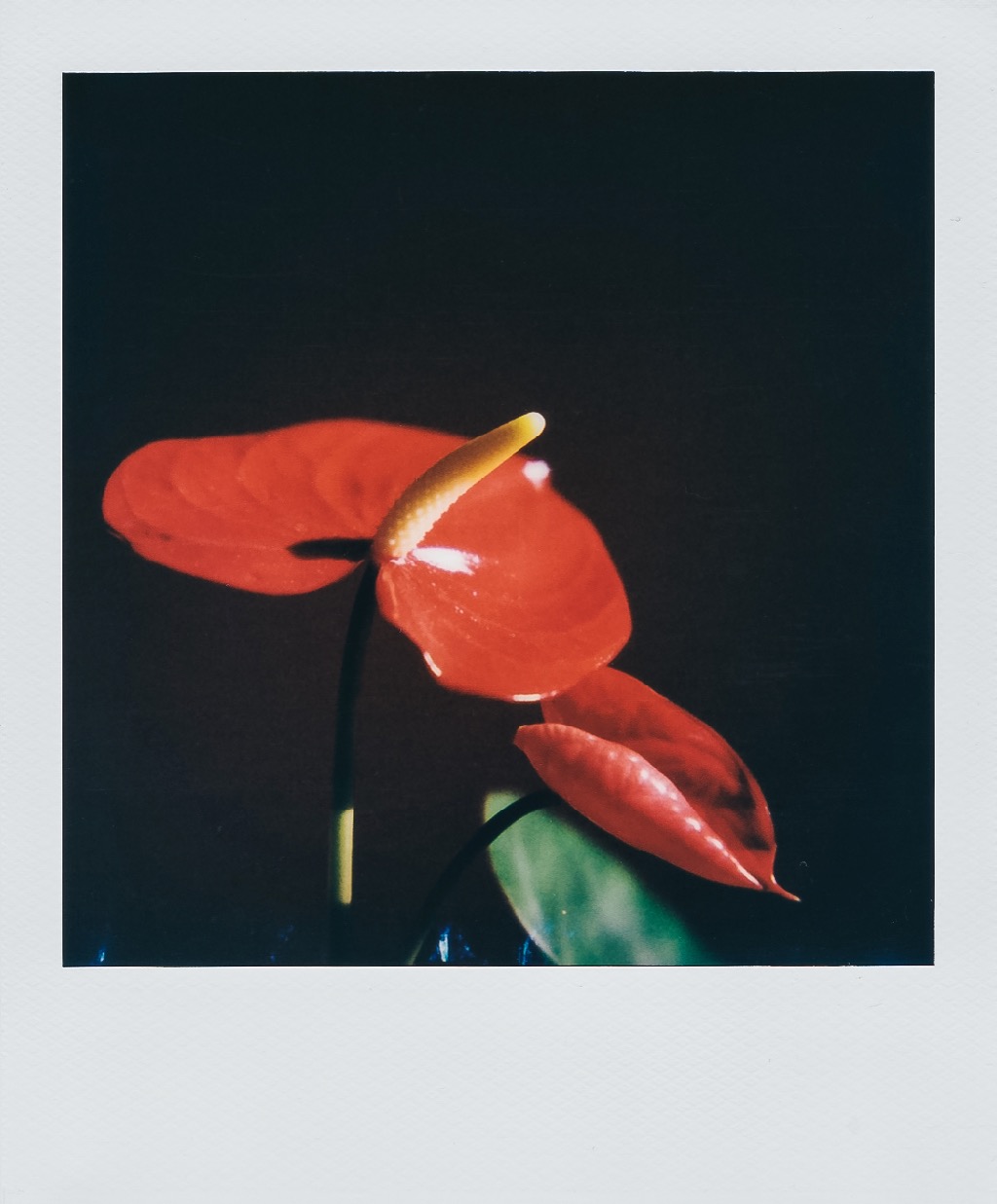 George, this polaroid photo almost looks like it is a photo of a poster. How did you get the photo to show a dark background with such a vivid red flower? Was it taken at night?
Well, believe it or not, the photo is taken in the afternoon, like 3 p.m., John. No flash, no artificial light, nothing at all: it's straight out of the camera result. Also, the wall behind it is red! As I said earlier, the afternoon light in my kitchen in Athens is a perfect spot.
Practically, I waited for the moment that the angle was right: there was no direct sunlight on the wall but lots of sunlight on the flower. It's the perfect timeframe and lasts just a couple of minutes every afternoon. Then, since the light seemed rather intense, I underexposed (by 2/3, I think) and clicked.
You inspired me to buy a Polaroid SX-70 camera of my own. The sad part is that by doing so, I ended up ruining my favorite pair of white shorts when doing a post about Iris, Goddess of the Rainbow. Do you feel guilty about it?
I'm sorry, John, I feel guilty. Ruining white shorts must be terrible. If someone from Polaroid is reading us, please provide some film to this fantastic guy to compensate for the loss of shorts. (I feel a bit less guilty now). (laughs)
Can you tell me about any mishap that may have happened to you when taking photographs? It doesn't have to involve your Polaroid camera. It may have happened when using your Ricoh GR ii camera. Maybe someone got furious at you for taking a close-up shot of them or something.
Strange things happen all the time when you try to do street photography. I mean, to get a candid photo, you have to remain unnoticed. That's not because somebody might get furious. It's mainly because the picture might look staged if you get noticed.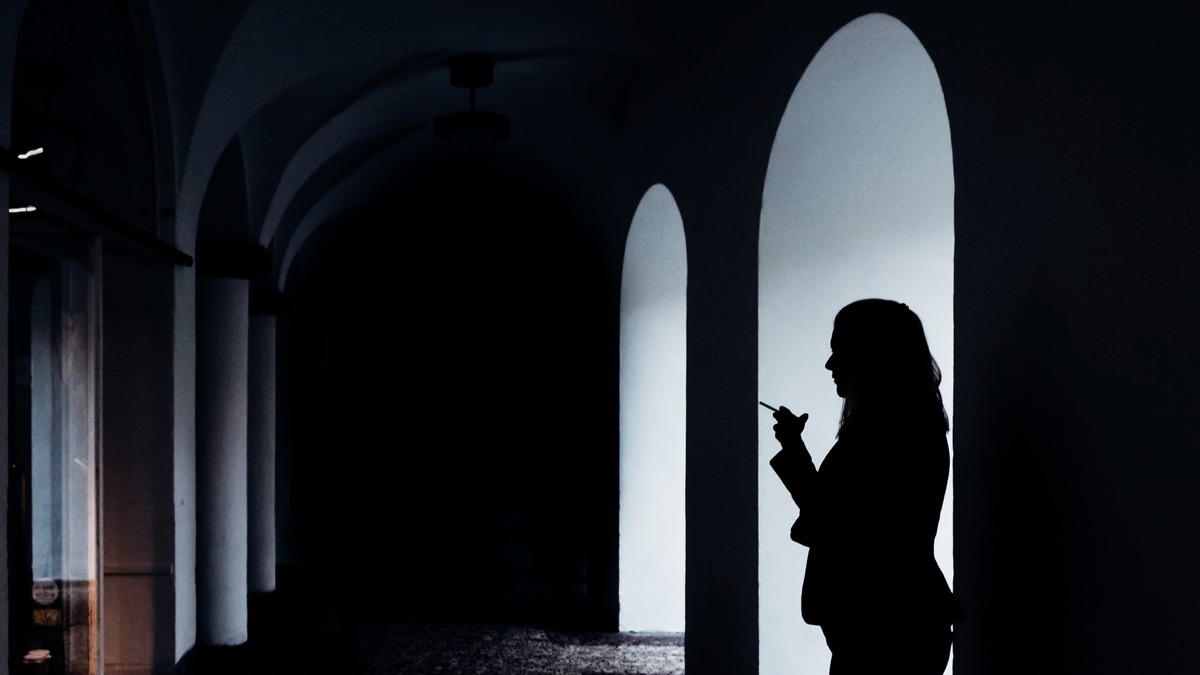 I have a lovely collection of middle fingers pointed toward me. On the other hand, whenever people ask me to delete a photo, I always do it. I show them the photo and delete it in front of them. Nothing too bad happened to me, I guess.
Honestly, I wouldn't sacrifice the chance to shoot a photo that looks good to me just out of fear of someone calling me names. I always risk it.
Anyway, nine out of ten times, things won't work, but trial and error make you a better photographer, writer, and person.
Letters to Barbara – Travel Tips
George, I'm going to leave this open to you. Tell us about an interesting travel destination and why we should visit the place.
So many tough questions, John. (laughs). I'd pick a lesser-known destination, and since I talked about Anafi earlier, I'll share another place. In general, I'm always searching for places that people usually overlook.
One of the most memorable journeys I took was in Moldova. I loved the authentic atmosphere of Chisinau and was thrilled by Transnistria. That's a breakaway state, non-recognized by international treaties.
To enter, you must pass border control with tanks and armed soldiers. It's like entering a Soviet state, untouched by modern politics. Of course, contemporary politics are everywhere, but still, the place is unique and looks like a time capsule.
I'd return to Moldova anytime, and I'd visit Cricova winery, which is an underground town.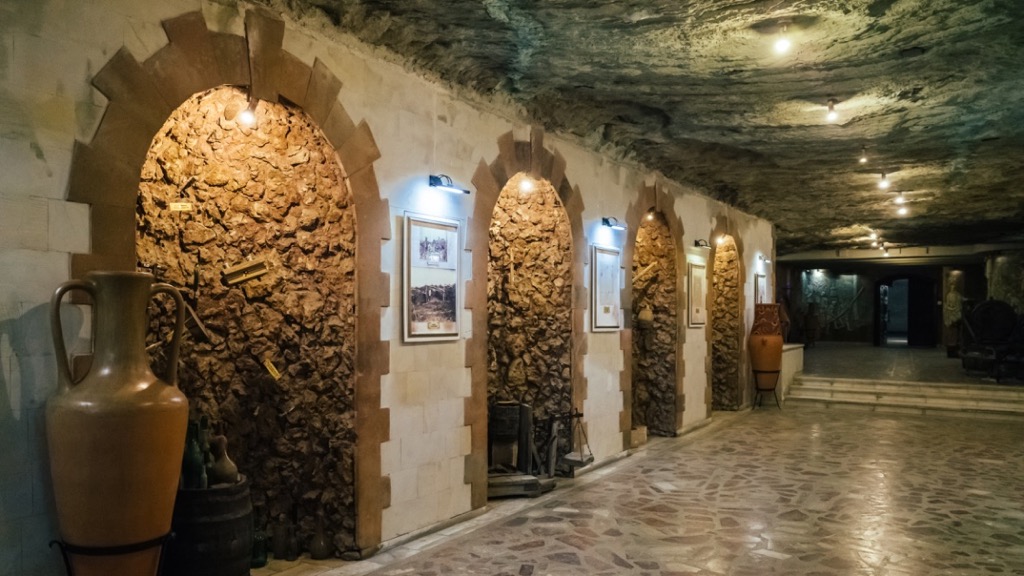 Fun fact: Yuri Gagarin was lost in the underground streets of Cricova. I mean, he made it to the moon and back but couldn't find his way out of this Moldovan underground wine city. How cool is that?
What are some of the best travel tips you can give us?
I'd say be curious and not listen that much to what other people say. I believe that the worst things always happen at home, and the so-called "dangerous areas" are more or less a bourgeois invention.
Since I've been a solo traveler my entire adult life, I'd say not to be afraid to travel alone. However, if no one is available, see it as a chance to discover a place at your own pace and not skip the destination.
Finally, support the local economy as much as possible: avoid chain shops, and eat in local restaurants. And don't leave waste behind you.
George Pavlopoulos: the writer
You have written a few novels, which I think is incredible! Can you briefly tell us about your novels and what inspired you to write them?
I have always wanted to write books. I've been reading a lot since I was 8-9 years old, which I still do. However, I read fewer books nowadays because I lack free time.
So far, I have written four books: the first three are novels, and the latest is a short story collection about imaginary hotels.
The novels' themes are varied. The first one deals with a 19th-century expedition to the North Pole by a hot-air balloon. It's based on a real story I came across when I lived in Norway for a couple of months.
The second novel is all about cinema and gentrification. Finally, the third novel is about the Greek financial crisis, and as critics said, it's written in a kafkaesque way.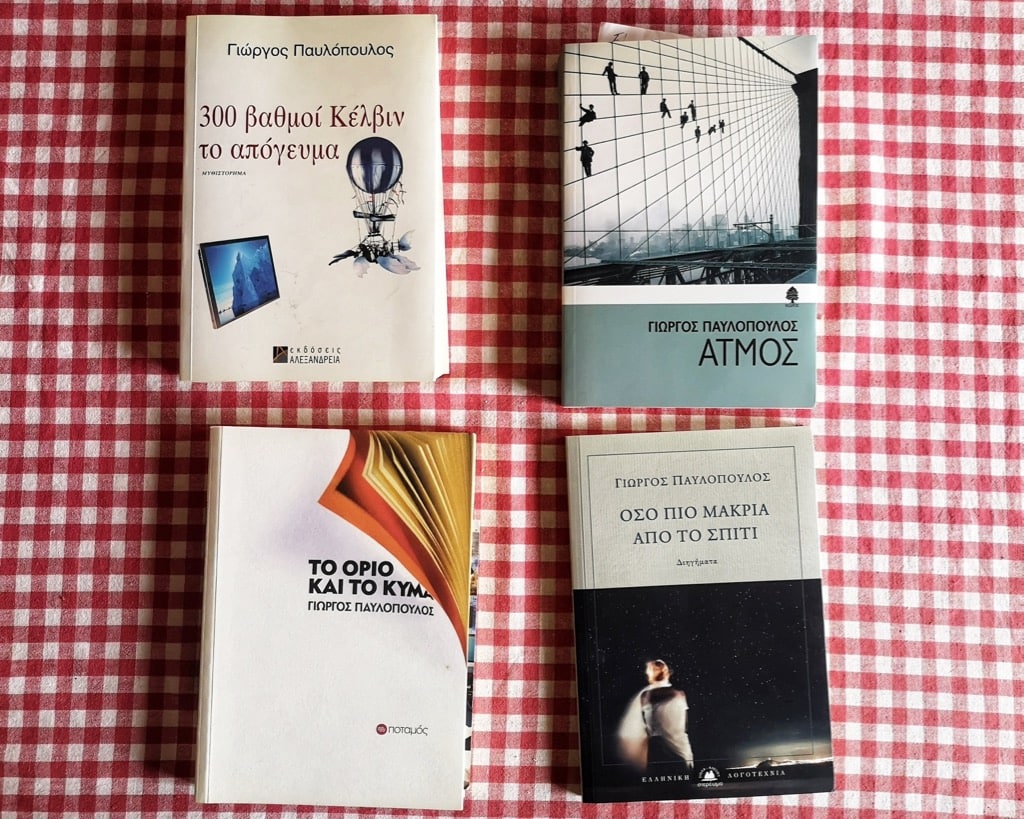 I don't really know what inspired me for each book, but whenever I started a new book, I had the urge to put what I had in mind on blank paper. Sometimes it's a phrase; other times, it's a story.
On the other hand, daily life inspires me -or at least, it influences my writing. If, for example, I do something interesting one day, I might try to implement it in the next day's writing.
George's Best Books to Read
George, here's a challenging hypothetical question for you. Every single book created in the entire world, including all your own novels, only exists in one library and nowhere else. So, no copies exist anywhere else. A fire breaks out in that library. You are the only person with enough time to save some books, and luckily you know where they all are. If you only had enough time to save ten books, which ten books would you choose to save, knowing full well that all of the other books will be destroyed by the fire? Also, next to each book you have chosen to save, tell us why.
John, I'll start feeling less guilty for your ruined white shorts (laughs). That's such a tricky question.
I wouldn't save my books; I find it unfair. Instead, I'd act more as a curator and pick ten books based on what I think could serve as the seed for the next century's literature. Here's the selection:
The Stranger, by Albert Camus, because of its existential depth and the way it describes a man that is both alive and dead at the same time.
The songlines, by Bruce Chatwin, because of his love for Aboriginal people and the oral tradition.
Mason & Dixon, by Thomas Pynchon, because it contains some of the best descriptions I have ever read, and it should be seen as a masterclass.
Hotel Savoy, by Joseph Roth, because he is one of the top writers of the 20th century, but he's still relatively unknown.
Crime and Punishment, by Dostoyevsky, because 80% of the world's literature wouldn't exist without it.
The Overcoat, by Nicolai Gogol, because it's one of the finest examples of storytelling.
The first voyage around the world, by Antonio Pigafetta, because it's the best travelogue ever written, narrating through words and maps Maggelan's journey.
The ballad of the sad cafe, by Curson McCullers, because it's one of the most touching yet underestimated novels.
Underworld, by Don Delillo, because it somehow rewrote the USA's modern history through baseball.
Wuthering Heights, by Emily Bronte, because it redefined the way we think of passion through a fantastic story.
The picture of Dorian Gray, by Oscar Wilde, because of its aesthetics and the writer's spirit.
Can I pick another 100 books, John, or is it already too late in that library?
George, I noticed you have snuck in an extra book, making it eleven books instead of ten, after telling me that you wanted to add one more due to having feelings of shame.
It is interesting how you answered this extremely tough question. You clearly love novels. I was seriously thinking about clarifying a few things before you answered this tricky question. However, I decided against it because I was super curious to see your answer.
You see, all knowledge-based books are now lost forever!
Similarly, Homer's epic poetic masterpiece, The Odyssey, has burnt to a cinder and no other copy exists anywhere else in the world.
But at least we can enjoy these eleven books you saved. Sorry, it's way too late to change your mind now. We know who you are. lol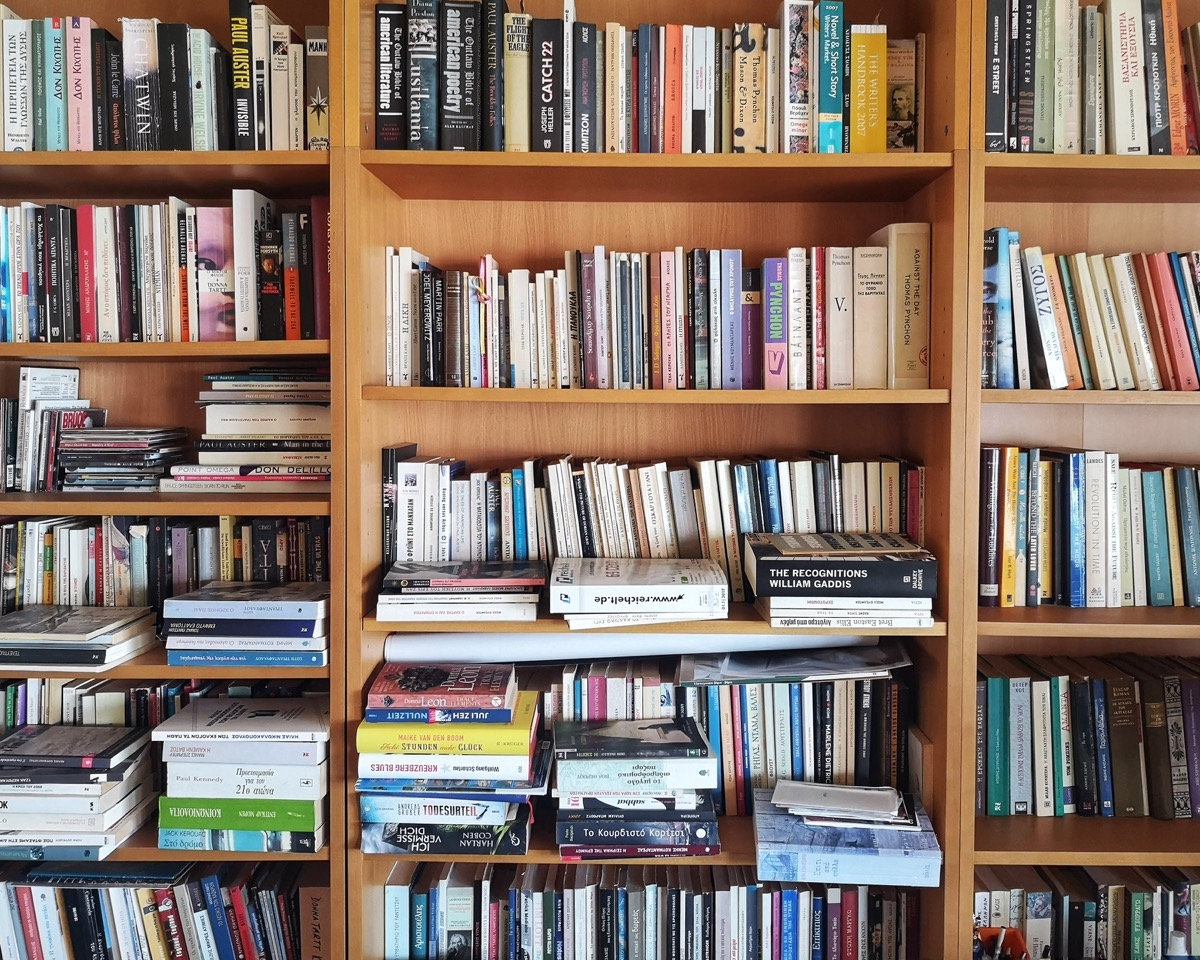 George, the Novel Enthusiast
It seems as if you have read many books in your life. I know you have read Ulysses by Joyce, and "V" by Thomas Pynchon, to name a couple.
Can you tell us about your reading routine and how many books this has allowed you to read? Have any books that have changed your outlook on life?
I once kept a diary of the books I read, but I don't do that anymore. Between 1998 and 2010, I read 400-500 books per year.
The number was reduced significantly after I moved to Berlin, and nowadays, I don't think I exceed 50-60 books per year. I wish there were more time for reading, but unfortunately, that's what I can afford time-wise right now.
The ten books I mentioned earlier had a great impact on me. More or less, those books changed my perspective in one way or the other.
But, of course, there are plenty of other writers that reshaped my perspective. I'd like to name at least a couple of them: Franz Kafka, Kurt Vonnegut, Alberto Moravia, Sylvia Plath, Pier Paolo Pasolini (also his movies), Paul Auster, William Gaddis, Italo Calvino, Donald Barthelme, Virginia Woolf, Roberto Bolano -the list is really endless.
I don't believe books can change the world -it would have happened already. However, I believe that books can reshape aspects of daily life, enrich the social dialogue and potentially move significant parts of the population away from weird beliefs.
Travel Shop – Letters to Barbara
Your online Letters to Barbara Travel Shop sells a variety of interesting books.
I have purchased a few of your books, including Two Journeys To Anafi (Limited Edition). In my opinion, they're all very good. What book would you recommend the most for a first-time buyer?
Assuming they survived the fire in the library, I'd just say that I'm proud of my Polaroid zines. They are small, but I have put my amateur love of instant photography. That's why I preferred to make zines and not a polaroid book.
Greek Language Lessons on this site
I'm so happy that you agreed to review and contribute to the Greek language lessons on this site. What has the experience been like for you so far, and have I ever driven you crazy with some of the questions I have hounded you with?
Haha, no, John, never. I'm impressed by your development, and honestly, I didn't do that much for the last 2-3 lessons. Everything looked great, and the corrections I made were more to bring the lesson's language to the spoken one.
I believe that your lessons are great and many people can benefit from them. It's an excellent resource for visitors to Greece, and they can really build a vocabulary quickly. They are thorough, nicely written, and I love how they care for what matters the most: daily life.
None of your questions regarding the Greek lessons drove me crazy, no. In fact, it was interesting to question me about why we say this in way A and not in way B. Sometimes, I couldn't figure it out! You know, after a while, language becomes an automatic process, and we rarely question ourselves. We just use language the way we breathe.
I believe you should make an e-mail sequence with your Greek lessons and send a weekly lesson to your readers. Then, they could prepare smoothly for an upcoming journey to Greece, don't you think?
George, this is a great idea! The thing is my to do list is a mile long already, so it may take some time to get to that stage. As you can appreciate, running a travel blog is a never-ending series of tasks that keeps getting bigger and bigger. But it is a top idea!
George and Greek Mythology
George, as you already know, Athens was named after the Goddess Athena. I'm not trying to get you into trouble with the religious hierarchy in Greece, but did Athens betray the Goddess of wisdom by taking up Christianity? Before you answer, you may want to read 12 Greek Myths that prove the Bible is Fake (on my home page).
Everything is a story of betrayal in Greece, John (laughs). No, seriously, I'm not that religious.
I just believe that every era has the gods it deserves. As a kid, I was a huge fan of Greek mythology, knowing more than the average adult about it. Don't ask me why or how; it just happened, and I was something like a radio in family gatherings broadcasting tales of Greek mythology.
More or less, I have forgotten everything nowadays, but I use your blog's resources to bring things back to memory.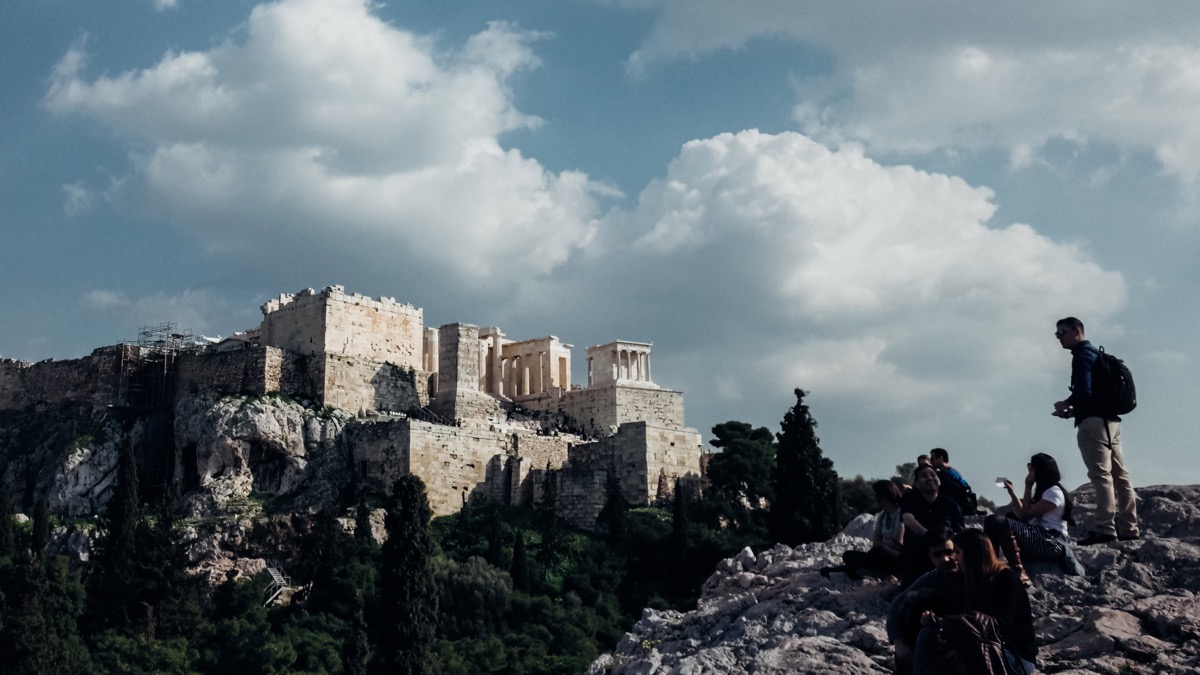 In Greece, everything is black and white: there's no gray or any other color. So if I have to be in the gray zone, I'd say the truth is in the middle.
However, if I had to pick black or white, I'd say that yes, Athens betrayed its Goddess.
George's Interests
What do you enjoy doing outside of traveling, reading, writing books, and taking photographs? I know you like bike riding. Can you tell us about the distances you ride and how often you go? What else do you like to do?
I love cycling. I cycle more or less daily, and I definitely enjoy it more in Berlin. I don't have a cycling routine, but wherever I can go by bike, I'll go by bike. When I want to empty my mind, I'll go for a 20 km ride in the city.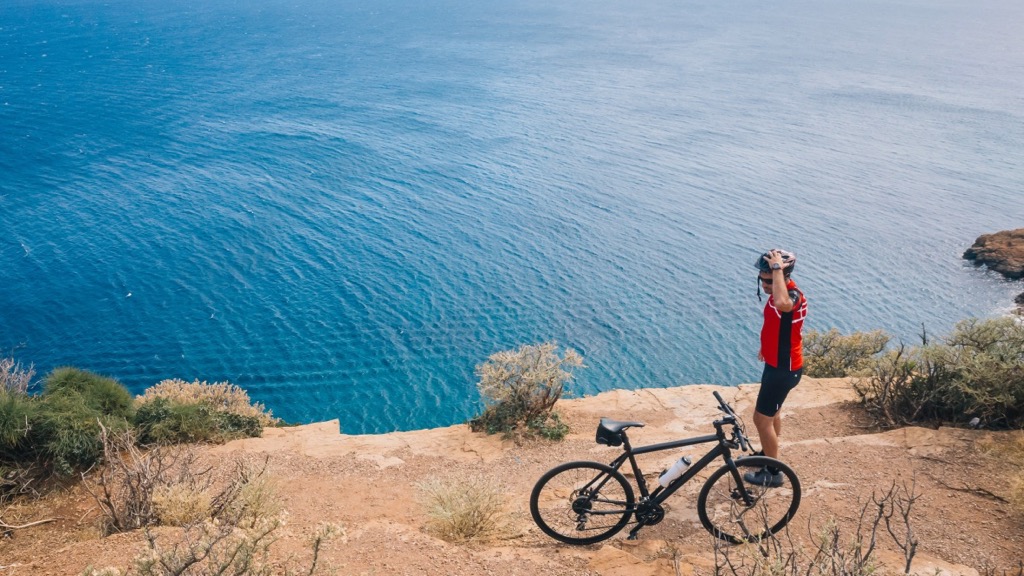 If I'm in Berlin, I'll cycle up to 35-40 km because the infrastructure is so much better, and the city is flat. Even when traveling abroad, I'll use a bike-sharing app to rent a bike and explore the city -the last place I did was Gothenburg, Sweden.
I also love swimming, and sometimes I swim even in the wintertime. I'm not a health freak, I enjoy eating and having a drink or two at night. Food is something that I enjoy, especially when I'm abroad.
Apart from these, I always try to watch a football match in the stadium. I'm a die-hard AEK Athens fan and follow the news daily. Did you know that AEK has a new brand new stadium, John?
Well, cycling, swimming, reading, traveling, eating, drinking and football are the things that occupy my days. Oh, and writing (laughs).
George (Letters to Barbara) – Interesting Things to Know
George, complete the following sentences for me so we can get to know you better. The first thing that comes to your mind is probably the right answer.
If you buy a coffee, you are most likely to order a: espresso, black.
In a bar, you're most likely to drink a: negroni.
Your favorite Greek food (main meal) is: lately it's eggplants with tomato sauce and cheese.
Your favorite dessert is: tiramisu or the Greek galaktoboureko.
You feel like going for a swim in Athens. The beach you normally visit is called: Schinias.
The team you barrack most strongly for is called: AEK Athens, of course!
Greek people are: warmhearted.
The suburb where you grew up in Athens is called: Halandri.
The neighborhood where you spent most of your time in Athens in the last three years is called: Halandri.
If a family member could own any hotel in Greece, and they were willing to give you a free room every time you visited, you would love them to own: Anywhere, as long as the sea is literally straight outside the door.
George, I'm going to push you to give me a hotel name. It could be a luxury hotel like Minos Beach Art Hotel in Crete, or even a budget place like Hotel Zeus in Naxos. I'll make it a bit easier for you. The hotel can't be somewhere you have already stayed.
Then I'd pick Galifos Rooms in Folegandros: straight at the beach, no electricity. Would you dare to stay there, John (laughs)?
George, the location looks superb! The place must have gas and lanterns. I'd stay there because I saw a sign stating NO ELECTRICITY * LOW PRICES. The low prices part sounds great. Who knows, this could be the ultimate dream getaway in Greece.
Between a Greek bouzouki show or a rock concert, you'd choose to go to a: A rock concert, of course.
Corfu, Crete, Hydra, Spetses, or Mykonos? If you had these five choices and you knew that a roof over your head would be provided on the island free of charge, the island you would choose to live in is: Crete. It's one of the best places in Greece, especially the area around Chania. Every single beach I've seen in Crete is beautiful.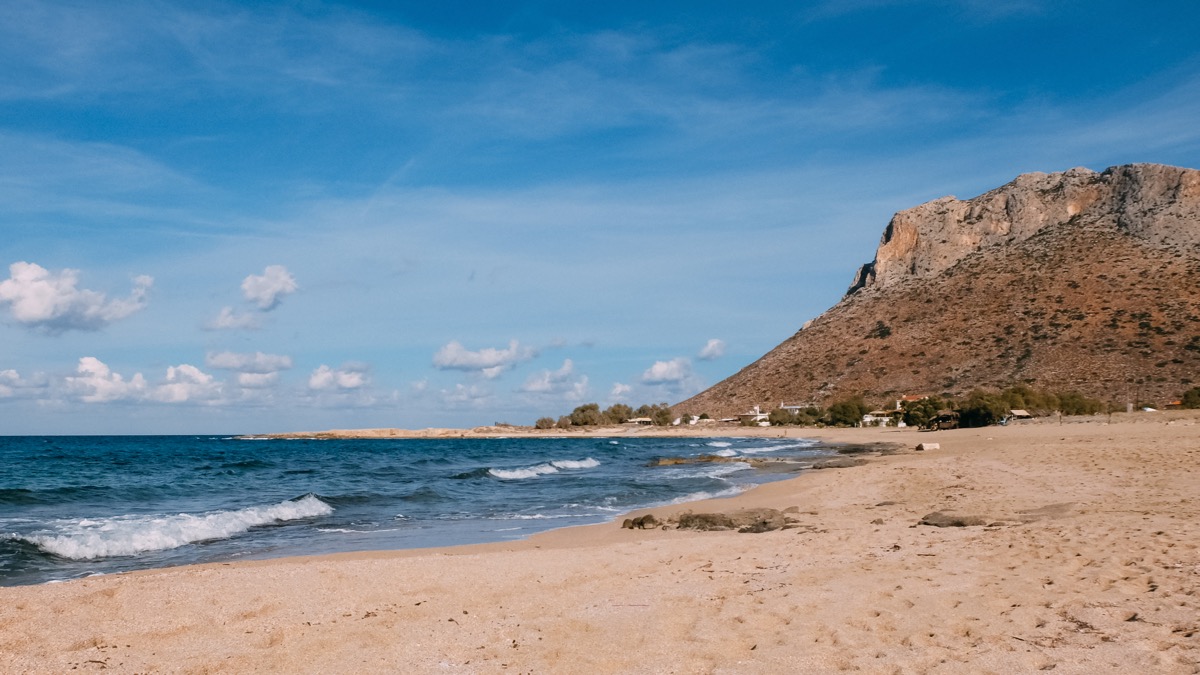 Your favorite five films are: Dolce Vita (Fellini), The Red Desert (Antonioni), Jules et Jim (Truffault), The lives of others (Donnersmarck), Duck Soup (Marx Brothers).
The top three Greek female stars you love the most are: Monica Vitti, Cate Blanchett, Michelle Pfeiffer.
George, you made me think that Monica Vitti was Greek. 🙂 I'll leave these three great actresses here now that they have made it into your interview. But can you also tell me three Greek female stars you really like? The ladies could be Greek movie stars, TV stars, or even Greek singers.
Irene Papas, Melina Mercouri, Jenny Karezi
Your favorite author and their best book in your opinion is: Albert Camus, "The Stranger"
Your favorite travel book is: The Songlines, by Bruce Chatwin.
The funniest guy in Greece is: was Tzimis Panousis.
You have gone nude bathing at this Greek nude beach: Livoskopos, Anafi.
George, I have to know. Did I force you to go nude sunbathing by asking this question?
No, John, I guess if you're looking for revenge for your white pants, you'll have to try harder (laughs).
The Greek language film you have watched the most times is called: Polytehnitis kai erimospitis (1963) (English: Jack of all trades and master of one)
You think Billy Zane is a: cool guy that needs to take your Greek lessons.
When you first visited this website (Greek Gods Paradise) you thought this guy is: a mythology professor from Greece who happens to live down under.
Letters to Barbara: Interview Conclusion
George, I'm so glad you answered these questions and not me. It must have been exhausting!
Your last "mythical professor" reply totally blew my mind. I was seriously (like 99%) expecting to see the rude Greek word "MALAKA" in your response. I was actually setting you up to say it.
Seriously, no joke, Greece or even Germany would benefit enormously if they made you a diplomat!
Interestingly, I had just finished watching the excellent documentary King Otto, and it was during the rolling credits when I checked my email account and first saw your interview replies.
The documentary about the legendary German football coach 'King' Otto Rehhagel, who trained the Greek National Football Team and led Greece to be the winners of the UEFA 2004 European Championship, is an incredible story!
Since you're based in Greece and Germany, it seemed like a remarkable coincidence.
George, many thanks for giving us a glimpse into the mind of a Greek travel blogger and writer. I think all of us lucky enough to have read this interview are a little bit wiser now.
I encourage everyone to check out Letters to Barbara.
George also has a Greek website (available in English, too), just for his books. You can find the website at: https://gpavlopoulos.com/
Another option is to follow George Pavlopoulos – @exil_et_royaume on Instagram
All the best, George! PS. Don't worry about the books.
Pin it … Share it