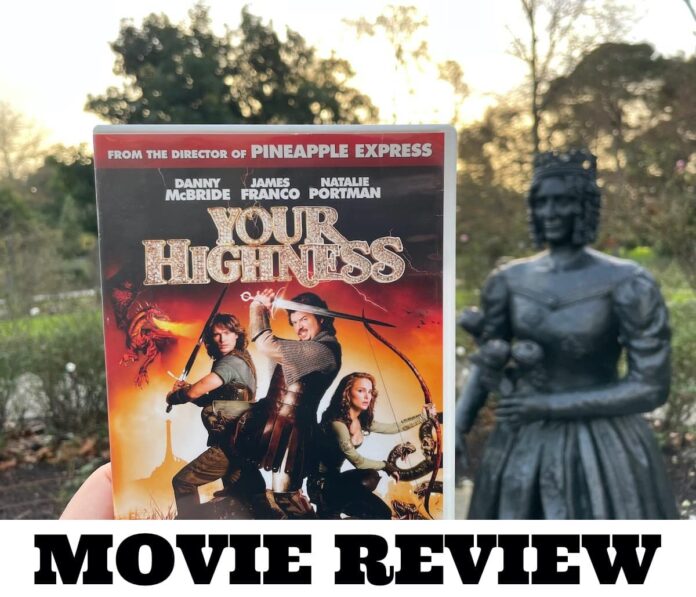 Your Highness movie review is a result of recently being blown away by Your Highness (2011), an insane spoof with King Arthur and Greek mythology themes.
While there have been movies that have spoofed Greek mythology before, such as the stupid and crazy film "Meet the Spartans" (2008) — "Your Highness" is in a league of its own.
Your Highness weaves a tale of heroic quests, mythical monsters, and hilariously flawed characters, bringing to mind the epic adventures of Greek mythology mixed with the absurdity of "Monty Python and the Holy Grail."
It is even sillier and crazier than The Three Stooges Meet Hercules (1962) comedy fantasy.
Your Highness (2011) is unpredictable with plenty of unexpected and mind-boggling twists. It will leave anyone watching it to question reality making them think things like "Did that really just happen? No way!"
While "Your Highness" wasn't a box office smash hit, it has since gone on to become a cult classic, winning over audiences with its irreverent stoner humor and outlandish story.
I highly recommend watching Your Highness if you haven't seen it before because the film is unbelievably unique and you won't forget it anytime soon. So grab your sword and shield, and join me as we journey through the mythical lands of "Your Highness."
Your Highness Movie Review
Your Highness (2011) follows the story of two princes, Thadeous (played by Danny McBride) and Fabious (played by James Franco), who are completely different from one another.
The eldest brother, Fabious, is handsome, brave and has won the hearts of the kingdom. The younger brother Thadeous, on the other hand, lives in the shadow of his brother and is a lazy, arrogant, and selfish person.
When Fabious' fiancé, Belladonna (played by Zooey Deschanel), is kidnapped by the evil wizard Leezar (played by Justin Theroux), the brothers embark on a perilous quest to rescue her. Thadeous is reluctant at first and tries to weasel his way out, but is eventually convinced by the promise of riches and a chance to prove himself to his father, the King (played by Charles Dance).
Along the way, they are joined by a fierce warrior, Isabel (played by Natalie Portman), and Thadeous' own squire, Courtney (played by Rasmus Hardiker). Together, they must face various obstacles, including mythical beasts and treacherous allies, to reach Belladonna and defeat Leezar.
What follows is a wild adventure full of absurd humor, unexpected plot twists, and references to classic fantasy and medieval movies like "The Lord of the Rings," "Conan the Barbarian," and "Legend."
Despite the challenges they face, Thadeous and Fabious must find a way to work together to save the kingdom and secure their own place in it. Along the way, Thadeous learns some valuable lessons about responsibility, humility, and the true meaning of heroism.
For fans of fantasy and adventure, "Your Highness" is a true gem that delivers a wild and entertaining ride. This film brings together a unique blend of eye-popping action, zany comedy, and otherworldly fantasy that will leave you in awe.
If you're hesitant to take the plunge, don't be – my Your Highness movie review highly recommends this movie experience to anyone who loves a good adventure.
Your Highness and Greek Mythology
The best thing about "Your Highness" is that it contains several scenes that pay tribute to Greek mythology. In this section, we'll examine some of the most memorable moments.
The best Greek mythology moments I have come up with in this Your Highness movie review include the following:
The Power of Zeus and Your Highness
The opening scene of Your Highness is a spectacle to behold, featuring a stunning lightning bolt strike that sets the tone for the film's electrifying energy.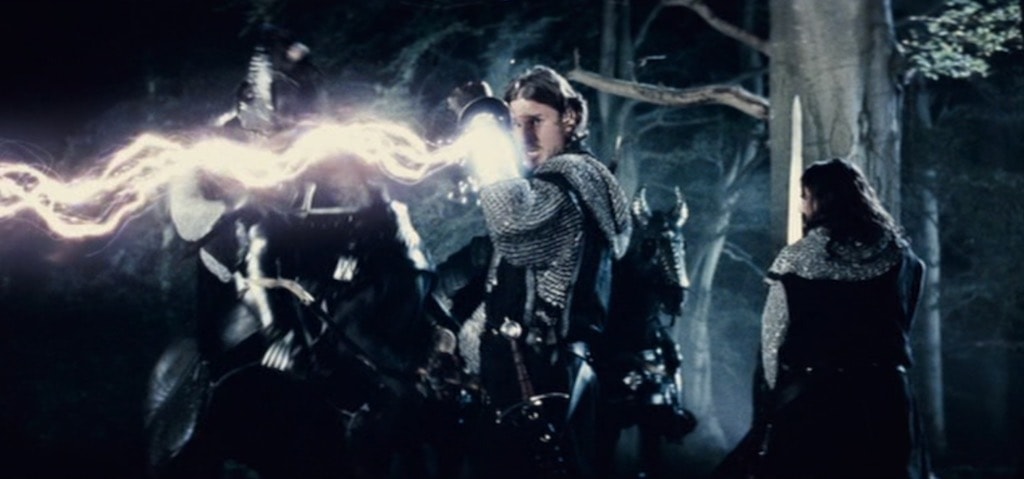 Zeus is the king of the Gods in Greek mythology and one of the most powerful deities in the pantheon. He is often depicted holding a thunderbolt, which is a symbol of his immense power and authority.
The thunderbolt is said to have been forged by the Cyclops, a race of one-eyed giants, and was given to Zeus as a sign of their respect and fear.
Your Highness and the Cyclops
Not long after, you will see an ugly Cyclops, a mythical being with a massive eye in the middle of its forehead. I won't repulse you with an image of the Cyclops here but believe me it's one very ugly Cyclops!
Sick Greek mythology reference
Prince Thadeous is anxious about his impending quest in Your Highness. To lighten the mood, he makes a crude joke about beating off in front of a Pegasus.
The Hydra and Your Highness
The film "Your Highness" cleverly pays tribute to the iconic post-apocalyptic classic film "Mad Max Beyond Thunderdome" through a bizarre yet thrilling homage. Moreover, the ominous presence of a ferocious Hydra adds an extra layer of excitement and danger to the scene.
Renowned for its portrayal in the legendary Greek tale of Hercules and the twelve labors, the Hydra is a creature of remarkable significance in Greek mythology. This Hydra even spewed out acidic vomit.
Your Highness and the Minotaur
You won't believe your eyes when you see Minotaur in Your Highness.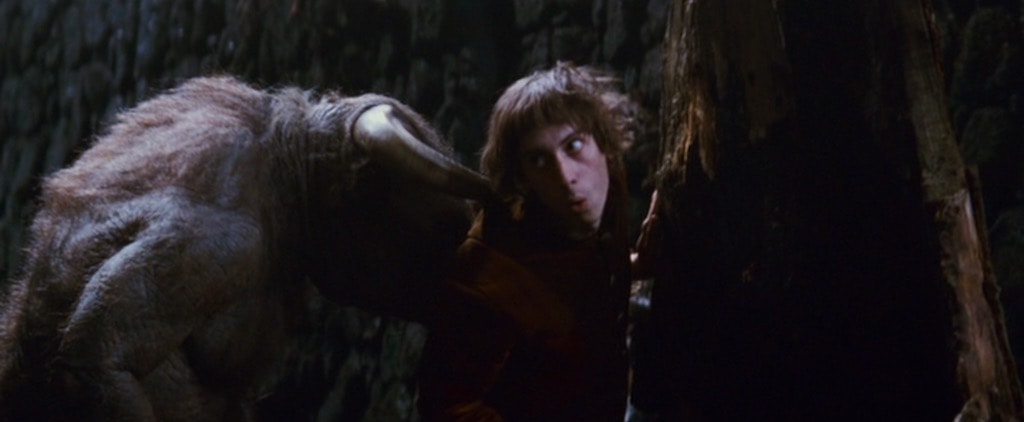 You won't believe how this scene got through the censors.
Panpipes in Your Highness
The labyrinth scene reaches a frenzied peak when Natalie Portman takes center stage, serenading the minotaur by playing her Panpipes, in a bizarre bid to pacify the menacing creature.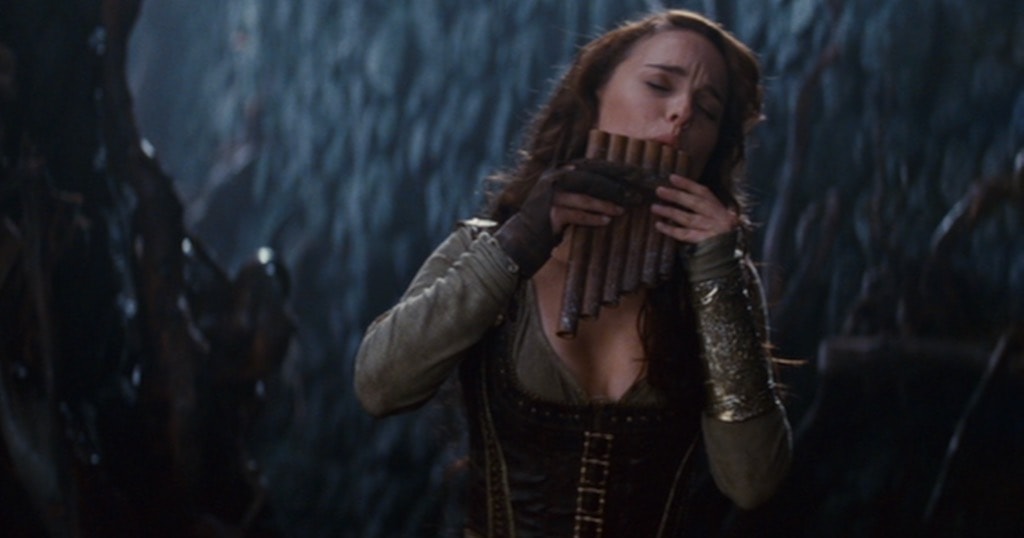 Your Highness and the Graeae (three Grey Sisters)
Greek mythology's most mysterious trio, the Graeae or Grey Sisters, were born with grey hair and shared an unusual bond of possessing a single eye and a solitary tooth.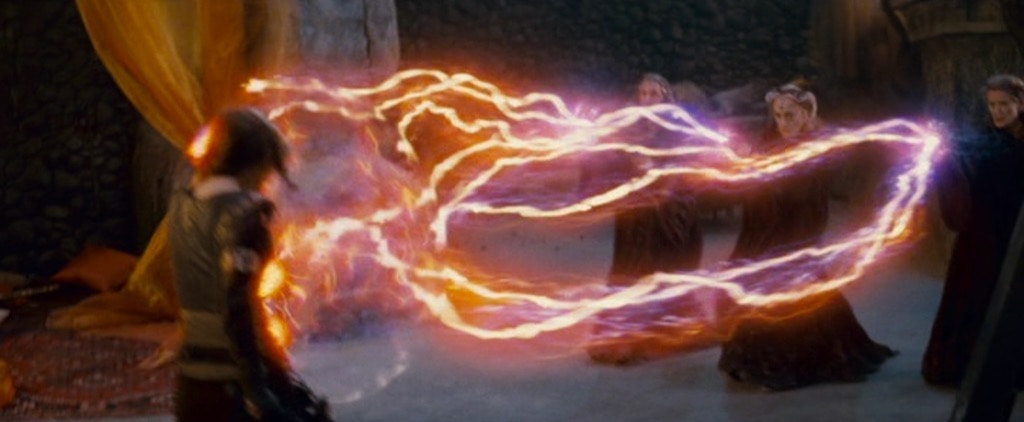 Your Highness takes a unique approach by imbuing the Grey Sisters with ominous powers, reminiscent of the evil Sith Lords from the Star Wars franchise.
Your Highness Movie Review: Film Cast
Who starred in the Your Highness movie? The three key cast members include:
Natalie Portman as Isabel
Danny McBride as Prince Thadeous
James Franco as Prince Fabious
Your Highness movie review will only talk about these three actors, even though there
Natalie Portman – Isabel
Natalie Portman's portrayal of the formidable warrior Isabel was nothing short of captivating. Her performance evoked images of Artemis, the Greek Goddess of the hunt, conjuring up feelings of awe and admiration.
Initially declining the part of Isabel, the warrior princess in Your Highness, Natalie Portman changed her mind after director David Gordon Green offered to expand her character's depth.
Portman's portrayal of Isabel was nothing short of outstanding, showcasing a unique blend of badassery and comedic timing that elevated the film to comedic heights. In addition to her stellar performance, Portman performed most of her stunts, including intense sword-fighting sequences, relying on extensive training and hard work to deliver authenticity to the role.
Natalie Portman's comedic chops shone through and I have to say, I respect Natalie even more after this role. Her onscreen presence added a breath of fresh air to the production, bringing an intriguing layer of excitement that made the movie all the more unforgettable.
If you have a Natalie Portman crush, you will love Your Highness.
Natalie Portman Films
Throughout her Hollywood career, Natalie Portman has proven herself to be a remarkably versatile and talented actress, cementing her name among the brightest stars of her generation. From her early days as a child actor, Portman has pursued a diverse range of roles that highlight her remarkable range and depth. Among her most revered performances is her portrayal of a young protégé in "Leon: The Professional", where she delivered a powerful and emotive performance that showcased her natural screen presence and undeniable talent.
Portman's career has seen her take on a variety of roles, from the dystopian sci-fi drama "V for Vendetta" to the romantic comedy "No Strings Attached." But it's her stunning portrayal of Nina in "Black Swan" that truly blew audiences away. The intensity and dedication demonstrated in her performance while playing a ballet dancer on the brink of losing her mind earned her not only an Oscar, but constant admiration from fans.
Portman is also known for her work as Padmé Amidala in the "Star Wars" prequel trilogy.and her performances in all three movies were universally praised.
Danny McBride – Prince Thadeous
McBride not only starred in the film but also co-wrote the screenplay with director David Gordon Green. Their collaboration on the script helped to infuse the film with McBride's trademark irreverent humor and offbeat sensibility.
McBride's character, Prince Thadeous, is a departure from the typical heroic prince archetype. He is lazy, selfish, and often cowardly, which creates a hilarious contrast with his more noble and heroic brother, played by James Franco.
In an interview, McBride revealed that he wanted to make a medieval comedy that was similar in tone to The Princess Bride, one of his favorite films. He succeeded in creating a film that was both a loving tribute to the fantasy genre and a hilarious spoof of its conventions.
Danny McBride Films
Danny McBride is a prolific actor who has built a versatile career in both film and television. He started his acting career in small roles in films like "All the Real Girls" (2003) and "The Foot Fist Way" (2006), which he also wrote and produced. However, it wasn't until he landed the role of Kenny Powers in the HBO series "Eastbound & Down" that he became a recognizable name in the entertainment industry.
McBride's portrayal of Kenny Powers, a washed-up former Major League Baseball pitcher, was a revelatory performance that highlighted his unique talents as an actor and writer. The character was simultaneously arrogant, insecure, and vulnerable, and McBride played him with a commitment and sincerity that won over audiences and critics alike.
Since "Eastbound & Down," McBride has continued to work consistently in film and television. He has appeared in a variety of comedies, including "Tropic Thunder" (2008), "Due Date" (2010), and "This Is the End" (2013). He has also taken on more dramatic roles, such as in "HBO's "Vice Principals" (2016-2017), an acclaimed series created by McBride himself and longtime collaborator Jody Hill.
One interesting fact about McBride's career is that he often works with the same group of actors and filmmakers, creating a sort of ensemble or "McBride-verse." This includes collaborators like David Gordon Green (who directed him in "Pineapple Express" and "Your Highness") and Jody Hill (with whom he co-created "Eastbound & Down" and "Vice Principals"). This tight-knit group has helped to create a unique cinematic universe that is both irreverent and heartfelt, and has established McBride as one of the most original and exciting talents in modern comedy.
James Franco – Prince Fabious
James Franco is a versatile actor who has showcased his talents in a wide range of roles throughout his career. He is known for his ability to embody complex characters with charisma and depth, and his performance as Prince Fabious in the 2011 film "Your Highness" was no exception.
What's more, Franco's commitment to the fantastical world of "Your Highness" was impressive. He underwent intensive training in sword fighting and horseback riding to prepare for the role, ensuring that he was able to convey a sense of authenticity and realism in the film's action sequences.
Franco was not the original choice to play Prince Fabious. The role was initially offered to James McAvoy, but he had to drop out due to scheduling conflicts. Franco was then brought on board and brought his own unique style to the character.
James Franco Films
James Franco is an American actor, filmmaker, and author who has had a prolific and diverse career in the entertainment industry.
Franco's breakthrough role came in the cult TV series "Freaks and Geeks" (1999-2000), in which he played the burnout rebel Daniel Desario. The show was critically acclaimed but short-lived, but it helped to establish Franco as a rising star.
In 2001, Franco landed the lead role in the biopic "James Dean," which earned him widespread critical acclaim and a Golden Globe for Best Actor in a Miniseries or Television Film. The role marked a turning point in Franco's career and established him as a serious actor.
Franco went on to star in a wide range of films, from comedies like "Pineapple Express" (2008) and "This Is the End" (2013) to dramas like "Milk" (2008) and "127 Hours" (2010), for which he earned an Academy Award nomination. He also played Harry Osborn in the "Spider-Man" franchise.
Your Highness Movie Review Conclusion
If you're in the mood for a medieval fantasy with laughs and thrills, you can't go wrong with "Your Highness." The film's outrageous humor and off-the-wall scenarios will leave you cringing — in the best way possible. With stunning action sequences and clever satire of the genre, "Your Highness" is a must-see for fans of fantasy-adventure.
Greek mythology elements only add to the fun, showcasing the filmmakers' attention to detail and adding extra depth to the story.
In short, "Your Highness" is a fun and exhilarating ride that will leave you in awe of how this film ever got produced in the first place.
I give Your Highness a solid 7 out of 10. Impressive, very impressive!
IMDb film website: Your Highness (2011)
Your Highness (2011) Movie Trailer
Whether you're a fan of action, comedy, or Greek mythology, this film is worth checking out. I hope reading this "Your Highness" movie review has convinced you to watch it.
If you want a taste of the movie, here is the movie trailer of Your Highness (2011).
Pin it … Share it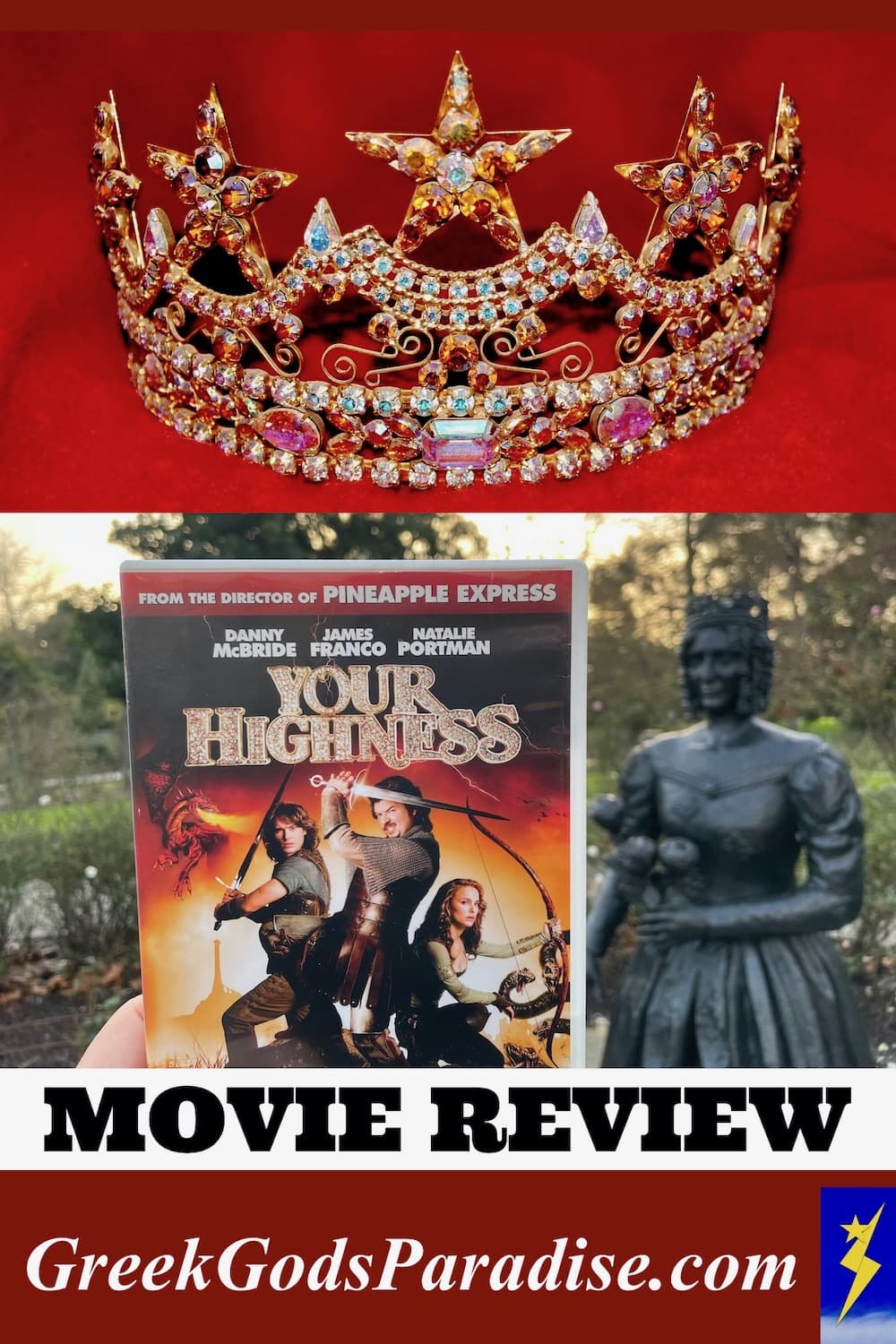 ddsxcxcx