Membership for the Super-Rich
***** One Million Euro *****
Become a Lifetime Member of Greek Gods Paradise. Only 12 exclusive places in total are available. Further details below.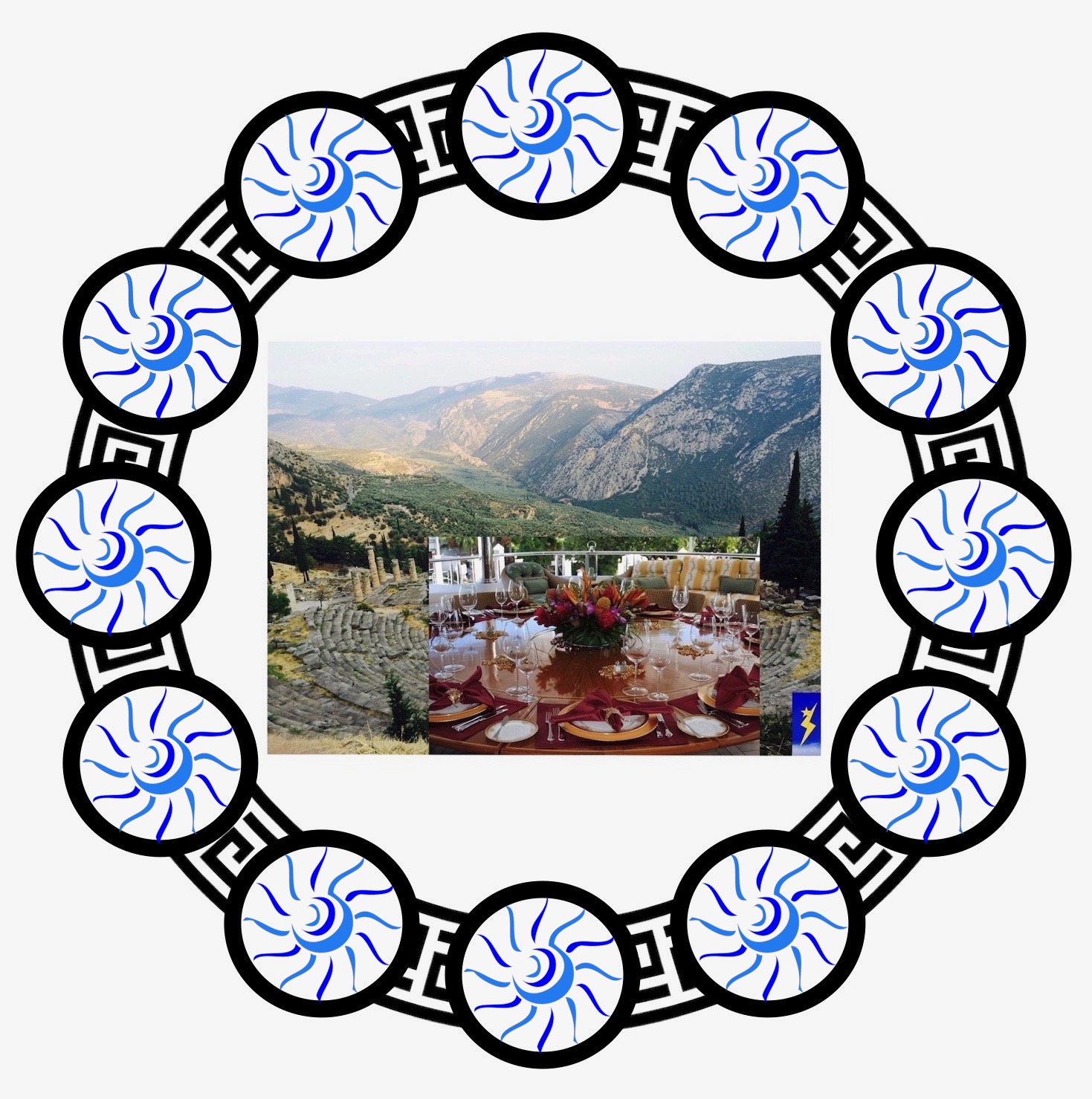 What do you get for 1 Million Euro?
A photo/image of your choice will be inserted around the Table at Delphi shown above. It will be inserted into one of the circular windows currently displaying a blue sun. To start things off, the first Super-Rich Member will be located in the top centre position.
Another rectangular photo/image or youtube video of your choice will be placed below this image. It could be the same photo/image or a completely different one. You can even leave things as they are with the blue sun and remain anonymous if you want. Later on you can change things.
This photo/image can be linked to another website page of your choice (if desired).
All photos/images or youtube videos will be rotated into different positions every so often if two or more Super-Rich members exist. If only one Super-Rich member exists, then they will always stay top centre.
Greek Gods Paradise will also allow one post on any topic to be placed on this website, with a maximum of 5,000 words, 20 photographs and 3 youtube videos. Greek Gods Paradise reserves the right to block it though. (This is optional for Super-Rich Members)
Why you should become a Super-Rich member?
Forget about buying that crazy expensive art piece as an investment, another fancy car you don't really need, or some other toy you'll soon tire of.
Buy a place here! You will feel much better about it.
Maybe you represent a Brand and want some unique exposure.
Buy Lifetime Membership to Greek Gods Paradise and I'm sure your Brand will get some serious attention. If anything just because you were crazy enough to become a member in the first place.
You can even sell your investment later on if you wish.
Consider Super-Rich Membership like an Investment
Each investor will receive a secret code allowing the sale of their place on this page of 12 Super-Rich Members. This will allow photos/images and details to be changed on request, but only after a minimum of 12 months from the previous membership start date.
You can sell your spot on this page at any price you desire.
Maybe you could get 5-10-100 Million for your Super-Rich Membership later on?
Just pass on the secret code to someone else and the new member will take your place around the Table at Delphi. You can even give it away if you like.
The new member will receive their own secret code, so they can sell it/pass it on also.
The best thing to do is to stick around anyway. Why would you want to leave Greek Gods Paradise?
All Super-Rich members can change the original images or youtube video provided after 1 year, or you can just leave the same original photos/images or youtube video in place. It's up to you. If a change does occur then you will have to allow another 12 months for another change to be possible.
One investor could potentially buy all 12 positions around the table—at 12 Million Euro—so if you want secure your very own unique special Lifetime Membership to Greek Gods Paradise you better get in early.
Your generosity will be well regarded.
Let's meet one day
How about meeting one day? Maybe we could have a nice lunch somewhere in some earthly paradise, or maybe we could meet up for a few drinks in the Greek Islands. Something like that. Well I'm open to any suggestion by a Super-Rich Member.
Terms of Membership
Lifetime Membership is for as long as this website is up and running. Greek Gods Paradise also reserves the right to block any new member (No porn sites for instance), image, youtube video or website link deemed inappropriate for this particular website. There can only be a maximum of 12 Super-Rich Members at any one time, so if your membership is sold to someone else then they become the new Super-Rich member. This is verified by the new owner giving Greek Gods Paradise the secret code and notifying us about the change in membership. Provided the previous membership holder has held their position for at least 12 months, then things can be altered on this page as requested by the new Super-Rich Member. Greek Gods Paradise has final say on all matters in regard to what is allowed to appear on this Super-Rich Membership page or post.
Yes, I would like to become a Super-Rich Member of Greek Gods Paradise (coming soon)