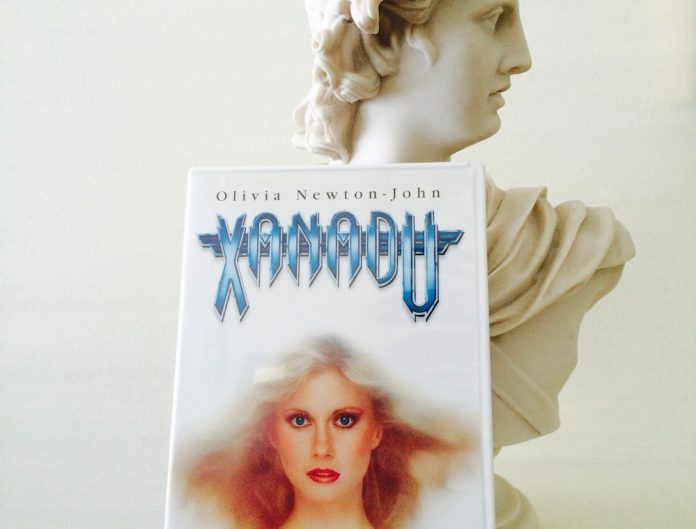 When you combine romantic movies with Greek Mythology you get something very special. The movies shown here will often get you thinking about Greece, the Greek Islands, Greek Gods and Goddesses, Greek Mythology and Greeks in general.
Here you will get the Greek Gods Paradise take on 20 romantic movies with Greek Mythology themes. What are the movies really all about? What are they hiding? Who honours the Greek Goddesses? You will soon find out.
Quite a few of these romantic movies have a large fan base for good reason. Which one do you love the most?
1. Mamma Mia! (2008)
An young attractive woman living with her mother on a magical Greek island wants to meet her father for the first time, even though her mother has never revealed his identity.
She comes up with a plan and invites three of the most likely men who could be her father to her upcoming wedding. Meanwhile, the Olympian Gods have their own plans.
The 12 Olympian Gods even make a brief appearance during the Waterloo song near the end of the movie. I'm assuming that Dionysus is the one lying down in the middle holding up a chalice of wine, probably drunk. Poseidon is clearly seen holding up his trident. It looks like Björn Ulvaeus from the original ABBA band is playing the lyre. He's obviously Apollo.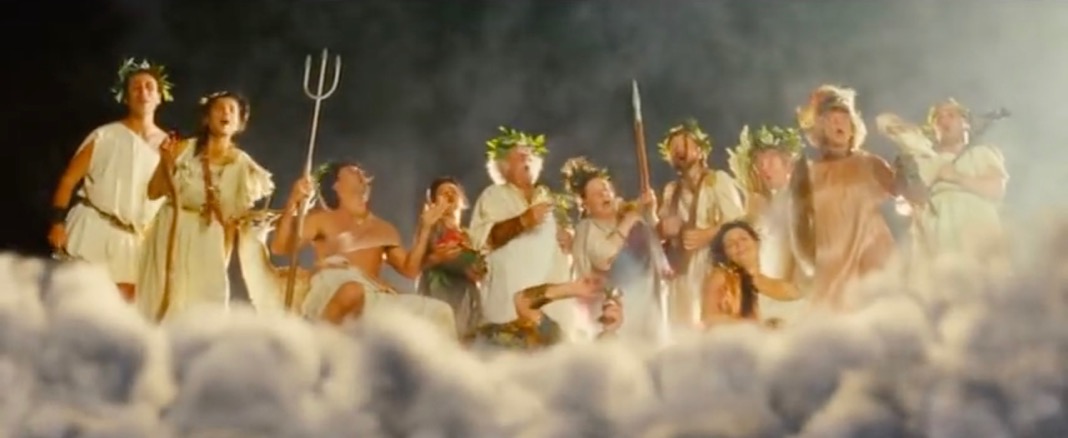 I'm a big fan of Mamma Mia and ABBA. This movie alone made me want to visit Skiathos and Skopelos in 2014 as part of a long planned trip to Greece. I had never heard of the islands before.
Mamma Mia put these two Greek islands on the map for me. I'm so glad I went as these two Greek islands are spectacular.
During my trip I arranged to stay at the Skopelos Village Hotel where the Mamma Mia stars stayed during filming, which was really cool. I didn't ask who stayed in my room, but I'd like to think it was one of the main stars or someone important. It was a great room.
Going for a walk up the staircase carved into the giant rock as seen in the movie has now turned into a big tourist drawcard for Skopelos. The views at the top are great.
Anyone lucky enough to visit Skopelos should definitely visit this beautiful place. The drive there also offers some fantastic views of the island.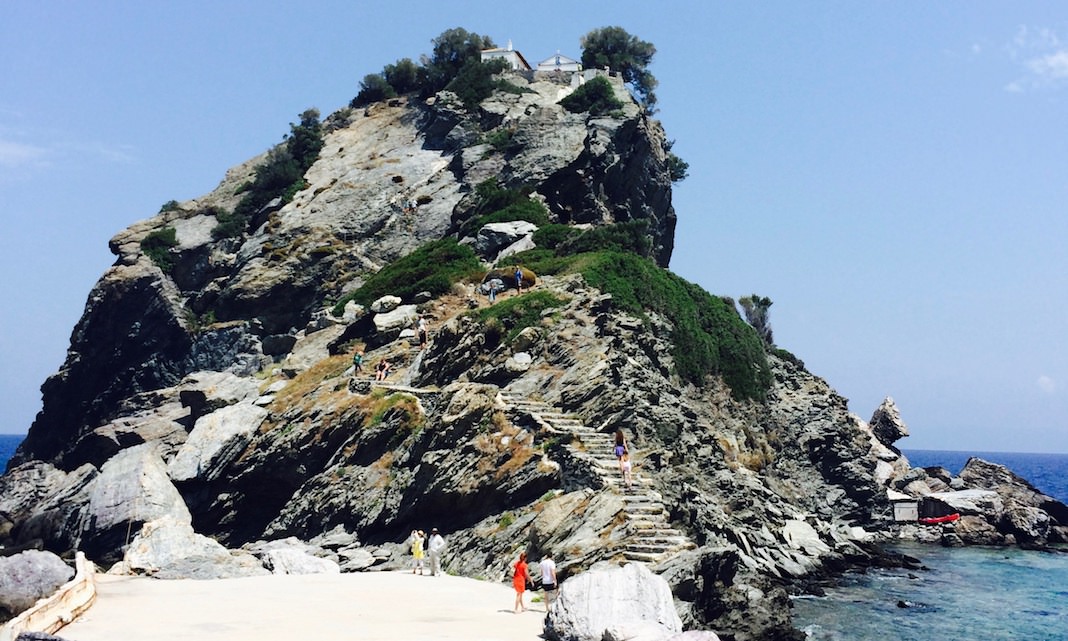 I really loved the location of the Angeliki Beach Hotel in Skiathos where I stayed, which is located at Megali Ammos. The hotel's cool cafe next to the beach was amazing. When I went they had this beautiful green lush lawn surrounded by a great looking garden. So relaxing.
2. My Big Fat Greek Wedding (2002)
A very popular romantic comedy which would have scared off heaps of non-Greek men from dating Greek women. I'm not sure whether this was part of the grand plan.
This movie actually makes the Greek Gods and Goddesses look quite good. Here's a quote from the movie:
"Our house… was modelled after the Parthenon… and guarded by statues of the Gods"
With statues of Aphrodite and Artemis in the film, it's as if Toula is confirming her sisterhood with Greek Goddesses.
Toula's older sister, Athena, the Greek baby-breeding machine, is named after the Olympian Goddess of Wisdom.
The name of the travel agency in the movie is Mount Olympus Travel Agency. Mount Olympus is home of the Greek Gods!
Her family obviously has great respect for the Olympian Gods.

Toula's wedding reception is held at Aphrodite's Palace. Toula obviously wanted to gain the blessing of Aphrodite (Venus), the Goddess of Love.
A lamp made with seashells is pointed to in one of the scenes. The whole point made in the film is that the Greek Goddesses are the light. Aphrodite love seashells.

It's no wonder the movie became the highest-grossing romantic comedy of all time. She has clearly used the power of the Greek Gods and Goddesses.
Did you know that her later movie, My Life in Ruins (2009), set in Greece is also called Driving Aphrodite?
Nia Vardalos is clearly a follower of the Greek Gods and Goddesses.
Greek Gods Paradise salutes Antonia Eugenia "Nia" Vardalos.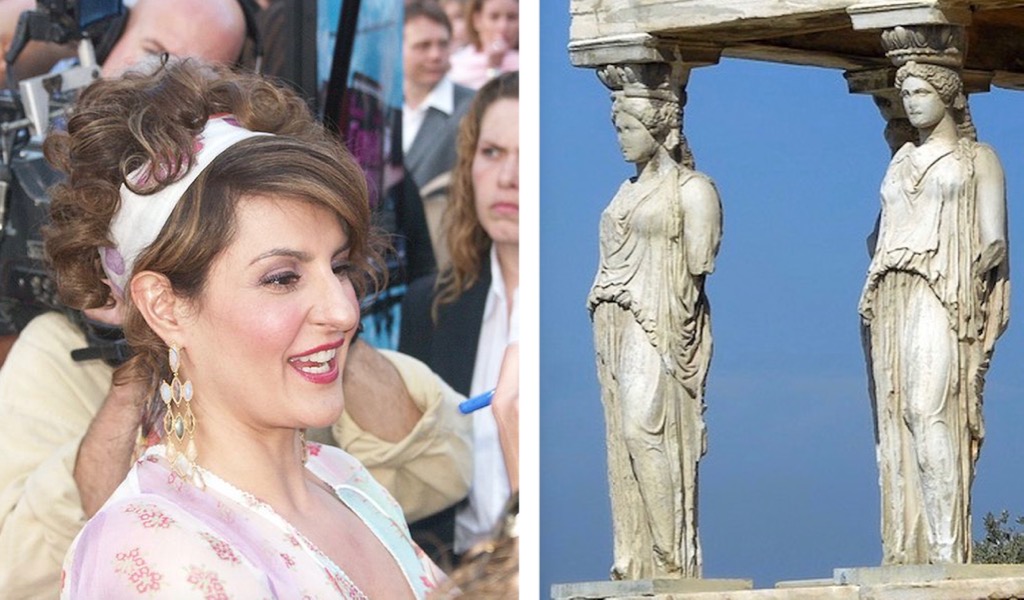 3. Aphrodite, Goddess of Love (1957)
Aphrodite falls in love with a Macedonian warrior. This is a great movie especially considering how long ago it was made. It is a favourite of mine.
Interestingly, the Macedonian warrior played by Jacques Sernas (aka Jack Sernas) is the same actor who played Paris in the epic film Helen of Troy (1956). The Goddess of Love (aka Aphrodite, Goddess of Love) was the movie he made straight after Helen of Troy.
Aphrodite, Goddess of Love has a very mystical ending.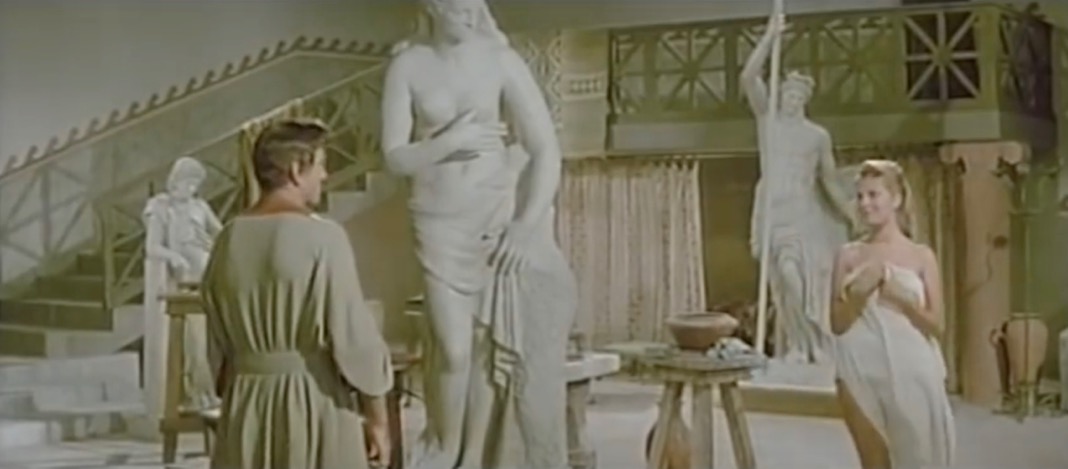 4. Love-Struck (1997)
Cupid (Eros) is sent down to earth by his mother Venus (Aphrodite) to restore a woman's faith in love after a failed relationship she can't bounce back from.
When Cupid fires an arrow at her heart, the arrow accidentally strikes his own body, which makes him fall hopelessly in love with her.
Cupid is allowed to pursue a relationship with her, but at the same time her ex-boyfriend shows up wanting to win her back. Who will she choose? Watch it on Valentine's Day.

5. Xanadu (1980)
The 9 Greek Muses descend from Mount Olympus after one of the muses sets her sights on a disillusioned artist.
Suitably released in Las Angeles cinemas on the enigmatic date of 08/08/80.
The first muse dance when the 9 muses enter earth through the wall mural portal is my favourite scene in the whole movie. I've seen it hundreds of times.
6. Orpheus (1950)
Academy award winner for the best foreign film in 1950. A poetic dream. This is definitely a must see movie.
7. The Big Blue (1988)
Poseidon, God of the sea, initiates an adept into the deep mysteries of life and makes him immortal. The scene shown below is pure genius. It will make you giggle.
8. Mighty Aphrodite (1995)
Aphrodite, the Goddess of Love, wants to find love with a mortal.
Mira Sorvino won the Oscar for Best Supporting Actress for her performance in "Mighty Aphrodite" at the 68th Academy Awards in 1996. Check it out.
There is even a mention of Apollo. This was the first time ever that a Best Supporting Actress award was given at the Oscars. Well they did have Aphrodite and Apollo as contenders.
9. Romy and Michele's High School Reunion
Two best friends attend their high school reunion as mortal losers and depart as Greek Goddesses.
10. Summer Lovers (1982)
Dionysus, the Greek God of wine, blesses a sensuous love triangle between one handsome guy and two beautiful women on the spectacular Greek island of Santorini.
Let me clarify, it's actually a super Greek island paradise made up of a several different Greek islands.
11. Splash (1984)
Dionysus grants a wish to the blonde beauty in Summer Lovers and transforms her into a mermaid. Watch Summer Lovers (1982) first if you can.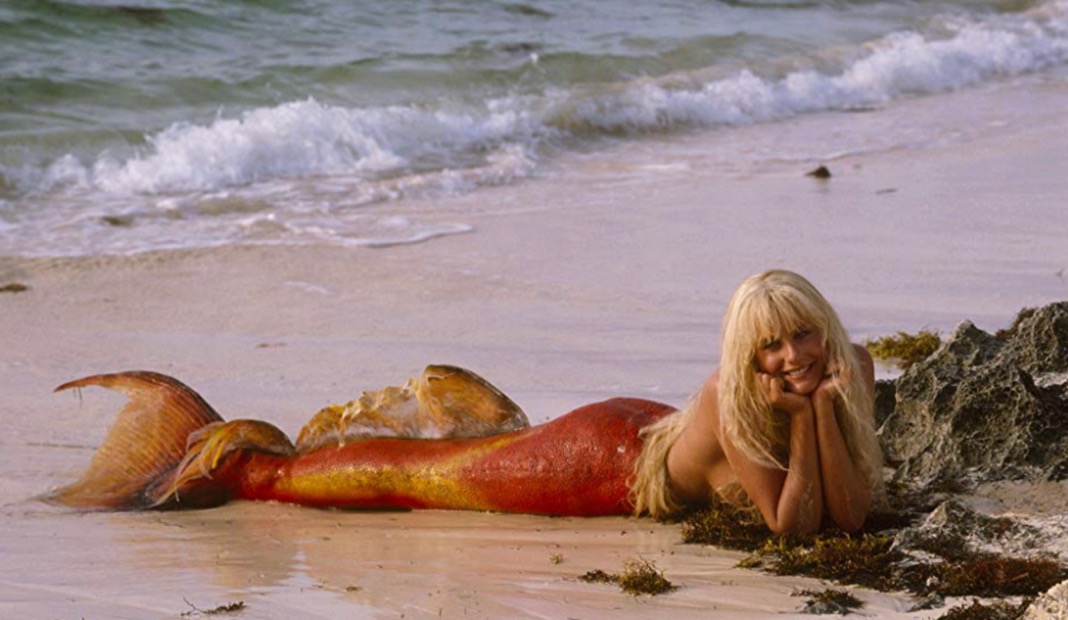 12. Grease (1978)
If you've read my post on the secret meaning of the movie Grease you'll fully appreciate why I had to include this film in this list of 20 Romantic Movies for Greek Mythology Fans.
13. Titanic (1997)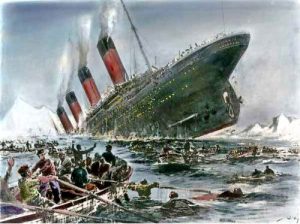 Poseidon, God of the sea, imprisons a gigantic Titan on the ocean floor to let mankind know that the Greek Gods still rule the world from behind the scenes.
That's why the villain in the Titanic movie (Billy Zane) had to be of Greek descent.
The movie is both romantic and tragic.
14. APOLLO goes on holiday (1968)
Like the movie title says.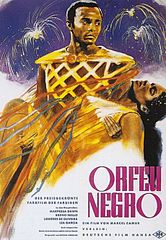 15. Black Orpheus (1959)
This very colourful movie won an Academy award for the best foreign film in 1959.
The Orpheus myth is played out in Brazil in the favelas of Rio de Janeiro during Carnaval.
16. Down to Earth (1947)
Terpsichore, a Greek Muse finds herself disappointed in regard to a new Broadway production about to open with ludicrous Olympian themes. She decides the best thing to do to solve the problem is to come down to earth and change the production to her liking.
17. The Muse (1999)
A Greek Muse is recommended to an experienced scriptwriter after he has lost his edge in the harsh world of Hollywood. What a way to end the movie. You'll see.
18. Helen of Troy (1956)
A love story that launched a thousand ships. How could anyone who considers themselves a romantic not want to watch this classic movie?
19. Helen of Troy (2003 miniseries/movie)
A very entertaining interpretation of this classic love story/myth.
Paris is even seen with the three Olympian Goddesses when he has to decide who to gift the golden apple to.
20. Mars, God of War (1962)
Believe it or not but this is one of the most romantic movies of the Peplum (sword and sandal) film genre. The movie is also known as Venus Meets the Son of Hercules. I personally think the title "Mars, God of War" better suits this very entertaining film.
The God of War in this movie comes across as a good guy. If only the real God of War was like this one.
Pin it … Share it