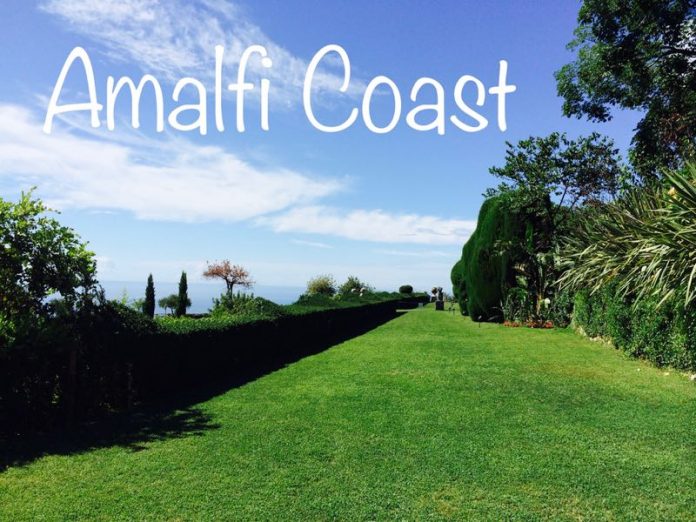 The Amalfi Coast is a dream destination of the highest order. The Path of the Gods is located in the Amalfi Coast so how are you supposed to beat that. If you've never been or you hope to go one day take note.
The Path of the Gods (Centre deli Dei) is a walking path along the spectacular Amalfi Coastline. With a brilliant name like that it is something you won't want to miss, so don't forget. The trail is also known as the Walk of the Gods, which beautifully contradicts the assumption that there is only one God. Going back through time, the Greek Gods probably even walked this glorious cliff top pathway themselves.
I regretfully missed out on walking the Path of the Gods because of a dilemma I had during my own visit to the Amalfi Coast. Unfortunately, I ended up missing out on The Path of the Gods and the Blue Grotto in Capri. The other big disappointment was not staying long enough in certain towns. This is why this advice is invaluable.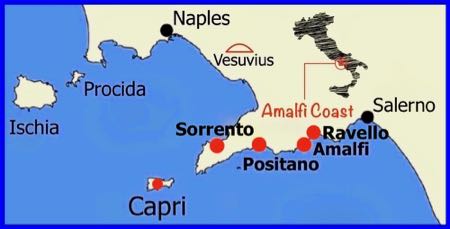 The Amalfi Coast is a very special destination. The delicious food and the enchanting beauty is incredible. In this post I offer you my opinion on what I consider would be a dream trip to soak up the Godly atmosphere of the Amalfi Coast.
12 nights in the Amalfi Coast
Don't try and shave a few days off this schedule. It will only diminish the experience of a fully charged Amalfi Coast dream vacation. If this were to be your first time in Italy, I would also suggest staying in Rome for the first 2-3 nights prior to starting this itinerary.
In Rome you can then get lost in the splendid city and visit a few must see sights like the Colosseum, Spanish Steps and the Fontana di Trevi, more commonly known as the Trevi Fountain. This is where you can toss a coin in the fountain in the hope of returning one day. It seems to have worked for me, since I did it, and I returned many years later. Another thing to do is relax in the Piazza della Rotunda in sight of the Pantheon, one of Rome's finest squares dedicated to the memory of the ancient Greek/Roman Gods.
My recommendation for an ideal once in a lifetime holiday to the Amalfi Coast region of Italy will certainly provide you with many really beautiful memories. Here it goes:
Sorrento – 1 night
Sorrento is the largest town on the peninsular and offers regular ferry services to both Capri and Ischia. From Capri you can then catch a ferry to either Positano or Amalfi.
Sorrento is a great town to start your Amalfi Coast experience. As soon as you arrive in the town, there's an immediate sensation that you've arrived in a very beautiful part of the world.
Even though I have only allocated one night here, you can spend the whole next day in Sorrento before going to Positano at around 6pm. Leave your bags in the hotel reception storage area.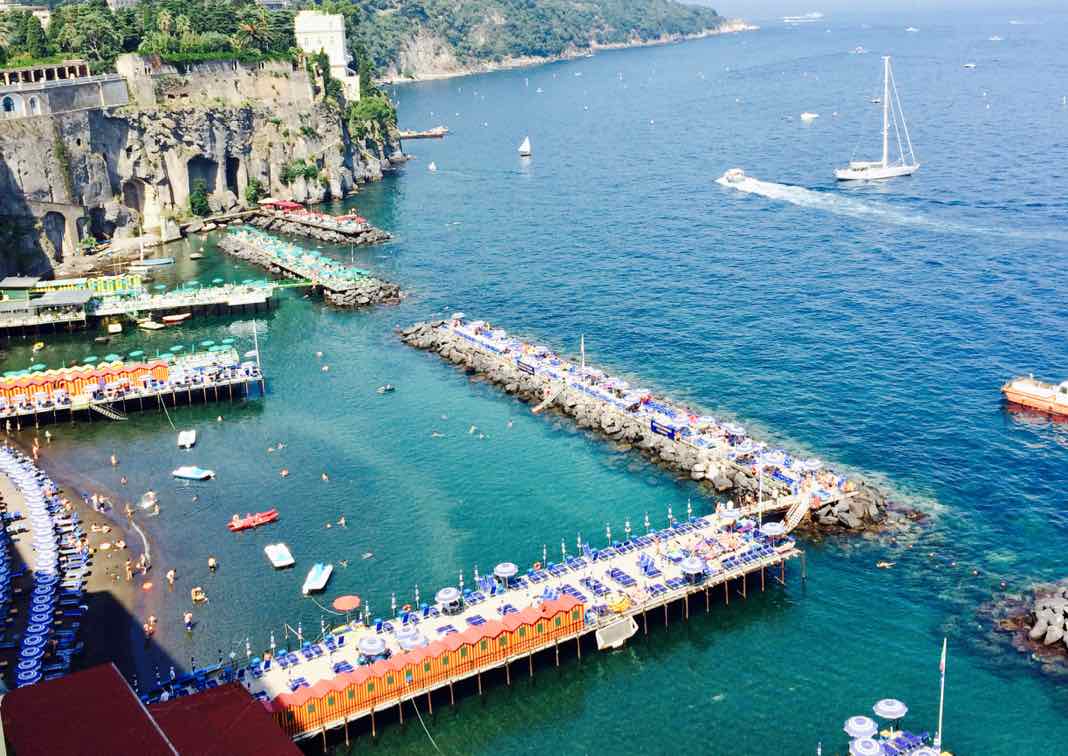 Make sure you arrive in Sorrento by nightfall so you can enjoy the journey getting there. If you leave Rome by 1pm it shouldn't be a problem.
Sorrento offers great views like this one with Mount Vesuvius in the background.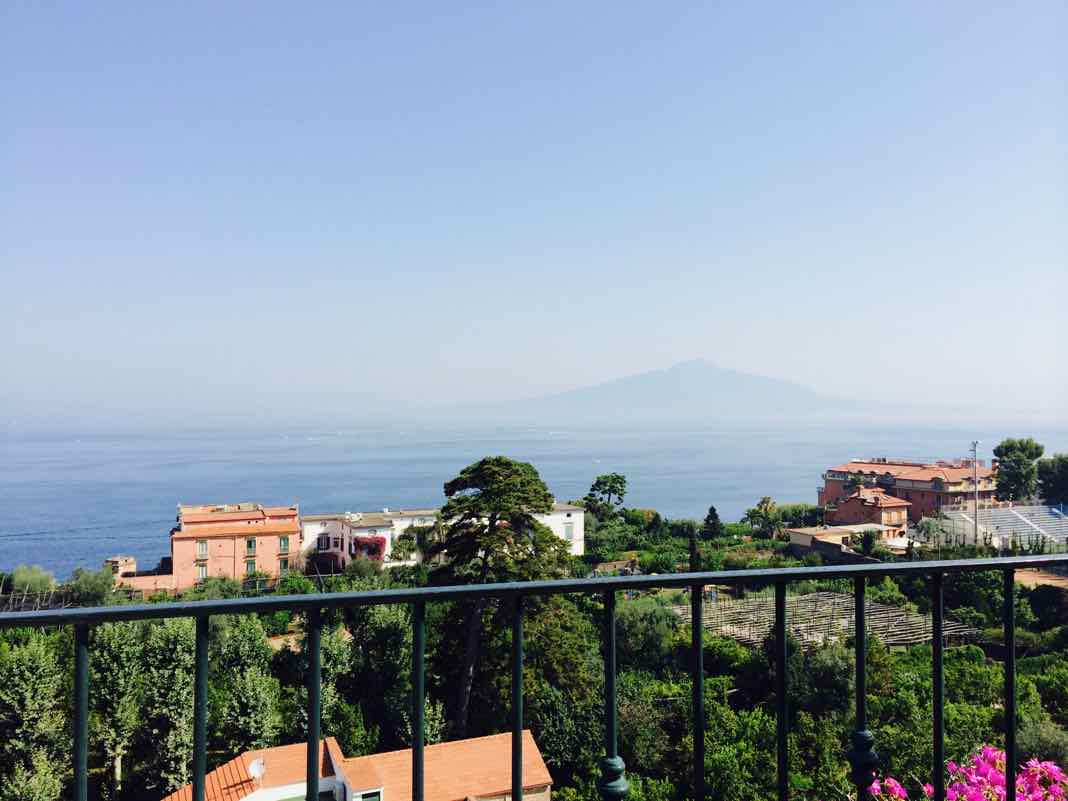 Positano – 4 nights
Covo Dei Saraceni
Le Sirenuse (Very exclusive)
If you can stay at the Covo Dei Saraceni, then do it. It is quite expensive but so worth it. The hotel is truly magical because as soon as you walk off the boat you'll be a just a few steps away from the hotel entrance door. The hotel's outdoor pool is fantastic and spending time lying on a lounge chair by this pool is as good as it gets.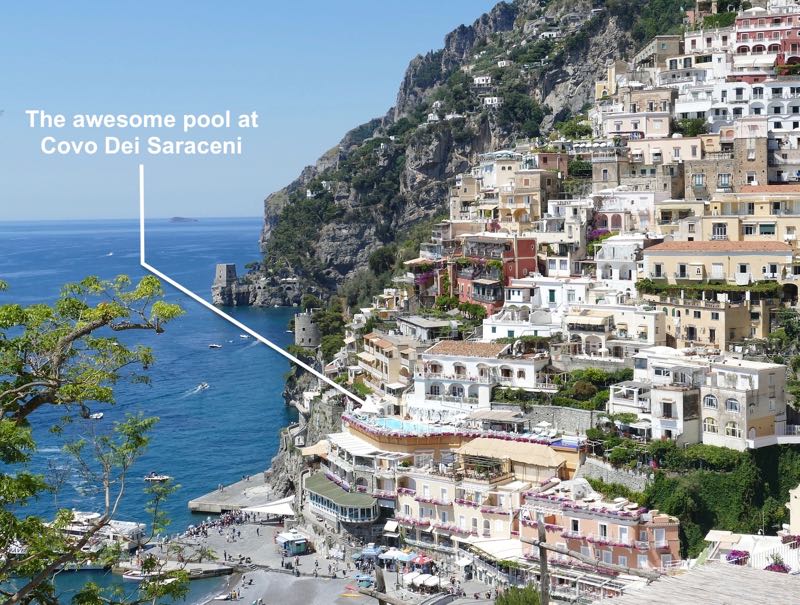 During my trip I had to leave the pool way earlier than I wanted to after encountering a few loud mouths. After getting hit in the stomach by a football on my lounge chair, I decided to go back to my room and sit peacefully in the balcony area for a while.
While you're in Positano, go for a 45 minute hike up the hill to see the large hole in the mountain, Montepertuso. Retrieve your energy afterward by sampling some of the refreshing lemon specialities.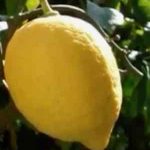 The lemons in this region are humungous. The Italian's have figured out numerous ways to make delicious tasting treats out of them. The Amalfi Coast lemon sorbet or granita is unbelievable.
It is interesting to note that the 3 tiny islands off Positano's coast, Isole dei Galli, have been linked to Homer's mythical Sirens. The Sirens were sea nymphs whose singing lured sailors to their demise on the rocks. I never came across sea nymphs in the Amalfi Coast, but there were plenty of real nymphs walking the streets. This is the second to last photo I took from my private balcony during my Amalfi coast dream. You can just make them out in the distance.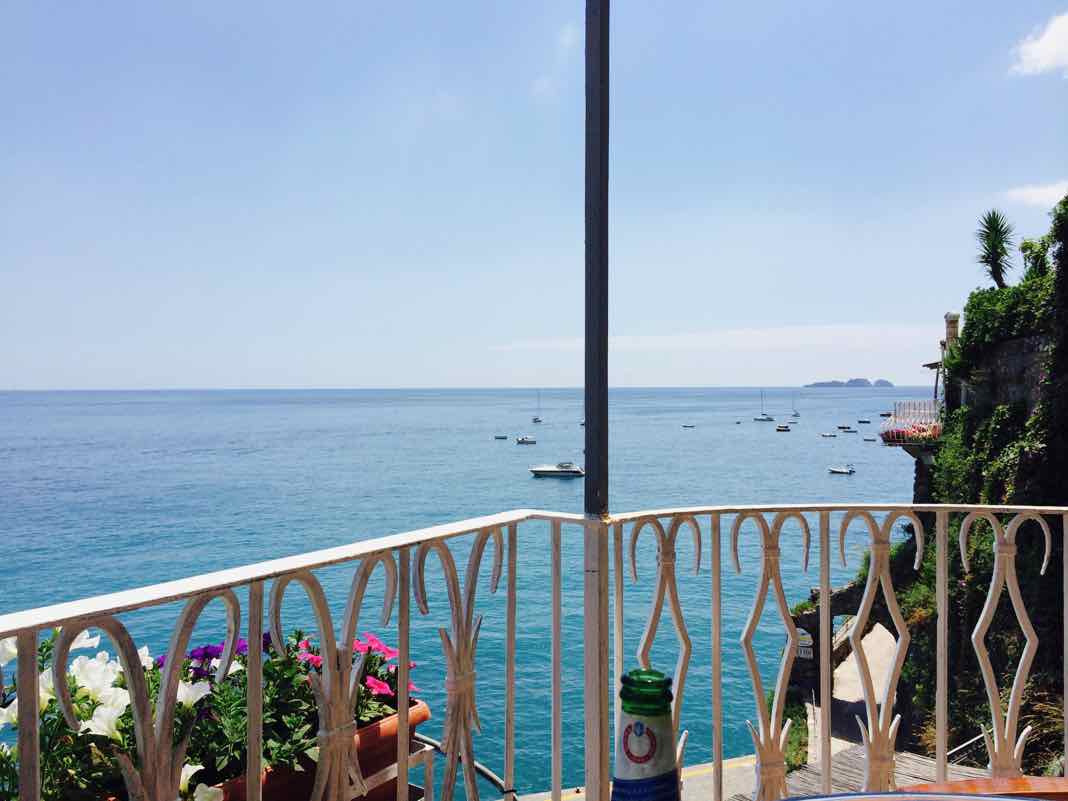 On my trip I actually went to Positano last, however I should have gone there sooner rather than later. This was my second to last photo taken.
Just over a minute later I took my final photo in the Amalfi Coast.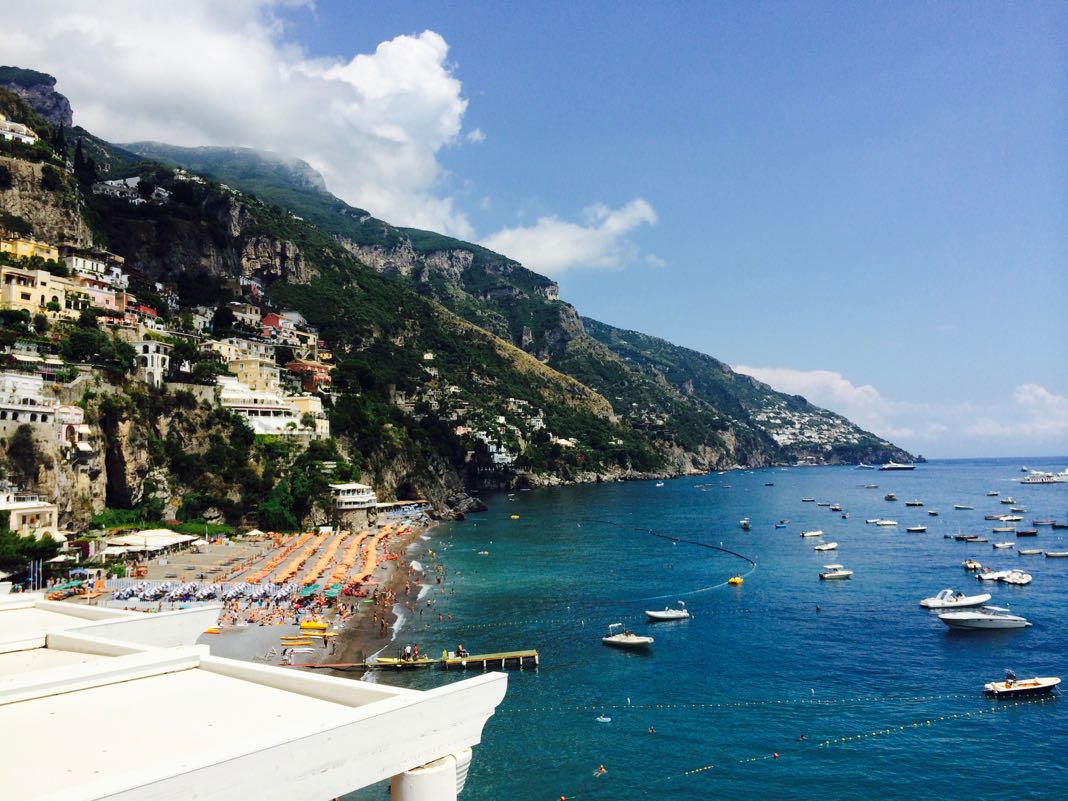 Make sure you also visit Praiano and Furore Beach. This is why I have allocated 4 nights to Positano. It gives you a bit of time to venture out. Furore beach looks like a great place to spend a few hours.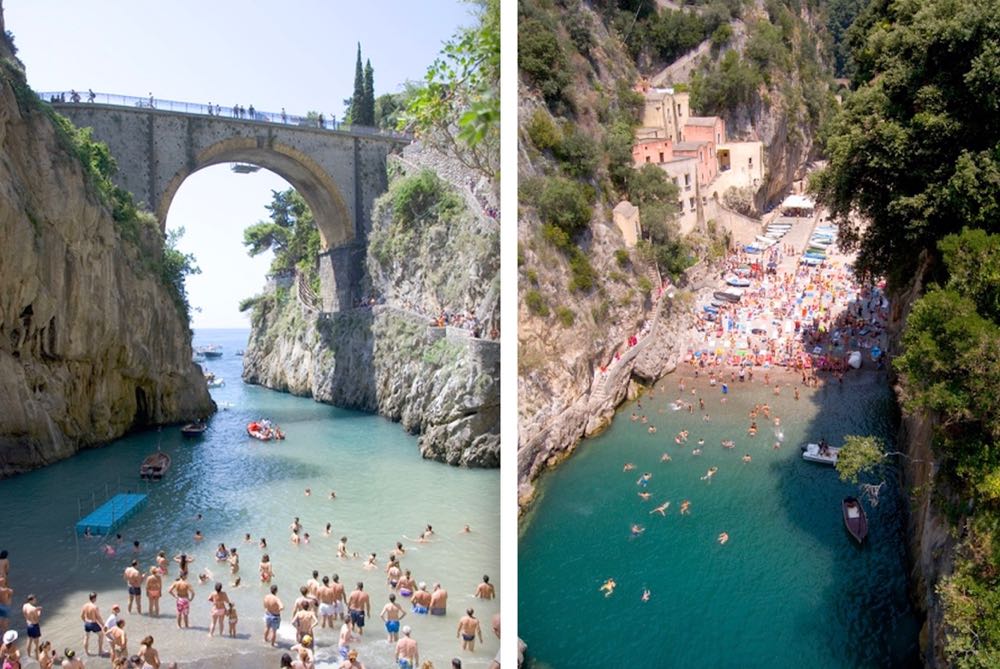 Capri – 3 nights
Hotel La Minerva
J.K. Place Capri (Luxury)
Capri Inn (Marina area)
Capri is located 7 km off the Amalfi coast mainland. It is approximately 10 square km in size, which is big enough to spend a couple of days exploring it. Capri is often referred to as a playground of the rich and famous, for good reason.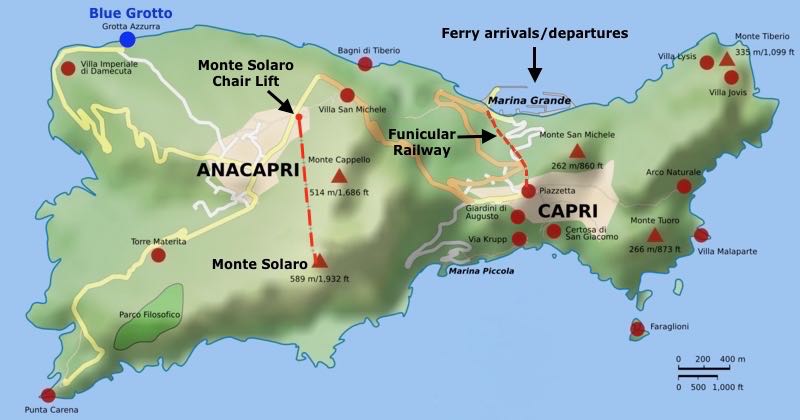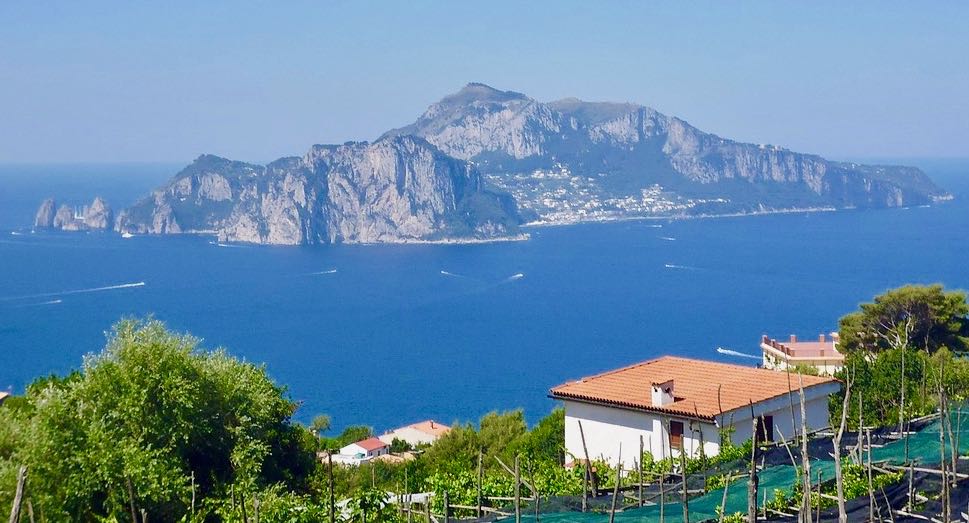 Capri is magical.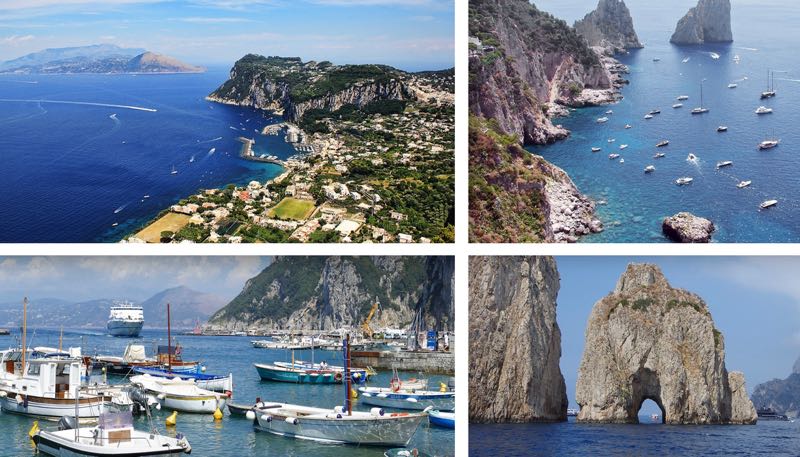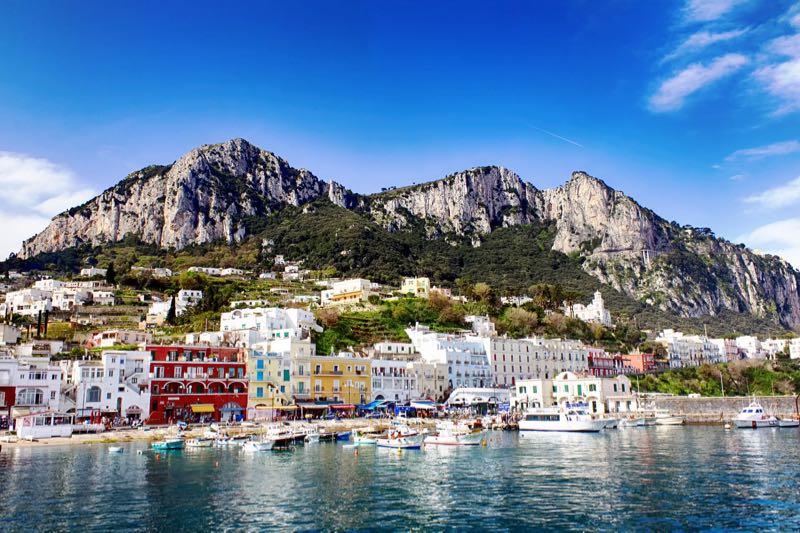 The closest I came to the feeling of being a star was at a nightclub, when one Italian woman purposely slapped me in the face with her long brunette hair. She then had her photo taken with a group of friends seconds later. The only reason I found out about the club in the first place was because there were lots of people wearing the same t-shirt around Capri town's main public square. I was curious about the Italian wording on the shirt, so I asked someone about it. I actually thought it may have been some type of demonstration. The guy told me that they were all friends of a nightclub just around the corner. I went there later and the club was packed out with everyone wearing the same type of t-shirts, apart from me and a small handful of other people. That's probably why I got slapped in the face with her hair. It was in a pony tail and she slapped me like a whip.
I stayed at the fabulous Capri Inn on the coastline near the arrival port, Marina Grande. Alternatively, you can stay in the town of Capri, which shares its name with Capri island. The town is 150 meters above sea level. The funicular railway can be taken up to the town's Piaza Umberto, giving you access to the central hub of Capri. If you stay in a hotel in Capri town, the advantage is that you don't have to go back and forward to your hotel via the funicular. You can also stay in Anacapri or somewhere else even more wonderful.
Make sure you walk from Capri town to Villa Jovis, the palace of Roman Emperor Tiberius. There are awesome views from the Cappella di Santa Maria del Soccorso which is built onto it.
Capri is a paradise for walkers. There are some great walking trails to discover. Get some suggestions from the locals and always keep a map of Capri with you at all times.
A great hiking path is Via Krupp, which will take you from the top of the island all the way down to the beach where you can go for a swim.
The Blue Grotto
Small row boats can take you inside the famous sea cave, known as The Blue Grotto. It can be done when the tide allows it and sea conditions are relatively calm. The sunnier it is the better. I missed out on this highlight because I left it too late in my stay and weather conditions deteriorated on the day I wanted to go.
I thought I could at least walk to the destination and get a glimpse of the Blue Grotto cave from the outside. I started walking to the sea cave from Anacapri, though after a while I gave up and caught a bus. Once there, I could see the ocean was very choppy and because of the high tide I couldn't see the entrance to the cave. I tried to get a closer look on a viewing platform when a big wave came from nowhere and drenched me with a cold splash of water right in the face and chest. Poseidon (Neptune), probably had a good chuckle over it.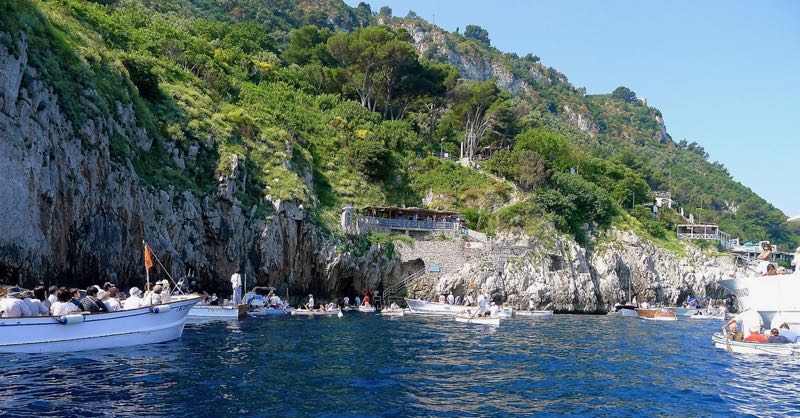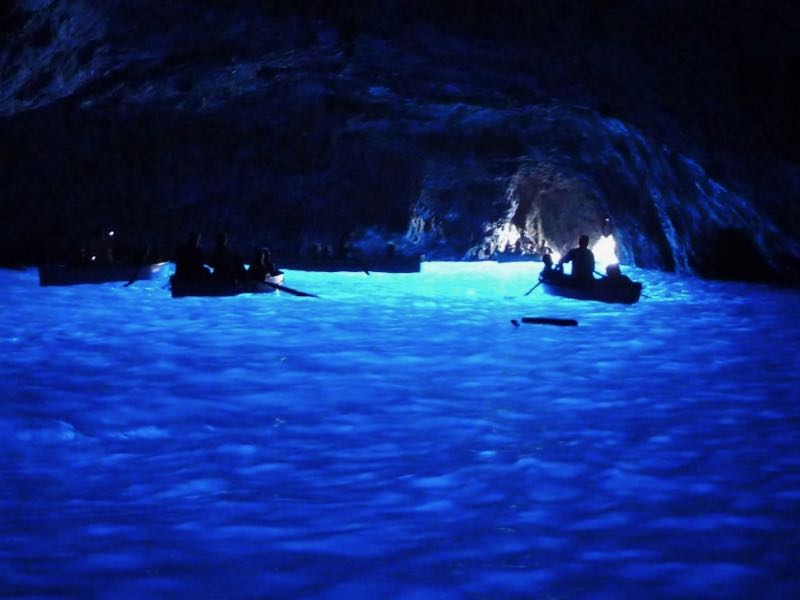 I strongly recommend combining the Blue Grotto with a boat tour around the island as early as possible, taking into account the forecasted weather and Blue Grotto tourist office schedule so you don't miss out. It looks like a surreal experience. You can even go for a swim at certain times.
The first day I arrived in Capri the weather was sunny and perfect. But that night things changed. On that night there was a thunder and lightning show like I've never seen before. Bear in mind I had arrived on the isle of Capri in late July, the height of summer.
On the very first day of my arrival the weather looked perfect and I thought it would stay that way. I decided to skip going for a swim at the small beach which I could see from my Capri Inn balcony near the marina, thinking there'd be plenty of time for that later on. Well I missed my chance.
I didn't even go for a swim at all during my stay on 2 night stay on Capri. I may have missed out on a swim but Zeus did treat me to an awesome thunder and lightning show in Capri town. That was the night I got slapped in the face as well.
Capri town's main square is one of the best places in the world to people watch. I'd also recommend spending half a day or more in Anacapri, the islands second largest town. There's a brilliant chairlift ride to the top of Monte Solaro, the highest point of the island, which offers fantastic views.
Villa San Michele in Anacapri, where summer concerts are held is also worth a visit. Make sure you attend a few artistic performances during your stay in the Amalfi Coast. Soak in that culture.
Capri has a few small pocket size beaches that would be dreamy on sunny days. The Green Grotto is located on the south side of the island and is best enjoyed by swimming right into the cave. It is said to be just as beautiful as the Blue Grotto, so I've heard. Be sure to carry some bathers and a towel in your bag with you while you're walking around the isle. You never know when you'll see that ideal swimming location.
For a delicious snack, try Capri's summertime signature dish insalata caprese, made from thick slices of tomato alternated with mozzarella cheese.
I only stayed on Capri for two nights which wasn't enough. Three nights on Capri is a must in my opinion.
Ravello – 2 nights
Hotel Parcifal
Villa Fraulo (Luxury Accomodation)
Belmond Hotel Caruso (Luxury Accomodation, breathtaking infinity pool)
Hotel Piediemonte (good value hotel)
Hotel Palumbo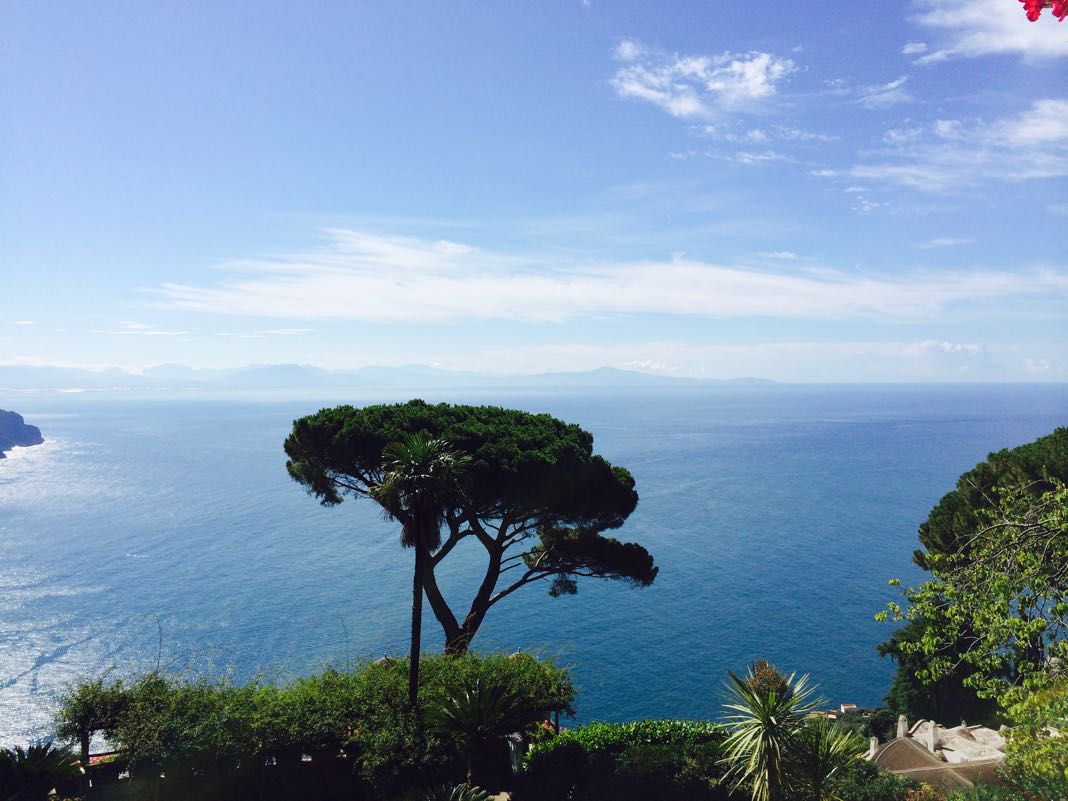 I stayed at Hotel Parcifal in Ravello and really enjoyed my stay there. It made me feel like a Knight in King Arthur's court. Dinner or lunch on the restaurant balcony offered superb views. I highly recommend it.
While in Ravello you have to visit Villa Cimbrone Gardens, a place of exquisite beauty. Being on the Terrace of Infinity was spectacular.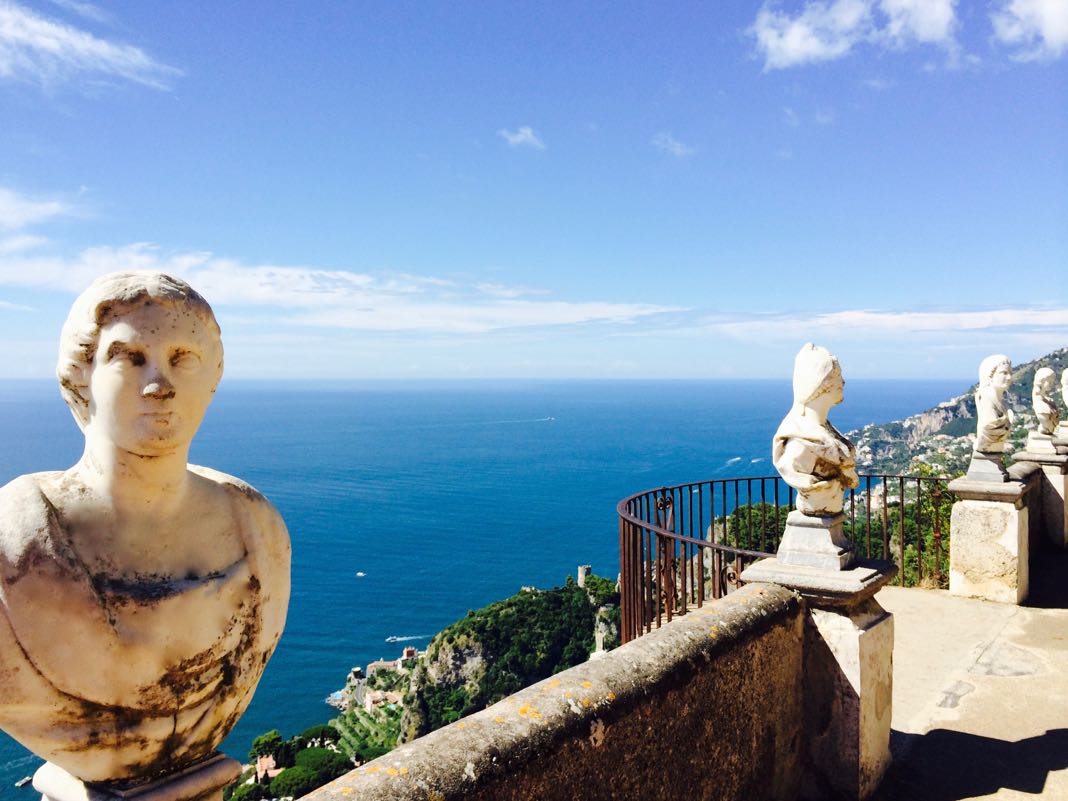 Loved it.
It's like entering heaven, or should I say paradise.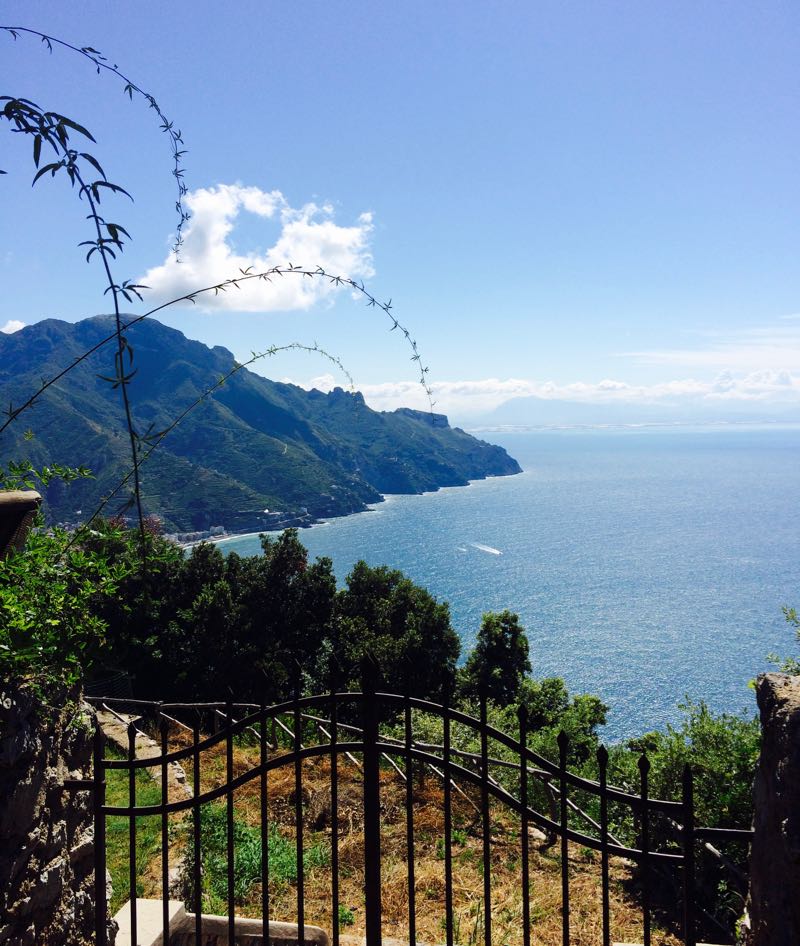 Visit the gardens of Villa Rufolo for a summer concert. Ravello is a very enchanting town. I would actually go so far as saying it was my favourite town in the Amalfi Coast.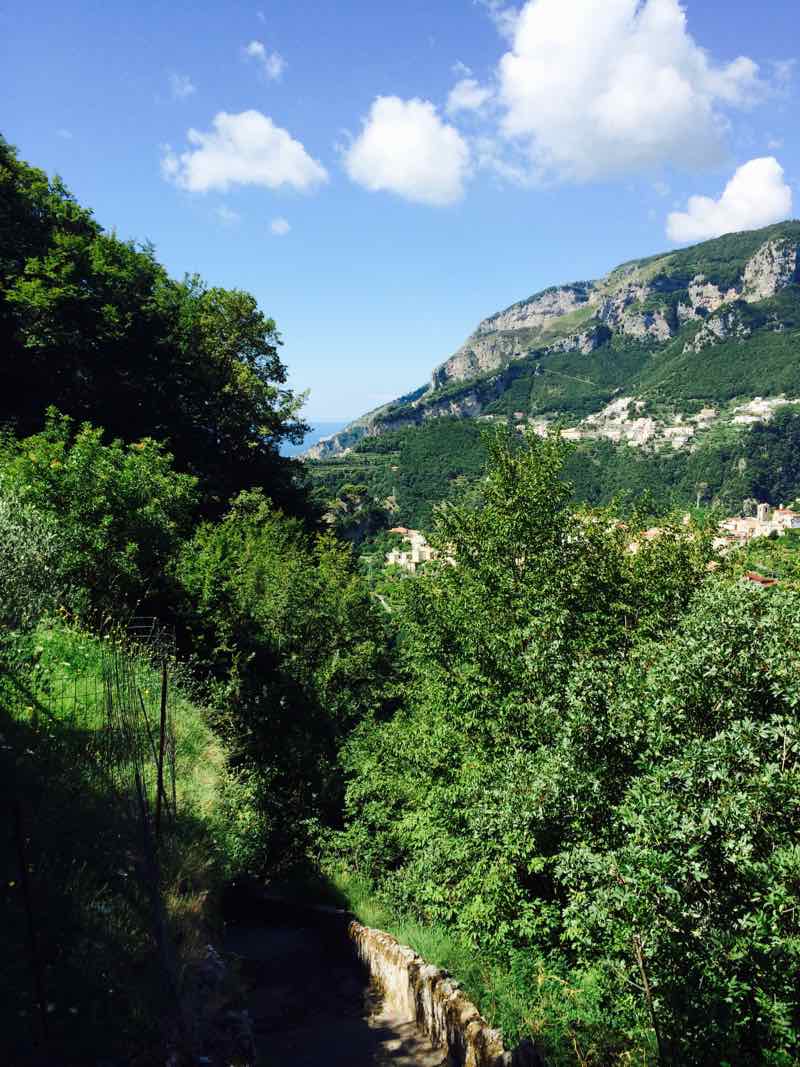 A big highlight for me was walking from the town of Ravello down to the coastal town of Amalfi, via a path filled with Lemon groves and gardens.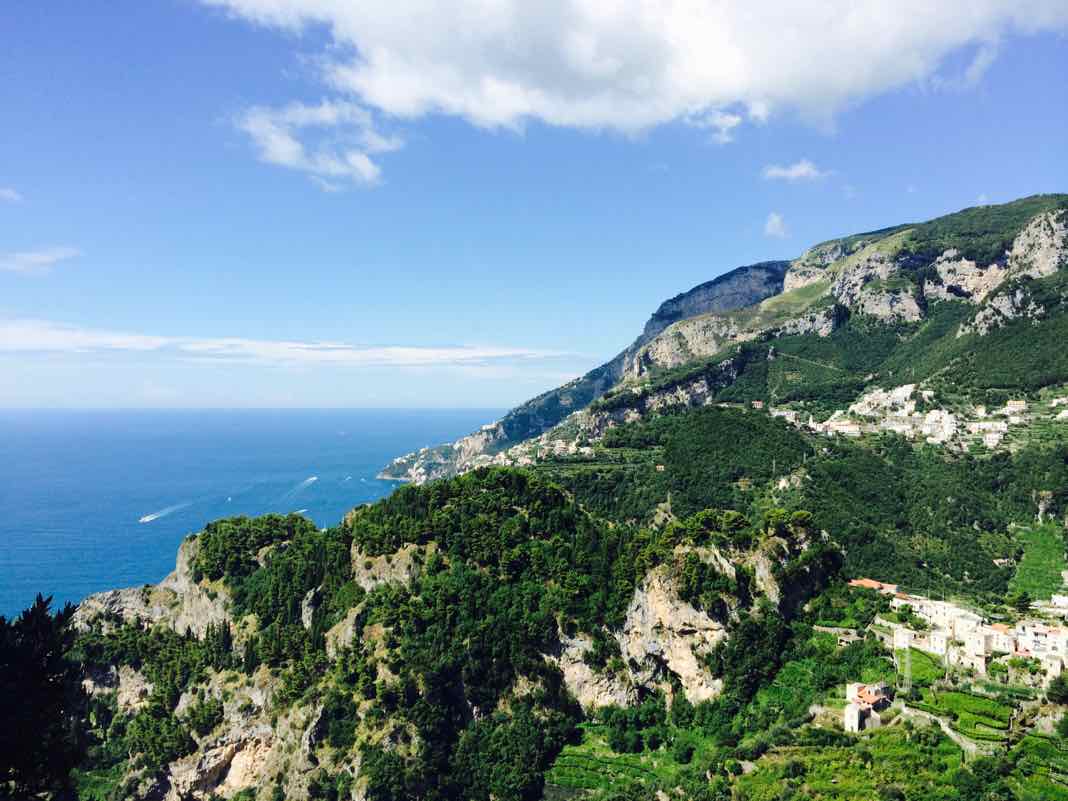 Ravello is a really beautiful town and prior to arriving make sure you do some research to find out when an artistic performance is playing at the Ravello open-air theatre, which sits high on a cliff top ledge. I sat in the stadium entranced listening to a singer mention how it had to be the greatest theatre in the world and I couldn't agree more. If you're in another town while something is on, make your way to Ravello for the night just to experience it. Hopefully something will be on when you're staying at Ravello or Amalfi, but don't leave it to chance. Make sure you've pre-purchased tickets at least a day before. You don't want to miss out.
On the morning of departure from Ravello, leave your luggage at hotel reception and walk down to Amalfi or Atrani (2hr). The enjoyable walk to Amalfi is very relaxing. Walking past lemon groves, vineyards and gardens is so refreshing. After spending a while in Amalfi or Atrani, make your way back up the mountain to Ravello by bus or taxi. When you're ready, get your luggage and catch a bus or taxi back down to Amalfi.
Amalfi – 2 nights
Hotel Santa Caterina (5 Star Luxury Accomodation)
I found Amalfi to be a fantastic town on the Amalfi Coast. Relaxing and drinking inside the main public square where you can watch a multitude of people walk by is a very enjoyable way to pass the time.
After your first night in Amalfi, after breakfast, walk the Path of of the Gods.
Return to Amalfi in the afternoon and go to the beach.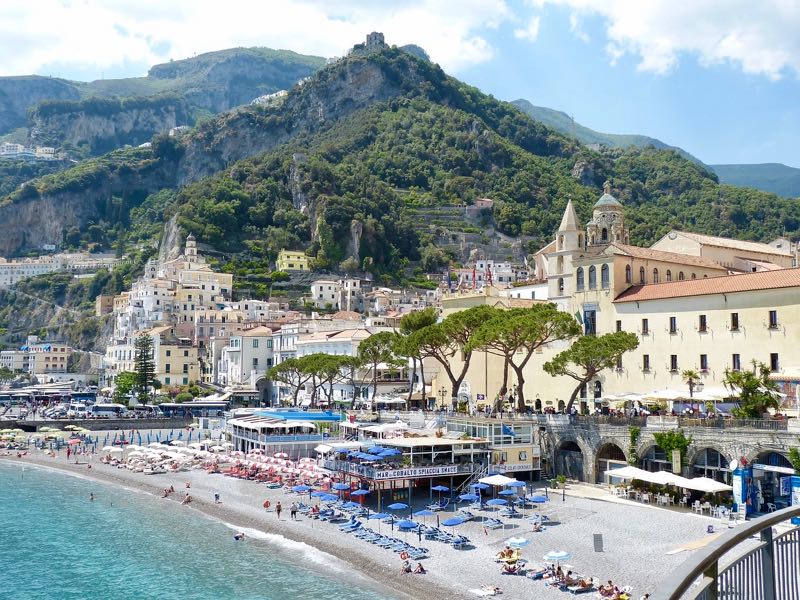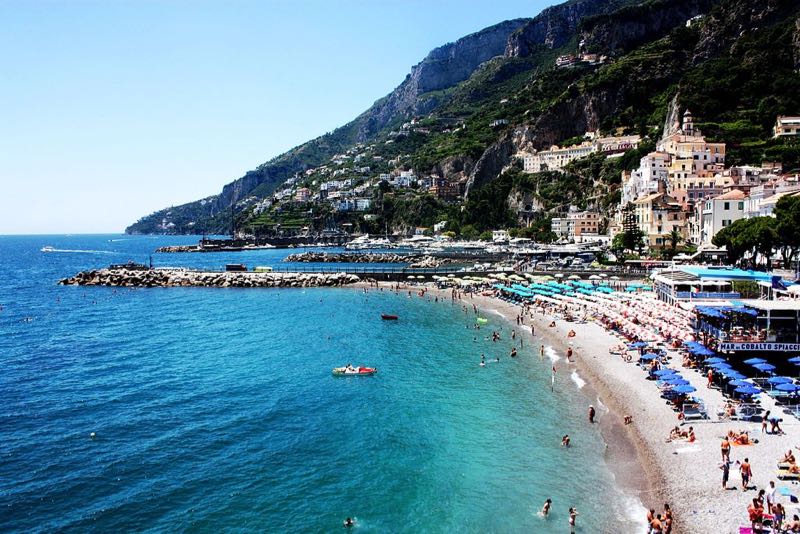 The beach at Amalfi is a real gem.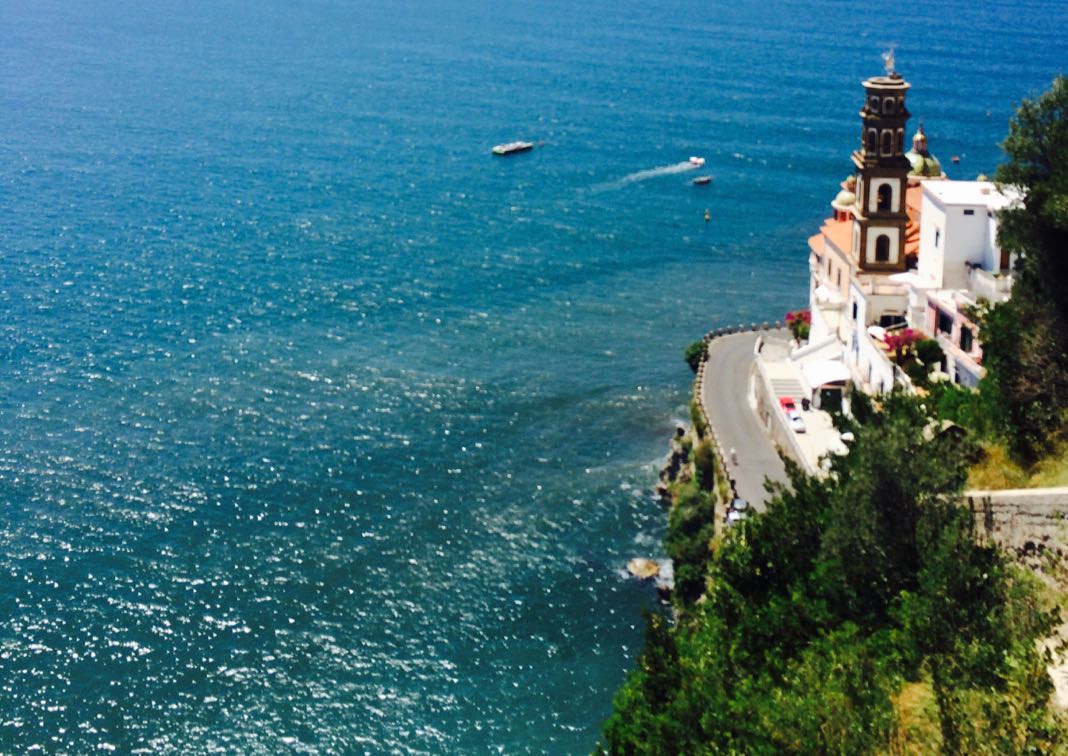 This video will have you dreaming about visiting Amalfi and Ravello.
This pool looks amazing. Imagine staying here.
Path of the Gods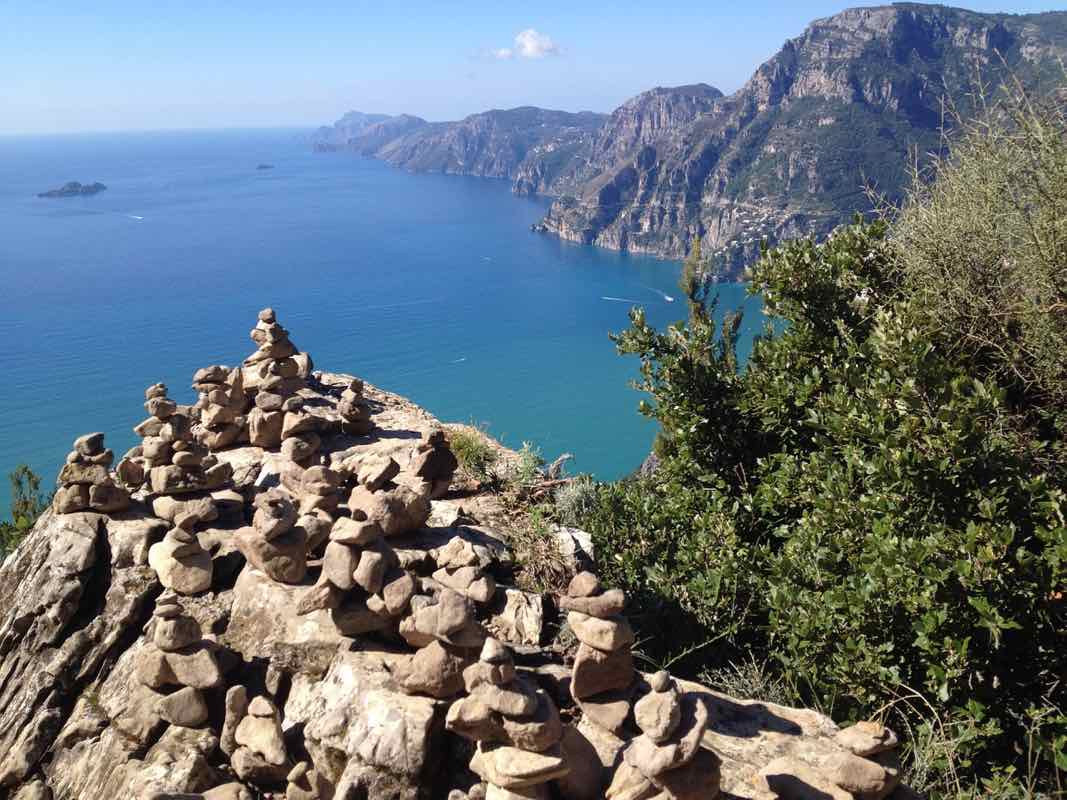 The trail is often said to start in Bomerano, in Agerola. Others say it starts from the fishing village of Praiano built on a beautiful harbour. I suggest catching a bus from Amalfi to Agerola and asking the driver to let you off at the Bomerano stop. Make sure you have an idea of where it is, so you don't miss it for some reason.
The Path of the Gods ends at Nocelle, the upper part of Positano. It will take approximately 2-4 hours to walk the 8km gently sloping downhill trail from Bomerano to Nocelle. You can then make your way down to Positano via the large number of steps down to the beautiful town. The whole walk with breaks could take approximately 3-5 hours. It probably would've taken me 8 hours. I'm a slow walker.
You can catch a bus down from Nocelle to Positano if you want to take it easy. Then again you could be waiting for ages if you do. Relax for a while in beautiful Positano before catching a ferry back to Amalfi. Make sure you bring a map with you to ensure you don't get lost on the Path of the Gods. A better and more enjoyable way may even be to get an experienced guide to lead you along on this great sounding path, so nothing is missed. You could even learn something interesting along the way.
The reason I missed out on this walk is that I was in Positano at the time after arriving from Ravello. I assumed I could walk the Path of the Gods from Positano, but that isn't the best way to walk it, since the walk would mostly be uphill and the views and backdrop wouldn't be as great. I asked my hotel reception lady in Positano how to start it and she told me to catch a bus or ferry to Amalfi and from there to catch another bus to the starting point. I had just caught the ferry to Positano from Amalfi so I decided to catch the bus back to Amalfi. I eventually gave up after what seemed like ages waiting for a bus in the hot sun. They even have workers directing bus passengers. It is chaos up there at the bus stops.
The thing is I never thought Positano would be so charming. I fell in love with the town after a brief stroll through the streets to get to the bus stop. I decided to forget about the Gods, and decided to spend my time in Positano, and at my fantastic hotel pool instead. I only had one night in Positano anyway, so I had to make the most of it.
Amalfi Coast Itinerary
See how 12 nights are easily assigned: Sorrento (1 night), Positano (4 nights), Capri (3 nights), Ravello (2 nights) and Amalfi (2 nights).
Wait a minute I forget about Praiano. Who doesn't want to stay in Praiano for at least one night? That's why I strongly recommend staying 4 nights in Positano. This will give you time to go on a day trip to Praiano and Furore Beach.
My own Amalfi Coast holiday itinerary was as follows.
Sorrento (2 nights)
Capri (2 nights)
Ravello (2 nights)
Positano (1 night)
You can experience the Amalfi Coast in a shorter timeframe like I did, but what for. This is paradise. As someone once stated when asked to describe the Amalfi Coast in three words.
Paradise, Paradise, Paradise
I'm still trying to figure out what the Greek Gods were trying to tell me on my trip.
Slapped in the face by a long haired Italian brunette on Capri with her own hair, on the same night as a massive thunder and lightning show.
Slapped in the face by an ocean wave at the Blue Grotto in Capri.
Hit in the stomach by a football (soccer ball) while relaxing by the hotel pool in Positano.
It means something.
How to get to the Amalfi Coast
Getting to the Amalfi Coast is not that simple. On my trip I ended up catching a train from Rome, followed by a taxi, then another train, and then another taxi to my hotel in Sorrento. Something like that. I was pretty tired by the time I got to Sorrento. Remember when you're in a strange land it is hard to know where you are. Bus stops are confusing. You will want to get to your destination as fast as possible. Maybe a bus from Rome direct to Sorrento is the way to go.
International travellers will most probably first arrive at Rome Airport. The other better option is to try and fly into Naples Airport. This can be more expensive though.
Once in Naples, you have a few options available including ferry, bus, taxi and private chauffeured car. If you want to splurge, you can take a private car to get you to Sorrento. The alternative is taking another train or bus into Sorrento. Private chauffeured cars can even drive you from Rome to the Amalfi coast if you want. The cost is astronomical though.
The other option is to get to Salerno by train and make your way to Sorrento from there.
The reason I tell you this is so you make sure you have a plan. I was stressed the entire time getting there. I was even more stressed leaving. I had to make it back to Rome airport by a certain time. Make sure you have a plan and maybe even a backup plan.
The best way to get around the Amalfi Coast
The best way to get around the Amalfi Coast is by sea. Ferries depart regularly during the high season and the beauty about it is that all the towns including Capri are a quick 20-30 minute boat ride away.
This dream holiday is very hard to beat. To walk the Path of the Gods, how can you beat that? I suppose you can go for a drive. You can't go wrong with this itinerary if the weather is nice.
Pin it … Share it