A great book is enjoyable and often lingers in your mind for a long time afterwards. If you pick the right book it can offer you priceless wisdom and can even reshape your way of thinking.
Here is where I've made it easy for you. Even if you're not a reader, all you need to do is read these 33 books within twenty years or less and watch what happens. Generally speaking, this means you only need to read one or two books per year, so it is a relatively easy accomplishment.
Feel free to read the books in any order you want. You can thank me later.
1. The Illiad – Homer
Paris starts the Trojan War by falling in love with the most beautiful woman on earth.
2. The Odyssey – Homer
The classic adventure story of Odysseus trying to return home after the Trojan War.
3. The Republic – Plato
Plato will get you thinking, simple as that. This book will teach you to question your own belief system as well as that of others. The people trapped in a cave will brilliantly challenge your perception of reality. Plato's thinking and philosophies are definitely flawed but that doesn't take anything away from his pure genius.
4. Illustrated Dictionary of Essential Knowledge – Reader's Digest
This wonderful book is very special. I found it at a second-hand book sale held inside a church. The weighty book came with the following message handwritten inside of it.
Christmas 1995
To my grandsons – I am so proud of your achievements.
~ Love, Bibi ~
I'm so glad to have discovered the book. It deserves to be appreciated by many more knowledge seekers.
When I read it I became absolutely gobsmacked by the amount of knowledge it contained. If you think you can't summarise all of the world's knowledge in one book in a good way, then prepare to be illuminated. I wish I had read this book in my teenage years. The version I came across was the 1995 first edition, with 23 chapters on different topics, 6,000 concise entries and 800 pictures.
I wouldn't be surprised if there were a conspiracy to keep this book away from the masses, to keep them stupid. Once you've read this book you'll realise what garbage knowledge the school system actually tries to brainwash you with. Hopefully there will be updated editions available as good or better than the original, but you'll need to refer to the original 1995 version to make sure you're not being duped. This is because over time other people will probably try and omit certain subjects, or add or delete certain things, for various selfish reasons.
Reading the latest update of the book would be great, especially for world updates, but not at the expense of removing worthy topics contained in the original. The Illustrated Dictionary of Essential Knowledge First Edition in this particular case shows why Reader's Digest is definitely worthy of their Pegasus logo. The 606 page book is a beauty.
Argonauts – In Greek mythology, the companions of JASON in the quest for the Golden Fleece. Their ship was the Argo. Naut means 'sailor' in Greek, and is the root of the word nautical.
~ one of the many entries in the Dictionary ~
5. Into Thin Air – John Krakauer
Most of us will never go to Mount Everest however this book is possibly even better than going there yourself, especially since your life won't be on the line. It will feel like you're part of an expedition climbing to the top of the highest mountain on earth, while witnessing tragic events and miracles all around you.
6. Shadow Divers – Robert Kurson
A mysterious underwater wreck in Atlantic waters with possible connections to World War II leads to an adventure like no other. This book is absolutely compelling and one of the best books I've ever read. If you haven't read this book and you're a scuba diver, get it and read it as soon as you can. It will most likely be better than any dive you've ever done in your life.
7. Losing my Virginity – Richard Branson
You should read at least one auto-biography, so you might as well read the best. Not sure if Richard Branson is blessed or cursed by the Greek Gods or even if he is one. One thing I do know is that I wouldn't mind spending some time on Necker Island in the Caribbean myself. If I ever get invited and visit as a special guest, I'll make sure I place a photo here to prove it. In the meantime I'll stick this Greek mythological visual reminder here and wait.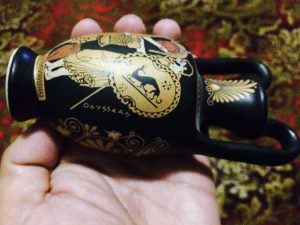 8. Together Alone – Ron Falconer
Together Alone can be described as escaping to a life in paradise. This is a fascinating tale of living a dream most of us can only read about. Sailing away to a beautiful tropical island in your own handmade boat is indeed very romantic and adventurous. I absolutely adore this book.
9. Lost in the Jungle – Yossi Ghinsberg
Getting lost in the Amazon rainforest is something most of us would try and avoid at all cost. The question is, what would you do if it did happen to you? Well put yourself in someone else's shoes and read about it in this exhilarating struggle for survival tale.
10. The Silicon Boys and their Valley of Dreams – David A. Kaplan
The "Zaltair" prank is an absolute classic. This book is very refreshing and a great read.
Believe it or not, but this is a true story. On a plane flight I dropped this book on the floor. The book bounced around and somehow managed to disappear under my seat. I can't remember if I nudged it further out of reach or if I just couldn't find it after waving my hand under the seat. In any case after a while of not being able to grab a hold of it, I decided to look over the back of my seat to find out where it could have gone. I quickly noticed it close to the feet of a young lady who probably thought it very weird that I had my head over the back of my seat head rest. I asked her if she could pick up it up for me, which she did after becoming aware of it on the floor. When she looked at the cover she told me that the book is a great read. Need I say more.
11. My Family and other Animals – Gerald Durrell
The amazing story will allow you to live a second wondrous childhood on the Greek island of Corfu.
12. A Voyage for Madmen – Peter Nichols
When things get desperate or life seems too tough just think about this tragic story.
13. Holy Bible King James Study Bible – King James Version
I recommend you take 3 years to read this once you're at least over the age of 16. Whatever you do don't read all this crap in one sitting. Make sure you're reading another book on this list as well or some other interesting book. Buy the bible and write the date you first start reading it in the front cover. This book is best read as part of a study bible like the one given, where you have access to explanations as well. There are so many different aspects to the bible, it is difficult to know where to start. Well flick it open and start reading anywhere. Mark things off once you've read it. You don't have to read the whole damn thing. Certain passages and chapters can be glanced over as you see fit. Read the Old Testament and New Testament in equal measure and realise that this God or whoever wrote it has a complete personality change from the Old to the New and is definitely not the same God.
After 3 years never open the book up again except for the occasional quick reference to some of the crazy stuff that has permeated your mind. This is one of the most dangerous books on the planet. The biggest mind trap of all time. At least you won't be as ignorant as the people who have never read it and claim to know God. Those of you who read it and truly believe in this God, well good luck. Please forgive me for my sins if you're right and I'm wrong. That said there are a few great stories in this book. Just remember the New Testament had negligible impact to the people of the Middle East, those who were witnessing the events of Jesus Christ. God didn't even bother to write the Bible himself. The ten commandments from the Old Testament written by the finger of God in stone couldn't even survive. Did someone break it or lose it?
This must read book will challenge your own mind. Will your mind survive after reading the Bible or will you believe what it tells you to believe? Will you spend all your time trying to figure out what the hell everything actually means? Always keep in the back of your mind that the Greek Gods came way before the God of the Bible. If this wasn't the case then ancient Greece and Rome should have been worshiping the Old Testament God as well. If the New Testament God can forgive this then he can forgive me my own stupidity. In any case make up your own mind. Don't let someone else do it for you.
For whosoever shall be ashamed of me and of my words, of him shall the Son of man be ashamed, when he shall come in his own glory, and in his Father's, and of the holy angels.
~ Luke 9:26 ~
14. Vroom with a View – Peter Moore
A romantic adventure through beautiful northern Italy on a vintage Vespa will encourage you to do something just as inspirational. If you only had one of two alternatives, taste the best wine in the world or read this book, then I recommend choosing the book. That should tell you something.
15. The Sex Lives of Cannibals – J. Maarten Troost
Can a book be funny? Well read this and find out. It will teach you about appreciating creature comforts and that true paradise is hard to find.
16. 1001 IDEAS THAT CHANGED THE WAY WE THINK – Robert Arp
Don't you want to know which ideas made it into this book? Ideas will expand your mind.
"How can you have a war on terrorism when war itself is terrorism?"
~ Howard Zinn, historian and social activist ~
17. The Writer's Journey – Christopher Vogler
This book will give you fantastic insight into the mythical hero's journey.
18. Dictionary of SYMBOLS – Jean Chevalier and Alain Gheerbrant
Translated from the French by John Buchanan-Brown (Penguin Reference)
Symbols are important. These words are all written using symbols and if you didn't understand the meaning of a few of these symbols, then reading would be very difficult. This is why you should gain some understanding about other important universal symbols, which this book will explain. You don't have to read them all. Only those you find interesting.
19. Signs and Symbols – DK
Symbols are beautifully showcased in this very special book. The amount of care and attention to detail that has gone into this book is incredible.
20. The Lost City of Z – David Grann
Being an explorer in unknown lands is either very brave or very stupid. In this case we can thank the Amazon explorer, Colonel Percy Harrison Fawcett, for inspiring this great book to be written.
21. Who moved my cheese? – Dr Spencer Johnson
You won't feel so bad about change after reading this classic. You might even go for it.
22. My Summer in a Greek Taverna – Tom Stone
This is what can happen when you go for your dreams, you can end up in Greece.
23. What should I do with my life? – Po Bronson
Don't feel bad about where you're heading in life. Read this book and know that you're not alone.
Dream. Lockbox. Fuck You money. Lockbox. Dream.
That cold, calculated formula.
24. The 33 Strategies of War – Robert Greene
War is to be avoided at all cost, but when there is no alternative, you might as well be armed with this knowledge. It can come in handy when you least expect it in other areas of your life as well.
Life is war against the malice of men.
~ Baltasar Gracian 1601-1658 ~
25. The World's Greatest Places – Monaco Books
Who wouldn't want to visit a few of the greatest places in the world? First, determine which places you really fancy. This great big book will tell you many of them and from there it is up to you.
26. 1000 Ultimate Experiences – Lonely Planet
If you read this book watch out. It will make you want to pack your bags as soon as you can. Chapters include catchy titles like Dreamiest Fairy-tale Destinations and Top Travel Boasts, Myths and Legends.
Mount Olympus, Greece
~ Holiest Places To Meet Your Makers – 1000 Ultimate Experiences ~
27. Way of the Peaceful Warrior – Dan Millman
This is a magical story about trying to better yourself.
28. Iron and Silk – Mark Salzman
A master will give you a very unique culture trip to another time and place.
29. Ender's Game – Orson Scott Card
Science Fiction can work your mind hard. This book is mentally exhausting. It is a total brain workout. If you don't know anything about this story you're in luck. Don't read anything about it, just go straight to the story and read it. Be prepared to blow your mind.
30. Ultimate Power – Anthony Robbins
You need to understand the general philosophies of the Greats. This will give it to you in spades.
"The ancestor of every action is a thought."
~ Ralph Waldo Emerson ~
31. Percy Jackson and the Lightning Thief – Rick Riordan
This is a very imaginative story giving you a classic modern day interpretation of Greek Mythology. Watch the movie as well and compare.
32. Gods and Heroes in Greek Mythology – Bonechi
Learn about the Greek Gods, Goddesses and Greek Mythology in general by reading this fantastic book. The reason I have included this one is because it was the first one I ever bought on the topic. There are so many great books on Greek Mythology to enjoy. This classic will make you want to find and read many more of the better books out there.
33. The Complete World of Greek Mythology – Richard Buxton
A great way to end reading these 33 books is to finish off with this classic text. I hope by the end you have sided with the Greek Gods and Goddesses like I have. Greek Gods and Goddesses you have my total respect.
PS: After reading these great books be very careful with your new found powers and remember don't ever reign it over any Greek God or Goddess. Apollo gave King Midas the ears of a donkey for his cleverness, so watch out. Others have done much worse.