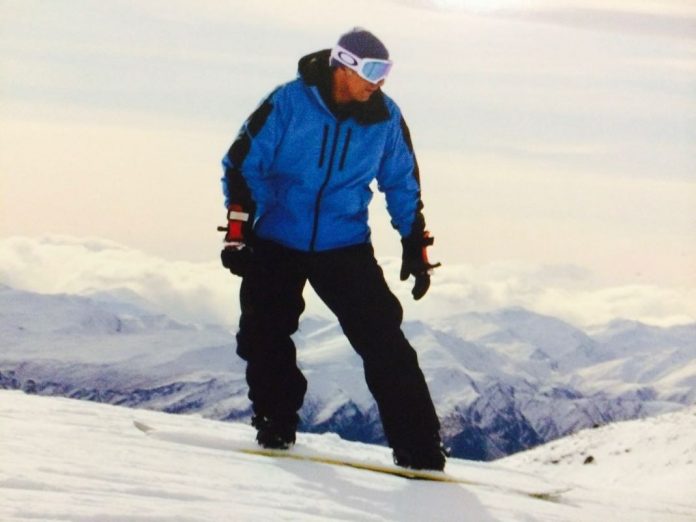 Queenstown
Queenstown is located on the south island of New Zealand. It's the adventure capital of the world and if you've ever visited the place you'll surely agree. There are so many awesome things to do in this amazing town.
One thing I've always wanted to try is snowboarding. I had visited Queenstown in summer and had a feeling the stunning area would be even more magical during snow season. It seemed like a great place to base yourself while learning to snowboard or ski, because the town offered a load of other fun activities to do as well. I had never seen natural snow before so I thought Queenstown would be a great place to combine it all together in one trip of a lifetime.
I arrived in Queenstown in early August greeted by a light fluffy snow shower as the taxi bus drove into town. Perfect. It fell down so gracefully and I remember thinking it looked like a whole lot of white feathers gently falling from the sky.
My first seven nights were spent staying at Queenstown House Boutique Bed & Breakfast and Apartments, which sat high on a hill. The views were great. It had a very homely feel about the place, like a classic English Bed and Breakfast. There was even a picture of the Queen on the wall.
During snow season, the place had a ski lodge atmosphere. Friendly hostesses welcomed guests every evening at the same time with a lively chat, while everyone enjoyed some wine and nibbles. It definitely felt a lot better than staying in a large hotel. Here we could chat about our day and get valuable insights from the hostesses and other guests about where to go and what to do.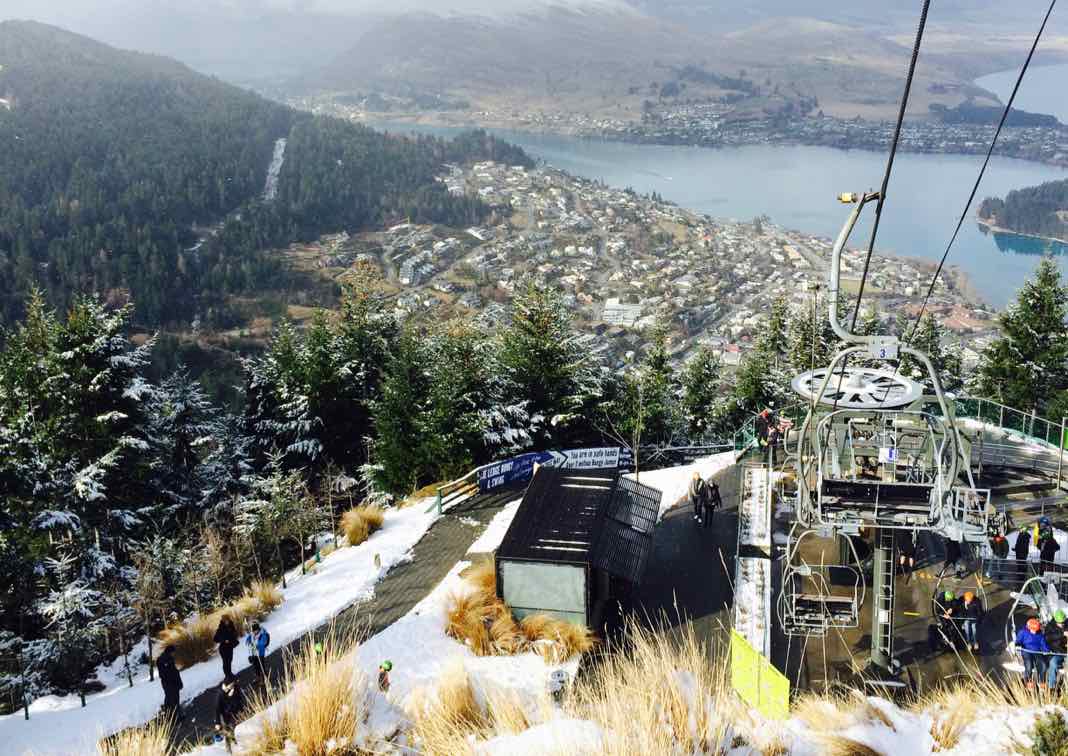 Gear required to snowboard
In preparation for my trip to the snow, I bought a thick blue water-proof ski jacket, dark grey ski/snowboard pants, cool ski goggles, a blue beanie and some Gortex ski gloves with fingers. I planned on hiring or buying anything else I might need in Queenstown.
Getting all the gear to go snowboarding wasn't as hard as I expected it to be. Just go to one of the many ski/snowboard shops in Queenstown where you can hire a snowboard and a pair of snowboard shoes. You can also get them at the ski field, but they're generally more expensive there. It is a relatively quick process that will take you less than half an hour. The snowboard is selected depending on your height and weight. You may have to try a couple of pairs of snowboard shoes to get the right size. After that all you need is to remember to get some wrist guards, which they should provide free of charge. They helped me at least once when I fell over.
You can then take the snowboard, shoes and wrist guards with you for however many days you want. If you hire everything from a shop close to the bus stop, which takes everyone to all the different snowfields, which I did, you can easily leave your gear there and pick them up in the morning just before catching the bus. This is very handy since it means you don't have to carry everything back and forth to your accomodation. If you don't use the gear on a particular day, you can let the shop know in the morning so they don't charge you. Some places will even allow you to do this even you don't leave the gear at their premises.
Hiring the snowboard and shoes is quite expensive and adds up. Buying your own gear, either brand new or second hand may be the way to go, especially if you're relatively young and definitely think it's something you'll want to continue with.
Ski Field Passes
When going to the the ski fields, you'll need a pass. Passes cost different amounts depending on the number of times you'll visit a particular snow field. Passes can be purchased for half a day, full-day or multi-day. I'd recommend staying most of the full day, since it offers much more value for money. Certain ski fields around Queenstown can all be accessed by the same pass, however there are some ski fields around the area which require a different pass. The two big ones close to Queenstown are Coronet Peak and Remarkables. These slopes are normally where beginners go to learn as well.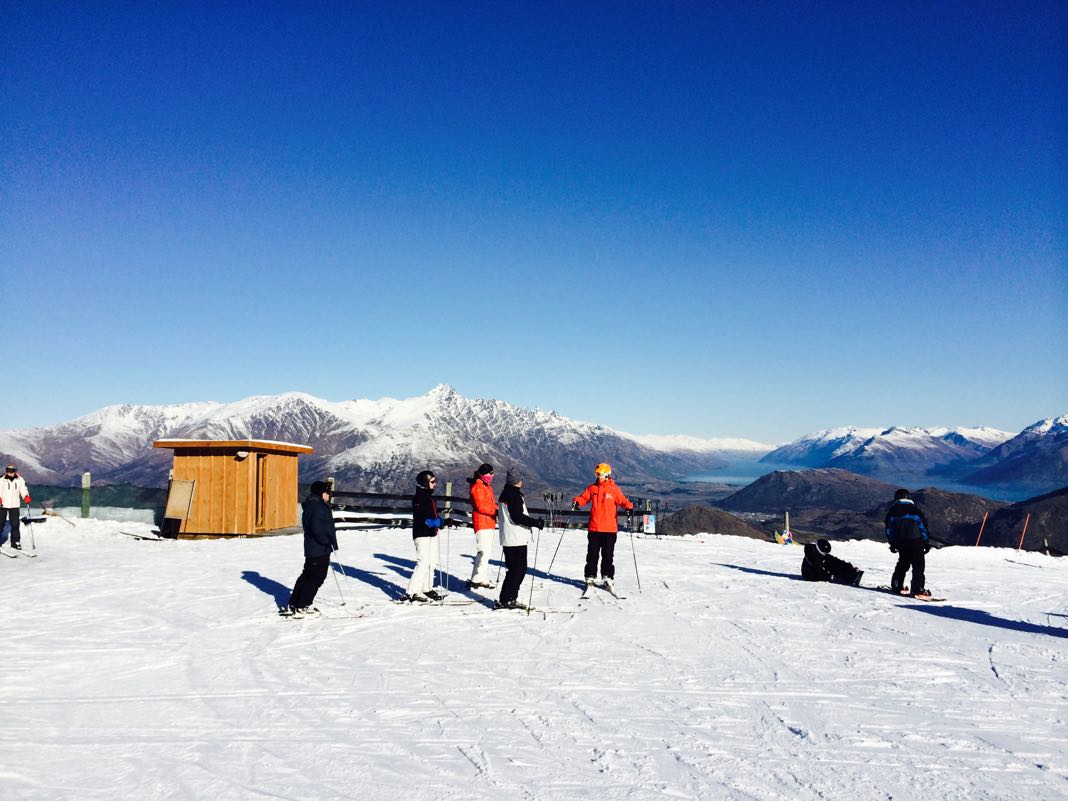 Coronet Peak is where I went for the first couple of days.
After Coronet Peak I went to Mount Remarkables. This was a much better place to learn in my opinion. I wish I went there first.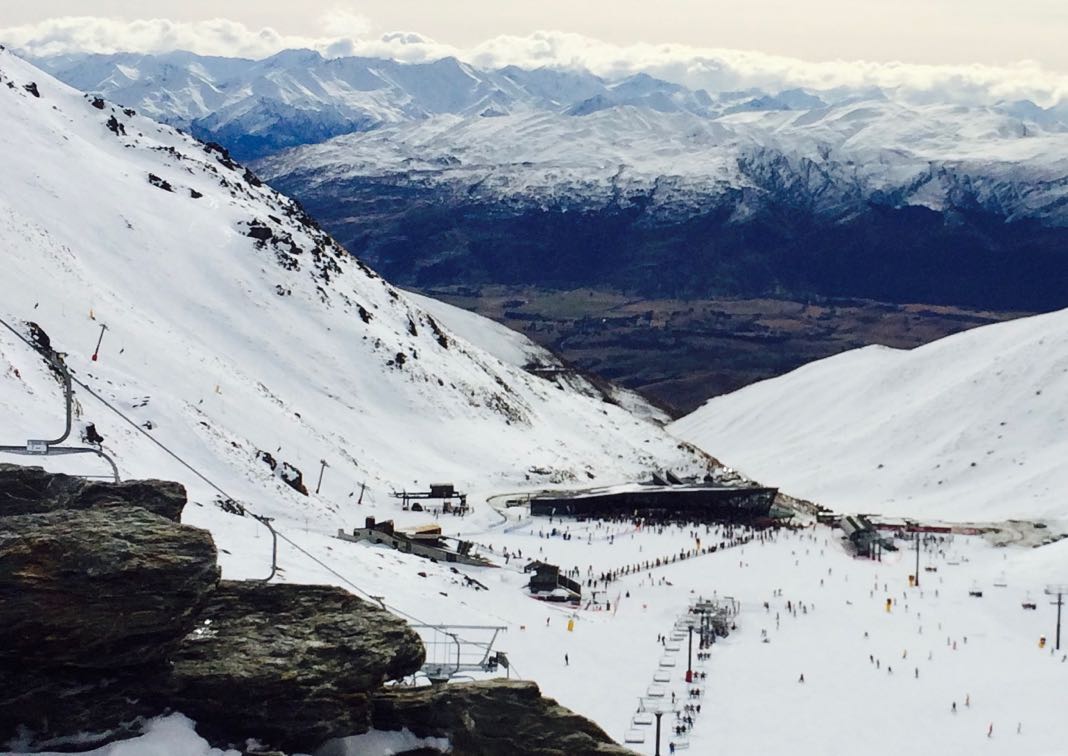 When I went snowboarding, both of these ski slopes were accessed by the same pass. The thing is as a learner, you only need to access the learner/beginner slopes to any snowfield. Accessing the learner slope is also much cheaper than a normal pass, which provides full chairlift access throughout the snow field. No chairlift rides are required until you get good and confident enough to leave the learner slope.
The learner slopes are accessed by taking a long magic carpet ride. Think about standing on one long flat low to the ground conveyor belt until you get to the top of a gentle slope. Well it's gentle compared to the scary slopes. Be sure to clarify learner slope access rates with each ski field.
Another thing to keep in mind is that passes can be purchased much cheaper if done several months prior to the opening of the snow season. Extremely good deals can be obtained early on, so keep this in mind.
If you're really keen and have enough time to play with, a snow season pass seems to be incredible value for money. If you have two or three months to really give the slopes a good go, then this would be a fantastic thing to do. Just find some cheaper accomodation and you're laughing.
Getting to the snowfield
Catching the bus to any snowfield is quite easy. There's a bus stop in Queenstown which has regular buses departing throughout most of the morning. The buses return to the same spot later in the day from each ski field.
Some hotels also have a direct hotel pickup, which makes things even easier. Bus rides are not that cheap and you need to add this onto the daily bill. It still works out cheaper than renting car, without the hassle of having to use chains on tires and having to find a car park.
When you catch the bus to the snow field, wear your snowboard clothing, but don't put on your snowboard shoes on until you're at the snowfield premises. Snowboard shoes are quite easy to walk around in, but you definitely don't want to be wearing them until you arrive. There are lockers for hire where you can place any stuff you bring along including your normal shoes, or if you're not fussed you can just toss a bag with any gear you have on top of the lockers. This is what I and many others did. Keep your wallet with you in a zipped up pocket, with some thin wool hand gloves. The wool hand gloves will come in very handy when you have snack breaks during the day. Make sure you have access to the time as well. I'd suggest taking your mobile phone with you to know the time and for photo opportunities, but make sure it's well padded in one of your pockets. I suppose it's still possible to break it, depending on how you fall down, and all beginners for down lots.
Learning to snowboard
For the very first day on the mountain it's probably very wise to get a snowboarding lesson. I'd also suggest watching a few online videos to get a good understanding of what you're in for. I couldn't comprehend why you'd go down a mountain backwards on the very first day of instruction, so it would have been very helpful to understand why. Personally, I believe in hindsight my biggest mistake was not watching good videos offering fantastic advice.
If I had watched this very informative video, things may have turned out a lot different.
Generally speaking it will take 3-4 full days on the learner slope before you'll want to take a chance on going down the mountain's easiest slope, which requires a chair-lift ride. Only then will you make good use of a general pass. This is why at first I'd suggest just getting four days of access to the learner slopes. Four days with a few rest days in between is a great way to start. Think about snowboarding four days out of six or seven.
After that get a general pass to cover the remainder of your trip. Remember though, it's unlikely you'll won't want to go every day as it can get very tiring and you'll benefit greatly from doing other things. Getting over soreness from falling over all the time is another advantage with taking a day's break or so.
Snowboarding the gentler slopes
Using the chair-lift for the first time is quite scary. The thing is the gentle slope after a chair-lift ride is still a great place to learn. Everything is much wider and there are less beginners in your way. One private lesson while using the chairlift for the very first time may also be worthwhile. This is where your style can be fine tuned, going down a beginner level slope for the first time. If you've got friends who already know how to snowboard, you're in luck.
Hint: I personally found the Remarkables to be a much better place to learn, after spending my first couple of days on Coronet Peak. I found the Remarkables wider offerring more space for learners. The other thing to consider is whether you can find any learner slope in the area offering free or very cheap access to beginners. After all, in the first couple of days, you'll spend a lot of your time falling down. Might as well do it as cheaply as possible.
My own snowboarding experience in Queenstown
My own experience didn't go smoothly. Being relatively tall I think it made it a bit harder, due to my centre of gravity being higher. This is my excuse anyway to make myself feel a bit better. After countless falls, I could never seem to get it sussed out. I only managed to go down the Mount Remarkables learner slope once without falling over until the end. When I did it, I have to say it felt enthralling, but the speed felt incredible and luckily no one was in my way when I was coming down. I zig zagged a few times on the way down but I had no real speed control and it felt like I was going way too fast. Most other times I would fall over at least once or twice on the way down.
After seven nights at Queenstown House, I changed accommodation and went to stay at the Novotel Queenstown Lakeside for seven nights. The Novotel is situated in a fantastic location, close to the lake and botanical gardens. This is when my luck changed for the worse.
The following day I decided I would try the easiest slope on Mount Remarkable, which would require my first chairlift ride. I didn't feel very confident about it, but I wanted to see how I'd go anyway. The chairlift ride was very nerve racking, even though they do slow it down for you just before you get off, if you let them know beforehand that you're just a beginner. Getting onto the chairlift is pretty easy. When you get on the chair-lift, only your front foot is locked onto the snowboard, while the other is free to push you along. This is the technique because when you're preparing to get on the chairlift you're on relatively flat snow, so you need one foot free to push you along like a skateboarder does. Getting off is a bit harder. When you get off the chairlift, you push yourself off, while resting your back foot on the snowboard. Once you're safely clear of the chairlift ride you then lock in your back shoe to the snowboard and off you go down the mountain. The first time I slipped over, nothing too bad.
Going down the easiest slope felt like In was on a superhighway compared to a single lane road. I wish I had tried the slope a day earlier, because it had better snow on that day as well. Being on a bigger slope allowed you to build up speed heaps faster because you didn't really have to worry about other people being in your way.
For my next chairlift ride I came up with the crazy idea of leaving my back foot so that it was half on the snowboard and half off. When pushing myself off the chairlift, it would allow for a more controlled departure from the chairlift. I could use my heal to slow myself down on the snow if needed, like a brake. What happened though is that I fell over and buckled my leg. My knee felt an intense pain and I shouted out the f word. The young lady chairlift attendant at the end of the ride asked me if I needed emergency assistance, but after a short while, I felt I could at least walk away. I rose up and rested a short distance away and hoped no real damage had been done.
I did my longest ride down the mountain pretty much straight after. The massive speed build up felt terrifying, so I felt I had to force myself to slide and crash. This would be my last ride down Mount Remarkable.
After taking my snowboard off I found out that I had to walk with a limp because of the pain. My knee ballooned up the next day and I couldn't walk at all. I found myself stuck in bed all day at the Novotel ordering room service and watching tv. Walking around wouldn't be pain free for the next few months. My trip of a lifetime definitely didn't go to plan.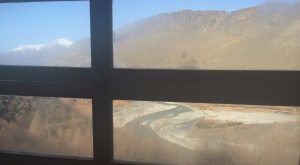 I didn't want to waste my time in Queenstown, so in the next few days I pushed myself to do some other things. I went jet boat riding, did a lake cruise, hanged out at various food joints, browsed for books, took a spa in the mountain range, and went fishing for half a day among other things. The best thing to do in Queenstown is to take a chairlift ride to the highest mountain top overlooking the town. It's a great place to have a few drinks and it's a fabulous place for having dinner.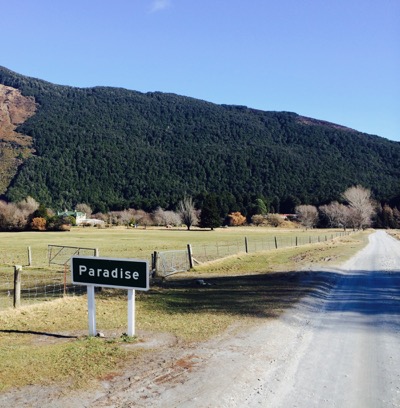 When I stayed at Queenstown House, a couple of guests were talking about their drive to Paradise. They had not been able to get there and the hostess explained to them where they went wrong. It sounded interesting so I decided to go for a drive to Paradise myself and see if it lived up to its name. Paradise wasn't that far away fromQueenstown so I rented a car for the day to explore the region. If you don't think Paradise exists, well here it is.
I can see how the other guests missed it because I was so close to turning around. I really thought I must have missed a turn or something.
Fishing on Queenstown Lake
One day I talked to a nice lady looking after an interesting shop with a beautiful art collection in what I believe was the oldest house in Queenstown on the lake front. She seemed nice enough, so I let her know I would hopefully bring her some fish after my fishing trip in the afternoon. I caught three brown trout and one salmon, so I gave her the three brown trout, which she really appreciated, telling me she'd be going home with a big smile on her face. I dropped off the salmon at a restaurant recommended to me by the fishing guide and later enjoyed dinner there. The salmon tasted delicious. I remember asking the solo skipper if he had taken any famous people fishing and he surprised me by telling me he had taken John Travolta, who had flown his own private plane to New Zealand. That was really cool.
I left Queenstown in excruciating pain, as well as being disappointed because I never learnt to snowboard properly. Though I was glad to have given it a try.
Wanaka
As part of my snowboarding experience I included several days in the town of Wanaka. This is a great town to base yourself in to access the ski field of Treblecone. My knee still hurt a lot which meant my snowboarding days were definitely over on this particular trip anyway, so I did a few other things.
The first outing I had in Wanaka was at Puzzle Park just outside of town. I walked along with two Scandinavian girls, who were telling me they had no plans at all to go skiing or snowboarding because the prices were very expensive compared to the prices they were used to paying. To them it wasn't worth it. I couldn't believe it, though I too thought prices were very expensive.
Puzzle Park, if you can guess, is filled with puzzles and illusions. The unusual place also has a giant maze, like a labyrinth, which I limped through. Here's a great quote I saw while visiting Puzzle Park:
Only those who attempt the absurd will achieve the impossible. I think it's in my basement…let me go upstairs and check.

~ M.C.Escher ~
Wanaka has a really beautiful lake and I walked around the right hand side of the lake one day. It took me a long time while limping along in pain. It rewarded me with a very peaceful vibe, even though my leg hurt like hell.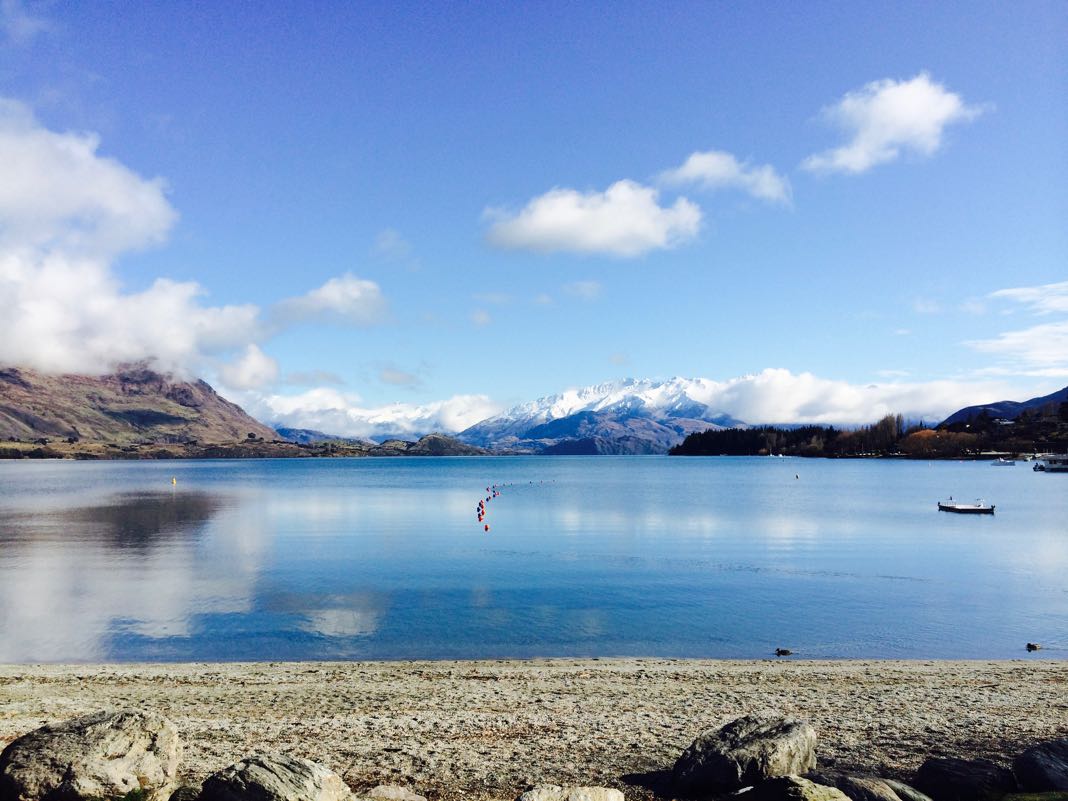 Wanaka is a beautiful spot.
I had a driver take me up Treblecone mountain one day and rode a chairlift to the top of a scenic lookout, to appreciate what I had missed out on.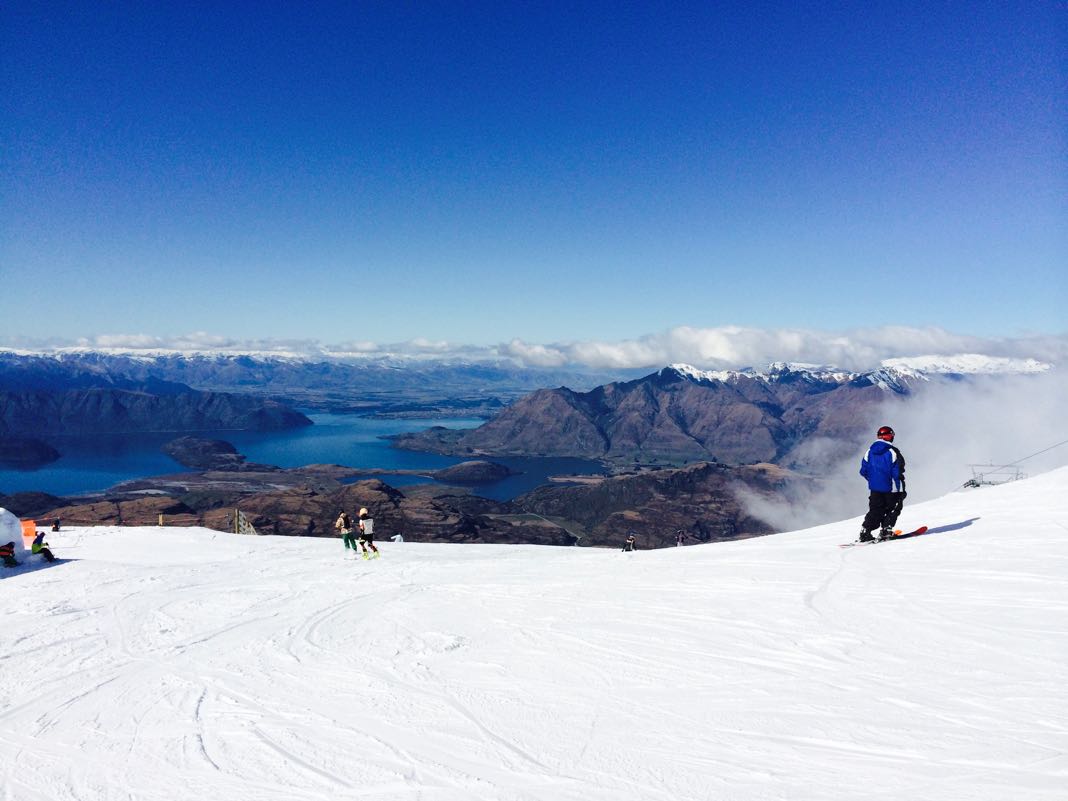 The views were dreamy. The slopes in my opinion were crazy scary. You have to be pretty confident going down Treble Cone. It looked like you could fall off the cliff in certain spots.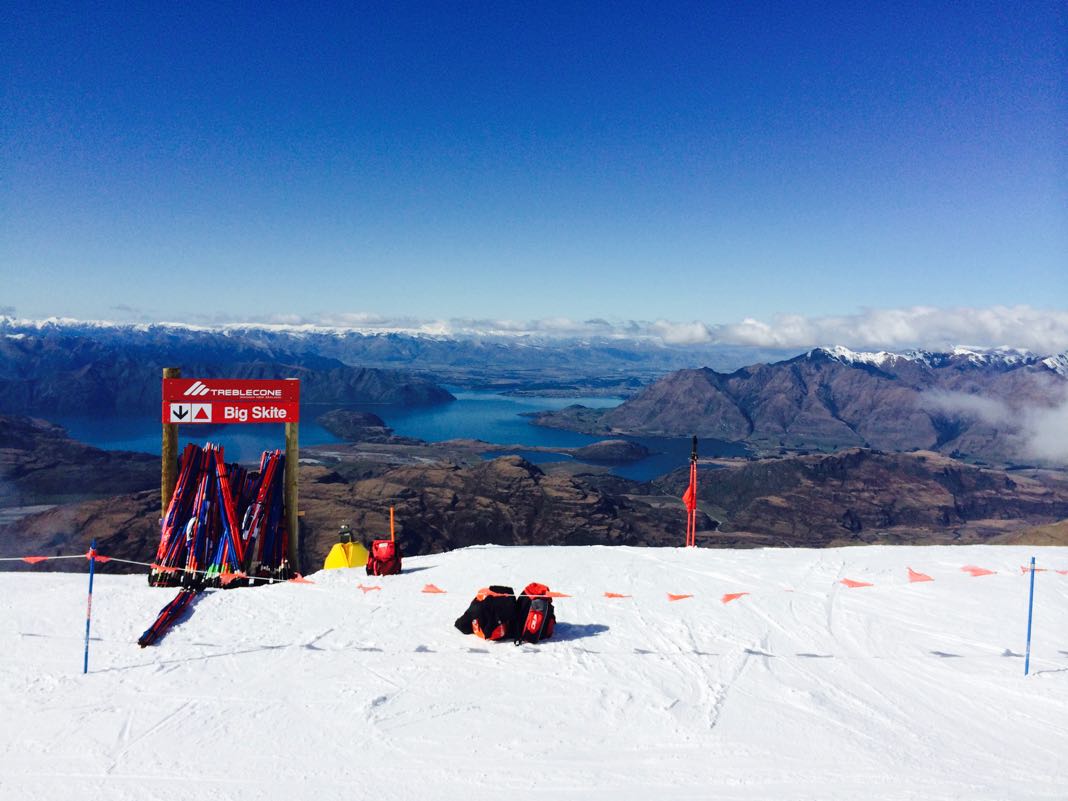 How cool would it be to be able to snowboard like this at Treble Cone?
https://youtu.be/u_YBVCbAi_g
I asked the driver who drove me up to Treblecone from Wanaka for a recommendation on where I could go to have some good Venison for dinner. That night I let the waiter know that I didn't think I had ever tasted it before. I sat there waiting for my meal when another waiter came by and served me a dish of salmon. Some sort of mix up had occurred. After some apologies, I had to wait a bit longer. The chef cooked it up for me as a priority. Later on during diner, the chef came out and approached the diners in the restaurant including me wanting to know how their meals were. I gave him my compliments. The Venison served had a unique taste and I definitely think it was the first time I had tasted it. I liked it. It crossed my mind that I had eaten one delicious salmon I caught in Queenstown, plus one uneaten Salmon accidentally served to me in Wanaka. Two opposites.
I also went for a walk to a winery by the side of the lake in a beautiful looking spot and did some wine tasting. This was on the left hand side of the lake. This was recommended to me also by the same driver who took me up Treblecone. The views were amazing.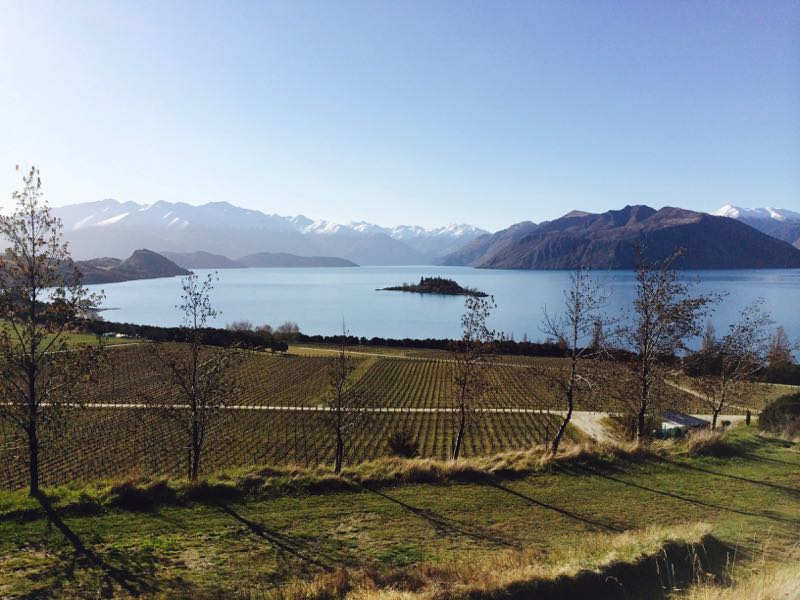 The highlight of my stay in Wanaka though had to be finding the book "Together Alone" in the local book store. I had never seen this book anywhere else since first reading it many years ago, after borrowing it at a public library. In fact I'd forgotten the title of the book and couldn't find it even after numerous Internet searches. I enthusiastically purchased it for my book collection. The brilliant book had "Escaping to a life in Paradise" as its theme, so it felt like a good serendipitous ending to my own snow capped painful adventure. I did find Paradise after all, or was it winter Hell? I'm not sure.