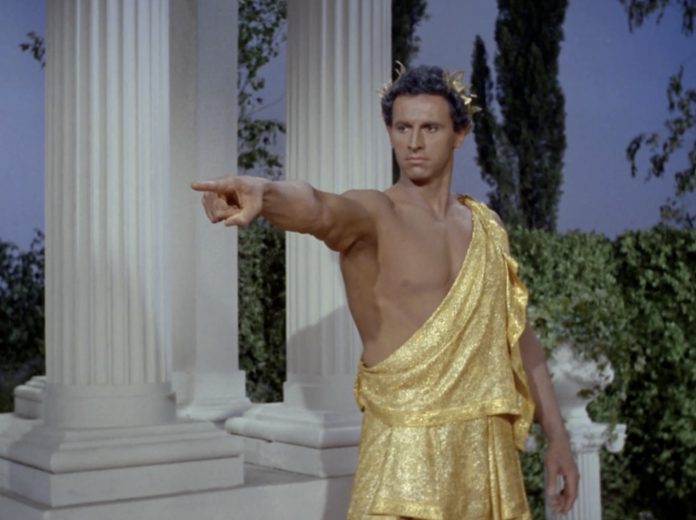 Numerous popular TV shows about myths and legends in modern times have made use of Greek mythology and Greek themes.
The television series shown here on the whole don't have anything to do with the Greek myth and legend, yet these classic TV series have a few unexpected episodes blessed with a bit of Greek magic in them.
These TV show episodes will take you back to another golden era when these shows were television gold. They could even get you thinking about the possibilities of the Universe. Star Trek for instance made use of mobile phones way before they existed on planet earth.
Star Trek: The Original Series (1966-1969)
Who mourns for Adonais? (Season 2, episode 2)
The Enterprise starship is seized by a powerful being who claims to be Apollo. He brings some of the crew to Mount Olympus but rejects Spock because of his pointy ears that resemble those of Pan.

This side of Paradise (Season 1, episode 24)
This episode is based on myth of the Lotus Eaters. The crew never want to leave a particular planet after being exposed to a mysterious plant.
Bewitched (1964-1971)
Bewitched, Bothered and Baldoni (Season 8, Episode 5)
While in Rome, Endora brings a statue of Venus de Milo (Francine York) to life in order to tempt Darrin. I haven't shown you the statue that she transforms from, but it is so bad.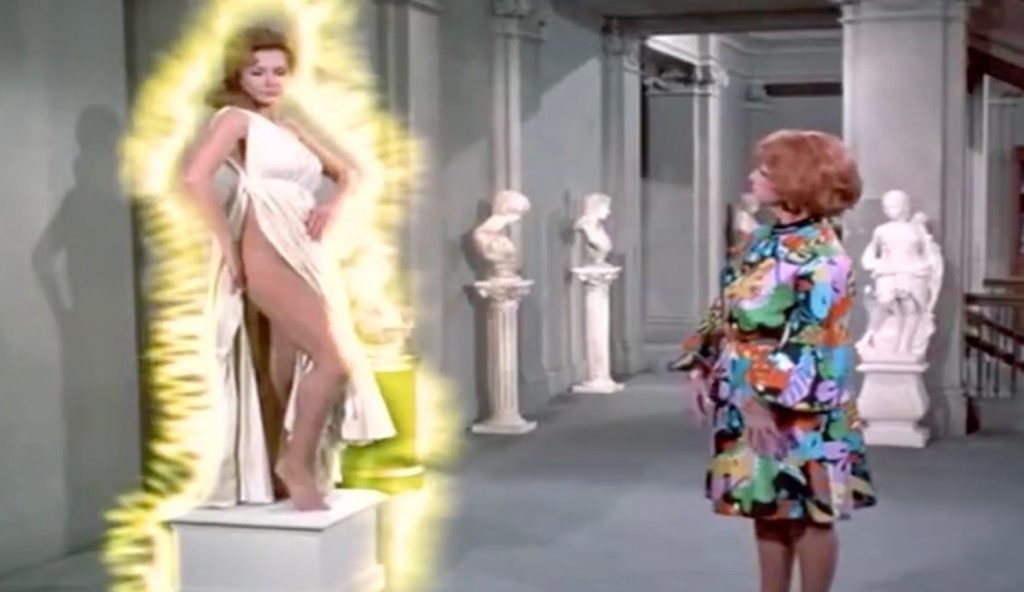 Fantasy Island (1977-1984)
7 seasons and two TV-movies
Aphrodite (Season 3, episode 18)
A picky guy seeks the perfect woman and meets Aphrodite. Technically this isn't the Aphrodite episode but it's close enough.
Technical Advisor (Season 4, episode 24)
Nancy gets some love advice from Helen of Troy.
The Love Boat (1977-1986)
https://youtu.be/P3gqPJmT-YQ

Isaac's Aegean Affair: Part 1 (Season 6, episode 18)
Isaac's Aegean Affair: Part 2 (Season 6, episode 19)
Hart to Hart (1979-1984)
Passing Chance (Season 5, episode 7)
The Hart's company is under threat when they take part in a car rally in Athens.
Death Dig (Season 5, episode 17)
Greek artefacts are stolen while the Harts are sailing around the Greek islands.
Buck Rogers in the 25th Century (1979-1981)
The Satyr (Season 2, episode 7)
Buck transforms into a goat-horned satyr after visiting the planet Arcadus.

Olympiad (Season 1, episode 17)
Buck attends a futuristic version of the Olympics.
Dr Who
The Myth Makers – A four-part series set during the war at Troy. Today, there are only a few surviving fragments of footage left.
1) Temple of Secrets (1965) – The TARDIS lands in the middle of the Trojan War, where the Doctor is mistaken for Zeus.
2) Small Prophet, Quick Return (1965) – Odysseus forces the Doctor to assist in winning the war.
3) Death of a Spy (1965) – The Doctor proposes the idea of the Trojan horse.
4) Horse of Destruction (1965) – The Doctor finds himself inside the Trojan horse.

The Pandorica (Season 5, episode 12) – Think of Pandora's box.
The God Compex (Season 6, episode 11) – The Tardis land in a hotel with fear packed rooms.
The Time Monster (Season 9, episode 21) – Six episodes relating to Kronos.
Underworld (Season 15, episode 17) – Think Jason and the Argonauts meets Dr Who.
The Horns of Nimon (Season 17, episode 17) – Some think this is the worst episode of all time.
The Hardy Boys (1997-1979)
Search for Atlantis (Season 3, Episode 4)

The Hardy Boys pose as archeology students in Greece while searching for the lost city of Atlantis.
Quantum Leap (1989-1993)
Leaping of the Shrew (Season 5, episode 3)
A Greek sailor is stranded on a deserted island with a beautiful rich woman (Brooke Shields).
Sabrina the Teenage Witch (1996-2003)
Dummy For Love (Season 2, episode 3)
Sabrina calls on Cupid for assistance.
Thin Ice (Season 6, episode 6)
Sabrina obtains a pair of magical skates from Mercury (Hermes) that give Harvey the ability to win the ice hockey game for Boston College. It leads to trouble with both Zeus and Mercury.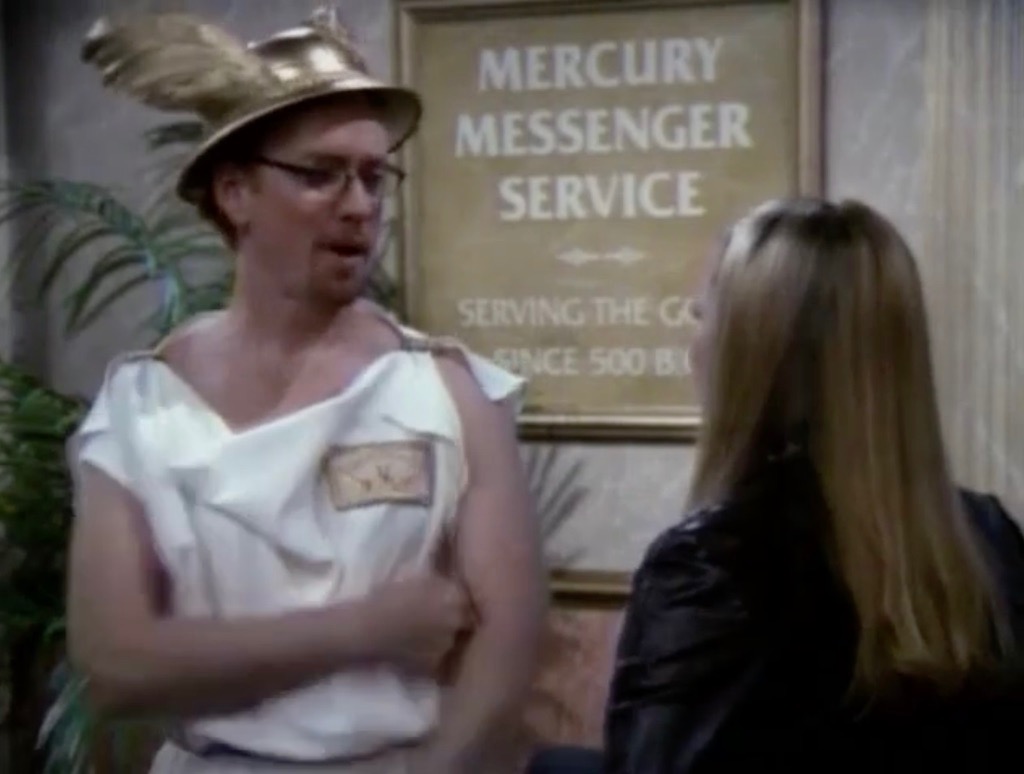 Charmed (1998-2006)
Oh My Goddess!: Part 1 and Part 2 (Season 5, episode 22 and 23)
Leo turns the sisters into Greek Goddesses to vanquish the mythic giants, the Titans, who have been awakened.
Seinfeld (1989-1998)
The Bizarro Jerry (Season 8, episode 3)
Jerry whines about a beautiful young woman he'd been dating whose only flaw was that she had man's hands: meaty paws "like a creature out of Greek mythology".
The Serenity Now (Season 9, episode 3)

Pin it … Share it