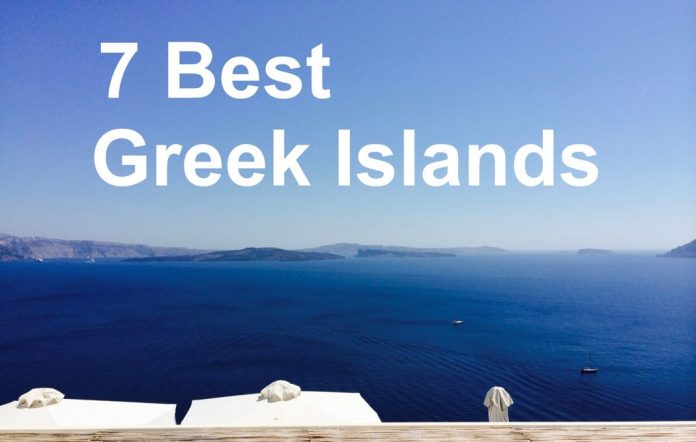 The 7 best Greek Islands shown here should convince you that superpowers beyond comprehension must have created these small pieces of paradise on earth.
Consider this. If the Greek Gods would allow you to stay comfortably on everyone of these seven best Greek Islands listed here with the catch that you could never go anywhere else in the world, would you take the deal? I can honestly say that it would be stupid to turn it down, because all of these fabulous Greek Islands are incredible.
Let's get realistic now. Most of us can only enjoy a very short time visiting the Greek Islands while on holiday. From my experience, I'd recommend staying for an absolute minimum of eight nights on one and only one Greek Island. But which one? Any of these beautiful choices will do.
Many holiday goers would probably choose to stay on two of the best Greek Islands they can think of, if they had eight nights to play with. Possibly spending four nights on both or some other mix of nights. Instead of doing that, I'm going to recommend choosing one of the best Greek Islands that stirs your imagination, and using this island as a base for going on day-trips to other nearby Greek Islands. It's the way to go. This way you'll also get to know one Greek Island really well, which is an added bonus.
Paradise definitely exists and here's how to get a sweet taste of it.
1. Santorini
4 Nights in Oia (Also spelled as "Ia")
4 nights in Fira (the capital), or Imerovigli (traditional village)
Advice: Arrive by sea on your very first visit to Santorini and make sure you stay in Oia first. Be sure to arrive at your hotel in Oia prior to check-in time. The hotel will probably be very expensive, so this way you'll get full value for money, with a bit more time to enjoy the hotel pool. You can leave your luggage at reception prior to check-in if you arrive early.
A great hotel will normally have a small shuttle van waiting for you on arrival provided you let them know which ferry you're on and the expected time of arrival in advance. They may first try and gauge whether you'd be ok with a private car, but this is much more expensive. A hotel shuttle van service is fine.
Seven days of enjoyable activities on Santorini:
1. Sunset at Oia's Byzantine Castle
Chill-out for the whole day lounging, eating and drinking around Oia town. Watch the sunset at the very popular lookout at Oia's Byzantine Castle. The huge numbers of sun worshippers there at the end of every summer day is absolutely incredible. It's almost impossible to walk to the castle when everyone starts walking back through the narrow street just after sunset.
2. Hotel pool time
Spend the whole day relaxing by your hotel pool in Oia, somewhere like Katikies Hotel.
3. Half-day or full-day cruising/sailing excursion
Go on the best half-day or full-day cruising/sailing excursion you can find which shows off the beauty of the caldera. The day-trip should include a swim in the hot thermal springs.
4. Explore Fira and Imerovigli
Relax at your hotel in the morning. Checkout as late as possible. Leave any baggage at hotel reception and have lunch in Oia. After lunch head off to Fira or possibly Imerovigli, so that you check-in around 2-3pm. Explore the capital Fira and maybe visit a museum. Interesting shops/jewellery stores/art studios can be visited, but there's no rush since they're also open in the evenings. If you're staying in Fira, walk to the traditional village of Imerovigli and admire the great views of the flooded caldera from there. If you're staying in Imerovigli walk to Fira.
5. Volcano excursion/Hot Springs
Catch a cable car from Fira down to the old port in the morning. Small tour boats depart from the old port to Thirassia Island, and the two small uninhabited islets of Palaia Kameni and Nea Kameni. Consider going on a volcanic hike if it wasn't part of your cruise/sail excursion, or maybe visit some more hot springs. After the excursion is over, take a ride on a donkey to get you back up to Fira, or take the cable car again.
Around midday or early afternoon go to Perissa Beach (a black-sand beach) and have lunch there, followed by a swim. The ancient city of Thera is a short hike from Perissa, so it's worth visiting as well.
6. Day trip to the Greek Island of Ios
Go on a day-trip to the island of Ios. First explore Hora (main town) and then go to Ios Palace Hotel where you can have a couple of cocktails next to the superb pool overlooking Mylopotas beach. Do whatever it takes to get in.
Afterwards, walk down to the famous Mylopotas beach for a swim, which is on the left side of the photo.
Catch a ferry at Ios port back to Santorini so that you're cruising back to Santorini while it's still daylight. This is another chance to admire the stunning views when approaching Santorini by sea.
Ios is said to be the burial place of the ancient Greek poet Homer. They even have a festival every year in his honour called the Omira. The island has a reputation for young partygoers, but the island is great for everyone.
7. Hike from Fira to Oia/Ancient Akrotiri/Red Beach
Go on a long walk in the morning or the afternoon:
– Hike the walking trail from Fira to Oia along the cliff ledge. Then have a little break in Oia.
– Walk the 300 steps from Oia down to Amoudi Bay. Find a cafe to relax and have a drink.
For the other half of the day spend a short time visiting:
– Ancient Akrotiri (45 minutes). The whole ancient site is under one humungous roof.
– Red Beach (1 hour). It's a short walk from Akrotiri and a good place to have a quick swim.
You won't have much time to squeeze in many other activities during the day on an 8 night stay using this agenda, but there's still the day of your arrival and the morning of your departure to do a few interesting things. The evenings and nights are all yours to do as you wish. If you want to do something specific not shown here such as scuba-diving, then skip a bit of hotel pool heaven time on the second day of your stay.
I still haven't done everything on this list and I've been to Santorini twice. That's why it's important to plan an agenda before going, otherwise a beautiful experience will be missed. First-time visitors to Santorini will love this plan.
Six more of the best Greek Islands to visit
For the following six Greek Islands I'll recommend additional Greek Islands to visit, as great day-trips to squeeze in on an eight-night holiday. The thing to do if you're going to holiday on a Greek Island is to make sure you know the island inside out. Don't risk going there thinking you'll discover the best bits an island has to offer while you're there. Go with some sort of plan.
2. Corfu
Corfu has so much to offer, which is the reason why so many wars and takeovers have occurred to try and control this wonderful lush piece of paradise. This Greek Island Paradise has been described as a "luxuriant Garden of Eden".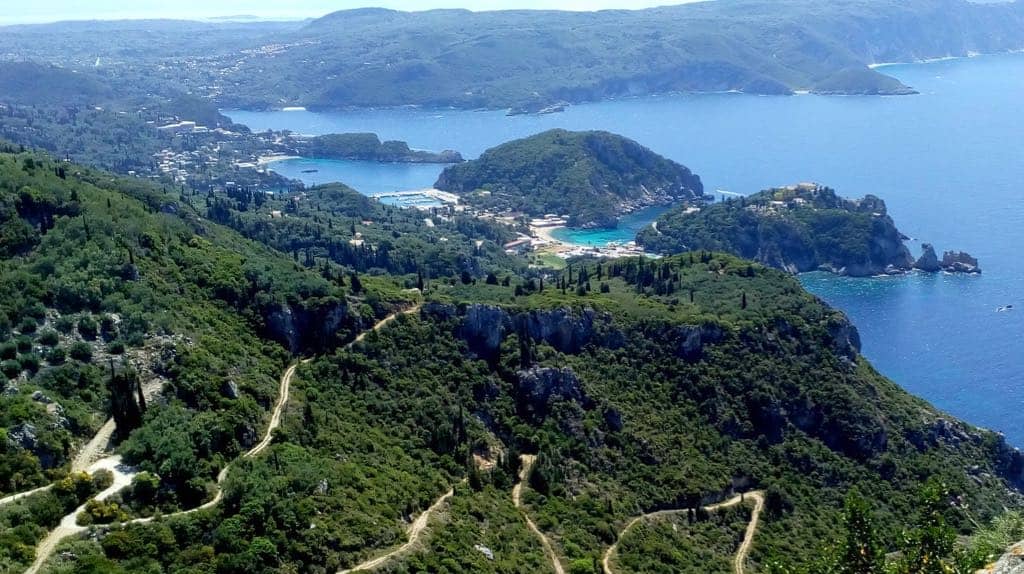 A great view from the Angelokastro fortress on Confu, looking down on Paliokastritsa.
This is a popular walking circuit, which begins straight up 500m from Paliokastritsa. It passes through some back roads to Krini and rises up to the fortress at Angelokastro, then back down to Paliokastritsa.
Spending 8 nights on Corfu is easy. The island gem with pristine beaches is simply amazing, perfect as perfect can be.
Visit the smaller Greek Islands of Paxi and Andipaxi on a one day outing.
3. Skiathos
Skiathos is a magical Greek Island that will fulfil all your beach dream fantasies.
Day-trips to other nearby Greek Islands should include:
Skopelos – Seek out the best beach or maybe visit a famous Mama Mia! (2008) movie location, as can be seen below. The walk up is pretty special.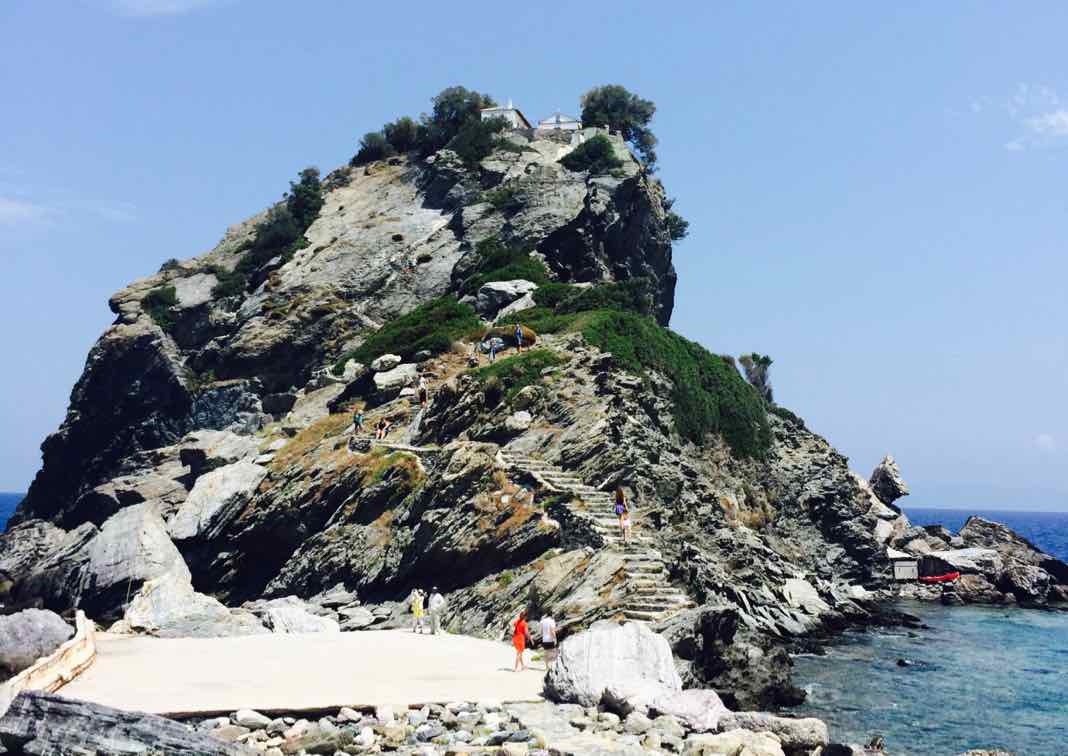 Alonissos – Visit the protected marine park.
There are a variety of boat charter tours available in Skiathos providing a few great sightseeing options. Alternatively, you can take a ferry or hydrofoil to each one of these two beautiful islands.
4. Crete
Zeus and the Minotaur have strong connections with Crete. This is one very special island.
Highlights in Crete to squeeze in:
– Hiking through the 16km long Samaria Gorge, touted as the longest in Europe.
– Palace of Knossos
– Phaestos Palace
– Falasarna Beach in Chania.
– Elafonissi Beach (Pink beach) in Chania. Elafonissi island can be reached by walking across the shallow lagoon.
– Preveli Beach in Rethymno, where a river meets the sea.
– Matala Beach in Heraklion.
– Vai Beach, which is surrounded by a large palm tree forrest.
– The incredible Balos beach and lagoon in Chania.
The spectacular islet of Gramvousa can be seen from Balos Beach. Some believe this is where Odysseus stopped to receive the gift of winds from the God Aeolus, which allowed him to continue his journey back to Ithaka.
Don't worry about seeing another Greek Island destination during your eight night stay in Crete. This is Greece's largest island after all. Eight wonderful nights on this awesome island will fly by pretty fast.
Many Greeks consider Crete to be one of the best Greek Islands. I've asked a few Greeks about their favourite Greek Island and all of them seem to have included "Crete" with many saying it's their favourite. If pictures of Balos Beach and Preveli Beach are anything to go by, it's no wonder this is one of the best Greek Islands.
5. Mykonos
Mykonos has Paradise Beach and Super Paradise Beach. Who could possibly leave out Mykonos from a list of best Greek Islands when the island has two beach paradises? What beach lover in their prime wouldn't want to spend some time there?
Two day-trips to other nearby Greek Islands should include: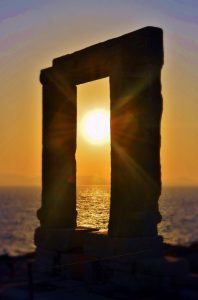 Delos – A sacred island considered to be the birthplace of Apollo and Artemis. (Half-day tour)
Paros – While visiting Paros try and squeeze in the nearby island of Naxos for an hour or two, and get a photo taken at the landmark Portara gateway.
The square column archway was possibly an entranceway to an unfinished ancient Temple dedicated to Apollo. It's on a small islet near the port. Be sure to have ferry/hydrofoil rides nicely lined up so that the majority of time is spent on Paros.
6. Kefalonia – one of the best Greek Islands?
I don't know if it's possible, but if it is, try and squeeze all of these sights in.
A day at Myrtos Beach, winner of numerous best beach awards, is a must. Exploring Melissani Cave by boat would have to be a big highlight as well.
Day-trips to other nearby Greek Islands should hopefully include:
Lefkada – Porto Katsiki, one of the world's best beaches, and the Nydri waterfalls which tumble into crystal clear pools.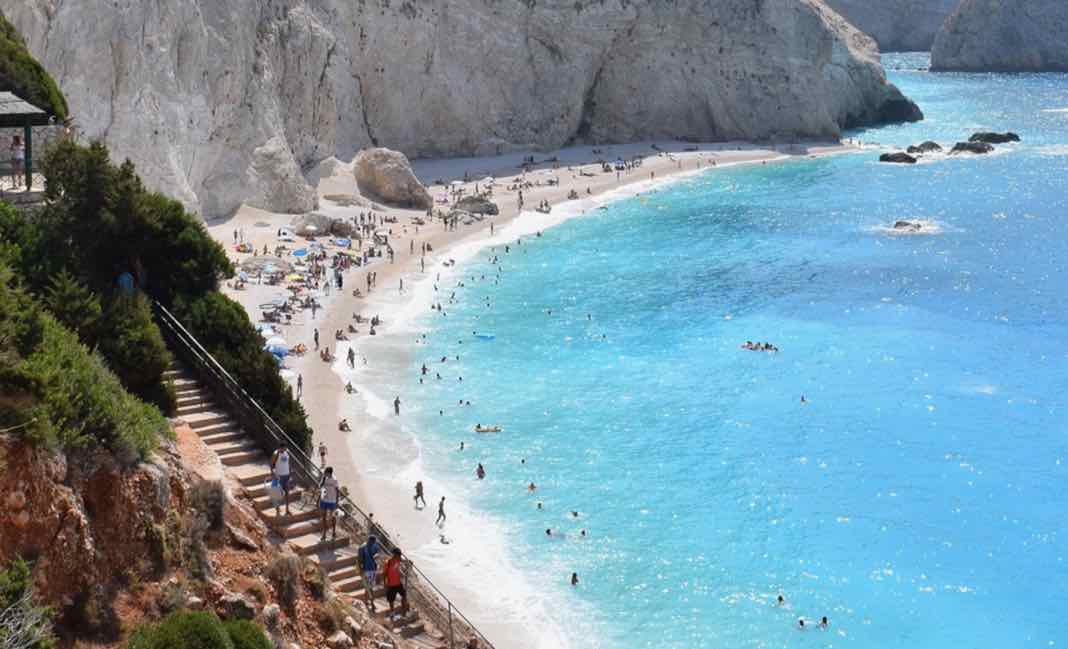 Swimmers love them. Aghiofili Beach is another wonderful beach. Be sure to also pass by Scorpios, the private island once owned by the late billionaire Aristotle Onassis.
Ithaki – Half day hike around the island while thinking about the Greek hero Odysseus.
Zakynthos (Zante)
– Navagio Beach (Shipwreck Bay). Curiously Navagio means 'shipwreck'.
– Blue Caves
To squeeze in all of these sights in an eight night holiday agenda seems pretty full on, but I think it's doable from Kefalonia.
7. Rhodes
One of the seven wonders of the ancient world, where the giant  'Colossus of Rhodes' once stood at the harbour's entrance. Need I say more.
Visit the nearby island of Tilos for the day if at all possible. Read the book "Falling in Honey" by Jennifer Barclay before you go.
Recommendation when visiting the best Greek Islands
Another thing to remember is to splurge on a fantastic hotel for one, two, three or four nights, at the very least, especially one with a great pool. Staying in a different part of an island can also add a lot to the holiday experience.
Anyone of these 7 best Greek Islands including Santorini, Corfu, Skiathos, Crete, Mykonos, Kefalonia and Rhodes, will leave you spellbound.
If you can spend a few more nights on any of these Greek Islands, all the better.
With beautiful paradises like these on earth, who knows what the Greek Gods and Goddesses are capable of in the next world?