Coming up with the 30 best beaches in Australia is not easy, especially once you know there are 10,685 beaches to choose from in the land down under. The truth is no one can come up with a list of the best beaches in Australia, not even the Greek Gods.
One thing I'm positive about is that the Gods and Goddesses would surely agree that Queensland has the best beaches in Australia.
Seven of the best beaches in this list are found in the state of Queensland and to tell you the truth I could have easily picked a few more beaches, but that would have meant leaving out a few worthy beaches located in the other states of Australia.
I prefer to give everyone a broader overview of the best beaches around Australia.
What do you look for in a great beach anyway? Crystal clear water, big waves for surfing, a family friendly beach, soft white sand, no body else around, big crowds, restaurants and bars close by, because it all matters. Personal preference plays a big part when trying to choose the best beach to visit in Australia, as it does in other parts of the world.
All of these great beaches in Australia are fantastic in their own way. No wonder the criminal mastermind Lex Luthor in the movie Superman II (1980) wanted to own Australia after revealing his penchant for beachfront property.
Australia is certainly blessed with some of the best beaches in the world.
Australia has plenty of great beaches, so much so, that you're actually spoilt for choice. It wouldn't be too difficult to create a list of the 50 best beaches in Australia, or 100 best beaches in Australia for that matter.
Have a listen to Paul Hogan, the legend from the movie Crocodile Dundee. See if he can convince you that Australia is a beach paradise. 😂
The Best Beaches in Australia in every State
Australia is the only island continent in the world. It is divided into six States and one Territory.
Interesting fact: Australia is larger than Greenland, however Greenland is considered to be the largest island in the world. Australia is the largest island continent in the world.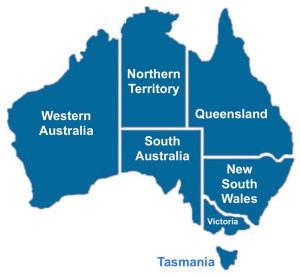 Beaches include:
7 Best Beaches in Queensland (Capital: Brisbane)
7 Best Beaches in New South Wales (Capital: Sydney)
5 Best Beaches in Western Australia (Capital: Perth)
5 Best Beaches in South Australia (Capital: Adelaide)
4 Best Beaches in Victoria (Capital: Melbourne)
2 Best Beaches in Tasmania (Capital: Hobart), a large island south of the Australian mainland.
Australia also has one Territory (similar to a State), called the Northern Territory (Capital: Darwin). The Northern Territory is most famous for Uluru, the giant red rock situated roughly in the middle of Australia.
This wondrous land is also referred to as the 'Top End'. I don't mention any beach in the Northern Territory and I'll let you know why at the end of this post.
The Australian Beach Experience
Be aware that many of the beaches in Australia are only at their best for a few months of the year during the summer months, especially the beaches along the southern coastline of Australia. Up north the beaches can be ideal at other times of the year. If you're an overseas or interstate tourist make sure you plan your trip wisely.
Australia is a pretty easy place to find beach heaven. Believe me, one of these beaches will satisfy all of your beach fantasies provided the weather is great. The beaches are truly world-class in Australia.
Best Beaches in Queensland
Capital city: Brisbane
1. Whitehaven Beach – Whitsunday Island, Queensland
Experiencing Whitehaven beach is pure bliss. This beach is often voted as the best beach in Australia and I wholeheartedly agree. It is located in the Whitsundays Islands on an island actually called Whitsunday Island.
Seriously this is the go to place in the Whitsundays. Magic, beautiful beyond belief, paradise, love this beach, amazing, unbelievable, wow and super wow! These are the words that you will be springing from your mind.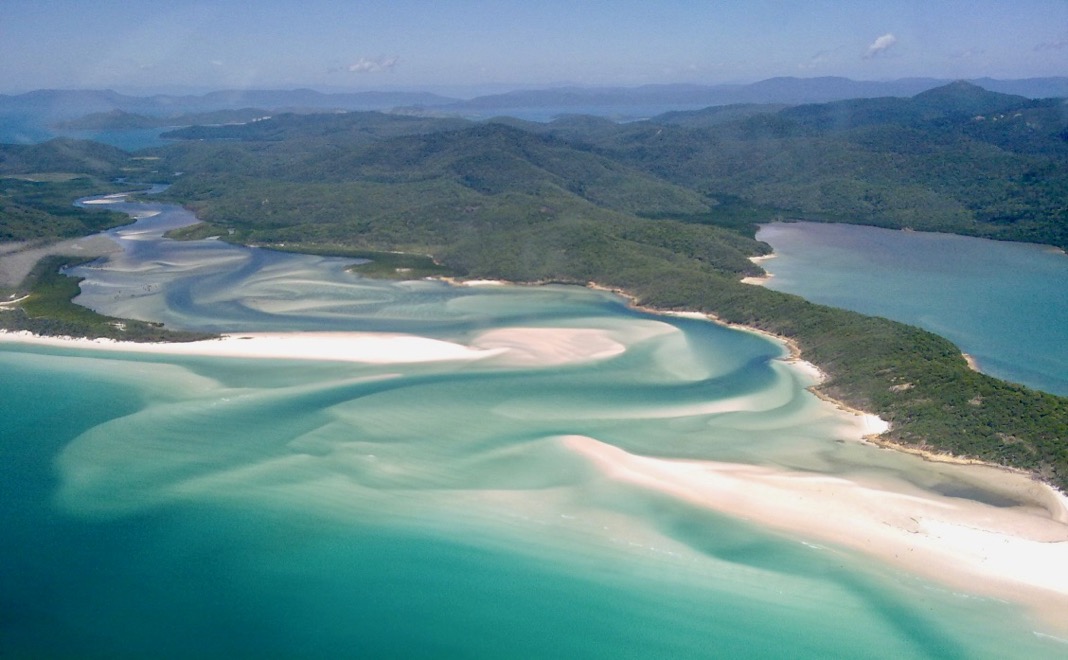 2. Noosa Main Beach – Noosa Heads, Queensland
Noosa is a favourite destination of mine. If you could visit Noosa every year and go no where else I would probably take the deal. You can find out more about Noosa paradise in another post.
Noosa's main beach is where you will love spending your time. It is a beautiful beach to soak up the sun.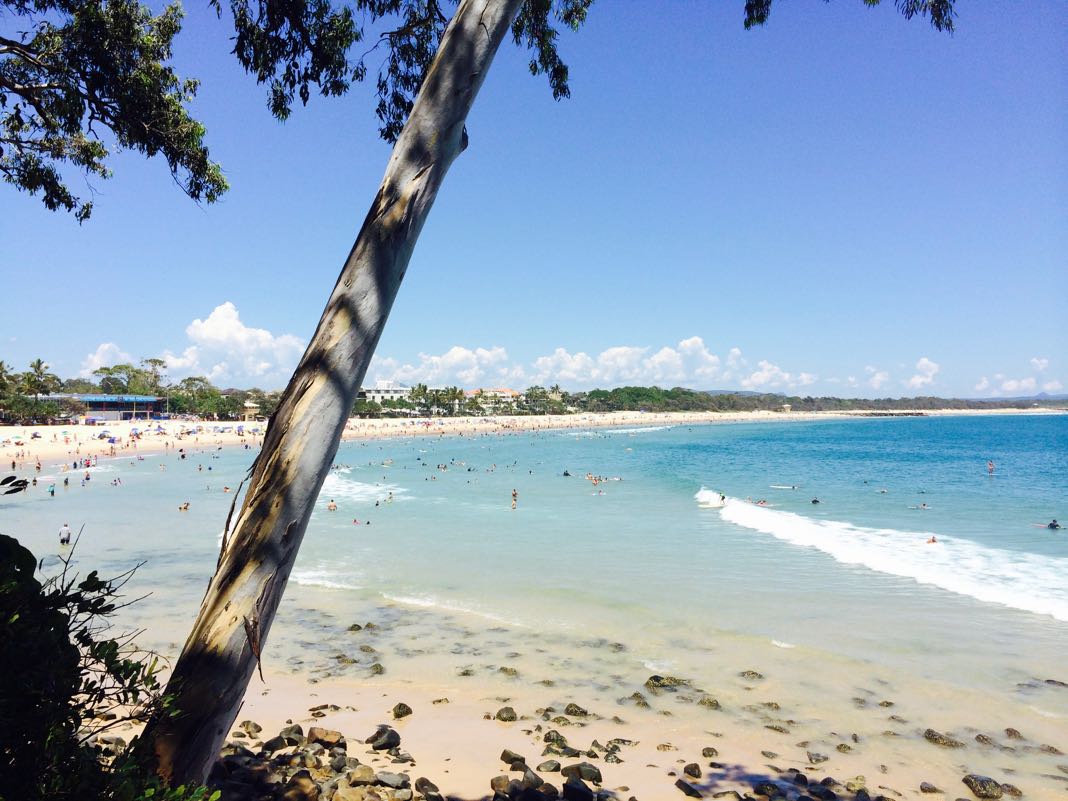 3. Nudey Beach – Fitzroy Island, Queensland (On the western side)
Nudey beach is one of those dream beaches in Australia and the world that everyone would love to visit. It has been ranked as the number 1 beach in Australia.
Fitzroy Island is located 29 km south-east of Cairns. Luckily you won't have to go nude to enjoy Nudey beach, even though the name of the beach has that suggestion.

4. Lake McKenzie – Frazer Island
Ok, so it's a beach on a lake. Lake McKenzie is spectacular none the less. I'm sure you will treasure every minute spent at this beautiful lakeside beach.
It is located on Frazer Island, known as 'K'Gari' which means paradise to the island's indigenous people. So basically you're swimming in a beautiful lake in paradise.

5. Tallebudgera Creek – Gold Coast, Queensland
Burleigh Heads National Park is on one side and Palm Beach is on the other.
This is a unique spot in the Gold Coast region of Queensland. I'm sure you will want to check it out.
Instagram: @wonderful.globe
6. Rainbow Bay – Gold Coast, Queensland (Southern end of Coolangatta)
I really like Rainbow Bay. It is located at the southern end of Coolangatta within the Gold Coast region of Queensland.
It feels as if you're at the end of the Gold Coast strip at the bottom of the rainbow and you're in luck. You've found a fabulous beach treasure.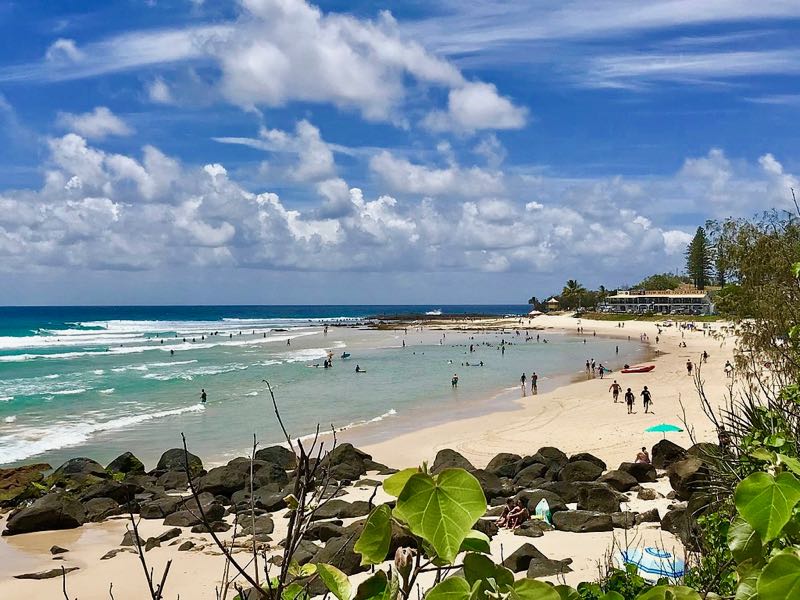 7. Tangalooma – Moreton Island, Queensland (On the western side)
Moretone Island is 40 km offshore from the city of Brisbane, the capital of Queensland.
Tangalooma in Moretone Island can be reached by ferry, barge or boat. You can take a vehicle over and it takes about 75 minutes to get to the island. This is where Tangalooma Island Resort is located.
Make your way to Tangalooma Wrecks at some stage. This is a great day trip to go on when you're in Brisbane. Looks great!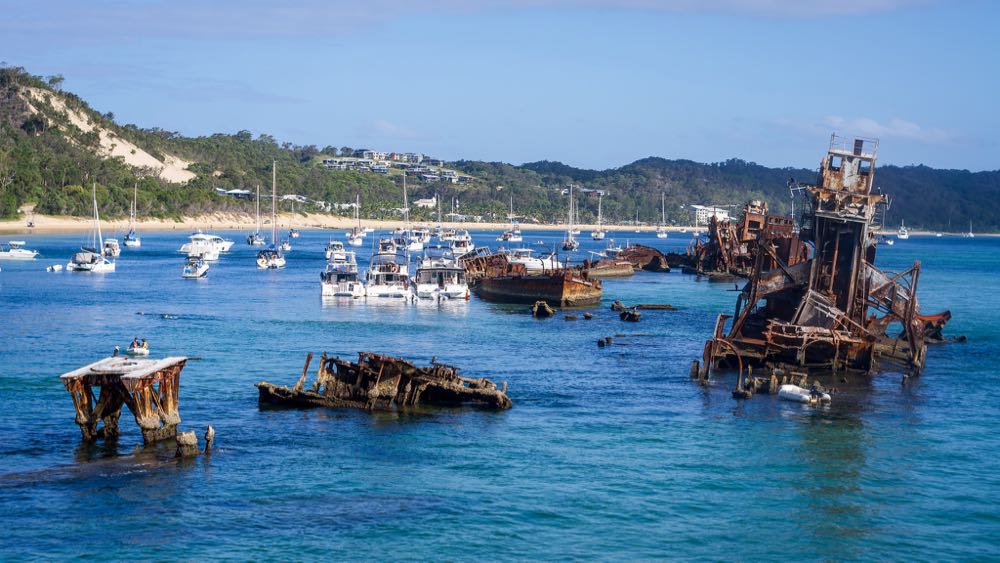 Click on the link to watch a great video taken at Tangalooma Wrecks.
Best Beaches in New South Wales
Capital city: Sydney
1. Wategos Beach – Byron Bay, New South Wales
Byron Bay is located in the state of New South Wales, however it is much closer to Brisbane in Queensland. Brisbane to Byron Bay is 170 km (106 miles), whereas Sydney to Byron Bay is 770 km (480 miles).
Byron Bay would have to be the coolest town in Australia. Celebrities build their homes here and it is easy to see why.
I spent most of my time at Belongil Beach and at Byron Bay's main beach and loved it. I was in beach heaven.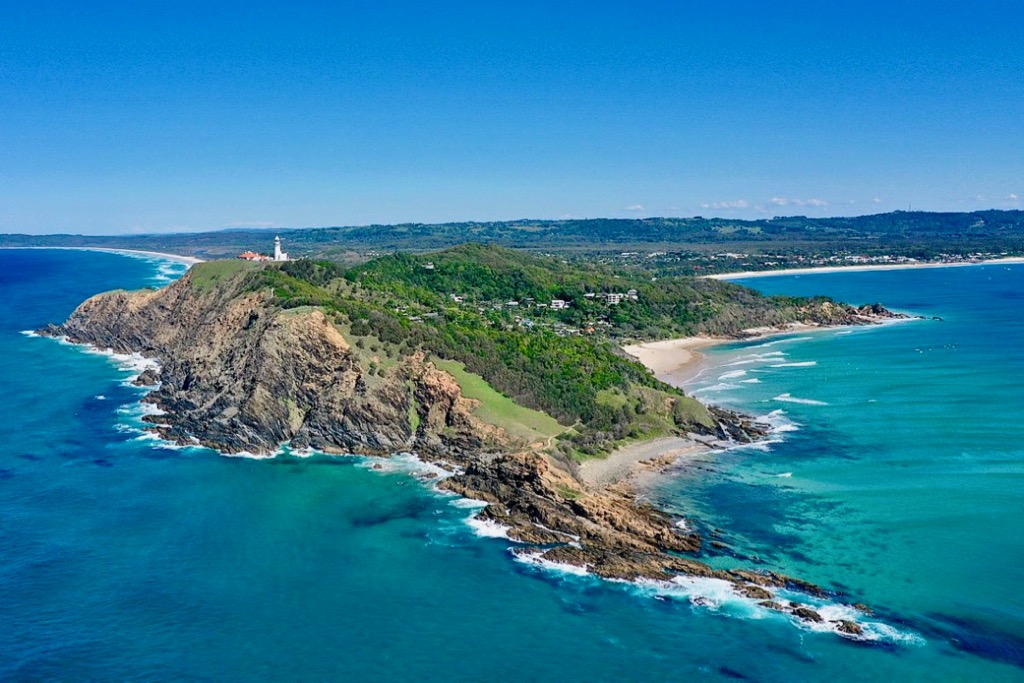 A few days later I walked around to the lighthouse (the most easterly point of the Australian mainland) and discovered this gem of a beach. I kicked myself after seeing it. It looked like a fantastic beach. This is the only reason why I have picked this beach as being the best beach in Byron Bay.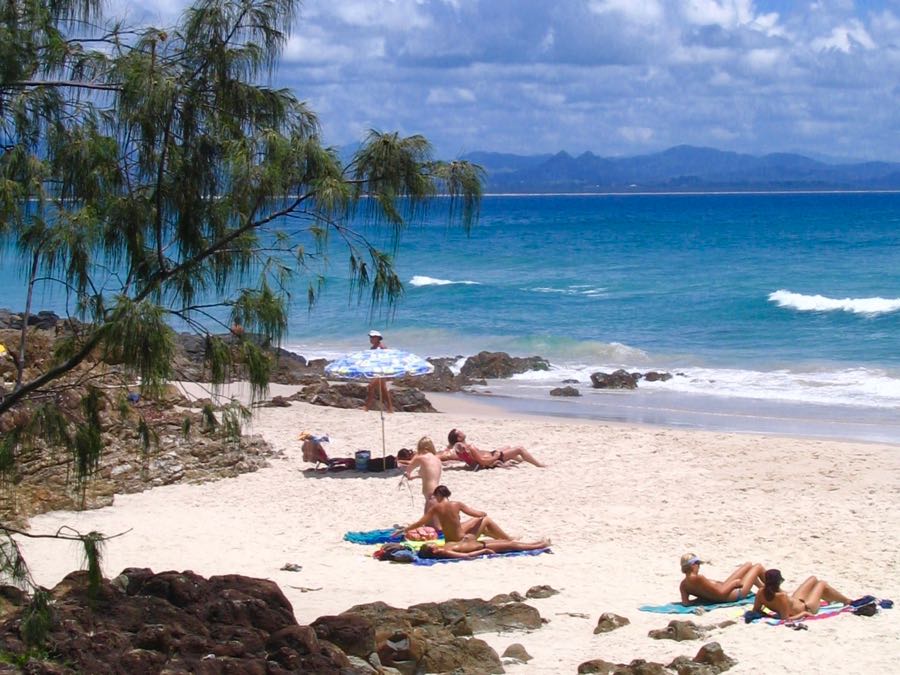 Byron Bay is very popular with young travellers so at some stage you may feel out of place if you're a bit older, but all up it is an awesome destination.
2. Bondi Beach – Bondi, New South Wales
This would have to be the most famous beach in Australia. I'm not a huge fan of the beach but I am a big fan of Bondi's beach vibe. Bondi is a great place to enjoy a freshly squeezed juice and for people watching.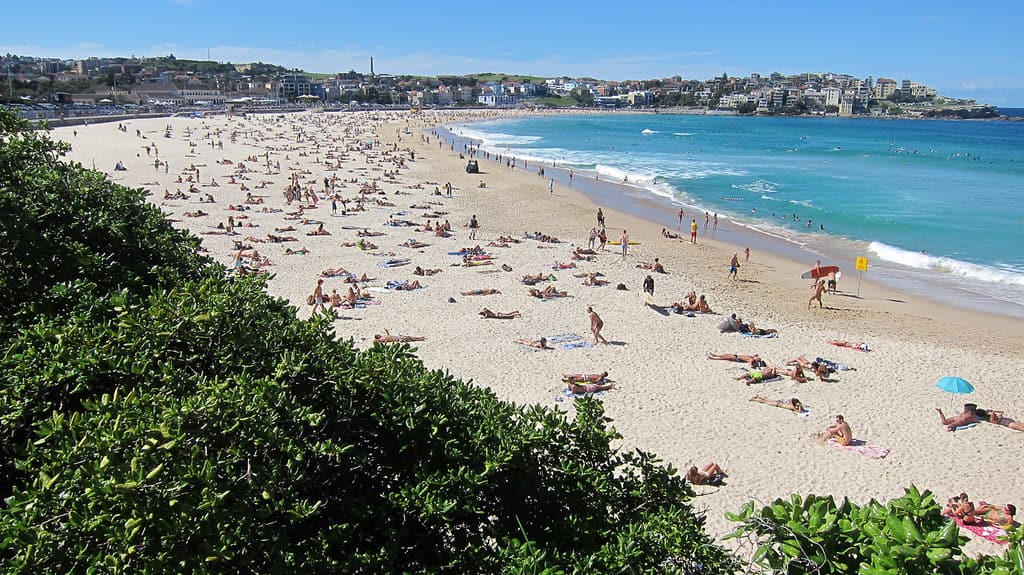 Make sure you visit the Pool at Bondi, even if its only for a drink in the building overlooking the pool and Bondi beach. You can even go for a swim in the pool for a few dollars if you want. Looks tempting.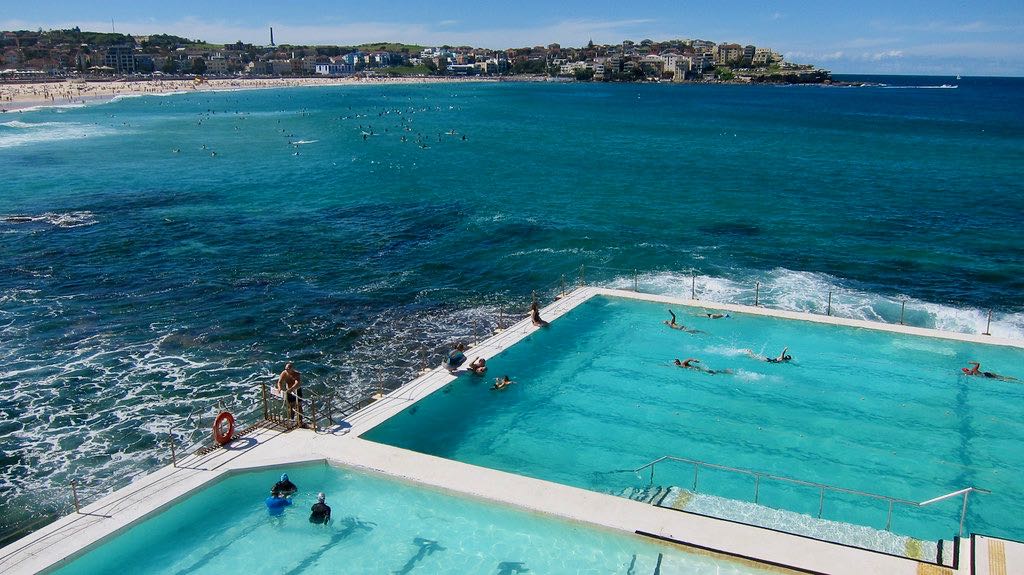 Top Tip: Make sure you walk the Bondi to Bronte Coastal Walk. This iconic 3-km walk will definitely make your trip to Bondi beach worthwhile.
You might as well go for a swim at Bronte beach as well.
3. Hyams Beach – Jervas Bay Territory, New South Wales
Hyams beach is white sand heaven. Can you believe this? Hyams Beach at Jervis Bay not only has the whitest sand in Australia, but the whitest sand in the world, which was actually backed up by Guinness World Records.
I have to say I was amazed by the sand at Hyams. I know of a few other beaches making this sort of claim so I can't be totally convinced that it is the whitest, but Hyams beach is definitely incredible.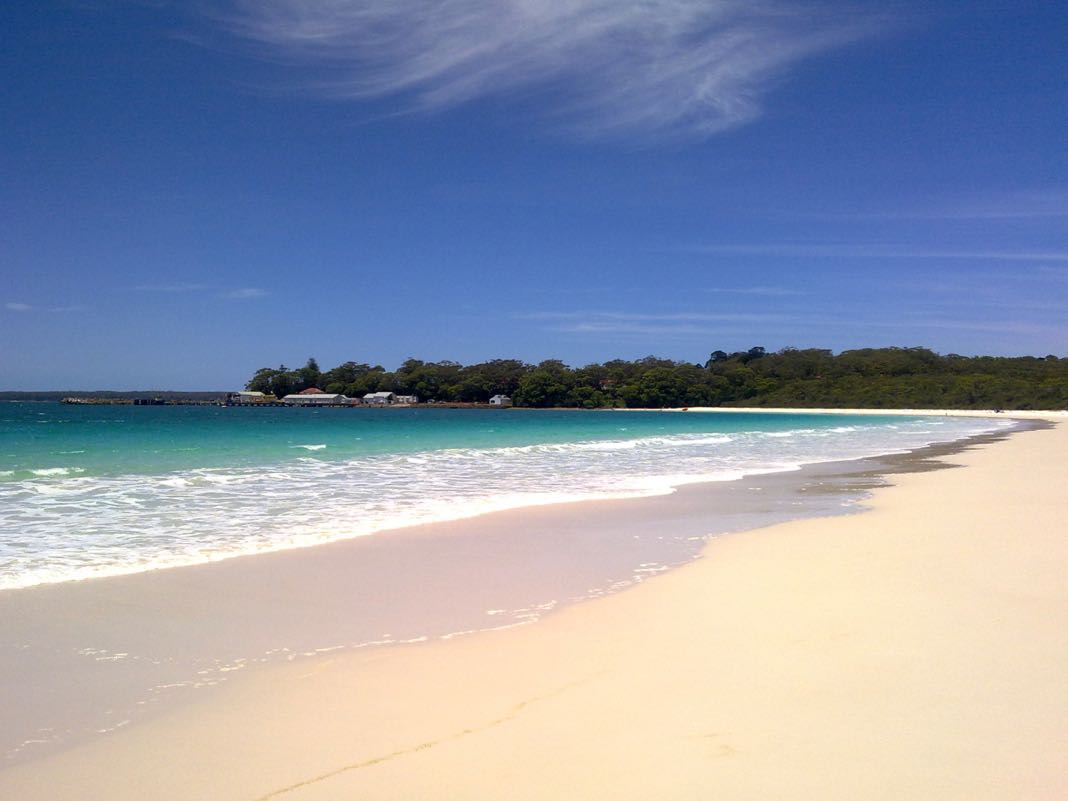 Here I am standing at some point on the beach after walking about two thirds of the way up it. The bottom photo shows where most people go for a swim and place their towel. It is way back further in the distance so you can't make them out.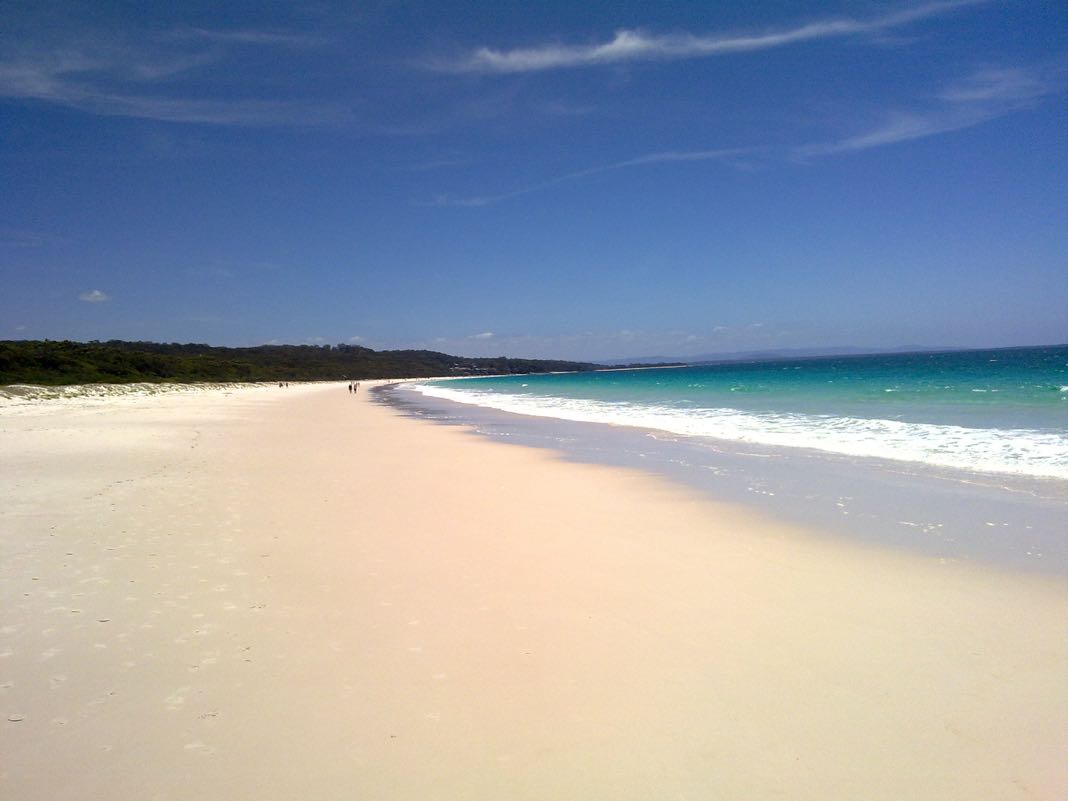 If you want to visit a secluded beach in Australia then this is a great beach to visit. The town close by is very quiet as well. I stayed at a bed and breakfast and felt like I was in some kind of other worldly dream.
4. Shoal Bay – Port Stephens, New South Wales
Man I was blown away by Port Stephens. I arrived in the late afternoon at Nelson Bay in Port Stephens and checked into my hotel.
After that when I went to the coastline it immediately started to hail with golf size hail stones. I thought my hire car would be totally ruined but luckily it didn't suffer any damage. I seriously don't know how.
I think it was a weird way of informing me that I had arrived in some type of heavenly abode, because all I was thinking during the hail storm was f***ing hell, over and over again.
Luckily the weather changed the following day which allowed me to experience the beach. The whole place has that relaxed fishing village charm that takes away all of the stress in life.
Shoal Bay is a fantastic place for families. The only issue that I found was that the water does get quite deep only a few steps out.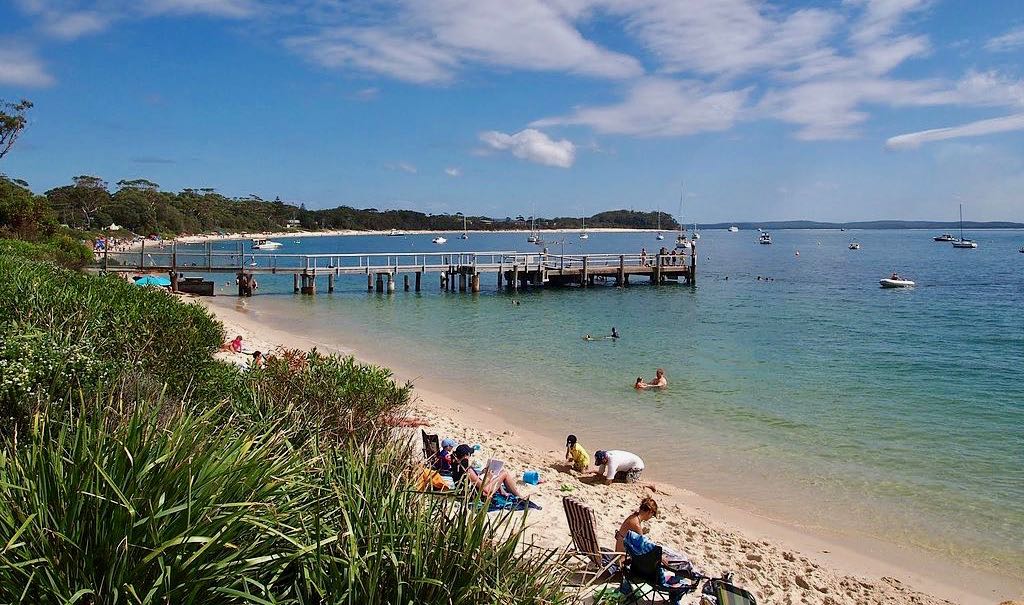 Here's the view from Mt Tomaree, a small mountain you can walk up with a scenic lookout on top.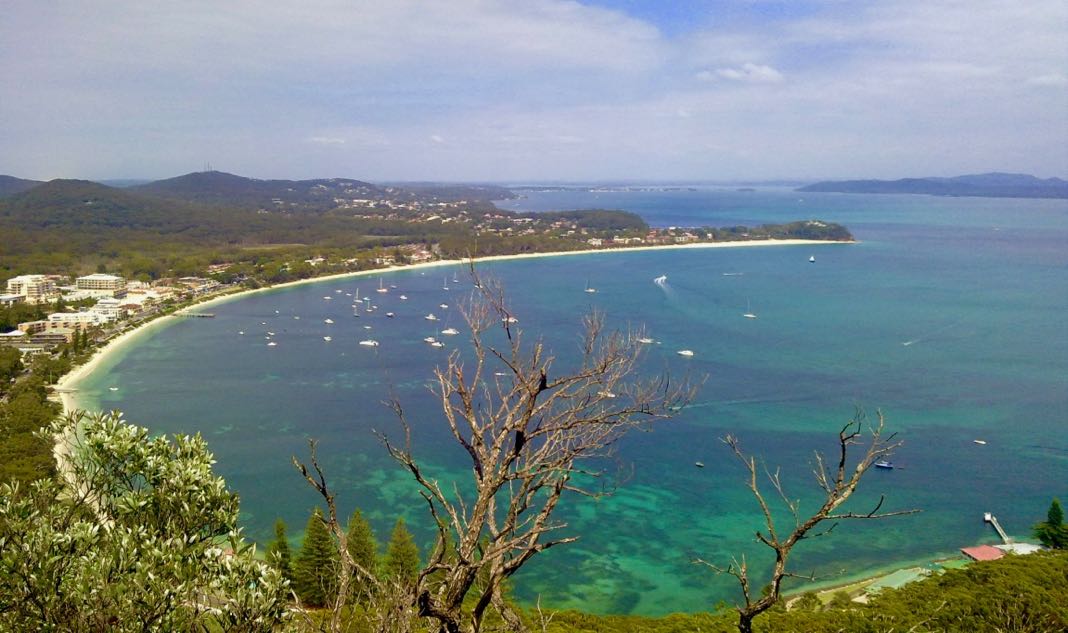 Port Stephens and Shoal Bay to me in someway is like the equivalent of Noosa in Queensland.
Sydney to Port Stephens is 210 km (131 miles) away. It will take about 2 and a half hours to get there by car. The distance from Brisbane to Noosa is about 150 km and takes about 2 hours to reach by car. Both places are north of their respective capital city and both places have amazing beaches.
The beaches at Port Stephens are true incredible. The fishing is good too. I love Port Stephens. They never really advertise this place. It must be a secret destination for Australia's privileged few.
5. Fingal Bay Beach – Port Stephens
Port Stephens Shire Council is made up of a collection of towns/suburbs including Fingal Bay, Anna Bay, Nelson Bay, Shoal Bay, One Mile Beach, Boat Harbour, Medowie, Soldiers Point, Salamander Bay and more.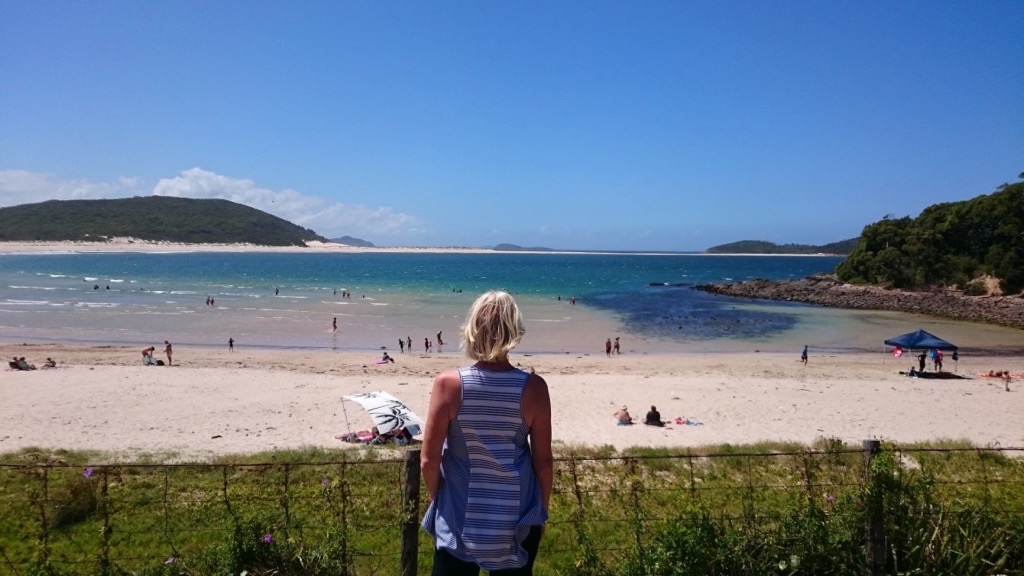 From Fingal Bay Beach you can easily access Fingal Spit. You can walk across the sandbank to Fingal Island, or as locals call it Shark Island. This sandbank is normally only accessible during low tide. At high tide it becomes submerged and is impassable.
The walk along soft fluffy sand is about 2 km, which makes it a 4 km return journey. If you want to go to the lighthouse on the island, that will add another 2.4 km to your return.
Be careful of the tides as it can be very dangerous, especially if the water is above your knees. Three or four people have close calls every year and over ten lives have been lost crossing over from one side to the other. Make sure you play it safe. Also, be careful not to get trapped on the island by a rising tide.
Here's the view of Fingal Spit from the Zenith Beach side. On top of Mount Tomaree (Tomaree Head) you can see Shoal Bay (Beach number 4 in this list of best beaches in New South Wales) and Zenith Beach, Fingal Spit and Shark Island. This steep walk will only take about 20-40 minutes. It will open your eyes to the beauty of the area.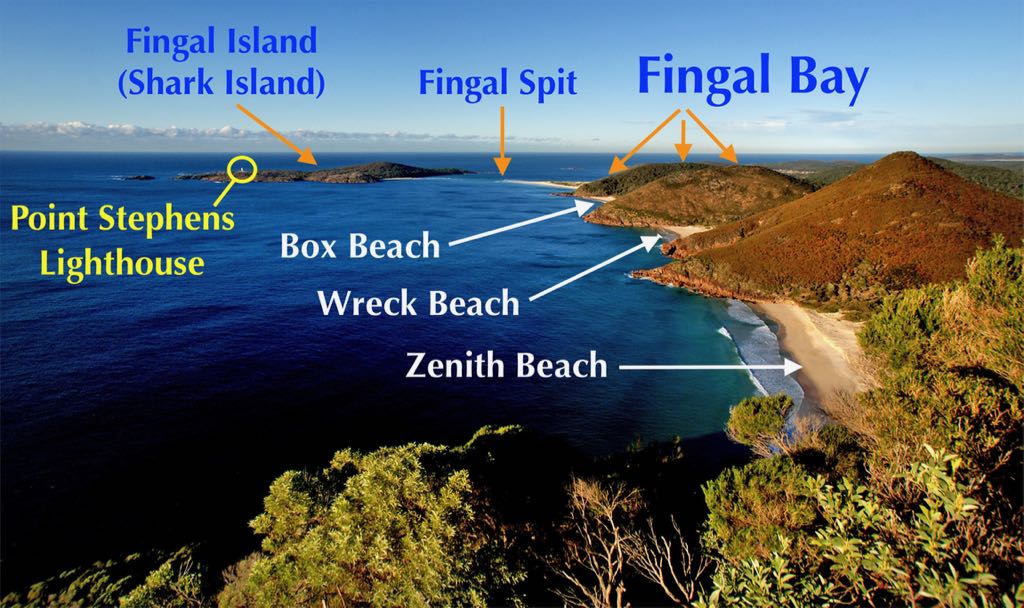 The Fingal Spit was most famously shown in a television commercial with the young blonde beach babe Lara Bingle, who after marriage became Lara Worthington.
This not so great TV commercial had the ludicrous catch phrase "So where the bloody hell are you?" which hardly anyone could bloody understand, myself included. The United Kingdom actually took offence and banned it for some reason.
The AU$180 million advertising campaign in Australia and overseas launched by Tourism Australia in 2006 seemed to have the opposite effect as tourist numbers actually fell afterwards. The one positive was that Lara Bingle's fame grew as a result.
I never realised the beach was in Port Stephens until after I had missed out on it, so it's a bit of extra confirmation that Port Stephens is an awesome place.
6. Shelly Beach (Manly) – Sydney, New South Wales
Manly Beach is more famous, but Shelly Beach (a short walk around the cove) is a bit of a secret gem. It is tiny compared to the long stretch of sand at Manly beach, however it is much more intimate.
Walking along the Shelly Beach walking track on the Headland gives you beautiful views over Shelly Beach, Cabbage Tree Bay and Manly Beach.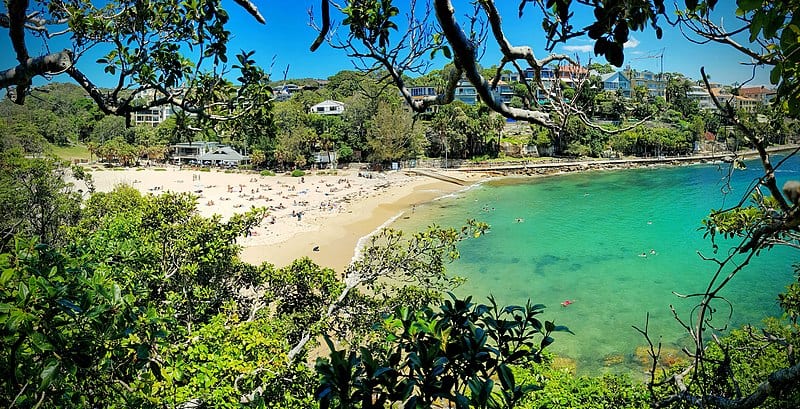 The beauty about Shelly Beach is that you can take the ferry from Sydney Harbour to Manly, and still see Manly. A short walk around the coastline will take you to Shelly Beach. I'm sure you will like Shelly and if it doesn't appeal you can always turn back and chill on Manly beach.
Shelly Beach generally has calmer water, so if you're after some waves then Manly beach is the place to be.
7. Lagoon Beach – Lord Howe Island
I stayed on Lord Howe Island for 5 nights and the weather was terrible. The water was cold and I didn't get to enjoy the beach at all. The thing is I could easily tell that this beach would be a dream on a nice sunny day.
The tiny isle you can see close to the sandy shore is called Blackburn (Rabbit) Island. You can easily visit the island by kayak or stand-up paddle board.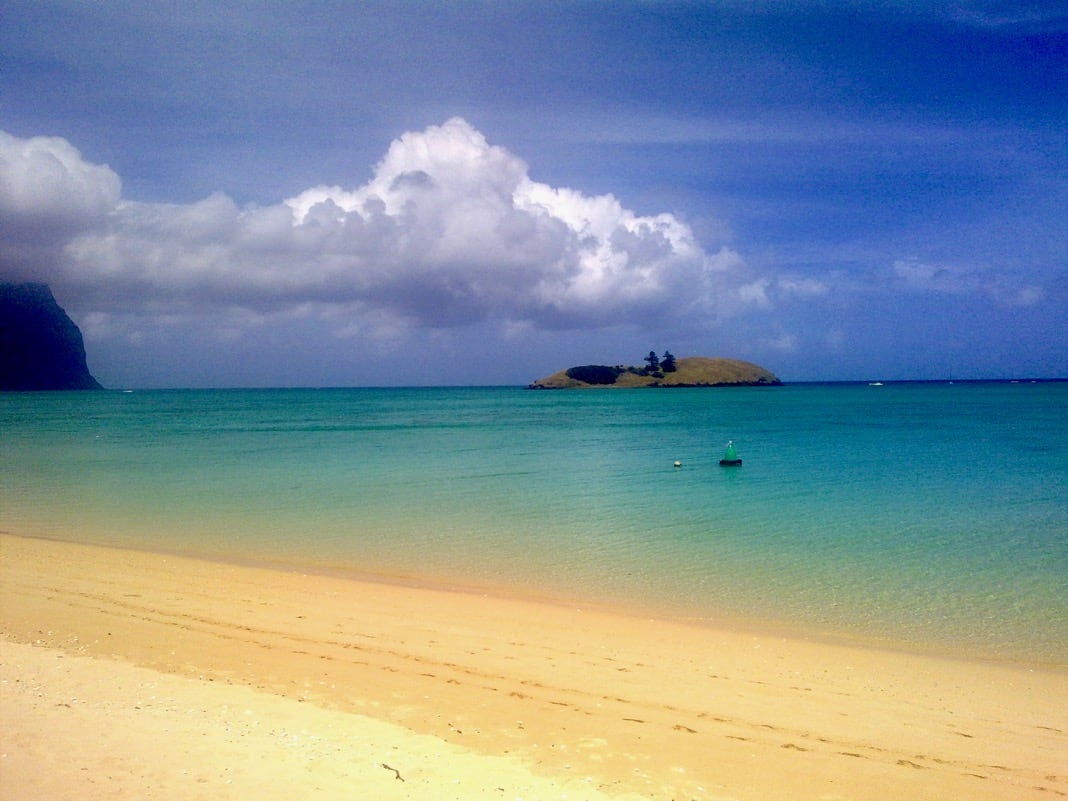 Best Beaches in Western Australia
Capital city: Perth
1. The Basin – Rottnest Island – Western Australia
Rottnest Island is a 25 minute ferry ride from Fremantle and 90 minutes from Perth's Barrack Street Jetty.
This island is very popular. I thoroughly enjoyed my time on the Rottnest Island. There are glorious beaches all around the island and The Basin is one of the best.
If you ever visit Perth make sure you don't miss out on Rottnest Island. It is amazing! Also don't forget to find a cute Quokka. This cute small furry mammal is native to Rottnest Island and can be found almost everywhere on the island.
2. Twilight Beach – Esperance, Western Australia
Twilight beach in Esperance to me was like the ultimate beach experience. It was a super hot day when me and two other guys made it to Twilight. Swimming to one of the rocks in the water was the best.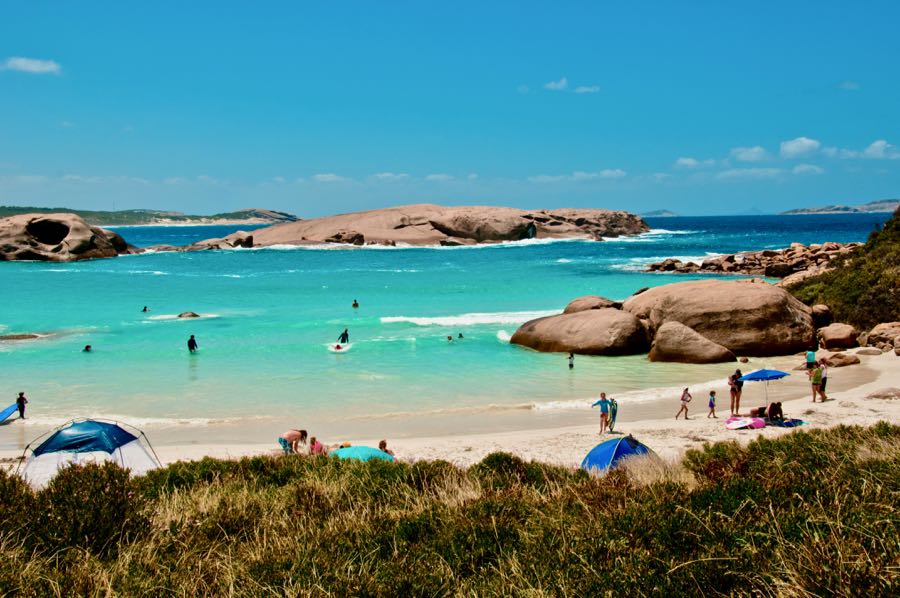 3. Elephant Rocks & Greens Pool – William Bay National Park, Western Australia
These beaches look incredible.

4. Cottesloe – Perth, Western Australia
This beach is located in Perth and is one of those beaches you have to visit. It is a great outing to combine with lunch on the beach.
5. Turquoise Bay – Exmouth, Western Australia
Turquoise Bay is one of the biggest attractions at Exmouth's Cape Range National Park. This part of Australia is rarely visited by Australians. It is quite isolated but if that's your thing then this is where you will want to be.
Best Beaches in South Australia
Capital city: Adelaide
1. Glenelg Beach – Adelaide, South Australia
Glenelg is Adelaide's equivalent to Bondi beach. It is a beach suburb that comes to life in summer. A love heart can be found at the beach.
I'm sure you will love Glenelg, just make sure you visit when the weather is warm, the hotter the better in my opinion.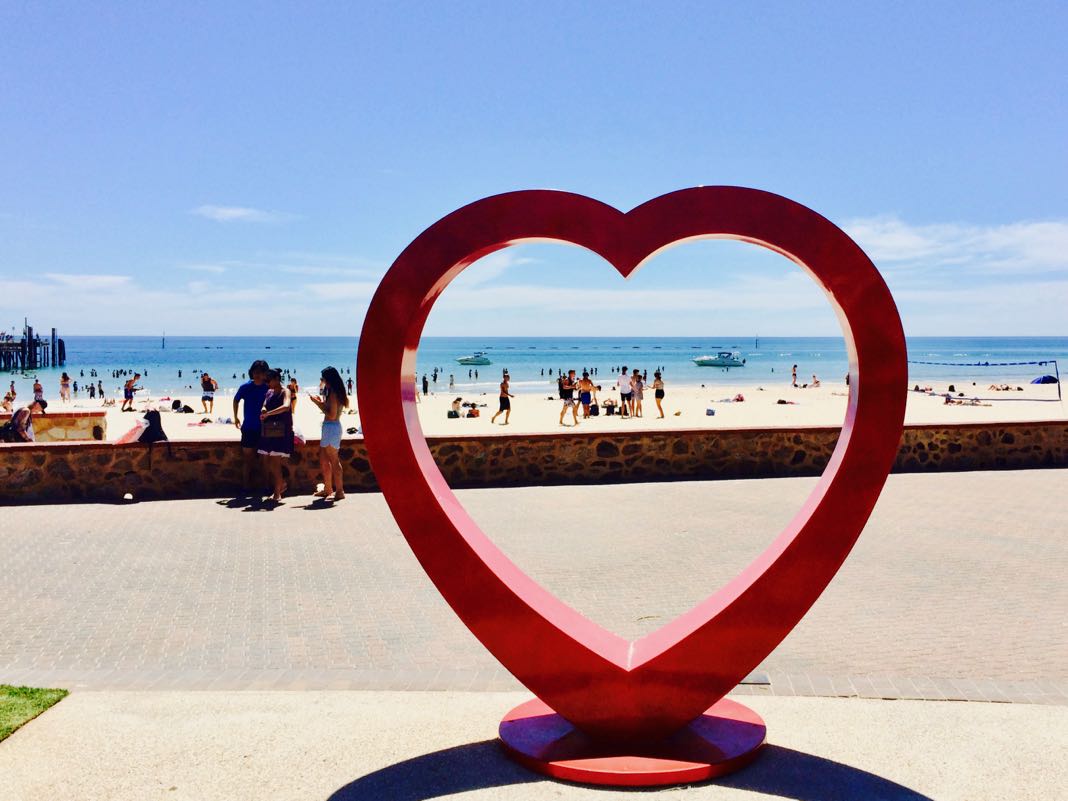 2. Port Willunga (Star of Greece) – South Australia
Port Willunga is a beach with an interesting past. A ship called the Star of Greece sank there in 1888. Today, the beach has a restaurant called the Star of Greece.
This beach is brilliant. It actually has the feel of a being on a Greek beach.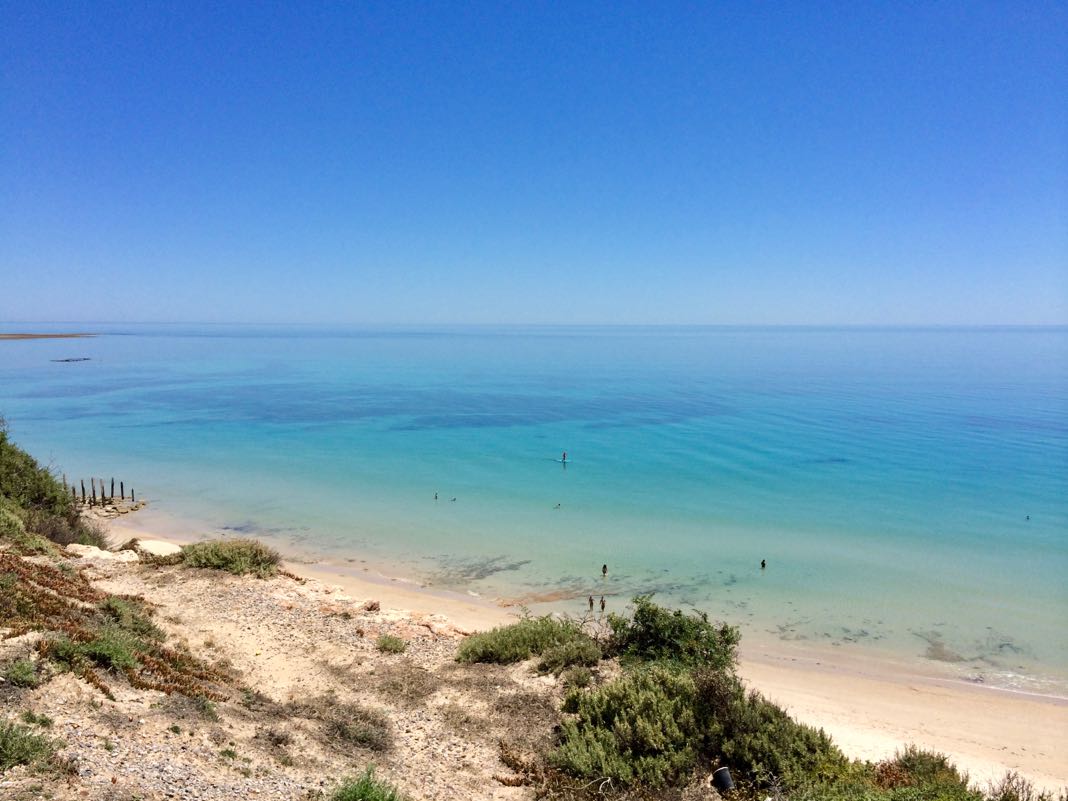 3. Port Noarlunga – South Australia
Port Noarlunga is a beautiful beach. There is a reef at the end of the jetty. It is a great beach to go snorkelling.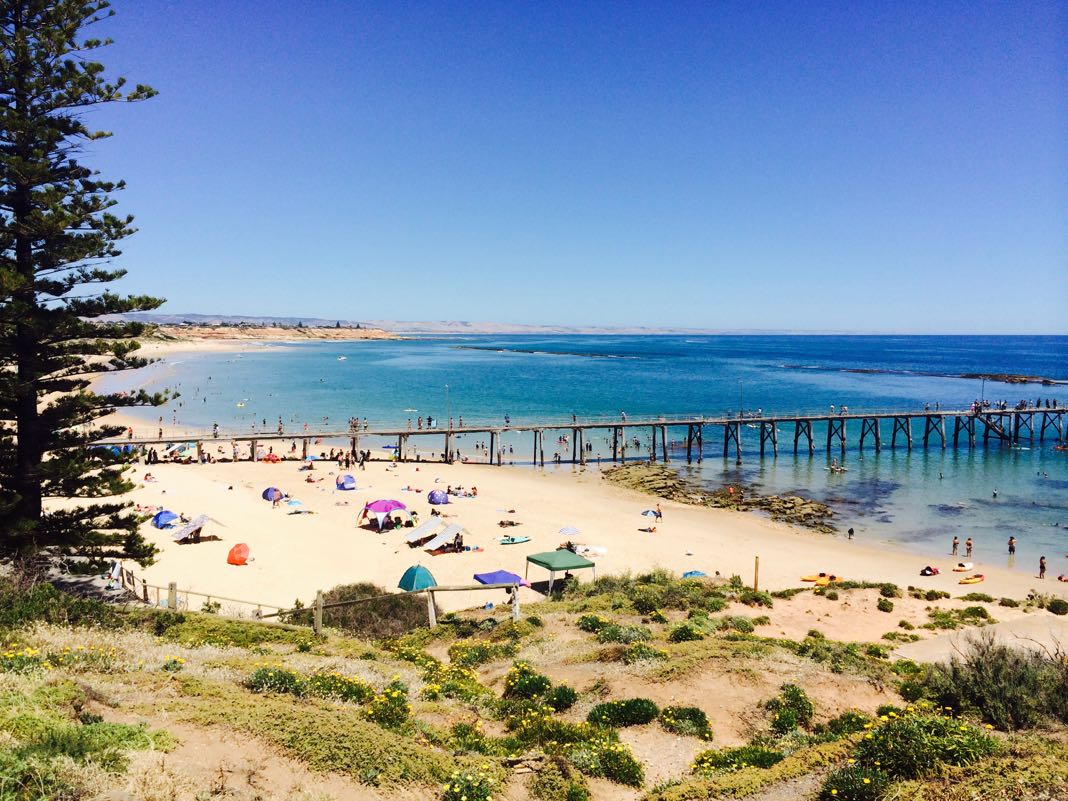 4. Brighton – Adelaide, South Australia
You can walk to Brighton from Glenelg. It is about 5 km (3 miles) away.
Poseidon (Neptune), God of the sea, has spent some time looking out at Brighton beach. I'm sure you would be very happy to do the same thing in summer.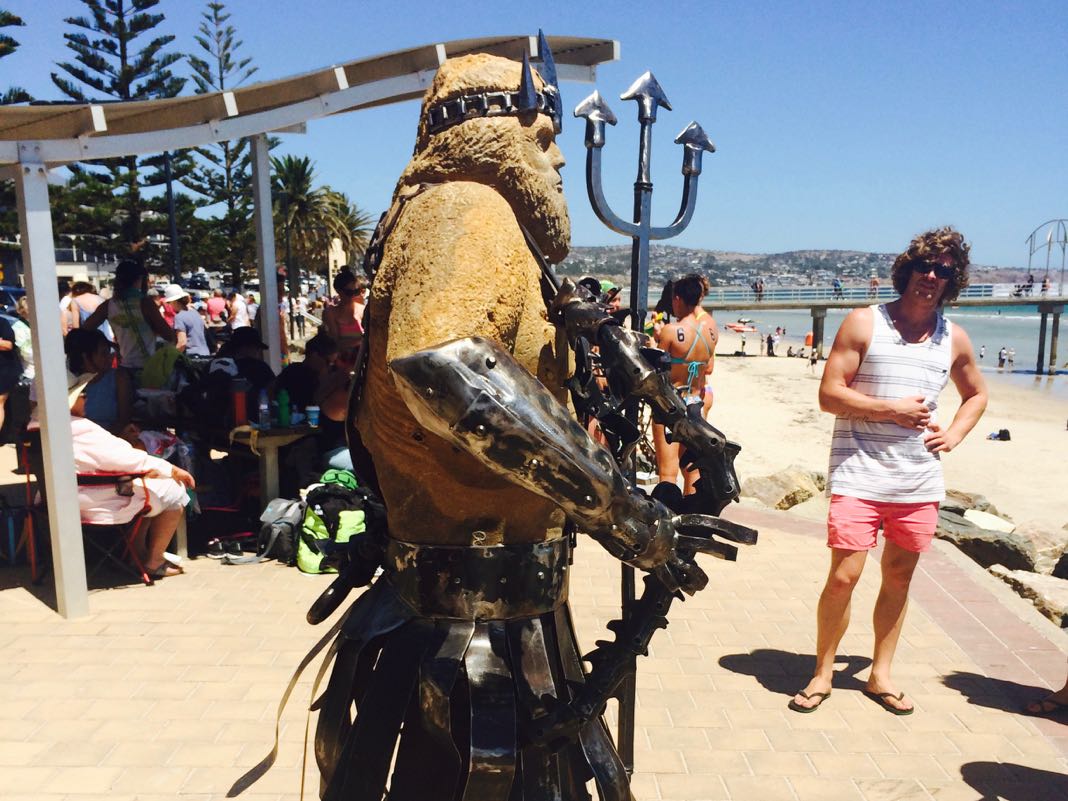 5. Vivonne Bay – Kangaroo Island, South Australia
This is a great beach on Kangaroo Island. The island can be reached by a short ferry ride from Cape Jervis.
Vivonne Bay was proclaimed the best beach in the world in 2003.
When I arrived and looked down at the Vivonne Bay from the clifftop, I was drooling with anticipation and it didn't disappoint.
The only thing I should warn you about is that the water is freezing even on a boiling hot day. I'm talking shivering cold. You may want to wear a wetsuit if you have one.
Best Beaches in Victoria
Capital city: Melbourne
1. Norman Beach (Tidal River) – Wilsons Promontory, Victory
Wilsons Promontory National Park is found at the southernmost tip of the Australian mainland.
They actually hold a ballot to secure places in accomodation nearby. Get in early if you want to stay the night.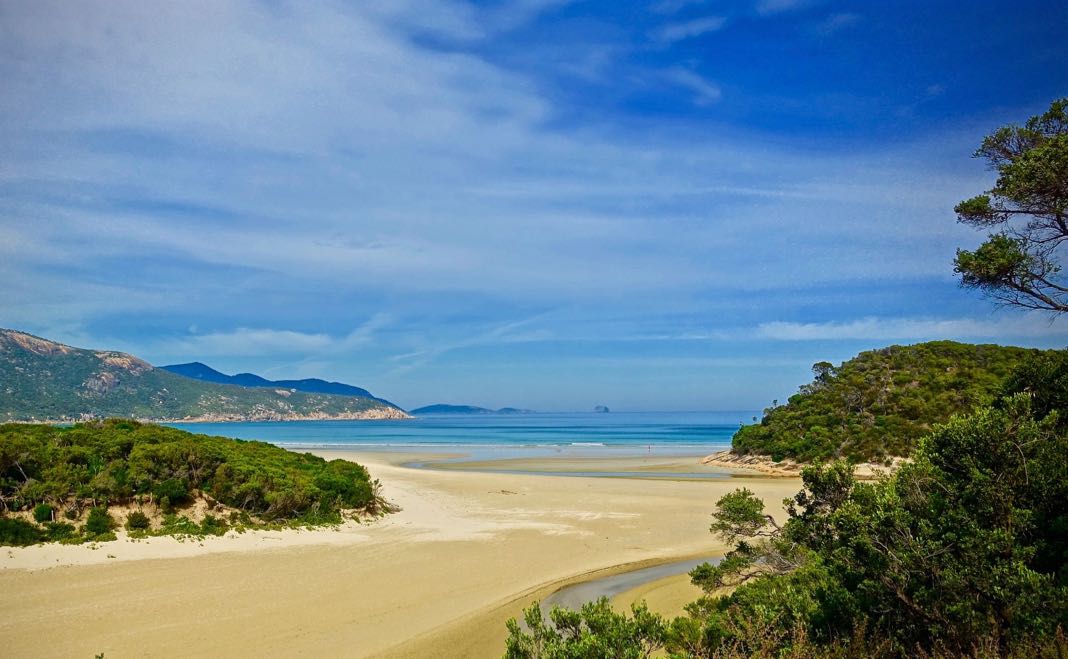 2. Bells Beach – Victoria
Bells beach was made extra famous by the movie Point Break (1991) starring Keanu Reeves and Patrick Swayze, when Bodhi went for his last surf.
Bells is home of the world's longest-running surfing competition – the Rip Curl Pro surf and a music festival. If you're a surfer you'll want to visit Bells beach to pay your respects and even if you're not, you can always watch the surfers at Bells.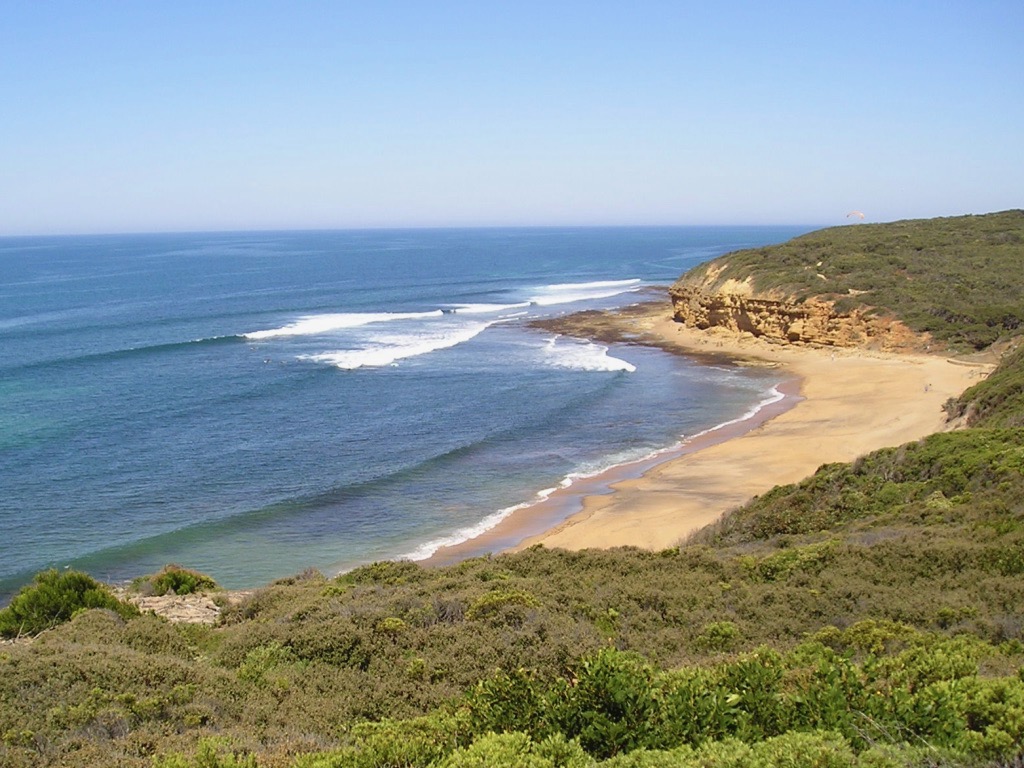 3. Sorrento Back Beach – Victoria
Sorrento obviously takes its name from the Sorrento from the spectacular Amalfi Coast region in Italy. I wonder if there is any truth to it?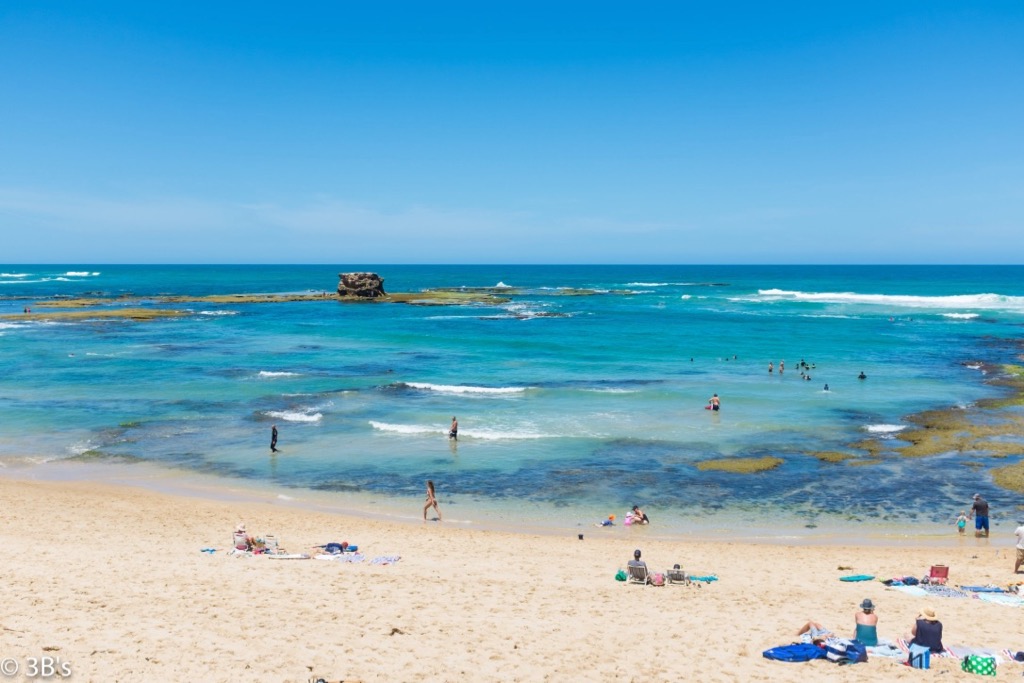 4. Apollo Bay – Victoria
I have to include Apollo. He is a Greek God so I feel compelled to include Apollo Bay in this list of 30 best beaches in Australia.
The added beauty about visiting Apollo Bay is that you can drive down the world renowned "Great Ocean Road" past the Twelve Apostles, the famous limestone stacks off the shore of the Port Campbell National Park.
Best Beaches in Tasmania
Capital city: Hobart
1. Wineglass Bay – Coles Bay, Freycinet Peninsula, Tasmania
The famous Wineglass Bay is on the left. Promise Bay is on the right. I promise you that you will be mesmerised by Wineglass Bay.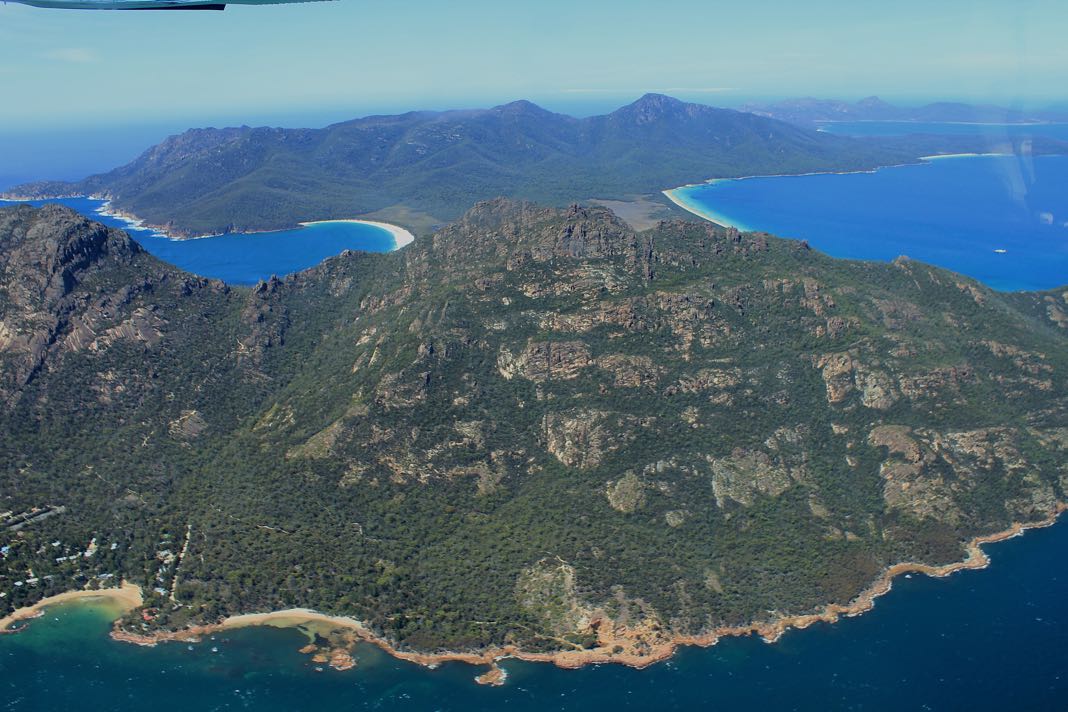 2. Bay of Fires – Tasmania
The beaches in Australia are hot. Bay of Fires must be really hot.
Top Beach Tips that could potentially save your life in Australia
Australian Lifesaving Tip – The Danger of Rip Tides
Australia has quite a few beaches which are very dangerous due to rips. Unfortunately every year it seems like a few people, many of them tourists, tragically drown due to getting caught up in one.
A rip quickly pulls swimmers out into deeper water. When a person panics and struggles to get back to shore, they get tired quickly, which makes it easier for the person to drown. That's because it's very difficult to swim back to land against a strong current, which also has the capacity to drag a tired person underwater.
The best thing to do is always swim between the red/yellow flags where surf lifesavers patrol the beach, particularly at wave-crashing beaches. That's because surf lifesavers know where the rips are located and often position the flags to avoid the rips if they can.
A rip can be present in water appearing calmer when compared to surrounding waves. A lot of people unknowingly choose to swim inside rips because it looks as if it is the calmest spot, or because there are less people in the water at that particular spot.
Wave action differences compared to nearby waves can also be a danger sign of rips being present. Avoid swimming in a rip.
If you're somehow caught up in a rip, the best way to get back to land is to remain calm and swim sideways along the beach until you pass it. Then swim back into shore after you pass it. That will save a lot of your energy.
If you can't really swim and need to keep your feet on the ground at all times and you're not sure whether it is totally safe, don't enter the water! The current can pull you out into deeper water even if you have both legs on the ground.
Stingers
Now that I've covered that, another thing to scare you with are the stingers. A few of the beaches in Queensland and other tropical beach destinations in the northern parts of Australia have stingers in the water at certain times of the year.
During this time of year swimmers are encouraged to wear lightweight wet suits to avoid being stung. You face a big dilemma though, because the crystal clear water looks very enticing. I have to admit that I went into the water at Whitehaven beach without a wetsuit on even though I was warned about the stingers. It was impossible to resist. Luckily nothing happened.
Watch out for crocodiles!!!
The Northern Territory is known for its crocodiles and this is why I don't want to give anyone any beach recommendations in the NT, even though it is spectacular part of the Australia. I'd hate for anyone to be eaten by a crocodile based on a recommendation of mine.
The Northern Territory does have a few excellent beaches, however I'd want to see heaps of other people enjoying themselves at the beach before I'd ever think about jumping into the water.
The Northern Territory is better known for its fabulous natural pristine waterholes. Just make sure you're swimming in the right ones. That goes for quite a few other dreamy waterways in the Top End of Australia.
Cairns, a major touristy town in Queensland, also has crocodiles lurking around certain areas. That's why it's important to be aware of any potential dangers before entering the water at any of Australia's tropical beaches, waterholes or rivers. Ask lots of people if it is safe to go in for a swim.
I remember at Arlie Beach, gateway to the Whitsunday Islands, when a boat captain was madly yelling at someone fishing off a breakwater to get off the rocks due to the danger of being taken by a crocodile. WTF! I had no idea. I would have felt comfortable swimming there.
Here's a warning sign snapped at Airlie Beach.
The Greek Gods really know how to keep you on your toes in Beach Paradise.
One last thing.
Whitehaven Beach is the number 1 beach in Australia.
Whitehaven is pure beach heaven. This fabulous beach in Whitsunday Island will fulfil all your fantasies. I'm sure Hermes (Mercury), the God of Travellers would agree.

Pin it … Share it