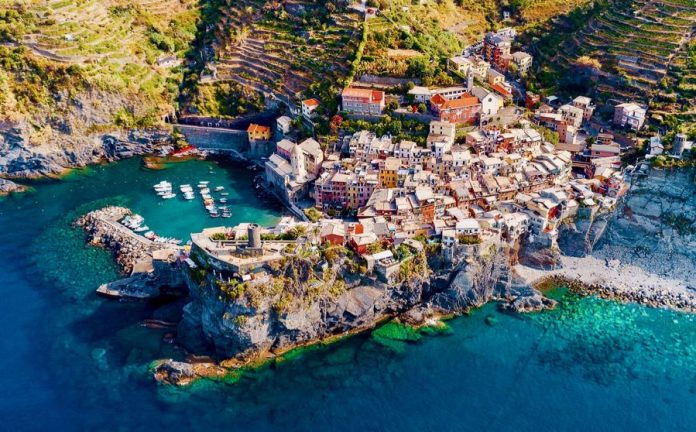 Have you ever wanted to visit the Cinque Terre in Italy? If you haven't, then this post could easily change your mind.
Some of you reading this may have already enjoyed this piece of paradise, so after being reminded of the great beauty of the Cinque Terre (meaning 'Five Lands') you'll probably want to return asap. At the very least, the best Cinque Terre views and sights shown here will probably convince you to definitely put the Cinque Terre on your agenda if you ever do plan a trip to Italy.
The Cinque Terre looks like a dream destination. Spending 3-5 nights here would be a good way to go provided you have that amount of time to play with. The problem is with so much history, culture, and natural beauty Italy has to offer, squeezing in all of the places you wish to visit can be extremely challenging. Something normally has to be missed, but seriously how can you miss out on visiting the Cinque Terre if you're going to Italy and you've never been before. I doubt whether anyone would come home with any regrets after visiting the Cinque Terre. The only regret will probably be that you didn't stay longer. The real dilemma though will be if you want to visit the Amalfi coast as well. What will you leave out if you only have a short limited amount of time? I'll give you a few tips at the end to try and solve the dilemma.
The views shown here of the Cinque Terre are spectacular. If you manage to see any of these 12 beautiful views and sights in this much loved UNESCO World Heritage Site with your own eyes, then you've done brilliantly.
Book a hotel in your favoured town or towns, and soak in as much beauty as you can during your time there, be that 1 day, 2 days or a week.
A map of Cinque Terre is shown below, so you can first get a sense of where the 5 villages in Cinque Terre (Monterosso, Vernazza, Corniglia, Manarolo and Riomaggiore) are located in relation to one another.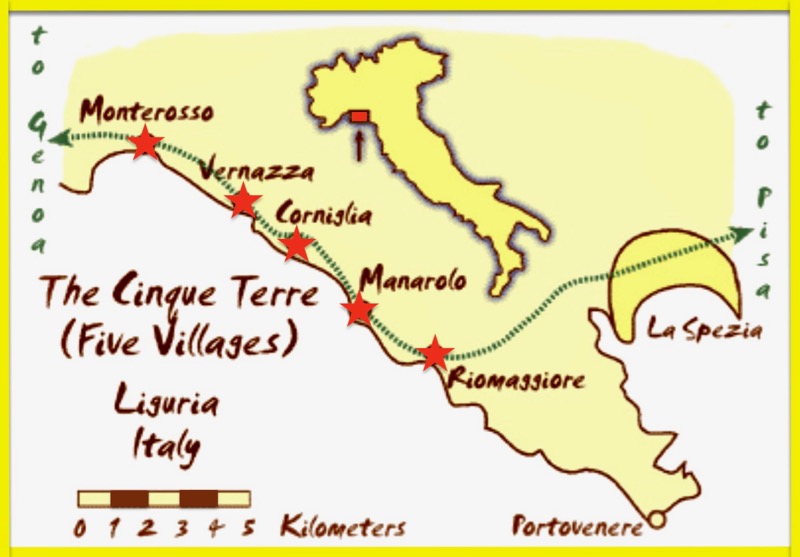 Monterosso al Mare
Interesting things to know about Monterosso:
Monterosso is the biggest of the five Cinque Terre towns and the most visited.
As of 2017 there were around 1500 inhabitants.
It is the most northern (and western) town in Cinque Terre.
Unlike the other towns in Cinque Terre, Monterosso is easily reached by car, though car parking can still be a problem.
Monterosso has the largest and best beaches in the Cinque Terre, which get very crowded during summer. Italians love visiting these beaches as well.
Monterosso is the only one of the five towns with a spectacular beach filled with umbrellas and chairs, like you'd expect in a big resort town. Most of the bigger hotels are located in Monterosso for this reason.
The town offers more entertainment activities compared to the other villages.
It's famous for the many lemon trees surrounding the area.
The town is divided into 2 parts, with an old village and a newer more modern Fegina neighbourhood. Both villages are separated by a single tunnel used by pedestrians and the small number of cars in town.
The old town is made up of cobblestone streets with narrow lanes lined with shops and restaurants. Here's where you'll see the brightly coloured tower houses that you find in the other towns of the Cinque Terre. The other part of Monterosso is the residential district which spreads along the beach of Fegina.
The Aurora Tower is one of only three surviving guard towers from a total of thirteen that once existed in Monterosso. Who wouldn't want to protect this beautiful piece of paradise?
The giant statue of Neptune (Poseidon) is found here. Neptune was once the main symbol of the village. It's now also known as the Monterosso Giant.
Best Cinque Terre Views in Monterosso – Number 1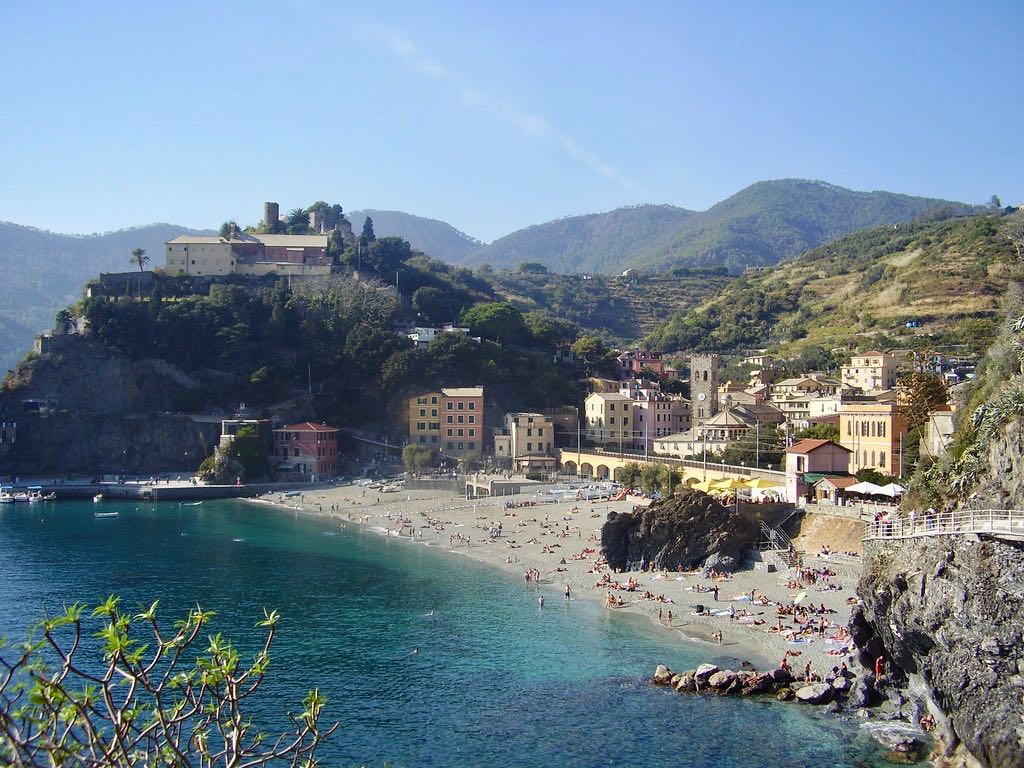 Best Cinque Terre Views in Monterosso – Number 2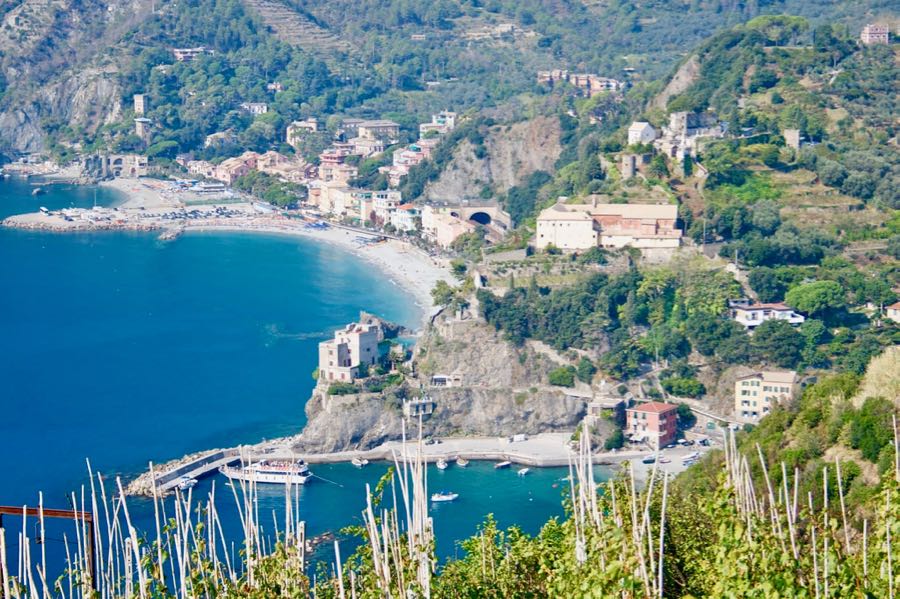 The fabulous view below is from the start of the hike between Monterosso and Vernazza.
Best Cinque Terre Views in Monterosso – Number 3
Neptune / Il Gigante (The Giant) – Number 4
On the outskirts of Monterosso, on the western end of Fegina beach, you'll see the remains of an enormous statue of Neptune (Poseidon), God of the sea. The famous sculptor Arrigo Minerbi and engineer Levacher built it in 1910.
Unfortunately, the 14 metre high statue was heavily damaged during World War II from allied bombing raids after the Nazis moved in. The "Nazi PillBox" (a low concrete bunker) where gunners hid can still be seen in the town today. Further damage also occurred during a severe storm in 1966, which eroded the statue even further. Today, it is missing the sea shell, both arms, the trident and a leg.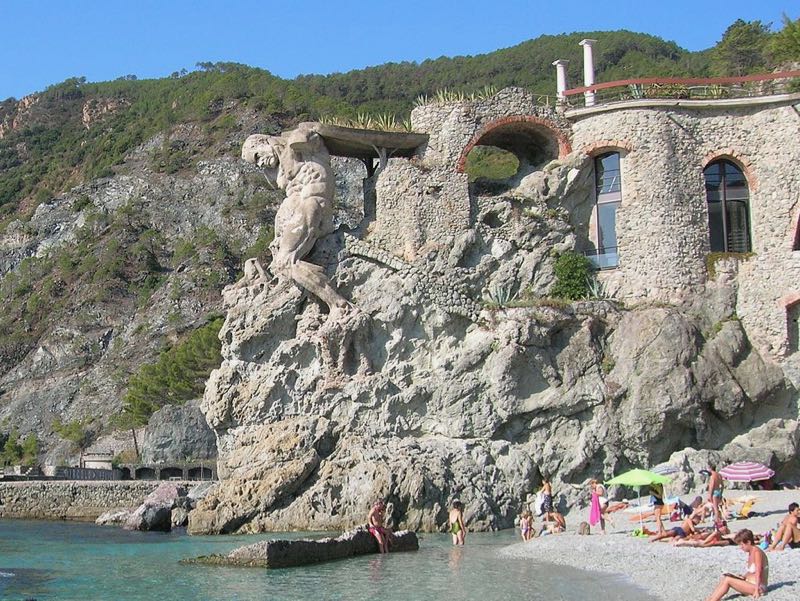 The statue originally had Neptune carrying a gigantic seashell in front of the terrace of the elegant Villa Pastine, which you can see in the black and white photo below. This enormous statue was once was the main symbol of Monterosso.
Interestingly, the sea shell was used as a dance floor. Today, the statue is often referred to as Il Gigante (The Giant), or the Monterosso Giant, sincee its resemblance to Neptune has pretty much disappeared.
I've also seen the giant referred to as Hercules on the web. I'd say it now looks more like Atlas, but instead of holding up the world on his shoulders, he's holding up a heavy plate.
In 1982 an intrepid climber discovered treasure at the heels of the giant. This was the golden rabbit prize from the Italian version of the famous book-treasure hunt "The Masquerade".
Vernazza
Visiting Neptune is a must but even more so would be the hike from Monterosso to Vernazza. Imagine arriving to this beautiful scene overlooking Vernazza.

Interesting things to know about Vernazza:
Many consider Vernazza to be the most beautiful and picturesque of all the five Cinque Terre's villages, the crowning jewel of the five. Looks picture perfect to me.
As of 2017 there were around 1000 inhabitants.
Vernazza is a traffic free village.
It has the only proper harbor in the Cinque Terre.
It's a small charming fishing village and remains one of the truest "fishing villages" on the Italian Riviera.
Widely considered the most colourful town along this stretch of coast.
The town has two beaches. A small beach near the main square, and another one (a bit bigger) accessed through caved passage in rock near the main square.
The village is surrounded by very steeply-terraced olive groves, which are said to produce Italy's finest olive oil.
The pirate attack is an event held every summer. It celebrates the successful defence of the town from a Sarecan attack in the Middle Ages.
Travel guru Rick Steve has mentioned that Vernazza is his favorite Cinque Terre town.
Best Cinque Terre Views in Vernazza – Number 5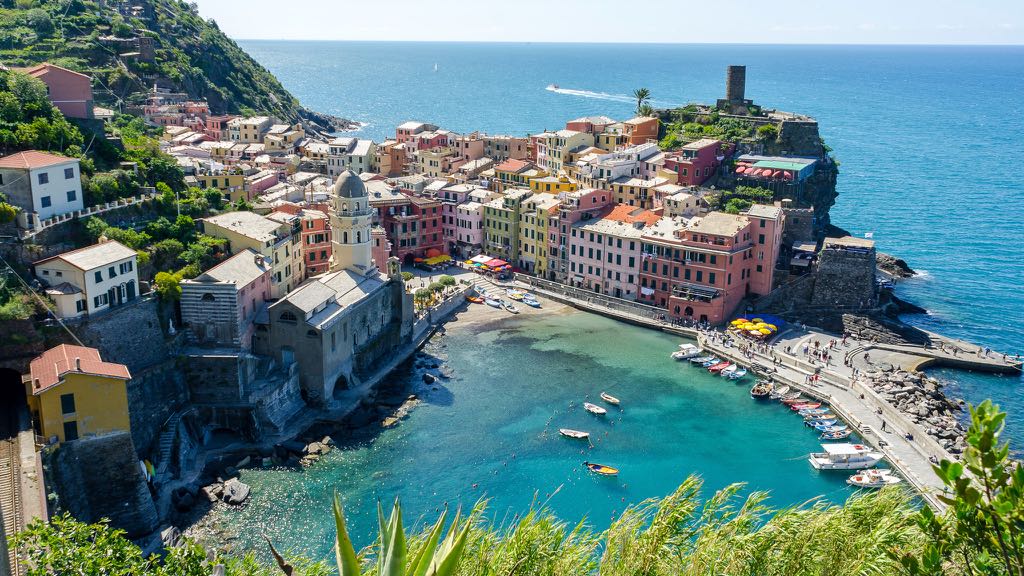 Best Cinque Terre Views in Vernazza – Number 6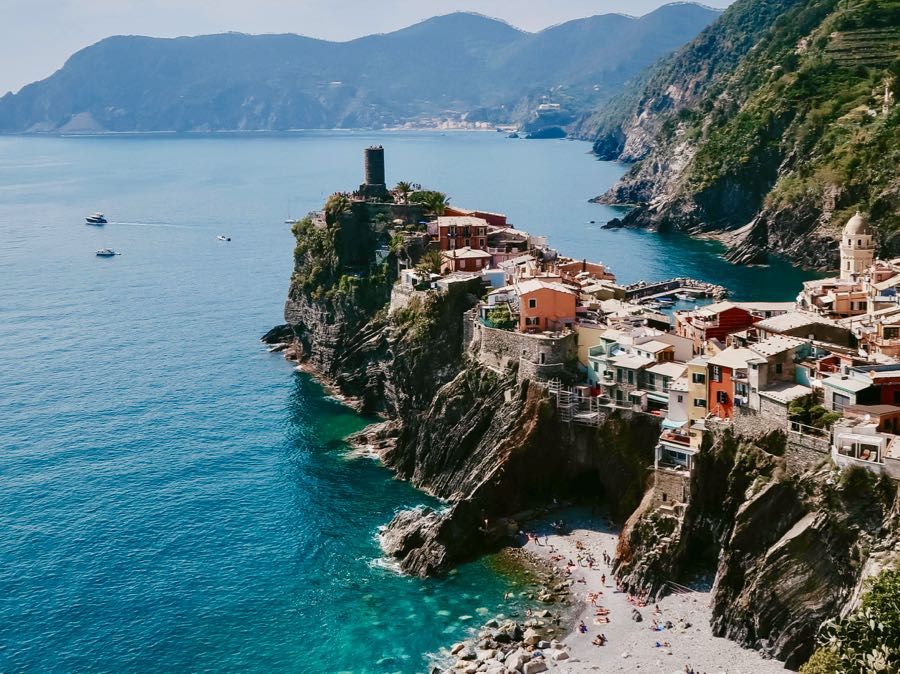 Corniglia
Interesting things to know about Corniglia: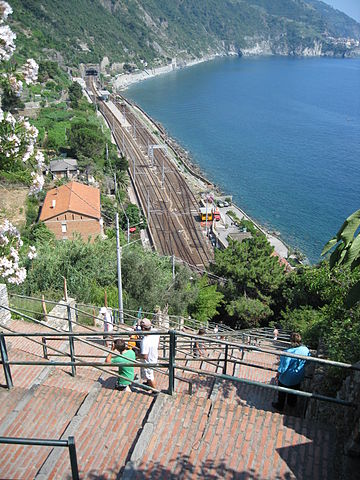 Corniglia is the smallest and highest of the five towns in Cinque Terre and has around 250 residents.
It is the only town without a sea port, as the town is situated on top of a cliff about 100 metres high.
Many walkers use this town as a stop-off point when walking through all 5 towns since it is half way.
The town is very difficult to reach by car.
The gateway to the town is the Lardarina, a more than 370-step brick stairway, which you can see in the photo on the right. A shuttle bus is also available if you have heavy luggage or you don't want to climb it.
Corniglia is the smallest town in the Cinque Terre with only 240 permanent residents, and it also has the fewest tourists.
The town makes a good Panna cotta. This is an Italian dessert of sweetened cream thickened with gelatin and molded. The cream is often aromatised with coffee, vanilla, or other flavourings.
The town is surrounded on three sides by vineyards and terraces. The Roman poet Pliny the Elder called the wine of the region "lunar wine".
Guvano Beach is a famous nudist beach in Corniglia, with a "clothing-optional" twist.
Best Cinque Terre Views in Corniglia – Number 7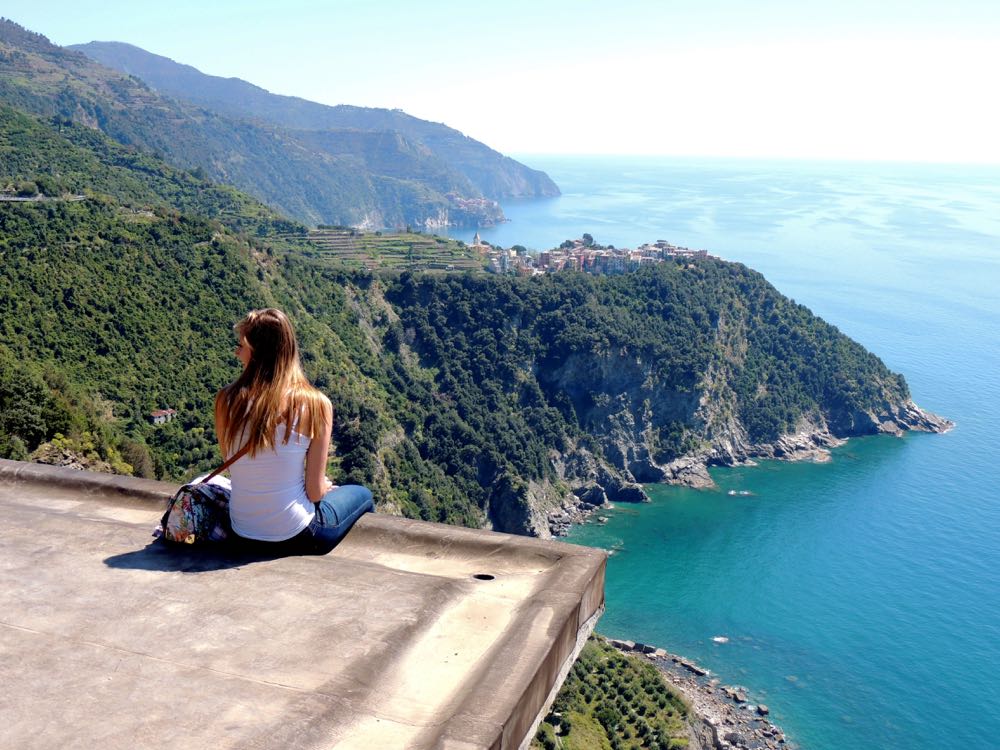 This looks like a great spot.
Manarola
Interesting things to know about Manarola:
The locals in Manarola speak an esoteric local dialect known as Manarolese, which is marginally different from the dialects in the nearby area.
Manarola is surrounded by vines and is famous for being the wine-making capital of the region. Cinque Terre DOC white wine and the sweet dessert wine sciacchetrà are the toasts of the town.
It is the second smallest of the Cinque Terre villages.
Manarola is one end of the famed Via dell'Amore (Pathway of Love).
Best Cinque Terre Views in Manarola – Number 8

The song in the above video is called Felicità. It was released in 1982 by the duo Al Bano and Romina Power.
My own personal favourite song by this popular duo would have to be the beautiful Italian song Sempre Sempre. I actually remember this song when it first came out. Loved it way back then and I still love it.

Here's another very entertaining music video of Sempre Sempre.
Best Cinque Terre Views in Manarola – Number 9
Who wouldn't want to go for a swim here? Looks great.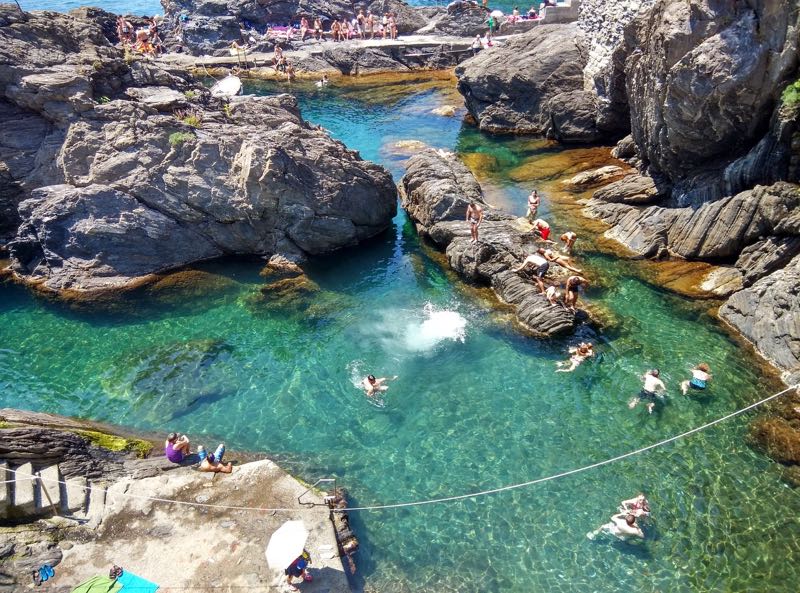 Riomaggiore
Interesting things to know about Riomaggiore:
This is the town closest to Rome, which makes it a popular starting point.
Riomaggiore is the starting point for the romantic Via dell′Amore (lover's lane), though you can also walk it the other way. It's a well-worn path that's been beaten through the rock all the way to Manarola.
The beginning of the Via Dell'Amore path has a gateway with two interlocking hearts.
Best Cinque Terre Views in Riomaggiore – Number 10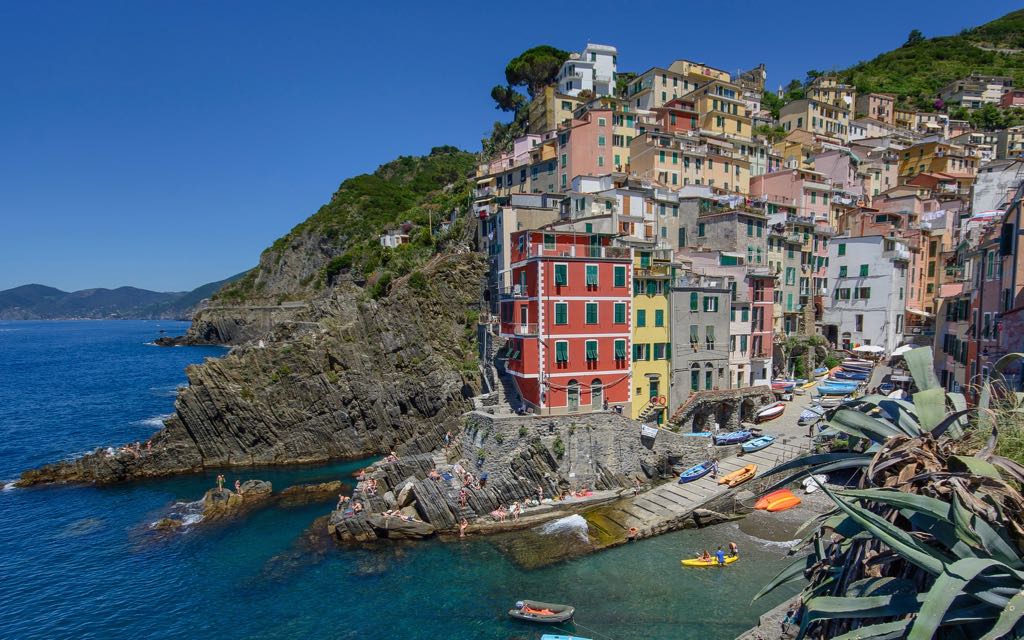 Best Cinque Terre Views in Riomaggiore – Number 11
Via dell'Amore, "Path of Love" – Number 12
This famous walking trail between Manarola and Riomaggiore is called Via dell'Amore, meaning something like Pathway of Love, Love's Trail, Lover's Walk, or Lover's Lane.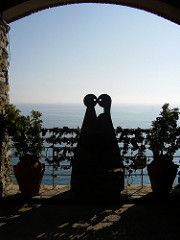 The Path of Love connects the picturesque villages of Riomaggiore and Manarola and is only about 1 km long, which is a gentle 20-40 minute walk, depending on photo stops.
Sadly the path has been closed for many years due to destructive landslides, though there are plans to reopen it. On September 24, 2012, a rockslide injured four tourists and since then it has been closed awaiting repairs. Only 200 meters of the trail has since been reopened but even this small section is still worth walking. The whole trail could be open again by 2021. What the hell. Hopefully it will open sooner, and they say the Greeks are slack!
It's famous for its kissing statue, the large number of padlocks with lover's initials attached to the wire mesh fence along the path, and a tunnel covered in declarations of love!
Via dell'Amore is the easiest section of the Sentiero Azzurro (blue trail), which goes all the way from Riomaggiore to Monterosso.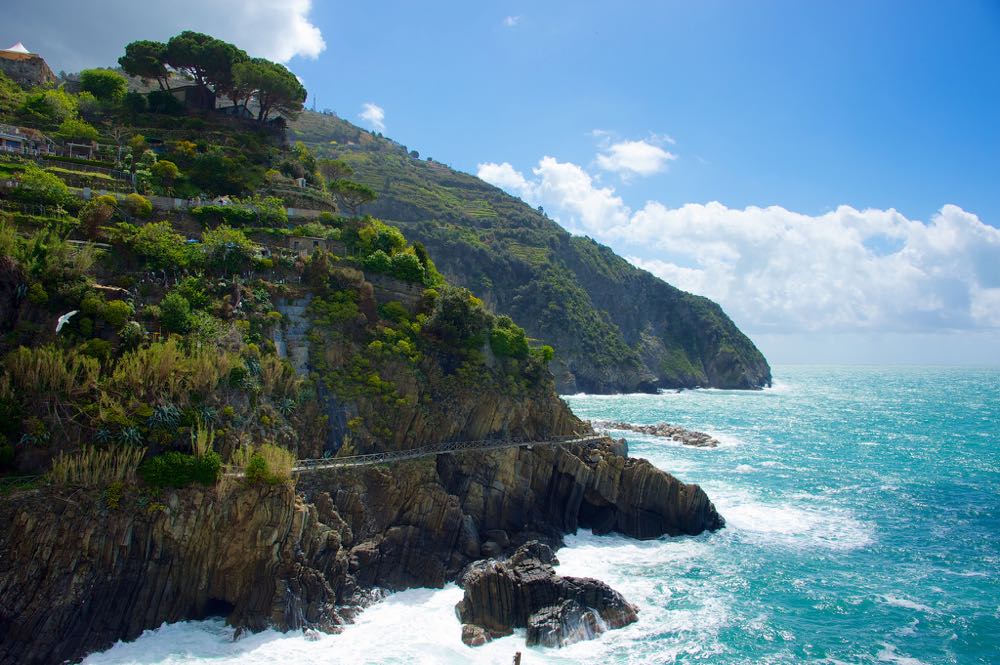 For a better glimpse of Via dell'Amore (Love's Trail), watch the video below.
How to get to the Cinque Terre
Rome to Cinque Terre by train
You will have to buy a ticket from Rome to La Spezia, and then a regional ticket from La Spezia to Cinque Terre, which is known as the Cinque Terre Express regional service. All up it will take about 4-5 hours to get there from Rome.
Florence to Cinque Terre by train
There are no direct trains from Florence to Riomaggiore (the southernmost town) in the Cinque Terre. You'll need to make at least one change along the way, while some require two changes. One-transfer itineraries involve a change in La Spezia. Travel time is approximately 2.5 to 3.5 hours.
Pisa to Cinque Terre by train
The average journey time between Monterosso and Pisa Centrale is around 1.5 hours or slightly under. On an average weekday, there are over 20 trains per day travelling from Monterosso to Pisa Centrale. If you ever go and see the leaning tower of Pisa take the hint. Do what you can with your schedule to visit the Cinque Terre.
Visiting the Cinque Terre by car
The roads are very narrow and driving in the Cinque Terre is usually discouraged. If you do decide to take a car, park it at La Spezia and catch in a train into Cinque Terre from there. Parking is quite expensive in Cinque Terre near each town, but they do have parking lots outside each one. You can walk into town from there or even use a shuttle service to get you into town. You'll want to have a full tank of gas if you decide to drive through the Cinque Terre. Running out of gas would be a nightmare. Most people who've done it don't recommend going by car. Why bother. The train and ferry services sound like a much better more relaxing way to arrive in Cinque Terre.
Ferry service from La Spezia to Cinque Terre
Why not arrive in the Cinque Terre by boat? Sounds like a great way to get there.
Ferry routes during summer: La Spezia – Portovenere – Palmaria – Cinque Terre
Visiting the towns by boat/ferry is one of the best ways to see the towns of the Cinque Terre. The ferry generally runs from Easter through October, provided the weather is warm and dry. Schedules are posted at various points around the villages.
Best Agendas for trips to the Cinque Terre
Day trip in Cinque Terre (4-6 hours)
Boat ride around several towns.
Vernazza or Monterosso.
This will give you 4 to 6 hours in Cinque Terre which isn't much time, but they do say something is better than nothing. Arrive 1-2pm and leave at 6-7pm. It will be a long exhausting day though.
Catch the train from Rome to La Spezia or wherever else you plan to arrive from, as early as possible. The train station in Riomaggiore is near the start of the famous Via dell'Amore (the way of love), the first part of the hiking trail that connects the five Cinque Terre villages. If the Via dell'Amore ever opens up again, you might want to walk this short route. It's expected to open again by 2021, but who knows it could be way sooner. Fingers crossed.
1 night in Cinque Terre: Stay in Monterosso or Vernazzo for the night.
Walk from Monterosso to Vernazzo (approximately 1.5 to 2 hours). Leave your main luggage at a hotel outside of the Cinque Terre and just take a day bag in.
It's supposed to be the hardest and most rewarding of the 4 individuals paths that follow the coastline. It offers a panoramic view of all 'Five Lands', and is considered by many to be the highlight of Cinque Terre. When leaving Vernazza, you can catch the ferry to Corniglia, Manarola and finally Riomaggiore, and leave from there.
2 nights in Cinque Terre: Walk the Cinque Terre through all 5 towns.
The hike takes around 6 hours. For those of us who like to dawdle along, allow 10 hours. Start at 8am.
You can do the hike, named the Sentiero Azzurro, or Blue Trail (sometimes marked as "no. 2") passing by all 5 towns in five or six hours theoretically. However with long lunches and cafe stops, it's probably best to split up the walk over two or three days, which can easily be done by staying two nights.
3 or more nights in Cinque Terre: Now you have lots of options to play with. Lucky you.
For some more amazing views of Cinque Terre, checkout out this great YouTube video.

If you click here and listen to Jimmy Fontana Il Mondo 1966, you'll never forget about the Cinque Terre.
Pin it … Share it