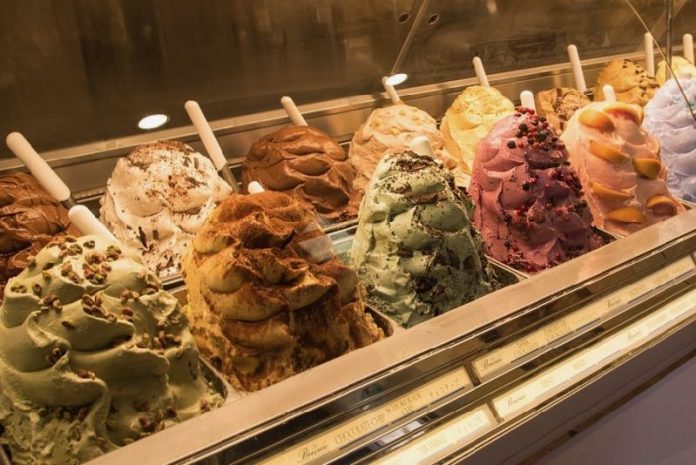 The 15 best Italian desserts shown here should be on the radar for every visitor to Italy. Look for these tasty treats through Rome, as well as other cities/towns, and regions like the Amalfi coast. I have to admit I've only tasted 3 of these Italian desserts (gelato, cannoli, tiramisù) myself. How come? Because I was ignorant. If I'd known about all of these 15 delicious looking desserts, I definitely would have tried to taste them all. Gelato is great and you should be eating lots of it in Italy, but you shouldn't just be eating this for dessert at every opportunity. Try something else.
1. Gelato – Best Italian Desserts
Here are 10 gelato flavours definitely worth tasting:
10. Bacio – Bacio means "kiss". This gelato flavour is a combination of rich chocolate and hazelnut.
9. Stracciatella – Stracciatella literally means "torn apart". The gelato flavor is chocolate chip ice cream in its purest form, combining vanilla with fine chocolate shavings.
8. Cioccolato all'Arancia – Orange-flavored dark chocolate that can also include bits of candied orange peel.
7. Zuppa Inglese – Zuppa Inglese can be translated as "English soup". This popular gelato is yellow in colour. It has a rich custard flavour and creamy texture.
6. Chocolate and fig – Sounds delicious.
5. Zabaione and coffee mousse – The flavour of a classic Italian dessert, which combines an egg-based cream with sweet wine. Combined with coffee it gives it that extra kick.
4. Lemon – Hopefully made with I.G.P. lemons from the Amalfi coast.
3. Gianduja or Gianduia (jahn-doo-yah) – This is another chocolate-hazelnut combination flavour similar to bacio, but this gelato is completely smooth, and it's always made of milk chocolate.
2. Gelato alla manna – A Sicilian flavour that has a very unique taste. Manna, the lymph of Fraxinus ornus (a variety of ash tree) is extracted in the Sicilian provinces. The result is a super-exotic flavour definitely worth a taste.
1. Pistachio – Consider yourself in gelato heaven.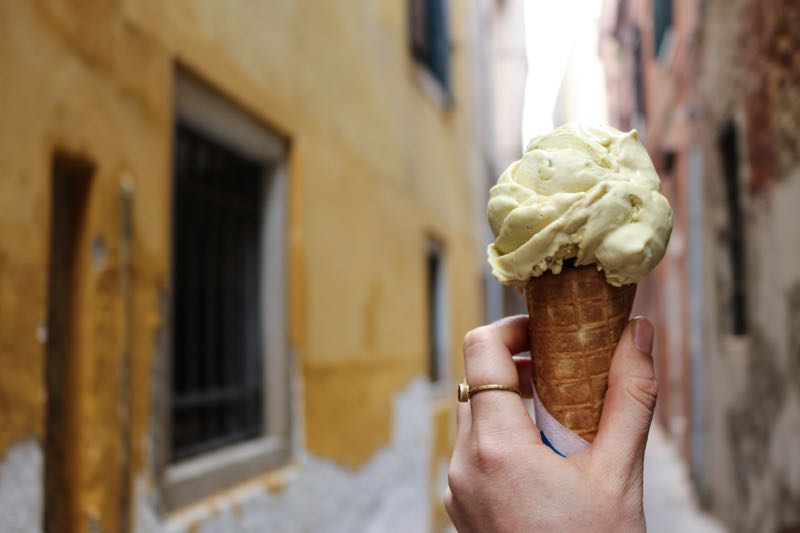 2. Cannoli – Best Italian Desserts
These Italian pastries originated on the island of Sicily. Today, they're widely available throughout Italy and around the world. Who doesn't love a cannoli? They have to be in the top 3 best Italian desserts.
Fried pastry dough tubes are filled with a sweet, creamy filling usually containing ricotta. In the photo below you can see them with red cherries and pistachio (the green stuff).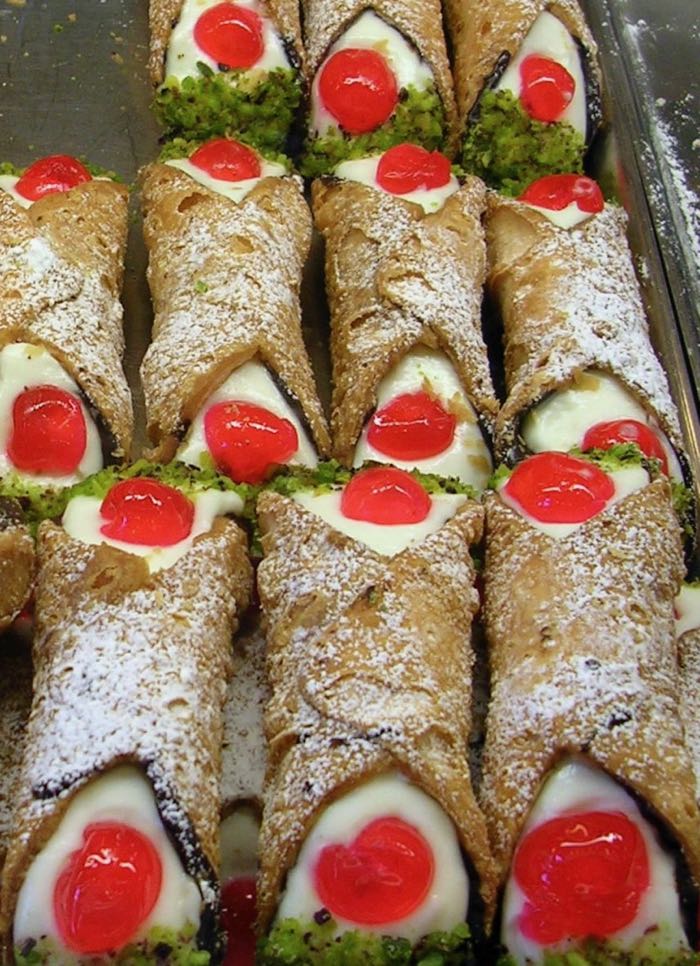 3. Panna Cotta – Best Italian Desserts
This classic Italian dessert appears on almost every Italian dessert menu. Seriously, I don't think I have ever tasted this dessert.
Panna cotta means 'cooked cream' in Italian. It's prepared by warming thick cream with sugar and gelatin. It's moulded into shape and chilled until set. The cream can be infused with other flavours like coffee or vanilla. It is often topped with fresh berries, caramel or chocolate sauce. A good panna cotta gives a gentle wobble when the plate is shaken.
4. Tiramisù – Best Italian Desserts
Tiramisù is one of the most popular Italian desserts. It literally means: 'cheer me up' or 'pick me up' probably because of the mood-lifting ingredients like coffee, cocoa and sweet mascapone cream. Italians love this dessert.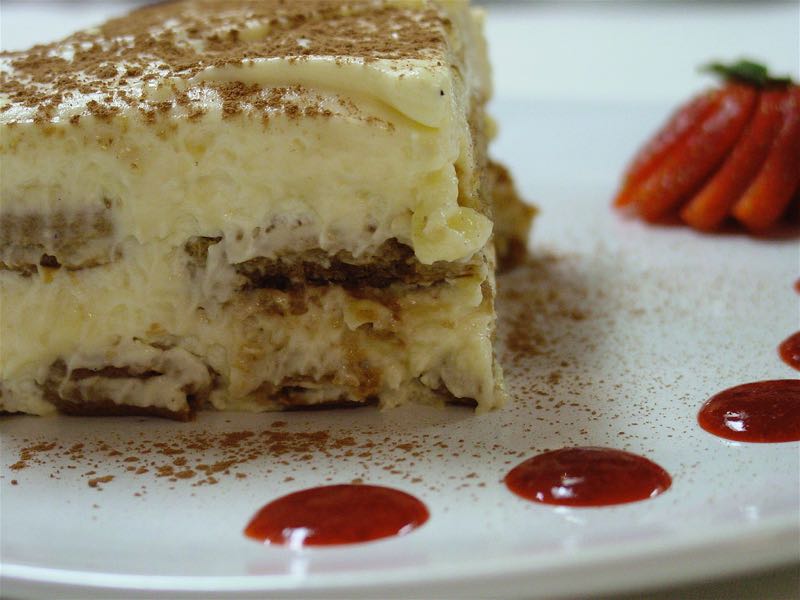 5. Bomboloni con marmellata – Best Italian Desserts
The apricot flavoured bomboloni shown below would definitely go well with a coffee.
6. Zeppole – Best Italian Desserts
These delicious looking treats are very popular in Naples. Who would turn this away for dessert?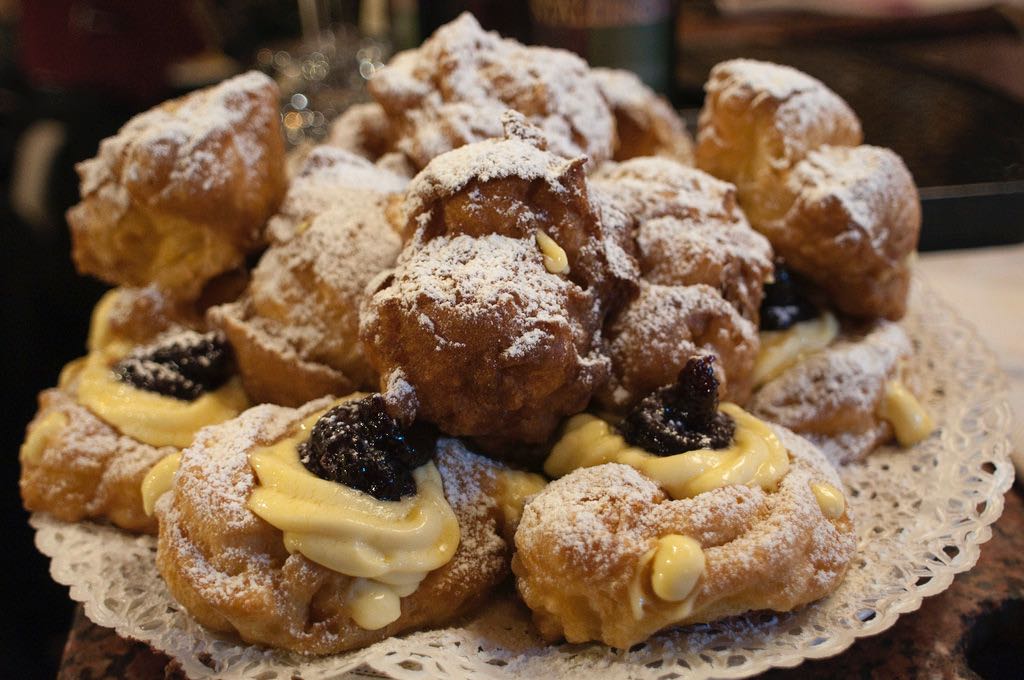 7. Semifreddo – Best Italian Desserts
The Italian dessert is an ice cream with a mousse-like texture. Semifreddo meaning 'half cold' is like a cross between a mousse and a gelato. It can be moulded and sliced, which makes it a great party dessert. You can enrich semifreddo with numerous flavour combinations. The Semifreddo ai pistacchi shown below looks very tempting.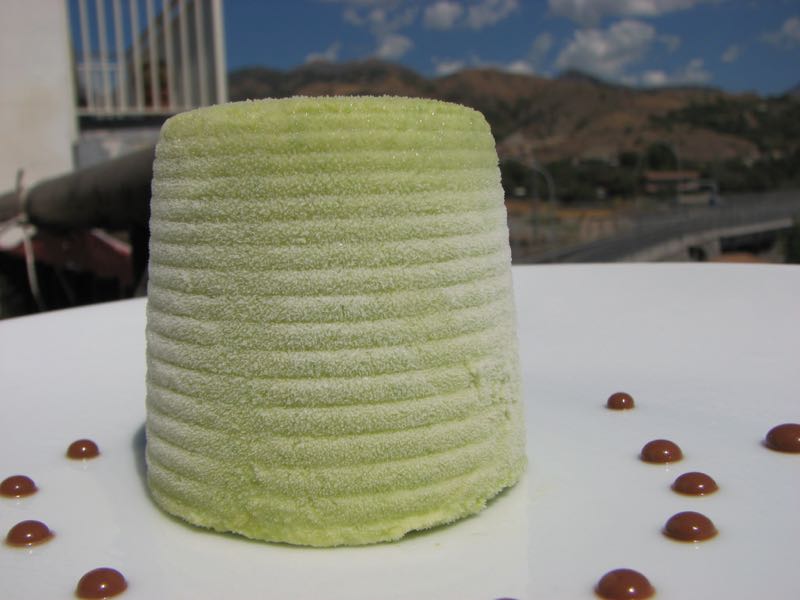 8. Sfogliatelle – Best Italian Desserts
Sfogliatella means thin leaf or layer. This sweet treat is about the size of the palm of your hand. It's very popular in Naples. These pastries have the form of a shell, or a 'lobster tail' which they're sometimes called in America.
These pastries are usually filled with ricotta, candied fruit, sugar and semolina. They're best eaten hot, just out of the oven, to contrast the crunchiness with the smoothness of the fragrant inner filling. Sfogliatella are a delicious breakfast treat.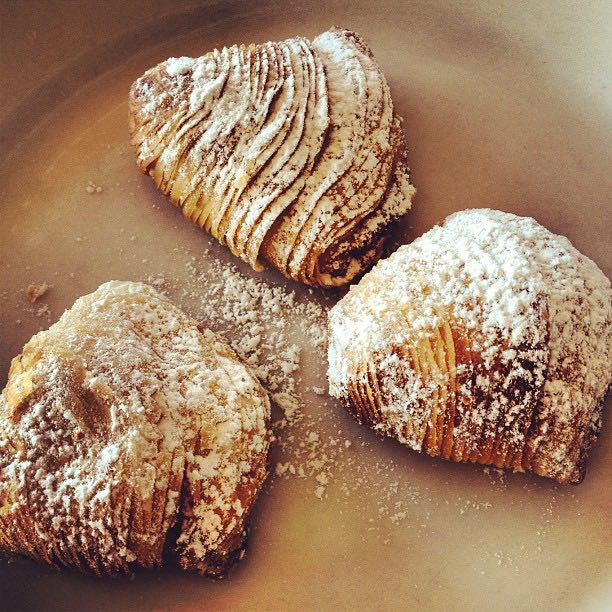 9. Tartufo di Pizzo – Best Italian Desserts
Tartufo is a frozen dessert which orginated in Pizzo, a small town in the southern region of Calabria. It was invented when King Vittorio Emanuele II attended an aristocratic wedding. They didn't have enough cups to serve the gelato dessert to hundreds of people at the celebratory dinner, so the chef devised this dessert which could be served on a plate by coating the ice-cream in a chocolate shell and refreezing before serving.
The dessert is typically made with two flavours of gelato, a fruity syrup in the centre coated with chocolate or nuts.
Tartufo is the Italian word for 'truffle' which is suitable for this dessert, since the shape and colour resembles that of black truffles.

10. Zabaione (Zabaglione) – Best Italian Desserts
This classic Italian dessert is made with only three key ingredients. It is made with egg yolks beaten together with sugar and a sweet wine, usually Marsala wine, until light and fluffy. The dessert is often served with a little something on the side, and pairs well with fruit, vanilla cake or sweet biscuits.
Zabaione is often served with a glass of whatever sweet alcoholic beverage was used to create the dish: Limoncello, Marsala or Moscato wine.
It can be served warm or cold. Zabaione has been prepared in Italy since the 15th century. There's even a Zabaione gelato flavour.
11. Sicilian Granita and Brioche
This semi-frozen Sicilian dessert has a wide variety of popular flavours to choose from including Lemon, Almond, Coffee, Chocolate, Mulberries, Strawberry and Peach. The brioche is a soft sweet bun.
How could you turn down a Mulberry Granita?
12. Struffoli
Deep-fried dough balls coated with honey, cinnamon, sprinkles and orange rind.
13. Sicilian Marzipan – Frutta di Martorana
These amazing creations take the form of fruit and vegetables. It is made with ground almonds, sugar, corn syrup, and lemon juice.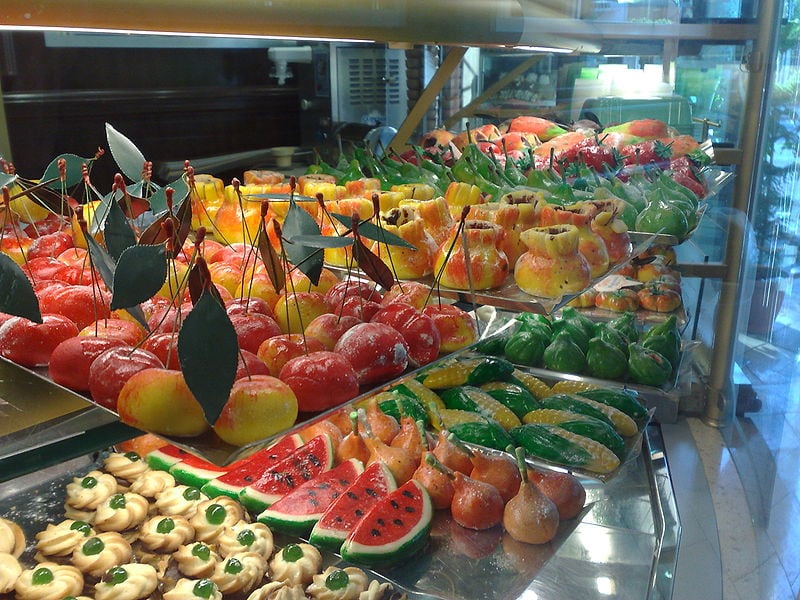 14. Lemon Sorbet
Make sure you taste the lemon sorbet inside a whole frozen lemon. Then use a spoon to scoop out some of that delicious lemon sorbet.
15. Lemon Ganita
You need to taste as much lemon as you can in Italy. Lemon granita is so refreshing especially after you've been walking around for a while when you're really tired. It will boost your energy levels in no time.
To taste all of these 15 best Italian desserts would really add that extra special memory when visiting Italy.
Pin it … Share it