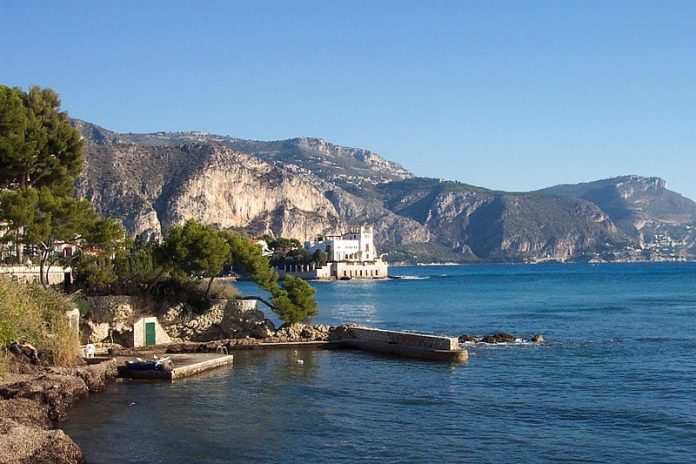 Ok, so you've heard about the French Riviera and how wonderful it is, but do you know about the 10 best places to visit in the French Riviera? After this post you will fully understand why the French Riviera (Côte d'Azur) has attracted beautiful actresses, millionaire playboys, celebrities and everyone else wanting to visit this glamorous beachside region in the south of France.
Most well-healed tourists have heard about Nice, Cannes, Monaco and Saint Tropez, but is that all the French Riviera has to offer? These are great destinations, but are they really the best places to visit in the French Riviera?
A trip to the French Riviera can lower your bank balance significantly so you should plan a trip there properly. The more loaded you are the better, but don't let that stop you because a trip to the French Riviera (Côte d'Azur) can be done relatively cheaply. Here I'll show you how to have a great time in the French Riviera, whether you're rolling in money or not.
Remember, you can always catch the train/bus from Monaco to Saint Tropez if that's all you can afford to do. Actually, on second thought, don't visit the French Riviera if that's all you're wanting to do. Save up some more of your hard earned money. You have to stay in the French Riviera for at least a couple of nights. You can't go wrong by spending a couple of nights in Nice.
Map of the French Riviera
The 10 best destinations in the French Riviera I'll be discussing are shown in the map below. Monaco, Nice, Cannes and Saint Tropez are included in the 10 best destinations to visit in the French Riviera. Obviously they didn't get that famous for no good reason.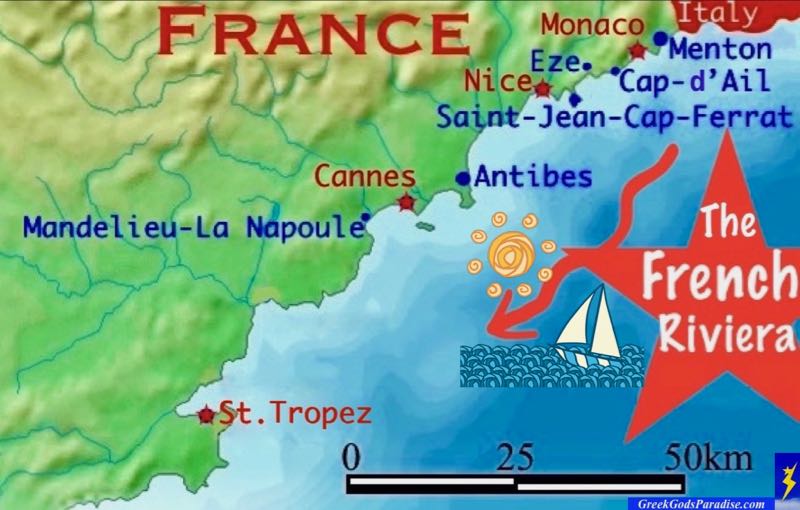 If you haven't heard of all of these destinations in the French Riviera, then that will soon change.
The thing to note is how close these fabulous destinations are in relation to one another. Monaco to Cannes is only about 56 km (35 miles) away. It makes it pretty easy to see all of these places even if you base yourself in one town.
You won't be able to see all of the great places in a couple of days. It would more likely require at least 10 days to see them all and even that would be tight. Maybe you should stay in the French Riviera for a couple of weeks. Yes, that's the better way to go. Relax and enjoy your stay.
How to plan a trip to the French Riviera
Let me first explain that the French Riviera is not a definite section of coastline and collection of towns. Some believe it extends from Monaco to Cannes, while others from Menton to Saint Tropez and beyond.
It doesn't really matter because if you're able to visit these 10 best places in the French Riviera, then lucky you! A trip to the French Riviera can't get much better than this especially for first-time visitors.
The really hard part when planning a trip would be to decide on how long you can stay. This is no easy task, however since I am showing you 10 places, it would be reasonable to assume that 10 days would be a good starting point. Even better, can you make it a month? I'm pretty sure you won't regret holidaying in the French Riviera for a longer period of time, so there's your answer. Stay as long as you can.
Let's start things off with the town of Menton and follow the coastline from place to place as shown on the above map all the way down to Saint Tropez.
Best Places to Visit in the French Riviera
1. Menton
Menton is a small town located on the French Riviera close to the Italian border. This small town is famous for its lemons and is one of the best-kept secrets on the French Riviera.
Since Menton is close to the Italian border one of the big benefits is that you'll be able to eat Italian cuisine in town. The town is also quieter than other towns in this region so the vibe will be more relaxing.
La Fête du Citron (Lemon Festival): If you find yourself in Menton mid-February to early March, you may be in luck. This is when the town celebrates its citrus heritage with incredible gravity-defying floats made up of lemons and oranges.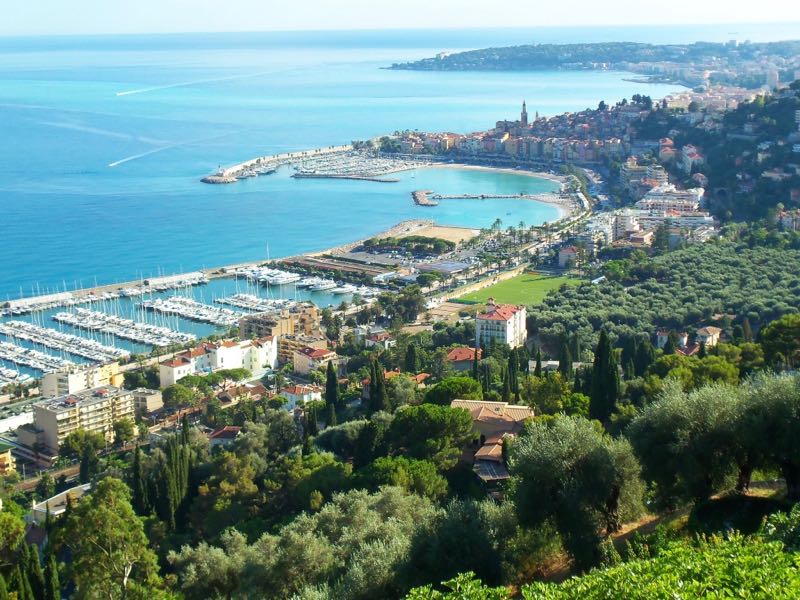 The town has plenty of beaches to soak up the rays of sun.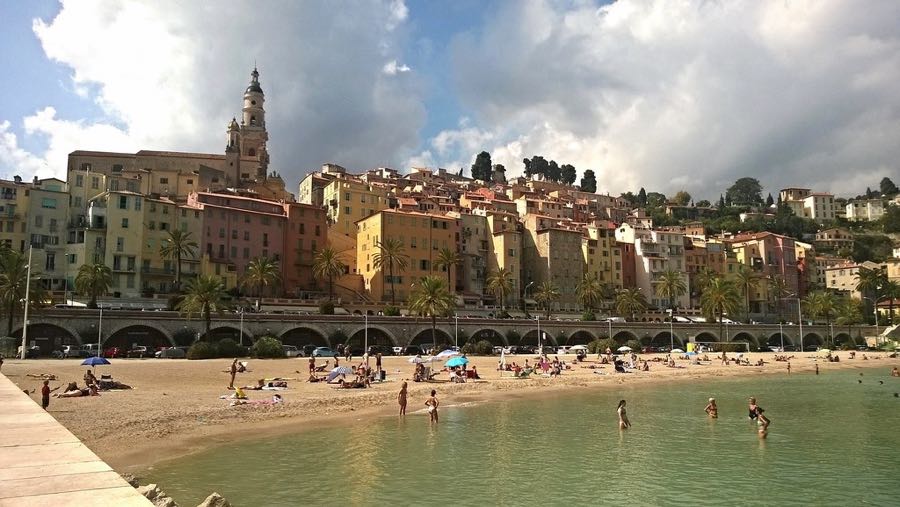 Menton has plenty of shops where tourists can buy some citrus related souvenirs.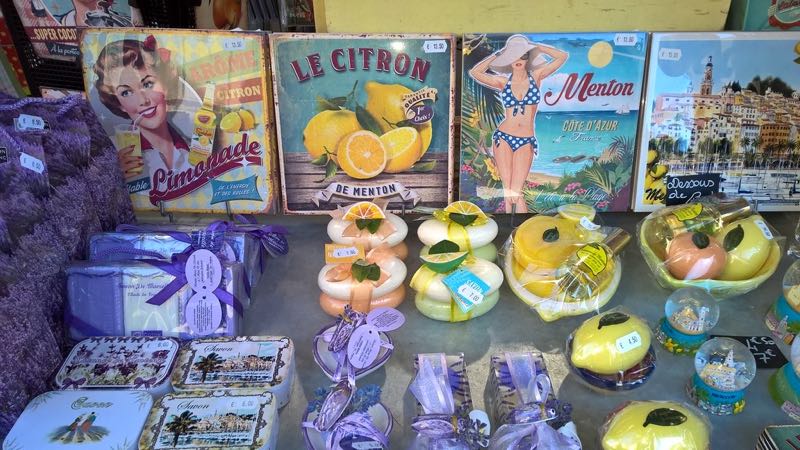 Beautiful gardens worth visiting include the Fontana Rosa Garden and Maria Serena Villa Garden.
This town also has a fantastic museum dedicated to the great artist and film director Jean Cocteau. He directed the movie Orpheus in 1950. If you've seen the film which is based on the Greek myth then you'll probably want to pay your respects. His poetic interpretation of the myth of Orpheus set in relatively modern times is an outstanding movie you'll never forget. I doubt you will ever forget about Menton after a visit here.
2. Monaco
Monaco is one of the most exciting destinations in the French Riviera. Decadence, glitz, glamour and luxury spring to mind when thinking about Monaco.
The "Principality of Monaco" is a tiny country on the south coast of France. It is only 2 square Kilometres (0.75 of a square mile) in size.
Monaco is not part of France and has been ruled over by the House of Grimaldi since 1297.
The wealthy love this seaside paradise partly due to it's favourable tax regime. Expect to see lots of high-end cars and yachts.
Port Hercules (Port Hercule: French) is where you'll find many luxurious yachts. The port is seen in the centre of the photo below. They've wrapped themselves around Hercules, the Greek mythical hero. Port Hercules is the only deep-water port in Monaco.
Rock of Monaco
The 62-metre tall monolith juts out into the sea and separates Port Hercules from another smaller port. This prime land is where the Prince's Palace, Oceanographic Museum and Aquarium are located.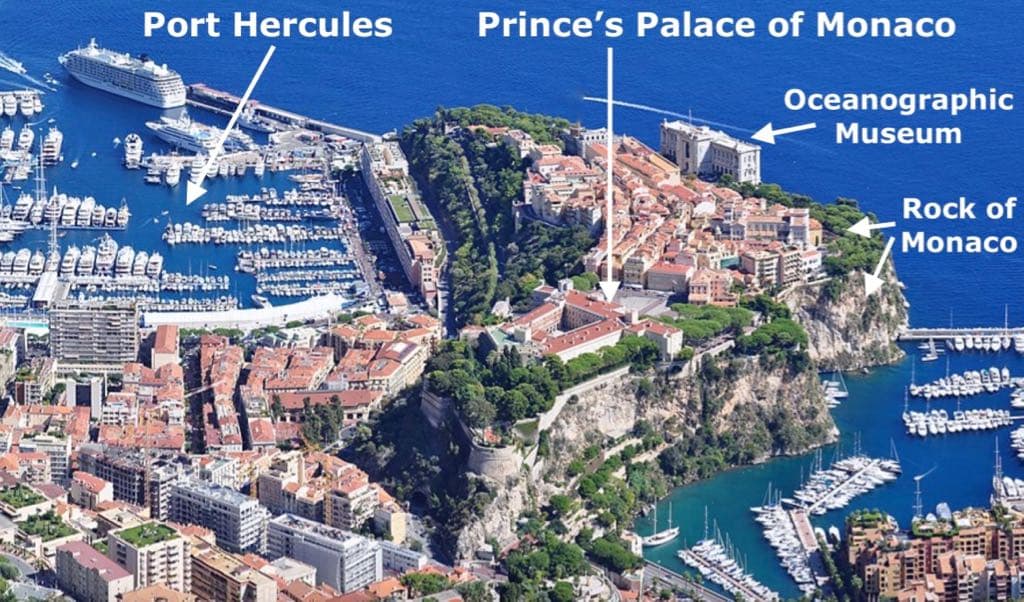 The Prince's Palace of Monaco is the official residence of the Prince of Monaco and is situated on the "Rock of Monaco". You can visit all of these places.
The Rock of Monaco was the first conquest of the Grimaldi dynasty, the rulers of the country since 1297. It was founded when the Guelf François Grimaldi disguised himself as a Franciscan monk in order to gain entry to the city. He somehow opened the gates for his soldiers and the rest is history. Sounds very similar to the Trojan horse myth.
Great views of Monaco are available at certain places on the surrounding mountains.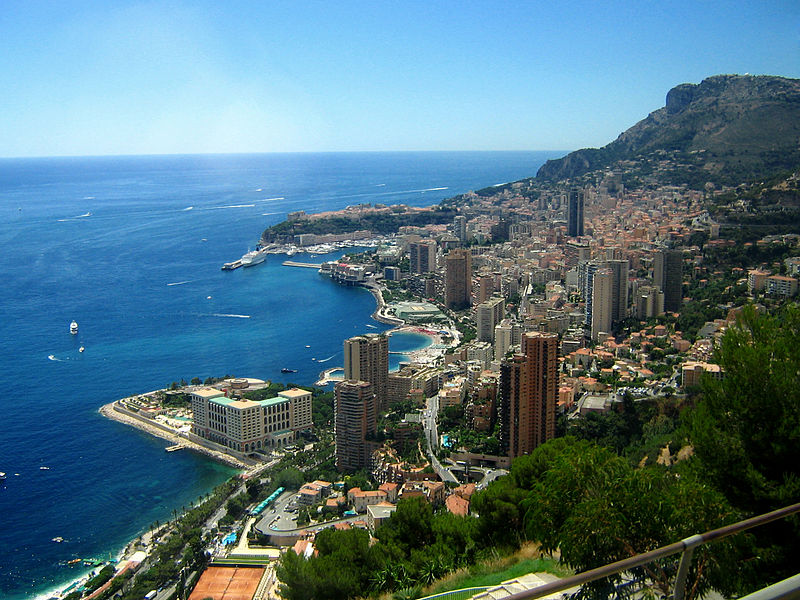 Monte Carlo
Monte-Carlo is a district of Monaco and is situated on a rocky promontory to the north of the Port of Monaco. The famous Monte-Carlo Casino is a big drawcard.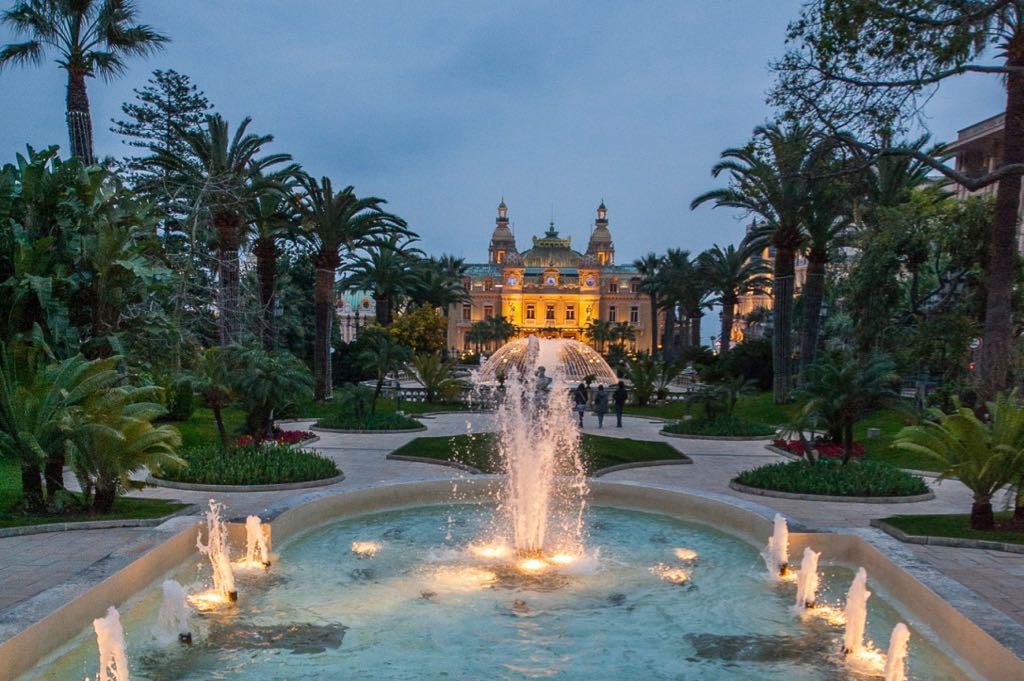 Make sure you don't lose too much money at this famous casino. You should be aware that everyone has to show their passport to be able to gamble at Monte-Carlo Casino. Take it as valuable advice. They don't allow their own citizens to gamble, only gullible tourists.
This is a way better fun game to play. Try and spot the most expensive car at the famous Monte-Carlo Casino. It won't be easy.
Top Places to stay in Monaco:
Monaco has some amazing gardens to wander through. The Jardin Exotique de Monaco is a botanical garden located on a cliffside in Monaco.
3. Cap d'Ail
Want to know the best way to arrive in Cap d'Ail for the first time? Walk.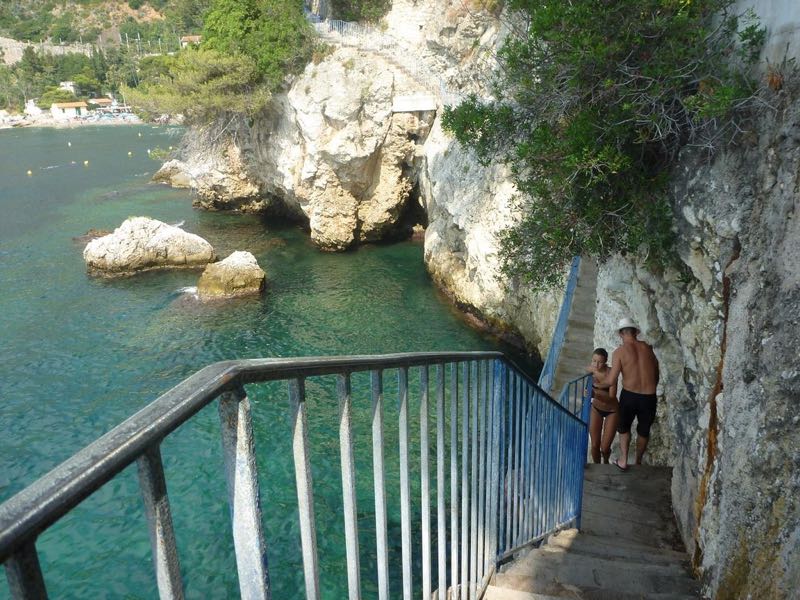 You can walk down the coast from Monaco into the town of Cap d'Ail along a wonderful 3.5 km (2.2 miles) long coastal path. It takes about an hour.
The beautiful Mala beach will be waiting for you. This is one of the best beaches in the whole of the French Riviera.
Eden Plage Mala Beach & Restaurant is a another hidden paradise in the French Riviera. It will take hundreds of steps to get there, but it should be worth the effort.
Return to Monaco by catching the train afterwards.
4. Èze Village
The village of Eze is perched high about 427 metres (1,400 ft) above the sea. Being in Eze Village will give you fantastic views of the spectacular coastline overlooking Cap Ferrat.
Make sure you visit the Jardin Botanique d'Èze, which is housed in a former medieval fortress, to experience incredible panoramas of the French Riviera. The best view is from the Jardin Exotique, right on top of the mound.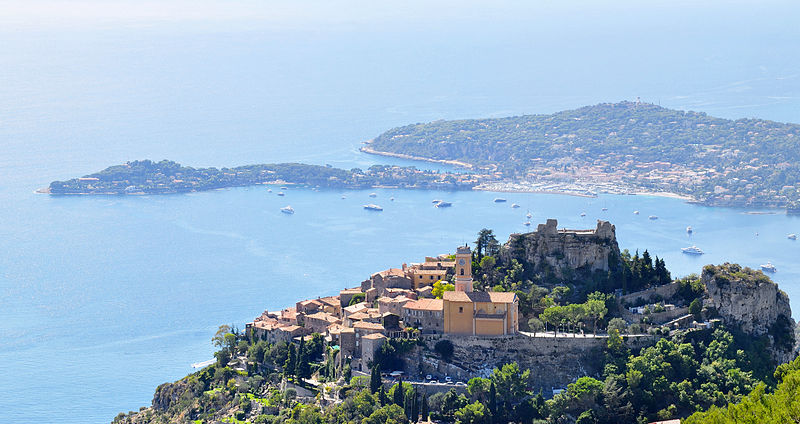 You can see Saint-Jean-Cap-Ferrat, another one of best places to visit in the French Riviera. I mention this place next. You can see it in the distance in the above photo.
Alfred Hitchcock filmed the jewel heist thriller, "To Catch a Thief," here with Grace Kelly driving a blue convertible around the cliffside curves of Èze.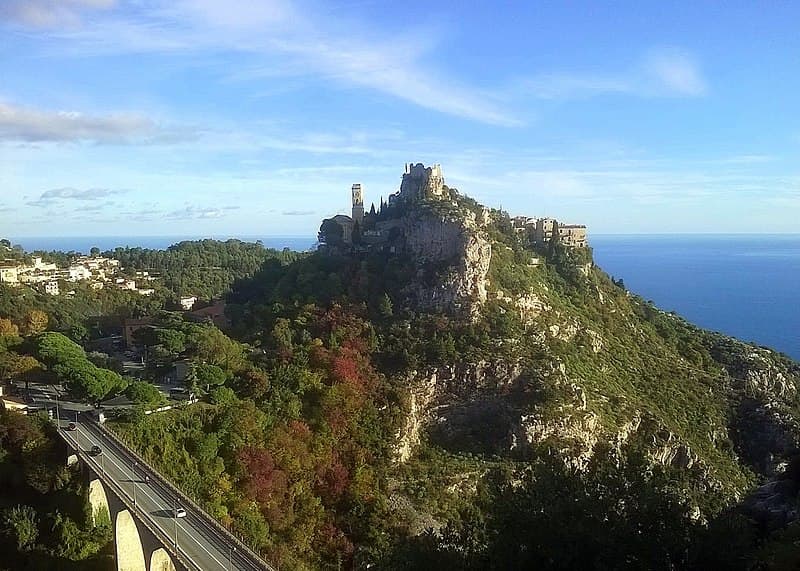 Take the bus up to the old village, wander through the narrow cobbled lanes and browse through the cave-like shops.
Walk the Nietzsche Path
When you want to leave, walk down from Eze Village to the town of Eze Sur Mer (next to the sea) by taking the Nietzsche Path. Walking down the path is much better than hiking up it, because you don't want to arrive in Eze Village dripping with sweat from the hard slog up to Eze Village, especially on a hot day. Give yourself around 45 minutes to walk down.
Legend has it that the unhinged German philosopher Friedrich Nietzsche walked the path every day when he stayed in Eze.
In his first book The Birth of Tragedy, Nietzsche is famed for introducing a philosophical notion based on two historical forces. He named the two halves of this dichotomy the Apollonian and the Dionysian, after two Greek Gods. One logical (Apollo) and the other emotional/crazy (Dionysus). No wonder Nietzsche lost all his mental faculties. The two Greek Gods were tugging away on his mind.
If you're in the French Riviera you will surely want to visit Eze Village. It's a no brainer.
Best 5-star hotels in Eze Village:
Château Eza is a magnificent hotel on the Côte d'Azur, tucked away in Eze in a brilliant location. This hotel was once the former palace of the King of Sweden. For a delicious meal with a great view, consider dining at Château Eza. Just check the prices before you do, otherwise you could be in for a big shock.
Chèvre d'Or offers spectacular views of Saint-Jean-Cap-Ferrat.
5. Saint-Jean-Cap-Ferrat
The town of Saint-Jean-Cap-Ferrat is located on a small peninsula, just south of Beaulieu-sur-Mer, which means "beautiful place on the sea" in French.
It's a popular getaway for the rich and famous. The super rich Rothschild family built a grand villa in this beautiful location. This is one of the best places to visit in the French Riviera for good reason.
The best way to explore this exclusive spot is by walking around. There is a fantastic 14 km coastal path hike with three parts: tour of Cap Ferrat, Pine Forest, and the Maurice Rouvier walk, which will take you into Beaulieu.
Beach lovers have three beaches to choose from in Cap Ferrat including Paloma beach, Passable beach, and Cro de Pei Pin beach.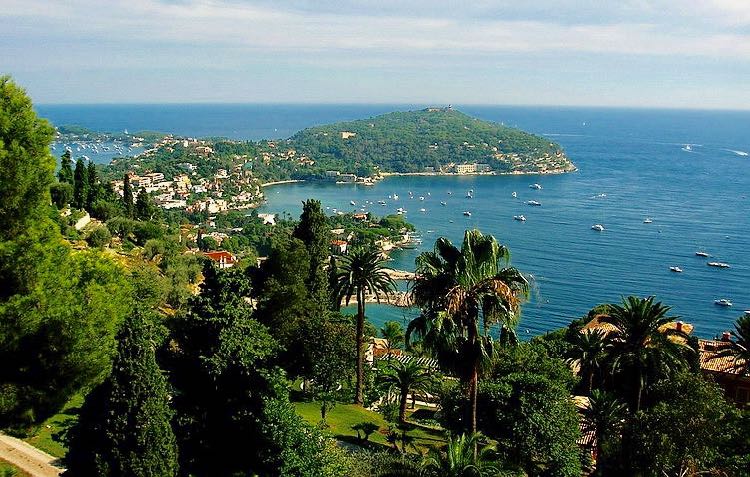 Official website: Saint-Jean-Cap-Ferrat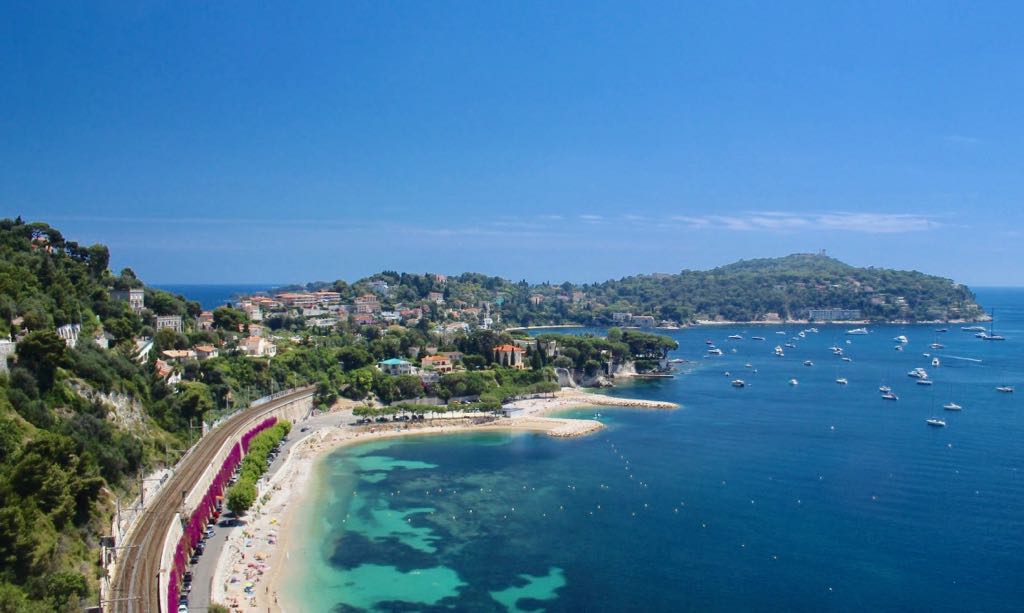 Paloma Beach
This fabulous beach is very exclusive. If you're wanting the chance to rub shoulders with the rich and famous then this beach is the one to visit.
In Saint-Jean, the locals gather at the Paloma Beach club.
There is a public stretch of shoreline. You can also hire a sun bed from the Paloma Beach restaurant. Another fun option is the footpath around the rocks of Paloma Point, where you can jump off into crystal clear sea. Being on a boat would also rock.
Ephrussi de Rothschild Villa and Gardens
Don't miss out on visiting the beautiful gardens of the palatial pink Villa Ephrussi de Rothschild, where a scene from "Dirty Rotten Scoundrels" was filmed.
The extravagant Villa Ephrussi de Rothschild is a former residence of the powerful Rothschild family. The only downside is that you will need to pay a moderate fee to enter the beautiful grounds, as you have to do for most of the top villas in the French Riviera.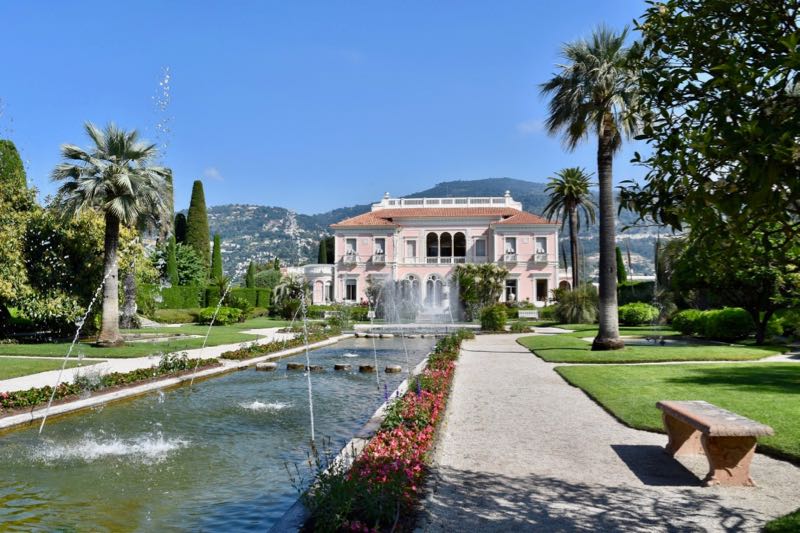 Other notable Villas nearby:
Villa Grecque Kérylos
Villa Grecque Kérylos is an imposing villa-museum, built in ancient Greek style. It is located in Beaulieu-Sur-Mer, a short walk away.
This unique mansion was built and furnished entirely in the style of wealthy ancient Greek families by French archaeologist and politician Theodore Reinach in the early 1900s.
It is fully furnished and decorated, and is even available for weddings and other events.
Beautiful mosaics and sculptures from Greek mythology welcome you inside the entrance hall. This is where you can learn about how the island of Delos in Greece inspired Theodore Reinach's construction off the villa.
In the centre of the villa's living room is a very interesting Minotaur and labyrinth mosaic.
You can just make out the whitish Villa Grecque Kérylos on the right side in the photo below. The feature image of this post shows you a clearer image.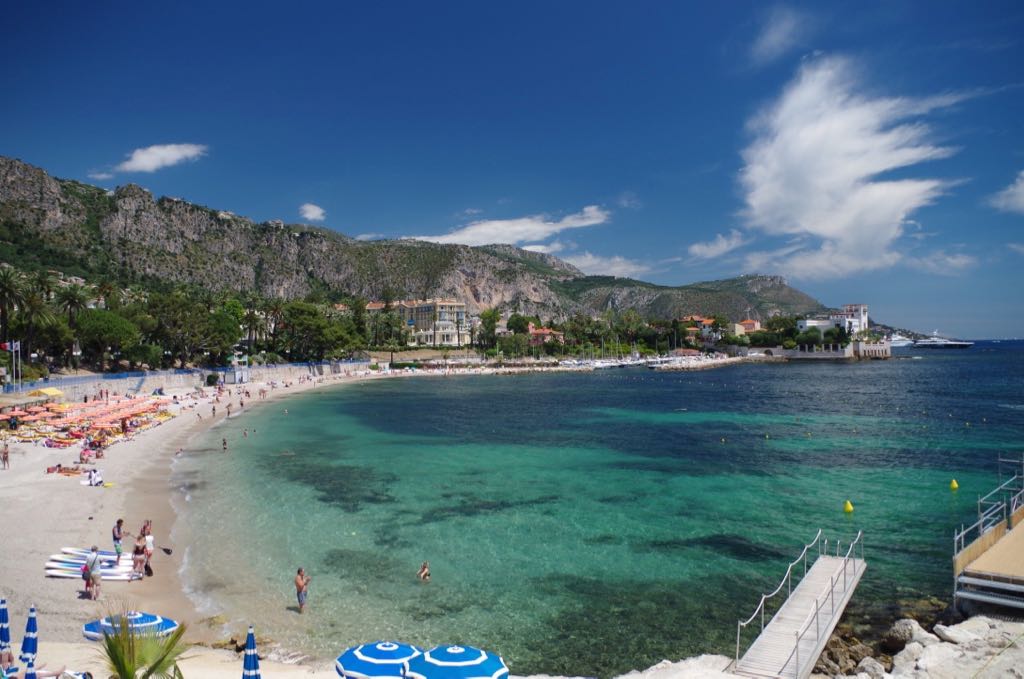 The main local attractions in Beaulieu-sur-Mer include the Casino, the Greek Villa Kérylos and two sandy beaches; La Baie des Fourmis and la Petite Afrique.
Believe it or not, but the Greek Villa Kérylos is the main attraction.
You can best optimise one day with a relaxing walk around Beaulieu and Cap Ferrat from Villa Kerylos to Villa Ephrussi de Rothschild.
It is often recommended to visit Villa Kerylos first, because Villa Rothschild has an impressive tea room where you can relax after a hard day's sightseeing.
The walk from Villa Kerylos along Promenade Maurice Rouvier to Villa Ephrussi de Rothschild is lovely year round.
Villa Santo Sospir
Villa Santo Sospir in Saint-Jean-Cap-Ferratis is where Jean Cocteau painted the walls of his dream house with images of Gods and Goddesses. It belonged to his patroness, Francine Weisweiller. Tours here have to be arranged in advance.
Best Accomodation in Saint-Jean-Cap-Ferrat:
Grand Hôtel du Cap-Ferrat if you can afford it. If it's way over your budget then you can always check to see whether it's within your means to have dinner at the restaurant.
Royal Riviera if you're Royal rich.
6. Nice
The beach in Nice is amazing on a blue sky summer's day. It's hard to beat lounging around in the shade under an umbrella on one of the private beaches in Nice. I highly recommend hiring a lounge bed for at least a few hours. I have incredible memories of my time on Nice's fabulous beach. The colour of the water is out of this world.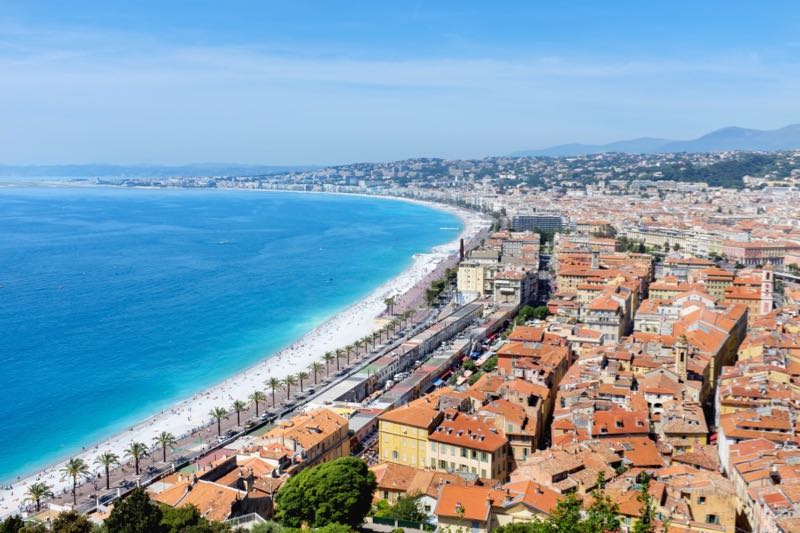 The town of Nice didn't do too much for me but the beach, wow! The amazing blue colour of the ocean, the way the water lapped onto the pebbly shore, the gorgeous women…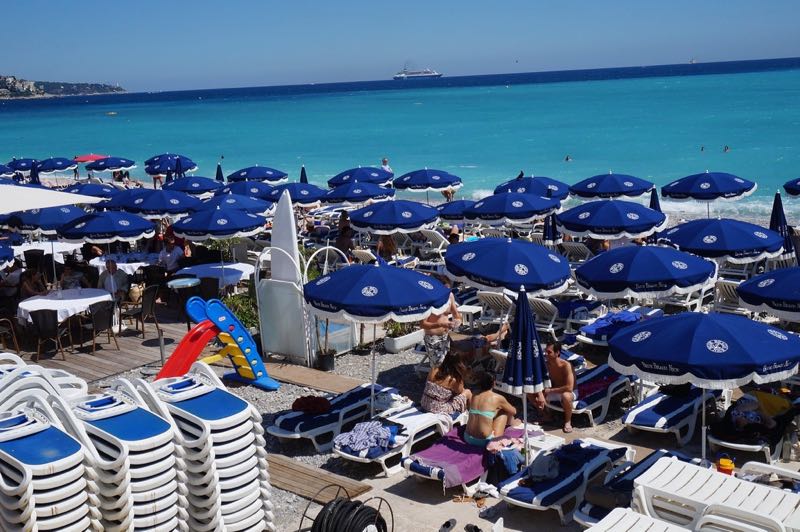 Relaxing away a few hours under a beach umbrella is magical. You will have to pay for it but it's worth every euro.
Castle hill
You can get a great view of Nice from Castle Hill.
Castle Hill is the highest point in Nice, so you'll get a great panoramic view of city, the beach and the surrounding mountains. I highly recommend visiting sometime in the morning. It also looks like a great spot to see the sunset.
Make sure you go past the very surprising waterfall nearby. What, there's a waterfall in Nice? It is a very surprising sight indeed.
Nice also has a famous fountain known as the Fountain of the Sun (Apollo). Check it out.
It is located in the heart of Nice. The large fountain is called the "Fontaine du Soleil", the Sun Fountain. In the centre stands an impressive marble Apollo. The other 5 bronze sculptures in the fountain represent: Earth, Mars (Ares), Mercury (Hermes), Saturn, and Venus (Aphrodite).
The artist Janniot had finished the bronzes but had not started on Apollo when the Second World War broke out. They were buried in a garden to keep them from being destroyed during the war. Once the war was over they were dug up.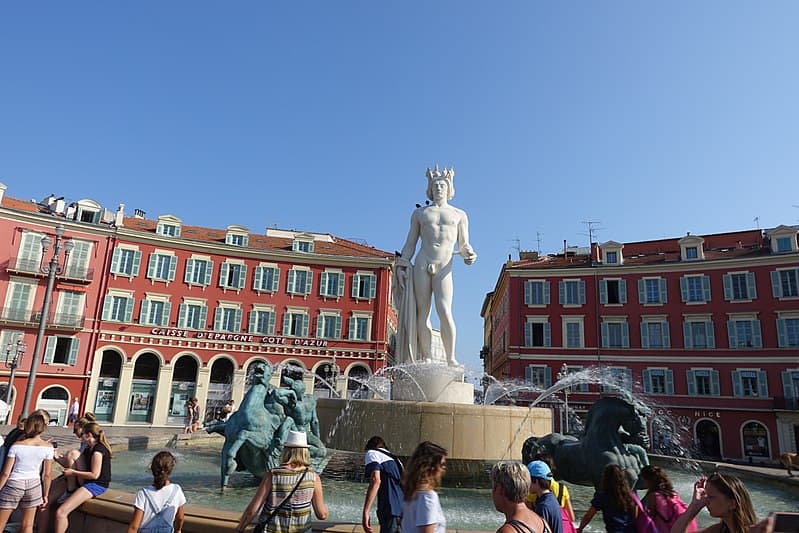 Here's another view of Apollo.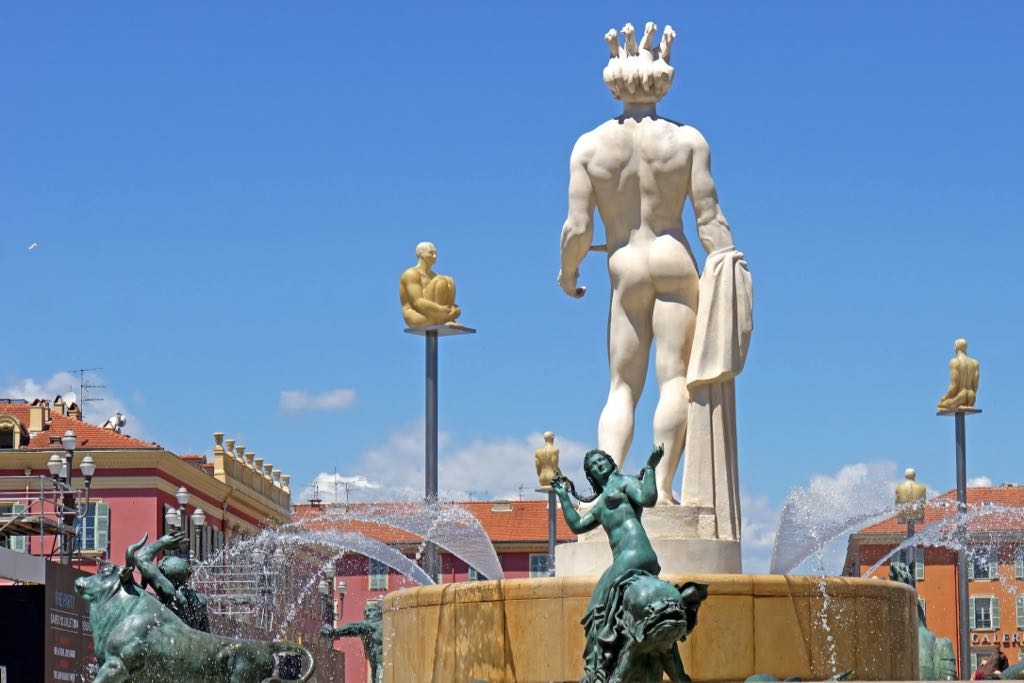 I wonder if Neptune Plage is still around as seen in the video below. The French obviously love their Greek and Roman mythology.
7. Antibes
There are close to 50 public and private beaches along the coastline that surrounds Antibes and Juan les Pins.
The village of Antibes has two main areas along the coast: the Cap d'Antibes peninsula and Juan-les-Pins.
The coastline also offers scenic pathways, such as the Chemin des Douaniers, that are great for walkers.
Here we are in the old town of Antibes.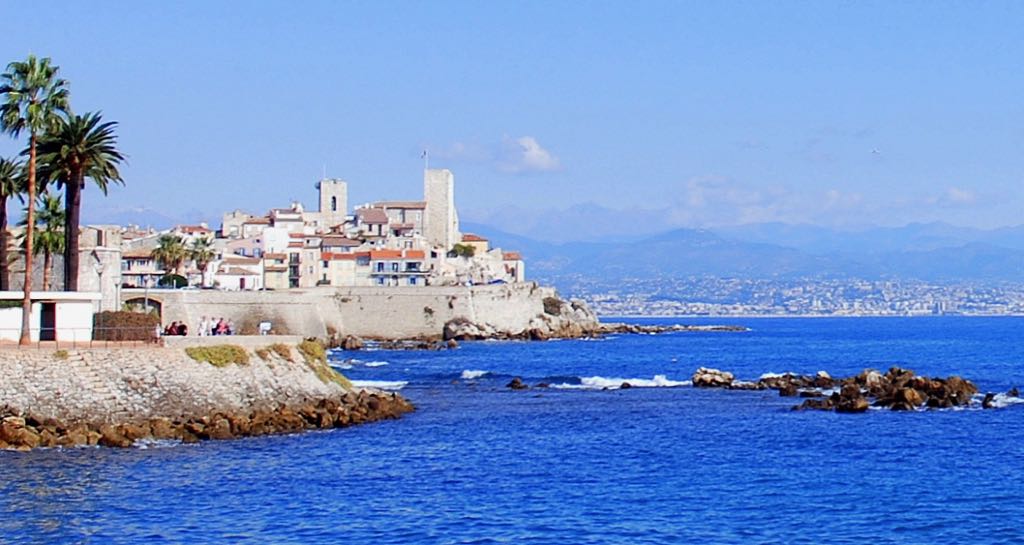 I recommend spending a bit of time at Plage de la Gravette Beach.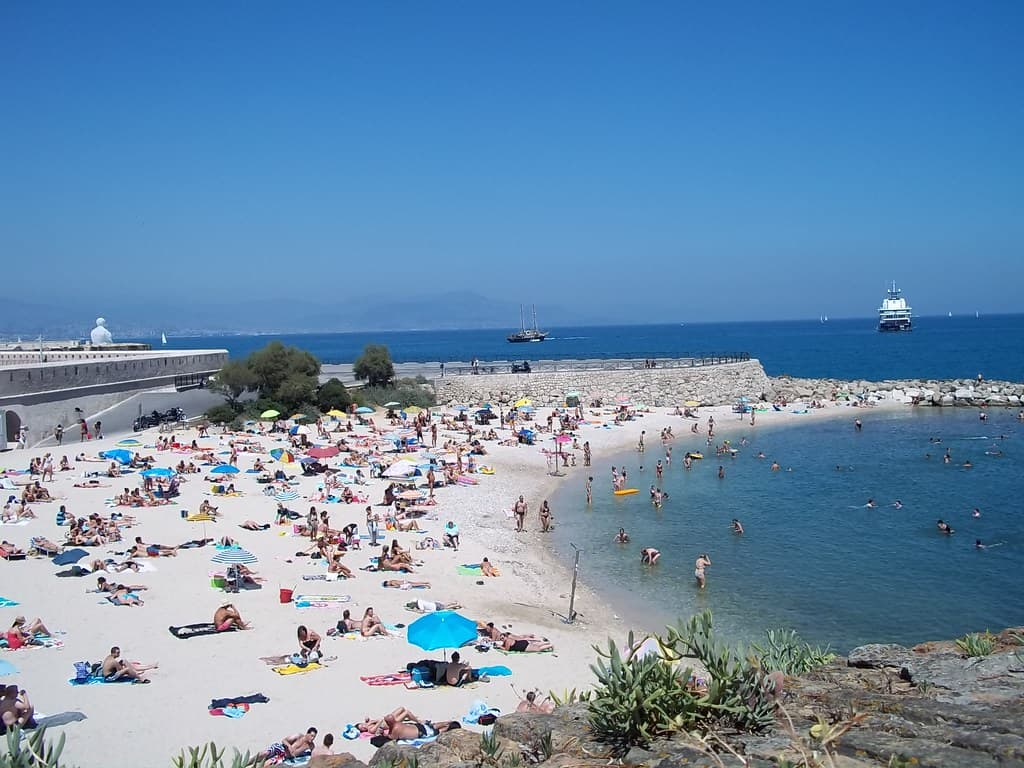 This is where you will spot the Nomade sculpture.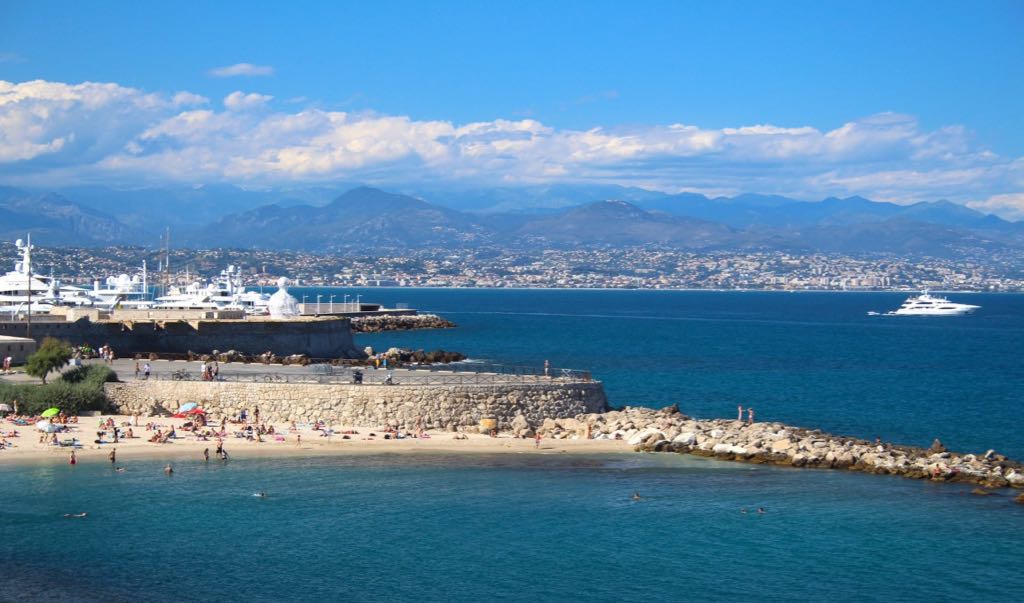 Jaume Plensa explains the origins of "Nomade" as follows:
"It's an open piece, inviting people to enter it, like a grand-mother embracing her children".
You will notice that it is made up of letters of the English alphabet.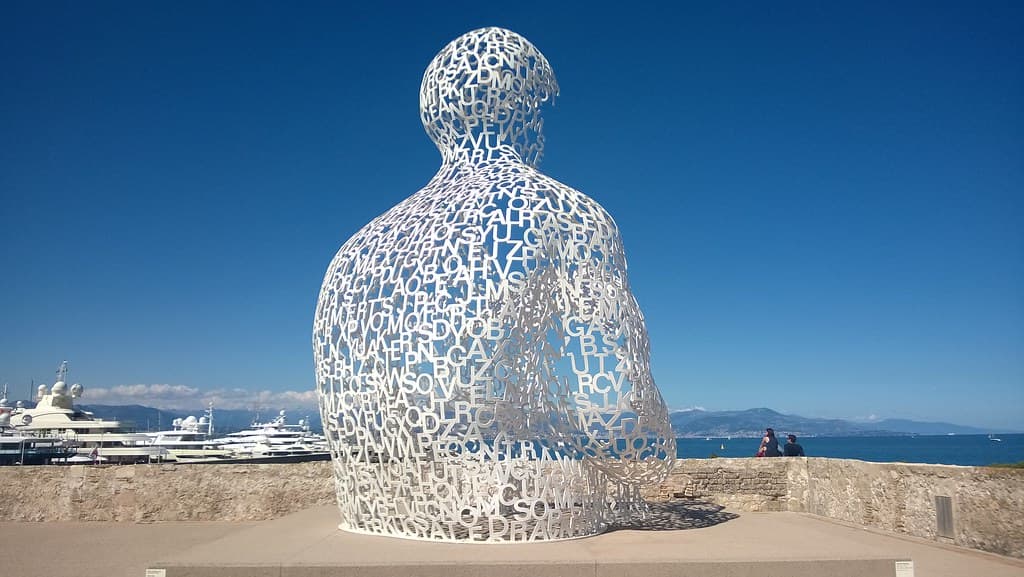 Letters make up words, and words make up sentences. Words are powerful!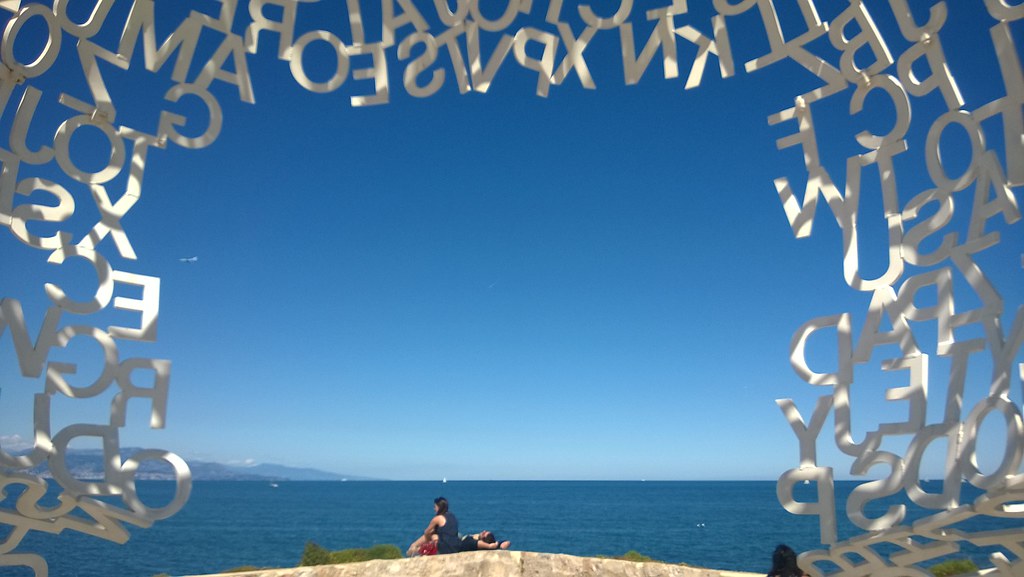 You need a week to explore this destination. If you only have one day to play with I suggest entering Nomade. Ponder over the best places to visit in the French Riviera and find a great place to go for a swim.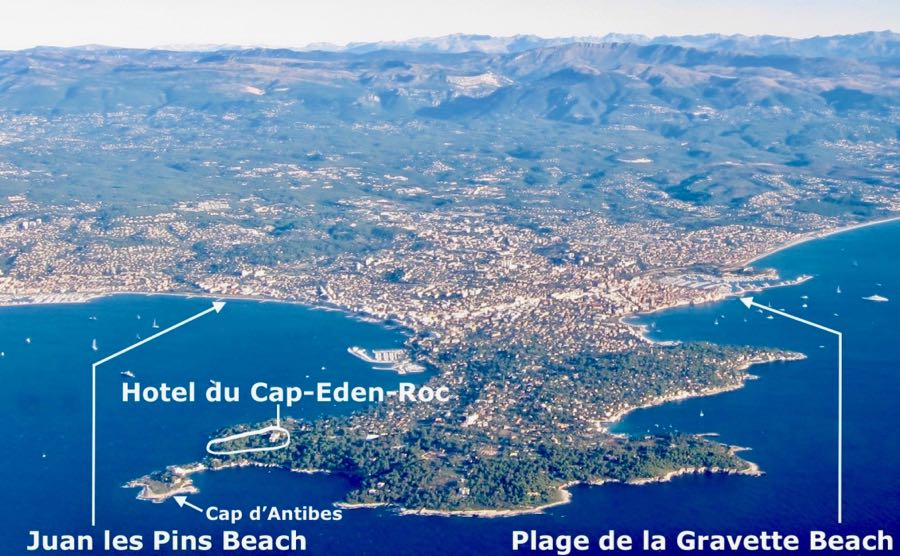 Top Place to stay in Antibes:
Hotel du Cap-Eden-Roc, a luxury hotel in Cap d'Antibes.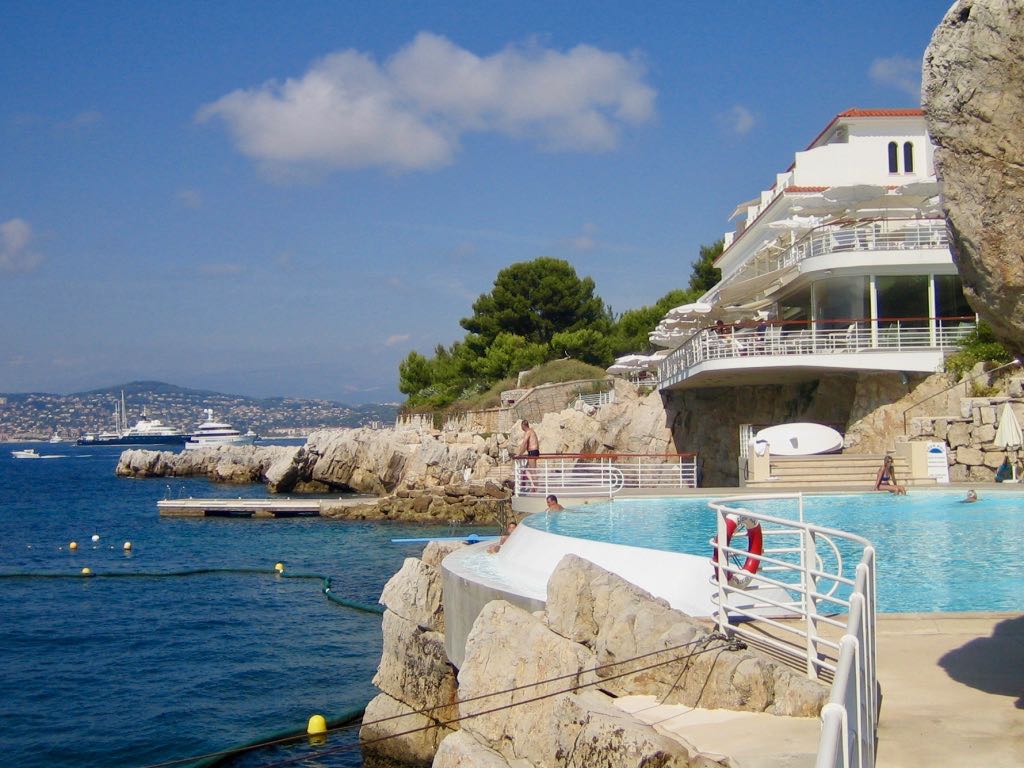 The only problem with staying at this great hotel is that you won't want to leave and go anywhere else. Why would you want to go anywhere else even if you could?
8. Cannes
The Cannes Film Festival is obviously held here for a very good reason. It must be a great place.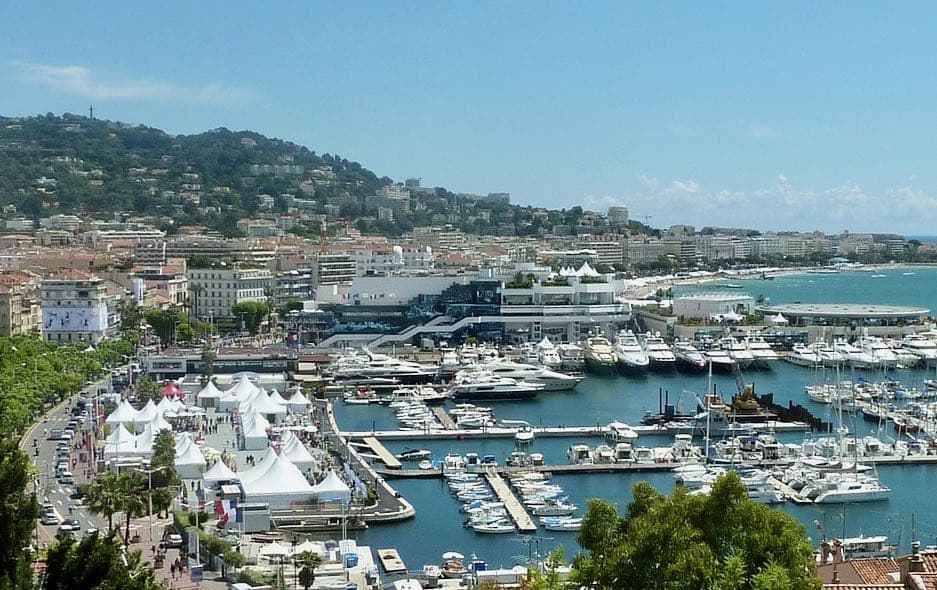 You're walking in the footsteps of the stars in this French Riviera paradise.
Highly recommended hotel in Cannes:
Hôtel Martinez because if it is good enough for Eva Longoria then it should be good enough for you.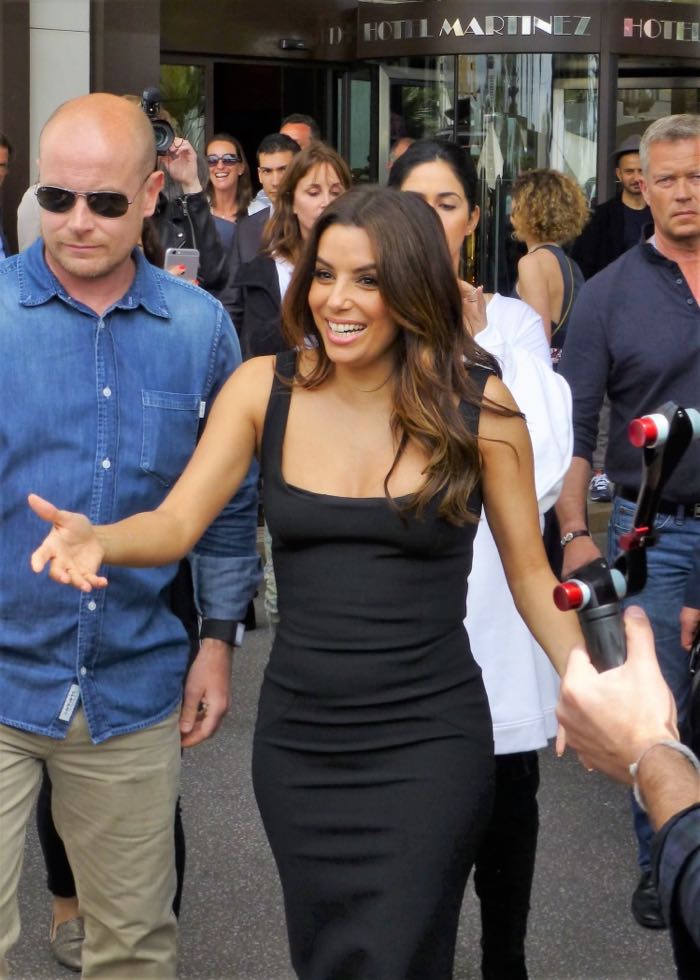 The absolute best time to visit is when the Cannes Film Festival is taking place, which is generally held from mid to late May.
9. Mandelieu-la Napoule
This magical town is known for the Château de la Napoule, a fortified castle of the 14th century.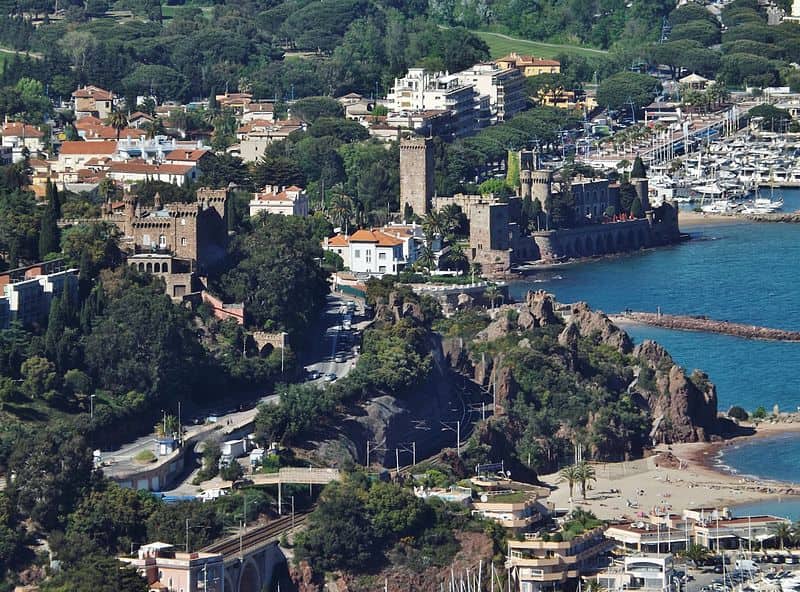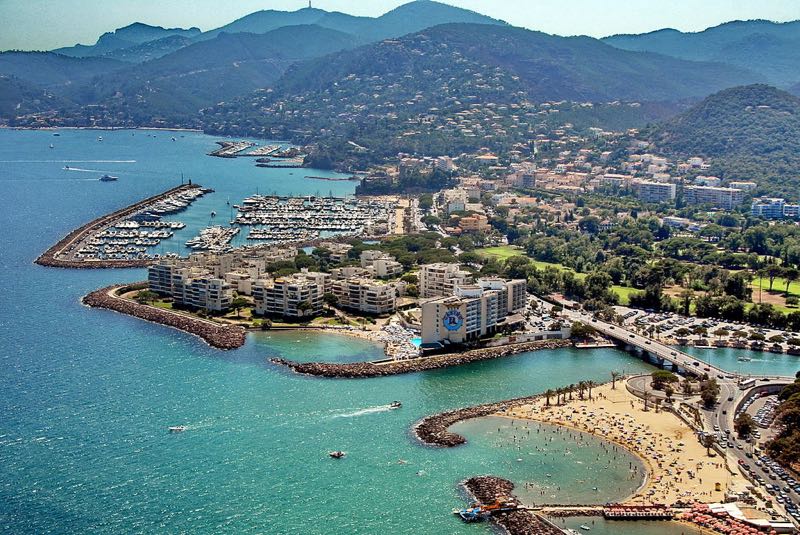 Getting to the top of the volcanic cone San Peyre is the big attraction here. It is 131 metres high and was formed by an eruption 250 million years ago.
Being at the top of San Peyre will give you a sensational view of the Riviera.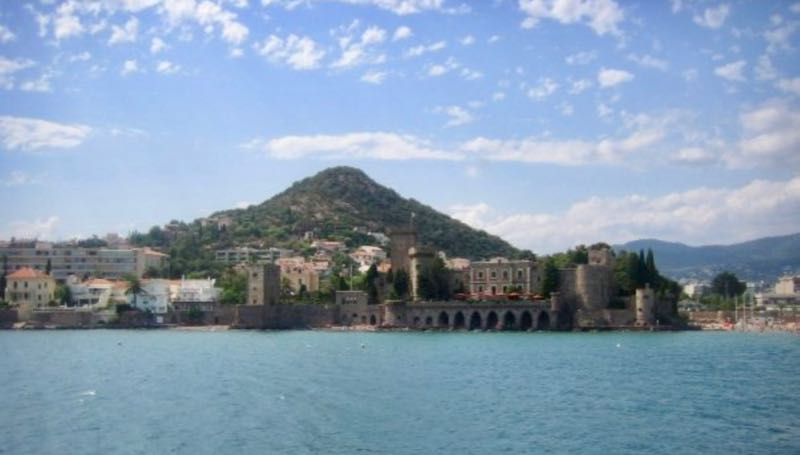 Mount San Peyre, or "Sacred Mountain" overlooks the district of La Napoule, the plains of Siagne and Argentière and offers a breathtaking 360° view of Cannes Bay, the Lérins Islands in the east and the Esterel national park to the west.
This mountain became a Latin place of worship dedicated to Mercury (Hermes), God of travel, when La Napoule was under Roman rule. Legend mentions a temple dedicated to Mercury. You won't find it, but you will find a good looking sun dial table up there.
Walking to the top of Mount San Peyre
You can start this easy walk from La Napoule village. It will take about an hour.
The other option is to start from the carpark close by. If you decide to walk from the carpark it will only take you about 15-20 minutes each way. It requires little effort to get up and down San Peyre. All up it would only be about 1 km all together.
10. St. Tropez – One of the Best Places to Visit in the French Riviera
The traditional fishing village of St. Tropez shot to fame in the 1950's thanks to Roger Vadim's film "And God Created Woman". This movie marked the discovery of actress Bridget Bardot, who embraced St Tropez. After that it became a magnet for other celebrities.
St. Tropez is a great place to end your French Riviera trip.
https://youtu.be/SGmxlfOh_Eg
If you're a celebrity here's the best place to stay in Saint Tropez:
Hotel Byblos – St Tropez, Côte d'Azur, France
Why? Because Hotel Byblos has a logo based on the Greek myth of Europa. You want to show Zeus that you're on his side.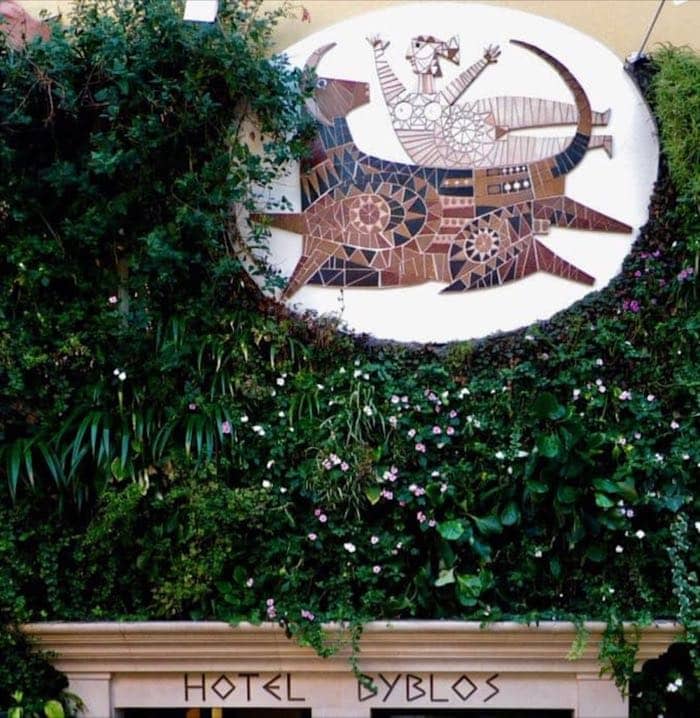 The hotel also possesses what many consider to be the trendiest most famous nightclub on the coast, Les Caves du Roy where many of the international elite, stars, beautiful models and celebrities mingle together. The hardest part would be trying to get in if you don't have the right look.
During one amazing party night at les Caves club at the Byblos, it is said that Paris Hilton spent 350,000 euro in Cristal Champagne magnum.
Hôtel Byblos was built on the highest hill in the city and opened in 1967 with three days of festivities. Bridget Bardot led the way in making this place a celebrity hangout that endures to this day. She even played a part in inspiring the birth of this top hotel.
I hope this is enough to convince you that the 10 best places to visit in the French Riviera shown here would make for an awesome trip to the French Riviera. Yeah sure, most of you won't be able to do it all, but you could experience some of it. You can at least dream about it. And Greek Gods Created Women!
Pin it … Share it