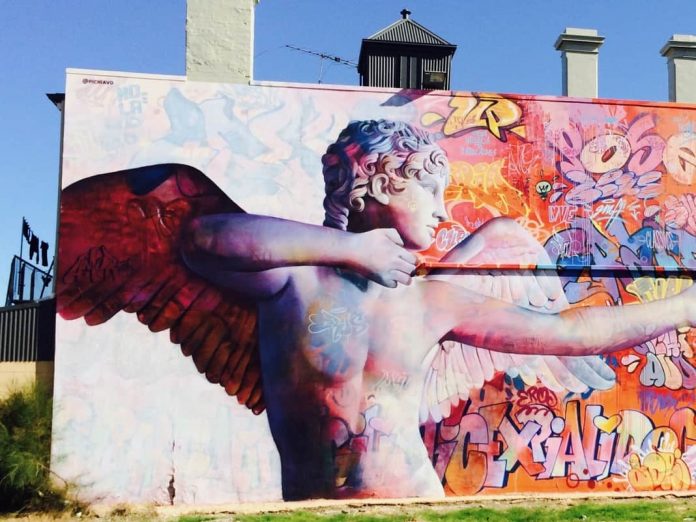 Never in my wildest dream did I expect to see a pair of undies behind Cupid, but that's exactly what I saw when I explored the world of Port Adelaide street art. Look for yourself. How bizarre is that?
The suburb of Port Adelaide in South Australia has become a mecca for Wonderwalls, another name given to large scale murals and street art. Many of the artworks were created as part of the Wonderwalls Port Adelaide Festival which began in 2015. From there the amazing street art in and around the port-side suburb of Adelaide has taken off.
Port Adelaide street art (wall murals) or Wonderwalls as they're better known can be found all over Port Adelaide.
You'll be able to see all kinds of artwork in Port Adelaide from the weird and wonderful to the sublime. Let's face it if a Greek God is there, anything is possible!
The Cupid Mural in Port Adelaide
I never thought I would run into Cupid, the God of Love in Port Adelaide. While walking around Port Adelaide near the wharves next to the river, I took a turn down a side street.
Suddenly out of nowhere the Greek God appeared before me. I was truly blown away by the Cupid mural, it was unbelievable!
Somehow on my very first trip to explore the Wonderwalls of Port Adelaide I had found myself standing in front of Cupid (Eros) shooting one of his famous arrows. Ok, it wasn't really an arrow because in this case it was an existing building structure which had been painted over as part of the mural. Nevertheless it was a very impressive arrow.
What really surprised me when I was there was that someone was drying some underwear behind the Greek God. You can clearly see it in the photo above. It seemed as if it was some sort of sign but I wasn't sure what it meant.
Port Adelaide Wonderwalls Festival
Here's a poster left behind from a Wonderwalls Port Adelaide Festival showing what appears to be Artemis, the twin sister of Apollo.
The Wonderwalls festival in Port Adelaide is the main reason why there are so many great looking murals in Port Adelaide. Artists have come from all over the world to leave there mark on Port Adelaide.
You can never be sure how long the murals will be around for though. Even Cupid is likely to disappear one day.
On my odyssey around Port Adelaide which was actually over several days I discovered many hidden gems in Port Adelaide that I would never have known about if I had only spent a single day there. I'm so glad I spent a decent amount of time wandering around the streets of Port Adelaide to uncover some of these beautiful spots.
To make it easy for anyone else thinking about visiting Port Adelaide I have separated the exploration of the Wonderwalls and street art in Port Adelaide into 6 different walking sections.
These walks are mostly concentrated into different close knit areas of Port Adelaide to give you the best chance of making the most of your visit during one single day out.
The very first thing I recommend doing in Port Adelaide is to head over to Cupid if he's still around when you visit. Even if he's not at least you'll secretly know that he was there at one point.
1. Cupid's Way – Wonderwalls in Port Adelaide
Cupid is seen firing an arrow towards the Port river which is just out of view but not too far away. The river is about 100m away or there about from the tip of his outstretched arm.
The arrow passes across a red and white lighthouse which you can see in the distance on the right side of the building.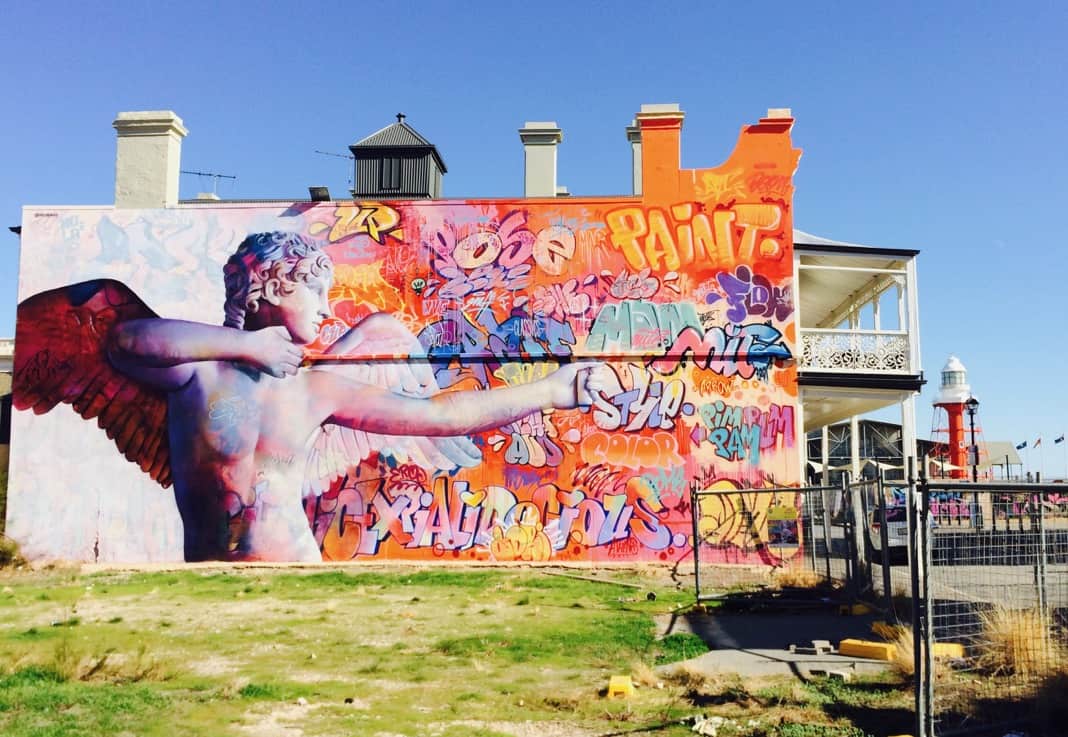 It took me a while to figure this remarkable fact out but Cupid was actually firing his arrow straight at a big fish mural directly in front of him. It obviously has some sort of special symbolic meaning to it.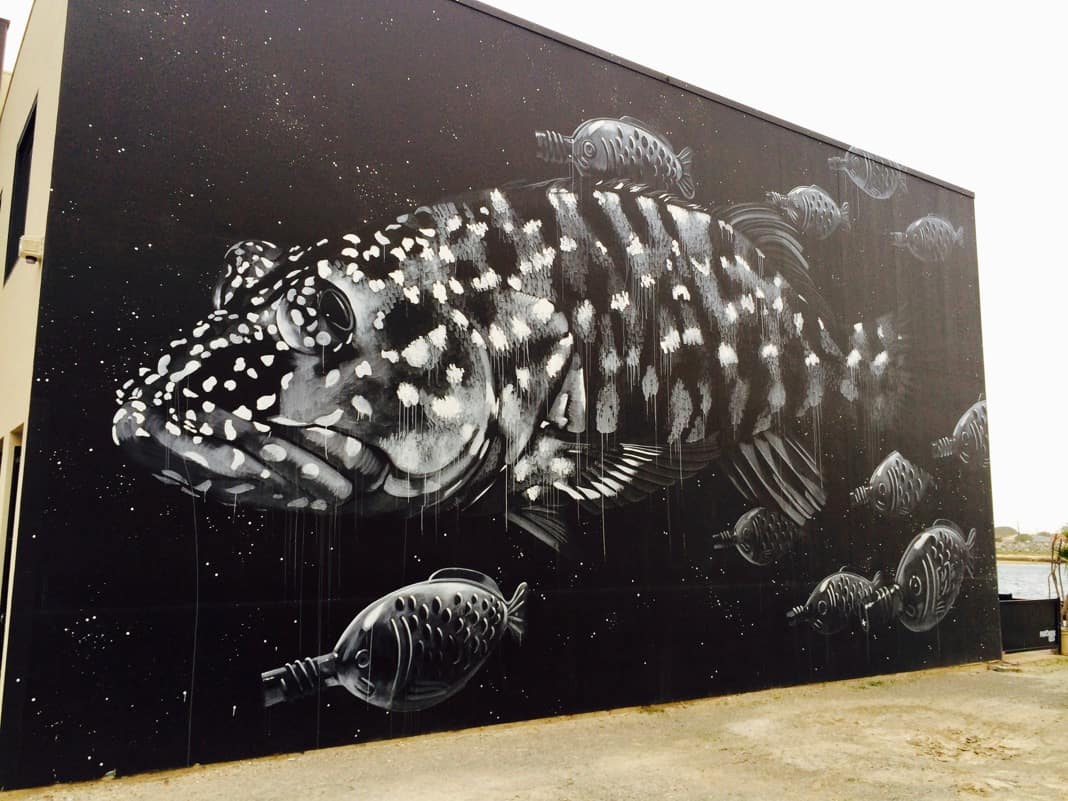 For some reason the smaller fish have screw tipped noses. Screw Cupid maybe!
This is where the Port River comes into view. Port's main wharf is where you'll find a few large boats docked. The popular dolphin cruise boat is docked just around the corner.
It looks as if Cupid is fishing for the big one. How anyone came up with this mystical idea is beyond belief. The big fish mural must have been created due to the Cupid mural.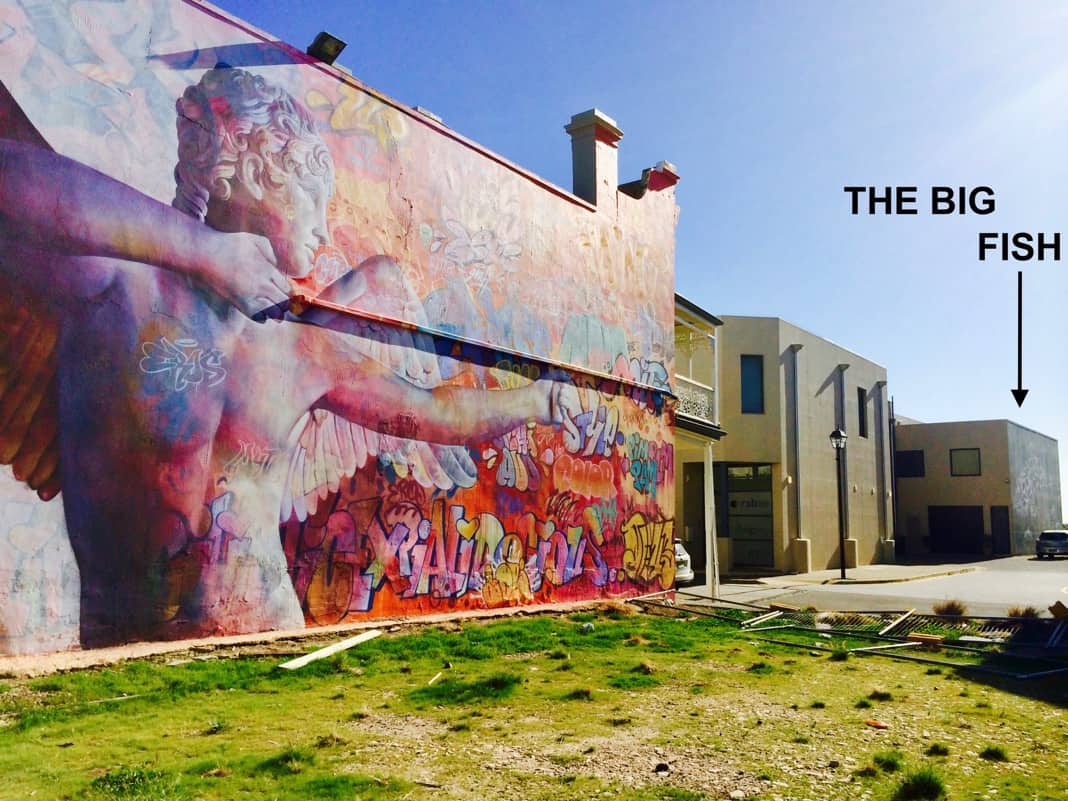 At the time when I was walking around there was vacant land next to Cupid. I was a bit sad to see that appartments were being sold off the plan since this meant that one day the Cupid mural would disappear from sight altogether. The only good news is that at least you'd always know that a Greek God was there at one point in time.
Burning with desire for Cupid
On the other side of this prime piece of land on the side wall of another building was this striking mural. It shows a couple of ladies burning with desire.
The lady in flames shown in the photo below is directly opposite Cupid. The only thing that separates them both from joining together is the flat earth between them.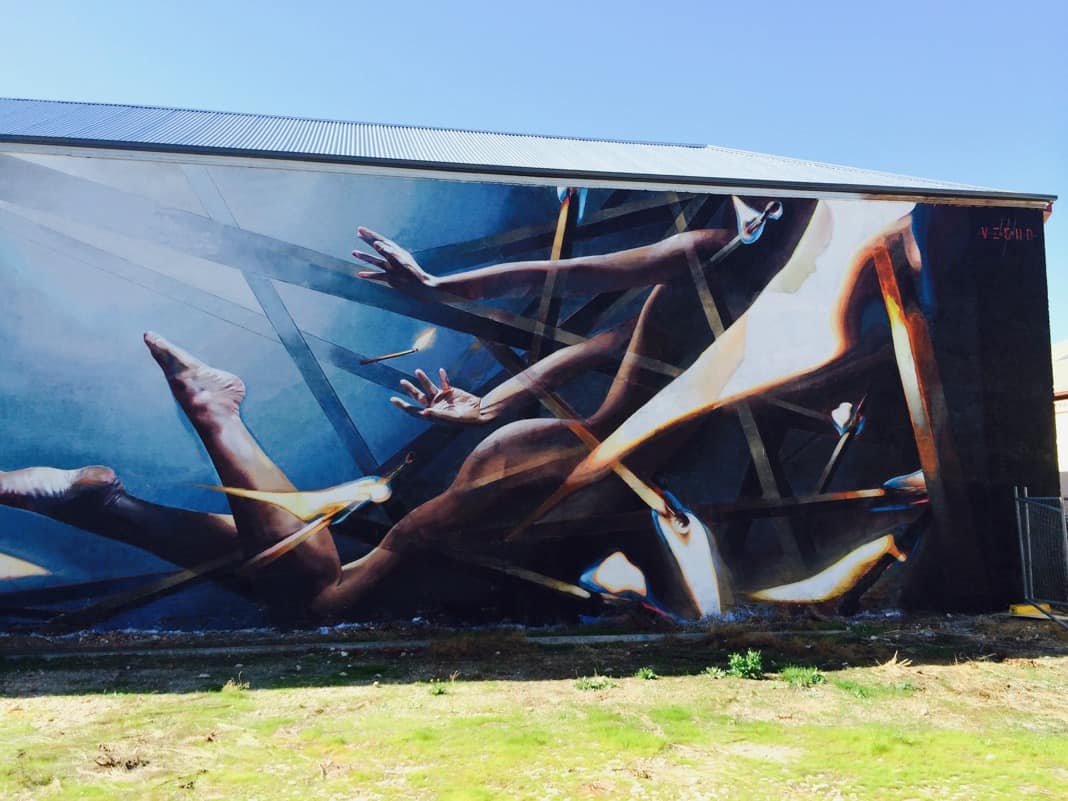 Mural inspired by Greek Mythology
A little further away from these two ladies burning with desire, you'll find a mermaid resting on an anchor.
It seems as if the artistic inspiration for this Wonderwall came straight from Greek mythology. The mermaid is seen playing a harp which looks like something Apollo, the Greek God of music would play. I'm not sure how or why the chips in the artwork appeared but maybe this was part of the artist's intent.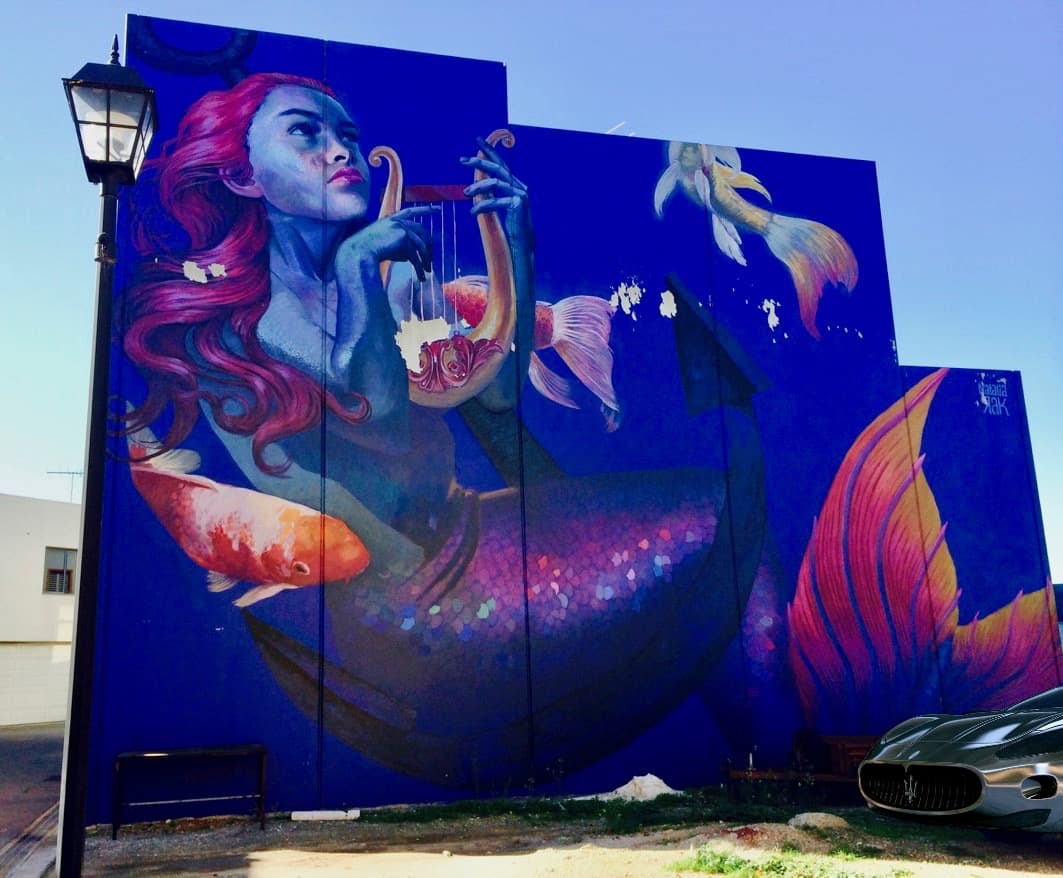 On the other side of this building is another very interesting mural filled with hidden symbolic meaning.
Mural with Symbolic Meaning
In this mysterious mural the globe on the right shows the Australian continent in the upside down position. Most would agree that this is the upside down view of Australia. The artist obviously wanted to make everyone think deeply about the meaning behind it. Even the figure holding the skull seems to be in deep thought.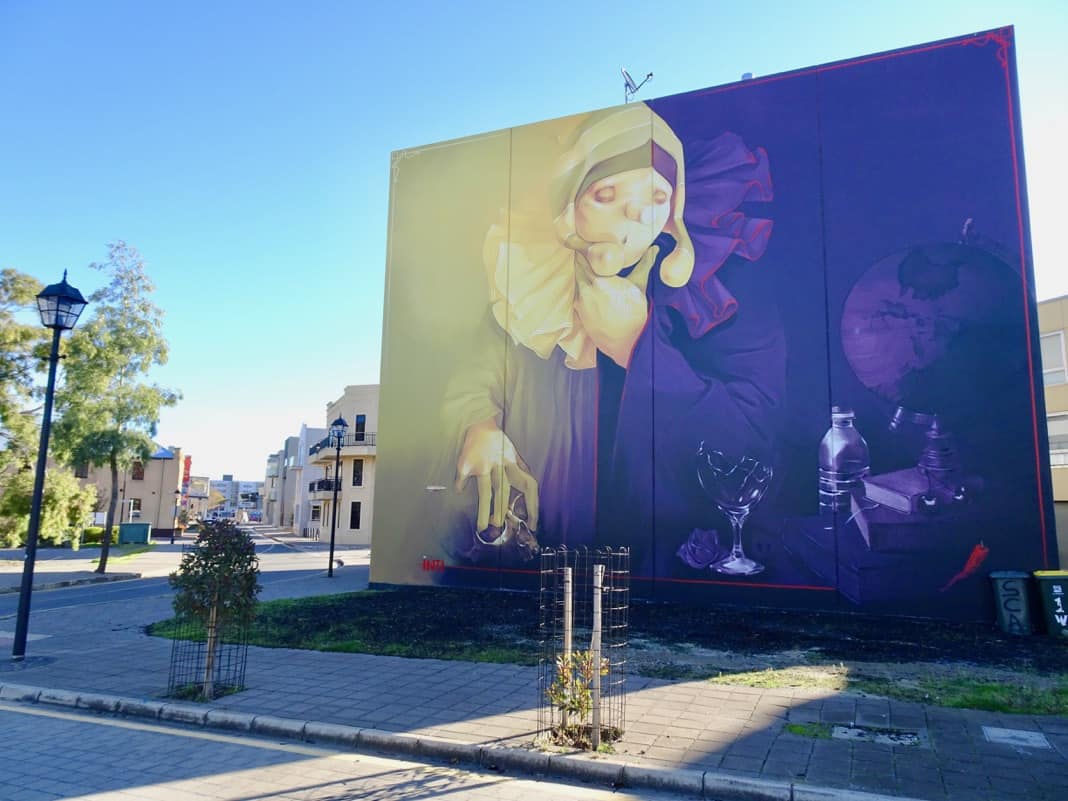 At the bottom of the mural on the left hand side in the yellow section you can see a bullet flying through the air, next to the figure's little finger. The left hand is seen holding a human skull.

On the purple side of the mural there's a broken wine glass with a flower next to it. The globe sits on top of three books. In addition there's a plastic bottle sitting on a table next to the globe and what seems to be a couple of cherries, as well as a red hot chilli pepper in the bottom right hand corner of the mural.
Before I took the above photo which I have marked with text, a silver van parked in front of it just as I had arrived. I asked the driver if he could move the vehicle as I wanted to take a clear photo of the whole mural. He obliged after asking me how long I'd take. I replied 5 seconds.
The thing is he didn't give me a clear shot because you can see the vehicle's rear indicator in the bottom corner. A garbage bin is also seen in the corner. This is all very symbolic indeed.
I wonder what the artist was trying to say? This is way too deep even for me to try and decipher.
Love Murals in Port Adelaide
In the distance you'll be able to get your first glimpse of this very beautiful mural. I never really thought that much of this artwork until I realised it was a lovebirds mural.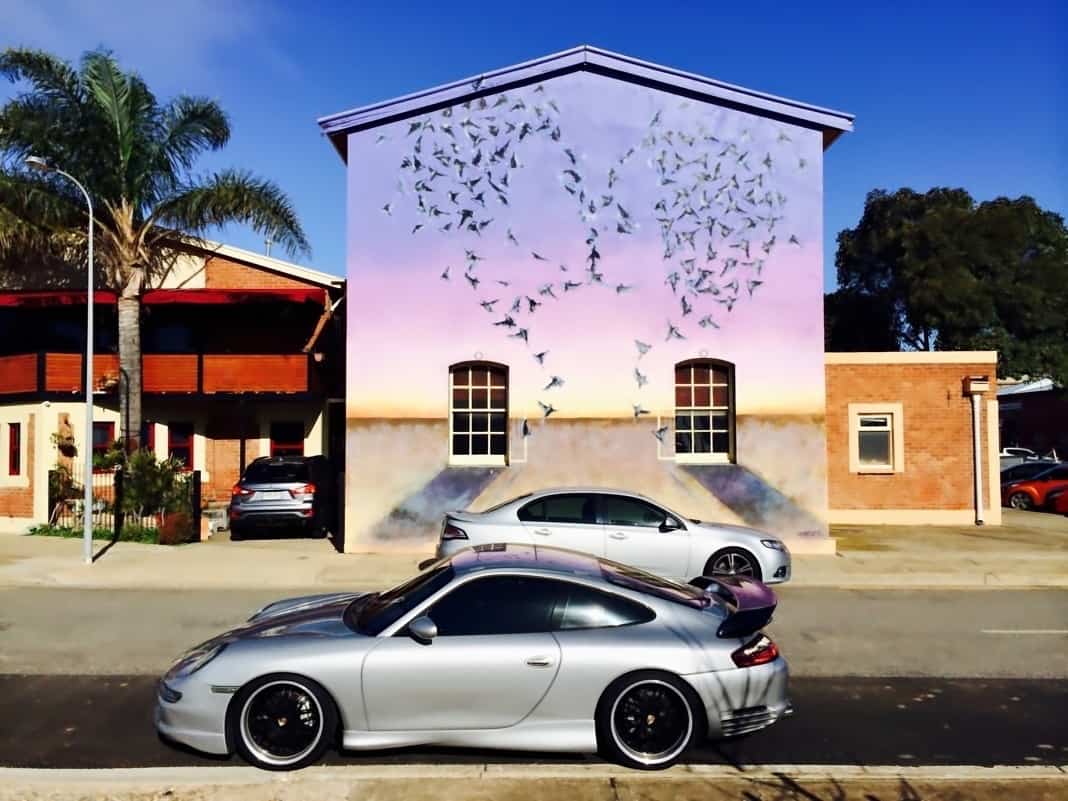 Take a closer look and you'll be able to see two lovers kissing each other. The incredible thing is that it is all made up of individual birds. I only discovered this later on when I looked at a much smaller size picture of this mural on the Internet. Now I love it!
This Goddess nymph of spring mural is situated in a small carpark close by. The leaves on the mural even look as if they belong to the real-life tree next to it.
Just around the corner of the Cupid mural is this masterpiece showing a loved up couple. The woman is holding a snow globe that possesses Port Adelaide's iconic red and white lighthouse inside of it.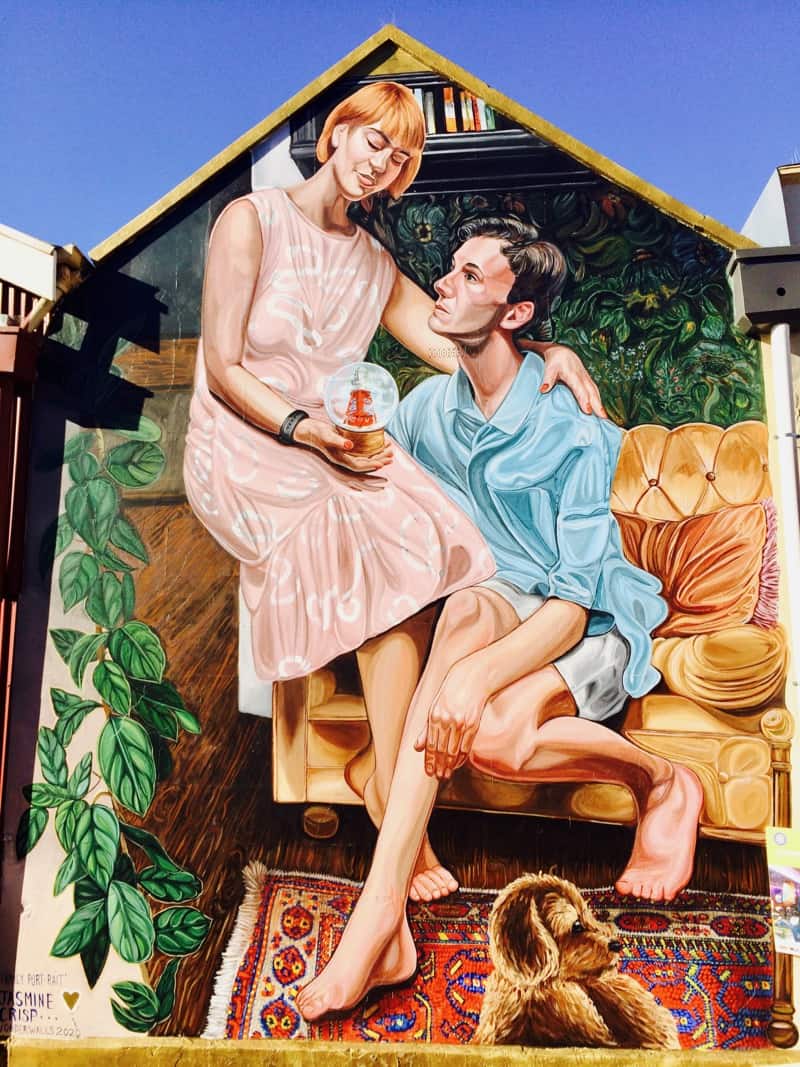 You can think of the Port lighthouse as being the spiritual heart of Port Adelaide.
Many of the murals in this area clearly have a theme of love about them and that's what you'd expect to find being so close to Cupid, the God of love.
Spending about 30-60 minutes wandering around this area will give you enough time to fully appreciate these beautiful Wonderwalls. After that you can make your way to the red and white lighthouse.
2. Lighthouse Wonderwalls in Port Adelaide
The Port Adelaide lighthouse is situated next to the Port river where there's a long stretch of wharf.
The George Mural
Here's another massive surprise! I never expected to see George in Port Adelaide. Yes, it's George Constanza from the classic comedy TV show Seinfeld. I'm a massive fan of Seinfeld which you probably know about if you've read my About page. The first time I saw George I did a double take. Could that be who I thought it was? No, it couldn't be. But who else could it be? It must be George.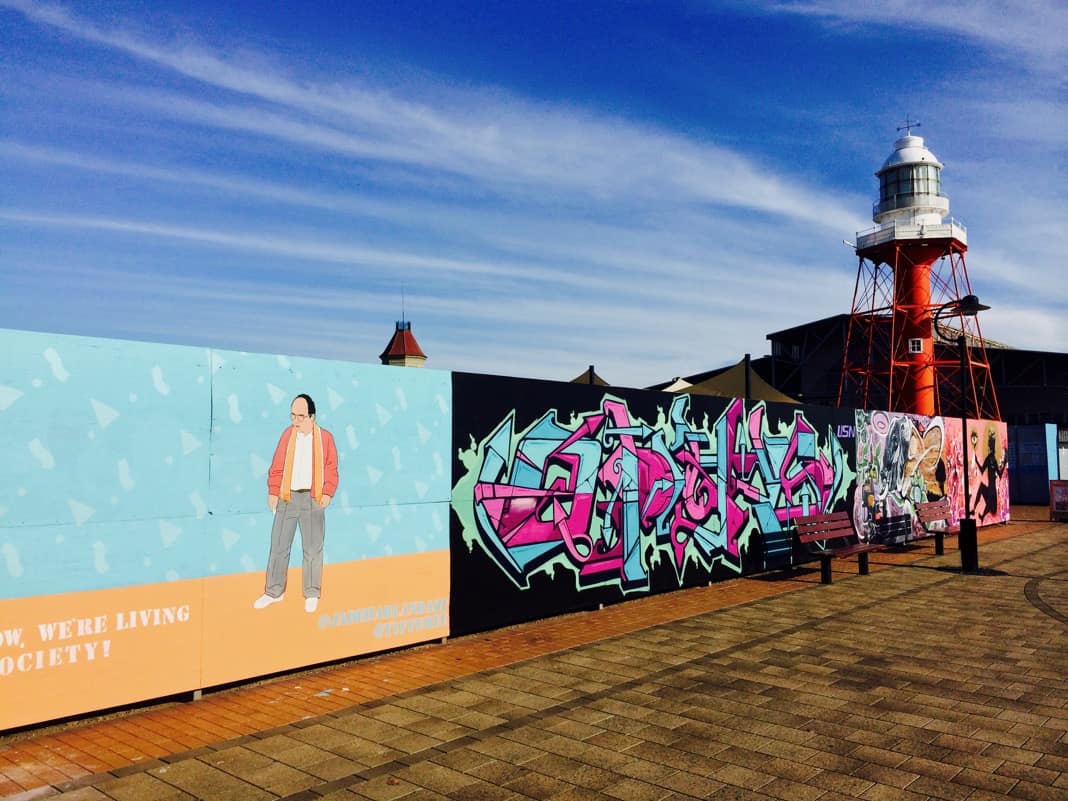 It was definitely George Constanza. The funny thing is that standing George only came about after the previous sitting down George mural (shown on the left) had been vandalised.
The new replacement Wonderwall mural became standing George. His message was: You know were living in a society!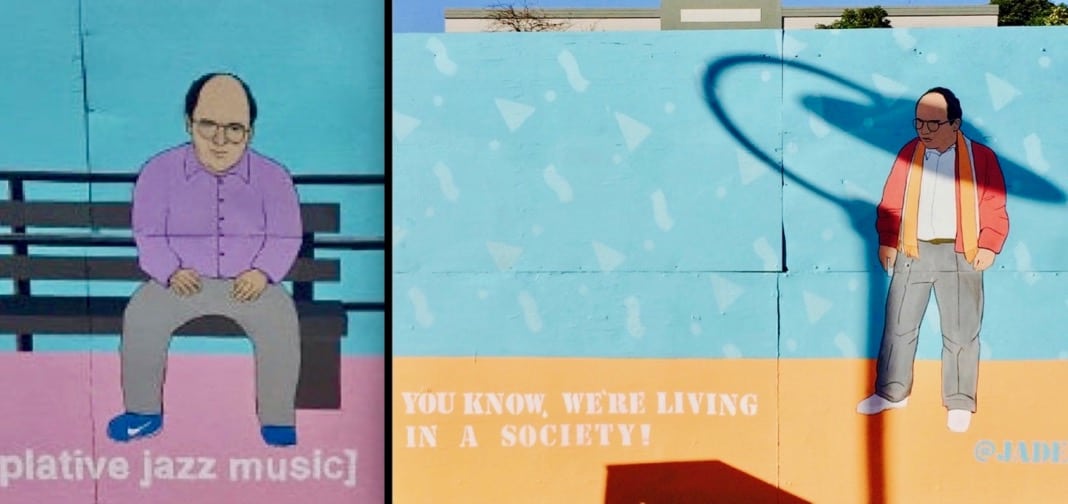 A dark shadow has been cast over this disrespectful act. Jason Alexander, the actor who played George even expressed his outrage over the graffiti attack on the mural. Maybe it worked out for the best because standing George does look a bit better in my opinion.
Other murals close to the lighthouse
A few steps away from George was a little shelter with an interesting mural behind it. I particularly like how the light perfectly hits the guy wearing the Guy Fawkes Anonymous mask used in the film and comic 'V for Vendetta'.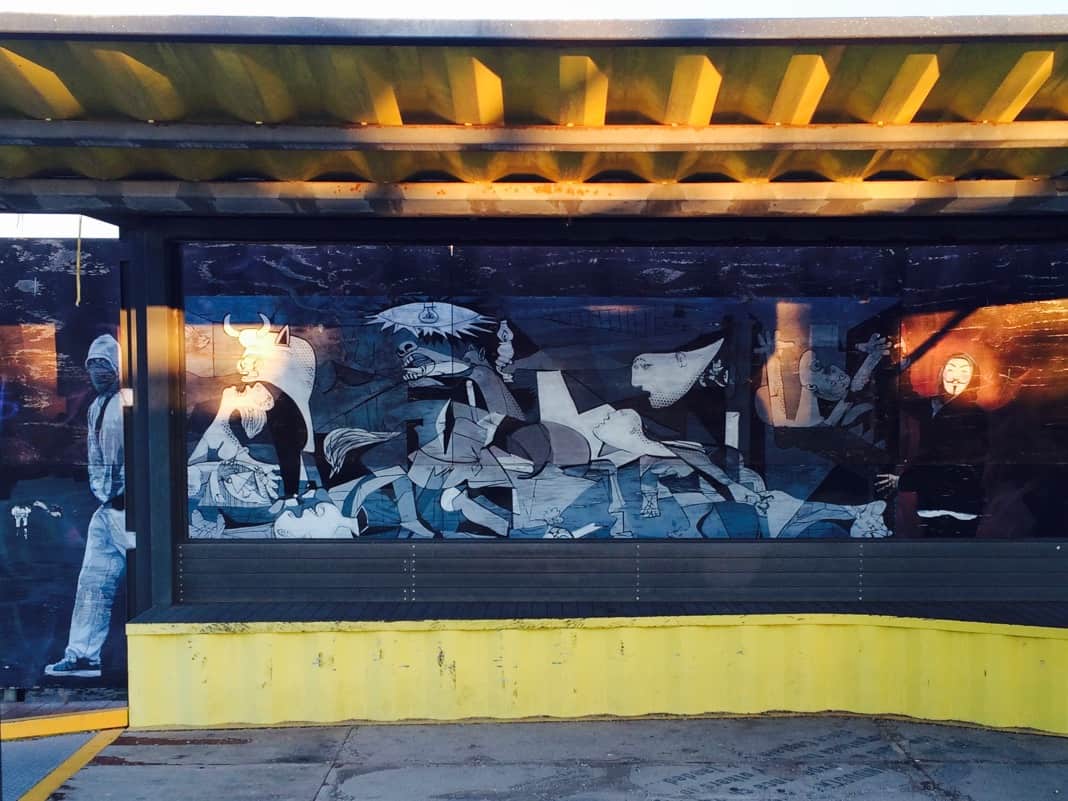 The street art in this area of Port Adelaide runs along the wharf close to the lighthouse and borders around an empty disused block of land which has been fenced off. You'll find murals covering the fence all the way around it. It's prime real-estate so I can't understand why it hasn't been developed.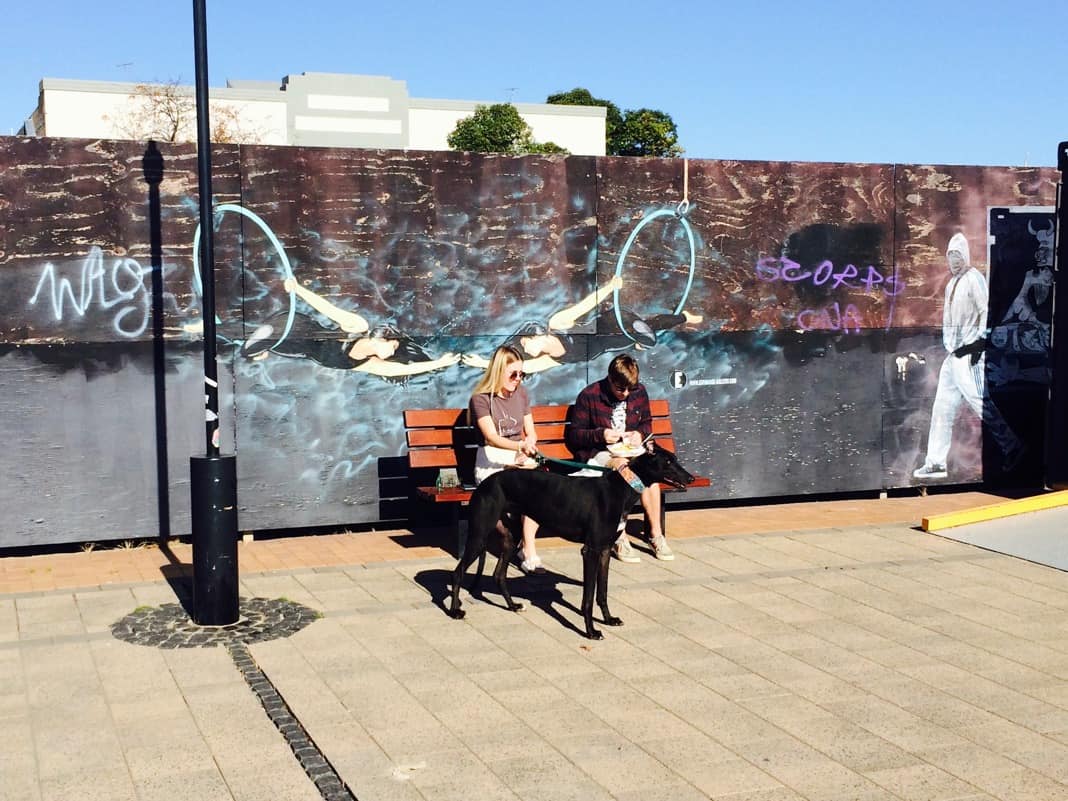 Spending half an hour around this condensed area of street art should be more than enough time. You can even have rest on a seat for a little while at one of the bench seats overlooking the river.
3. Smug One & Burning Rock Murals in Port Adelaide
Now it's time to go for a walk to Smug One. When I was walking around I saw this cool looking car.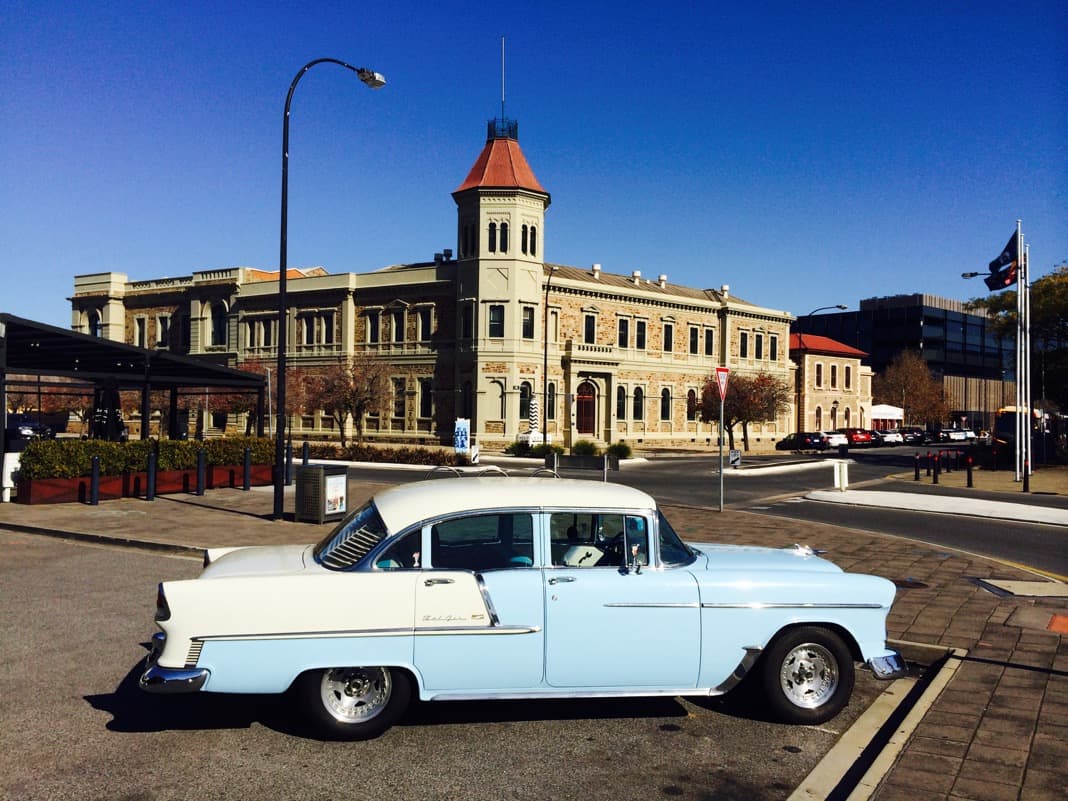 You're probably wondering what Smug One is. Keep on walking past the Augonaut Cafe, a Greek cafe. Cross the street to the other side of the road, opposite to where this blue Ford Fairlane is parked.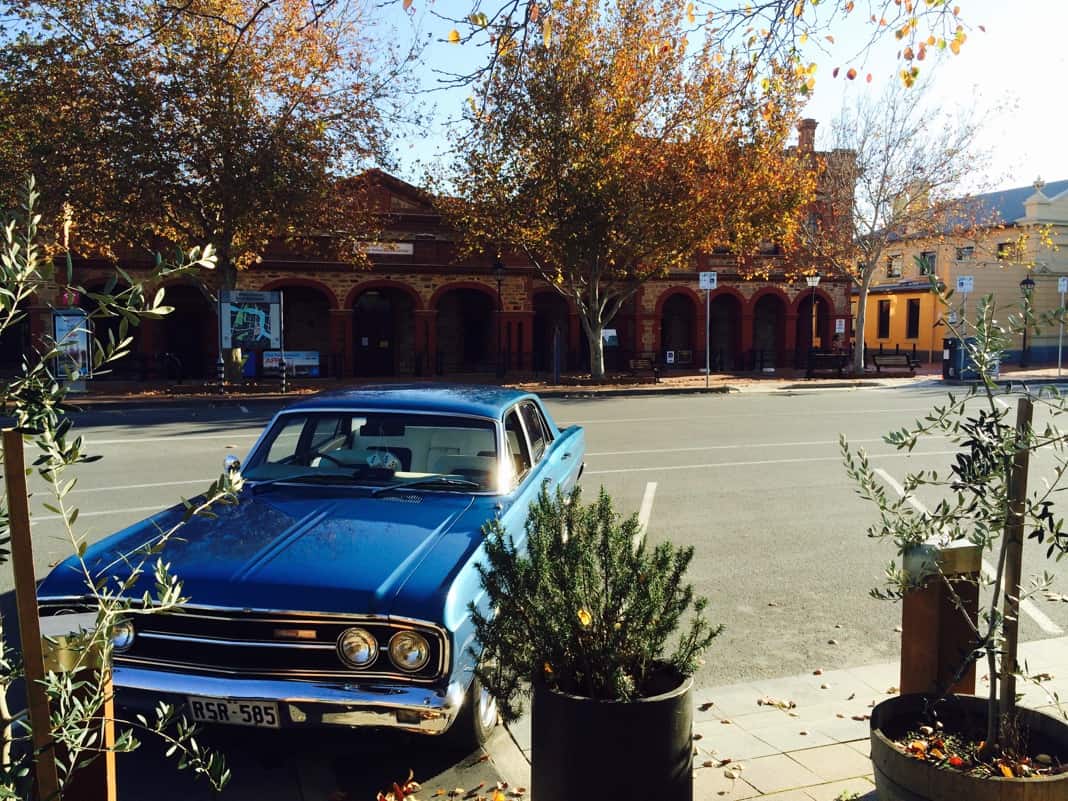 The Smug mural is located down Robe street in a side lane. The fisher-lady (possibly feminine guy) is drinking a much loved drink well known to South Australians.
Farmer's Union Iced Coffee is a popular coffee flavoured milk drink but in this case they've turned the well known label into Iced Smug.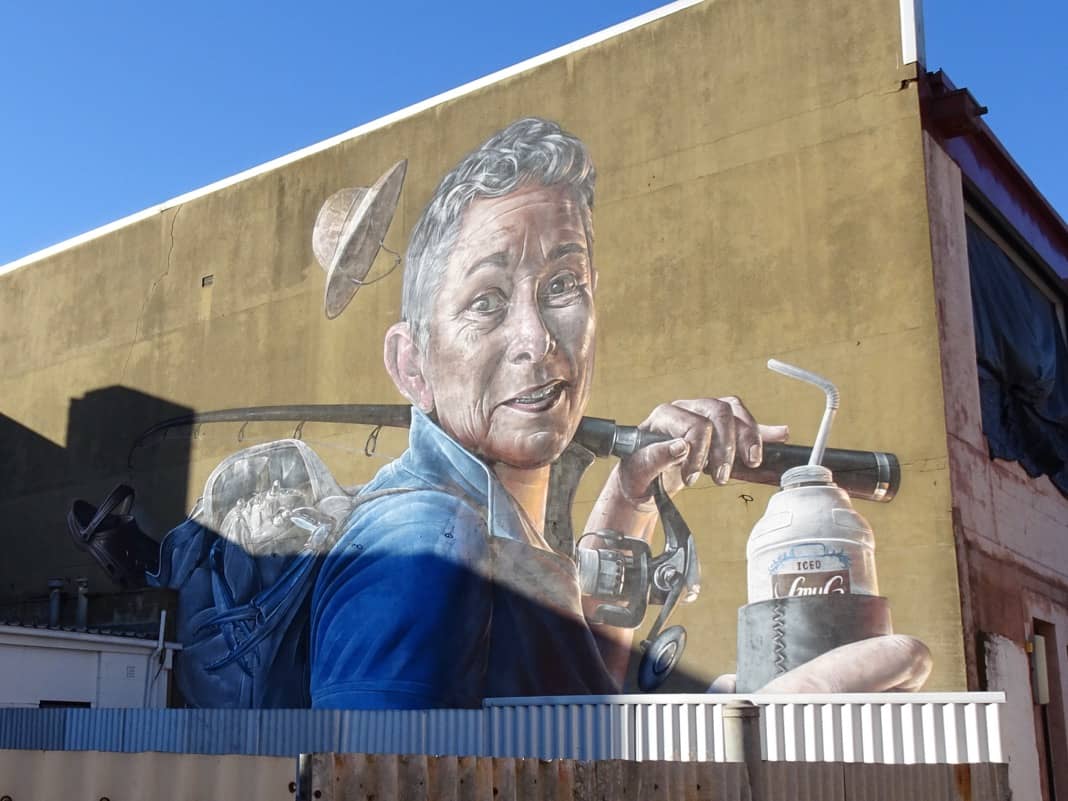 At the end of the fishing rod you'll be able to see a shoe dangling from a fishing rod. The lighting at that time of day had cast a shadow on the mural wall from a chimney. I wonder if the artist was inspired by this sort of effect.
The Burning Rock mural is located at 13 Ship Street, Port Adelaide. This is your next stop.
When walking down Ship street you'll notice a church on one side of the road and a colourful mural on the other side. The church is known as St John's Spiritual Church.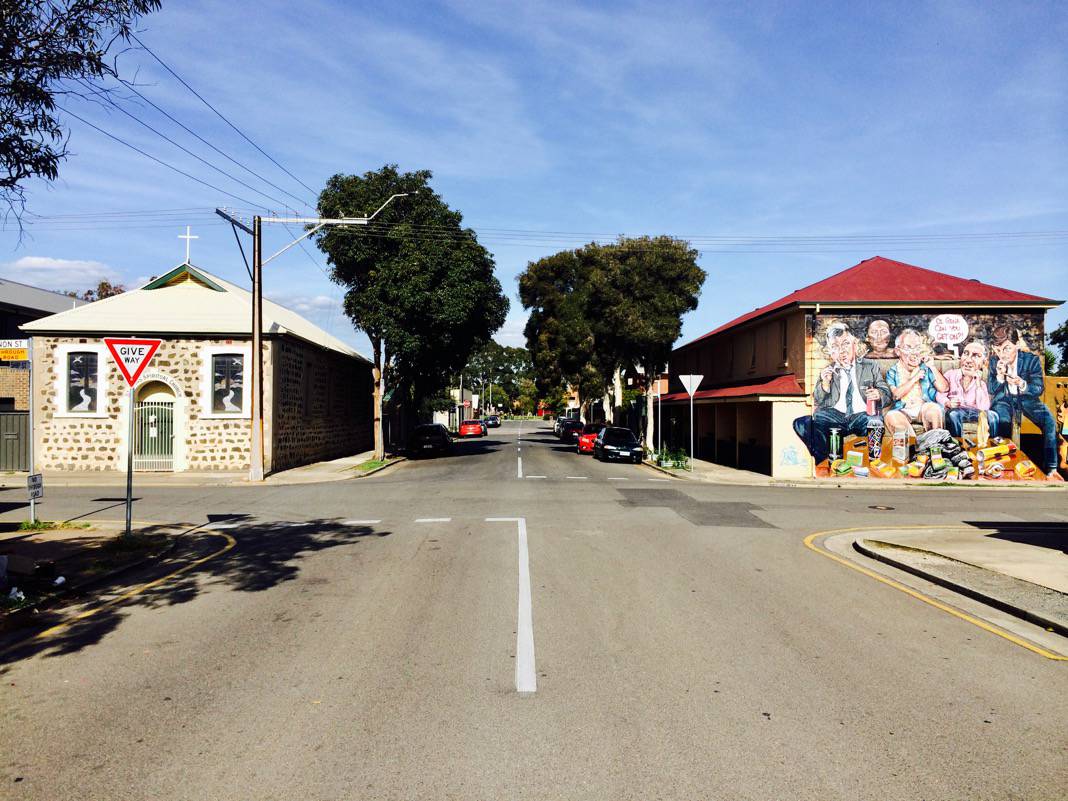 On the other side are these guys. Who are they? They're Australian politicians hooked on coal. Prime Minister of Australia Scott Morrison is seen wearing the bright blue shirt and some of his bozo politician buddies are with him. Let's take a closer look at them.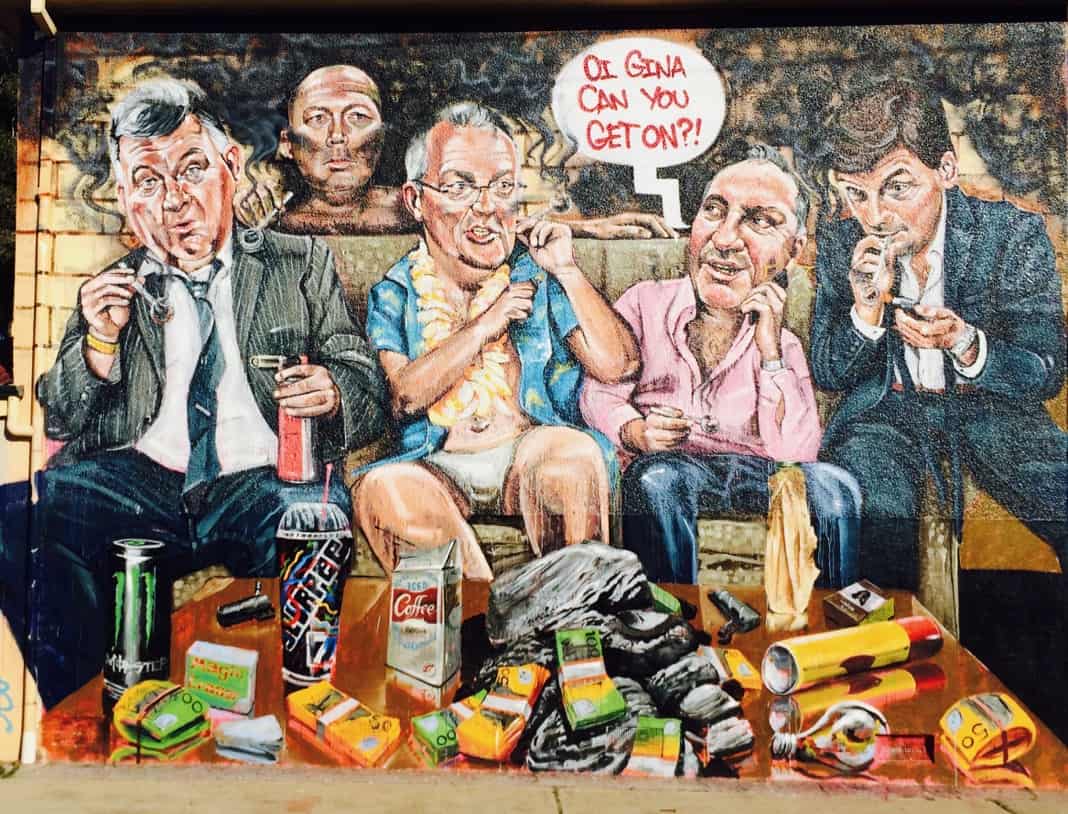 The mural is called BURNING ROCK as you can see from the words on the right hand side of the mural. I like how the power lines come dangling down to it.
After paying your respect I recommend making your way to Hart's mill.
4. Hart's Mill – Port Adelaide Street Art
On the way to Hart's Mill make sure to stop by and see this lady.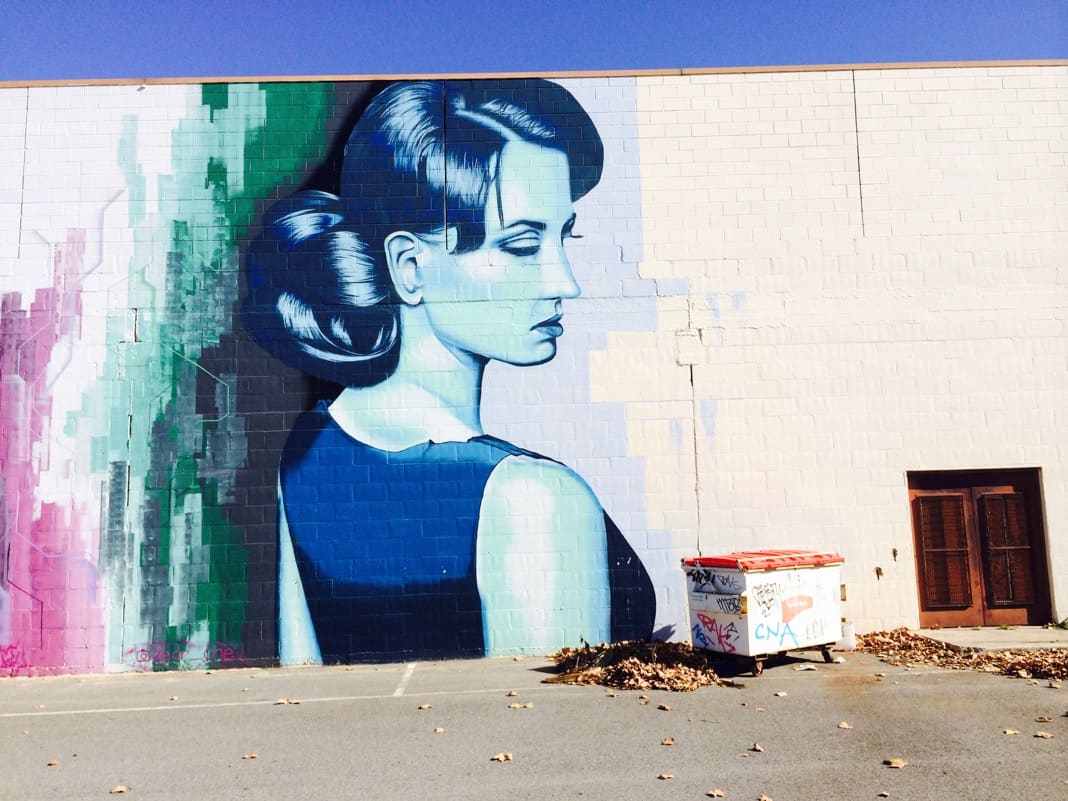 Right next to her is this punk chick.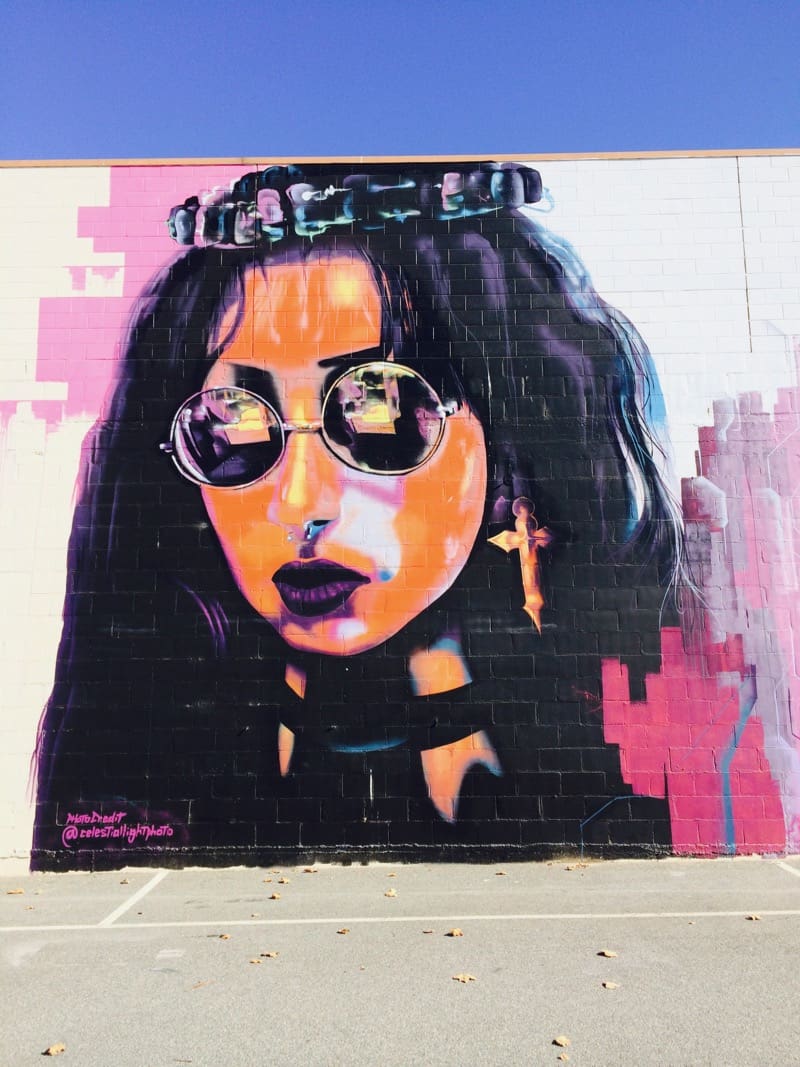 You can then cross over the main road and see this beauty on the way to Hart's Mill.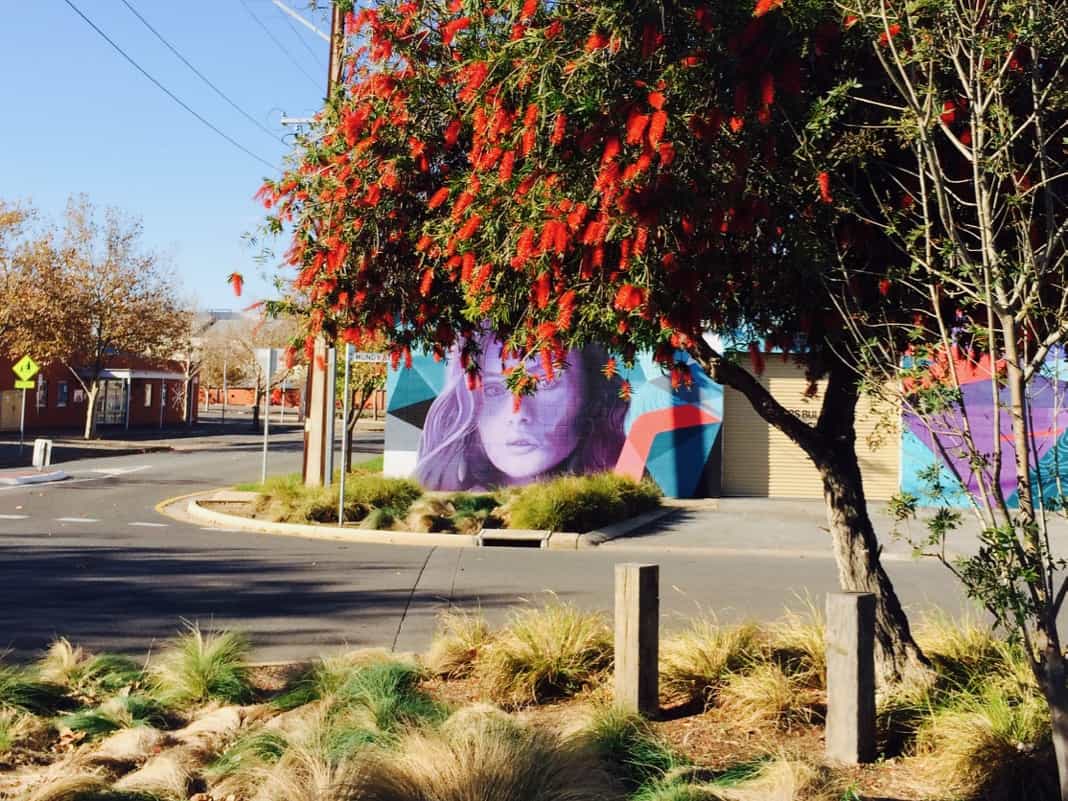 Hart's Mill is the building on the left. This mural on the garage door of the Lion Flour shed seems to be very popular for some reason. I've seen a few people posing in front of it, as I have with the attractive lady in the above picture.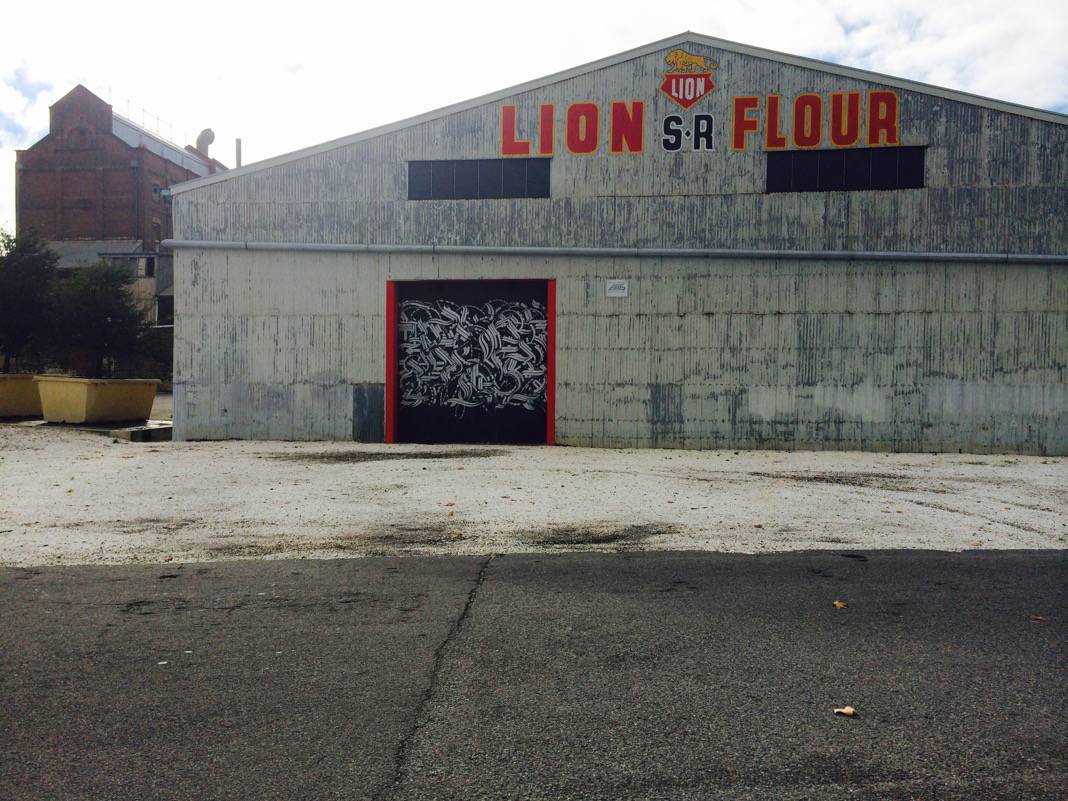 Hart's Mill has a grassy area and a playground which is very popular with kids. There's a slide and a flying fox so if you have kids then you'll want to give them time to have some fun.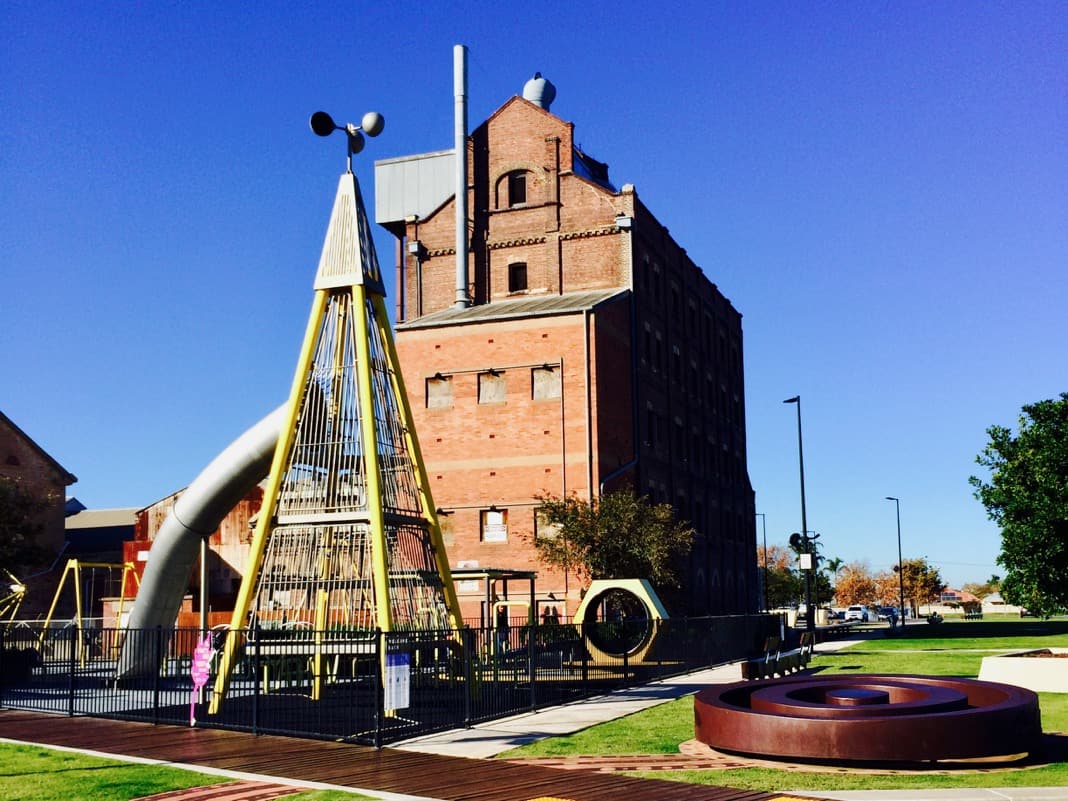 On the walls and windows of Hart's Mill are a some interesting artworks.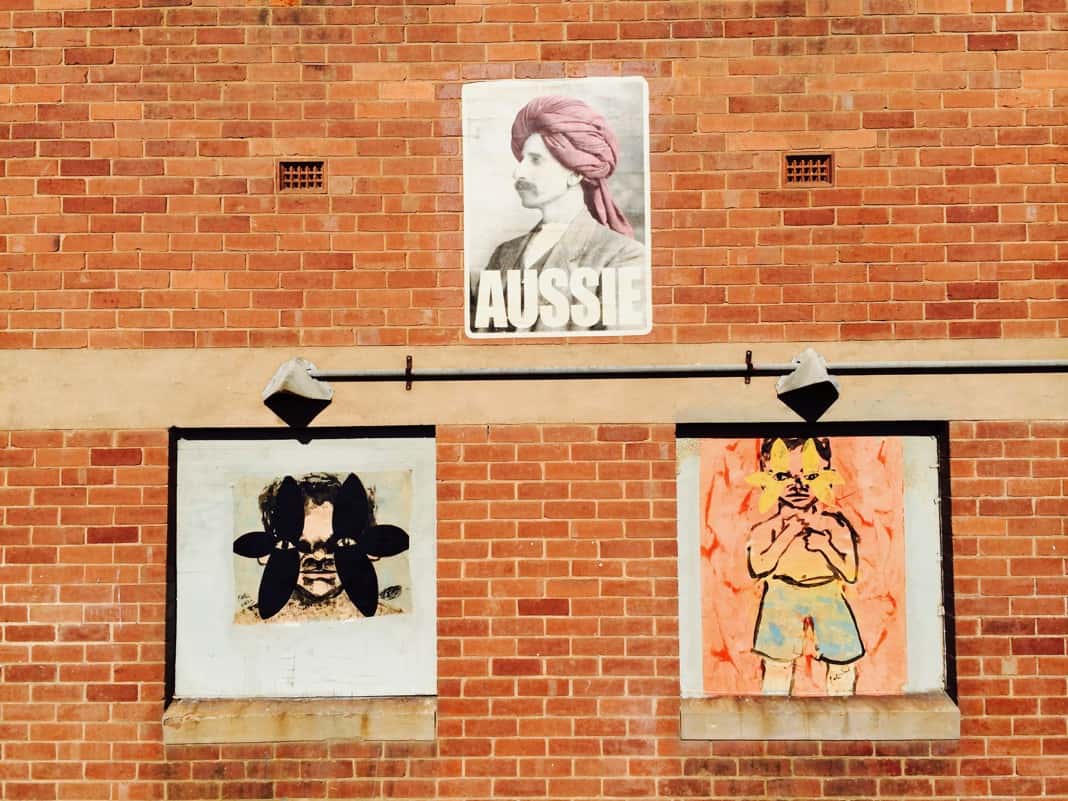 A great place to go for a coffee break is at Folklore Cafe situated right next to Hart's Mill. It juts out from the the wharf over the river.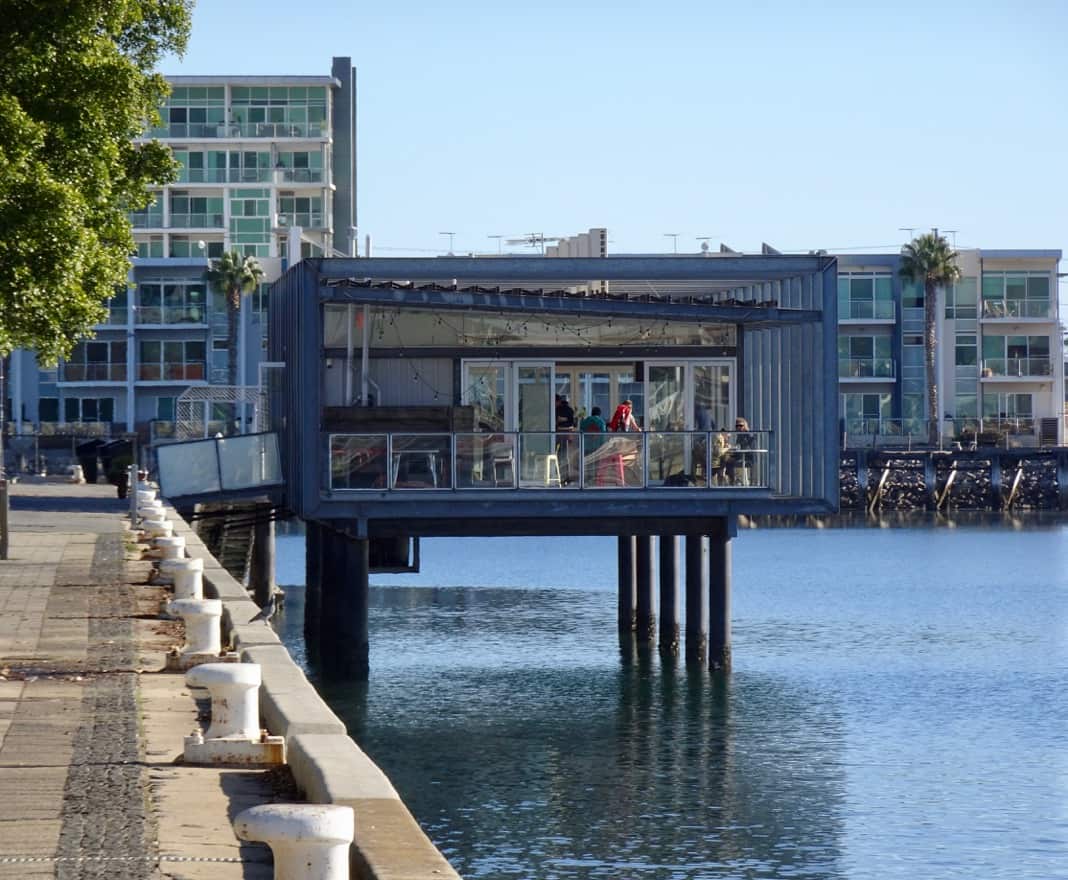 5. Nature Walk – Port Adelaide Artworks
Now that you're energy levels have been boosted it's time to go for another walk. This will be the longest walk of the day and will take you over two bridges. The first stop is where you'll find ostriches. Yes, Port Adelaide has some ostriches on the loose.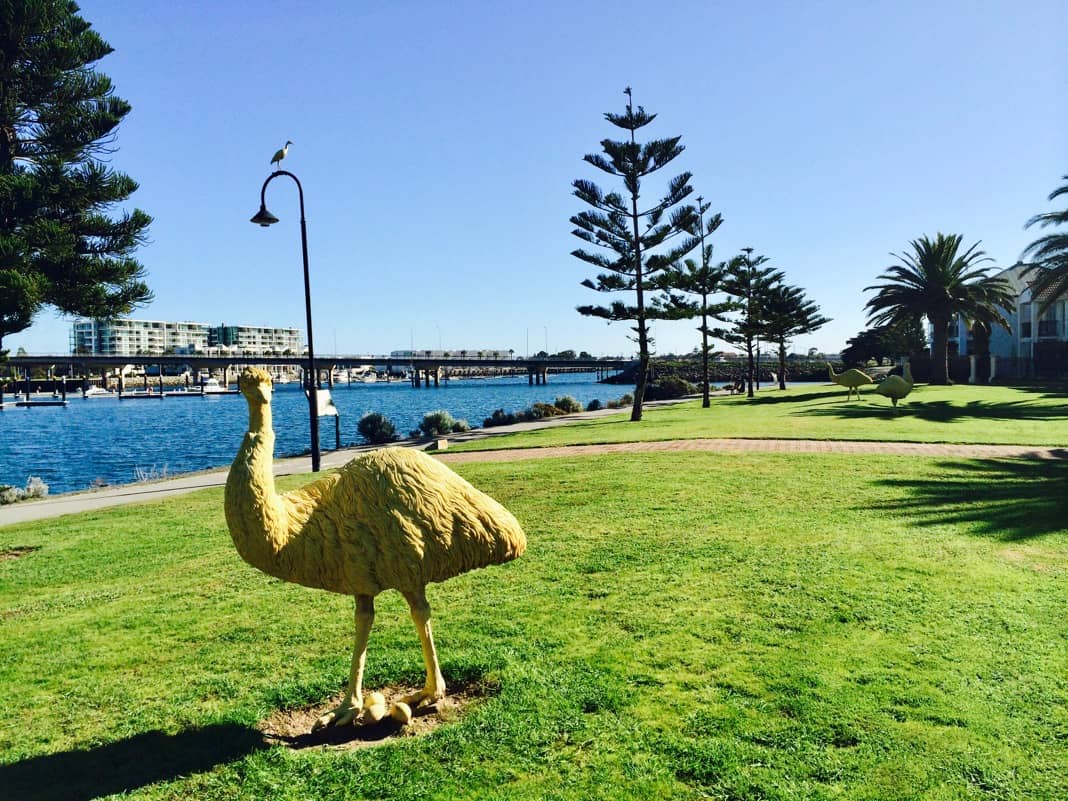 You'll be able to find a few ostriches in this area. After you see them walk over the Jervois bridge to the other side of the Port River. You can see a glimpse of the bridge in the photo above.
When walking around this part of the Port you'll eventually come across a large crocodile.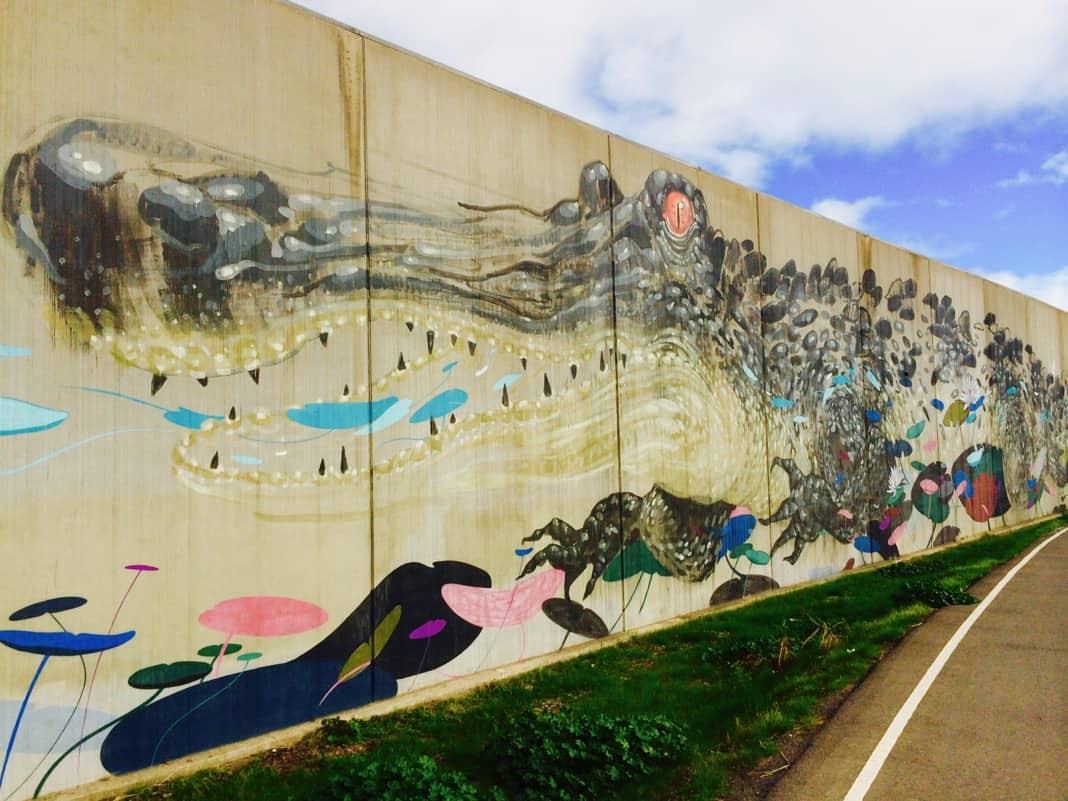 After that walk over the Birkenhead bridge back into Port Adelaide's main precinct.
Port River Dolphins
One day when I was on top of the Birkenhead bridge I noticed someone taking photos. I started talking to the person and found out that they were taking photos of dolphins. He apparently sold the photos for calendars and posters.
In my own mind it didn't seem like a great place to be to spot dolphins but amazingly just as we were speaking one dolphin appeared out of nowhere.
He exclaimed, "Did you see that!" I quickly took a couple of snaps not knowing whether I had captured anything since the glare on the screen made it impossible to see. I had just bought a new Sony camera and this was my first time using it so I didn't know what I was doing at the time. Never did I expect to see a dolphin in Port Adelaide let alone take a photo of one. It was magic!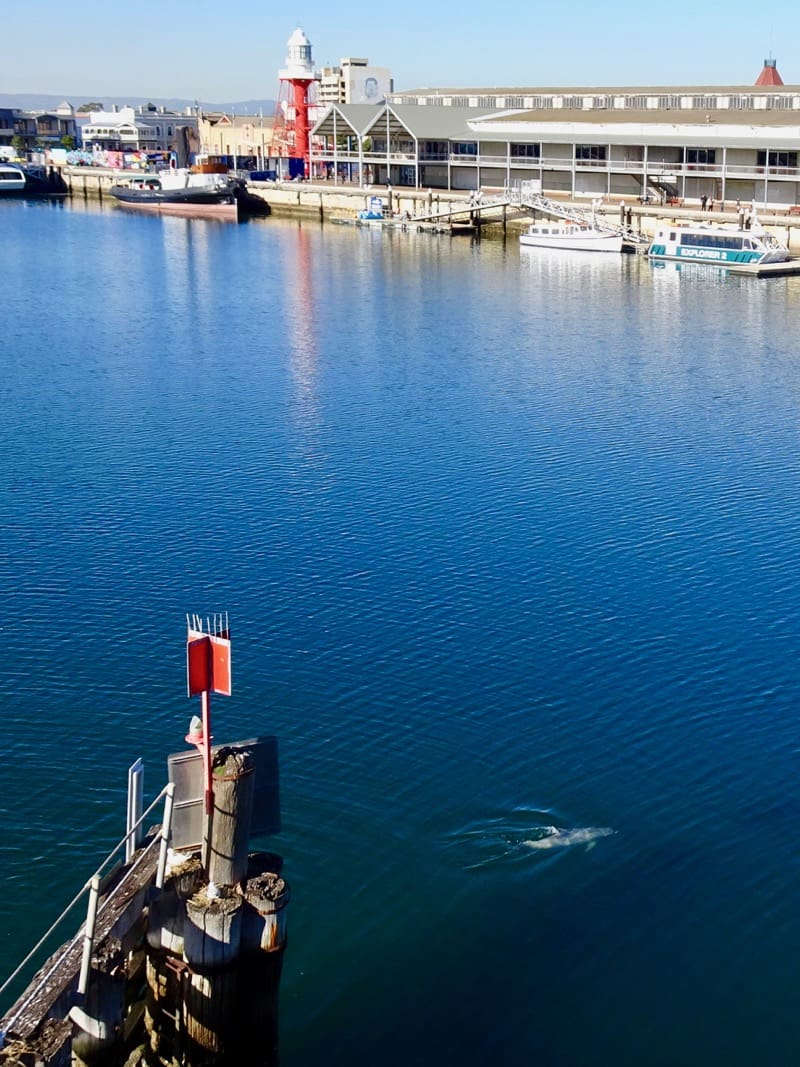 The really incredible thing was that later in the afternoon on the very same day I also saw a sealion under the jetty at Henley Beach.
6. Welcome to Wonderland – Wonderwalls
Now I want you to head over to St Vincent Street.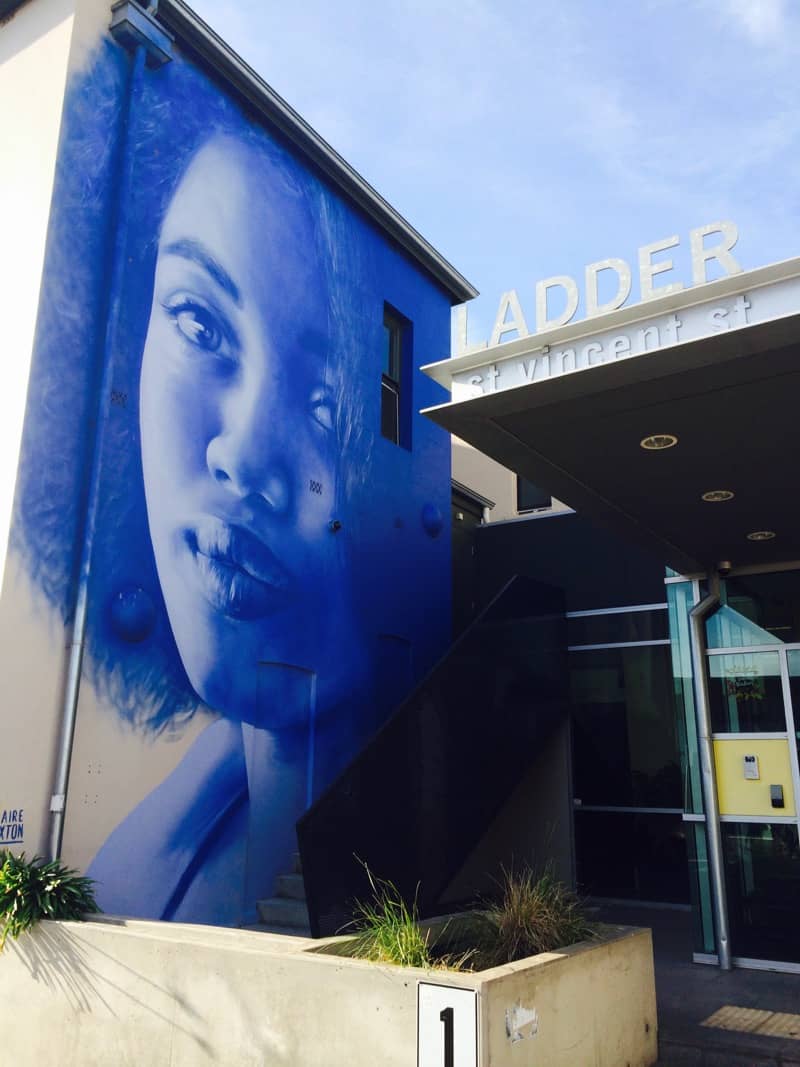 You'll get to see a few murals as you walk down the road. Keep an eye on the side streets corners.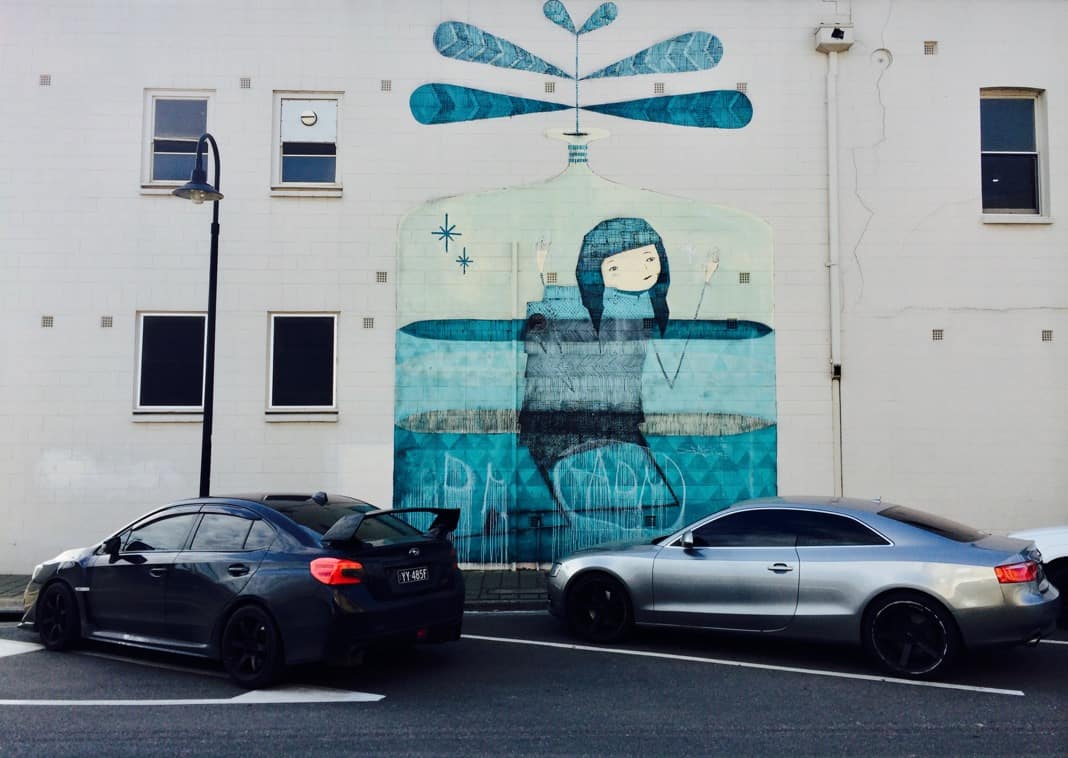 Make your way down to Valentino Pizza Cafe near the Port Adelaide railway station. This artwork was created by Vans the Omega in 2015. I like how the artist Joel Van Moore aka Vans The Omega uses the last letter of the Greek alphabet in his name.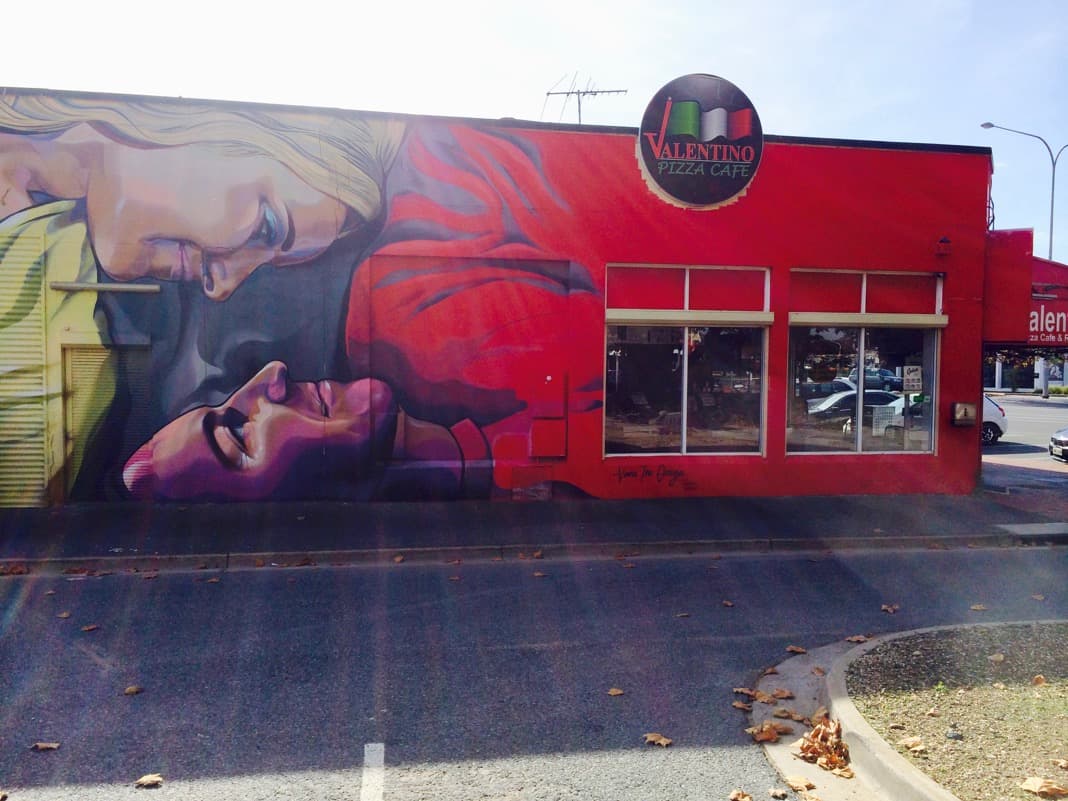 Port Adelaide Railway Station is located on the other side of the side street where this mural is located. It makes for a great photo stop while you're there.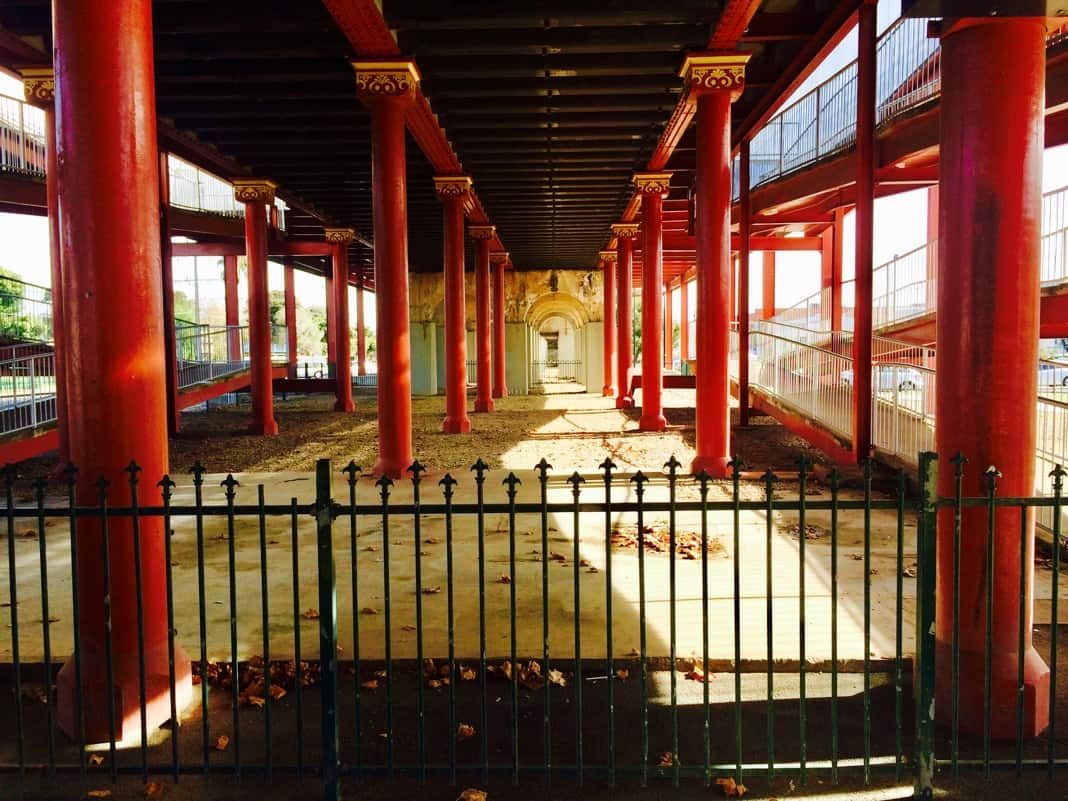 Now cross the main road and head over to the Wonderland mural. This mural is situated in front of Port Adelaide's Centrelink building. Centrelink delivers social security payments and services to Australians. It's the one place most Australians want to avoid at all costs.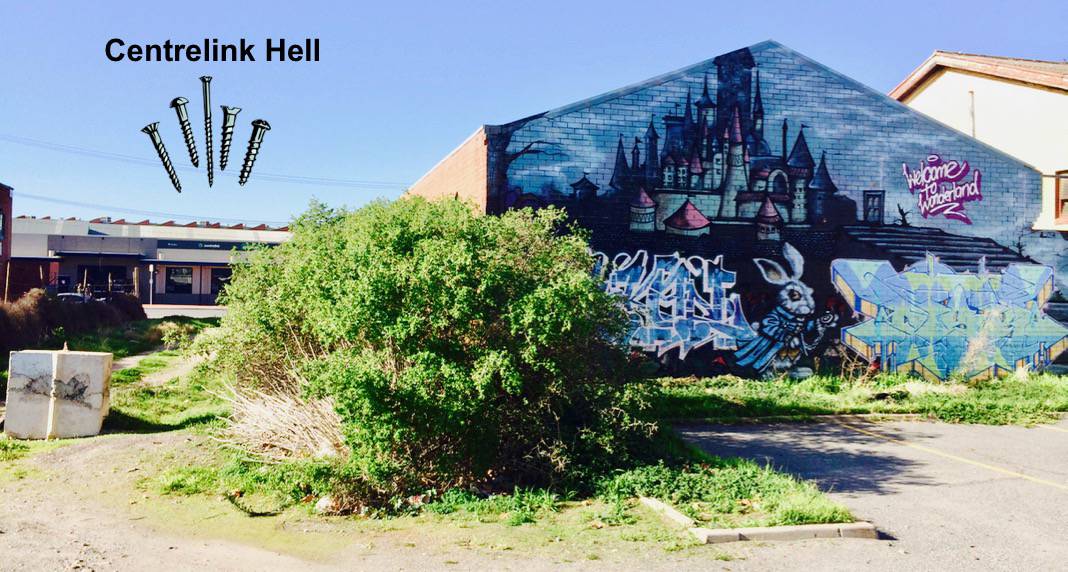 Someone is welcoming you to Wonderland!
This poor girl seems very lost and confused.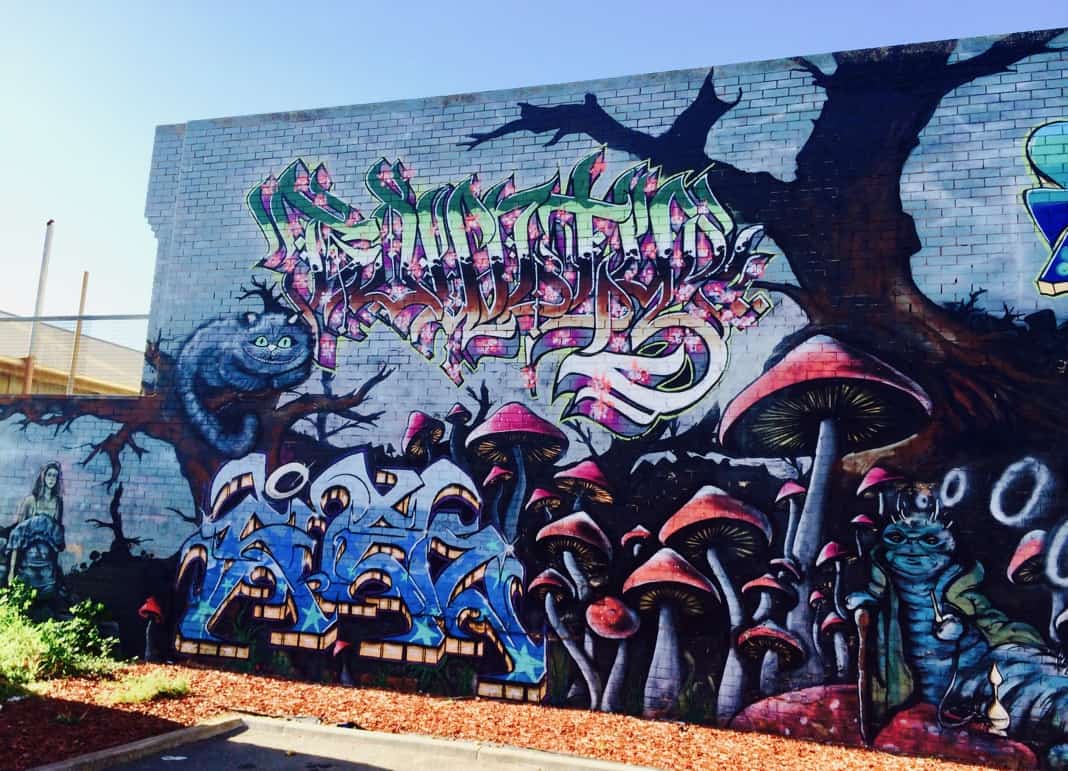 Now that you have arrived in Wonderland it's probably a good time to leave. I hope you have enjoyed your tour of Port Adelaide street art. This place really is a wonderland of Wonderwalls.
Street Art in Port Adelaide (More of them)
Walking around Port Adelaide will reveal many other murals. Here are some more of them.
While you're in Port Adelaide you can also find some of the interesting shops and art galleries to wander through. Sea Witch Images is worth popping into for a look around.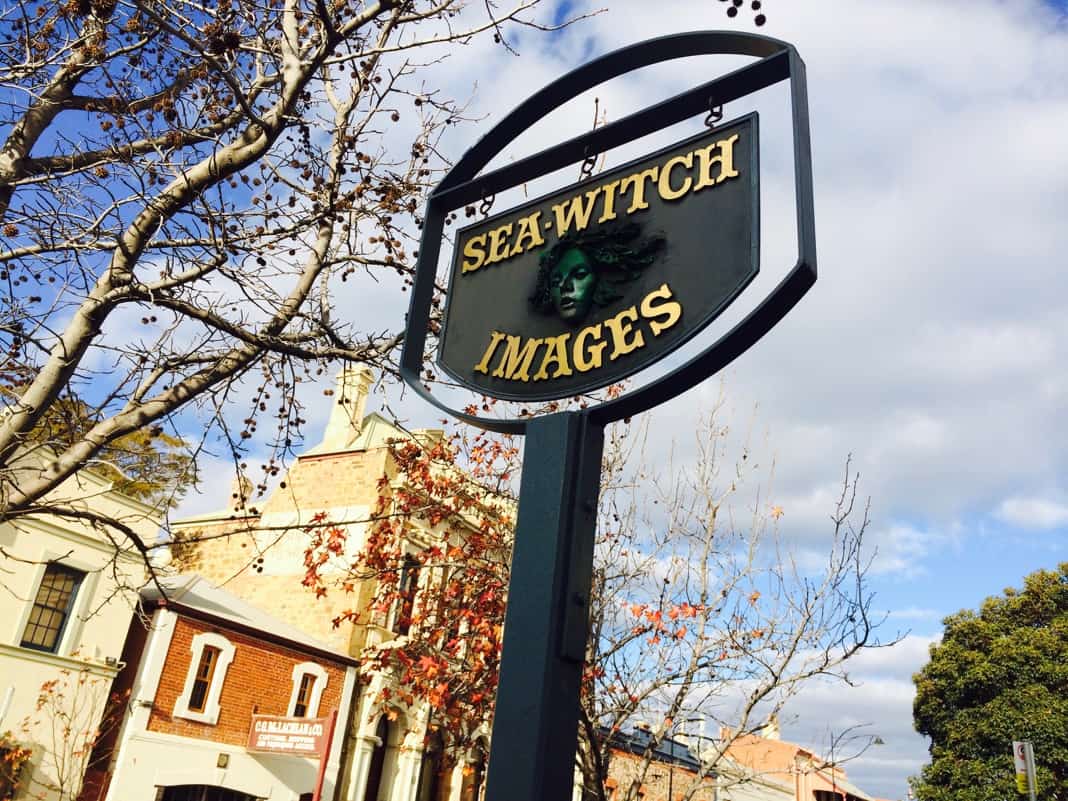 How to get to Port Adelaide
Port Adelaide is only a 25 minute drive from the Adelaide's CBD. There are plenty of public transport options available to get you there as well. You can easily walk around everywhere once you're there.
To give you a better idea about Port Adelaide, if you're familiar with the more famous Fremantle in Western Australia, then this place has a very similar feel. There are large boats tied to moors along the wharves, plenty of cafes and pubs to relax at, and many interesting shops and galleries to explore.
No this is not another mural in Port Adelaide. It's me leaving Port Adelaide after a long day out. I thought I'd create a Noir looking photo to remember my time there in one of the gloomier looking streets.
Wonderwall street art in Port Adelaide is pretty awesome! I highly recommend visiting even if it's just to see Cupid!