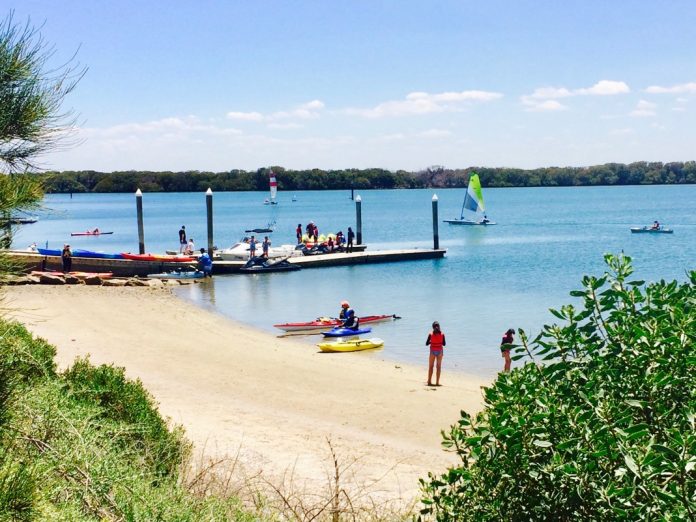 Going on an Adelaide Dolphin Sanctuary Kayak Tour is one of the best things to do in Adelaide.
You have the option of hiring a kayak at Garden Island, going on an organized kayak tour, or you can also take your own kayak.
Whatever you decide to do, this is something you have to do if you're in Adelaide, and you love the water.
Adelaide Dolphin Sanctuary
Three major attractions in the dolphin sanctuary draw in the visitors and kayakers.
Actually, it draws in lovers of all water sports, from stand-up paddle boarders to sailing boat enthusiasts.
These attractions include seeing dolphins because that's the big one. Let's face it, see a dolphin, and your day is made.
Then there's exploring a mangrove creek to give you a feeling as if you're navigating a small part of the world-famous Amazon river, with pesky mosquitos making it all too real.
The third big drawcard is the ship's graveyard, with over twenty wrecks in various corrosive states around Garden Island.
All of these attractions in the Adelaide Dolphin Sanctuary are worth visiting, and you can do them all in one day.
Top Tip: Go when the tide from low to high doesn't change that much (known as a dodge tide). This will make your trip so much more relaxed.
Buy or Hire a Kayak
One day I saw an advert for an inflatable kayak on Amazon, and I couldn't believe the sale price.
It was only $250, what a bargain. I had to buy it, because why rent when you can buy it!
After a few days on the water, it would pay for itself. Renting is a good option if you only plan on going out once or twice to a particular spot, but paying $40-$60 per outing, and only for a short time, soon adds up.
This felt like it would be an investment in fun, so I placed my order for a new inflatable kayak asap.
The Intex Explorer K2 is the inflatable kayak I chose to purchase. This is a two-seater and the reason I chose it is because I'm a tall guy. I thought it would be the best choice for me to make.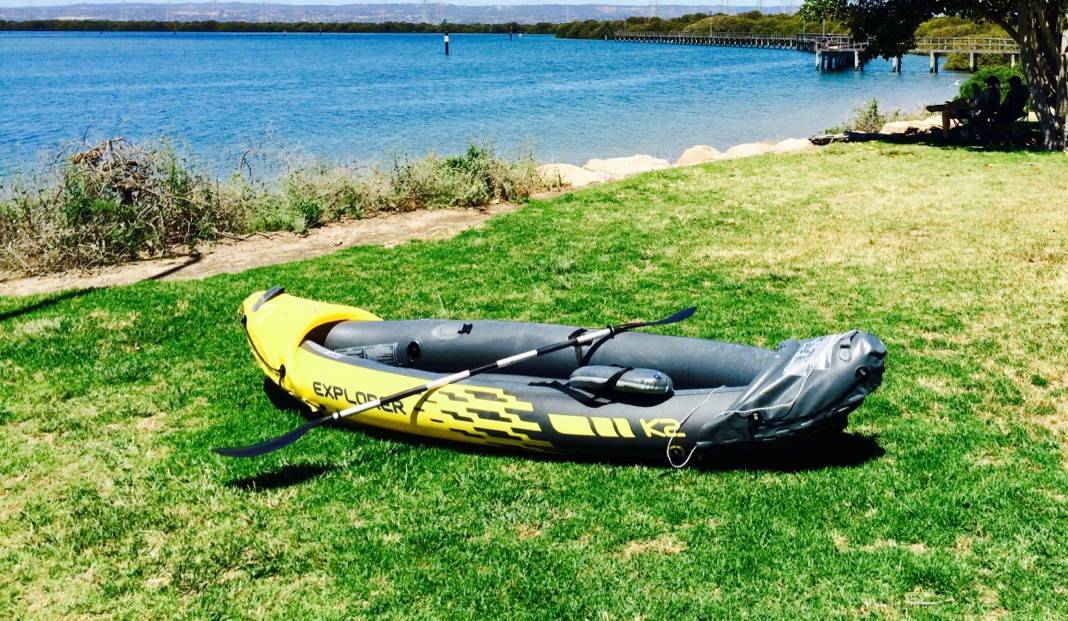 Looking back, I'm glad that I went with the bigger kayak. It's quite comfy for one person, but it's still big enough for me and someone else.
This inflatable kayak is super easy to inflate and set up. I won't go into the details, but it's easy. No engineering degree is required.
Pumping it up is a breeze as well. I thought this was going to be the hardest part, but hardly any effort is required.
It may take you about an hour to set it up the first time, but it will only take you 15-20 minutes on subsequent trips after that.
The other option is to hire a kayak or to go on a Dolphin Sanctuary Kayak Tour. You can do this through Adventure Kayaking SA.
Dolphins – Adelaide Dolphin Sanctuary
Why did I end up buying an inflatable kayak? To see the Port River dolphins in the Adelaide Dolphin Sanctuary. To keep going back if I wanted to.
I really thought it would be nearly impossible to see dolphins, and I didn't believe it for a second that I would be kayaking in a real-life Dolphin Sanctuary. Call me Mr Cynical.
How wrong was I, because I saw them on my very first kayaking trip.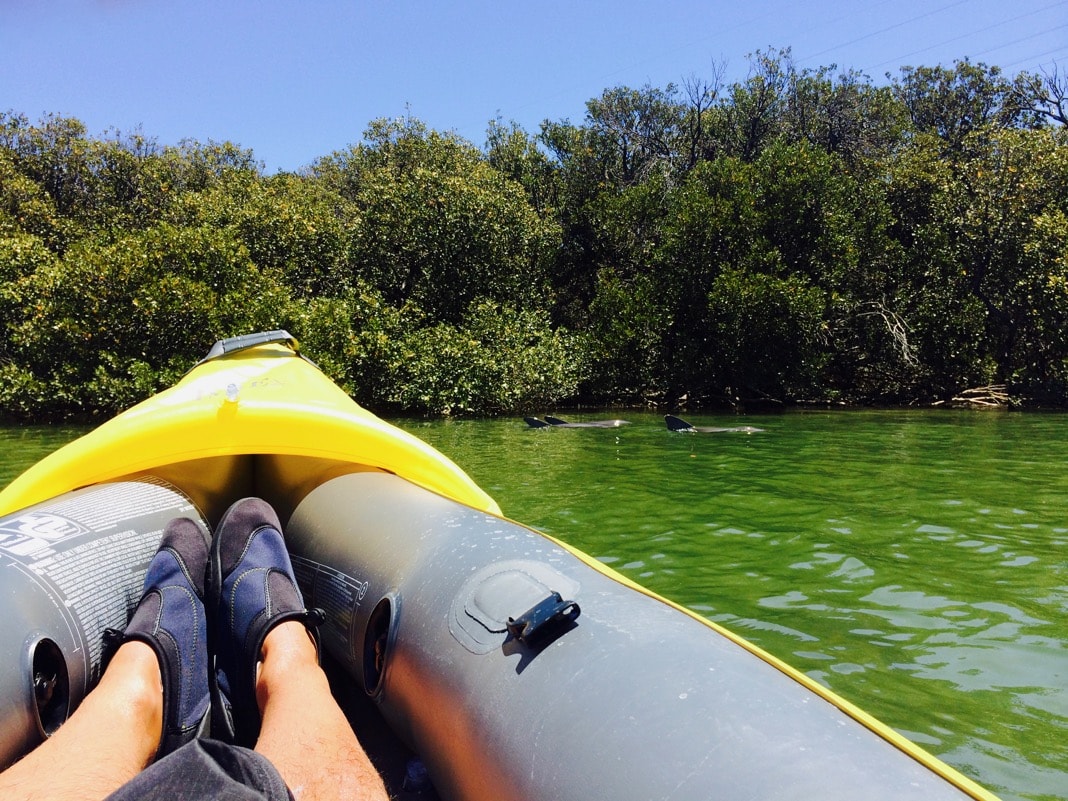 The odds are so good for laying eyes on a dolphin that from my experience, I'd say you'd see them nine times out of ten when kayaking in the Dolphin Sanctuary.
Out of about ten visits of mine, I saw dolphins during nine of those kayaking trips. Only once was I disappointed.
Where else in the world can you see dolphins within 30 minutes of the CBD? I bet there aren't that many places out there. Adelaide tourism seems to drum up this fact a fair bit.
If you're thinking about things to do in Adelaide and want to do something adventurous, I give Adelaide Dolphin Sanctuary Kayak Tour the highest recommendation.
About 40 bottlenose dolphins call the Adelaide Dolphin Sanctuary home, and when you include the visiting dolphins, you'll probably get to see at least one of them.
The dolphins seem to swim mostly in groups of twos or threes, from what I have seen.
Even if you don't have a kayak to play with, you can see dolphins from the jetty or the area near the boat ramp. They seem to make their way in that direction around midday.
If you stick near the jetty from 11 am to 2 pm on a nice day, I'd say you have a fantastic chance of seeing a dolphin or two.
Kayaking offers the advantage of letting you get closer to the dolphins.
There's nothing quite like seeing dolphins cruise past you on a nice sunny day. It's so soothing!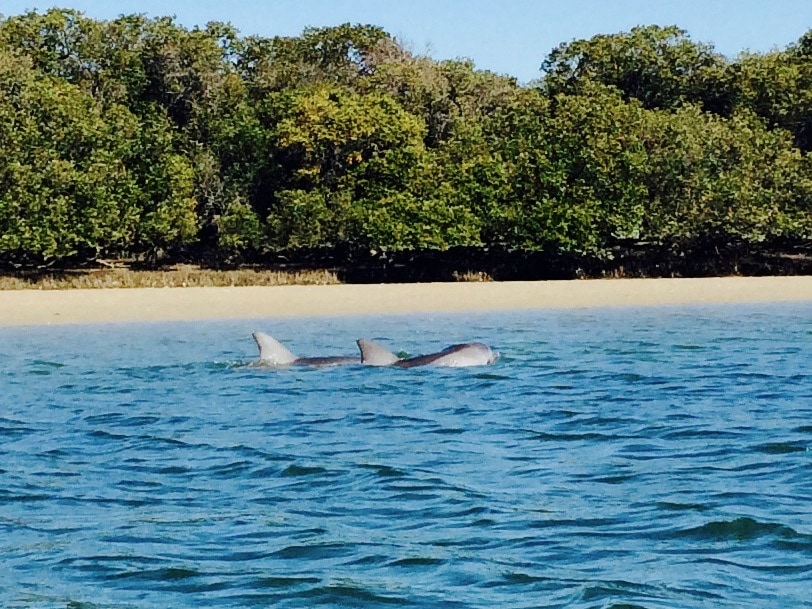 Often they'll come quite close to your kayak, like a meter away, and they may even swim under it.
So far, I've been too slow with my camera to take a perfect close-up photo of a dolphin.
Dolphins make a shushing noise as they breathe in the water when they're nearby. This lets you know that they're close, but you still have to predict at which spot they'll surface.
It's better to have your camera in video mode when they're around, which I only realized after reflecting on how many great shots I missed out on.
I bought a GoPro camera because I thought I needed a waterproof action camera with a wide-angle lens, but really it's unnecessary.
Using a camera phone or other normal camera would be fine. Just make sure you don't bring anything too expensive if it isn't waterproof.
And be careful. My non-waterproof iPhone nearly dropped out of a pocket and into the saltwater while trying to get out of the kayak.
In the future, I'll try and create a video of the Adelaide Dolphin Sanctuary and stick it in this post.
Ship's Graveyard
The ship's graveyard is a collection of abandoned ships next to Garden Island close to one another. It's another great attraction in the dolphin sanctuary area.
This ship launched in 1856 is known as the Santiago. It is thought to be the oldest, intact iron-hull sailing vessel in the world.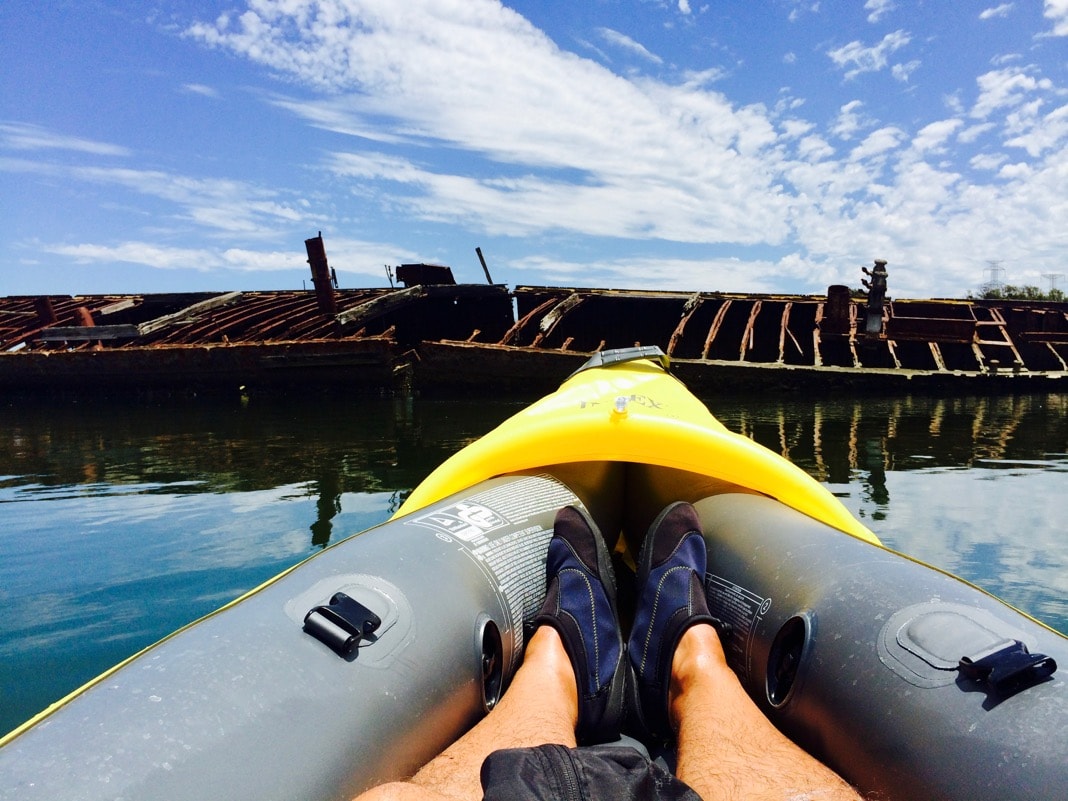 Once I even saw some kayakers climb on board the ship and use it as a diving platform.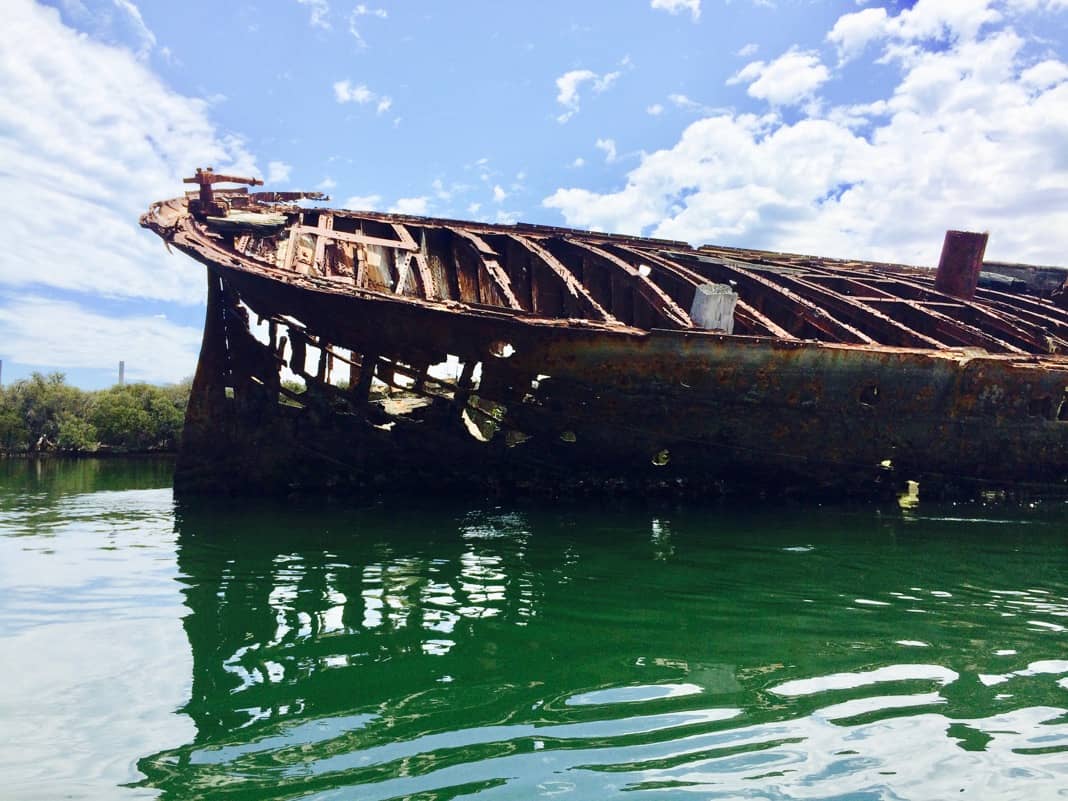 The shipwreck graveyard has many pieces of metal sticking out of the water. This one looked interesting because it almost looks as if a new door has been created.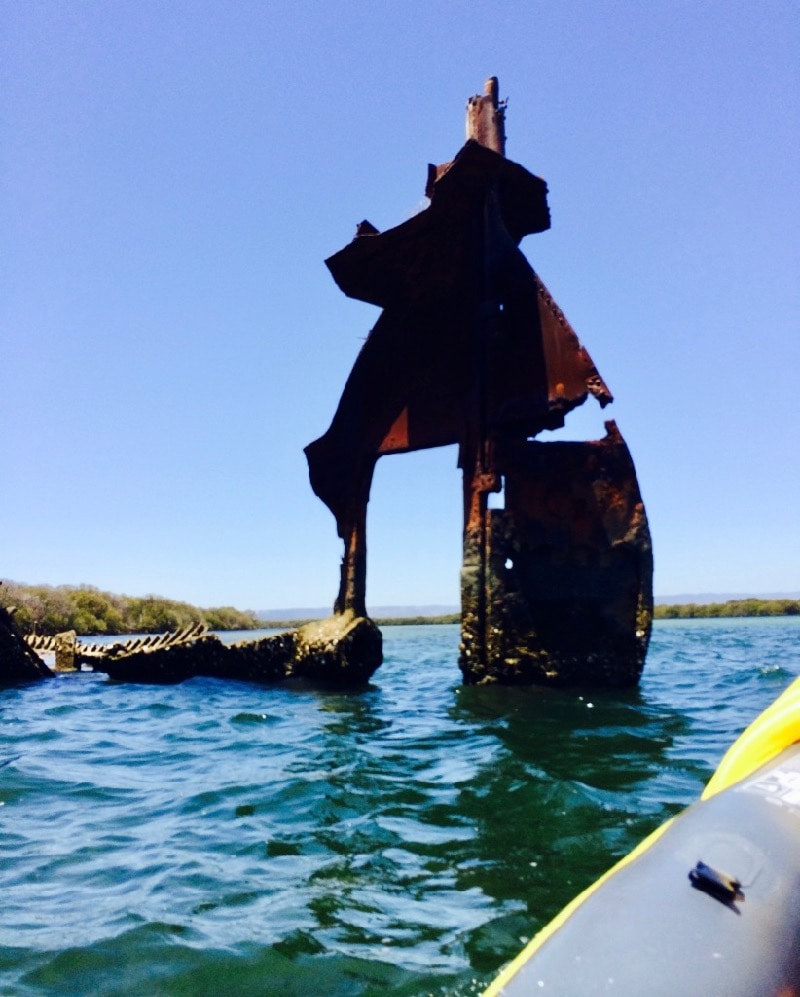 Here's another shipwreck which is further away from Santiago, towards Torrens Island Bridge.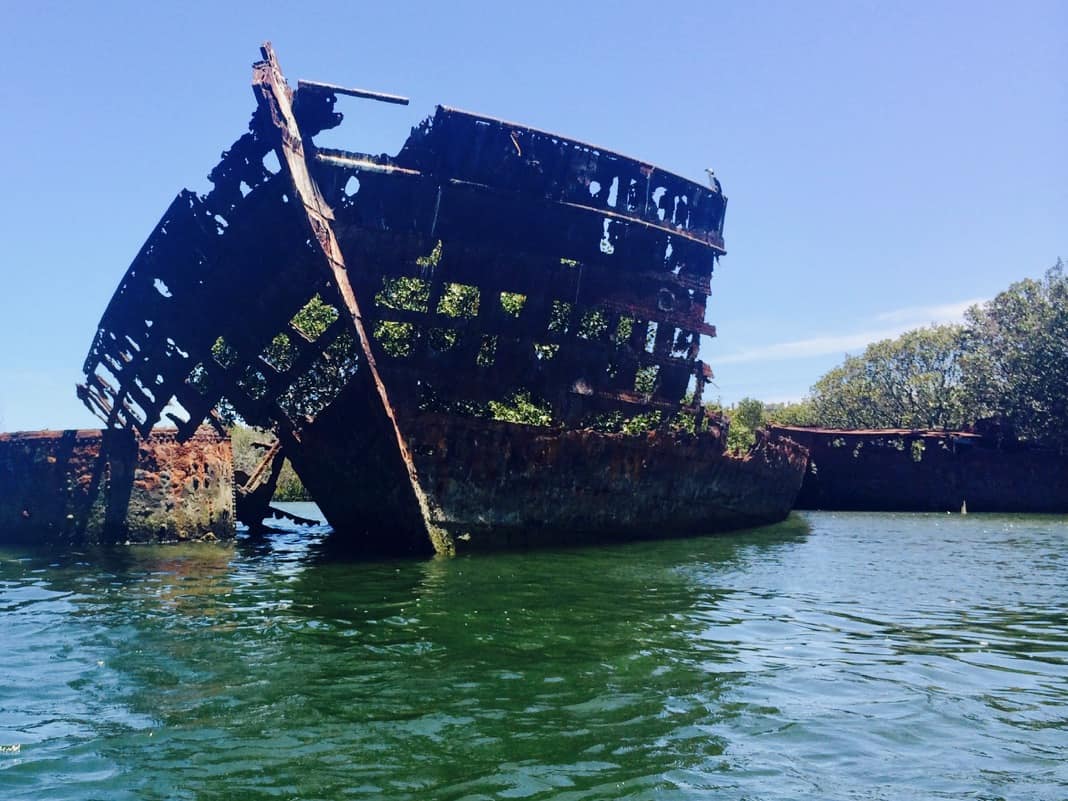 There's plenty of birdlife around Garden Island. Most of the birds you'll see around Garden Island are seagulls and shag birds. The shipwreck below is covered in them.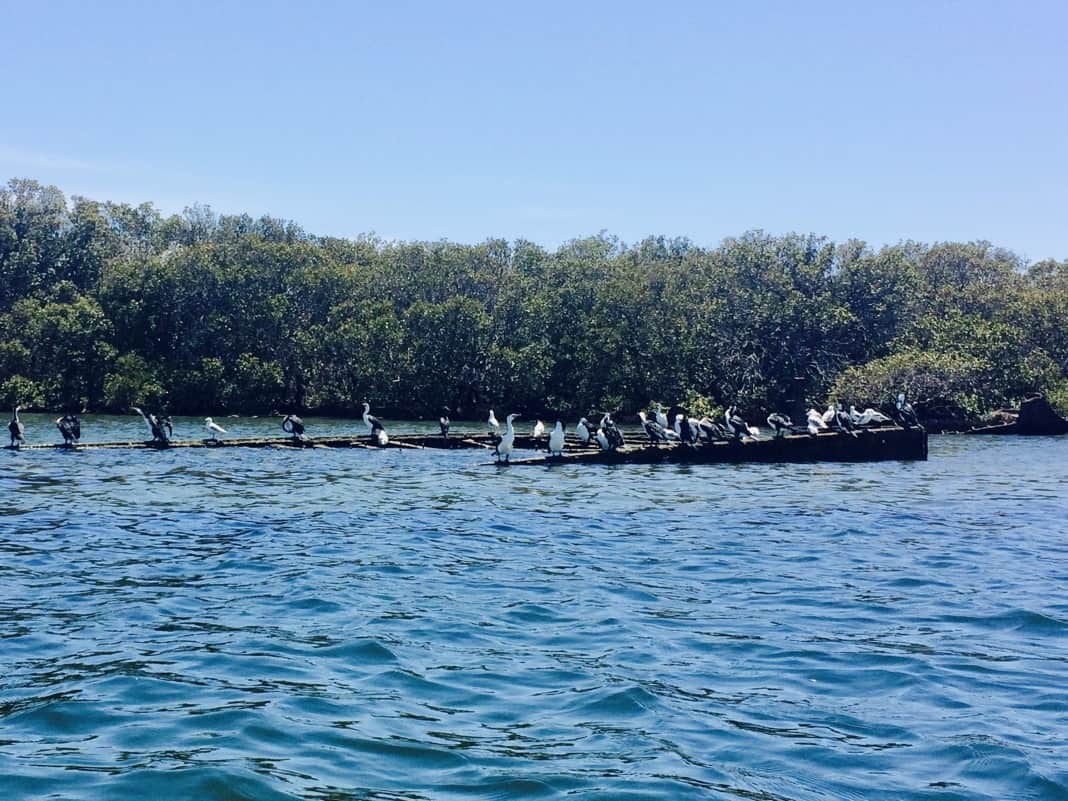 Top Tip: If you want to make it here and you're in an inflatable kayak, make sure the tides don't change too rapidly. Visit the ship's graveyard on a dodge tide. I had to give up on my very first try, not knowing how hard it would turn out to be when the tides were running fast. I found it impossible!
Mangrove Creek (Little Amazon)
This hidden gem of a mangrove creek is a little beauty. You can easily miss it if you don't know about it. This mangrove creek is fairly long, but eventually, you will have to turn back.
It has been given the nickname the 'Little Amazon,' and it definitely gives you that sort of feeling, like you're truly in the Amazon.
It's very serene inside the creek, but it won't be so pleasant if the mozzies (mosquitoes) decide to turn up. One day I didn't come across any really, and then on another day, a few of them turned up and wouldn't leave me alone.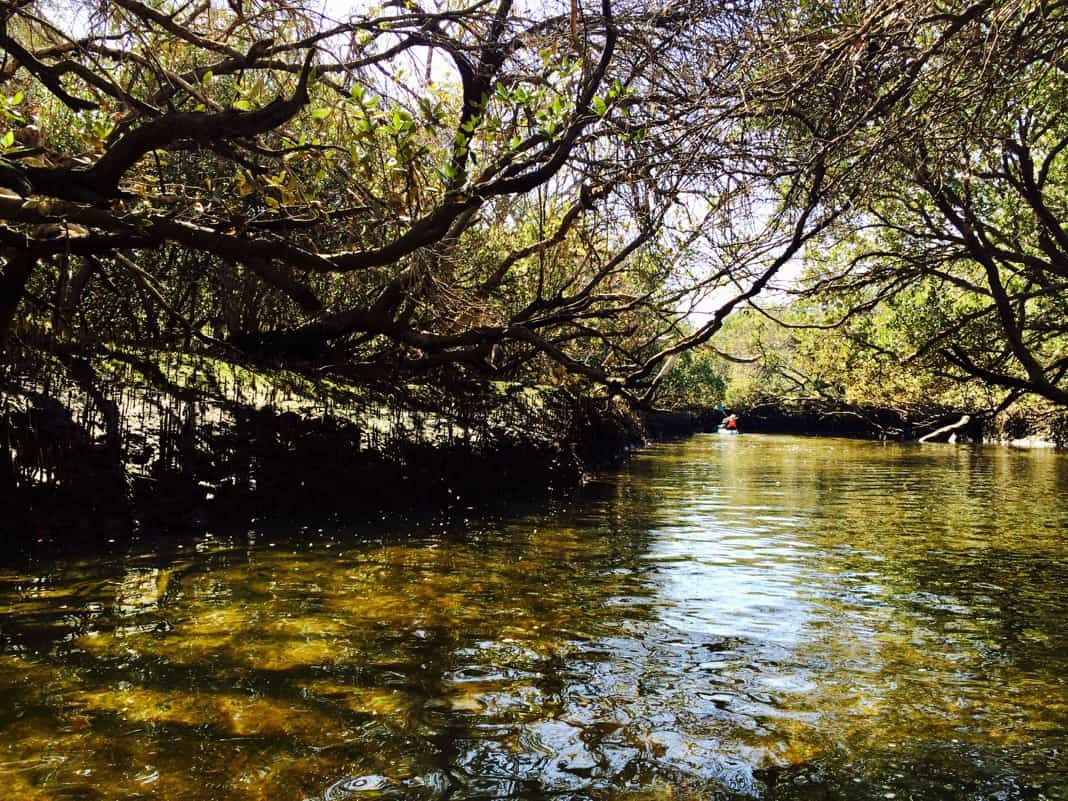 Kayaking through the mangrove creek is mostly under the protection of mangrove trees.
If you want to go all the way to the end in an inflatable kayak, you will have to step in the water and drag your kayak around certain spots. So you don't get a puncture or because the water is too shallow when trying to get around a tree branch.
I recommend wearing wet scuba-type shoes so you can step in the sloshy mud without feeling too uncomfortable about it.
An inflatable kayak is lightweight and sits on top of the water. Not sure how a normal hard-shelled kayak would go trying to reach the very end of the creek because it can get very shallow in certain spots.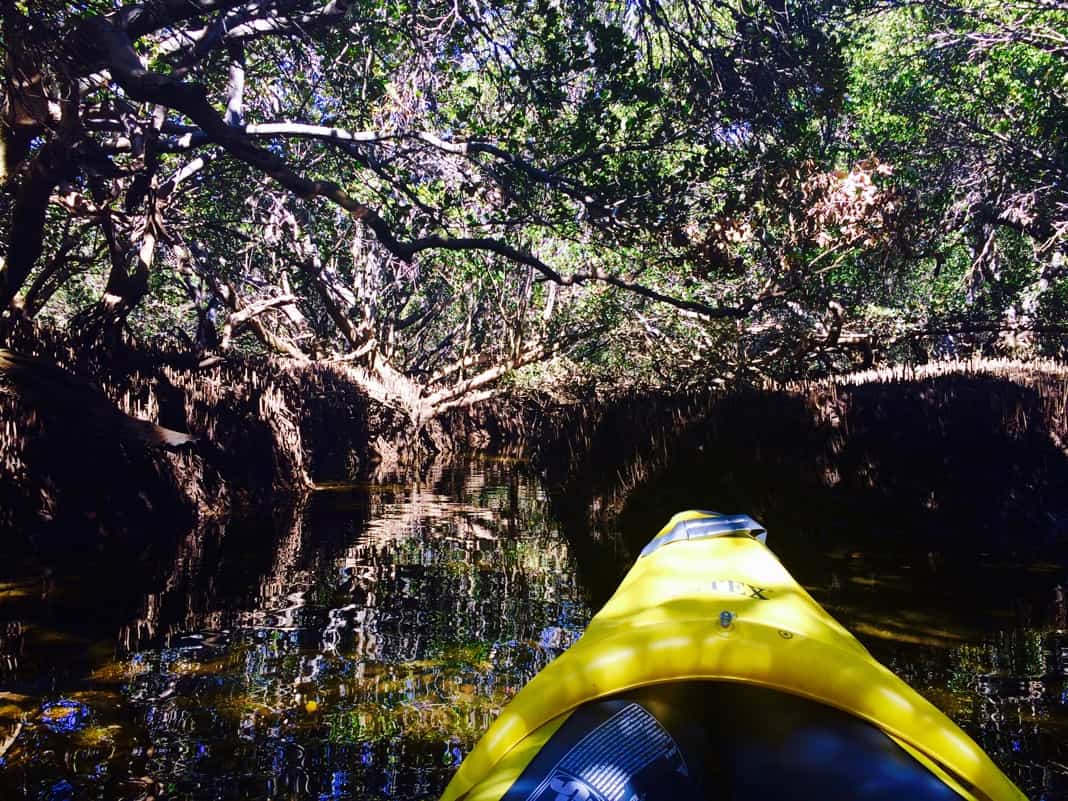 The end of the creek is shown in the photo below. Tree branches blocked further progress, and the water became extremely shallow at this point.
The creek also narrowed drastically to only about a meter wide, which you can't see. The only way to go forward was by foot, and there was no way I was going to do that.
It took me about 30 minutes to reach the end of the mangrove creek after having entered the creek from the main waterway. Now I had to make my way back.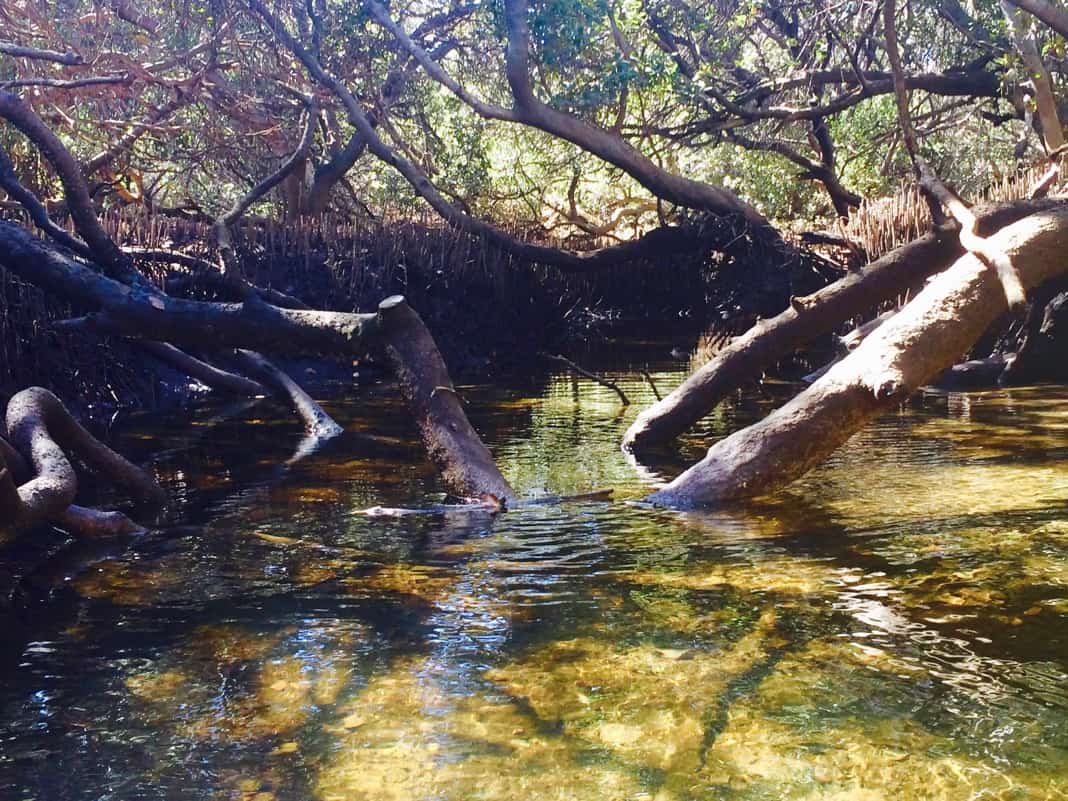 Here I am approaching the entry/exit point of the mangrove creek. This is one of the most beautiful parts of the creek.
Even if you only kayak down 100 m of the first section of the creek, it's something you have to see and do.
Dolphin Sightings
After exiting the mangrove creek, I came across a couple of dolphins on the other side of the river.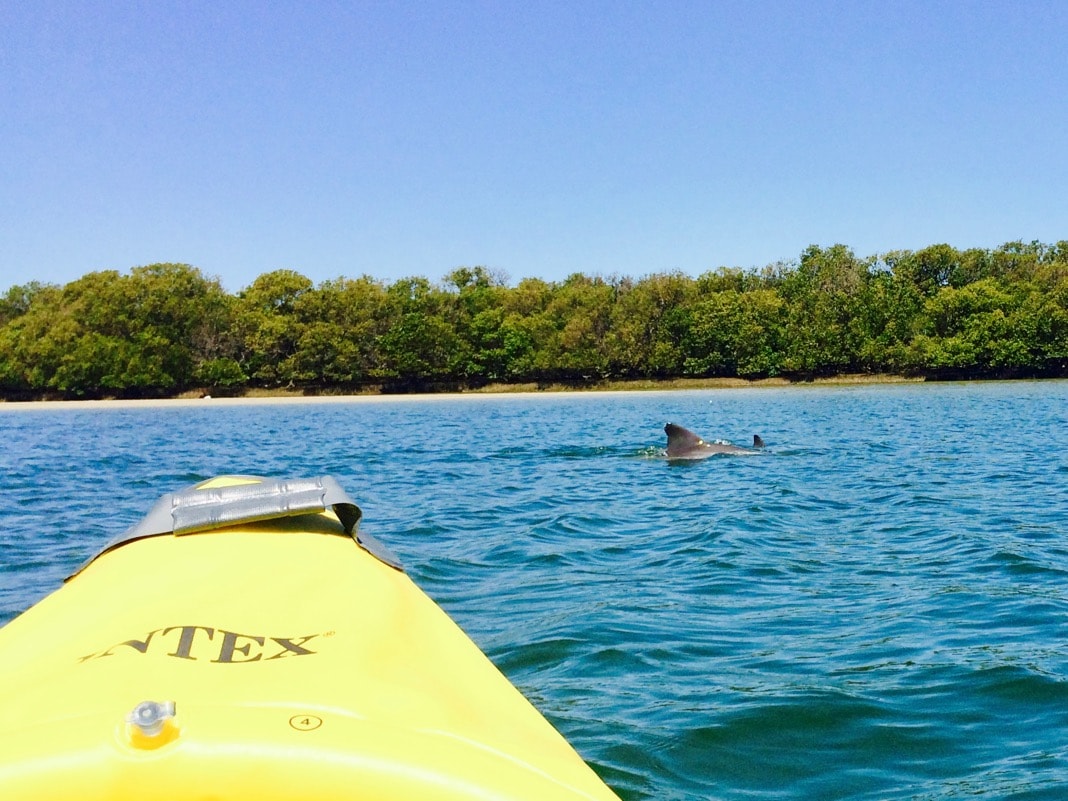 This 4 knots signpost is on the opposite side of the mangrove creek. This goes to show you where you can see expect to find dolphins. Pretty much everywhere!
Adelaide Dolphin Sanctuary Map
One of the best places to see dolphins is inside the water channel that takes you around to the ship's graveyard.
The dolphin symbol in the map of the Adelaide Dolphin Sanctuary below shows you the area. I have always had good luck in finding dolphins here.
I have seen dolphins swimming in most spots between the mangrove creek and shipwreck graveyard. The odds of crossing paths are in your favor when you're on the water.
The best thing about owning an inflatable kayak is that you can pack it up and put it in the boot of your car. It's so easy to travel with.
All you have to do is wash it beforehand. I bought a hose to spray it with water so that my kayak would be nice and clean before placing it in the boot.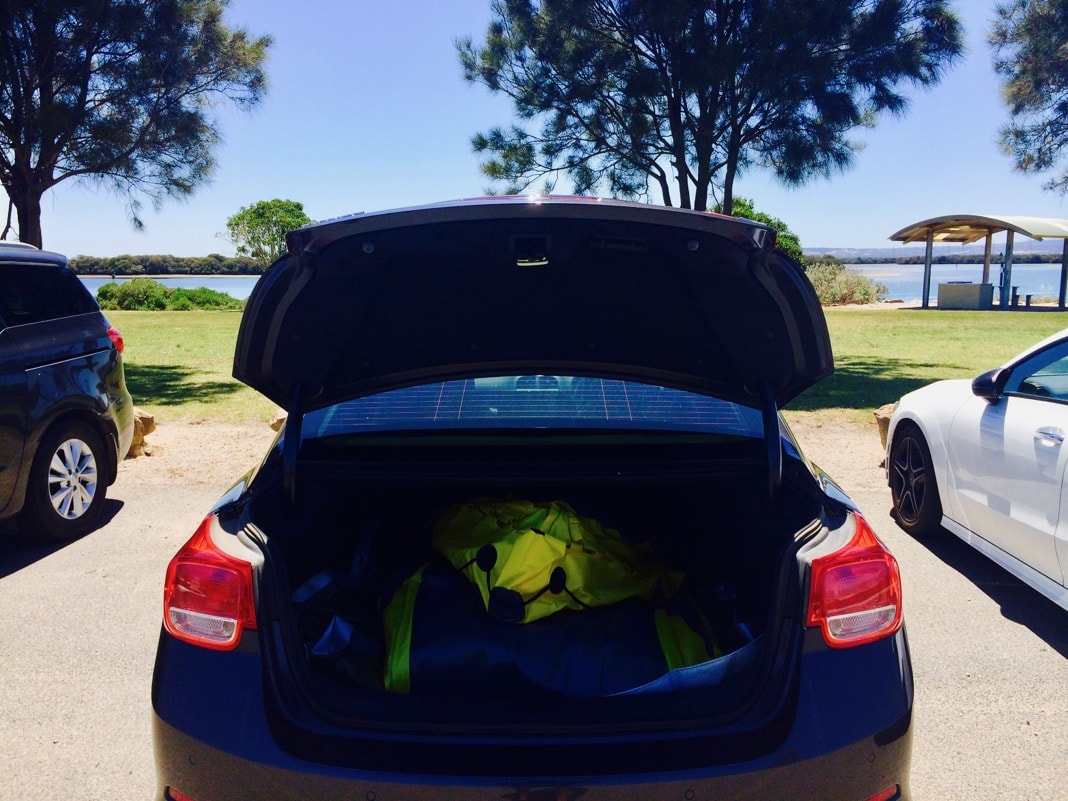 All up, a kayaking trip to the Adelaide Dolphin Sanctuary will leave you will some awesome memories of dolphin encounters. The more times you go, the more dolphin memories you'll create.
It's a bit of a secret spot in Adelaide and the biggest hidden gem in Adelaide. Who doesn't love seeing dolphins?
Pin it … Share it