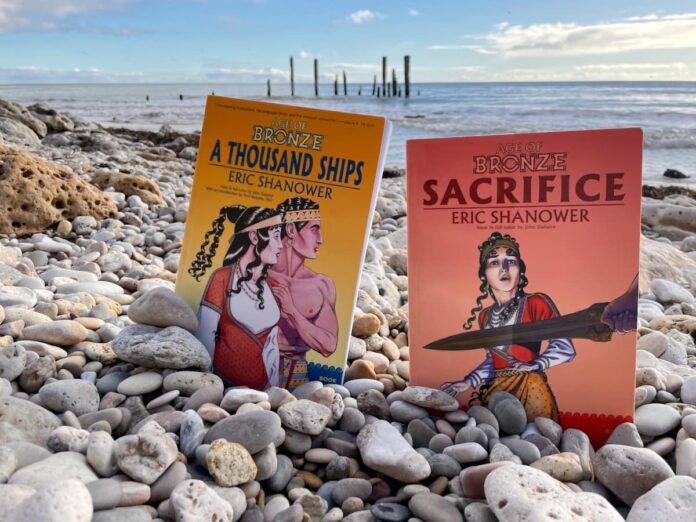 Experience the captivating world of "Age of Bronze" in this review about the critically acclaimed comic book series that retells the story of the legendary Trojan War.
Eric Shanower, the author and illustrator of Age of Bronze, has created an epic story about the Trojan War through masterfully crafted characters and intricate storytelling. Whether you are a fan of Greek mythology or comics, delving into this outstanding Trojan War comic series is an absolute must!
The series probes themes such as war, power, and gender roles, sparking contemplation among readers about their significance in modern society.
Moreover, the Age of Bronze comics retells the story of the Trojan War through meticulous historical research, beautiful artwork, and complex character development.
Eric Shanower's Age of Bronze series debuted in 1998 and continued for over two decades with issue 34 released in April 2019 — an incredible accomplishment in itself.
In this Age of Bronze review, you will be swept away into the captivating world of Eric Shanower's remarkable comic book series based on the Trojan War. You will undoubtedly discover that Shanower's exceptional interpretation of the famous Greek myth is awe-inspiring and worthy of being read.
Each page of Age of Bronze is crafted to offer an immersive and enthralling adventure, leaving you spellbound and yearning for more. So, brace yourself as you enter the Trojan War era through this Age of Bronze review, and prepare to be amazed!
Age of Bronze: A Thousand Ships
Age of Bronze's debut graphic novel, A Thousand Ships, collects issues 1 to 9. It's a fantastic start to this epic Trojan War comic book series.
With masterful storytelling and stunning illustrations, Shanower's graphic novel offers readers an immersive experience in the timeless tale of the Trojan War. Whether you're a devoted fan or a curious newcomer to the world of graphic novels, A Thousand Ships will leave you spellbound.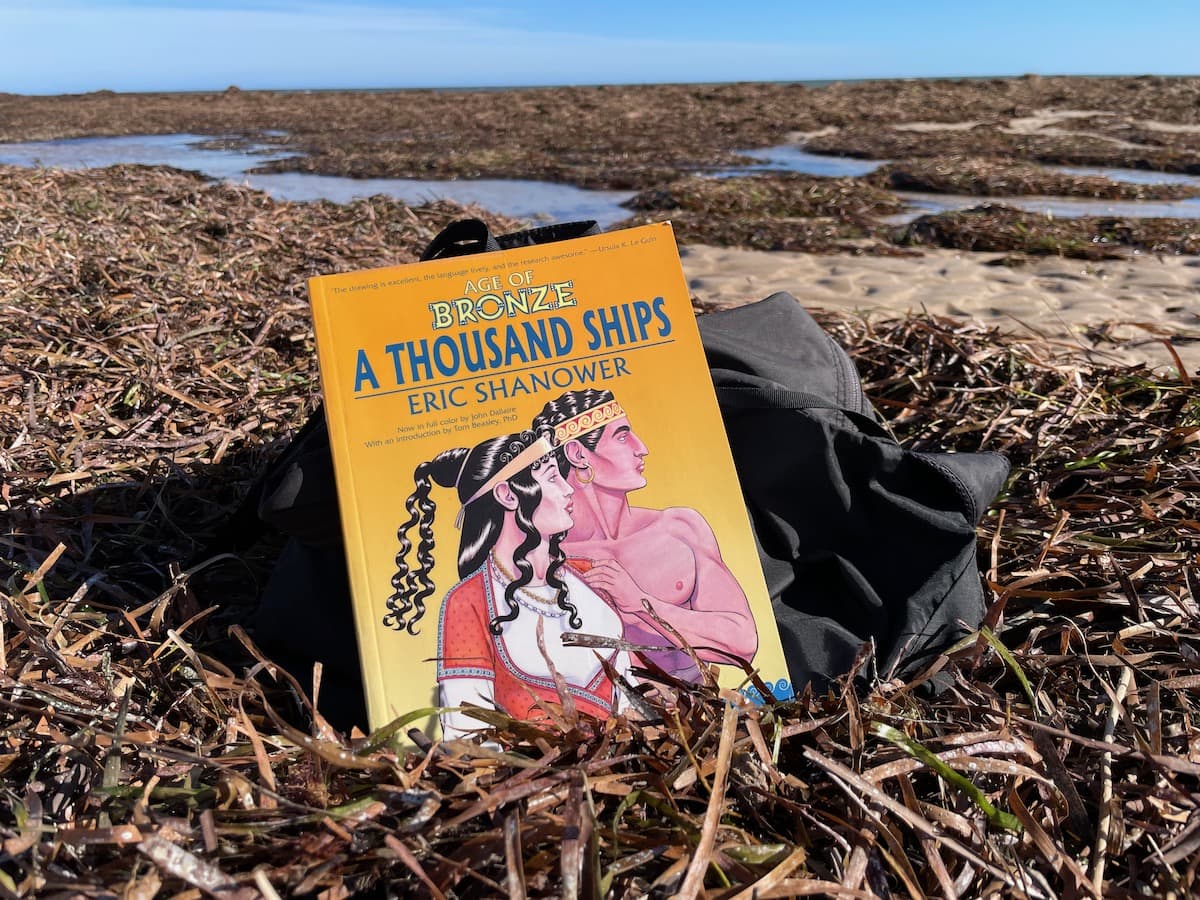 A Thousand Ships is a captivating read that takes readers on a journey from the very beginning when we are introduced to Paris, a humble cowherd awakening from his slumber high up in the mountain fields of Mount Ida.
Age of Bronze Volume 1: A Thousand Ships introduces many of the major characters of the Trojan War, including Helen, Menelaus, Agamemnon, Achilles, and Odysseus.
Eric Shanower presents an intricate web of political and personal relationships, centered around the brutal chieftains of ancient Greece, who band together to start a long and bloody war for control of the wealthy city of Troy.
You will only see a few of the comic scenes in the Age of Bronze review, but it should be enough to wet your apetite.
Age of Bronze Comics: Introduction
When Paris is home it should have been a moment of comfort, but trouble finds him when some arrogant servants of the king approach. They demand his family's prized white bull, which makes Paris furious and unwilling to part with it.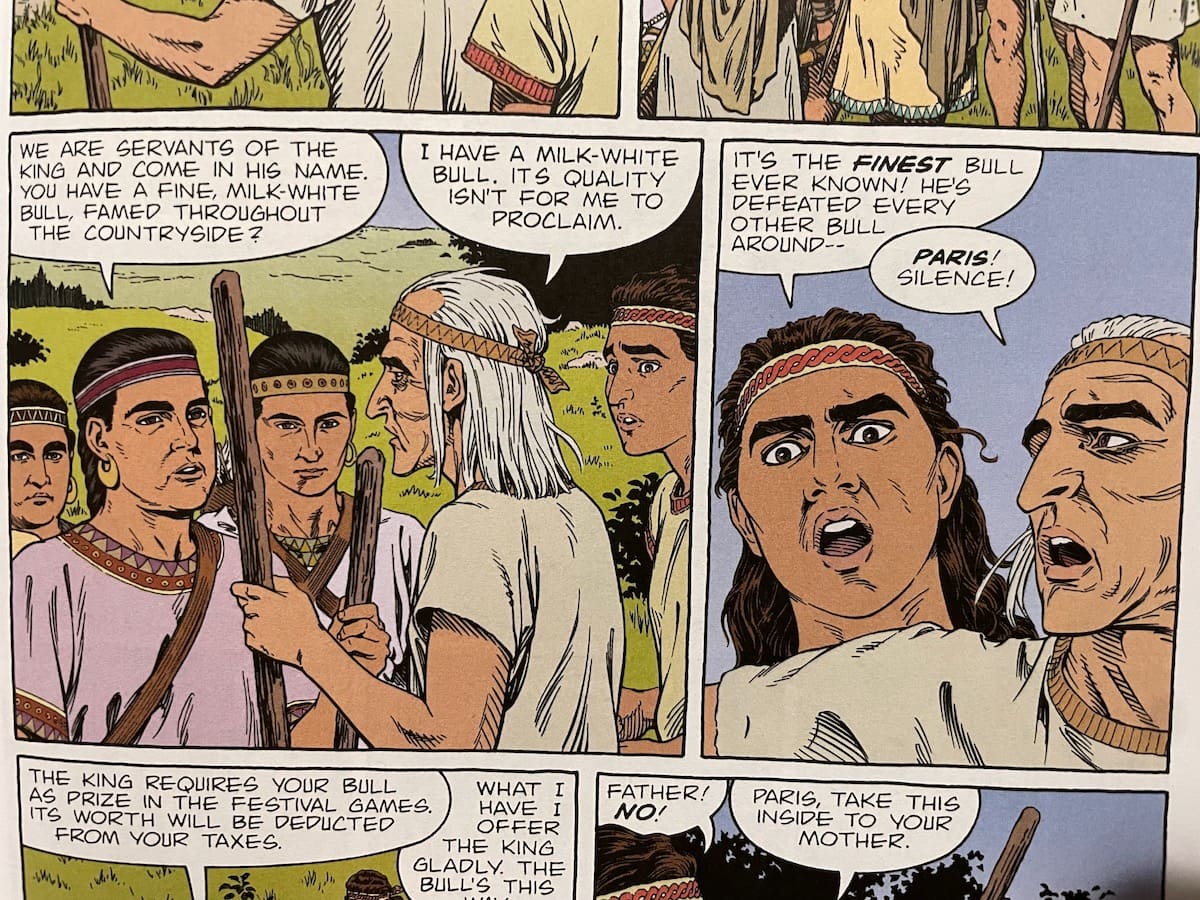 Soon a scuffle breaks out, but his father persuades him to relinquish the prized bull to the king's servants. Paris, however, is determined to win the bull back and sets his sights on competing at the games at Troy.
In a forested region of Mount Ida, Paris is spotted with a young woman named Oenone. He confides in her about his intentions to journey to Troy.
Since Oenone possesses loving feelings for Paris, his announcement of leaving to go to Troy weighs heavily on her heart, casting her into a state of melancholy.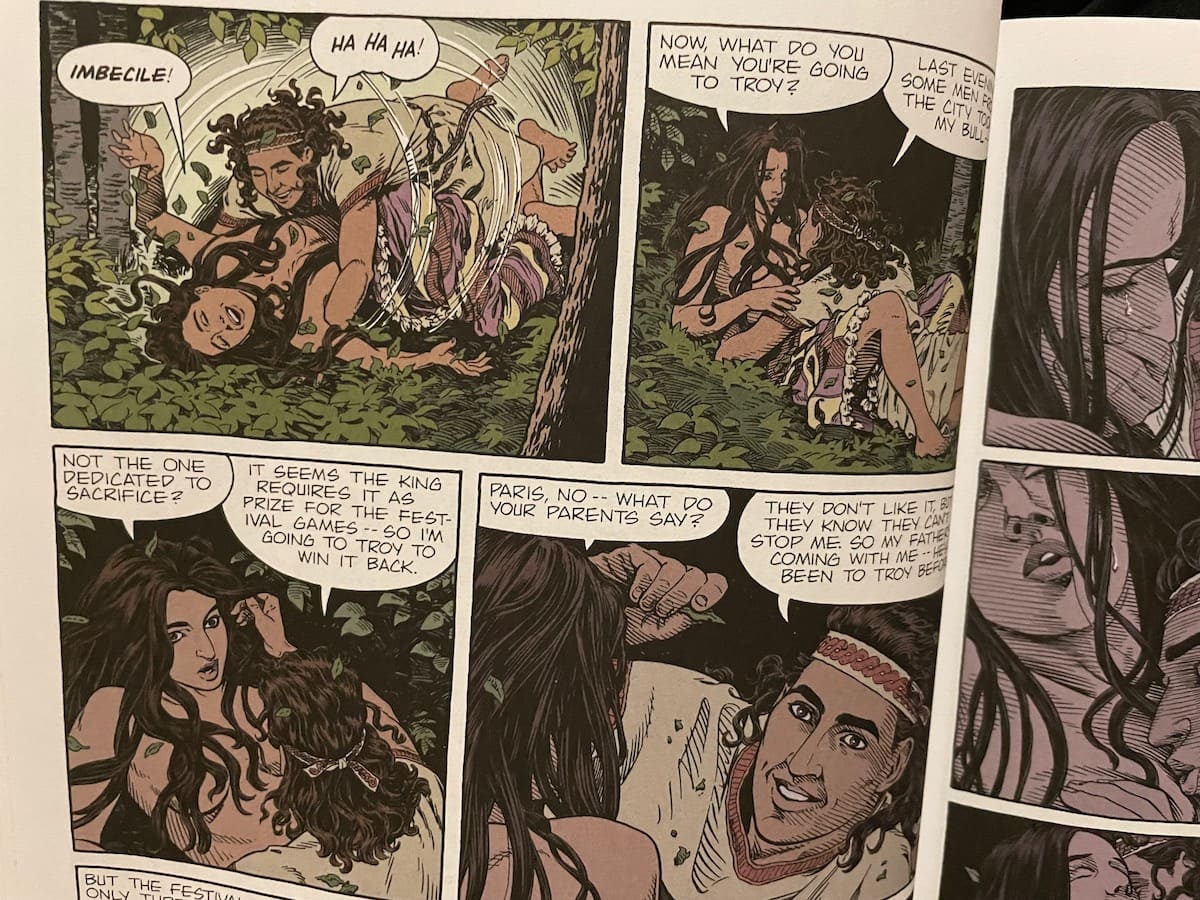 Paris in Troy
Paris arrives in Troy, only to be met with the daunting challenge of assimilating into the intricate social fabric of the city, an endeavor made more difficult by his outsider status.
As fate would have it, Paris finds himself caught up in an unexpected altercation that quickly escalates into a fight.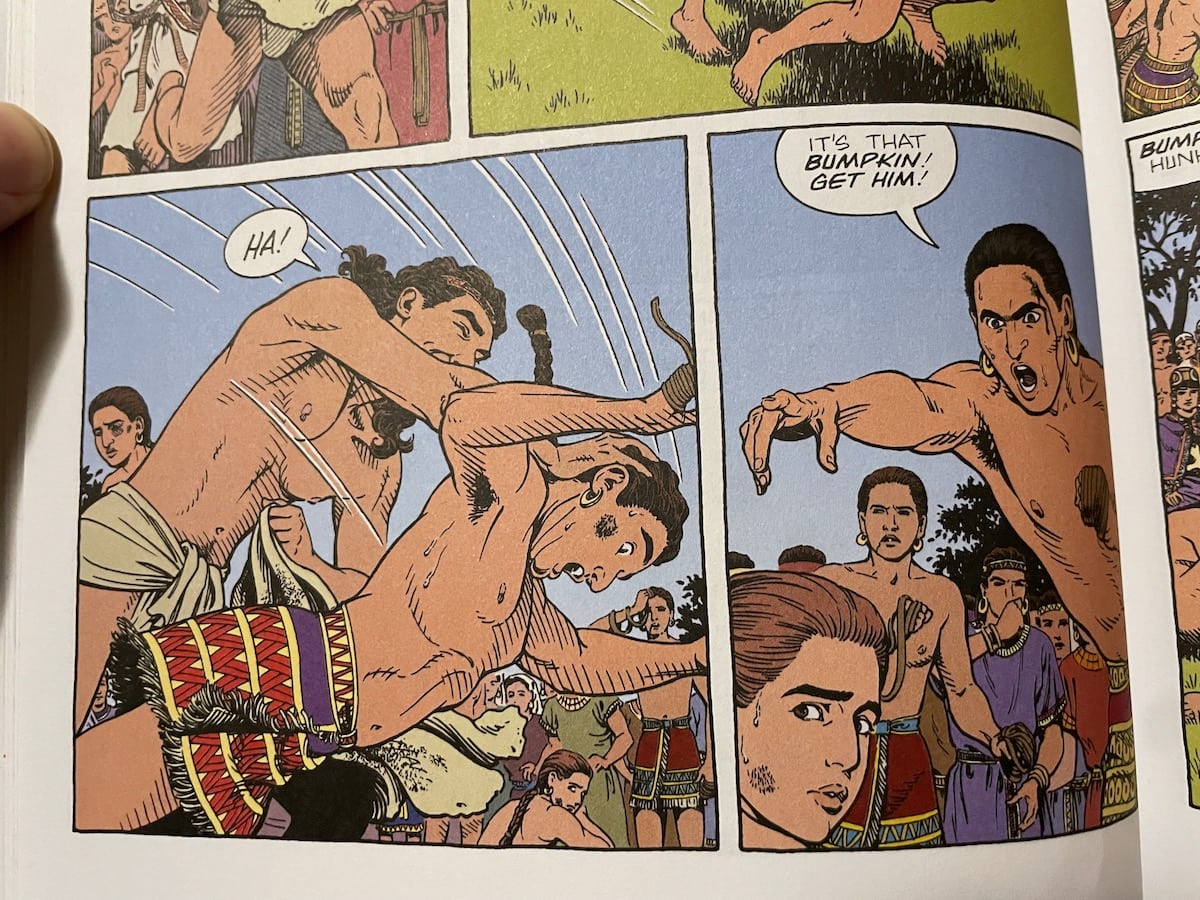 The Golden Apple of Discord
Further into the story, the reader is told how Paris dreamed about the famous beauty contest between three Goddesses, Hera, Athena, and Aphrodite.
Hera promised him power over every eastern land and king, and riches beyond measure if he chose her as the most beautiful.
Athena, the Goddess of wisdom promised Paris that he would be wiser than all other men and would emerge victorious from every battle if he chose her.
Aphrodite, the Goddess of love, promised he would gain the love of the most beautiful woman in the world if Paris gave her the golden apple.
Paris gifted Aphrodite the golden apple marked "to the fairest." However, Paris failed to comprehend the devastating consequences of his decision, as this seemingly innocent act would trigger the legendary Trojan War.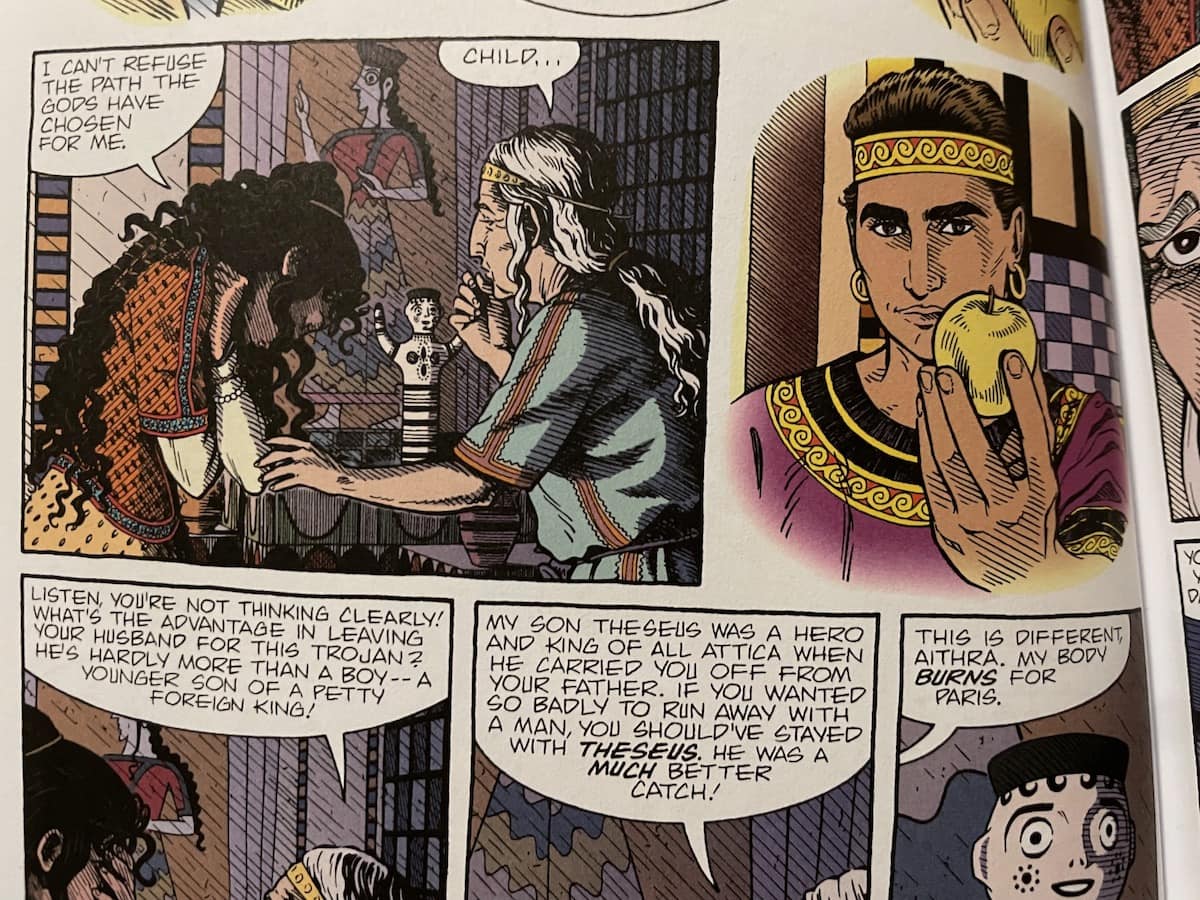 Achilles: Age of Bronze
In Age of Bronze: A Thousand Ships, we get to witness the early life of legendary warrior Achilles, before he became a warrior.
The story delves into his early life when Achilles is convinced by his mother to dress up as a girl. What you say?
Greek mythology has immortalized the legend of Achilles, who was rendered invincible by his mother, Thetis, who dipped him in the river Styx, save for his vulnerable heel – hence the infamous term, "Achilles heel".
Trained by the wise centaur Chiron, Achilles excelled in various disciplines, including war, and was regarded as a star pupil. However, Age of Bronze: A Thousand Ships fails to portray the hero's journey, which is a missed opportunity as it neglects to reveal how Achilles became such a formidable warrior.
According to a prophecy, Troy's fall was destined only if Achilles joined the Greek army. However, his mother conspired to deceive fate by disguising him as a girl named Pyrrha among King Lycomedes' daughters on Skyros Island.
Understandably, Thetis was aware of another prophecy foretelling Achilles' death in battle if he went to Troy, but she also knew that his name would become immortal if he did go.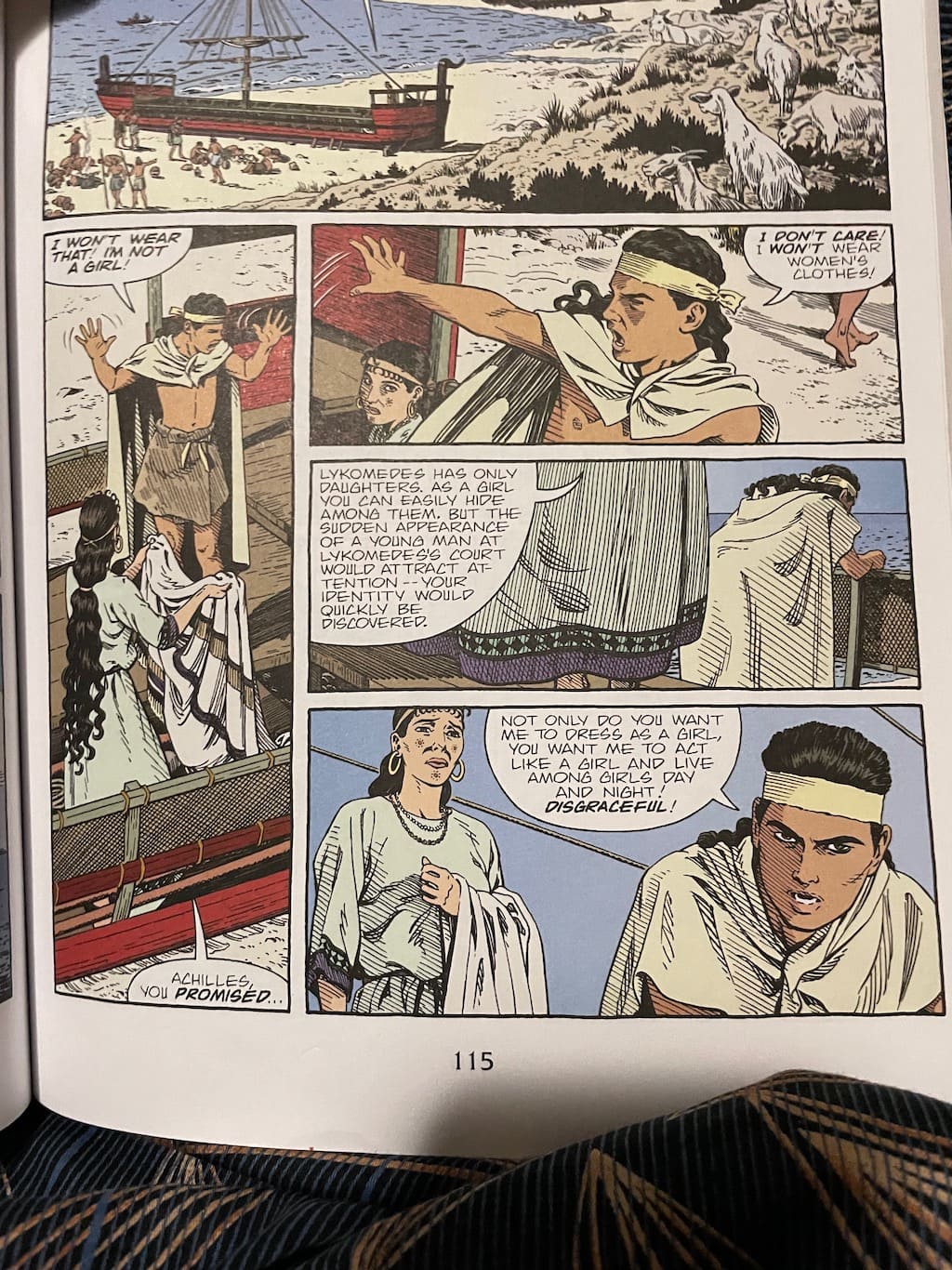 The Greek army wanted Achilles, but first, they had to find him. There was talk that Achilles was hiding on Skyros Island.
In a bid to locate Achilles, Odysseus journeys to the island where he suspects the hero of hiding among the girls. Strategically, he offers gifts to a group of local girls, amongst which is a sword. Unable to resist temptation, Achilles reaches for the weapon, thereby outing himself.
With his true identity revealed, Achilles deliberates and ultimately decides it is in his best interest to fight alongside the Greek army.
Age of Bronze Volume 2: Sacrifice
The graphic novel series, "Age of Bronze," delves deeper into the Trojan War with its second volume, ominously titled "Sacrifice."
In "Sacrifice," the plot centers around the Greek leader Agamemnon and his unwavering determination to appease the goddess Artemis, even if it means sacrificing his own daughter, Iphigenia.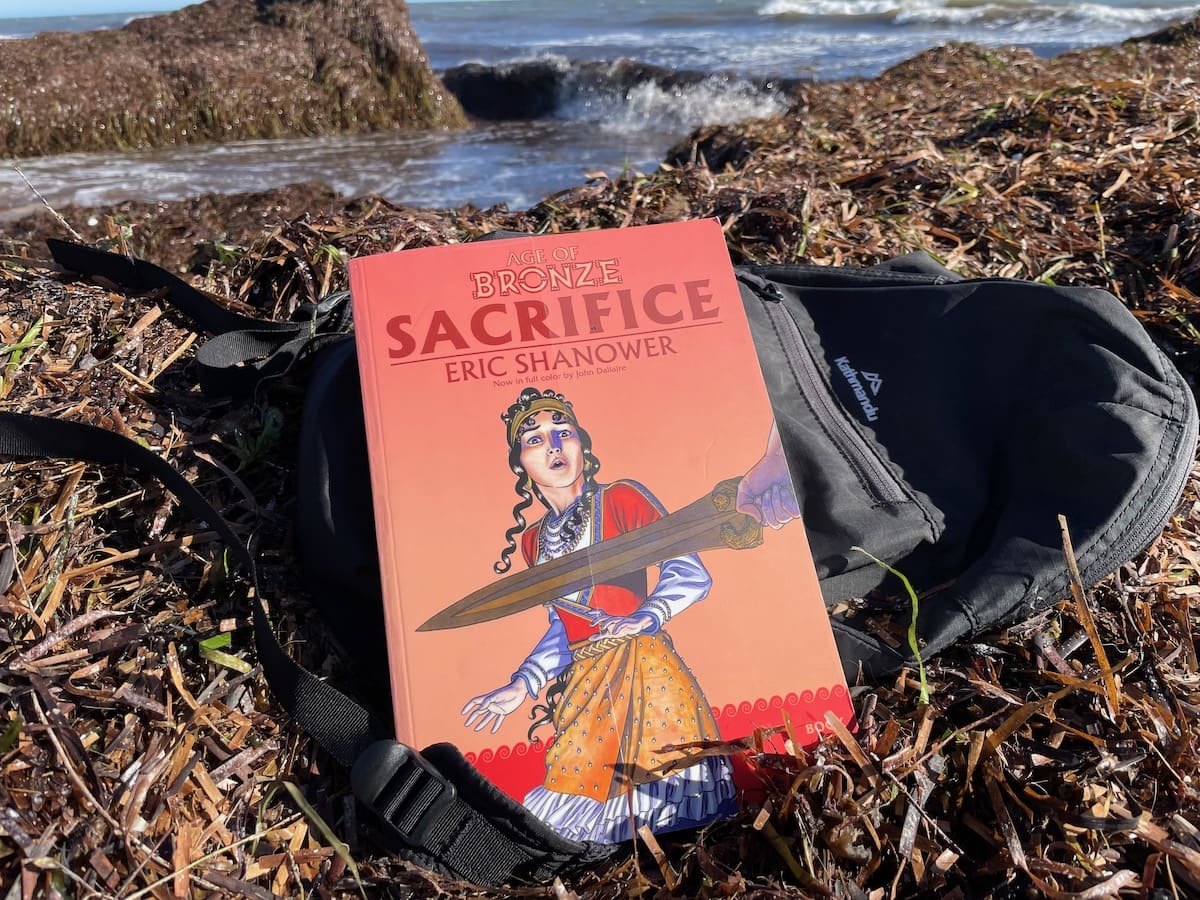 Shanower masterfully delves into the intricate psyche of each character in this tale, unravelling their political motivations, personal flaws, strengths, and virtues.
Much like its predecessor, "Sacrifice" captivates its readers with its intricate and vivid illustrations that transport them back to the ancient world. The story itself is a gripping exploration of heavy themes such as sacrifice, war, and duty.
Without a doubt, Shanower's "Sacrifice" is a worthy sequel to "A Thousand Ships" and an outstanding continuation of his epic retelling of the Trojan War myth.
Whilst I have not yet had the chance to read Sacrifice, I will be sure to offer my perspective on whether it exceeds A Thousand Ships in this Age of Bronze review after reading it.
Age of Bronze Series
The Age of Bronze series currently consists of four volumes. The four volumes are:
A Thousand Ships (2001, collects issues 1 to 9)
Sacrifice (2004, collects issues 10 to 19)
Betrayal, Part One (2008, collects issues 20 to 26)
Betrayal, Part Two (2013, collects issues 27 to 33)
Initially intended as a predominantly digital release, Issue 34 was published in 2019.
Eris Shanower: Age of Bronze Author and Artist 
Born on October 23, 1963, in Key West, Florida, Eric Shanower is a distinguished American comic book writer and artist, most renowned for his critically acclaimed work in the series "Age of Bronze," which provides a retelling of the events surrounding the Trojan War.
Age of Bronze: Historical Accuracy 
In the Age of Bronze comics, Eric Shanower prioritizes historical accuracy and character development rather than the fantastical elements present in the original story. As a result, readers won't find Greek Gods and Goddesses hovering about or using their powers. Yet, Shanower still skillfully incorporates them into the narratives revolving around the Trojan War.
Shanower's unwavering commitment to historical and archaeological precision is a noteworthy aspect of the series. To curate a truthful and lifelike representation of the Trojan War, he extensively delved into ancient Greek sources, such as the Illiad and other relevant texts and archaeological discoveries. He also collaborated with experts in archeology to ensure the Age of Bronze series resonates with credibility and authenticity.
Shanower's illustrations in "Age of Bronze" are precise and comprehensive. He offers great detail to historical accuracy, fashion, armor, and architecture, granting readers an immersive and visually captivating experience of the ancient world.
Approaching the Trojan War myth in this way has earned "Age of Bronze" critical acclaim, as the series realistically portrays ancient Greek culture.
Awards for Age of Bronze 
For his excellence and effort in creating Age of Bronze comics, Eric Shanower has been awarded the Best Writer/Artist Eisner Award twice — first in 2001 and subsequently in 2003. His impressive work on Age of Bronze also garnered a nomination for the Ignatz Award for outstanding artist in 1999.
Other Comics: The Wizard of Oz
Eric Shanower is an accomplished comic book writer and artist who has also gained widespread recognition for his adaptations of L. Frank Baum's Oz novels, including "The Wonderful Wizard of Oz."
Originally published as a novel in 1900, "The Wonderful Wizard of Oz" is a beloved tale that follows the adventures of Dorothy, a young girl from Kansas who is whisked away to a magical land by a tornado, where she encounters a host of fantastic characters, including the Scarecrow, the Tin Woodman, and the Cowardly Lion.
Shanower's adaptation of the novel is highly regarded for its faithfulness to the source material. His illustrations bring to life the colorful characters and whimsical landscapes of Oz, capturing the book's sense of wonder and magic.
Eric Shanower is a highly skilled comic book writer and artist, particularly for Oz-related works. If you are a fan of "The Wizard of Oz," you have to check out some of his Oz adaptations and illustrations, as they are sure to impress and delight.
The Odyssey
Although Eric Shanower could have continued his Age of Bronze comics by delving into The Odyssey, which follows directly after The Iliad, he hasn't gone down that path yet.
Eric would likely have taken a vastly different approach when creating a graphic novel about The Odyssey. I'm sure it would have been extremely different to this version.
Given that his Age of Bronze comics omitted appearances of Gods and Goddesses, it would seem logical for him not to want to incorporate them in a subsequent series as it would be inconsistent with his established style.
Buy Age of Bronze: A Thousand Ships
I highly recommend reading "Age of Bronze Volume 1: A Thousand Ships" as it provides an exceptional starting point for familiarizing oneself with the Trojan War characters and tale.
After delving into this collection of the first nine comics in the series, you can then determine whether you desire to pursue reading the remainder of the series.
Personally, I am eager to make my way through all four graphic novels. I have already read A Thousand Ships, so now I have to read Sacrifice, and Betrayal 1 and 2.
Check Pricing and Availability: Age of Bronze: A Thousand Ships
Age of Bronze Review
To finish this Age of Bronze review, I must express that Age of Bronze: A Thousand Ships was a phenomenal read.
Reading AGE OF BRONZE comics is as close to watching a movie unfold before your eyes as you are likely ever to see.
I encourage you to immerse yourself in the enthralling retelling of the Trojan War legend and unearth why this exceptional series of comic books is a must-read for any connoisseur of the renowned Greek myth.
My rating for Age of Bronze: 8/10
Pin it … Share it