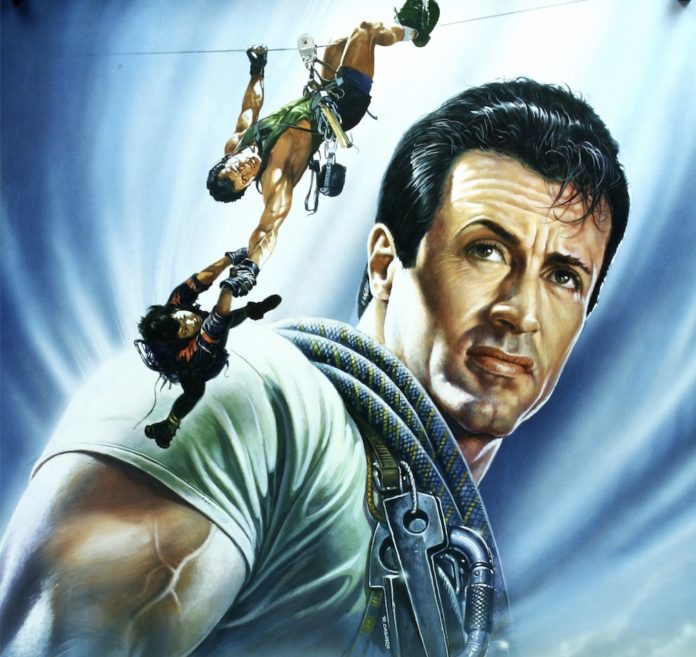 Let's take a closer look to see how the Greek God Apollo assisted Sylvester Stallone in his movie career.
Sylvester Stallone was born in Hell's Kitchen, New York City in 1946.
His life wasn't easy. He supposedly once lived in a bus terminal in New York City for three weeks, prior to coming across a notice for a soft core pornography feature film. He managed to get the gig, which he desperately needed after finding himself homeless at the time. He even at one point had to see his dog for $25 to eat. It's said that he made $200 for two day's work, which doesn't sound like much. The soft core film "The Party at Kitty and Stud's (1970) was even re-released several year's later as the "Italian Stallion" after a complete re-edit, to cash in on Sylvester Stallone's worldwide fame after his first smash hit movie Rocky.
Stallone's career started off as a slow burn. He starred in the erotic off-Broadway stage play Score in 1971, which ran for 23 performances. A movie was even made based on the broadway show in 1973 with the same title, although Stallone didn't appear in that film.
Sylvester appeared in several movies early on his film career. While in Switzerland he appeared in Downhill Racer (1969). Other films included No Place to Hide (1970), which was also retitled Rebel after his fame, and then there's The Sidelong Glances of a Pigeon Kicker (1970), where he played a party guest. In the Woody Allen film Bananas (1971), Stallone appeared as a subway thug. He can also be seen as a dancer in the club in the movie Klute (1971).
Sylvester Stallone, also known as "Sly" received some minor success in the movie:
The Lords of Flatbush (1974)
The Lords of Flatbush also starred Henry Winkler who became famous as Fonzie, the coolest guy ever, in the hugely successful TV series Happy Days (1974-1984).
I was a huge fan of Fonzie and Happy Days. Growing up I even had this big poster of Fonzie overlooking my pool table in the garage, the same as the image on the right.
Two of the coolest guys in one gang. Sounds like Apollo was grooming Sylvester Stallone for success.
How's this? Richard Gere was originally cast as Chico, another gang member, but was fired due to conflicts with Stallone during rehearsals. According to Stallone:
We never hit it off. He would strut around in his oversized motorcycle jacket like he was the baddest knight at the round table. One day, during an improv, he grabbed me (we were simulating a fight scene) and got a little carried away. I told him in a gentle fashion to lighten up, but he was completely in character and impossible to deal with. Then we were rehearsing at Coney Island and it was lunchtime, so we decided to take a break, and the only place that was warm was in the backseat of a Toyota. I was eating a hotdog and he climbs in with a half a chicken covered in mustard with grease nearly dripping out of the aluminum wrapper. I said, "That thing is going to drip all over the place." He said, "Don't worry about it." I said, "If it gets on my pants you're gonna know about it." He proceeds to bite into the chicken and a small, greasy river of mustard lands on my thigh. I elbowed him in the side of the head and basically pushed him out of the car. The director had to make a choice: one of us had to go, one of us had to stay. Richard was given his walking papers and to this day seriously dislikes me. [Source: Wikipedia]
In 1975, Sylvester Stallone appeared in The Prisoner of Second Avenue (1975), where he gets chased after it's suspected that he's a pickpocket. As well as Farewell, My Lovely; Capone; and Death Race 2000.
In the early years he also made guest appearances in the TV series Police Story and Kojak.
Sylvester Stallone's big breakthrough obviously happened with the release of the classic movie:
Rocky (1976)
Stallone wrote the masterpiece in a very short time after being inspired by a boxing match. Rumour has it in three and a half days. This movie was obviously a God send from Apollo. Never underestimate the power of the Greek Gods. Why do you think Apollo gives Rocky an opportunity of a lifetime in the movie?
The story goes that Sylvester Stallone tried to sell the script with the intention of starring in the movie. He was offered US$360,000 for the movie rights but refused, because the producers wanted to cast a well known Hollywood star in the movie as the lead. Eventually they caved in and allowed him to star in the film, though only after substantial budget cuts were inflicted to alleviate their concerns. Lucky for all of us Sylvester Stallone fans, the rest is history.
From there a movie legend is born
Looking at his career more closely, I'm surprised to have discovered several Sylvester Stallone movies I haven't seen before.
What about you, can you say you've seen them all? If not then you may have missed out on a real gem or possibly even one of the greatest movies of all time. Rocky and First Blood come to mind straight away. If you haven't seen these movies and you're a guy you've missed out. Every guy has to watch these two movies.
I went to see Rambo at the cinema with three kids from my school, two of whom were Italian. I remember leaving the cinema in total awe. Reminiscing about it, I actually thought I went to see the movie First Blood with them, but I would've been too young to have seen it in 1982. It must have been the movie Rambo: First Blood Part II (1985). When I eventually did see First Blood it all came together. What a masterpiece.
Recently I watched Lock Out again after seeing it many years ago with no recollection of the plot, except for the fact that the story was set in a prison. I also watched F.I.S.T for the first time recently, and found both movies very entertaining, however you do need some work/life experience to really appreciate F.I.S.T., so it's not a movie for everyone.
Here's a list of Stallone films to fully grasp his impressive movie contribution. I've included the IMDb rating as of 14/05/17, to give everyone a better idea of what other people think. Keep in mind that even if you consider the film to have a lowish average rating score, it can still mean that many IMDb voters really like the movie.
Cannonball (1976) ——————————— 5.4/10 IMDb rating – with 3,520 votes
Paradise Alley (1978) —————————— 5.8/10 IMDb rating – with 3,673 votes
F.I.S.T (1978) ————————————— 6.4/10 IMDb rating – with 5,827 votes
Victory (a.k.a. Escape to Victory) (1981) —— 6.6/10 IMDb rating – with 22,023 votes
Nighthawks (1981) ——————————— 6.4/10 IMDb rating – with 13,297 votes
Rhinestone (1984) ——————————— 3.7/10 IMDb rating – with 5,881 votes
Cobra (1986) ————————————— 5.7/10 IMDb rating – with 53,204 votes
Over The Top (1987) —————————— 5.7/10 IMDb rating – with 39,688 votes
Tango and Cash (1989) ————————— 6.3/10 IMDb rating – with 79,297 votes
Lock Up (1989) ————————————— 6.3/10 IMDb rating – with 31,404 votes
Oscar (1991) —————————————— 6.4/10 IMDb rating – with 24,572 votes
Stop! Or My Mom Will Shoot (1992) —-— 4.1/10 IMDb rating – with 33,114 votes
Cliffhanger (1993) ———————————- 6.4/10 IMDb rating – with 100,705 votes
Demolition Man (1993) ————————— 6.6/10 IMDb rating – with 130,719 votes
The Specialist (1994) —————————— 5.5/10 IMDb rating – with 52,722 votes
Assassins (1995) ———————————— 6.3/10 IMDb rating – with 65,922 votes
Judge Dredd (1995) ——————————— 5.5/10 IMDb rating – with 92,959 votes
Daylight (1996) ————————————— 5.8/10 IMDb rating – with 55,488 votes
Cop Land (1997) ———————————— 6.9/10 IMDb rating – with 72,715 votes
Get Carter (2000) ———————————— 5.1/10 IMDb rating – with 28,402 votes
Driven (2001) —————————————— 4.5/10 IMDb rating – with 35,325 votes
Avenging Angelo (2002) ————————— 5.2/10 IMDb rating – with 7,401 votes
D-Tox (2002) —————————————— 5.3/10 IMDb rating – with 20,438 votes
Shade (2003) —————————————— 6.4/10 IMDb rating – with 11,029 votes
Escape Plan (2013) ——————————— 6.7/10 IMDb rating – with 187, 674 votes
Bullet to the Head (2013) ———————— 5.7/10 IMDb rating – with 40,918 votes
Grudge Match (2013) —————————— 6.4/10 IMDb rating – with 49,024 votes
Reach Me (2014) ———————————— 4.9/10 IMDb rating – with 1,960 votes
From the Rocky franchise:
Rocky (1976) —————————————— 8.1/10 IMDb rating – with 405,429 votes
Rock II (1979)
Rocky III (1982)
Rock IV (1985)
Rocky V (1990)
Rocky Balboa (2006)
Creed (2015)
From the Rambo franchise:
First Blood (1982) ———————————— 7.7/10 IMDb rating – with 181,300 votes
Rambo: First Blood Part II (1985)
Rambo III (1998)
Rambo (2008)
From The Expendables franchise:
The Expendables (2010) ————————— 6.5/10 IMDb rating – with 282,848 votes
The Expendables 2 (2012)
The Expendables 3 (2014)
I've learnt something as well by writing this post. Sylvester Stallone directed and produced Staying Alive (1983), the movie sequel to Saturday Night Fever (1977), starring John Travolta.
If you think about it, Staying Alive even has connotations of being immortal. In the movie Staying Alive, Tony Manero walks past the 2001 Odyssey disco, his old hangout. Back to the Greek myths once again. What a journey.
Escape Plan 2: Hades (2018) – Interestingly, this movie is rumoured to have been filmed in only 19 days. It goes to show you that even Sylvester Stallone can't be sure that he won't end up in Hades, the Greek underworld.
Don't worry Sly, I'm confident Apollo is on your side, although I suppose you should never take it for granted. The impressive performance in Escape to Victory would also have pleased Hermes (Mercury), so it looks like you're safe. If the Greek Gods don't save you, then there's no hope for anyone.