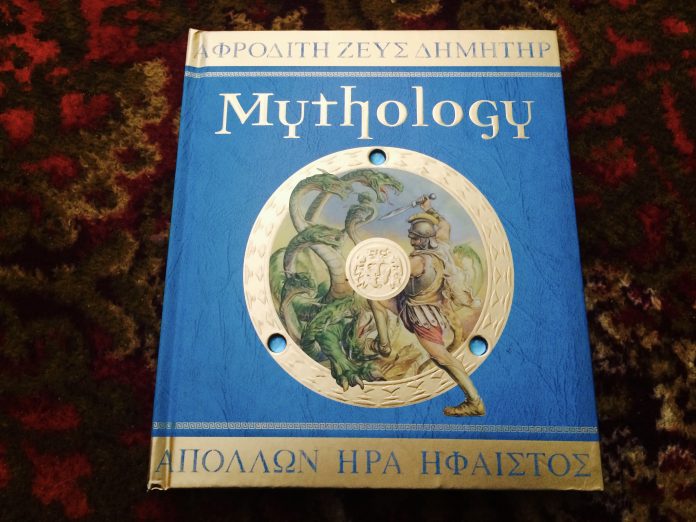 There are so many great books introducing Greek myth and legend to young fresh minds, that it's worth reminding ourselves of some of the many remarkable books are out there.
Many of these wonderful books with Greek mythological themes are often accompanied by fantastic illustrations making them great for the imaginative minds of kids and teenagers.
Lovers of Greek mythology will also get a blast from the brilliant storytelling ability of these master writers and illustrators. If you think a painting can be beautiful, then consider some of the covers and drawings in these books. They're truly marvellous artistic creations of the highest caliber.
The aim with this selection of books is to show everyone the best way to introduce kids and teenagers to Greek mythology, while fuelling the imagination of teenagers and young adults with their power.
Who wouldn't want to at least flick through a few pages of some of these amazing books?
Books especially suitable for kids:
A Child's Introduction to Greek Mythology – Heather Alexander, Meredith Hamilton (Illustrator)
A Fantastic Voyage into Greek Mythology – Sofia A. Souli
A-MAZ-ING MINOTAUR – Julie Rix, Juliet Snape (Illustrator)
A Wonder Book – Heroes and Monsters of Greek Mythology – Nathaniel Hawthorne
Atticus The Story Teller's 100 Greek Myths – Lucy Coats, Anthony Lewis (Illustrator)
Beasts of Olympus series – Lucy Coats
Brick Greek Myths – Monica Sweeney, Becky Thomas, Amanda Brack and others
Classic Myths to Read Aloud: The Great Stories of Greek & Roman Mythology – William F. Russell
Cupid and Psyche – Marie Charlotte Craft, Kinuko Y. Craft (Illustrator)
D'Aulaire's Book of Greek Myths – Ingri and Edgar Parin d'Aulaire
Gifts from the Gods: Ancient Words & Wisdom from Greek & Roman Mythology
Goddess Girls series – by Joan Holub and Suzanne Williams
Greek Gods and Goddesses – Geraldine McCaughrean, Emma Chichester Clark (Illustrator)
Greek Mythology series – Teri Temple, Robert Squier (Illustrator)
– a large number of beautiful looking books including Aphrodite: Goddess of Love and Beauty
Greek Mythology Books for Kids: A Collection of Greek Stories and Greek Gods for Children – Anthony Clark, Robert Harper (Illustrator)
Greek Mythology For Kids: From the Gods to the Titians – Baby Professor
Greek Mythology – Nicos Walsh
Greek Mythology's Adventures of of Perseus: A Choose Your Path Book – Blake Hoena
Greek Myths – Ann Turnbull, Sarah Young (Illustrator)
Greek Myths – Marcia Williams
Hercules: The Man, the Myth, the Hero – by Kathryn Lasky, Mark Hess (Illustrator)
Hercules The World's Strongest Man – by Alex Frith, Linda Cavallini (Illustrator)
Heroes of Greek Mythology – Charles Kingsley
Heroes and Monsters of Greek Myth – Bernard Evslin
Heroes in Training series – Joan Holub
– including Zeus and the Thunderbolt of Doom
Icarus – by Dan Mishkin. Rick Hoberg (Illustrator)
Illustrated Stories from the Greek Myths – Matteo Pincelli and Russell Punter
Jason and the Argonauts: The First Great Quest in Greek Mythology – Robert Byrd
King Midas and the Golden Touch – Charlotte Craft, Kinuko Y. Craft (Illustrator)
National Geographic Kids Everything Mythology – Adrienne Mayor and Blake A. Hoena
Oh My Gods!: Mythlopedia Series – Megan E. Bryant
Pandora series (The Mythic Misadventures series) – Carolyn Hennessy
– including Pandora Gets Jealous
Pegasus – Marianna Mayer
Pegasus, the Flying Horse – Jane Yolen, Li Ming (Illustrator)
Perseus (Early Myths collection) – Simon Spence
Stickman Odyssey, Book 1: An Epic Doodle – Christopher Ford
Tales From the Odyssey, Part 1 – Mary Pope Osborne
Tales From the Odyssey, Part 2 – Mary Pope Osborne
The Adventures of Daedelus and Icarus – Maria Mary Papaoulakis, Eduardo Enrique Compdepadros (Illustrator)
The Adventures of Hermes, God of Thieves: 100 Journeys through Greek … – Murielle Szac
The Battle of the Olympians and the Titans – Rich Pellegrino
The Gods and Goddesses of Olympus – Aliki Brandenberg
The Iliad and the Odyssey – Marcia Williams
The McElderry Book of Greek Myths – Eric Kimmel, Pep Montserrat (Illustrator)
The Minotaur – Russell Punter, Linda Cavallini (Illustrator)
The Odyssey – Louie Stowell, Mattco Pincelli (Illustrator)
The Odyssey – Gillian Cross, Neil Packer (Illustrator)
The Trojan horse: How the Greeks Won the War – Emily Little
Treasury of Greek Mythology: Classic Stories of Gods, Goddesses, Heroes and Monsters – Donna Jo Napoli, Christina Balit (Illustrator)
Young Zeus – by Brian Karas
Z is for Zeus – Helen L. Wilbur
Books with Greek Mythological themes for advanced readers:
Goddess Interrupted – Aimee Carter
Heroes of Olympus series – by Rick Riordan:
* The Lost Hero
* The Son of Neptune
* The Mark of Athena
* The House of Rhodes
* The Blood of Olympus
* The Demigod Diaries
Indiana Jones and the Peril at Delphi – Rob MacGregor
Mythology – Lady Hestia Evans (The Five Mile Press)
Nobody's Princess – Esther Friesner
Pegasus series – Kate O'Hearn
– including The Flame of Olympus (Pegasus, # 1)
Percy Jackson series – by Rick Riordan:
* Percy Jackson and the Lightning Thief
* Percy Jackson ant the Sea of Monsters
* Percy Jackson and the Titan's Curse
* Percy Jackson and the Battle of the Labyrinth
* Percy Jackson and the Last Olympian
* The Demigod Files
* Percy Jackson and the Greek Gods
Persephone – Kaitlin Bevis
Starcrossed – Josephine Angelini
The Fire Thief – Terry Deary
The Goddess Test – Aimee Carter
The Hardy Boys: The Shattered Helmet – Franklin W. Dixon
The Medusa Legacy (trilogy) – Linda Temple
– including The Medusa Deception, The Dodona Prophecy and The Olympus Reckoning
Thief of Olympus – Elizabeth Rose
Graphic Novels, Manga and Comics:
300
Olimpos (Olympos) – Aki
Perseus and Medusa – Blake A. Hoena, Eve, Sebastion Facio, Daniel Ferran (Illustrator)
The Lightning Thief: The Graphic Novel – Rick Riordan
PSYCHE & EROS The Lady And The Monster (A Greek Myth) – Marie P. Croall
The Adventures of Hercules – Martin Powell, Jorge Gonzalez, Alfonso Ruiz (Illustrator)
The Godyssey – Rob Liefeld
Olympian series (Graphic Novels) – by George O'Connor:
– including HADES: Lord of the Dead
Only Everything (True Love series) – Kieran Scott