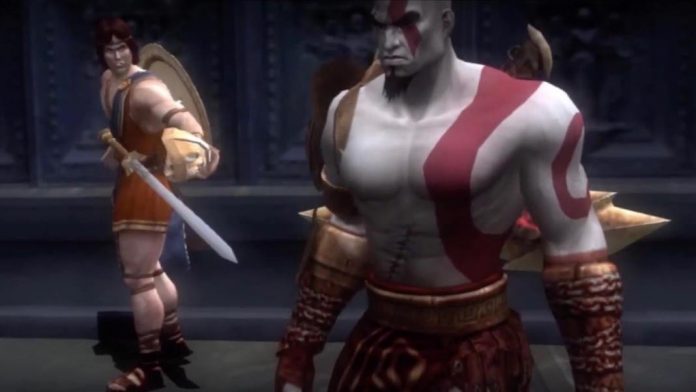 Greek and Roman Mythology has inspired some awesome Video Games
Gamers with an interest in Greek Mythology and Ancient Greece will be foaming at the mouth just thinking about these video game titles. The number of video games based on Greek mythology, Greek Gods and Heroes is quite surprising, and more titles keep coming out year after year.
Hence why this list has now grown larger than the original 88 titles. The number of video games in this list now contains 93 titles. I have also included a few other titles I previously missed as well.
The Greek Gods and Goddesses sure do have a lot of fans. The Olympians have inspired an enormous number of video games and they can't be stopped.
Check out this must-see video clip of Nemesis from the video game "Smite". This is the kind of awesomeness that's out there.
Video game console abbreviations used in this post may include the following abbreviations:
Play Station 5 [P5] – Play Station 4 [P4] – Play Station 3 [P3] – Xbox 360 [X3] – Xbox One [X1] – Nintendo Entertainment System [NES] – Windows [W] – Mac [M] – Linux [L] – Browser [Br] – Android [A]
2020 Video Games based on Greek Mythology
95. Immortals Fenyx Rising
[P4] [P5] [X1] [Nintendo Switch] [W]
2018/2019 Video Games based on Greek Mythology
94. Hades
[P4] [P5] [X1] [Nintendo Switch] [W]
93. Assassin's Creed Odyssey
[P4] [X1] [Nintendo Switch] [W]
92. God of War
[P4] This game is something like the eighth instalment of the God of War series. All previous games were based on Greek mythology but this video game is loosely based on Norse mythology.
The series protagonist Kratos returns, but this time he has his son Atreus with him, who can assist in battle. Atreus in Greek mythology was the son of Phelops and the grandson of Zeus.
Even though they're both in the Norse world, they're still of Greek heritage. Kratos in the God of War game franchise was revealed to be the demigod son of the Olympian God Zeus. He's the personification of power.
Spartan Kratos, used the double-chained Blades of Athena in battle, however he lost this weapon at the conclusion of God of War III. In this game he uses a magical battle axe. Kratos battles against trolls, ogres, draugr (Norse zombies), monsters, bad-ass warriors, and more.
Watch the God of War (2005) original trailer. If the God of War franchise started out like this in 2005, then God of War (2018) must be absolutely incredible.
91. Titan Quest
[P4] [X1] [Nintendo Switch] [W] The Titans have escaped from their eternal prison. Now they wreak havoc on earth. Can you help both men and Gods by going on an epic quest?
The original computer game was released in 2006. This is the first time Titan Quest had been released on Playstation, Xbox One and Nintendo Switch, obviously with updated graphics and gameplay.
90. Full Metal Furies
[X1] [W] Four Titans rule the world and it is your task to take them down. This is a team-based brawler. You'll be in the shoes of Triss, Meg, Erin and Alex, who each have their own unique attributes such as fighter, sniper, engineer and tank. Work together and you may be able to defeat the Titans.
2017 Video Games based on Greek Mythology
89. Theseus
[P4] You wake up in a labyrinth with Ariadne's voice as your guide. Take on the role of Theseus and explore the labyrinth of the Minotaur.
88. Little Medusa
[NES] You control the Greek Goddess, Artemiza, who has been transformed into a Gorgon. Now she uses her powers to turn enemies into stone and solve puzzles, as she tries to make her way to Mount Olympus.
2016 Video Games based on Greek Mythology
87. Smite
[P4] [X1] [W] [M] You can fill the shoes of a God or Goddess from Greek and Roman mythology. Think about being Nemesis, Goddess of Revenge.
A video game trailer of Smite is shown at the top of this post.
86. Titan Quest: Anniversary Edition
[W] [A] [iOS] A hack and slash Action-RPG game which takes the player through ancient Greece, Egypt, Asia, and Hades. It combines Titan Quest and Titan Quest Immortal Throne in one game. Created for its 10 year anniversary. This game has great reviews.
85. Let's Play: Ancient Greek Punishment – Limited Edition
[Br, Phone & Tablet] Get a reminder of the punishment dished out by the Greek Gods.
84. Okhlos
[M] [W] [L] Recruit followers from Okhlos and increase their powers with that of Heracles, Leonidas, Pandora, and Socrates, to create a formidable army. Then battle the Minotaur, destroy temples dedicated to the Gods and take on the Olympians themselves.
2015 Video Games based on Greek Mythology
83. Spartan Wars: Blood And Fire
[Apps]
82. Gods of Rome
[A] [iPad] [iPhone] [Windows Apps] [Windows Phone] Tenebrous, a forgotten son of Hades, has found a Chaos Vessel which allows him to control Gods and warriors. A few Gods quickly choose his side, however Zeus sends a warrior called Ascendor to defeat Tenebrous.
An epic fighting game. Settings include Mount Olympus, Pompeii and the Coliseum. Characters include Zeus, Hades, Medusa, Atlas, Spartacus and more. You can even get one God to fight against another God. What else do you want?
The game's 3D graphics were especially designed for mobile devices.
81. The Next Penelope: Race to Odysseus
[P4] [M] [W] [L] [WiiU] [Nintendo switch] The game is like a good old-school arcade game. In the year 3044, Ithaka is under siege by Poseidon, because he's angry at the death of his son. He wants revenge. Penelope makes a deal with Poseidon to track down Odysseus if Poseidon spares her kingdom. The race is on. Penelope uses her spaceship to search for Odysseus throughout the galaxy in this futuristic odyssey. The racing game is presented from a top-down perspective. It has very positive reviews.
It's artistic style is influenced by the futuristic Greek Myth Anime Ulysses 31 from the early 1980s.
The Next Penelope: Race to Odysseus Launch Trailer – Nintendo Switch
80. Apotheon
[P4] [M] [W] [L] Climb Mount Olympus and take the Olympian's divine powers for yourself. The Gods of Olympus have abandoned humanity leaving everyone to perish, so you don't have much to lose. Hope has pretty much disappeared. War is going on everywhere. The sea is without fish and the forests are missing trees due to lack of sun light.
It's a fast action heroic 2D side-scrolling platformer with puzzle elements. You'll control the young warrior Nikandreos, who with the help of Hera. Pass through various locations including the Acropolis, the Agora market, and the Olympian Gate, while also passing through the Forests of Artemis, the Palaces of Apollo, and other abodes of the Gods. The survival of Mankind is depending on you.
It resembles the black-figure pottery style popular in ancient Greece. It's supposed to be a great game and it generally has some very favourable reviews.
Apotheon means "exalted to the state of godhood."
79. Olympia Rising
[P4] [Wii U] [M] [W] Iola is a young warrior who has entered the Underworld after an untimely end. She decides to escape and is forced to fight her way through the hell hole of Hades in this retro-inspired 2-D action platformer. The aim is to make it to Mount Olympus.
You'll face off with a huge crab and even a giant cyclops. Make sure you pay Charon the Ferryman, so you can pass through the gates of the Underworld.
78. Funk of Titans
[X1] [P4] [PS Vita] [Wii U] [W] The evil musical Titans have created Pop, Rock and Rap. They've turned humans into empty headed dancing minions. However, Funk, is the music of the Gods.
Zeus has had enough so he sends Funky champion, Perseus, on a mission to defeat the Titans through more than 40 levels of ancient Greek mythology in the three worlds of Pop, Rock and Rap. Only one style of music can survive. Perseus will have to use his Funk-Fu in this side-scrolling platform game.
Who wouldn't want to listen to some of the Funk music in the game? Click to play.
77. Champion of the Gods
[A] [Br] [iPad] [iPhone] [M] [W] [L] You're a young boy or girl from a small village selected by the fates to fulfil a special destiny. Will you become a champion of the Gods?
The game is entirely text based, without graphics or sound effects, just your imagination. It's an adventure game, where choices direct where this 217,000 word interactive novel will take you.
76. The Curse of Issyos
[W] One day the fisherman Defkalion hears the voice of the Goddess Athena telling him that the isle of Issyos has been cursed by the Colossus, who plans to quickly sink it into the sea.
The fisherman immediately sails home to rescue his daughter, the only family he has left.
It's a beautiful action game, with retro feel about it, which involves defeating various enemies and bosses. It has the look and feel of a video game from 1987-1988. Talos will chase you in Stage 3 of the game. The game has 7 levels, 9 bosses and more than 40 unique enemies.
75. Demigods
[W] The Titans are about to drop the sky. Three heroes, Leada, Adoris and Protus go on a quest to help the giants. On the way they visit amazing landmarks from the world of Greek legend. You'll meet Gods, famous heroes and mythical creatures along the way.
74. Minecraft: Greek Mythology Mash-up
[P4] [PlayStation 3/Vita] [Xbox 360/1] It includes 39 unique skins: Ares, Artemis, Athena, Hera, Poseidon, Sea Monster, Apollo, Trojan Warrior, Satyr, Cyclops, Minotaur, Hephaestus, Erinyes, Medusa, Helen of Troy, Minos, Harpy, Dryad, Cerberus, Siren, Spartoi, Prometheus, Hydra, Heracles, Hermes, Achilles, Argonaut 1, Argonaut 2, Theseus, Odysseus, Perseus, Jason, Zeus, Hades, Aphrodite, Atlanta, Medea, Cadmus, Stygian Witch
There's also themed music and an awesome custom map to explore.
2014 Video Games based on Greek Mythology
73. Age of Mythology: Extended Edition
[PC]
72. Godfire: Rise of Prometheus
[Android] [iTunes – Apple]
71. Gods Rush
[A]

Below you will find Greek mythology video games from the year 2013 to 2000. As you can see they keep on coming every year.
Some of these video/computer games based on Greek mythology are probably even better than some of the more recent titles. True classics never get old.
2013
70. God of War: Ascension [P3]
69. Odyssey RPG [IPHN] [IPAD]
68. GodMode [P3] [X3] [W]
67. Hoplite [A] [iOS]
2012
66. Let's Play: Ancient Greek Punishment [Br]
65. Kid Icarus: Uprising [Nintendo 3DS]
64. Caverns of Minos [iOS]
2011
63. Midas [Br]
62. Mytheon [PC]
61. Heroes of Hellas 3: Athens [W]
60. Throne of Olympus [W]
59. Warriors: Legends of Troy [P3] [X3]
58. Beyond the Legend: Mysteries of Olympus [PC]
57. Rock of Ages [PC]
56. The First Hero [Br]
2010 Video Games based on Greek Mythology
55. Clash of the Titans (Video Game) [P3] [X3]
54. God of War: Ghost of Sparta [P3] [Playstation portable]
53. God of War III [P3&4]
52. The Styx [Android]
51. Settlement Colossus [W]
50. Percy Jackson and the Olympians: The Lightning Thief [Nintendo DS]
49. Hegemony Gold: Wars of Ancient Greece [W]
2009
48. Numen: Contest of Heroes [W]
47. NyxQuest: Kindred Spirits [iPad] [iPhone] [Wii] [M] [W]
46. Heracles: Battle With The Gods [P2] [Wii]
45. Heracles Chariot Racing [P2]
44. Hero of Sparta [iPhone]
43. Heroes of Hellas: Olympia (2009) [Nintendo DS] [W]
2008
42. Rise of the Argonauts [P3] [XBox 360] [W]
41. American McGee's Grimm: King Midas [W]
40. Heroes of Hellas [PC]
39. Hero of Hellas 2: Olympia [W] [M] [A]
38. God of War: Chains of Olympus [P3] [PSP]
37. Don't Look Back [A] [Br] [W] [M]
36. Glory of Heracles [Nintendo DS]
35. Achilles [Br]
34. Theseus [iPhone]
33. Age of Empires: Mythologies [Nintendo DS]
2007
32. Titan Quest: Immortal Throne [W]
31. 300: March to Glory [PSP]
30. Heracles: Chariot Racing [P2&3] [PSP] [PS Vita] [Wii]
29. 7 Artifacts [W] [A]
28. Hermes [W]
27. Lara Croft: Tomb Raider – Anniversary [P2] [PSP][Wii] [M] [W] [X3]
26. Heroes of Hellas [W]
25. God of War II [P2] [P3] [PlayStation Vita]
24. God of War: Betrayal [BREW] [J2ME]
23. Theseus and the Minotaur [M] [W] [L]
2006
22. Titan Quest [W]
21. Talismania Deluxe [Br] [W]
20. The Odyssey: Winds of Athena [W]
19. Minotaur [Br]
2005 Video Games based on Greek Mythology
18. Saint Seiya: The Sanctuary [P2]
17. Mythic Blades [PC]
16. God of War [P2&3]
15. Spartan: Total Warrior [P2] [Xbox] [GameCube]
2004
14. LoveChess: The Greek Era [W]
13. Battle for Troy [W]
12. Gates of Troy [M] [W]
2003
11. Age of Mythology: The Titans [W]
10. Sinhwa-ui Jewang: Zeus vs Chronos [W]
2002
9. Age of Mythology [M] [W]
8. Altered Beast: Guardian of the Realms [Game Boy Advance]
7. Rygar: The Legendary Adventure [P2]
2001
6. Xena: Warrior Princess [Game Boy Colour]
5. Poseidon: Master of Atlantis, Zeus Official Expansion add-on to Zeus: Master of Olympus. [W]
2000 Video Games based on Greek Mythology
4. Hercules: The Legendary Journeys [Nintendo 64]
3. Odyssey: The Search for Ulysses [W]
2. Invictus: In The Shadow of Olympus [W]
1. Zeus: Master of Olympus [W]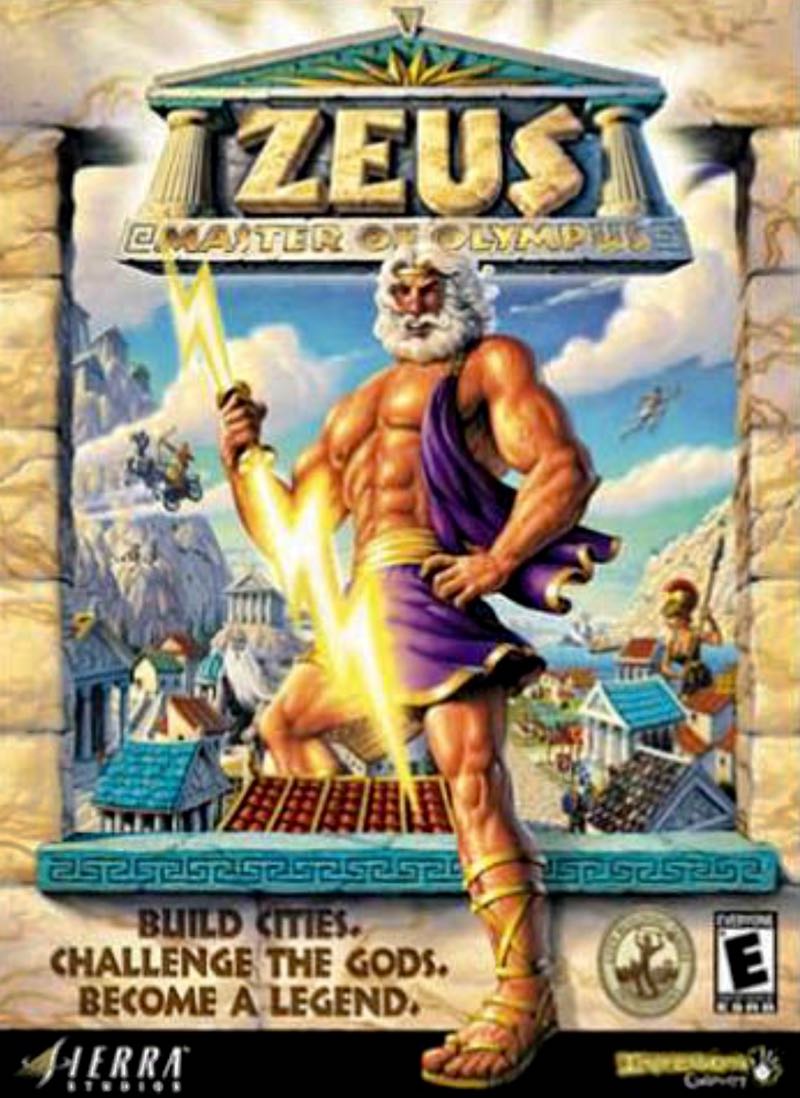 Yes, make no mistake about it, Zeus is Master of Olympus.
Want to go back even further in time, then check out these older retro computer/video games based on ancient history and Greek mythology. It will be a good history lesson in regard to how far back the Greek Gods actually go. Have you ever seen the giant Hercules pinball machine, the largest pinball machine in the world?
If you don't care about older video games, then you still might want to know about the video game based on the myth of Atlantis with its own very mysterious myth. Did the Greek Gods send aliens to destroy Atlantis? The incredible thing about this video game is that it had its own Defend Atlantis contest where the grand prize was a chest of $10,000 in gold!
Pin it … Share it