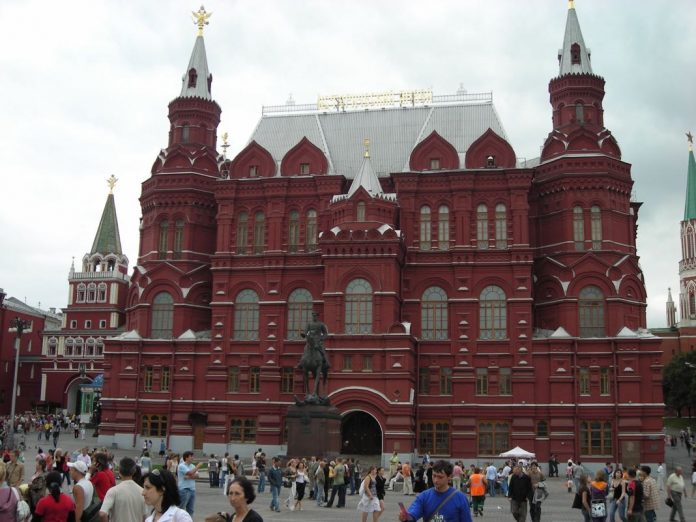 What are some of the best things to do in Moscow? Take a look.
1. Red Square
Even though many bad things have happened in Red Square, it actually has a very good vibe about it. You can't go to Moscow without visiting Red Square.
2. Moscow Metro
Seeing the Moscow subway was a really big highlight. It was unbelievable. The subway was decorated beautifully in certain locations, though the propaganda really does spoils everything. Our tour guides took us to some of the best places in the underground rail network. It can't be like this everywhere.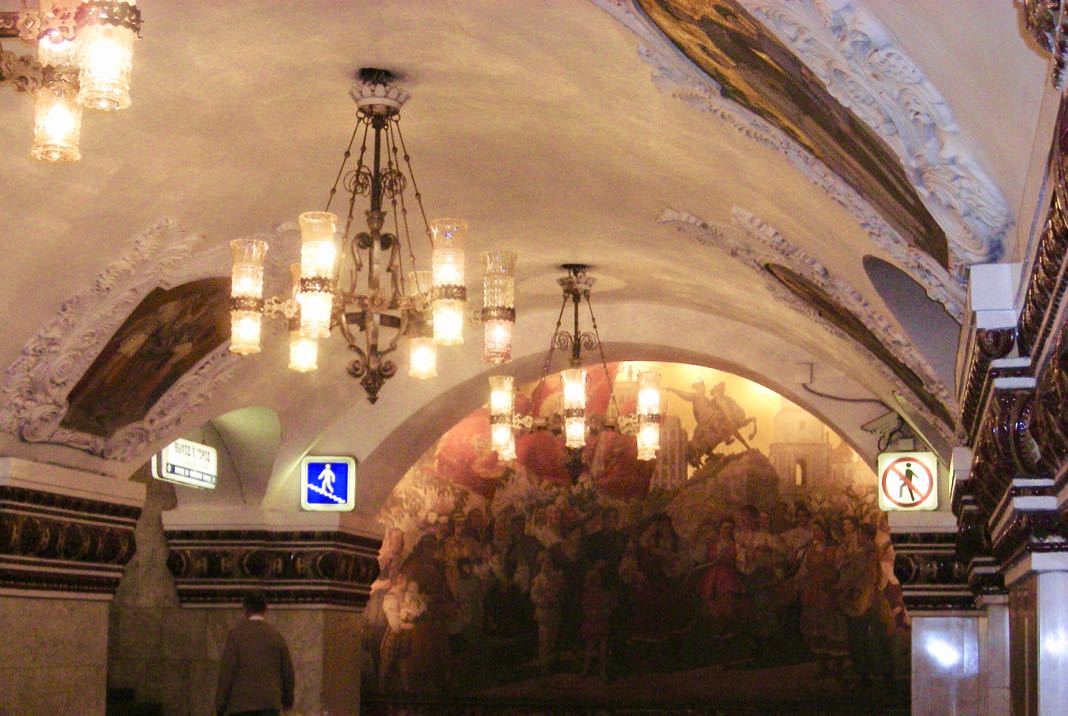 Lenin on the flag.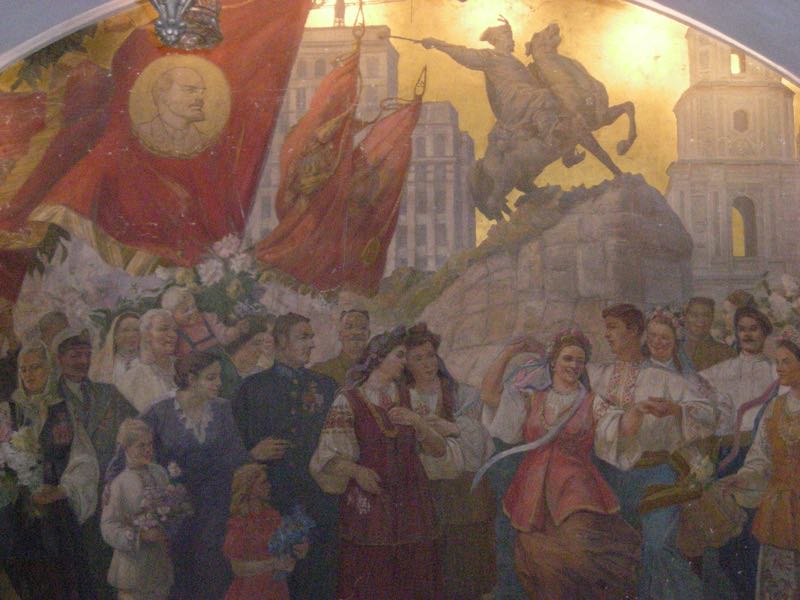 Lenin leads his followers.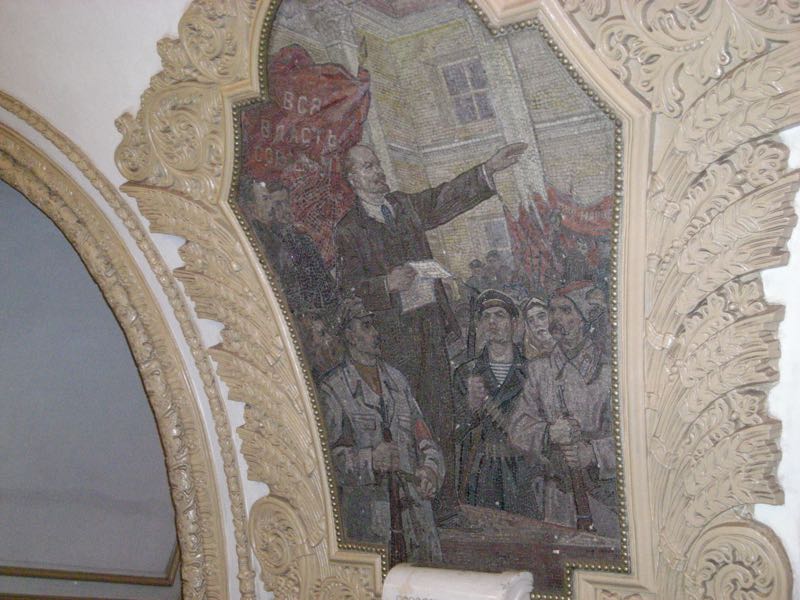 The archways in this section of the subway are beautiful.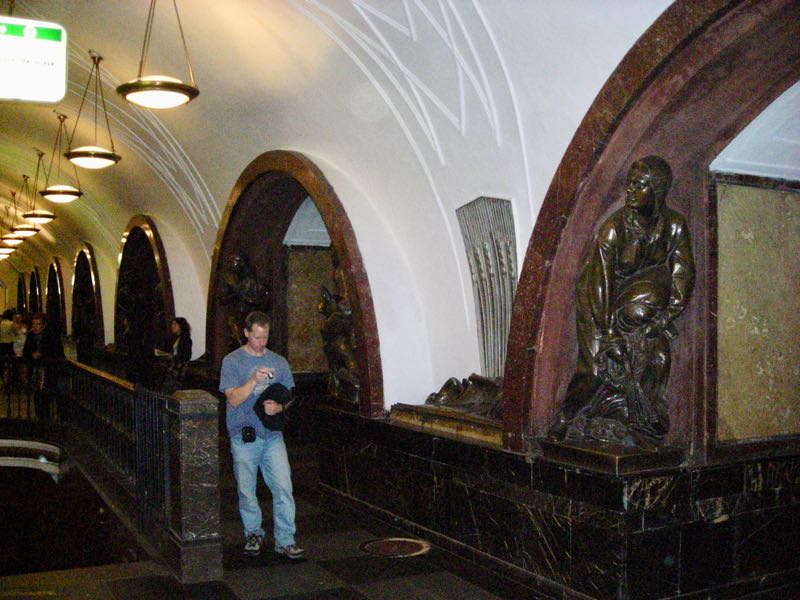 The different chandeliers really add a lot of character inside the hall ways.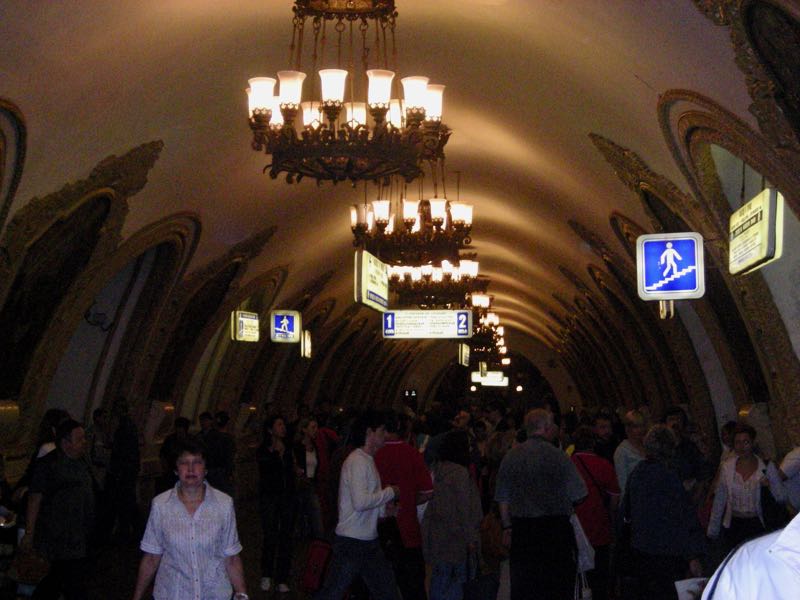 The chandeliers are very impressive. You spend your whole time looking up.
This great video will prove to you why it's such a great Moscow tourist attraction. It's easy to spend a whole day here catching the underground trains from one station to the next.
Who needs a car if you can travel in style like this everyday.
3. Lenin's Mausoleum (Red Square)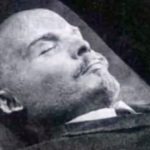 Below is the entrance doorway to Lenin's Mausoleum. No cameras are allowed inside. This has to be one of the most bizarre experiences in Russia that anyone can have. Everyone marches along to see Lenin lying in a glass coffin. Guards were holding guns. I wouldn't want to be caught taking a photo of Lenin inside this place. If you want to learn a bit more about Vladimir Lenin, check out this very funny rap music video.
Many Russians don't want Lenin in Red Square. I can see why. This is prime real estate.
4. Kremlin
I never thought we'd be allowed entry into the Kremlin, but I was wrong.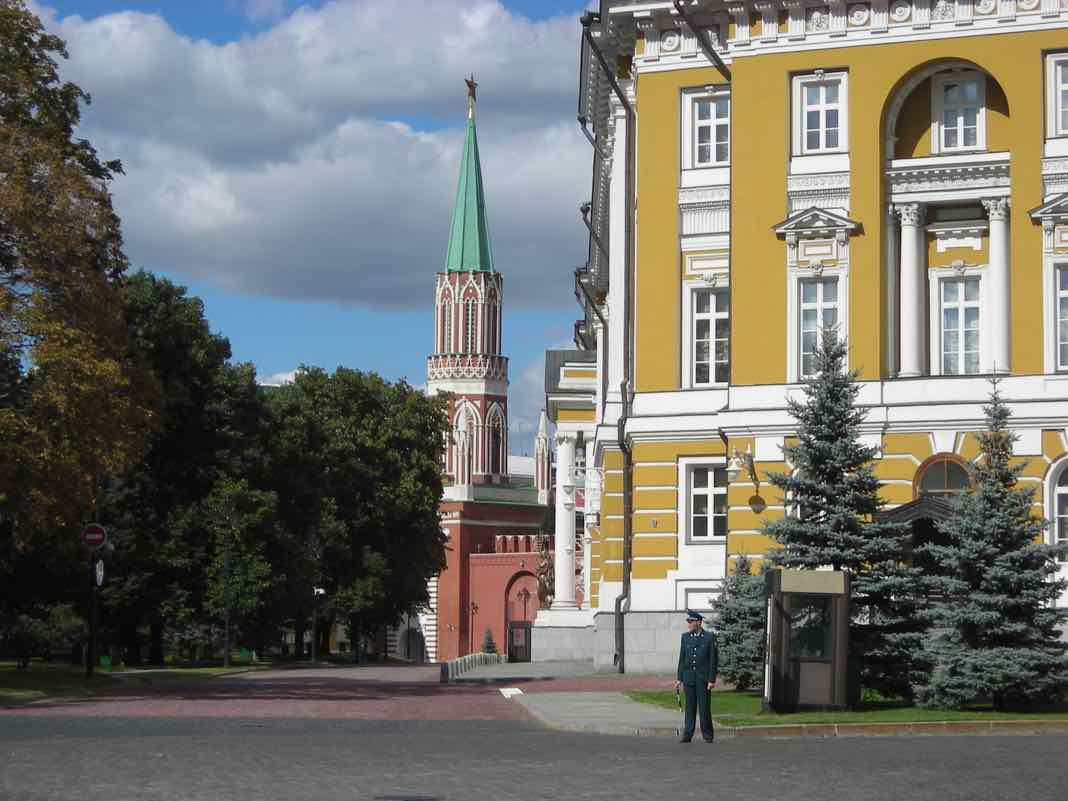 I wonder who works in this building.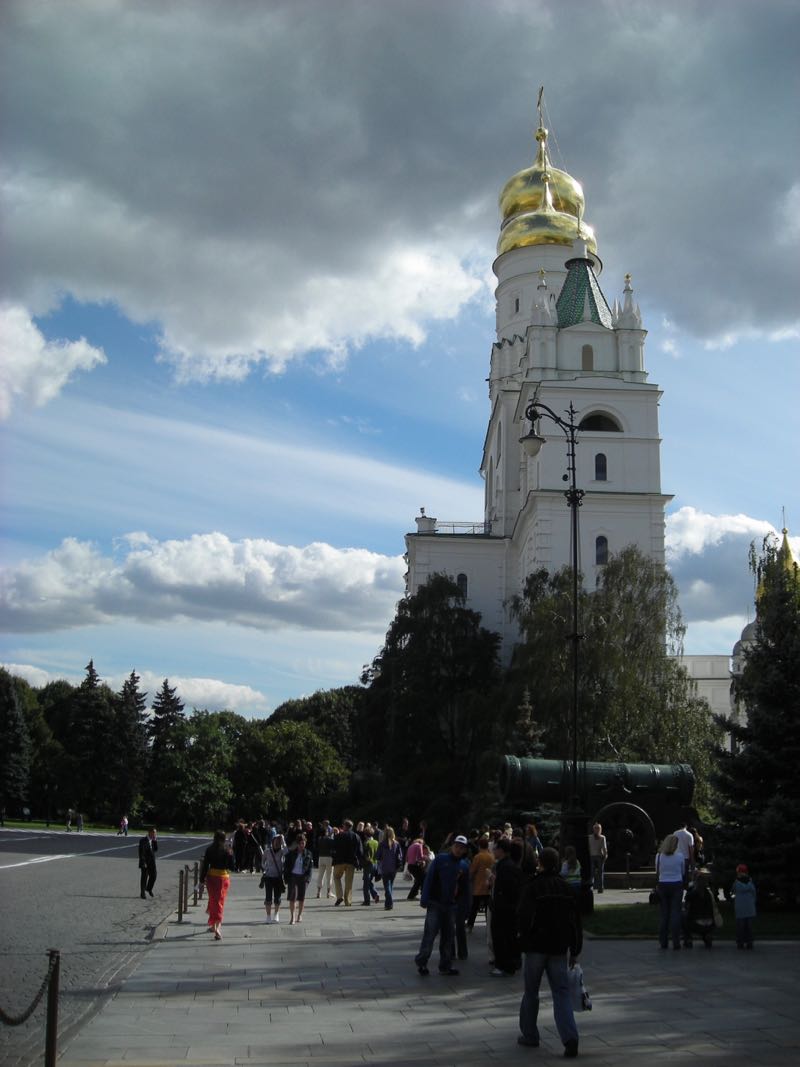 The Kremlin's Armoury Museum is a great attraction. It was definitely the biggest highlight for me in the Kremlin. This is where you can see the famous Fabergé Eggs. There's loads more stuff to see inside the Armoury Museum as well, like impressive knight in shining armour suits.
5. Pushkin State Museum of Fine Arts
Priam's Treasure is located here. The Germans want them back by the way.
6. Central Museum of the Russian Air Force
They should have a ladder and give everyone a chance to sit in one of the planes for a photo opportunity.
Incredibly, I've snapped someone's ring finger in this photo.
7. Gorky Park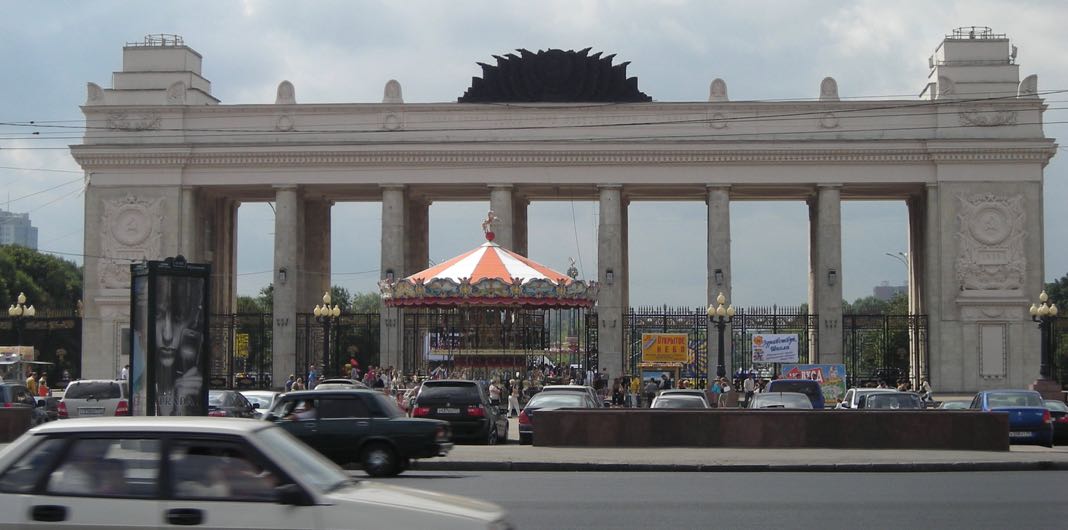 After walking through the Gorky Park's grand entrance, I was sorely disappointed. The photo below is the only photo I took. This was probably the best photo opportunity I had while I was there. We only had about half an hour or so to walk around. I can't remember anything even remotely interesting about the place.
The only thing I had on my mind was the movie Gorky Park (1983). I was slightly hesitant to walk around too far away. Was this park a safe place?
I have to say that Gorky Park looks heaps better in this youtube video. God, I really was there on a miserable day. After seeing this video, I'm wondering which part of Gorky Park was I in? Looks totally different, though you have to appreciate that this park is 300 acres (120 ha) big. I wonder if they have the whole park fenced off. Maybe they just use the grand entrance for tourists.
8. Fallen Monument Park
I wonder if this guy is a Stalin fan.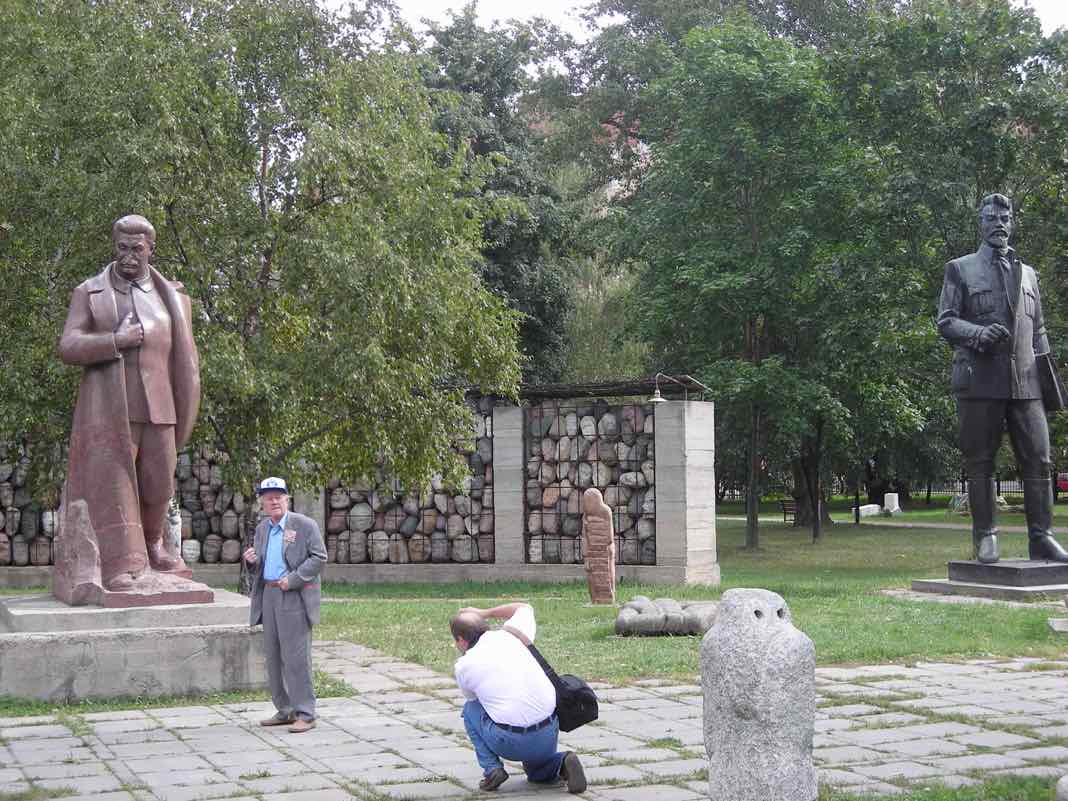 If you could see Stalin up close, his nose has been smashed to pieces.
9. Moscow Circus
The Moscow circus is very entertaining.
We really did take in a large number of amazing sights in Russia on our tour.
10. Russian Dolls, Beauties, Greek Goddesses and Gods
What surprised me most about my trip to Russia had to be the huge number of Russian dolls in Moscow. I'm not talking about the beautiful women, but beautifully decorated hollow dolls that are cut in half. You can twist one open and find another doll inside. This goes on and on, from doll to doll. The number of dolls enclosed in the prime doll can vary, but four to a dozen seems pretty typical. They vary in size as well and the largest doll can be quite big in some cases. Each doll is normally decorated with a different scene. It has to be the number one tourist souvenir available in Russia.
Even though Russian dolls were all over the place in Moscow, I only bought my Russian dolls after going on a mad dash around a small village somewhere in Yartsevo. Talk about leaving it to the last minute. We were leaving Moscow and I thought I'd leave it until the next stop to buy them. The problem was I couldn't find any of them where we were staying and I only had a very short time to find a few. This was our last stop. I was under pressure to find some. After thinking there'd be no way I'd find any at the location we were staying at, I spotted a few inside an upstairs Chemist shop. Lucky stuff, and they were quite cheap as well. Here's a couple of the beauties.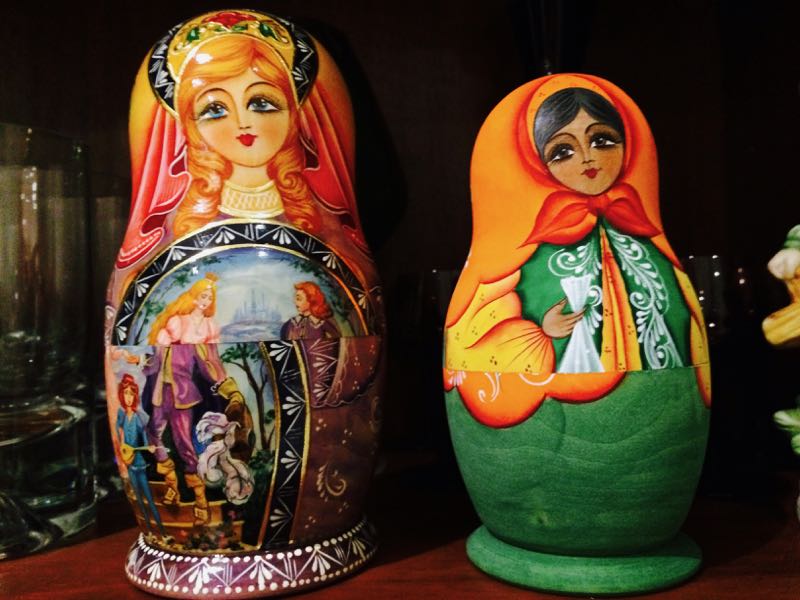 Hanging around beautiful fountains is very pleasant experience. This is a great spot with more beautiful water features nearby.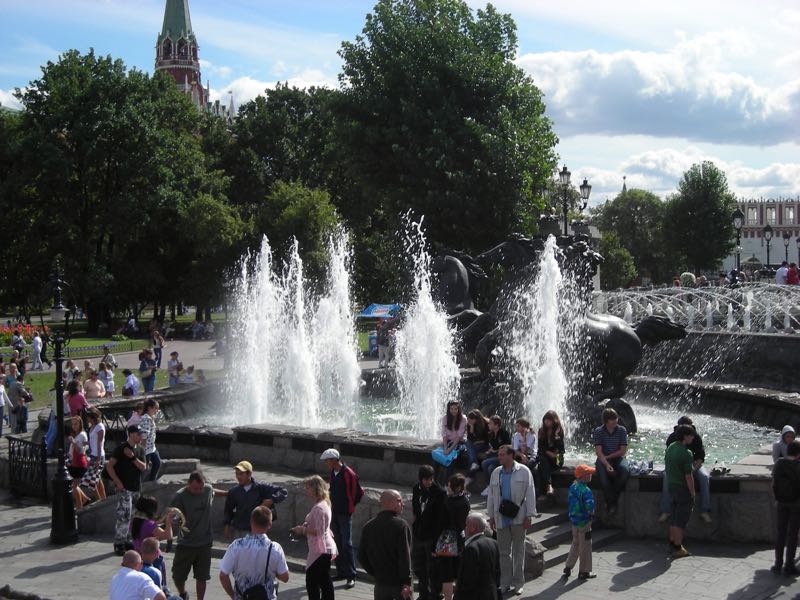 Keep your eye out for Russian Goddesses.
The Bolshoi Theatre is the most respected theatre in Moscow and guess who's at the top. Apollo of course.
They even had Apollo on their 100 Rubles banknote.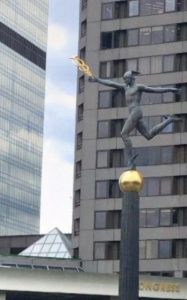 Hermes, the God of Commerce, can be seen at the World Trade Centre in Moscow. Who would have thought?
My meeting with a Russian Spy
As promised in my post, From Russia with Love: Message to the God of War, here's what happened.
One night on a Moscow street while I was walking alone, I went into a very busy diner and bought a delicious snack to eat. The place was buzzing. I left the premises thinking I'd eat it outside standing up.
A few seconds later, just outside the door of the eatery after taking a bite or two of my snack, an older man probably in his 50s approached me. He wanted to know what I was doing there.
I told him I was eating a snack. He then asked me what I was doing in Russia. Straight away I thought this guy's a Russian spy. I had to be very careful. He thought I was an American and told me so. I quickly corrected him with my home country and he immediately talked about the President of the country I mentioned. The thing is, the country I mentioned doesn't have a President. Could this have been some sort of Russian spy trick to find out whether I was telling the truth? Was I telling the truth? I asked him what he wanted. He looked into my eyes and gave me a hard silent steely stare, and I did the same.
After what seems to be about ten seconds, he told me everything was ok and left. I suspect though he was keeping an eye on me in the dark. It was a big relief. There you have it, my meeting with a Russian spy story.
Would I recommend a trip to Russia?
For sure. I remember walking around one night when I asked a small group of people on the sidewalk for the time in English. The reaction was incredible. Shocked people turned around and one guy even stumbled over. He kept on saying, thank you, thank you, like I was doing him a favour. They really like tourists in Russia.
The trip through Russia really exceeded my expectations and Contiki did a fantastic job by providing many memorable experiences. A tour is a great way to pack a lot in, but ideally Russia needs more time than most tour operators allow. Five nights in Moscow would have been perfect (rather than three which I experienced), to match their 5 pointed red star.
Miss Russia 2018
The Greek Gods must really like Russia. It's no wonder Americans dislike Russians.
https://youtu.be/cjHsl4U44rc