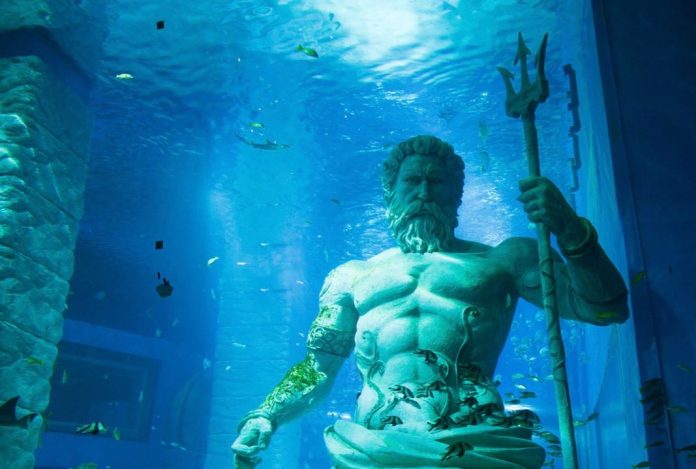 Want to see some amazing dive sites with Greek God statues underwater? Here are ten amazing dive sites that will get you thinking about the Greek Gods and Greek mythology in any case.
1. Ocean Atlas – Bahamas
This giant 18-foot 60-ton concrete sculpture of a Bahamian girl carrying the weight of the ocean on her shoulders was inspired by the myth of Atlas. Atlas of course was the Titan condemned by Zeus to hold up the heavens or the world. No one knows for sure which one.
2. Amphitrite – Grand Cayman Island
Amphitrite is the wife of Poseidon, God of the sea. This makes her the queen of the ocean. She can be seen here as a 9-foot-bronze statue in mermaid form. She's located off the coast of Grand Cayman Island in Sunset Reef.
An earlier version of Amphrite also exists.
3. Poseidon's Playground – Orange Beach, Alabama
Poseidon (Neptune)
Apollo
Venus of the sea can be seen together with Cupid
Saturn V Rocket – Saturn (Greek: Cronus) is the God of Time
Yes, that's right, there's a rocket near the Greek Gods. The dive site is located three miles offshore of Perdido Pass, Orange Beach, Alabama. There's also a table reef topped with grouper and marine life. Depths are around 35-40 feet.
4. Neptune Memorial Reef – Molinere Bay, Grenada
An underwater mausoleum themed on the lost city of Atlantis is located off Key Biscayne, Florida. This very rare underwater cemetery located off the coast of Miami has been open since 2007. The Greek Gods would surely have to favour these brave pioneers.
Here's another very interesting video to watch about Neptune Memorial Reef.
A pair of lions guard the crematorium. Cremated remains are mixed with non-porous cement and shaped into a memorial stone of choice which is then assigned a space on the reef. I don't think they allow coffins though. Neptune Memorial Reef seems like a great place to end up. Who wants to end up underground when you can be surrounded by fish life. It beats being near worm life.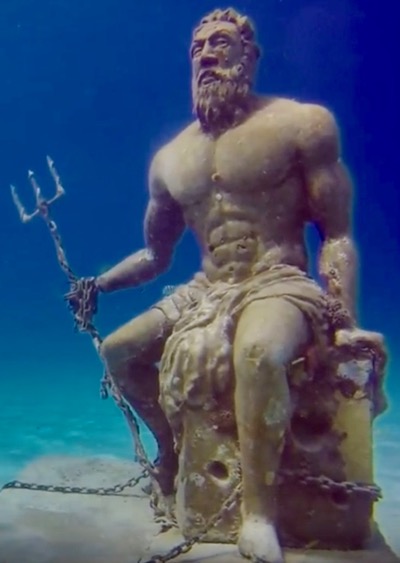 5. Poseidon – San Andres Island, Columbia
In 2012, Poseidon was lowered off the Caribbean Island of San Andre in Columbia.
6. Poseidon – Side, Antalya, Turkey
The Side Underwater Museum is located in the town of Side in Antalya, Turkey. This is Turkey's first underwater museum. Located 1.5 miles off the coast of Turkey's southern resort town of Side. Over 100 sculptures have been included.
Themes include:
Whirling Dirvish
War of Independence (one truly bizarre sight to have riflemen underwater)
Caravan of Camels
Flower Garden
Temple of Poseidon/Temple of Apollo
Here are some photos on Instagram from diveside showing Poseidon.
Depth levels: 12 metres, 18 metres and 25 metres, with statue heights between 1 and 6 metres.
Wreck TCSG-117 / Poseidon Dive. Maximum depth is 25 metres. The dive starts at the shipwreck which is 30 metres long. During the dive you'll also be able to see Poseidon and Turkish soldiers all around the same area. Whoa. Could it be that Poseidon is on their side?
The scuba dive season is generally open between April and November each year.
The added beauty about visiting Side in Turkey is that you can stay at Pegasos (Pegasus) World. If you're a kid it would be heaven. The video below will show it to you.
7. The sunken city of Baia – Italy
8. Jason and the Argonauts – Volos
The creation of 100 sculptures inspired by the myth of Jason and the Argonauts were to be placed into the waters of the Pagasitikos Gulf, beside the coastal town of Volos, in central Greece.
Sadly this project known as "Project ART.Reef" which was talked about in 2016 looks as if it never got off the ground.
9. Poseidon and Neptune – Atlantis, The Palm, Dubai
Atlantis has 2 fantastic underwater suites:
Neptune suite (the one shown in the video below) – wow!
The beauty about entering this magical underwater realm is that you don't even have to get wet. It's fit for a God, no doubt about that.
10. Poseidon
The world's largest coral reef is located off the coast of Queensland in Australia. How lucky would you have to be to see the Great Barrier Reef with Poseidon?