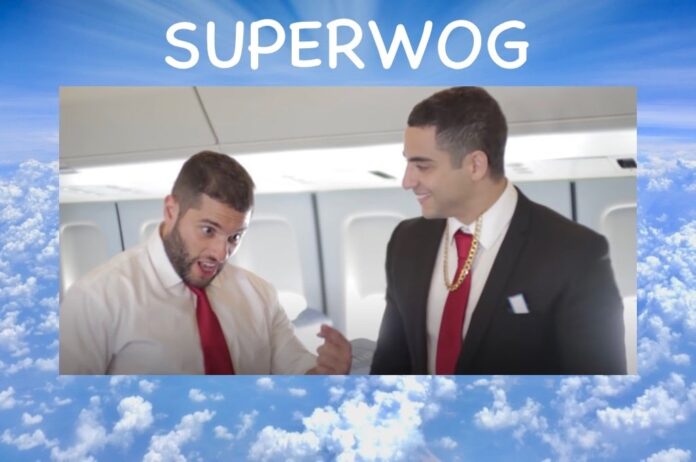 If you haven't heard of Superwog (aka Superbro) and seen at least three of their funny YouTube videos or watched some episodes from their Australian TV comedy series, then do yourself a favor and watch a few of them.
Start with the YouTube comedy sketches shown below.
All three of these Superwog videos are very funny, especially the first video showing Superwog working on an airplane.
Watch them from start to finish, because it may take a bit of time to warm up to these hilarious guys.
The airplane video below is super funny. I'm confident you'll laugh at some point, or at the very least, find it very amusing.
If Superwog worked on an Airplane
If Superwog was on the Bachelor
Donald Trump versus Obama Rap Battle
I wonder if Donald Trump has seen this video.
Superwog Background
Two funny brothers, Theo and Nathan, are the main two stars of Superwog.
They are the sons of a Greek-Egyptian mother and an Egyptian father.
You may find it hard to believe, but Theodore Saidden and Nathan Saidden attended the very prestigious Trinity Grammar school in Sydney, Australia.
Theo even became a lawyer.
Theodore Saidden plays Theo "Superwog" and Wog Mum in the Australia TV series.
Nathan Saidden plays Johnny and Wog Dad.
Superwog Television Series
I showed a couple of episodes from the Superwog television series on this post previously, but they were later removed from the Superwog YouTube channel.
Then I became aware of the fact that both seasons of the TV series were released on Netflix on 24 August 2022, which would have given them certain rights.
Be aware that Superwog will show up as Superbro on versions of Netflix outside of Australia.
Superwog, the first season is a classic!
I highly recommend watching Episode 3 (The Final Exam) or Episode 4 (The Formal) if you want a good laugh.
Unfortunately, I'm not a big fan of the second season. But the first season is really good.
Every single episode in the six-episode original series of Superwog is very funny, so check it out if you can.
Isn't calling someone a "WOG" an insult?
Some of you may be thinking the word "wog" is an insult — and it is an insult!
But it depends on who is calling who a "wog" and if that person expresses the ethnic slur in a mean way.
Actually, the only person who can use it is another wog, so don't use it to try and be funny.
In Australia, around the time of the 1960s, 70s, and 80s, this term was often dished out by people (predominately English migrants) who disliked southern Europeans of Greek and Italian descent. It still happens on occasion even to this day.
Then along came Nick Giannopoulos, a comedian-actor of Greek descent born in Melbourne, Australia.
Nick's rise to fame started when he started a theatre show in 1987 called Wogs Out of Work, with a few other fellow actors.
I went to one of the "Wogs Out of Work" shows and there were heaps of wogs in attendance, though I have to say I didn't find it funny at all. Maybe I was too young and inexperienced.
For me personally, The Wog Boy (2000) and The Kings of Mykonos (2010) are Nick's best comedic works. These films are one of the biggest reasons I'm a huge fan of his.
He also had a smash hit TV series called Acropolis Now, which ran for 5 seasons from 1989 to 1992.
The incredible thing Nick did is that by associating the nasty "wog" insult to himself throughout his comedy career, he somehow softened the blow for other people, who had the wog insult dished out to them.
The Wog Boy and Superwog
So, you can sort of see how the name SUPERWOG came about.
It is an extension of the wog term made acceptable by an Australian comedic legend, the original Wog Boy, Nick Giannopoulos.
Nick ended up trademarking the "Wog Boy" franchise making him somewhat of an insult master. It just goes to show, that even an insult can be valuable.
Note: Nick never trademarked the word 'wog' which some people incorrectly assumed.
Nick trademarked the titles of his Wog stage show names and his Wog film titles.
Even I was under the impression that he had trademarked the term "wog" to stop other performers from using the word for their acts, but that was totally incorrect.
He only wanted to stop acts from using a "wog" type name if it made it look as if Nick Giannopoulos would be starring in the show.
So the name Superwog was perfectly fine with Nick. Well, so I assume. Maybe he did have issues with the name right at the start, who knows?
When listening to a podcast, the interviewer asked Nick Giannopoulos who he thought would be great to play him in a movie about himself.
Nick's eventual answer was Theo or Nathan from Superwog. So Nick is obviously a huge fan of Superwog himself.
Superwog and Wog Boy are legends in Australia. Not sure where it will all go from here, but as long as there are wogs in the world, anything is possible.
For more laughs visit the Superwog YouTube channel.
Pin it … Share it