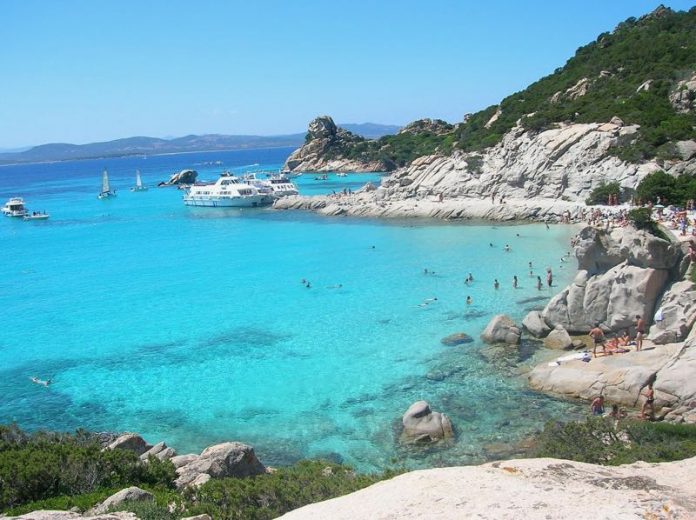 Have you ever thought about visiting the beautiful Italian island of Sardinia? If you haven't, then these top five attractions in Sardinia could easily tempt you to visit this Mediterranean paradise. Here you will see some of the best beaches in Sardinia and a few other great attractions, so prepare to be dazzled.
Sardinia has it all: top beaches, great food, the glitz and glamour to feel like a Greek God or Goddess, if only for a short period of time anyway. Some of you may start thinking about moving there permanently once you realise what the island has to offer.
Before I show you some of the fantastic Sardinian sights, let's begin by taking a look at the island's mythical origins.
Mythical Origin of Sardinia
As unbelievable as it sounds, ​Heracles (Hercules) was told by an Oracle that his sons would colonise Sardinia. This he did when he slept with the fifty daughters of King Thespius.
I should point out to everyone that this occurred prior to his marriage to Deianira. I'm pretty sure it happened this way. Let's hope so anyway.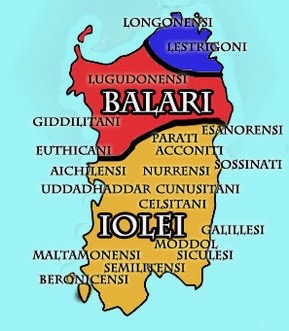 Later on Heracles sent his nephew Iolaus to the island to lead the Thespians, which resulted in Iolaus forming a colony of his own.
According to legend, the Iolei people can be traced back to Iolaus. Iolaus is also considered to be the founder father of the city of Oblia.
Iolaus and the Thespians were said to be buried in Sardinia. Considering the weird grave sites on the island and the Giants of Mont'e Prama, enormous sculptures found guarding a grave site on Monte Prama, it just may be the truth.
Sounds reasonable to me. I even found this map which seems to use ancient names. As you can see, the orange region on the map is labelled Iolei. I like this island already.
A little bit about Sardinia
Sardinia – Sardegna in Italian – is the second largest island in the Mediterranean after Sicily.
The island is located to the west of Italy, in a position just south of the smaller island Corsica, which actually belongs to France. Sardinia is only separated from Corsica by the 11 km (7 mile) Strait of Bonifacio.
Sardinia has a mountainous interior and is famed for its beautiful coastline with turquoise waters.
Italian beach lovers especially favour this beautiful island for their summer vacations.
With three international airports and ferries from mainland Italy, it won't be too hard to make your way to this island paradise.
This map of Sardinia details what I will be showing you.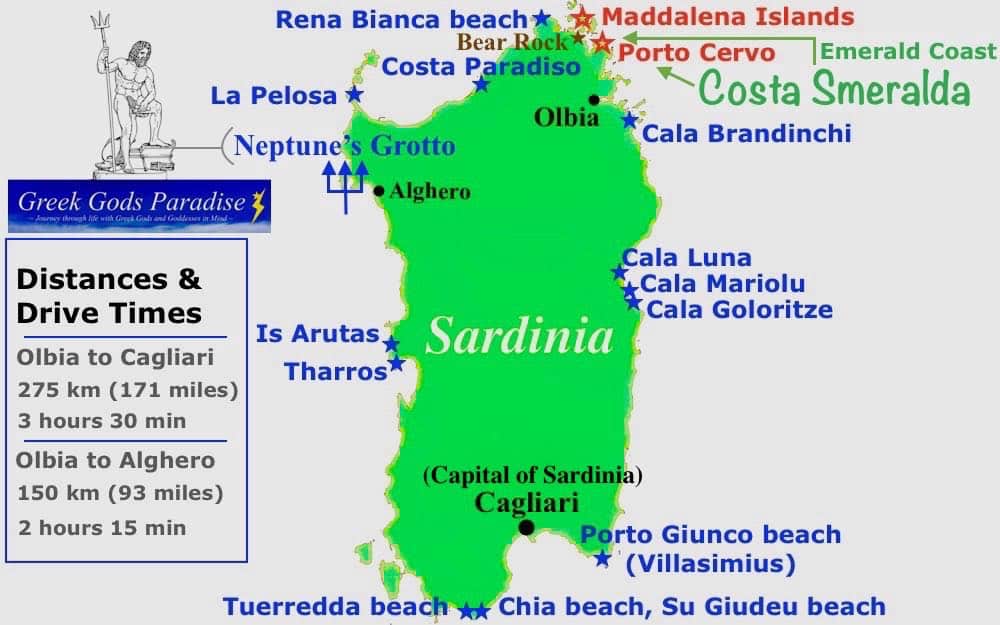 1. The Beaches
Sardinia has some of the most beautiful beaches in the entire Mediterranean Sea.
If you're a beach lover and you like Italian food then Sardinia should be at the top of your list when thinking about going on a fantastic vacation.
These 12 amazing beaches in Sardinia are superb.
Costa Paradiso (1 of 12 – Best Beaches in Sardinia)
The granite path that takes you to the beach is supposed to be magical.
Imagine taking your first glimpse of this beautiful beach on arrival for the very first time at Costa Paradiso. Paradise!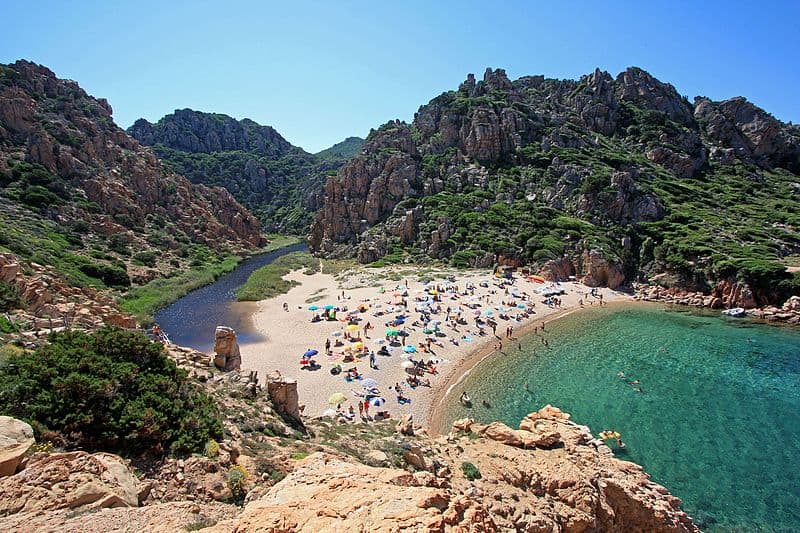 Looks like a great beach to spend a few hours. This is a great starter.
Try and stop by The Valley of the Moon at Aggius when you're in this top part of Sardinia. This is where thousands of granite rocks emerge making it look like a lunar landscape.
La Pelosa Beach (2 of 12 – Best Beaches in Sardinia)
This amazing beach is just 2 km from the village of Stintino. It is located in the north-western tip of Sardinia, at the foot of Cape Falcone.
This is one of the most beautiful beaches in Italy and Europe, a real beach paradise.
The tower is the symbol of the beach and dates back to 1578, and it can even be reached on foot by crossing the Pelosetta.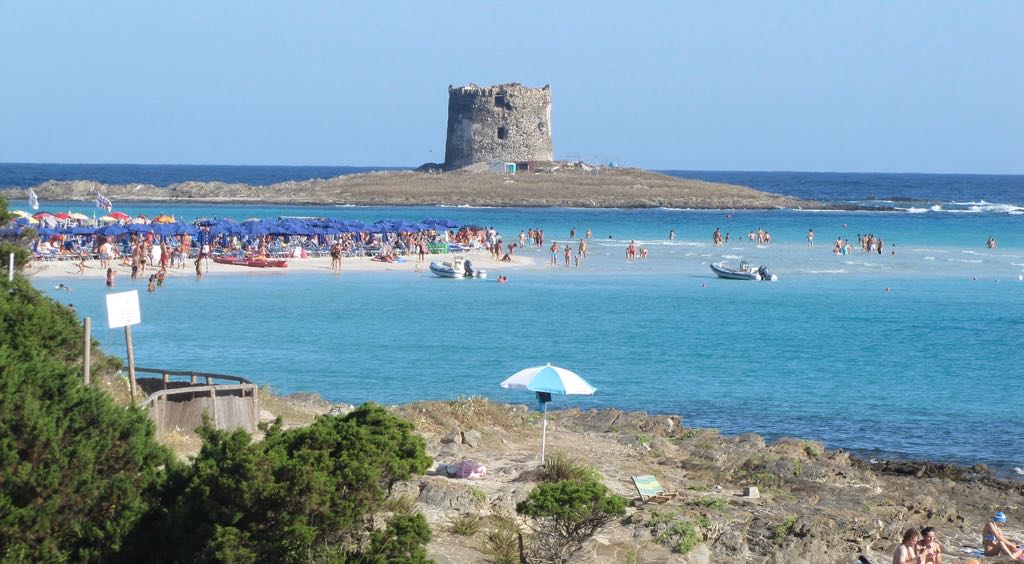 The two most impressive beaches located north of the small town of Stintino are La Pelosa and La Pelosetta.
The island of Asinara, a national park, is on the other side of town.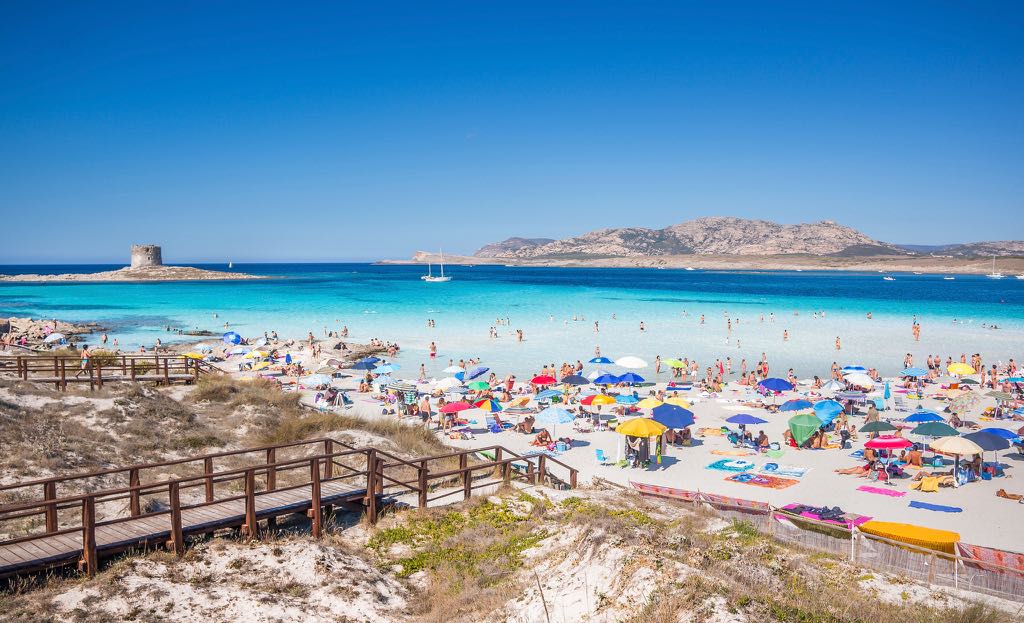 Here's another beautiful view of La Pelosa, Stintino.
Spiaggia Rena Bianca (3 of 12 – Best Beaches in Sardinia)
Rena Bianca beach is one of the best beaches in the northernmost part of Sardinia.
It is located in Santa Teresa di Gallura.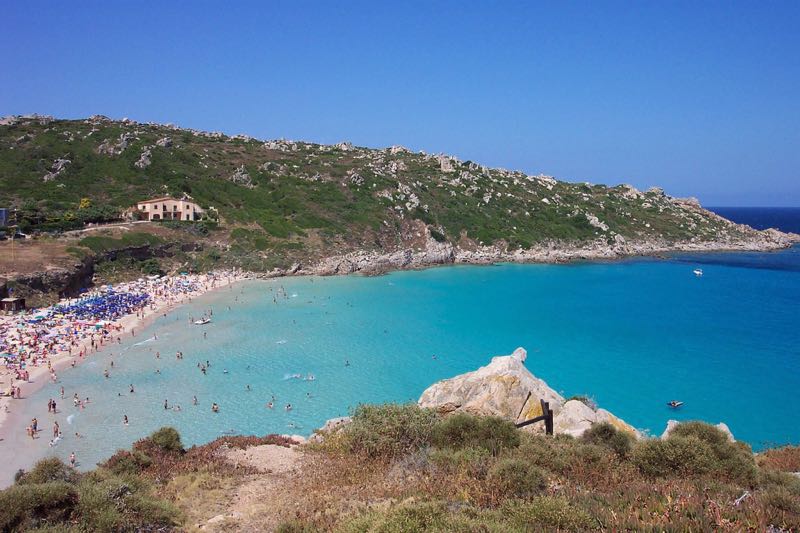 Porto Giunco beach, Villasimius (4 of 12 – Best Beaches in Sardinia)
Porto Giunco is just a short distance from the town of Villasimus.
This the best vacation spot in Sardinia's south-eastern region. It is situated about 45 km from Cagliari.
Pink flamingos are even found in the lagoon behind it. If it is good enough for flamingos, it is definitely good enough for me to classify this stretch of sand as one of the best beaches in Sardinia.
Looks great!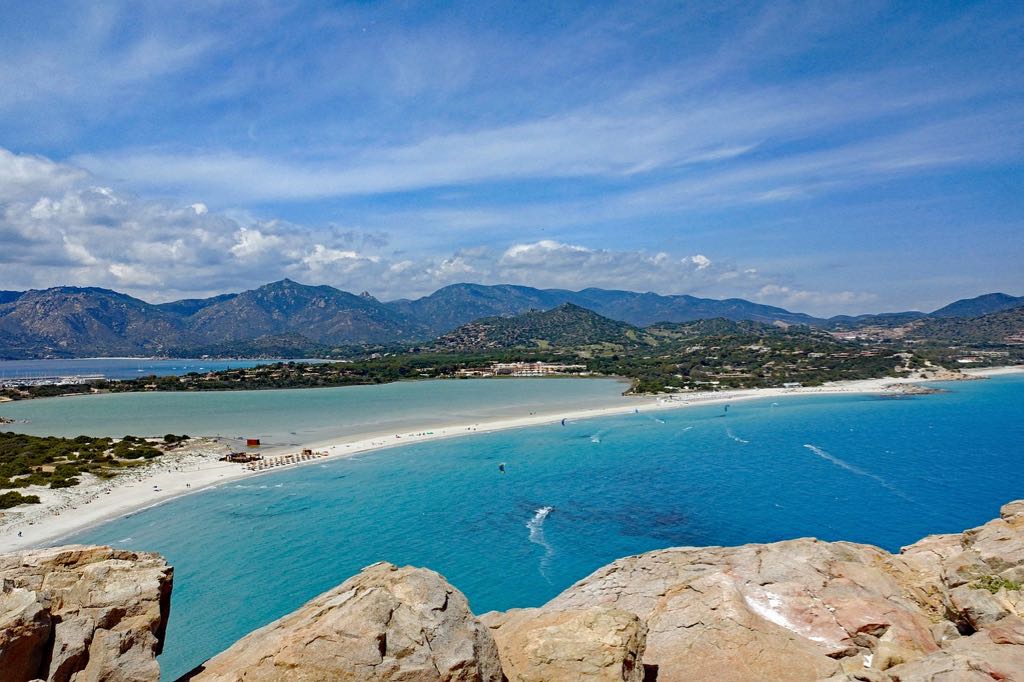 Cala Goloritze (5 of 12 – Best Beaches in Sardinia)
Cala Goloritzé is located near the town of Baunei, in the southern part of the Gulf of Orosei, in Ogliastra.
This spectacular UNESCO-protected beach has taken its shape from a landslide that occurred in 1962. One of the first things on arrival that you will notice is the 143 meter high pinnacle which famously towers above the boulder-strewn pebble beach.
The easiest way to reach the beach is by boat, gommone, or zodiac raft, which can be arranged at either Cala Gonone or Marina di Orosei.
Keep in mind that motorised vessels normally keep well clear of the shoreline, staying approximately 300 meters (1,000 ft) offshore. If you want to get onto the beach from a private boat you will have to swim in. Most guided boats only stop here briefly for photo opportunities so make sure you have time to go in for a swim.
You can also hike in. This is much more difficult though and requires a 16 km (10 mile) drive from Baunei, the closest town, to a parking area at the Golgo Plateau. From there you will have to go on a gruelling hike of about 60-90 minutes to reach this spectacular beach. Think of the reward. Priceless views!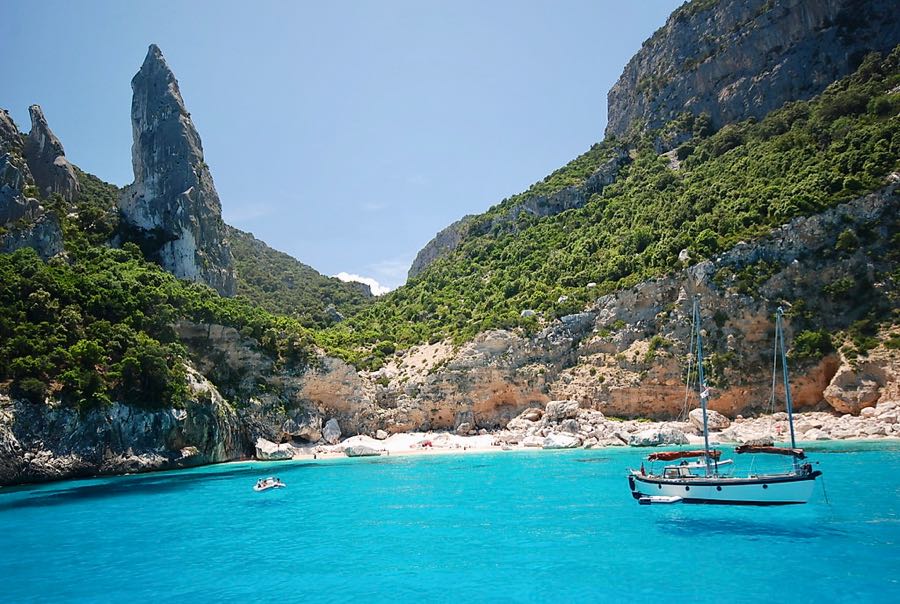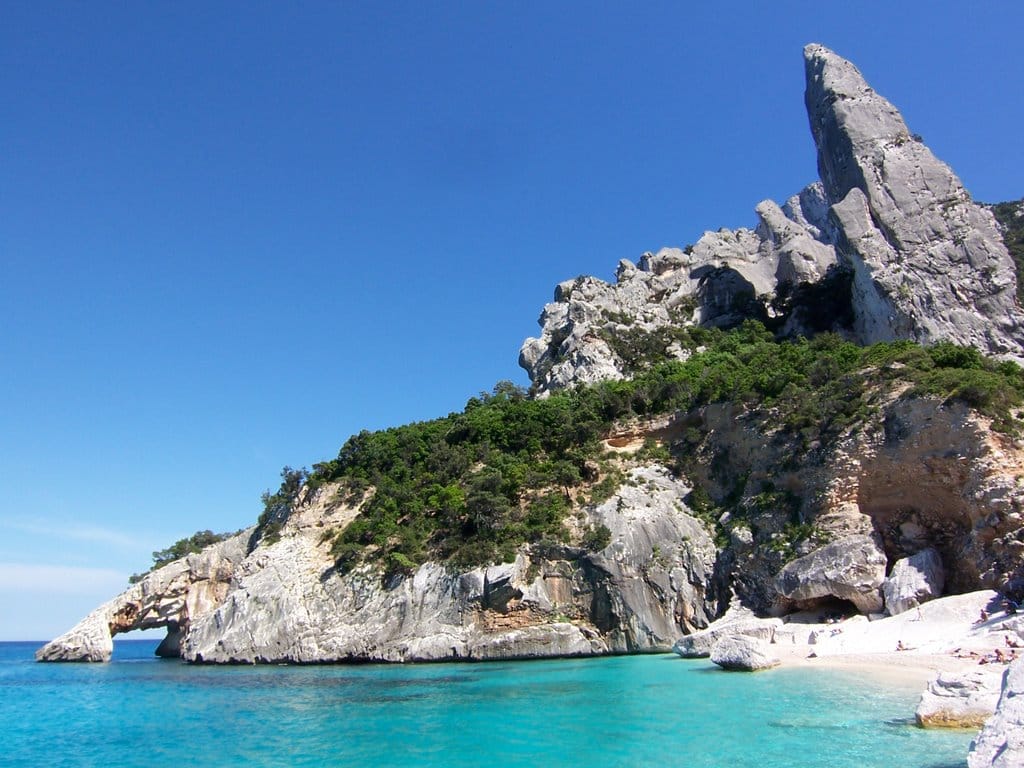 Cala Goloritzé is definitely the best beach in Ogliastra. If you need some more convincing then this video should do it.
Cala Mariolu, Baunei (6 of 12 – Best Beaches in Sardinia)
Hire a boat from the seaside town of Cala Gonone and visit Cala Mariolu, since it is very difficult to reach on foot.
If you made it to Goloritze, you can continue on to Cala Mariolu, but this is a pretty extreme hike.
The beauty about this beach is that larger vessels can pull right up to shore here and drop off passengers on this beautiful beach composed of small white stones.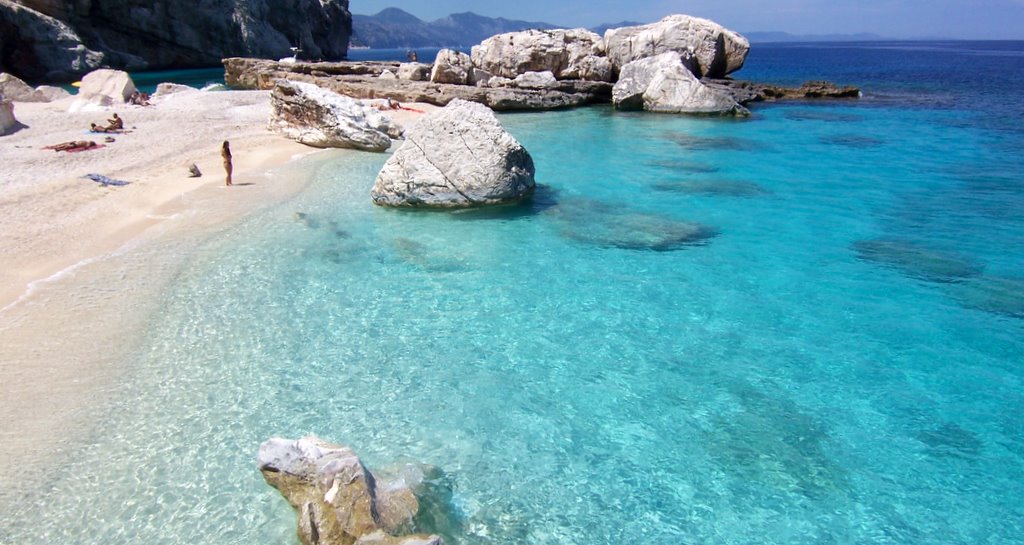 If you're on a boat tour, make sure you jump in at Piscine di Venere, or the Pools of Venus. This is supposed to be a magical spot.
Cala Luna (7 of 12 – Best Beaches in Sardinia)
There's no need to get sunburnt at this incredible beach.
To get to Cala Luna, you can either go on a long and tricky walk of 7km (4 miles) from Cala Gonone, or take a short and pleasant boat ride from Cala Gonone.
Cala Brandinchi, San Teodoro (8 of 12 – Best Beaches in Sardinia)
Cala Brandinchi beach is also known as 'Tahiti' which is all you need to know, to make you want to visit this beautiful beach.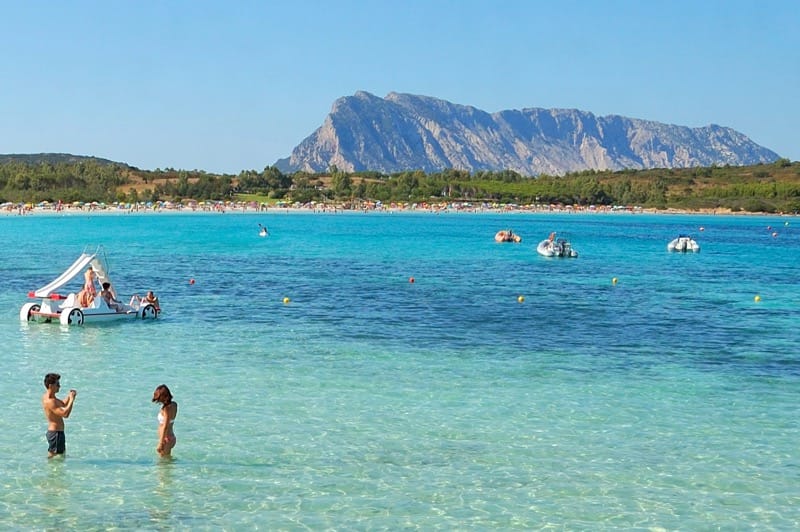 Tuerredda beach (9 of 12 – Best Beaches in Sardinia)
This nice beach is located on a sheltered coastline on the south coast, only few kilometres from Chia and about 60 km from Cagliari.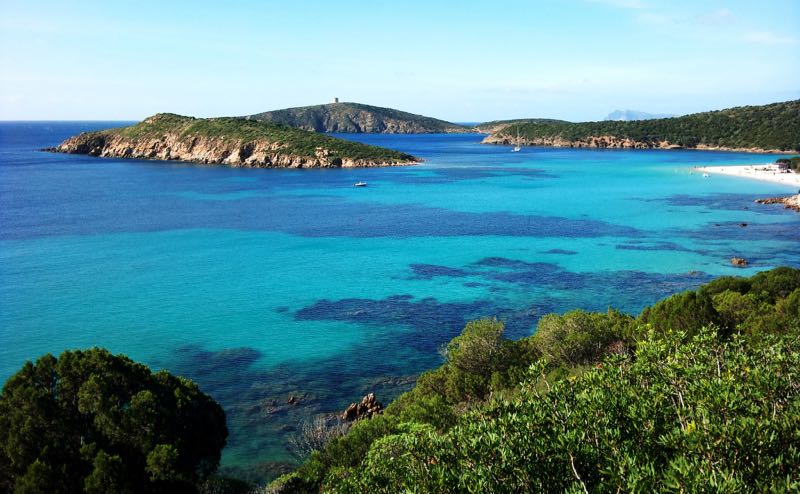 Chia beach, Su Giudeu beach (10 of 12 – Best Beaches in Sardinia)
Anyone staying near Cagliari wouldn't want to miss out on visiting this spectacular coastline.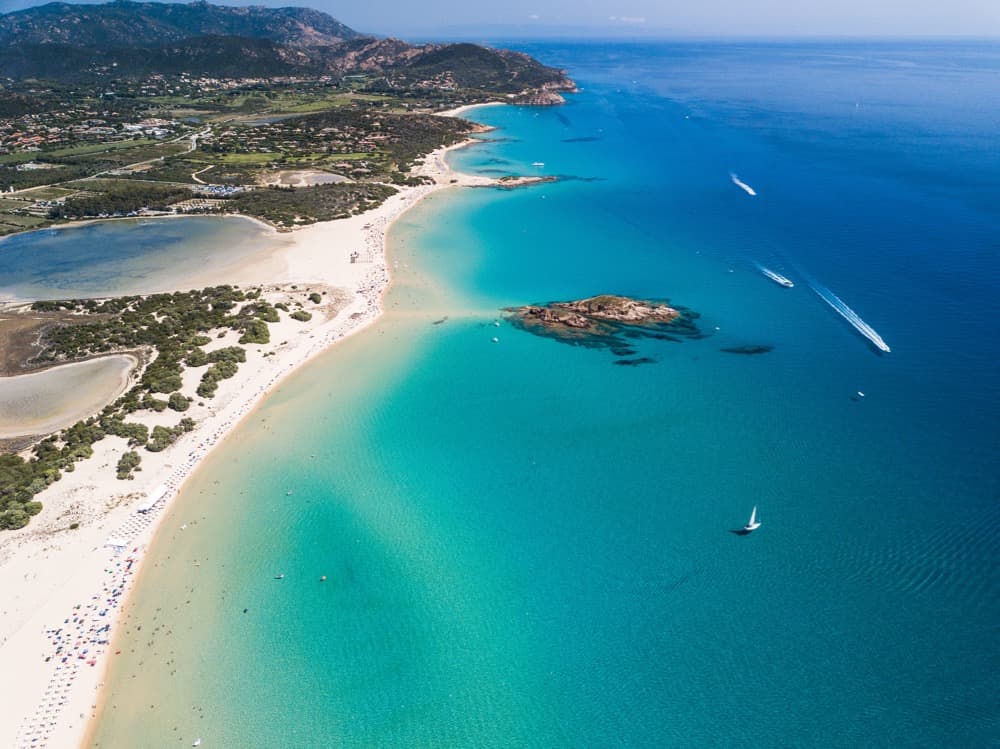 Tharros (11 of 12 – Best Beaches in Sardinia)
Don't miss the ancient city of Tharros, San Giovanni di Sinis, near Cabras.
After you stroll around the ancient site, you can go for a refreshing swim in the sea after and wonder who else did the same thing in ancient times.
Is Arutas (12 of 12 – Best Beaches in Sardinia)
This beautiful beach is known for its grain of rice type sand. The sand is composed of small grains of quartz, with various shades ranging from pink, light green to pure white.
A visit to Is Arutas beach can easily be combined with a visit to the archaeological site of Tharros.
This amazing coastline is located in the province of Oristano, in the protected area of Sinis, about an hour away from Cagliari.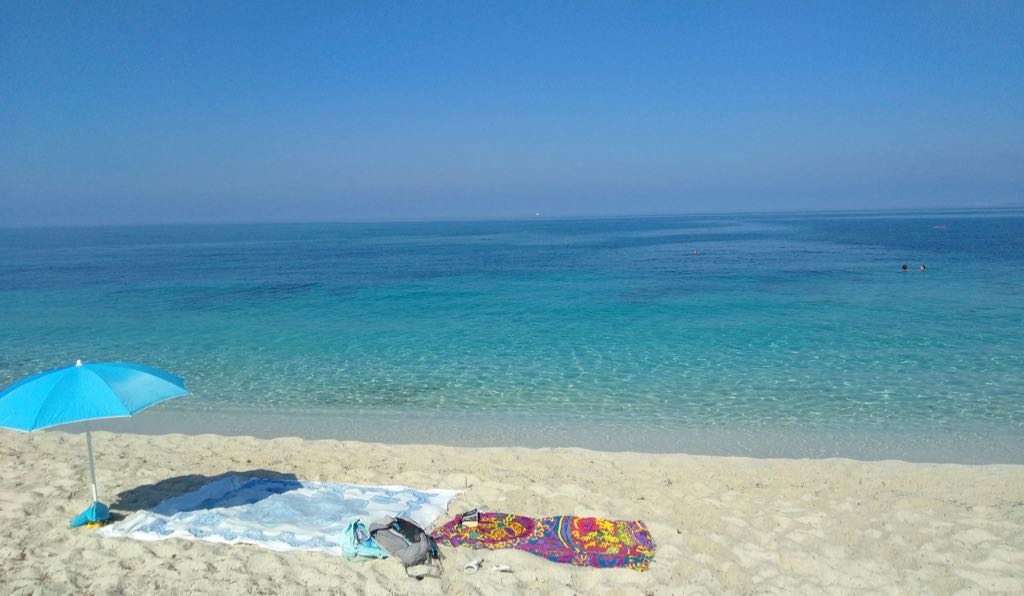 I'm sure that at least one of these beaches alone would be worth a trip to Sardinia.
What else can you see and do in Sardinia? Let's take a look.
2. The Maddalena Archipelago
A visit to the archipelago of La Maddalena is a must for tourists who want to discover the natural beauty of Sardinia. This island group retains a natural wild charm making it one of Sardinia's top attractions.
You can reach the main island of La Maddalena in the north-east of Sardinia by a car ferry. They depart every day in summer from Palau and only takes around 20 minutes.
The archipelago consists of seven main islands and numerous small islets.
La Maddalena is the largest island followed by: Caprera, Spargi, Santo Stefano, Santa Maria, Budelli and Razzoli.
Maddalena, Caprera and Santo Stefano are inhabited, and roads only exist on Maddalena and Caprera. The other islands are reachable by private boats.
The whole archipelago was proclaimed a national park in 1994. Go on a boat tour and be amazed. Boat trips are easily arranged from Palau, with opportunities to go for a swim at some of the fabulous beaches.
https://youtu.be/1srkEm3zxNg
Spargi Island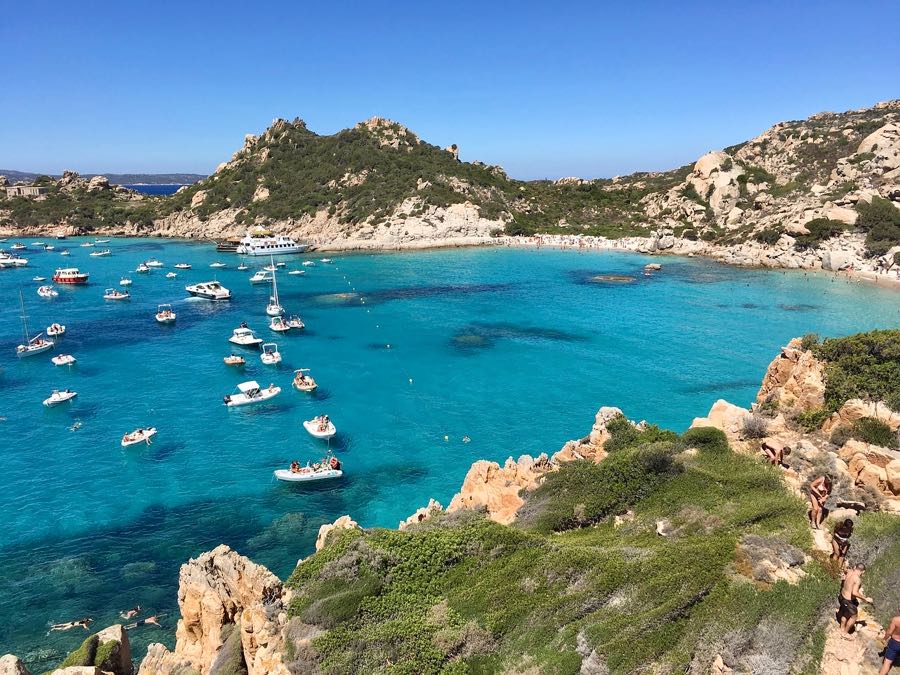 Spiaggia Rosa, Budelli Island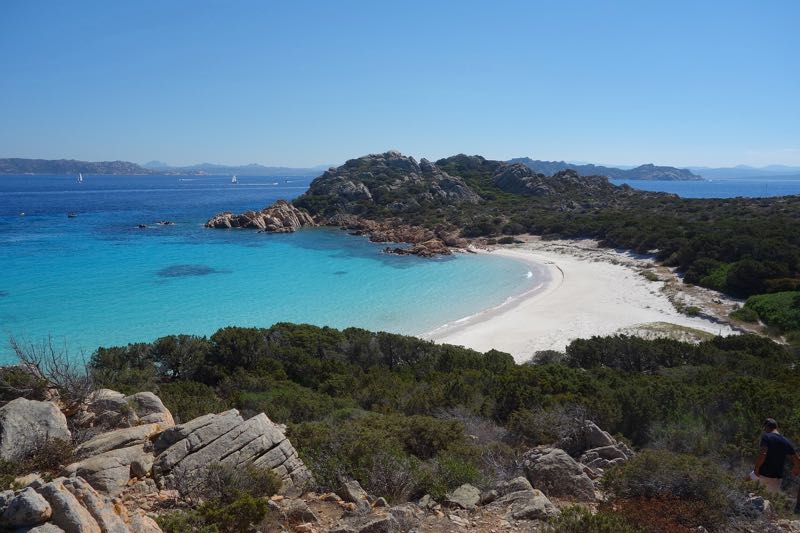 3. Neptune's Grotto
This famous cave is named after the Greek and Roman God of the sea, Neptune.
It is located in Capo Caccia where large cliffs reach up to 300 metres in height.
The area is best known for a number of caves located above and under the water, with the most famous of them being Neptune's Grotto.
You can descend the 654 steps known as the Escala del Cabirol (goat's steps) to reach the sheer cliffs that proceed onwards to the caves.
A more enjoyable way to get there though is probably by boat from the Port of Alghero.
Alghero's biggest draw for tourists is the Grotta di Nettuno (Neptune's Grotto), and the added benefit of going by boat from Alghero is that you will pass by the beautiful deep bay of Porto Conte on the way there.
Tourists go on a guided tour of Neptune's Grotto, so you will have to pay a few Euros for the privilege.
Inside the cave, there's a large saltwater lake with long stalactites and stalagmites to admire that create an otherworldly experience. This is a great place to ponder about the Greek and Roman Gods.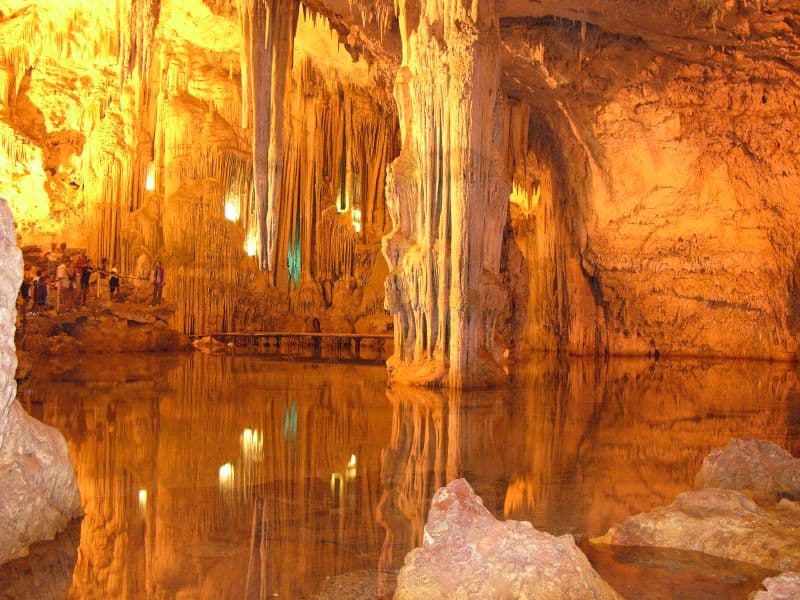 4. Capo d'Orso (Bear Rock), Palau, Sardinia, Italy
As you can probably see, the rock below resembles a bear. You can even climb on top of the famous rock.
The views from here look incredible.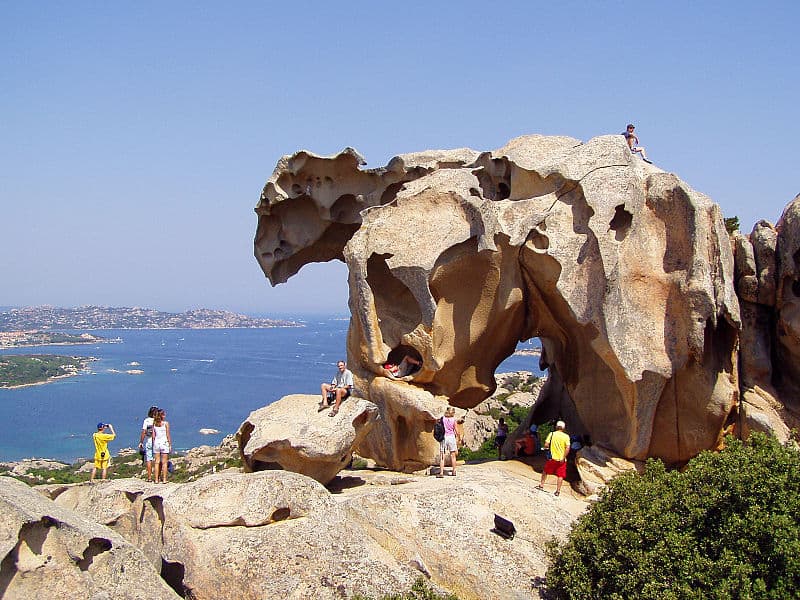 5. Costa Smeralda
North of Porto Rotondo lies the stunning Costa Smeralda and the glitzy town of Porto Cervo.
Sardinia's "Emerald Coast" rivals the French Riviera as an undisputed playground for Europe's rich and famous. The glitzy town of Porto Cervo is where everything heats up. It is the most fashionable resort of the area, at the heart of the Costa Smeralda.
Every summer Italian and international 'celebrities' party hard, swim or lounge around on huge yachts in Porto Cervo and the other exclusive resorts of the Costa Smeralda. The gossip magazines love this place.
Costa Smeraldi is probably more famous for who the VIPs and beauties who visit the coastline, more than anything else. See if you can base yourself somewhere around here.
Make sure you visit San Pantaleo, a town in "Gallura", located in the interior part of Costa Smeralda. Here you will be surrounded by nature and beautiful mountain landscapes while being in the beautiful Costa Smeralda at the same time.
Some of the top beaches in the area worth checking out include: Baia Sardinia-Cala Battistoni, Cala dei Ginepri, Capriccioli, Liscia Ruja, La Celvia, Mannena, Pevero (grande e piccolo), Romazzino, Spiaggia del Principe, and Tanca Manna.
Great Places to Stay in Sardinia:
Staying on Sardinia for 7 nights should be on every sophisticated travellers must do list.
How to Get to Sardinia
Fly to Sardinia
Sardinia has three international airports: Alghero, Olbia and Cagliari.
Flights from mainland Italy are relatively cheap so this is a great way to get there.
You can also find direct flights to Sardinia from other countries. Direct flights are generally available from the UK, France, Germany, and Switzerland.
If you're wanting to stay near the north-eastern Emerald Coast, then Olbia or Alghero are the closest airports with Olbia being the most popular airport. Cagliari is on the southern side of the island.
If you're going there for the first time I recommend sticking to the north of the island for majority of your stay.
Ferry to Sardinia
Car ferries also connect to Sardinia from mainland Italy.
Sardinia is 354 kilometers away from Rome.
Ports in Italy with ferries that can take you to Sardinia include Civitavecchia (Rome's cruise port), Genoa, La Spezia (near the Cinque Terre) and Naples.
Ferry services are also available in Marseille and Nice in France, and Barcelona in Spain.
Allow 6-8 hours for the ferry from Rome, and 12-14 hours from Naples.
How to Get Around Sardinia
The best way to get around on Sardinia is to hire a car, either on the island, or in mainland Italy where you can take a hire car over on a ferry.
Definitely don't rely on public transport to get around in Sardinia.
You don't want to be waiting at bus stops or train stations. Forget about cabs. You want the freedom to go where you want, when you want, as soon as you want.
Consider hiring a scooter to get around at the very least.
The Best Time of Year to Visit Sardinia
May is ideal for hiking and cycling. This is when the weather is warming up. Visibility is excellent for diving, though on the downside the water is still a little bit cold.
June, July and August – It can get seriously hot, so it's not an ideal time for long physical outdoor activities like hiking and cycling.
August can get very hectic as school's out. This is when Italian families and international tourists swarm all over the Sardinian beaches. You will probably be surrounded by people everywhere you go.
Visiting Sardinia in September and even October can be better. The beaches are often still at their best, and the bonus is that you will experience a more serene vibe.
September is often suggested as being the best time to visit Sardinia. The only issue is that the day can become darker an hour or two earlier when compared to the months prior.
Visiting in May, June or September is more affordable and more comfortable for many tourists in any case.
Then again maybe you want to experience Sardinia when the island is at its peak. The parties would definitely be better at this time of year as well.
If you have checked off the Amalfi Coast and the Cinque Terre, then I think Sardinia should be next on your Italian hit list. If you're a real beach lover, then putting Sardinia at number 1 is probably the best way to go.
Pin it … Share it