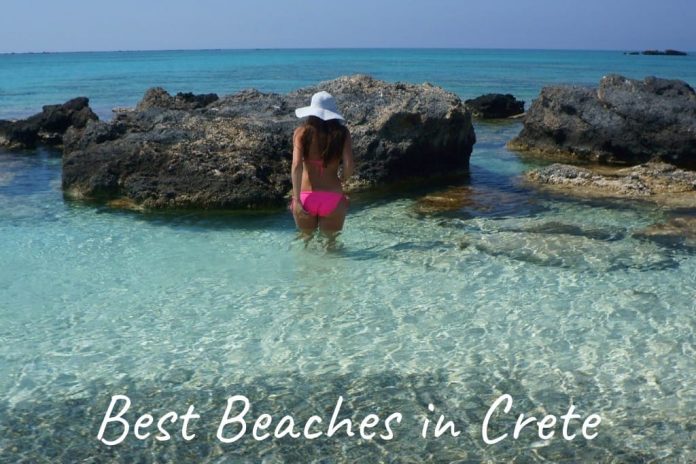 The best beaches in Crete are easy to find with this ultimate beach guide to Crete. I also provide interesting side trip ideas that are close by to a few of these awesome beaches.
In this post I have carefully selected the 12 best beaches in Crete, the very best beaches in Crete I would personally choose to visit, especially for the first time. I'll let you know about my own experience in Crete at the end of this post to avoid bias.
The spectacular coastline of Crete stretches 1,046km which means there are hundreds of beaches to choose from. Some of the best beaches in Crete however do have that extra wow factor.
Initially I tried to come up with a list of the 10 best beaches in Crete however I found it way too difficult. I just had to include a couple of extra beaches on this amazing Greek island.
Actually, twelve incredible beaches, like the twelve Olympians is a good number to have for the best beaches in Crete, after all this is the island of Zeus, one of the twelve Olympians.
Crete, the largest island in Greece, is thought to be the mythological birthplace of Zeus. It is also the destination where Zeus took Europa for a bit of fun.
If Crete was good enough for Zeus, king of the Gods, then no doubt visiting anyone of these 12 best beaches in Crete would be just as incredible.
The best beaches in Crete
There are four different regions in Crete to explore including Chania, Rethymnon, Heraklion and Lasithi.
Chania is the most popular region in Crete because it has the best beaches, which is a generally accepted fact.
Chania is a region in Crete as well as a city so don't get confused. Samaria Gorge, one of the top attractions in Crete is also located in the Chania region so it's a popular area of the island for good reason.
Best Beaches in Crete – Chania Region
If you're visiting Crete and you're only visiting the island for 7 days or less, then basing yourself in Chania is a very smart decision to make.
The best beaches in Crete from the Chania region considered were: Balos Lagoon, Domata Beach, Elafonissi Beach, Falassarna Beach, Fragokastelo Beach, Glika Nera, Kedrodasos Beach, Loutro, Plakias Beach, Stefanou and Stavros.
Out of these 11 great beaches in the Chania region, eight of them made it onto this list of 12 best beaches in Crete. That just goes to show you how great the beaches in Chania are. Let's see which fantastic beaches made the cut.
1. Balos Beach – Easily one the best beaches in Crete
Region: Chania
Balos Beach should be at the very top of your list of things to do in Crete if you've never been there before.
In addition to Balos Beach there's Balos Lagoon, a beautiful lagoon with shallow turquoise water formed between the Cape Gramvousa and the small cape Tigani.
Tigani is the shrub covered rocky islet that connects to the mainland and it is the picturesque background to many photos taken at Balos.
This beach paradise can be found in the far northwest corner of Crete, about 56km west of Chania and 17km northwest of Kissamos.
It is one of the most exotic beaches in the whole of Greece, with a tropical Caribbean feel due to its shallow turquoise waters and the islet of Tigani.
Day trips to Balos are extremely popular with tourists and the reason why is simple, the beach and lagoon look absolutely incredible!
The majority of visitors arrive by ferry from Kissamos port, however I strongly suggest arriving by land for the very first time. This means you'll hopefully see an awesome view like this one on arrival. The view must be absolutely incredible on a great day.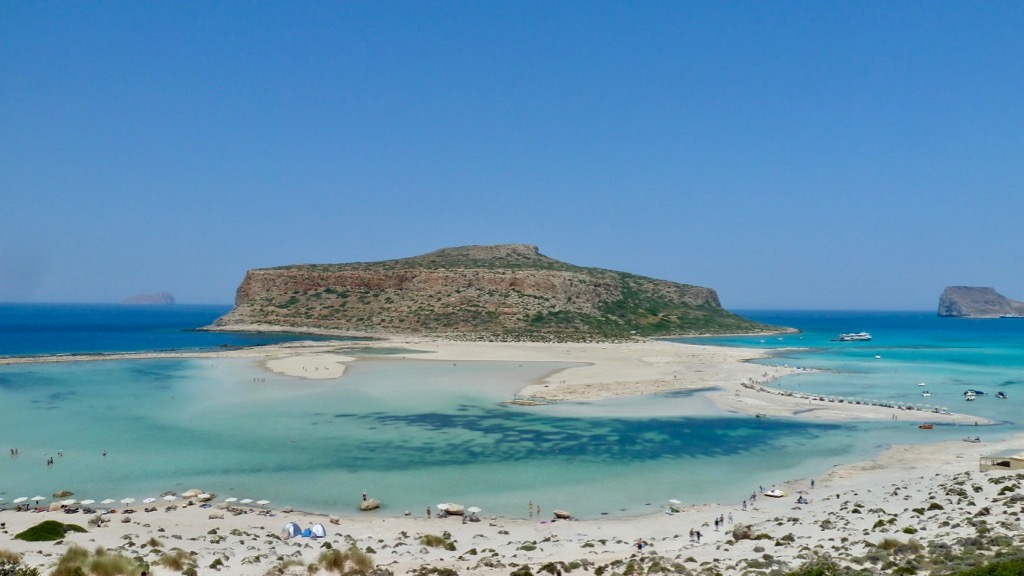 In case you arrive by boat, I'd still suggest walking up the mountain side to take in the same view. It will take about 20-30 minutes, but it would be so worth it for a few great photos.
Tigani – The small isle at one of the best beaches in Crete
Tigani, the small islet connected to the mainland looks a bit like a frying pan. In Greek, Tigani means frying pan. In my opinion though it looks more like a big cake.
Depending on how you're feeling you may want to climb up Tigani for another spectacular view of Balos and for another great photo opportunity. The small island doesn't have much to see apart from a small chapel, so it's best visited for the views alone.
You may have to walk through shallow water to get there, however sometimes you can get to the island by walking on the sandbars.
Balos beach and lagoon has to be one of the most Instagram-worthy places in the world.
Temple of Apollo – Agneion
About 2 km north of the Balos beach car park you'll find an archaeological site of the small ancient Roman city of Agneion.
It can be reached by walking along a path on the way to Cape Vouxa (the very tip of the peninsula of Gramvousa), which is closest to the small island of Agria Gramvousa (Wild Gramoussa). The ancient Roman city is supposedly situated on the east side of Cape Gramvousa (cape Korykon).
Long ago a temple dedicated to Apollo was found at Agneion as stated in ancient texts. Today, there is a picturesque chapel of Agios Sostis next to a sheltered bay with the same name. Sometimes I wonder if Christians are actually followers of the Greek Gods.
You can also see a huge cave believed to have been an ancient shipyard (Tarsanas) in the area. Tersanas Cave is next to the sea by the Gramvousa Peninsula on the northwest coast.  The cave has now risen above sea level after massive earthquakes and due to the African tectonic plate slowly moving beneath the Eurasian plate.
If you take the ferry from Kissamos to Balos you'll also have the chance to see the large cave on the way to Balos when cruising along the coastline.
Die-hard hikers might want to consider hiking all the way to Cape Vouxa on a great 5km path.
From Agneion it would require another 3km hike to Cape Vouxa. Overall though it would be a 10km round journey to the Balos parking area, which is why hardly anyone attempts it. I think I would just prefer to laze about Balos Lagoon.
Balos Lagoon
Balos Lagoon is formed by sandbars dependant on the sea level, wind and tides.
The sea closest to the shore is often sheltered from the wind which is why the water is often very shallow and warm in this part.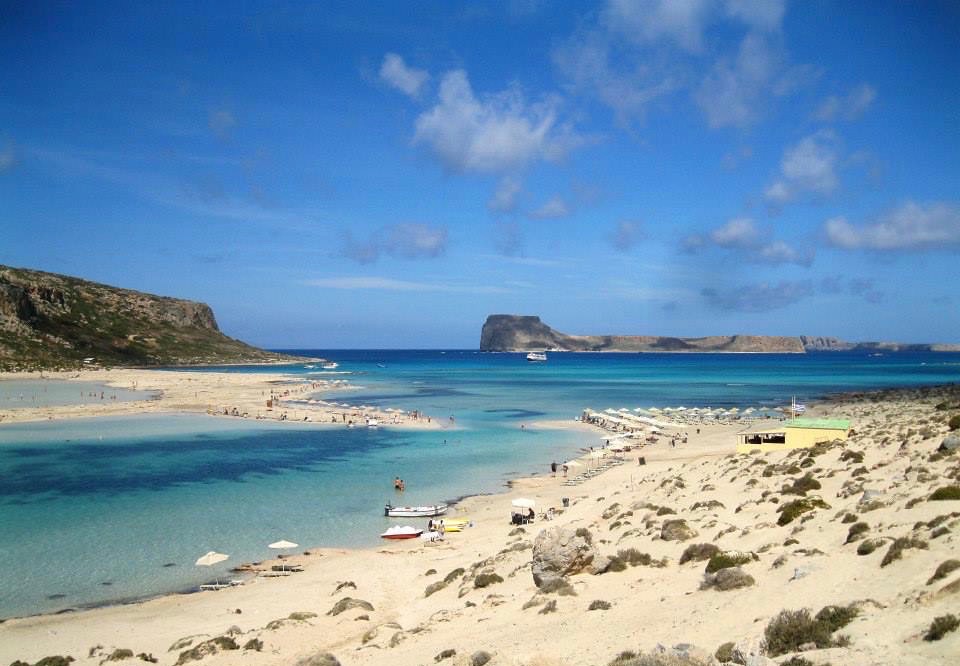 You might even come across sand at Balos with pinkish tones similar to the other top beach attraction in Crete, Elafonissi Beach (The Pink Beach).
Gramvousa – Boat visit to one of the best beaches in Crete
Another big highlight when visiting Balos is Gramvousa. This island can only be reached by boat, so it's a great reason to visit Balos by sea. Ferries leaving Kissamos will normally include Gramvous on the way to Balos.
Gramvousa is actually made up of two islands:
Imeri Gramvousa – Imeri means tame in Greek. This island is the popular tourist attraction where you can visit the remains of a Venetian castle built in 1579. Ferries stop here on the way to Balos from Kissamos. If someone talks about Gramvousa (aka "The Pirate Island") then this is normally the island they're referring to.
Agria Gramvousa – Agria means wild in Greek. This island is almost deserted except for the presence of a lighthouse.
Both uninhabited islands are reachable by boat from Kissamos. For an organised tour consider going on the From Chania: Gramvousa Island and Balos Bay Full-Day Tour.
Things to do on Gramvousa
Once you arrive at the island of Gramvousa you have the option of walking up to the Venetian castle situated 137m above sea level. The views at the top are supposed to be amazing. Many visitors consider it to be one of the best views in Crete.
A 20 minute walk will get you to the height of a Venetian castle. Don't spend all your time at the fort though, because you have the chance to go for a swim at the beach as well. The beach also has a cafe where you can buy a drink to refresh yourself. There's also a shipwreck of a 35-meter-long cargo boat nearby to go and have a look at.
When the ferry departs for Balos Lagoon, it takes about 20 minutes. You can expect to stay at Balos beach and lagoon for around 3 hours. This may be too short for your liking however other visitors may think it's too long. Whatever the case make sure you bring a hat and plenty of sunscreen because you might not be able to find an unoccupied umbrella.
Best time to visit Balos
The best time to visit Balos is around late June or late September. In July and August it can get way too crowded. In October the water may be a bit chilly, which is why I recommend September.
The other option if you're in Crete during peak season is to visit Balos Beach early in the morning before the big ferries start arriving. Most boats don't leave Kissamos before 10am and they will take at least an hour after that before they arrive in Balos. Ferries generally go to Gramvousa first so that means another hour on top of that before they arrive in Balos.
This means that Balos beach and lagoon could be paradise until about midday. After that you might find an extra 1200 or more people taking up valuable space, so get in early.
TripAdvisor Guidance for BALOS LAGOON: Around 75% of visitors think Balos Lagoon is excellent – less than 10% of visitors think Balos Lagoon is average or lower (a great sign) – windy weather can spoil the experience – arrive early because the tourist hordes will likely arrive a bit later on.
Best way to get to BALOS BEACH for the first time: 
Car: The big issue if you hire a car is that your car rental insurance agreement might not cover you for any damage when driving off road. They may even exclude the Balos dirt road track entirely. Double check before you go.
Going by car will take about 90 minutes from Chania. Balos is 56km west of Chania and 17km northwest of Kissamos. You will have to drive very slowly for the last part of the journey.
The last section of the drive can be quite nerve-racking for many drivers because it requires driving along a bumpy dirt road cut straight into the high cliffs. This part of the drive extends along the spectacular Cretan coast for 8km (half an hour). To access the road be prepared for a charge of 1-2 € per person (cash only).
The road to Balos can get very busy in July and August, so take care.
Finding a park in the Balos carpark especially in high season can be difficult. Check to see if cars are parked on the side of the road. If it looks as if you have to park on the side of the road, turn your car around so that you can easily leave when the time comes.
Some visitors are forced to park over 2 km away on a high road with a big drop off. That means you will have to be prepared to walk the extra distance if need be.
Even if you're able to park in the Balos carpark area, it still requires a 20 minute walk down to Balos Beach.
The biggest downside of going by car is that you won't get to visit the island of Imeri Gramvousa.
Other options to get to Balos Beach:
Organised Boat (ferry) Trip: The easiest way to get to Balos beach is to take the ferry from Kissamos. Ferries from Kissamos port generally depart daily from May to October.
Your stay at Balos however will be relatively short (3 hours) and it will likely involve being in the presence of loads of other eager tourists (possibly thousands of them) in high season.
Kissamos can be reached by bus from Chania, Rethymno, and even Heraklion. Buses from other towns will only get you so far as Kissamos, which is where all the ferries to Balos leave.
The beauty about going by ferry is that you get to step foot on Gramvousa as well.
My own advice: Be greedy and visit Balos Lagoon twice, the first time by land and the next time by sea.
Bus: No buses go direct to Balos Beach. Not sure why. Some say buses (minibuses) did operate in 2015 and 2016. I suppose it could change at any time.
Motorcycle: If you're able to ride a motorbike then this could be a great option.
Organised road tour: An organised jeep tour to Balos is another idea to think about.
Yacht or Private Charter: Sounds even better.
Bicycle: Why not ride a bike to Balos?
Walk or run to Balos: If you're ultra fit and crazy enough you might even want to walk or run to Balos. Walking takes about three hours from Kaliviani to Balos Lagoon via a 12km path.
Balos Beach – Where to Stay
Where to stay: It's much better to book a hotel close to the city of Chania, rather than places close to Balos. Being based around Chania gives you easy access to shops, restaurants and bars. It will also give you much more choice for night time outings. Kissamos can easily be reached from Chania by bus or car.
If you really want to walk to Balos then staying at Balos Hotel might be the way to go.
2. Elafonisi Beach – Best Beaches in Crete – No. 1 or 2
Region: Chania
In my opinion "the best beach of Crete" would have to be either Elafonisi or Balos, so the smartest thing to do is visit both of these spectacular beaches and judge them for yourself.
Elafonisi is located 76 kilometers southwest of Chania, in part of the Nature Protected Areas.
Elefanisi has been voted the most beautiful beach in Europe and the world. Every guide book about Crete will highly recommend visiting Elefonisi beach, so what's a beach lover supposed to do? You have to go.
This is definitely another magical beach to have at the top of your list of things to do in Crete.
Elafonissi – The Amazing Pink Beach of Crete
Many beach enthusiasts consider this beautiful beach to be the best beach in Crete, even better than Balos. The beach is extra famous for its pink sand.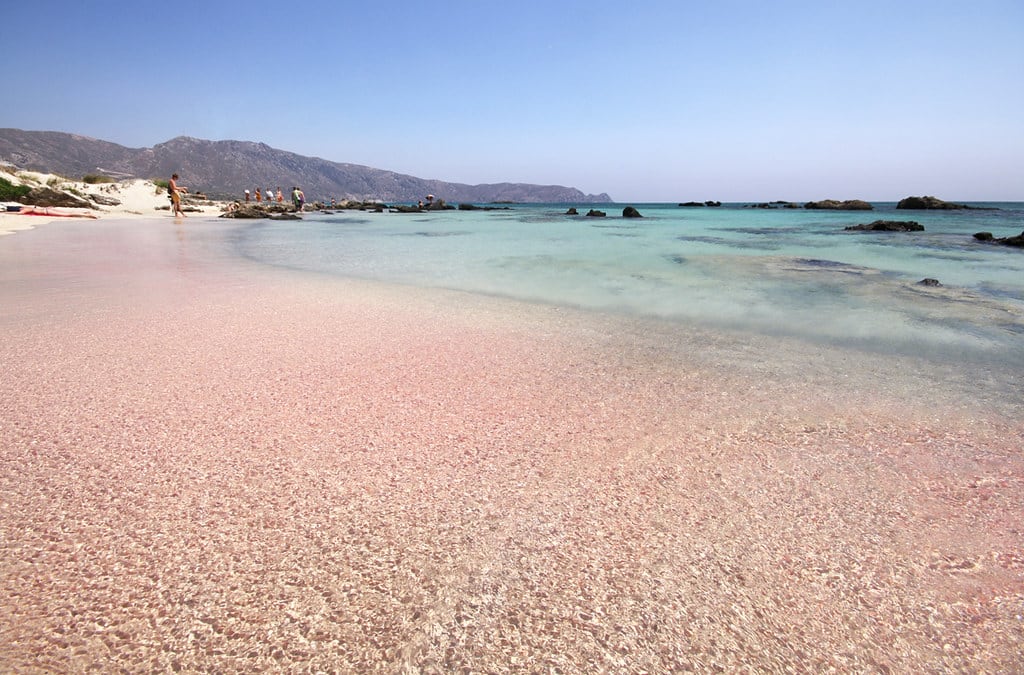 Trying to find the pink sand may require a bit of effort but it's something you have to do.
Some tourists find it difficult to see but hopefully in the right conditions "Pink Beach" will live up to its reputation.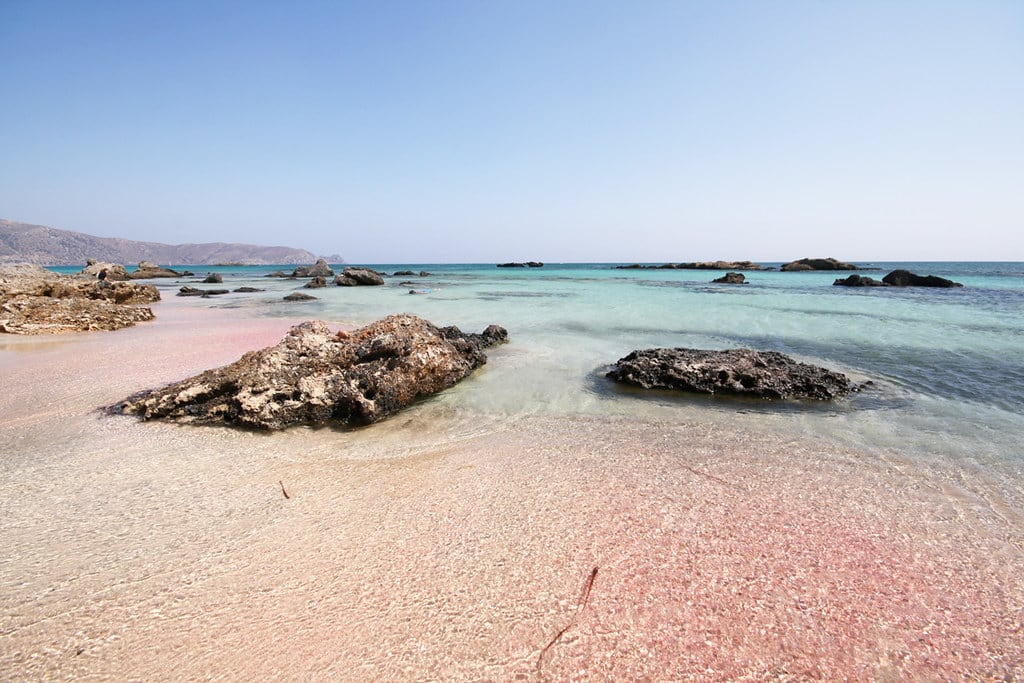 Elefonisi –  No wonder it's one of the best beaches in Crete
Part of this amazing tropical like paradise beach is organised with sun beds and umbrellas. You can also find your own sand to laze about.
Something like 2,000 to 3,000 visitors per day arrive during summer (July, August). It's probably on par with Balos in the popularity stakes.
If you're after an umbrella, try and arrive early to secure a spot, if that's what you want. There isn't that much natural shade in the area so I think an umbrella is something worth paying for. Otherwise bring your own as this beach is great for a full day out.
Elefonisi is the second largest beach in western Crete so there should be plenty of sand for everyone. Luckily, the thing that keeps the number of tourists down at this beach if anything is its isolated location.
Elefanisi is well organised with food and drink stalls, showers and other beach comforts. This beach is definitely worthy of a full day visit. It's a dream destination for many tourists who visit Crete.
The almost tropical waters are sheltered by a small islet of the same name. Elefonisi "deer island" is positioned only a couple hundred meters from the coast surrounded by a shallow lagoon. A sand spit connects the island to the mainland so you can easily walk to the small islet in ankle deep water, often without needing to get your feet wet.
How to get to ELAFONISI BEACH:
Car: To get to Elafonisi from Chania head to Kissamos and follow the signs until you reach Elafonisi. It's supposed to be a very scenic drive.
The beach is located in the southwest side of Crete, about 80 km from the city of Chania (up to 2 hrs) and from Heraklion (about 4 hours).
Prepare for single lane roads, unprotected slopes and possibly if you're extra lucky, goats on the road. The good news is that the beach can be reached on a paved road, so going by rental car is no worries.
The car parking situation can be bad, but if you're willing to walk it shouldn't be a problem.
If you want to avoid all of the hassles involved in driving you should think about going on an organised day trip to Elefonisi from Chania. It could even make economic sense once you consider all of the expenses involved in hiring a car.
Bus: One daily morning bus from Chania.
Boat trips: Depart from Paleóhora.
More advice on ELEFONISI BEACH:
TripAdvisor Guidance for ELEFONISI BEACH: About 70% of visitors think Elefonisi beach is excellent – less than 10% of visitors think Elefonisi is average or lower (a great sign) – you need to get there before 9am in August if you want to get a sunbed – can be very windy at times – food and drinks can be very expensive – expect hordes of tourists in summer.
3. Falasarna Beach – One of the best beaches in Crete for everyone
Region: Chania
Falasarna is a large sandy beach on the western side of Crete.
It's a series of five beaches divided by sand dunes, with the main and largest sandy beach (Pachia Ammos) about 1 km long, while another beach is 800m long. All up it extends over 3km so there is space for everyone.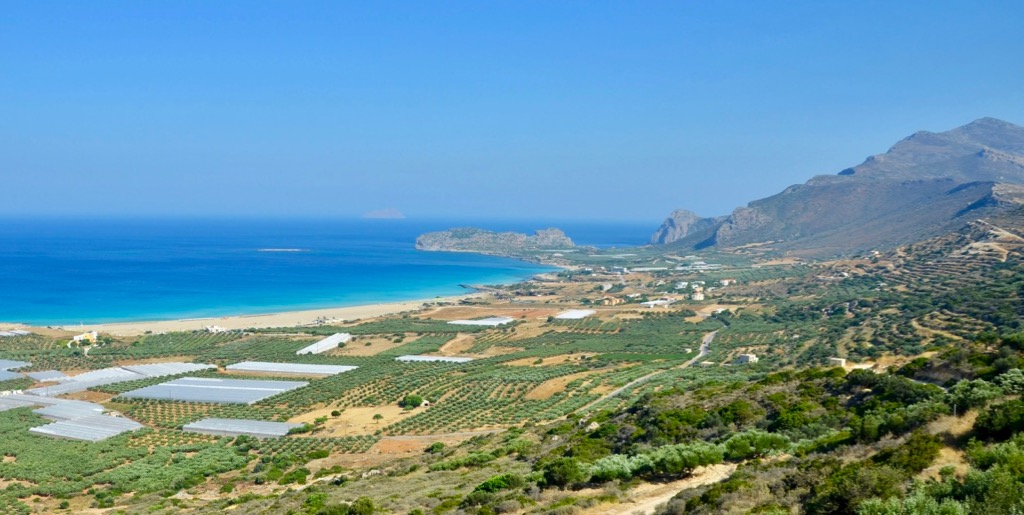 This great beach is perfect for everyone. There are sunbeds and umbrellas, tavernas serving delicious food while keeping you refreshed with cold drinks, and plenty of water sport activities.
This is one of the best places to go windsurfing in Crete as the wind blows most days. A beach volley court is also available on the beach for anyone interested.
The fabulous beach is situated on the northwest coast of Crete, 59 kilometers west of Chania and 17 kilometers west of Kissamos.
Falasarna – one the best beaches in Crete
This beach has won numerous awards such as the best beach in Greece, best beach in Crete and one of the ten best in Europe. The golden sand and crystal clear water make Falassarna a winner and the surrounding mountains give the beach extra appeal.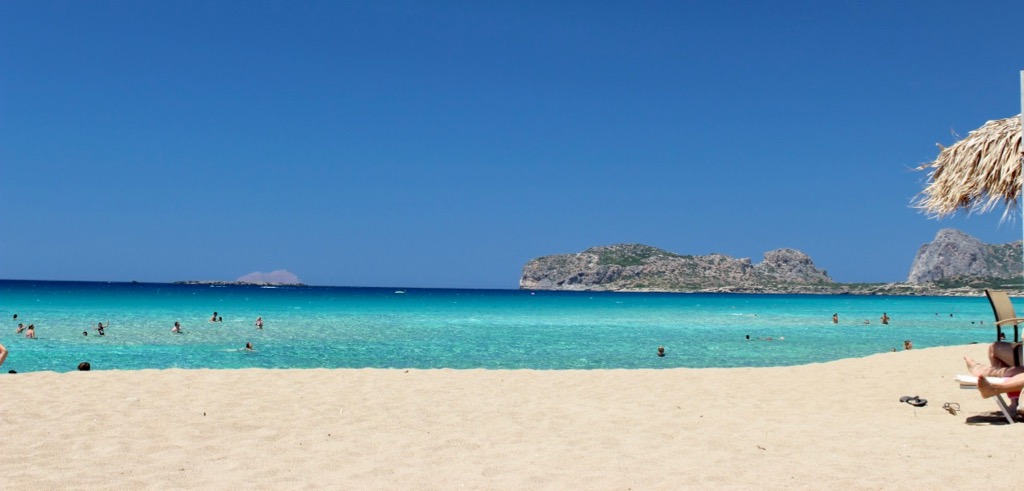 Above the beach you can visit the archaeological site of Ancient Falassarna, perfect for anyone needing their historical fix.
If you're into partying, Falassarna regularly hosts summer beach parties during the evenings, which attract thousands of young people from the surrounding area.
In addition to all of this, the sunset in Falasarna is supposed to be splendid as the sun goes down into the sea.
Falassarna beach is large enough to give everyone enough space to enjoy themselves. A great beach like this has to be right up there when considering the best beaches in Crete to visit. Local's love it. You won't want to miss it.
4. Frangokastello – Beach with Castle in the background
Region: Chania
The amazing beach has a Venetian castle right behind it, which was once used to guard the town against pirates.
The beauty about visiting the beach at Frangokastello is that you can explore the castle before or after a great day at the beach.
A mysterious phenomenon known as "Drosoulites" or "dew shadows" is linked to the castle of Frangokastello.
Supposedly every year around May, close to dawn, there have been sightings of ghostly shadows walking or riding in the area. They're supposed to be dead warriors from a fierce battle in 1828 to protect the castle. Sadly no one has been able to film it yet. Could you be the one?
5. Gyka Nera – Sweet Water Beach
Region: Chania
Glyka Nera beach can be found on the south coast of Crete. It also goes by the name "sweet water beach" because of fresh water springs that flow through the pebbled beach.
As a result of the fresh water there are trees growing on sweet water beach. You might also see some Cretan goats coming down from the steep hill to drink the water.
The cliffs behind Glyka Nera, rise up hundreds οf meters.
Glyka Nera beach can only be reached on foot or by boat. Hiking trails to the beach can be accessed from both Loutro (60 minutes) or Chora Sfakion (30 minutes), via a rough hiking trail. If you love adventure and a bit of danger then this is a great hike to go on.
Boat taxis can also drop you off at the tavern at Glyka Nera beach from Loutro or Chora Sfakion. Boats from Chora Sfakia or Loutro can drop you off within 5-10 minutes.
This spectacular beach is somewhat isolated which is why it's also popular with "naturists" so don't be surprised if you see a bit of nudity at some point.
The small tavern resting on a large rock will take care of your hunger and thirst. They also offer sun beds and umbrellas to rent.
6. Plakias Beach
Region: Chania
Plakias can be found on the southern side of Crete about 40km from Rethymno.
You'll find a large sandy beach over 1km long in front of the seaside village.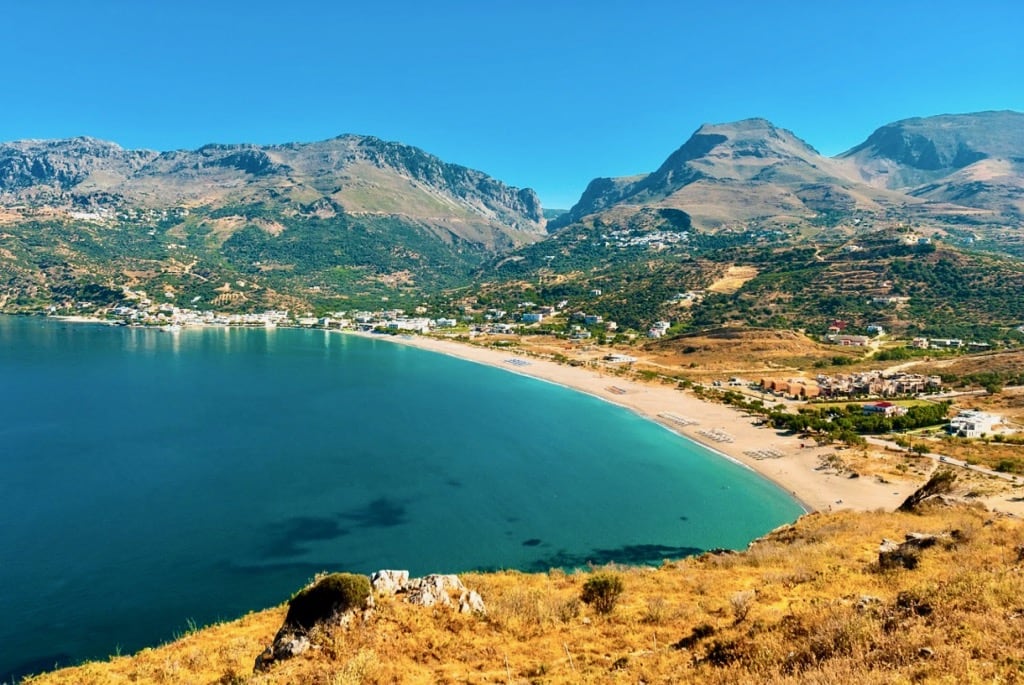 The majority of the beach is popular with families, however this is also one of the most famous nudist beaches in Crete. Thankfully for families and kids, the southeastern end of the beach, near the Kakomouri headland, is the only part of the beach designated to naturalists. The majority of the beach is enjoyed by regular beach goers.
Sunbeds and umbrellas can be found on part of the beach. A few fish taverns will be able to satisfy your appetite.
Region: Chania
Seitan Limania (i.e. Satan harbours), also known as Stefanou beach is one of Crete's hidden gems.
You can find it in the northern coastline of Chania just 20 km away from Chania town, in the east side of cape Akrotiri.
This beach is very popular with younger sunbathers. It offers a different beach experience because it is surrounded by a rocky crevice.
The beach was once only accessible by boat but now you can walk down a steep rocky path leading onto the magical beach. The walk down to the beach will take about 15 minutes.
It is associated with Satan but don't let that stop you from enjoying the place.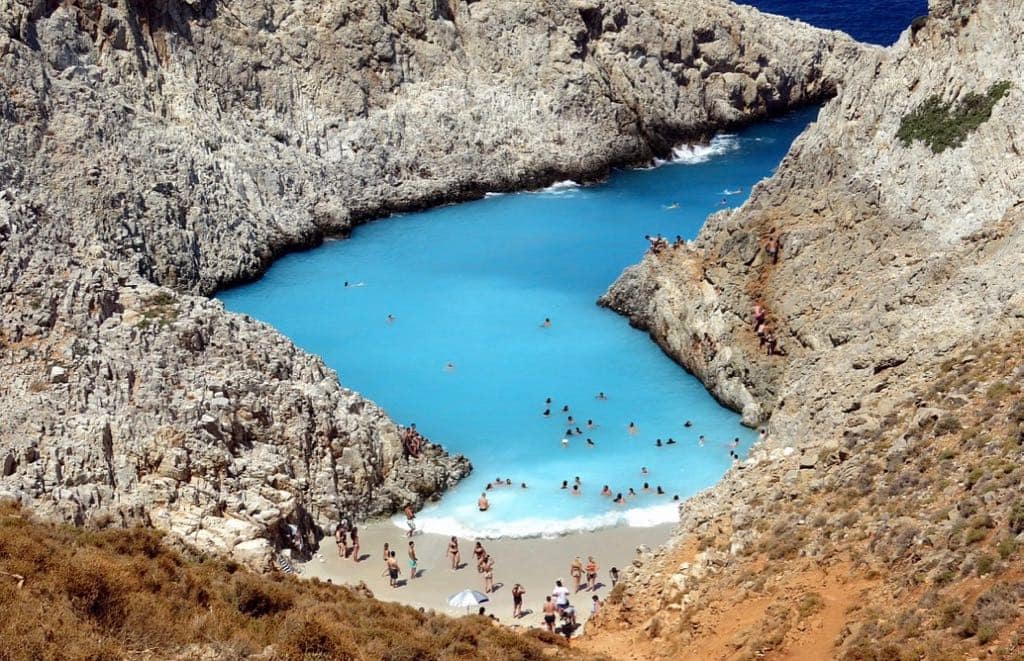 The Devils' realm
During summer this Cretan beach is very popular. Here we have a goat horned devil (friend of Pan) wandering around the beach possibly looking for some food.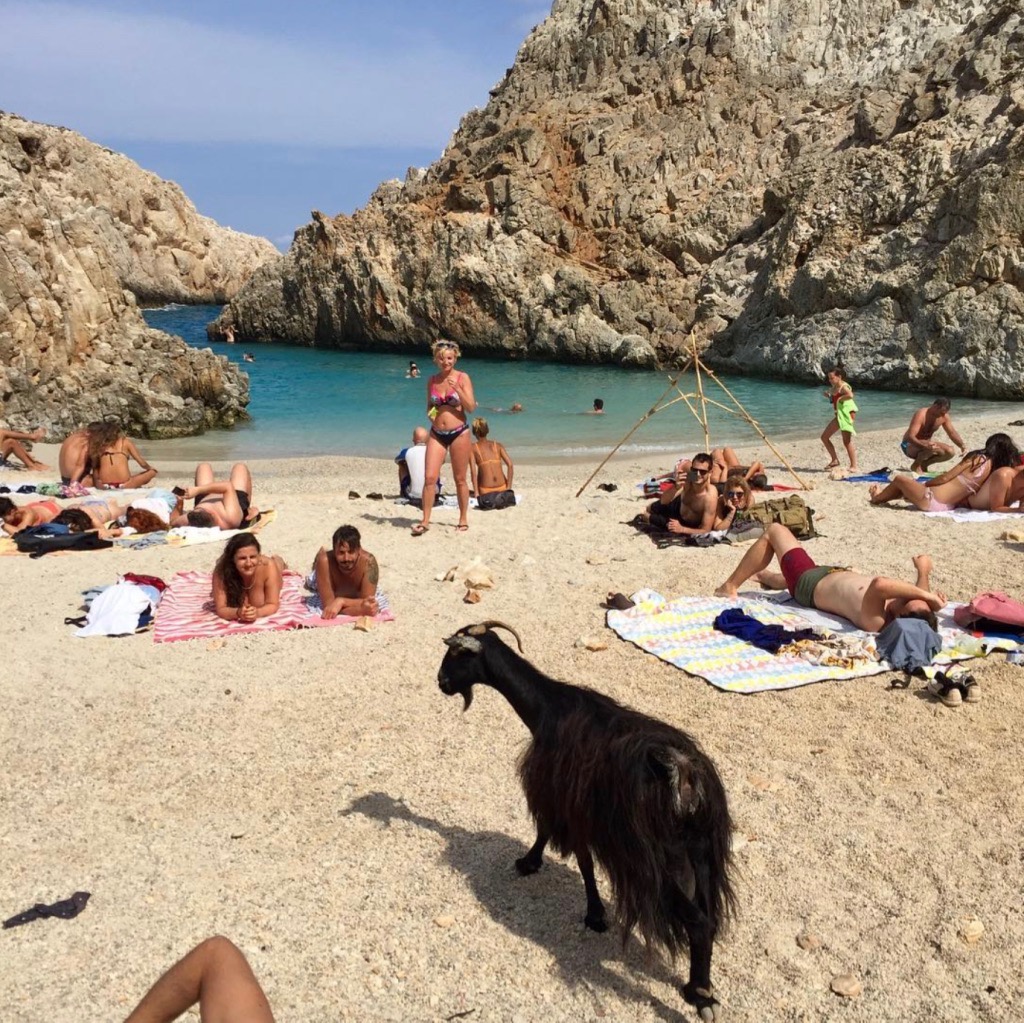 Instagram: @giorgio_morandi_ga
Make sure you bring your own food and drinks as nothing is available on the beach. You definitely won't feel like climbing back up the steep hill unless it is time to leave.
For most of the day there is no shadow, so you'll need lots of sunscreen, a hat and maybe your own umbrella.
If it gets too crowded you can always climb the rocks on the side to get a bit of lone time. The rocks are also great for jumping off.
You will arrive to Seitan Limania from the village of Hordaki, following an asphalt road to its end. In the past it was hard to reach, but since the asphalt road it has become rather crowded in peak season.
Paradise or Satan Harbours (aka the Greek Gods) awaits you.
8. Stavros Beach – Zorba's Beach – Popular with Greeks
Region: Chania
Stavros Beach is a beautiful seaside village with a selection of cafes, bars, restaurants and hotels, located on the northern side of Akrotiri, east of Chania.
Stavros Beach has two beaches to explore: one cove right in the corner of the bay underneath the mountain, and another beach a little further around the point to the west.
The shallow waters of the cove are a great place for young children as the water is calm and shallow.
This is where the iconic dance scene on the beach from the movie "Zorba the Greek" was filmed. Anthony Quinn and the English guy are seen dancing on the beach against the backdrop of the picturesque Stavros Mountain, the camel-shaped mountain rising opposite the harbour.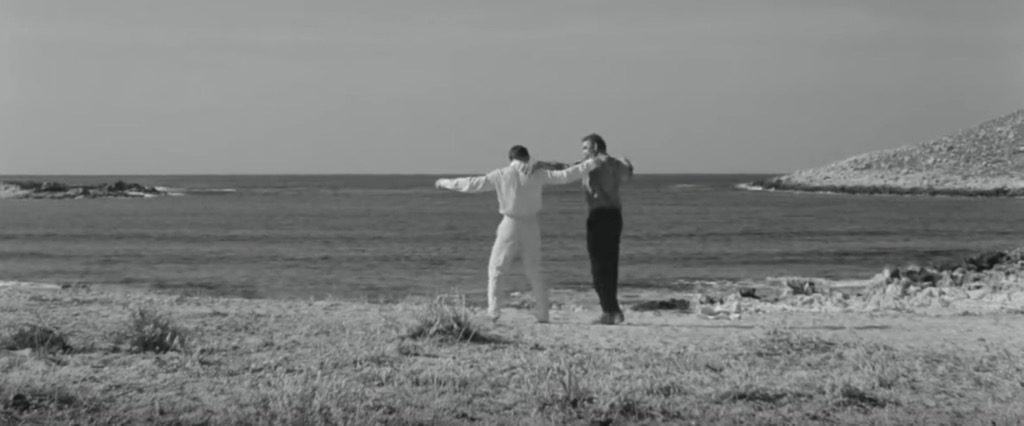 At some stage you might want to climb Mount Vardies, which locals refer to as the mountain of Stavros. You can see a glimpse of the mountain starting to rise from the ocean in the scene above on the right.
Cave "Lera or Pan"
Cave "Lera or Pan" is the big attraction on the west slopes of Mount Vardies (Stavros). It can be found at an altitude of 70m, opposite Stavros lagoon. Hiking to the cave offers great views of Stavros Beaches and coves to the north, all the way across to Chania town.
The cave consists of a hall and four rooms with chiselled cavities, thought to have been a place for statues. Ancient engraved inscriptions from classical times suggest that Pan and the Nymphs were worshipped here.
Top 4 best beaches in Crete outside of Chania
So far I have only shown you 8 beaches in the Chania region. That leaves only 4 beaches from all the three other regions combined to have made it into this list of 12 best beaches in Crete, and here they are:
Best beaches in Crete – Rethymnon region
The best beach in Rethymnon region has to be Preveli Beach.
9. Preveli Beach – Best beach in Crete near Rethymno
Region: Rethymno
Preveli beach, also known as Palm Beach is located on the south coast of Crete.
Preveli is the second largest palm beach in Crete after Vai, which gives it that exotic appeal.
The Great River (Megas Potamos) flows through Preveli and feeds a rare species of palm trees that grow here.
Before the Great River flows to the sea, it also forms a small lake where you can go for a swim. The only issue is that the water is a bit cooler here and also around the mouth of the river.
A walk through the palm forrest is something you have you do at some stage. The palm trees are Phoenix theophrastii and are unique to Crete. The palms grow alongside the river and into a canyon.
In the 60s, 70s and even early 80s, Preveli was one of the hippy centres of Crete. It attracted hundreds of alternative lifestyle seekers. Hippies slept on the beach and among the palm trees until the authorities eventually put an end to their happy days.
This beach can get quite busy during summer, nevertheless, you won't want to miss it.
Interestingly, fossils and bones of giant tortoises, crocodiles, wild boars, antelopes, squirrels, and many other animals have been discovered in the area of the Preveli palm beach.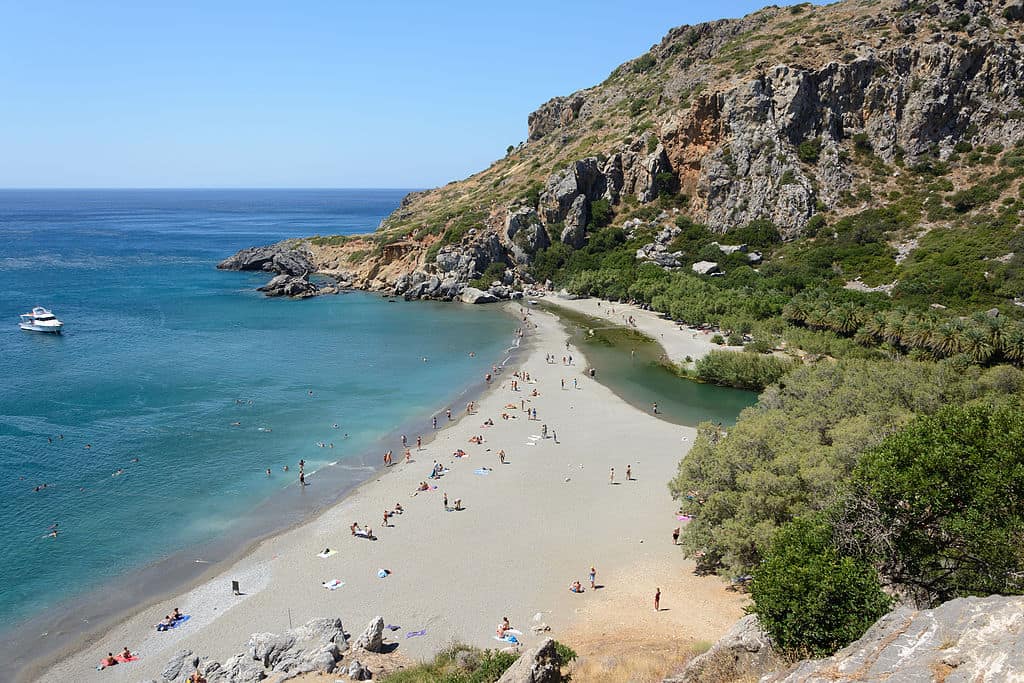 How to get to PREVELI BEACH:
This beach is about 43km south of Rethymnon town and 10km east of Plakias. You can reach it by car and foot.
Alternatively, you can take a boat from Plakias or Agia Galini, though only in season. The crossing from Plakias takes about 40 minutes.
A great way to see it for the first time is to go on an adventurous road trip that leads to a large parking lot above Preveli beach. You will have to pay a small fee to park there. Another way to get there is by bus or taxi.
After that you can take the 350 rock-carved stairs down to the beach (30 minutes) while admiring the magnificent views along the way.
You can also take a dusty road before the monastery Kato Preveli at the stone bridge. Turn left and make you way to "Dionyssos" tavern and rooms to let. Park your car there and walk over the hill to Preveli beach (20 minute walk).
Top Tip: Ammoudi lies almost next to Preveli, and the two bays are connected by a path (10 minutes).
Best beaches in Crete – Lassithi region
The best beach in Lassithi region has to be Vai Beach.
10. Vai Beach – The famous beach backed by Palm Trees 
Region: Lassithi
This is one of the most popular beaches in Crete all because of the palms. Vai, meaning palm in Greek.
Vai was one of Greece's hidden gems until the early 1970s. It rose to fame after the popular Mars chocolate commercial for Bounty chocolate with coconut was filmed here.
The TV commercial was a bit misleading because it had coconuts falling from the trees, however Vai palms only produce dates. Can you believe this, they even attached imitation coconuts to the trees to avoid disappointing tourists at some point in time.
Hippies and tourists flocked to this Cretan beach paradise, and it's still a popular tourist destination to this day.
Legend has it that either Phoenician traders, soldiers or pirates dropped seeds here around 2,000-3,000 years ago. No one really knows for sure. Maybe the whole island was once covered in them.
Vai – The largest Palm Forrest in Europe
The special thing about this beach is that it's surrounded by the largest palm forest in Europe, with around 5,000 palm trees. This gives the beach a real Caribbean style tropical feel about it.
The summer season brings large crowds to Vai Beach as it does with all of the best beaches in Crete. During summer in Crete you should expect to be surrounded by loads of other like minded sunbathers.
The beauty about Vai is that crowds can start to disappear in the late afternoon, so it may be worthwhile hanging around to admire the serene sunset. It's worth climbing up the rocks for a wonderful view over the bay as well.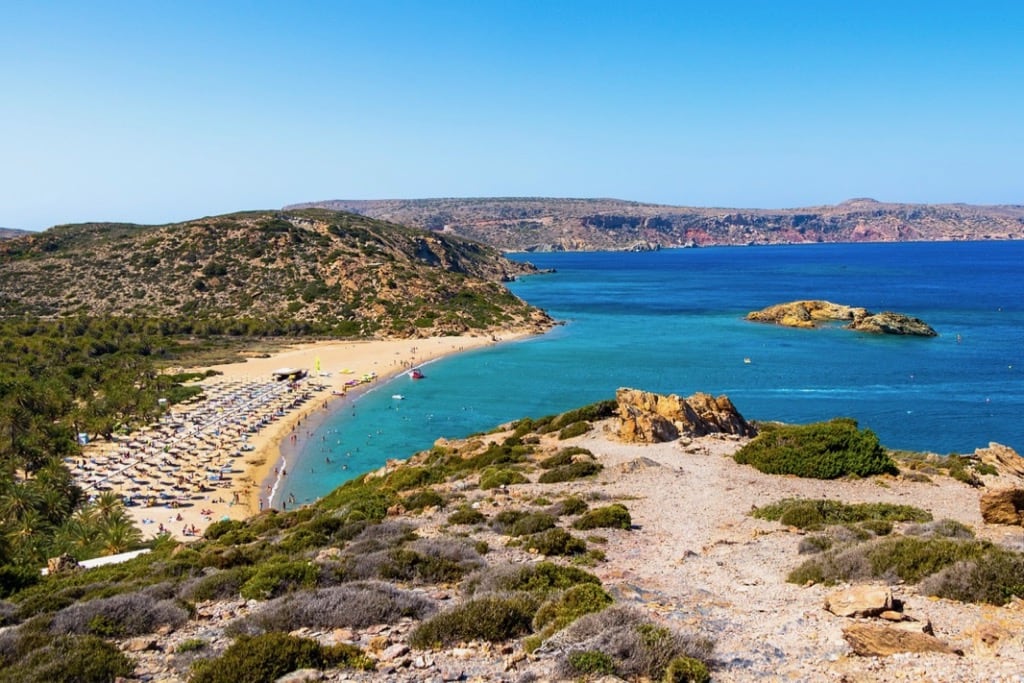 In the past, Vai was a free camping site but now camping is prohibited. The palm forest is in a protected area and closed to the public at night.
Via Beach is an exotic destination and one of the most unique beaches in the entire Mediterranean.
I'm sure you will want to visit Via Beach if you're in Crete. It has to be one of the most beautiful beaches in Crete. If there's a paradise in Crete then this beach would have to be the best bet. Palm trees as most of us know are symbolic of paradise.
Spend the full day at Vai and enjoy the beautiful scenery and crystal clear waters. Snorkelling enthusiasts will be happy to know that there is plenty of marine life.
How to get to VAI BEACH:
Vai Beach is located on the very eastern part of Crete near the towns of Sitia and Palekastro, in the region of Lassithi.
You can get there by car, or take a bus from Chania or Heraklion to the popular north coast resort of Sitia. The beautiful beach of Vai is located 25 km east of Sitia.
From Sitia, public buses run several times daily to Vai. It's a 2-minute stroll to the beach from Vai's car park.
11. Almyros Beach – Best Beach in Agios Nikolaos
Region: Lassithi
Almyros Beach is one of the best beaches of Agios Nikolaos.
There are 5 fantastic beaches to choose from, however the pick of the bunch is Almyros Beach. It's a short easy walk from town on a nice path and is perfect for families and everyone really who want all the amenities of a top beach.
While you're at Agios Nikolaos, make sure you check out the statue of Zeus (disguised as a bull) with Europa sitting on his back.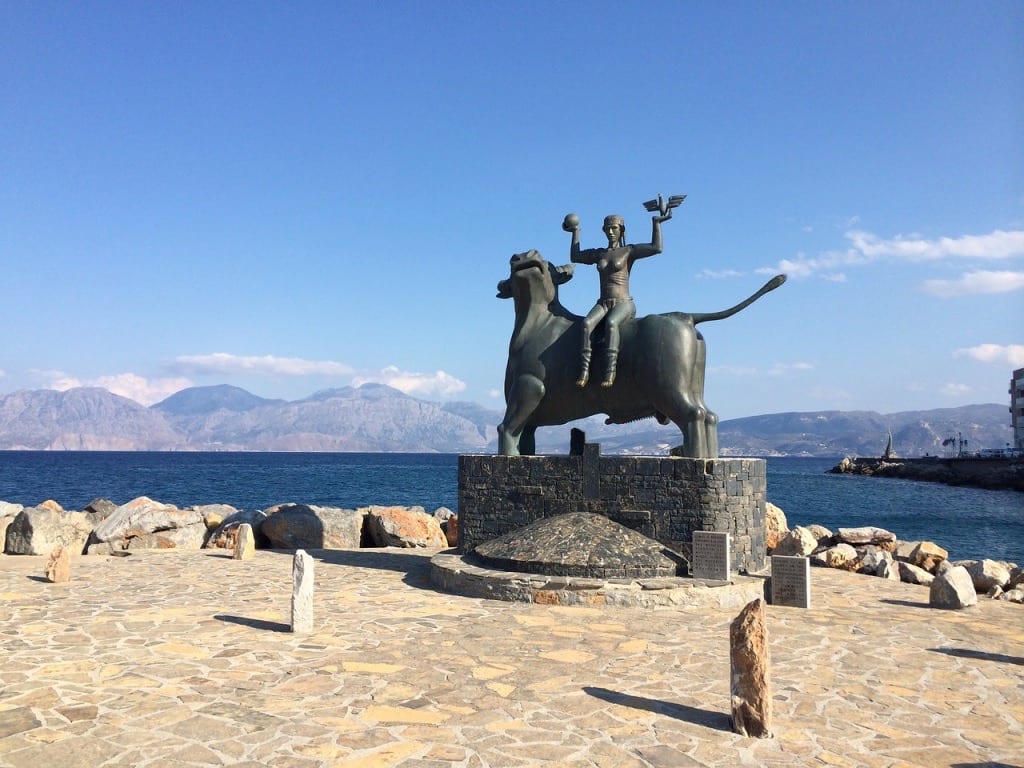 Best beaches in Crete – Heraklion region
That leaves us with only one more region in Crete, the Heraklion region. This beach is legendary.
12. Matala Beach – Zeus Beach
Matala Beach is believed to be the place where Zeus swam ashore in the guise of a white bull with the princess, Europa.
This destination became famous in the 1960s and 1970s as a hippie paradise. Thousands of hippies arrived during this time and many of them simply moved into the caves above the beach to enjoy the simple life.
Hippies often gave the two finger "V" victory sign, accompanied by the words "Peace Man". Janis Joplin and Bob Dylan even visited Matala Beach.
Today, the beach is suitable for everyone including families. At the back of the beach, numerous Tamarisk trees are scattered around the sand, for when you want some shade.
The town is very touristy these days with plenty of cafes, bars, hotels and souvenir shops to choose from. Nightlife is one of the other big attractions of Matala.
Matala, the tiny beach town surrounding the small cove is the perfect place to relax and have a delicious seafood lunch or dinner while thinking about the exploits of Zeus.
You can find it on the southern shores of central Crete.
Caves of Matala
The most notable feature of Matala beach is the large cave that sits to the north of the bay, where you can often see divers jumping into the deep waters below.
A scene from the classic movie Summer Lovers was also filmed here.
There are also a large number of underwater caves which show evidence of being ancient dwellings and residences as many of them have rooms, stairs and windows.
This is probably why Matala is a popular place to go scuba diving and snorkelling. I wonder what else is down there?
A small entrance fee is now charged to gain access to the caves as it is classed as an archaeological site.
Be sure to stay for the amazing sunset!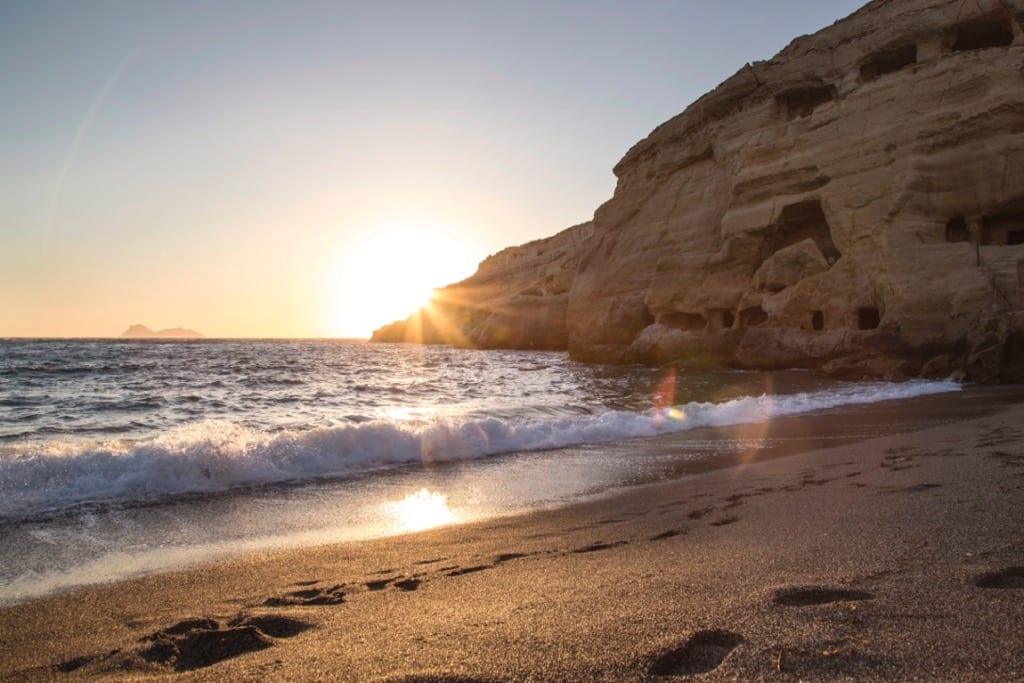 How to get to MATALA BEACH:
This little village is located about 70 kilometers from Heraklion city. Matala beach is located 68km southwest of Heraklion, between the plain of Messara and Asterousia Mountains.
Matala Beach would have to be the most famous beach of Heraklion. It's associated with Zeus so I can fully understand why.
Map of Crete showing you the 12 Best Beaches in Crete (Beaches are shown in light blue text)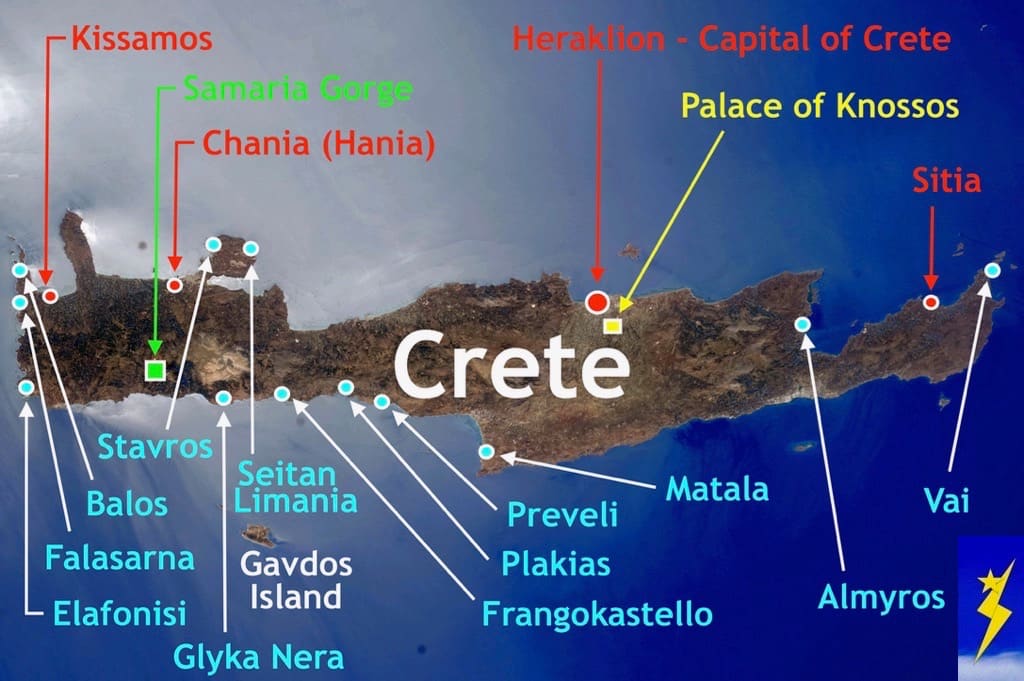 The Best Time to Visit Crete
The best time to visit Crete is either in high season or shoulder season. This is because the weather is so much better at this time.
Shoulder season can offer some great advantages and it could end up saving you a lot of money. The beaches will be less packed as well which is another good bonus.
HIGH SEASON
July to early September – This is the busiest period of the year. Expect higher prices and more tourists. The weather is great during this period. Nightlife in Crete is at its best. Hard to resist.
SHOULDER SEASON
May, June, late September and early October – Still a great time to visit with less tourists around. Expect good warm weather but not as hot as in summer.
LOW SEASON
Late October to April – The beaches are a bit too chilly at this time. Rain and low temperatures could spoil your vacation as winter set in. Can be too quiet.
The Most Beautiful Beaches of Crete
If you plan on visiting any of these 12 best beaches in Crete, I'm sure you will also discover a few other great looking beaches to spend some time at.
I have stepped foot on Crete very briefly, in fact so briefly that I didn't have time to do anything apart from visit a water fountain. Can you guess what I did?
Pin it … Share it