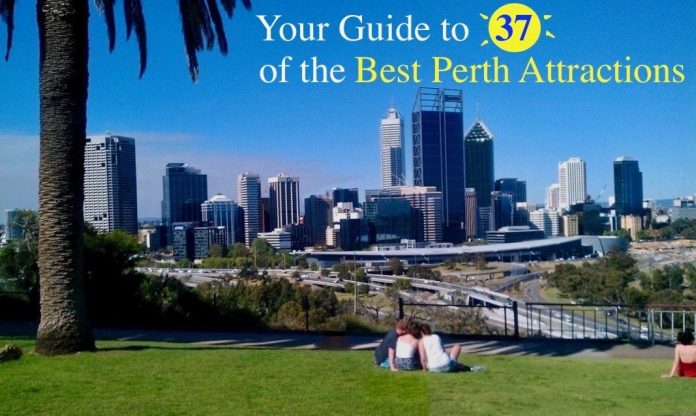 If you want to know about the best things to do in Perth you've come to the right place.
Perth is a fantastic city located on the west coast of Australia, which also happens to be the capital city of Western Australia.
It is often considered the most isolated city in the world because neighbouring Asian countries are closer to it than other Australian capital cities.
I have visited Perth twice and wanted to know what other great attractions I may have missed so I had to do a bit of research to make this list of the best Perth attractions.
The best attractions in Perth
You may be wondering whether I have personally visited the majority of the Perth's best attractions or did I miss out? Well, I can only remember visiting 8 of these 37 best attractions in Perth so I guess I need to go back. It's woeful when I think about it.
Never mind, at least I did two super-incredible things during my time in Perth which included a day trip to Rottnest Island plus a relaxing stroll through Kings Park. It doesn't get much better than that.
That said I wish I had known about a few more of these popular Perth attractions and hidden gems when I visited Perth. I definitely would have tried to squeeze in a few more sights if I had known about them.
If you're only staying in Perth for a only short time then this guide to the best Perth attractions will be of great assistance.
The toughest part after reading this will be trying to figure out what you should do, and it won't be easy in my opinion.
I also uncover some of the best day trips from Perth so don't think for a second that you'll get bored in Perth if you decide to visit for more than a few days.
This list of things to do in Perth shows you 37 of the best attractions which means that theoretically it could keep you busy for 37 days if you take your time at each attraction. That's way too long for most tourists but 5-7 days in Perth is perfect in my opinion.
Obviously some places will peak your interest more so than others so let's take a look and see what excites you the most.
The 37 Best Things to Do in Perth
If you only get to experience two things in Perth my top two recommendations would be that you have to visit Kings Park and Rottnest Island, especially for first-time visitors to Perth. I have great memories of both of these wonderful attractions in Perth.
I have visited Perth twice on seperate occasions and I can honestly say that you will love the place. Believe me Rottnest Island alone will make your trip to Perth very worthwhile.
Now let's take a closer look at the best things to do in Perth and the top attractions starting with who else but a Greek and Roman God!
1. King Neptune Statue, God of the Sea
Neptune can be seen at the abandoned Atlantis Marine Park in Two Rocks. This hyped up water theme park was built in 1981 but ended up closing less than a decade later in 1990 due to financial difficulty.
It's what you might expect when you name something Atlantis, the name given to the lost island from Greek mythology.
Incredibly, the Neptune statue has somehow survived proving to everyone that Atlantis did exist at one time. There are always doubters but how can you doubt something that is still there.
The water park where Neptune resided was part of an ambitious plan to build a resort and residential area called Yanchep Sun City, which was supposed to be satellite city near Perth.
At the time there were grand plans of turning Atlantis into a park that would rival the likes of Disneyland. It was supposed to be the equivalent of the glitzy Gold Coast in Queensland with its own popular theme parks.
The America's Cup
The venture was orchestrated by the tycoon Alan Bond who played an instrumental part in winning the America's Cup Yacht Race for Australia in September 1983.
It was the yacht named Australia II that won the America's Cup for the Royal Perth Yacht Club.
Australia's historic victory saw the oldest sporting trophy in the world make its way to Australia after America had previously successfully defended the cup over a period of 132 years.
Maybe Alan Bond thought he owed the God of the sea a debt of gratitude for the favourable winds.
The abandoned theme park in Two Rocks is still home to this colossal statue of Neptune (Poseidon).
The ginormous statue was located at the entrance of the theme park and now Neptune is the last God standing which is incredible feat when you think about it.
It was left derelict with graffiti for more than two decades before the Neptune sculpture reopened to the public in 2015 after being restored.
Two Rock's Neptune sculpture was heritage listed by the Western Australian Heritage Council in 2006.
Old Atlantis Marine Park
Visitors could swim in the pools and ride pedal boats in the waters. The star attractions back then were a pod of seven bottlenose dolphins trained to entertain huge crowds.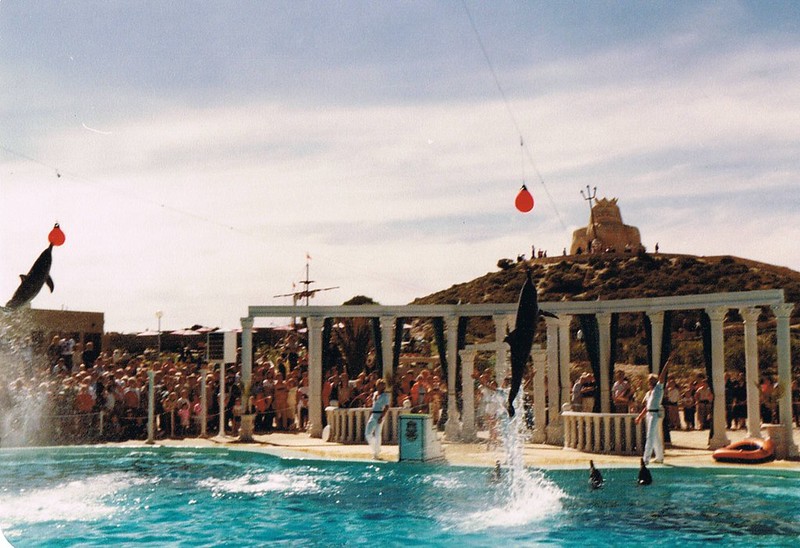 Neptune, God of the sea overlooked the dolphin performances which at the time attracted thousands of visitors to Atlantis. You can see why.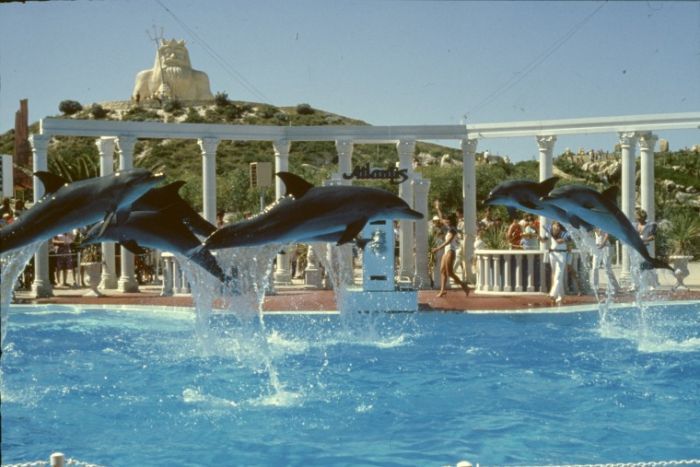 The Atlantis marine park was a huge success initially but over time it did lose money.
If you're in Two Rocks at the right time of year, you may even have a chance to visit the King Neptune Christmas Festival which runs at the Two Rocks Shopping Centre on Sunday.
There you have it, a Greek God with his very own Christmas festival!
A few other old statues are also scattered around the grounds including broken walls and concrete pools. For years it was a wasteland, but you can never be sure how things will turn out.
Go for a drive and check it out. I don't think Neptune will disappear any time soon.
2. Fremantle – Little Creatures Brewery
Fremantle is a famous port city in Australia located about 22km southwest of Perth, approximately 30 minutes away.
You can reach it either by going on a scenic ferry ride along the Swan River, or alternatively by train or car.
The big attraction here for beer drinkers and foodies alike is Little Creatures Brewery.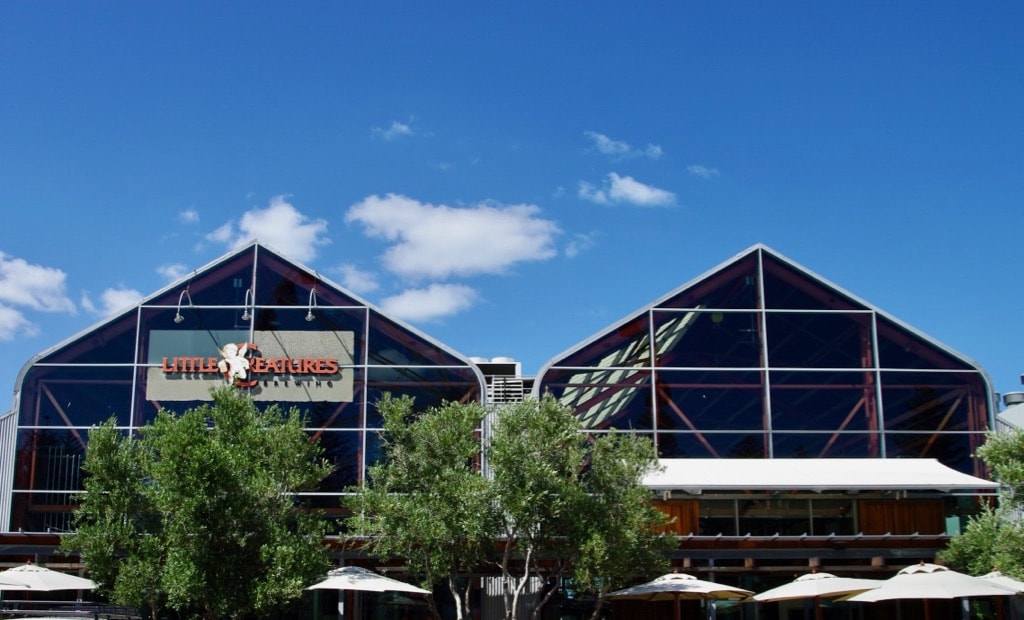 This popular craft microbrewery has a little cupid as their brand identity, which is more of a devil cupid in my opinion.
Go for a drink and a delicious meal at Little Creatures. You can choose from dishes like tapas style starters, pizza and fish & chips.
If you're interested you can also go on a free tour of the Little Creatures Brewery.
I have visited Little Creatures and was very impressed by the establishment. It has that 'beautiful people' vibe about it as well.
The winged Cupid brand of Little Creatures almost looks devilish. I'm not sure what the real Cupid would think about it.
More Places of Interest in Fremantle
You will find several museums to visit in the area including the WA Shipwrecks Museum, Maritime Museum, the Army Museum of Western Australia, the Round House and the old Fremantle Gaol.
The Round House is the oldest standing building of Australia, and was established in 1831. It initially held convicted criminals and was later used as a storage facility for Fremantle ports.
The old Fremantle Prison was originally built for convicts and now offers an interesting two hour 'Tunnel Tour' through spooky labyrinth like tunnels. I don't think this was part of any great escape plan but who knows.
Some fascinating and grisly tales of convict and criminal history can be picked up on a guided tour of the gaol.
Most tourists rate a visit to the old Fremantle gaol which is Perth's only world heritage-listed building very highly. There's even a gift centre to browse through. For an even more eerie experience visit the gaol after dusk.
Fremantle or 'Freo' as the place is affectionately known is home to a range of great pubs, clubs, cafes and music venues.
It's a fantastic place to enjoy some fish and chips. Little Creatures is awesome for dining out but you also have the option of Fisherman's Wharf with a variety of seafood eateries hugging the quayside.
A Visit to the Fremantle markets (Fiday-Sunday) is also something that may interest you.
Fremantle has a hop-on hop-off tram tour that travels past all the main sites including the prison, markets and the docks which sounds like it would be fun.
Interesting fact: Bon Scott, the original lead singer of legendary Aussie rock group AC/DC, has a bronze statue in Fremantle. The Aussie legend spent his teenage years in Fremantle and was buried in Fremantle Cemetery in 1980.
3. Rottnest Island
Take the ferry and explore an island paradise off the coast of Perth, known as 'Rotto' to Perth locals. This small island paradise is located 18km off the mainland close to Perth city.
Rottnest Island has a very relaxed vibe about it which is why it is one of Perth's favourite holiday destinations. You really can't go wrong with Rotto especially if you're lucky enough to be there on a beautiful sunny day.
A day trip to Rottnest Island is great but spending a few days on this island would be heaven. The island has a campsite and plenty of budget accommodation for longer stays, though it can be pretty hard to secure.
Out of all of these ideas presented here about the best things to do in Perth, I personally think visiting Rottnest Island is the best of the best.
If you only had one day in Perth I would probably skip it though and fit some of the other attractions in, but really Rottnest Island is an excellent place to visit for a Perth day trip.
The beaches are spectacular and the bonus with this island are the cute resident Quokkas, so keep your eyes on the lookout.
Apparently early morning, late afternoon or during sunset are the best times to spot them.
There are about 10,000 of them on the island so you should be able to find one soon enough.
The Quokka
The island was named as Rottnest after Dutch explorer Willem de Vlamingh named it 'Rotte Nest' ('rats' nest'). In 1696 he had mistaken the Quokka as some type of giant rat but his was incorrect since it actually belonged to the kangaroo and wallaby family.
The Whadjuk Noongar people knew the island long before any European arrived. They called the island Wadjemup, which means 'place across the water where the spirits are'.
This very cute furry marsupial is native to Rottnest Island but can also be found in parts of the south-west of Western Australia.
Rottnest Island however is home to the world's largest population of the quokka and they can be seen almost everywhere on the island. Today, they've become the island's star attraction. You can easily see why, so cute.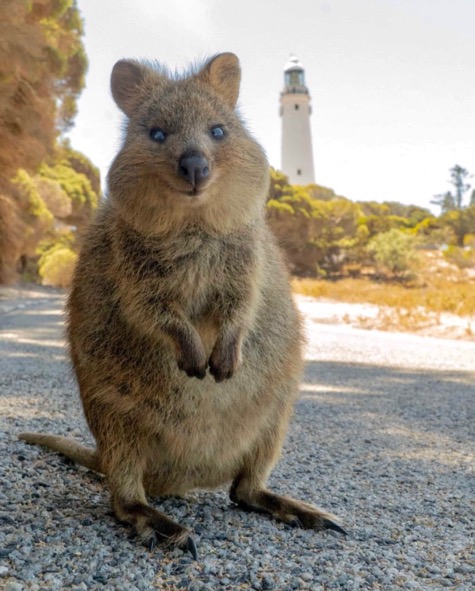 Many famous sporting stars and film stars have taken a selfie with these super friendly creatures, so if you spot one or more of them you'll probably want to take a selfie yourself. Many of these selfies can be see at #QuokkaSelfie on Instagram.
Getting around Rottnest Island
You can't take a car on Rottnest Island but who wants to when you can easily walk around, ride a bike, or catch the Island Explorer bus.
The best way in my opinion to explore Rotto is by hiring a bicycle, which his easy enough to do on the island. It's super fun and the the island has plenty of bike paths to explore.
This island is relatively flat but it can get a bit hilly if you do the 22km round trip. They even have a four-hour electric bike tour on offer from what I've heard.
Rottnest Island has something like 60 pristine beaches and bays, so if you're a beach lover you'll be in beach paradise.
Spending one full day on this island at the very least is the way to go if you want to make the most of it.
There are over thirteen shipwrecks just off the coast for divers to explore. You will also find lighthouses, a family fun park, and even a 9 hole golf course.
During the Winter Months University Students head there for 'Mid-Year Rotto', so you may want to steer clear of the island at that time. The other time to avoid is 'schoolies week' in late November and early December when the island is overrun by 18-year-old Aussies!
Do everything in your power to visit this absolute gem of an island if you're in Perth especially if you're a nature lover, beach lover or you're curious enough to want to see a Quokka. You won't be disappointed.
Fact: The first Australians were once enslaved on this island and there are pictures of them in chains like slaves. It was hell for them but for you it can be paradise.
4. Cottesloe Beach – Perth
This popular beach with crystal clear waters is only a relatively short 20-minute drive from the city centre. It would have to be Perth city's most popular/famous beach.
If you only have the time or chance to visit one beach in Perth then this is the one I would recommend to visit. You will find it in a very picturesque seaside location.
Locals call it 'Cotts' and this really is an iconic Perth beach, just as Bondi is to Sydney.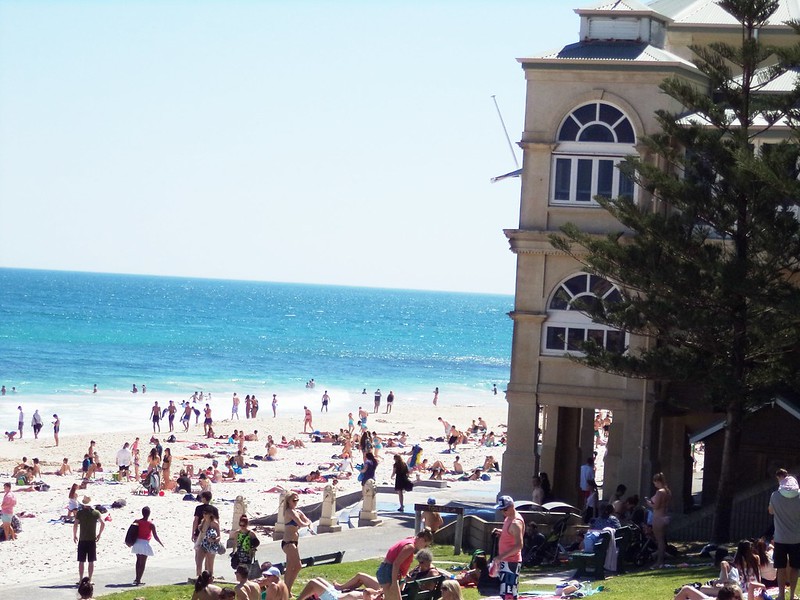 You will find some great waterfront cafes and eateries here beside large Norfolk Pines.
Stopping by for lunch at the iconic Cottesloe Beach Hotel is definitely a top thing to do in Perth.
Tip: Cottesloe beach holds a world-class annual Sculpture by the Sea exhibition. This free event is a great time to find yourself in Perth.
5. Kings Park and Botanic Garden
Kings Park has a 17-hectare botanic garden to wander through and is one of the largest inner-city parks in the world.
I have great memories of Kings Park with its heavenly green grass and fantastic views of Perth city, including the great views over the Swan River.
Strolling through the Kings Park oasis is a top outing for locals as well as tourists and it's free! For an even better experience be there at sunrise or sunset.
The elevated Lotterywest Federation Walkway runs for 620 metres and shouldn't be missed.
You can go on a free guided walk, or follow the signs through Kings Park. Keep an eye out for a restaurant, cafe or kiosk to help recharge your batteries.

The best view is from the Fraser Street Lookout close to the State War Memorial.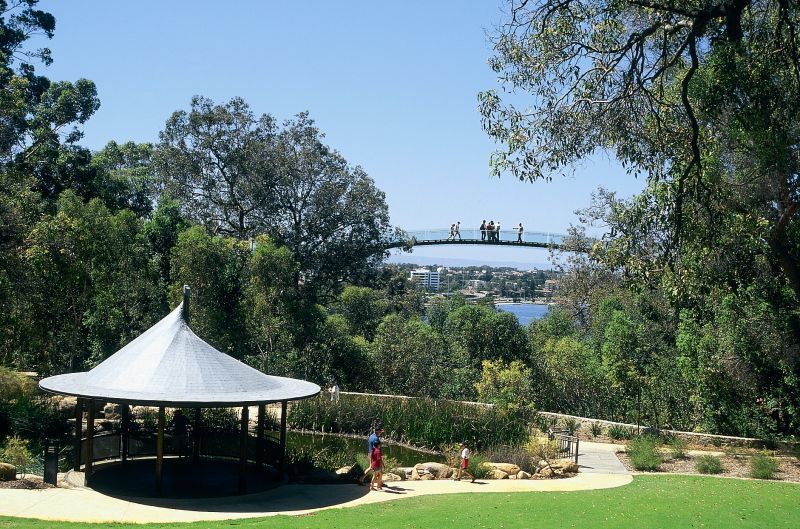 Another thing to keep an eye out for when your strolling around the park is the 750-year-old boab tree from the Kimberley area of Western Australia.
Tip: Don't forget to climb the DNA Tower which is a spiralling staircase with 101 stairs. This is the highest point in Kings Park and offers superb views at the top.
6. Elizabeth Quay
Elizabeth Quay is a stunning waterfront precinct located along the north shore in the city's central business district. It is located next to the Swan River centred on the landmark Swan Bells. You can walk there from the CBD in about 5 minutes.
Walkers and sightseers can enjoy 1.5km of continuous boardwalks and promenades, as well as an iconic bridge. Here's a pic of the opening of Elizabeth Quay in February 2016.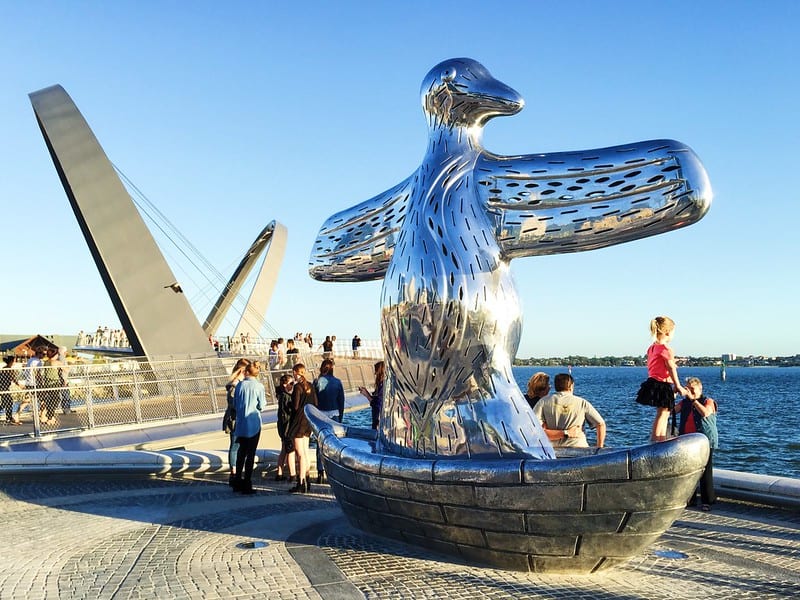 Great cafes, restaurants, shops, and nightlife can be found in Elizabeth Quay.
Tip: The Reveley on Elizabeth Quay is worth a visit. It has three levels: a ground-floor bistro, a first-floor dining room and a rooftop bar offering stunning views.
7. The Bell Tower
With the shape of a rocket ship, the Perth Bell Tower, more famously known as the Swan Bell Tower is one of the largest musical instruments on earth.
Opened as a Millenium Project in 2000, the 82m Swan Bell Tower in Barrack Square has a set of 18 bells that chime.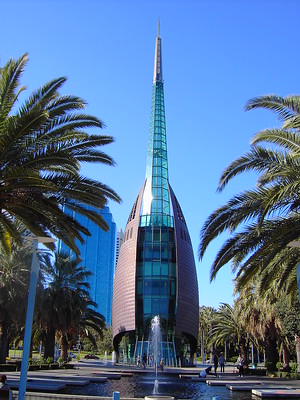 Bell chiming demonstrations even allow you to ring the bells yourself if you go on one of the Bell Tower Chiming Tours.
The other thing to do is to make your way to an open-air observation deck on the 6th floor of the tower where you can enjoy the 360-degree views of the city and Swan River.
Loved up couples can even add a personalized "love padlock" to a chain-link fence for an extra fee. As you can imagine the collection of love locks keeps on growing.
You will easily find the Perth Bell Tower when you visit Elizabeth Quay.
8. Mandurah
South of Perth is the Mandurah Estuary and Peel Inlet, which is twice the size of Sydney Harbour. This is a great place to visit. I remember having a delicious hamburger there.
Boat cruising and dolphin-watching is another great thing to do.
9. Adventure World
If you want to have some fun times in Perth then here's where you should go.
The Western Australian theme park Adventure World is home to numerous rides and attractions for all ages.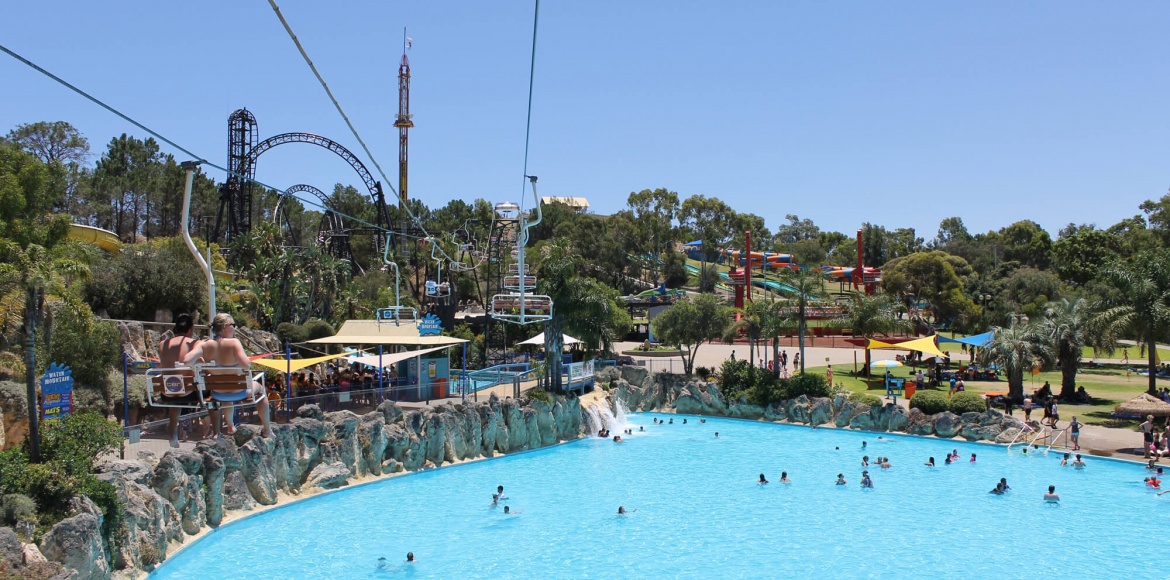 10. The Perth Mint
The Perth Mint should be on your radar when in Perth because this is where The Gods of Olympus 12-Coin limited edition set was released.
Zeus, Hera, Poseidon, Demeter, Athena, Apollo, Artemis, Ares, Aphrodite, Hephaestus, Hermes and Hestia are all depicted on a twelve coin collection.
All of the coins were struck in high relief from 2oz of 99.9% pure silver. They were also given an antique finish to give them the appearance of an age-old artefact.
The Strike is a sculpture situated out in front of the building.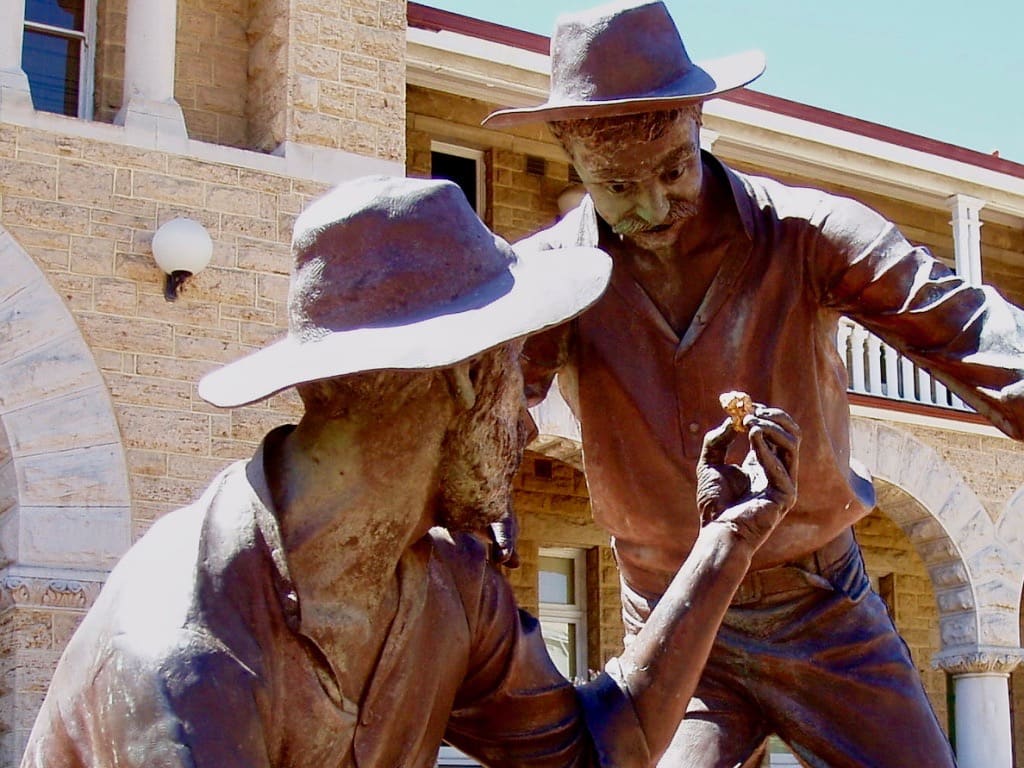 The Perth Mint was established in 1899 which makes it the oldest mint still in operation in Australia.
Western Australia's wealth was spurred on by gold and the Perth Mint is where most of it was processed. Rich gold deposits in the mining towns of Coolgardie and Kalgoorlie is what started it all.
A visit to the Perth Mint offers you the chance to see the largest collection of gold nuggets in the Southern Hemisphere, including the Golden Beauty nugget.
You can also watch a gold-pouring demonstration and view the world's largest gold coin.
This enormous Australian Kangaroo One Tonne Gold Coin weighs in at a whopping one-tonne. It stands at 80cm tall and is worth about $50 million! Don't be foolish enough to think you can steal it and then get away with the crime. The security would have to out of this world.
A guided tour of this grand heritage building is the way to go. The tour also includes a short film. I'm sure you'll hear some very fascinating stories about this interesting place.
Before you leave stop by the gift shop for some unusual souvenirs and maybe a coffee at the cafe.
11. Serpentine National Park
Visit Serpentine National Park for bush walks, fantastic views of the dams and for the waterfall named 'Serpentine Falls'.
Serpentine National Park is about 50km south-east of Perth, about an hour's drive from the city.
It is a favoured spot for bush walks and the waterfall. Don't be surprised if it is packed out on a summer weekend and especially on a glorious summer day.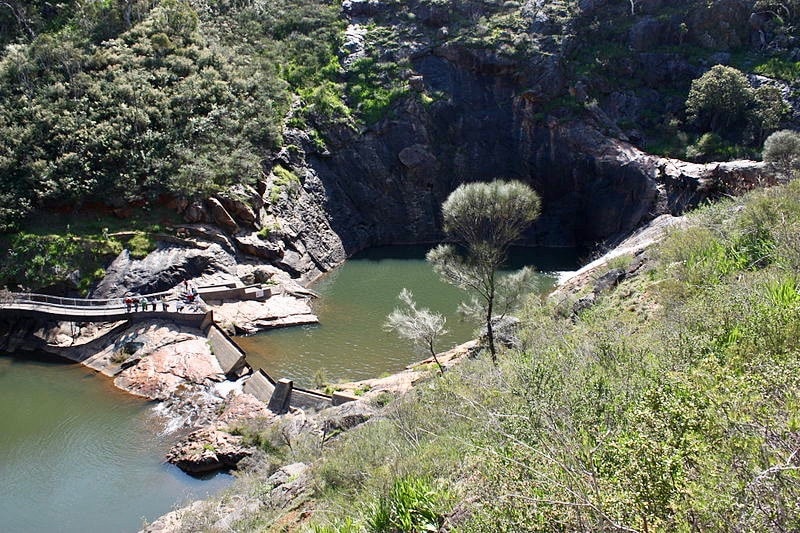 You will find some great swimming holes here, but make sure you are extra careful as 28 deaths have been reported in 15 years from climbing or jumping the falls.
To get there make your way to the South Western Highway to Jarrahdale and then Serpentine National Park.
The town of Jarrahdale, originally established as a milling town is also a great place to stop for a while. Nowadays you will find cafes that line the main street, as well as arts and craft galleries to explore. Araluen Botanic Park is also on the way so it's worth a visit.
12. The Pinnacles
Huge numbers of limestone spires have created a unique natural wonder in this part of WA. It is now one of Western Australia's most photographed tourist attractions.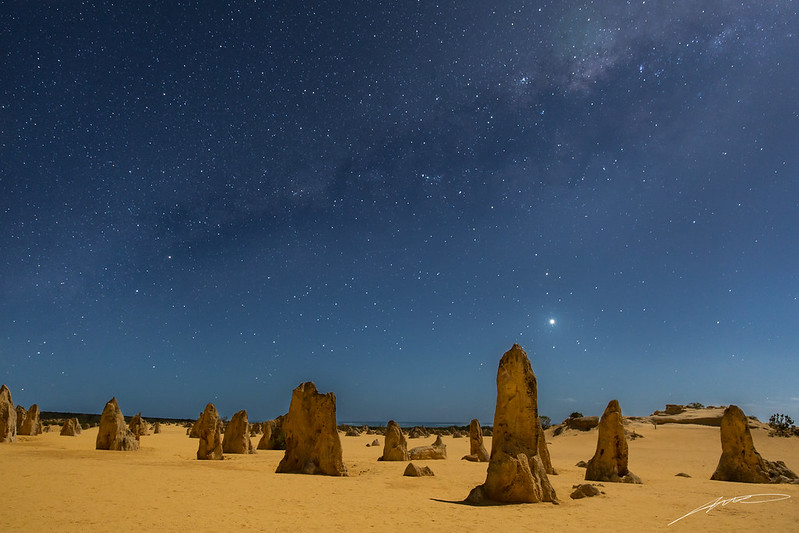 These iconic rock formations in their thousands rise as tall as three and a half metres.
Try and visit during the months of August to October, when the wildflowers bloom!
It will take you about three-hours drive north of Perth to arrive at the Pinnacles Desert in Nambung National Park.
Keep an eye out for wild emus, Australia's famous flightless bird as the Pinnacles is home to a large population of them.
A trip to the Pinnacles is also a great time to visit the beautiful seaside town of Cervantes and Jurien Bay.
Cervantes is the gateway to not only Australia's Coral Coast, but also to Namburg National Park. An overnight stay in Cervantes is a good option especially if you want to stay and see the sunset. There are also a few pristine beaches in the area to discover.
If Cervantes is too far north for your liking, stop an hour earlier at Lancelin. This place is another haven for beach goers and has some massive white dunes for sandboarders.
13. Northbridge
Northbridge is one of the inner suburbs of Perth known for its nightlife and it's only a 10 minute walk from the CBD. This is a great place to go on a bar odyssey.
You'll find the Perth Cultural Centre with its museum in Northbridge as well as modern art galleries.
William Street is where a lot of the action takes place with several cafes, especially Asian eateries. You have a good choice of bars and stylish cocktail lounges to choose from.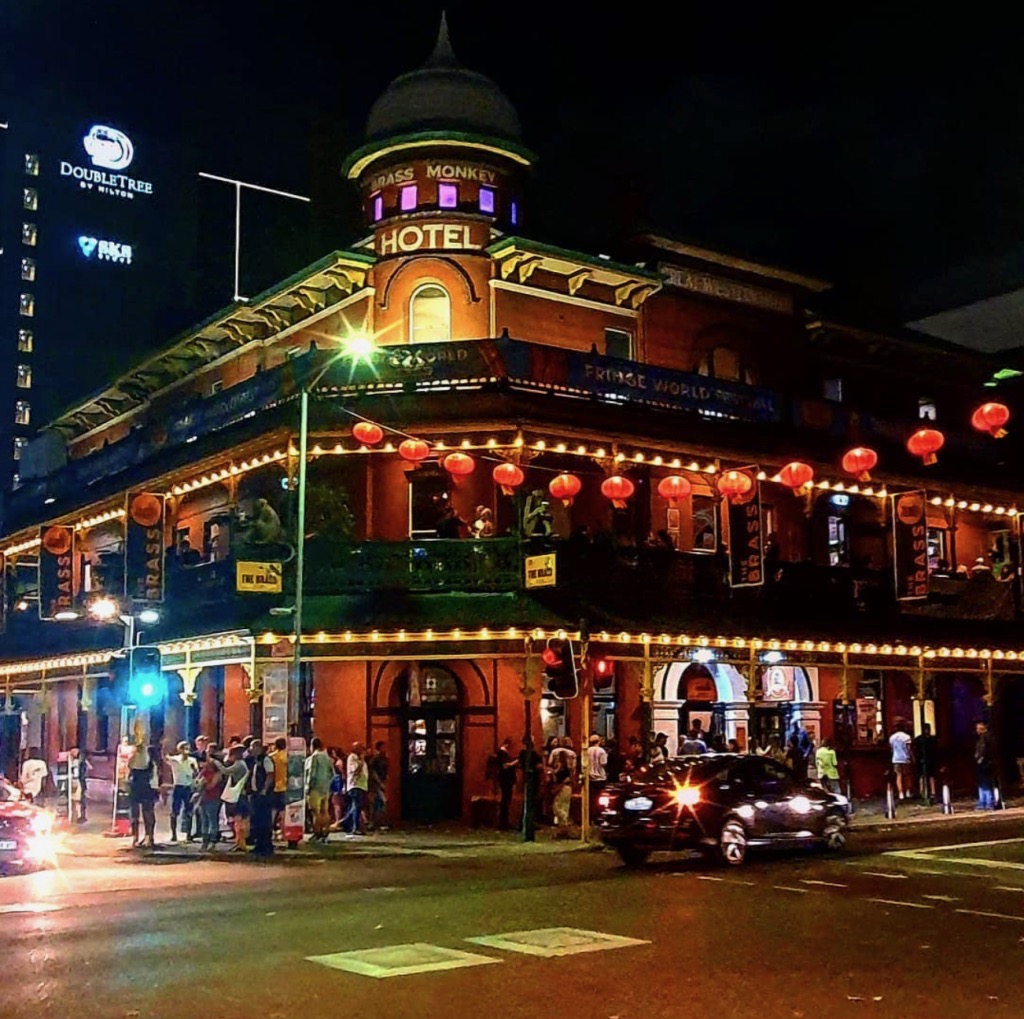 Back in its day Northbridge was Perth's answer to King's Cross. Over time things were cleaned up and today it's a great place for a night out or delicious lunch in the inner-city.
14. Shopping in the city – London Court
Hay and Murray Street Malls are your go to place for shopping in Perth. Yes, Perth has two malls.
If luxury and lavish boutiques are more your style, then head to King Street and visit Gucci, Chanel and Tiffany & Co.
You'll find London Court between Hay Street Mall and St Georges Terrace.
London Court is a small retail walkway aimed directly at tourists. It was built in 1937 giving the place an Elizabethan feel with buildings quite similar to the Tudor style buildings of England. It's filled with shops and cafes.
Two clocks can be found at London Court, one at each end of the lane. The clock at the Hay Street entrance has four knights above it, which circle around when the clocks strikes every 15 minutes.
The clock at the St Georges Terrace end displays St George battling a dragon. Both clocks are replicas of France's Great Clock of Rouen.
15. Scarborough Beach
Cottesloe beach is more famous but if you're a beach person you won't want to miss out on Scarborough beach.
The white sand beach of Scarborough, affectionately known as 'Scabs' by locals is situated next to a variety of restaurants, bars and cafes.
Surfers love the beach since it's the perfect combination of surf, sun and relaxation.
The Scarborough Beach Surf School has been teaching how to hang ten since 1986 so if you're willing to give it a try then this could be a great place to learn.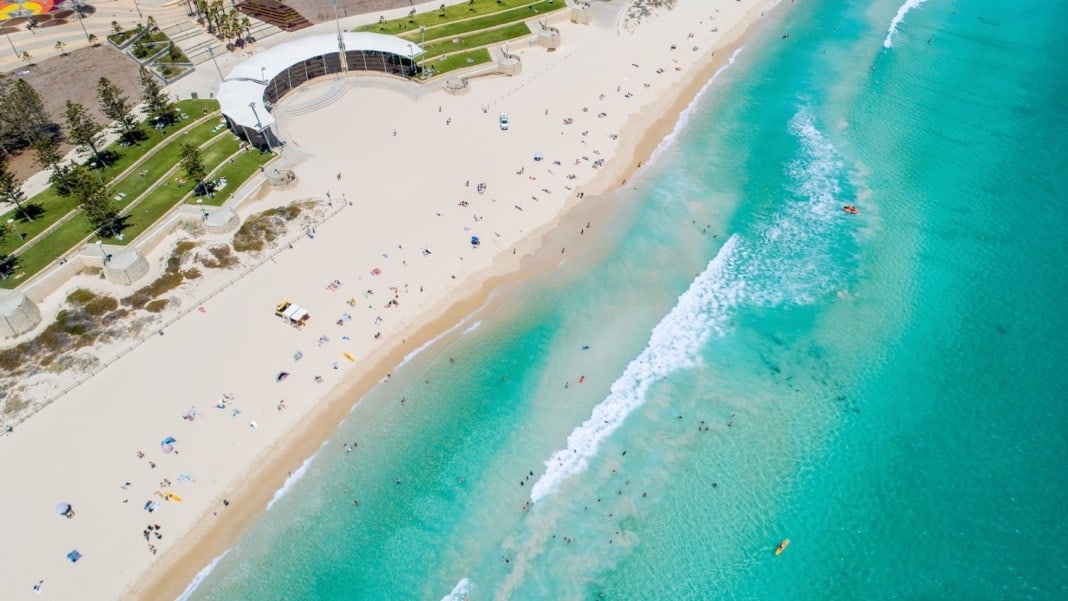 Scarborough beach reminds me a lot of the Gold Coast in Queensland with its long stretches of white sand lined with high-rise hotels. There are lots of holiday accommodation options at Scarborough Beach.
Other attractions at Scarborough include an open-air swimming pool, a skate park and a playground for the kids.
Tip: In summer, don't miss the night markets in Scarborough Beach held every Thursday evening.
How to get to Scarborough beach: Public transport from the city centre will take you about 45 minutes to an hour. Driving there will take about half an hour from the city.
Other top beaches to visit in and around Perth
Trigg (for surfing in rougher waves) and City Beach (one of Perth's best beaches).
For families, the sheltered inlets on the snaking Swan River, such as Como, Crawley, and Point Walter are top choices, as well as Rockingham Beach and the sheltered shore at Hillarys Boat Harbour.
Beach lovers should keep in mind that Rottnest Island and Penguin Island offer excellent snorkelling and are great for day trips.
16. Mettam's Pool
Snorkelling or swimming in the calm waters of Mettam's Pool looks as if it would be a great day out.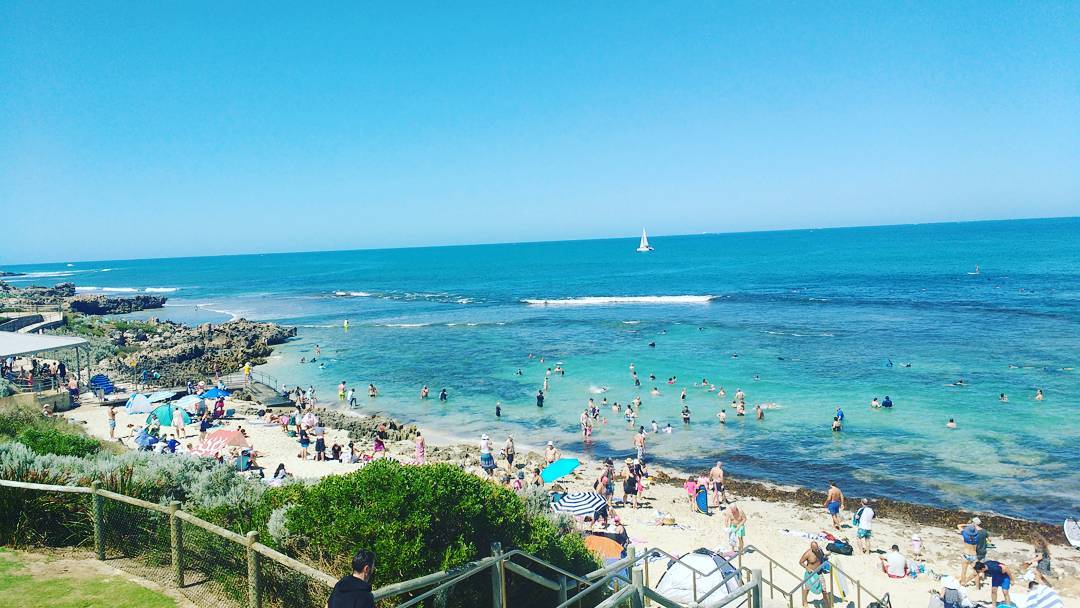 It's only 10 minutes from Scarborough beach.
17. Queens Gardens
This 3.3-hectare (8.2-acre) park is situated next to the WACA (West Australian Cricket Association) Ground.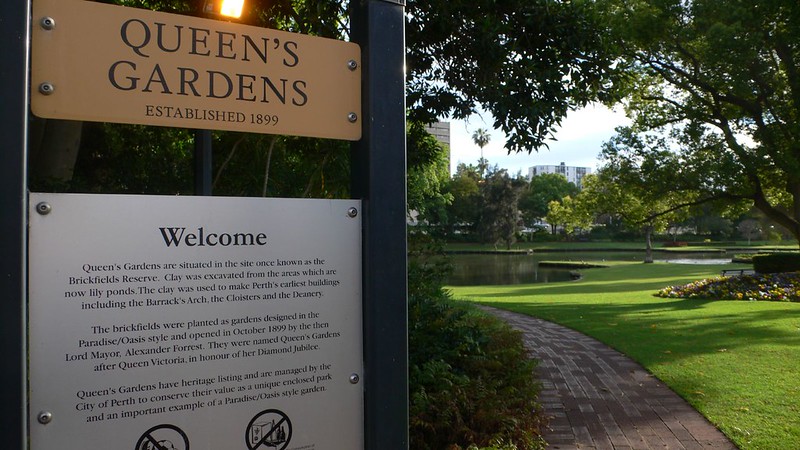 The Queens Gardens have water lily-covered lakes and are surrounded by flowers and manicured lawns. You can find it on the corner of Hay and Plain Streets in East Perth.
Kids will be fascinated by the Peter Pan statue, which is a replica of the one that stands in Kensington Gardens in London.
18. Hillarys Boat Harbour and the Aquarium of Western Australia
Head over to the popular Hillarys Boat Harbour for an outing either during the day or evening.
This seaside destination has been named the best marina in Western Australia and it's where you'll find the the Aquarium of Western Australia (AQQWA).
When it opened in 1988 it was known as Underwater World, but later changed its name to the Aquarium of Western Australia. It is often considered the top tourist drawcard to the harbour.
Visitors can walk through an underwater tunnel, and can even dive snorkel or dive into the aquarium with the assistance of a qualified divemaster.
The marina is filled with restaurants, shops, and family-friendly attractions. There's a safe calm cove for ocean swimmers and don't forget to go for a stroll along the Sorrento Quay Boardwalk.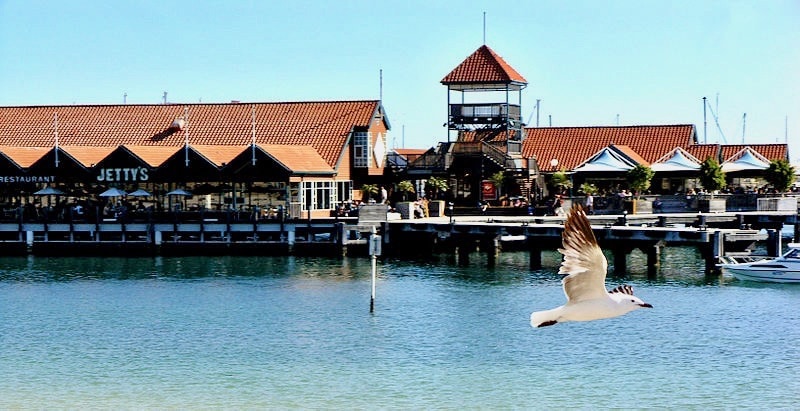 Hillarys Boat Harbour is about 20km northwest of Perth and takes about 25 minutes by car to get there. It takes about an hour to get there by train and bus from central Perth.
A high-speed ferry to Rottnest Island can also be boarded at Hillarys Boat Harbour.
19. Art Gallery of WA and the Atlas Building (Perth Museum)
The Art Gallery of WA is located in the Perth Cultural Centre within the area of Northbridge.
This area is considered to be the artistic hub of the city and it's only a five or so minute walk from the city centre.
A gallery visit is one of the best free things to do in Perth. The best time to visit the Art Gallery of Western Australia would be when the annual Fringe Festival is held during summer.
See if you can find: A feather from the cap of Cupid by Rupert Bunny, showing Cupid and Psyche with Mars.
20. Swan River Cruise
The ultimate river cruise in Perth would have to be a Swan Valley river cruise including a wine tasting tour from Perth in what is Western Australia's oldest grape-growing region.
Captain Cook Cruises for instance is one provider that offers a variety of cruises on the Swan River.
The Swan River flows through the city of Perth and runs for almost 72km before it enters the Indian Ocean.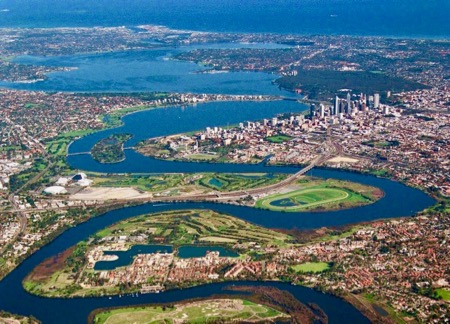 Plenty of water sports such as kayaking, windsurfing, parasailing, jet boating or sailing activities are on offer.
A nice relaxed option for a gentle river cruise is from Perth to Fremantle. Most of the ferries and river cruises depart from Barrack Square Jetty.
The other option if you don't want to go on a cruise is to go for a walk or bike ride along the Swan River. The beauty about walking is that it's free!
Aboriginal legend states that the rainbow serpent called "Waugal," created this winding river.
The Swan River reminds me of the Greek myth of Leda and the swan. In that Greek myth Zeus was depicted as a white swan but in Perth you'll normally only find black swans.
Western Australia's bird emblem is the black swan. White swans are a very rare sight in Western Australia. When one did appear on the Swan River it even made the News.
Crawley Edge Boatshed and the Eliza sculpture
Top Tip for Photographers: Visit Crawley Edge Boatshed on the banks of the Swan River for a a great photo opportunity. The boat shed perched at the end of a wooden jetty is a favoured location for Instagram selfies and is one of the most Instagrammed places in Perth.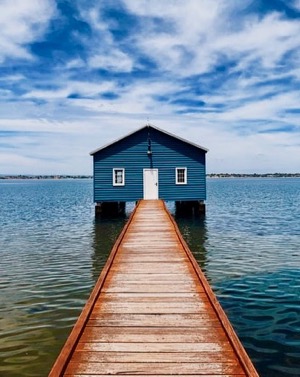 You will find Crawley Edge Boatshed at Mounts Bay Rd, Crawley, Perth.
Another thing to do is to go for a 2-minute walk east from the Blue Boatshed where you'll find a statue of a swimmer called Eliza, created by sculptor Tony Jones. The statue is found 15 metres offshore and you may find Eliza wearing something unusual. Every now and then she can be seen dressed up which is a bit of a mystery.
Tip: A cheaper option for cruising on the Swan River is to simply jump on the ferry at Elizabeth Quay Jetty and enjoy a half hour ferry ride across the river to South Perth, where the Perth Zoo is located.
A cruise past Heirisson Island and Perth's Optus Stadium is also something to think about. It is famous for its connection with the tribal Noongar people who played a huge part in the island's history. Along with that, the island attracts most of its tourists due to its Kangaroo Sanctuary.
21. Swan Valley
You can visit the Swan Valley by cruising along the Swan River or you can drive there. It's only about 30-45 minutes east of the CBD.
There are plenty of wineries and breweries in the Swan Valley to enjoy with great food and drink options available.
Swan Valley even has a 32km scenic drive wine trail to explore. The trail will take you past numerous wineries, breweries, fine eateries, and even art galleries.
The biggest advantage going by car is that it will be much easier to move around once you're there.
22. Mammoth Cave, Margaret River
The Margaret River wine region is a famous food and wine destination surrounded by beautiful scenery.
Ok, the famous Market River region isn't that close to Perth. Ideally you would probably want to spend one or two nights there as a minimum, but if you want to make a quick visit then Mammoth Cave is the place to head to.
There are hundreds of caves in the Leeuwin-Naturaliste National Park, the most famous of them being the Mammoth Cave which has the largest cave network. Lake Cave is arguably the most beautiful and is also worth checking out.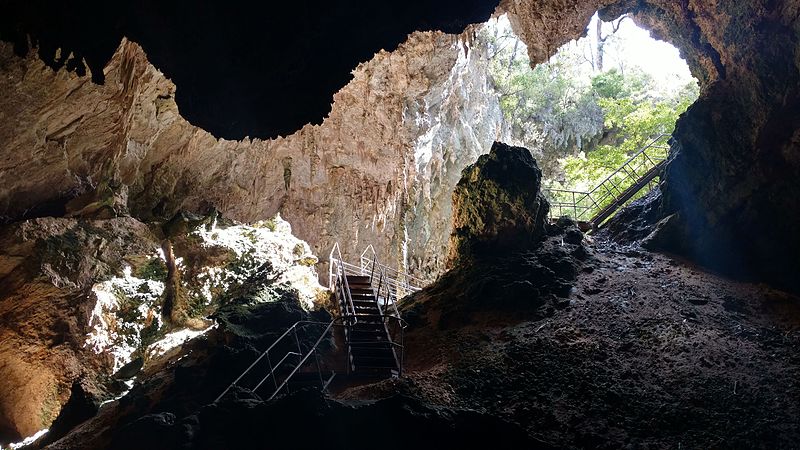 Perth locals love it as a weekend escape. It is about 280km east of Perth and will take about 3 hours to get there.
23. WACA Sports Stadium
If you want to watch a footy or cricket match then here's where you'll want to go.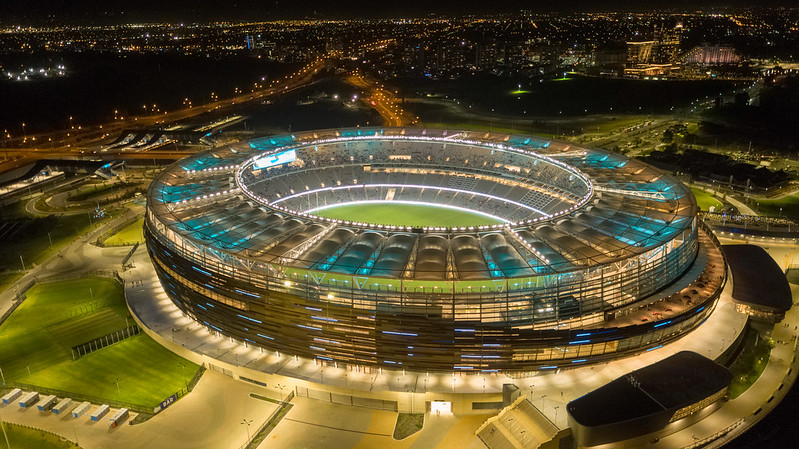 24. Heirisson Island
This island is located in the Swan River, between the suburbs of East Perth and Victoria Park. It can be reached by causeway. It's where you'll see a bronze statue of Yagan.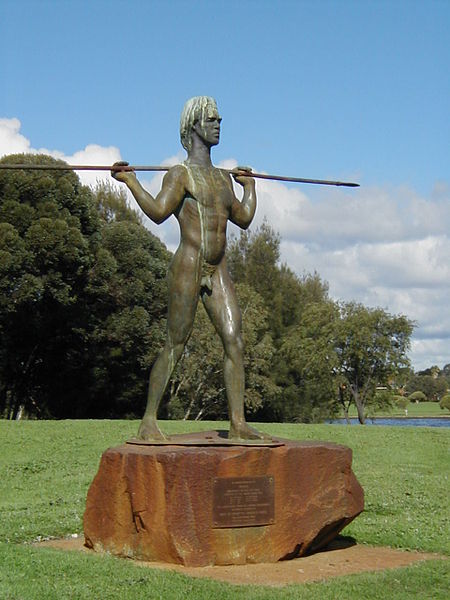 The other attraction is the mob of kangaroos in the area.
25. Injidup Natural Spa
One of Western Australia's best kept secrets is Injidup Natural Spa, a rock pool with crystal clear blue water. The secret was revealed when picturesque images on Instagram began appearing.
Location: End of Wyadup Road, Yallingup
It takes 2 hours by car to get there.
26. Wanneroo Botanic Gardens
A magical mini golf garden playground awaits you at Wanneroo Botanic Gardens.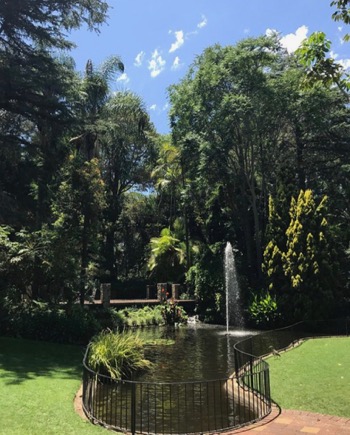 The iconic Wanneroo Botanic Gardens has been one of the must visit destinations in Perth's northern suburbs since 1981.
An 18-hole Garden course together with an 18-hole Billiard Golf course combine to create Australia's largest outdoor Mini Golf complex.
27. Drinks at a Rooftop Bar
Find a rooftop bar in Perth. Go for a wander down Wolf Lane and Grand Lane to uncover a secret world of bars and food. The super cool QT is worth checking out.
28. Shoalwater Islands Marine Park
The photo below shows you Shoalwater Islands Marine Park, as seen from Point Peron lookout. Bird Island is in the foreground.
Just south of Rockingham and within easy reach from Perth is this undiscovered gem of a marine park, and it's only 45 minutes south of Perth.
Catch a ferry across to Penguin Island. Do the 45 minute boat cruise past Seal Island and 3 other islands which are sanctuaries within the Marine Park.
You can easily spend the whole day there because you can go kayaking, paddle boarding, and island exploring.
Keep an eye out for sea life including penguins, sea lions and dolphins. There are even shipwrecks to explore in the area.
29. Penguin Island
Be sure to visit Penguin Island, a 31-acre island, which is situated across from Seal Island.
A quick 5 minute ferry ride from Rockingham (leaving every hour from 9am-3pm) across Shoalwater Bay from the Discovery Centre will take you to to Penguin Island, home to the world's smallest penguins.
Penguin Feeding Show is held by the rangers at 10:30am, 12:30pm and 2:30pm daily. You can see them feeding and you can also see them in the wild.
Rockingham is one of the best destinations in Australia for marine life encounters.
30. Lake Thetis and Stromatolites
View over 3000 year old Stromatolites at Lake Thetis on the outskirts of Cervantes.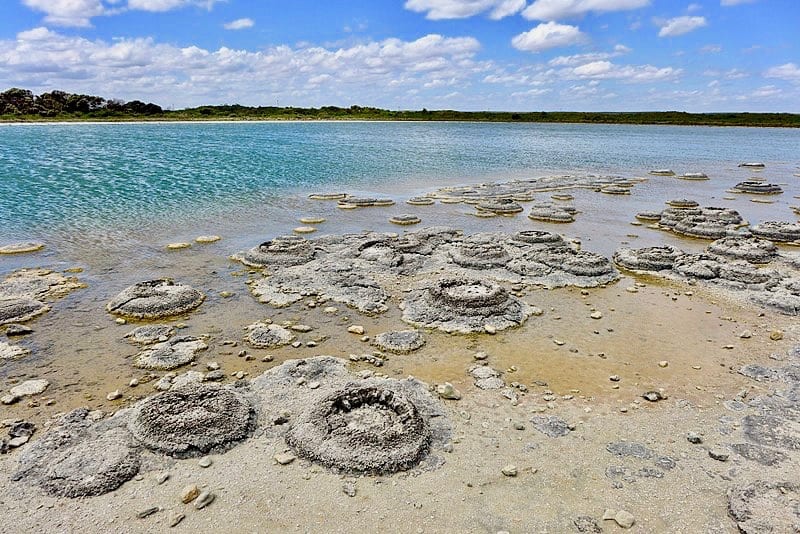 Lake Thetis is on the outskirts of Cervantes, a small town which is approximately 15km north of the Pinnacles in Western Australia. A short drive from the main stretch of Cervantes will get you there.
You'll be able to find a fantastic walking path of 1.2km at the lake.
Location: Just off Hansen Bay Rd, 1km from Cervantes town centre. A 3 hours drive north from Perth.
This place reminds me of the Thetis, the water Goddess in Greek mythology.
31. Busselton
Busselton is a city on the southwestern tip of Western Australia. It is often touted as Western Australia's most popular tourist city. The main attraction in Busselton is a large jetty, which is the world's longest wooden pier that stretches nearly 2km.
You can stroll along the jetty or even take a ride on a fifty seat train to the end of it where there's an underwater observatory. An underwater dining experience is also on offer.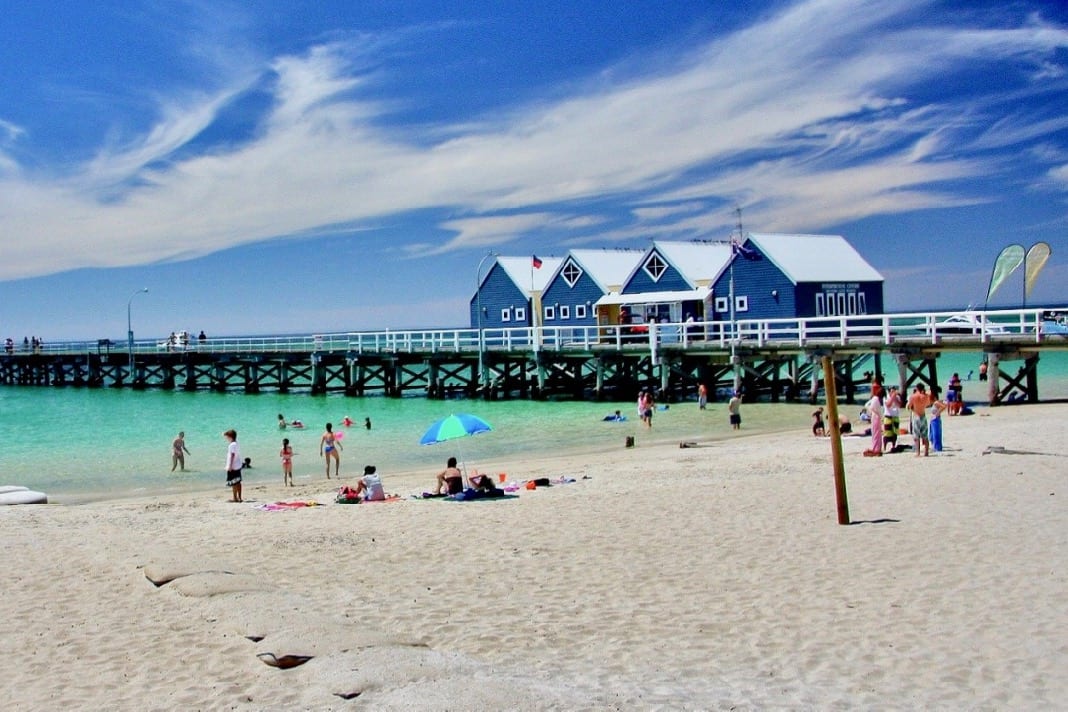 From September to early December, migrating humpback whales also use the sheltered bay to rest with their young.
You can get to Busselton in a couple of hours driving from Perth. It is the perfect place for a great daytime trip.
32. Wave Rock
Surfers must flock here. Where else can you get a wave like this one?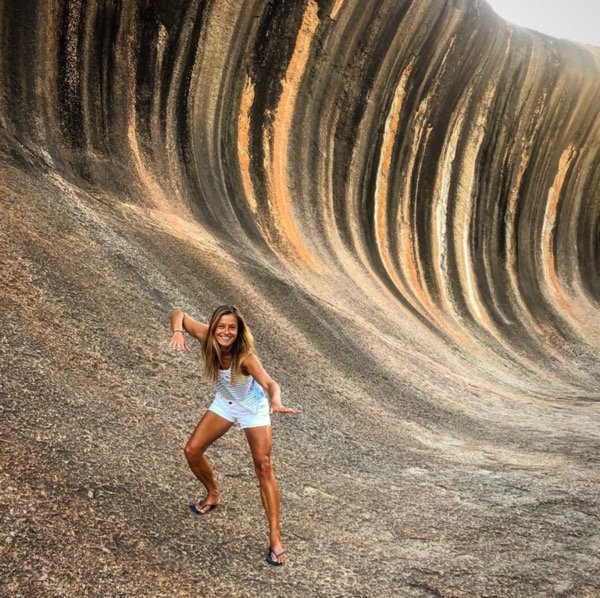 33. John Oldham Park or John Forrest National Park 
I like this park because it's named after me. This is Western Australia's first national park, so it must be a good one. It is located about 24km east of Perth.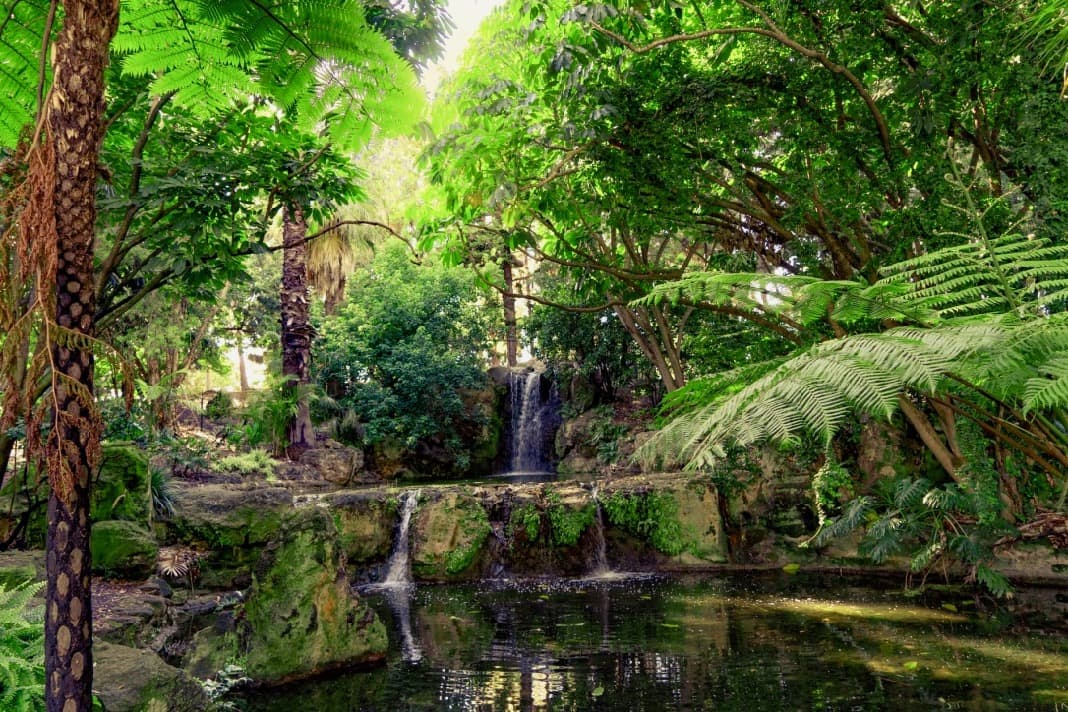 Popular walks to go on include the 'Christmas Tree Creek Walk' or the 'Wildflower Walk'.
34. Guildord – the heritage listed Town
This whole town in outer Perth is heritage listed. They don't do that sort of thing unless it is very special.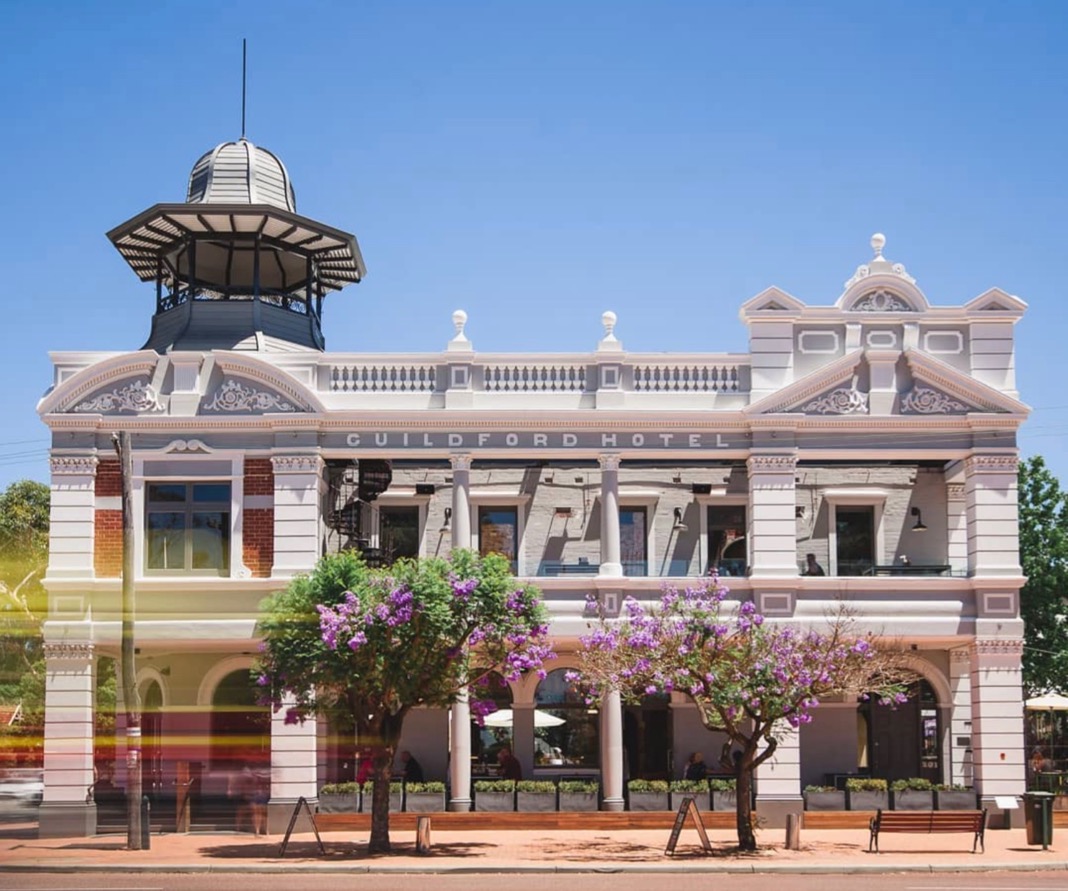 35. York – the oldest inland town in Western Australia
York is the oldest inland town of European settlement in Western Australia.
It is situated on the Avon River, about 100 kilometres east of Perth in the Wheatbelt, on Ballardong Nyoongar land.
How to get to York
Follow the Great Eastern Highway from Perth. Turn onto the Great Southern Highway just after Chidlow and from there it's about half an hour to reach York.
The route will takes you past the entrance to John Forrest National Park and through Mundaring. Both places are worth a visit if you're in the area.
York is one of the most popular of Perth's country towns for visitors, largely due to its colonial architecture, arts and crafts shops, cafes and the York Motor Museum.
The York Antique Fair is held over the Easter weekend. Picnicking by the Avon River, browsing through the arts and crafts shops, relaxing at cafes and the York Motor Museum,  and hot air ballooning are some other enjoyable things to do in York.
Tip: The York Palace Hotel is a great place to stay for a night, and ideally in one of the heritage rooms constructed in 1909.
36. Perth Zoo
Watch the penguins swim in their rock pool at Perth Zoo.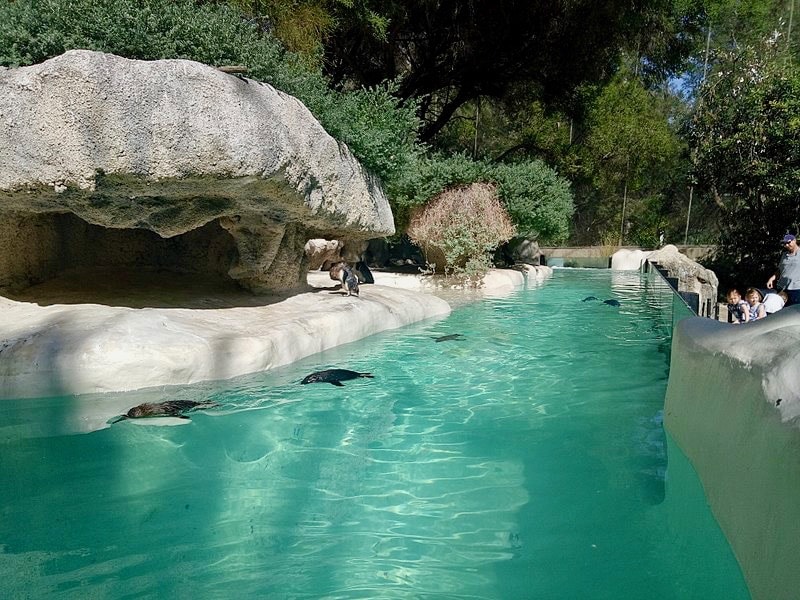 37. The Secret Garden
If you've done it all then what about a visit a secret garden?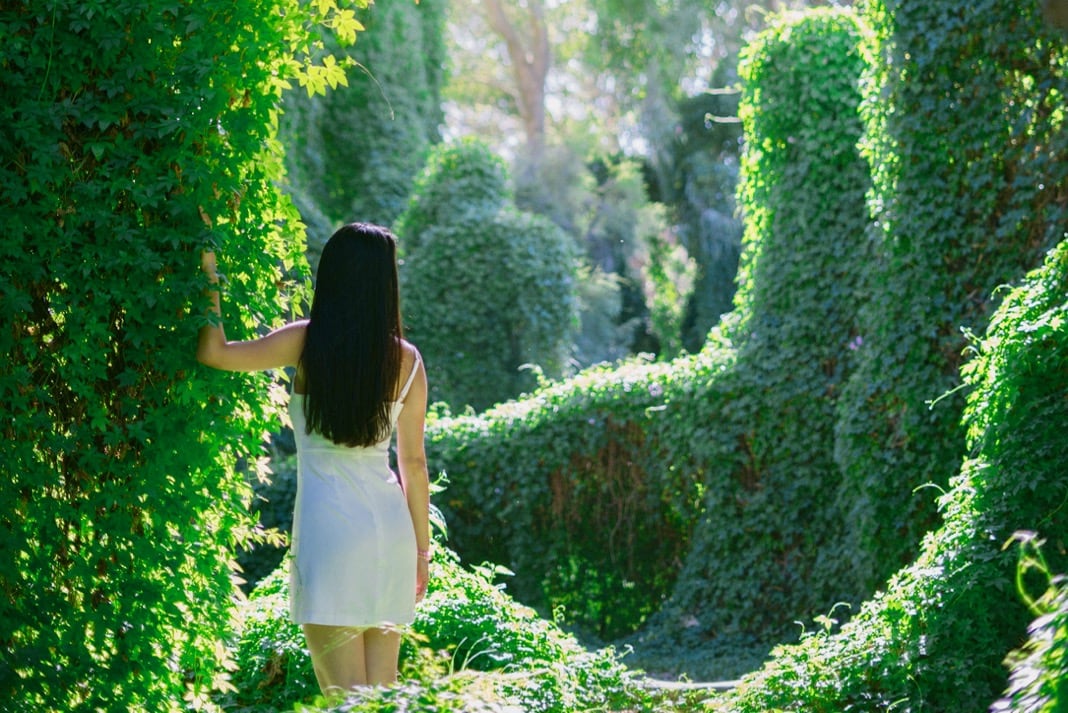 How long to stay in Perth
In my opinion, a couple of days in Perth will fly by way too fast. Personally, I recommend staying in Perth for 3 or 4 days at the very least since there are plenty of enjoyable things to do in and around the city.
You've probably heard of Rottnest Island, well this fantastic attraction alone could easily take up one or more full days of your time.
Now that you're fully aware of Perth's top attractions you can better a suitable holiday itinerary that works best for you.
Even if you're limited to only a short weekend in Perth, you'll still be able to squeeze in some great memories of Perth.
If you're a local reading this post you should double check to see whether you've managed to tick off all or most of the best things to do in Perth in this list.
You're lucky enough to be living or staying in Perth for a longer than your average tourist so you don't have much of an excuse.
A little bit about Perth
Perth is a fantastic Australian city known for having plenty of sunny days. Many consider the city to have a climate similar to the Mediterranean.
Perth is the capital of Western Australia and is found on the opposite coastline to Sydney.
The city is located next to the beautiful waters of the Swan River giving it a similar type of feel to Sydney with its famous water filled Sydney harbour. It is Australia's fourth-most populous city after Sydney, Melbourne and Brisbane.
Western Australia is strongly linked to Australia's mining boom due to the richness of gold discoveries from remote places like Kalgoorlie, plus its rich oil & gas supplies, and many other plentiful mineral deposits.
This has fuelled major development in Western Australia and as a result the city of Perth has prospered enormously from the wealth generated, as has the rest of Australia.
How to get to Perth
Perth is a world away to many Australians since the majority of Australia's population lives on Australia's east coast. It takes a 5-hour flight from Sydney to get to Perth which means that Perth isn't even on the holiday radar for most Australians.
Perth is considered to be the most isolated city in the world because the closest major city is Adelaide in South Australia, situated on the southern coast of Australia.
Adelaide happens to be more than 2,500 km away by road from Perth, which means it'll take you 25 hours if you can drive 100km an hour all the way. You won't be able to do that so it will take you even longer to get there by road.
Google says it takes 28 hours to over 35 hours to drive to Perth from Adelaide. That should give you a good idea of how isolated Perth city actually is.
If you do decide to drive to Perth from Adelaide, Australia's Eyre Highway has a portion in it called the 90 Mile Straight, which many believe to be the longest straight road in the world due to the road being about 146km in length.
However, the real title for the longest straight stretch of road is found in Saudi Arabia with its Highway 10. This road has a straight portion of that stretches for more than 256km.
I'm sorry to say that I found this fact only when writing this post. I actually believed myself that the longest stretch of road in the world existed in Australia and it was the one leading to Perth.
I've been a passenger in a car while sitting very uncomfortably in the back seat of a car when driving along this incredibly long straight stretch of road. The drive across a desert like landscape in the direction from Perth to Adelaide was an incredible experience.
My recommendation though is to fly to Perth unless you have plenty of time on your hands to explore Australia. Hope this opens your eyes to the wonders of Perth.