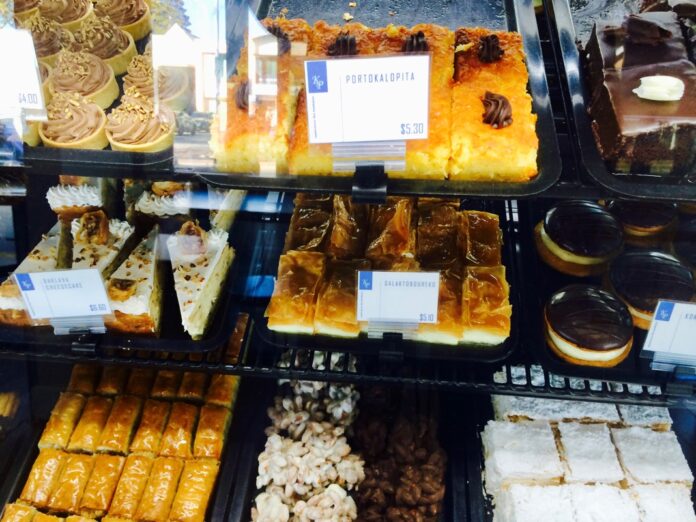 Greek pastries are some of the best desserts to eat. So I wanted to taste many different Greek desserts, cakes, and pastries to learn more about them.
That way, I could discover all of the best Greek desserts for myself – and pick my favorites!
Luckily, I knew of a great award-winning shop owned by a Greek (a MUST), with delicious-looking Greek pastries.
The best thing to do if you want to try all of these Greek desserts is obviously to be in Greece.
But you don't have to be in Greece. Instead, see what you can find in your town or city, in your own country.
Remember to keep all of these Greek desserts in mind if you ever visit Greece.
That way, your sweet tooth will be well and truly satisfied in Greece.
The next time you are in Greece, know this, some of the best secrets in Greece actually include tasting some delicious Greek desserts.
The Best Greek Desserts
Again, no one has to be in Greece to taste some of the best Greek desserts.
For instance, you could visit Kalymnos Pastries, a Greek shop located in Adelaide, South Australia.
From personal experience, I highly recommend visiting the Greek shop if you're looking for something yummy to do in Adelaide.
By eating through their extensive range of Greek desserts, cakes, and pastries, I think I have now gained a great appreciation of the best Greek desserts.
The only way to know if I'm right is to taste all of these Greek desserts for yourself.
Here I show you what I consider to be the best Greek desserts.
1. Galaktoboureko – My favorite Greek Dessert
Let's start with my all-time favorite, the Galaktoboureko.
Galaktoboureko is a delicious traditional Greek custard baked in filo pastry.
At this stage, I think Galaktoboureko would have to be my favorite Greek dessert. If you like eating custard, you will love it!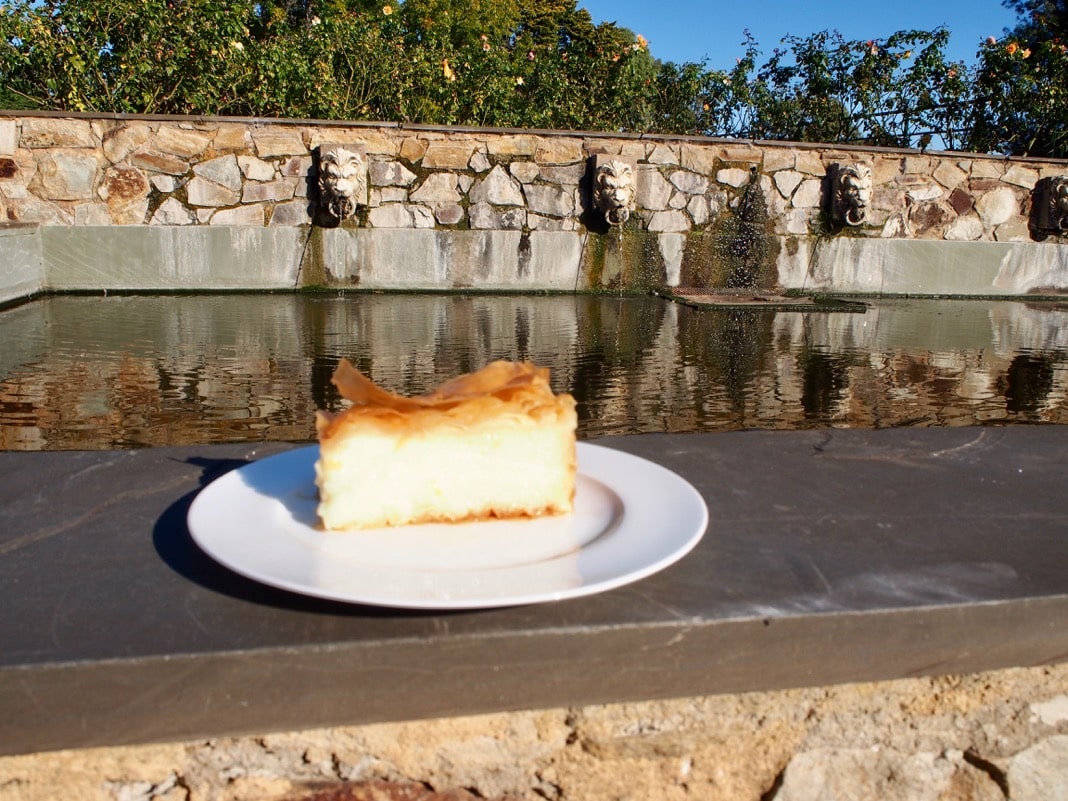 2. Kataifi Roll with Almonds
Here is a delicious Greek dessert made from a shredded pastry roll filled with almonds.
For some reason, the shredded pastry enriches the flavor of the dessert enormously.
Kataifi is another top Greek dessert I think very highly of.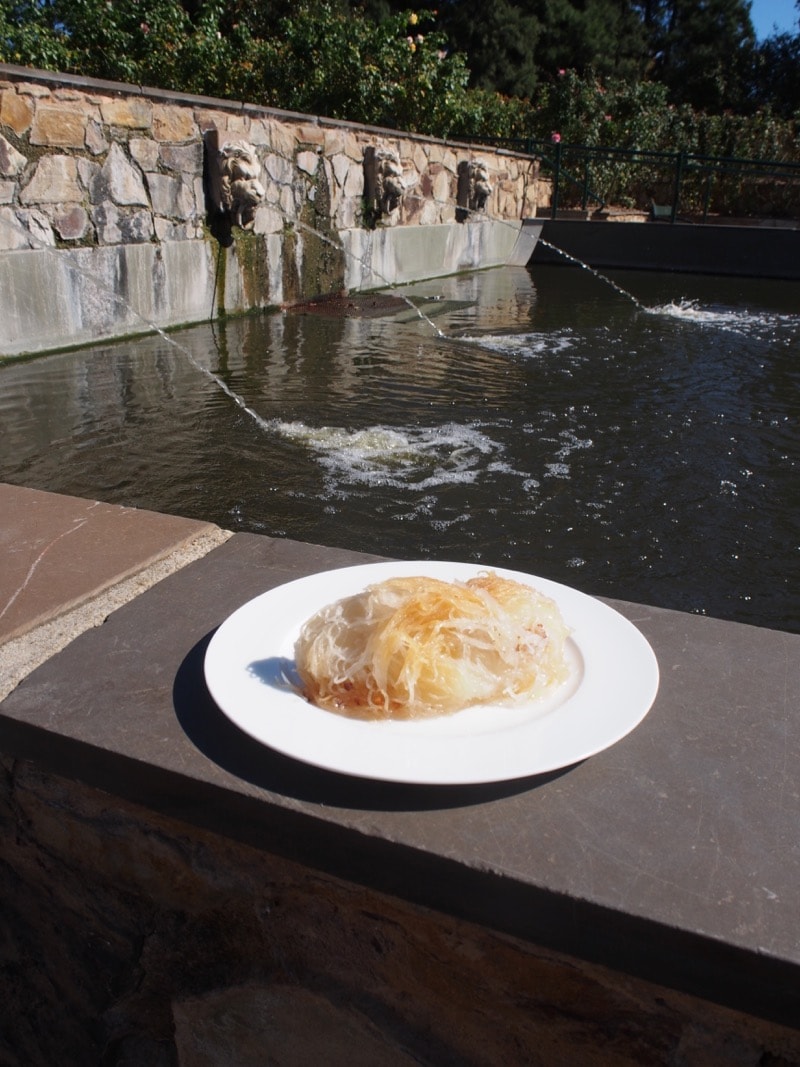 3. Baklava – The Classic Greek Dessert
A multi-layered pastry with thin layers of golden fila with chopped nuts that is sweetened with syrup or honey.
Baklava is a highly satisfying Greek dessert, especially for nut and honey lovers.
For some reason, baklava makes you think it has to be one of the most healthy Greek desserts.
Greek desserts with honey make you think they must be good and they probably are. Well, baklava does contain plenty of nuts, which are known to be good for you.
So if any Greek dessert has you thinking that it must be healthy, baklava is the one.
4. Bougatsa
Bougatsa is a traditional semolina-based custard baked in a puff pastry wrap.
It is a delicious dessert, which is also often eaten for breakfast. It would be hard to resist if you had something like this in the fridge.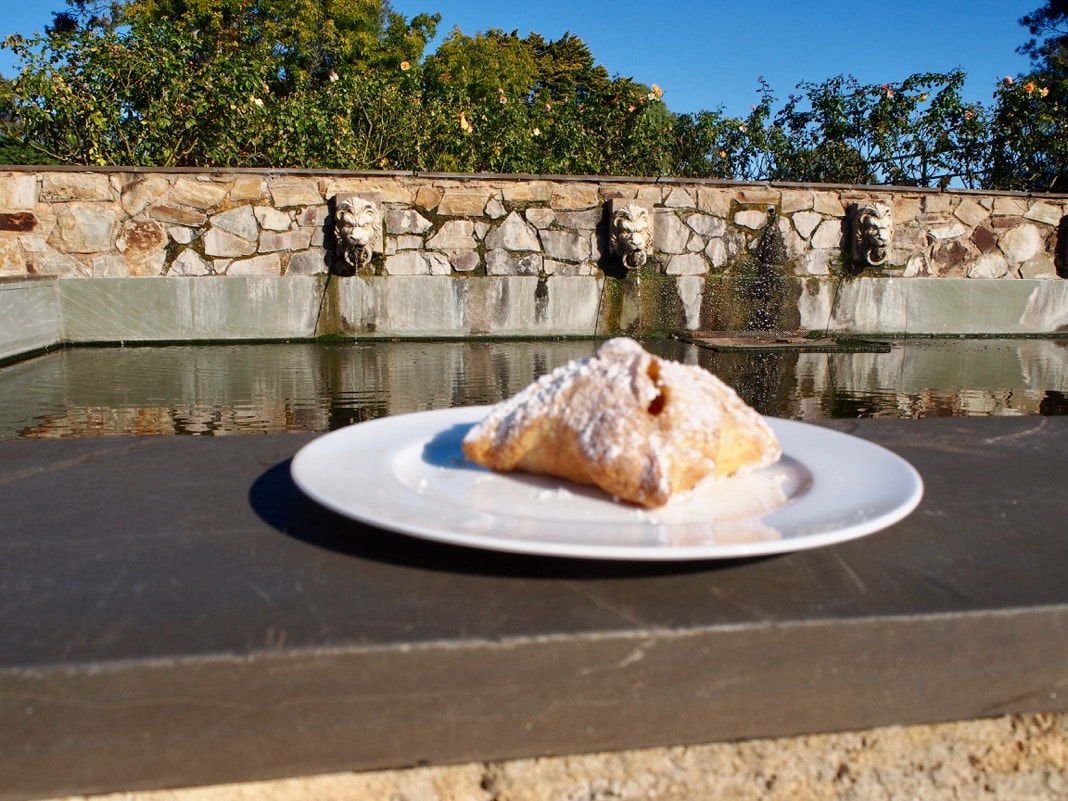 5. Revani (Ravani)
Eating a semolina-based sponge cake doesn't sound super exciting, but I can you that it is delicious.
The cake has a mouth-watering moist feel to it and it has a reasonably rich taste.
The reason why is because the cake gets soaked in sugar syrup. As a dessert, it is excellent!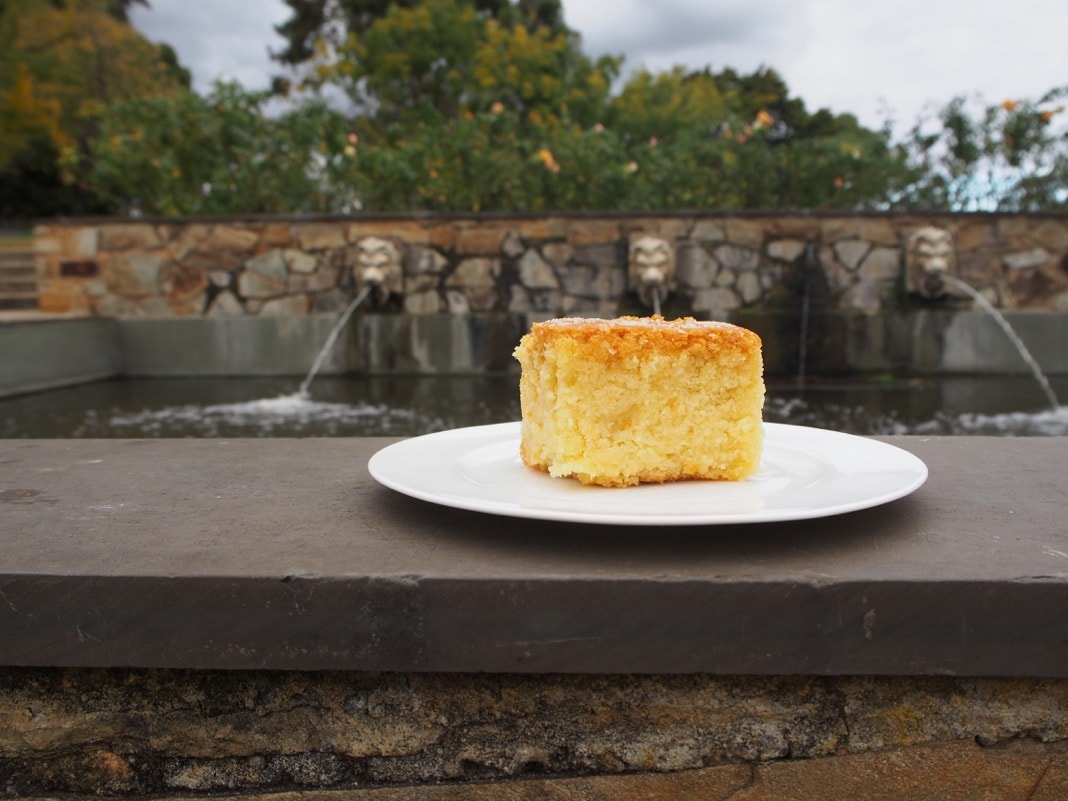 6. Milfei, Mille-Fueille
The first thing I thought about when eating this Greek pastry was that it reminded me of eating a vanilla slice.
And that is how Milfie is often described, as a continental-style vanilla slice.
Mille-Fueille: Translated to English, millefeuille (pronounced meal-foy) means one thousand petals.
It's an excellent way to describe this Greek dessert because of the many layers of thin pastry used to create this yummy Greek vanilla slice.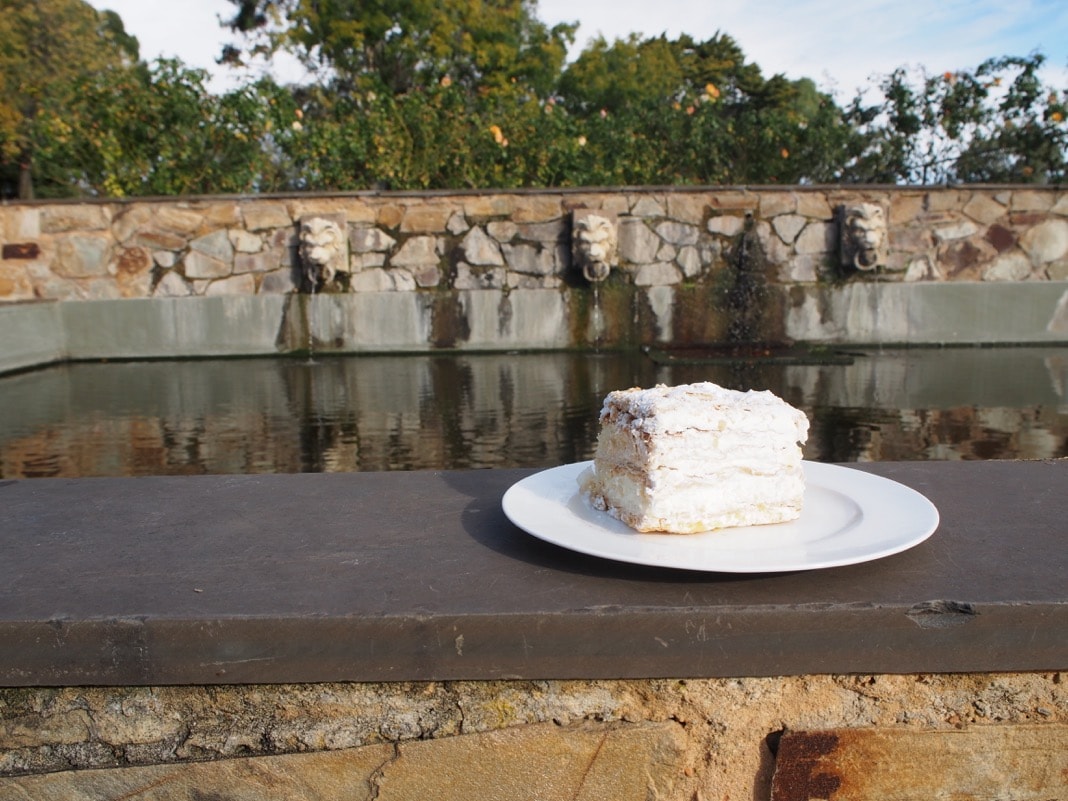 7. Portokalopita – Greek Orange Cake
Here is another Greek cake that took me by big surprise. It is very delicious.
The moist syrup-based orange cake is something you could serve to anyone and be confident that they would enjoy eating it.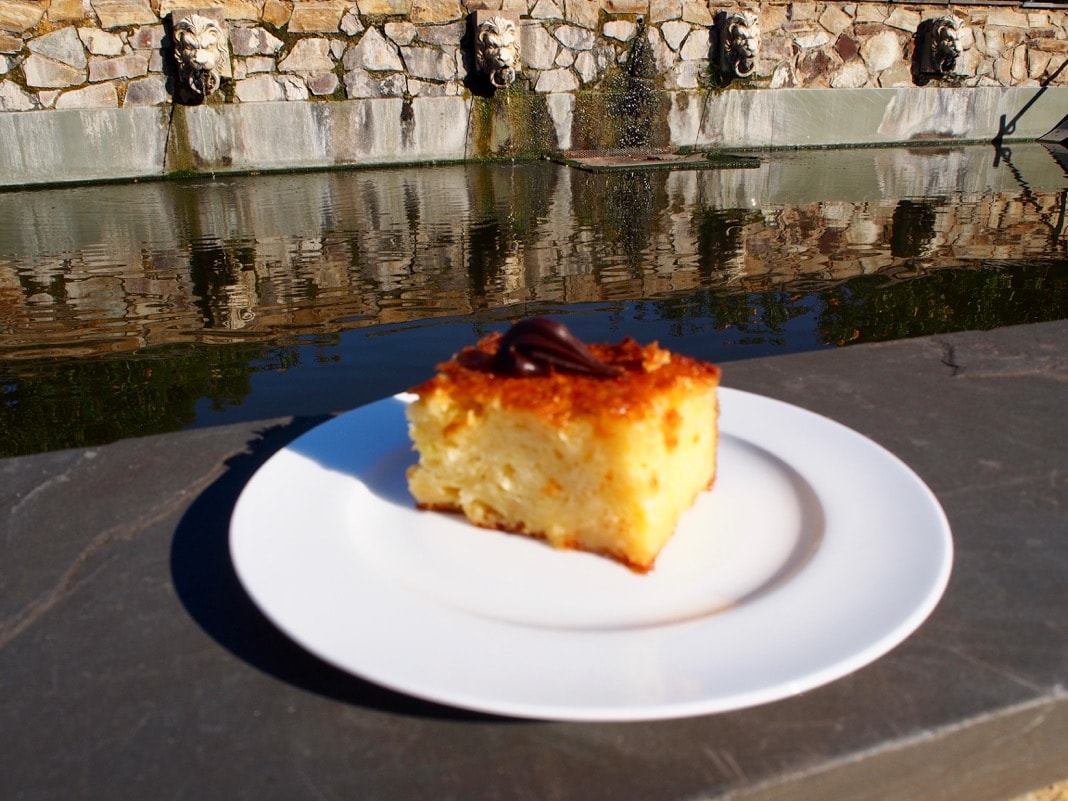 8. Kopehai – A filling Greek Dessert
Kopehai is a dense, double-layered almond cake encased in filo pastry.
I enjoyed eating this Greek dessert, but it is slightly too big, and you feel a bit guilty when eating it.
So it's probably better to cut it in half. I found it quite filling because it is very rich in taste.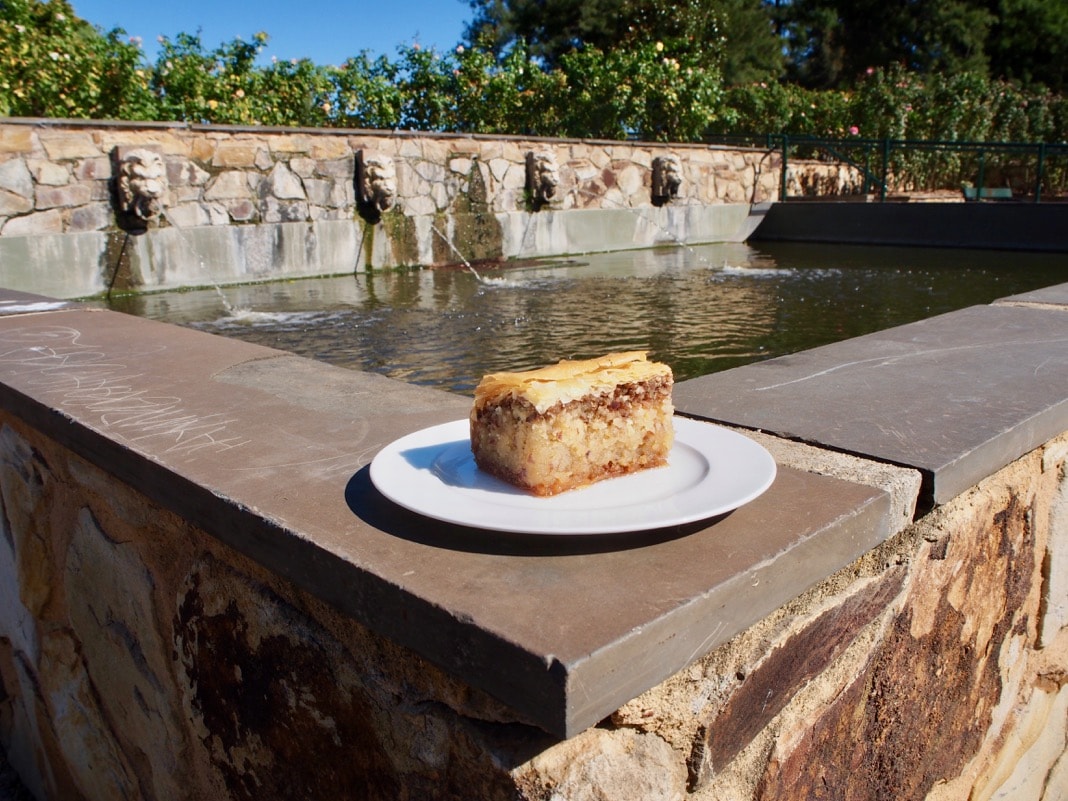 9. Karithopita – Walnut Cake
Karithopita is a beautiful Greek cake to eat for dessert.
I can't see how anyone wouldn't enjoy eating this walnut cake. It has the right amount of moisture and sweetness to it. You can taste the walnuts, and it's super tasty!
10. Melomakarona
Melomakarona is a Greek Christmas honey cookie you can eat all year round.
The biscuit is very sweet. I found it sweeter tasting than any other Greek dessert in this list of best Greek desserts.
I enjoyed the taste of Melomakarona. Eating one of these biscuits will surely satisfy you if you need a sugar hit.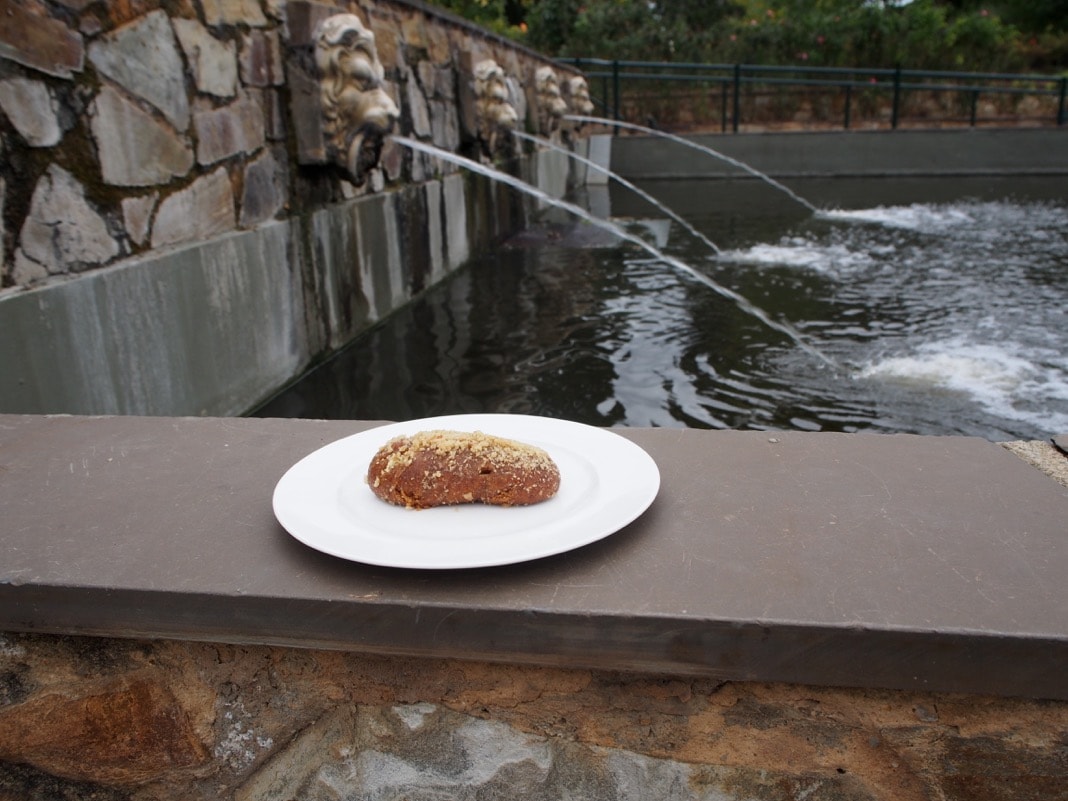 11. Kourabiedes – Greek Butter Cookies
Kourabiedes are too dry to enjoy eating with nothing to drink, but these almond shortbread cookies are great to have with a coffee or a glass of milk.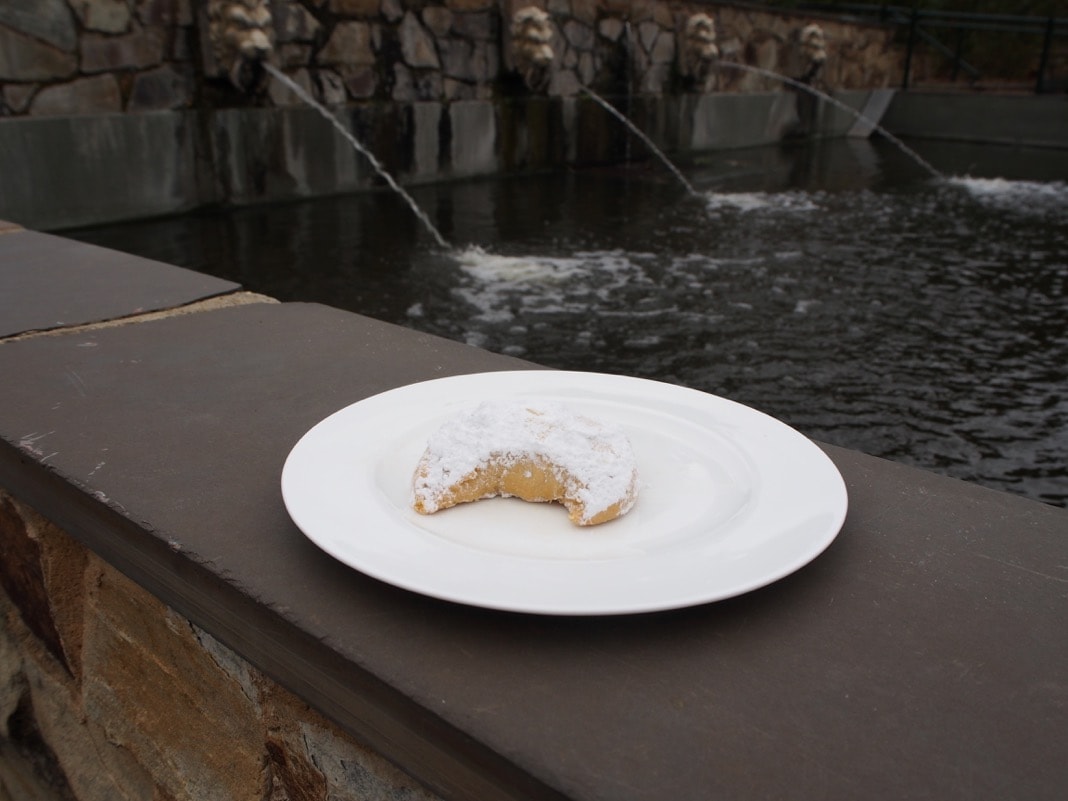 12. Kok – Greek Cream Puff
Greek cream puff "Kokakia" with chocolate glaze looks delicious. It tastes good but it doesn't have that x-factor since it is fairy light with no big flavor.
You wouldn't turn one down if you were given one, but I'd probably go for a chocolate donut over a kok if I had a choice.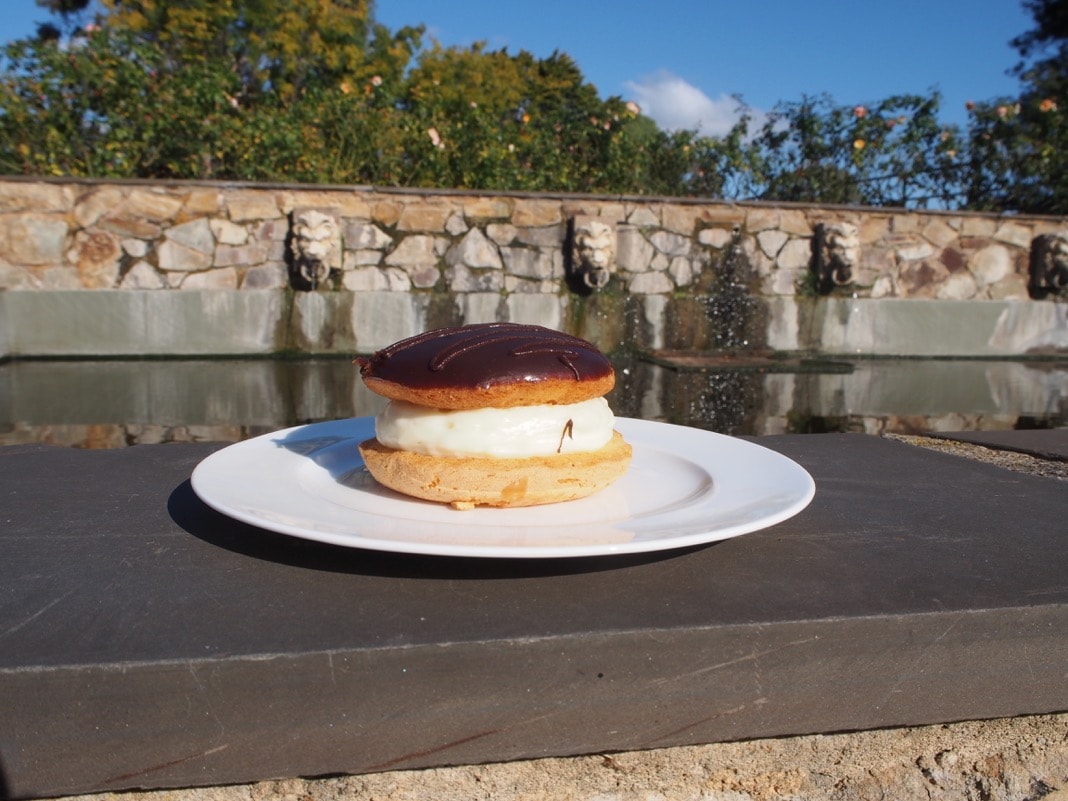 13. Galaktopita – Greek Semolina Milk Pie
Traditional semolina custard bake I still have to try.
14. Milopita – Greek Apple Cake
Who doesn't love apple cake?
15. Halva – Traditional Semolina Pudding
Out of all of the fabulous Greek desserts on this list, Halva is my least favorite. I'm not too fond of it for some reason.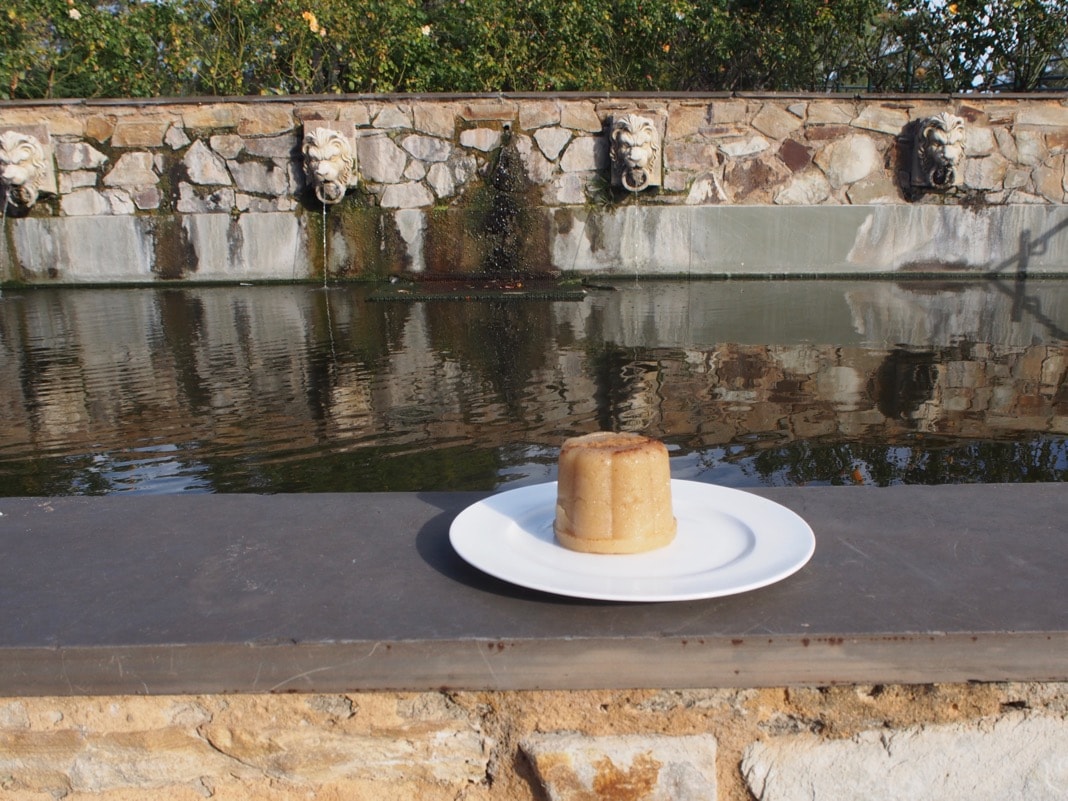 16. Sokolatopita – Chocolate Cake
Most people love chocolate cake because it is delicious, and the Greek version of the cake looks fantastic!
17. Rizogalo – Greek Rice Pudding
Every Greek child has fond memories of eating rice pudding, so it's a must-have Greek dessert.
During summer, the Greek dessert is best enjoyed when served cold.
18. Amigoalota – Almond Biscuit
The almond-based treat is worth a try.
19. Saragli – Rolled Baklava
Saragli or Baklava Cigars are traditional baklavas in rolled form.
I prefer the triangular cut baklavas, but these tubular Greek baklava desserts are very popular.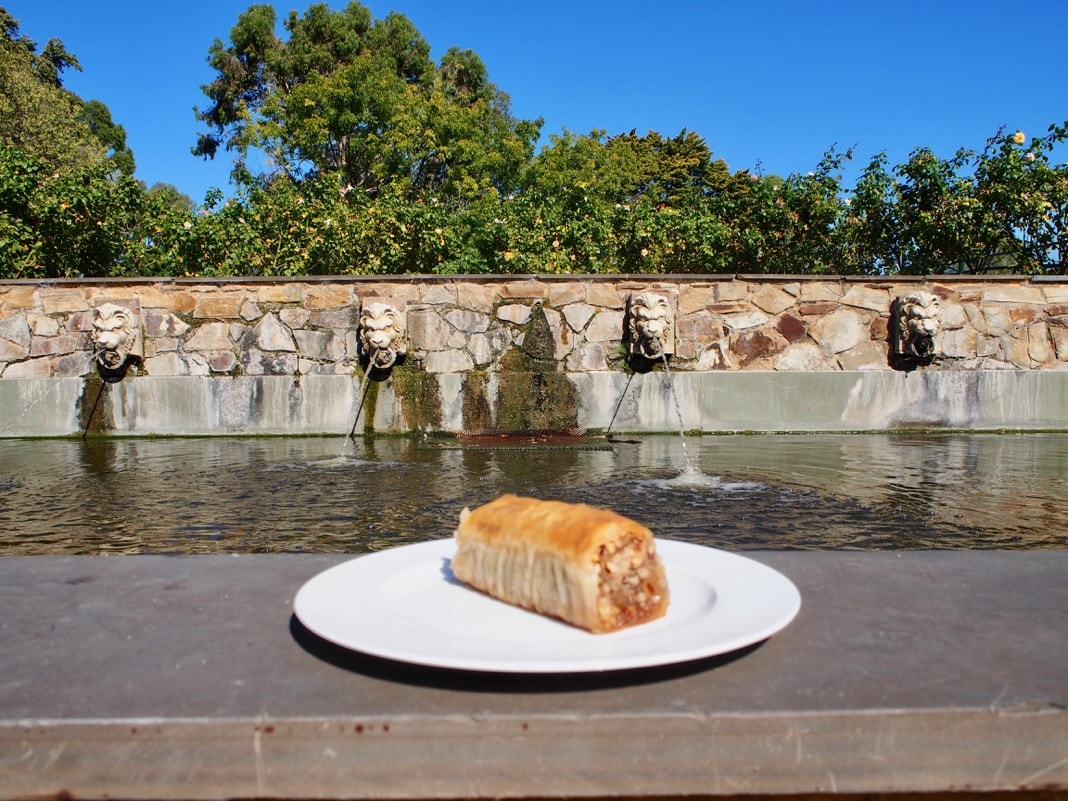 20. Lemonopita – Lemon Cake
Eating Greek lemon cake sounds like it would be one tasty treat.
21. Dipples
Originally from the Peloponnese, these Greek desserts have made their way all over Greece. For this reason, these popular Greek desserts must be really good!
22. Pancakes
Yep, they have pancakes in Greece. So you need to try a pancake in Greece if you get the chance.
23. Spoon Sweets – Glyka tou koutaliou
Made from various fruits, including cherry, watermelon, apricots, figs, and many more fruits found all over Greece. All of the fruits get preserved in sweet syrup.
Called spoon sweets because, you guessed it, it fits on a spoon.
Spoon sweets even get used as topping on yogurt.
You have a good chance of coming across this Greek dessert when in Greece.
It is often served together with a Greek coffee and a glass of water.
24. Vanilla submarine
The nickname for this sweet is ypovrichio, meaning submarine.
It is a unique Greek dessert. Essentially it is a scoop of sweet paste on a spoon placed in cold water.
The sweet taste comes from vanilla or the famous mastiha, made from mastic tree resin from Chios island.
Take the spoon out of the cold water and lick the paste the same way as you would a lollipop.
You can also drink the water as it sweetens to cool off, a good thing to do on a hot summer day.
25. Loukoumades
These honey balls (honey puffs) made with deep-fried dough are delicious.
If you are in Greece, this is one Greek dessert you must try.
More Desserts (other than Greek)
If you'd like to see some more desserts, check out the 15 best Italian Desserts.
That's it for now, you've just seen the 25 best Greek cakes, pastries, and desserts.
Pin it … Share it