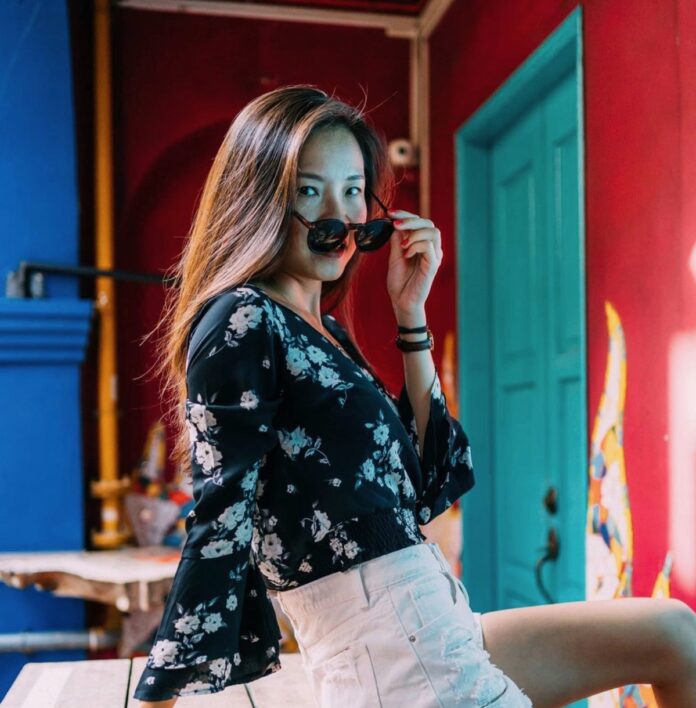 Isabel is a millennial travel blogger from Singapore with the great website Bel Around The World.
When reading her fantastic travel blog you will find many awesome adventures, informative travel guides, interesting personal stories and also great blogging tips, so I highly recommend checking it out.
Isabel is also an expert in SEO (Search Engine Optimization), proven by the fact that her own website ranks extraordinarily well on Google.
Great SEO helps your website pages rank higher on Google and other search engines, which drives more traffic to your site. It helps to achieve what every travel blogger hopes to get, more traffic.
I first met Isabel by taking up a free online offer with her in a one-on-one SEO session where she gave me some valuable SEO tips. Her enthusiasm for SEO impressed me greatly.
I must not have left a great impression during that online session because she didn't even remember who I was when some months later I asked if I could do an interview. My website name didn't even ring a bell. I think her response was I vaguely remember you.
It doesn't matter because now we're here. I'm interviewing Isabel from Bel Around The World and it's a bit different from the other interviews I've done so far.
This interview is based on an audio interview I did with Isabel. So what you'll be reading here in this interview with Isabel is spur-of-the-moment thinking. The answers could have been very different otherwise.
I stitched this up from the audio interview, so it isn't going to be a masterpiece of writing. Just be aware of that before you pass judgment and if anything blame me.
Anyway, it's still awesome reading, so I hope you enjoy reading what Isabel had to say from Bali, island of the Gods.
Bel Around The World Interview Intro
How's your time in Bali?
Amazing, I am having so much fun. I feel guilty because I'm not working as much as I want to.
It looks great from what I've seen on Instagram.
Isabel, to begin with can you tell us how you started Bel Around the World?
I started Bel Around the World in 2015 during my student exchange to France. So that was when I bought my first one-way ticket out of Asia to travel solo, and that was pretty exciting.
So I thought I wanted to document the journey because I would be in Europe for at least a semester, which is around 6 months, and I would have a lot of travel adventures and photos.
I had gotten my first DSLR camera, so I was really excited to document everything and that's how Bel Around The World was started.
Did you blog before Bel Around the World?
Oh, yeah, I did. I actually have a personal blog that I started in 2006, hahahaha. So throughout my teen years, I had this personal blog. Really just for me to rant, to write whatever my heart fancies.
It wasn't anything professional or anything like that. It still exists, but that was just kind of an online journal back then on BlogSpot.
Travel Blog Progression
How has your travel blog progressed regarding traffic?
It was a really slow progression in the beginning, not at all instant, not at all viral. I really didn't know anything about online marketing or anything like that. So it was really mostly just an outlet for me to document my travel journeys and really writing things that I thought that people like me, the way I travel, would find helpful.
Back then, I was a student on a budget, so I was writing a lot of student budget travel tips, different travel hacks that I found and certain itineraries that I found helpful. I was really interested in the whole planning process.
The Internet wasn't as established and full of information as it is now, so I thought that with my blog, I would be able to provide helpful information to travellers. They would be able to walk in my shoes and know things that I wish I knew then.
I'm studying Google now and figuring out where people are coming from. I did have social media at that time because with the whole blogging package you would have Facebook, Instagram and Twitter, and that sort of thing just as part of your brand. So that's what I did. Although I don't necessarily know what I was doing then, so really just muddling around.
Then I started looking at statistics and seeing certain posts that get more traction than others. I really studied the style, the trends, what people are looking for, and it kind of went from there.
So throughout the years I have experimented with a lot of different ways of getting traffic. I've just found that Google organic traffic is the most effective way and it comes in the best way.
It's high effort in the beginning, but it pays off in the end because you really just have to write one post really well, and then it starts to rank, and then you start getting traffic even in years to come.
So I have one post I remember writing. I think it was in 2015 and up to date, even with over 400 posts on my blog, it still is one of my top-performing posts. It's the one how to plan an itinerary with Google Maps.
Isabel's Zodiac Signs
Just for fun, I'm curious to know your Asian Zodiac Sign and your Western Zodiac Sign. What are you? Are you similar to what your star signs say about you?
My Chinese zodiac is a Rooster. Western horoscope, I'm a Libra.
I don't really follow, but I've done some reading here and there. Yeah, I don't really remember what characteristics Libras or Roosters have.
Bel Around the World: Best Experiences in Asia
I'm sure you have had many wonderful experiences in Asia. Can you tell us about some of your best experiences in Asia that really stick in your mind? Maybe you've experienced great Thailand adventures, or maybe you've sailed around the Philippines.
Speaking of the Philippines, I did a graduation trip with a bunch of friends from Uni. There were more than ten of us. We were rock climbers, so it was a really fun grad trip because we did a lot of adventurous stuff like canyoning.
I had never done canyoning before and that was in the Philippines and super fun.
I also think the Philippines has one of the best beaches. I really had a good time with the water sports in the Philippines.
I mean don't get me wrong, Thailand beaches are great. Bali is not too bad as well, but I think one of the experiences that stood out to me was canyoning because we were jumping off like ten meters off a cliff into the water, so that was thrilling.
And then I would also say bungee jumping in Thailand. I guess that was also one of my grad trip experiences.
Bungie jumping by far out of the eight years that I have been travelling full-time is still the scariest thing I have ever done in my life. And I can't believe that I did that at age 18 and it was super fun. Yeah, I loved it. You wouldn't think there is a bungee jump in Thailand of all places, so yeah, definitely check it out.
Can you reveal one hidden gem in Asia that is a relatively secret place in Asia?
Panglao in the Philippines… super laid back, just imagine Krabi, but 10 years back. Super laid back, lots of nature, great beaches and really amazing experiences there.
Best Beaches in Asia
If you had to pick one Asian country with the best beaches, which one would you choose and why?
I'm quite biased with the Philippines. Thailand has nice beaches too once you get off the main island into the smaller islands. But the Philippines, I remember, it has sandbanks super similar to the Maldives and really remote islands. It probably has the most number of islands in a country in Asia.
Would you go back to the Philippines?
I'm in Bali at the moment. I'm going to Singapore for Christmas. If I were to come back to Asia, I would probably want to come back to Bali.
Bel Around the World in Japan
You have visited the beautiful city of Kyoto in Japan and been to the Fushimi Inari Taisha Shrine dedicated to the Shinto gods of sake and rice. Do you know what the writing says on the shrine columns you visited?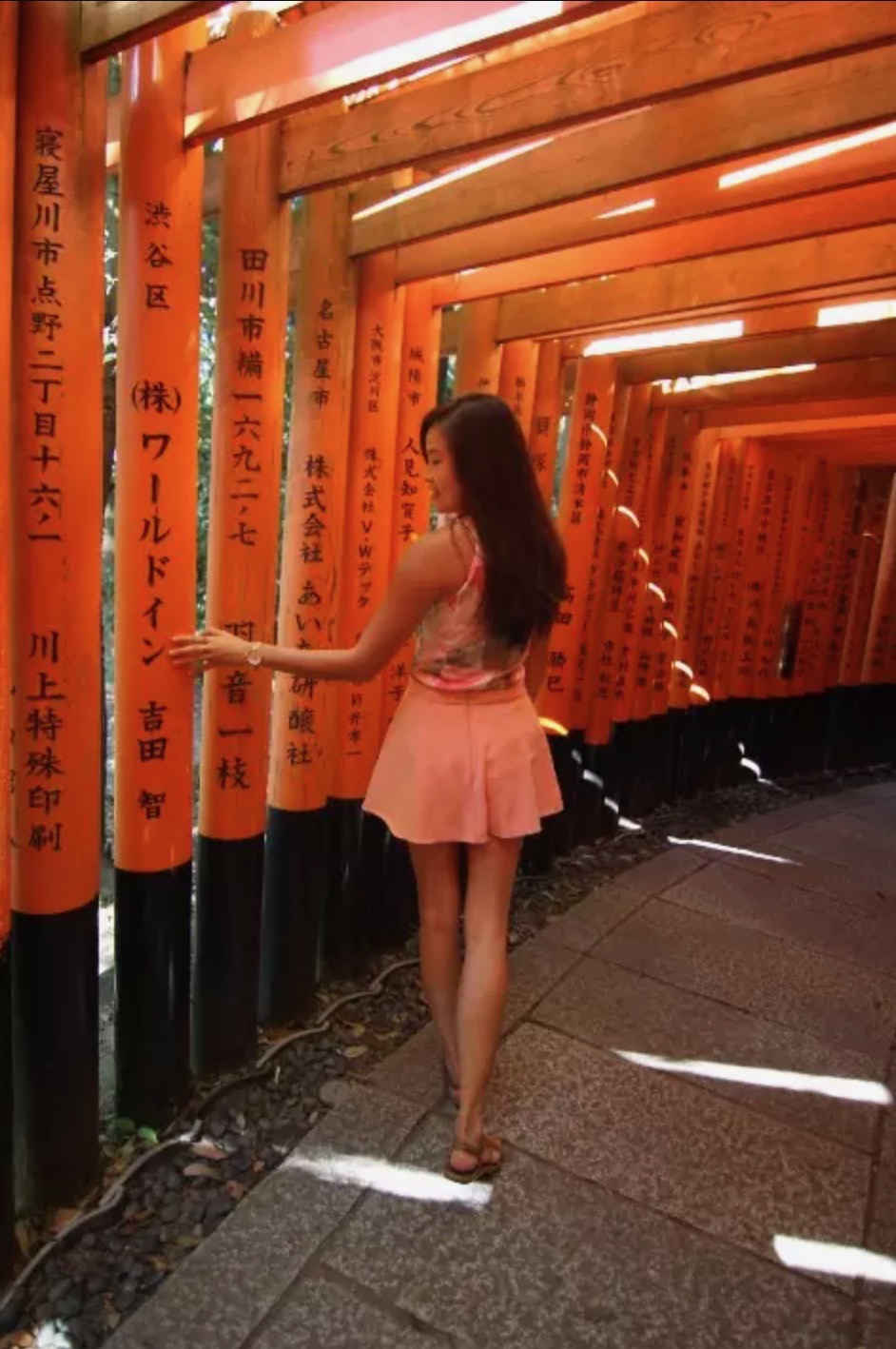 It is in Japanese, but they have infused Chinese characters it. But if you ask me what it means I wouldn't know. Sometimes I can decipher some words, although they are in Japanese.
What do you think of Kyoto in Japan?
I've been to a couple of cities in Japan and if I were to think of Kyoto I would say compared to most of the other popular cities, it is more religious. The shrines and temples are going to be the main highlight over there.
So if you're into that and you want to learn more about the history and culture, Kyoto is definitely the one to visit.
I also have a guide on what to do in Kyoto, Japan.
Best Food in Japan
Isabel, I know you love Japanese food. I have to admit I don't much about Japanese food apart from eating at some sushi trains and sushi takeaways. Can you give us any Japanese food tips?
Yeah, I'm a big fan of seafood so if you go to Japan you definitely have to try the raw seafood because they serve the freshest seafood like oysters. Umm yeah, it depends on how adventurous you are, like, what is it called — sea urchin!
And I don't know if Japan has this but I remember eating this in Korea, in South Korea. It was live octopus. Ha, so they chopped up the tentacles and the tentacles were still wiggling on our plates. So that was an interesting one to experience.
If you go to Japan, you definitely need to not miss the fresh markets because they serve an array of all types of seafood there. You will find the best seafood experiences in the local markets.
On my blog I also discuss the best foods to eat in Japan, if you want to know more.
One interesting fact though is that only men make sushi. I don't know if you know this, but if you notice, it's very rare for a woman to be a sushi chef, because a woman's body temperature is higher than a man's.
PS. That poisonous fish I was talking about, which I said was similar to a puffer fish, where licensed chefs are only allowed to prepare them, that fish is called fugu. Whatever you do, only eat one if it is cooked by a licensed chef. 
Best Experiences in Singapore: Bel Around The World
I know you come from Singapore, so my question is this. Where would you take a friend if they visited Singapore for the first time?
First thing I would do is hawker foods. Food is the main attraction there. So I would have a taste of the local foods, the hawker centres, not at the fancy restaurants. Local experiences!
What about the impressive garden with structures that rise into the sky?
That's Gardens by the Bay I believe you are referring to. It has super trees, trees that shoot up in the sky that light up at night. It's a good place for a walk.
They have very beautiful gardens and then along that area there is also Singapore River and all the attractions, the main highlights are there. Like Marina Bay Sands, the hotel with the boat at the top.
The whole area lights up at night, so it's a really nice walk to do at night. Even I personally don't get tired of walking in that district in that area.
Best Place Outside of Asia
What is the best country outside of Asia?
I really like Cape Town in South Africa. It's a city, not a country.
Bel Around the World in Greece
What is your impression of Greece and can you tell us about some of your best experiences in Greece?
The beaches are a highlight for sure. I did all of the classic historical sites. So I'm going to admit I'm not a big fan of history, but it is still quite spectacular to consider the rich history that all these facades were made since then.
Ummm, let me think, what's my favourite part of Greece. Hmm, oh, I love the… I guess everyone knows this, but the colours and the way Greece is iconic for the white-washed houses. It's really quite a sight to behold and I remember this summer I went to a couple of the islands, Corfu and Mykonos.
Apart from the busy streets, I really like getting lost in the labyrinth of small alleys where they sell hand-crafted goods, clothing, and things like that. They are super colourful and very fun to walk in, so I would say it is my favourite part of Greece.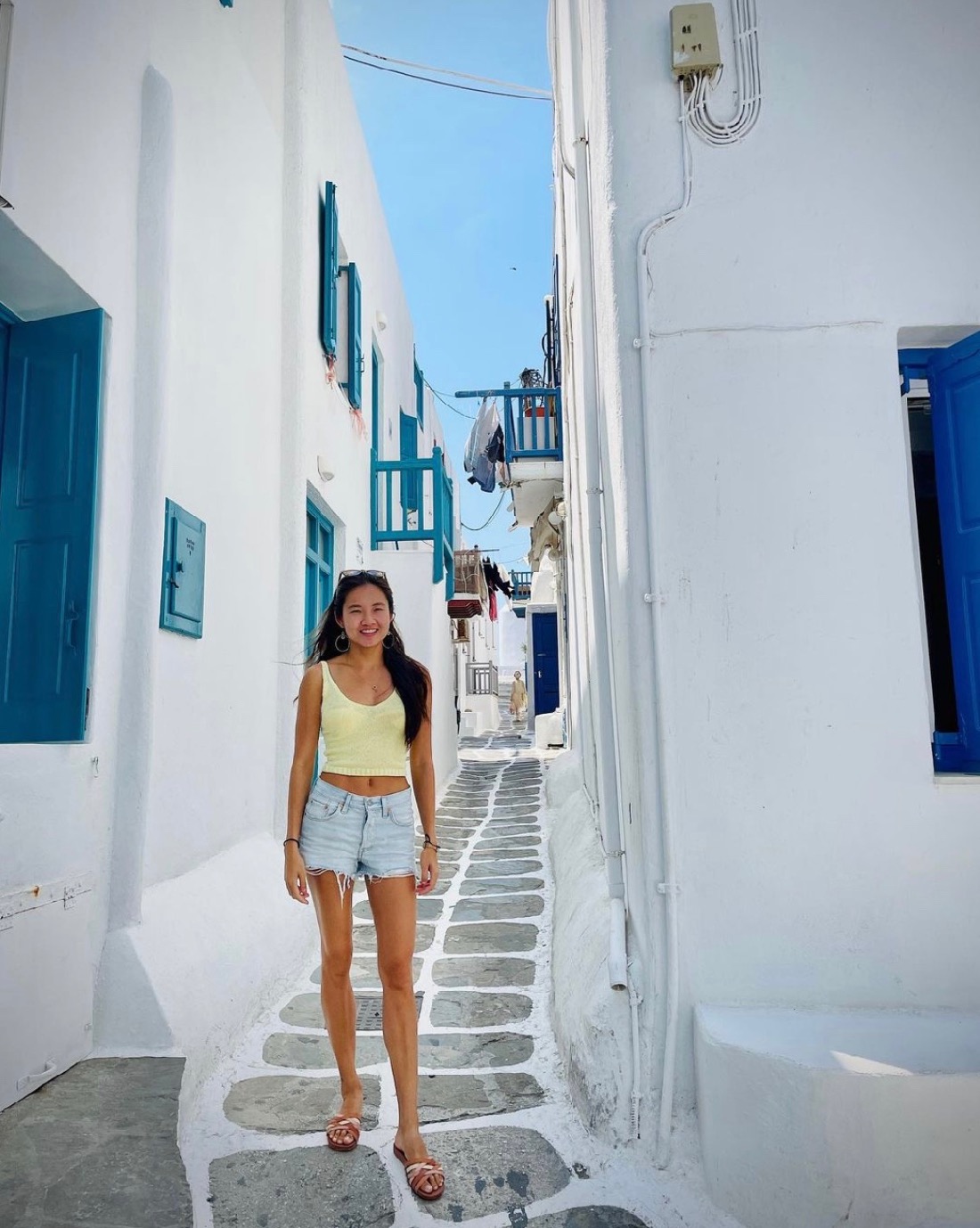 What is your biggest highlight in Greece?
Personally, I'm not a fan of Athens, I didn't really fancy it. It's a bit too touristy and dangeroussss.
Corfu was great, the only thing is that it is pretty spaced out, so unless you have your own car, it would be difficult to explore the island and if you are tight on schedule. But it is so nice just walking around the streets.
I would say the islands are in itself a highlight, because there is always a little street and just interacting with the locals as well. They sometimes have their own taverns.
I remember going to Milos in 2015. That was my first time to Greece and it wasn't very popular back then as it is now, so visiting the smaller neighbourhoods was quite delightful.
Everyone was very hospitable very affectionate. Even this year when I went with my friends and we stayed at a guest house/Airbnb, the owner was living in the same complex as us. He was very friendly, he would offer the local alcohol to us, hehe.
So I really loved the hospital people there. They are very friendly so it makes you feel very welcome.
Do you have a favourite Greek island?
In 2015 my favourite would be Milos. I thought Santorini was over-touristy. This year I think even though Mykonos was expensive and very touristy, it was really picturesque.
So if you like taking pictures, I would say Mykonos is worth visiting even though it is overpopulated with tourists.
Bel Around the World and Greek Mythology
Do you know anything about the Greek Gods, Greek Goddesses, or Greek myths?
I wouldn't really be able to answer that. I know them but… I know them, but I don't really know the characteristics in detail.
Have you ever heard of Zeus or Apollo? Have you heard of those names?
Yes, I definitely have heard of them but I just don't register who they were and their stories in my head.
Isabel, you should check out my most popular post: 10 Inspirational Greek Myth Love Stories. It has been number 1 for ages for some crazy reason. Also, if you like watching movies, you may find 20 Romantic Movies with Greek Mythology themes very interesting.
Best Beaches in the World: Best Experiences
When thinking about incredible amazing beaches in the world, which beaches come to mind?
I really like the Maldives because it's really clear, especially if you go out of the mainland to the individual atolls.
The waters are really clear, the sand is very soft and white, and you can take a boat out and you will be in the middle of nowhere on a sandbank, and just be surrounded by turquoise teal water, very clear.
But this year I discovered a more underrated destination that is usually not very known for its beaches and that is Albania, the south of Albania in Saranda.
There I was really surprised because it is so close to Greece, yet everyone goes to Greece or Croatia over summer for the beaches, and nobody really talks about going to Albania for the beaches. So I think if I were to go to that area over summer for the beaches I would definitely give Albania a good shot.
What makes the beaches in Albania so special?
I would say it is mostly how clear the water is, the amazing teal colour.
Hawaii Beaches
Now that I think about it, I think Hawaii beaches are great too. Because they have the best sunsets – sunsets and waters.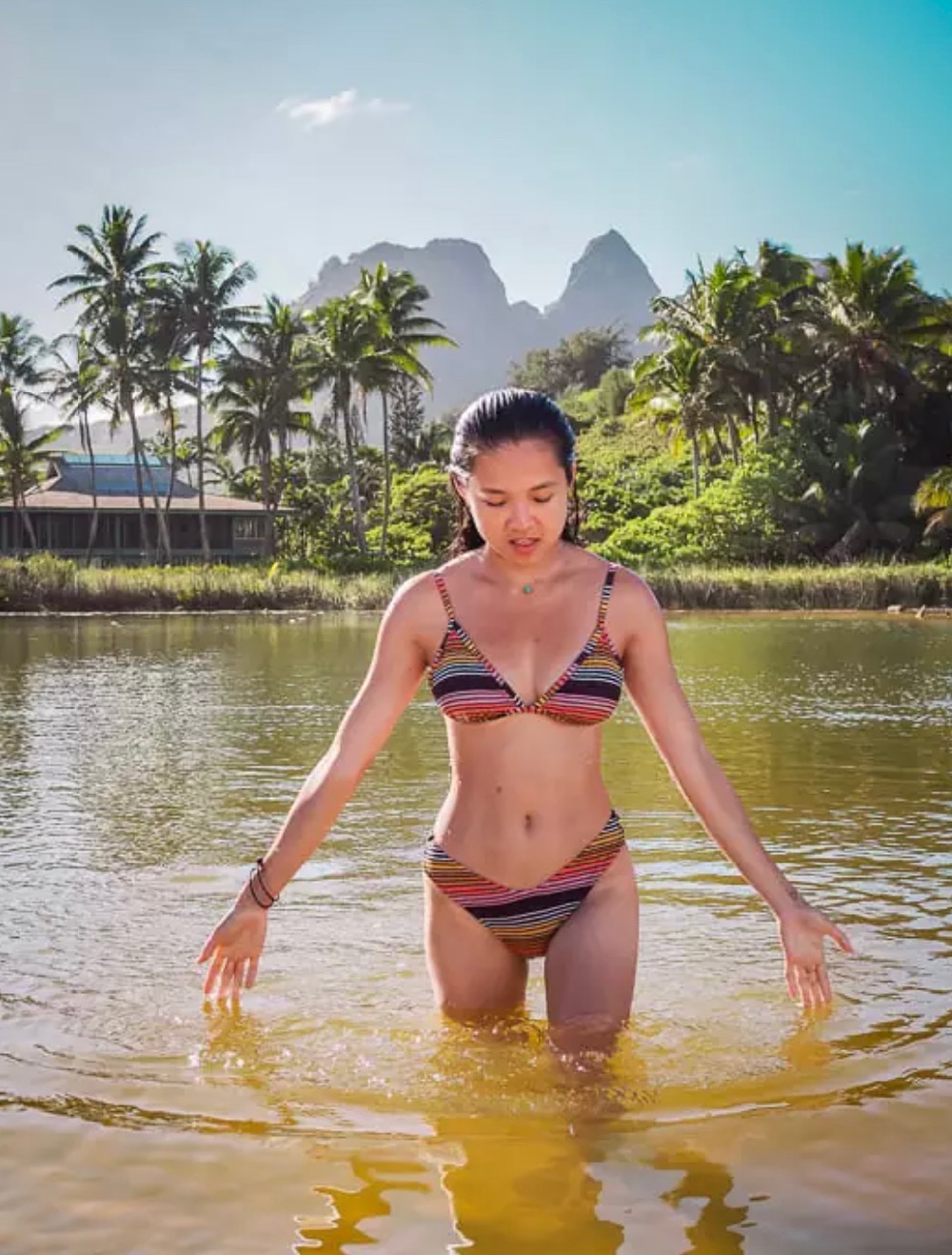 You can see a few of them in 23 Top Photography Spots in Kauai, Hawaii.
Usually, when I rate best beaches I would go for how clear the water is — great for snorkeling, turquoise colour, very clear.
Isabel, the Surfer
It looks like you enjoy surfing. Can you tell us more and was surfing easy to learn?
I've tried it out the last couple of years but it wasn't long. It was just a kind of vacation so I never really trained or never really got the time in.
It was only Costa Rica, where I spent maybe around 3 weeks that I surfed intensively for ten consecutive days and I loved it!
Like I love the learning curve of it. It's challenging and it's a lot of mental work. So the other sport I really love is rock climbing, which doesn't just involve your physical capabilities, but also has a lot of mental limits to break. That's what I love about surfing.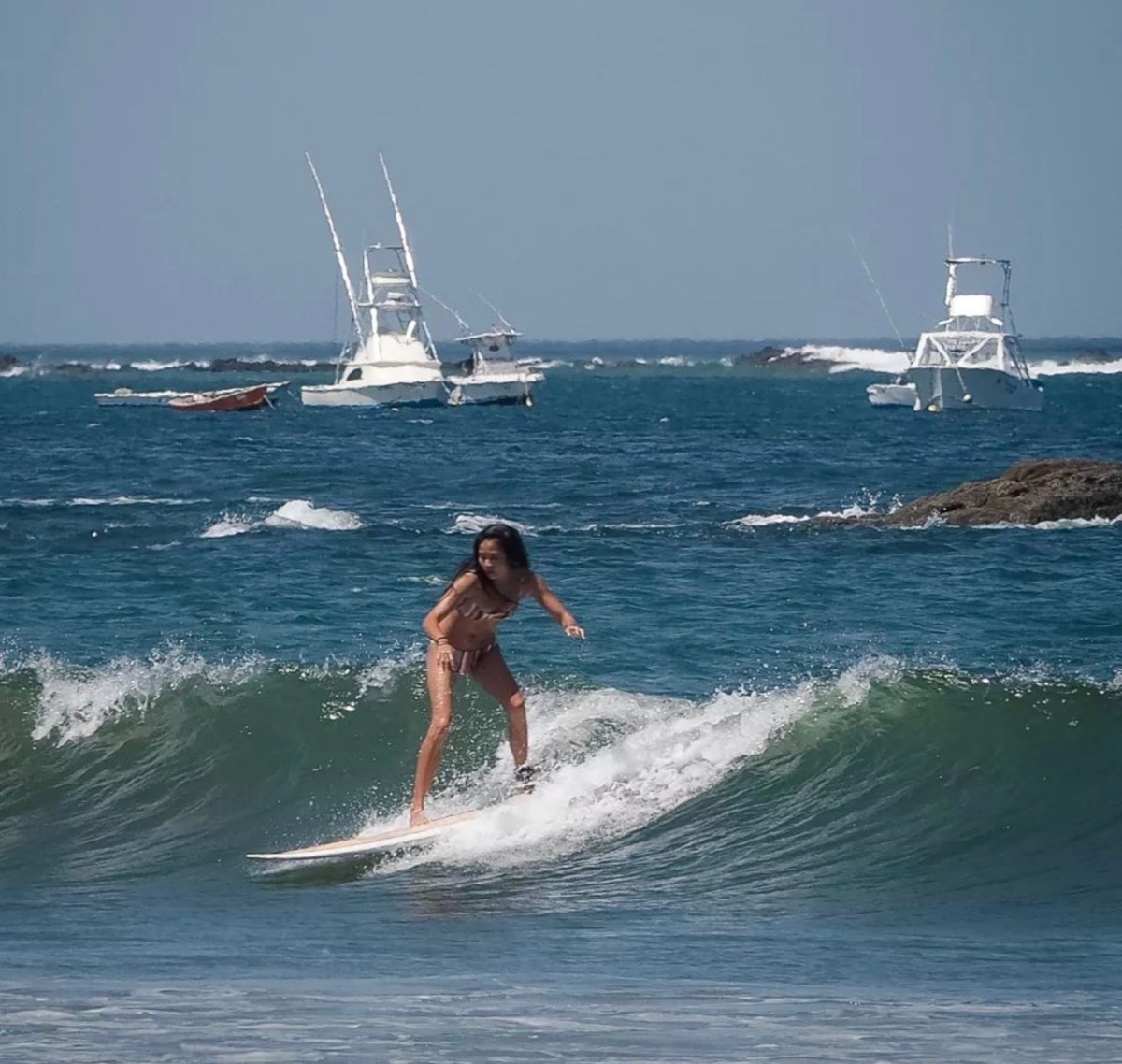 Definitely not easy by any means, but with the help of an instructor, as long as you are able to stand on the board, you can really conquer any waves after that. It's just a matter of putting in practice and being ok with falling down nine times and finally standing up on the tenth.
How long did it take to surf waves?
It really depends on how easy the waves are or how fierce they are. There are different levels of difficulties. Start easy and build up your confidence.
For me, it helps a lot because it can be really daunting seeing meter-high long waves coming at you from behind. The main thing is to practice.
I would love to go in every day, but I have an injury in my knee, so I can't surf, but I think once I'm healed, I feel I would like to get in practice every day.
It's very liberating and the sense of accomplishment you get when you catch your own wave is very satisfying and fulfilling.
Best Hiking Experiences in the World
If you had to choose the best walk in the world you've done so far, which walk/hike would you pick? For instance, I have walked the Milford Track and the Routeburn Track in New Zealand. Both of them were spectacular!
New Zealand would be the place for sure. I've done a couple of hikes there. Those routes were done with locals and are a bit unknown.
The one that I did that was really a highlight, worth a mention was Tongariro Crossing.
Because the terrain is not challenging by any means, it's more about the tenacity and the perseverance of getting and continuing on with the trek because it can be a bit long for some people.
But then you get the views along the way. You get to see the lakes, so yeah it's definitely worth the hike.
What is the highest mountain you have climbed? Can you tell us about the experience?
That was the next thing I wanted to say. Cause I wanted to mention this.
I was in Bolivia and I did 6000 meters on my birthday. That was wooo!
That was way beyond my… it was really challenging my physical limits. I was not out of shape, but it was really about the altitude limiting my mobility over there because of the oxygen. It was the first time I actually experienced the altitude and I wasn't sick from it because I had already been in Bolivia for one month, so I was used to the high altitude in La Paz, the capital of Bolivia.
It was mostly about how thin the air is, how I felt my lung capacity was significantly reduced. I was just tired from walking every five steps. And I felt like, oh, maybe I need sugar, but that didn't help even though I had snacks and sugar.
It was a three-day, two-night trek. The name of the mountain is called Huayna Potosi.
It wasn't difficult by any means, it was just about the altitude. On the day that we were supposed to hike the peak, we set off at twelve midnight to be able to catch the sunrise at the top, and I cannot believe that we were hiking to the top on the ice for six hours.
You can watch it on my YouTube video: Trekking 6000m+ on Huayna Potosi, Bolivia – CAN WE SURVIVE IT? (Part 1)

Everything felt like a blur, it was just step after step after step. The only thing illuminating the way was our flashlights, headlamps. So that was a really enlightening experience I feel for me, who doesn't hike much. It was really nice to challenge my mental and physical limits.
South America and Central America
Isabel, which countries have you visited in South America and Central America?
Bolivia, Columbia, Peru, I think that's about it. The rest was in central America — Costa Rica, Mexico and Panama.

Which country in South America or Central America do you like the best?
I'm quite fond of Costa Rica because it is the country where I spent the longest I would say. Why? Because of the wildlife there. They really respect their natural environment so much that the wildlife and humans can coexist very naturally.
So one of my highlights was watching sloths in their natural habitat, just being lazy and moving around. That was really nice.
Being able to spot a poison frog maybe a foot away from me, things like that and going on night walks, that was a real highlight because we were able to spot tapirs, tarantulas, venomous snakes, and the guides there are just so good at what they do that they are able to spot all these things with the native eye. We would not have known so much life existed around us otherwise.
There are also plenty of great restaurants in Costa Rica to eat at and the food was delicious!
That and also the beaches. I was mostly on the west side of Costa Rica. They have a lot of beaches. The lifestyle is very laid back. It was so easy to make friends even though I was travelling on my own. Everyone was just so warm and friendly and laid back making it very easy to fall in love with the country.
Best Sights in the World
Isabel, let's talk about some of the best sights in the world.
Where is the most beautiful waterfall you have visited?
I've seen many waterfalls everywhere around me but one of my favourites would be in Yosemite National Park. It's mostly known as a rock climbing mecca which is how I first learned about it.
When I finally got the chance to visit it in real life, the nature, the waterfall, the trails, the woods, it's as if I'm seeing a movie in real life!
You can read about my experience there on my blog: Rock Climbing & Bouldering in Yosemite National Park, California, USA
What is the most impressive monument you've seen? It could be the Eiffel Tower or something else.
Like the first thing that came to mind was the Statue of Liberty. I don't know why, but I guess seeing it up close is just quite phenomenal.
What is the most impressive museum you have enjoyed wandering through?
Wooo, it was in New York City as well. The one where they filmed the movie… ummm, The American Museum of Natural History. It is where they filmed all of the statues, all the monuments that came alive.
Trouble in Paradise
Travel blogging is challenging at the best of times. I really enjoyed reading how my valuables got rudely stolen in Playa del Carmen, Mexico. It made me wonder if you ever felt like quitting travel blogging after a terrible thing like that happened to you. Did you see it as a sign from the Universe? How did you try and make sense of it?
It definitely sucks because nothing like that ever happened to me before, even though I stayed in sketchy places and have stayed in complete strangers' homes. I stay in hostels and stuff like that, so it really sucks to trust someone and have that betrayed.
That make no mistake was one of the most trying times during my journey. It's so easy to just say it's probably safer for me to go back home and I'll never have to deal with such instances where I have to fend for myself and feel so alone again. But that's also what travel teaches us, to really make the most of what you have and there is no use crying over spilt milk.
It's only a matter of how you react that will turn things around when moving forward. So, yeah, it was really difficult on so many levels because I was alone, and that was kind of my livelihood because I worked on my computer, and the computer was just gone. Even my phone was gone, so I was cut off from the world, the people that I know, so that was difficult. I guess I didn't lose everything, which was a good thing, but really just having to start from scratch.
I've learned to back things up, so now I work on the cloud online. Yeah, it was painful.
I wanted to make the best of things and see the good in most things. It kind of shows that I can be a bit too trustworthy at times, but I also see the good in a lot of people.
I've been met with a lot of kindness in this journey, so I think I reap more rewards than I've really had things taken away from me. And that's what lets me see the best in people and in life.
Bel Around The World: SEO Expert
Isabel, with all of your SEO (Search Engine Optimization) experience, you have not only turned your website into one of the best travel blogs in the world, but you have also assisted other website owners to rank higher in Google. 
What are a couple of the most common mistakes you see when looking at websites with SEO issues?
A common thing most site owners are blind to is the font size because it is all about the user experience when Google considers ranking you on search engines or not. Whether they do or not can depend on user experience.
So having a good user experience means having a big enough font size even though you may want your website to be aesthetic and all that. Font size plays a part because that's what people are reading.
Site speed is also important. Low site speed means the more likely people are not going to stay on to read and hence they bounce out of your site, so that effects the bounce rate.
These are a couple of the most fundamental things to take note of. Also not having a https address, not having a secure website. You want to make sure you have a https address.
Isabel, I've been slack. I need to go to https, but I said that six months ago.
Can you tell us about the SEO services you provide?
Thanks for letting me talk about it. I do have my course Skyrocket with SEO.
It's a course covering everything from A to Z about ranking on Google and beating the search algorithm, taking the overwhelm out of you with easy-to-follow videos. As long as you have a blog, what plugins to use and very easy to digest tutorials that takes the overwhelm out of SEO for any blogger or content creator trying to get their content ranking on Google. That's a DIY course…
I also have a more hands-on program where it's a coaching program. We would meet bi-weekly to really go through with questions and basically have a more interactive and personal mentorship going on, as well as the accountability aspect of it. Because a lot of people sign up to the course and think I'll study later, but that later never comes, so that's why I have the coaching element in.
I also provide SEO services that appeals more to businesses because they want to be hands-off SEO. Many businesses are not content-heavy to begin with, so there would be more site audits involved. More content creation and brainstorming the whole content strategy on what kind of keywords they want to focus on and optimising the site for their target audience. There's also optimizing Google My Business, etc.
Best Hotels in the World
For your final question, can you tell us where you dream of staying when you think about fantastic accommodation?
I really love the whole concept of accommodation more than the travel bit now actually, so I am really attracted to unique stays.
I don't have a particular hotel in mind, but anything unique, like whether I get to stay in a hobbit hole, or I stay in a cave, or just very unique interior design, I would definitely be super appealed to try it out.
I feel like a tree house in Bali would be a lovely place to stay in. Or a cabin by the woods.
Like when I was driving to Lake Tahoe in California. I would have loved to have lived in a log cabin in the woods where I just burn my own fireplace and roast marshmallows and star gaze out in the patio and there is nothing around me, no light pollution, no sound, just the sound of nature.
Bel Around The World Interview: Conclusion
That sounds like a beautiful thing to do, Isabel. Next time you gaze out into the night sky looking at the stars, think about the Libra star constellation.
In Greek mythology, Libra is related to the Greek Goddess of Justice, Themis. Her daughter, Astraea went up to heaven and became the constellation of Virgo. Both Goddesses carried the scales of justice, which became the symbol for Libra.
Libras are known for being charming, beautiful and well-balanced. So the star sign of Libra seems to be a fitting match for you.
All the best with Bel Around the World, your SEO services, your travel adventures and life in general.
Thanks again for doing this interview. I have to say I think it turned out pretty good based on the audio interview we did.
That said, I think this could be my last audio interview unless a famous star wants to do one. The amount of rewinding I had to do was a bit too much and listening to my own strange voice was very confronting, especially when I said "sort of" about 300 times.
Anyway, Isabel for you, I'm happy to have done the interview. 🙂
And thanks for the tip you've given me now. I never thought of using online software that can transcribe audio files. I'll have to try it out.
Everyone can get to know Isabel better by reading her excellent travel blog Bel Around The World. Another great option is to follow Isabel on Instagram: @belardtheworld
Pin it … Share it