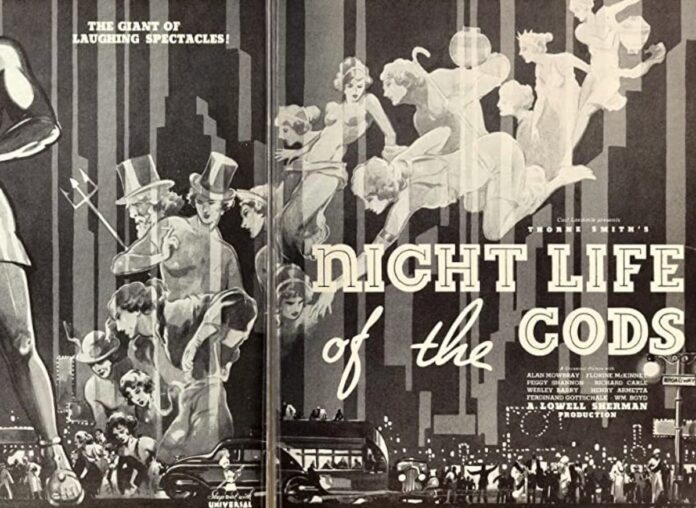 I came across The Night Life of the Gods movie on YouTube and had to watch it. That way, I could write a Night Life of the Gods film review, and here it is.
This rare movie is so old that you'll probably have to force yourself to watch the whole black-and-white film if you want to see the entire thing. One reason for this is that the video quality of Night Life of the Gods is bad and blurry, but remember, it was made in 1935.
It is even older than peplum (sword and sandal) films, which were popular in the 1950s, 1960s, and early 1970s.
The truth is that the film is lucky to have survived. For a long time, it was thought to be a lost film. Luckily for film fans everywhere, it resurfaced again when a 35mm print of the film was donated to the UCLA Film and Television Archive in the 1980s.
Blurry film copies floating around are said to be a copy taken of that print before it went into the UCLA Film Archive.
The film is thought to have been restored by the UCLA Film Archive (possibly in 2005), but I can't find any evidence to prove it. In any case, how much better could it be?
Night Life of the Gods (1935) Movie
The film is about an eccentric scientist, Hunter Hawke, who invents a ray beam powerful enough to turn living things into marble statues. His incredible invention can even turn marble statues back into living beings.
Clever as he is, the scientist even has a ring with this extraordinary power worn on one of his fingers.
So what would you do with that kind of power if you could turn people into stone? I'm not sure, but if I had to guess, you would probably get into serious trouble, just as the scientist did in Night Life of the Gods.
The scientist eventually gives life to Greek and Roman God statues inside New York's Metropolitan Museum of Art after meeting an attractive leprechaun lady named Meg. Yep, I'm not joking — she's a leprechaun!
Hunter Hawke wants all of the gods and goddesses to get along harmoniously. So after awakening Mercury (Hermes) and getting his advice, it doesn't take him long to awaken six other gods and goddesses, as well as a Greek hero. They include Bacchus (Dionysus), Neptune (Poseidon), Apollo, Hebe, Diana (Artemis), Venus (Aphrodite), and Perseus.
From there, they go out to enjoy a party and the city's nightlife. They check into the Waldorf-Astoria hotel, but it doesn't take long before things get out of hand.
Night Life of the Gods: Movie Review
Night Life of the Gods is in no way a masterpiece, and it didn't leave me feeling as if I'd like to watch it again, but I'm happy to have seen it once.
The film has many surprises along the way, which you won't see coming.
In the latter part of the film, when the Greek Gods are awakened, things go into overdrive.
The Greek gods and goddesses want to party, and who could blame them after their transformation from stiff statues into living beings?
The film's ending is quite surreal. I didn't expect the movie to end in such an unusual way. Supposedly they introduced the dream segment because test audiences weren't too fond of the ending. I won't spoil it for you.
The additional ending seemed well worth it, in my opinion, as it probably would have been slightly depressing without it.
Night Life of the Gods would have been much better if the video footage had been top-quality. For this reason, I have to drop my movie rating score by at least one point.
Watching the film at the cinema in 1935 for the first time would have been an amazing experience because the film quality must have been good then.
I give Night Life of the Gods a movie rating of 4/10, based on watching the crappy quality video of the film on YouTube. Still, I think it's an okay score for such an old, forgotten movie that few people know about.
Night Life of the Gods is one of the first movies to reference the Greek and Roman Gods. If you are interested in Greek mythology, which you probably are since you're reading this film review, I highly recommend watching it.
Night Life of the Gods Novel by Thorne Smith
The film Night Life of the Gods is based on a 1931 best-selling novel written by Thorne Smith.
Thorne Smith even had several other books which were turned into films, including Topper and I Married a Witch.
Night Life of the Gods Influences
When watching Night Life of the Gods (1935), several things come to mind.
The film's theme of turning living things into stone brings to mind a classic song.
A couple of other more famous films also seem to have been influenced by the 1935 film. The influences taken from Night Life of the Gods should not be underestimated for modern-day movies.
Turn to Stone
Turn to Stone by ELO (Electric Light Orchestra) is a great song. Do you think it is possible that Night Life of the Gods inspired this band to create this song? Could one of the Greek Gods have inspired this classic song, or maybe it was Medusa?
The Wizard of Oz (1939)
Night Life of the Gods (1935) seems to be a very influential film for such an old black-and-white fantasy comedy.
The musical fantasy film everyone loves, The Wizard of Oz (1939), certainly looks like it has pinched a few ideas from Night Life of the Gods.
Having dream sequences to make the audience wonder whether the story happened for real is one of them.
Night Life of the Gods even has a scarecrow scene, which for some reason, made me immediately think of the Wizard of Oz.
Night at the Museum (2006)
The better-known movie Night at the Museum also has a theme similar to Night Life of the Gods.
In Night at the Museum, exhibits come to life at New York City's American Museum of Natural History.
Night at the Museum has the same first word, "Night," in its own film title. This may be just a coincidence, or did the 1935 film really influence this movie?
Night Life of the Gods: Film Cast playing Gods
The Night Life of the Gods cast doesn't have an instantly recognizable actor or actress in the film since most film fans wouldn't know who the actors and actresses are. Some of them, though, do have interesting backgrounds.
Here is the order in the film in which they turn from marble stone sculptures into Greek Gods.
Mercury – Paul Kaye
The first god to awaken was Mercury, the messenger of the gods.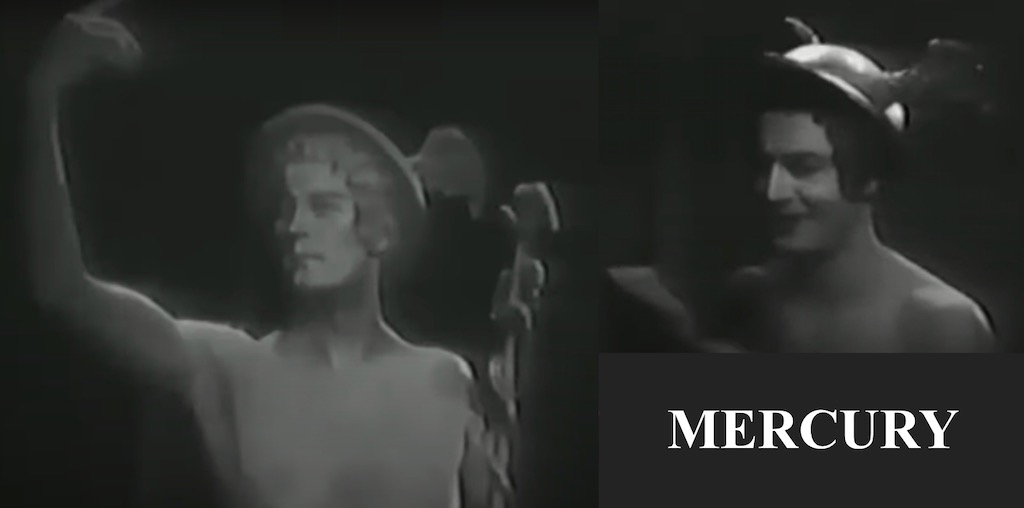 Not much information is available about Paul Kaye. However, he appeared in several other films, including Hi, Nellie (1934) and Easy to Love (1934).
Bacchus – George Hassell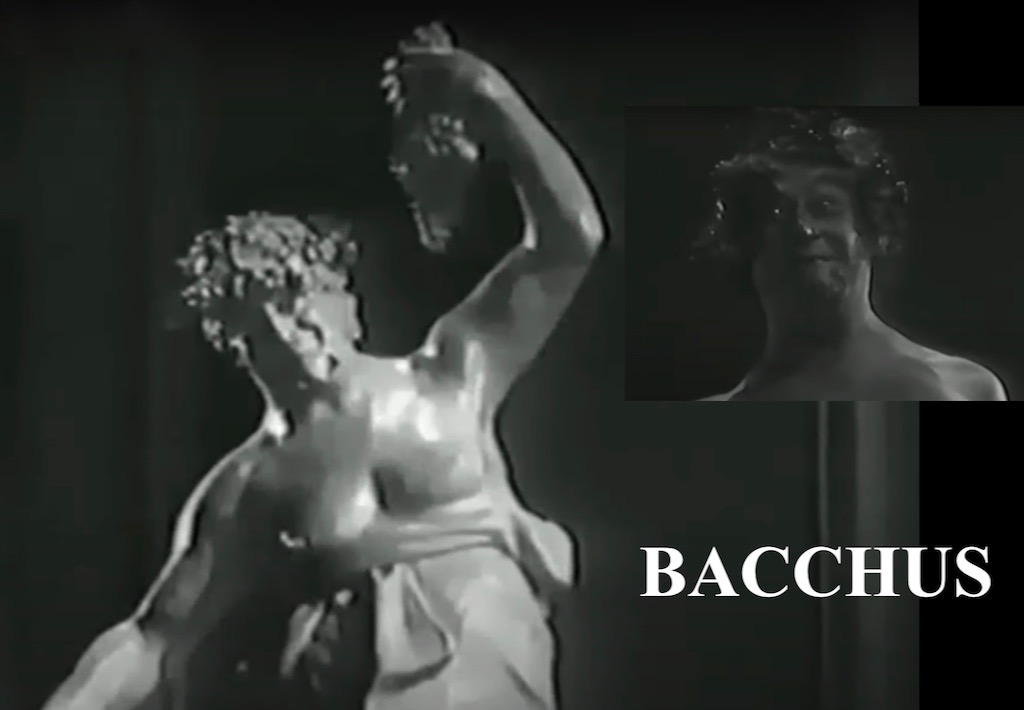 George Hassell also appeared in the excellent movie Captain Blood (1935) as Governor Steed in the same year as Night Life of the Gods.
The main star of Captain Blood is Errol Flynn. If you haven't seen this enjoyable film, you should watch it, especially if you enjoy swash-buckling adventures like Pirates of the Caribbean starring Johnny Depp.
Neptune – Robert Warwick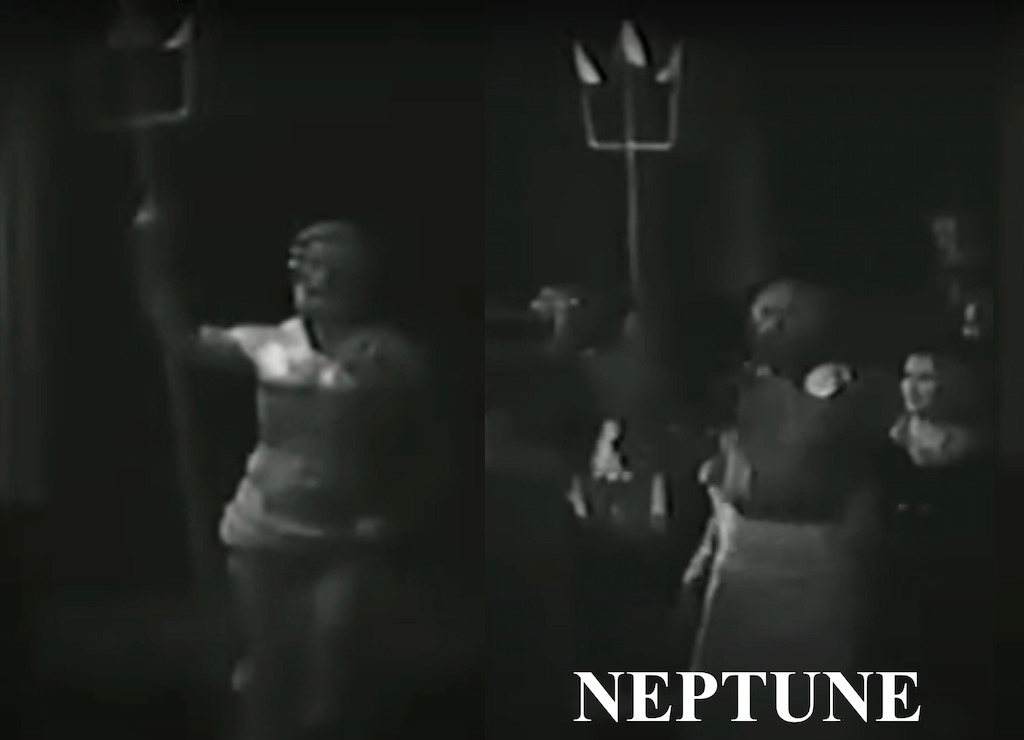 Robert Warwick appeared in over 200 films. He appeared in silent films, and later he appeared in films with sound.
A great movie with an appearance by Robert Warwick is the classic film, The Adventures of Robin Hood (1938), starring Errol Flynn. In this movie, Robert Warwick plays Sir Geoffrey.
In his role as Neptune, the God of the sea, he starts a fish fight in a fish market. It has to be one of the funniest scenes in the movie.
Perseus – Pat DiCicco
Pat DiCicco was allegedly the "right-hand man" of mob boss Charles "Lucky" Luciano in Hollywood. In Night Life of the Gods, he plays Perseus, the Greek hero who beheaded Medusa, the Gorgon snake-haired monstrous woman who turned people to stone solely by her gaze.
The statue of Perseus is seen holding the head of Medusa in his left hand. I wonder, was this some kind of hint?
Apollo – Ray Corrigan (credited as Raymond Benard)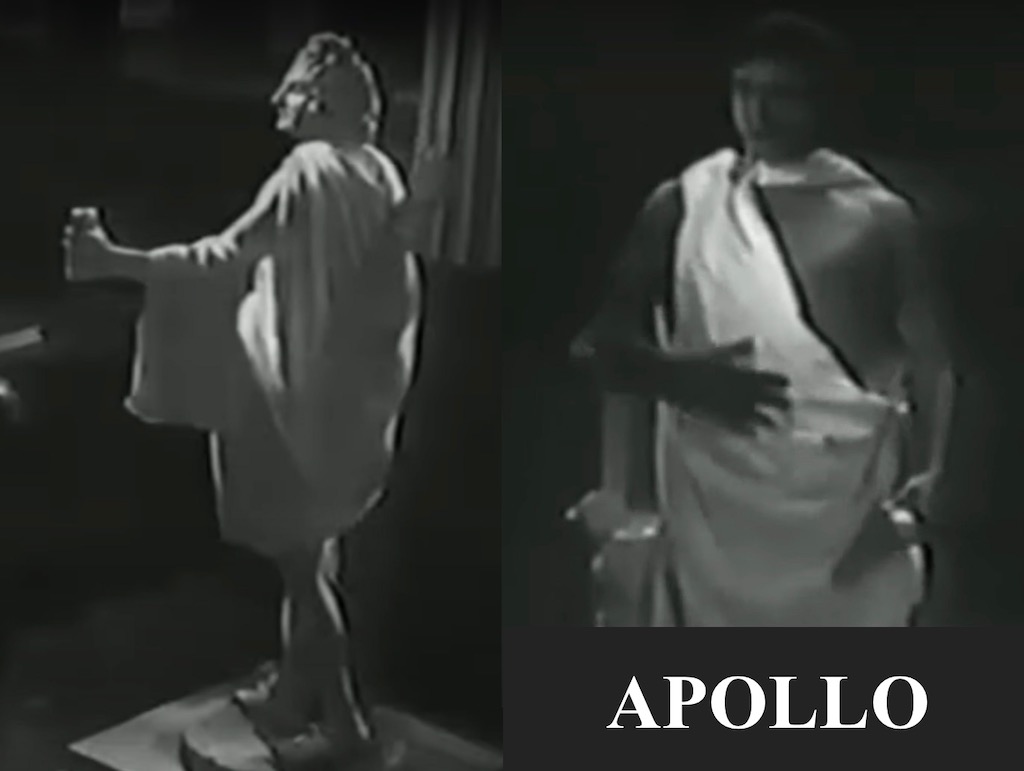 Ray "Crash" Corrigan also starred in the twelve-chapter film serial Undersea Kingdom (1936).
Thirty years later, in 1966, the TV series was edited into a 100-minute movie titled Sharad of Atlantis. If you are interested in Atlantis movies, you will probably want to see what it is about.
Hebe – Geneva Mitchell
Geneva Mitchell appeared in several Three Stooges 1935 films. I always think about The Three Stooges Meet Hercules when I think of Three Stooges films. However, she didn't appear in that one. Instead, Geneva appeared in Restless Knights; Pop Goes the Easel and Hoi Polloi.
Diana – Irene Ware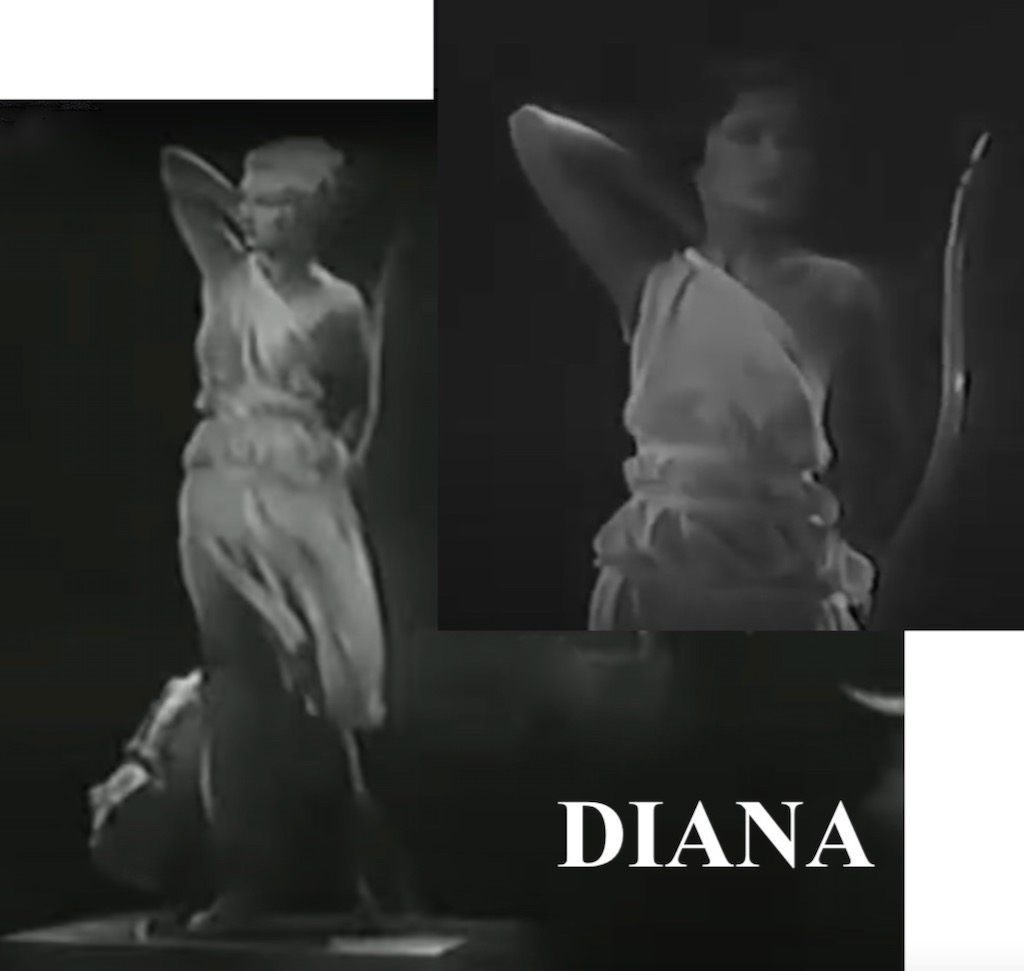 The American actress Irene Ware crowned Miss United States in 1929. She appeared in 29 films between 1932 and 1940, including The Raven (1935), the same year as Night Life of the Gods (1935).
Venus – Marda Deering
The only film credit for Marda Deering seems to be from Night Life of the Gods. It isn't bad, considering she plays Venus, the Goddess of love.
Beautiful Actresses or Goddesses, I wonder if Marda Deering should be on this list.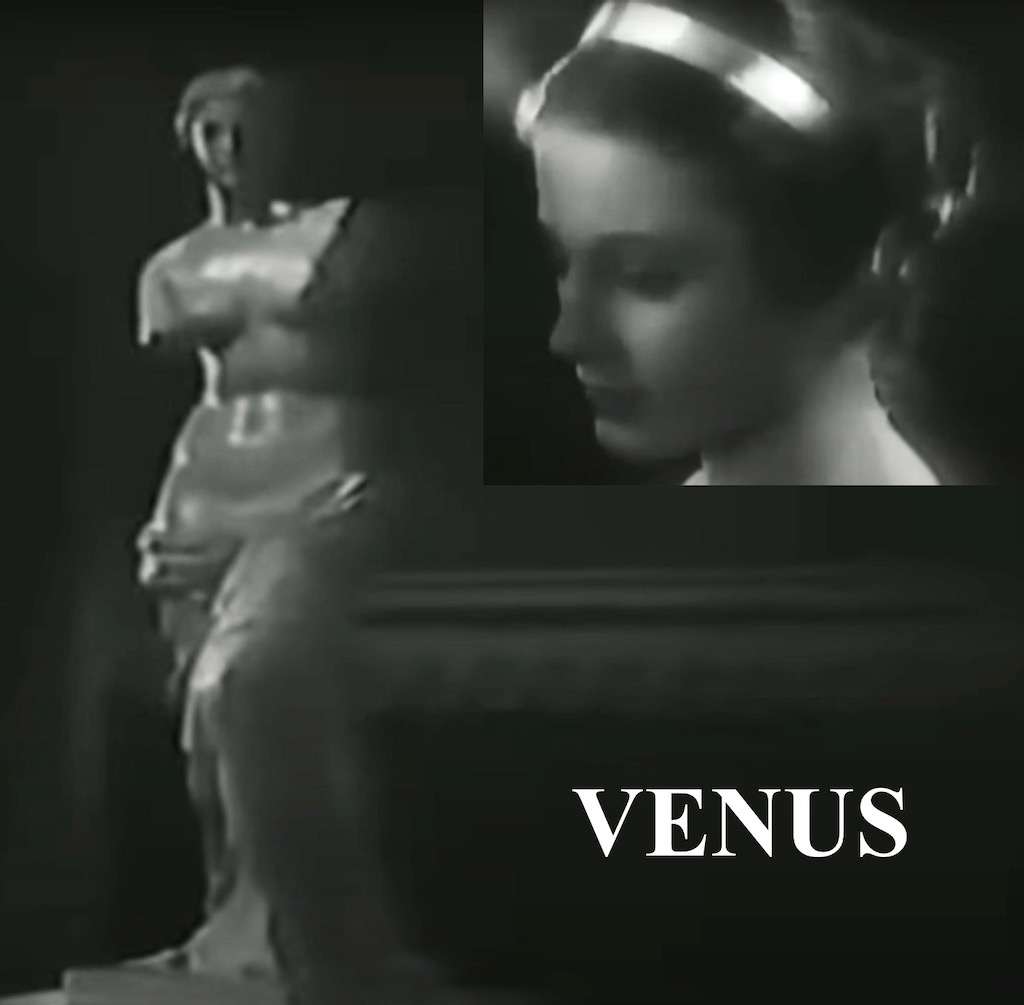 Pin it … Share it