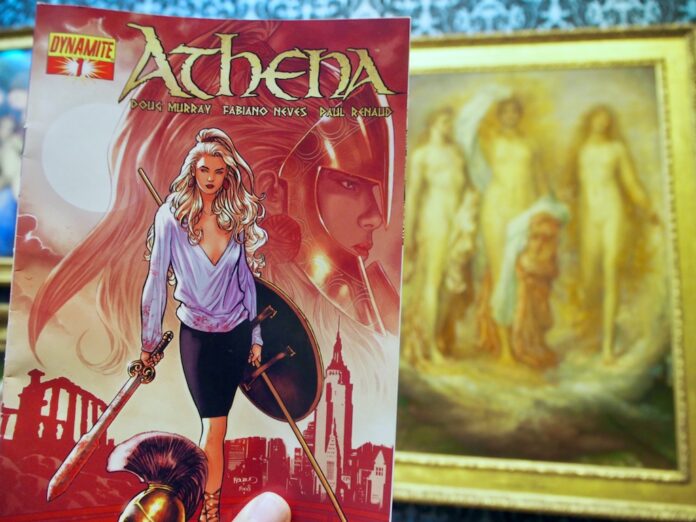 I discovered the Athena (Dynamite) comic series by Doug Murray only after walking into a bookshop one day. The amazing Athena #1 comic cover smacked me in the face with a striking cover page, and that's essentially how this Athena comic review came about.
When I first saw Athena #1, I wanted a closer look. I walked over and found Athena #2 and Athena #3 right behind Athena #1, but that seemed to be it.
The bookstore seemed to have many comic books based on Greek mythology. So I rummaged through a few stacks of comics to see what I could find. Many of them were Wonder Woman comics.
It took me a while, but eventually, I struck gold as Athena #4 had been buried underneath a pile of other comics. It was so out of place.
Finding it meant I had the entire Athena (Dynamite) comic collection. So after reading them, an Athena comic review would always be on the cards.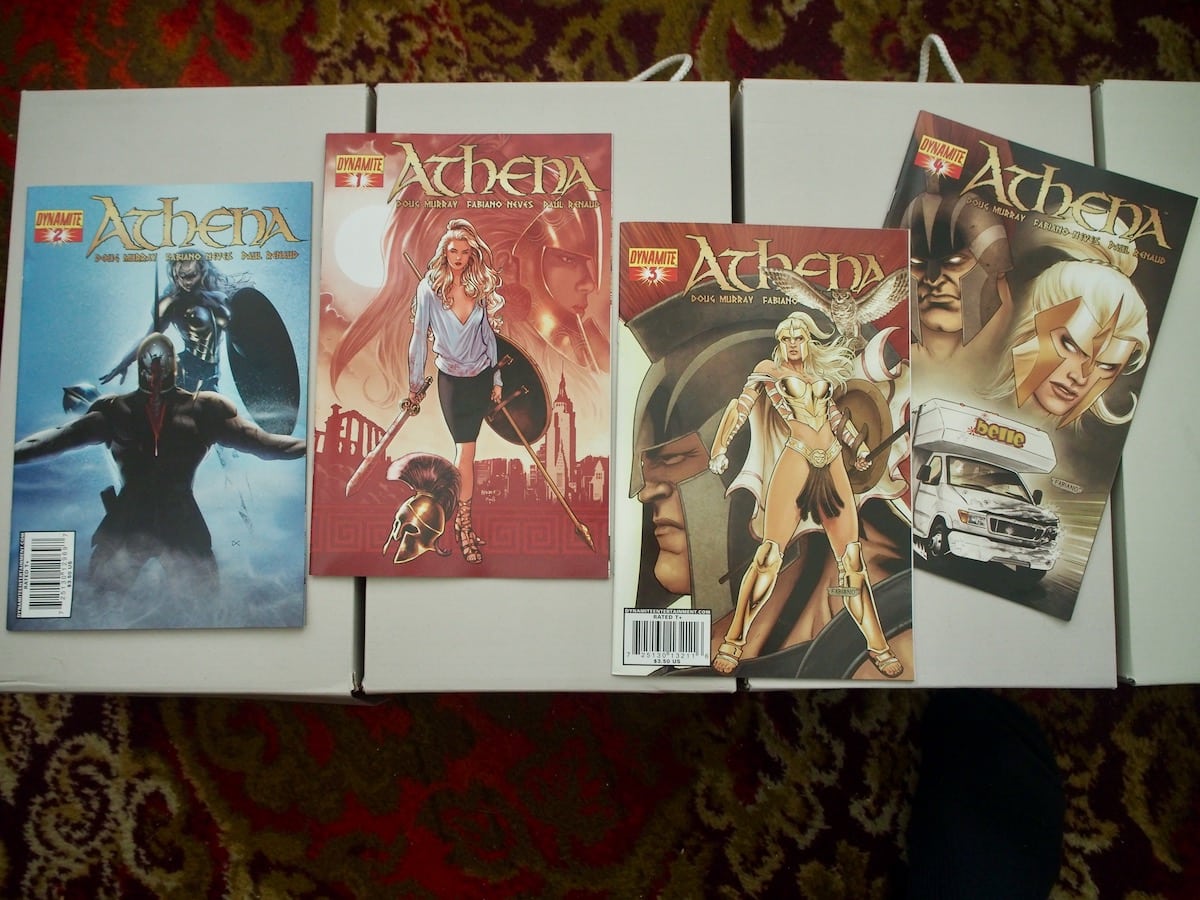 I might have never discovered the Athena comic series if I had missed seeing Athena #1 in the bookstore.
I'm so glad to have found her because reading the Athena comic series strongly inspired me to do one of the best Athena comic reviews. So yep, I will talk up this review of the Athena comic because Athena has inspired me to do so.
Best Athena Comic
The Athena (Dynamite) comic series by Doug Murray comprises four comic books. Each of the thin booklets has its good points.
However, the best Athena comic, in my opinion, is Athena #1. It begins with a bit of mystery, and once you've finished reading it, you will want to know more.
So I recommend getting your hands on Athena #1 and going from there.
Athena Comic Review
In this Athena comic review, I will give you a glimpse into the four Athena comics, so you can get a taste of what it would be like to read.
I won't give you any big spoilers, but I will provide you with an outline of the exciting storyline, so you can see if it interests you.
Before reading this Athena comic review, you can read the entire Athena (Dynamite) comic first if you prefer. But honestly, knowing a little about the story is good, especially in this case.
One thing worth knowing is that the story of Athena in this comic has Trojan War themes.
Athena was involved in the Trojan War. Yep, the golden apple of Discord even makes an appearance.
In Greek mythology, Paris gave the golden apple to Aphrodite to gain the love of the most beautiful woman in Greece, which she promised him if he gave her the apple.
This Athena comic storyline has a similar contest, but in the comic, it takes place inside a nightclub.
Paris gives a golden apple to a lady in the nightclub. In Greek mythology, the famous beauty contest occurred on Mount Ida.
So what you're in for is another telling of the Trojan War myth, but this time a gangland war takes place during the modern age. So you will see machine guns and heavy vehicles instead of arrows, swords, and horses.
The comic of Athena has a modern-day Helen of Troy, who has connections with gangs. So the fight again is between two rivals for a beautiful woman.
Athena Comic (Dynamite #1) Review
Athena #1 has a fantastic theme combining ancient Greek myth with a modern-day tale about two rival gangs going to war.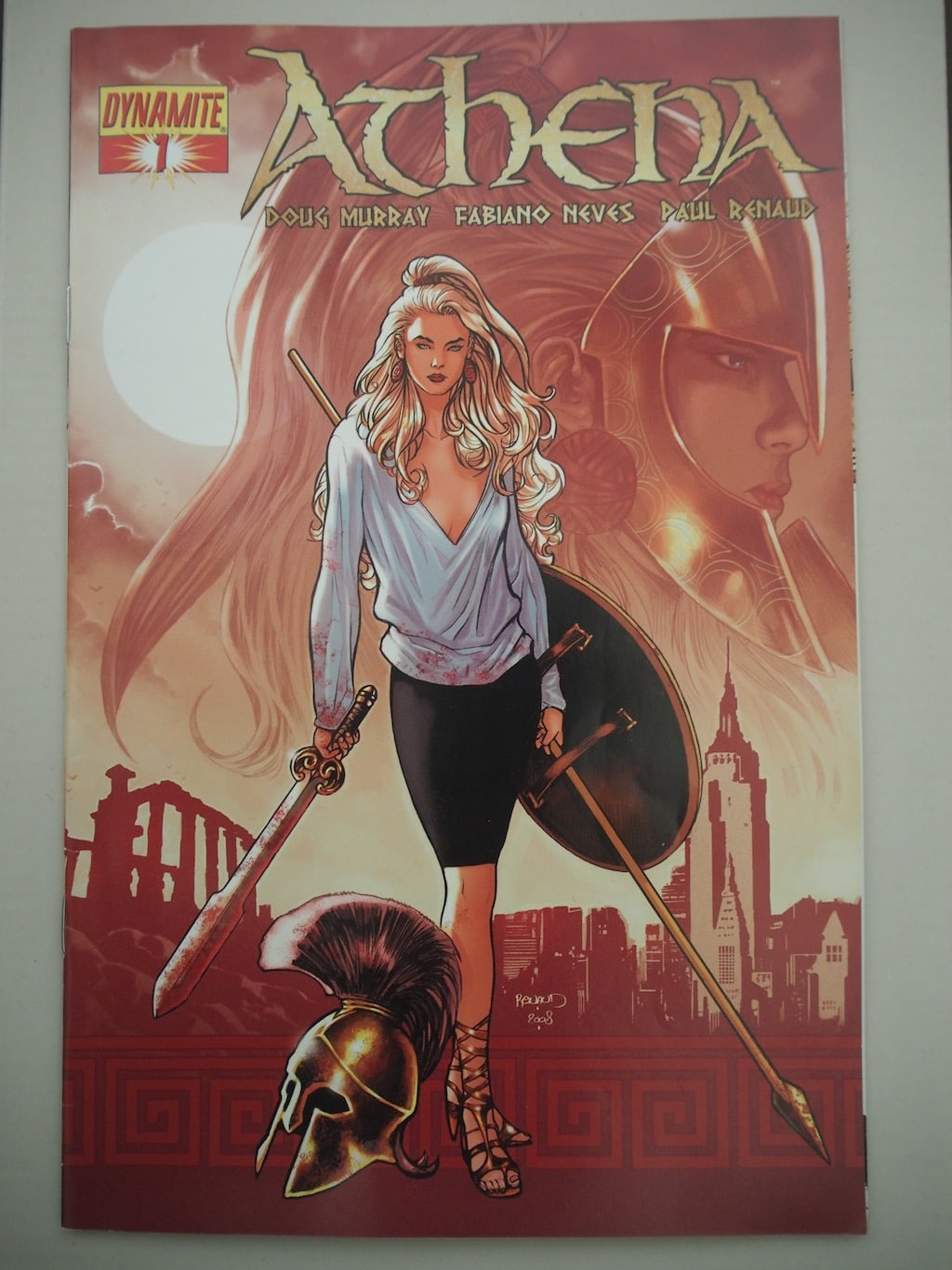 The story starts with a mysterious woman lying in the woods, unconscious on the ground.
She is taken to the local hospital, where she recuperates, but no one can identify who the lady is.
After feeling better, she notices the Acropolis and the Parthenon from her hospital window. So she decides to go out and have a closer look. She finds the place familiar, but something seems very wrong!
After recovering, she is released from the hospital, and the good news is that she has regained some of her memories, but only a very minimal amount.
The name she is going by is Athena Olympios. As several years go by, Athena finds herself working for law enforcement in New York City.
Then one day, Athena is asked if she'd be willing to work undercover to help catch a crime boss. Naturally, she agrees, and that's where things really take off in the Greek myth direction.
All Athena has to do is enter a nightclub to hopefully participate in a beauty/dancing contest.
Due to her beauty and dancing ability, everyone expects her to be among the few ladies to participate in a nightclub contest. Indeed, Athena gets pulled aside to take part in the contest.
The Golden Apple
But as the Greek myth goes, Athena isn't the one to receive the golden apple. Instead, Paris gave the golden apple to someone else, the lady on the right.
Athen #1 comic suggests that the story will parallel the Trojan War myth. Like the Greek myth, it involves a beautiful Helen character who decides to go with Paris.
In the ancient Greek myth, the golden apple of discord was believed to have caused the ten-year-long Trojan War.
The three Goddesses wanted the golden apple marked "to the fairest," To ensure they had the best chance of getting it, they each offered Paris, the judge, a bribe.
Athena offered him wisdom and skill in war. Hera offered to make him king of Europe, and Aphrodite, the Goddess of love, offered him the most beautiful woman in Greece.
You probably guessed it right — Paris gave the golden apple to Aphrodite!
The Trojan War
Athena #2 comic validates the modern-day retelling of the Trojan War by introducing a modern-day Helen of Troy as the prime motive for the war.
The story in Athena #1 shows both ancient and modern-day versions of Greek myth.
Two rival gangs fighting over a girl in the Athena comic follow the ancient Trojan War myth.
In Athena #1, immediately after the golden apple is given by Paris to the women, a fierce-looking man bursts into the nightclub, declaring that the woman is his. He tries to get her but fails during that attempt. However, that won't stop him from trying again.
Menelaus, the king of Sparta, wanted to get his wife Helen back after Paris took her away from him. So the same sort of thing happens in Athena #1.
In the picture below, you can see the Athena #1 variant covers. My Athena #1 comic is cover A, created by Paul Renaud, and I have to say, it looks fantastic!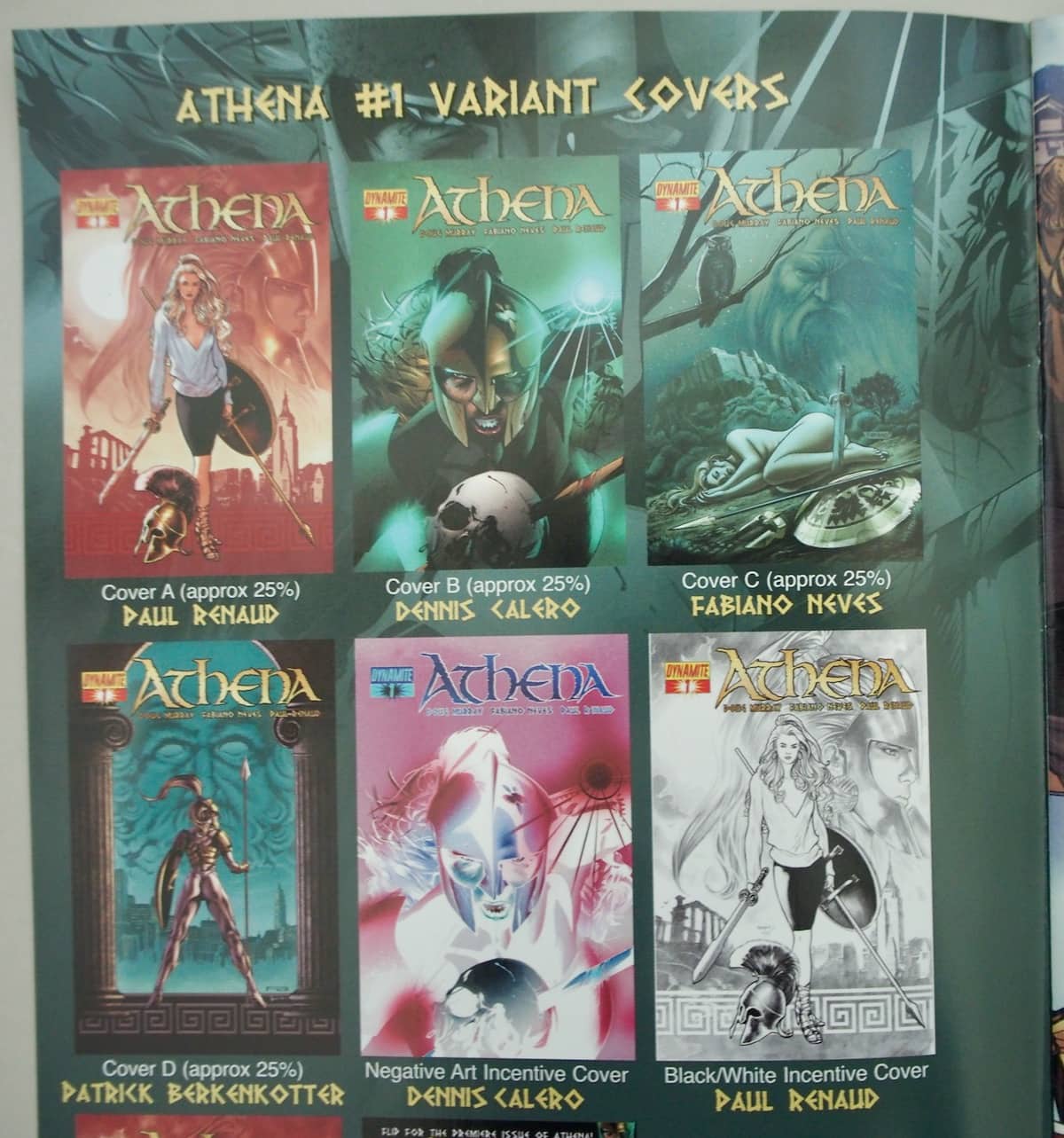 As soon as I saw the front cover of the Athena comic facing me on a shelf inside a bookstore, I was immediately drawn toward the Goddess.
Athena Comic (Dynamite #2) Review
Athena #2 continues with the same story.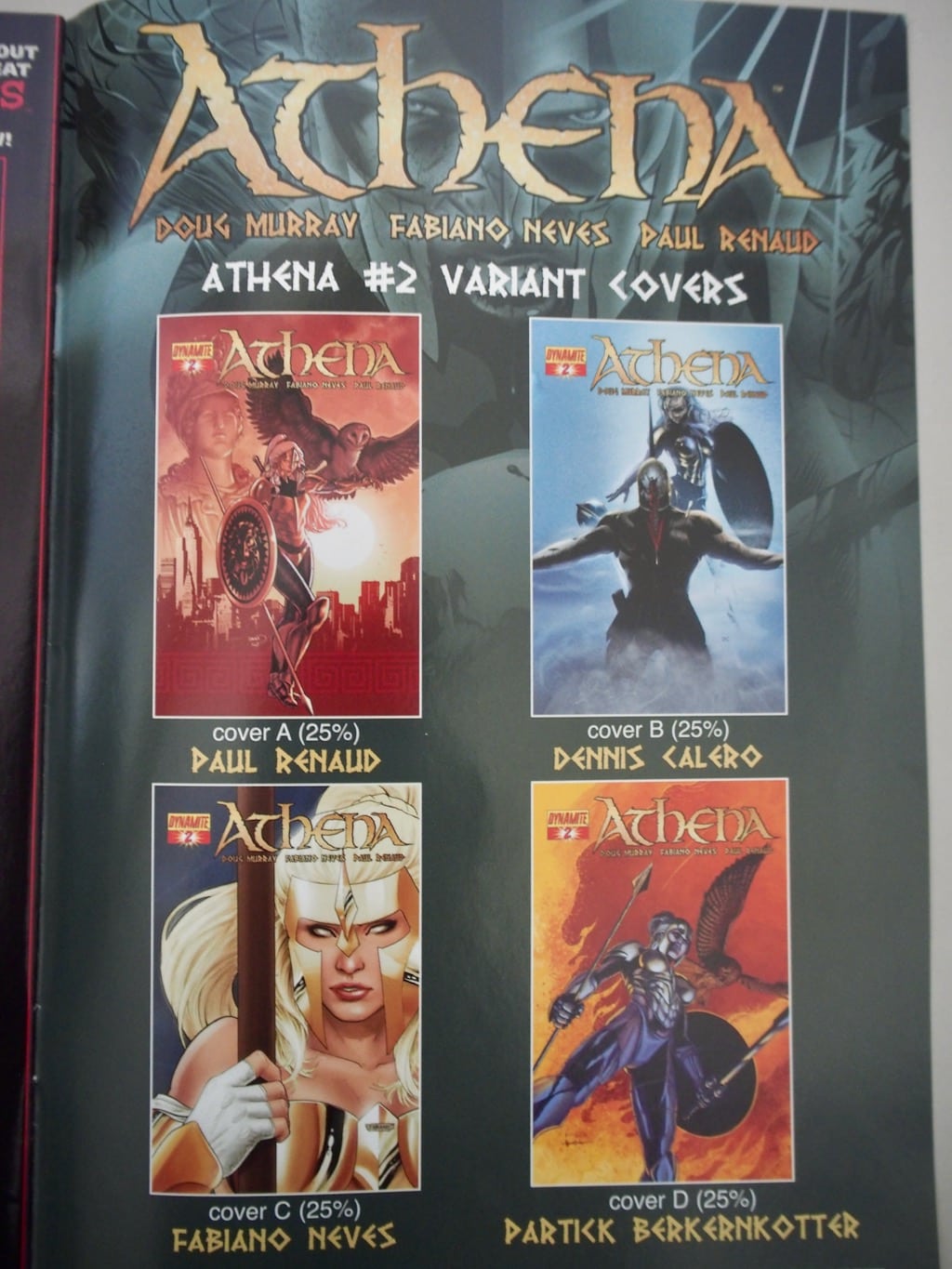 Paris takes the woman to his protected fortress. He is also involved in underworld activities.
His rival soon learns the woman he wants back has taken refuge with Paris.
Manny, the fierce gang leader (who acts as Menelaus in modern times), desperately wants to take her back, so he organizes a meeting with his henchmen to make it happen.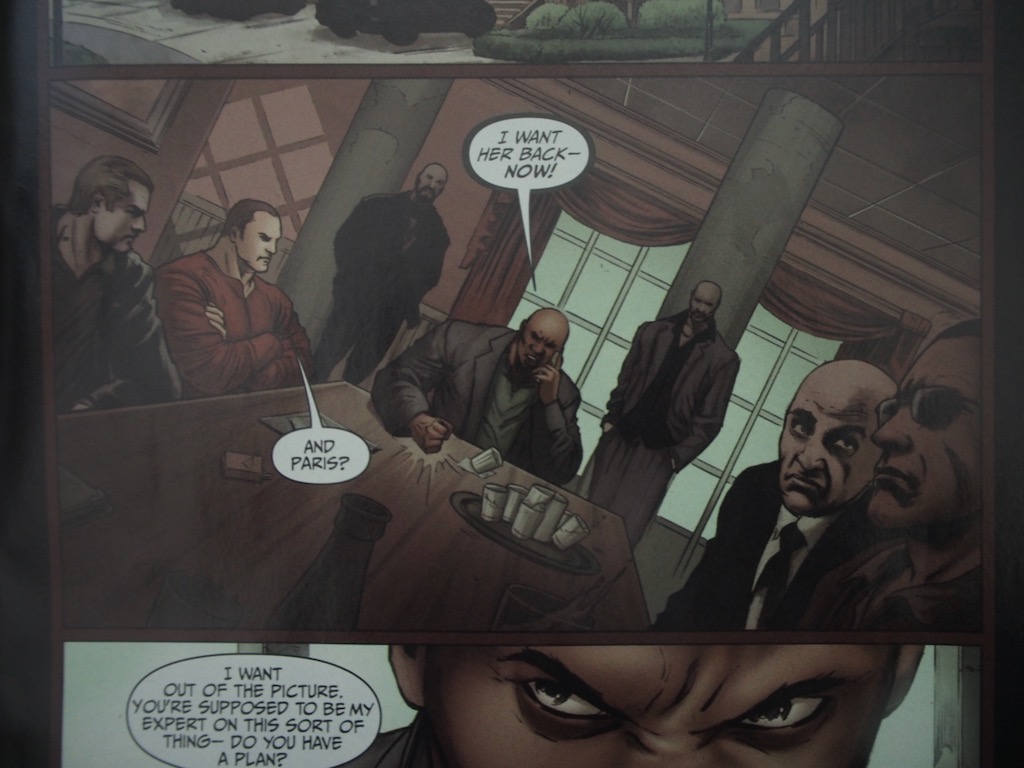 To avoid a total bloodbath, Athena is going to need assistance. Zeus, disguised in the form of an owl, deems it necessary, so Ares shows up.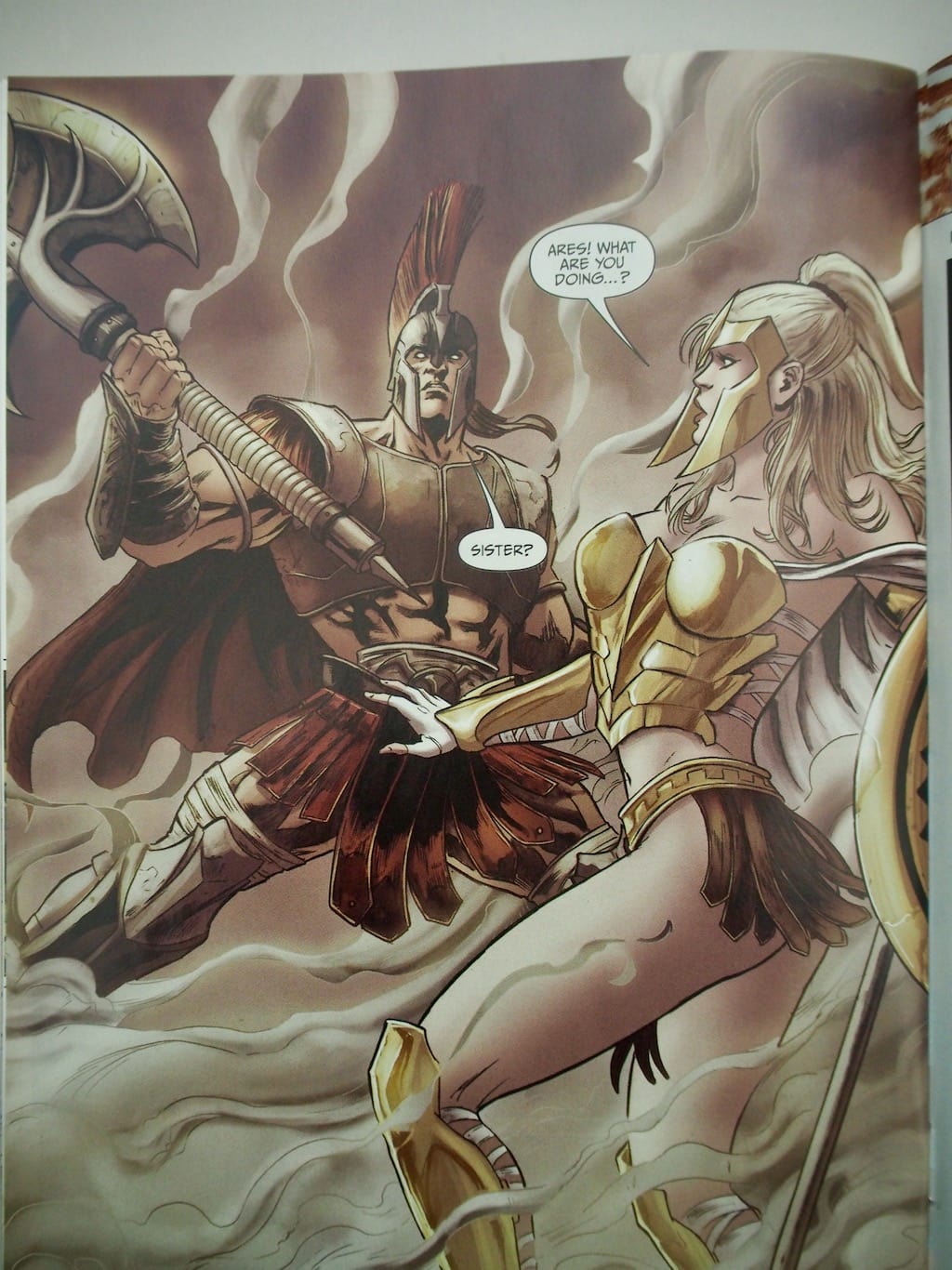 And that's how Athena #2 ends, with Ares making his first appearance in the modern-day gangland war so he can play his part in it.
Athena Comic (Dynamite #3) Review
Here is the Athena #3 variant covers. Someone can't add up correctly because three variant covers show 25%, meaning only 75% in total. It should add up to 100%.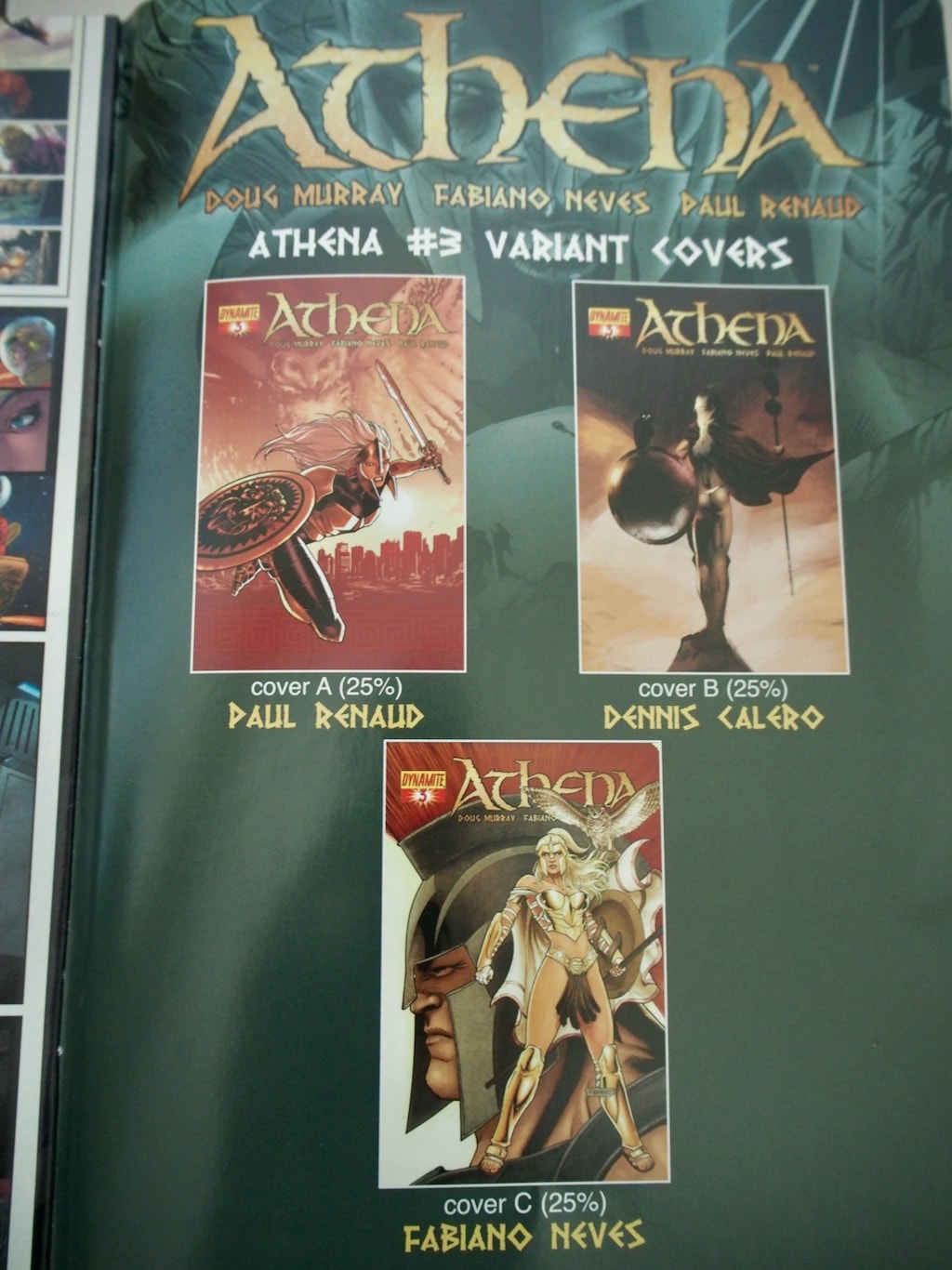 Zeus makes an impressive appearance in Athena #3. Everything that has happened so far seems to be due to the will of Zeus, king of the Gods.
After their long departure, Zeus wants to show Athena and Ares the evil states of affairs that have taken place on Earth.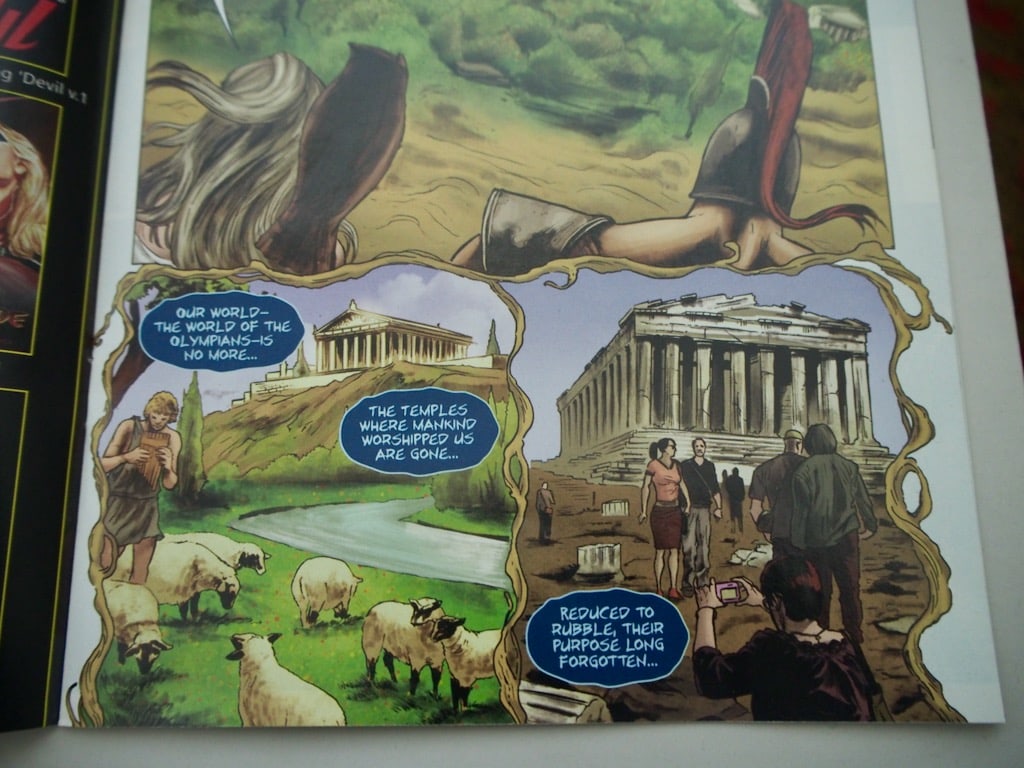 Athena #3 is probably the most philosophical issue in the Athena comic series. Yet, it all seems to ring true.
Meanwhile, the modern-day Trojan War tale continues. Manny brings the war to a modern-day Troy location in an attempt to take the woman back.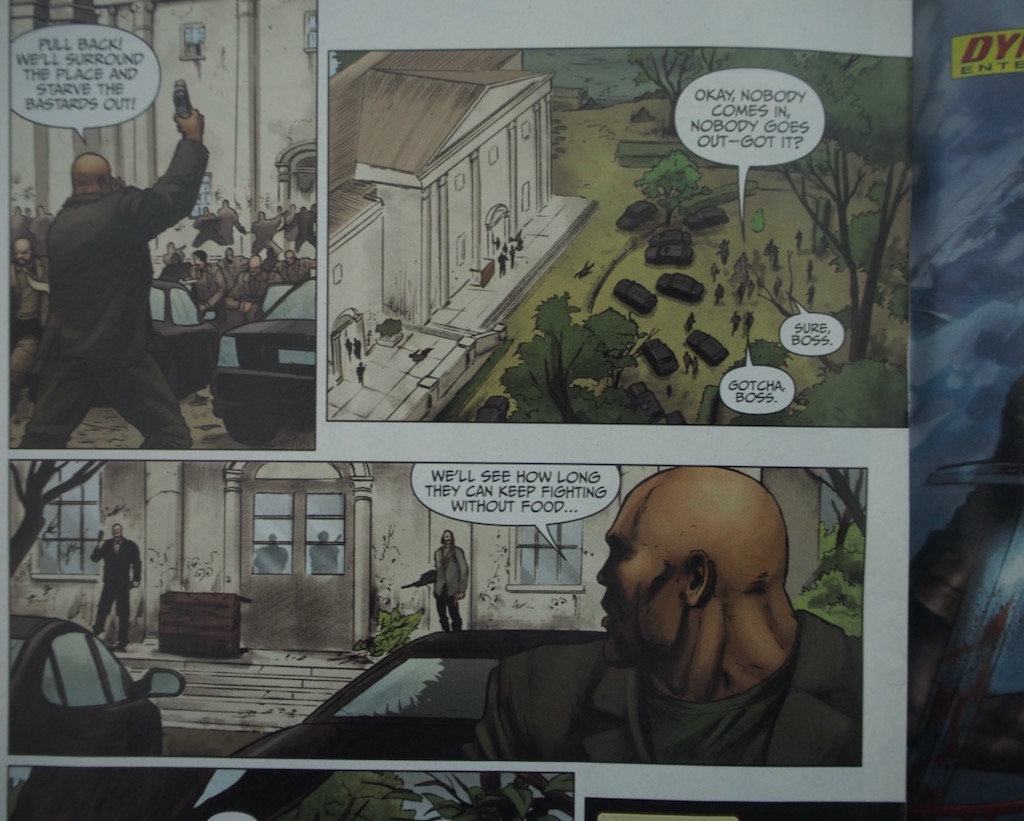 It looks as if it could be an extended stay because Troy won't go down without a fight.
Athena Comic (Dynamite #4) Review
Athena #4 variant covers include my second favorite cover, the Athena (Dynamite #4) comic cover A, drawn by Paul Renaud.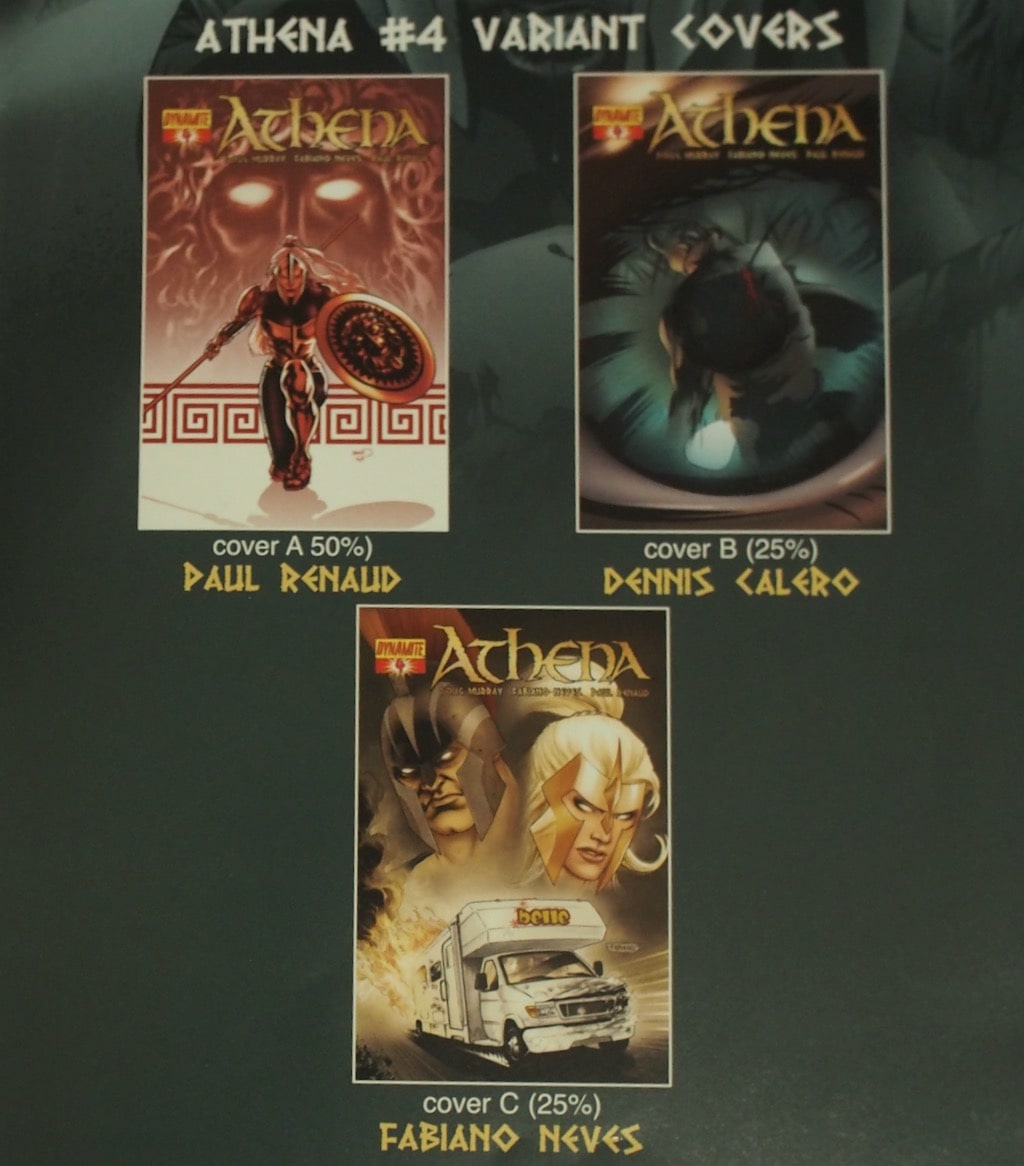 You can see a typo here. They forgot to fully show (50%) for cover A, meaning they missed one of the brackets.
Like the Trojan War myth, something unusual and tricky was required to end it.
In the Trojan War myth, the Trojan horse made all the difference in ending the war.
Odysseus, best remembered for the great stories in The Odyssey, came up with the deceptive idea of creating a wooden horse that won the battle for the Greeks.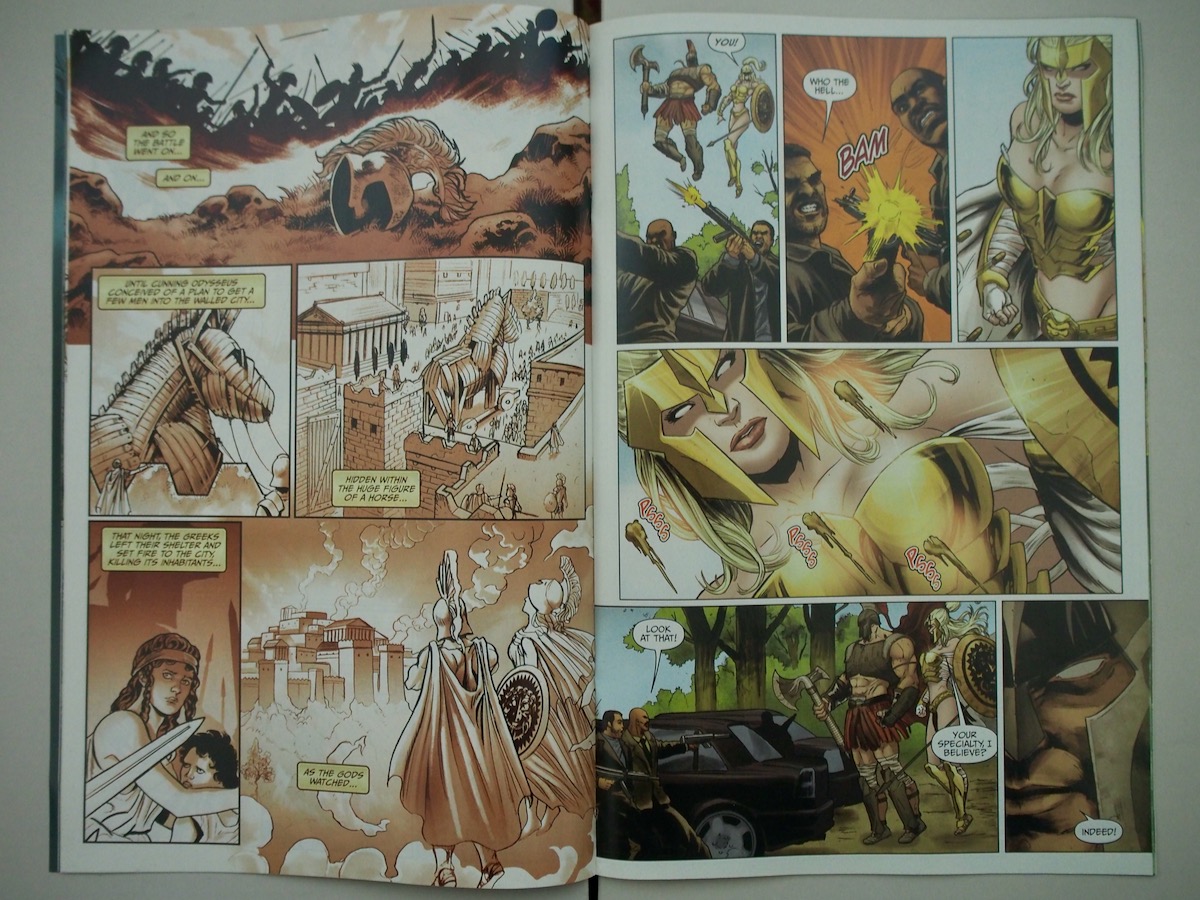 But how will the Athena comic end? Well, I guess you'll have to read it to find out.
My Athena comic review rating is 3 out of 5.
The Athena (Dynamite) comic is not a masterpiece, but I still think it is good enough to pick it up if you come across it.
Athena, Goddess of Wisdom and War
What sort of lessons does the Athena comic teach?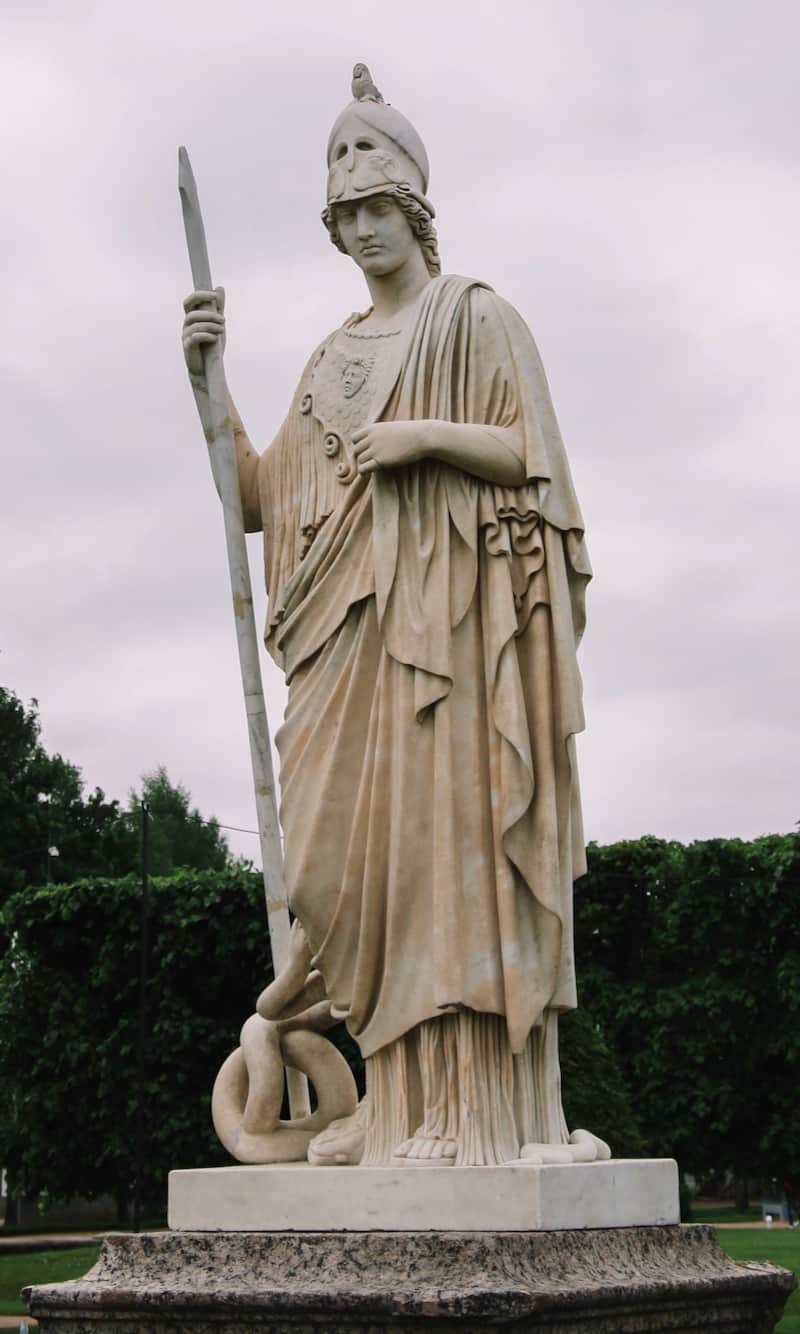 The most important lesson, I think, is that Athena is beautiful. This statue of Athena is a classic depiction of Athena. However, you must admit that she doesn't appear to be super attractive.
But Athena was in a beauty contest against Hera and Aphrodite, so when you think about it, the smartest bet is that Athena is beautiful. She is a Goddess, after all.
Maybe one of these romantic movies based on Greek mythology will prove it to you.
Pin it … Share it