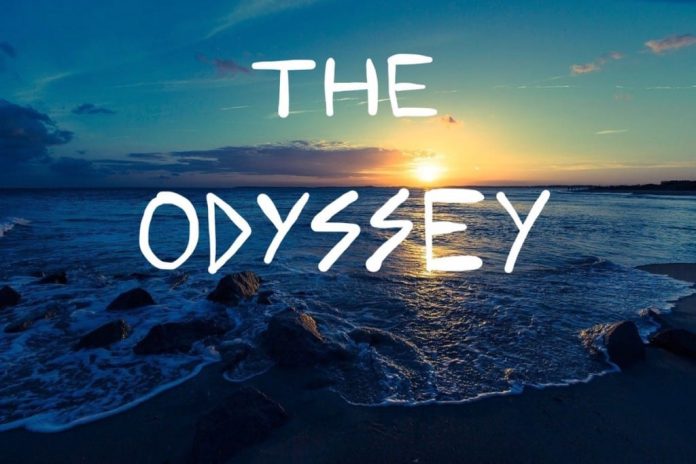 There are plenty of movies based on The Odyssey and quite a few imaginative adaptions in film and TV shows that pay homage to Homer's classic epic poem.
Odysseus (called Ulysses in Latin) was the Greek hero who took 10 years to return to his island home after the end of the Trojan war, which in ancient times took ten years in itself.
During the incredible odyssey to Ithaca the Greek hero found himself encountering quite a few strange creatures along the way including the cyclops and the alluring sirens.
He also met Calypso, an immortal goddess, who holds Odysseus captive for seven years on her island and seduces him to be her lover.
Here are some entertaining movies and TV shows based on The Odyssey you might want to watch for yourself (shown in yearly order starting with the latest offerings).
1. Ulysses: A Dark Odyssey (2018)
Very good adaption set in the fictional Taurus City, The United States of Europe, 2023.
It's a bit like the movie O Brother, Where Art Thou (2000) which also pays homage to The Odyssey. Ulysses: A Dark Odyssey has much more violent themes though.
I highly recommend it even though some reviewers on IMDb seem to hate it. The cyclops moment was very interesting.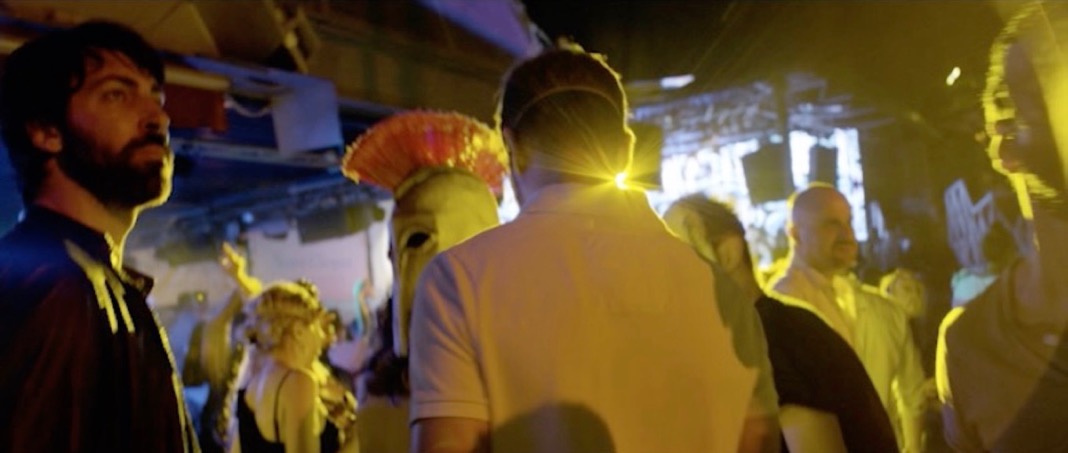 2. Troy the Odyssey (2017)
I almost stopped watching the movie after 5-10 minutes thinking it was so B-Grade I had to stop wasting my time, especially after I heard this bizarre Scottish accent which was so out of place.
Then came the miniature war ship which was laughable. I'm so glad I stuck with this movie because it actually turned out to be an ok film. It's definitely not a classic movie about The Odyssey in anyway but it is something you can watch to pass the time away.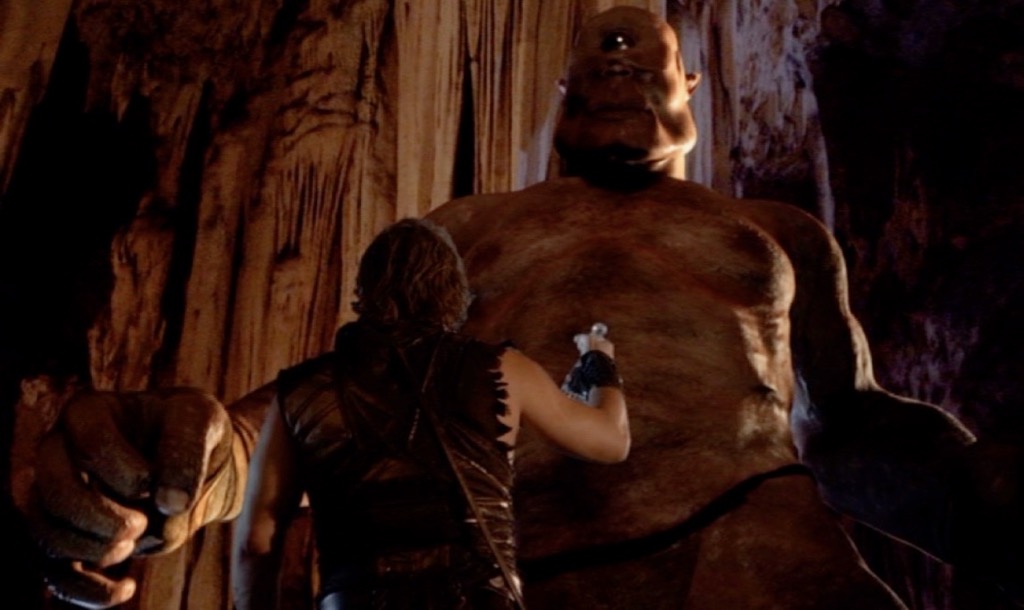 Surprisingly the cyclops looks half decent in this movie. I wouldn't want to watch this movie again but if you've seen all of The Odyssey movies listed here then this is another movie for you to watch. It has its moments.
3. The Odyssey (2016)
The Odyssey (French title: L'odyssée) is a 2016 French-Belgian film with mythical overtones based on The Odyssey.
For instance the famous French navel explorer's boat was named Calypso.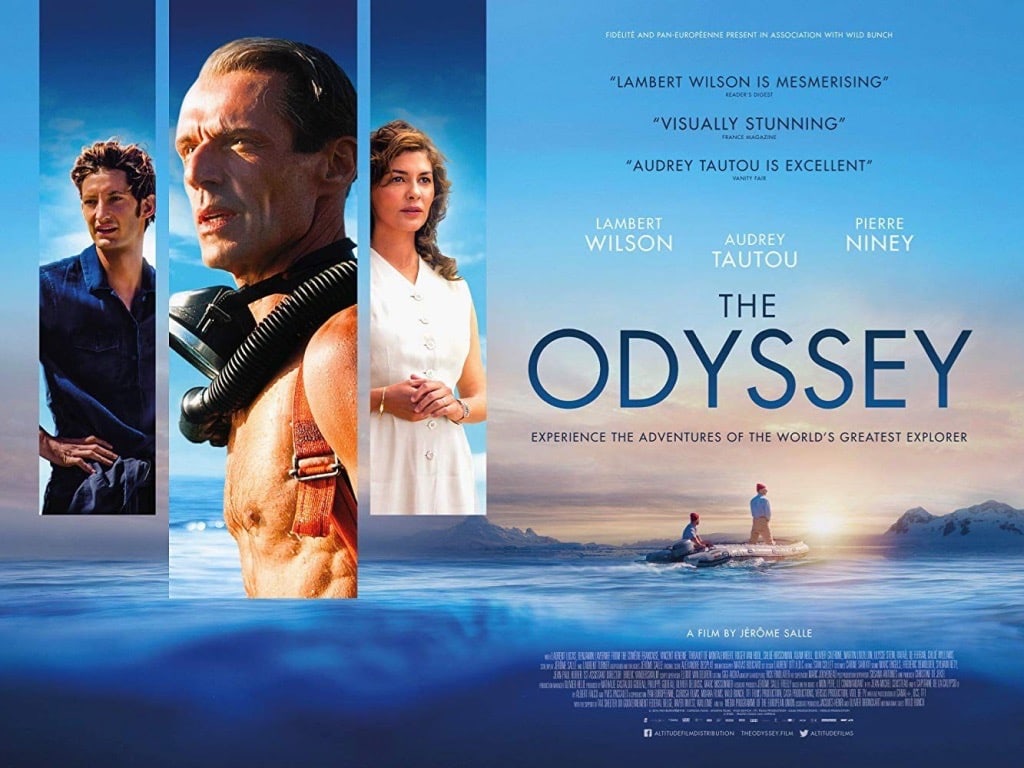 The adventures of Jacques-Yves Cousteau at sea are amazing when you think about it. I found it very interesting to learn about a plaque dedicated to him under the sea at the Greek island of Santorini.
4. Odysseus (2013 – TV series with 12 episodes)
This French production is very different to what you might expect. The story initially has a strong focus on Telemachus, the son of Odysseus (Ulysses in Latin).
The TV series also gives a lot of attention to his wife Penelope and her suitors. In fact, until the end of episode 4, you're starting to doubt whether Odysseus will ever turn up.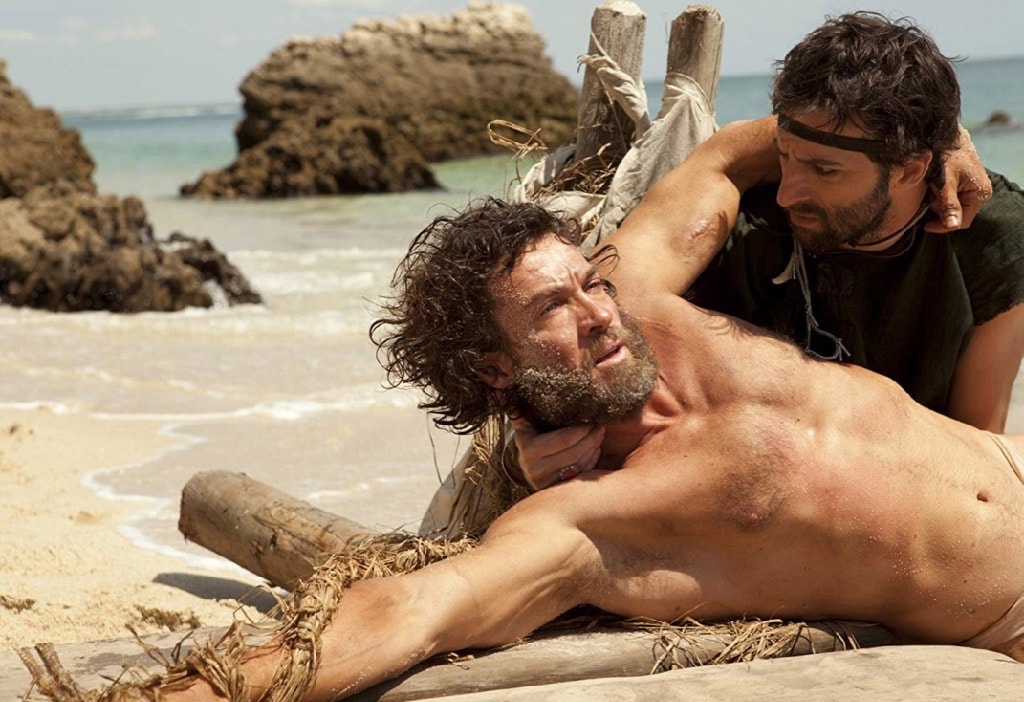 Episode 6 is the revenge episode. I am intrigued to see where the story goes because there are twelve episodes in the series. The end of the Odysseus myth is normally the revenge scene, but here it happened half way in the story.
So far the series has been interesting, but I have to say, it disappointed me knowing that huge parts of the myth about Odysseus had been left out of the production.
Tip: I found the French production of Odysseus: La Vengeance d'Ulysse on YouTube. The first episode had dedicated English subtitles, which was great. However, I couldn't find anymore episodes with English subtitles, but I did find all of the episodes of Odysseus with French subtitles on another YouTube platform. To watch it in English, you first have to activate the subtitles, so that you see the French subtitles on the screen. From there you go to Settings and click on Subtitles. Then click on Auto-translate and after that select English. The translation is very bad, but at least it does make the Odysseus twelve-part series watchable.
5. The Telemachy (2012)
This Greek movie is apparently inspired by Homer's Odyssey.
An Anglo-Greek boy runs away from home in order to find his true father on the Greek island of Skiathos. Telemachus, the son of Odysseus did a similar thing when he went in search of his father.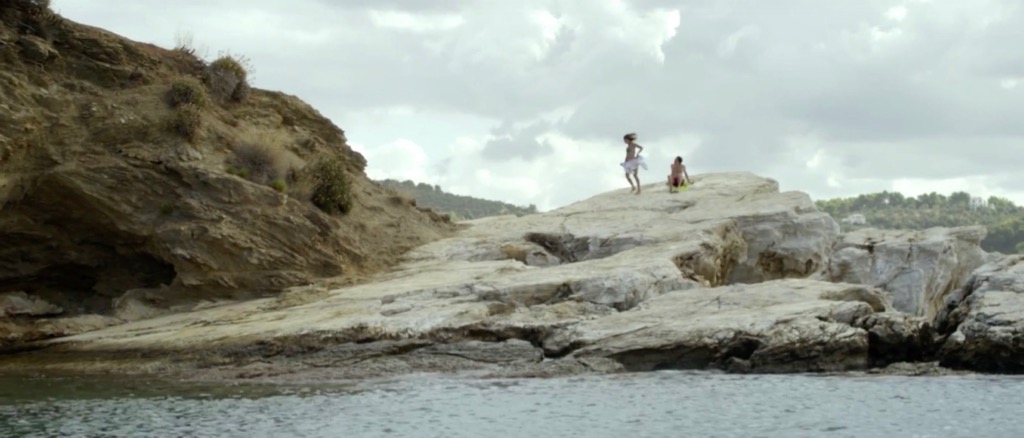 6. Keyhole (2011)
Ulysses Pick (Jason Patric) returns to his home and embarks on an odyssey through the house, one room at a time. This movie is some sort of surreal crossover between a gangster movie and haunted house film.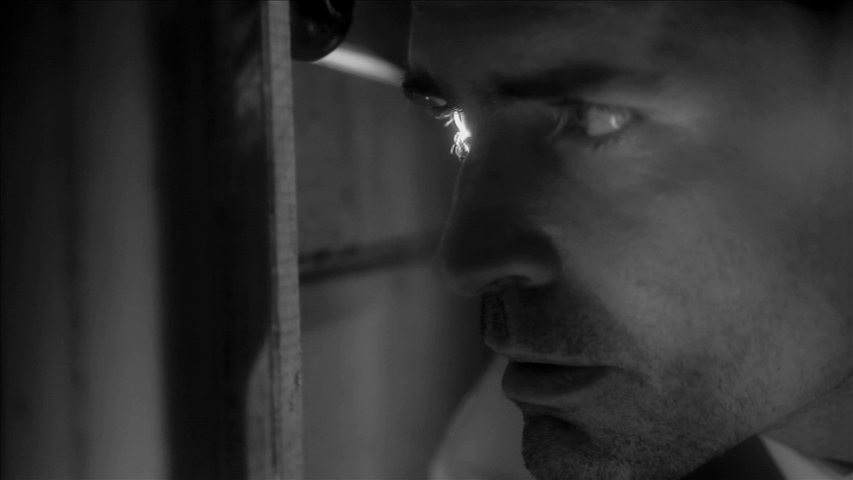 7. Clash of the Gods (2009)
Episode 6: Odysseus: Curse of the Sea
Episode 7: Odysseus: Warrior's Revenge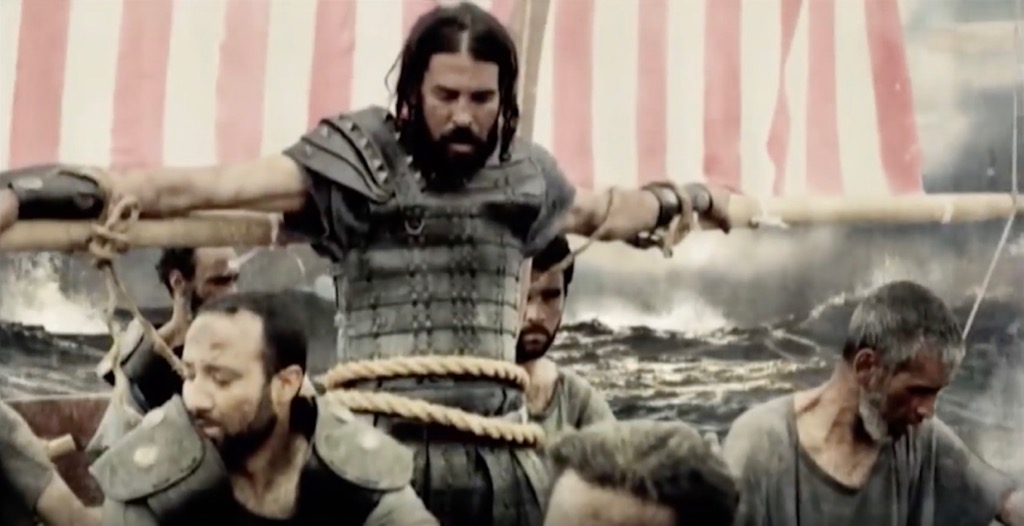 8. Penelopa (2009)
Australian-Croatian co-production
Depicts the psychological hardship faced by Penelope, wife of Odysseus, as she waits twenty years for her husband to return from the Trojan War.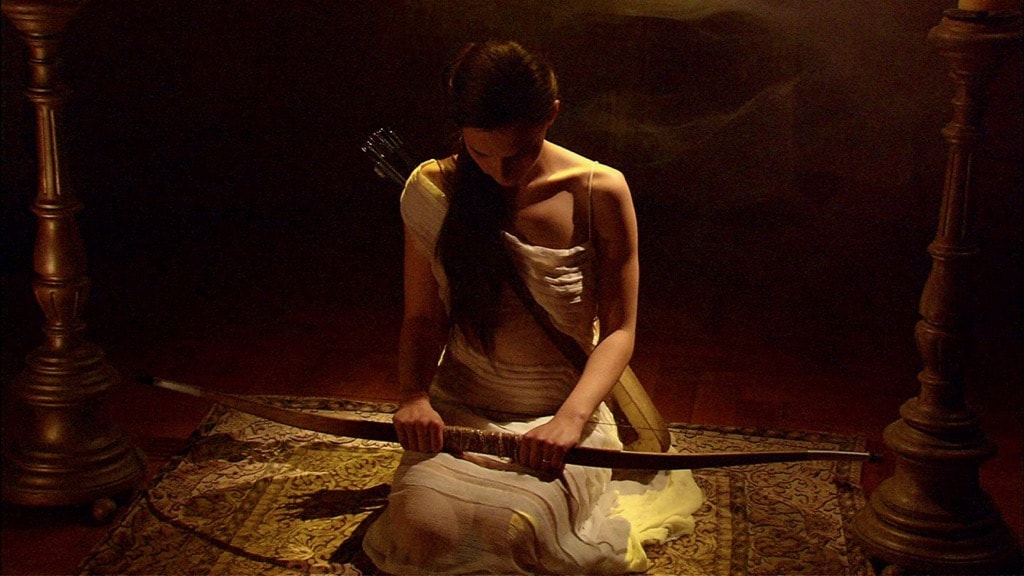 9. Odysseus: Voyage to the Underworld (2008)
Another title this movie goes by is Odysseus & the Isle of Mists. This is actually a very watchable movie. I recommend it for all Greek mythology fans. Movies based on The Odyssey which are half decent are hard to come by.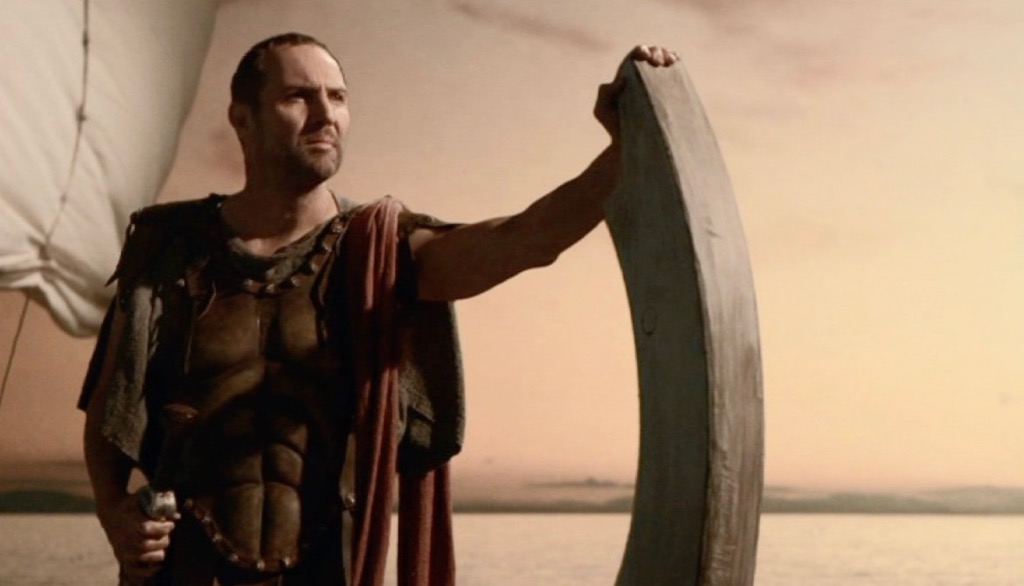 10. The SpongeBob SquarePants Movie (2004)
SpongeBob SquarePants goes on a hero's quest which sort of mocks Odysseus. Here we have a funny looking character riding the bag of winds.
SpongeBob faces off with a "cyclops" (a deep-sea diver) and has to deal with the anger of the sea-god, Neptune.
11. Greek Gods and Goddesses – The Odyssey (2004)
This documentary, action, adventure uses dramatic reconstructions to tell the story of Odysseus (Ulysses) and his perilous journey home to Ithaca.
Angel Coulby plays Calypso in Greek Gods and Goddesses: The Odyssey. You may recognise the actress for her better known role as the character Gwen in the BBC fantasy series Merlin.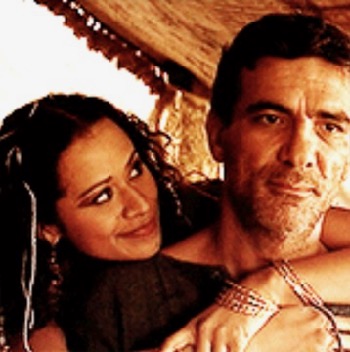 12. L'Odyssée (2002) – Also known as Mission Odyssey (Animation)
26 episodes: French-German
Kids will probably really enjoy this cartoon adaption of The Odyssey. It may not he Greek hero's epic adventure to reach Ithaca.
Odysseus and his mythical crew consist of Titan, Zephyr, Nisa, Dates, Philo, Diomedes and a clever owl. Here's a scene with Cyclops and Poseidon.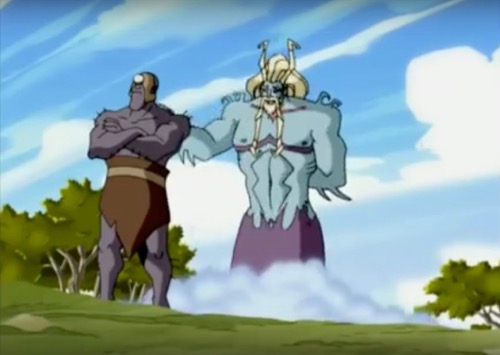 13. The Simpsons – Tales from the Public Domain
Season 13, Episode 14
The seductive sirens, NOT!!!!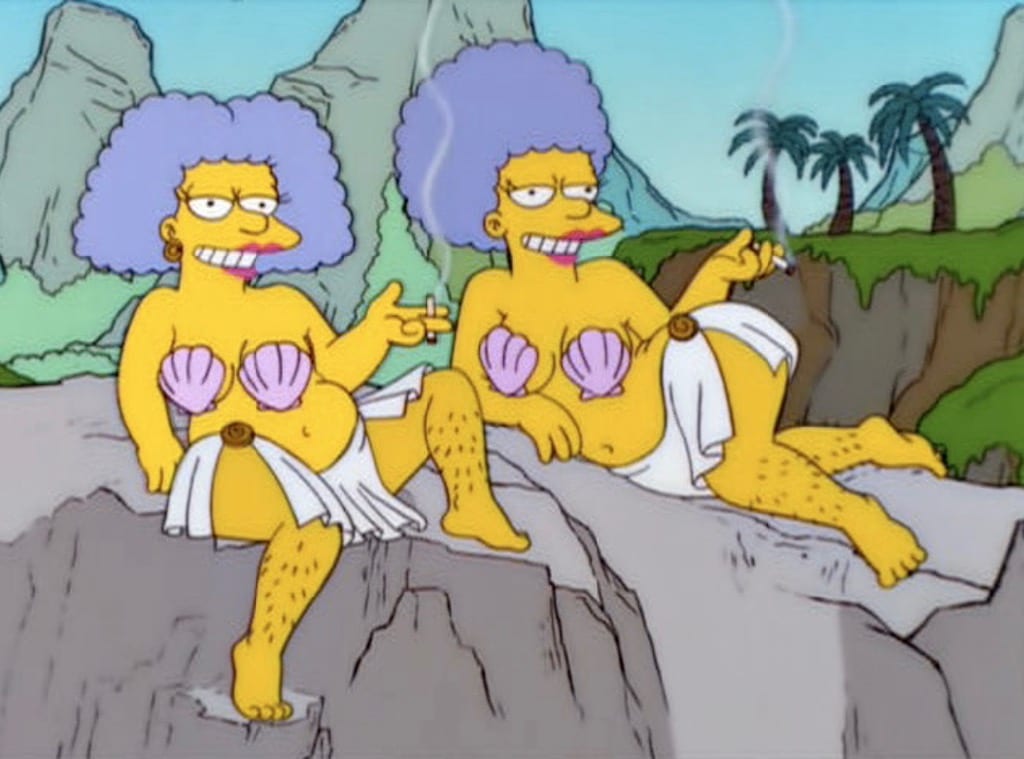 14. O Brother, Where Art Thou? (2000)
John Goodman plays the cyclops (one-eyed bible salesman).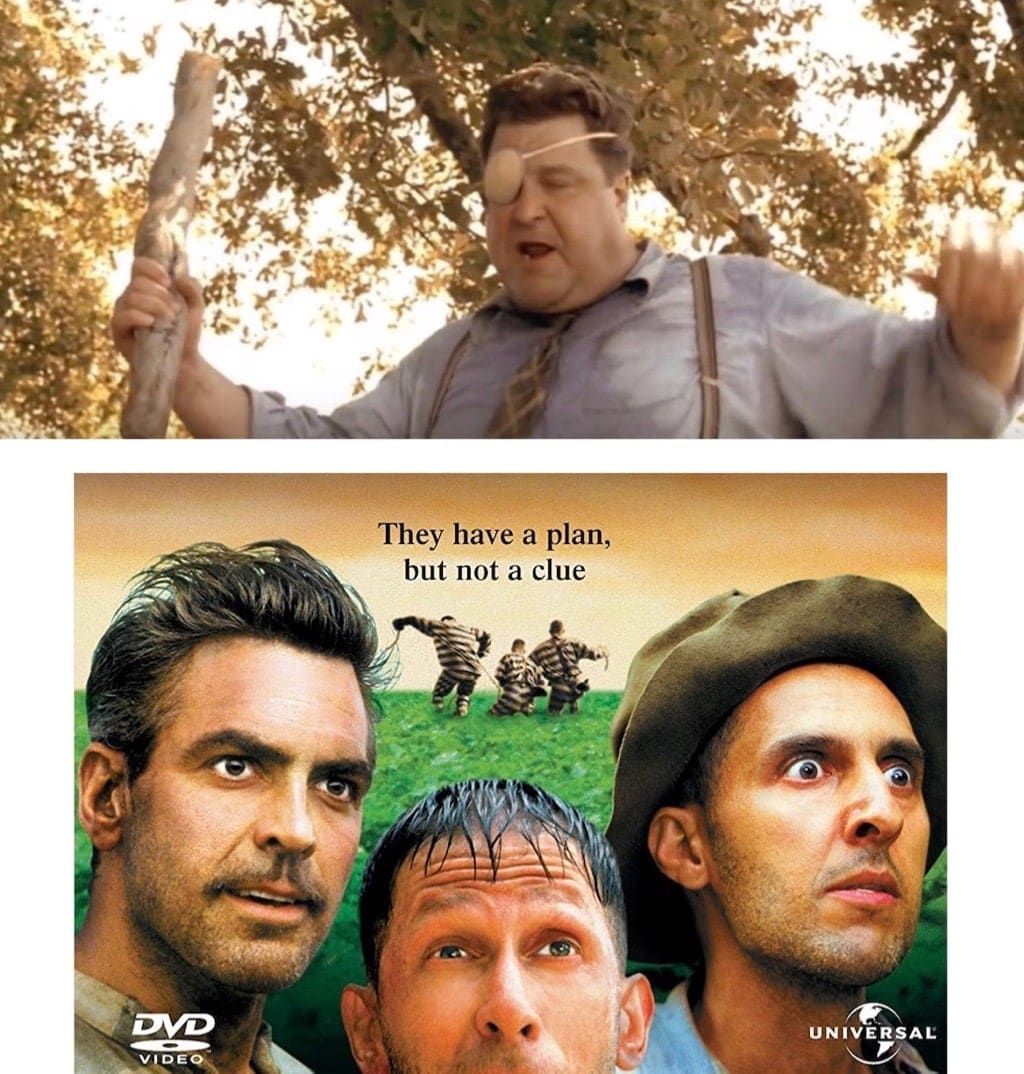 George Clooney's character's name in the movie is Ulysses McGill.
You can expect to see sirens represented by the sexy river divas. The blind railroad prophet represents the seer Tiresias. Yes, this is Homer's Odyssey set in Mississippi chain-gang times.
15. The Animated Odyssey – HBO TV Mini-Series (2000)
The HBO 4-part cartoon series consists of:
The Trojan Horse
The Cyclops
Circe, Hades and the Sirens
Odysseus Returns
The traditional cel animation even has a dramatic musical score performed by the Latvian Symphony Orchestra.
The animation took around 3 years to make but from what I hear it didn't turn out that great. I can't find much info on this animation. It seems to be almost invisible on the Internet. I can't even find one scene.
16. Ulysses: An Animated Classic (1998) – Italy
Original title: Ulisse
Link to Ulysses animation with English sound on YouTube.
17. Odysseus and the Journey Home (1998)
Mythic Warriors: Guardians of the Legend TV Series: Season1, Episode 3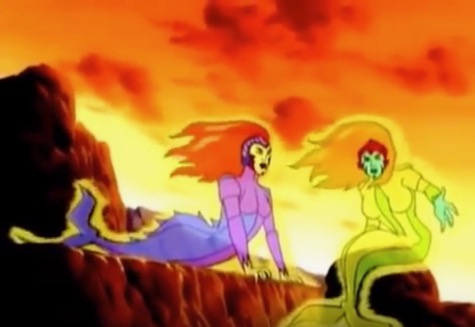 Other episodes in the Myth Warriors series include Odysseus and Circe, and Odysseus and Penelope: A Kingdom Lost.
18. The Odyssey miniseries (1997)
This mini-series fantasy starred Armand Assante. For some bizarre reason I thought my opinion of this telling of The Odyssey was very average, mainly because I had no strong desire to watch it again after seeing it once.
However, after watching The Odyssey again after more than a decade between viewings, I was surprised to find that I really liked it. It's a fantastic telling of the Odyssey, so I highly recommend watching it.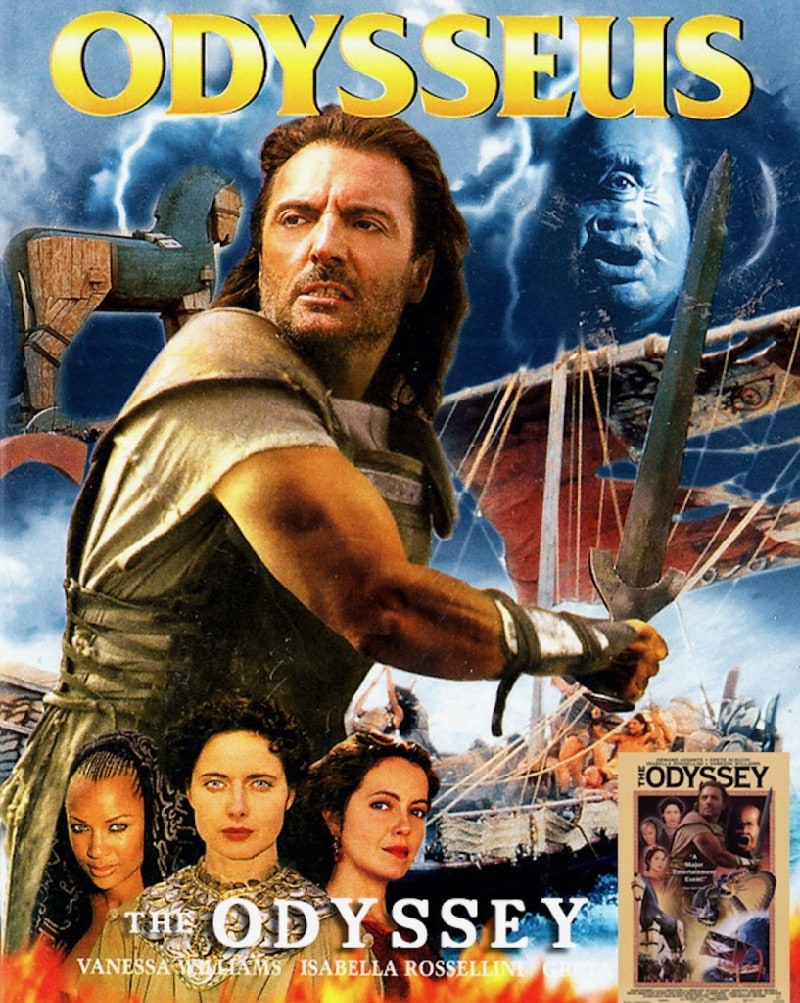 19. Ulysses – Xena (1997)
Xena TV Series: Season 2, Episode 19
Xena and Gabrielle help Ulysses, King of Ithaca, to return home after the Trojan War. Along the way Xena and Ulysses start to fall in love.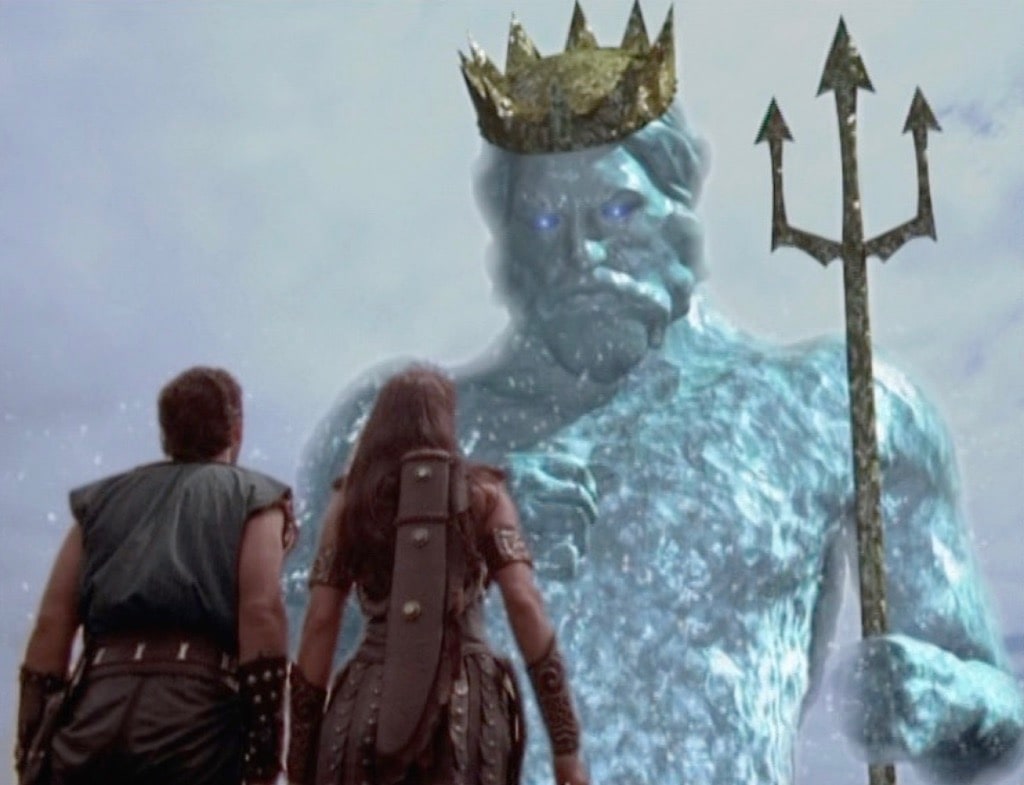 20. Ulysses' Gaze (1995)
You may be wondering why the hell I have included this crappy film in a list of movies about The Odyssey especially so since I have bagged it as one of the worst Greek movies of all time.
Well, because Ulysses's Gaze is an anti-Odyssey movie.
21. Wishbone: Homer Sweet Homer (1995)
The dog Wishbone plays Odysseus (season 1, episode 5) in Homer's The Odyssey.
Here are a few classic lines in Wishbone when the suitors are given the challenge of sending an arrow clear through 12 battle axes.
After a failed attempt by a suitor.
Cute Dog – Ah, say there, let me try
Laughter by suitors
Suitors – You, you have to be kidding
Observer – Everyone must be given a chance. Please sir, go ahead
Cute Dog – Thankyou sonny
Cute Dog – Ok boys, watch and learn something here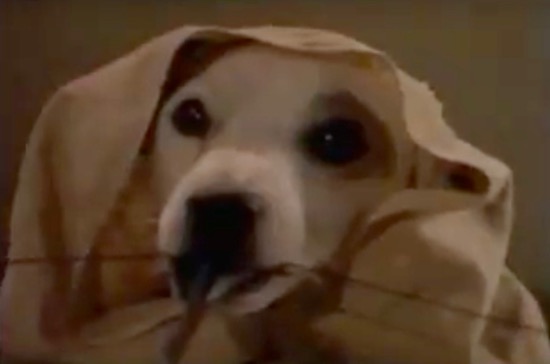 Tip: If you like watching Wishbone, you can also watch a great episode titled Hercules Unchained (season 1, episode 34). The story focusses on Hercules (Wishbone) and his quest to find the golden apples of the Hesperides. It shows Hercules tricking Atlas into holding up the world. The Roamin' Nose (season 2, episode 10) is also worth watching, which happens to be the series finale. It tells the tale of how the Roman empire began. In the final episode you will see the Trojan Horse and Hermes, messenger of the Gods.
22. Nostos: Il Ritorno 1989 (Nostos: The Return (1989)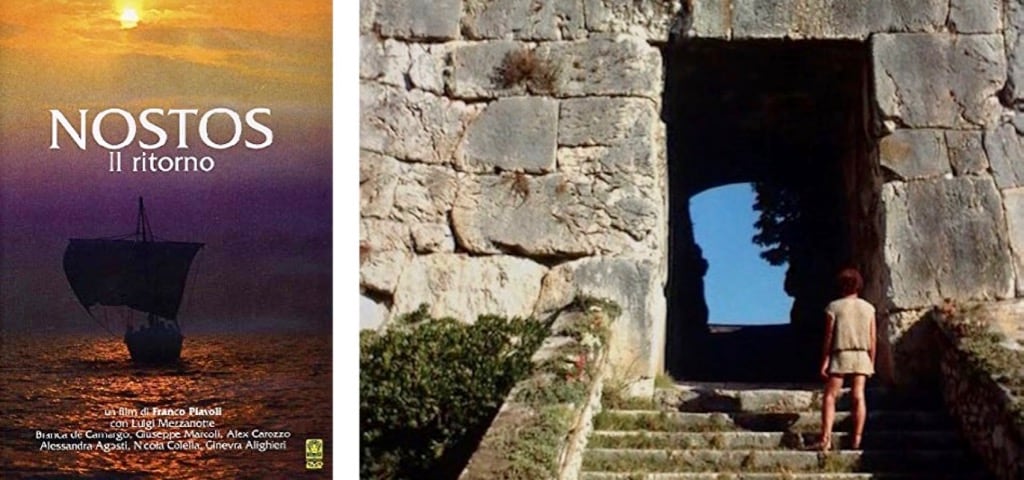 23. The Smurf Odyssey (1989)
More like Jason and the Argonauts meets Pegasus than The Odyssey but I will let it slide. They do meet a cyclops.
Who would have ever imagined that the tiny blue Smurfs would one day go on a Greek odyssey and meet Zeus?
24. The Odyssey (1987 TV Movie) – Animation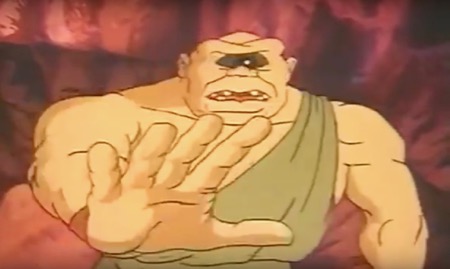 Production Co: Burbank Films Australia
25. Ulysse 31 (1981–1982)
Ulysses 31 (French: Ulysse 31) is a French-Japanese animated television series that takes the Greek myth of Odysseus to the 31st century.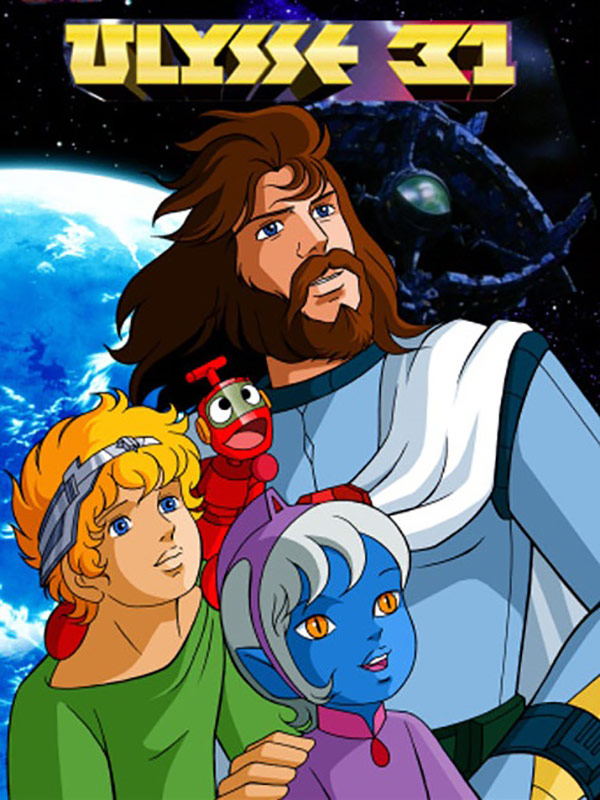 Ulysses 31 is one of 33 Anime related to Greek Mythology, which I reveal in another popular post.
26. The Warriors (1979)
To return home like Odysseus The Warriors go on an odyssey facing various challenges including the Baseball Furies.
Blinding the Cyclops.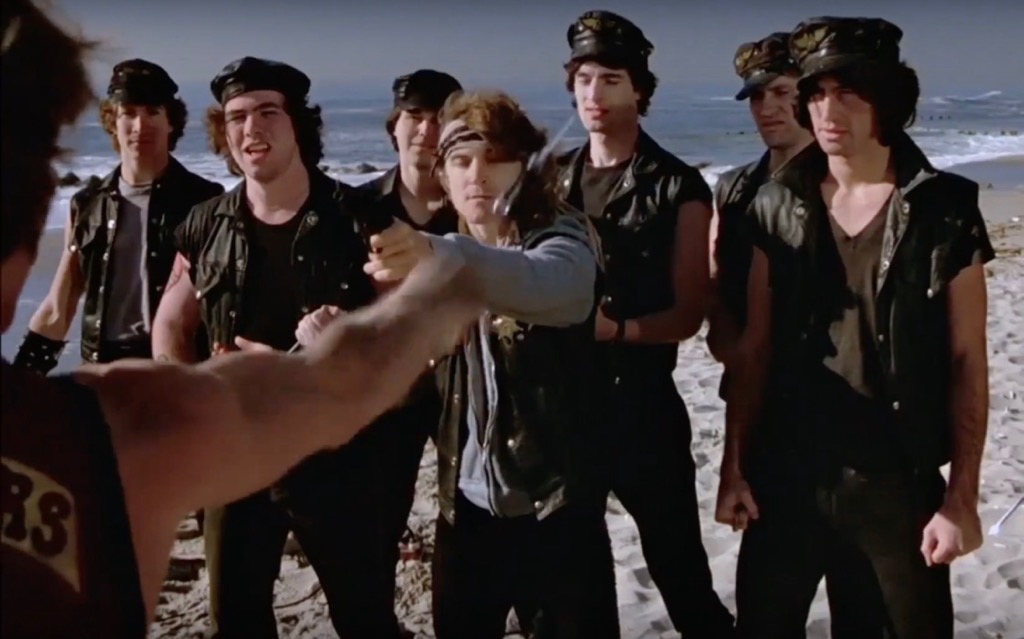 If you don't know already, The Warriors is linked to Grease the movie musical in a very special way.
27. L'Odissea (Odissea) (1968)
This 4-part Italian mini-series directed by Franco Rossi is quite impressive. It is available with English subtitles on YouTube.
I only saw this mini-series a few weeks before writing this post and really couldn't believe I hadn't seen it before.
Each part is about 90 minutes long which means you will need to watch about 6 hours of L'Odissea but it is worth it.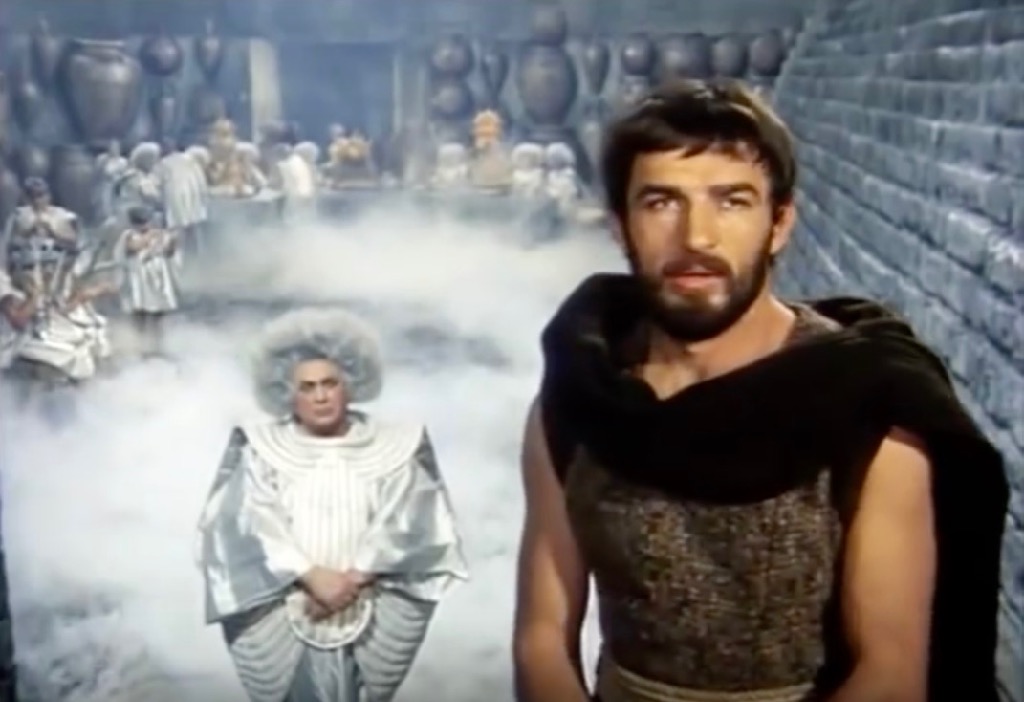 There is also a movie version of Odissea which obviously cuts out a lot of the scenes. I think you should watch the mini-series.
28. Ulysses (1967) – James Joyce
This is one case where I think it would be way better to see the movie than read the boring book. Ulysses, the book by James Joyce is considered to be a masterpiece by his admirers.
29. Contempt (1963)
You will even see The Odyssey on the big screen.
30. Ulysses Against the Son of Hercules (1962)
In this peplum movie you will even see bird men dancing.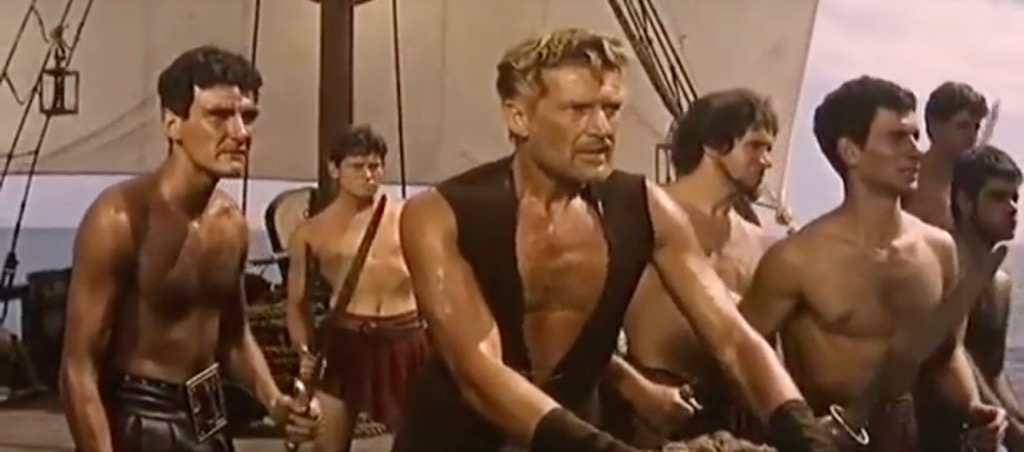 If anyone is interested here are 30 Peplum Movies based on Greek Mythology, Legend and History. Peplum movies are generally known as sword and sandal movies from the 50s and 60s predominately made in Italy.
31. Ulysses (1954)
Movies based on The Odyssey don't get much better than this masterpiece.
32. L'Odissea (1911 film)
Stars: Giuseppe de Liguori as Ulysse.
33. L'île de Calypso: Ulysse et le géant Polyphème (1905)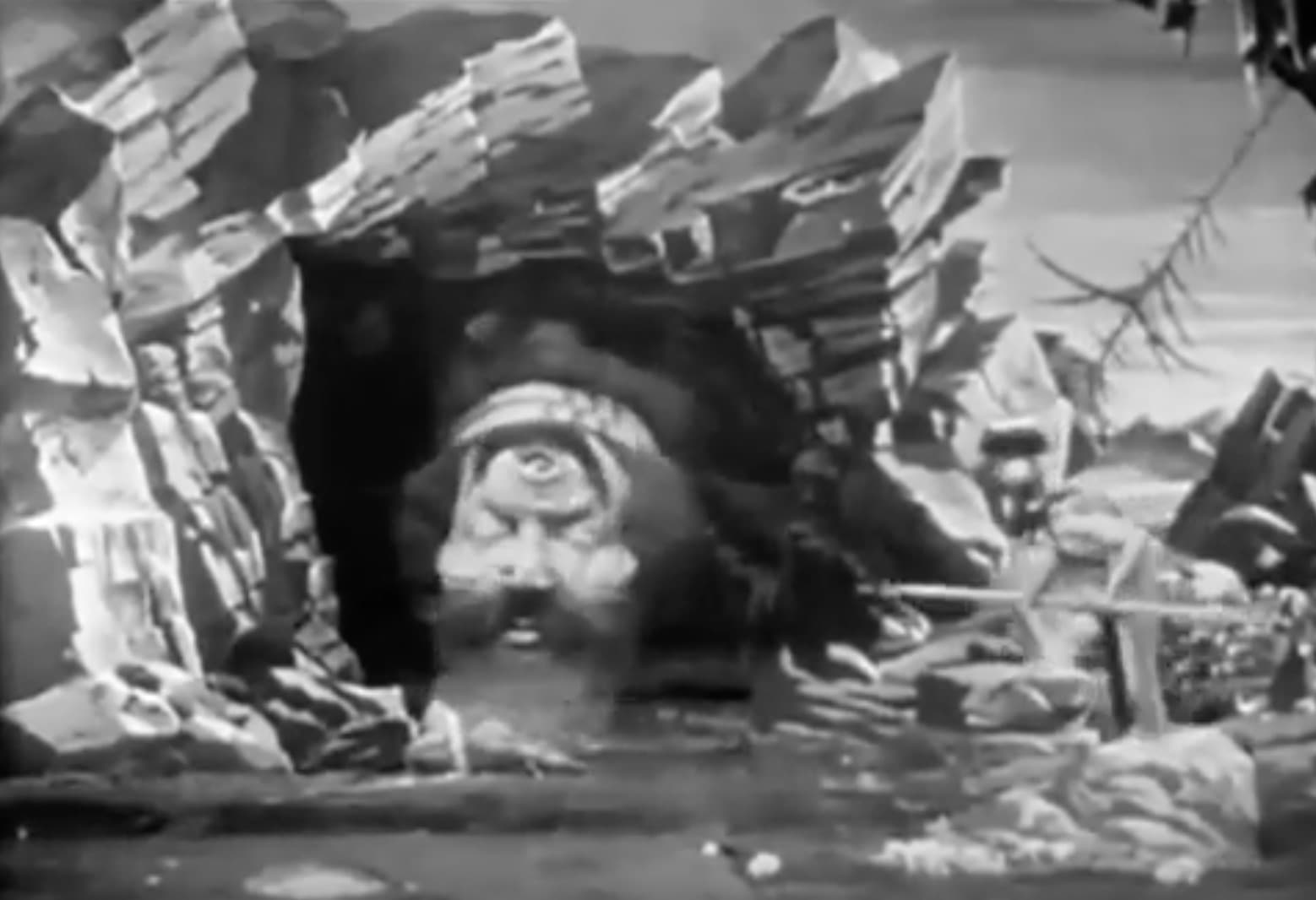 There you have it, 33 Movies based on the Odyssey including adaptions of Homer's Odyssey.
If you like movies, TV shows and mini-series based on The Odyssey, then you should definitely watch all of the movies in 20 Greek Mythology Movies You Must Watch.
Pin it … Share it