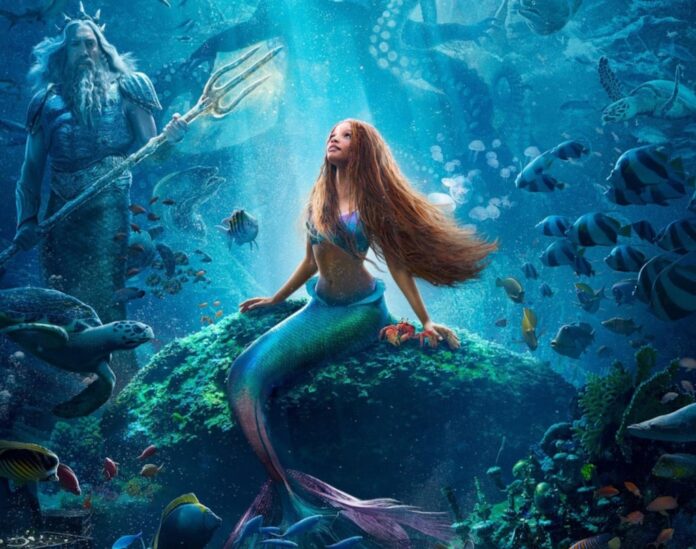 I just saw The Little Mermaid (2023) movie this evening at the cinema. It is now 1:50 am in the early morning hours, and I am just starting to write The Little Mermaid Review, an honest, woke review.
Woke stuff will be discussed in this review, so if you are a racist, you'll probably dislike it.
This will be an honest, woke review of The Little Mermaid, so I plan to blurt out what I think due to the limited time I have set myself.
I want to post The Little Mermaid Review: Honest Woke Review by 4:00 am at the very latest, so let's hope the film review I write isn't total garbage. That gives me just over two hours to complete it. It will probably be the fastest movie review I ever do.
I won't update this movie review of The Little Mermaid movie later, either. So even if I spot a mistake after I post this movie review of The Little Mermaid (2023), it will stay.
The Little Mermaid Movie: Woke Review
So did I like seeing a black girl (Halle Bailey) play Ariel, the Little Mermaid?
As a woke guy, it took me a little while to warm up to Ariel. I can't say that I ever truly fell in love with Ariel, but there was a scene where I would have kissed her.
That's how you can tell if you are a racist. If you're a guy who wouldn't kiss black mermaid Ariel, then I'm pretty sure you are a racist. There could be some exceptions since I suppose a few of you could be gay.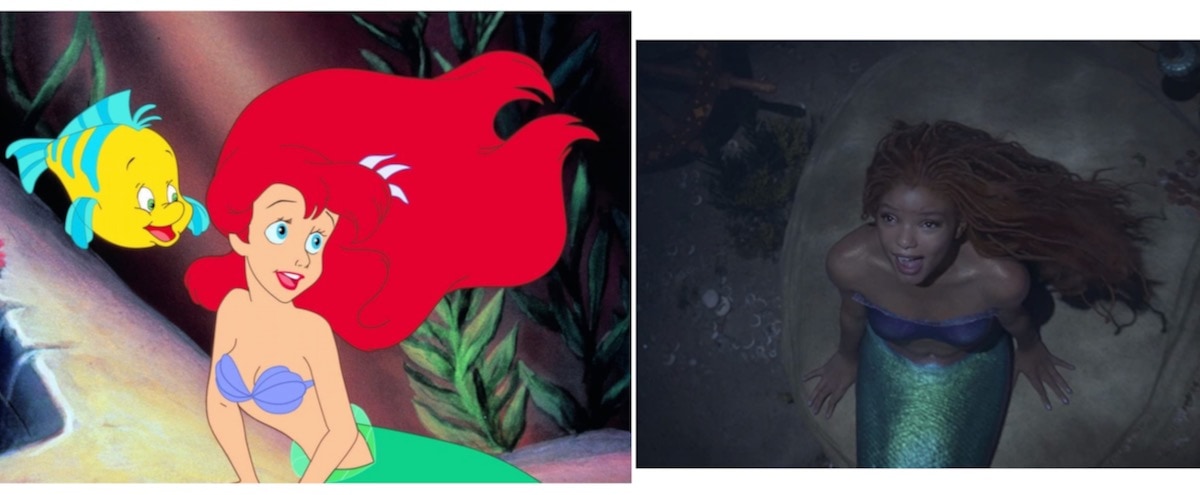 Look, Ariel isn't the best-looking black girl out there, but she is the daughter of King Triton. So why wouldn't you want to kiss her?
On the other hand, if you are a white female and don't like the idea of a black girl being Ariel, then you may have issues. Why not give a few black girls a break?
In the story, a sea witch octopus cursed Ariel while transforming her into a human woman with two legs. Another thing that happened as part of the spell was that Ariel couldn't use her voice in much of the musical fantasy. That's where the songs saved the day.
In general, I liked the songs in The Little Mermaid. The songs were good enough to keep me entertained throughout the longish film, which lasted 2 hours and 15 minutes. But yeah, I wouldn't want to go out and buy a record of The Little Mermaid songs.
I most enjoyed one of the songs by the animated crap Sebastian, the fish Flounder and the lively bird Scuttle.
This musical number happened when Ariel and the Prince were on a small row boat. In my opinion, it was the best song and one of the best scenes in The Little Mermaid film.
Halle Bailey also did a great job when she sang, but nothing stands out on reflection. I didn't find myself moved emotionally by any of her songs. However, that's because the songs weren't that great, so no matter who sang them, it wouldn't have mattered.
The Little Mermaid movie focuses on Ariel needing to get a kiss from the Prince to break the spell. It was challenging because Ariel, the little mermaid, had her mind erased of the need to be kissed as soon as she became human.
Ariel only had a few days to kiss her Prince. Otherwise, the evil sea witch would possess her voice forever.
I liked how the film's most evil villain was white, whereas the good Little Mermaid was black. It's about time!
Hopefully, many more woke movies like The Little Mermaid will be made in the future.
King Triton in The Little Mermaid
King Triton had seven beautiful mermaid daughters in The Little Mermaid. Ariel was King Triton's youngest daughter.
I loved the scene when they all first appeared in the film.
All of the mermaids were very beautiful. King Triton had an Asian-looking mermaid daughter and a few dark-skinned mermaid daughters. He also had fair-skinned daughters.
The Little Mermaid reminded me of the movie Xanadu which had many beautiful ladies from diverse backgrounds.
In Xanadu, the nine Muses were all racially diverse, the same as in The Little Mermaid.
I loved it!
The Little Mermaid Movie Review
I give The Little Mermaid a score of 8 out of 10.
It's a good Disney movie. Not sure why lots of people have made negative comments about this film, which are so untrue.
If you are open-minded, you will probably enjoy watching The Little Mermaid movie.
It is 5:00 am now, so I am 1 hour over my deadline. Since I started at 1:50 am, I have taken 3 hours and 10 minutes to write The Little Mermaid Review: Honest Woke Guide.
Now it's time to go to bed.
If you are woke, check it out! I'm sure you will like it.
Pin it … Share it