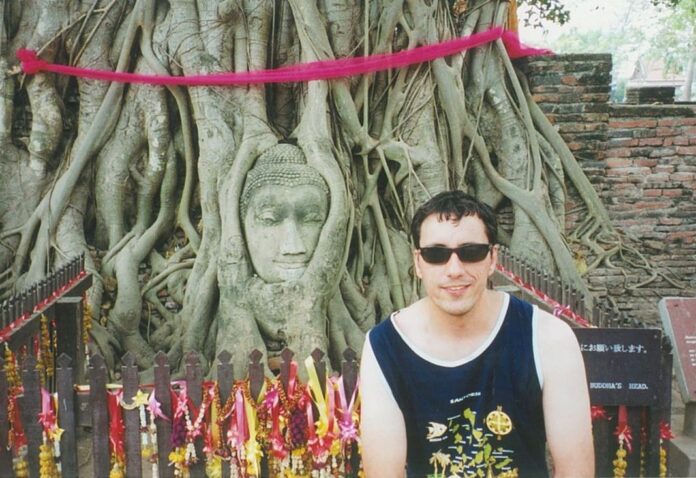 My trip to Thailand came about after I seriously needed a good tan — which I think the above photo proves — WTF!
So yes, this adventurous Thailand travel guide for first-time visitors to the Land of Smiles is based on my memorable backpacking trip to Thailand.
My inspiration for going on an adventurous Thailand backpacking trip began similarly to many other travelers seeking adventure in a foreign land — the classic film The Beach, starring Leonardo DiCaprio.
Backpackers from all over the world have been inspired by The Beach to want to visit Thailand and I was one of them. At the time, I was a massive fan of the film and still am today. The book is also incredible!
During my adventurous trip to Thailand, I discovered that Thailand truly is paradise!
I can assure you that paradise does exist in Thailand provided you know where to go. So for me, The Beach definitely lived up to its promise.
Sure, Thailand can appear hellish in certain parts of the country, but if you go to the right places, you'll love the country.
All you need to know when planning a trip to Thailand are some of the best places to visit, including some of the most awesome adventurous things to do in Thailand. Also, a few top tips to ensure your trip to Thailand is extra special.
Once you're aware of the best things to do in Thailand, all you then need to do is book your plane flight to Thailand and have the time of your life.
You're unlikely to regret it, that's for sure.
Thailand Travel Guide – Adventurous Thailand
My Thailand travel guide will reveal some of the best tips for first-time visitors traveling around Thailand. Knowing about these travel tips gives you a greater chance of experiencing the best of Thailand.
I had several destinations in Thailand on my itinerary before I landed at Bangkok airport.
They included Bangkok, the capital of Thailand, plus the Thai islands of Phuket, and Ko Samui.
The adventure began on the 4th of January 2004, the day when I first arrived in Bangkok.
My plan involved departing Thailand on the 8th of February, so all up, I ended up spending just over a month in Thailand.
It gave me a decent amount of time to explore the country.
Discovering the paradise of Thailand turned out to be an incredible experience.
I'm not going to tell you the exact order I did everything in during my trip to Thailand because it doesn't really matter.
You'll find adventurous things to do in Thailand suitable for everyone here, especially if you're a first-time visitor to Thailand.
I highly recommend all of these experiences in Thailand because all of them were extremely memorable to me.
Krabi – A Thailand Paradise
To start things off, I have to tell you that I got extremely lucky finding out about Krabi.
I only learned about this beautiful paradise when I traveled on a bus on the way to somewhere else. At the time, I had no idea about the place.
Someone I started talking to on the bus told me that they were going rock climbing in Krabi.
Rock climbing sounded like it would be enjoyable to try, so I headed over to Krabi myself and stayed for a couple of nights — but I should have stayed longer.
In my opinion, every Thailand travel guide should have this destination as being part of the top 5 things to do in Thailand.
Krabi is a magical destination.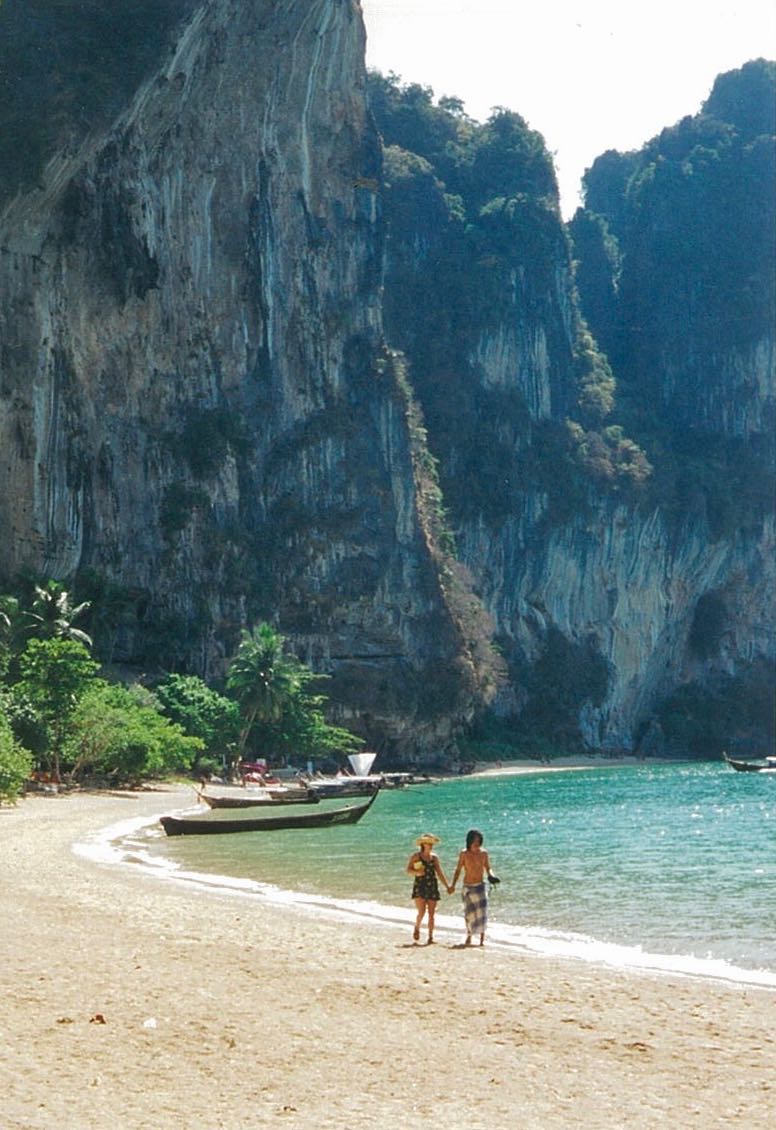 The only thing that sucked was that I sucked at rock climbing.
I gave up quickly when attempting to rock climb with all the proper gear I had rented, with a hired guide as well, in less than 5 minutes.
I'm just not a rock climber. But who knows, you may love it!
Even if you don't like rock climbing, you must visit Krabi. It's a beautiful destination.
Ko Phi Phi Don – My Paradise Island
Ko Phi Phi Don turned out to be my favorite island in Thailand.
I went to the island as part of a day trip for a scuba-diving trip.
Top Tip: If you want to learn to scuba dive, here is a great island to learn. I went on a refresher course here.
Thailand has so many incredible islands, but for some reason, I loved this island in Thailand the most.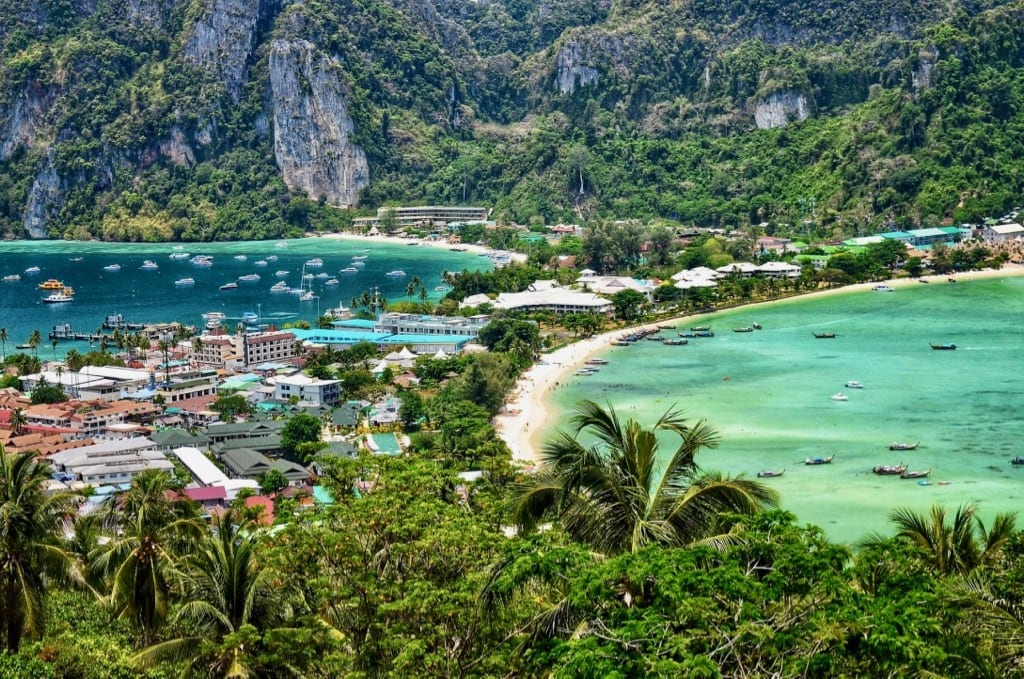 The island is relatively small, but it is truly spectacular!
When I think of paradise in Thailand, this is the island that comes to mind.
It's probably Thailand's answer to Santorini in Greece.
James Bond Island
I wish I could have stayed on a Thai island nicknamed James Bond for at least half a day or more.
The boat tour I went on only gave enough time for tourists to explore the area for about half an hour.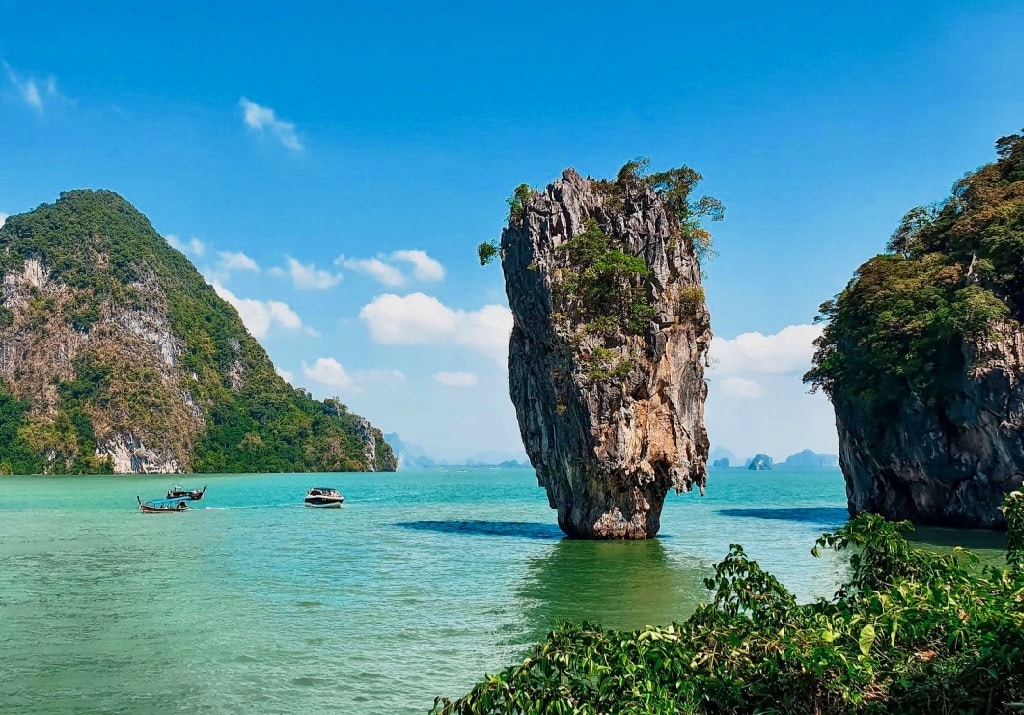 Thai Paradise
Looking back, I wish I had visited Ko Nang Yuan in the Surat Thani Province, just off Ko Tao.
Nevertheless, I am lucky to have taken in some of the splendor around Phuket, Krabi, Ko Phi-Phi Don, Ko Samui, and Ko Pha-Ngan.
Visiting the Krabi province in Thailand is a must, especially if it's your first time in Thailand.
Make sure you 100% put Krabi on your trip itinerary. The views are so beautiful.
Here's a marvelous view I had one evening.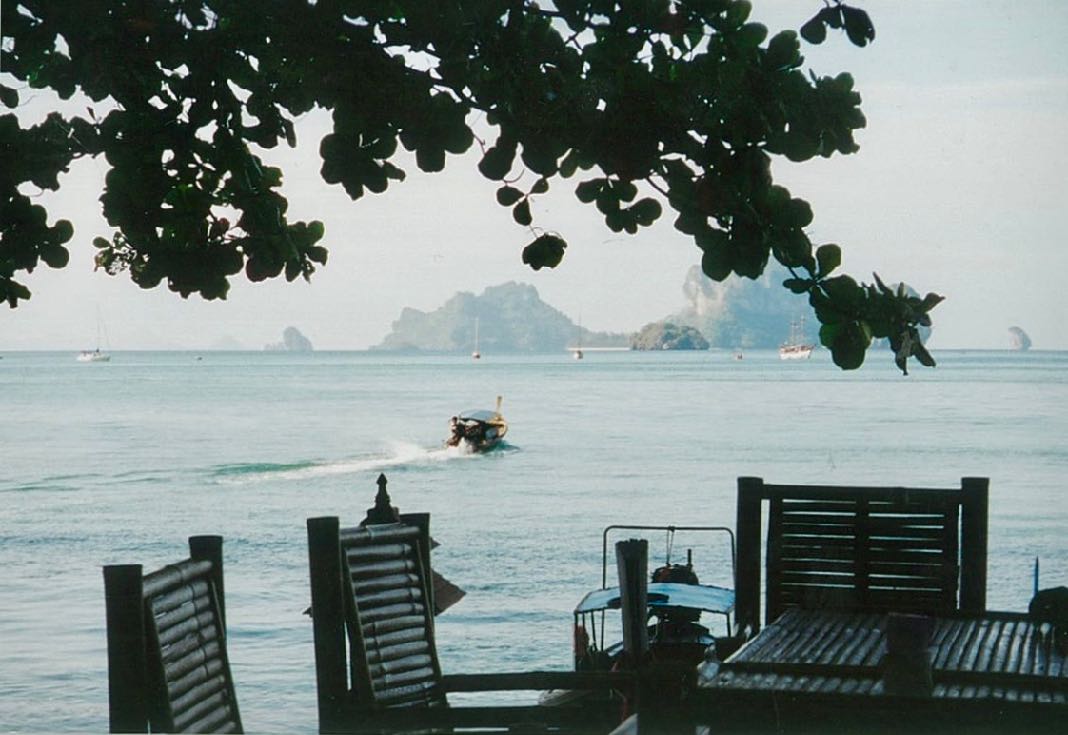 Sail Rock (Koh Tao) – Scuba Diving
Scuba diving at Sail Rock (Koh Tao) near Ko Samui turned out to be a fantastic experience.
I consider it to be the best dive I have ever done.
When I asked around a few different dive shops in Ko Samui about the best place to go scuba diving in Thailand, 'Sail Rock' came up numerous times as the answer.
There are humongous schools of fish to see at Sail Rock.
Sail Rock also lives up to its name since you'll see a rock that looks very misplaced in the middle of a calm ocean.
It juts out of the ocean and is a fantastic dive spot — incredible!
The added wonder during my dive had to be getting attacked by a large triggerfish.
When swimming around, I felt someone tapping me on my back. So I looked around and saw this massive triggerfish.
One of the guys I was scuba-diving next to, tapped me to warn me.
I tried to punch the fish to scare it away from me, but it kept on coming back for more and more. It probably looked a bit like water kickboxing.
After the dive finished, the scuba dive master came over to me and told me that he had never seen anything like it before.
I attempted to punch the big fish, and the fish would back away just before it got hit, before coming back at me again and again with its mouth wide open ready to bite.
The triggerfish had a mouth full of sharp teeth. I seriously don't know how it didn't end up biting me.
The Beach: Set in Thailand
I went to Thailand in the first place due to The Beach — the inspirational travel movie The Beach (2000), which starred Leonardo DiCaprio.
How could it get any better for a traveler than discovering a secret paradise with the most beautiful beach ever imaginable on a dreamy tropical island in Thailand?
It is one of the best travel movies of all time.
Watching the movie for the first time left me in total awe of Thailand.
I wondered whether Thailand could be that good? Did the dreamy beach in the movie exist? And much more.
A few years later, my dream of visiting Thailand materialized.
It was going to be an adventurous backpacking trip of a lifetime.
One sad part about the trip is that I missed out on going to the famous beach shown in The Beach film due to my stupidity.
After learning that filming took place on Ko Phi-Phi, I never realized there could be two islands using the Phi-Phi title.
Ko Phi-Phi Don and Ko Phi-Phi Leh sound very similar, so it confused me.
I loved Ko Phi-Phi Don island and assumed digital enhancement and multiple location shots had been layered together to create a super beach.
When I was in Thailand, I never really considered the possibility that The Beach existed in real life. It just seemed too good to be true.
How could any Thai beach be superior to the spectacular beaches I had already been to in Thailand? Live and learn.
The Beach by Alex Garland
On my backpacking trip to Thailand, I read The Beach book whenever I had the chance.
Here's the copy of the book I took over with me to Thailand.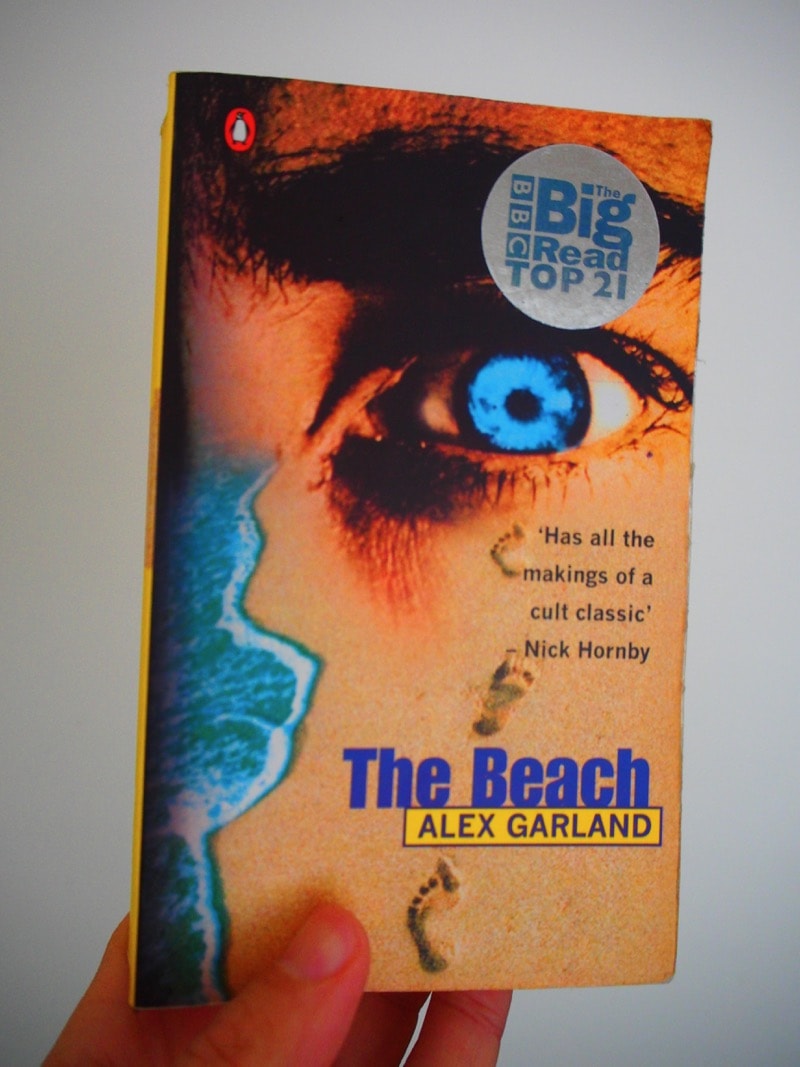 I loved the movie, and I heard great things about the book. However, the book and the movie had some differences, so I wanted to know what they were.
While traveling throughout Thailand, I wanted to immerse myself in the complete original story envisioned by the author Alex Garland.
The book was excellent, but I can remember not liking the book's ending for some reason.
Reading The Beach during my trip around Thailand meant I spent most of my spare time reading that book instead of my Lonely Planet "Thailand" travel guide.
I wanted my trip around Thailand to be a journey into some unknown paradise, hoping to serendipitously enter heaven.
Luckily, I did find paradise. However, I didn't find it at The Beach, because I didn't go there.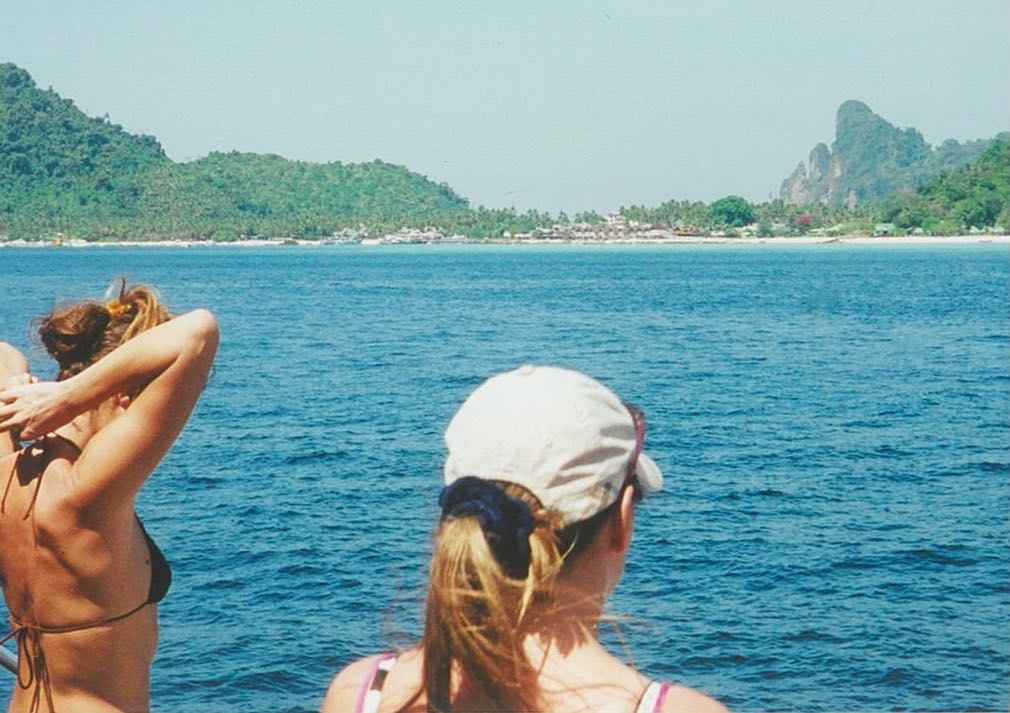 Ko Samui and Phuket were both great island paradises. There was a lot to see and do.
Here's a spectacular waterfall I visited in Ko Samui. No, it wasn't from the movie, because there was no way you could jump down into the pool of water below.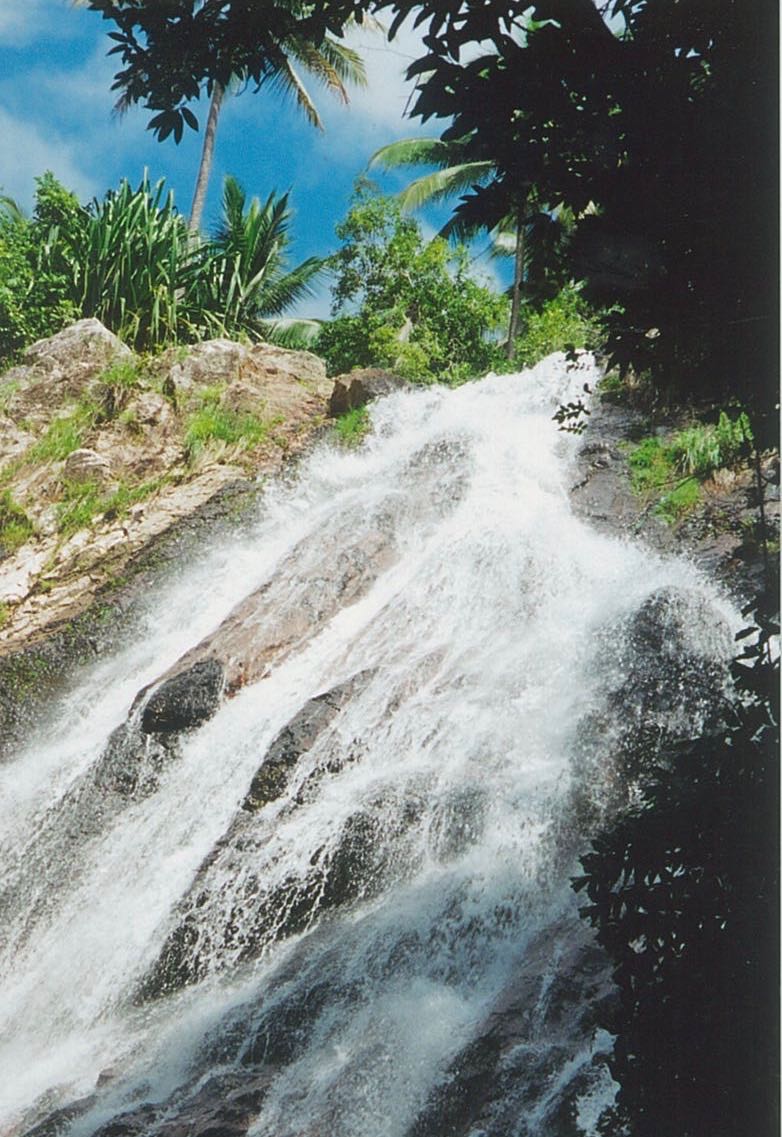 Phuket
In Phuket, I tried jet skiing for the first time. I also tried wakeboarding on an artificial lake where overhead pulleys and ropes pulled you along on the lake.
To begin with, you first had to stand on a platform holding a rope with a handlebar. Then at a particular moment, it hurled you into the water.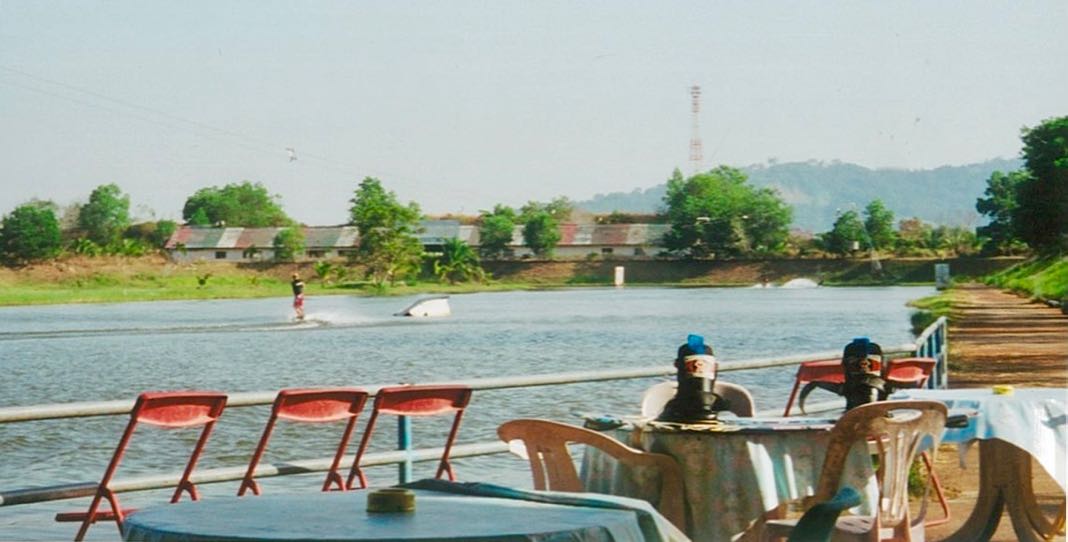 My best attempt at wakeboarding included three complete laps without falling over. However, I felt exhausted by the end.
Phuket Fantasea
I have to mention Phuket Fantasea. The cultural theme show is terrific!
The magical show included Thai dance, pageantry, magic acts, and incredible state-of-the-art light/sound displays.
Seeing various animal acts, from elephants to birds performing, in unusual ways blew me away.
It has to be the most incredible show I have ever seen. It was advertised as one of the greatest shows on earth, and it was.
Phuket Fantasea is expensive, but you must see it to believe it.
Ayuthaya: Temple Site
In Thailand, Buddha is highly revered.
I still can't believe how white I appeared in the very top photo when taking my photo next to the Buddha's head surrounded by tree roots — at Ayuthaya Historical Park.
I don't think I have ever looked so white in my life. And believe me, I did not whiten that photo on purpose.
If anyone thinks they can't possibly have any Hellenic blood in their veins because of their whiteness, well it could be a mistake.
Ayuthaya is approximately 85km north of Bangkok, and it was a fantastic day trip from Bangkok. I discovered it from reading my Thailand travel guide.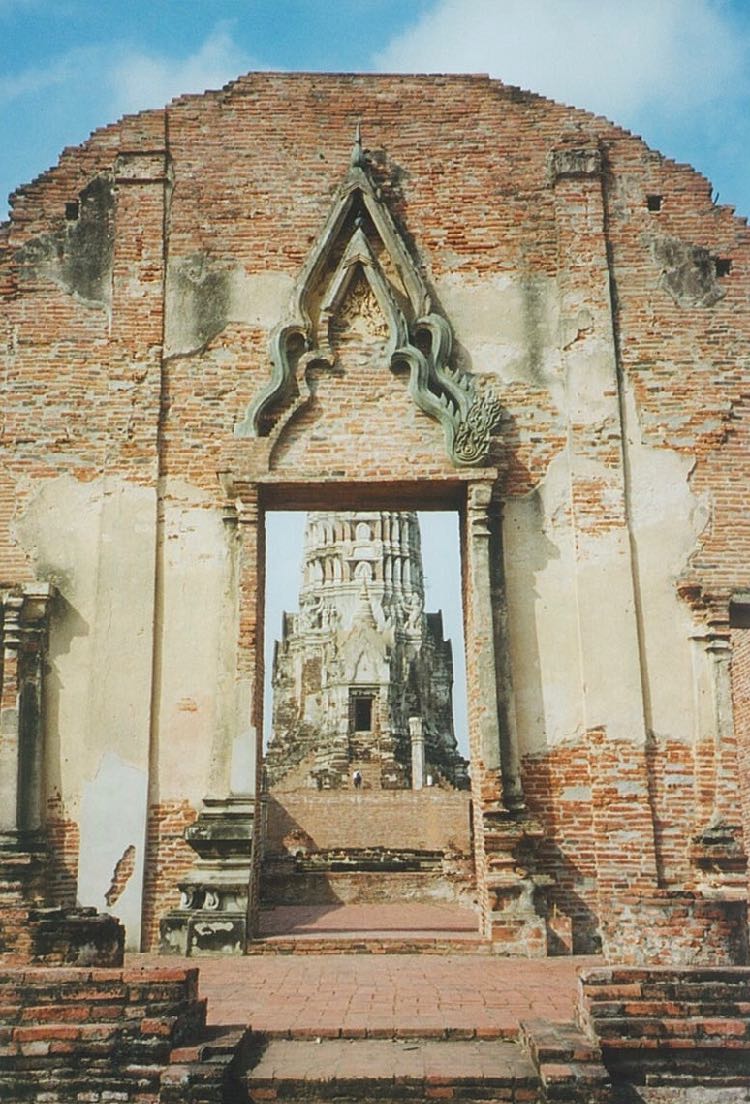 The ancient site of Ayuthayai mpressed me greatly. You can easily understand why it's a Unesco World Heritage site.
The former capital of Siam oozes major historical significance.
Lopburi
On my way to Chiang Mai in northern Thailand, I stopped at the town of Lopburi for the night.
The stories of monkeys in the streets drew me to the town. When I read about it in my Thailand travel guide, I knew I had to go there to see it for myself.
Lopburi even holds a yearly festival for the monkeys, where they offer their monkey population a feast.
Unfortunately, I wasn't there at the right time, but how good would that be to watch.
When I arrived, I could see straight away that the monkeys were very honored in the city.
You quickly figure it out when you see the giant gold monkey statues.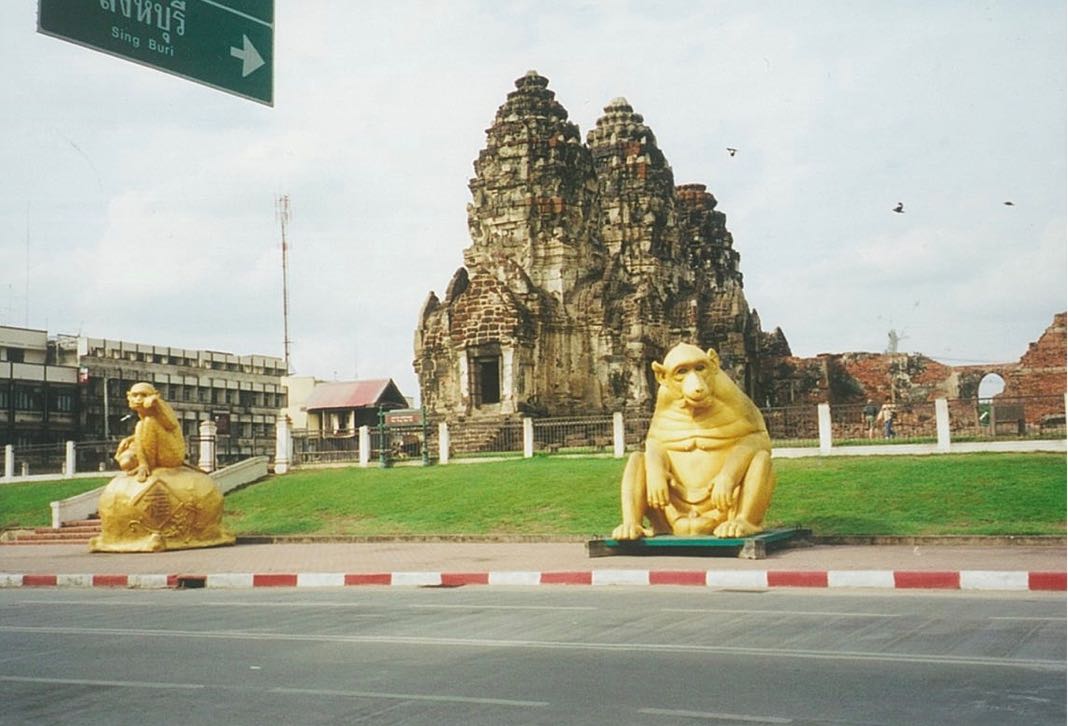 Small monkeys are also seen at the base of the giant monkey statues.
Lopburi impressed me. It had a charming, vibrant side to it. Staying for two nights in Lopburi is the way to go. Staying for only one night in Lopburi felt a bit too short.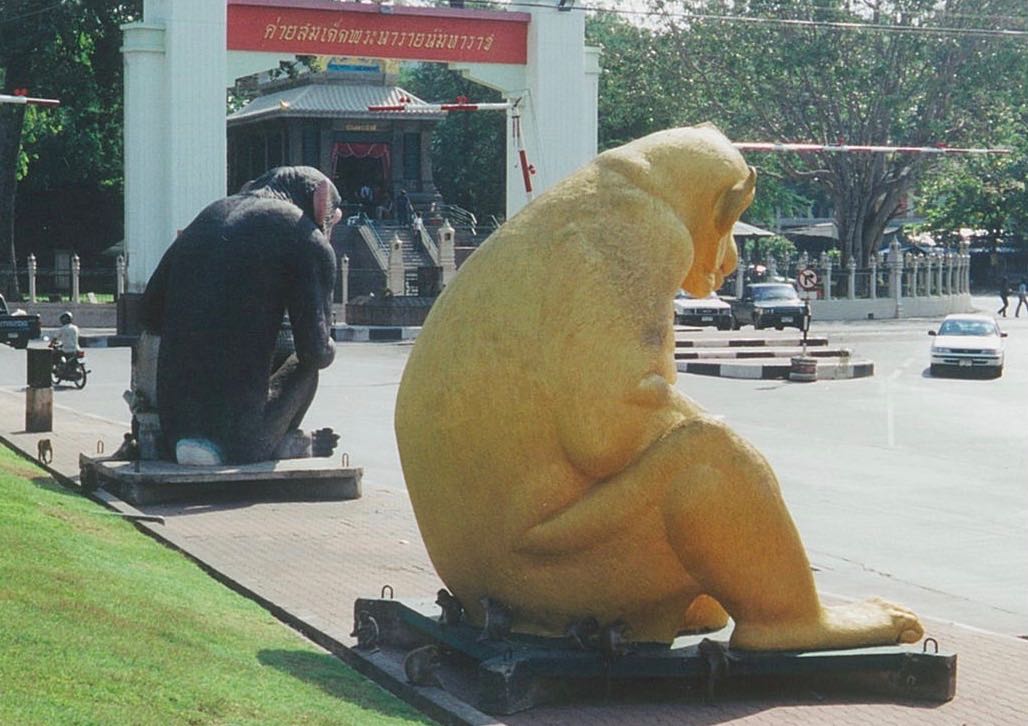 Buddha Statues in Thailand
You can see many Buddha statues in Thailand, but how can you beat a golden Buddha?
I sometimes wonder why there are no gold Greek God statues in existence.
Buddha wisdom:
"When you see, just see.
When you hear, just hear.
When you smell, just smell.
When you touch, just touch.
When you know, just know."
Bangkok Madness
Tuk-Tuk taxi drivers in Thailand are insane! They offered me the most insane rides of my life!
Seriously, you feel your life is on the line every time you're out on the street — and it most likely is.
The relief of making it to your destination alive brings huge relief.
With markets, shopping and entertainment districts, Thai boxing stadiums, and temples to explore, Bangkok is not a boring place.
The problem is getting where you want to go, which is far, far from a relaxing experience.
Khao San Road Bangkok
One night in Bangkok, I found myself on Khao San Road.
I only visited the famous backpacker road in Bangkok after a fellow traveler mentioned it.
When I mentioned that I didn't know anything about Khao San Road, the person reminded me that it was mentioned in The Beach.
I should have stayed at one of the many accommodation providers nearby for a couple of nights or somewhere close to Khao San Road.
Westerners are drawn to this Bangkok hotspot, but I already had my accommodation booked elsewhere.
At this point, I couldn't distinguish between reality and fiction in The Beach.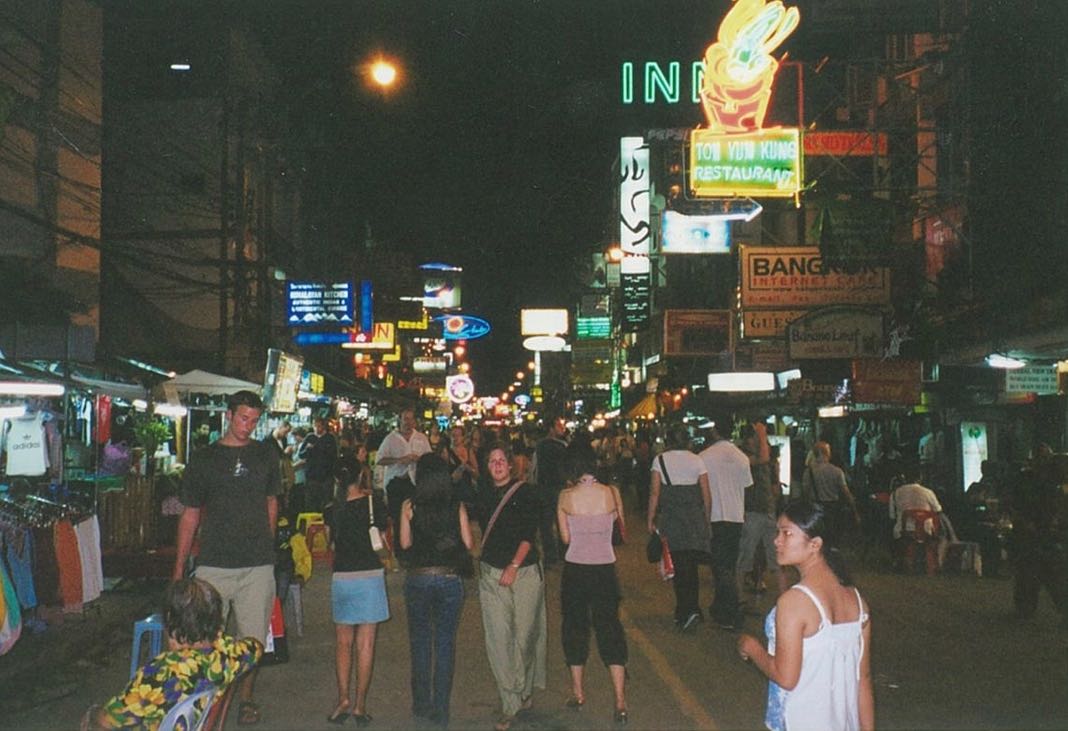 Going shopping in Thailand is an absolute must, especially when in Bangkok.
During my trip to Thailand, I bought a couple of fake Rolex watches, a tailor-made business suit, a fine-looking red silk dressing gown that made me look like Bruce Lee, and a few other interesting souvenirs.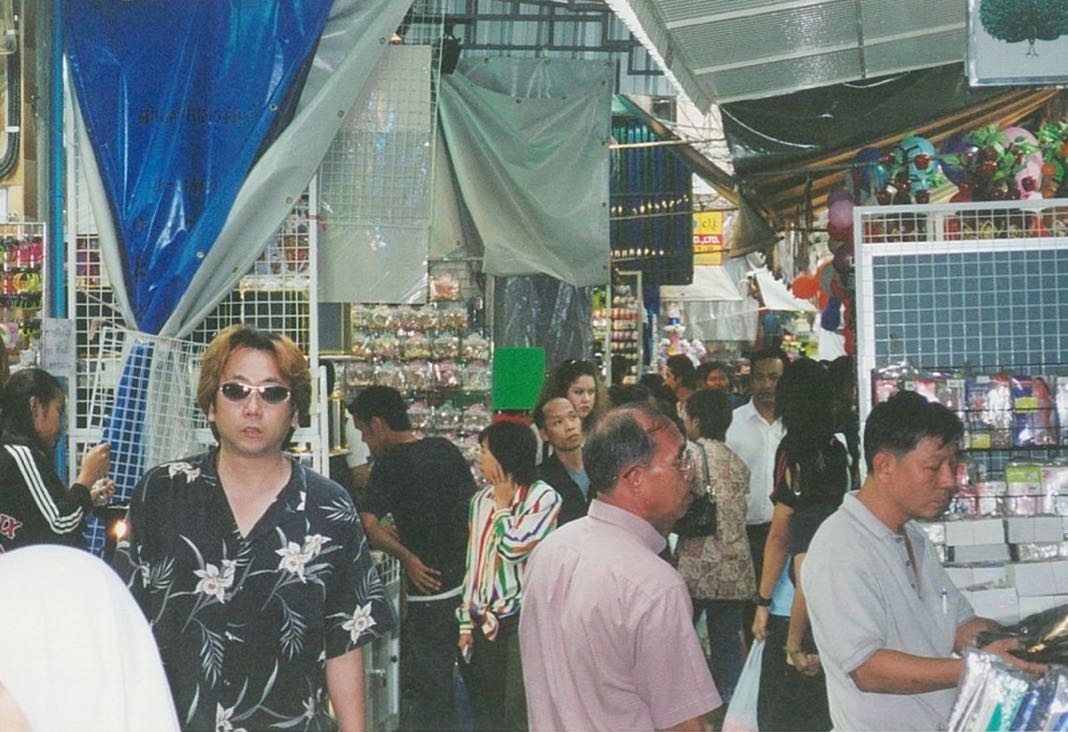 I even bought the best movie ever made in Thailand at the time.
A DVD of 'Ong Bak,' which a Thai seller convinced me to buy, even though I had never heard anything about the Thai film at the time.
Watching the martial arts movie, Ong Bak, proved to be very different from your standard chop fest.
It was pretty impressive, but it's not a movie you'd want to watch over and over again like The Beach unless you're Thai.
Thai Kickboxing Bangkok
One of the things I definitely wanted to experience in Thailand was to go and see a Thai kickboxing event.
From having a couple of different kickboxing experiences, I can highly recommend these extraordinary kickboxing events.
The entire spectacle of a Thai boxing match was highly entertaining and a bit risky, even for you, the spectator.
It could mean being hit by blood if you have a ringside seat. So make sure you don't sit in the first row closest to the ring. I can't stress that enough.
Watching a fight at the ringside seat where I was sitting shocked me greatly when a few drops of blood just missed me on one occasion. These tough guys don't mess around.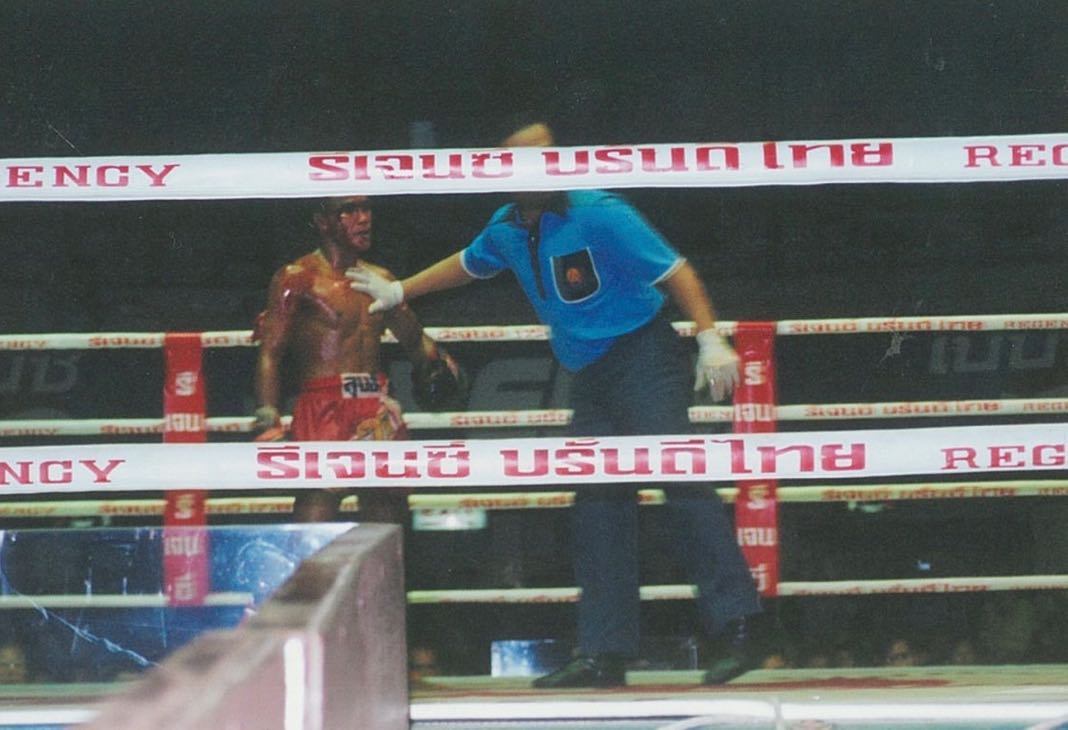 After one of the events, I couldn't resist getting my photo taken next to a champion Thai kickboxer.
By that time, my tan was coming along nicely.
Chiang Mai: Train Ride from Bangkok
Chiang Mai up north sounded like a fascinating place to visit, so I decided to catch a train to spend a few nights up in the northern part of Thailand.
The town is located more than 700 km northwest of Bangkok, so it was a long trip, especially in the second-class cabin I traveled in, which had hard seats.
On my way there, I sat opposite a few Thai teenagers.
At some point, I decided to stop at a town midway for the night to see a bit of provincial Thailand.
As I got up to leave with my backpack, one of the guys looked very surprised and asked me where I was going.
He didn't seem happy about it when I told him I was leaving.
I think they were planning to do a bag snatch or something if I fell asleep.
A night in Phitsanulok
The town I chose to stop at was called Phitsanulok.
Phitsanulok was located approximately halfway between Bangkok and Chiang Mai, slightly closer to Chiang Mai.
As I headed toward the bicycle taxi rank, I tried to communicate my desire to see the town with one of the bike riders.
There was still some daylight left to see the place, so I wanted someone to ride me around the town.
One of the bike riders couldn't understand what I wanted to do, so another much older guy tried to assist.
We started a weird game of charades. I ended up pointing to the bike with my hand and making circular motions to get the message across.
The old guy with a toothless grin had an aha moment and yelled out a price.
I accepted, and then the two of them laughed their heads off as if they had just ripped me off or something.
We both won in the end because the accommodation in town was incredibly cheap.
A room cost me as much as the cheap bicycle taxi fare, about $6 from memory.
What wasn't so great about it was that it also had a few bonus humongous cockroaches.
Night Bazaar (Chiang Mai)
When I arrived in Chiang Mai the following day, I went straight to the Chiang Mai Night Bazaar precinct.
There I found myself a modest-price hotel room. In the evening, I went to explore the night bazaar right next to the high-rise hotel.
I loved eating a banana pancake served by a lady who seemed to be making a small fortune. It was very delicious!
Elephant Trekking in Chiang Mai
Going elephant trekking turned out to be the most adventurous experience in China Mai.
I learned about it from reading my Thailand travel guide.
Mae Taeng Elephant Park orchestrated the elephant trek superbly.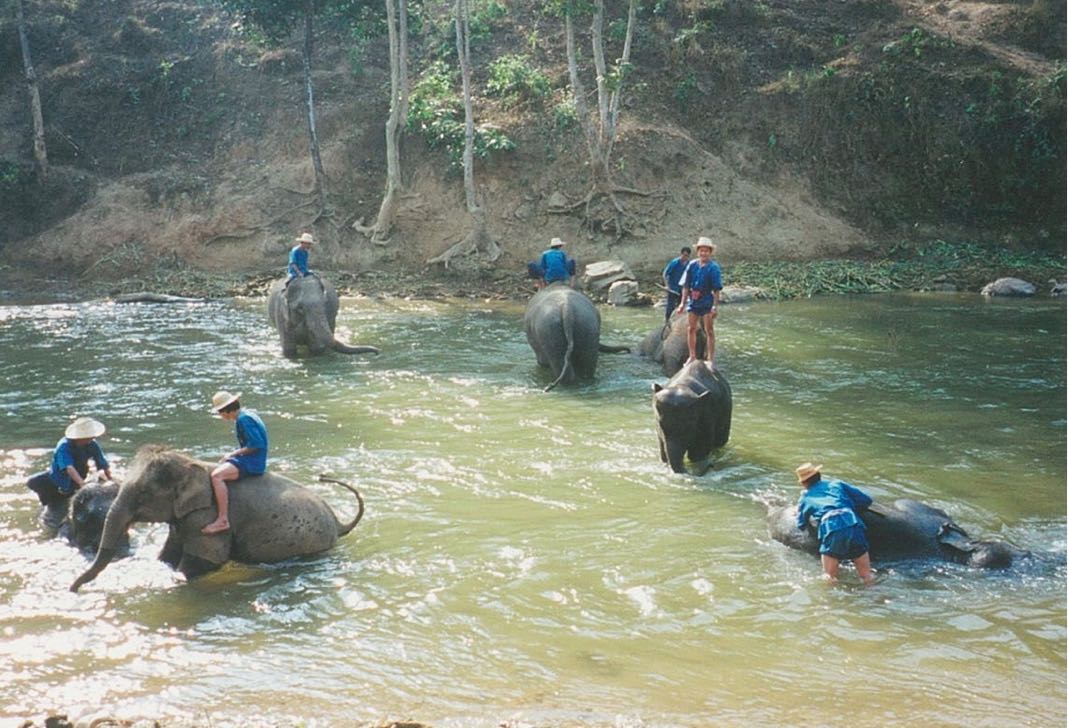 It didn't feel like the elephants were exploited at all.
The above photo shows the elephants being scrubbed down during bath time.
Here we are crossing a river.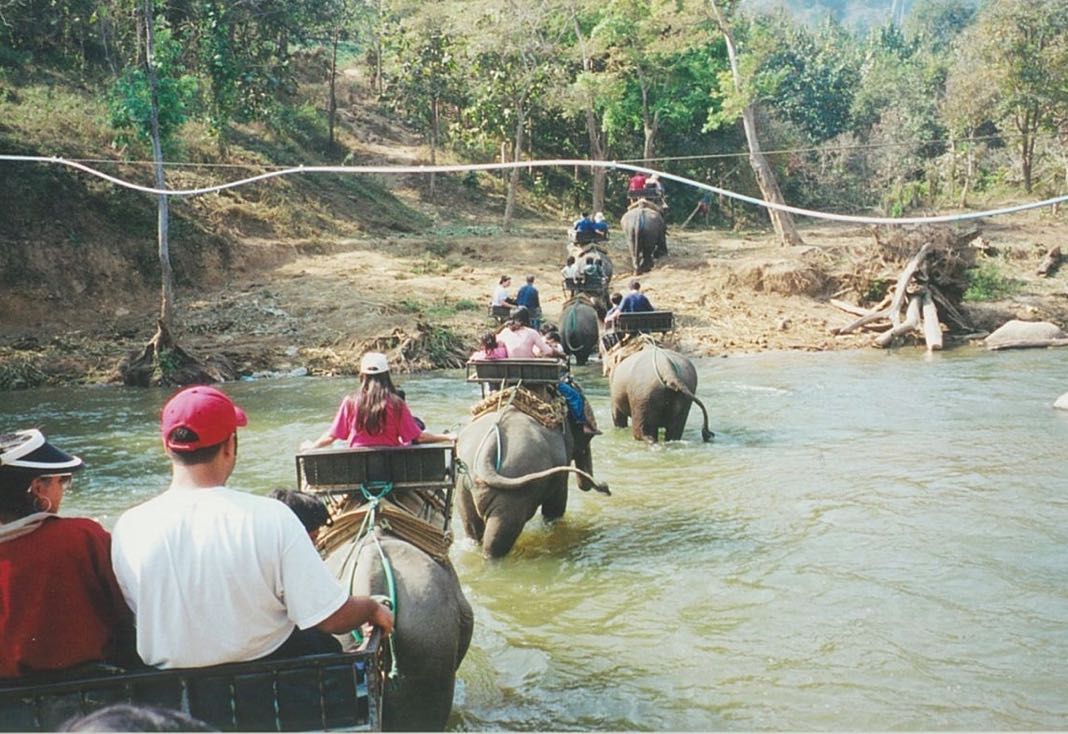 At some point on the elephant trek, a photographer took pictures of everyone. Here's my photo.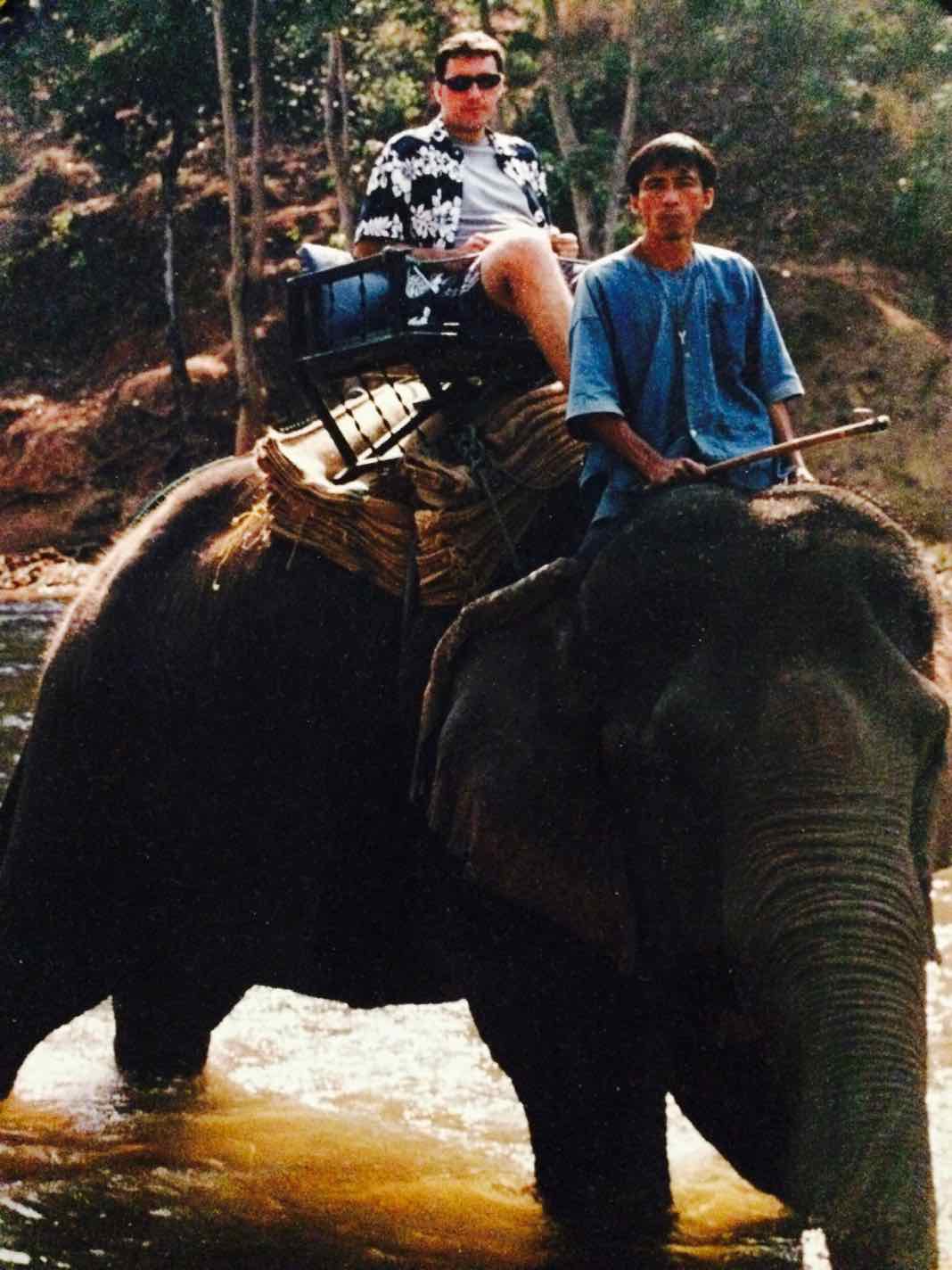 When it finished, I gave a couple of elephants some sugar cane treats to show them my appreciation.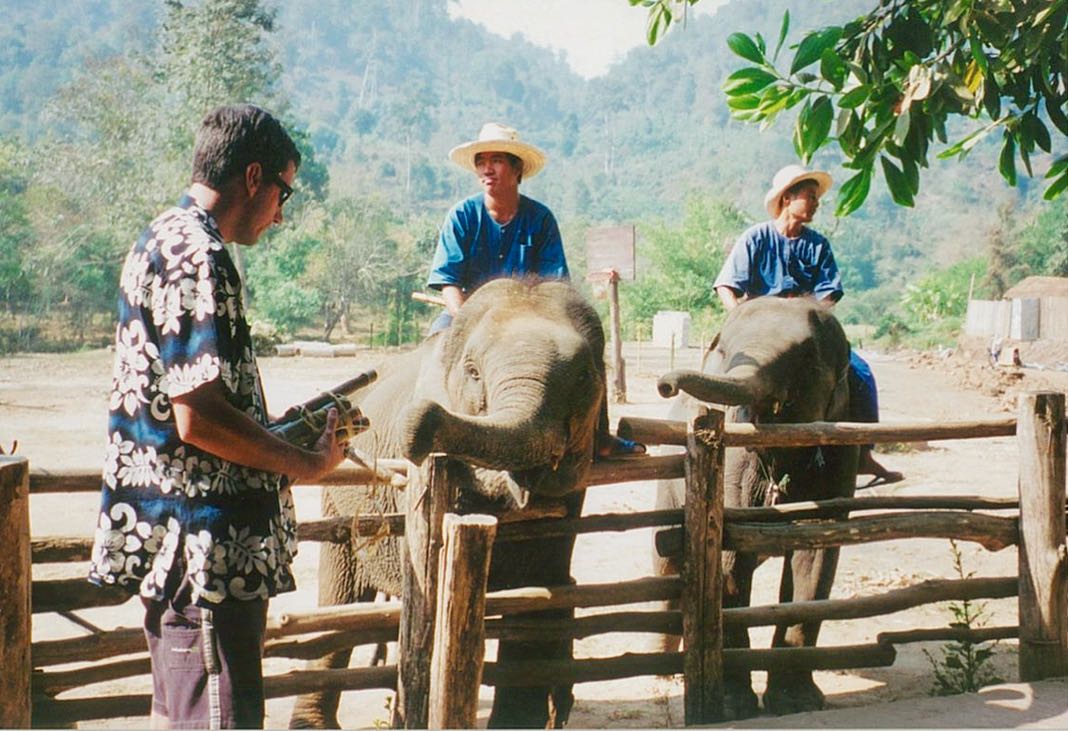 Full Moon Party: Ko Pha Ngan
I only found out about the Full Moon Party while on Ko Samui.
It sounded like something fun thing to do, so I made my way over to the island of Ko Pha-Ngan on one of the large number of small boats making their way there.
The boats were chockablock full of party-goers. I went over in the late afternoon.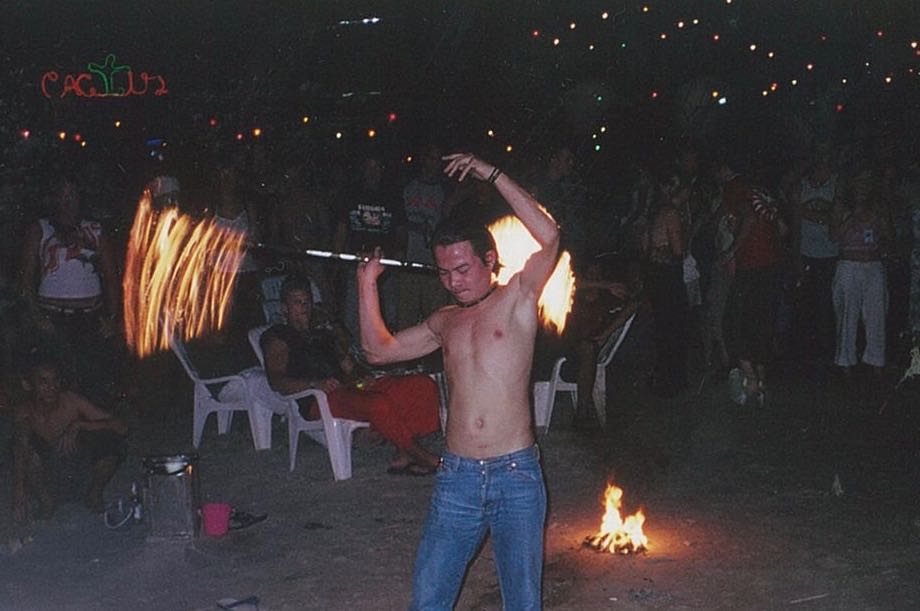 Ko Pha-Ngan is close to Ko Samui, only about half an hour away.
If I had the opportunity of doing it again, though, I'd probably stay on the fabulous island for three nights. Make the middle night the night of the full moon party.
It's no fun knowing that you have to return to your accommodation somewhere back in Ko Samui.
Every good Thailand travel guide talks about the full moon party in Thailand, so it needs to be part of your plan, especially for younger party enthusiasts.
Make sure you are there at the right time.
Adventurous Things to do in Thailand
Seeing a snake show in Thailand is something you have to do if you want something adventurous in Thailand.
If snake blood drinking is available on the menu, just like in The Beach, then give that a shot as well. Actually, that's a bit too adventurous, even for me.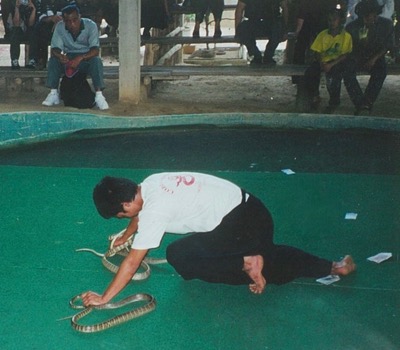 Putting your head inside a crocodile's mouth doesn't seem like a possibility, even in Thailand.
Is there anything a Thai won't do?
All of the crocodiles' jaws must have obviously been broken because there's no way you'd be crazy enough to do something like this otherwise.
I was still shocked that someone would be willing to do this to entertain the tourists.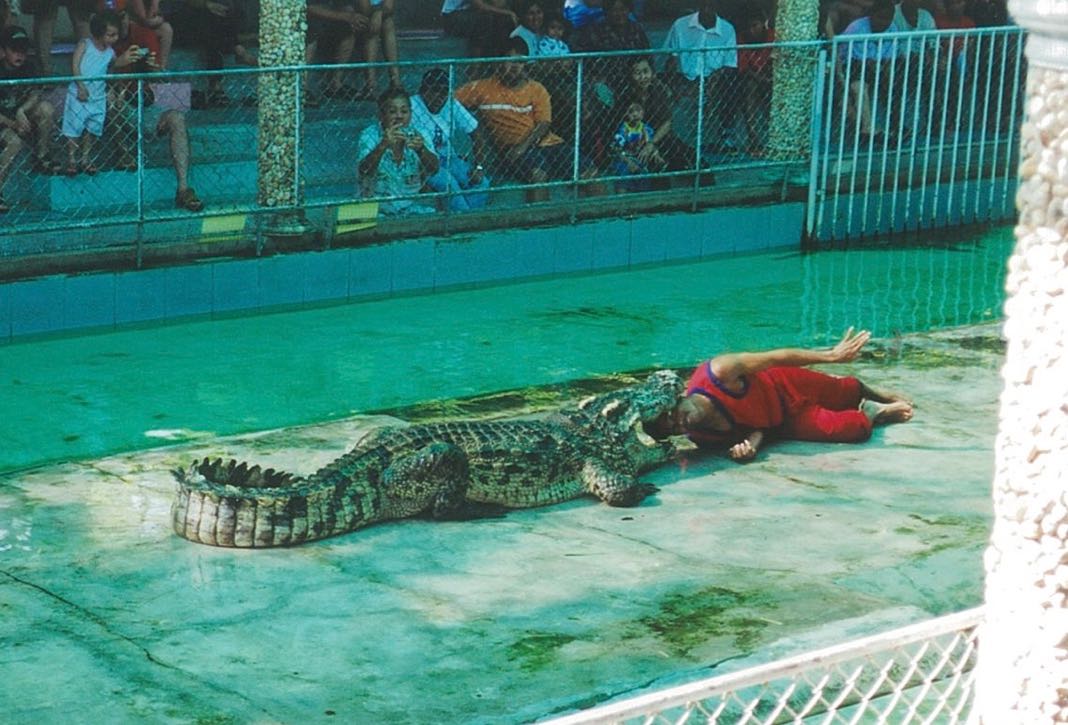 Thai Massage
I can highly recommend getting an authentic Thai massage at some stage in Thailand.
It's scary at first, especially with all the cracking you'll hear.
But I'm sure you'll enjoy the experience of a traditional Thai massage.
Where to find Paradise in Thailand?
You will find paradise in Thailand, rest assured.
You don't even need a Thailand travel guide with you. Just go to where I have suggested.
For me, the magical paradises in Thailand turned out to be Krabi and the beautiful island of Ko Phi-Phi Don.
Thailand should 100% be at the top of your overseas holiday wish list if you've never been there before and want an adventurous experience of a lifetime.
Thailand is fantastic! The cuisine in Thailand is delicious and Thai people are friendly, which makes it the perfect paradise for adventure seekers.
You have to go there. I'm sure you will agree that it is paradise!
Best Things to do in Thailand
The essential tips to learn from this Thailand travel guide are:
First, make sure you visit Krabi.
The Beach exists on Ko Phi Phi Le — so don't miss it.
Pin it … Share it