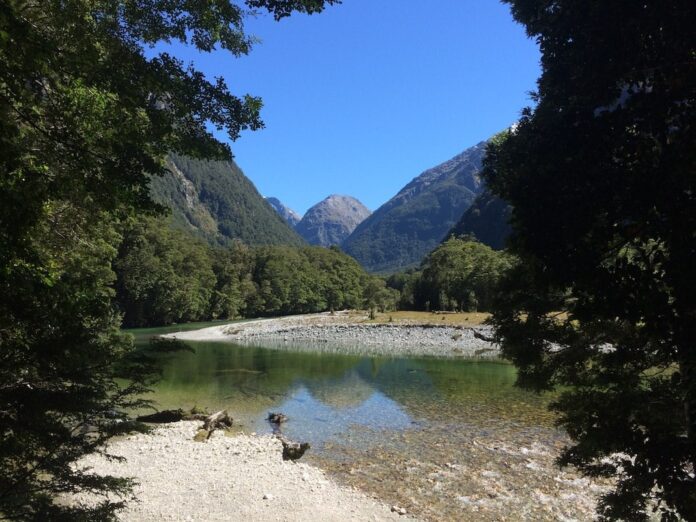 Going on a Milford Track guided walk with Ultimate Hikes is one of the best things you could ever hope to do in New Zealand.
The Milford Track is a great 54 km (4-day) walk, which starts at Lake Te Anau and finishes at Sandfly Point on Milford Sound.
Many people consider the walk along the Milford Track to be the finest walk in the world.
I know it is a big claim to make, but based on my fantastic experience, I think it could be true.
You will find the Milford Track walking trail in the pristine Fiordland National Park on the south island of New Zealand. The walking trail is in New Zealand's largest national park.
My experience of going on a Milford Track guided walk with the Goddesses from Ultimate Hikes was very memorable.
I'm so glad I went on the most famous hike in New Zealand and can highly recommend it.
Do the expensive Milford Track guided walk if you can, but there's also a cheaper option available if you're willing to stay at public huts.
The main issue with staying in public huts is that you have to bring your food, do your own cooking, and carry a heavier backpack. But you will save, so that is a big bonus!
Whatever way you do the Milford Track hike, I'm sure you will enjoy it.
But after reading about my personal experience of doing the Milford Track guided walk with Ultimate Hikes, you will probably want to do a guided walk, and for a good reason, because it is fantastic!
Milford Track Guided Walk with Ultimate Hikes
The Milford Track guided walk with Ultimate Hikes makes walking the Milford Track a relatively easy experience. Hardly any planning is required when you go with Ultimate Hikes.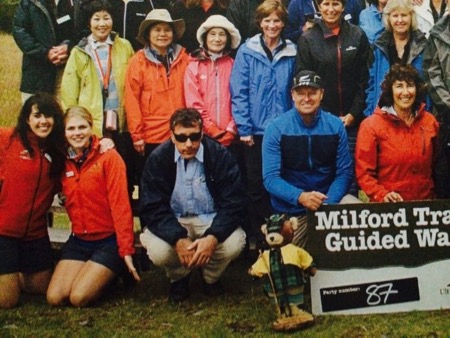 The added beauty of doing the Milford Track guided walk was being in the company of the Goddesses (Alex, Alyssa, Masako, and Phoebe) from Ultimate Hikes.
These girls guided us through a pristine natural wonderland made up of calm rivers, soothing pools of water, emerald green forests, awe-inspiring mountain ranges, and gorgeous waterfalls.
You can see me here with a number of the other walkers from our group, including two of our Milford Track guides wearing red jackets (on the left).
Our group had 37 walkers from around the world, mainly New Zealanders, Australians, Americans, and Japanese hikers.
Milford Track Map  
To better understand the Milford Track hike, refer to the Milford Track Map I created below.
It shows you the elevation and the location of the private accommodation lodges (when you go with Ultimate Hikes) and the public Government huts if you organize everything yourself.
Walkers who choose to do the Milford Sound guided walk with Ultimate Hikes get to stay at Glade House, Pomplona Lodge, Quintin Lodge, and Mitre Peak Lodge.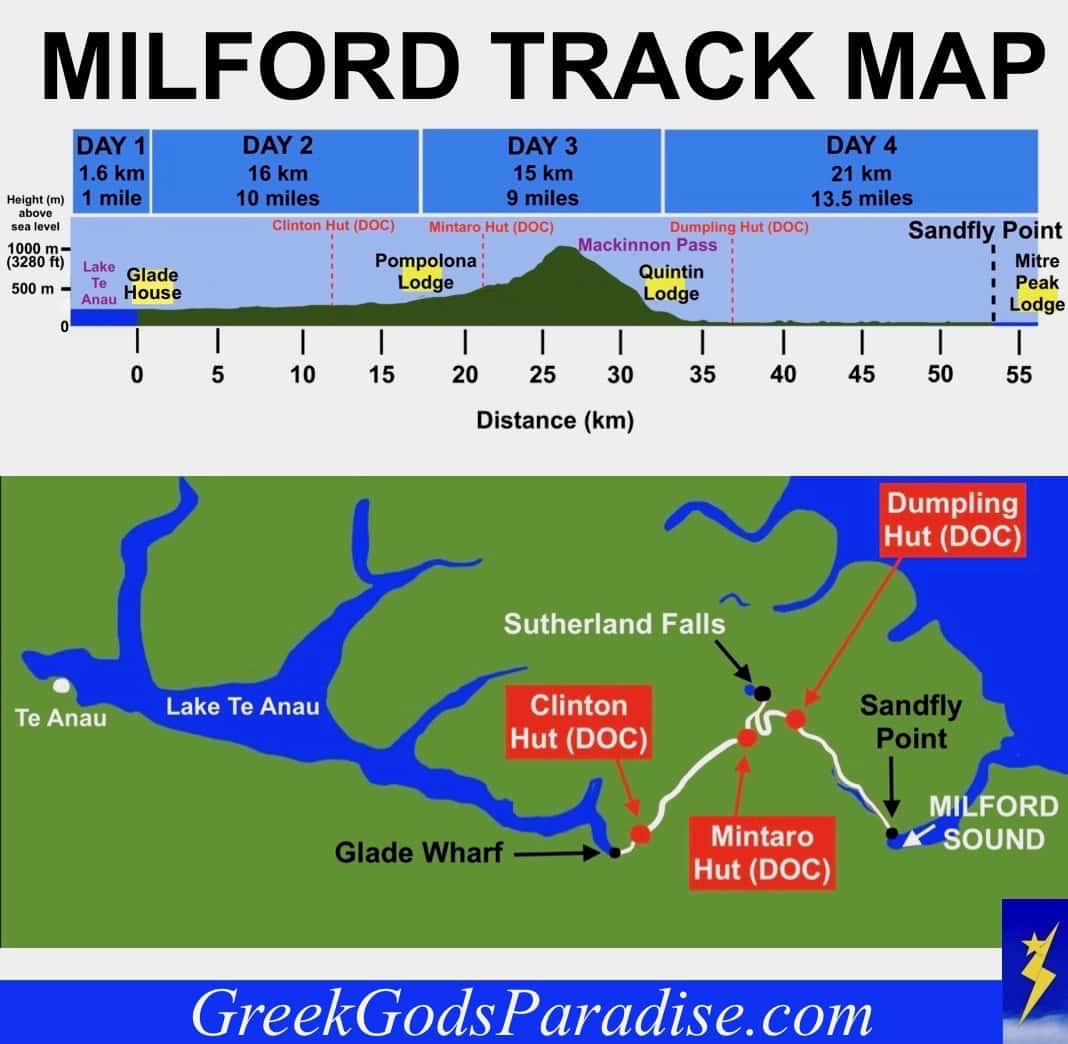 On the bottom section of the Milford Track map, I show the Government DOC huts — Clinton Hut (DOC), Mintaro Hut (DOC), and Dumpling Hut (DOC).
You can figure out where the private lodges are situated in comparison by referring to the top section of the map.
As you can see on the map, the walk starts at one end of Lake Te Anau and finishes at Sandfly Point.
Once you reach Sandfly Point, there is a simple cabin where you can rest while you wait for the ferry.
After the crossing, you are taken to Mitre Peak Lodge.
The Milford Track Walk
Walking the Milford Track offers many beautiful sights. Here are some photos I took during my Milford Track guided walk.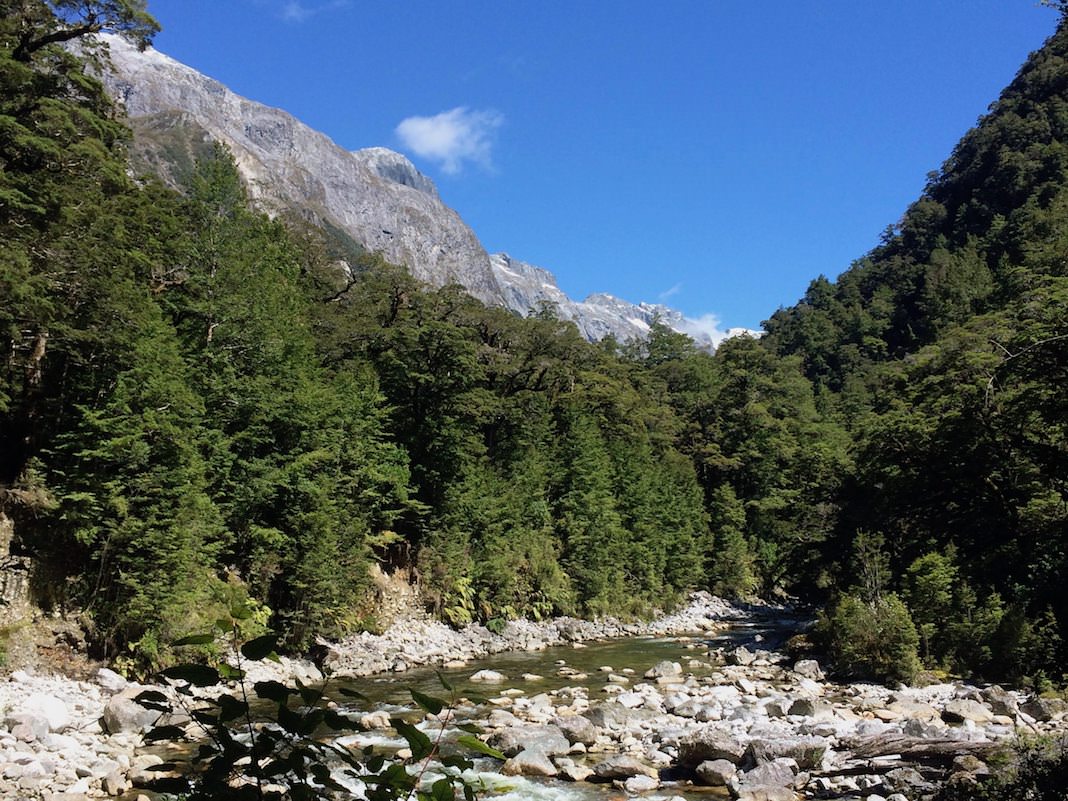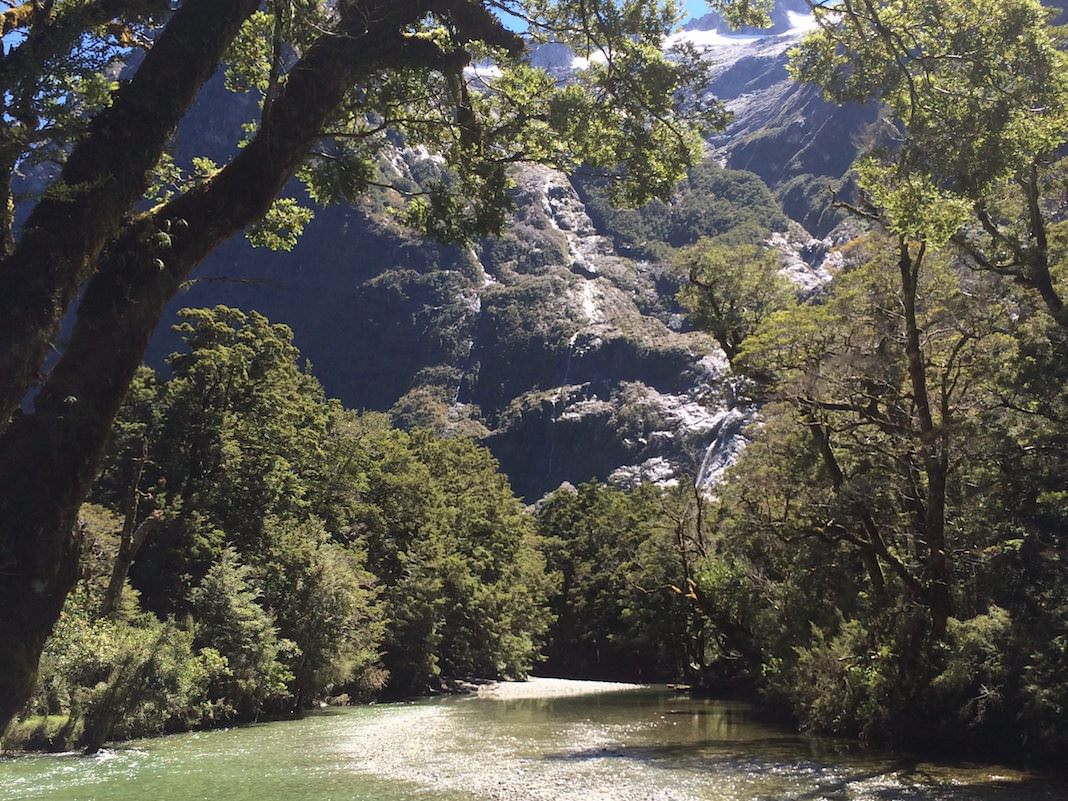 The weather during my hike turned out great most of the time.
Here I am going for a dip in a pool of water next to a waterfall. The water was freezing!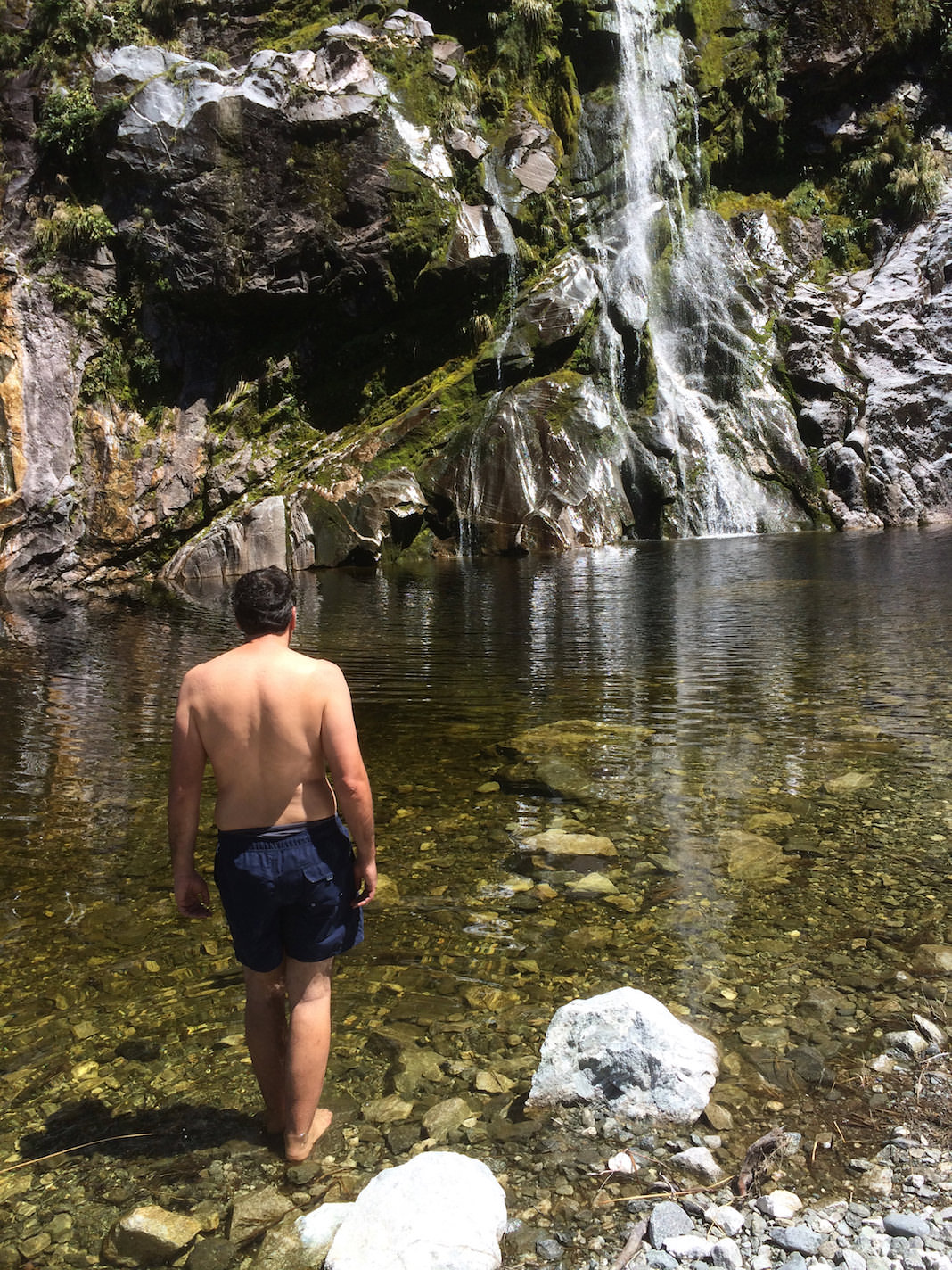 I was coaxed into the water by another walker in our group who also suggested I should go for a swim to the waterfall running down the mountain face on the other side, but there was no way.
How tragic would it be to drown while walking along the Milford Track, the finest walk in the world?
I can swim, but there was no way I would tempt fate. My feet were never going to leave the ground.
Another guy told me he was a lifeguard in case something went wrong. No thanks.
Afterward, I felt a bit of a pinprick on my leg while putting my clothes back on.
I looked down and saw a little bit of blood dripping from my leg. A tiny sandfly had bitten my leg, and it drew blood. I couldn't believe it!
The only thing I could see was a black dot. It was microscopic, but that is how tiny sandflies are.
The beautiful thing when walking the Milford Track is constantly having water around you, which is one of the biggest reasons the scenery is so stunning.
Water views are very soothing along the Milford Track. I saw some large trout swimming around the river while crossing over a footbridge, not long after taking the freezing dip.
I wished I had brought my telescopic fishing rod and a lure at that moment.
Catching a trout while walking the Milford Track would have been fantastic!
Listen to Goddess Advice: The Kea Story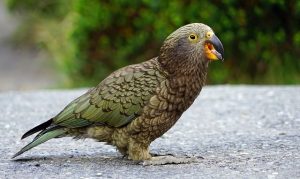 A "Kea" is a cheeky bird you may come across on the Milford Track.
The kea is an alpine parrot species that can only be found in the mountain areas of New Zealand. These social birds are also fully protected in NZ.
Hearing a loud cry of "keeeaa" will let you know of their presence.
The Goddesses on our trek warned everyone to lock their doors when leaving their rooms at Pompolona Lodge.
Unbelievably, these kea birds are smart enough to open unlocked doors. It's pretty hard to believe, I know. Once they get inside, they can ransack the place looking for food.
These green alpine parrots are known to open zippers and rip bags apart to get what they want. A story floated around that they had even stolen passports.
Incredibly, it happened to me and a couple of other guys I was sharing a room with when walking the Milford Track.
I was playing a game of chess with one of the guys I shared a room with inside the main lounge room area of the main building when we were made aware of what had happened to our room by another guy who shared the room.
Apparently, he had to chase a couple of the birds out of the room.
The room looked like it had been trashed! Bits of food, clothing, and wrappers were strewn everywhere. It was hard to believe that birds could do something like that.
Did Zeus send them into paradise to keep hikers on their toes?
I'm not sure who left our room unlocked, but the lesson here is simple. Always take the advice of Goddesses.
Mackinnon Pass
The following morning, after the kea bird trashing experience, we hiked up the mountain to Mackinnon Pass.
In my opinion, it was the most strenuous section of the Milford track.
The walk up was quite tiring, and the views were stunning once you reached Mackinnon Pass.
Here I am giving my model pose. I felt so exhausted that I used the sign to hold myself up.
I should have worn a t-shirt since it was hot that day, but those sandfly stories spooked me.
The great thing about being this high up on a perfect day is seeing the stunning views.
We were lucky because many hikers get to the top and only see fog and clouds.
It rains for something like 300 days of the year in this area, so it's easy to understand why.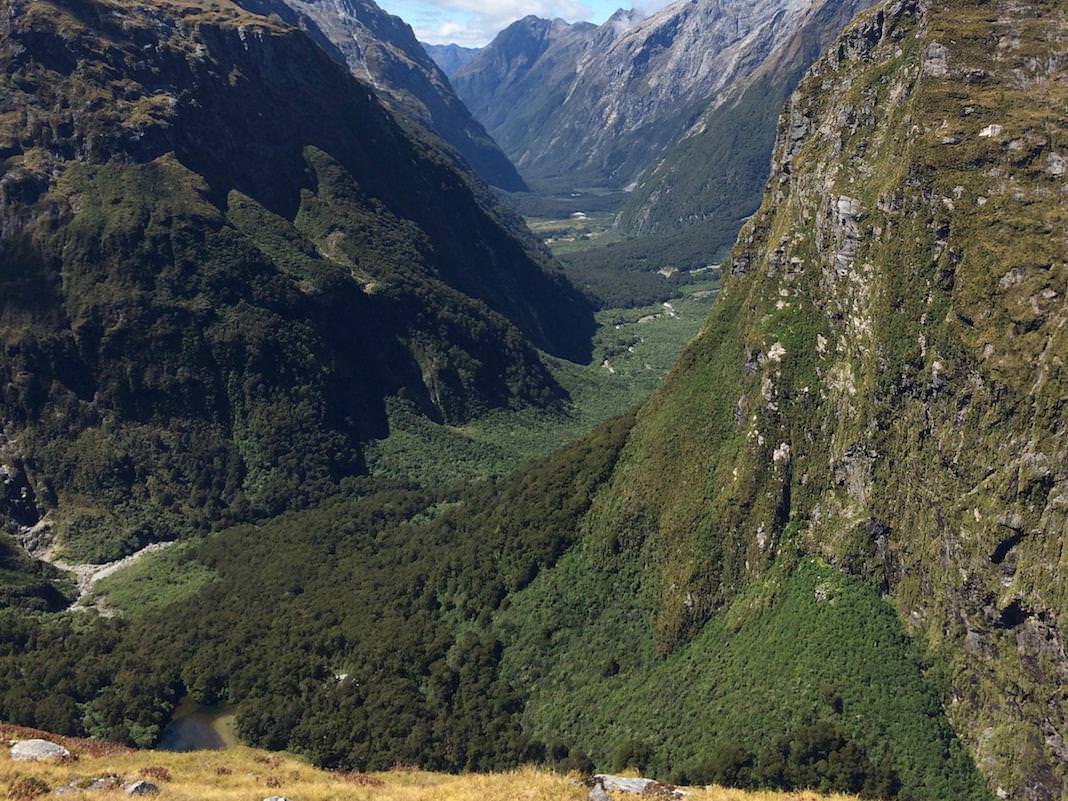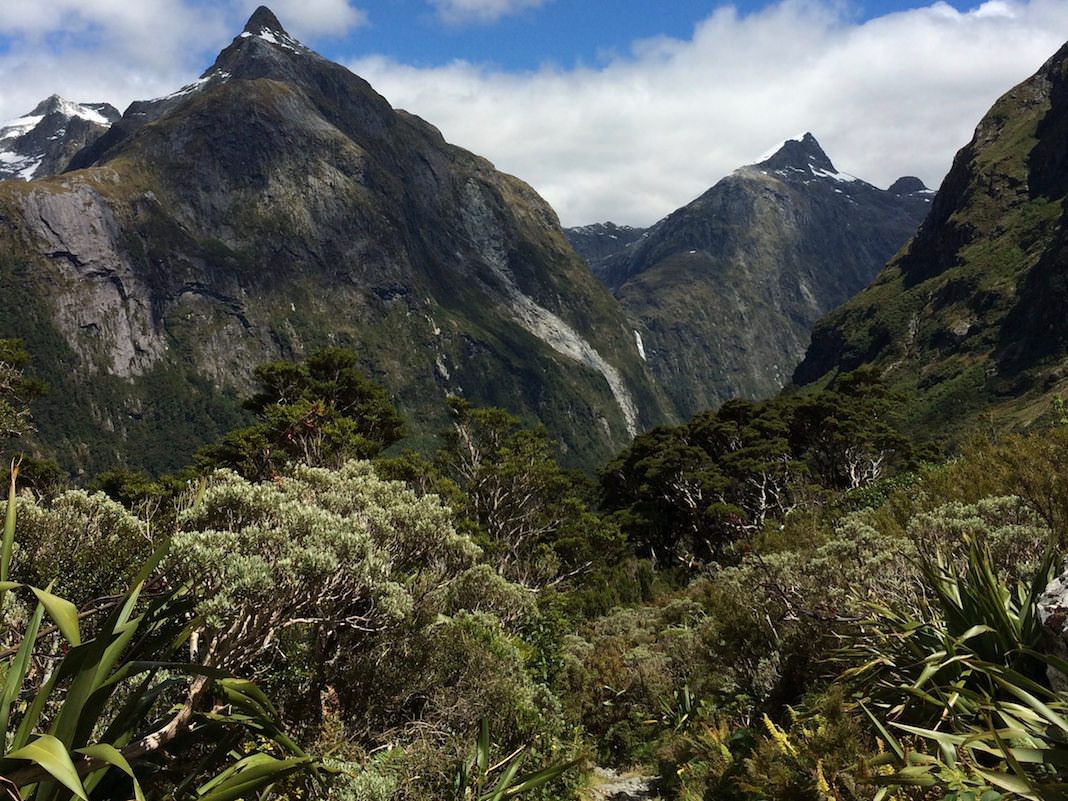 Milford Track Waterfalls
The waterfalls make the Milford Track very special. If only the water weren't so cold.
Oh, yeah, and those pesty sandflies, if they could only disappear. When walking The Milford Track, you get paranoid if you have exposed skin.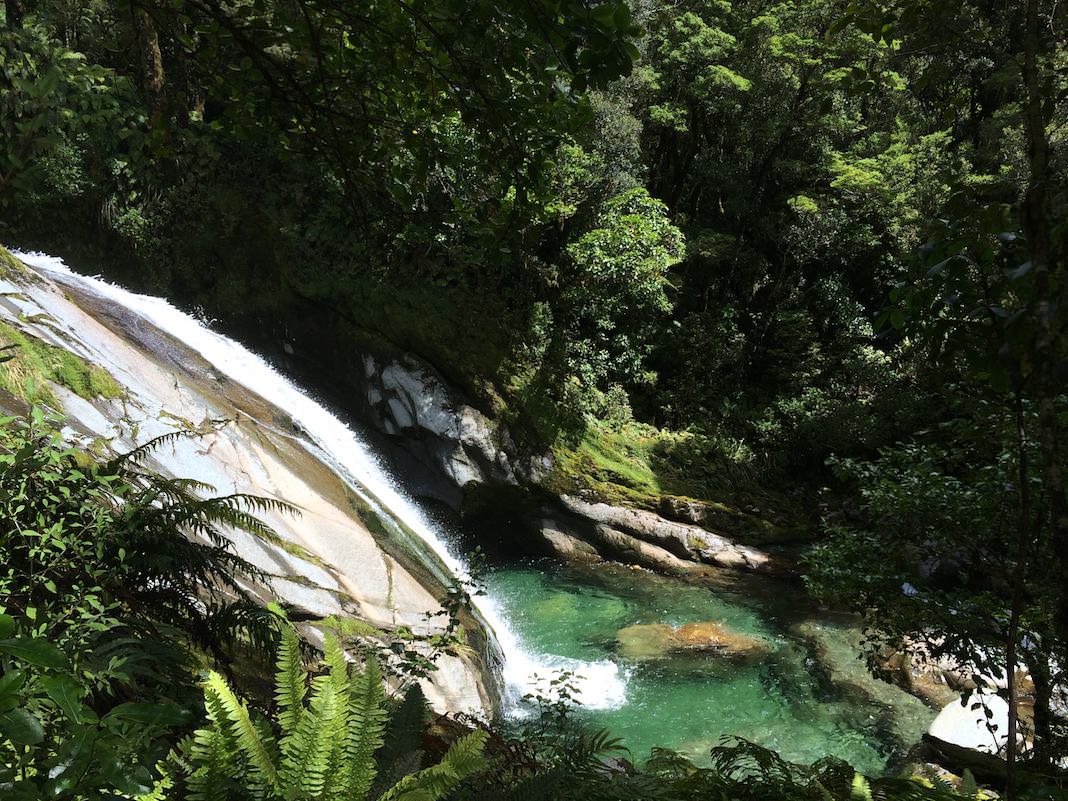 Sutherland Falls – Top Attraction
The approach to Sutherland Falls is majestic. Sutherland Falls has a total height of 580 meters.
At one stage thought to be the highest waterfall in New Zealand.
These days, Sutherland Falls is number two in New Zealand. However, it is still debatable.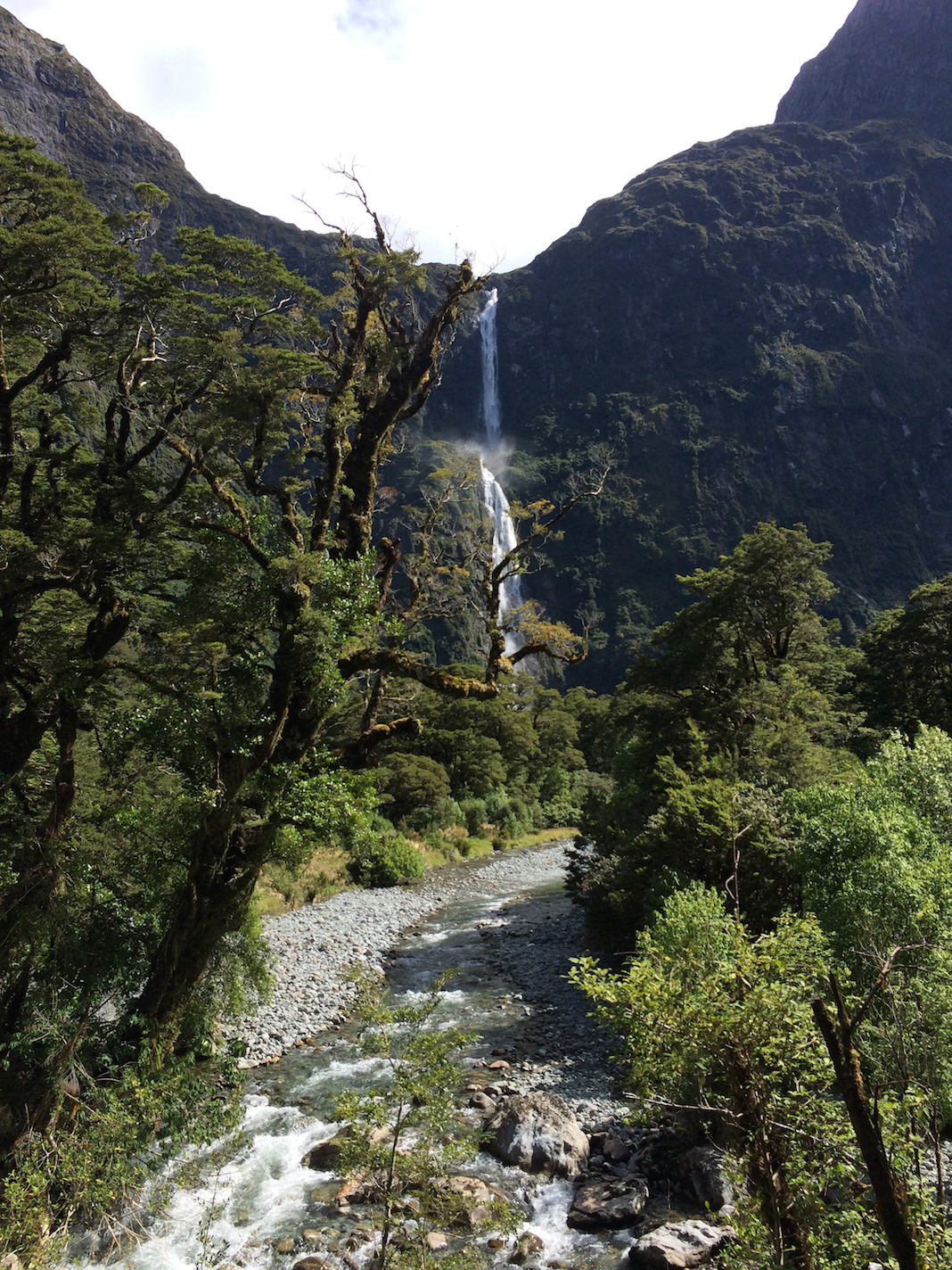 Walking to Sutherland Falls requires a bit of a detour off the Milford Track.
If we wanted to walk to this waterfall, we had to make it to the lodge by a specific time in the afternoon.
Since it happened on the same day as the Mackinnon Pass hike, it felt like slow coaches could easily miss out, and I was one of them.
I made it to the lodge about half an hour before the cutoff time. So even though I was probably the last one to make it to the Ultimate Hikes lodge, I still managed to go.
Staff at the lodge offered walkers a full-body raincoat to take along to Sutherland Falls, but I couldn't see the need.
The blonde Goddess from Ultimate Hikes greeted everyone on a rock ledge beside the waterfall with a warm welcome.
In contrast to her, I could feel a freezing waterfall mist spray that filled the air around the vicinity. I realized then I should have taken the raincoat.
Visitors can walk behind the waterfall but be prepared to get soaked. Some hikers even went in for a swim in the pool, which extended around the waterfall.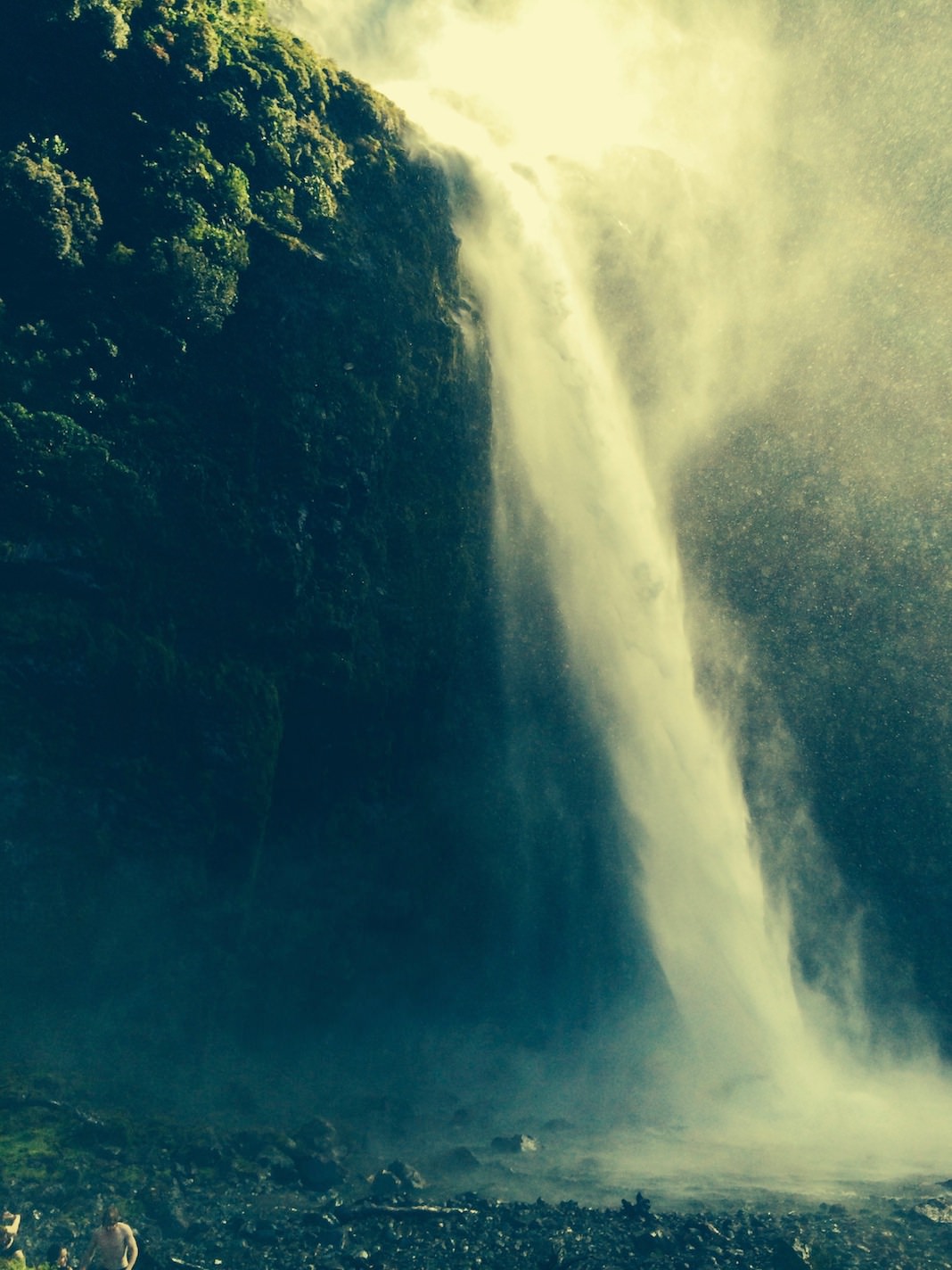 Sutherland Falls is phenomenal!
I saw this bird on the Sutherland Falls track and thought it was the rare Kiwi bird, the national icon of New Zealand.
Kiwi Bird
Never had I seen one before, so I didn't know what they looked like exactly. However, I knew it couldn't fly, so I thought this bird may have been a Kiwi.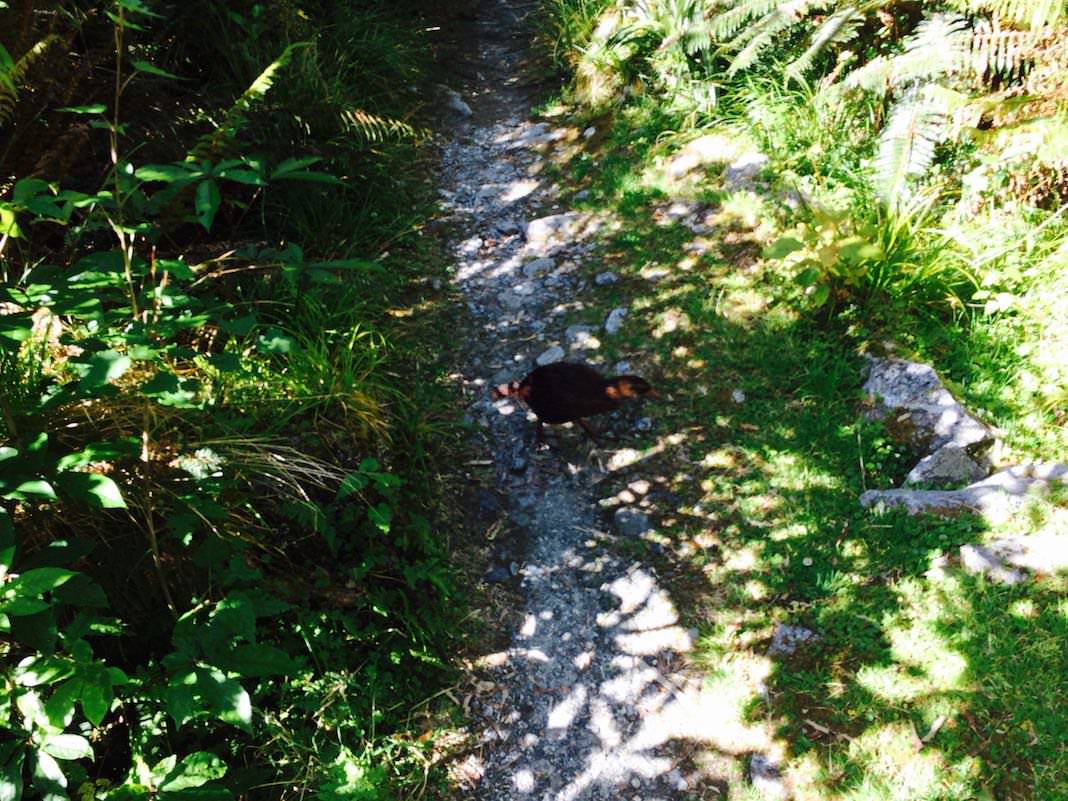 After eagerly showing the photo to another Milford Track hiker, I was disappointed to learn it wasn't.
Funny Moments on the Milford Track
One amusing thing happened one night after one of the guys from a large group of New Zealanders made up of family and friends stood up and talked to everyone.
He announced that they wanted to award a dick of the day award to one of the Milford Track walkers.
The winner had to wear headgear with two penises on top like the devil's horns.
He called out for nominations on who should win it.
I called out that I wanted to nominate the person who came up with the idea.
After this surprise nomination and a bit of a laugh, and then some awkward conversations, a lady stood up and told everyone to follow her.
The lady somehow convinced most of us to do what she wanted.
She asked us to follow her every move like the game "Simon Says." Remember, this game involves following a leader and mimicking their movements.
If the Simon Says leader touches their head, everyone else must do the same thing.
After a few different moves, she told everyone to stick out their tongue and then told everyone to shake some salt on it.
Then after a few shakes, she asked everyone if they could taste it.
The whole room laughed hysterically as everyone quickly realized what they were doing.
Five-Star Service with Ultimate Hikes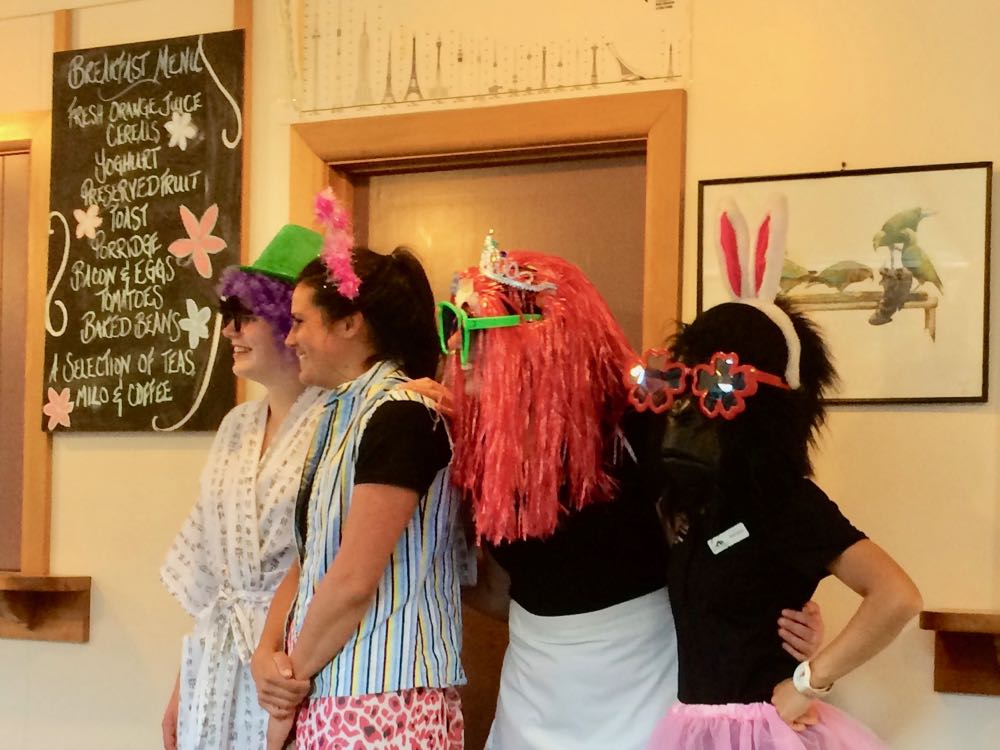 The great thing about doing the hike with "Ultimate Hikes," or Luxury Hikes as I like to think of them, had to be eating delicious meals at the end of each day.
Great food, beer, and wine fully restored our energy levels.
My favorite dessert served had to be the crème brûlée.
The food was brilliant, so I highly recommend doing the Milford Track guided walk with Ultimate Hikes, and this is the biggest reason why.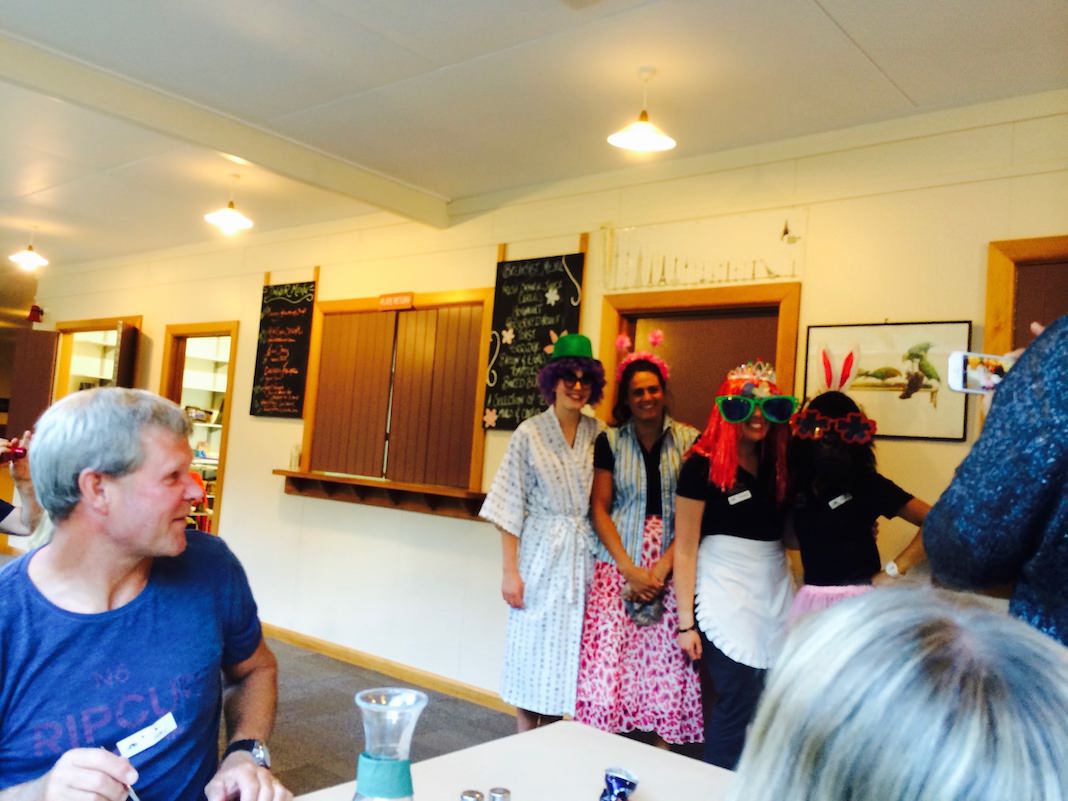 As was being entertained and cared for by the Milford Track Goddesses.
Milford Track Experience
I took a photo of this married couple on a swing bridge crossing over one of the many rivers on the Milford Track.
He's an electrical engineer and a graduate of Stanford University. I think he founded an Airline maintenance software company in the US. Here he is with his lovely wife.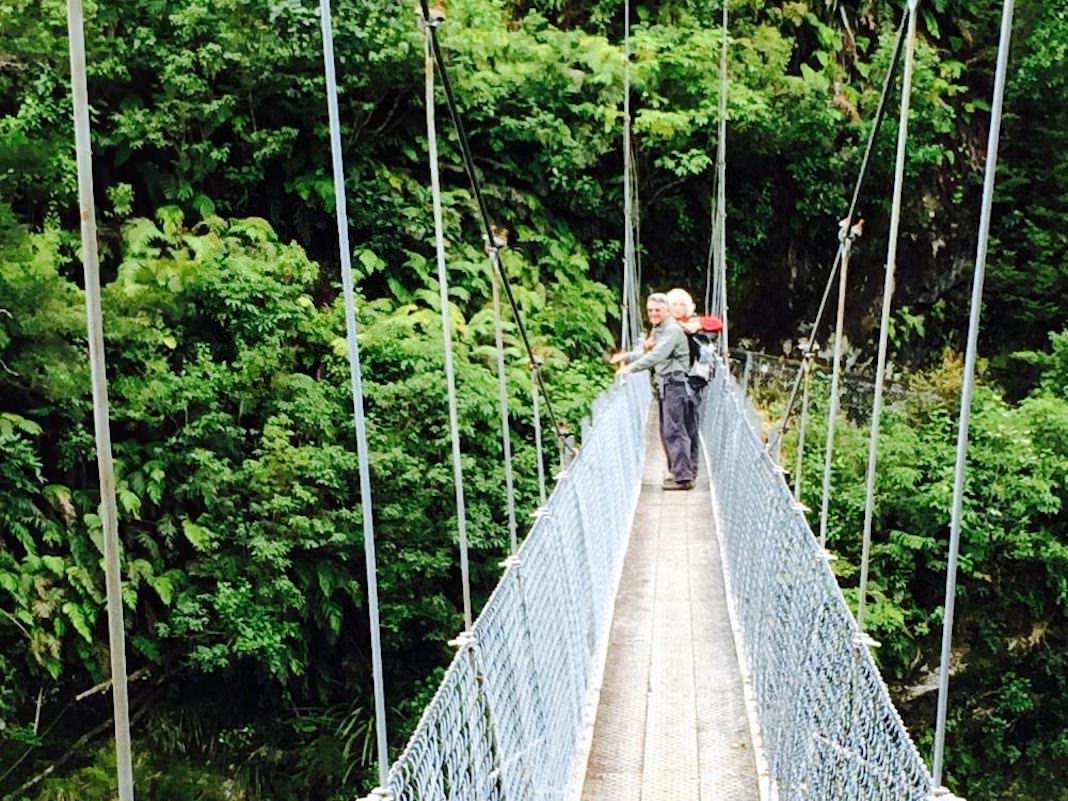 Both of them had walked the Milford Track together earlier in life, and now they were doing it again.
Being very sentimental, his wife liked to keep photos on a wall showing their younger and older selves doing the same things together.
The weather turned out much better for the couple the second time round.
When they did the Milford Track walk the first time, it mostly poured down with rain.
Some people think the trek is even better when it rains because even more waterfalls appear on the Milford Track, but I'm happy we had lots of sunshine.
Walking the Milford Track is like walking through paradise if you love seeing pristine rivers.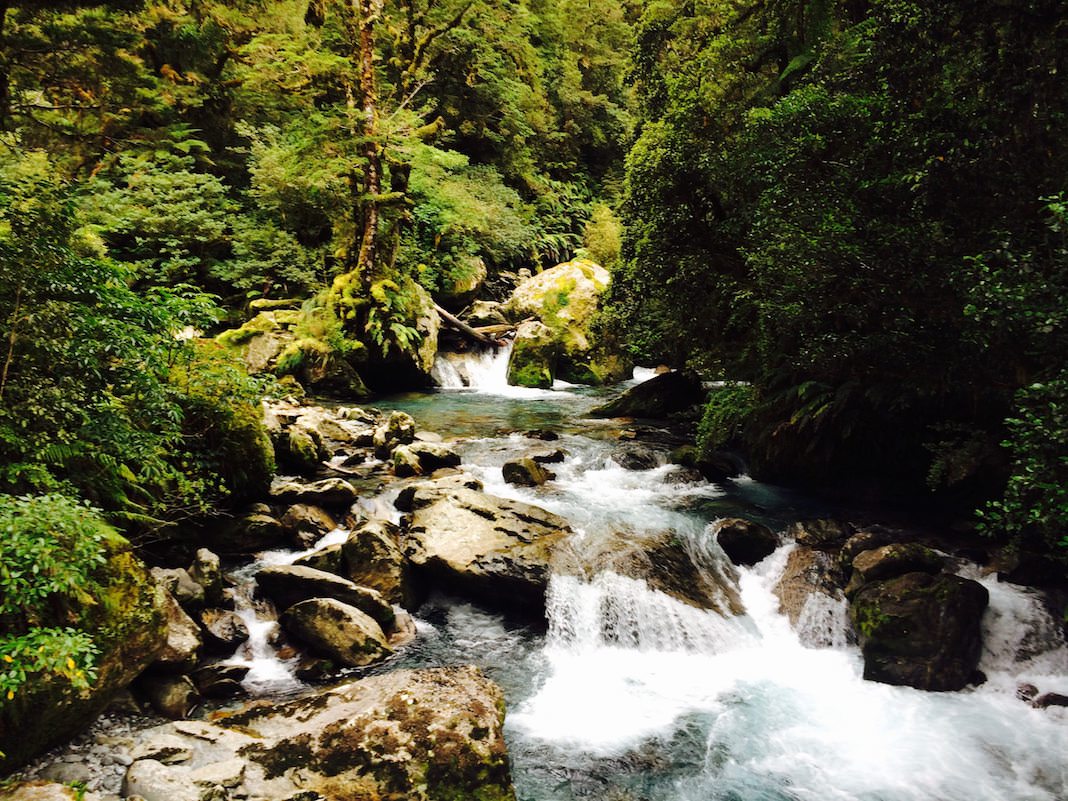 More waterfalls along the Milford Track
Do you think there are waterfalls in paradise? There has to be.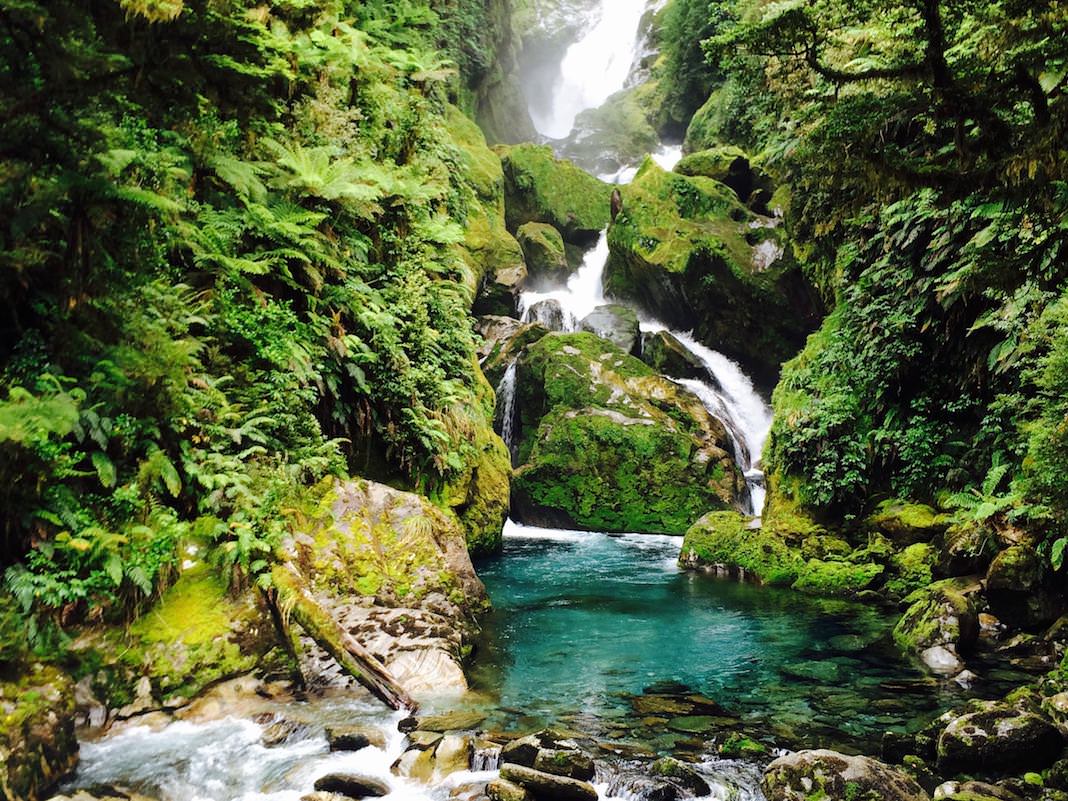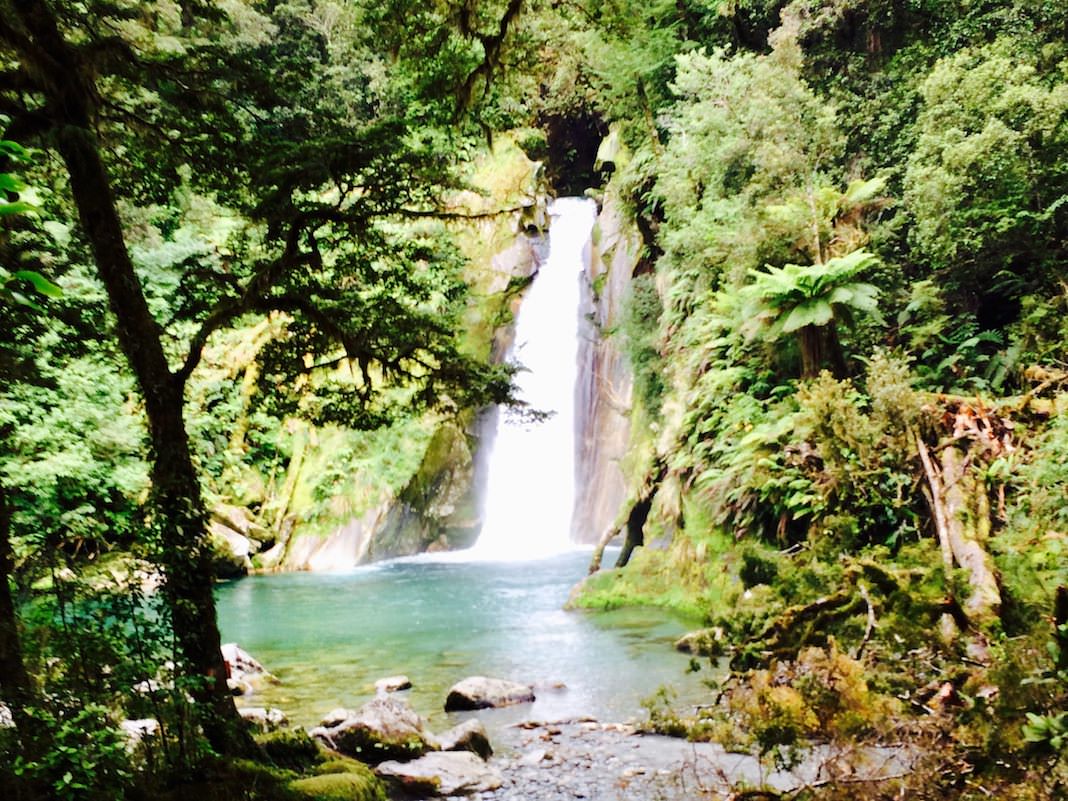 Sandflies on the Milford Track
I purchased a couple of bottles of insect repellent for my Milford Track walk, but it was unnecessary. The staff from Ultimate Hikes had sandfly repellent if anybody wanted some.
Sandflies scared me because I had never seen or experienced them before.
One guy in New Zealand terrified me by telling me I'd be eaten alive by sandflies while walking the Milford Track.
That comment alone made me buy an extra bottle of sandfly repellent, just in case they were immune to the other bottle I purchased. Better to be safe than sorry.
Sandflies love to bite paradise nature seekers, especially on the Milford Track.
It makes me think that Greek Gods and Goddesses must have created them as a spoiler.
However, Sandfly Point at the end of the Milford Track is associated with the Maori goddess Te Hine-nui-te-po.
According to legend, she released the irritating sandfly here to stop men lingering too long to enjoy the beauty of Fiordland. Maybe she's related to a Greek Goddess.
Sandfly Point
Seriously you have to see it to believe it. You will be jumping around all over the place non-stop at Sandfly Point.
Below, you can see us leaving Sandfly Point on a boat/ferry on our way back to civilization.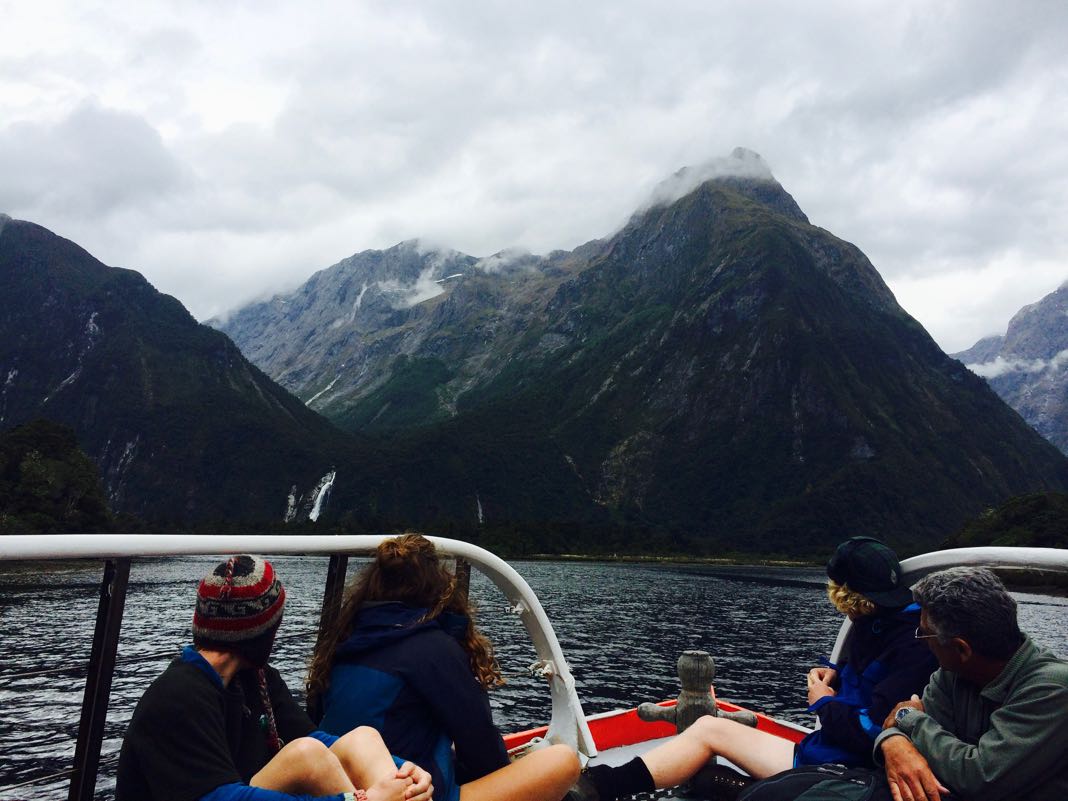 Certificate of completion from Ultimate Hikes
Once the trip was over, we had a certificate of completion ceremony.
The Goddesses from Ultimate Hikes presented a certificate and group photo to every hiker on the guided walk.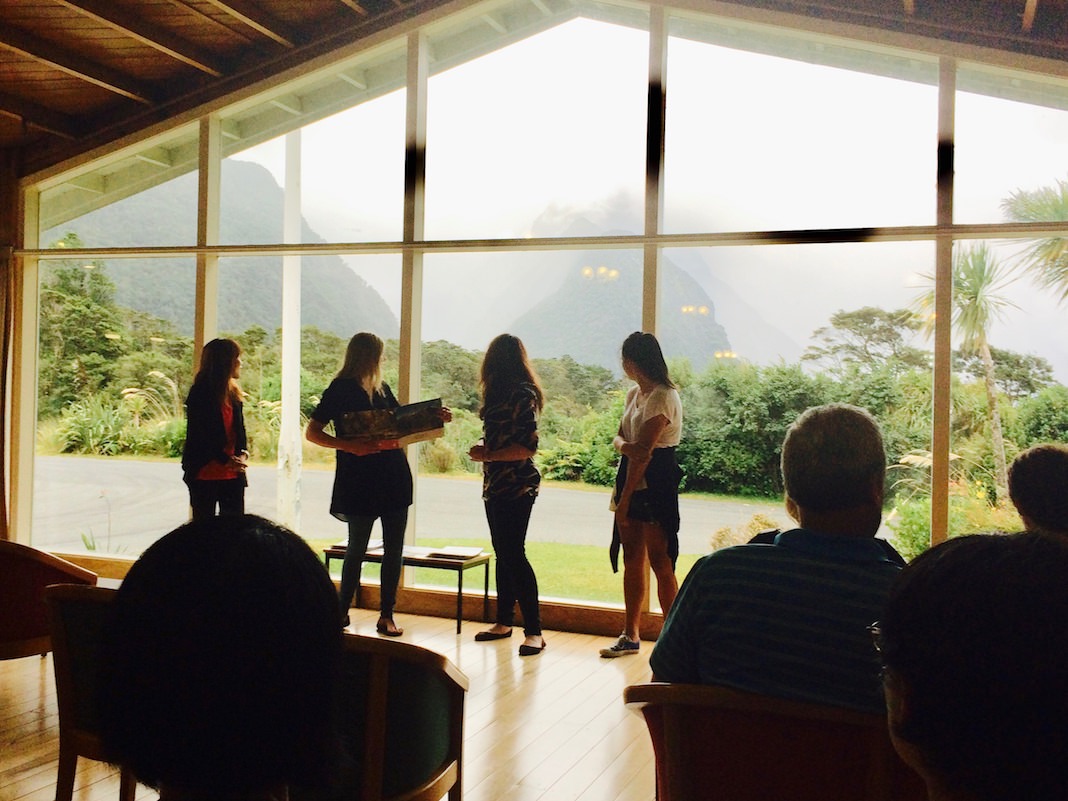 I was called up first, out of 37 people.
Having the honor of being the first person made me feel like I had to say something special.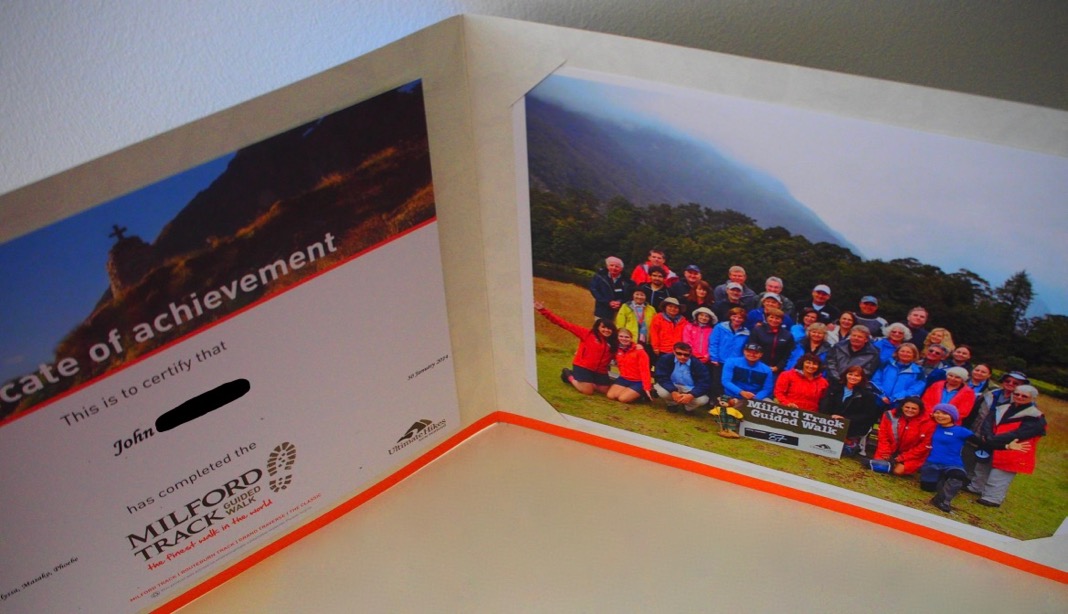 So I told everyone the girls called me up first because they knew I was the most important person on the trek.
It probably raised a few eyebrows. I also thanked everyone for a great trip.
Milford Track: The Good, the Bad, and the Ugly
The Milford Track is a beautiful walk, but to witness the true beauty of the Milford Track, pray for good weather and blue skies.
I went in late January, and the weather was half-half, made up of foggy and lovely sunny days. We had a bit of rain but nothing over the top.
The tiny sandflies are irritating in certain areas, but if you jump around hysterically and wave your arms around like a maniac, they seem to leave you alone.
There were only a few occasions where I noticed them in swarms. Then it's hell!
Generally, sand flies didn't seem that bad on Milford Track because I wasn't bothered by them that much.
I only really felt their presence at the beginning and the end of the Milford Track.
I kept myself covered with long sleeves to avoid them, but I should have just worn a t-shirt, especially on the warmer days, as it would have been way comfier.
After walking the Milford Track, you then go for a cruise on Milford Sound.
Routeburn Track: The Best Walk in New Zealand
You can walk the Routeburn Track straight after the Milford Track.
In my opinion, it was even better than the Milford Track. It added so much extra to the overall experience.
Walking the Milford Track followed by the Routeburn Track with Ultimate Hikes is known as "The Classic." Once I saw it as an option, I couldn't pass it up.
Ultimate Hikes delivered a fantastic experience, and it did turn out to be a classic trip.
Was it worth it? Yes, but not if you have to break the bank.
Staying at the public huts would have been an incredible experience as well. The best thing about the public hut option is all the money you'll save.
Learning about the Milford Track Hike
It all started for me in a Greek restaurant at a Christmas lunch work function. A lady at our table talked about her experience walking the Overland Track in Tasmania, a large island off mainland Australia's southern coast.
Her multi-day hike sounded very adventurous. Reading about it informed me that it was Australia's greatest walk, so I wanted to walk it one day.
I eventually did hike the Overland Trail in Tasmania. Some hikers on that trail noticed me struggling with my heavy backpack. I had everything in there.
My backpack was stuffed to the brim with all sorts of newly purchased camping gear and crappy food supplies that tasted yuck.
I even carried an emergency tent and a rolled-up blue foam mat strapped to my backpack.
The female trekker highly recommended the Milford Track guided walk in New Zealand.
I had never heard of it. The lady suggested I'd find it more leisurely and highly recommended the Milford Track guided walk.
I could carry a much smaller and lighter backpack, as all I needed was mainly some clothing.
That's when I discovered that you could do something similar on the Overland Track, which was news to me.
That's what this lady and her companions were smart enough to do.
The best thing about a Guide Walk
During that long hike, I stayed in bare basic national park public huts along the track.
I was cooking two-minute noodles and other long-lasting dried camping meals from packets that tasted terrible.
The guided group of hikers standing before me were enjoying much better meals.
I think one of them mentioned that they enjoyed a barbecue dinner the night before.
Yum, I was salivating at the thought of it. It sounded like the superior choice to make.
So I told myself that if I ever went on another hike and it was possible to do, I would do a guided walk to get a taste of a luxury walking experience of a lifetime.
Based on my experience of the Milford Track guided walk, I think the food is the best thing about doing a guided walking tour and the hot showers at the end of the day. So good!
Milford Track Accommodation with Ultimate Hikes 
There are two options when walking the Milford Track:
The first and best option is to go on the Milford Track guided walk. However, the downside is that it is expensive.
Going on a Milford Track guided walk with Ultimate Hikes will give you delicious meals, lovely warm showers at the end of the day (big hooray), an excellent selection of wine and beverages, and comfortable sleeping arrangements. What's not to like about that?
The fantastic thing about the lodging accommodation is that each place has a large lounge area with plenty of chairs to relax.
A guided walk is a luxury walking experience, especially when compared to camping.
It's probably a bit like traveling first-class on an airplane. However, I'm certain traveling as a first-class passenger is superior to traveling in economy class.
Walking the Milford Track with Ultimate Hikes (Ultimate Hikes website)
Cheaper Public Huts on the Milford Track
Going for a walk on the Milford Track and arranging everything yourself is still fantastic.
You need to bring your own food, and you do have to cook unless you want to eat cold stuff for the entire hike, but that's not going to be fun. So plan your meals probably.
Staying in public huts isn't the best option to walk what many consider the best walk in the world, but it is still a great option.
Make sure you book all of the public huts months in advance. Do it as soon as the Government booking system opens and allows you to do it.
Think like a year before you plan on doing the Milford Track walk because the best dates can get booked out faster than you can blink.
Also, remember I don't think you can do it in wintertime.
Walking the Milford Track staying at public huts (New Zealand Government website)
Milford Track Hiking Guide: What to Bring
Before going on a Milford Track guided walk, it is probably best to visit an outdoor adventure shop to prepare for your Milford Track adventure.
I bought myself a water bottle and this stupid orange waterproof/crunch-proof container for my mobile phone from Kathmandu.
It has to be one of the most useless things I have ever purchased in my entire life, and I still haven't used it.
I thought I could use it to save my iPhone if the worst happened and it poured with rain.
Thoughts of doing a chest-high river crossing or something similar made me extra cautious, but none of that happened on the Milford Track. In any case, a plastic bag would have done the job.
The water bottle was a great purchase mainly because my bottle had a quick release mechanism, so I could quickly get access to it to quench my thirst when required.
Essential stuff to take when walking the Milford Track
The only other things I thought I needed to bring with me included:
a hat
sunscreen
sunglasses
a good book
LED head torch light
some thermals, gloves, and a beanie (just in case)
rain gear
clothes
bathroom stuff
flip flops (thongs)
comfortable indoor shoes
hiking boots (or sturdy shoes)
insect repellent for sandflies (Ultimate Hikes can provide it if needed.)
You will be fine if you take these items while doing the Milford Track guided walk. No food or cooking gear is required, which is excellent.
There's no need to bring a backpack with you either since Ultimate Hikes supplies them to every walker who wants one, and the best thing about the bag is that they are super light.
Before you depart, you can leave your luggage in a storage room belonging to Ultimate Hikes in Queenstown.
So many people did it, myself included, even though I had a backpack.
Milford Track Recommendation
So do I recommend going on a Milford Track guided walk with Ultimate Hikes?
Hell, yeah! You will love it.
And remember, if you do the Milford Track guided walk, you can always add on the Routeburn Track walk to make it a classic.
If you are interested in hiking, climbing Mount Olympus in Greece is one of the ultimate adventures. Maybe I can inspire you to do this hike.
Alternatively, if you read the interview with The Smooth Escape about Greece, you will find plenty of other hiking inspiration.
The Milford Track or Mount Olympus, which hike would you choose?
Pin it … Share it