Climbing Mount Olympus in Greece became a dream of mine after my next-door neighbor told me he had climbed Mount Olympus.
At the time, I wasn't sure whether Mount Olympus existed in real life. So I couldn't tell if my neighbor was pulling my leg about his adventurous-sounding experience, which included sleeping on the mythical mountain.
To be honest, it sounded a bit far-fetched to me. You see, I imagined Mount Olympus as a mythical place like Atlantis or Camelot.
I had to learn more after my neighbor spilled the beans about his Mount Olympus adventure because if Mount Olympus did exist, I wanted to visit the mythical mountain myself.
Legend says that the sacred mountain was once home to the Greek Gods!
If I climbed Mount Olympus, I would be in their home territory, and who knew what could happen from there?
Just the thought of standing on a Godly mountain associated with Greek Gods and Goddesses, such as Zeus and Athena, filled me with absolute wonder.
My neighbor was no Hercules, so I began to daydream that maybe, just maybe, I could climb to the top of Mount Olympus one day.
If I did, I secretly hoped the Greek Gods and Goddesses would even go so far as to give me a divine sign in their Olympus realm.
I wondered if any of the twelve Olympians knew I existed on planet earth.
Would a trip to Mount Olympus flush them out? These were the kind of crazy thoughts running through my mind.
After I found out for certain that Mount Olympus existed for real and that any reasonably fit hiker could climb to the top of Mount Olympus, I had to go there one day.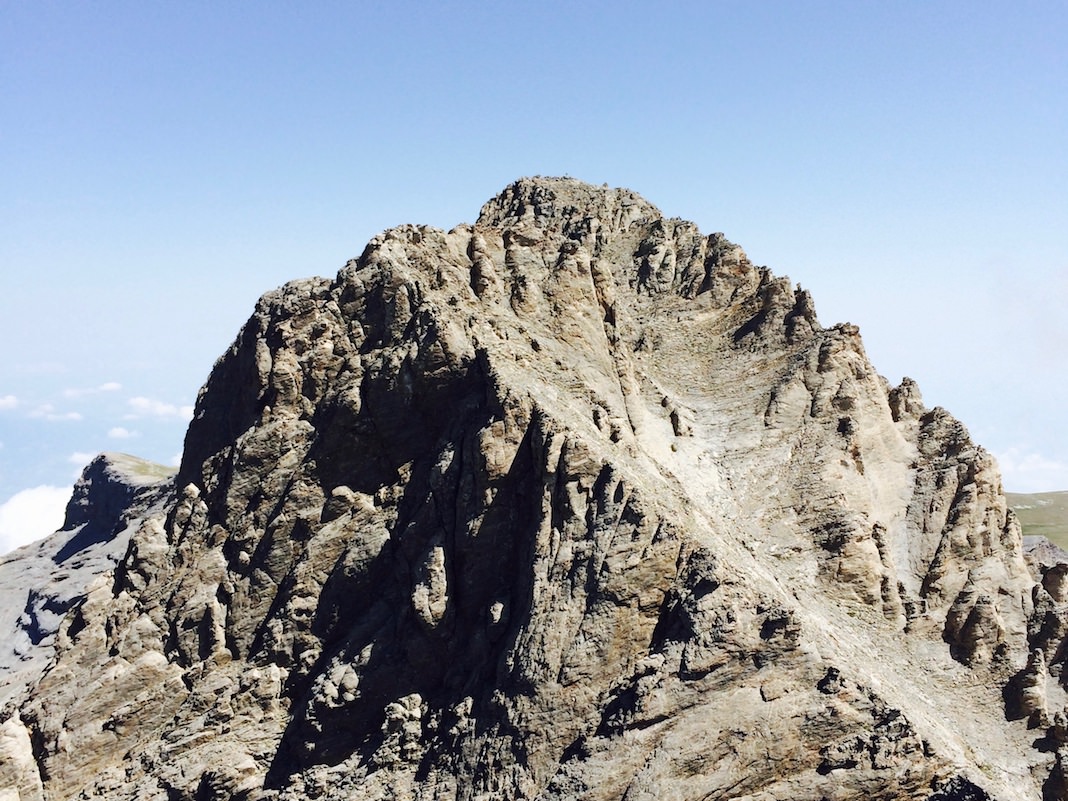 Climbing Mount Olympus
My experience of hiking to the top of Mt. Olympus was very memorable, even though it didn't go as perfectly as I would have liked. Big sigh…
Nonetheless, climbing Mount Olympus was truly awesome, and I can honestly say it was a hiking adventure of a lifetime!
Let me guide you to the very highest peak of Mount Olympus, where you'll find the Greek flag swaying away.
Standing next to the Greek flag is obviously the ultimate goal for many visitors hiking up Mount Olympus.
Meeting up with a Greek God or Goddess would beat that, but the odds of that happening would probably be near impossible.
Then again, never say never because something weird happened to me during my Mount Olympus hike, which I still wonder about today. I'll tell you all about it a bit later on.
This sacred mountain, long associated with the twelve Olympians, including Zeus, Hera, Apollo, Hermes, Athena, Eros, and Aphrodite, offers you the chance to go where no mortal dared to go before.
An excellent photo opportunity at the very top of Mount Olympus and bragging rights for life is another big drawcard.
So you can totally understand why Mount Olympus gets thousands of visitors every year.
Mount Olympus has the honor of being the highest mountain in Greece at 2,918m above sea level.
To be able to stand on the highest mountain in Greece is another massive motivation for visiting Mount Olympus.
The hope here is to give anyone wanting to climb Mount Olympus lots of valuable tips and useful advice to safely reach the highest peak, as well as the inspiration to do so.
How to get to Mount Olympus – Town of Litochoro – Gateway to Olympus
My adventure to Mount Olympus officially began in 2014, even though it was a few years earlier when I first started thinking about climbing Mount Olympus — all thanks to my neighbor.
Prior to going to Mount Olympus, I stayed at the Athens Gate Hotel in Greece's capital.
Amazingly, the hotel was situated directly across the road from the Temple of Olympian Zeus.
The views from the hotel were absolutely incredible! The breakfast dining room on a higher floor offered excellent views, including a great view of the famous Parthenon temple on the Acropolis.
Seeing the Temple of Olympian Zeus below was fantastic!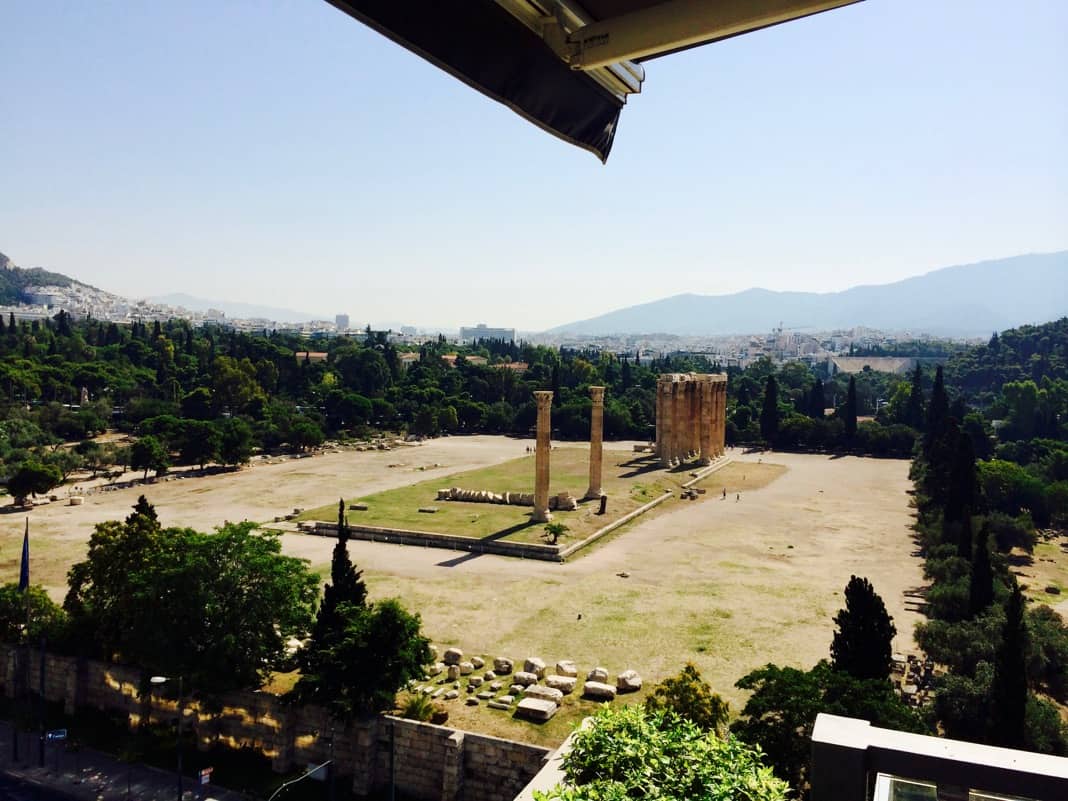 It made me wonder whether it was an ominous sign or even a good sign, as you can never be sure what actions the Greek Gods may take.
I could only hope Zeus didn't have any plans to punish me for daring to step on Mount Olympus — home of the Gods.
The train ride from Athens to Litochoro
After eating a good breakfast, I checked out of the hotel and caught a taxi straight to the train station.
The early morning train from Athens to the closest stop near the town of Litochoro took about 5 hours to reach.
It was on the way to Thessaloniki, the second-largest city in Greece.
The train didn't take me all the way to Litochoro, but it did take me to a train station quite close to Litochoro — a charming town located at the foot of Mount Olympus.
My journey to Olympus was pleasant enough and showed me the varied landscape of Greece from empty fields to charming seaside villages.
And surprisingly what seemed to be rundown old factories.
On the way there, apart from looking out of the train window and admiring the great views, I also read my guidebook to learn a bit more about Mount Olympus.
The time went by pretty fast.
The George Dalaras Demigod Story
One thing I wished I had at the time was a CD player to play a CD I had purchased in Athens.
While in Athens, I browsed through a small music store in the tourist district.
I was looking around thinking about buying a music CD of the best Greek music singer as a memento, so I asked the guy who ran the small shop: "Who is the best Greek singer?"
He gave me a few names that I can't remember and soon after convinced me to buy a George Dalaras CD, called The Colours of Time.
I think it ended up costing me 40 Euros as it contained 4 CDs. Still, it was a hefty price to pay.
The interesting thing that happened was that before he convinced me to buy it, he called out to another person on the other side of the street to come over and talk to us.
When the oldish guy crossed over, the music store guy asked him what he thought about George Dalaras.
The guy told me that George Dalaras was a demigod in Greece or something like that.
It made me take note, especially since I knew I was soon going to Mount Olympus, home of the Greek Gods.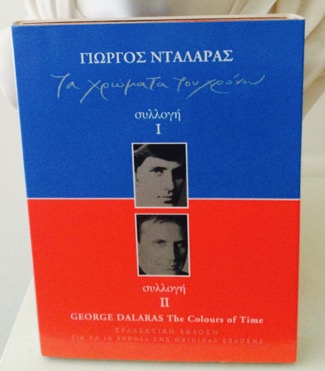 When I think about it, this was probably the real reason why I bought it.
I had to side with a demigod!
After I purchased the CD, the owner was ecstatic and asked me if I had any Greek friends, to which I replied, "yeah." After that he thanked me as if I had saved his life or something.
Why am I telling you all of this? Well, because this is the sort of weird stuff that could happen to you.
The town of Litochoro
My guidebook mentioned that Litochoro was a great starting point for hikers wanting to summit Mount Olympus.
It's the main reason why I decided to base myself in Litochoro, and I'm glad I did.
The train didn't go all the way to Litochoro, so after I stepped off the train I decided to jump into a cab with a few other passengers.
The taxi driver told me that he'd take me to Litochoro straight after dropping off the other passengers at their destination.
It's hard to know what to do when you've arrived at a desolate train station with hardly anyone else around.
The taxi fare was around €25-30, so I didn't bother trying to catch a bus into town even though the bus stop was right in front of me. Also, I didn't know when the bus would come.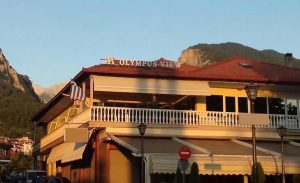 After I arrived in Litochoro, I walked a very short distance (a few steps) and found myself at the Olympic View hotel. At the time, I can only remember it with Greek signage.
For my trip, I thought 3 nights in the Litochoro/Olympus area would give me enough time to reach the top of Mount Olympus.
I asked for a room price from the friendly Greek lady who greeted me at the hotel.
The prices seemed very reasonable, so I booked a room for 3 nights (€35 a night), thinking I'd use the room for at least two nights with one night possibly spent on the mountain.
It didn't really bother me if I missed out on one night.
Mount Olympus Facts
One thing that really surprised me about Mount Olympus occurred when learning that there were around 52 peaks.
The four main summits were Mytikas (highest peak), Stefanie (thrown of Zeus), Skala, and Skolio.
I had pictured one giant mountain, like Mount Fuji in Japan, but Mount Olympus had transformed into Mount Olympus National Park.
It covered a huge 92 square miles (238 square kilometers).
Like many other hikers, I aimed to reach the top of the highest peak, Mytikas, at 9,573 feet (2,918m).
What to bring when climbing Mount Olympus
At that stage, I still didn't know much about what I had to do to climb Mount Olympus.
For some reason, I wanted to do things serendipitously — not the smartest move.
I discussed the hike briefly with the Greek hotel lady, and she convinced me to buy some proper hiking shoes since the black dress shoes I showed her were no good.
She told me that some people had even attempted the hike in flip-flops (thongs).
And then fully described to me how this had ended in a tragic death, with the aid of her hand flipping from vertical to horizontal.
Hiking shoes for Mount Olympus
My expensive hiking boots were sitting at home. I was seriously thinking about bringing them along to Greece but decided against it at the last moment due to their heavy weight.
I planned on buying a cheap, sturdy pair of hiking shoes/boots in Greece, thinking there had to be plenty of stores in the area around Olympus selling cheapish shoes.
When I found out that roughly one person gets killed every year when hiking Mount Olympus, it made me very wary of wearing any other type of shoes apart from those best suited for hiking.
I really didn't want to die on Mount Olympus due to poor shoe choice.
After a short walk around Litochoro, I saw a hiking shoe store on one of the side streets. The hotel lady also directed me to the same place later on.
So, early the next morning, I went there thinking I'd buy myself a pair of hiking shoes and then leave for the hike soon after.
The problem was the hiking shoe store wasn't open.
I really hoped that the store would open soon since I couldn't find any other place in town where I could purchase some hiking shoes. Or any other strong and sturdy pair of shoes for that matter.
Luckily the hiking footwear shop opened a bit later on in the morning.
I asked for the cheapest pair of shoes available and found out that no such thing existed. Being a size 12 probably didn't help me either.
The prices were way higher than I expected to pay. If I had known about the high prices, I would have definitely purchased a pair in Athens.
Bringing my own pair of hiking shoes to Greece would have been a better option, and it drove me wild, thinking about it.
My hiking shoes
I reluctantly decided to purchase the shoes as an investment, thinking that they could potentially save my life. I can't say if they did, but who knows.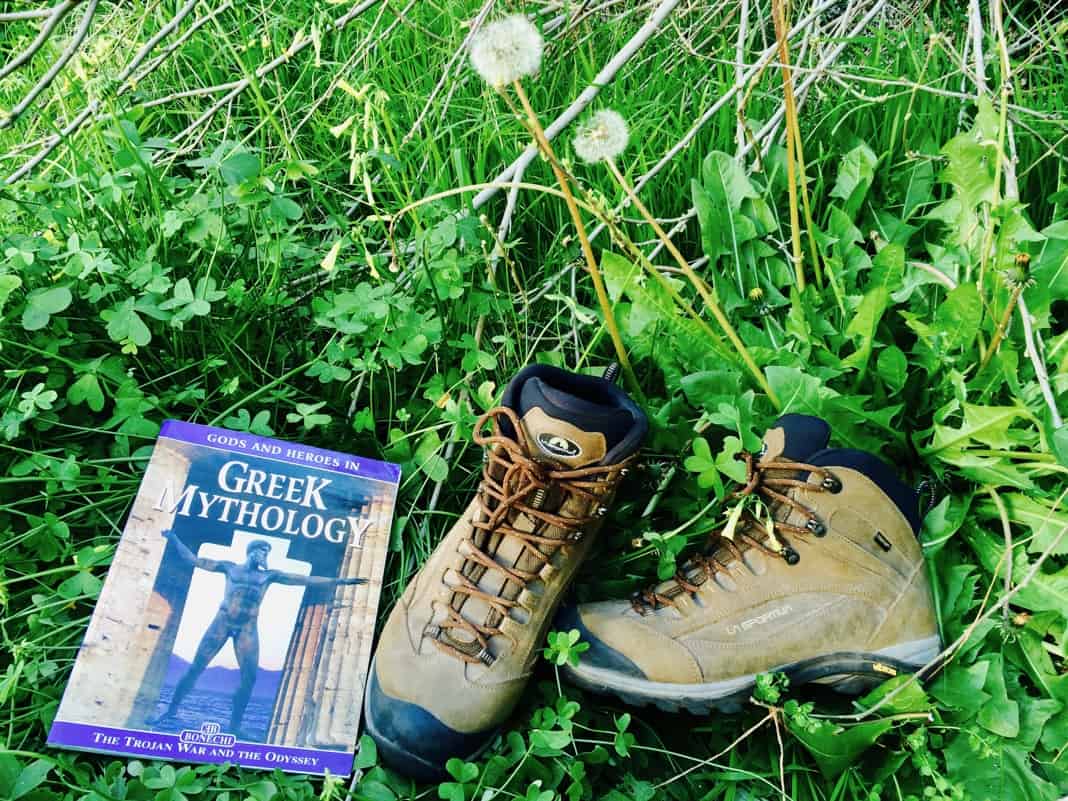 In hindsight, I think it may have actually been a pretty good deal.
The Italian hiking & trekking shoe brand La Sportiva seems to be a quality product, and they seem to be getting more expensive as time goes by.
The hiking shoes have a Goretex label, so I possibly didn't get screwed after all.
Recommended food and drink supplies
The other thing I had to do before the journey to the home of the Gods was to buy some food and drink supplies.
I bought two 1.5 liter bottles of water, although I should have bought two 2 liter bottles.
I thought the extra weight would be a big negative, but actually, it would have been a huge positive. Looking back, take as much water as you can carry.
An extra liter or two would have been so valuable during my hike, especially if you're planning to go in August (peak summertime) as I did.
Chocolate, lollies, a few muesli bars, and a couple of apples made it into my small black Nike backpack.
Also bought a few extra snacks, like some cakes and biscuits from the local Greek bakery.
I ate all of the food on Mount Olympus. Another couple of chocolate bars would have been great to have, as well.
It's good to know that meals, snacks, and drinks can also be purchased on the mountain at select Refuge (cabin/hut) accommodation, which is perfect for dinner time.
Just make sure that the Refuge you're staying at has food available as some apparently don't.
Useful Advice from the Locals
Advice on climbing Mount Olympus from the shoe store guy
The sales guy from the shoe store also gave me some helpful advice when climbing Mount Olympus.
He realized I had no real plan for climbing Mount Olympus, so he recommended to me that I make my way to Refuge A from Prionia after lunch.
The reason for the recommendation was so that I'd ideally arrive at the Refuge about an hour or two before dark.
This was to avoid getting bored because there wasn't much to do up there. It sounded reasonable.
Apparently, there were several main routes to the top, but I didn't take much in after my mind had been paralyzed by the cost of the hiking boots.
I took his suggestion on board and decided to wait a while. Starting the hike after lunch in town sounded like a good idea.
I'd be able to get more advice after arriving at the Refuge, I thought to myself.
The shoe store guy told me that I could reach the summit of Mount Olympus early the next day.
Straight after that, I could make my way down Mount Olympus and return to Litochoro.
I assumed it would be a relatively short hike to the top of Mount Olympus in the morning with a much faster descent since it would be mostly downhill from there.
The assumption was that I'd be staying on the mountain range for only one night.
Advice from the hotel lady on climbing Mount Olympus
Back at the hotel, I showed off my new pair of hiking boots to the hotel lady.
She asked me how much they were, but I felt way too embarrassed to let the price slip out.
They cost me 120 Euro, which blew my f*cking mind!
Before leaving to hike Mount Olympus, the hotel lady let me know that I could sign one of the logbooks at one of the peaks, either at Mytikas or Skolio.
Another suggestion she gave me was to visit an old Monastery on the way back.
I'm not sure whether it was to have a drink of holy water or dip my sore feet in the holy water.
Litochoro to Prionia
I left the town of Litochoro around 1 pm and caught a taxi (€30) to Prionia, the highest starting point for hikers that can be reached by car.
Extremely keen hikers have even been known to walk from Litochoro to Prionia. You have to be very keen to do that in my opinion, but if you're extremely fit, it's an option.
It does add another 4-5 hours to the journey, which could turn into 8 hours for an unfit hiker, so I don't advise doing it unless you're a very swift walker.
If you're a slow coach, you might want to attempt to do it on the walk back from Prionia to Litochoro, if you have the time.
Prionia (1100m altitude) has a small wooden cabin restaurant and a car park next to it. Drive distance between Litochoro and Prionia is about 18 km.
The taxi driver gave me his business card and told me to call him at the Prionia cafe/restaurant when I returned.
There was a whole fleet of Mercedes taxis in town. They obviously made a small fortune driving hikers from Litochoro to Prionia and back again.
Many hikers have been known to hitch a ride to save a bit of money.
Time to reach Refuge A
Distance between Prionia and Refuge A– Approx: 5 km (3.1 miles)
You'll want to step inside the Prionia restaurant/cafe and have a bit of a look around before making your way to Refuge A.
The trek up to Refuge A (Spilios Agapitos), where I thought I'd most likely spend the night, seemed to go on forever, probably because my fitness level at the time was terrible.
It took quite a lot longer to hike to Refuge A than the three or four hours suggested, even though some say it can be done in 2.5-3 hours.
One guide recommendation I've seen suggested it would take between 5-7 hours.
I think I might have taken close to six hours as I was dawdling along, resting in scenic spots, and catching my breath quite regularly.
Views in the forest and mountain range were quite good along the way.
Refuge A (Spilios Agapitos) on Mt. Olympus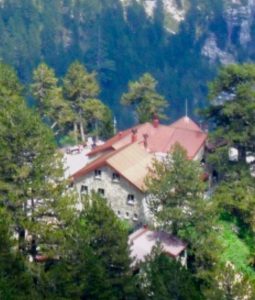 Arriving at Refuge A was when it first hit me that numerous routes existed through Mount Olympus National Park.
A giant map on the Refuge building wall clearly showed the key routes to the highest points.
The highest peak, "Mytikas" at 2918m high, seemed to be the holy grail.
I talked it over with a girl working there and asked about the easiest way to reach the top.
She gave me her advice. One popular route to the top sounded very difficult since it was much steeper, though it had the advantage of allowing a climber to ascend quicker.
It required helmets for safety-conscious hikers due to falling rocks, often caused by other climbers scrambling up the mountain.
You could get a helmet from a higher Refuge, but this route sounded like the most dangerous of the two options.
I didn't want to risk it because most people on Mount Olympus had been killed on this steeper ascent. I chose what sounded like the safer option.
Review of Refuge A
Meals – Good
Meals were catered for in Refuge A, and they seemed to offer some very hearty food. Food like hot chicken noodle soup and spaghetti bolognese from memory.
Beds – Crappy
Staying the night on Mount Olympus felt really chilly. It was hot during the day, but as soon as the sun disappeared, the temperature fell dramatically.
Luckily I had brought along my pants and a jumper, but thermals would have been great. Even as I was trying to sleep, extra clothing would have made things much more comfortable. I was shivering most of the night and didn't get much sleep at all.
The Views – Incredible
Sitting at the outside tables offers hikers marvelous views of the area, and this reason alone makes Refuge A (Spilios Agapitos) a great place to stay.
Remember, it can be freezing at night.
The sleeping arrangement is pretty basic. Bunk beds, one blanket, a pillow, and that's it. I ended up scrounging up another blanket because it was freezing at night. I slept with all of my clothes on while also wearing a beanie and gloves.
During the day, wearing shorts and a t-shirt was all I needed to wear, but it was absolutely freezing at night. Don't skimp on clothing, thinking you'll be ok. I'm pretty sure staying overnight at a higher Refuge would have been even colder.
Make sure you fill all of your water bottles before you leave the Refuge.
Early morning I filled up my two 1.5 liter water bottles and departed on the hike to Skala via the E4 route.
The climb felt pretty strenuous since it went up and up through numerous pathways with the hot sun pelting down at you. The sweat poured off of me.
My first view of Olympus showing itself.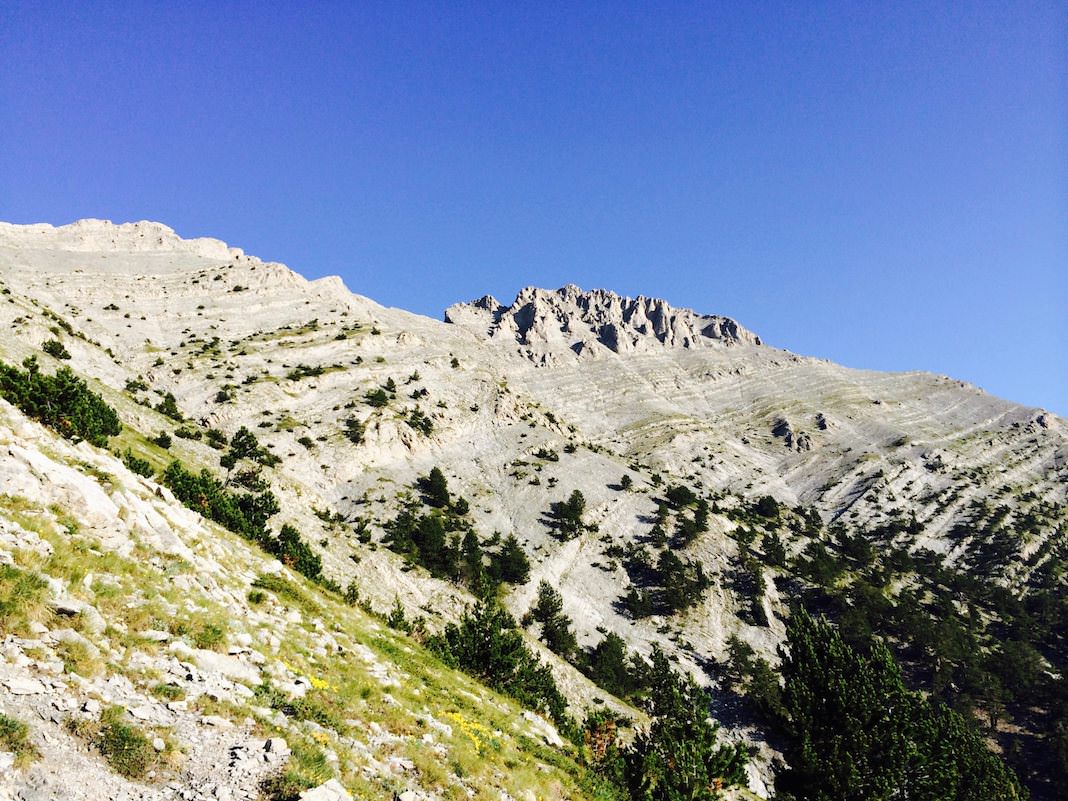 Skala Peak on Mount Olympus
Later on in the day, I came close to a mountain ledge that looked like it was the end of the line. It didn't look like it was the top of Mount Olympus because I could see another peak in the distance that looked even higher.
I really couldn't see how anyone could reach the top from this point. A few other hikers soon enlightened me.
I had made it to the Skala summit. If you wanted to go to Mytikas, the highest peak in Mount Olympus, you had to descend through a narrow rocky corridor and make your way around a mountain face.
One lady hiker told me how she had turned back after feeling really exposed on the mountain ledge. I wanted to give it at least a shot, even though I felt exhausted at that point.
After a little rest, I proceeded through the corridor and crawled around a mountain face. Here's a view looking out to the valley below.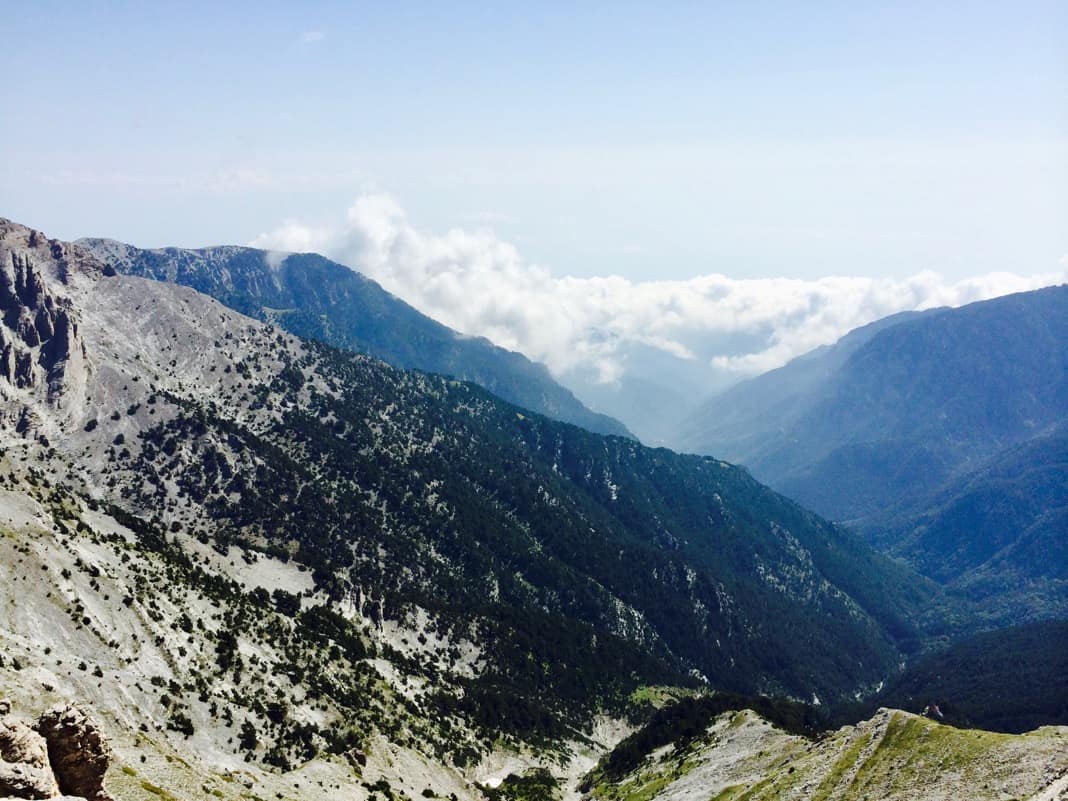 The heights were pretty scary, and it did feel as if one slip up could cost you your life.
I slowly managed to get around the mountain face, and that's when Mytakis showed itself in all its glory.
It was only the beginning. After that, you have to climb up another mountain face straight towards Mytikas and the Greek flag at the top.
Meeting the Greek Guys (Gods?) on Mount Olympus
A couple of guys were coming down while I was making my way up, dodging big rocks on the ground.
They started a bit of a rock avalanche and yelled out a SORRY or WATCHOUT! Something like that. I could hear the rocks falling towards me and noticed a few of them flying past.
We spoke once we were closer together. I assumed they were American Greeks, possibly brothers, after talking with them.
We talked for a little bit. I told them the story about how someone attempted to hike Mount Olympus in flip flops (thongs) and that they had been killed as a result. One of them exclaimed, What a Malaka!
I asked them about the top of Mytikas and was very surprised when they told me they hadn't been to the top. I couldn't believe it.
The Greek flag was at the top of the highest peak, and these two Greek guys wouldn't get a coveted photo. The top of Mytikas is where you can sign the visitor book as well.
I suggested that maybe it would have been better climbing the other route up Mount Olympus.
One of them quickly replied that you had to be a goat to climb up the other way up.
Facing my biggest fear when climbing Mount Olympus
I still couldn't understand how or why they could be so close to the top and not stand on the very top of Mount Olympus.
Well, when I ascended to a certain peak plateau, a little lower than the very top of Mytakis Peak, I fully understood why.
The way to get to the top looked like a death wish. You had to go around another cliff face peak, which had ropes dangling around it. What was scary was the humungous drop. It went straight down. Death was assured if you fell probably a minute later.
I looked around and gave up pretty much straight away, thinking the Greek Gods would never want me up on top of Mount Olympus anyway. Maybe they even sent an envoy to tell me I'm a Malaka.
My high and low point on Mount Olympus
By this time, I had nearly run out of water. I had to conserve some of the precious water left for the return journey, so I took a few photos and regretfully contemplated my descent.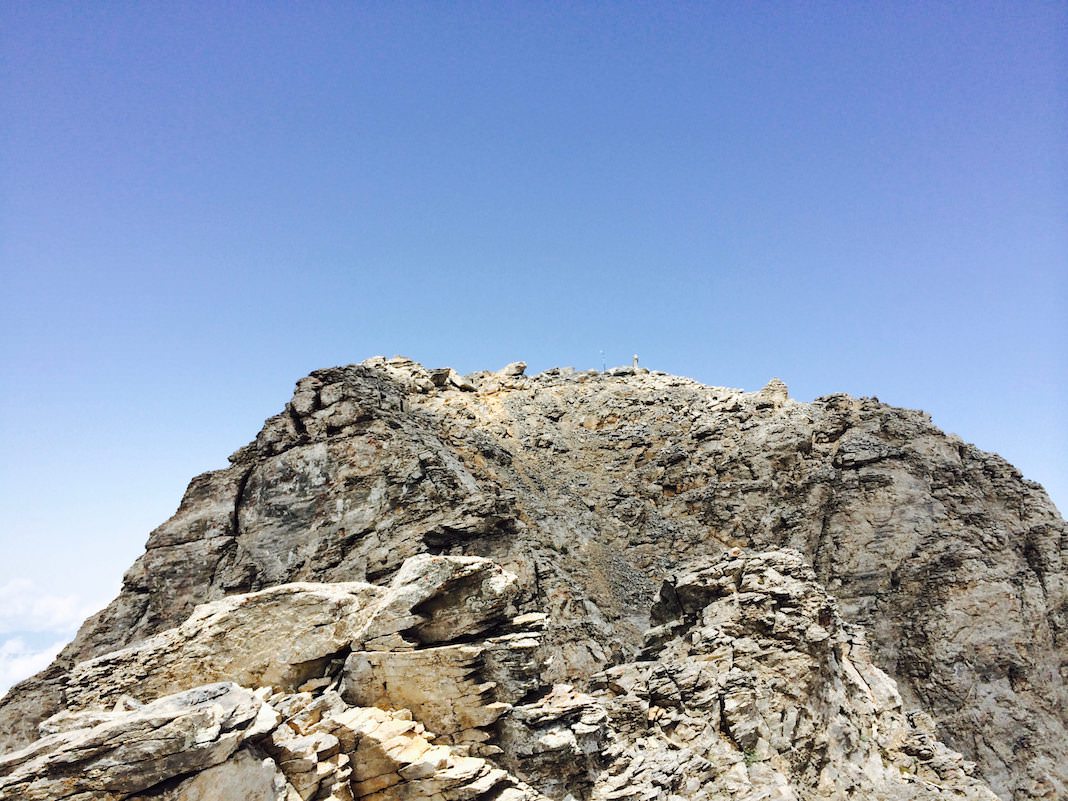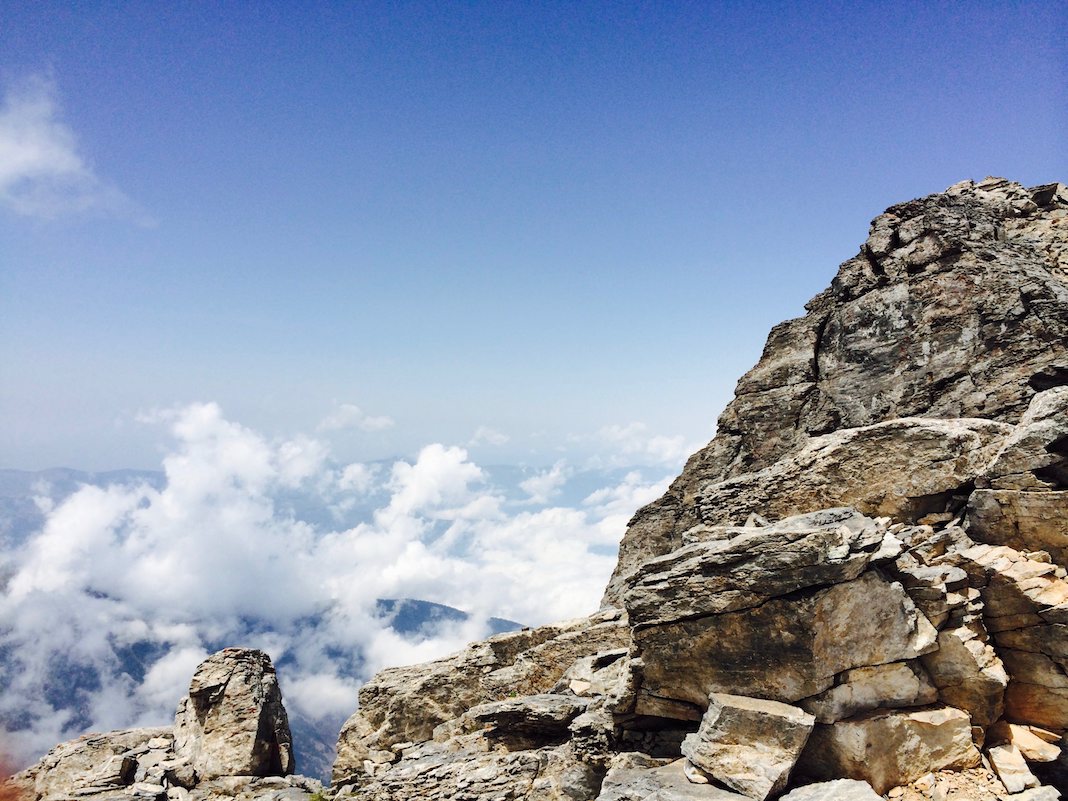 How would I respectfully face my hotel lady now? Yeah, sure, I got pretty close. Here's a zoom-in from a photo I took. You can see the Greek flag on the left, and the visitor logbook on the right, that triumphant hikers who've successfully reached the highest Mt. Olympus peak can honorably sign.
The views were pretty spectacular all-round, but it was a big disappointment not making it to the very top of Mt. Olympus.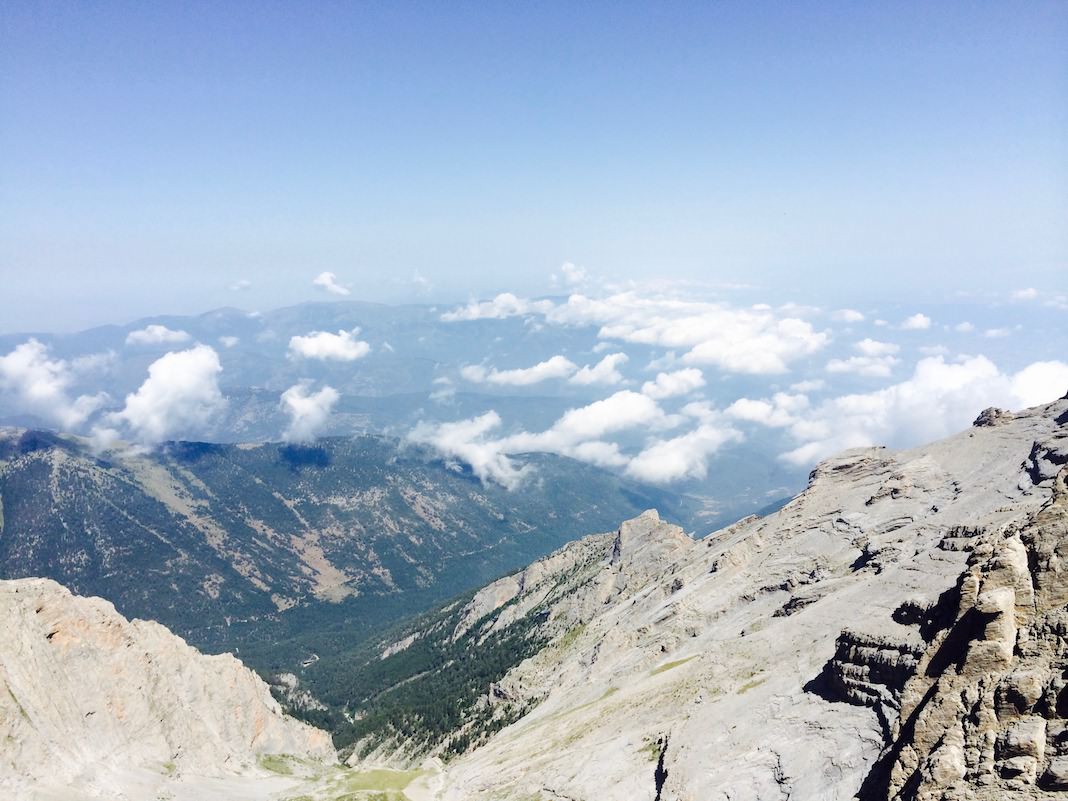 Top Tip: I know what you're thinking. How does that help me get to the top of Mount Olympus when you couldn't even do it? That's the key. You need to find out how to pass through that final stage safely. Do you hang onto the rope dangling from a mountain face for dear life, or is there another way?
Iris sends me a message.
By the time I returned to the narrow entrance corridor back to the rocky dirt pathway, the time had vanished.
I only had a tiny bit of water left, maybe half a liter. I had aimed to get off the mountain entirely by the end of the day. Now I'd be lucky to get back to the same Refuge (cabin) by nightfall.
I could have gone to Skolio summit, a straightforward walk in the distance, and signed a logbook there, but I decided to head back after dying of thirst while trying to conserve the little water I had left.
The water had turned hot after a hot day inside my black Nike backpack, so it made quenching my thirst even more difficult. Drinking the water only really helped to stop my lips from cracking and my throat from drying up.
Most hikers had disappeared by this time, and to piss me off, the Greek Gods sent me off with a light shower of rain.
Then as I left Skala, out of nowhere, a rainbow appeared.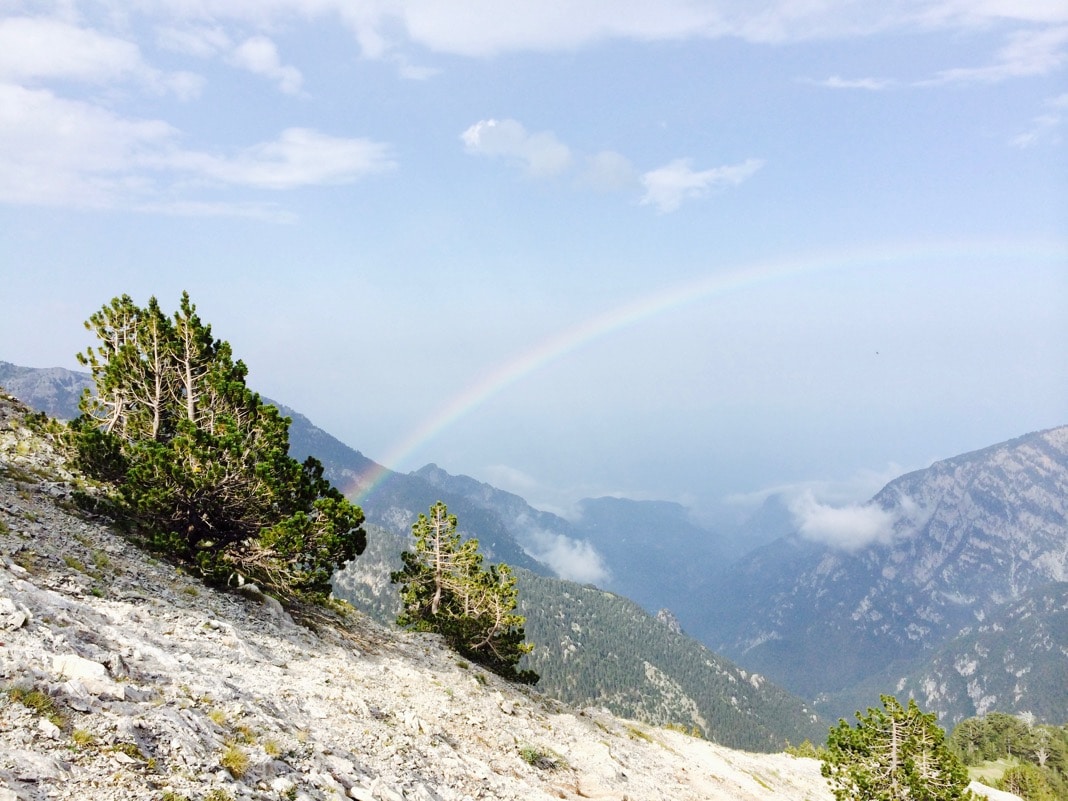 Wondering about the Greek Gods
Were the Greek Gods trying to tell me something? The Greek Gods were definitely against me. You can read all about it in another post on how the Greek Gods got my attention.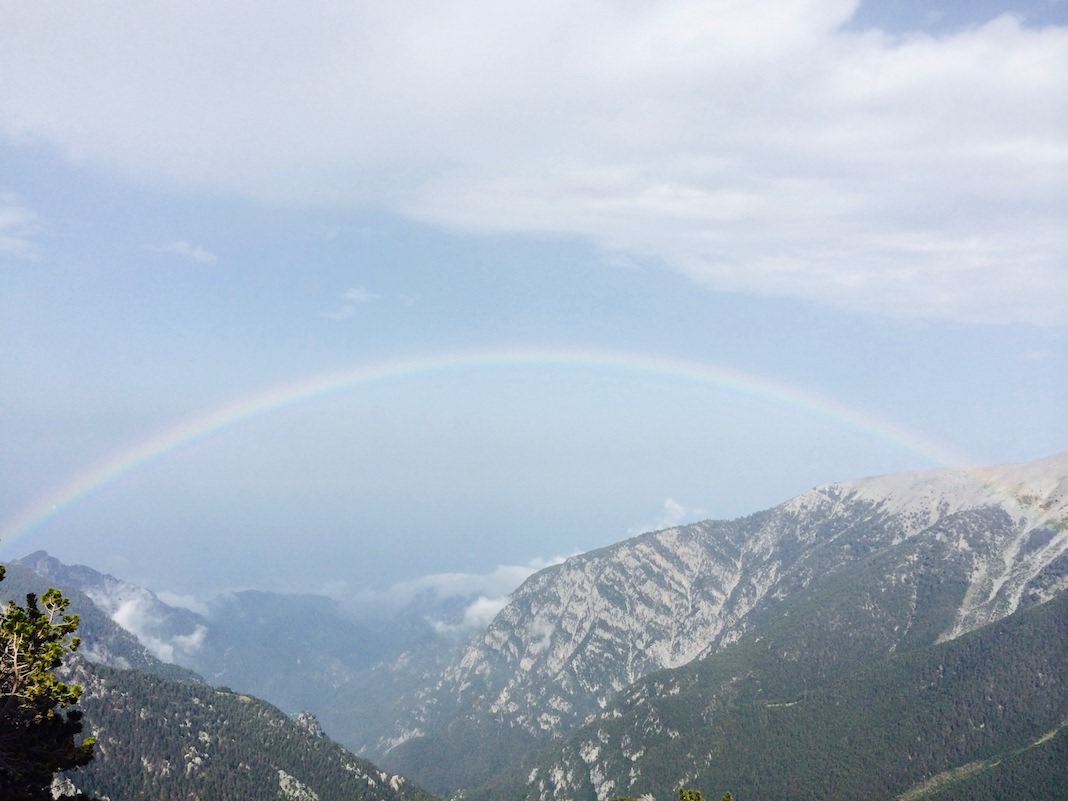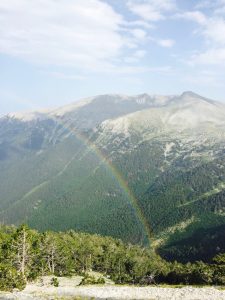 Were the Greek Gods trying to tell me something like go to hell, you Malaka!?
Staying on the mountain for another night wasn't something I wanted to do at all. Once I reached Refuge A, the light had faded from the sky.
I felt exhausted, and I could see myself stumbling through the darkness if I tried to make it all the way down to Prionia, plus what if I physically couldn't do it.
Thus I decided to stay at Refuge A for another night. It wasn't pleasant, believe me. It was another freezing night.
Bye-Bye Olympus
The next morning I departed early and arrived back at the Olympic View hotel just before I had to checkout, like 20 minutes before.
When I arrived back at the hotel, I was cheerily greeted by one of the two young daughters. As I walked towards the lift, I saw the hotel lady washing the outside window next to the lift.
We waved to each other. After a super quick shower and shave, I managed to check out right on time.
The Greek hotel lady wanted to know if I had reached the top of Mount Olympus. No, I replied. She asked me whether I went to the Monastery. No, was the answer once again.
She asked me about my next destination. Sky-ath-os, I replied. She corrected me with the correct pronunciation, Skar-thos, regarding the Greek island of Skiathos.
You will go swimming and relax at the beach, she suggested. Yeah, I answered.
***** Guide to Mount Olympus *****
Ok, so if I have convinced you to climb Mount Olympus one day, then here's some beneficial information when hiking up Mount Olympus you will want to refer to.
Choose a Mount Olympus Starting Point
There are three popular routes to Mount Olympus. You can choose one of the following for your hike:
1. Prionia – The most popular starting point.
2. Gortsia – Many say it's the most scenic route.
3. Litochoro – For the ultra-fit.

The hike from Litochoro to Prionia follows the Enipeas Gorge, the most famous gorge in Olympus.
Enipeus was a river god, the son of Oceanus and Tethys. The myth goes that Enipeus rejected the advances of a mortal woman named Tyro somewhere around these parts.
This is also considered the place where the musician Orpheus was devoured by the Maenads, who were followers of Dionysus.
Choose a climbing route up Mount Olympus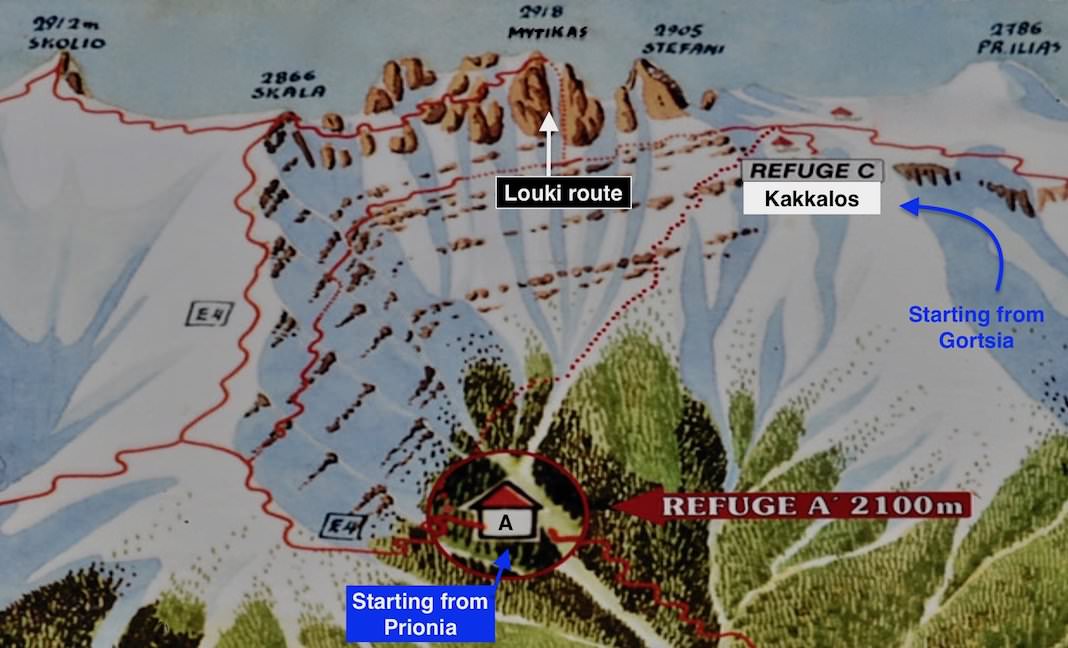 Refuge A (Spilios Agapitos – 2100m high) is a popular place to stay on Mount Olympus.
Three Awesome climbing routes up Mount Olympus
Route 1: Prionia – Skala – Mytikas (Mid Level)
Day 1: Prionia ⇒ Refuge A
Day 2: Refuge A ⇒ Skala (via E4 track) ⇒ Mytikas (highest peak)
This is the trail I walked. The advantage of walking the E4 trail route is that you can also visit Skolio peak at the same time with relative ease. It's a straight forward walk from Skala to Skolio. It looked as if it would take about half an hour to get there at the most.
The only thing you'll need is the energy, which could be a big problem, especially if you're going to attempt to climb Mytikas peak. After returning from attempting to summit Mytikas, I really didn't have any energy left over to want to walk over to Skolio.
Walking to Skolio would be a good choice for anyone who doesn't want to climb Mytikas and potentially risk falling off the mountain. It's a great choice for families, kids, and risk-averse hikers.
Route 2: Prionia – Kakkalos – Louki – Mytikas (Advanced)
Day 1: Prionia ⇒ Refuge A ⇒ Refuge C (Kakkalos Refuge – 2648m) or Apostolidis Refuge
Day 2: Refuge C or Apostolidis Refuge ⇒ Mytikas (highest peak)
I think I was talked out of hiking this route due to the steep ascent, rock avalanches, and the recommendation that everyone has to wear a helmet. Watching climbers on videos on this route does look quite frightening. It does look as if it would be a much more challenging/fun way to reach the top, provided you get to make it home alive.
You can walk from Prionia to Refuge A in the morning and then make your way from Refuge A to Refuge C in the afternoon. As an alternative, you could also depart Refuge A on the second day and make your way to Refuge C (Kakkalos), then attempt to summit straight after that on the same day.
Route 3: Gortsia – Plateau of Muses – Louki – Mytikas (Advanced)
Day 1: Gortsia ⇒ Refuge C (Kakkalos Refuge – 2648m) or Apostolidis Refuge
Day 2: Refuge C or Apostolidis Refuge ⇒ Mytikas (highest peak)
This hiking route is often considered the best option for great scenery. The added advantage is that you'll wake up in the morning with a much shorter hike/climb required to make it to the top of Mytikas.
If you want to go to Refuge C or Apostolidis Refuge, I'd probably suggest this route, starting at Gortsia, because it's the fastest and most scenic way to get there. The average hike time is around 6-7 hours.
I hope you're not afraid of heights if you're going to attempt the climb up to the top of Mytikas on this route because the cliff is near vertical.
That's why the first option is great for anyone not sure about attempting to reach the top of Mytikas. It leaves you with the pretty good option of walking to Skolio's peak.
Being close to Refuge C, however, will let you traverse over the Plateau of Muses.
My own advice when climbing Mount Olympus
1. Bring a small LED headlamp (as cabin lights can turn off when you least expect it, and it may actually help if you're caught out with some trekking still to do at night)
2. Bring cash and book a cabin for at least one night before arriving, especially if you want to stay in Refuge C, as they only have the capacity for about 22 people. Refuge A can sleep about 100 people, and so can Apostolidis Refuge, but even these places can fill up in summer.
3. Get a map (photo or paper copy) and study the route. I lost mine.
4. Make sure you bring a warm jumper, pants, socks, beanie, warm gloves, even if it's boiling during the day. It can get very chilly up there in the evenings. I was shivering at certain times. Thermals would have been a Godsend.
5. Bring two big water bottles (at least 3 liters in total). I recommend 4 liters. Therefore two, 2-liter bottles. You'll get very thirsty, especially on hot days. I went in August (mid-summer), and when descending back towards Refuge A, I was desperate for more water. I should have bought a couple of cool drinks as well.
6. Make sure you fill up all of your water bottles at Refuge A before leaving to go to Mytikas. The colder the water, the better.
7. Bring sunscreen and wear a hat when climbing Mount Olympus.
8. Wear light-weight hiking shoes. Heavy boots make walking much harder and less enjoyable. Sturdy sneakers are also ok.
How long should you plan to stay on Mount Olympus?
If you want to climb Mount Olympus, plan for a minimum of 3 nights in this beautiful part of northern Greece. You may only want to be on the mountain for 1 night, but you might find that 2 nights is required. Some hikers choose to stay even longer by choice.
2 Nights on Mount Olympus
Spend the first night in Litochoro, and allow for 2 nights on Mount Olympus.
Most fit hikers only need one night on Olympus. If you take the Skala (E4) trail, casual hikers can make it back down to Prionia after summiting Mytikas, especially if you only go to Skolio, but don't waste time sitting around for too long admiring the awesome views.
Consider going back down via a different route, so you'll experience a variety of scenery. Spending time on the Muses Plateau sounds like it would be a great experience to have.
1 Night on Mount Olympus
Take the Gortsia route (or the Prionia to Refuge A to Refuge C route) and stay high up on the mountain range for the first night. The following morning take the Louki route to the top of Mytikas. By midday, you'll be able to start your descent down to either Gortsia (the original starting point) or Prionia (for a change of scenery on the way back).
If you can make it up Louki (via the very steep ascent) to Mytikas in the morning, you shouldn't have a problem going to Skala and then to Prionia in the afternoon.
Starting the hike at Gortsia allows hikers to make the Mytikas ascent earlier. Clouds often move in later in the day, probably by Zeus' command, so getting to the top earlier is an added incentive for better views.
This video will give you an idea of what's involved in climbing Mount Olympus from Skala to the top of Mytikas, the highest peak on Mount Olympus.
A couple of great ways to finish the Mount Olympus hike
The ancient city of Dion
Make sure you visit the ancient city of Dion while you're in the area as well. I missed out on Dion when I visited the area, and I regret it.
Dion is the sacred Macedonian city at the foot of the mountain, dedicated to the Olympian Zeus. The ancient site is located 8 km north of Litochoro.
Bath of Zeus
A dip in the bath of Zeus looks pretty tempting. This is supposed to be where Zeus met with a few lovers, including the Goddess Aphrodite. It's a bit of a secret spot.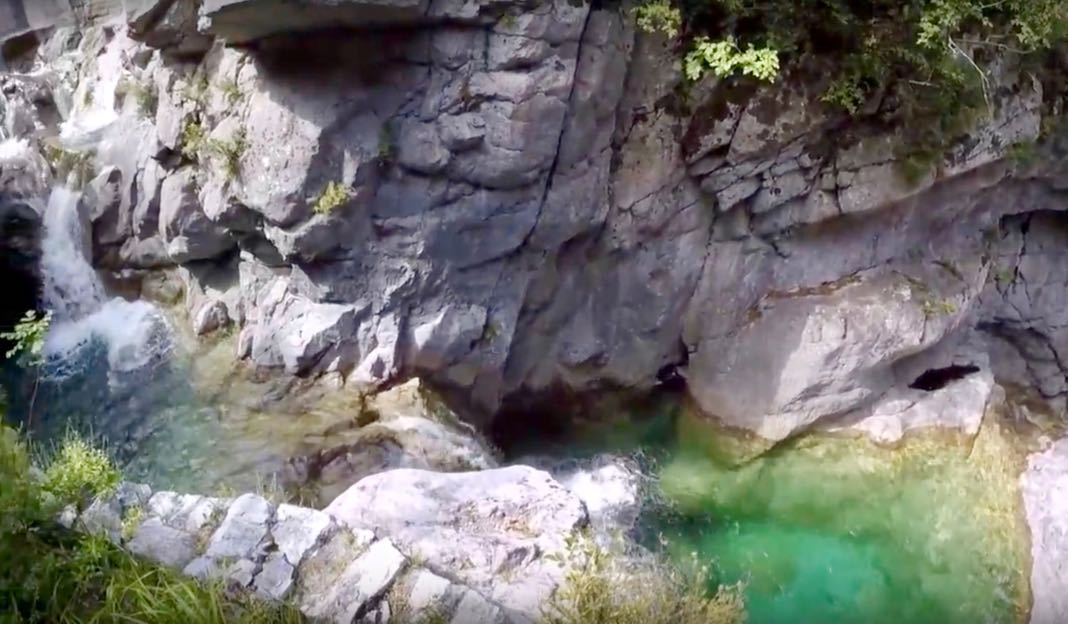 It's no wonder the Greek Gods had their home at Olympus.
My final recommendation is to end your Mount Olympus adventure in Skiathos or some other magical Greek paradise. Try and make those Greek Gods envious.
The big secret of Mount Olympus
One huge secret about Mount Olympus is that there's so much more on offer in this beautiful part of Greece.
The lower slopes of Mount Olympus are filled with pristine forest, and there's an unexpected waterfall to see. You also have spectacular cabins in incredible surroundings that defy belief.
Hiking up the higher slopes gives you a feeling as if you really are connected to the Greek Gods in some mystical way. If you're lucky, you may even get to see a goat in mid-air. The views all around are truly incredible!
I hope reading about my experiences on Mount Olympus has given you an idea of what to expect and the adventure that awaits.
The biggest gift I hope to give someone out there reading this is the inspiration to plan a trip to Mount Olympus for yourself!
I'm positive it will be an awesome adventure provided you don't fall off the mountain.
Greek God Philosophy
"Greeks have a twin soul, one West, and one East."
This deep statement was communicated to me by the mother of my neighbor. I've already told you that climbing Mount Olympus entered my consciousness after my next-door neighbor let me know that he had climbed Olympus.
It amazed me, but another big surprise occurred when I met his mother at a later date. She told me that the Greeks having a twin soul, one West and one East.
By the way, I straight away thought that it was true. When she said that the Greeks have a twin soul, my mind immediately went into overdrive.
Greece, Turkey, Constantinople, the Trojan War, Odysseus, and the west wind, western philosophy, the whole kit, and kaboodle. My mind was flooded with thoughts.
Yes, it was true. If anyone had a twin soul, it would surely be the Greeks.
This interesting lady wanted to meet me since I was her son's neighbor. Somehow out of that brief chat at my front door, we had entered into a conversation with this deep insight.
I would have bet a large sum of money that my neighbor had never visited Greece, let alone Mount Olympus.
When I think about it, his mother gave me a deep philosophical thought fit for an ancient philosopher like Plato.
Climbing Mount Olympus – Why you should do it
Now and then, I heard of fit adventurers climbing to the top of Mount Everest, but in all my life, I had never heard of tourists climbing to the top of Mount Olympus.
I wasn't sure whether my neighbor was pulling my leg at the time to tell you the truth.
My neighbor mentioned something about staying on the mountain overnight, which made a hiking trip to Mount Olympus sound even more adventurous.
All of these events put together made me want to go to Greece at least one more time in an attempt to climb Mount Olympus for myself. It sealed my fate!
There was also a bit of envy on my part. Okay, I was extremely envious but in a good way because I really wanted to join the Mount Olympus club.
There must be thousands of reasons for climbing Mount Olympus. All you need to do is find a reason to make it happen.
Mount Olympus, Home of the Greek Gods
You know you're in a special place when Greece's highest mountain is associated with the Greek Gods.
If anyone has any doubts about the Greek Gods existing, this is a great place to ponder it.
You see, to have Greece's highest mountain linked to the Greek Gods and Goddesses indicates that they came first.
Why honor any Gods who never existed, and why honor them with the highest mountain in Greece?
Pin it … Share it