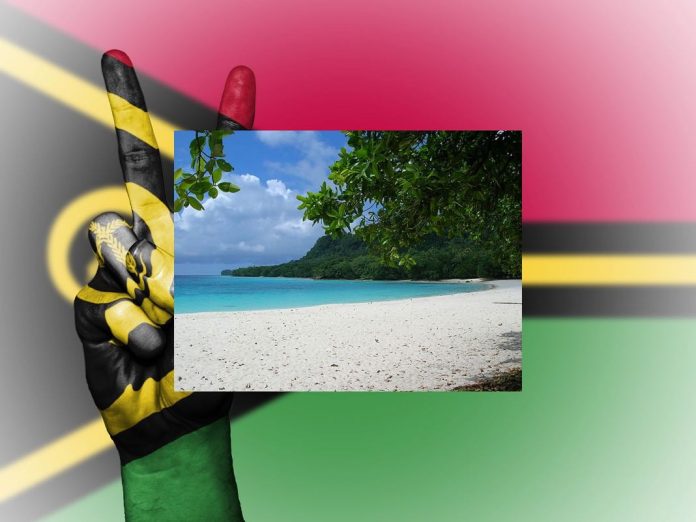 Want to experience heaven on earth? It isn't that difficult. All you have to do is tick off the 10 best things to do in Vanuatu in this list, in one trip of a lifetime (3 weeks), and you've done just that. Once you experience the beauty of Vanuatu you'll start to wonder how eternal paradise could be any better.
Efate
1. Efate island, home to Vanuatu's capital Port Vila
Efate  – As you can see "fate" is part of the island's name. Is it your fate to take a holiday there?
1 day – Explore the capital Port Vila for two or three hours. For the rest of the day either catch a bus around the entire island or find another way to make your way around. Leaving the capital to get a glimpse of more pristine parts of the island is a magical experience. The pristine beaches and greenery will astound. This will also give you a better look at how the locals live. Efate is 35 miles (56 km) in diameter. Make sure you take a map with you.
https://youtu.be/q307P91hdIc
2 days – After your trip around the island, spend the following couple of days just visiting pristine beaches, lagoons, magical blue pools and thermal springs. After the trip around the island you should get some good ideas of where to go. Pick one of the best beach areas and spend the whole day doing what many people dream about.
Keep these beaches on your radar:
Paradise Cove Beach – Surrounded by lush lawns, nicely fringed by manicured tropical gardens.
Eratap Beach – A great beach destination, located 20 minutes from Port Vila on the island's southern coastline.
Erakor Beach – On its own tiny isle not far from Port Vila. It's a quiet spot where you can relax on luxurious soft sand, while also getting a look at the Erakor Lagoon.
Breakas Beach – A fantastic crescent shaped beach on the Pango peninsular.
Tamanu Beach – A perfect crescent shaped beach which meets with a beautiful blue lagoon
The Blue Lagoon has a rope swing which means you can jump into the pool. Looks like a great place for a picnic lunch.
2. Hideaway Island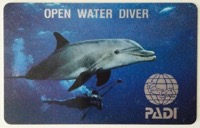 1 day – Hideaway island can be reached with a very short ferry ride from Port Vila. I stayed on this little island paradise for five days or so while doing my open water scuba diving certification with PADI. When I was there the tiny island had tropical feel accomodation and a great beach bar/restaurant  close to the water's edge. It was the perfect spot to re-energise with tasty food and drinks.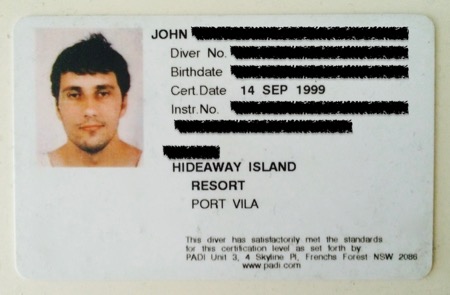 You only need to walk a few metres out from the shore to snorkel. At my very first scuba-diving lesson I saw plenty of fish as soon as I put my head underwater. Hideaway island is a great place to learn to scuba-dive and to go snorkelling. It is quite sheltered. When a cruise ship was docked at Port Vila, it looked as though a lot of them chose to visit the Hideaway island to go snorkelling. Hideaway island is a protected marine reserve so there are plenty of fish to marvel at.
I only found out about Hideaway island when I went to a scuba dive shop in my own home city. I wanted to know where the best tropical destination to learn would be. The dive lady told me a few spots in a few different countries and mentioned that she had recently spent 3 months in Vanuatu. She could arrange the whole trip for me and that's what happened. One thing though, I should have done the theory part of the PADI dive course while I was at home. I had to sit tests while I was on holiday, which dampened the experience a little bit. If you want to learn to scuba dive overseas, do the diving theory tests in your own home town.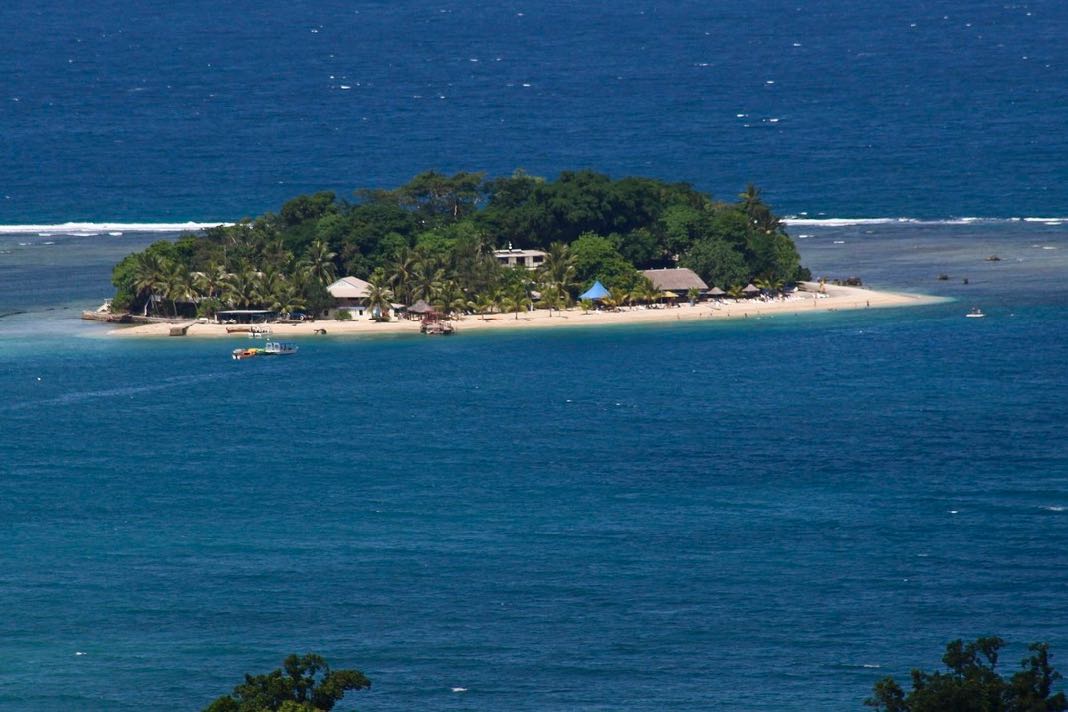 Hideaway island is famous for having an Underwater Post office, the first in the world, to my understanding. It opened in May 2003, but even in 1999 I have a feeling that I could have posted something even back then. I think I can recall thinking why would I want to do that. The thing is I used a normal post office for sending my postcards and guess what, they were never delivered. Not sure what went wrong.
If you want to use the underwater post office, all you have to do is swim to it. It's about 35 metres offshore from Hideaway island. Post a waterproof letter to family and friends. Looks like fun.
I have very fond memories of Vanuatu because this was my very first overseas holiday. I found Hideaway island to be a pure gem. It's the island where I gained my PADI scuba diving licence and it's the only place I've ever done a night dive. I nearly passed out when I first did it.
The big diving experience for me was when I went scuba diving with one of the native locals. A school of large fish were in front of us. Then out of no where the guy speared one of them. All I could think of at the time was what the hell was going on. This was a protected marine park. Later on when we got out of the water, he told me that his family likes to eat them. Fair enough.
On my very first overseas adventure I didn't even bother to bring a proper camera with me. I did take a disposable camera with me but never had it processed. I think I lost it or something. When I was younger I could never really understand why people would waste their time taking photos when they could just take it all in. Now I fully understand why. Take as many photos as you can, especially when enjoying a holiday in another country.
3. Mele Cascades (Waterfall)
1 day – Wander along to this beautiful waterfall on a sunny day. It's a relatively easy walk, but it does have sections where for ten minutes or so, you have to navigate your way through some slippery rocks and waterways. This is as good as it gets in my opinion. Make sure you're wearing your bathers so that you can take a dip at the end where the waterfall tumbles down into a magical pool of water.
The walk through grassy banks and cascades of gentle flowing water is a dream. Bring lunch with you or some afternoon snacks and take your time in this waterfall wonderland the Greek Gods and Goddesses have made. Don't miss the hidden cave! I actually missed it because I didn't know about it, so you've got no excuse if you go.
https://youtu.be/zzxIADJsWrw
Later head back to the beachside bars in Port Vila where you can admire more fabulous water views.
4. The Summit Gardens / Jungle Zip-Line / Kava drinking
1 day – The Summit Gardens are considered to be the largest tropical gardens in the South Pacific. It's a 20 minute drive from Port Vila, with fabulous views showcasing Vanuatu's flora and fauna. Visit in the morning and plan to go on a few walks in the area.
If you're the adventurous type, give the Vanuatu Zip-Line a go, which is just outside of Port Vila. This will give you a great view of jungle terain and canyons.
Sometime during the day find an opportunity to relax with a tribal elder. Have a drink of kava, the local coffee. Kava is often consumed at ceremonies and for welcoming visitors. The drink is made from roots of a particular type of pepper plant and tastes what you'd expect muddy water to taste like, but the villagers love it. After a cup or two it will leave your lips and tongue feeling slightly numb. You should know, Kava is considered a mild hallucinogenic drink.
Tanna Island
I highly recommend visiting the island of Tanna for any first time visit to this tropical island paradise. Make sure you choose to stay in beautiful accomodation. The place I stayed at was absolutely fantastic. So green and lush. It had the best hammock I've ever had the pleasure of relaxing on.
5. Mount Yasur Volcano
1 day – This volcano is spectacular. It's known as one of the world's most accessible volcanoes. As soon as you're on the island of Tanna you'll probably hear and feel loud rumbling with scary explosions every so often. It didn't stop while I was there. See if you can experience the volcano during the day and at night. I went during the day and everything looked mostly grey and black, so that's why you should try and be there at night. Then you'll see the flaming red colours.
The first tour group I was part of wasn't allowed to go there because it was deemed too unsafe. We were turned back at the volcano checkpoint station. That didn't stop me and another guy though. We hired another private guide to drive us there the very next day. We ran up the mountain through a maze of massive rocks and it was exhilarating. The American ended up losing his cowboy hat at the top of the volcano from a gust of wind, which blew his hat straight into the crater hole, while he was filming the experience on his camcorder. As soon as that happened we both ran back down the mountain scared to death. Lava and rocks were exploding high up into the air and we just hoped none would come our way.
We heard about tourists getting hit in the past from our native driver. That's why the driver and his companion stopped the car way back. They didn't want to get any closer to the volcano. Driving to the volcano is an adventure in itself. We passed by a few machete yielding tribesmen and had to pay our way through. The jungle was thick and the roads were really falling apart in certain places. On the way back, right at the end when the vehicle stopped, we noticed that one wheel on the vehicle had just about fallen off. Visiting the volcano was an awesome experience. It definitely was one of my top three highlights in Vanuatu.
6. Cultural tribe tour and Dugong sightseeing
1 day – A cultural tour with a local tribe is really fascinating. The other thing to do is to go and see a dugong. A dugong is a sea cow for those of you that don't know.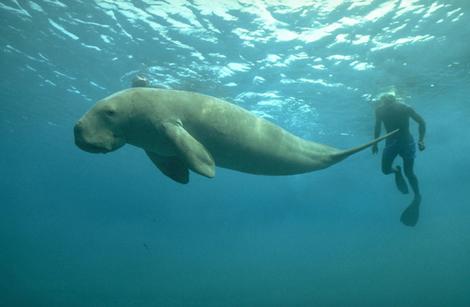 When I went I didn't really know what to expect. I went anyway to what seemed like the other side of Tanna. I went into the tourist shop there when our group arrived and discovered that the dugong was the highlight of the tour. I was told the dugong would come soon, and that someone was calling it. I left the shop and went for a walk and saw a native in the water doing karate chop moves splashing the water around in the ocean, while also blowing a horn every so often.
I felt like I'd been tricked until a very short time later when tourists started pointing. Something was approaching us in the distance. It was a dugong. What a surprise. We were standing on a long breakwater when it came by so close that some of the tourists decided to go for a swim with it. A small lady went into the water and soon disappeared. I honestly thought the giant dugong had swallowed her whole. I couldn't believe it. Luckily the dugong had just swum over the top of her. Dugong's eat large amounts of seagrass, which I later found out, so there was nothing to fear. She surfaced and told everyone how sharp the dugong's skin had felt. I breathed a sigh of relief.
If you want to know more about Tanna, you have to watch the movie Tanna (2015). I highly recommend this movie.
Espirito Santo
Santo is my favourite island in Vanuatu. It combines fantastic beaches with awesome diving and possesses a jaw-dropping jungle interior. Even if you don't know how to scuba-dive this island is still a superb holiday destination.
7. SS President Coolidge and Million Dollar Point
2 days – If you know how to scuba dive you don't want to miss out on this adventure. Diving the SS President Coolidge is awesome. This is the jewel in the crown for a South Pacific dive. The ship was sunk in 1942 and lies just off the coast of Espirito Santo at depths of 25 to 60 metres. The ship is 210 metres long and was built in the 1930s as a luxury liner. During Word War II it was converted to carry troops, but its fate was sealed after it mistakingly hit mines intended for the Japanese. The captain ran the ship aground and luckily nearly everyone of the 5000 crew disembarked safely. It actually sounds like a nice way to escape a horrific war on a great tropical island. I wonder if it was all planned. The ship then slipped off the reef and flipped onto its side, to become one of the best shipwreck dives in the world.
Interestingly, Apollo Australia supplied the dive gear which helped to create this interesting video.
The Coolidge is definitely the best dive I've ever experiences. I met someone who came back as a tourist year after year, just to dive this shipwreck again and again. The huge eels are phenomenal.
1 day – Million Dollar Point. The Americans left their army vehicles in Vanuatu by tarring them up and dumping them off the coast. Now it has become a fantastic artificial reef, fabulous for scuba-diving and also for snorkelling as it isn't that deep. I loved this dive. Seeing the bright orange clown fish before I saw the movie Finding Nemo felt serendipitous.
8. Santo Beaches
2 days – There are so many beautiful beaches to visit on Santo.
Champaigne Beach is worth a visit purely for its name alone. It is often said to be one of the best beaches in the South Pacific. While you're there, visit the nearby freshwater Blue Lagoon.
Aore Beach is situated on Aore island just off Luganville, which you can get to by taking a quick ferry ride.
Port Olry Beach is located close a French-speaking village. It's known for its fantastic reef snorkelling. At low tide there's a small strip of land that connects to an island. Sounds amazing.
Bokissa Beach is on Bokissa island, which is located off Santo's southern tip. Experience pure postcard perfection.
Velit Bay is another beach you'll also want to visit.
9. Millenium Cave
1 day – Take a tour. Apparently this is one of the top thrilling things to do on Santo.
I missed out on this. I did go on a a tour where one of the things we could do was swim through to an underwater cave during a boat excursion. I didn't do it because I'm not a strong swimmer, even less so underwater. I could see myself running out of air midway and drowning because of my stupidity. Someone who did it told me they thought it was a much tougher swim than they thought it would be. The person struggled to keep their breath under the rock tunnel entranceway. I'm glad not to have attempted it.
That said, I'm disappointed to have missed out on the Millenium Cave adventure, especially so because I was in Vanuatu so close to the year 2000 millenium.
How can you pass this experience up?
10. Matevulu Blue Hole
1 day – This beautiful setting is only a 15 minute drive from Santo's capital Luganville. Once there you can hire kayaks and take the 45 minute crossing to the Blue Hole. Better still go on a tour.
https://youtu.be/ysw7sYoS5KY
There you have it. I spent 3 weeks in Vanuatu mainly scuba-diving and I can tell you firsthand, this island paradise is totally awesome. If you're there and the weather is perfect, the place is an absolute dream.
One more thing. You may want to go deep-sea fishing. It can be pretty expensive and I would only do it if the conditions are absolutely perfect with reports of good catches. It may look good in sheltered waters around the island but in the open sea the waves can get pretty high. I was the only person to catch something trawling, but it was only a small barracuda and it felt like a dead weight anyway. I eventually ended up getting seasick. I had to lay down in the boat for several hours while cruising around in very choppy water. When I stood up a few hours later I noticed the biggest sunburn of my life. My top half was ok because I was under the shade of boat canopy, but below my shorts and down I was like a boiled red lobster. I couldn't believe it. I also saw other people with severe red-raw sunburn during my Vanuatu trip, so be careful. It can happen in no time.
You'll definitely find paradise in Vanuatu with these experiences.