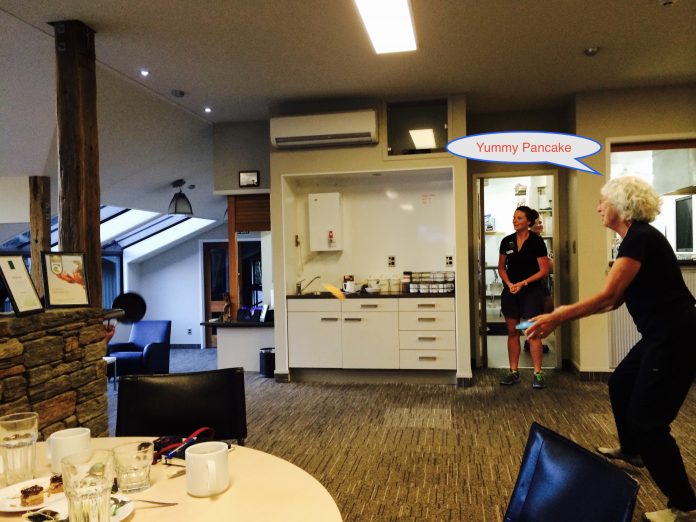 Have you ever travelled primarily to enjoy the food and beverages of a particular country?
It can be easy to forget when you're busy touring ancient sites, partying or relaxing by the beach, among other things. Always remember though, one of the best things to do when in a foreign culture is to try their food and beverages.
Cuisine often tastes so much better in its homeland for some reason, so don't forget to sample as many delicious treats as you can while travelling around a particular country. Who wouldn't want to taste a gyros in Greece, pizza in Italy, or Tom Yam soup in Thailand?
Some of the best memories ever come from what you've tasted.
I still remember visiting Egypt where I ate a McDonald's Big Mac hamburger for lunch one day. Reflecting on it now I have to say, I very much regret eating it. I was stupid, stupid!
One night, I remember having a very delicious local chicken meal, so I have to assume that if I'd tried a bit harder I would've found something way better than a Big Mac for lunch on that particular day. I have to say though, at the time I desperately hungered for a Big Mac and when I saw the big M sign, it had a magnetic power that drew me in and many others like flies.
This is why you have to be on guard around meal times when travelling. You're often only in a country for a very short period of time, sometimes only for a few days, so make sure you make the most of it. Give your tastebuds as many memorable moments as you can.
One of my strongest memories is having the best coffee I've ever tasted in my life in Portugal, and no it wasn't from a well known coffee chain. I never knew coffee could taste so good. I now believe that Portugal has the best coffee in the world because of that great cup of coffee and a few others I tasted during my travels around the beautiful country. I personally think they're getting the best coffee beans in the world because of their strong connections with Brazil. It's kept very hush-hush, so that other countries can be content with their inferior low quality coffee. It's either that or they just know how to put together a great cup of coffee to my liking. With the first sip it felt like an immediate awakening of the senses from a deep slumber. If I had settled for coffee chain coffee I never would've known.
Here are 14 best countries to visit for food, with meals and treats so delicious you'll be in foodie heaven if you ever visit. My top recommendation on what to eat appears just below the name of the country. Yum.
1. Argentina
Steak
Other treats:
Sweet treats filled with delicious caramel sauce, known as Dulce de leche.
2. China
Beef Hot Pot
Here's what to expect.
Other treats:
Peking duck
Dumplings
Dim Sum
Peanut chicken, known as Gong bao ji ding.
3. France
Fine dining desert
Other treats:
Champagne, at the Ritz or when watching a show at the Moulin Rouge.
Crepes
Macarons
Tarte Tatin, an upside down apple pie.
Creme brûlée
Snails or frog legs for the adventurous.
4. Germany
Pork knuckle
Other treats:
Black Forrest cake
Grilled sausage known as Bratwurst.
5. Greece
Stewed Cretan Mountain Goat
Other treats:
Souvlaki
Chicken and pork Gyros
Grilled octopus
Ouzo
6. India
Tandoori chicken
Other treats:
Spicy hot curries
Dahl
Roti
7. Italy
Pizza
Other treats:
Gelato
Arancini
Risotto
Tortellini
Pesto alla genovese
Pasta with shavings of black truffle
Tiramisu
And the list could go on and on. Italy is definitely number 1 for food lovers.
8. Japan
Fatty Tuna
Other treats:
Hakata ramen
Okonomiyaki
Fresh succulent Sushi
Kushimono, which is dinner on a stick.
Shabu-shabu
Sake
Tea at a tea ceremony (Chanoyu).
9. Mexico
Tacos
Other treats:
10. Morocco
Spicy Tagine
Other treats:
Khoobz
Mint Tea, known as Moroccan whiskey.
B'stilla
11. New Zealand
Venison
12. Thailand
Khao soi Gai (Northern Noodle Curry Soup with chicken)
Other treats:
Tom Yam
As much street food that looks delicious as you can eat.
13. Turkey
Kanafeh
Other treats:
Ayran, a refreshing drink.
Turkish coffee
Turkish delight
Kebabs
Baklava
Meze
14. USA
White Castle hamburgers
Looked very tasty in the movie Harold and Kumar Go to White Castle
Other treats:
Barbecue ribs
Hotdogs
Apple pie
Cheesecake
There you have it. This is a great reminder for everyone to always think about the food and beverages available in a particular country. The food could turn out to be the number one travel experience you come back with, if you do it right.
Make sure you're aware of the dishes in every country so you can choose your favourite dishes when you're looking around for something to eat. Also do some research and find out if there are some highly recommended places that serve what you're after. You might as well taste the best if you can and that often means knowing where to go. If you can combine food and drink with an awesome view or great surroundings, the overall experience will be even better.
Enjoy as much foreign food and drink as you can in your home country. Then if you ever do visit some of these delicious foodie paradises you'll be able to taste the differences immediately. When you taste the real deal you'll know about it immediately. Your taste buds will go into overdrive and your stomach will sincerely thank you for it. Even if something is not to your liking, at least you gave it a shot. Anyone for French snails or frog legs?
Bon appetit!