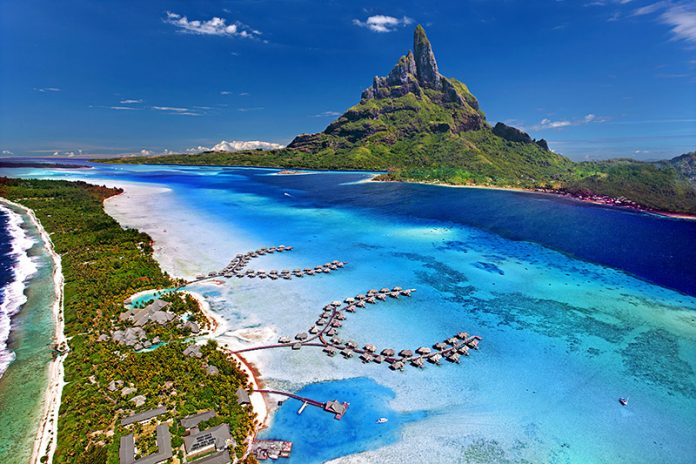 The Paradise Islands of Tahiti, officially known as French Polynesia, are made up of 118 stunningly beautiful islands scattered over 4,000 square km in the South Pacific ocean.
Only something like 51 out of these 118 islands and atolls of French Polynesia are inhabited.
Here I will show you a glimpse of seven paradise islands in Tahiti but first, let's go back in time for a bit of a history lesson.
Tahiti became a French protectorate in 1842 and then a French colony in 1880. By 1881 all of the other islands were taken into French possession. Paradise lost for some and no doubt gained by others.
The Goddess of Love and French Polynesia
The term "Polynesia" is made up of two Greek words, "poly" (many) and "nēsoi" (islands). It refers to the more than 1,000 islands scattered over the central and southern Pacific Ocean.
If I asked anyone to pick the most beautiful island in French Polynesia, I'm sure it wouldn't be an easy thing to do, even though one of the Tahitian islands truly does stand out for its exceptional beauty.
Paris from Greek Mythology would have faced a similar dilemma when he had to choose the most beautiful Goddess in the beauty contest between three Greek Goddesses.
Tahiti's reputation as an earthly paradise to outsiders really began to spread with the publication in 1772 of Voyage autour du monde (Voyage around the World) by the navigator Louis-Antoine de Bougainville, who visited Tahiti while circumnavigating the globe.
He wasn't the first. The first European expedition to set eyes on the paradise islands of Tahiti was led by Captain Samuel Wallis in 1767.
Captain Louis Antoine de Bougainville voyage occurred the following year in 1768, and Captain James Cook in 1769.
Louis-Antoine de Bougainville named the island "New Cythera" in reference to the island from ancient Greek mythology thought to be the birthplace of Aphrodite (Venus), the Goddess of love.
The name associated with the Goddess of Love was given as a tribute to the Venus-like quality of Tahiti's women and the hospitable welcome the crew received.
In 1769, one of the orders given to James Cook by the Royal Society during his first voyage on the Endeavour to Tahiti was to observe the Transit of Venus.
This is a rare phenomenon allows the naked eye to see the planet Venus slide across the face of the sun.
The Royal Society hoped it would help determine the distance between the earth and the sun. That answer would then enable the calculation of the size of the solar system as a whole, which would assist in nautical navigation.
The Transit of Venus phenomenon is predictable and usually occurs in pairs separated by eight years. A pair of transits occurs every 121.5 years or 105.5 years in a 243 year cycle.
To give you a better idea of how rare it is to witness, since 1761 the Transit of Venus has only occurred in the years 1769, 1874, 1882, 2004, and 2012. The next one is scheduled for the year 2117.
The sandy peninsula on Tahiti's north shore where Captain Cook observed the transit of Venus is now known as Point Venus, in Matavai Bay.
Point Venus Lighthouse has become one of Tahiti's iconic landmarks. This lightouse remains the only one in Tahiti and is a monument to the crew of the Bounty, who also landed there.
Many of you have probably heard about the incredible true story of the Mutiny of the Bounty. If not, you can always watch the classic movie Mutiny of the Bounty (1962) starring Marlon Brando.
The bizarre truth is that the Royal Navy's HMS Pandora went in search for the Bounty mutineers still on Tahiti so that they could be returned to England.
You can sort of understand why England's top brass wanted to punish anyone living an idyllic easygoing lifestyle with Venus-like nymphs in paradise. Who could stand the thought?
Operation Pandora didn't succeed as desired as the ship sank during the return voyage from Tahiti in 1791.
As you can notice the beautiful islands of Tahiti have a few strong associations with Venus (Aphrodite), the Goddess of love and beauty.
The Judgement of Paris
In Greek Mythology, Paris gave the golden apple to Aphrodite (Venus), the Goddess of Love.
The reason Paris gave the golden apple to Aphrodite was due to her promise that Paris would receive the love of the most beautiful woman in the world.
All Paris had to do was give her the golden apple marked to the fairest.
There is something about French Polynesia that pays tribute to this Greek myth.
Paris is the capital of France and Tahiti is often referred to as the Island of Love.
How did Paris end up with the most beautiful islands in the world? Some sort of secret deal must have occurred similar to Aphrodite's deal with Paris.

The Judgement of Paris in Modern Times

Hello: Ia Ora na – pronounced yo-rah-nah
Miss Tahiti 2018 Contest
https://youtu.be/XFW9dVGjgbI
Greek Gods and Earthly Paradise
We know the beautiful paradise of Tahiti is out there and yet visitor numbers are still relatively low. The main obstacle is obviously time and money. It's some sort of teaser.
The thing about paradise on earth is the difficulty of entering the turquoise waters of your dreams.
As proof, I have always wanted to go to Bora Bora and I have never been.
To top it off, I am convinced that the Greek Gods have allowed some con men to enter the realm of earthly paradise.
No one really knows what the hell is going on and it makes me seriously believe that the Olympian Gods are trying their best to make the majority of the world feel very envious.
So many people would love to visit Tahiti and yet so few ever will. There is actually a stat that claims Hawaii gets more visitors in a few days than Tahiti does in an entire year.
The natives of the past haven't been winners in the earthly paradise stake either.
The Greek Gods must be playing one big cruel joke on humanity when you think about it. Ha, ha very funny Greek Gods!
The important thing to remember is this, it is better to have entered the paradise islands of Tahiti on the cheap than to have never entered at all.
One day I may end up going there myself, but for now consider me a dreamer, like most of you.
A multiple air-pass from Air Tahiti is apparently money well spent for island-hoppers.
Paradise doesn't have to cost a fortune however, a couple of nights staying in an overwater bungalow could easily break the bank.
"Scarcely a spot on the universe affords a more luxurious prospect"

~ Captain James Cook ~
The 7 Island Beauties of Paradise
I wonder how highly the Greek Gods and Goddesses would rate these 7 island paradises?
1. Bora Bora
Bora Bora, the Pearl of the Pacific, is probably the most perfect dreamy island on earth and it draws in many lucky honeymooners for this reason.
Bora Bora comes from the name "Pora Pora mai te pora", or "created by the gods" in the Tahitian dialect.
It is located 230km northwest of Tahiti. Fifty minute flights from Tahiti to Bora Bora are daily and frequent.
If you're in no rush to get there you can always opt to take the 13-hour cargo boat service which departs from Tahiti on Tuesdays and Thursdays to the islands of Hauhine, Raiatea, Taha'a and Bora Bora.
Even brave American troops during World War 2 were smart enough to avoid the war by basing themselves on Bora Bora. Over 5,000 American troops were living the dream.
The United States of America obviously really wanted to save the beautiful island and keep it out of enemy hands. It must be a really spectacular island.
Visitors will probably be surprised to know that they can see the rusted remains of large cannons facing the lagoon's entrance and old bunkers hidden among the trees.
For those of you interested, the musical South Pacific (1958) shows a romanticised version of what happened during this period of time. You have to see it to believe it.

How long should you stay in Bora Bora?
5 nights – 4 full days on the island (minimum)
Four days of fun activities could include:
Day 1: Full day Lagoon Tour. The Coral Garden underwater park is a must.
Day 2: A bike ride around the entire island (32km) while stopping for swims and photo opportunities at the best spots.
Day 3: Morning walk. Beach time. A visit to Bloody Mary's at night would be enjoyable. This place would have to be the most popular dining choice for celebrities visiting the island. They even have a huge sign on the wall with names of famous visitors who have visited the establishment.
Day 4: A hike up Mount Pahia (661m) with the aid of a guide, or possibly Mt Ohue (619m). As long as you stand on one of the peaks.
If you have ever wanted to stay in an overwater bungalow, then Bora Bora is probably the place to do it.
Where to stay in Bora Bora: Four Seasons Resort Bora Bora offers an incredible experience. Rohotu Fare Lodge is also a great choice if you'd like a more private stay in one of only three bungalows.
2. Huahine
Huahine is actually made up of two islands, Huahine Nui (big) and Huahine Iti (little). Both islands are connected by a bridge. It's home to around 6 to 7 thousand very friendly people.
The island is blanketed in tropical jungle, banana groves, melons, breadfruit trees and coconut plantations to name a few.
Sacred temples are also hidden throughout the tropical jungle, with many around the village of Maeva. The island was once home to Tahitian royalty. It sounds like a true tropical paradise fit for a king.

5 nights – 4 full days on the island (minimum)
Four days of fun activities:
Day 1: Fare, the only town in Huahine is definitely worth a visit. An interesting sight across the water is a mountain range with contours resembling a pregnant woman. The name of Huahine is a variation of Tahitian word 'vahine', meaning woman.
Day 2: Explore the beautiful Huahine lagoon on an outrigger canoe. After that go for a drink at the Huahine Yacht Club.
Day 3: Find a vehicle and explore both islands. Look out for ancient fish traps using rocks to trap the incoming fish. Sounds genius. Hike up the volcano. Climb to the top of Matairea Hill. Explore abandoned hotels. Get lost in the tropical flowery jungle.
Feeding the sacred blue-eyed eels in the river by the town of Faie also sounds like it would be a very fascinating experience. The souls of dead islanders are believed to reside within these eels. Sounds like a Greek God or Goddess has done the deed. You can feed these 1-2 m long freshwater eels from the bridge.
Day 4: Walk through the rainforest to Hana Iti beach. Sit under a coconut tree at Avea Bay.
Huahine isn't known for its lush accomodation. If the island lives up to its reputation, it wouldn't matter. Garden of Eden folks! Nature at its best.
3. Maupiti
The beauty of Maupiti is that it's small enough to explore on foot since the island is only 11 square kilometres in size. In a 2007 census only 1200 friendly locals called it home.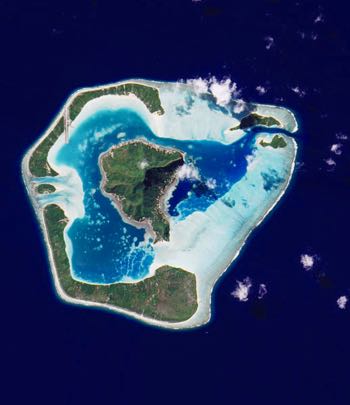 The island is described as a mini-version of Bora Bora.
It has been well-preserved because it doesn't allow any major resorts. As a result the island is probably much more authentic.
The island sounds like it would be a magical place to visit. I have to admit I have never heard of the place before writing about it. Staying with a friendly local host/family in a guesthouse would be a great experience.

5 nights – 4 full days on the island
Four days of fun activities:
Day 1: Observe the lucky locals and their laid back way of life in the village of Vaiea. You can go for a walk around the entire magical island in as little as 2 hours.
Day 2: Snorkel with the manta rays in Maupiti's lagoon. Marvel at Maupiti's coral garden.
Day 3: Relax at Tereia beach. Walk across from the main island through crystal clear water to Motu Auira.
Day 4: Hike to the top of Mount Teurafaatiu (372m), the highest point on the island, where you can hopefully seeing Bora Bora on a clear day. Mount Teurufaaitu is the highest point on the island, which offers incredible views of Raiatea, Bora Bora and Taha'a.
4. Raiatea
The island of Raiatea is the main yacht-charter center in French Polynesia. It is the second-largest island of the Society Islands after Tahiti.
How can one resist an island whose name translates as "faraway heaven"?
Raiatea is known as the 'Sacred Island' or 'Holy Island'. Many sacred sites exist on the island and some are considered extremely important. Marae Taputapuatea is the most famous.
This island is the cultural heart of the Tahiti Polynesian group. Taputapuatea remains a pilgrimage place for Polynesians of New Zealand, Hawaii, the Cook Islands, and all across the South Pacific homeland.
Marae Taputapuatea, located on the southeast coast, is the site of the largest outdoor marae (temple), in all of French Polynesia.
Hike up Mount Tapioi for soaring views across the lagoon to Taha'a.
Mount Temehani is the Polynesian equivalent of Mount Olympus, which towers over the northern part of the island. This 2,532-ft peak is where the unique white five-petalled Tiare Apetahi flower opens each morning with a crackling noise. The Raiatea waterfall hike is a 2.5-mile hike on the east coast of Raiatea below Mount Temehani.

The island has the Faaroa River which can be rafted along through dense tropical jungle.
How great would it be to explore the island for a couple of days and then afterwards go on a yacht trip for a few days? Maybe to Rangiroa, the second largest coral atoll in the world.
Where to stay in Raiatea: Choices include Raiatea Lodge Hotel or Opoa Beach Hotel, as well as several pensions and guesthouses.
5. Taha'a
Taha'a shares the lagoon with Raiatea.
Tahaa is famous for its Tahitian Vanilla farms and is known as the Vanilla Island. You will probably be able to smell the blooming Polynesian vanilla plants with their mesmerizing scent, especially if you happen to visit in July or August.
Taha'a is also home to flourishing black pearl farms.
Taha'a is accessible by a short boat ride from sister island Raiatea, which makes visiting the two islands together on the same trip pretty easy.

I would try to squeeze in a couple of nights on this island. The lagoon looks amazing.
Where to stay Taha'a: Le Taha'a Island Resort & Spa if you want to feel like a Hollywood star. Au Phil Du Temps is another great option if Le Taha'a Island Resort & Spa is too expensive.
6. Tahiti
The Island of Love. Papeete is Tahiti's capital, and considering that three-quarters of Tahiti's population lives on this island, it must have something going for it.
There must be a few dreamy places around parts of Tahiti or does everyone just escape to Moorea every chance they get?
5 nights – 4 full days on the island
Spending a few days on Tahiti would be fantastic, provided you don't have to give up other island time. Trekking up via a route to the top island peak would be incredible.
Attractions include Maraa Grotto and Fautaua waterfall, but Tahiti is best discovered from the sail yacht.
Vaipahi Gardens with its tropical plants and small waterfall looks should be on the agenda.
I have to say the Intercontinental Tahiti Resort & Spa looks heavenly.
A few famous individuals have left their mark in the paradise islands of Tahiti (French Polynesia) including:
1) Captain James Cook visited three times to study the transition of Venus. Was he under the spell of Aphrodite (Venus), Goddess of Love? The spot where Cook camped in 1769 is now known as Point Venus. It is located on the island's northernmost point.

By studying the transit of Venus through the sun, he hoped it would help him calculate the earth's distance from the sun. Nice excuse if I ever heard one. Today the place is a popular excursion for tourists.
2) The artist and painter Paul Gauguin.
A visit to the Gauguin Museum next to the exotic botanical gardens would be enjoyable.
I highly recommend these two very interesting movies to appreciate the life of the French post-Impression painter Paul Gauguin (1848-1903).
Lust For Life (1956)
Paradise Found (2003)
Gauguin: Voyage to Tahiti (2017) – French film with English subtitles
After watching Paradise Found, you'll also better appreciate the Greek Gods. One God won't cut it.

3) Fletcher Christian is the guy who orchestrated the mutiny on board Captain Bligh's ship, the HMS Bounty. There had to be some crew members who never wanted to head back to dreary England after seeing the paradise of Tahiti. Or was it called French Polynesia back then?
Watch these three movies to get the lowdown with the Hollywood version of events that took place during this mutiny.
Mutiny on the Bounty (1935)
Mutiny on the Bounty (1962) – the Marlon Brando classic
The Bounty (1984)

It's no wonder Marlon Brando fell in love with the lead Tahitian dancer, Tarita Teriipaia, while filming the Mutiny on the Bounty.
Marlon Brando even purchased his own island in French Polynesia. The island of Tetiaroa was once a holiday destination for Tahitian royalty so that alone should tell you how beautiful the island must be.
Where to stay in Tahiti: for an overwater bungalow experience in a luxury setting, the Intercontinental Resort Tahiti is hard to beat. You will probably never want to leave if you dine at Le Lotus Restaurant, a romantic, overwater dining room at the InterContinental.
Tahiti Ia Ora Beach Resort is another good option. Vanira Lodge is a great option away for a more secluded stay away from the city.
7. Moorea
Moorea is only a 40 minute ferry ride away from Papeete, the capital of Tahiti. This pristine island looks magnificent. Seven nights on this island paradise would be perfect if the weather's great.
Fabulous destinations worth visiting include the Dolphin Centre, Vairoro Falls and Opunohu Bay.
The Belvedere scenic lookout is a great place to take in the awesome view of the two bays.
Snorkelling with friendly Pacific stingrays and blacktip reef sharks in Moorea Lagoon would be fun.
For night time entertainment, head to the Tiki Village for a Polynesian buffet dinner followed by a spectacular fire and dance show.

7 nights – 6 full days on the island (minimum)
Where to stay in Moorea: Sofitel Moorea la Ora Beach Resort is a top luxury choice. If you're looking for more of a boutique experience then Hotel Fenua Mata'i'oa.
The list could go on and on. With 100 or so islands to explore, it would take a very long time to see them all.
No one has to see them all since these 7 magical islands would provide an unbelievable taste of paradise.
Greek Gods and Goddesses, you truly know how to torture big city folk.
At least you've shown us what's possible in this universe and what awaits the lucky few.
Understanding French Polynesia
Tip: Tiare Tahiti literary means "flower of Tahiti." It's a flower worn behind the ear.
If worn behind the right ear, it means you're available.
If worn behind the left ear, it means you're taken.
Waved behind the head, it means "follow me to paradise."
The five main archipelagos in this amazing paradise include:
1. Society Islands
These islands are divided into the Winward Islands and Leeward Islands.
Winward Islands include:
Tahiti (high island)
Moorea (high island)
Mehetia (high island)
Tetiaroa (coral atoll – famously purchased by movie star Marlon Brando)
Maiao (coral atoll)
Leeward Islands include:
Bora Bora
Raiatea
Taha'a
Maupiti (known as Bora Bora's younger sister)
Huahine (known as the 'Garden Island' and often referred to as the 'Garden of Eden')
Atolls are unique islands formed when a coral reef grows around a volcanic island. They later subside into the ocean leaving a circular low lying reef around the island.
Sandbanks and overgrown islets then develop which encloses the lagoon. These are known as 'motus' (reef islets) in the Polynesian language.
2. Tuamotu Archipelago
This is where the vast majority of islands are located, with almost 80 islands and atolls in total.
Islands include:
Rangiroa (located about 355 km northeast of Tahiti)
Tikehau
Tiputa
Fakarava
3. Astral Islands – 7 islands
4. Gambier Islands – Over 1,000 km southeast of Tahiti, with Mangareva being the largest island.
5. Marquesas Islands – 15 islands
Choosing where to go in paradise and for how long is the hardest decision to make, especially for first-time visitors.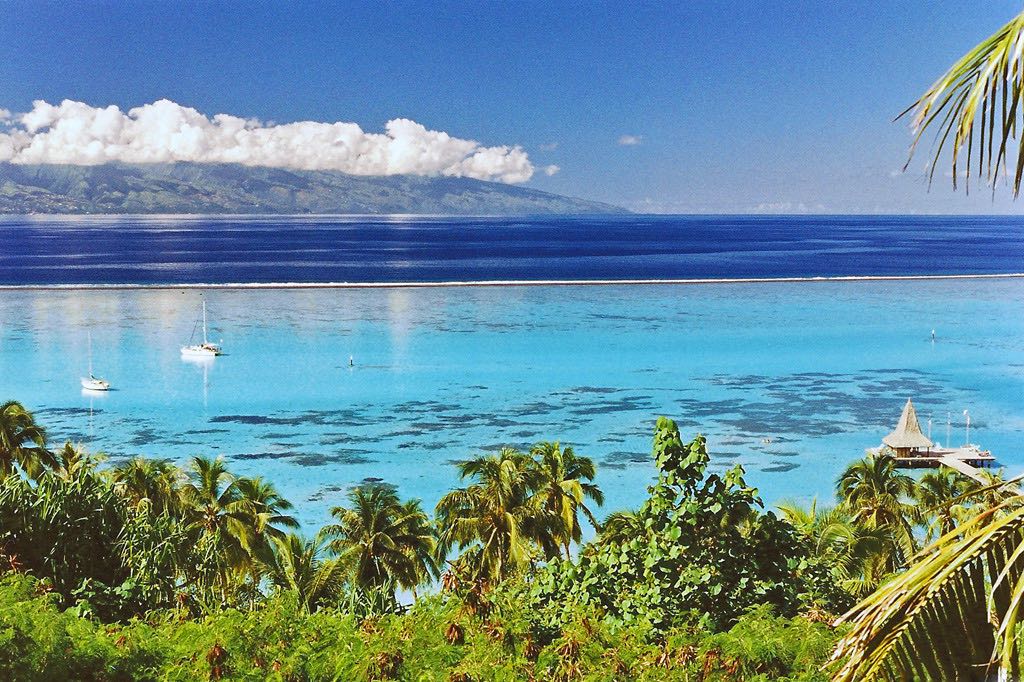 Best time to visit the islands of Tahiti (French Polynesia)
June – August: Peak season
July – August: This is when most of the festivals and events happen, such as Heiva festival (July for 1 month) and Hawaiki Nui Canoe Contest.
May – October: Good time to visit
November – April: Higher likelihood of tropical storms and rain which can spoil the experience.
In this travel-guide, we mainly looked at the Society Islands.
Pin it … Share it