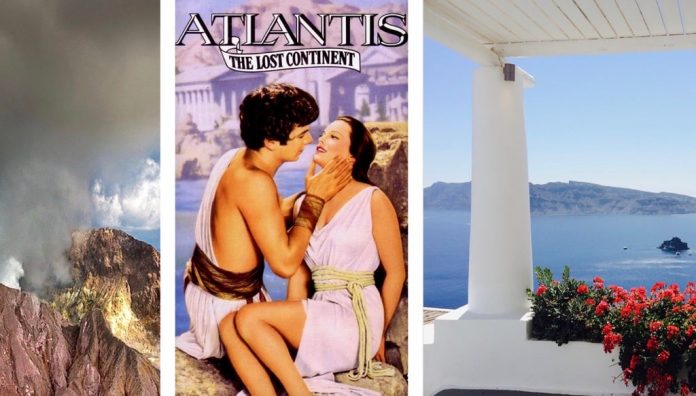 How many of these 12 Atlantis movies have you seen? Check them out. There are quite a few movies with Atlantis themes, so here I am recommending what I consider to be the 12 best Atlantis movies.
All of these movies have a connection to Atlantis in someway.
The ancient Greek philosopher Plato has a lot to answer for. If he had never mentioned Atlantis in texts, I doubt whether any of these Atlantis movies would have ever been filmed.
That would mean that this post would never exist. You might have never found Greek Gods Paradise and so on.
I think we can all thank Plato and the Greek Gods for these Atlantis movies.
1. Atlantis, the Lost Continent (1961) – My top pick of Atlantis Movies
Atlantis, the Lost Continent in my mind is the best Atlantis movie to effectively combine the myth of Atlantis story with Ancient Greece. You have to watch it.
2. Aquaman (2018)
A pretty good movie all up and it is quite memorable in a good way.
3. Journey to the Centre of the Earth (1959)
One of my favourite older films, it's an absolute classic! The explorers attempt to reach the core of the earth and discover the mythical Atlantis.
4. 20,000 Leagues Under the Sea (1954)
The thing that really stands out for me in this movie with Atlantis themes is the giant squid.

This movie was based on Jules Verne's 1870 novel. Atlantis is on the agenda.
5. Man from Atlantis (1977, Television Move)
Man from Atlantis was an American television series which ran from 1977-1978. Over this period it produced 4 television films and 13 episodes.

The very first TV movie involved the discovery of an unconscious man lying on the beach near a Naval Undersea Centre. The incredible thing about this mystery man is that he possessed webbed hands and gills instead of lung allowing him to breathe underwater, just like a fish.
I found this show incredible when I was a gullible kid. I actually believed a guy like this had to exist somewhere. Why would anyone make it up? Think of the Man from Atlantis as a Merman (Mermaid) hero.
6. Hercules and the Conquest of Atlantis (1961) – aka Hercules and the Captive Women
This Italian made Hercules movie is a very entertaining. It combines Hercules with Atlantis, so it at least sound good? The original title included Atlantis, but in the US they changed it to Hercules and the Captive Women.
The Queen of Atlantis aims to take over the world with superhuman warriors. The evil clone fighting scene is a classic.
7. Warlords of Atlantis (1978)
Ship-wrecked sailors meet an advanced race who make them their slaves after searching for the lost city of Atlantis.
8. Journey 2: The Mysterious Island (2012)
Atlantis looks pretty decent in this film.
9. Atlantis: The Lost Empire (2001) – Disney Animated Film
You wouldn't consider this one of Disney's best movies, but it is definitely worth watching once. The movie doesn't really linger in the memory, unlike most of Disney's other animated classics. You can click here to play the trailer of Atlantis: The Lost Empire as shown on IMDb.
10. Atlantis: End of a World, Birth of a Legend (2011)
This film about Atlantis is a dramatised documentary. It has some cool reviews.
11. MacGyver: Lost Treasure of Atlantis (1994)
Movies with Atlantis themes can often come from anywhere.
12. Conqueror of Atlantis (1965)
This Italian made movie seems to have influenced the sci-fi movie Flash Gordon (1980). Check it out. You'll see a Ming the Merciless lookalike character in this Atlantis movie.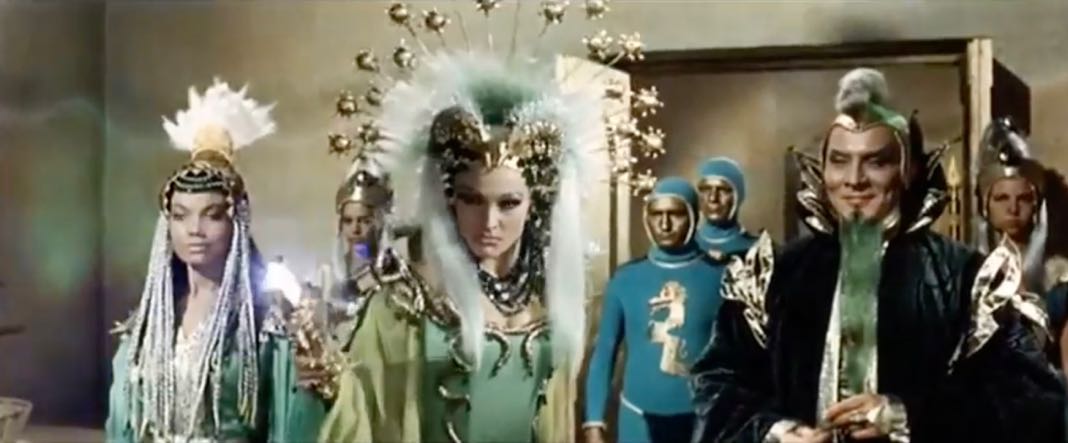 The body guards in the movie also share a very similar appearance to the guards in Flash Gordon, except in this bizarre movie they wear blue body suits instead of red ones.
More movies for Atlantis myth fans who can't get enough:
Lost Atlantis (L'Atlantide) (1921) – The quest for immortality
Undersea Kingdom (1936)
Siren of Atlantis (1949)
The Giant of Metropolis (1961)
Beyond Atlantis (1973)
The Amazing Captain Nemo (1978) – The film is compilation of 3 episodes from the TV series
Island of the Fishmen (L'isola degli uomini pesce) (1979) – aka Island of Mutations
Cocoon (1985)
Alien From L.A. (1988)
Escape from Atlantis (1997) – the beginning is great, then fell asleep after
Holiday in the Sun (2001) – Starring twin sisters Mary-Kate and Ashley Olsen
Atlantis II: Milo's Return (2003) – The sequel to the animated film, Atlantis: The Lost Continent
Legend of Atlantis (2004) – Golden Fleece Animated Film
10,000 BC (2008)
Justice League: Throne of Atlantis (2015)
Atlantis in TV Series – Honourable mentions
Man from Atlantis (1977-1978)
Hercules: The Legendary Journeys – Atlantis (Season 3, episode 22)
Atlantis (2013-2015)
Stargate Atlantis (2004-2009)
Spongebob's Atlantis SquarePants – The 92nd episode of the animated series
Nadia: The Secret of Blue Water (1989-1990) – Japanese Anime, influenced by Jules Verne's 20,000 Leagues Under the Sea.
If you're interested in all things Atlantis, then you may be interested in this very mysterious modern day Atlantis myth.
The Defend Atlantis Winner Myth
Atlantis myth movie fans may also enjoy reading:
20 Greek Mythology Movies You Must Watch
30 Sword and Sandal Peplum Movies
The 12 Best Hercules Movies with Memorable Scenes
Finally, why don't you visit Atlantis for yourself. You may think that it can't be done, but it can be done in a fun way. Here's where to go to find Atlantis:
Best Waterparks in the World with Atlantis Themes
The island of Santorini in Greece is often speculated as being the original Atlantis. Why not visit Atlantis bookstore on Santorini?
14 Best Things to Do in Santorini (Travel Guide)
Pin it … Share it