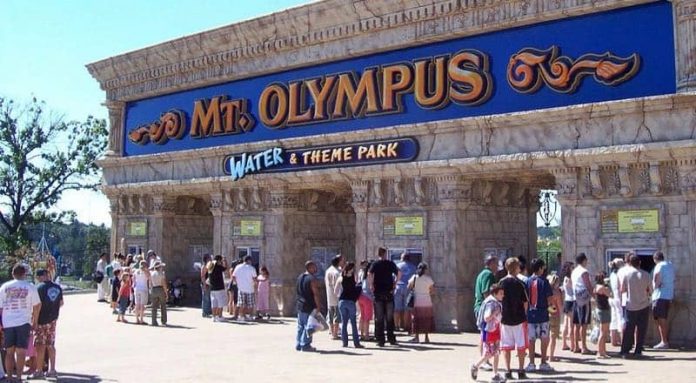 Mt. Olympus Water Park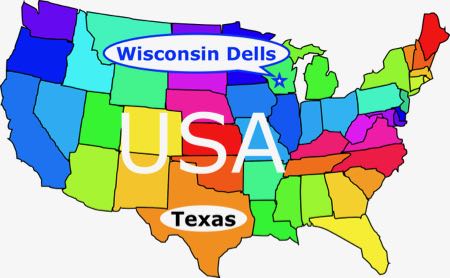 Mt. Olympus Water & Theme Park is located in the city of Wisconsin Dells in the American state of Wisconsin.
Neptune's Water Kingdom
Neptune's Water Kingdom is the name of the outdoor waterpark section.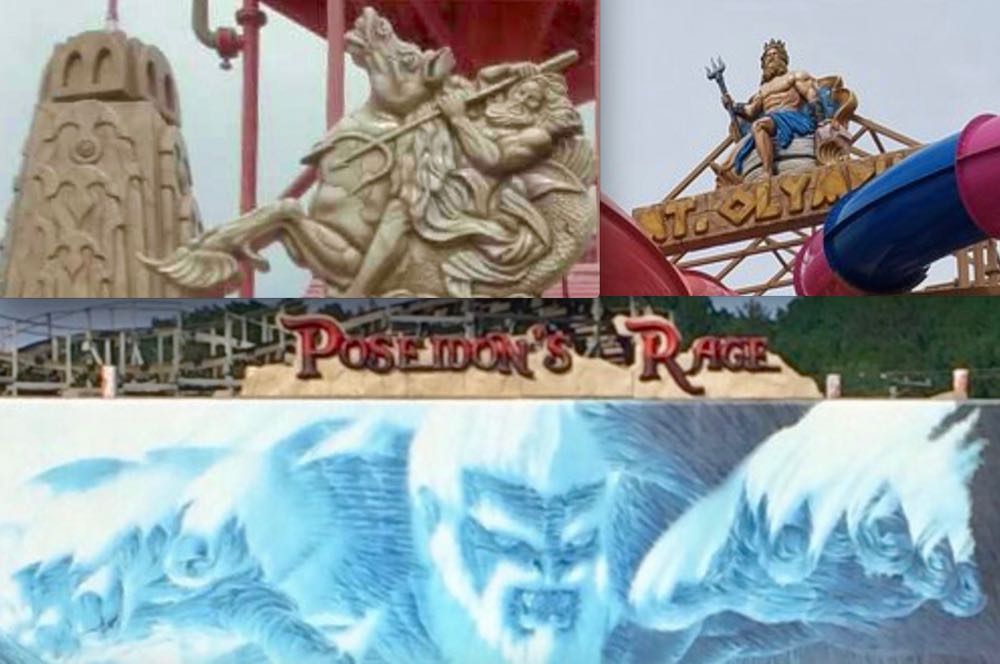 The main highlights of Neptune's Water Kingdom include:
Poseidon's Rage – This is one of the world's largest wave pools.

Be prepared for a 9 foot wave to crash into you every 90 seconds or so.

Lost City of Atlantis – This outdoor water fortress is six stories high. There's a water geyser blasting over 120 feet high and a monster water dump bucket.
Water slides include: the spinning champagne bowl slide, a boomerang slide, a family raft slide and kid's water slides.
If you can't get enough of Atlantis, here are some more waterslides based on the Atlantis theme located around the world.

Triton's Challenge Speed Slides – This 6 lane side-by-side downhill racer is over 350 feet long.
Triton's Rage & Fury Raft Slides – Two five story high water slides which allow up to three people to raft down a variety of twists and turns both ending with a splash into a refreshing water pool.
Thunder and Lightning Body Slides – Very fast slides. Lightning is fully enclosed.
This video will give you a good feel for the type of waterslides available in Mt. Olympus Water Park.

River Troy – Float along a waterway between the two worlds of Medusa and Poseidon breaks through the boundaries of indoor/outdoor water and theme park.
The Great Pool of Delphi – A huge 27,000 ft. sq. swimming pool with room to play for over 4,000 people. It cost $4 million at the time.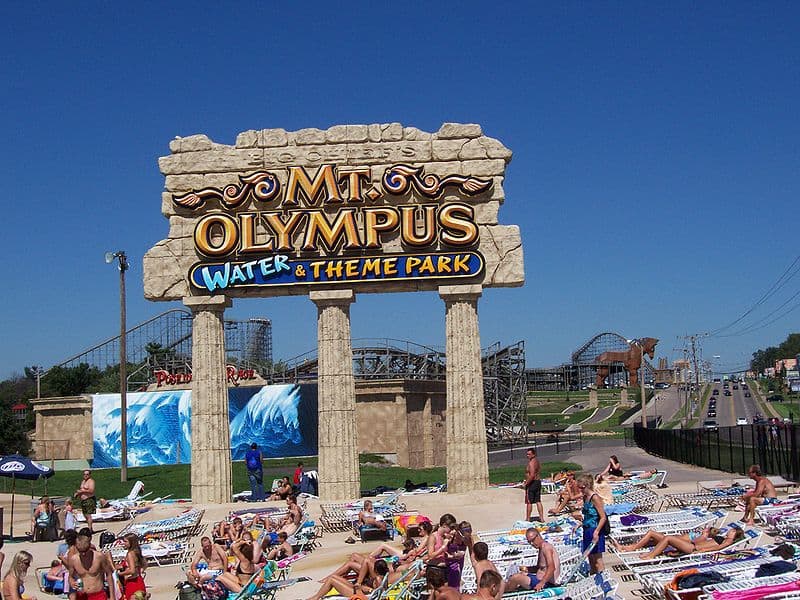 Poseidon's Beach
Medusa's Indoor Water Park
Slide down the snake named waterslides or relax in one of the steamy whirlpools.
You can slide down Anaconda, Boa, Cobra and Diamondback.
Mt. Olympus Outdoor Theme Park – Zeus' Playground
Hades 360 Rollercoaster – You will reach speeds of 70 MPH. Be awed by a drop height of 140ft and the 360-degree barrel roll. This is the world's first upside-down wooden rollercoaster with the world's longest underground tunnel.
Hades will probably make some of you scream. Thankfully this isn't a one way ticket to Hades and the Underworld.

Zeus Rollercoaster – Zeus offers a load of twists and turns with over 2,700 feet of track. This thrill ride at one point plunges you down 60 MPH with an 85 foot stomach-churning drop! Zeus will command your respect.
Cyclops Rollercoaster – Cyclops roars 70 feet above the ground and intermingles with Zeus and Hades. It is very unlikely you'll ever forget about this 1,680 foot run.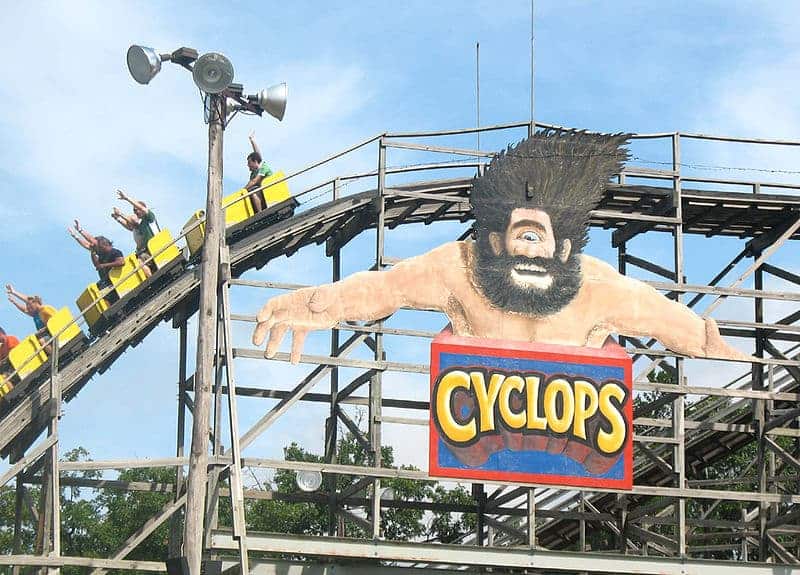 Pegasus Rollercoaster – Pegasus swoops around and dives over 1,600 feet of track.
Little Titans – A smaller rollercoaster for younger kids.
Trojan Horse Go-Kart Track – This 3-story high, multi-level ride, takes you through the belly of the Trojan horse. That's a pretty unique thing to do.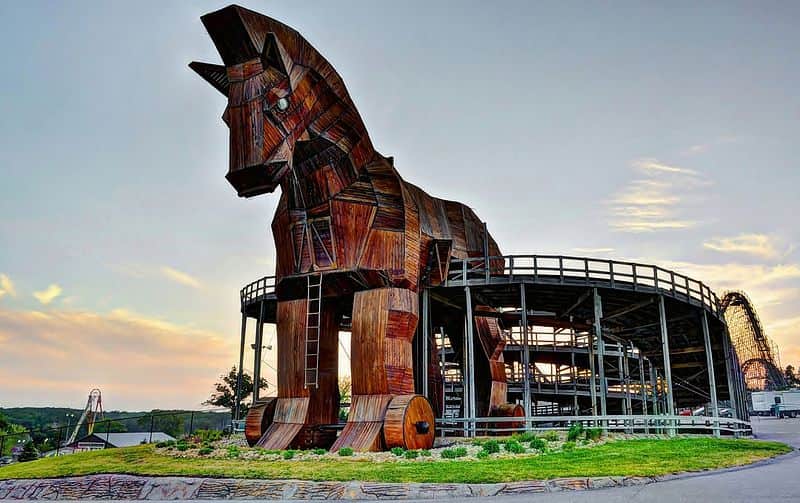 How cool is this? No wonder the Trojan horse has become a famous landmark in Wisconsin Dells.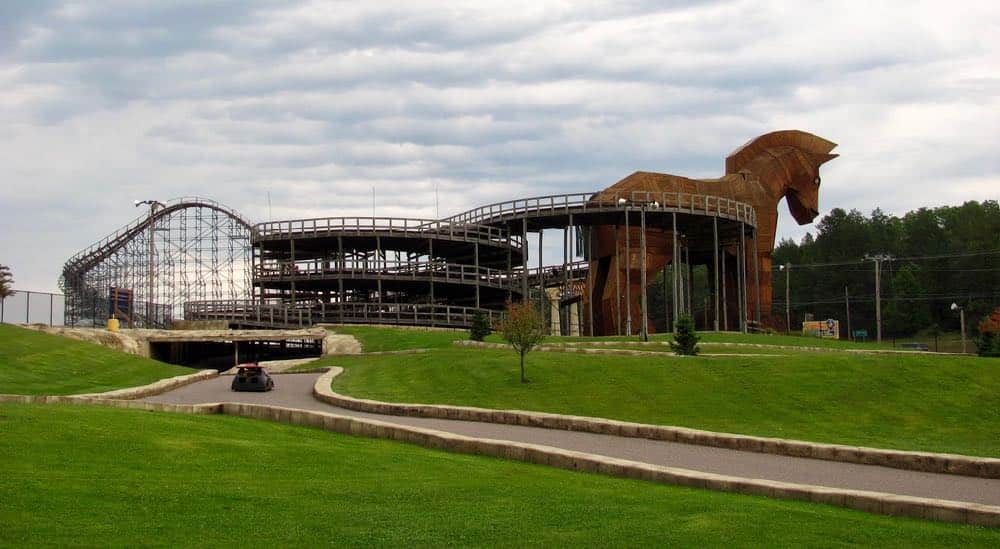 The Underworld Go-Kart Track – Go-kart racing through the depths of the Underworld!
Poseidon Go-Kart Track – I'm not sure if this is still around.
Hermes Turbo Go-Kart Track – Hermes is the messenger to Zeus. The God of travellers and athletes alike has a special challenge for you.
This is the fastest track at Mt. Olympus Theme Park. Can you defeat the wing-footed God!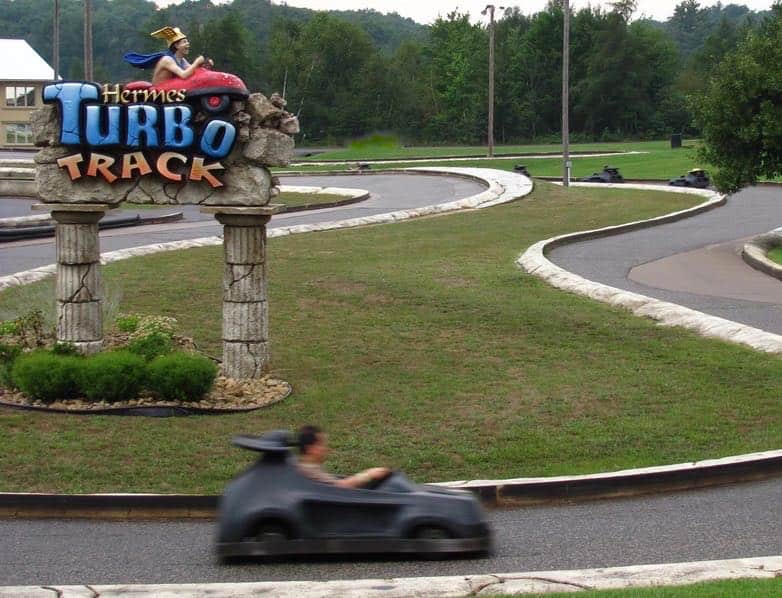 Titan's Tower Go-Kart Track – The Titans were the original rulers of the Earth. Their legacy lives on in the longest track in Mt. Olympus theme park. Watch out though, one wrong turn and you could end up in the realm of Hades!
Helios Go-Kart Track – This multi-level track pays respect to Helios, God of the Sun.
Orion Intermediate Go-Kart Track – This Mt. Olympus go-kart track is perfect for junior go-kart racers.
Apollo's Swing – Swing high above the ground like a God.

Almighty Hermes Swing Ride – You will soar high over Poseidon's Rage with your heart in your mouth.
Pan's Animal Farm – Can you spot Pan, the goat man?
Parthenon Indoor Theme Park
Contains video arcade games and other amusements.
Food
After some fun in Mt. Olympus Water and Theme Park you may get hungry. Unfortunately one-eyed people can't take any food or drinks inside Mt. Olympus Water & Theme Park.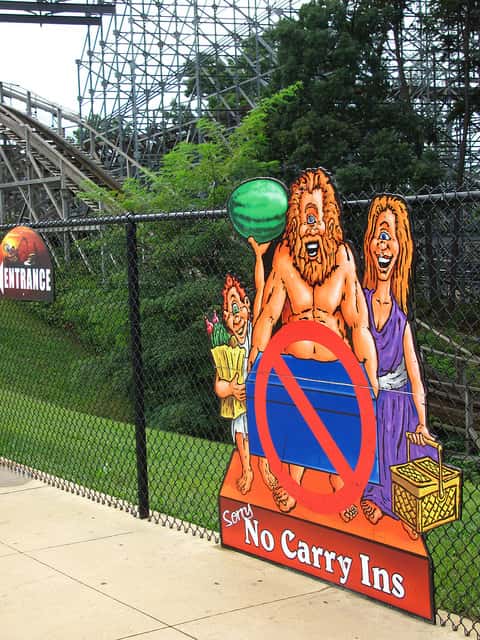 That doesn't really matter as you can always grab something to eat at My Big Fat Greek Pizza Joint.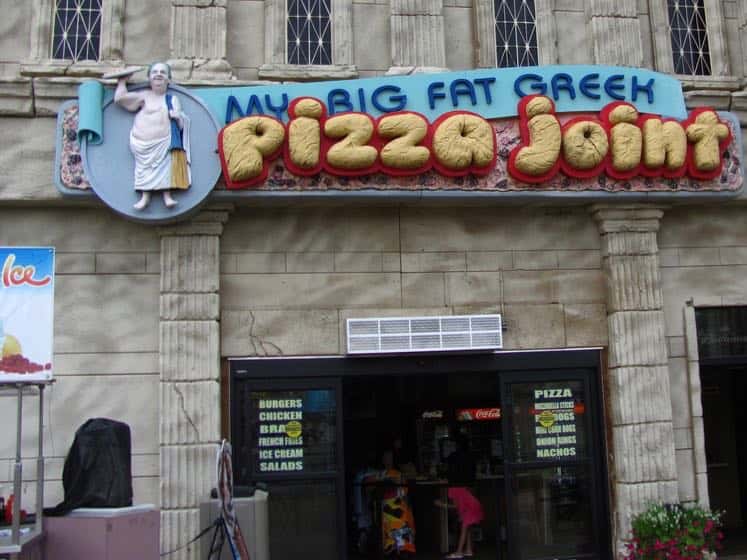 Other options include: Latte Goddess, Medusa Café, Tidal Wave Concession Stand, Mythos Grill, Pandora's Candy, Tiki Bar, Greek Tycoon, Gladiators Bar and Grill, and Cafe' Opa.
If you want to buy something to take home with you, Aphrodite Gifts and Apparel should have something nice to buy.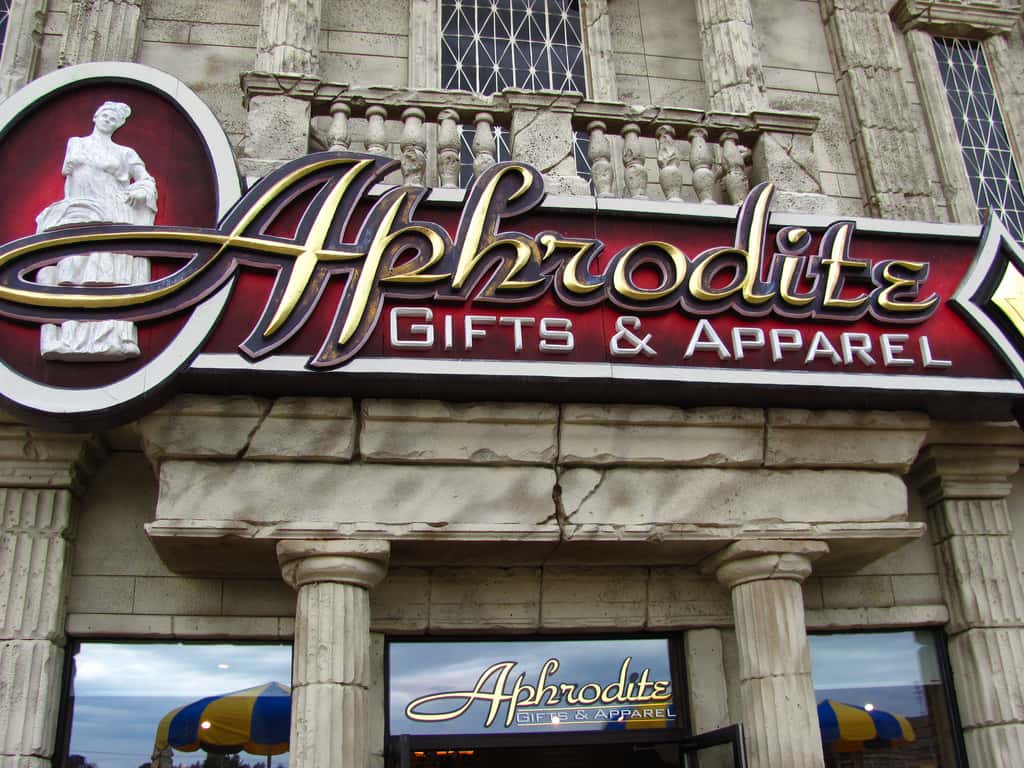 Demetrios "Jim" Laskaris is an absolute legend! It's like this guy was planted in Wisconsin Dells by the Greek Gods, or is he a Greek God himself?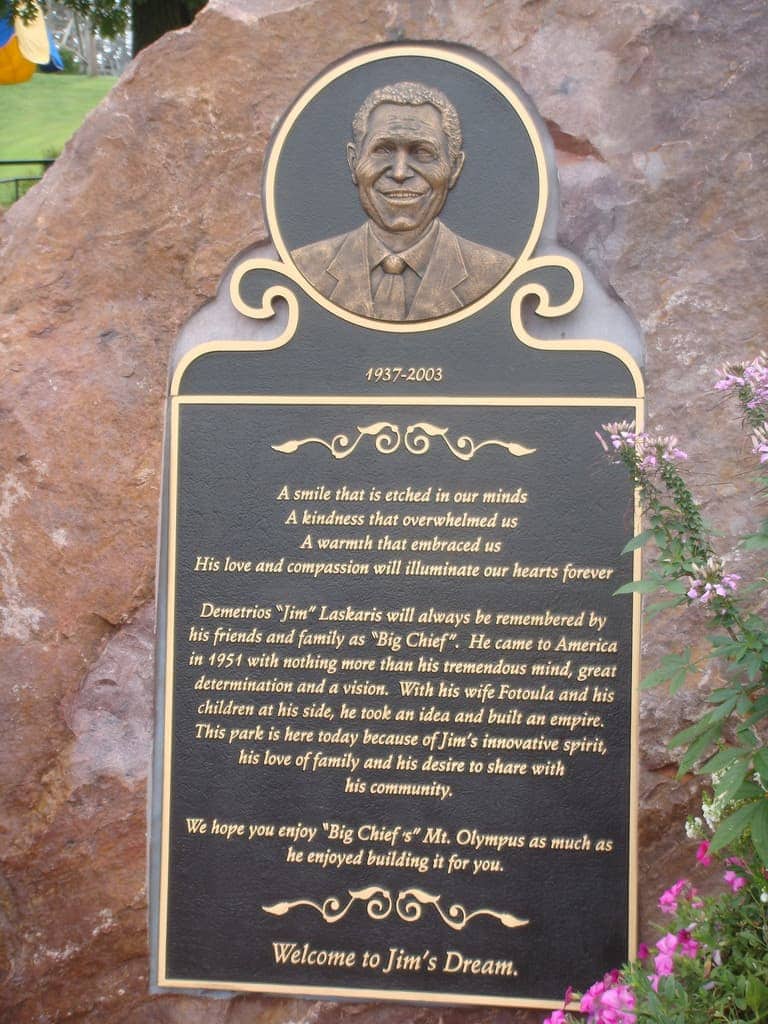 While you're in Wisconsin Dells, you might as well visit the Upside Down White House. Someone obviously wanted to make one big grand statement for the Greek Gods in this crazy world.
You don't put a monument like this next to a park named Mt. Olympus for nothing.

You can even see part of a Mt. Olympus rollercoaster ride in the distance in the photo below.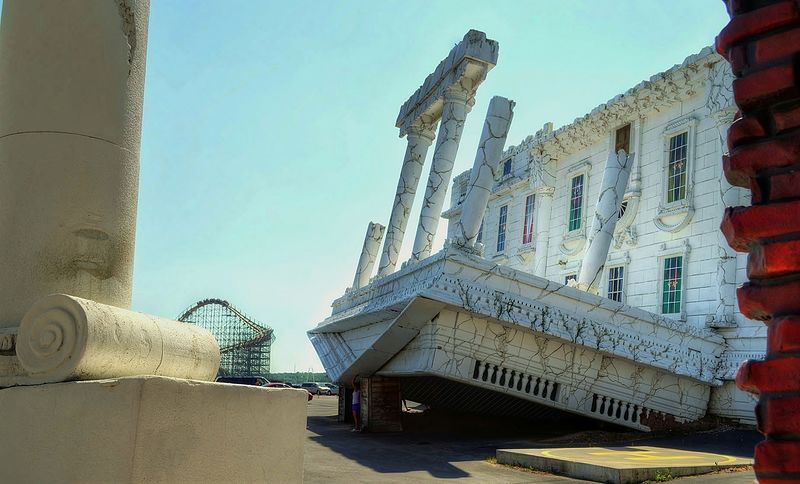 Is it Zeus or Hades?
Noah's Ark Waterpark
The added bonus of being in Wisconsin Dells is that you'll be able to visit NOAH'S ARK WATERPARK. This is the largest waterpark in America.
That's where you can slide down the largest King Cobra slide in the world.
The Waterpark Capital of the World
Wisconsin Dells is the "Waterpark Capital of the World". It is home to the largest concentration of indoor and outdoor waterparks on Earth. With over 20 different parks and more than 200 slides, Wisconsin Dells looks like a great place to take a vacation.
You can even find Atlantis Waterpark Hotel in Wisconsin Dells.
Here are some more awesome theme park rides based on Greek Mythology located around the world. Check them out.
Pin it .. Share it