Here you will find the most amazing theme park rides and attractions in the world paying tribute to Greek mythology and the Olympian Gods, that I know about.
This proves that Greek mythology can be awesome fun! All you have to do is think about Pegasus, the famous flying horse from ancient times, to realise that the Greek Gods love an awesome ride.
These modern theme park rides and attractions based on Greek mythology would thrill kids, teenagers, great parents, the young of heart, and possibly even the Greek Gods and Goddesses themselves. Yeah, they like to have some fun too.
Before visiting any of these amusement park rides and attractions, make sure they still exist, because even if they do, they could easily disappear from the face of the earth, similar to how the Greek Gods and Goddesses vanished long ago.
Another thing, watch the movie National Lampoon's Vacation (1983) one more time and try and learn all you can from the Griswold family. Make sure the place is open before you go and don't be a Wally.
Theme Parks with Greek Mythology Rides and Attractions
1. Universal Orlando Resort
Interesting attractions include:
Poseidon's Fury (Universal Islands of Adventure)
You'll venture through an ancient Temple of Poseidon, Greek God of the sea, and witness an epic battle.
https://youtu.be/y5ZxZsBKQjc
This is one of the first versions of this attraction (from 2000) but things have changed over time and new battles were fought. Many consider this to be the best storyline.
2. Busch Gardens Theme Park
Location: Busch Gardens Williamsburg, James City County, Virginia, United States
The star attraction:
Apollo's Chariot
3. Six Flags Discovery Kingdom
Location: San Francisco/Sacramento, California, United States
Interesting attractions include:
Medusa (roller coaster)
Wonder Woman Lasso of Truth
Interesting note: Percy Jackson: Sea of Monsters (2013) was filmed by 20th Century Fox at this theme park.
4. Dorney Park & Wildwater Kingdom
Location: Allentown, Pennsylvania, United States
Interesting attractions include:
Hydra (also referred to as Hydra the Revenge)
Hydra the Revenge is a floorless roller coaster at Dorney Park & Wildwater Kingdom in Allentown, Pennsylvania with a Lernaean Hydra theme.
The name of the ride pays tribute to the "Hercules" wooden roller coaster that once stood on the same spot. The theme follows the Hydra coming back to life and seeking revenge over Hercules.
5. Six Flags Mexico
Medusa (roller coaster)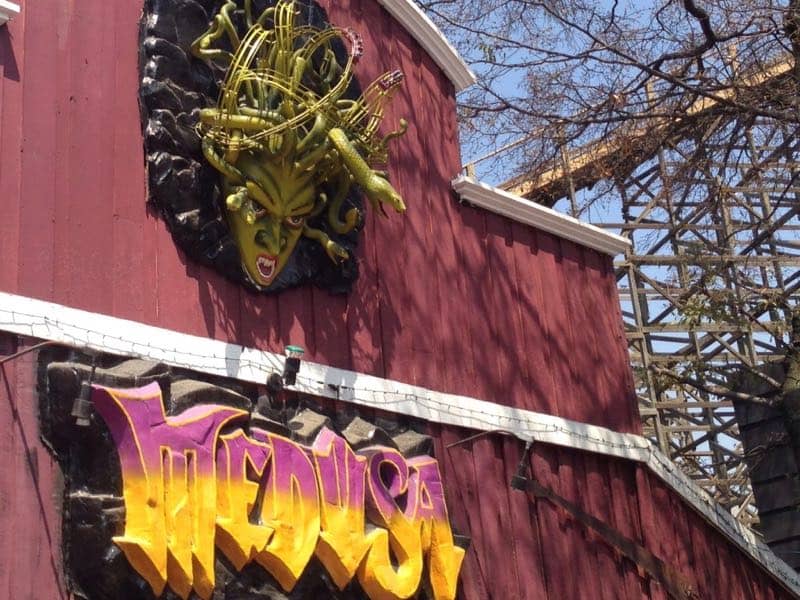 6. Atlantis Paradise Island Resort – Bahamas
Location: Paradise Island, Bahamas
Great attraction:
Leap of Faith
7. Parc Asterix – France
Location: Plailly, Oise, France
Greek mythology attractions at Parc Astérix include:
Pégase Express
Tonnerre de Zeus (Thunder of Zeus)
The Zeus roller coaster ride offers a chance to see a giant statue of Zeus. There's also a Greek temple to pass through.
8. Europa-Park – Germany
Location: Rust, in southern-western Germany
Interesting attractions include:
Pegasus (The YoungStar Coaster)
Cassandra's Curse
Atlantica SuperSplash
Atlantis Adventure
Greek Quarter
Water Rollercoaster Poseidon
"Poseidon" is a unique combination of roller coaster and water ride. You start in a Greek temple and enter the water world of Poseidon.
9. German Fairs
Location: All around Germany
Olympia Looping (Has travelled around Germany at various fairs)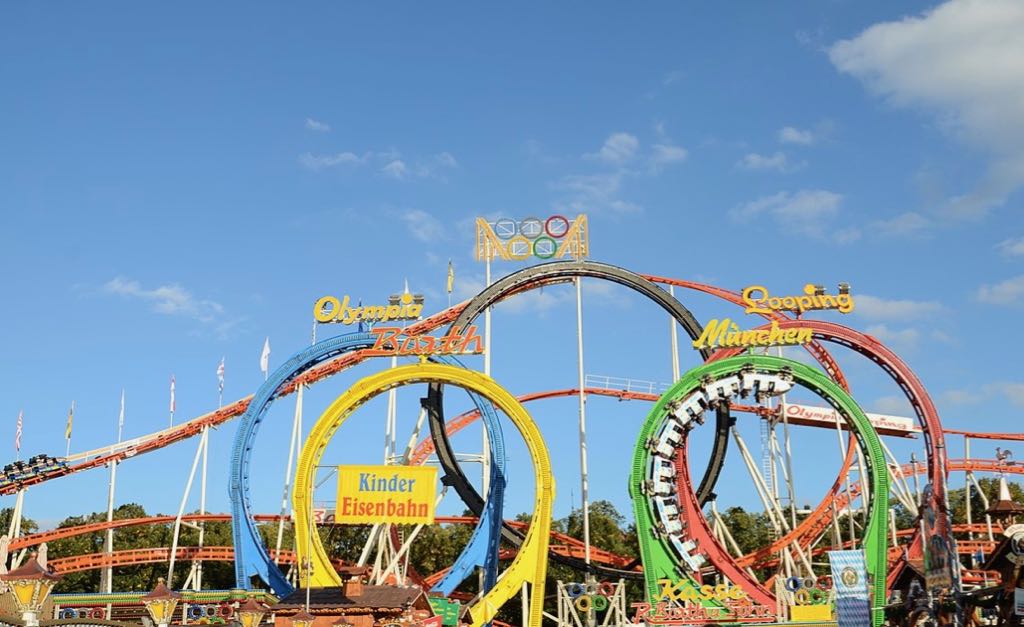 10. Terra Mitica – Spain
Location: Benidorm, Alicante (near Valencia), Spain
Interesting attractions include:
The Icarus
La Furia de Tritón (Triton's Fury)
Los Rápidos de Argos (Argos' Rapids)
El Rescate de Ulises (Ulysses' Rescue)
Labyrinth of Minotaur
11. Grona Lund – Sweden
Location: Stockholm, Sweden
Greek myth attraction:
"IKAROS" SKY JUMP (Ikaros INSANE 90 Degree FACE DOWN Drop Ride)
12. WaterWorld Waterpark – Cyprus
Location: 18 Ayia Thekla Rd, Ayia Napa 5345, Cyprus, Greece
Waterworld is a theme park based on Greek mythology. Even as of 2017 it had already won 31 international awards. It's the largest themed waterpark in Europe.
Interesting Greek mythology attractions include:
Zeus Thunderbolt
Drop to Atlantis
The Quest of Heracles
Trojan Horse children's area
Aphrodite's Bath
13. Labyrinth Theme Park – Crete
Location: Hersonissos, Crete, Greece
Greek mythology attractions include:
The Labyrinth (Maze)
Laser Maze: Trojan Horse
14. Grecotel Riviera Olympia Mega Resort and Olympia Aqua Park – Crete
Location: Peloponnese, Greece
The mascots of the park are Hercules and Olympia. Looks like a great place.
I'm sure even the Greek Gods and Goddesses would enjoy themselves here.
15. Mt. Olympus Water Park and Theme Park Resort
Location: Wisconsin Dells, Wisconsin, United States
Mt. Olympus consists of four main areas:
Zeus' Playground (outdoor theme park)
Neptune's Water Kingdom (outdoor waterpark)
The Parthenon (indoor theme park)
Medusa's indoor water park.
Some of the interesting Theme Park attractions inspired by Greek mythology include:
The Great Pool of Delphi
Poseidon's Rage Surf Pool
Zeus
Hades 360
Cyclops
Pegasus
The Almighty Hermes Sky coaster
Trojan Horse go-cart track
The Parthenon Indoor Theme Park and Thunder and Lightning Speed Slides
Here's a more in-depth look at Mount Olympus Water Park and Theme Park.
Pin it … Share it