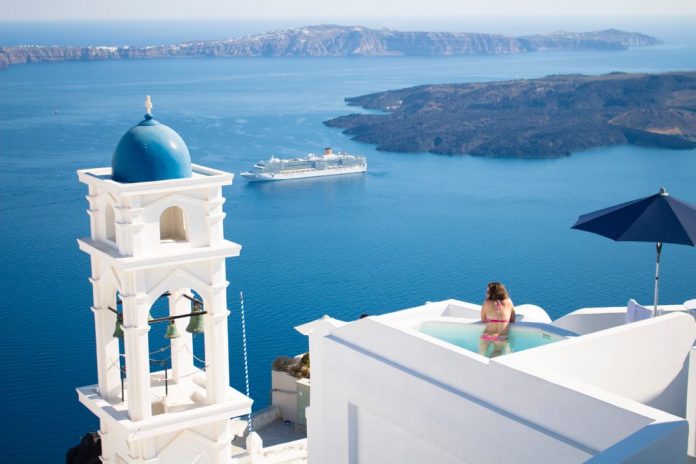 Imerovigli in Santorini offers that extra secluded feeling we all yearn for sometimes. This beautiful village in Santorini is lesser known than Fira town, the capital of Santorini, and Oia, the dreamy coastal town on the northwestern tip of Santorini, however it has a serene vibe you won't want to miss.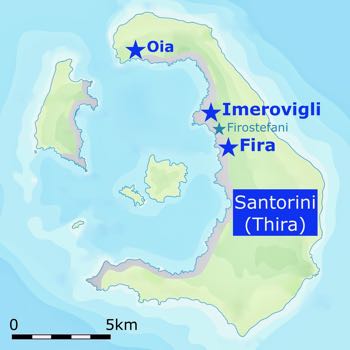 The picturesque village of Imerovigli is located between Fira and Oia.
It is about 3km away to the north of Fira and only 1km away from Firostefani.
Oia is on the other side of Imerovigli as you can see from the map which shows the order as Fira-Firostefani-Imerovigli-Oia.
The village of Imerovigli is known as the "The balcony to the Aegean" for good reason since it offers some of the best views in Santorini.
The charming village is situated approximately 300 meters above sea level, on the highest part of Santorini's caldera cliffs, so you will definitely get to see amazing views of the Aegean sea, the flooded caldera (volcano) and the world-famous sunset.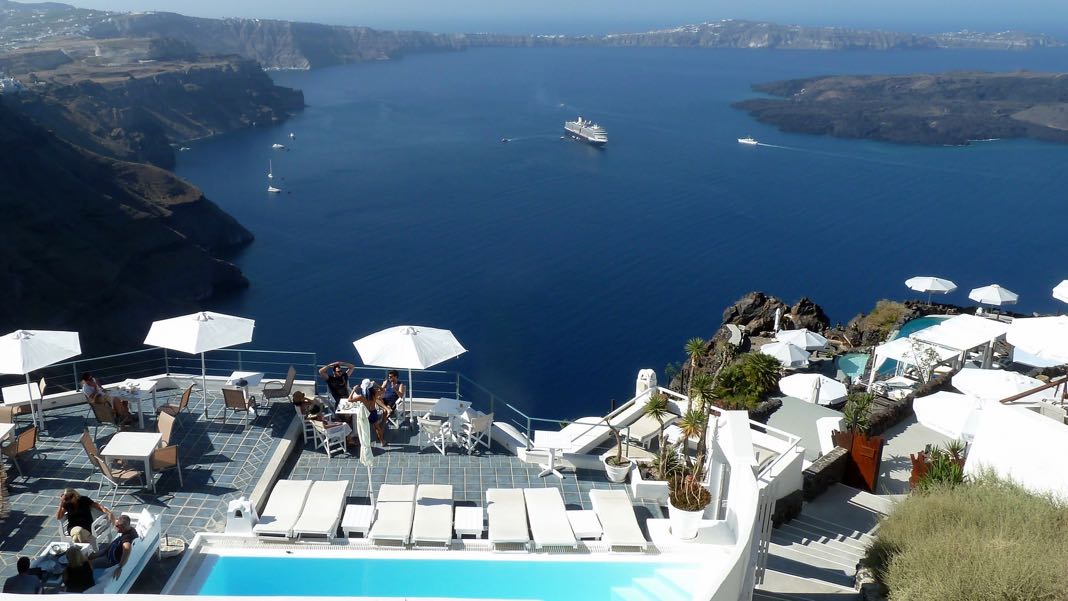 A few hours spent in Imerovigli would be icing on the cake for anyone visiting Santorini.
The best way to see this special place briefly would be to go on the famous walk from Fira to Oia or vice versa, since it is on the way.
The 3 hour, 10.5km hiking trail, might be a bit steep at some points but it's definitely worthwhile doing as it will reward you with beautiful memories.
Imerovigli is reknowned for having some of the best views in Santorini and if this is what to expect, then I am sure you would agree that the views ain't too bad.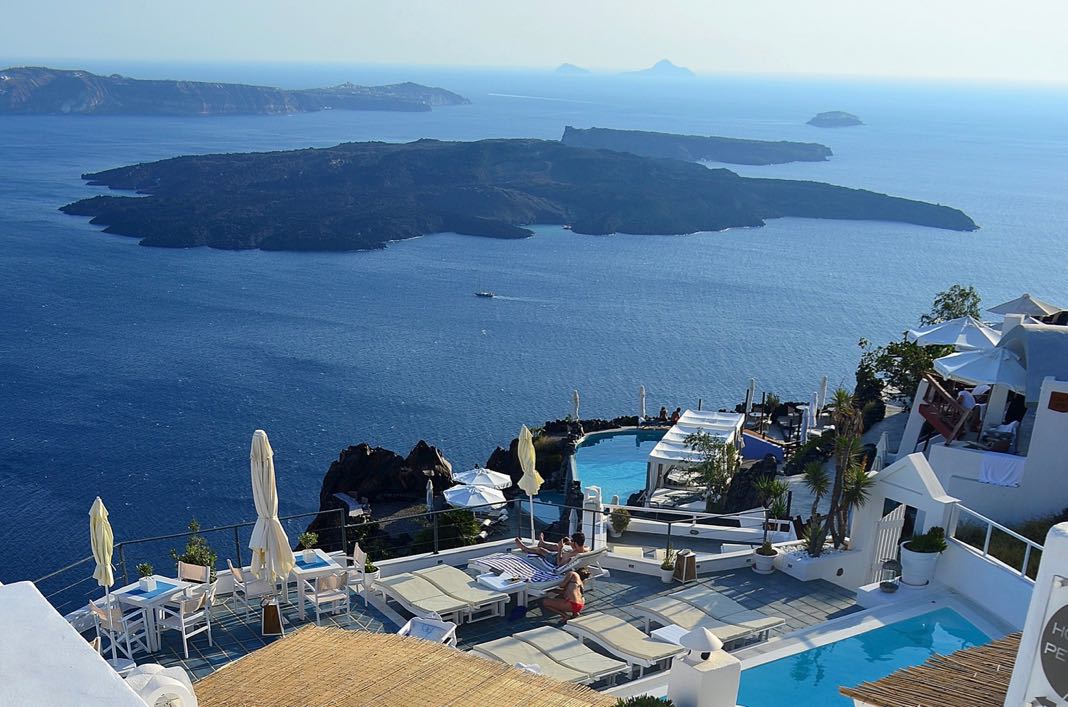 These pools look fabulous. Maybe one night spent in Imerovigli is the best way to go, especially as a stopgap night between stays in Fira and Oia. I'm sure a trip to Santorini would be all the more magical for it.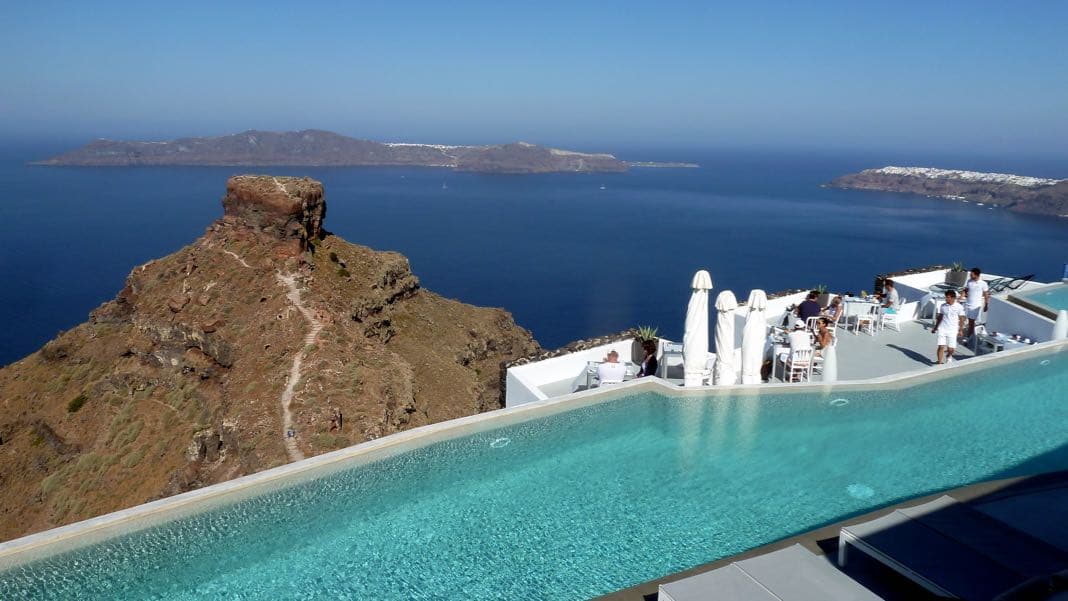 Skaros Rock – Imerovigli
As you arrive in Imerovigli, Skaros rock will immediately draw your attention.
The huge rock once held a castle/fortress as protection from pirate invasions. Numerous earthquakes however including a big one in 1817 had a disastrous effect on the site.
Poseidon, God of the sea and earthquakes obviously decided to reduce it to rubble for some reason.
Today, Skaros offers hiking routes and breathtaking views of the caldera to take in. You also get to see Imerovigli from a different perspective, but first you will need to hike up the 300 or so stairs and briefly climb it to get the best views.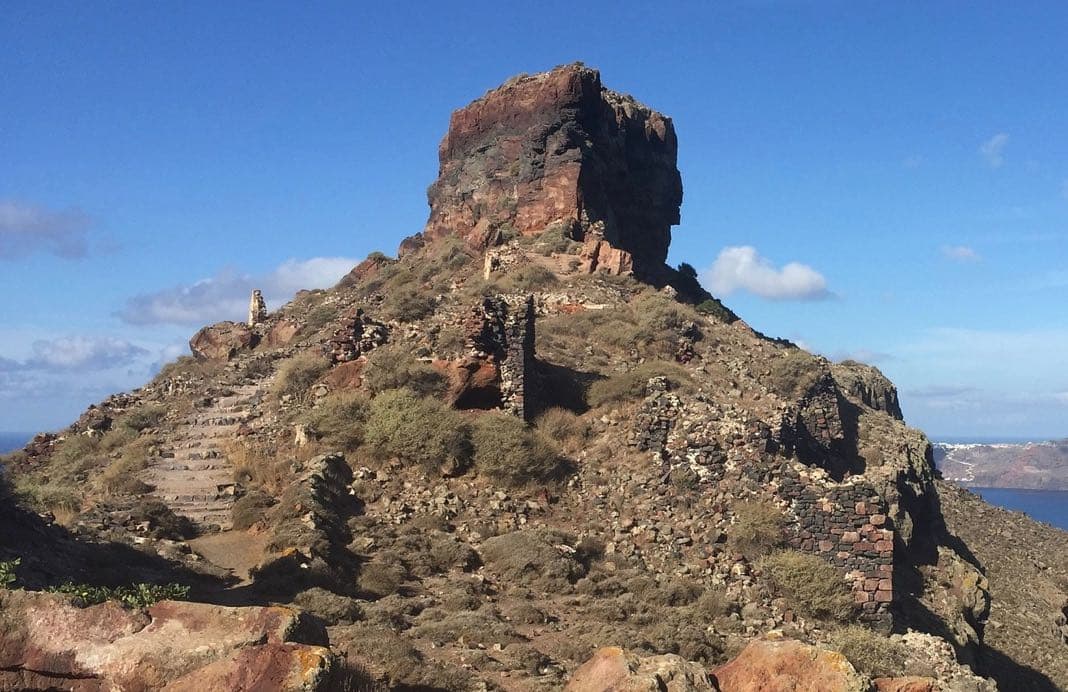 Seriously, who wouldn't want to hike and climb this rock if you're fit and able?
How to get to Skaros Rock
First make your way to Imerovigli and then to the Grace Santorini Hotel. This is where the path to Skaros rock basically starts.
From the Grace Santorini Hotel, you will likely see many other tourists hiking up the stairs and the rock, so just follow them!
Prepare to hike Skaros Rock
You should be able to get to the top and back in around one hour. Some tourists may take a couple of hours all up. The last 3-4 metres to the top can be a challenging climb, but there are plenty of hand and foot holds to brace yourself in while climbing up the steep near vertical rock face. Just make sure you don't fall down.
The hike overall is quite easy apart from the final section, so all you have to do is stop as soon as you feel uncomfortable and unsafe going any further.
Wearing sneakers or closed shoes is a good idea especially if you plan on reaching the very top and make sure you bring a bottle of water along. Being thirsty will definitely spoil the hike.
Where to stay in Imerovigli
Grace Santorini – Imerovigli
This hotel would have to be the best hotel in Imerovigli. Yes it is expensive, damn expensive in fact, but if you plan it properly one night at the Grace Santorini could be the biggest highlight of your dream trip to Santorini.
Other places to stay in Imerovigli
Pegasus Suites & Spa
Andromeda Villas
Astra Suites
Recommended restaurants in Imerovigli
What to eat (Menu suggestions):
Appetizer: Santorini Fava with spring onions and greek pita
Main course: Sea bream
Dessert: Baklava with mastic ice-cream
FlyAway Creative Restaurant & Bar
Where to go for a drink in Imerovigli
Whatever you decide to see in Santorini, make sure you don't forget to visit Imerovigli. This is easy to do especially considering all of the other beautiful locations on this spectacular Greek island.
This post is just a reminder so you don't forget to go like I did.
Want some more Greek island inspiration. This should do it.
Pin to Share