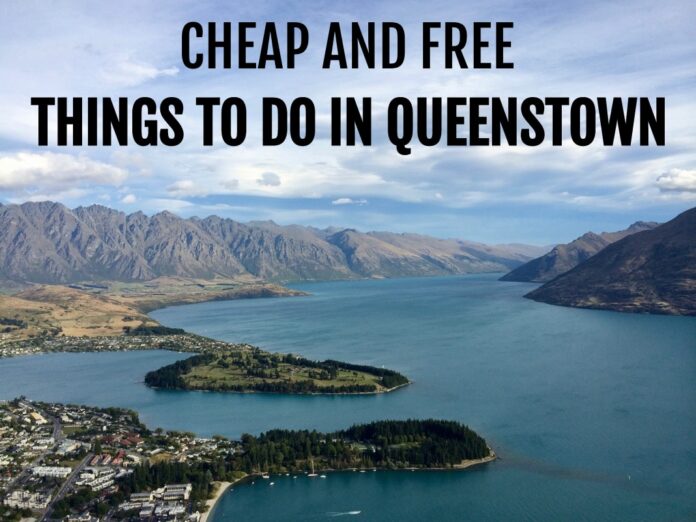 There are many fun things to do in Queenstown, which are free or cheap, so it is possible to enjoy yourself with little money in New Zealand's adventure capital.
I'll start by showing you the five best things to do in Queenstown for free.
Then I'll tell you about five cheap things to do in Queenstown.
After the free and cheap things to do in Queenstown, I'll show you ten more fun things to do in Queenstown, which will cost you a bit more money.
I highly recommend splurging on a few adventure activities, after all, if you visit Queenstown, you are in the adventure capital of the world. So, you should take advantage of it.
Queenstown in New Zealand is a Mecca for Adventurers as many young travelers already know.
That's because Queenstown and its surrounding area have a huge variety of adventurous things to do.
If you haven't visited Queenstown, then I highly recommend putting Queenstown in your bucket list where it belongs.
I'd even go so far as saying that Queenstown would have to be in the top 5 best places to visit in the world, so Queenstown is a must-visit destination.
How long do I recommend staying in Queenstown? I'd suggest that 8 nights is a good start.
It will give you 7 full days to explore the charming town and you'll have enough time to do plenty of fun things.
Things to Do in Queenstown for Free
Okay, so if you're traveling on a tight budget, you need to know about the best free things to do in Queenstown.
Hiking should come to your mind because there are some incredible views around Queenstown.
1. Hike up to Bob's Peak (where the Skyline Gondola goes)
Many people probably think the only way to reach the top of Bob's Peak is to take an expensive gondola ride.
Well, it isn't because the other way to get to the top of Bob's Peak is by hiking up the Tiki Trail.
The Tiki Trail starts where the gondola ride starts, so if you want to save, think about walking up to the top for free.
Going on the skyline gondola ride is fantastic, and I highly recommend taking it, but if you want to get to the same Skyline building at the top of the mountain for free, you can walk there.
Standing on Bob's Peak gives you the most iconic view of Queenstown.
It would get pretty expensive riding the gondola up to the top of Bob's Peak every time you wanted to visit, so hiking the Tiki Trail is a great option since it's free.
The Tiki Trail is about 450 meters (1,476 feet) in elevation, so it is quite steep.
It is mainly a forest walk through tall pine trees.
It will probably take about 1-2 hours to hike up to the top of Bob's Peak on a good day, even though the trail is only 2 kilometers (1.2 miles) long.
The best thing about it is that when you reach the top, you'll have a fantastic view of Queenstown and you'll have the satisfaction of knowing that it didn't cost you a cent.
If you do decide to go the easier way, by purchasing a ticket and riding the gondola, you'll reach the top in a relaxing way in about 20 minutes.
The Gondola ride will carry you above Queenstown and Lake Wakatipu to the top of Bob's Peak without having to break a sweat. Once there, the views are awesome!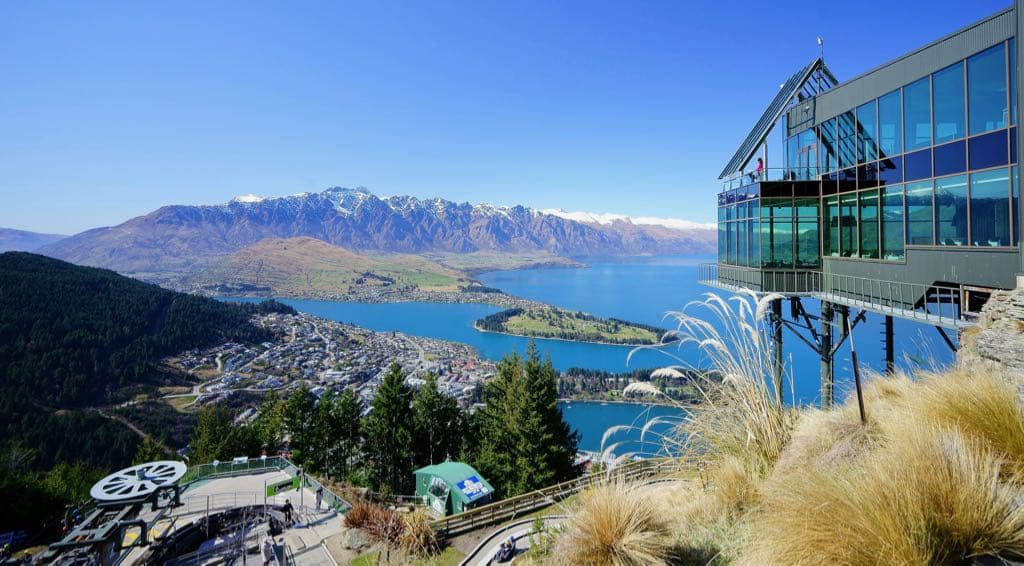 Prepare to be dazzled with breathtaking views of Coronet Peak, the Remarkables, Walter Peak, and Cecil Peak, including stunning views all over Queenstown.
I would classify visiting Bob's Peak as being easily one of the best things to do in Queenstown. Going up Bob's Peak for the first time is simply amazing!
Now that you know you can get to Bob's Peak for free via the Tiki Trail, you may want to visit more often, especially if you're in Queenstown for a longer stay.
Tip: I know it isn't for free, but you really should ride the Luge on a gravity-fed go-kart track down the slopes of Bob's Peak, because the ride is super fun.
2. Queenstown Gardens (Frisbee Golf)
One of the easiest things to do for free in Queenstown is to go for a gentle stroll near the lake and around the beautiful Queenstown Botanical Gardens.
You will find some beautiful areas in Queenstown Gardens where you can relax and maybe read a good book.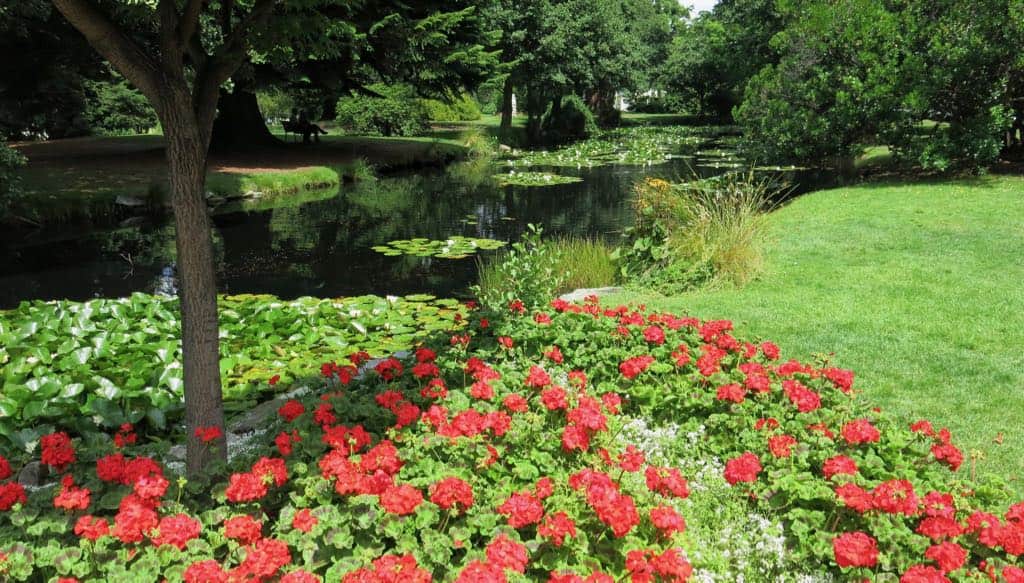 See if you can spot anyone playing frisbee golf. Yes, that's right — frisbee golf!
I know it sounds pretty crazy, but people play it.
Instead of throwing a frisbee around, they have big frisbee size holes on a course in the garden, just like golf with some differences.
Instead of having a hole in the ground, there is a metal post that sticks out of the ground.
A basket with some chains dangles above it to catch/stop the frisbee so the frisbee can be caught. It allows the frisbee to be caught so it can fall into the basket.
I couldn't believe my eyes the first time I saw the frisbee game being played.
Playing frisbee golf looks like it would be a fun thing to do in Queenstown, so you may want to play it, especially if you're in Queenstown with friends.
Tip: The frisbee course is free. You can rent a frisbee at a nearby shop for a few dollars a day. If you'd like to play it for free, just make sure you bring your own frisbee to Queenstown. It would probably be one of the most fun things to do in Queenstown for free if you played it with a group of friends.
3. Relax by Lake Wakatipu
Lake Wakatipu in Queenstown is the longest lake in New Zealand and always has people doing things around it.
Sure you can go parasailing or lake cruising, but if you want to enjoy one of the best things to do in Queenstown for free, you just need to relax by Lake Wakatipu.
You can go for a walk along the jetties or even go for a swim during summer.
4. Queenstown Hill Time Walk
The Queenstown Hill Time Walk is a brilliant 2-hour scenic hike and you can do it for free.
You need around one hour to hike up the hill. Also, you may prefer to do the Queenstown Hill hike during sunrise or sunset if you want to make it extra magical.
It is one of the best hikes in Queenstown and it is accessible all year round. Even if there is snow on the hill, just make sure you have proper footwear, and you won't have a problem.
You can walk to the starting point from town, which makes things super easy since you don't need a car to get there.
Near the end, you'll see the Basket of Dreams, an artwork referring to the future.
Beyond the Basket of Dreams, you can expect to see some 360° jaw-dropping panoramic views.
For the best view, continue your hike to the highest point, the Te Tapunui summit.
5. Ben Lomond Hike
If you hiked to the top of Queenstown Hill, it will take you another two hours to reach the summit of Ben Lomond Mountain.
Generally, this full-day hike takes 6-8 hours to return depending on your fitness level. It will give you stunning views of the gorgeous Lake Wakatipu.
When hiking Ben Lomond, you'll have to go on a 14 km (8.6 miles) hike, which makes it a bit more challenging.
The summit of Ben Lomond is 1728m high. On a clear day, the views are supposed to be incredible.
If you're wanting to go on the best hike in Queenstown, then this is probably the one to do.
Many hikers don't reach the summit, but reaching the saddle is good enough for most hikers, who don't want to go all the way to the top.
In winter going all the way to the summit can be dangerous due to snow and ice, but in summer you shouldn't have a problem.
Tip: If you want to make the hike easier, take the Queenstown gondola to Bob's Peak and start the hike from there. Then you won't have to walk the Tiki Trail from the low point in Queenstown.
The best months for hiking the trails are from October to April, so keep that in mind as well.
Cheap Things to Do in Queenstown
Things to do in Queenstown that are relatively cheap include cheap transport costs to certain destinations, and tasting some delicious food and drinks in Queenstown.
The next five things in Queenstown are cheaper things to do in Queenstown.
The first one of the following five recommendations is pretty hard to beat.
6. Have a Drink at the Skyline Bar on Bob's Peak
Enjoy a drink inside the scenic bar at the top of Bob's Peak while admiring the incredible views.
Looking through the enormous glass windows is definitely one of the best things to do in Queenstown.
The Sy=kyline bar at Bob's Peak would have to give you some of the best views in the world.
There's also a great restaurant in the same building, where you can eat a superb buffet. This is more expensive, so the cheap thing to do is to buy a drink.
You don't even need to do that, as they have chairs in the bar lookout area, so you could sit there for a while for free if you wanted to.
If you love your seafood, you will be in foodie heaven at the restaurant.
Some of the diners were piling their plate sky high with prawns when I was dining there.
7. Eat a famous Fergburger Hamburger
One of the first things you hear about in Queenstown food-wise is to eat at Fergburger.
It's a right of passage, so you need to eat at least one hamburger at this Queenstown establishment.
The queues are normally very long, especially around dinner time.
You may have to wait for half an hour or so, or even up to 90 minutes as some Queenstown myths suggest.
That may sound crazy I know, so just concentrate all of your thinking on the reward at the end of your wait, which is one pretty big delicious hamburger.
I think I waited about 30-40 minutes for mine. I felt good about it after thinking I'd have to wait for at least an hour. The wait was worth it because my Fergburger was delicious!
Think of Fergburger hamburgers as being the God of hamburgers.
If you want to support the devil, on the other side of town I noticed Devil Burger.
It tastes just as good but you won't have any tall stories to tell anyone about how long you had to wait for a hamburger in Queenstown. All bragging rights go out the window.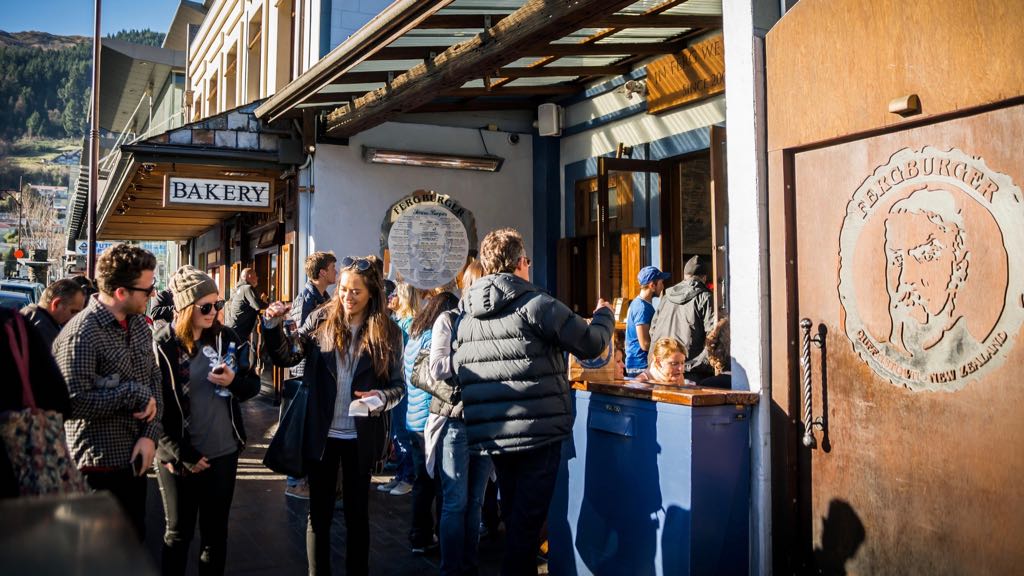 Waiting times are supposed to be shorter at around noon lunchtime, but the wait time is seriously all part of the experience.
You will be salivating with hunger when you see customers leaving the building with takeaway food while observing their smug faces.
Fergburger is open quite late into the night, so many travelers go there after a heavy drinking session.
To me, this has to be one of the best things on this list of cheap things to do in Queenstown.
8. Drink a hot chocolate at Patagonia Chocolates
Patagonia Chocolates is located in a beautiful location near the waterfront.
You'll probably want to go there every night if you're a chocoholic.
Cheap things to do in Queenstown won't get much cheaper than ordering a hot chocolate or even a coffee.
Sometimes the simple things can be the most memorable.
9. Visit Paradise (Glenorchy)
Drive from Queenstown to Glenorchy via the scenic drive, and then find Paradise.
Hiring a budget model car is relatively cheap, and it will give you a great opportunity to explore beautiful places outside of Queenstown.
The other option, once you're in Glenorchy, is to hike a portion of the Routeburn Track.
You can find out more about this famous hike in my Routeburn Track Guided Walk with Ultimate Hikes.
Some say, Glenorchy is even more beautiful than Queenstown, so it is worth the visit.
If you combine Glenorchy with a small hike along the Routeburn Track, it would have to be one of the best day trips from Queenstown.
The scenic 46 km drive follows the upper part of the lightning-shaped Lake Wakatipu, all the way up to Glenorchy.
At some stage, you have to find Paradise!
I can tell you that it definitely does exist because I found it myself. Here's the proof. I made it to Paradise!
I was very close to turning back at one point thinking that it didn't exist, or that I had taken a wrong turn somewhere. But as you can see, Paradise is real.
You will find the beautiful sleepy village of Paradise only about 20 km away from Glenorchy.
There are only a few buildings around the place, so don't expect to see any shops.
Only postcard-perfect rolling farmlands, stunning mountain ranges, and shallow pristine rivers.
The road is 8 km sealed and 12 km unsealed, so you won't find it that easy to get there. In fact, you may end up turning back like I nearly did.
I first heard about it from a couple of guys who wanted to go to Paradise but never made it. They turned back thinking they had taken a wrong turn, just as I nearly did.
At one point, the road was covered in a low-lying pool of water. I decided to drive on through but it made me nervous since it was a very isolated spot to get stuck.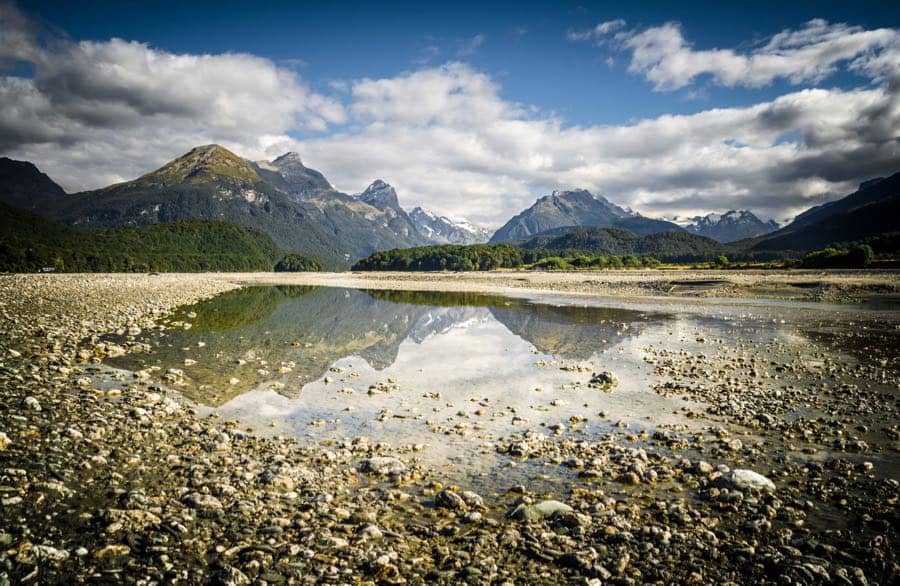 On the same day as visiting Paradise, I also visited Arrowtown.
You can do the same, but I would recommend making your way to Bob's Cove after Paradise.
10. Bobs Cove Track and Nature Walk
Getting to Bob's Cove Track is relatively cheap, but you do need a car.
You just need to make your way to Bobs Cove car park on Queenstown Glenorchy Road, which is 14 km from Queenstown.
From there, follow the trail through the native bush to Bobs Cove.
This nature walk is a 20-30 minute oneway walk. You can take in some beautiful views in this part of the lake all within the hour, but you may want to hang around longer.
Go to the lookout, relax by the lake, or even go there for a BBQ, since public ones are available.
In summer, you can even go for a swim in the lake to cool off.
How could anyone in Queenstown want to miss out on this?
Fun Things to do in Queenstown, New Zealand
Okay, free or cheap things to do in Queenstown won't allow you to do some of the best things in Queenstown.
At some point, you will have to splurge some cash.
You can't leave Queenstown without doing at least a few things in the remaining ten fun things to do in Queenstown.
Start off by going on a jet boat ride.
11. Jet Boat ride
I went on both the KJet and Shotover jet boat rides. From my experience, I can honestly say that I enjoyed KJet much more than the Shotover jet boat ride.
It just felt like a better experience. You can easily walk to the waterfront and wait for your KJet boat ride, whereas going on a Shotover jet boat ride requires a bus ride to another destination out of town.
You could go there in your own car, but that seems pointless, as the bus trip is included in the deal.
The bonus with KJet is that you get to cruise across Queenstown Lake including side rivers.
If you only have time to go on one jet boat ride, I highly recommend going with KJet.
I really enjoyed the KJet experience. It is similar to the Shotover experience with all the twists and turns, and spinouts, but I definitely remember recalling afterward that KJet was better.
Checkout for some last minute prices to see if you can save some money.
Then again, you may want to go with Shotover due to the fact that the Shotover jet boat ride is more famous.
12. The Luge in Queenstown
You can have a mini-adventure on Bob's Peak. It will require you to ride another chairlift to get you to the starting point of the luge go-kart ride.
Rolling down a luge on a downhill winding track while sitting in a gravity-driven go-kart is heaps of fun.
This luge is popular with people of all ages, but kids will absolutely love it.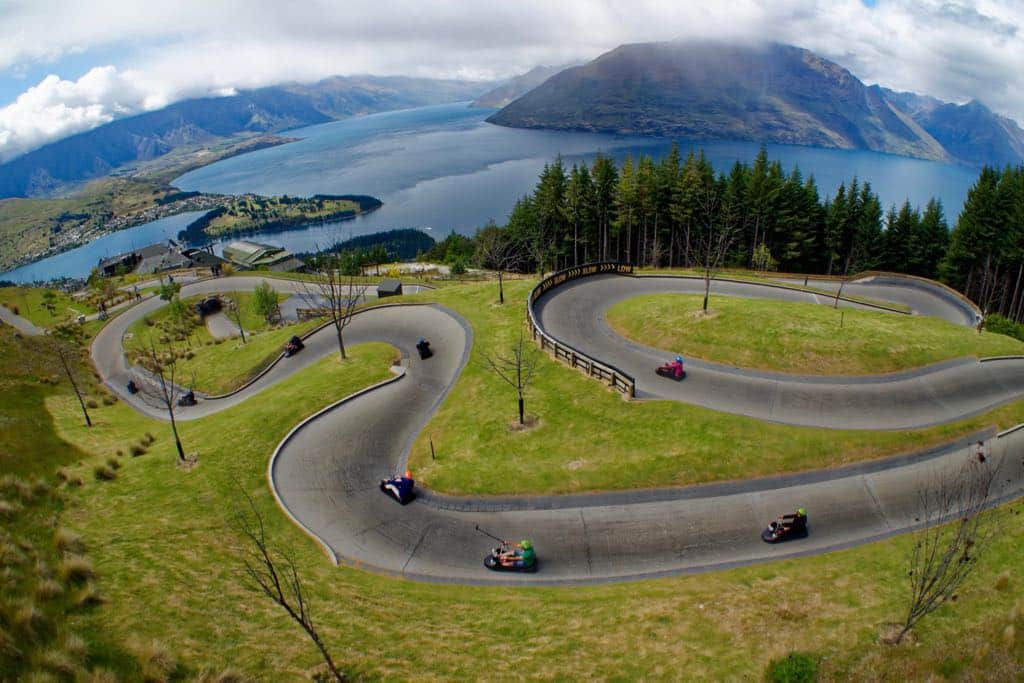 It doesn't reach great speeds, which is surprising, so it is relatively safe even for younger kids.
13. Paraglide down Bob's Peak
Anyone can do this provided you're under the weight restrictions.
I just made it under, but bear in mind I am 6 foot 2.
If you can walk, you can do this. Paragliding is very enjoyable and from my experience, I enjoyed it much more than my parachuting experience in Byron Bay.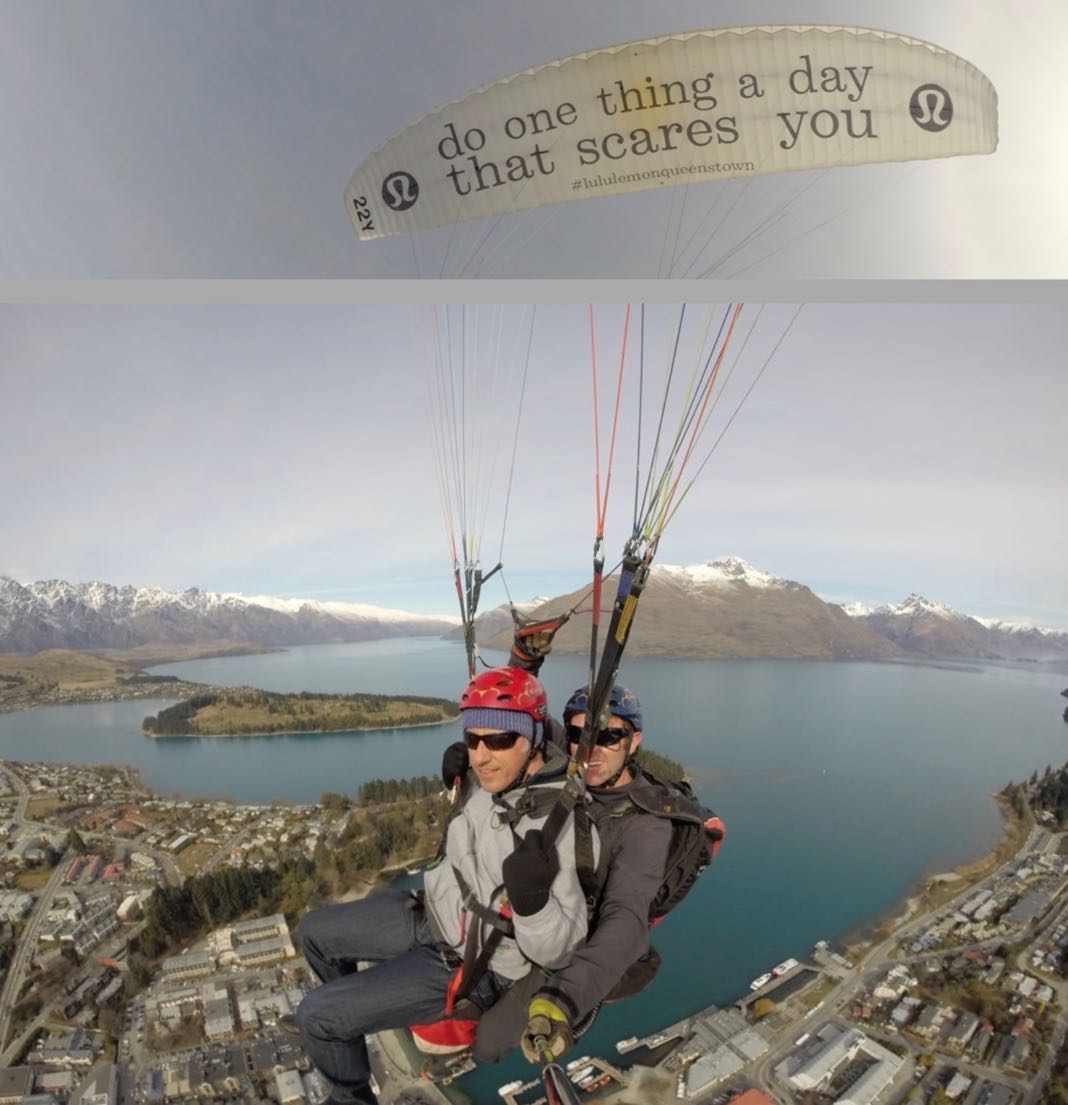 After you make it down all the way to ground level in town, you can go for a drink inside a Queenstown pub.
They gave me a free drink voucher after we paraglided onto an oval in Queenstown, so they'll probably give you one as well.
14. GO BUNGY JUMPING!
I am not letting you off the hook. If you go to Queenstown you must go bungy jumping, even though I wouldn't do it.
Don't be a chicken like me. Just make sure you don't follow this guy's technique. This is funny stuff.
Queenstown is the birthplace of commercial bungy jumping.
If you want to go, the Nevis Bungy is a legendary place to go and try it. This is New Zealand's highest Bungy.
You get to fall down a whopping 134 meters towards the Nevis river.
The Bungy is located 45 minutes from Queenstown which gives you plenty of time to consider your own mortality.
Hopefully, you won't change your mind about going Bungy jumping on your way there.
There are several Bungy jumping options to choose from in Queenstown.
All of them are owned and operated by AJ Hackett Bungy New Zealand. Thankfully, they are known for their exceptional safety standards.
This means that the chances of dying are practically zero, which is awesome to know.
The AJ Hackett Kawarau Bridge Bungy, considered to be the first commercial Bungy spot in the world, is situated just 20 minutes from Queenstown.
Here you jump off of the Kawarau Bridge towards the Kawarau River, which is 43 meters below.
It doesn't sound like much, but it's still the equivalent of jumping off a multi-story building.
You can even opt to jump in tandem and touch the water if you wish.
Apart from Bungy jumping, there are swings, zip rides, and the canyon fox to consider.
Check out the AJ Hackett and Shotover websites for more details.
15. Snowboarding or Skiing
If you'd like to go snowboarding or skiing in New Zealand, then Queenstown is one of the best places to visit. Just make sure you go at the right time of year.
Choose one of the following activities and dedicate the whole day to it.
If you have time and enough money, you can learn how to snowboard in Queenstown, New Zealand. It isn't cheap, but it is an awesome experience.
My experience of snowboarding was memorable, but it did end with a serious injury.
The huge mountain range you see to the east of Queenstown is called The Remarkables.
It is one of the best places to ski or snowboard when you're in Queenstown.
Queenstown becomes a snow-lovers paradise in winter.
There are three amazing ski resorts all within an hour's reach of the town center.
Coronet Peak, The Remarkables, and Cardrona all have amazing snow fields.
That means there are good choices for first-timers and beginners, right through to professionals.
This leads to an important question. When should you visit Queenstown?
It is a difficult one to answer. If I had to choose, I'd say go during peak snow season.
Then pray you will be able to return one day during the warmer months. I ended up doing the exact opposite.
16. Mountain Bike Riding
During summer, because there's no snow, people like to go mountain bike riding in Queenstown and in the surrounding areas.
Hammy's Track – Recommended for Beginners
The park's easiest and longest run is Hammy's Track (Grade 2 – easy).
It twists for 6km through the forest giving you great views across Lake Wakatipu to Cecil Peak and the Remarkables.
The ride takes about 15-20 minutes to complete.
This track is on the gondola accessed Queenstown Bike Path. I have to say that it doesn't look that easy to me.
The video makes it look like you have to have rocks in your head to give it a go.
There are close to 30 world-class trails that crisscross the southern flanks of Bob's Peak.
Moke Lake
You can even visit to go for a walk around the lake. It's only about a 30-minute drive from Queenstown.
The most popular trail is the Moke Lake Loop Track. It takes about 2-3 hours on foot.
It is another good place to try cross-country mountain bike riding. The lake is also popular for picnicking and swimming.
You can also combine a ride around Moke Lake with a spin around 7 Mile Bike Park.
Rude Rock Mountain Bike Trail, Coronet Peak – For Advanced Riders
This one is probably Queenstown's most famous trail if you're an experienced mountain bike rider.
It starts at the base of the Coronet Peak Ski Field and winds its way down to Skippers Saddle.
I would never dream of attempting this. But if you're crazy or a Mountain Bike God, you may want to take it on.
17. Whitewater Rafting
Queenstown has some awesome whitewater rafting adventures to go on.
Challenge Rafting operates a selection of exciting whitewater rafting experiences on the Shotover and Kawarau Rivers in Queenstown.
Make sure your rafting experience includes a journey through the 170-meter-long Oxenbridge Tunnel in complete darkness.
The thrill of experiencing superb scenic river surroundings on a great whitewater rafting adventure would be hard to beat.
Keep in mind, that rafting is restricted to persons 13 years of age and over.
Best Things to Do in Queenstown to Relax
Some of your time in Queenstown should be about chilling out. If you've experienced all of the above adventures, spend at least one day in Queenstown relaxing and reflecting.
18. Lake cruise or half-day fishing on the lake
If you decide to go fishing you can even get the fish (trout or salmon) cooked up for you at a local hotel for dinner.
Provided you catch at least one fish, you're set. I caught four fish in half a day, so I can highly recommend it.
The fishing boat captain will be able to suggest a restaurant close by.
Drop the fish off after the fishing expedition and tell the restaurant staff what time you'll be arriving for dinner. My salmon tasted delicious!
Tip: If you're not into fishing, you can go for a cruise on TSS Earnslaw or the Spirit of Queenstown on Lake Wakatipu.
19. Relax at Olsen Spa
For total relaxation, visit Olsen Spa where you can melt all of those aches and any mental stress away with a nice warm bubbling spa.
This place is great!
You can even have a glass of wine in your spa room. They have various packages to choose from.
Make sure the windows are fully open t get the best experience. You can retract the roof and the wall at the touch of a button.
One-hour daytime sessions for me started at:
Hot Pool (1 Hour, Adult x 1) – $75
20. Milford Sound Cruise
At some point in Queenstown, you may start thinking about going on a Milford Sound cruise.
A Milford Sound is not going to be cheap, but if you're in Queenstown it will make for a great day trip.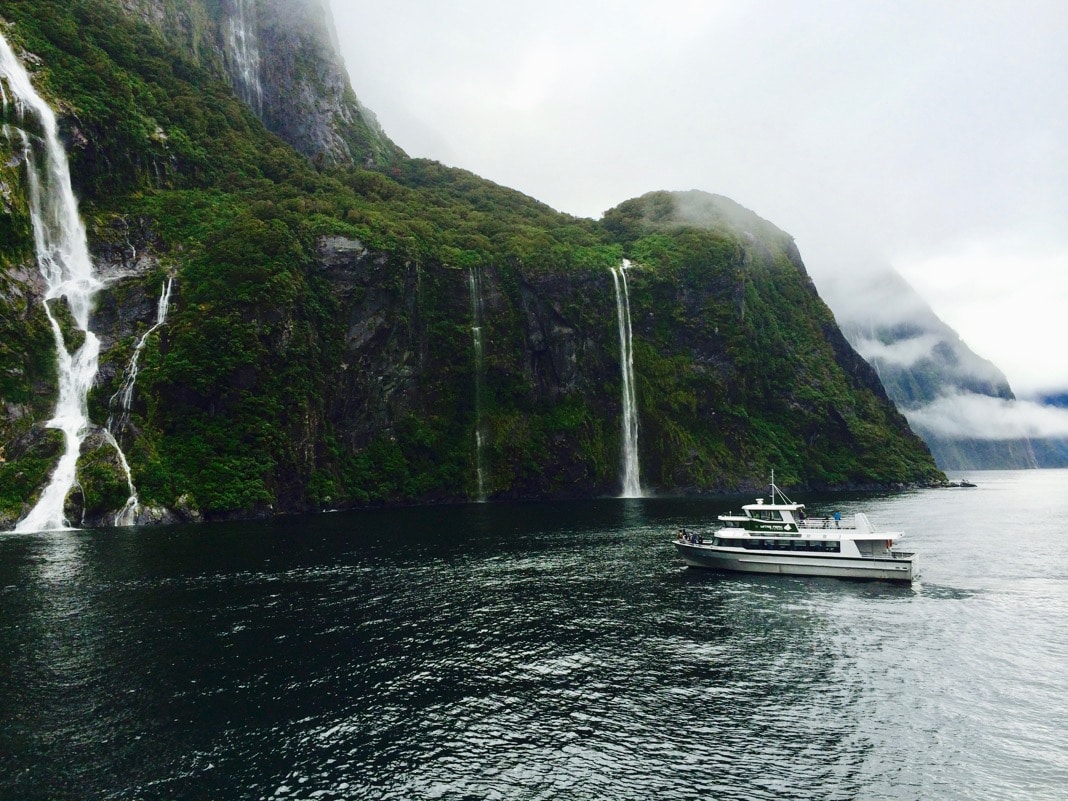 I did the Milford Sound cruise straight after going on a Milford Track guided walk with Ultimate Hikes
You'll most likely come across thick clouds and rain when visiting the Milford Sound since it rains for something like 250 days in the year.
If you can visit at a time when the weather is great, when the sun is shining with blue skies, I'd say it would be well worth going on a day trip to the Milford Sound.
Provided you get lucky and the weather is fantastic, I think going on a Milford Sound cruise would be awesome.
But otherwise, to tell you the truth, on the day I went with foggy clouds and light rain, the Milford Sound felt a bit underwhelming.
Top Tip: If you want to have the best experience no matter what, you have to kayak Milford Sound. I was so envious of these kayakers.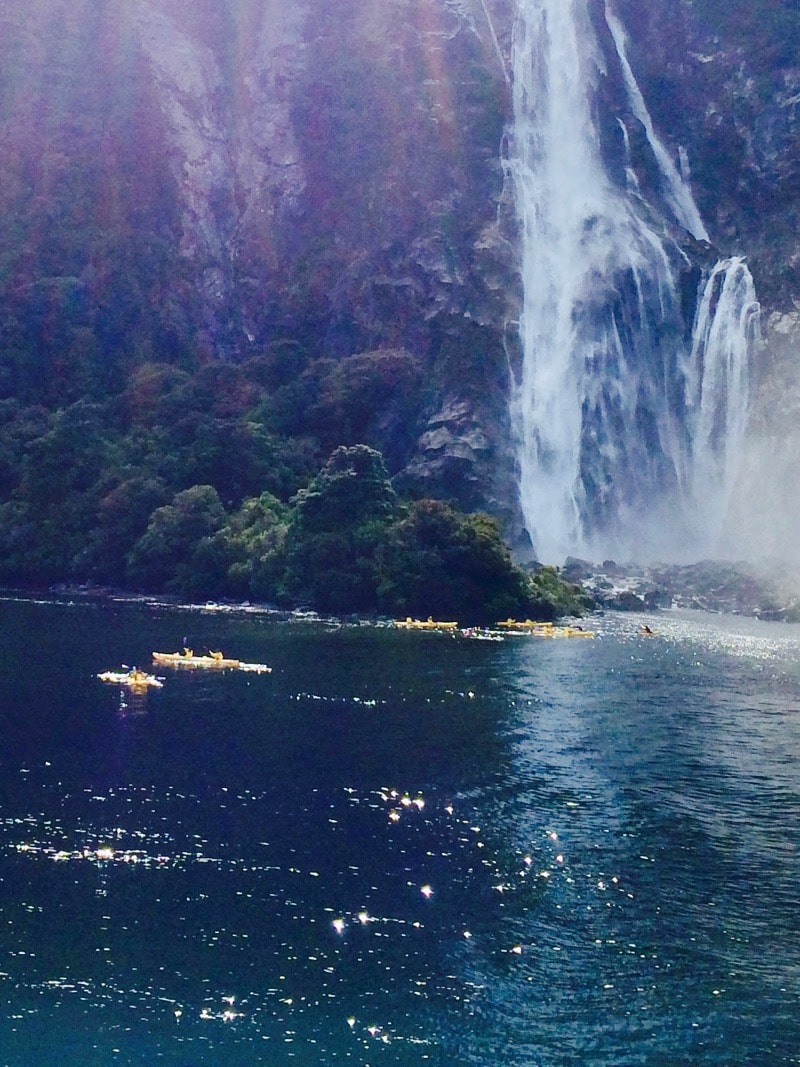 The weather will play a big role in your enjoyment of the Milford Sound, but if it turns out great, I'm sure it would be one of the best things to do when visiting Queenstown.
I hope you have found some cheap and free things to do in Queenstown, but remember if you visit Queenstown, you need to spend some cash to do some of the most enjoyable things in the adventure capital of the world.
Pin it … Share it