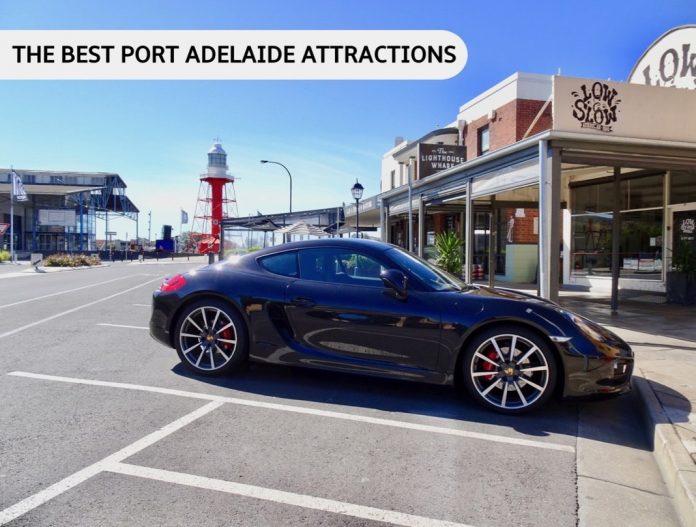 This ultimate guide to the best Port Adelaide attractions will show you the best things to do in Port Adelaide, one amazing suburb in Adelaide.
Port Adelaide is a bit of an enigma in that it is a bit like the Porsche in the above photo.
When I took the photo, I noticed that the Porsche's number plate was GOTHAM, but Port Adelaide can't be stereotyped like a Batman film. There is so much more to the place.
If I were to use movies to give you a better feel for the place, think of Port Adelaide as a cross between Batman, the Disney classic Treasure Island (1950), and Pirates of the Caribbean.
Then mix it in with a couple of Simon Pegg movies: Shaun of the Dead (2004) and The World's End (2013). A big reason for this is that English people should feel right at home in Port Adelaide.
One more thing, some of you may also feel as if you're in some kind of Tintin adventure comic while you're out and about.
Surprisingly, there's also a small Greek minority in the area. Not sure if they live there, work there, or what. Sound interesting?
Is Port Adelaide safe?
If you hang by the Port River, you'll see some old boats and all sorts of characters wandering about Port Adelaide.
One of the most interesting Port Adelaide attractions is a Port Adelaide ghost crime tour, but that's pretty much as crime-ridden as you're likely to find in the area nowadays.
Let me clear the sea air: Port Adelaide is a safe place, so you don't need to worry about crime. Generally speaking, Australia is a very safe country, and Port Adelaide is no exception.
Once upon a time, it was a lot rougher and tougher in Port Adelaide. You can tell because it once went by the ominous name Port Misery.
Time has turned the tide because now Port Adelaide is a great place to spend some leisure time.
Main Port Adelaide Attractions
Many cities around the world have at least one interesting suburb. Port Adelaide just so happens to be that special suburb in the city of Adelaide.
I can assure you that once you leave the Adelaide CBD and visit Port Adelaide, it will be as if you've arrived in another world, even though it is only 14 km away.
Some of the things that make Port Adelaide so special would have to be the Port River, all sorts of boats, the iconic red lighthouse, wild dolphins, the maritime museum, and the historic hotels on numerous street corners. If you're a beer drinker, you'll be in heaven!
You can also see a large number of amazing street murals throughout the neighborhood.
Believe it or not, but you may even get to see Cupid (Eros), the God of love. I did, and I fell in love with it. Not sure how long the Greek God of love will hang around since he can't stick around Port Adelaide forever.
The amazing street art on show is better known as Port Adelaide Wonderwalls, and they're so worth checking out.
On top of that, there are plenty of other great attractions around Port Adelaide, which you'll soon discover.
The Ultimate Guide to Port Adelaide
These are 40 of the best Port Adelaide attractions I could muster up after exploring the suburb and surrounding areas over numerous days.
I have also included some of the best attractions in the Port Adelaide Enfield Council district and a few other worthy attractions nearby.
If you ever want to spend time in Port Adelaide, then this travel guide to Port Adelaide is pretty much all you need to refer to.
Finding the best things to do in Port Adelaide took a bit of effort on my part. I honestly feel as if I left no stone unturned to uncover the best Port Adelaide attractions.
As a result, I highly encourage everyone to visit Port Adelaide if you ever find yourself in Adelaide, even more so if you're a local from Adelaide.
There are many interesting things to do in the historic suburb of Port Adelaide.
Locals can easily forget about attractions that are often right at their doorstep, so here's a big reminder to everyone based in Adelaide of the amazing attractions in Port Adelaide.
What is Port Adelaide really like?
To give you a better idea of Port Adelaide – in a nutshell – it is very similar to the more famous city of Fremantle in Perth.
It has that dockside feel similar to Fremantle because Port Adelaide is also nestled close to a major river called the Port River, and that's where many people are drawn to at some stage.
Port Adelaide doesn't have as many people and tourists wandering about the place as you'll find in the more popular Fremantle. And you won't see as many tourists relaxing at cafes. At many times it can also appear desolate, but Port Adelaide has its own charm.
This area is more of a working-class area, so don't expect to find fancy big brand shops selling the latest fashion. It's more of a seafarer hunting ground for pirates. That's probably why they have a brewery called Pirate Life Brewing in Port Adelaide.
To sum it up, Port Adelaide is one of Adelaide's hidden gems in addition to being one of Australia's best-kept secrets. You will be most probably realize this very shortly.
40 Best Port Adelaide Attractions – Things to do in Port Adelaide
Now let's get stuck into it. Here are my top picks for the best Port Adelaide attractions:
1. Port Adelaide Street Art (Wonderwalls)
Port Adelaide Wonderwalls is just another term for the large street art murals, which can be found throughout the area.
These walls give color to the streets, and they really do liven up the Port, which can be a bit dreary, especially during wintertime.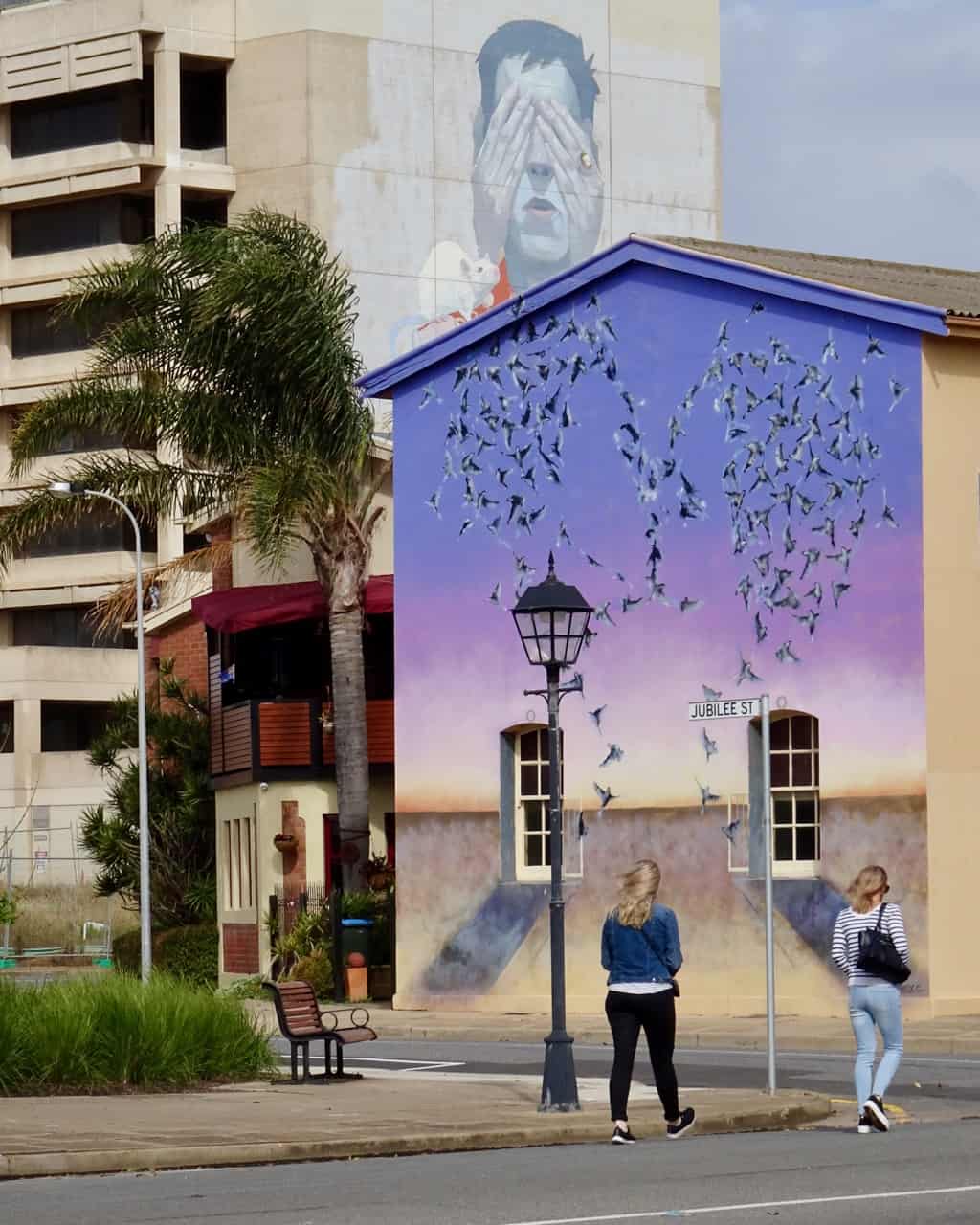 I have a dedicated post about the Wonderwalls in Port Adelaide, which showcases some of the best street art to be found in the Port Adelaide district.
This is where you can see a mural of Eros (Cupid), the Greek God of love.
2. Port Adelaide Dolphin Cruise
This is on my to-do list. Cruises generally run on Sundays, as well as public and school holidays. They also have mid-week cruises on occasion.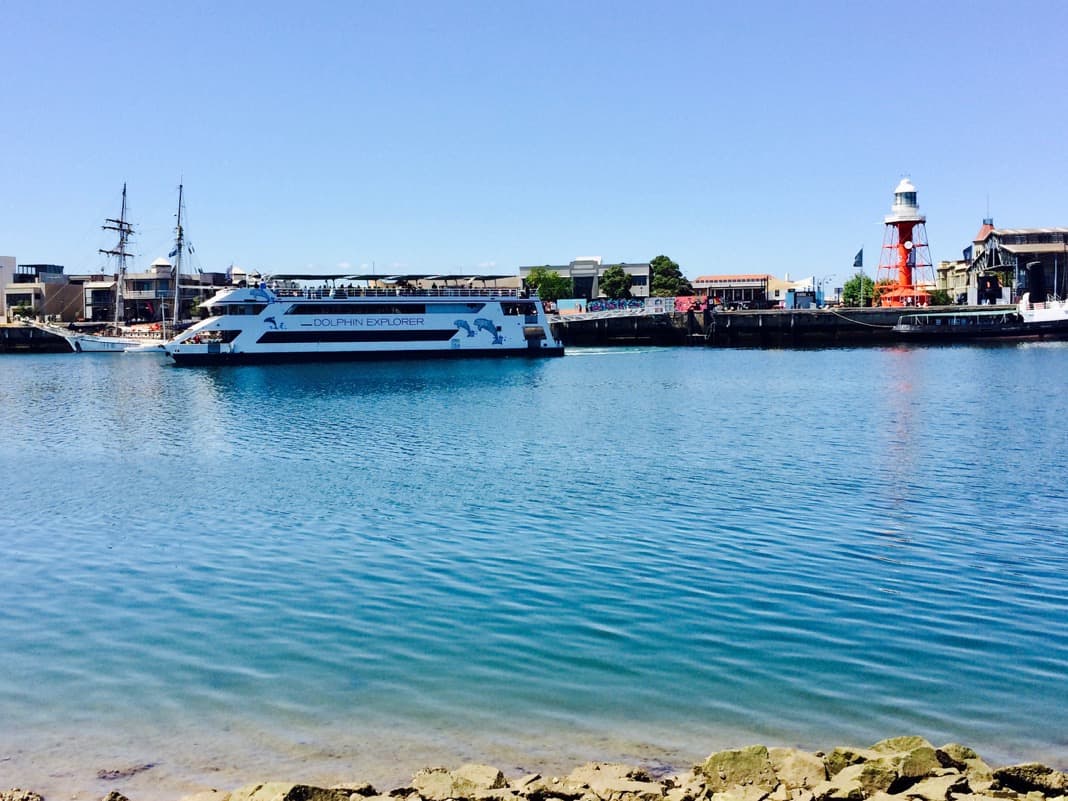 There are supposed to be about 40 Indo-Pacific Bottlenose Dolphins that call the Port River home. That's why the cruise is so popular and the reason why it's called the Dolphin Explorer.
If it's a beautiful day, I'd say there's a pretty good chance of seeing one or two dolphins on the cruise. Prices are very reasonable as well. The last time I had a look, ticket prices were only $12 for an adult. This is for a cruise that lasts about 2 hours.
Official Website: The Dolphin Explorer
3. Kayak the Garden Island Ship Graveyard
A great way to spend a couple of hours on the Port River is to make your way to Garden Island. From there, you can go kayaking to the ship graveyard, which has over 20 wrecks.
Here's the view of the ship graveyard from Torrens Island bridge. This is the bridge that you'll need to drive over to get to Garden Island.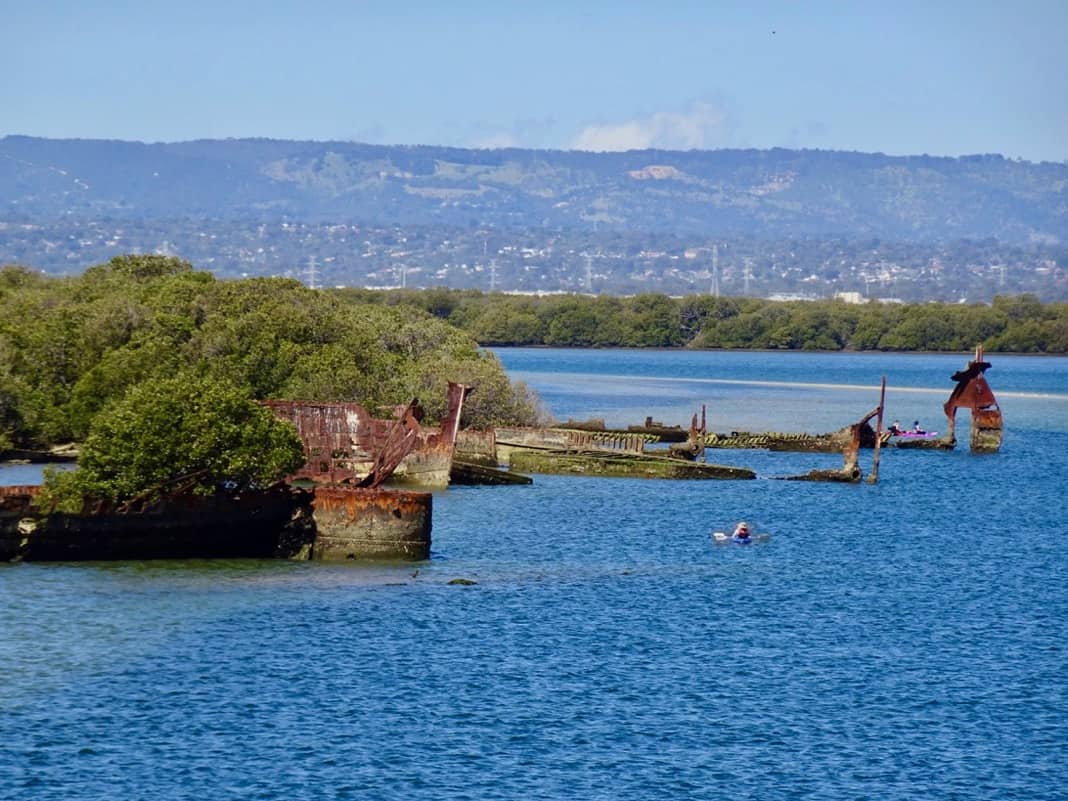 You'll most likely need a car to get you there unless you get a lift. It will take about a 5-10 minute drive from Port Adelaide to get there.
You can hire a kayak by the hour, or you can go on a kayak tour. If you're from Adelaide, you can obviously bring your own if you have one.
Pick a day when the water is calm, and the weather is fantastic, and you'll have an awesome time!
To get to the Garden Island Ships' Graveyard, head past the jetty and follow the coastline around to the right. You'll be able to see the shipwrecks and Torrens Island Bridge when you make your way around.
4. Adelaide Dolphin Sanctuary Boardwalk
If you don't want to go kayaking for whatever reason, another great option is to go for a short stroll on a jetty, which is very close to the Garden Island boat ramp.
This is part of the Adelaide Dolphin Sanctuary. If you're fortunate, you may get to see a dolphin swim past.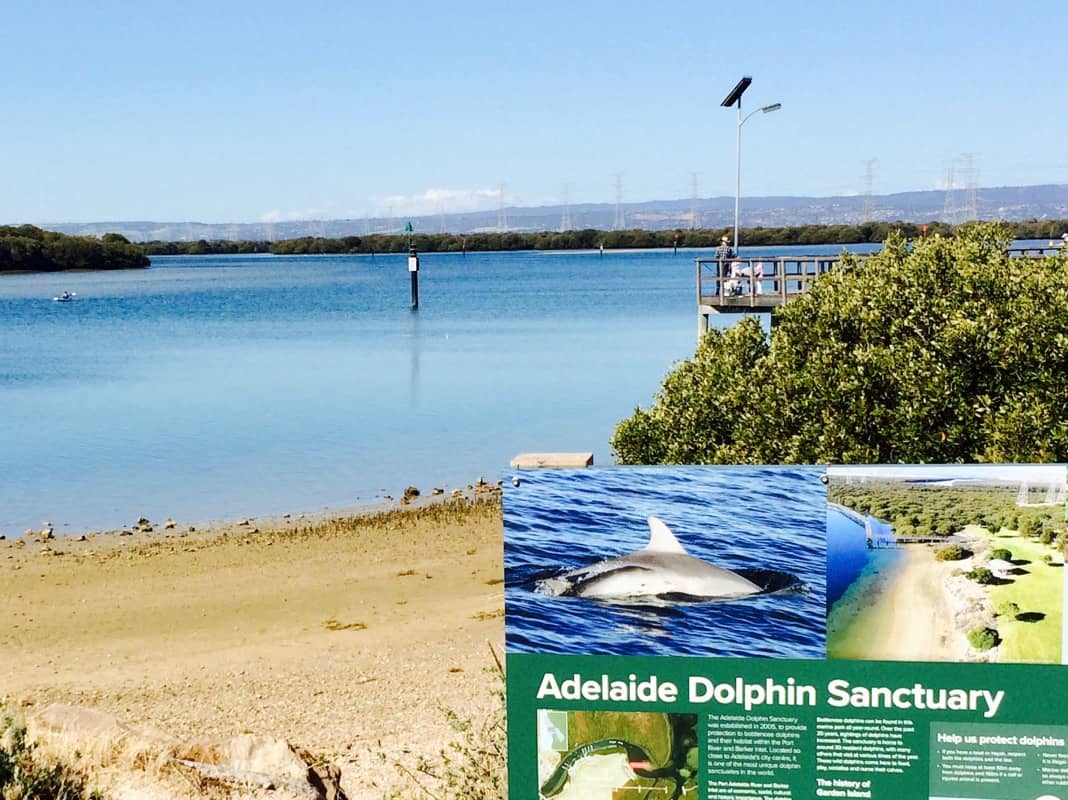 I can't ever recall being lucky enough to see a dolphin from the jetty myself, but that doesn't mean you won't see one. You're much more likely to see a few fishermen on the jetty.
The beauty of this jetty is the mangrove swamp on the shoreside. On a nice day, you can also expect to see quite a few people with their kayaks glide past on the river.
If you go kayaking, this is the direction you'll be paddling towards on your way to the ship graveyard. If you stick to the right side of the shoreline, you will eventually make your way around to the rusted out boat shells.
5. Port Adelaide Ghost Crime Tour
On the 10th day, of the 10th month, in 2020 (10/10/2020), I decided to go on my very first Ghost tour. Actually, it's more than that. It's called a ghost crime tour.
It was only because the Port Adelaide Ghost Crime Tour was fully booked on Halloween that I decided to settle on this remarkable date.
I paid $40, thinking I was a bit crazy to do so, but also curious enough to think that maybe I'd be convinced that ghosts really do exist. I do have an open mind.
Here we are about to enter a spooky place that was once used as the old morgue.
Sorry, but that's not a real ghost. I added it for effect.
The ghost tour started at 7:30 pm, and we ended up finishing around 9:45 pm.
Our group had 16 people in it, which surprised me, especially with COVID-19 restrictions still in place at the time. Most of all, what really surprised me was that there were two tour groups on that particular evening, with the other group of about equal size. That's a total of about 32 people all wanting to see a ghost. See, I'm not the only easily fleeced person on the planet.
It was interesting enough, but I didn't get to see a ghost, which was a bit of a letdown.
To tell you the truth, it's probably better to go and do a ghost tour of the old Adelaide gaol. There has to be at least one ghost hiding inside that hell hole.
6. Port Adelaide Doorways
One of the most striking things about Port Adelaide is the grand old buildings. The thing that really stood out to me was the impressive doorways.
When you think about it, doorways provide entry into another world where beliefs are different. You won't be able to enter every doorway in Port Adelaide, so the next best thing is to admire them.
Take a photo in front of a door in Port Adelaide to immortalize your time there. I should have taken one myself.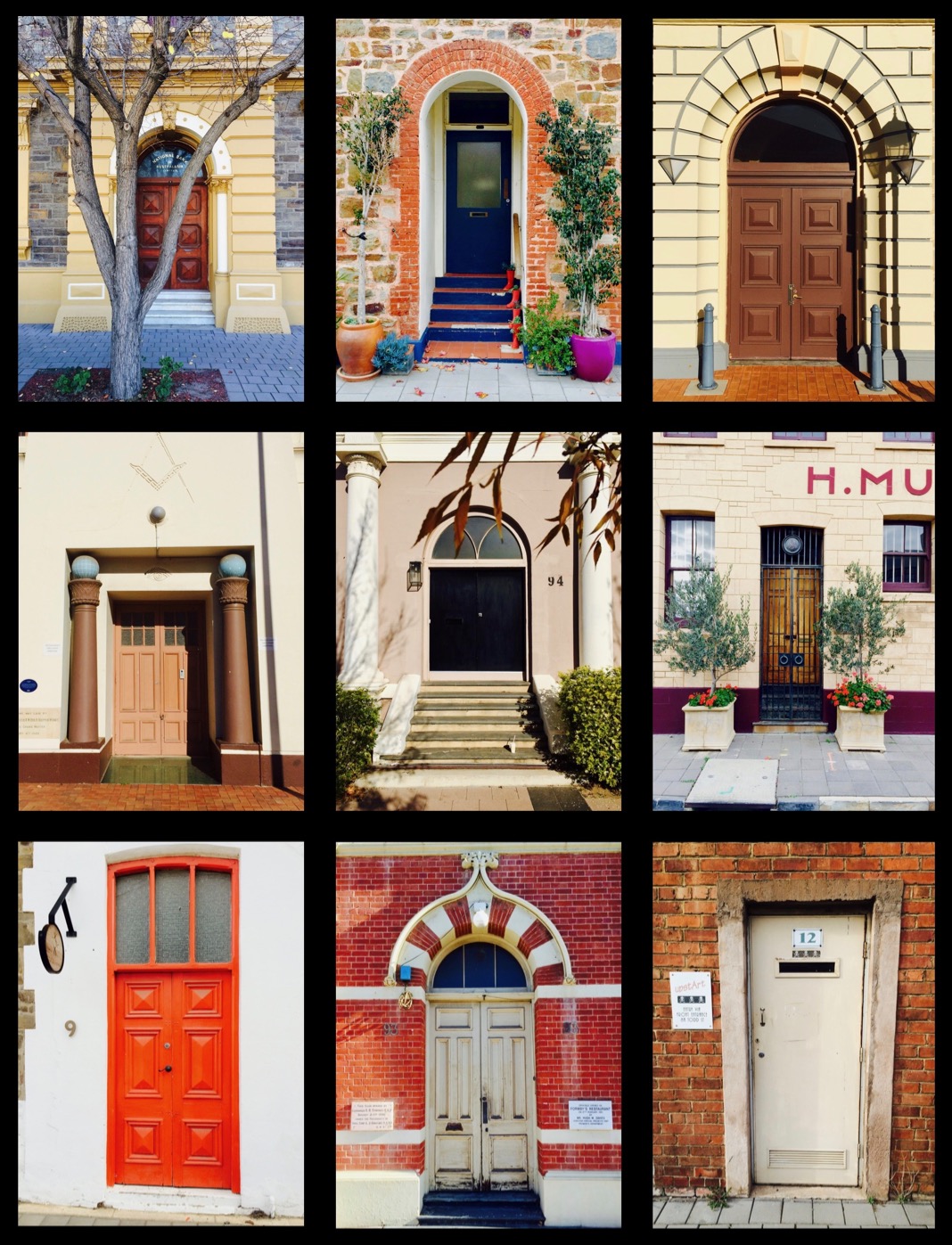 7. Port Adelaide Markets, Shops & Art Galleries
The Fishermen's Wharf Market sounds like it must sell fish, however much to my own surprise, I was wrong to think that.
It sells all sorts of stuff, from figurines and knick-knacks to clothes and books, but no fish.
You'll find it open on Sunday from 9 am to 5 pm, or on public holiday Mondays.
I like this print that I came across for $65. The famous Venus De Milo statue was found on the Greek Island of Milos and is now located at the Louvre, in Paris. It stood out to me as soon as I saw her. Apparently, this was a trendy print in the 1970s.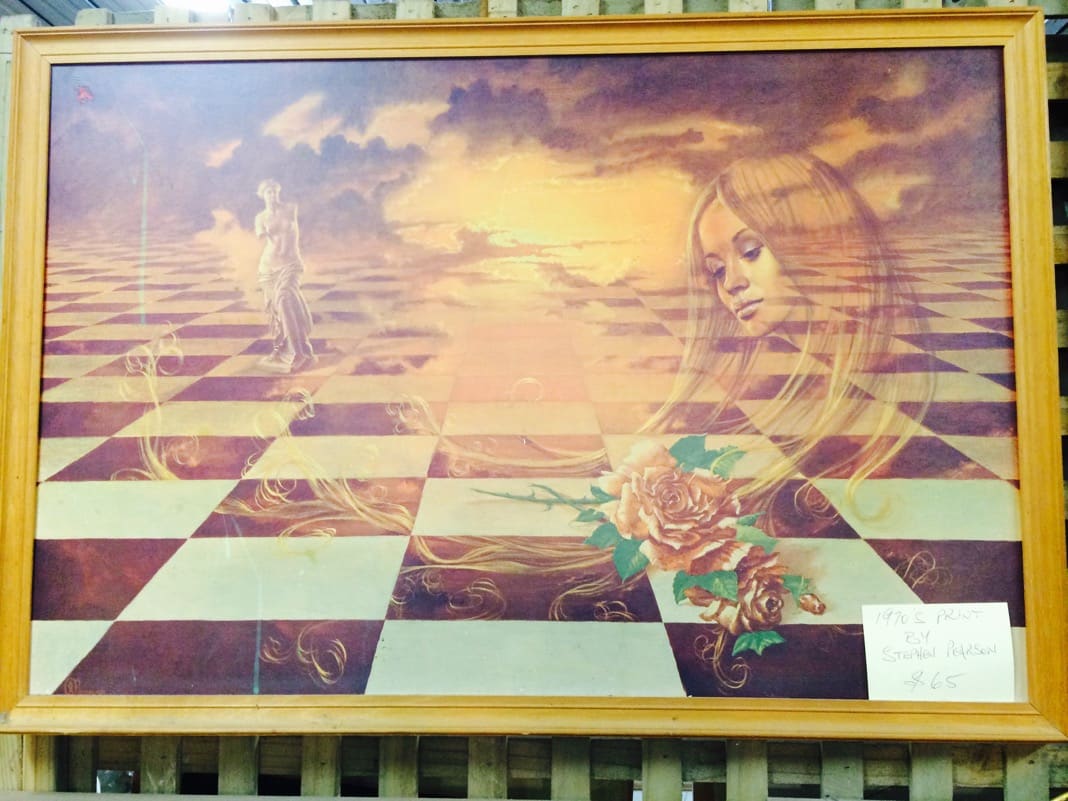 There's also the People's Market at Hart's Mill, open from Friday to Sunday.
One of the most interesting shops in Port Adelaide is The Port Adelaide Emporium. It has a range of antiques and other interesting stuff inside.
Seawitch Images is a unique store in Port Adelaide. It sells pictures, prints, and posters. If you're a tourist, you may be able to find something interesting as a souvenir to take home.
8. Hart's Mill
You can't enter Hart's Mill unless there is some sort of special event on. Even so, it still draws in visitors who admire the building from outside.
Next to Hart's Mill is a great playground that kids will enjoy. It has all of the fun things like a slippery dip and a flying fox, so that young kids will have loads of fun playing around here.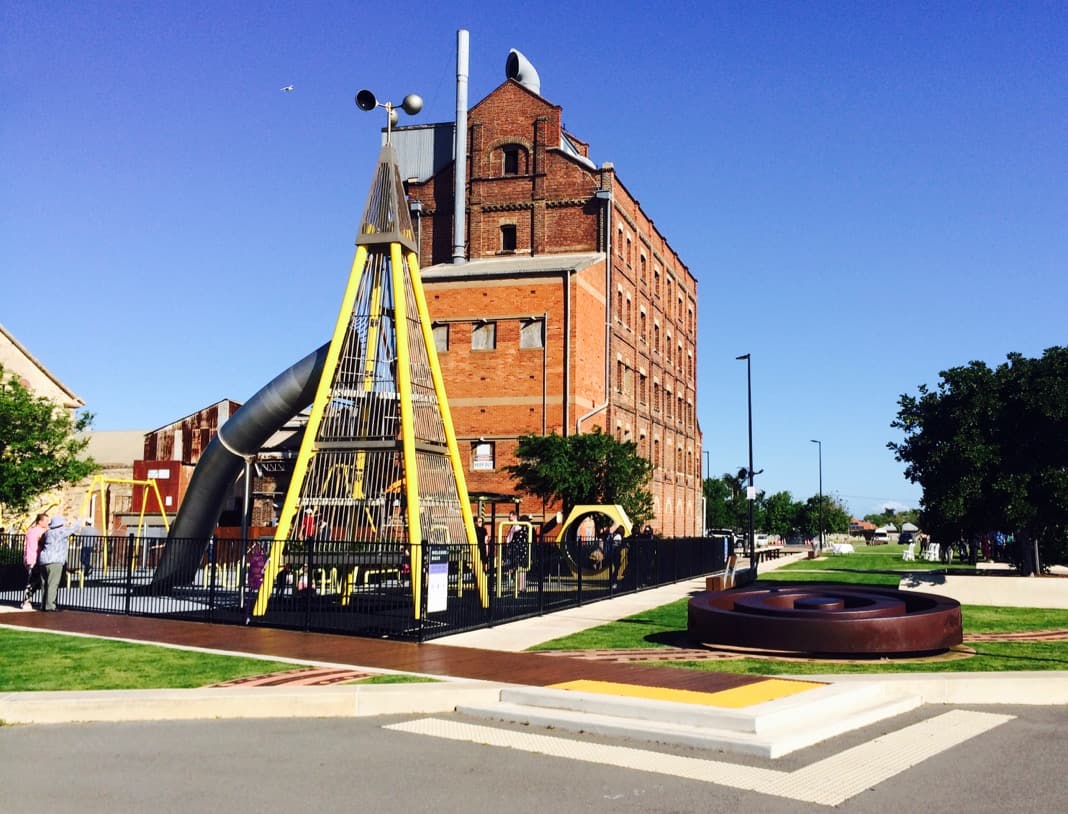 Folklore cafe is situated right next to Hart's Mill. It's a great place to stop for coffee and cake.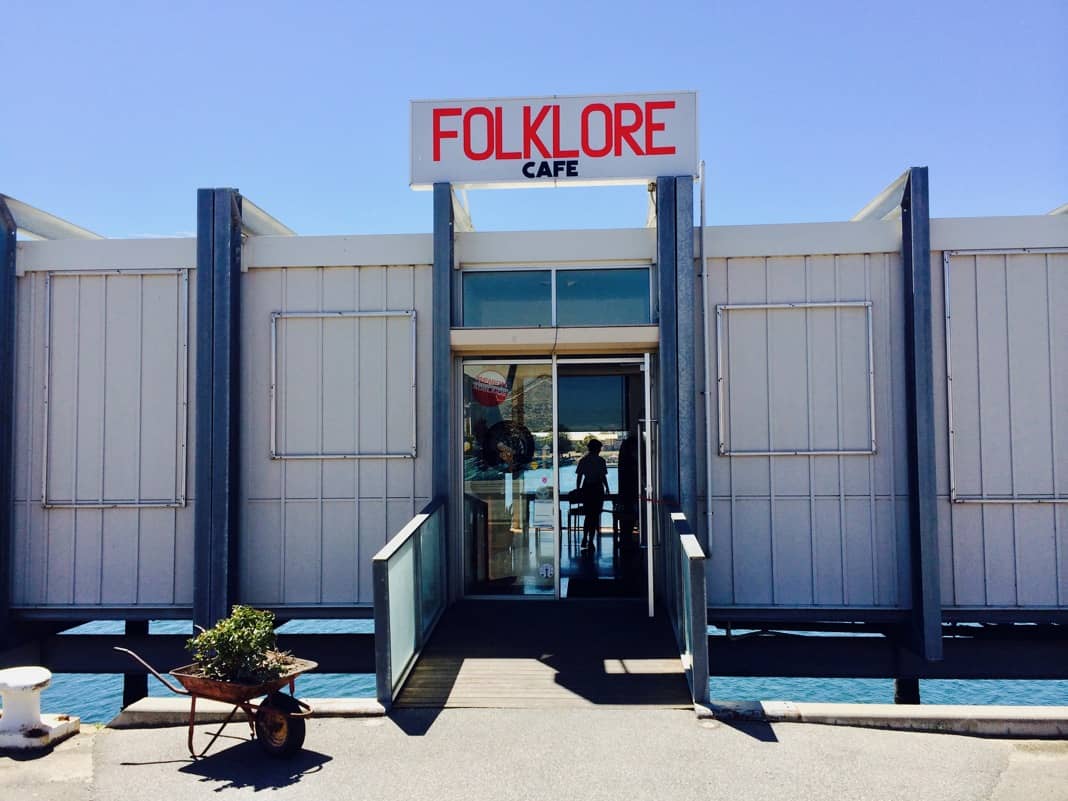 The Folklore cafe's unique thing is that it juts out into the Port River, right over the water. Pylons in the water support the building.
9. Eat and drink in Port Adelaide
You will be spoilt for choice in Port Adelaide for eateries. It won't be easy to pick a place to eat and drink, with so many tempting options available.
There are plenty of pubs, hotels, cafes, bakeries, restaurants, and fast food establishments to choose from.
Argo Hellenic Cafe Restaurant is an interesting establishment, obviously inspired by the Argo ship from Homer's Odyssey in Greek mythology. You can even see a model ship in the top window. Maybe they're descendants from the Argo crew.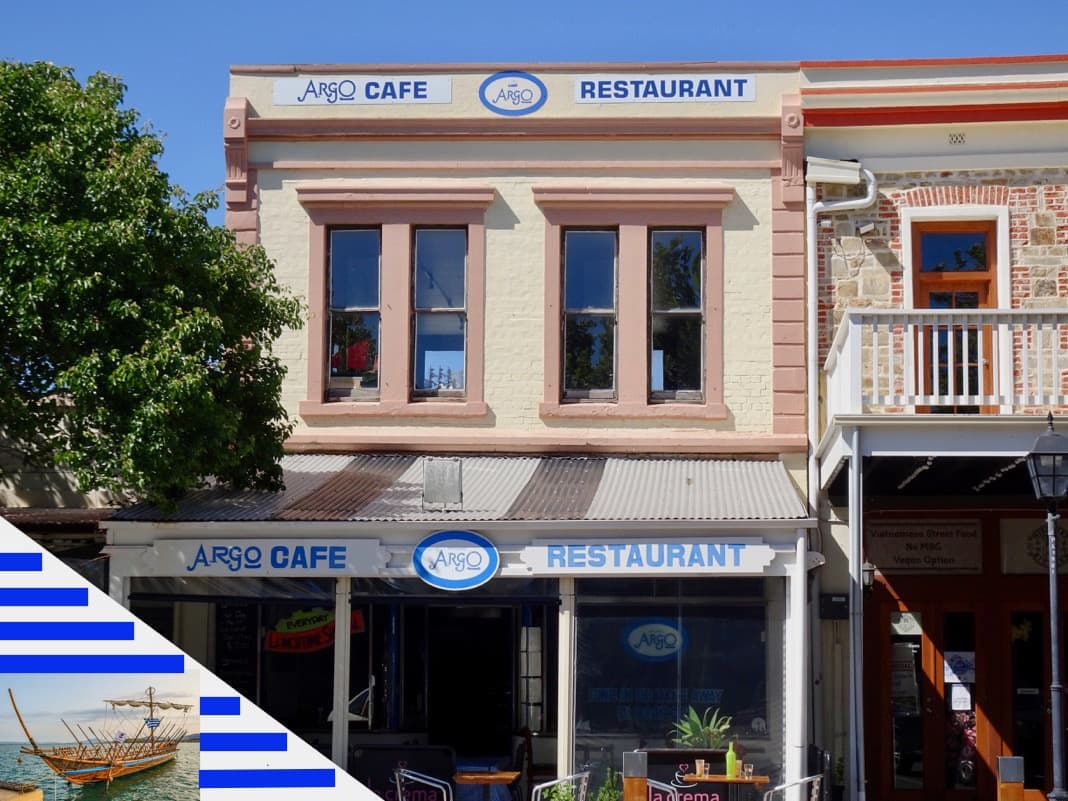 Other places in Port Adelaide that spring to mind include Low & Slow American BBQ and The Lighthouse Wharf Hotel.
If you prefer, you can also find tasty Greek gyros in Port Adelaide at one of the takeaways.
As previously mentioned, the Folklore Cafe should be on your radar for a coffee and a light snack. This is a great spot to watch out for dolphins as well.
10. Lost at Sea Memorial
This memorial is located roughly 300m on the right side of the red lighthouse along the wharf when facing the river.
Here you'll find a large ship's steering wheel on the ground, plus compass points and a black granite block that commemorates the 150th anniversary of the sinking of the SS Admella (1859). The inscription on the block reads LOST AT SEA.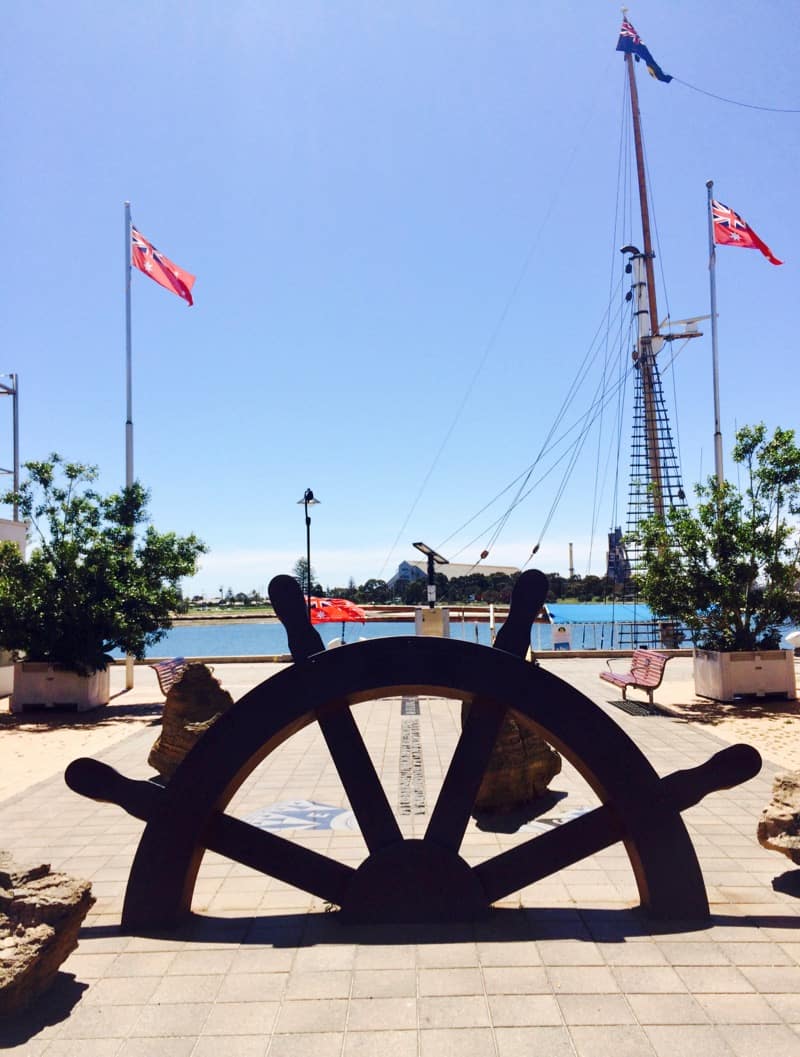 The greatest single loss of life in Australian boating history occurred when the SS Admella was shipwrecked at Carpenters Rocks in 1859.
This steamship was headed from Adelaide to Melbourne with a cargo of copper and passengers. The ship's name Admella, is due to her sea route from Adelaide, Melbourne, Launceston.
The Admella broke apart after hitting a dangerous reef, leaving 113 people clinging to the wreck for 6 days. Tragically of the 133 aboard the ship, only 24 passengers survived.
Cape Jaffa Lighthouse
The SS Admella tragedy became the key reason why the Cape Jaffa Lighthouse was commissioned. This lighthouse was originally situated on the Margaret Brock Reef, 8 km out to sea from Cape Jaffa.
Imagine a lighthouse sitting on a structure out in the ocean, a bit like an oil platform, but on a much simpler structure. Later on, the lighthouse became the first one in Australia to be dismantled and relocated onshore.
Today, you can find the lighthouse tower in Kingston SE, where it has been located since 1976. It is now a museum. You can find it open during the South Australian school holidays.
If you ever plan on seeing the Great Ocean Road highlights when driving from Adelaide to Melbourne, or vice versa, you may want to check it out. To me, it looks very similar to the red and white lighthouse found in Port Adelaide.
Cape Jaffa Lighthouse Location: 32 Marine Parade, Kingston SE in Victoria (right on the foreshore). The seaside town of Kingston SE is about a 3.5-hour drive from Adelaide. The popular seaside town of Robe is a further 30 minutes away. Both of these towns are part of South Australia's Limestone Coast, including Bordertown, Keith, Millicent, Mount Gambier, Penola, Naracoorte, and Beachport.
11. South Australian Maritime Museum
If you want to learn more about South Australia's interesting maritime history, this is the best place to visit.
The museum is filled with interesting finds from shipwrecks. You will also see an awesome collection of ship figureheads. Here are some of the ship figureheads on the upper floor.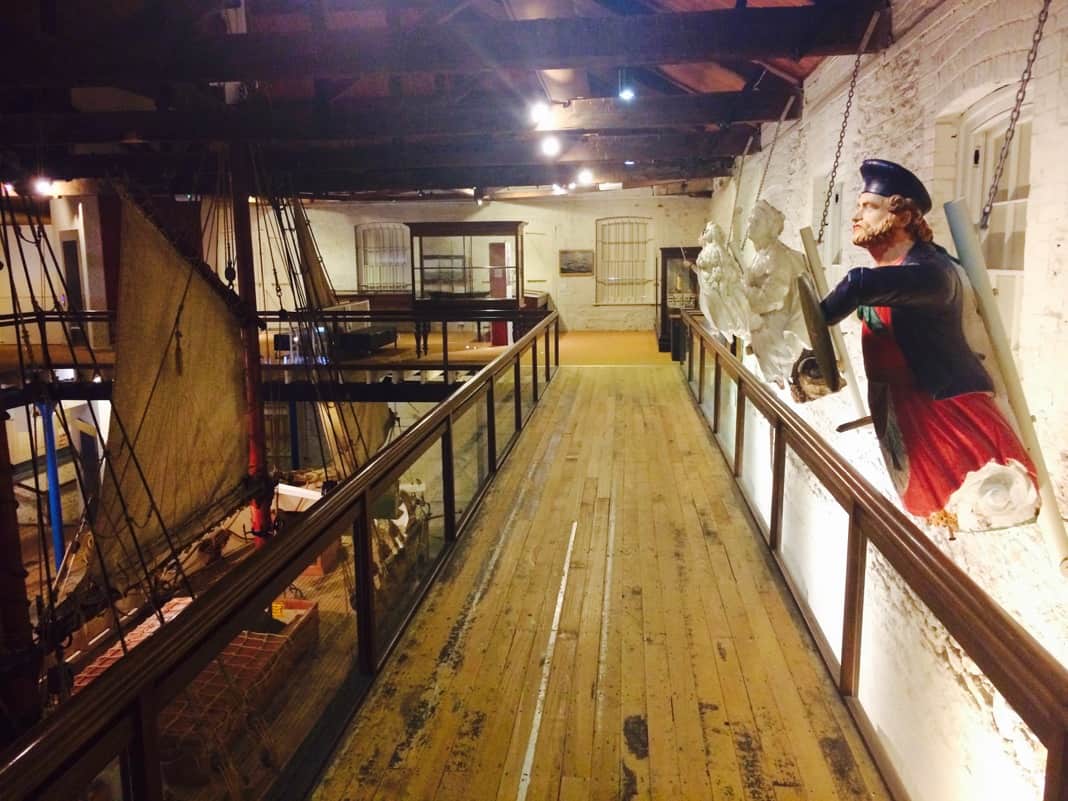 On the lower floor, you'll find some more ship figureheads. All up, the museum holds 17 figureheads – the largest collection in the Southern Hemisphere.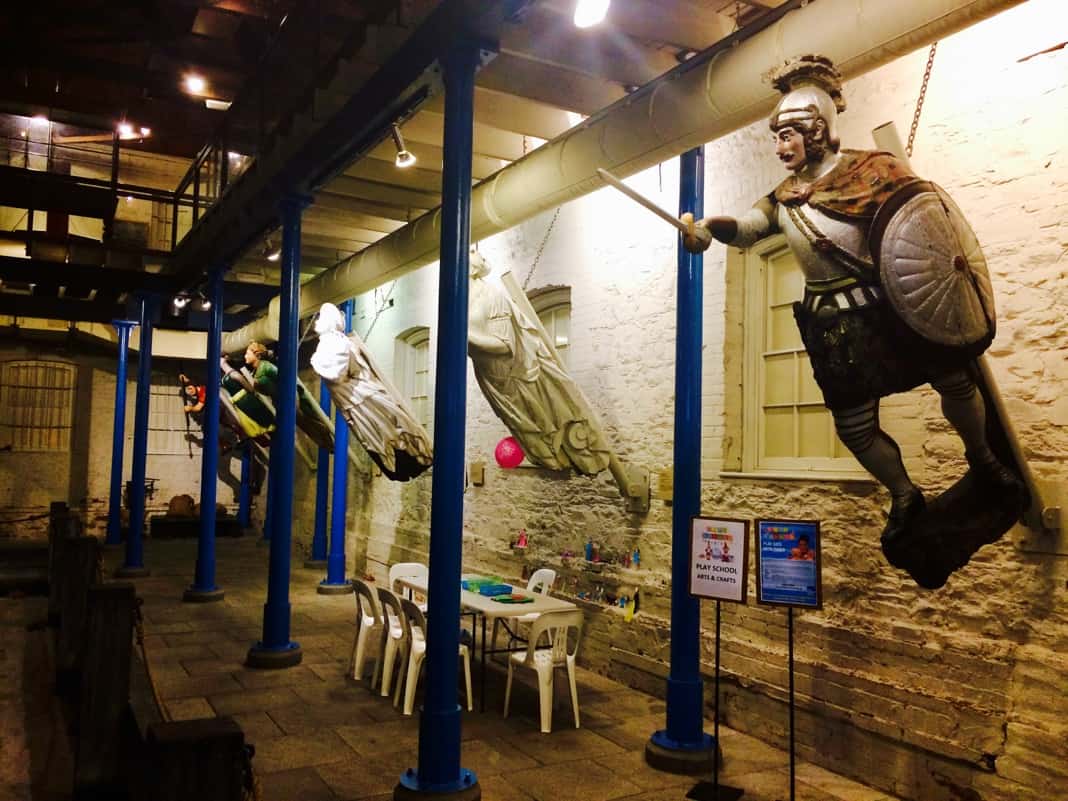 Visiting the South Australian Maritime Museum will allow you to learn more about the Star of Greece shipwreck at Port Willunga Beach. I have written a separate post on this topic because it is so fascinating.
The Star of Greece figurehead is that of a Grecian woman who looks more like a Greek Goddess.
Port Willunga is one of Adelaide's best beaches, so if you're in Adelaide on a hot summer's day, you should really check it out.
Official Website: South Australian Maritime Museum
12. National Railway Museum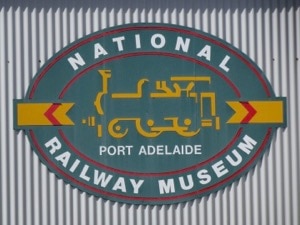 Train enthusiasts will love this place. I'm not a big one myself, but I can see the appeal.
If you want to go for a ride or take the kids for a ride on a Thomas the steam train lookalike, then here's the place to visit.
The name of the train is Ken, even though it looks exactly like Thomas.
They use the name Ken instead of Thomas solely due to a licensing fee they'd otherwise have to pay.
Official Website: Port Adelaide National Railway Museum
13. Walk over Birkenhead Bridge
The Birkenhead bridge is one of those bridges that can open up on occasion to allow tall ships to pass through.
On one particular day, when I was walking over the bridge to check out some of the Port Adelaide Wonderwalls on the other side, I saw a dolphin swim past. It was absolutely incredible. I talk about the experience in the Port Adelaide Wonderwalls post.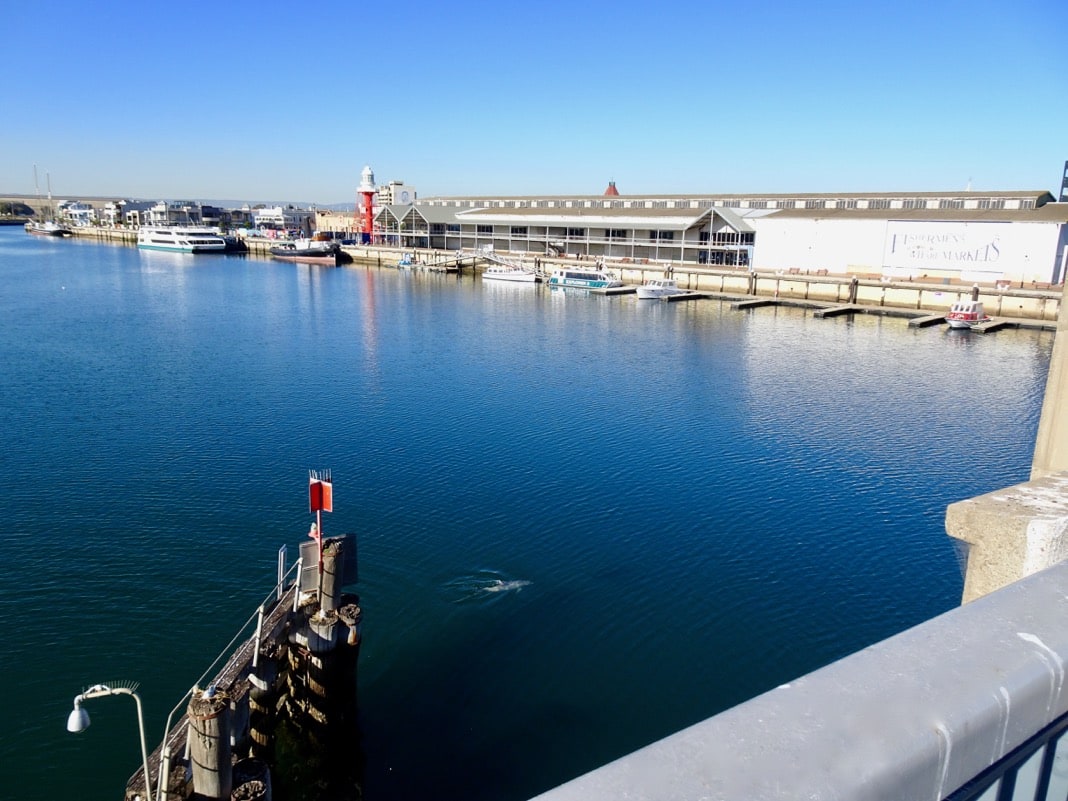 The odds are stacked against you, but there's always a possibility that you could see a dolphin on the bridge if you're lucky.
I got incredibly lucky because I saw two more dolphins on the other side of the bridge on another day. You can just make them out, to the right of the pole in the water.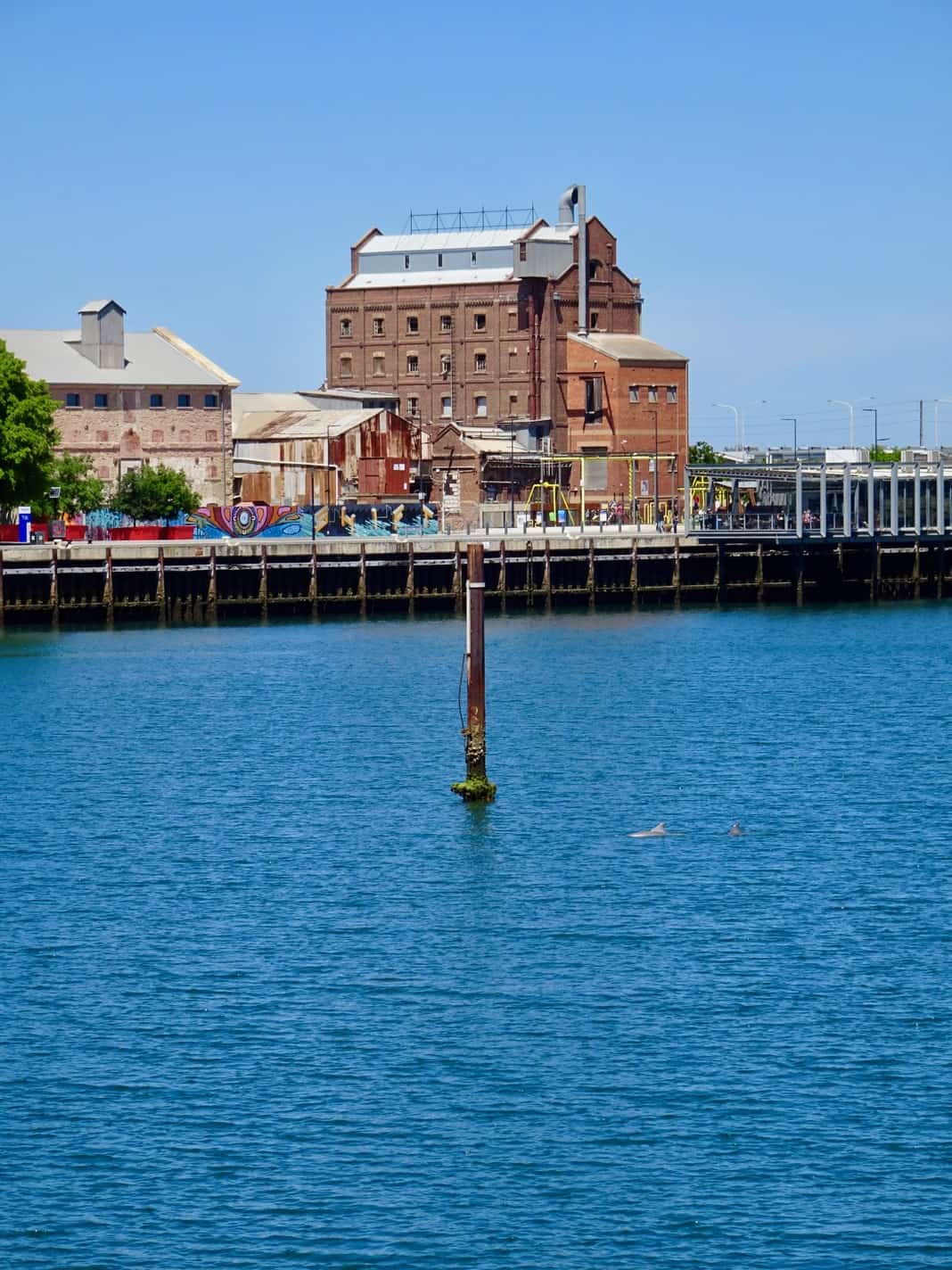 You can see Hart's Mill in the background and the Folklore Cafe on the right side.
14. Admire the old Boats
Several rusted out boats are lying around Port Adelaide. This boat seems to have been at this spot forever. You will probably see it there as well when you walk over the Birkenhead Bridge.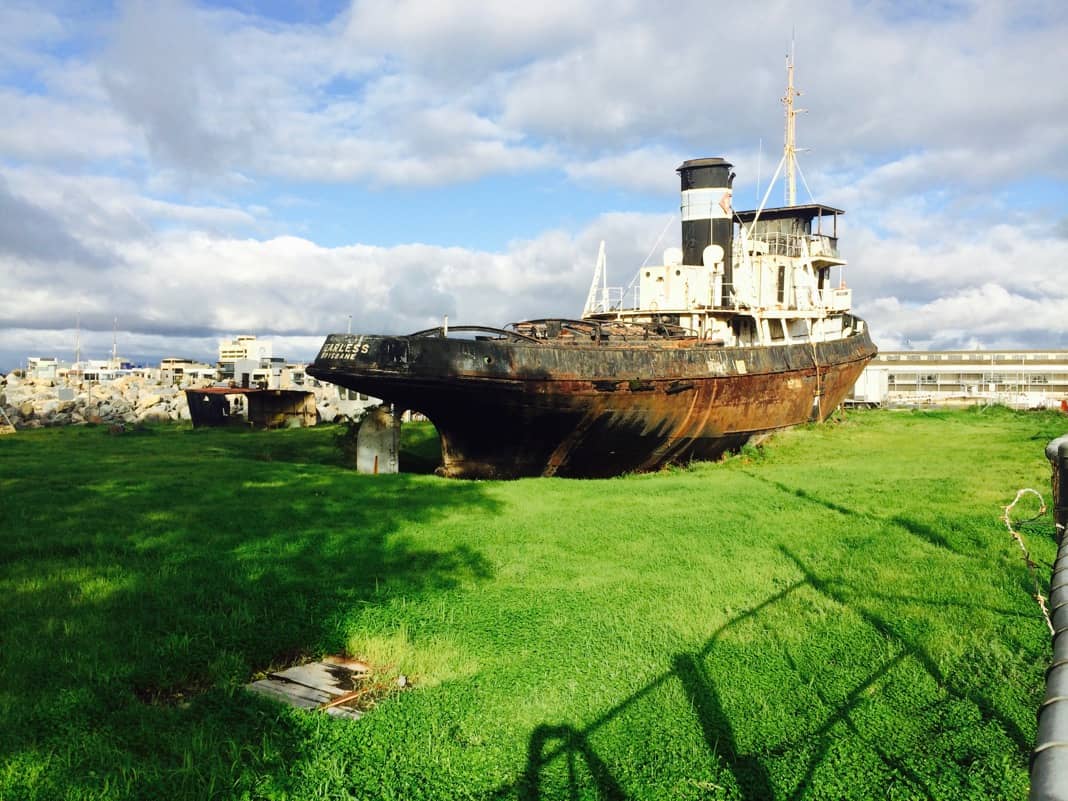 15. Sail on a tall ship – Visit The One & All
Have you ever wanted to sail on a tall ship like a pirate? Well, Port Adelaide offers you the chance to sail on a ship called the One & All.
They also allow visitors to walk on board the boat when it is docked, from what I've seen.
16. Go Fishing for Bream, Mulloway, or Salmon Trout
If you're into fishing, you have a few fish species to target in the Port River.
There is plenty of bream and also some huge mulloway swimming around in the Port River. Salmon trout can also be caught on occasion.
This is more of a past time for locals from Adelaide who're into fishing.
17. Port Adelaide Railway Station
Why not catch the train from Adelaide CBD to Port Adelaide, or from Port Adelaide to Adelaide CBD.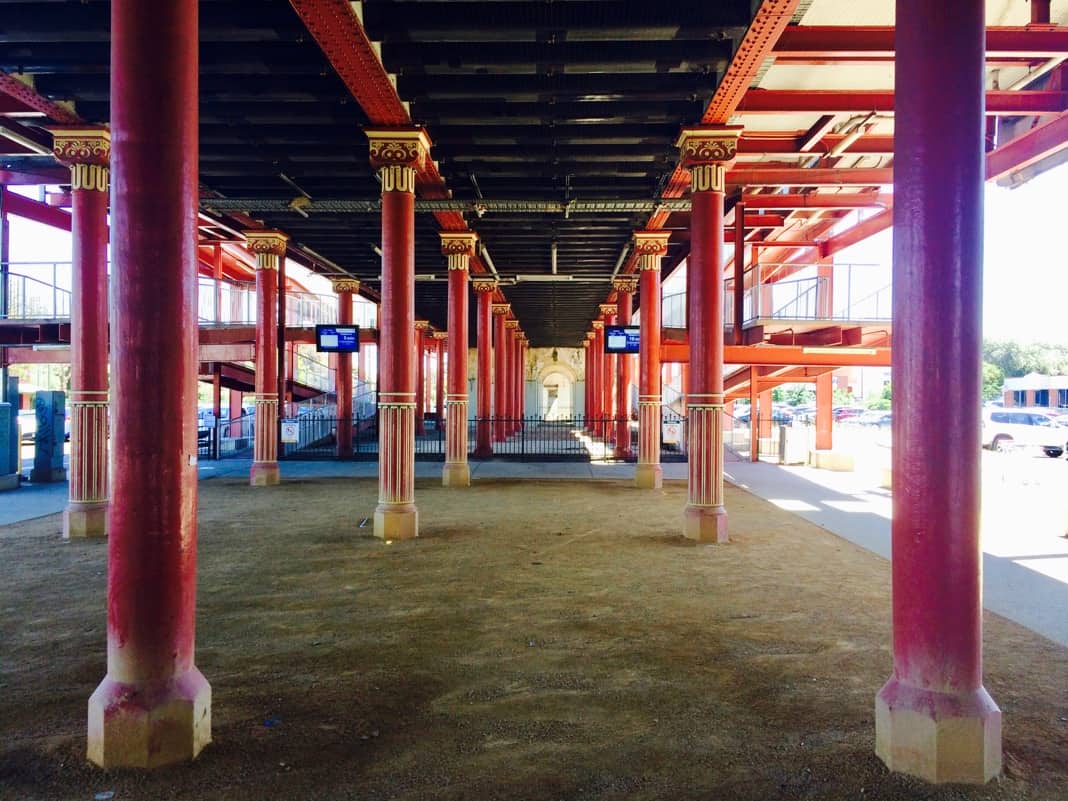 The beautiful thing about Port Adelaide train station is that it looks as if it could be a part of the Palace of Knossos in Greece, with its striking red columns.
18. Port Adelaide Historic Hotels
If you're a beer drinker, you're in luck at Port Adelaide. There are numerous historic hotels in Port Adelaide where you quench your thirst. The Port Admiral Hotel on the corner seen below was established in 1849. It's hard to weigh up the best hotel in Port Adelaide, and because of that, I won't give you any recommendations.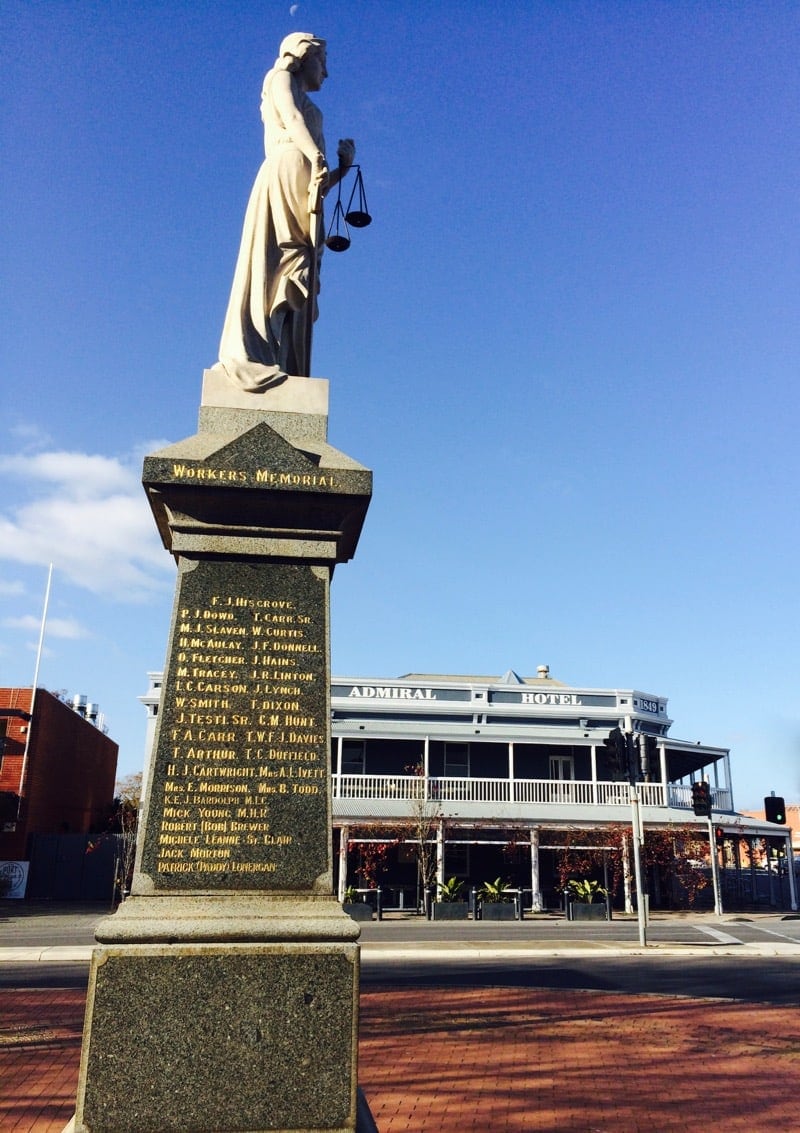 Another option for beer drinkers is to visit Pirate Life Brewing in Port Adelaide.
19. Port Adelaide Visitor Information Centre
A quick stop at the Port Adelaide Visitor Centre will allow you to pick up a free map showing you the locations of many of the Wonderwalls around Port Adelaide.
They also recommend an App that can help tourists find the best places in Port Adelaide.
Any question a tourist may have about Port Adelaide can most likely be answered at the Port Adelaide Visitor Information Centre.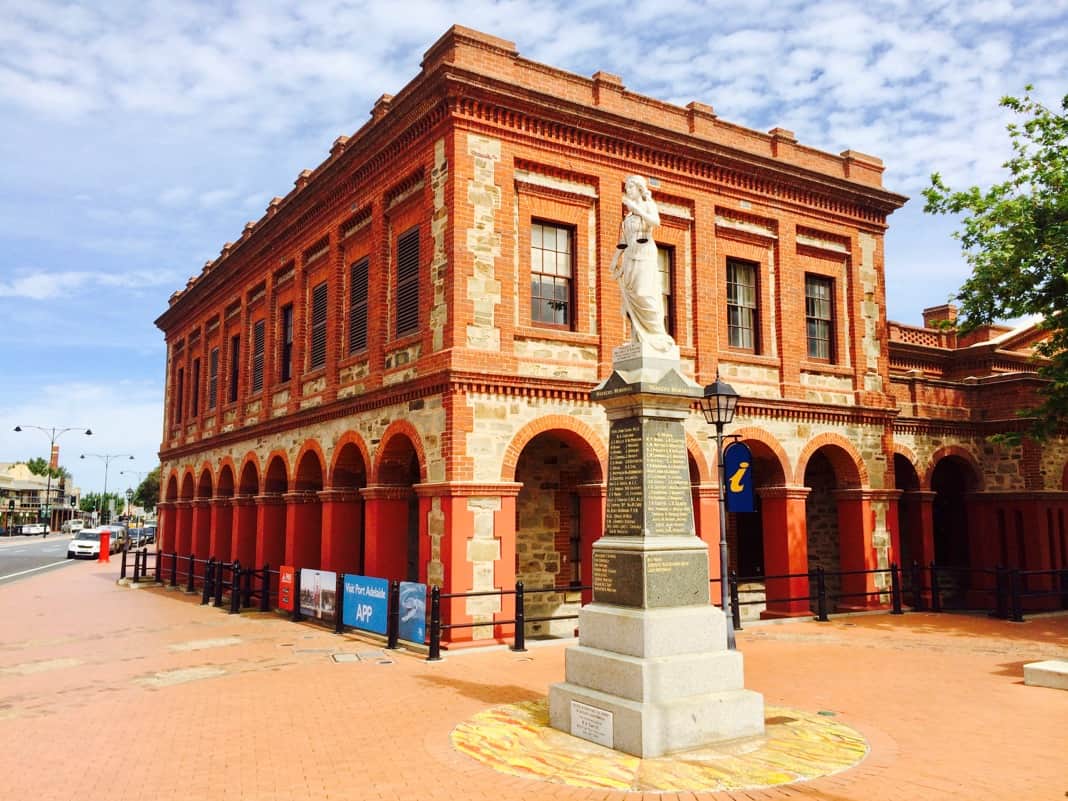 Want to arrange a free walking tour of Port Adelaide? Here's where it can be arranged.
I have also heard of Port Adelaide offering a heritage bus tour, which sounds interesting. The center also has a wide variety of different brochures to help you decide what to do in Port Adelaide.
This ultimate guide to Port Adelaide tells you about the best attractions in Port Adelaide, so a visit to the center is only worth about 5 or 10 minutes of your time.
20. Climb to the top of Port Adelaide Lighthouse
One of the first things that spring to mind when thinking about Port Adelaide is the Port River, Adelaide's largest estuary system in Adelaide's northwestern suburbs.
The red lighthouse in Port Adelaide is situated right in the heart of Port Adelaide in a prime position only a few meters away from the Port River.
If you want to, you can climb up to the top of the lighthouse. I did it for $1, which was great value. The views at the top were excellent.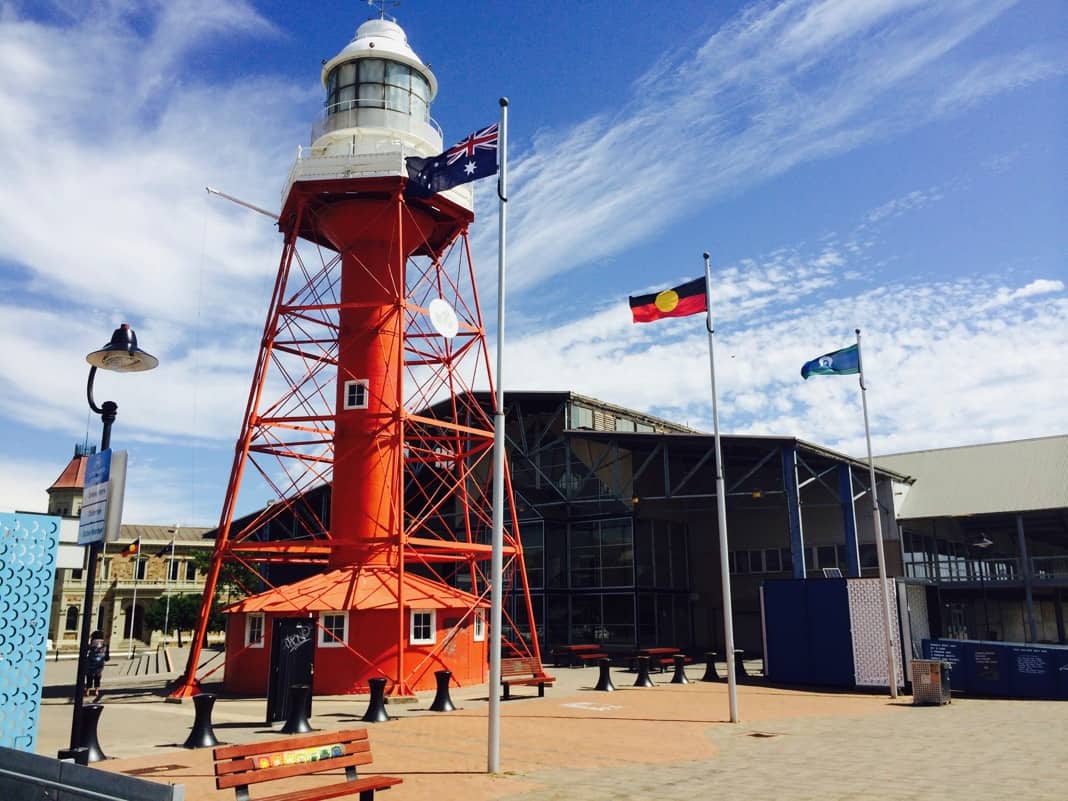 The unique thing about this lighthouse is that it was once located on Neptune Island in South Australia, close to Port Lincoln.
The lighthouse was first lit in 1869 at the entrance to the Port River near Outer Harbor.
It was relocated to the Neptune Islands in 1901 and relocated to the current location in Port Adelaide in 1986. Since 1980, it has been listed on the South Australian Heritage Register. Apparently, you can see it lit on Saturdays.
Having Neptune (Poseidon), God of the sea, associated with a lighthouse beside the Port River is rather symbolic.
I have already mentioned two Greek Gods connected with Port Adelaide, Cupid (Eros) and Neptune (Poseidon). I also have some more surprises coming up.
Port Adelaide Hidden Gems
Here are a few more Port Adelaide attractions and things to do in Port Adelaide that most people don't know about.
21. Old wool store buildings at Port Adelaide
These buildings were once the place where South Australia's entire wool clip came through before making it to Europe's looms.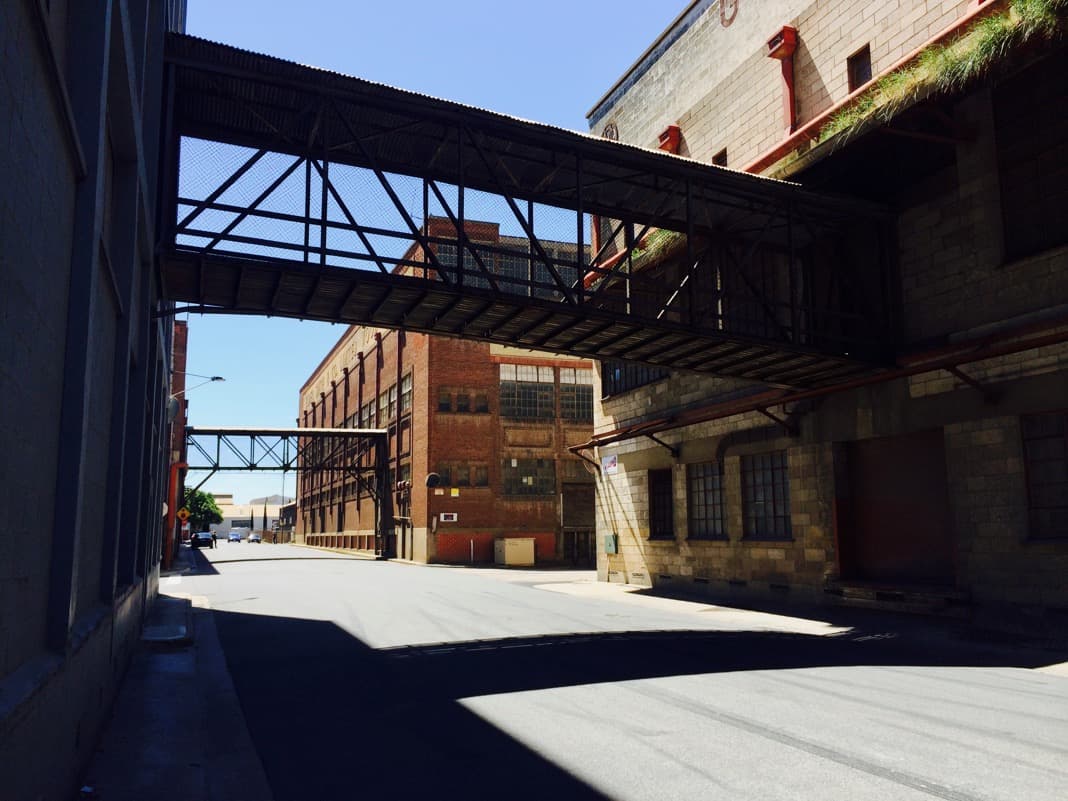 22. Torrens Island Quarantine Station Tour
This piqued my interest after reading a rock plaque next to the Torrens Island bridge. The memorial that 400 enemy aliens were interned on the island during World War 1. Tours depart from the South Australian Maritime Museum.
23. City of Adelaide Clipper Ship Tour
You can go on a tour of the City of Adelaide Clipper Ship, which was salvaged from Scotland and returned to Port Adelaide. It is in the process of undergoing restoration.
This ship was launched on the 7th of May in 1864. After that, it was used for transporting passengers and goods between Britain and Australia.
Inside the ship is a museum.
24. Port Adelaide Emus
These emus are said to glow in the dark. You are supposed to be able to see them when you drive over the Jervis bridge. I haven't seen the emus at night, so I can't say for sure that they do.
During the day, they stand out like anything. Most tourists don't pass through this area of Port Adelaide, so you need to know about them.
25. South Australian Aviation Museum
Tucked away in a secret spot in Port Adelaide is the aviation museum for plane fanatics.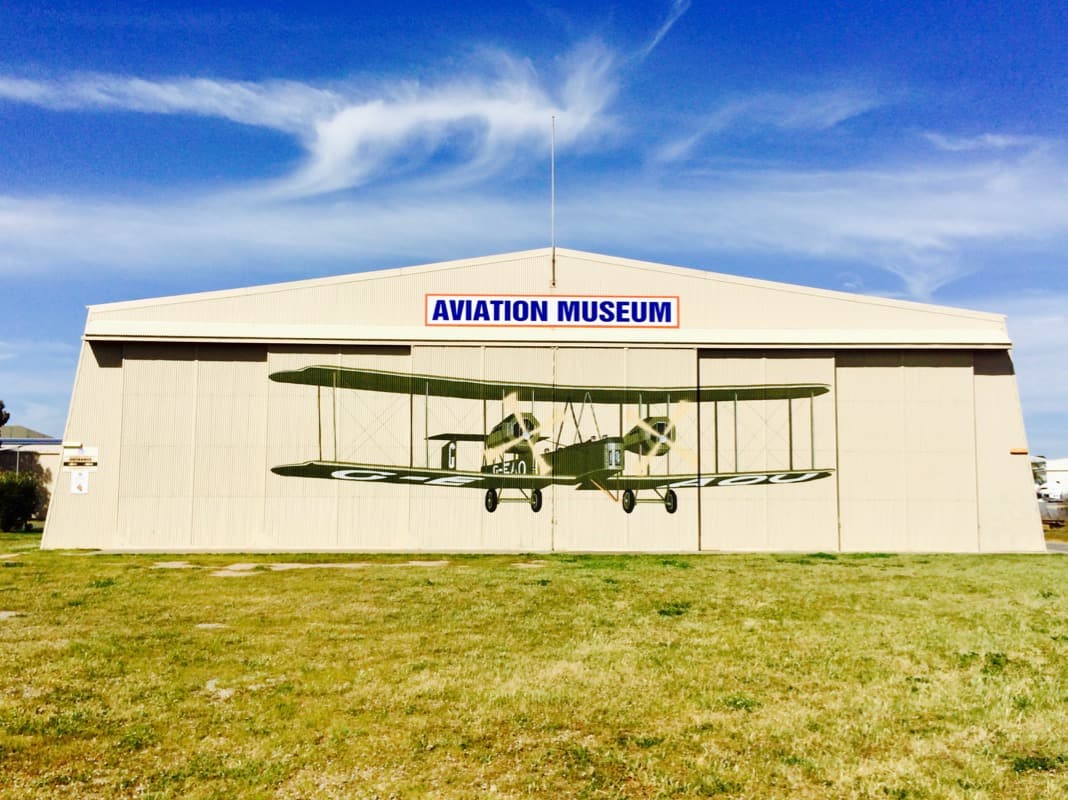 You will find a variety of planes in two separate hangers. The hanger below is the main area of interest. One of the planes seen here in the background is known as a Vampire, which fascinated me.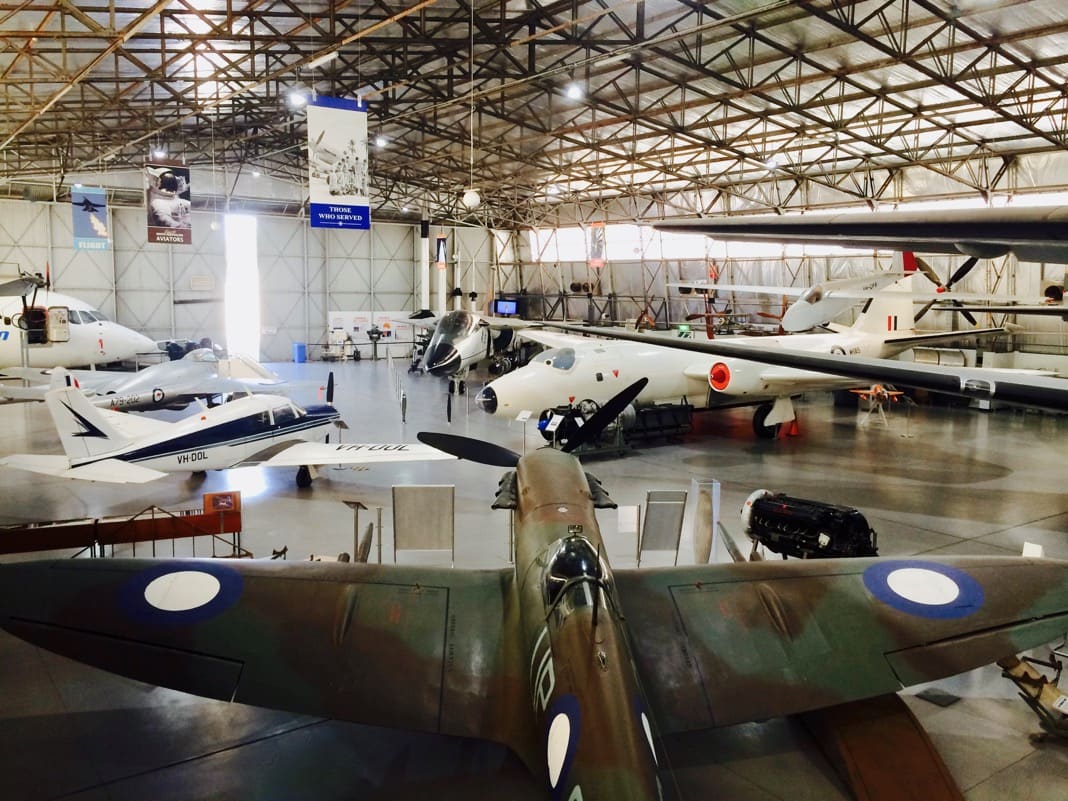 One of the biggest attractions in the aviation museum is the Spitfire plane.
A huge Lockheed AP-3C Orion A9-756 can be found inside the other hanger, with one wing clipped.
The Port Adelaide aviation museum has a small gift shop at the entrance. I noticed this airplane model kit for sale. Hercules is the supremely strong demigod from Greek mythology, but his name is also given to one beast of a plane.
Interesting Fact: One of the most interesting things I learned at the Aviation Museum was about the Australian Astronaut Andy Thomas. He's the great-great-grandson of Frederick George Waterhouse, the first curator of the South Australia Museum. Frederick was also an explorer who took part in the John McDouall Stuart Expedition in 1861-62. I think this may have assisted in Andy's application process to NASA.
Andy Thomas has a Ph.D. in mechanical engineering, which I knew about, but I didn't know that he worked at Lockheed Aircraft Corporation before being accepted by NASA for Astronaut training.
If you'd like to understand how NASA supports Greek mythology, you can read about it in another post on Greek Gods Paradise.
Official Website: South Australian Aviation Museum in Port Adelaide
Port Adelaide Attractions (a bit further away)
These attractions are not exactly within the Port Adelaide boundaries, but they're close enough.
26. King Neptune statue
It's no surprise that King Neptune should be close to Port Adelaide. This is one of the awesome statues in Australia based on the God of the sea.
There are more of them, and if you're interested, you can see them inside another post, where I reveal more statues and fountains in Australia based on Greek mythology.
This statue is located inside a cement factory. Neptune used to sit on top of a fountain in the suburb of Darlington in Adelaide. Somehow Neptune found his way to the outskirts of Port Adelaide on Wills street at the end of the road, inside the Viva Energy Australia site.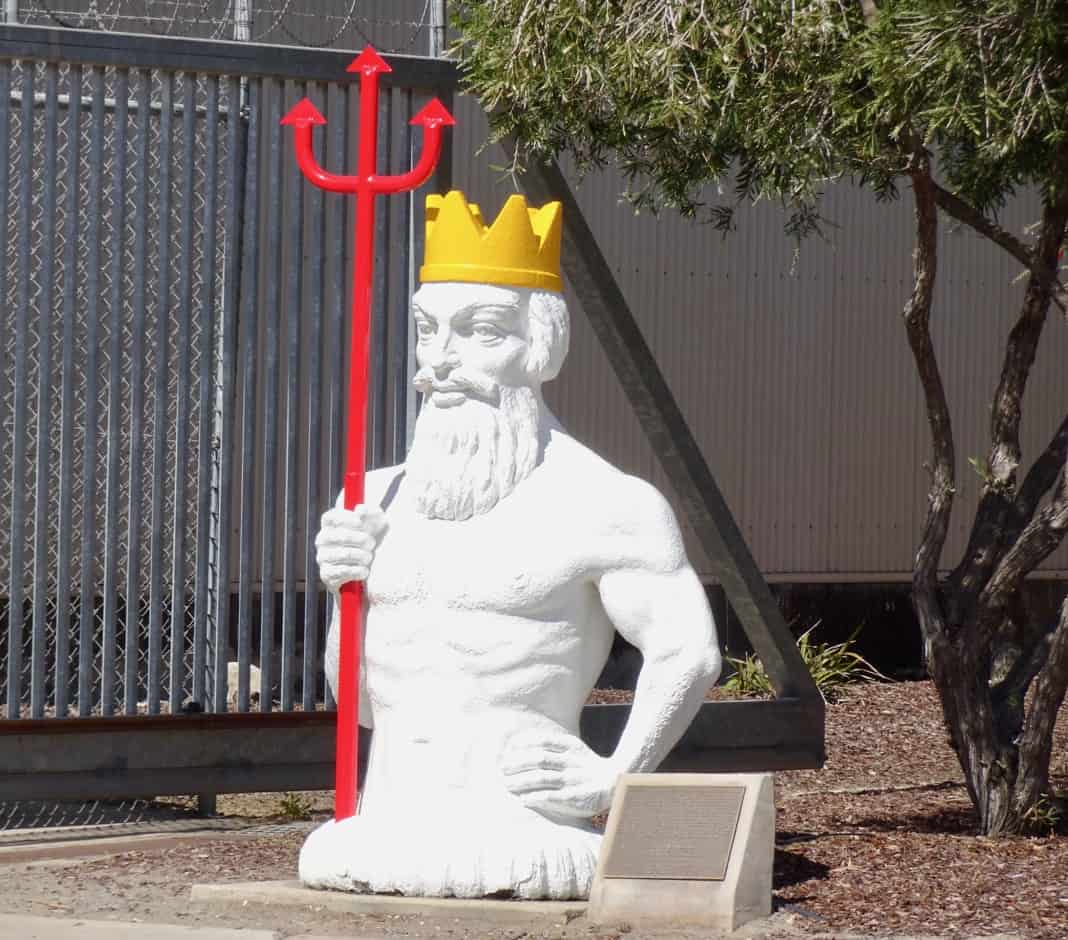 On the other side of the road is a Pegasus logo sign. Someone obviously loves their Greek mythology.
27. Watch Port Adelaide play a football game
Port Adelaide is the homeland to a legion of Aussie rules football fans.
For those of you who aren't from Australia, this is the weird Aussie game where they score 6 points for kicking a goal and one point when the ball goes through the side posts.
Port Adelaide football club is only one of two football clubs in Adelaide to have a team that plays in the Australian football league (AFL). This club is better known as Port Power.
The national Port Adelaide football team is symbolized by a fist holding a lightning bolt, which to me, has always conjured up thoughts of Zeus, king of the Greek Gods.
Port Adelaide football club in the South Australian football league has black and white stripes for its team colors. The club mascot is a black & white magpie bird.
You can watch a game at Alberton Oval, or better still watch a football game AFL game at Adelaide Oval.
28. Walk from Port Adelaide to West Lakes
If you make your way to the Port Adelaide emus, you can follow the pathway away from the main bridge to West Lakes.
Cross the road after you pass the emus on your left, and from there, you can eventually make your way to Delfin Island.
I discuss this relaxing walk in a post showing you the best walks and hikes in Adelaide. I also provide you with a map to follow.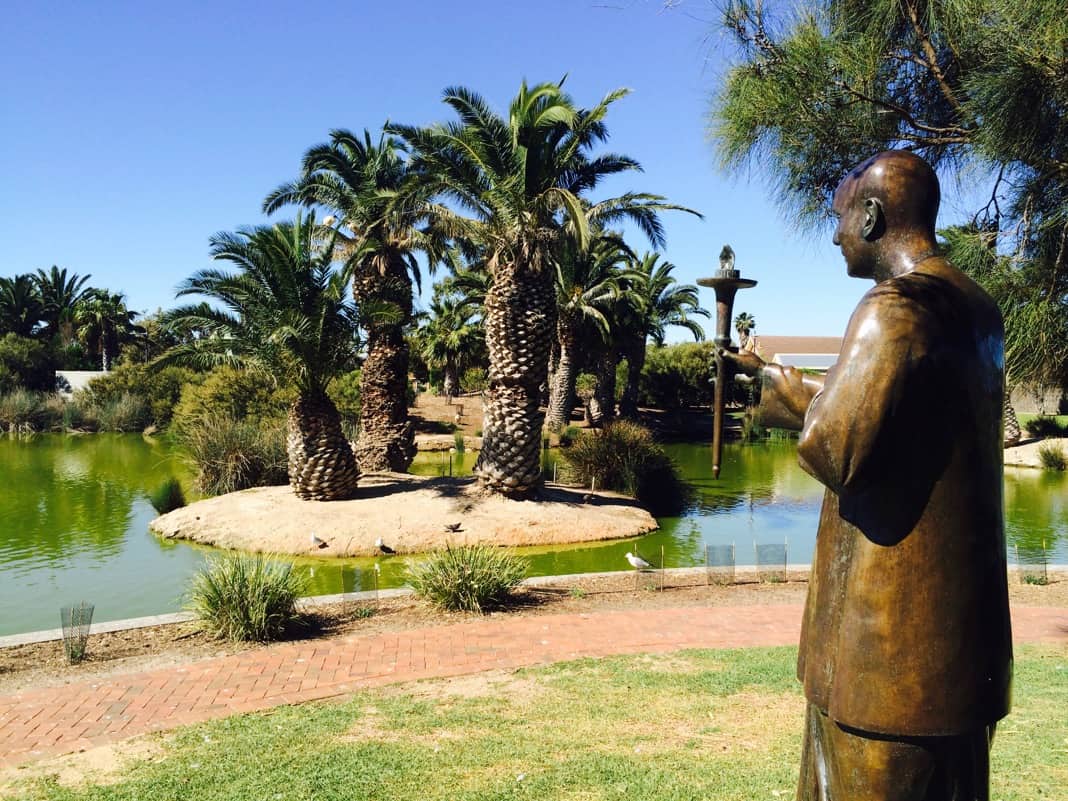 When you arrive, you will be in the presence of a sculpture that commemorates the life of Sri Chinmoy (1931 – 2007), an Indian spiritual leader.
"Peace does not mean the absence of war.
Peace means the presence of harmony, love, satisfaction, and oneness.
Peace means the flood of love in the world family."
Sri Chinmoy
29. Largs Bay
No, it's not Cerebus, the three-headed monster dog from Hades in Greek mythology. These cute dogs look as if they could be guarding the public toilet in Largs Bay. The mural on the toilet is most likely meant to portray Poseidon, God of the sea. I like how the crab is symbolized by the flag colors of the first Australians.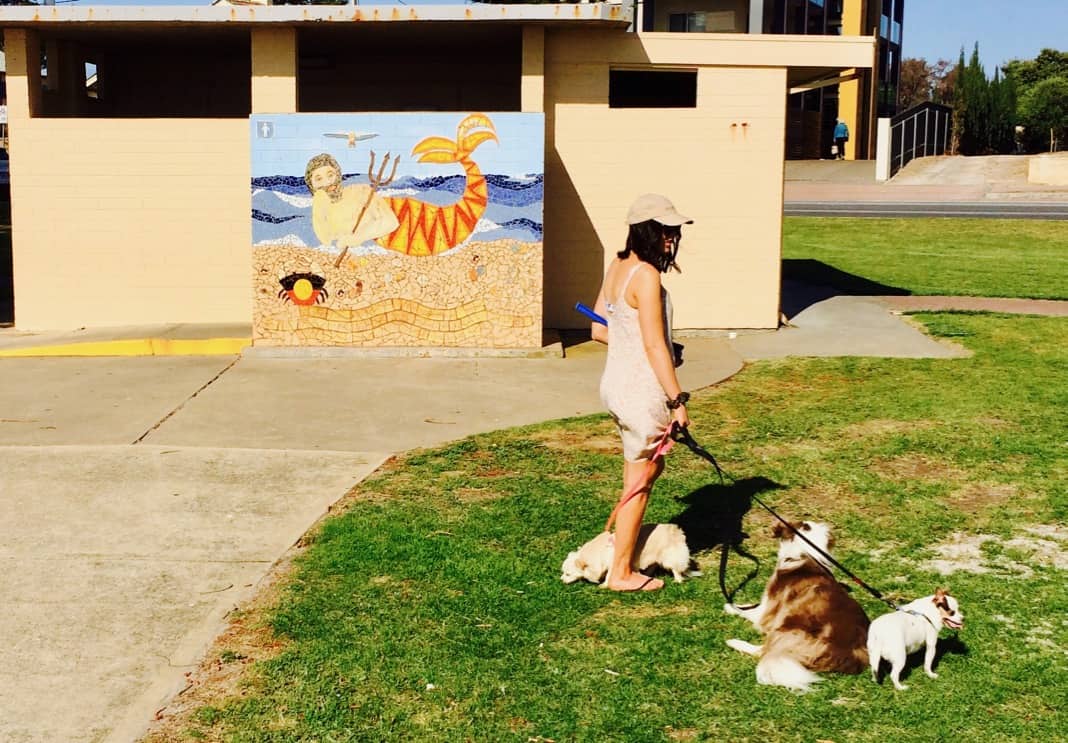 On the other side is the women's entrance, where you'll see a mural of a mermaid, which is probably Neptune's wife.
Here we have the magnificent Largs Pier Hotel. It gives you the feeling as if you could be in Rome.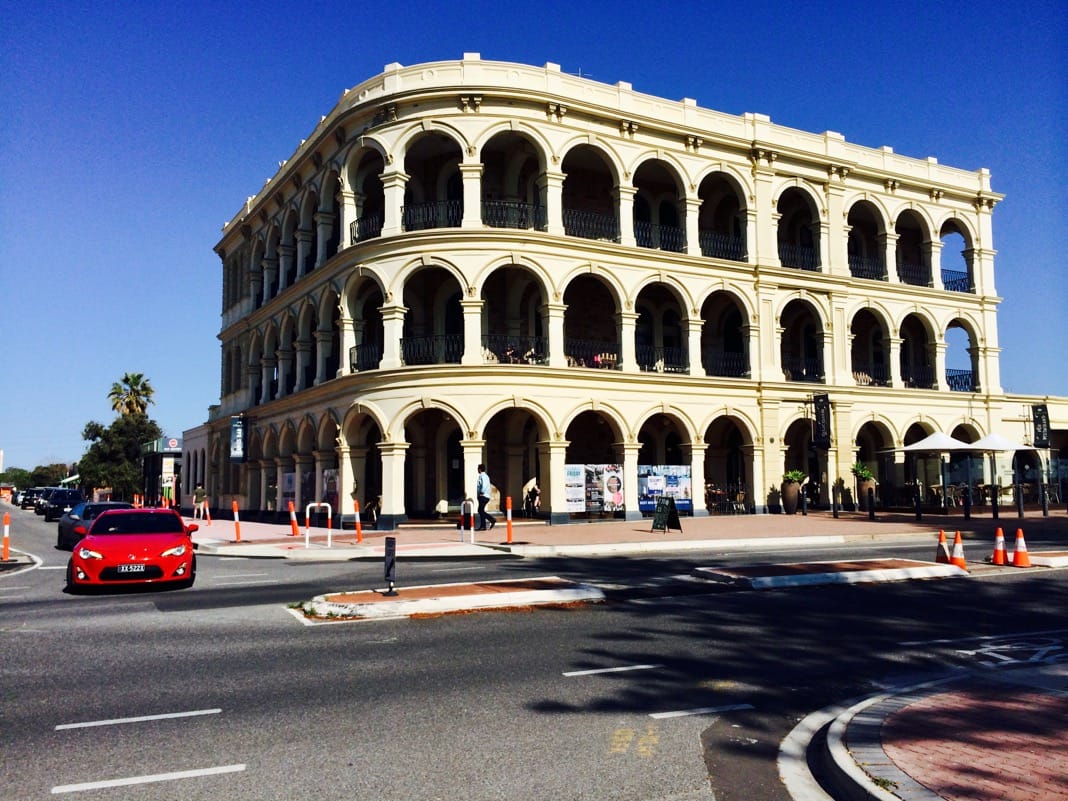 An interesting sign I found close to the Largs Bay jetty is this Orion Constellation sign. It gets you thinking about the Greek myth of Orion.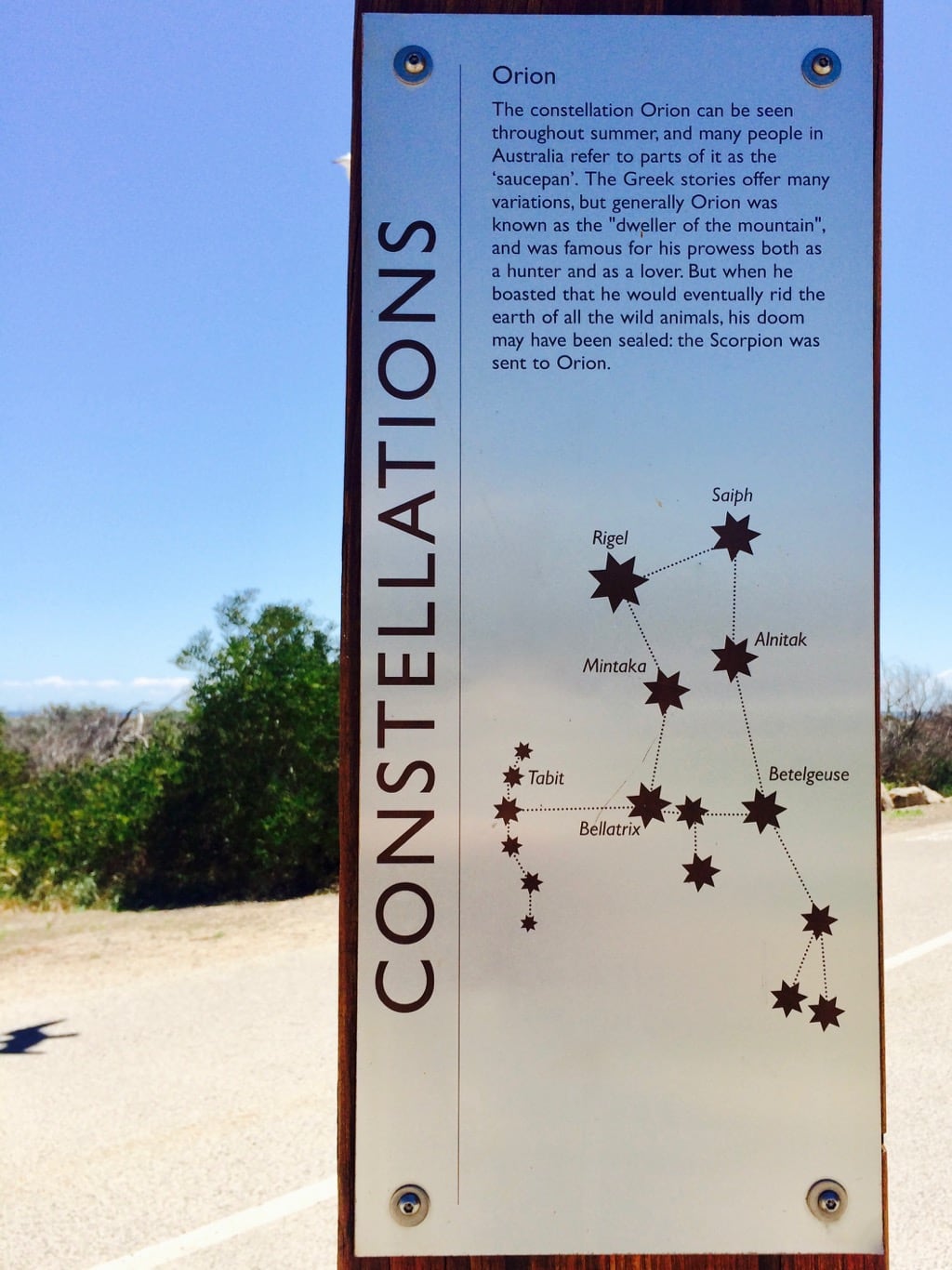 Make sure you go for a stroll on the Largs Bay jetty while you're there.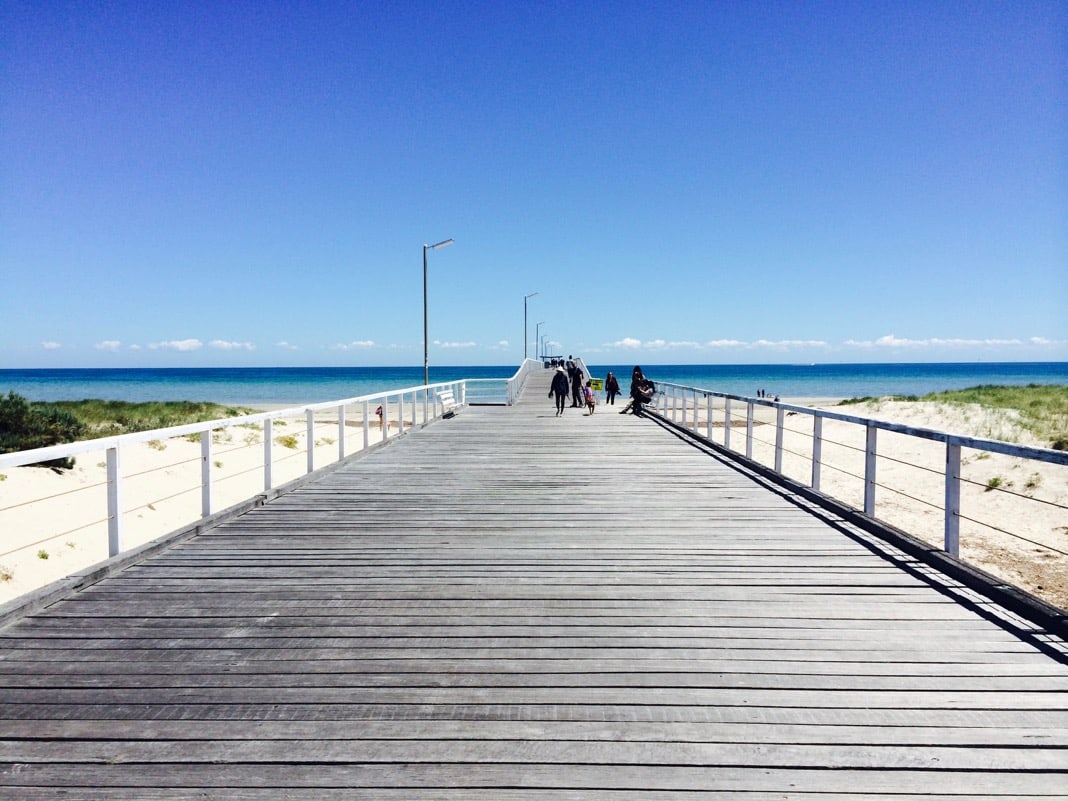 30. Excelsior Shipwreck – Mutton Cove Conservation Reserve
The Excelsior shipwreck at Mutton Cove is located at Outer Harbour in an isolated spot. This wreck is one of the most intact wrecks in South Australia.
There's nothing extraordinary about its history, but it does make for a great photo opportunity.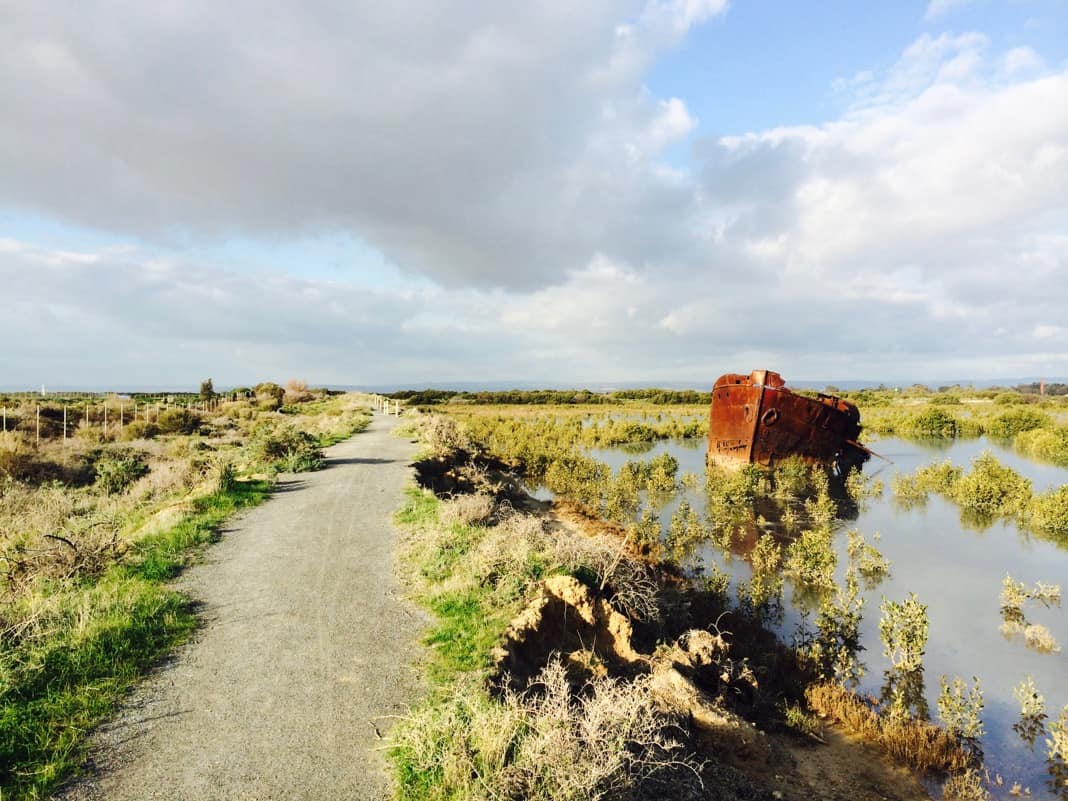 The hull can be found in fairly swampy water, but the beauty about this wreck is that you can see it from a pathway that runs right past it. You won't get wet or dirty.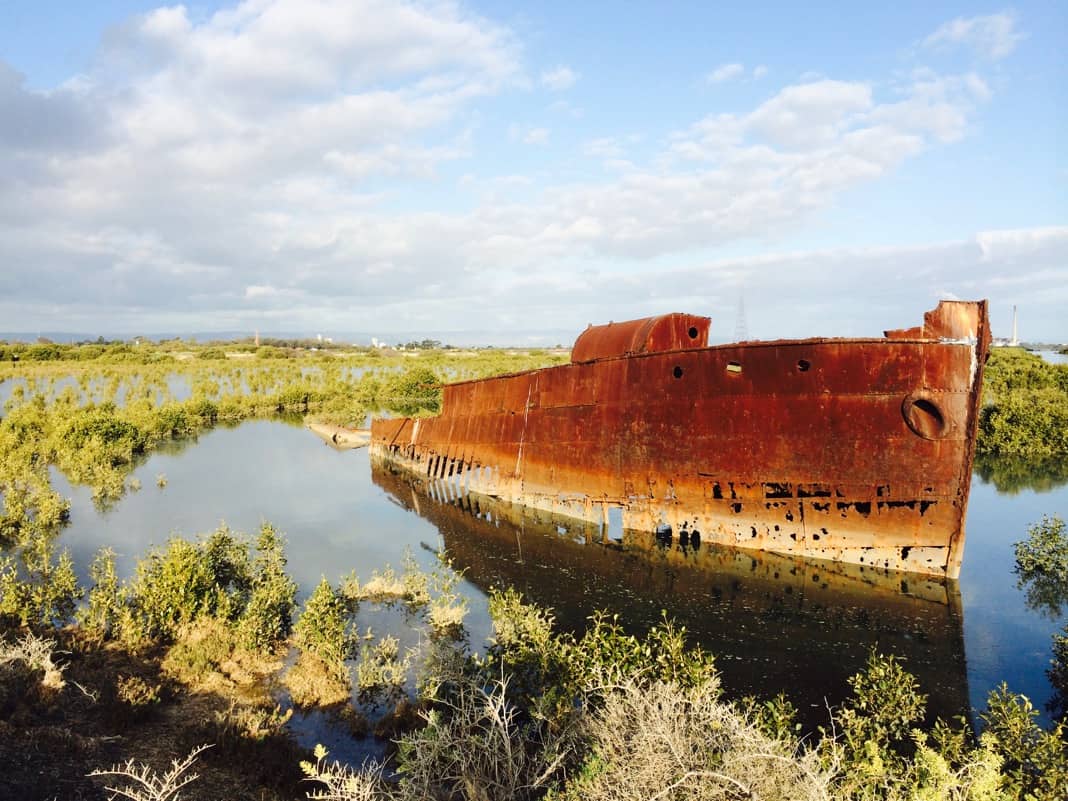 The wreck can be found a short distance from Mersey Road North and Archie Badenoch Ct, in the suburb of Osborne, about 9 km north of Port Adelaide.
Another wreck in the area is that of the PS Jupiter. It is mostly buried under mud and lies about 500 meters south of the Excelsior.
Best Things to do in Port Adelaide's neighbor – Semaphore
Semaphore is a popular seaside suburb in Adelaide, and it is the neighboring suburb to Port Adelaide.
I have also included 10 of the best attractions in Semaphore on this list because if you're going to spend time in Port Adelaide, you'll also want to spend some time in Semaphore.
31. Hades Hula House (Walk down Semaphore Road)
Semaphore Road is where all of the action takes place. I never expected to see a place dedicated to Hades, God of the underworld, when I visited Semaphore. Seeing the Hades Hula House was a massive surprise.
This establishment likes to be known as Adelaide's premier tiki bar and restaurant. It tempts you with the following suggestion: Exotic flavors and liquid libations await those who dare!
They even have a hula dancer girl at Hades Hula House to keep the guests and onlookers entertained. It was a very bizarre sight.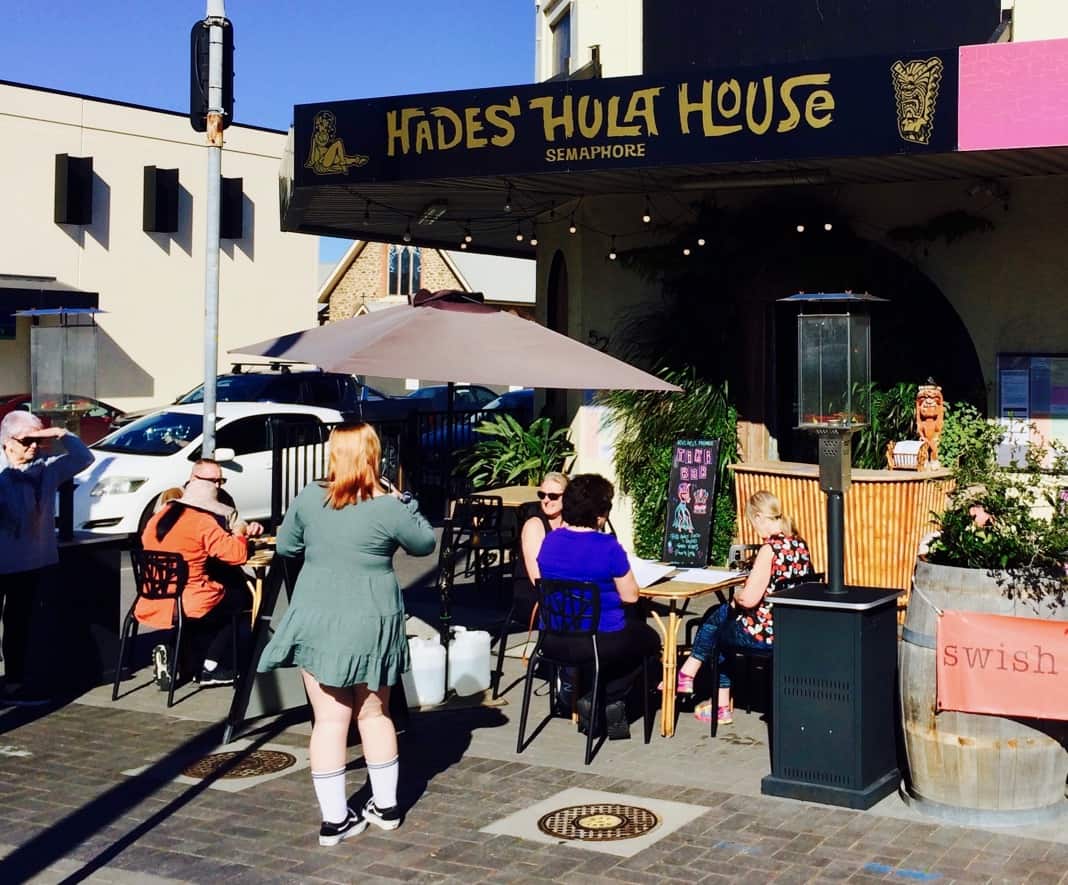 32. Semaphore Time Ball Tower & Midden Sculpture
The Semaphore Time Ball Tower has a ball that rises to the top of the tower at 1 pm every day (2 pm during daylight saving). That white pole you see at the top of the tower is where a ball raises.
It was originally designed to allow ships at anchorage to set their chronometers.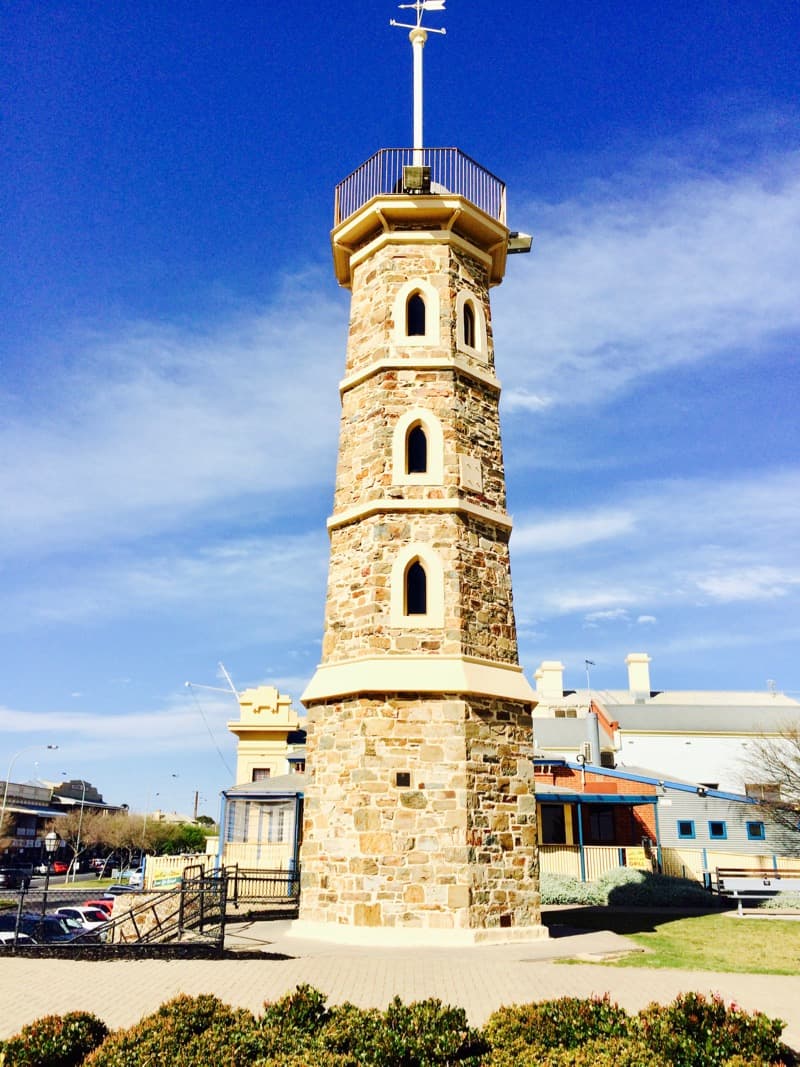 Magic Tip: If you have any kids with you at the time, have some fun, and tell them you have magical powers. Show them that you have the power to make the ball rise to the top of the tower and watch their utter astonishment when it happens. At first, I didn't think it would happen because it didn't occur exactly at 1 pm, so give yourself 3 or 4 minutes on either side. That said, I have also seen the ball raise at 2 pm during daylight saving, so I think it could be set to work on a 24-hour timer. You need to be aware of that.
Midden Sculpture
The Semaphore Midden is located at the western beach end of Semaphore Road. It is near the Time Ball Tower on the corner of Semaphore Road and the Esplanade.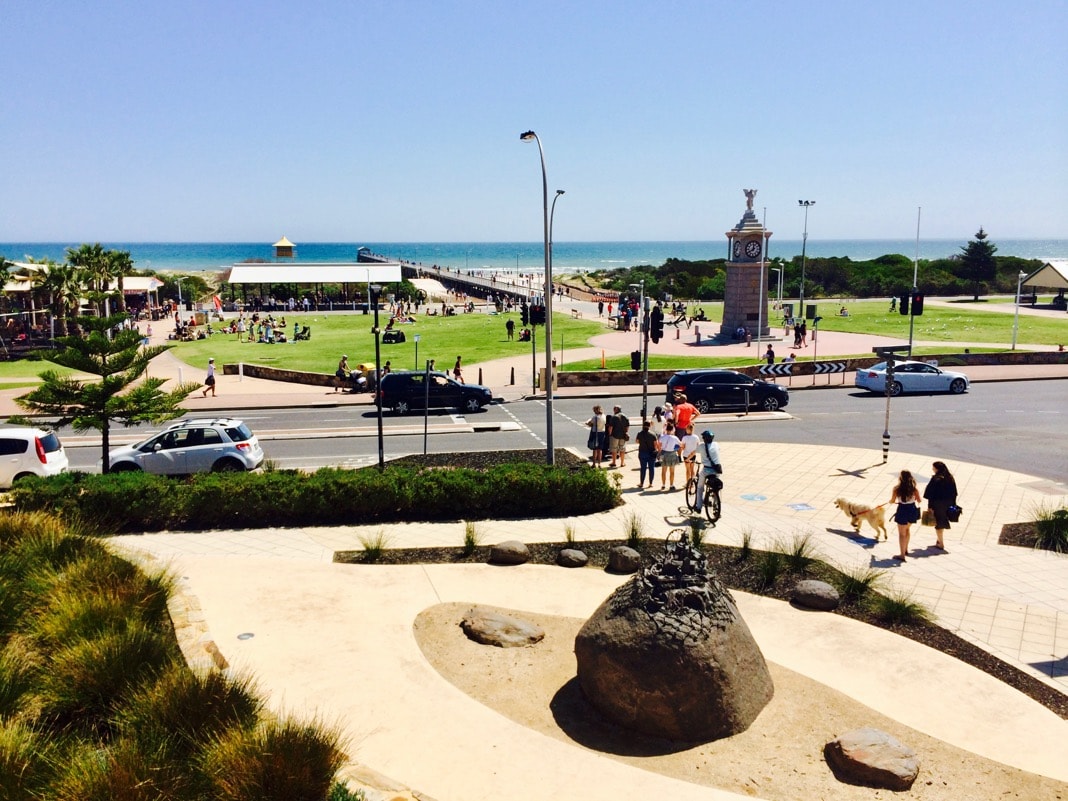 The Semaphore Midden sculpture expresses the cultural impact of people on the environment. Surrounds represent the earth as it once was, which includes the plants and the landscaping nearby.
Fishing nets, cultural artifacts, a train, Port Power symbolism, and other representations of cultural communities are all intertwined in the sculpture.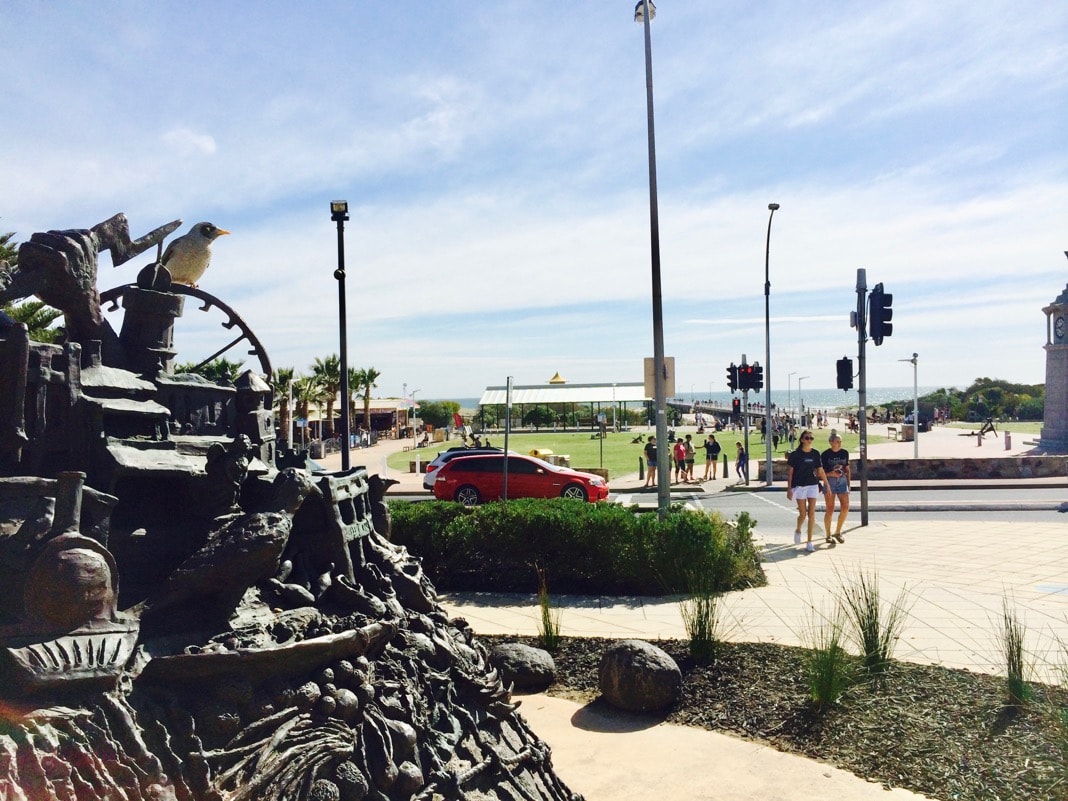 Note: That bird you see on the sculpture (on the left) is actually a real-life bird resting on it. For a second, I actually thought it was also part of the sculpture.
33. Swim at Semaphore Beach and walk on the Jetty
Go for a swim at Semaphore and go for a walk on the jetty on a sunny day.
34. Relax at the Palais Hotel
The Palais Hotel was once a glorious 1920s Palais bathing pavilion. Today, it's a cool place to hang out.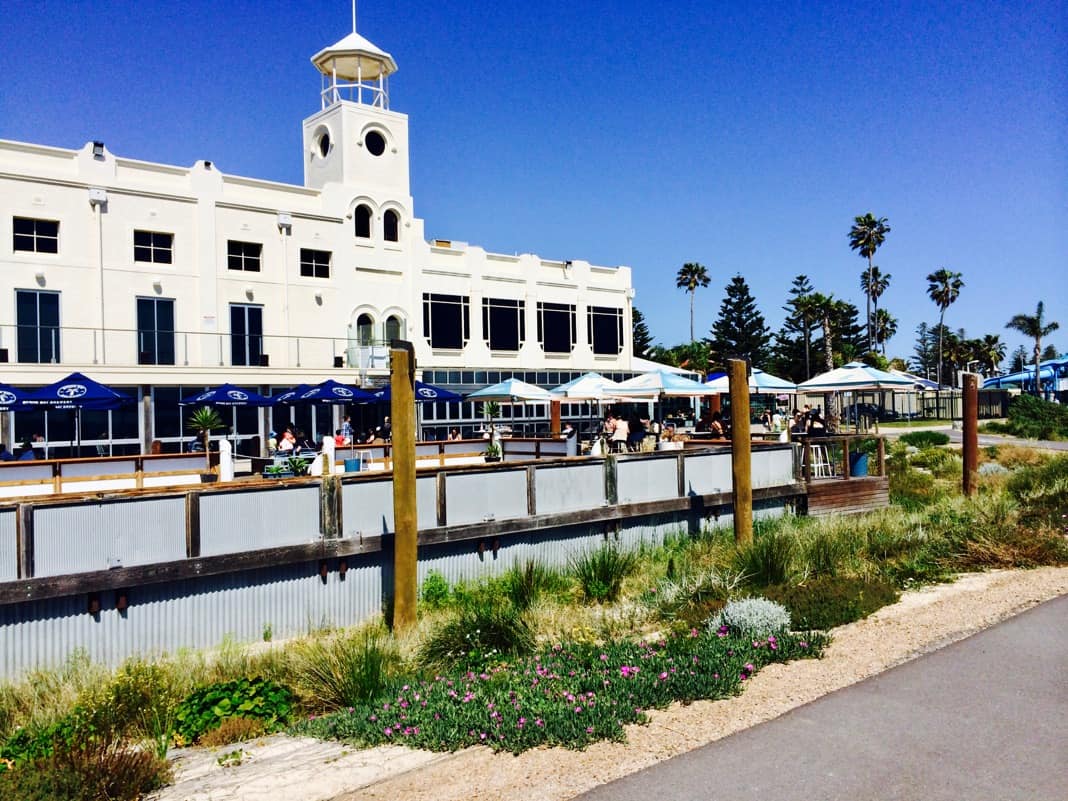 It's only a 1-minute walk from the jetty.
35. Enjoy an ice-cream or get something to eat
There are plenty of places where you can find something to eat in Semaphore. Even if you just go there for an ice-cream.
If you feel like fish and chips, Sotos Fish Shop (established in 1949) is hard to beat.
Interesting story: I was waiting in a lineup for an ice-cream at Copenhagen, a popular ice-cream venue on Semaphore Road, when an older guy standing next to me started talking to me. Telling me how I wouldn't believe the changes that have occurred in Semaphore over the years. He then tells me he used to be in the Little River Band and practiced at Semaphore. He was a guitarist but left before the band became famous as he didn't want to leave his job and travel.
This wasn't the only band to rock Largs Bay & Semaphore. The iconic Australian bands AC/DC, Cold Chisel, and The Angels also played around here.
Fun things for kids to do in Semaphore
Here are a few activities in Semaphore, especially suited for young kids.
36. Semaphore Waterslide / Amusement Rides
Young kids will love it if you take them to this waterslide on a great day.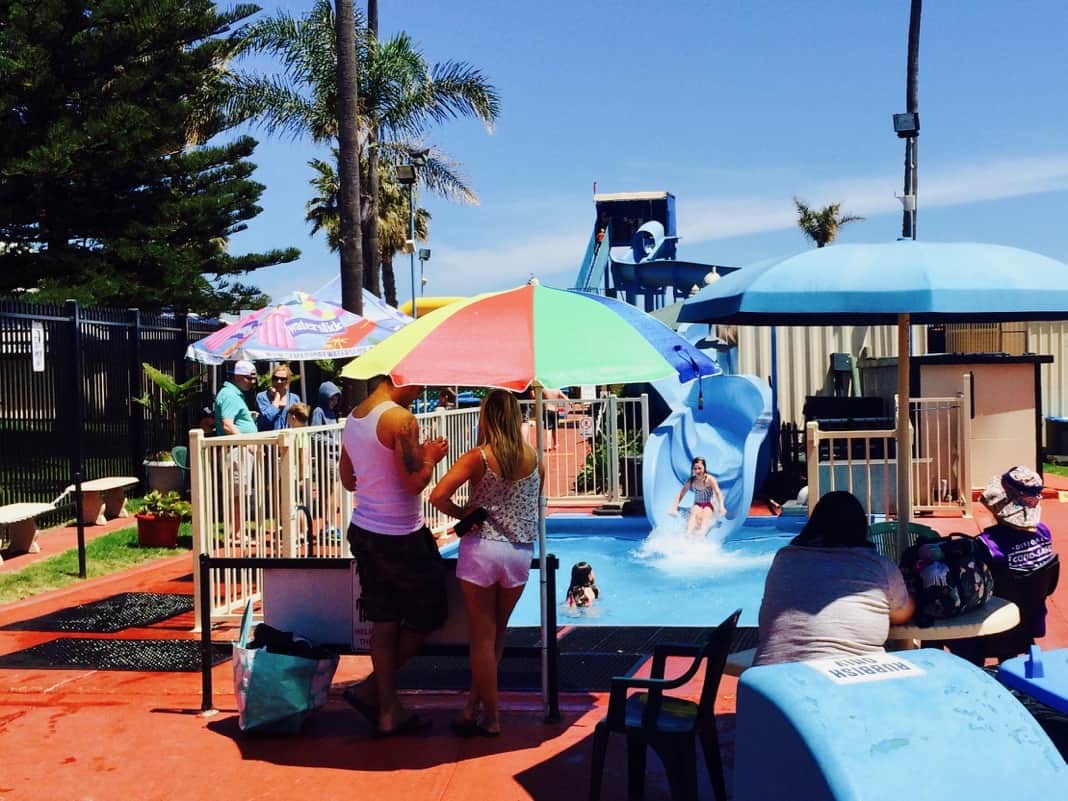 There are also other amusement rides around the area during summer.
Tip: The historic Semaphore carousel is also on the esplanade. Kids will enjoy riding the horses.
37. Semaphore Steam Train
Another thing kids would love to do is to go for a ride on a small steam train. Actually, this is a fun thing for the whole family.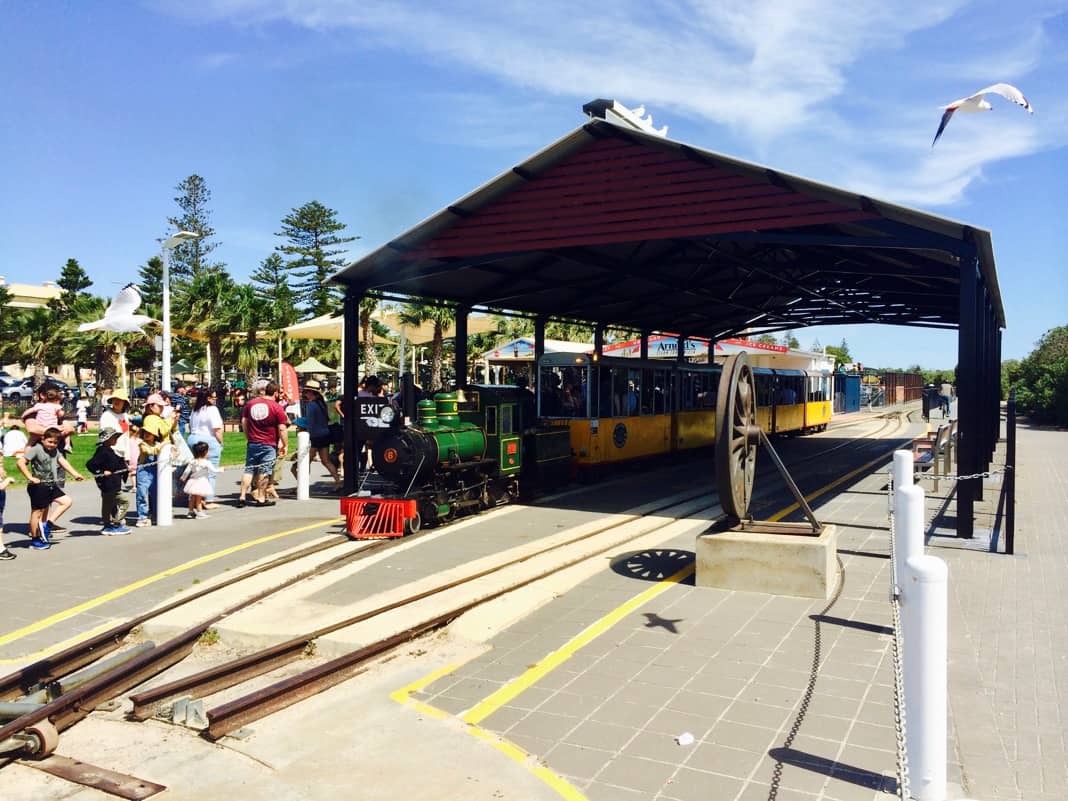 The steam train track ends quite close to Semaphore jetty.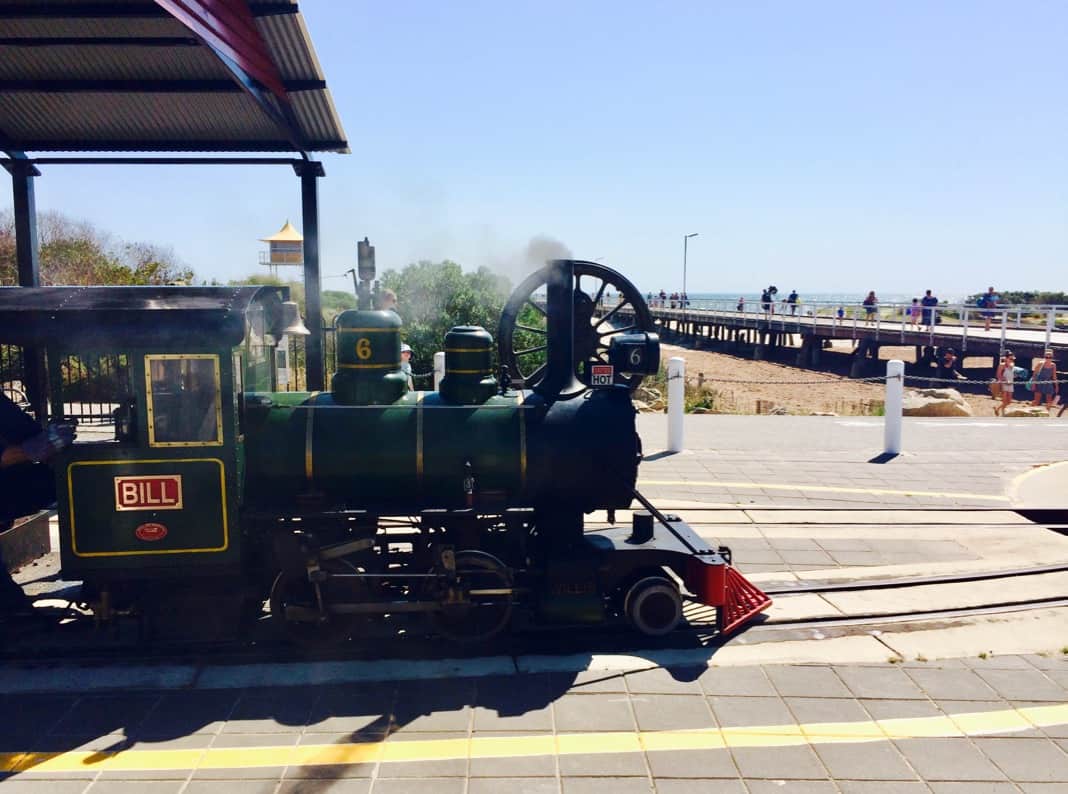 38. Odeon Theatre
Head over to the Odeon Star Cinema to watch a movie. Ticket prices are a bit cheaper compared to other places in Adelaide.
In a classical sense, the word Odeon is derived from the Greek ōideion. This is a building for musical performance.
An ode is a classical poem of a kind originally meant to be sung. It comes from the Greek ōidē "song, ode."
Festivals to mark in your Calendar
These are some of the festivals to think about. The Semaphore Street Fair, Semaphore Music festival (October Long Weekend), Semaphore Summer Carnival (summer school holidays), Semaphore Summer Twilight Markets (selected Friday nights), Seaside Carols at Semaphore in December, and New Year's Eve Fireworks.
Festivals of special interest include:
39. Semaphore Greek Festival
The Semaphore Greek Festival is held in January.
40. Semaphore Kite Festival
Adelaide International Kite Festival, Australia's largest kite festival, is held for three days over Easter.
Where to eat – Port Adelaide or Semaphore
A great way to finish off the day in Port Adelaide or Semaphore for that matter would be to have dinner there. I'd probably choose Semaphore over Port Adelaide if you want to get some fast food to eat, like fish and chips, but that's entirely up to you.
Putting together a Trip Agenda
When deciding which places to visit in Adelaide, the following places should be up for consideration.
The charming town of Hahndorf in the Adelaide Hills. It's only a 35-minute drive from the CBD.
You should visit Victor Harbour and Granite Island on the Fleurieu Peninsula for a great day trip, especially on a sunny day. Adelaide locals much love this place.
Wine lovers will want to explore the Barossa Valley wine region, Australia's most famous wine region. Other wine enthusiasts' options include the McLaren Vale wine region, with its spectacular Rubiks' cube inspired building.
Clare Valley is another option for wine lovers, though it is harder to fit into many agendas since it is located about an hour further away from the Barossa Valley. However, it's still doable by itself on a long day trip.
If you're in Adelaide on a hot summer's day, it's hard to beat Port Willinga next to the Star of Greece.
Second Valley on the Fleurieu Peninsula is another great day trip to do in summer.
If you have a couple of extra days to play with, you may want to visit Kangaroo Island. And then there's also the Flinders Ranges to consider.
Port Adelaide is still right up there on the best things to do in Adelaide, but you have other attractions you need to think about as well.
How to Get to Port Adelaide
Port Adelaide seaport is only 14 km north-west of Adelaide, so visiting Port Adelaide is easy enough.
Catching the train from the CBD to Port Adelaide is an option. Another option is to catch a taxi or an Uber to Port Adelaide. Once there, you can easily walk to many of the places of interest on this list.
My recommendation is to drive there. That way, you can go to a few of the other Port Adelaide attractions, plus you can also visit Semaphore, which is a bit out of the way.
The Best Day Trip to Port Adelaide
The best time to visit Port Adelaide, in my opinion, is on a nice sunny day, preferably on the weekend on a lazy Sunday. It can feel a bit desolate during weekdays, but if that's the way you like things, visit Port Adelaide at that time.
In my opinion, the ideal day trip for tourists would be to visit Port Adelaide on a Sunday for a coffee and maybe breakfast or brunch. I did walk past the Argo cafe one day when a table full of people ordered what looked to be brunch, and it looked very appetizing.
After that, you can go for a bit of a wander around the place. Port Adelaide Wonderwalls (street art) are amazing to look at. You can also check out the Port Adelaide markets if that's your thing.
Later in the morning, you can go on a dolphin cruise, starting at about 11:30 am. If you're lucky, you may even get to see a dolphin in Port Adelaide, which would be awesome!
You'll probably get back at around 1:30 pm, when the dolphin cruise boat returns to the dock, next to the red lighthouse.
After that, you'll still have most of the afternoon to play with. This is where this list of the best things to do in Port Adelaide will really assist you in deciding what to do next.
You won't get bored in Port Adelaide or Semaphore by spending a day or two there. All you have to do is choose some of these top 40 Port Adelaide attractions, and you'll be set.
How long to stay in Port Adelaide
There are plenty of things to see and do in Port Adelaide. The truth is that most tourists won't get the chance to visit even half of these attractions on a day trip to Port Adelaide.
That's why you need to plan your trip carefully, especially if you're only going to be there for one day only.
Visiting the majority of Port Adelaide's best attractions on this list will require at least a few days.
Most overseas and interstate tourists can't do that, so choose the best Port Adelaide attractions for you.
Final Recommendations – Port Adelaide Attractions
I think one day in Port Adelaide will fly by extremely fast, so you'll most probably have a strong desire to return on another day if possible.
That said, on a 7 day trip to Adelaide, I would choose to spend only one of those seven days in the Port Adelaide/Semaphore area myself.
If you have the time, it is better to spend one full day in Port Adelaide and half a day in Semaphore.
Adelaide has many excellent attractions, and you won't want to miss out on some of the other major attractions.
You can learn more about the best things to do in Adelaide from another post in Greek Gods Paradise.
This will give you a better idea of all the best attractions in Adelaide, so you can plan the perfect trip to Adelaide, be that a weekend away, or a week-long trip.
Keep in mind that Adelaide is the capital city of South Australia. Port Adelaide is one of Adelaide's suburbs, even though Port Adelaide is often referred to as a city itself.
I hope that's enough to convince you that Port Adelaide is definitely worth a visit if you're in Adelaide.
Pin it … Share it