This Great Ocean Road Travel Guide with show you 30 spectacular attractions along what many consider to be Australia's most famous road.
Knowing about these awesome attractions will allow you to plan a Great Ocean Road itinerary if you ever plan to visit Victoria's beautiful rugged coastline.
The 243km (or 151 miles) drive between Torquay and Allansford (near Warrnambool) in Victoria snakes its way along the coast on the way to the most popular Great Ocean Road attraction which happens to be The Twelve Apostles.
The Twelve Apostles are not the only reason to go on this spectacular drive on Australia's famous south-eastern coastline, but it is the main reason for most tourists.
Here I show everyone 30 spectacular attractions on the Great Ocean Road you should think about visiting if you're lucky enough to do the drive.
How many places you get to see for real will depend on how long you plan to stay on the Great Ocean Road. You won't be able to visit all of these 30 amazing sights in one day. It just isn't possible. Sometimes you have to pick and choose.
At the end of this post I'll recommend a 1 day, 2 day, 3 day, 4 day and 5 day itinerary plans for an awesome Great Ocean Road adventure.
You'll be able to determine how long you should stay on the Great Ocean Road by how many places on the great Ocean Road you'd really like to visit in this list and from the itinerary suggestions given.
Why is the Great Ocean Road such and iconic drive in Australia?
Well the Greek Gods have claimed a town called Apollo Bay on the Great Ocean Road.
Hera, the Greek Goddess has also given a big sign to everyone on this rugged Victorian coastline. I'll tell you more about it in the 30 attractions on the Great Ocean Road listed here.
Ever heard of the Twelve Apostles?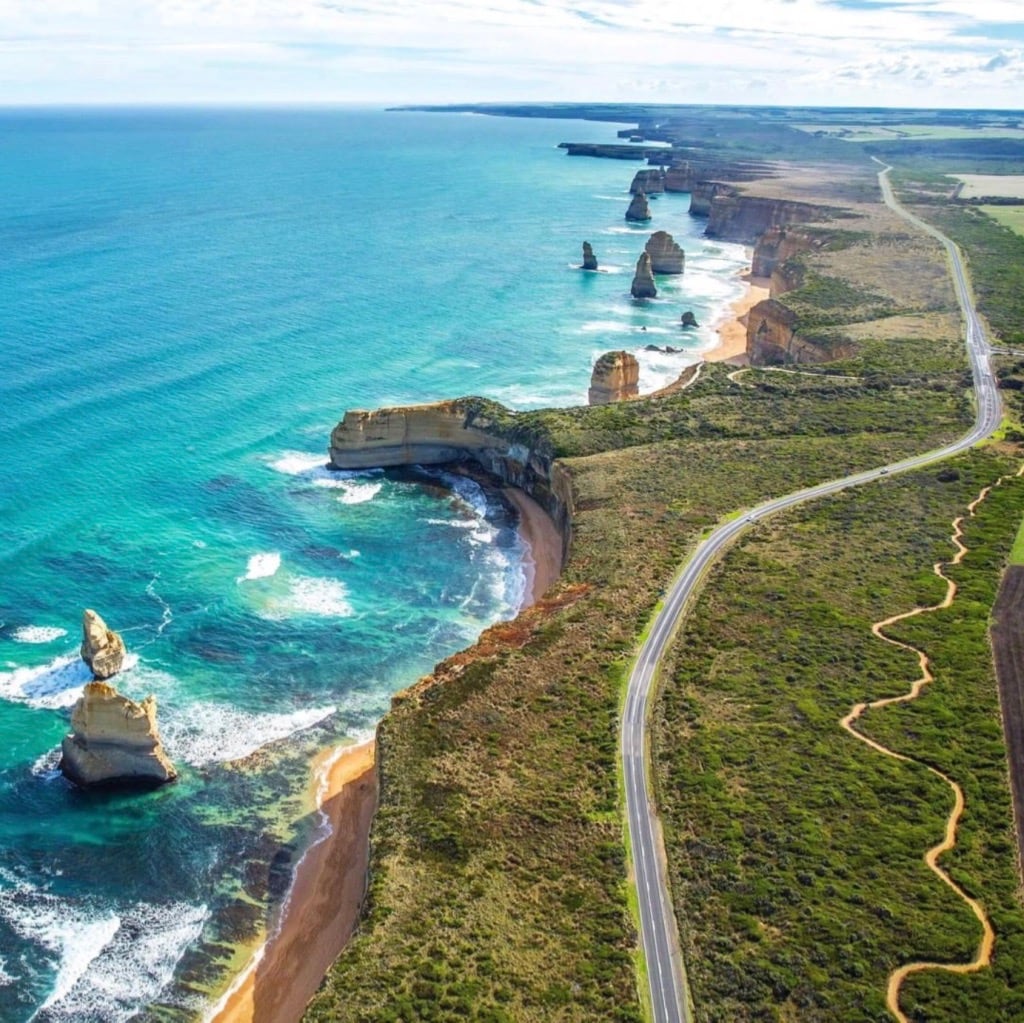 Instagram: Australia
Greek God Apollo even has a town on the Great Ocean Road.
The Great Ocean Road was built by returning servicemen from World War I and is the world's biggest war memorial. It's dedicated to the soldiers who didn't return home.
Work on the road at the time was done manually by hand using pick axes, shovels and explosives. You can marvel at their massive efforts.
Today, it's pretty easy to drive along the Great Ocean Road. There is signage everywhere making it pretty easy to find places of interest.
Where does the Great Ocean Road begin?
Most people start the drive from the city of Melbourne in Victoria (the smallest mainland state in Australia), which is where I recommend you to start the drive from.
Top Tip: From Melbourne, drive to Sorrento and take the 40-minute bay crossing car ferry to Queenscliff. Most visitors doing the Great Ocean Road drive will head to Geelong, but this alternative route via Sorrento is the way to go.
Driving in Australia is in the left lane so that means you'll be driving in the lane closest to the ocean on the Great Ocean Road if you start it in Melbourne.
This also makes it a little bit easier to pull into the numerous lookouts and attractions along the way. The views are probably slightly better on this side of the road as well.
You can also do the Great Ocean Road drive from Adelaide in South Australia, which means that you'll be doing it in the opposite direction to most tourists.
The big negative though with starting the drive in Adelaide is that you'll lose a day (about 8 hours) driving up there and another day driving back to Adelaide.
If you do drive from Adelaide my suggestion is to drive to Apollo Bay and stay the night there. You can then work out a great itinerary starting from Apollo Bay.
Where is the best section of the Great Ocean Road?
Many consider the best and most scenic part of the Great Ocean Road to be between Torquay and Apollo Bay.
30 Best Places to Visit on the Great Ocean Road
Depending on your interests you can pick and choose the best places to visit by considering all of these 30 spectacular attractions on the Great Ocean Road.
You will be visiting some of the towns on the Great Ocean Road when you pass through them, but whether you want to stop there for a while is up to you.
These destinations are shown in order from east to west (Melbourne to Adelaide direction) to make it easy for you to follow.
Some of the places will only require a 15 minute stop mainly for a photo but it all adds up especially if you only have limited time.
This Great Ocean Road Guide will reveal 30 spectacular attractions on the Great Ocean Road that could easily inspire you to want to drive this fantastic Australian road.
The biggest attractions of the Great Ocean Road include:
1. Torquay – Great Ocean Road
Driving from Melbourne will take you to the seaside town of Torquay, which is considered to be the starting point of the Great Ocean Road. This cool town will be your first stop.
Torquay is situated on the far eastern side of the Great Ocean Road. It is one of Victoria's premier resort towns.
The town's big claim to fame is that the surf brands Rip Curl and Quicksilver were founded here.
It all began when local surfers started backyard businesses back in 1969.
Both of the Australian surf brands went on to become two of the world's most famous surf brands. Incredibly they have kept Torquay as their home base even to this day.
There are large retail outlets at Surf City, a shopping plaza which stocks both of these two iconic surf brands including other famous brands such as Billabong.
If you want to buy some Aussie surf gear for your Great Ocean Road adventure then you'll definitely want to pop in and take a look around.
Surf City is also home to the Australian National Surfing Museum where you can learn about the Australian surfing scene.
Another point of interest will be the local surfing legends who have made it into the Australian Surfing Hall of Fame.
After a bit of shopping you may want to chill out for a bit on a fabulous grassy area stretching from the Elephant Walk to Cosy Corner, between the Esplanade and the beach.
You can also go for a walk to Point Danger to explore the rock pools.
2. Bells Beach
The world famous surfing Mecca of Bells Beach will be your next stop. Bells Beach is is considered by many to be the 'surf capital' of Australia.
The iconic beach is located just outside of Torquay about 7km away.
Bells Beach holds the annual Rip Curl Pro Surfing Contest (3-14 April) which falls on the Easter long weekend.
This classic surfing event began in the 1960s and what's incredible is that it is the longest running professional surfing contest in the world!
If you're a serious surfer then you'll probably want to catch some of the waves yourself. Conditions are usually best from March to October.
Even if you're not a surfer, you'll probably be content just watching a few surfers do their thing.
You can walk down to the beach or you can take in the views from the higher viewing platforms.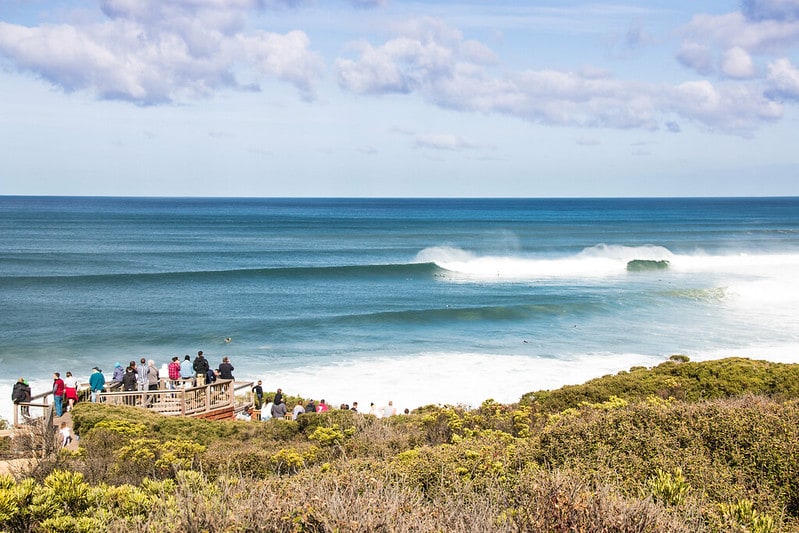 Interesting Fact: Although the final scene of the film Point Break (1998) starring Keanu Reeves and Patrick Swayze is set at Bells Beach, the final beach scene was not filmed there.
The actual location of the film scene was at a beach called Indian Beach in Ecola State Park, near Cannon Beach, Oregon, United States. It just goes to show you how famous Bells Beach is.
3. Anglesea town / Anglesea Golf Club
Here's another charming seaside town where you will probably want to stop for a little while.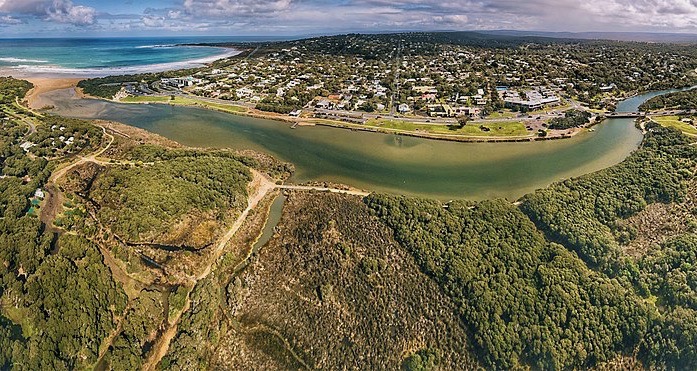 Anglesea Golf Club – Kangaroo Tour
The Anglesea golf course is home to a few hundred Eastern Grey Kangaroos. 
To see them you can either play a round of golf, or the other option is to go on a 25-minute guided tour in open-air electric vehicle.
Official site: Anglesea Golf Club
Just don't make any kangaroo angry. Have you heard of boxing kangaroos?
I'm not sure what you're supposed to do if you're playing a round of golf and a big kangaroo like this large one ends up blocking your path to the green.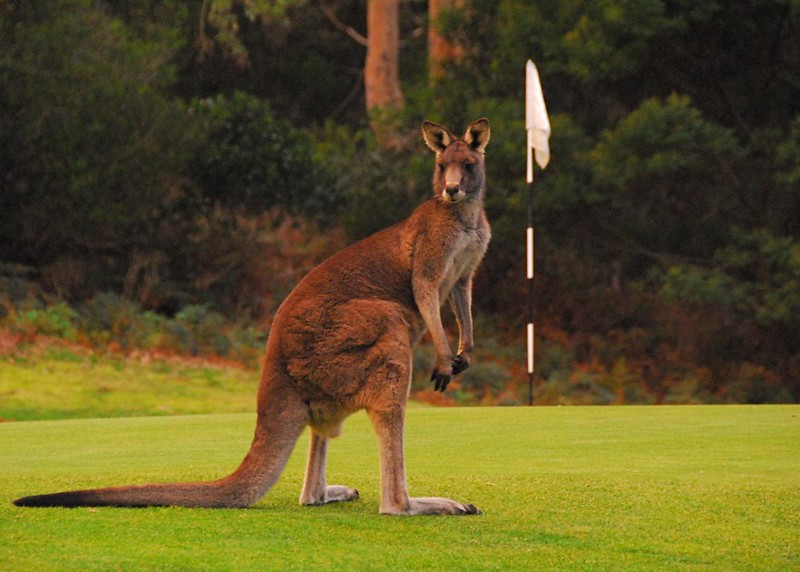 Whatever you do, don't try and shoo it away with your hand as it may think you're after a fist fight. It might then come over and knock you out.
Kangaroo tours of the golf course run daily from 10am-4pm, apart from a few special days of the year. When the annual Chinese New Year celebrations are on, Twilight Tours also operate from 4-6:30pm.
Another place where you can apparently see native kangaroos is at the local caravan park.
4. Split Point Lighthouse – Aireys Inlet
The Split Point Lighthouse is where the childhood show Round the Twist was filmed.
If you have kids with you then you'll want to show them a few of the classic episodes before you start driving the Great Ocean Road to get them excited.
The first two series were considered to be the best due to the talents of the original script-writer Paul Jennings, whose weird and whacky storylines made the television show very popular with younger audiences.
The first two series of Round the Twist were filmed in 1989 and 1992. Series three and four came much later in 2000 and 2001.
The series revolves around Tony Twist and his three children after they move into a Lighthouse, that turns out to be haunted.
Round the Twist – Series 2 Trailer

Daily tours of the lighthouse run between 11am and 2pm on the hour. You will be able to climb to the very top and enjoy brilliant 360-degree coastal views.
You will also have the opportunity to learn about the history of the lighthouse and the fate of the ships along shipwreck coast.
If you don't want to pay to get inside the lighthouse (it isn't cheap), you can take a few free snaps and follow walking trails along the beaches.
That said I would have to do it. Round the Twist adds that extra star factor.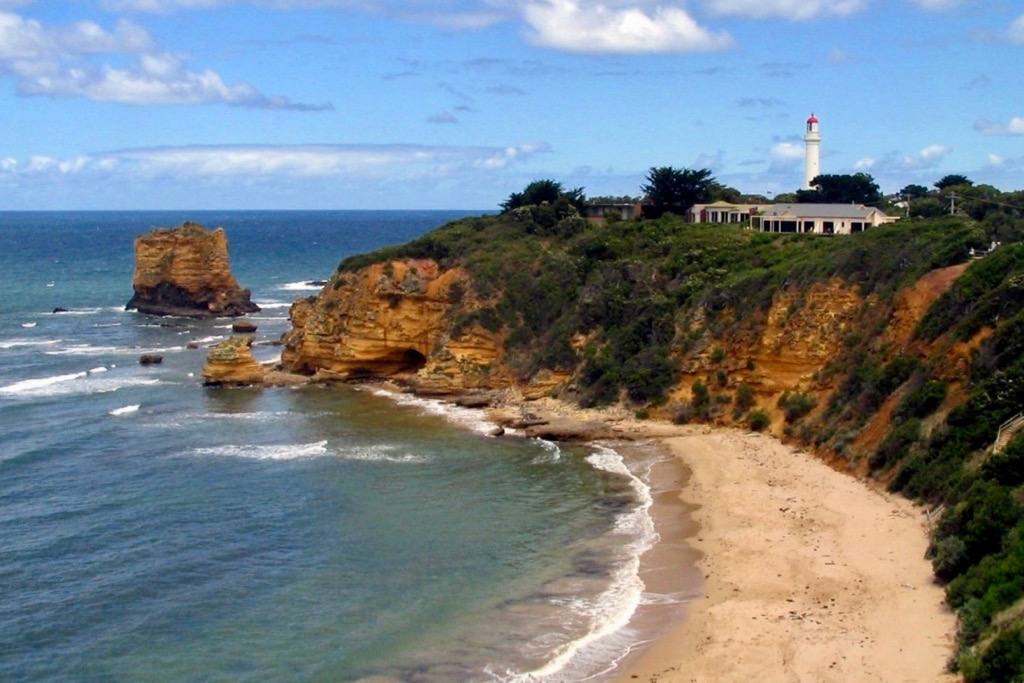 Food Tip: A La Grecque is fantastic place to eat. The restaurant has delicious food with modern Greek flavours. It has a reputation for serving up some of the best seafood on the Great Ocean Road coast.
5. Great Ocean Road Memorial Arch – Great Ocean Road Sign
Just past Airleys Inlet, you'll find the historic original starting point of the Great Ocean Road. This memorial arch obviously makes for a great photo opportunity to commemorate your big road trip.
You will also learn a bit about the returning servicemen from World War I who built Australia's most famous road from the plaques and signage there.
A sculpture showing men slinging their tools during the road's construction was commissioned for the 75th anniversary celebrations.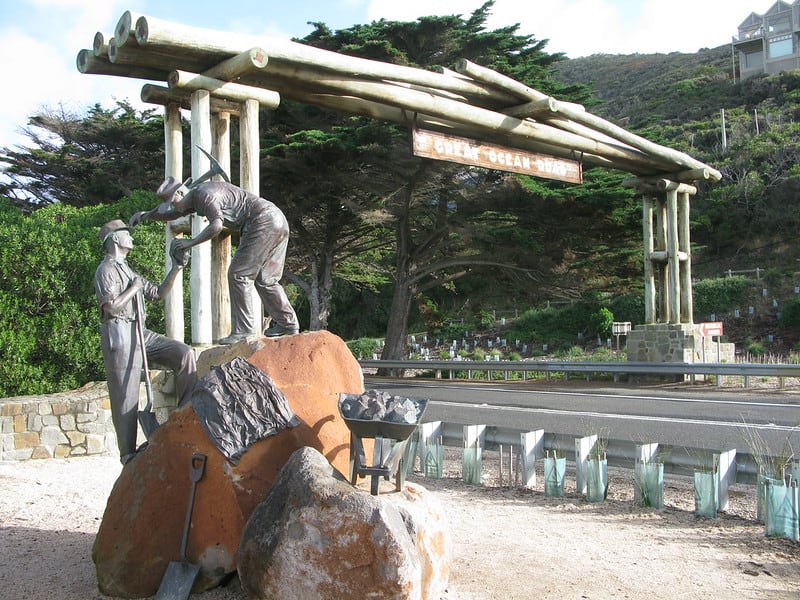 It took a while to complete the Great Ocean Road. Construction began in 1919 and it wasn't completed until 1932.
6. Lorne
The resort town of Lorne is a great place to have lunch. There is a cool cafe strip with sea views so it shouldn't be too hard to find something delicious to eat.
The gourmet burgers at The Bottle Milk Cafe are supposed to be very tasty.
Go for a walk on the Lorne long pier and see if anyone is catching fish. If you're into fishing you may even want to throw a line in yourself. Go for a walk around the picturesque waters of Loutit Bay.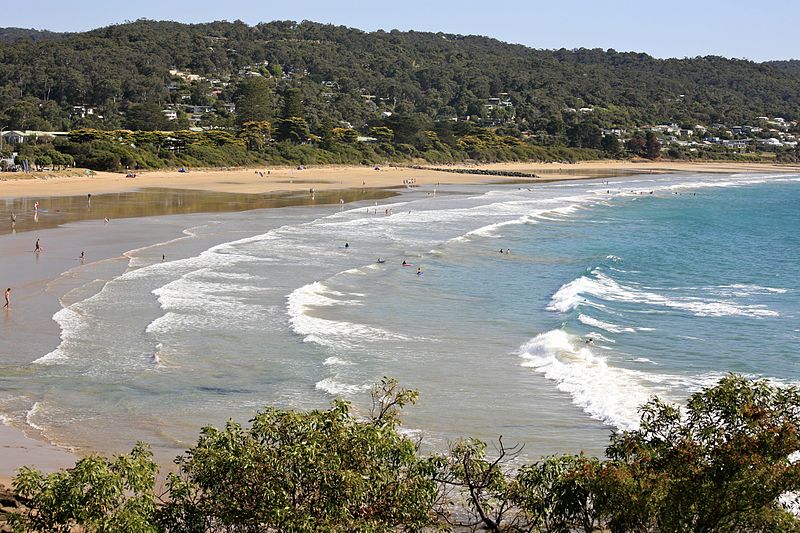 Festivals: The Falls Festival (a multi-day music festival) takes place every summer in Lorne and is one of the best times to visit Lorne (for crowd lovers anyway). It starts 28th December through to 1st January and has been running since 1993.
There is also the Lorne Festival of Performing Arts in September.
7. Erskine Falls
Erskine Falls are only a short 15-minute drive from Lorne up a steep road. You'll find a small carpark with limited parking spaces above the falls.
The upper lookout for the falls is only a 5-minute walk from the car park. It will take about 5-10 minutes via a 200-plus step staircase to get to the bottom of Erskine falls.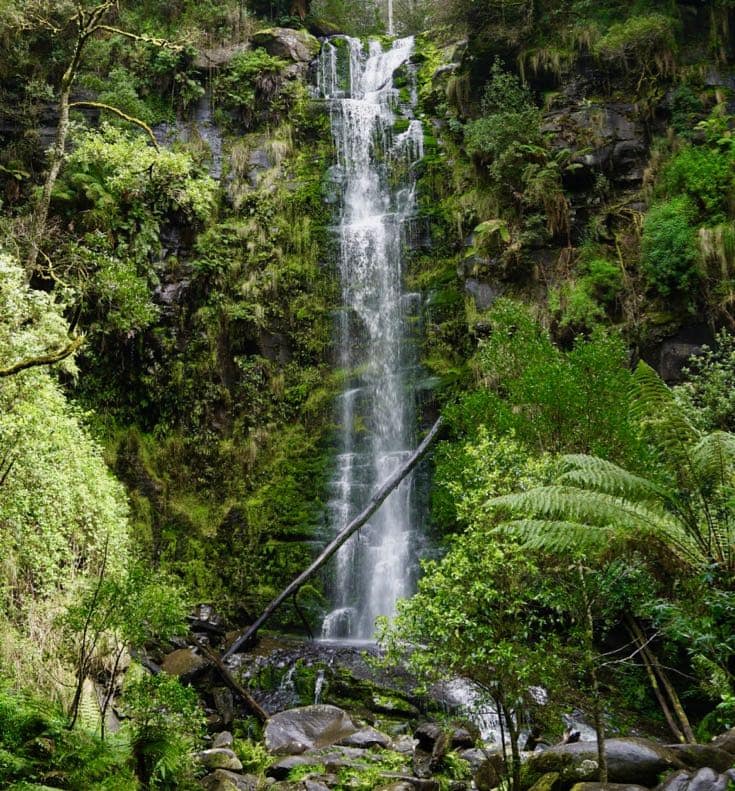 8. Teddy's Lookout
Teddy's Lookout offers a great photo opportunity. This view is often used in advertising for the Great Ocean Road so you'll want stop here for a minute or two and take a photo yourself.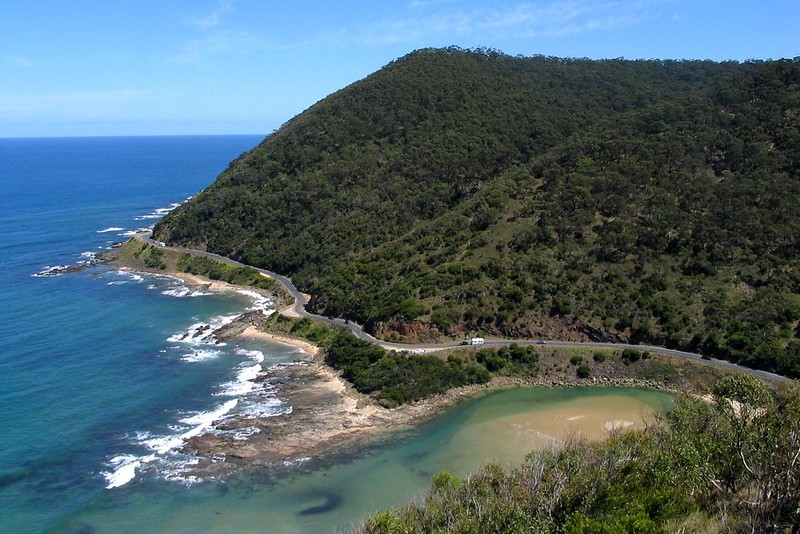 9. Lower Kalimna Falls
Here we have a great looking waterfall over a cave with a shallow pool surrounded by ferns and trees.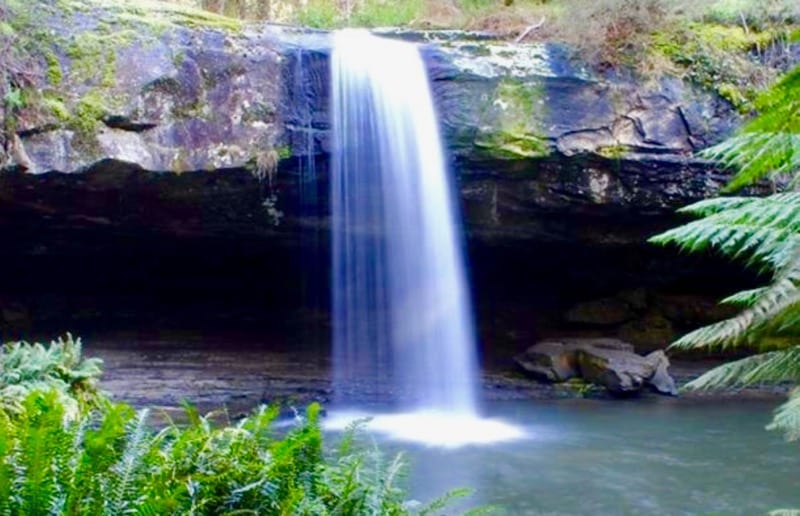 You can go behind the falls and look out through the falling water.
10. Wye River
Stop at the beach for a while if you're there in summer. If you want you can go and have a drink at the popular pub with views.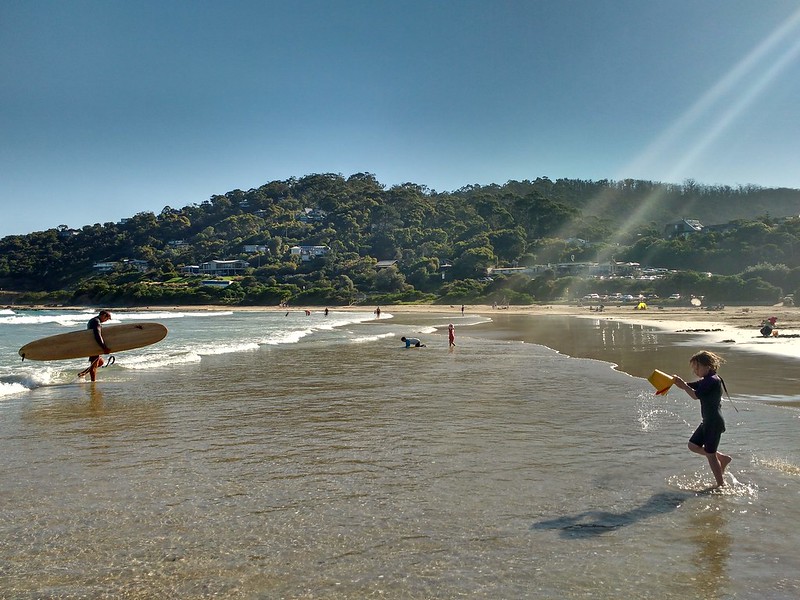 11. Kennett River – Koala Walk
Halfway between Lorne and Apollo Bay is the small town of Kennett River.
This is a popular spot to see some cuddly koalas relaxing in the eucalyptus trees. You'll find them alongside the Grey River Road.
A slow drive or a walk along Grey River Road will probably have you spotting koalas in no time. If you drive up a 2-3 kilometers up the road it will be a bit more peaceful.
Another way to tell where the koalas are hanging around if you have trouble finding them is to look out for other tourists below trees taking photos.
One of best and easiest way to spot a cute koala in a gum tree is to take a stroll through the Grey River Reserve and Picnic Area.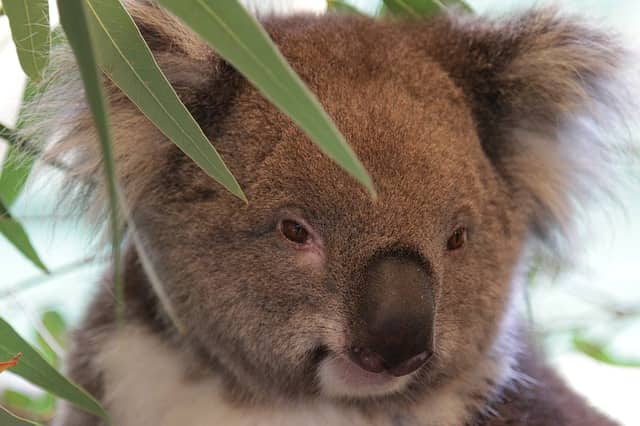 Tourists also flock around Kafe Koala. This cafe is supposed to be a pretty good food stop.
Fun Fact: The name "koala bear" is a bit misleading because they aren't actually a member of the bear family. Koalas are marsupials, because each baby koala is carried around in their mother's pouch for around six months.
The Birds of Kennett River
Another attraction in Kennett River are the birds. If you buy some bird seed the colourful parrots will even land on you, so watch out if you're not wearing a hat.
The birds have been known to bite a finger or two as well so be careful when feeding them out of your hand. Warn the kids if you have any with you.
Feeding the birds will no doubt be the most memorable experience in Kennett River.
12. Carisbrook Creek
Tourists build these stone stacks and they are everywhere.
Instagram: whereismella

There are hundreds of rock stacks in Carisbrook Creek. It must be done for good luck or something.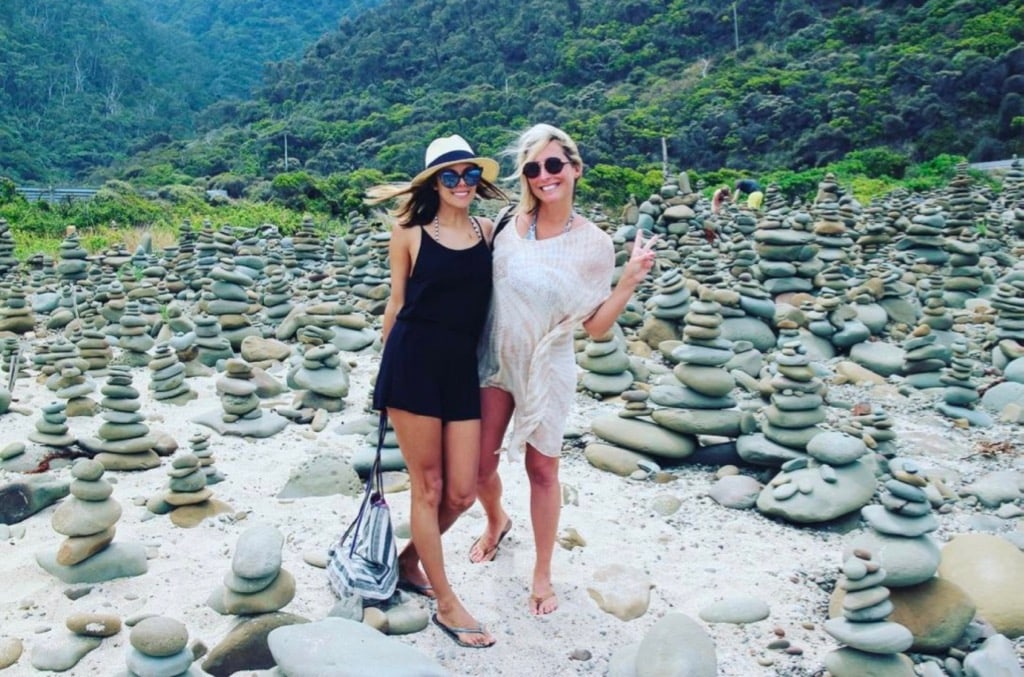 Instagram: justacoconutgirl
13. Apollo Bay
The seaside town of Apollo Bay is known by many as "Paradise By The Sea".
The beach is in no way the best one on the Great Ocean Road but at 3.5 kilometers in length, it's big! Even so I do consider it to be one of the best beaches in Australia.
Apollo Bay is a great place to stop for lunch along the way to the other attractions further west. Expect it to get busy in Apollo Bay around lunchtime as the tour buses stop here to eat as well.
Head over to Marriner's Lookout to get the ultimate view of Apollo Bay. You can walk to Marriner's Lookout from town or you can drive to the carpark. Marriner's Lookout is only a short stroll from the carpark.
Hidden Gem: Marriners Waterfalls was once a popular tourist attraction as you'd expect since it is close to Apollo Bay. The disappointing thing is that the path to the waterfall has been since 2011 due to a risk of falling trees.
A tourist was injured from a tree fall in 2008 which led to Parks Victoria closing the tourist destination due to safety concerns. Seems like an overreaction especially when you consider all of the other dangers in life. There have been protests to reopen it.
Great place to eat: Chris's Restaurant at Beacon Point for tasty Greek food with great views across the bay. It's great for special occasions.
Festivals: The Apollo Bay Seafood Festival is in February, and the Great Ocean Road Running Festival is also a big drawcard to Apollo Bay in May.
Interesting Fact: In 1845 Captain James Louttit named the place Apollo Bay after he sheltered the ship 'Apollo' in the bay during a trading voyage from Melbourne to Port Fairy. The town and bay officially became Apollo Bay in 1898.
The Great Ocean Walk
The Great Ocean Walk stretches 104km from Apollo Bay to the 12 Apostles. The walk takes 8 days (7 nights) to complete. If you have time on your hands you may want to consider going on this walk.
14. Maits Rest Rainforrest Walk
Here's a great place to visit even if you're on the Great Ocean Road for one day. Maits Rest Rainforrest Walk is a good option for stretching your legs along the Great Ocean Road.
It is located just off the main highway about 20 minutes from Apollo Bay.
The self-guided rainforest boardwalk is an easy 30-minute loop that leads you past giant ferns and tall ancient trees.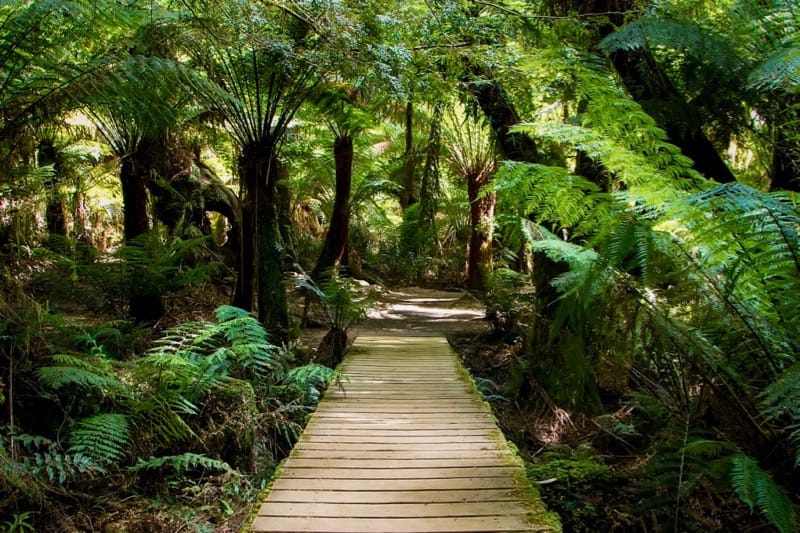 Small day tour buses even include Maits Rest Rainforrest Walk as part of their itinerary.
15. Waterfalls in Great Otway National Park
Great Otway National Park has quite a few picturesque waterfalls including Hopetoun Falls, Triplet Falls and Beauchamp Falls. Pick one or two of them and go for a hike.
A short 15-minute drive from Hopetoun Falls and you'll find Triplet Falls. The one-hour loop walk to Triplet Falls takes you to various viewing platforms where you can view the three different waterfalls.
The walk to Beauchamp Falls takes about 30 minutes and has historic signage along the way.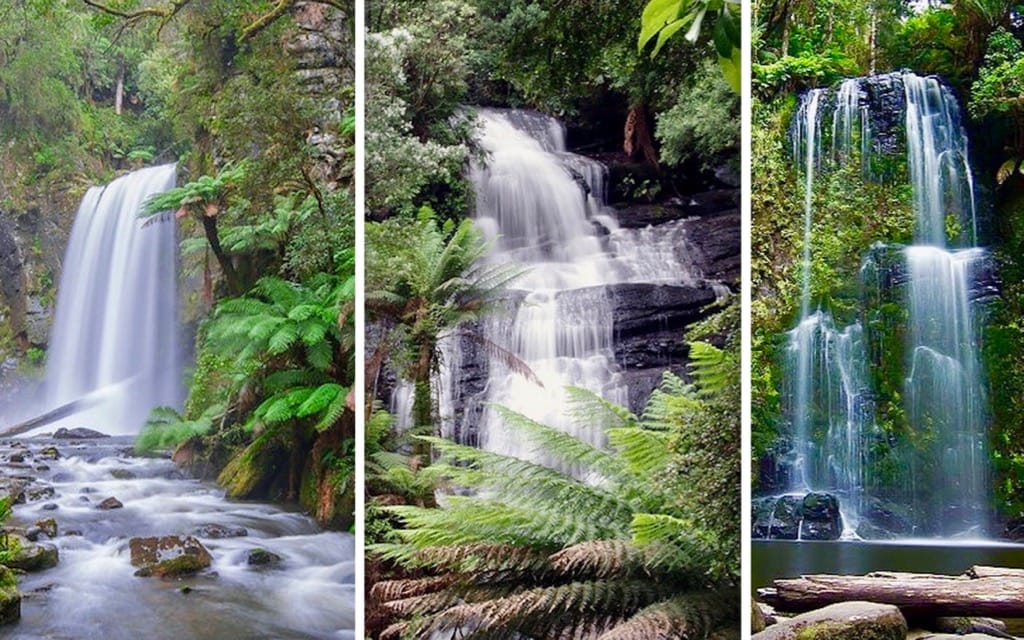 Sabine Falls – The hike to Sabine Falls is approximately 3.6 km (up to 2.5 hrs) return from the car park. Sabine Falls is the highest waterfall in the Otways, with three waterfalls cascading down 130 metres. It is also the most remote of the waterfalls in the Great Otway National Park.
There are plenty of other waterfalls in Great Otway National Park such as Carisbrook Falls and Stevensons Falls.
Otway Fly Treetop Adventures is another big attraction in the area. This is where you can walk among the tree tops on suspended bridges in the air. You can also go on a Zip Line Tour. It's a bit pricey but it should be fun.
16. Cape Otway Lighthouse
Cape Otway is one of Australia's most historic lighthouses. It overlooks Bass Strait, the body of water that separates Tasmania from mainland Australia.
Another noteworthy point is that the lighthouse is situated on the southernmost part of the Great Ocean Road.
If you're doing a multi-day trip on the Great Ocean Road then it's definitely worth a visit.
Visitors can climb up the narrow winding staircase to the top of the lighthouse to get some great views of the surrounding area.
Accommodation is available in the old former lighthouse keepers cottage if anyone is interested in staying the night. It can sleep up to 8 guests.
It will take about 45-minutes to get to Cape Otway Lighthouse from Apollo Bay.
Daily history talks take place at this Apollo Bay lighthouse at 11am, 2pm and 4pm. You can also learn about aboriginal culture and bush tucker at 12 noon and 3pm.
Cape Otway Lighthouse prices are $19.50 per adult, $7.50 per child or a family ticket for about $50. Lighthouse entrance fees seem to be very expensive for some reason.
The onsite cafe is housed in the former assistant lighthouse keeper's cottage and is open from 9am to 4pm.
Imagine if you saw a whale while you were there. The trip to Cape Otway would be worth it then.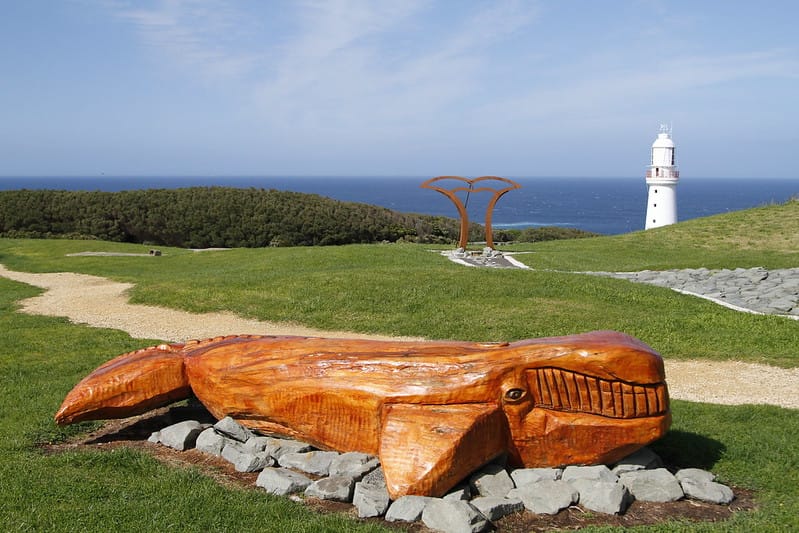 The bushland in this area is also great place for spotting koalas. You should be able to find plenty of them in the Cape Otway gum trees.
17. Wreck Beach – Great Ocean Road
Photographers may find this beach very interesting. See what you can find.
18. The 12 Apostles – Great Ocean Road
Sorry to disappoint, but these limestone stacks aren't related to the Twelve Apostles from the Christian religion.
On Governor La Trobe's map dated 1846 they're called the Sow and Piglets. The map also included a lot more than 12 stacks.
Muttonbird Island was the sow, which stands at the mouth of Loch Ard Gorge, and the stacks were the piglets. The limestone stacks were nicknamed the Sow and Pigs right up until the 1960s.
The famous name change to the 12 Apostles turned out to be an unbelievable marketing masterstroke. Originally they were the Apostles although you could only see nine at the time. The name later morphed into the Twelve Apostles which has stuck ever since.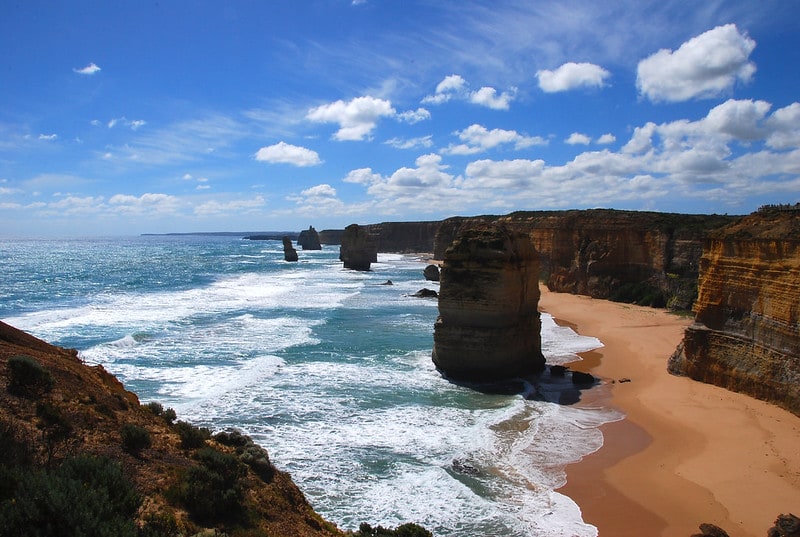 Today, there are only eight remaining Apostles after one of the stacks collapsed in July 2005. I wonder why they don't change the name to 8 Apostles.
A rock stack that fell in 2009 was thought to be an Apostle but Parks Victoria stated that it was the smallest of the group known as the Three Sisters. It was one of three smaller pillars sitting behind an outcropping known as the Razorback.
It will take a while for all of the others Apostles to disappear and crumble away to nothing, so there's no need to rush out to the Great Ocean Road immediately.
Poseidon, God of the sea is battering away at the Twelve Apostles right at this moment.
When you arrive at the Twelve Apostles, stop at the Visitor's Centre first before you walk through a 500 metre tunnel under the road itself.
The walkways and viewing platforms offer great views of the Twelve Apostles, however if you want to splash out you may want to go on a helicopter tour which will offer even more spectacular views of the coastline.
The helicopters take off near the 12 Apostles visitor center behind the car park. Book ahead if you want to be sure of a joy ride.
The best time to visit the Twelve Apostles
The Twelve Apostles can be packed with hordes of tourists from all the tour buses from 10am onwards, around the middle of the day and early afternoon especially.
The best time to see the Twelve Apostles is often at sunrise or sunset, so keep this in mind.
The Twelve Apostles under the Autumn sun.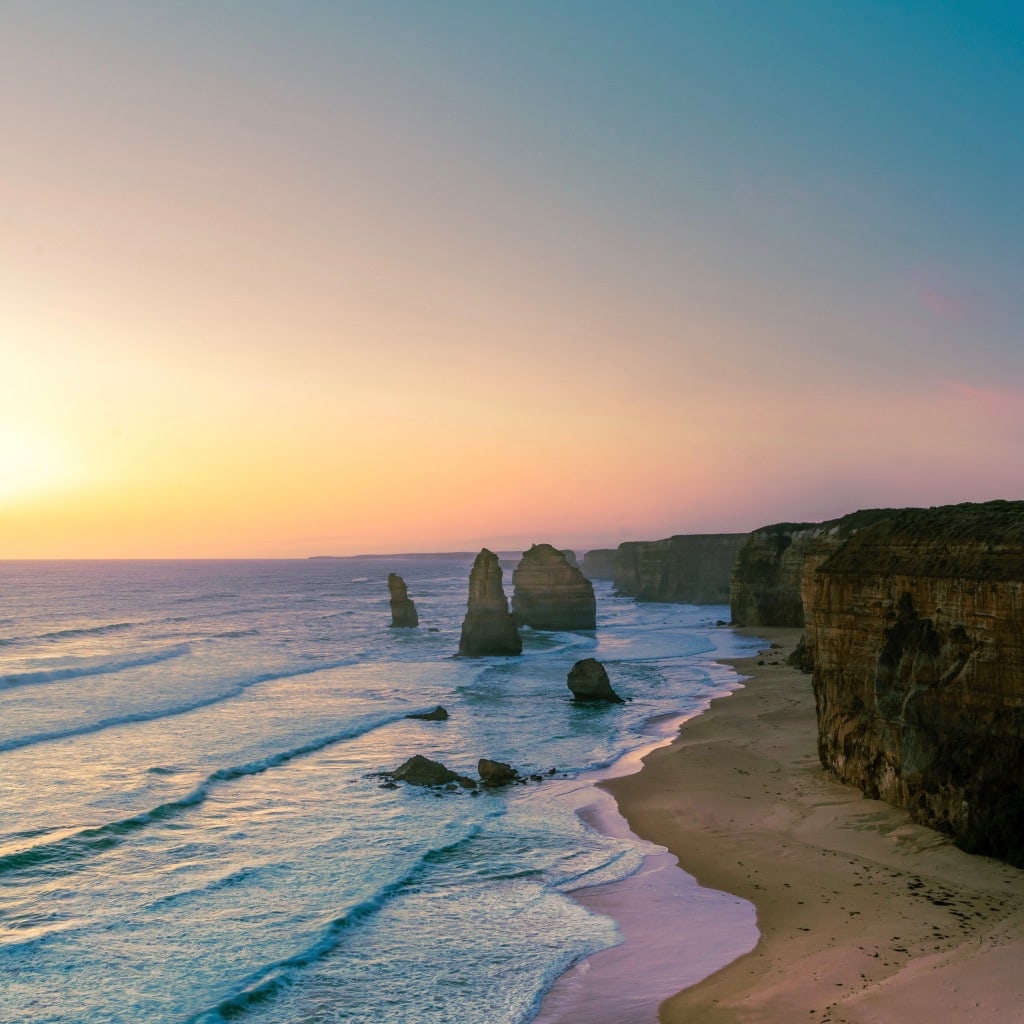 You may want to come back and see them again at sunset under a different light, or you may want to get there early in the morning to enjoy some solace.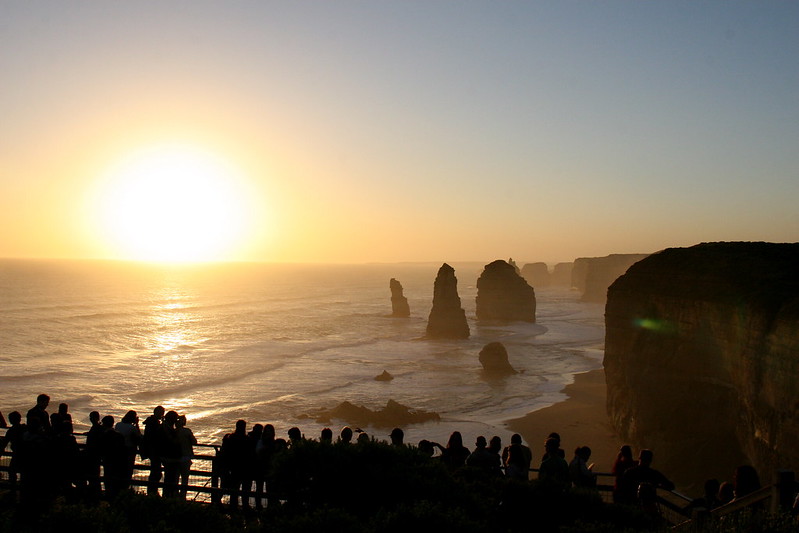 Tip: You may be able to watch penguins parade down at the beach if you take a some binoculars with you. This goes for other places along the coastline as well.
19. Gibson Steps – Great Ocean Road
When driving to the Twelve Apostles from Apollo Bay you would have passed by the Gibson Steps. You now have to back track a little bit towards the direction of Apollo Bay.
I think you should see the Twelve Apostles from high up on the cliffs before you see them from a sandy beach level perspective.
A walk down the Gibson steps will take you to the beach for a close up view of the stacks.
There is something like 86 steps that descend down the 70-metre cliffs. The steps were named after Gibson, the man who carved all 86 steps (now concreted).
The Gog and Magog offshore stacks at Gibson Steps are not considered part of the nearby 12 Apostles, but are just as awesome.
Gog and Magog are the local names given to the two stacks that can be seen from the viewing platform and beach at the bottom of the steps.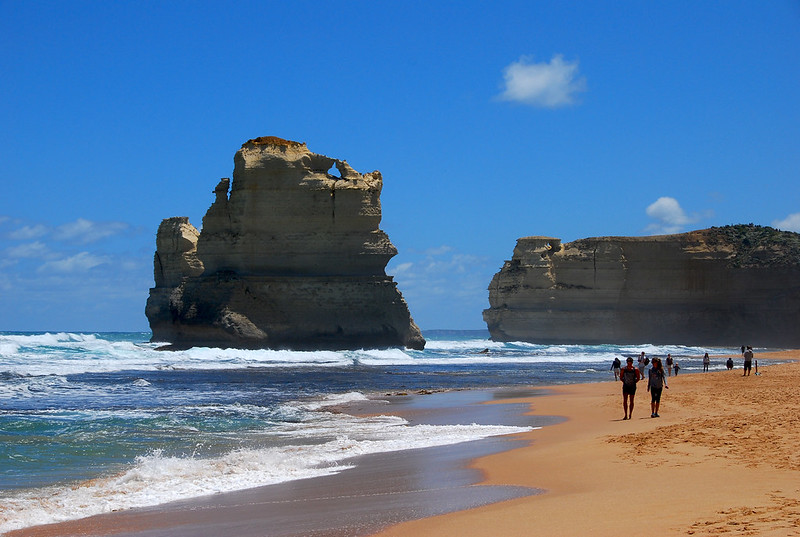 The beach directly in front of Gog and Magog (Gibson Steps) is generally only accessible at low tide.
Fun Fact: The country Greece actually used footage of the iconic Twelve Apostles in one of their international tourism commercials for Greece.
No one really understood why they wanted to use the Australian landmarks to sell Greece but there was a huge furore about it in Australia at the time.
The Greek Tourism board came back with the weird reply that using the Australian landmark to sell Greece was an artistic decision based on the fact that the mythology of the sky is Greek. They do make some sort of valid point.
20. Loch Ard Gorge
Originally Loch And Gorge was the main attraction of the Great Ocean Road.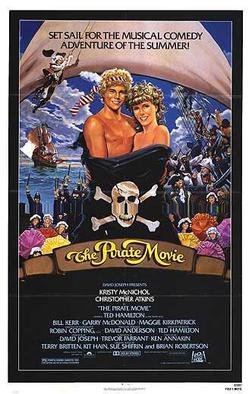 The beauty about visiting Loch Ard Gorge is that it gives you the chance to see several different attractions which are all in close proximity to one another.
Additionally, the famous Twelve Apostles which surpassed Loch and Gorge in popularity is located a few minutes down the road.
Even though Loch Are Gorge isn't the most popular attraction on the Great Ocean Road anymore, there are many tourists who consider it to be the biggest highlight.
Take the stairs down to the beach and think about The Pirate Movie.
This is a great movie to watch before driving along the Great Ocean Road.
Loch Ard Gorge is one of Australia's most beautiful beaches, but it can be very dangerous swimming there. The currents are strong and they can drag you out beyond the bay before you know it.
The Sisters' Song (The Pirate Movie) – A song filmed on Loch Ard Gorge beach.
The Loch Ard Gorge Shipwreck
Loch And Gorge is named after one of the most famous shipwrecks on the Victorian coast. You will be able to learn more about the tragedy while you're there.
The ship called the Loch Ard was on a three-month voyage from England to Melbourne in 1878 when the ship ran aground on nearby Muttonbird Island in the fog.
Out of 52 passengers and crew on board only Tom, an 18-year old ship's apprentice, and a 17-year old girl named Eva survived. Tom ended up saving her by swimming to her rescue when he heard Eva crying for help.
A small museum and numerous plaques at Loch And Gorge inform visitors about the site's history in more detail.
Allow about 2-3 hours to explore the area. There are numerous attractions to see at Loch Ard Gorge and they are all in close proximity to each other.
The Loch Ard peacock is a Minton porcelain piece, one of only nine in the world, that was destined for the Melbourne International Exhibition in 1880.
The peacock was salvaged from the wreckage as it was very well packed.
The fine looking peacock spent some time in stately homes and now resides at the Flagstaff Hill Maritime Museum in Warrnambool.
You should also visit this museum which is also in this list of 30 spectacular attractions on the Great Ocean Road.
I think the peacock is some sort of huge sign from the Greek Goddess Hera.
The peacock was valued at more than $4 million at one point. It has now become Australia's most valuable shipwreck artefact and is one of very few 'objects' on the Victorian State Heritage Register.
Loch Ard Gorge – Port Campbell National Park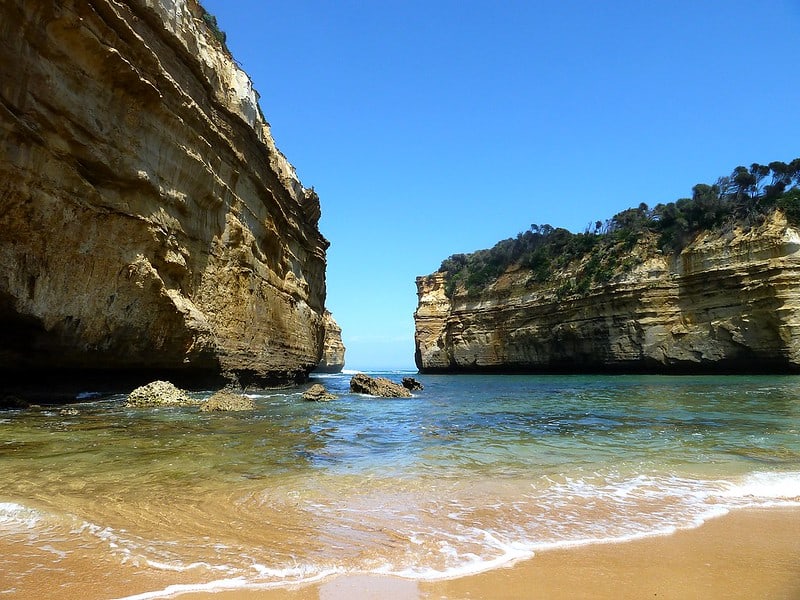 Here are a few other key attractions within walking distance of Loch And Gorge.
Island Archway – Port Campbell National Park
Island Arch once looked like this.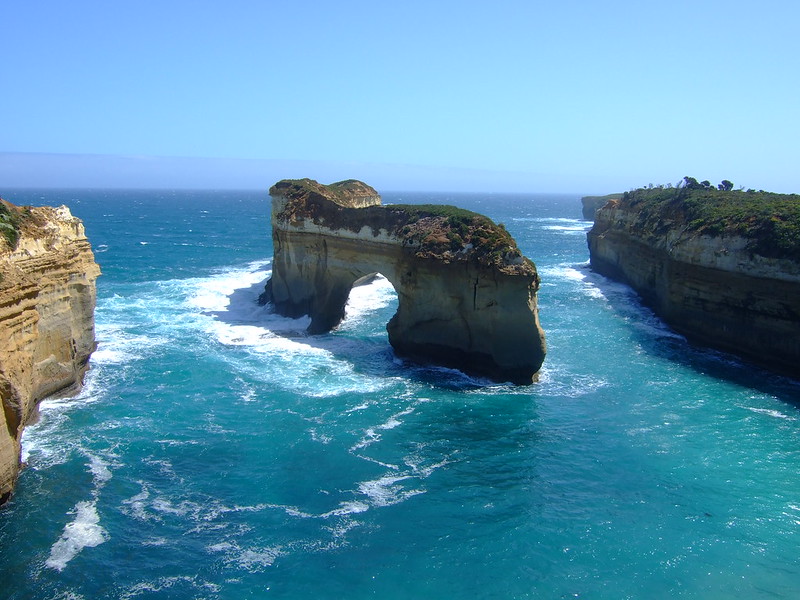 It collapsed in June 2009 and now looks like this with two seperate rock formations. The name then changed to Tom and Eva paying homage to the two teenage Loch Ard shipwreck survivors.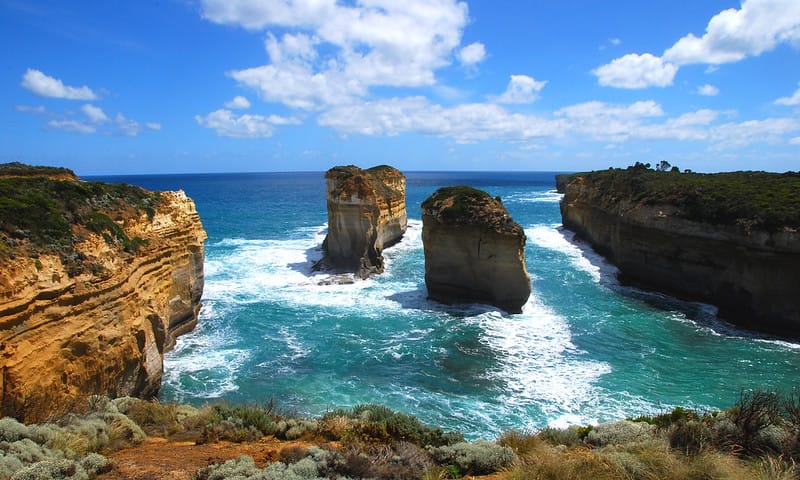 The Razorback – Port Campbell National Park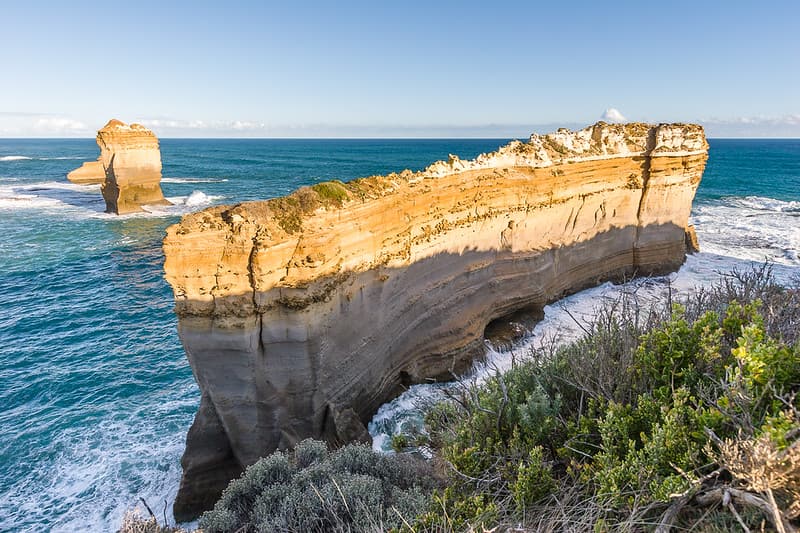 Thunder Cave – Port Campbell National Park
Thunder Cave is a narrow gorge where water rushes deep into the end of the gorge. It creates a small explosion (thunder) noise as it tries to flow back out.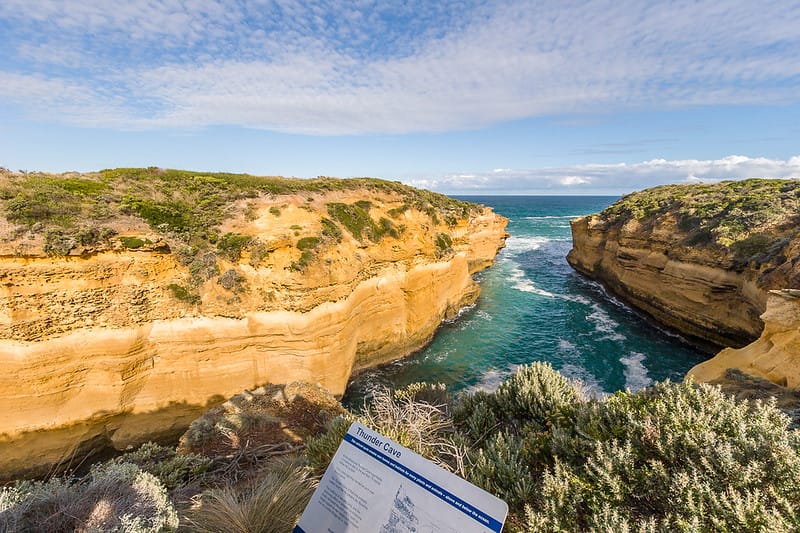 Here's a map of the Loch Ard Gorge area to make it easy for you.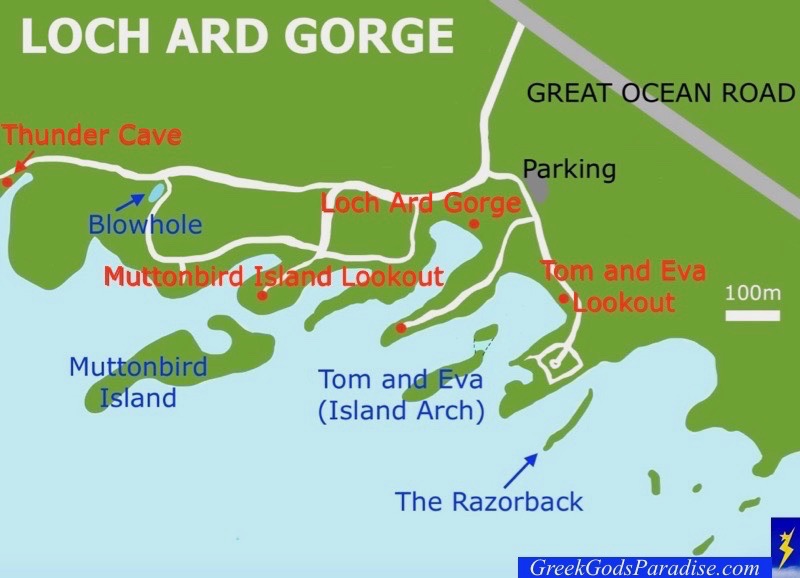 Don't forget to visit the Blowhole. If you allow 2-3 hours you should be able walk them all.
21. The Bakers Oven
The Bakers Oven is a spectacular sight to behold. A small arch in the middle of the rock structure has water streaming down the side.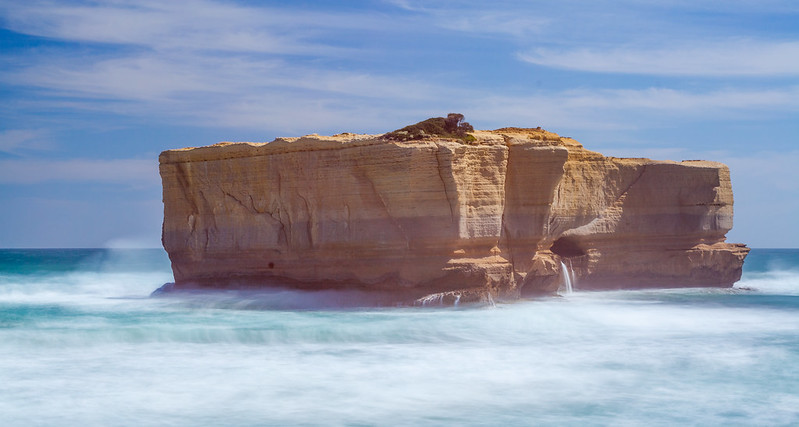 22. Port Campbell
Port Campbell has that little fishing village charm which will surely delight you.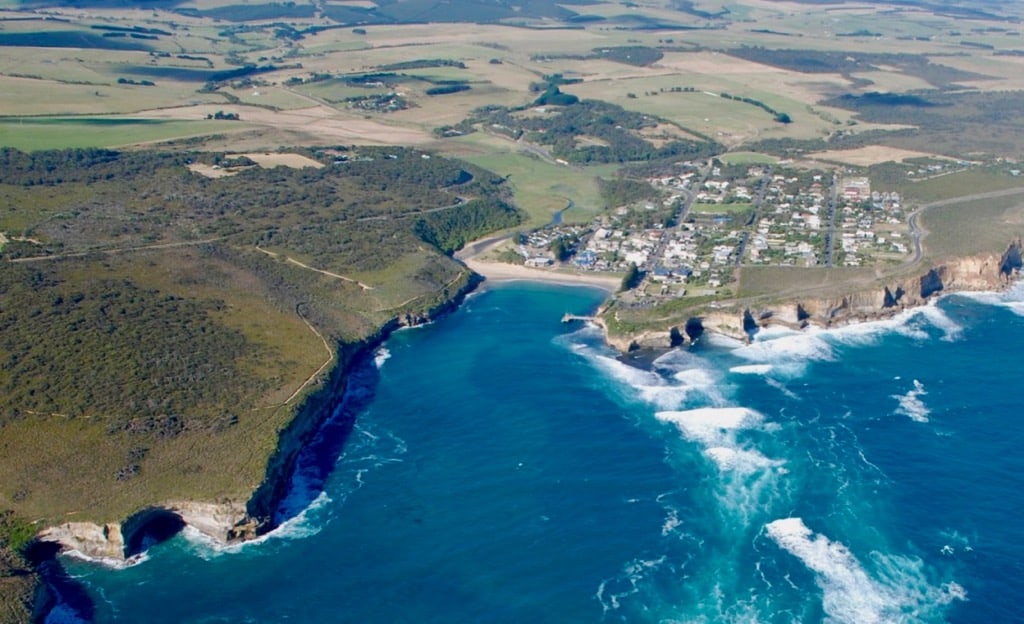 It has a nice calm bay that's safe for swimming and the big bonus is that it is the closest town to the famous Twelve Apostles.
It will only take about 15-minutes drive to get to the Twelve Apostles from Port Campbell. For this reason Port Campbell a popular place to stay for the night.
Port Campbell is also a great place to pop in for a quick bite to eat.
Be sure to take in the great views of Port Campbell at the high scenic lookout overlooking the town, river and bay. You can walk up to it from the beach if you like.
23. The Arch
Many tourists probably mistake this landmark for London Bridge, especially when London Bridge became known as London Arch, after a section of the bridge fell into the ocean.
The Arch actually looks like this, so stop by and take a photo.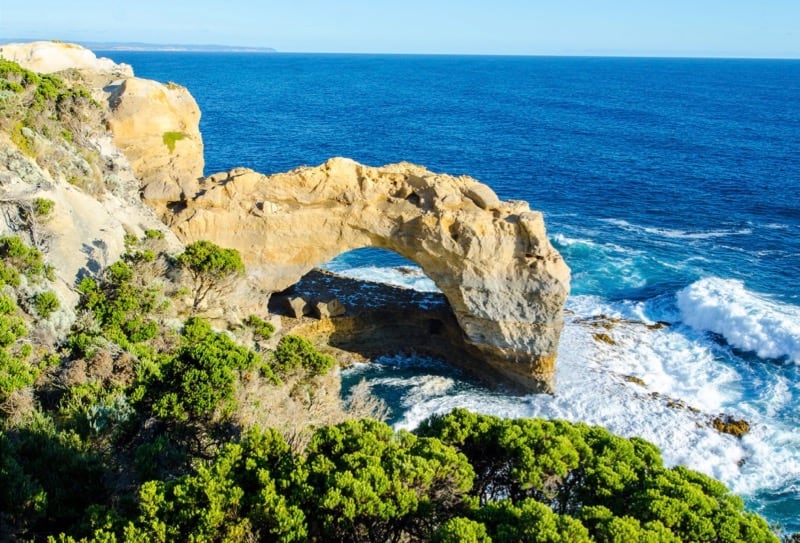 24. London Arch (London Bridge)
London Bridge was once connected to the mainland until 1990, when one of the two arches unexpectedly collapsed into the ocean.

25. The Grotto
After that it was no longer a bridge hence the name change to the more appropriate name of London Arch.
At the time of the collapse there were two people on bridge. Luckily neither of them were standing on the section that collapsed into the ocean.
The two fortunate tourists found themselves trapped on the outer span though. You wouldn't think of it, but they were actually rescued by helicopter! What an incredible tale that would have been when they got home.
Oh, the craziest thing happened I Australia. We were standing on London Bridge near the Great Ocean Road when it collapsed. We had to be rescued by helicopter. Who would believe that story?
If you're there at dusk, you may even see some little penguins coming ashore.
The Grotto is something of a cross between a sinkhole, blowhole, pool, cave and arch. A path takes you down to where the ocean can be viewed through an arch.
26. Bay of Martyrs, Bay of Islands Coastal Park
The beautiful bay, known as the Bay of Martyrs, is linked to a disturbing time in history.
It's name references events that took place nearby Massacre Bay where white settlers herded local Kirrae-Wurrong Aboriginal people off the cliffs to horrific deaths.
The 2.5km Bay of Martyrs is almost always quiet. It's probably a genuine hidden gem of the Great Ocean Road.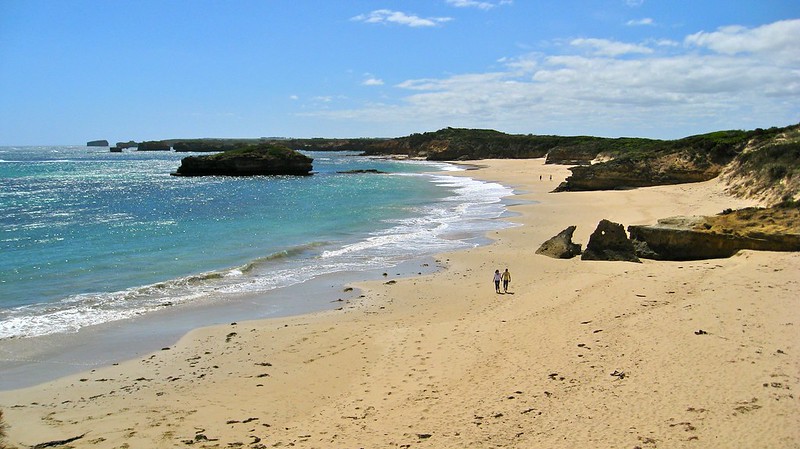 If this photo is anything to go by you'll definitely want to go for a walk along the beach. The beach is also a good place to go swimming in summer.
27. Bay of Islands
The Bay of Islands is a smaller version of the Twelve Apostles in a sheltered bay. There are walking tracks along the coast and to the beaches.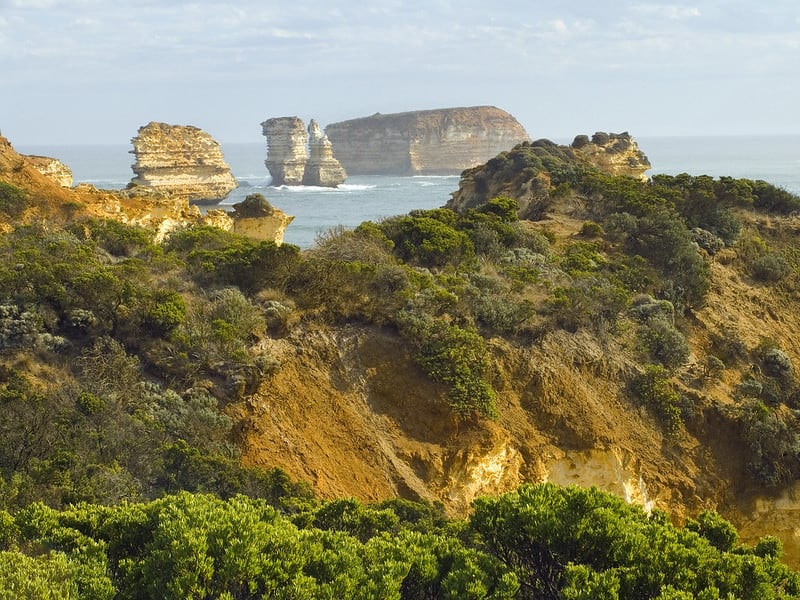 Tour buses typically don't go this far so you can expect it to be a bit more peaceful around here.
28. Childers Cove
Childers Cove is one of those hidden gem beaches not too many tourists know about. It is a nice secluded beach and if you're lucky you may even get to have the whole beach to yourself.
29. Warrnambool – Flagstaff Hill Maritime Village – Logans Beach
The mysterious Loch Ard Peacock can be seen inside the Flagstaff Hill Maritime Village in Warrnambool.
This peacock was salvaged from the wreckage of the Loch Ard Gorge, the ship that crashed into Mutton Bird Island and quickly sank with only two survivors out of 52 people.
Anyone who has watched Hercules: The Legendary Journeys TV series should know that peacocks are a sign from Hera. I wonder what the Greek Goddess was trying to tell everyone.
Flagstaff Hill is a recreation of the village as it was during the 1800s. You can wander around and get a feel for what the town was like when it was first settled.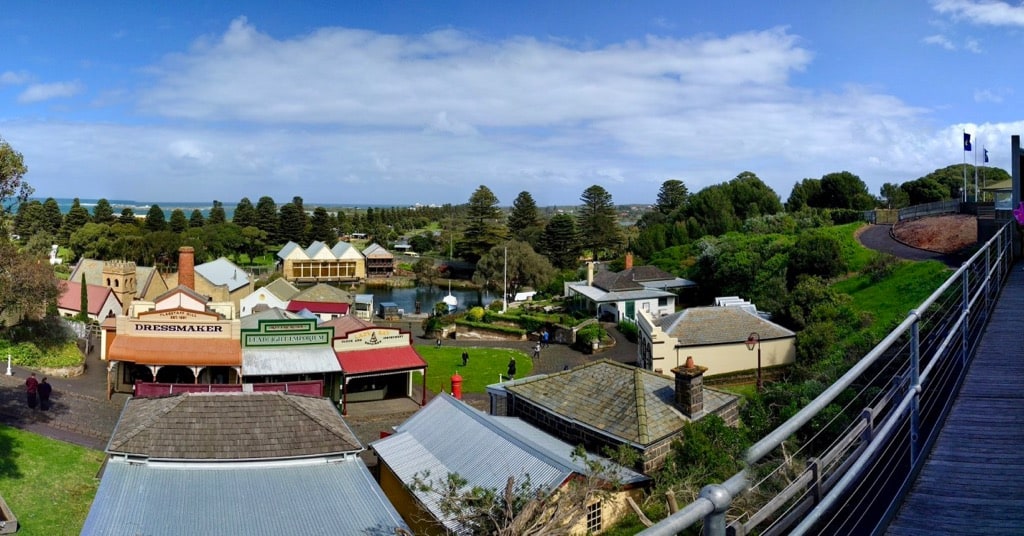 From June through to September, whales give birth in the waters off Logan's Beach in Warrambool. If you're lucky you may even spot one from the Logans Beach Whale Watching Platform. Whales can be spotted along the coast from Torquay to Portland (80km west of Port Fairy).
The Thunder Point Coastal Reserve is also a good spot to take a stroll along the beach and watch the sunset.
Warrnambool is the coastal town at the end of the Great Ocean Road. Many drivers turn back after visiting this town and head back to Melbourne.
Most visitors call it a day at the Twelve Apostles and do the three-hour drive back to Melbourne via the Prince's Highway shortcut.
I think you should continue on to the town of Port Fairy after Warrambool if you have the time.
30. Port Fairy
The name alone is enough to convince me to visit this town. Nature lovers would probably want to wander around the one-hour loop trail on Griffiths Island.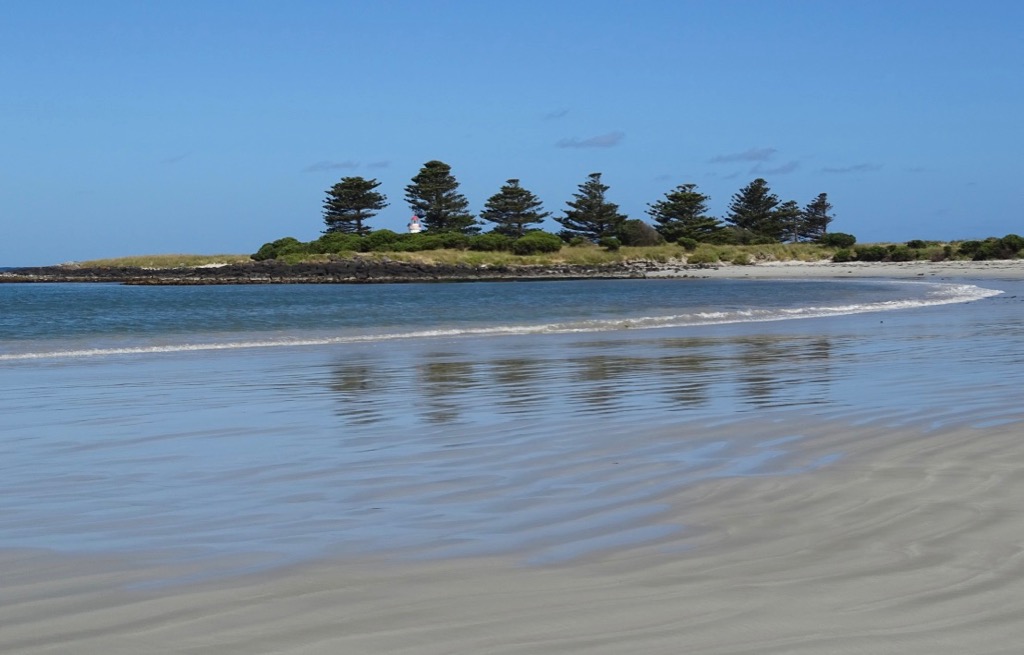 There you have it! 30 Spectacular Attractions You Must See on the Great Ocean Road.
I wonder if anyone has been inspired enough to want to visit this special part of Australia's coastline after becoming aware of these 30 amazing Great Ocean Road attractions.
If you live in Melbourne or Adelaide you should definitely come up with a plan to see some of these spectacular sights sooner rather than later. You never know when something else may disappear.
Great Ocean Road Itinerary Plans
Now that you know about the best attractions on the Great Ocean Road it shouldn't be too hard to come up with a great itinerary.
Three days on the Great Ocean Road would be ideal, but even staying for one night in Apollo Bay can make all the difference.
Here are some Great Ocean Road itinerary ideas to think about.
Great Ocean Road Itinerary – 1 Day Trip
If you want to visit the Great Ocean Road in just one day it's probably best to go on an organised bus tour if you don't live in Adelaide or Melbourne.
There are plenty of options available in Melbourne for a one day trip to consider. Some of them are highly rated.
It will be a long exhausting day on a bus but at least you'll get to see the Twelve Apostles and a few of the other Great Ocean Road attractions.
If you really want to drive the Great Ocean Road in your own vehicle then here's my suggestion.
Day trip – Leave Melbourne (7am), Torquay, Bells Beach, Lorne, Apollo Bay (lunch), 12 Apostles, Loch Ard Gorge
For road trips that are two days or longer you should definitely drive the Great Ocean Road in your own vehicle.
Great Ocean Road Itinerary – 2 Days / 1 Night
This is a great itinerary for a weekend getaway. Stay in Apollo Bay on Saturday night.
Day 1 – Leave Melbourne (9am), Torquay, Bells Beach, Lorne (lunch), Apollo Bay
Night – Apollo Bay
Day 2 – 12 Apostles, Loch Ard Gorge, Start driving back to Melbourne (3pm)
Great Ocean Road Itinerary – 3 Days / 2 Nights (Recommended)
Great for a long weekend getaway.
Day 1 – Leave Melbourne (9am), Torquay, Bells Beach, Lorne (lunch), Apollo Bay
Night 1 – Apollo Bay
Day 2 – Cape Otway, The Twelve Apostles, Lord Ard Gorge, Port Campbell
Night 2 – Port Fairy, Port Campbell or Princetown
Day 3 – Port Fairy (lunch), Start driving back to Melbourne (3pm)
Great Ocean Road Itinerary – 4 Days / 3 Nights
Day 1 – Leave Melbourne (9am), Torquay, Bells Beach, Lorne (lunch)
Night 1 – Lorne
Day 2 – Lorne, Apollo Bay
Night 2 – Apollo Bay
Day 3 – Cape Otway, The Twelve Apostles, Lord Ard Gorge, Port Campbell
Night 3 – Port Fairy, Port Campbell or Princetown
Day 4 – Port Fairy (lunch), Start driving back to Melbourne (3pm)
Great Ocean Road Itinerary – 5 Days / 4 Nights
Day 1 – Leave Melbourne (9am), Torquay, Bells Beach, Lorne (lunch)
Night 1 – Lorne
Day 2 – Lorne, Apollo Bay
Night 2 – Apollo Bay or Lorne
Day 3 – Apollo Bay, Cape Otway
Night 3 – Apollo Bay
Day 4 – The Twelve Apostles, Lord Ard Gorge, Port Campbell, Port Fairy
Night 4 – Port Fairy, Port Campbell or Princetown
Day 5 – Start driving back to Melbourne (3pm)
Driving Tip: You don't want to be driving at night because there are kangaroos on the road and they can jump out from the side of the road without warning. It is much safer to drive only during the day.
Best time to visit the Great Ocean Road
Spring or Summer (September to February) is a great time to visit.
Peak season: December – February
Summer is peak season. The views are great and the weather isn't too cold. Always bring warm clothing just in case, because you never know. It can get very cold in this part of the country.
Midseason: September – November
There are fewer crowds and the weather is beginning to get a bit better. The waterfalls in Otway National Park are at full flow. This is when the wildflowers begin to bloom. It may rain so don't forget to bring your rain gear just in case.
Low season: June – August
I wouldn't recommend visiting during winter unless you like cold to freezing cold weather. On the positive side it will be cheaper to visit at this time of year and there will be less traffic. The whales also migrate at this time of year as well so you may be lucky enough to see them.
Alternative driving route back to Melbourne
Instead of driving back the same way you drove up Great Ocean Road, you may want to take a different and quicker route back to Melbourne.
You can return from Warrnambool to Melbourne via the Princes Highway and follow the inland route that takes in the towns of Terang, Camperdown, Colac, Winchelsea and Geelong.
At Camperdown (lakes and volcano craters) make sure you stop and enjoy the 360-degree views from Mt Leura and Mt Sugarloaf. Climb Red Rock Lookout at Colac. A change of scenery will probably be very welcome.
There you have it! The Greek Gods Paradise Inspirational Guide to 30 Spectacular Attractions on the Great Ocean Road.
Pin it … Share it